Top 5 Teardrop Trailers with Bathrooms [Pictures Inside]
Summer is fast approaching, and the roads are calling! You wouldn't want to spend the summertime inside when the great outdoors calls you!
Here's the catch!
You love the outdoors, but you also don't want to stay outside. Maybe you're the kind of person who travels with their favorite brand of coffee? Your morning is not complete without your brew. And maybe you're the kind of person that balks at the idea of public bathrooms.
What if we tell you that you can travel in the comfort of your private bathroom? You can enjoy a refreshing hike mile away from the city. And you can also enjoy the luxury of a hot shower and a functioning toilet. If this sounds appealing to you, keep reading then.
Here is a list of the top 5 Teardrop Trailers with bathrooms.
Best Teardrop Trailers with Bathrooms Reviewed
Icamp Elite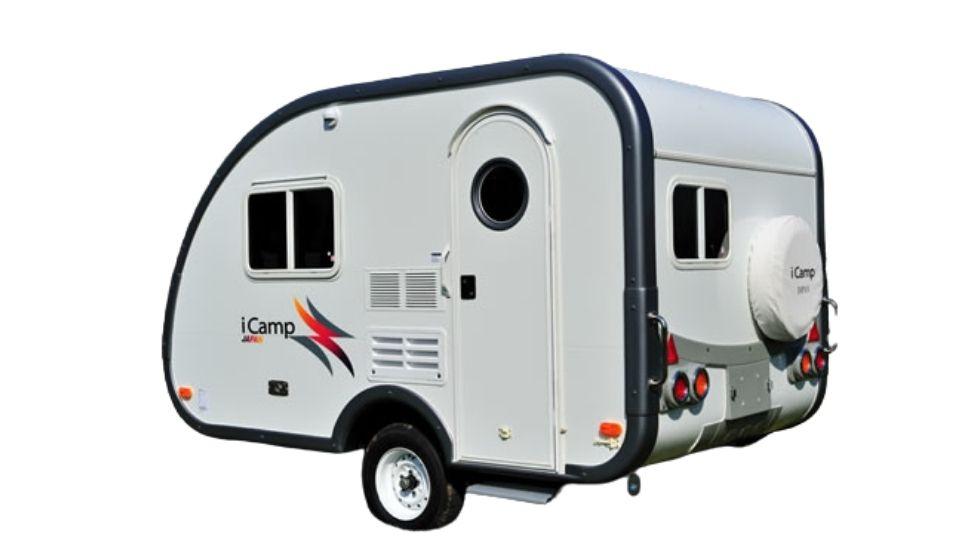 This tiny camper was designed to deliver your home on the road. The Icamp Elite has a sturdy fiberglass body. The construction is impeccable and will serve you well on difficult terrains. You might be concerned about the weight, but any Mid-sized SUV could probably tow it easily.
This camper is suitable for taking a trip with a close group of friends or a small family consisting of parents and a single child, for example. At least 2-3 people can sleep in this spacious camper comfortably.
The bathroom on this tiny camper is luxurious. The Icamp Elite comes with a marine toilet system, a good-sized storage cabinet, a small sink, and a separate shower area. It also comes with an actual toilet that has been adapted for travel.
If you're wondering about just how you will lug around enough water to use this incredible bathroom, then don't! This compact camper comes with multiple tanks that are built to accommodate all your water needs.
First off, you have a 22-gallon water container for your sink, toilet, and shower needs. On top of that, you have a gray water container with a 14-gallon capacity and a black water container with a 6-gallon capacity. Additionally, it also has a 6-gallon hot water tank that is perfect for cold climates.
You've probably calculated that you could traverse off-road for two-three days with careful use. You can make decent time on the road without having to stop at a rest spot for a mandatory water refill.
This camper can accommodate 2-3 people and comes with enough space for a TV. You can enjoy movie night indoors in your comfortable camper while the weather acts up outside.
You also have a decent-sized kitchen with a stove, a sink, and space for a refrigerator. As we said, this camper is a tiny home on wheels.
The Happier Camper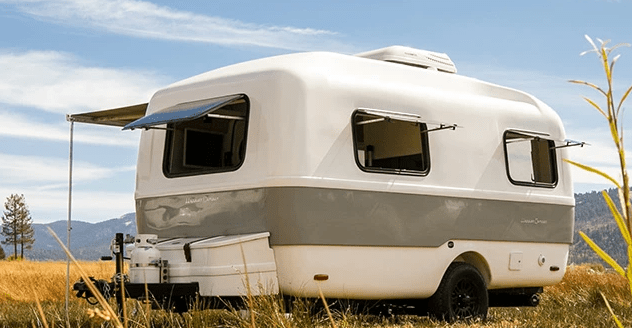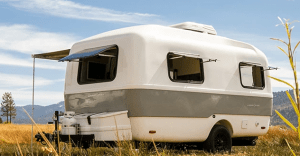 This sleek Teardrop trailer may be compact but can fit precisely to your liking and is entirely customizable.
This tiny camper from Happier is 20″ by 20″ on the inside and provides several add-ons. You can customize this camper to include a ramp for your bikes and storage racks to hold them inside. You can also fit your camper with a convenient tail-gate tent.
There are several ways that the small size can be utilized to its best advantage. You can also fit the interior with a portable propane heater or even a single/double burner stovetop.
This way, your Teardrop trailer would be perfect for picnics and cookouts. You would be able to drive your kitchen and equipment around with you.
And if you're worried about waste, you can fit this camper with a fridge/freezer. You can easily fix what you need and what you have left over after a trip.
Here's the best add-on, this camper offers a travel shower and a dry toilet. However, you are free to customize your camper. The dry toilet removes most of the problems associated with toilets and travel.
A dry toilet operates on water but is instead lined with durable plastic bags. Once you finish using the toilet, the bag seals itself and replaces by a new bag. The used bags are entirely smell-proof.
And you don't have to worry about replacing a bag after each use. The dry toilet comes with a cartridge that holds several waste storage bags. If you ever need more bags, you need to replace the cartridge.
On top of this, you can use any toilet paper brand you want, as there is absolutely no way to clog this toilet!
And finally, this camper features an aesthetic, retro design that is attractive and practical. The entire body of this camper is from bonded fiberglass and is sturdy as well as long-lasting.
The Happier Camper comes in 7 different colors and can breeze through the tightest spots. The compact design of this Teardrop trailer traverses small spaces safely.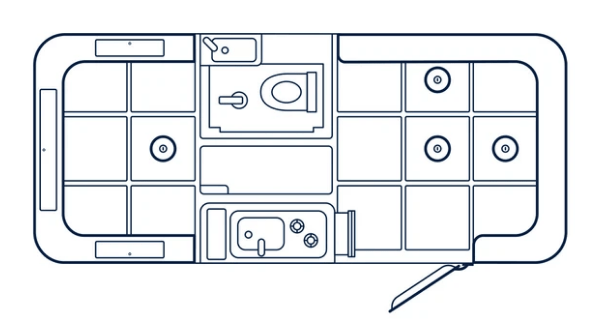 Little Guy Trailer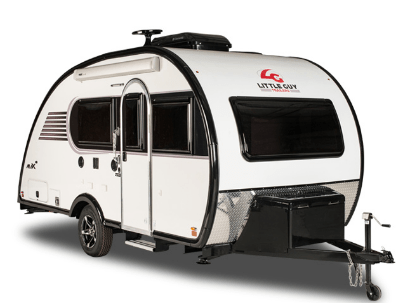 This teardrop camper combines the best of innovation and style. It is constructed from ultra-lightweight but durable steel. Every inch and component of this Teardrop is built from the best and sturdiest materials. The dry load of this camper is about 3,140 lbs. It can be easily towed by an SUV or a lightweight pickup truck.
We have commented on the luxuriousness of this camper because of the smart use of space. The interior is a combination of smart design and the latest in style and convenience.
The sleeping space has a plush, queen-sized bed that can manage two people. This camper comes with LED lighting, a convertible sofa, and a 13500 BTU AC.
It comes with a fully equipped kitchen, and full-height pantry for storage, and a massive sink. You also have a 2-burner range top and hardwood cabinets.
Perhaps, the best part of this camper is the fully-equipped bathroom. This area is separate from the rest of the camper for maximum privacy. This bathroom features a shower as well.
You will also find a travel-ready marine toilet that features a high seat. You will not have to suffer in uncomfortable positions in this bathroom while trying to do your business.
Every feature has been designed while keeping your convenience in mind. There is even a water-proof toilet paper holder to protect your toilet paper roll.
This camper has a 20-gallons of freshwater that supplies water to both the kitchen and the bathroom. There is a 14-gallon gray tank that collects sink water and the shower drain for the used water. Lastly, there is a 9-gallon black water tank for the toilet.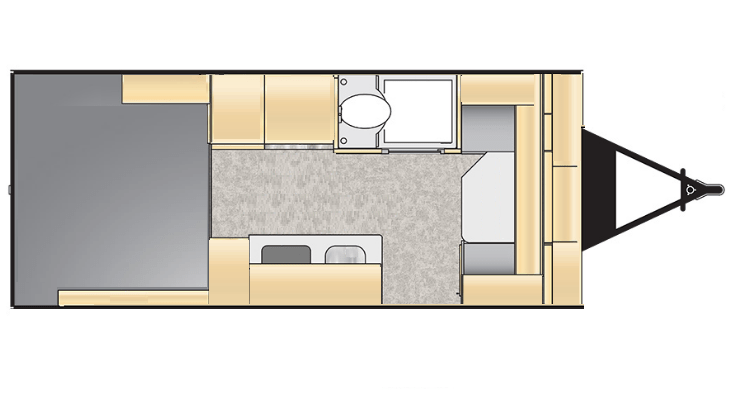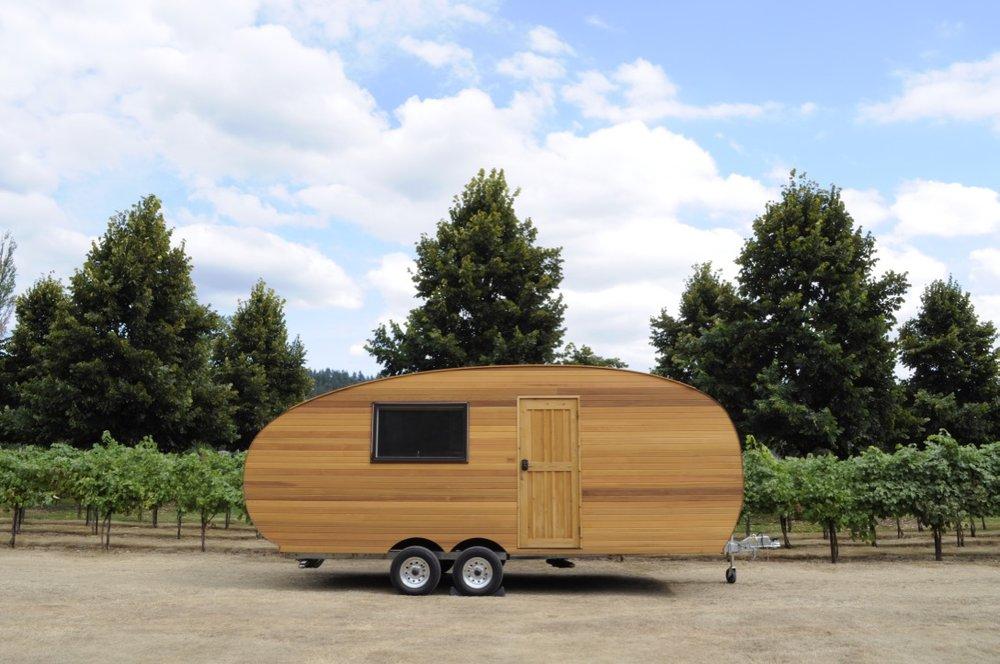 The Timberline by Homegrown is a little bigger than your average Teardrop but with good reason. This camper maintains the Teardrop shape while expanding the lines and rounding out the ends. This design is chosen to maximize the interior space and provide you a spacious and comfortable camper.
The exterior features a gorgeous wood finish that is attractive and easy to hide in nature. You don't have to worry about sticking out like a sore thumb when this camper blends right into the woods.
Several features are just built into this camper and do not need to be added. For example, 5 people can comfortably sleep in this trailer without squeezing on a single mattress. You get a queen-sized bed and three bunk beds.
The kitchen comes with a large sink, a cooking area, and even space for a fridge. On top of this, the Timberline features a large 23-gallon water system that provides fresh water to the shower and sink.
Speaking of showers! Let's talk about the bathroom on this camper!
This camper features an entirely closed-off area for a spacious bathroom. This bathroom features a toilet and a shower. It will provide you privacy on the road. The Timberline also features a 2.5-gallon hot water tank.
This camper comes in two different packages for your convenience. There are the on-grid and the off-grid option for extended travel.
The off-grid Timberline camper includes solar panels and a large battery. You can take this camper off-grid for a long trip without worrying about electricity or water.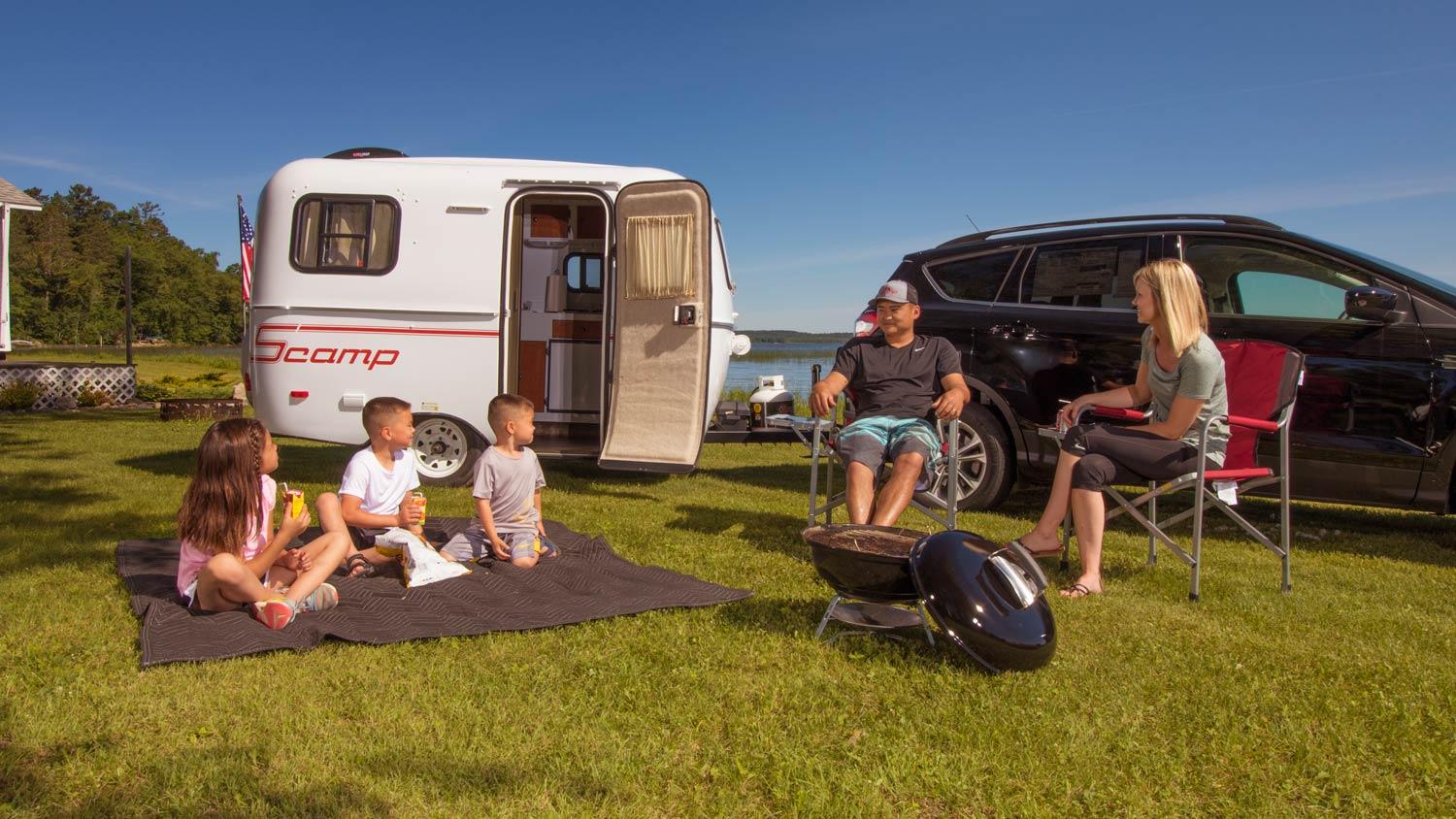 The Scamp is the best option for people that like to customize their campers for their trips! This camper comes in a variety of floor plans that include different designs and features. For example, you can choose to select a floor plan that includes a sitting-dining plan.
You could choose the 13′ Deluxe Floor plans that include a Dinette area on the front with seats and a table. This floor plan, of course, would mean you can no longer have a bathroom in the front area.
The Scamp comes with various floor plans, so you can always choose a version that includes a bathroom.
Its 13′ Standard floor plan has two different layouts, one with a complete bathroom and the other with only a toilet. The Scamp 13′ Deluxe bathroom includes a shower package that features a sink and a shower. You can also add a toilet to this floor plan if you need it.
However, the layouts that feature a bathroom are nice and closed off from the camper's rest. You can have your privacy and comfort in the front area.
The regular 16′ floor plan also comes with several layouts. Most of these floor plans include a bathroom or a storage area, and you can choose according to your preference. In the Scamp 16′ Deluxe floor plans, there is space for a bathroom in both layouts.
Finally, in the standard 19′ floor plan, you can choose to have either a bathroom or a private room. In the 19′ Deluxe floor plan, both the layouts have the option for a bathroom.
You can choose from the multiple floor plans to create precisely the kind of space you need. In any case, this camper comes with a sink, gas stove, and space for a refrigerator. There is also a closet, storage, water tank, and table that can be transformed into a bed.
Tips While Using Your Teardrop Trailer Bathroom
If you want to enjoy a running toilet's comfort on the road, you need to memorize these tips. You must maintain your Teardrop trailer bathrooms for good, long-lasting use. To be clear, these tips apply to toilets that run on water and not dry toilets.
Empty Your Toilet Tank as Often As Possible
If you want to keep the inside of your camper (and your toilet) clean, you often need to do this. You need to take the time to dispose of your toilet remains appropriately to make sure no unpleasant smells or stains are left behind.
However, you don't want to remove all of the liquid from your tank at once. This could result in the solid waste getting stuck or clogged within your toilet.
Choosing the Right Toilet Paper
When buying toilet paper for your campers, remember this is not your average toilet. It cannot withstand large wads of toilet paper and can get easily clogged. You need to buy toilet paper suitable for RVs and camper drains.
This type of toilet paper – typically called single-ply – breaks up much more accessible and dissolves better.
FAQ
What Is the Cheapest Teardrop Camper?
The cheapest Teardrop camper is the Hiker Trailer camper, and it is worth $3,795.
What Is the Smallest Travel Trailer with A Bathroom?
The smallest travel trailer that features a bathroom is The Scamp 13′ Deluxe.
Do Teardrop Trailers Have Brakes?
Not all Teardrop trailers come with brakes. However, many states mandate these trailers come with breaks, significantly if they exceed 1000 lbs. There are plenty of manufacturers that add electric brakes to their trailers.
Conclusion
There you have it. Our list of the top 5 teardrop trailers with bathrooms. We hope your extended road trips and wildlife adventures will never be the same. You can choose any one of these options, and it is sure to fill your travel with comfort and luxury.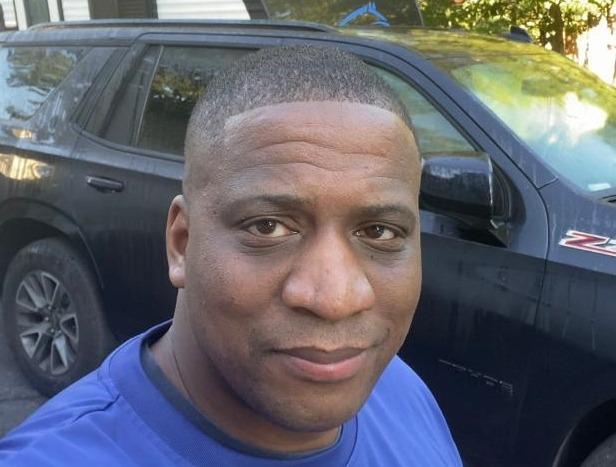 I`m a current Law Enforcement Officer working within the Counterterrorism Bureau in New York State. I have been Camping for over 20 years. My styles of camping include tent, car, truck, van, and RV travel trailer. I have a YouTube channel where I teach all types of camping with an entertaining method: https://youtube.com/@TheSmallsRVAdventures