Top 6 Pop Up Campers with Bathrooms and Showers
If you are going camping and looking for a trailer to stay in, a pop-up trailer might be the answer to your questions. Pop-up trailers are towable and meant to be compact and easy to store. They can be stored in a smaller space than other campers.
Pop-up campers compete with RVs, but when it comes to other facilities, most fail. One such facility is that of a bathroom. Using a campground bathroom isn't comfortable at all.
Therefore, we have put together a list of pop-up trailers that come with a bathroom and shower installed in them.
Best Pop Up Campers With A Bathroom


Coachmen's clipper classic is for small families while ensuring all the basic facilities. Even with lightweight, it includes a bathroom with essential features and a shower curtain without compromising the quality.
This Clipper Classic 1285SST has a dry weight of 2,840 lbs, so the hitch weight is only 296 lbs. It is so lightweight that even a small SUV can tow it easily. This way, it is convenient for all types of SUV owners.
Once you set it up, it has space for up to seven people, who can easily sleep inside the camper. It has a king-size bed, a queen-size bed, and two sofas that can be converted into beds if you want to sleep in them. Now, filling up seven people inside a camper may feel cramped up. But surprisingly, it doesn't, because of how open space this Clipper classic camper has.
The bathroom inside this camper is sparse, which is often par with a pop-up camper bathroom. Even then, this bathroom can fit a shower in it, and a shower curtain separates that. A 23-gallon tank backs the shower. This shows that the camper is robust than other competitor pop-up campers with restrooms.
The toilet in this bathroom is a cassette toilet, to remove the small black water tank. This saves you from the hassle of buying a separate spare portable waste storage tank for your camper.
Pros:
23-gallon freshwater tank.
Includes a bathroom with a shower separated by a curtain.
The lightweight pop-up camper is compatible even with a small SUV.
Sleeping space for up to seven people.
Cons:
Does Not have any power-retractable slide out.
Forest River Flagstaff 2020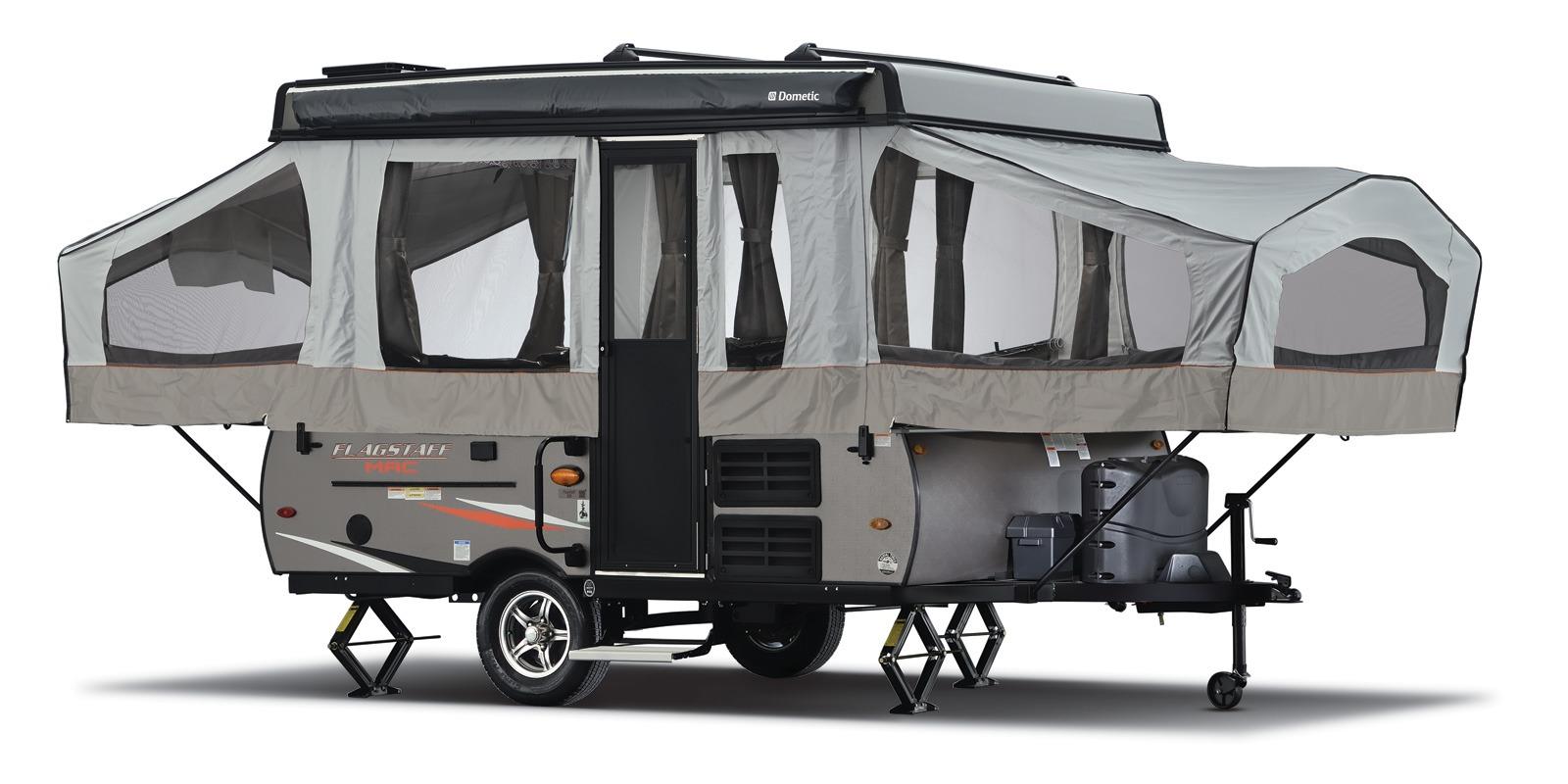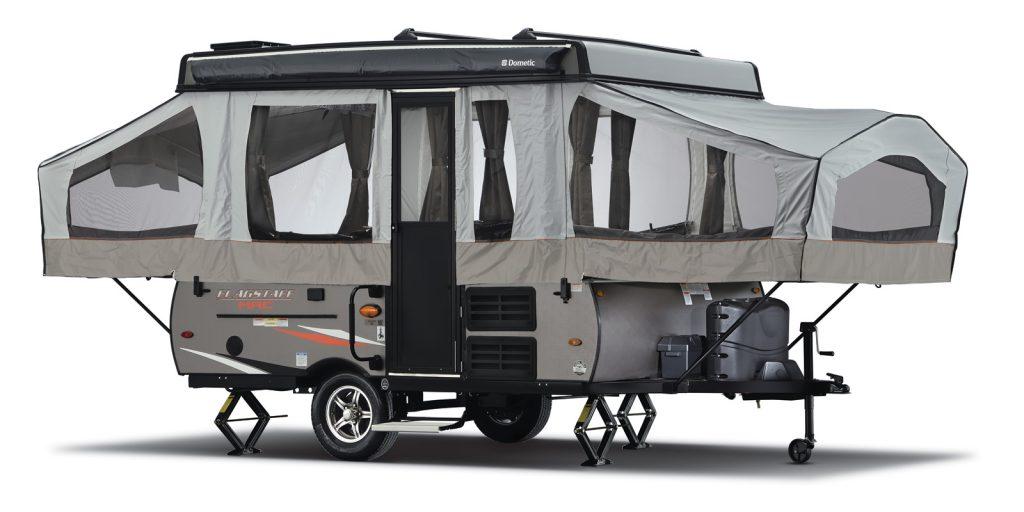 RVers love Forest River because of the variety of RVs and campers. One such model is Flagstaff. The Flagstaff is spacious, comfortable, and easy to manage and tow a camper. It comes with a modest bathroom facility without conceding to the sleeping space. And even after this, the hitch weight is only 294 lbs, to tow it with even a small-size SUV or pickup truck.
To provide maximum space while camping, the Flagstaff has a slide-out section. With it, you can increase the interior space without any external extension. The lightweight pop-up camper's compact floor plan provides space for a cooktop, toilet, shower, and refrigerator.
It can house six people comfortably sleeping inside it with the help of a king-size bed, queen-size bed, and a convertible sofa bed. The beds have curtains on them too.
The bathroom includes a shower with curtains and a cassette toilet. The blackwater tank is a portable tank that can hold up to 5 gallons of waste before you empty it at a dumping station.
As it is a modern camper, it comes with plenty of techs. It has its security system, TV outlet for cable or satellite, WiFi range extender, Bluetooth speakers, etc., to give you comfort when you're on the road.
Pros:
20 gallons freshwater tank.
Equipped with most of the modern tech available.
Comes with an outdoor griddle.
Modest bathroom.
Cons:
Pricier than other campers.
It is an RV industry giant that concentrates on quality materials, components, durability, and cutting-edge engineering. Jayco has produced some of the most popular travel campers that are favorite to most adventurers.
The Jayco Jay Sport 12SC trailer can hold up to 7 people in it. This is because it houses a king-size bed, queen-size bed, and two convertible sofa beds. But if you want to have a comfortable time traveling, we would recommend limiting the number to six or even less.
The bathroom has a cassette toilet installed, with a 5-gallon removable black water tank. This portable tank can easily be dumped at a dumping station before going on an adventure. This means you wouldn't have to worry about a portable waste tank hauling by your camper.
The shower of the Jayco Jay Sport 12SC Camping Trailer comes with a privacy curtain. And it is supported by a relatively larger 28.2-gallon fresh water tank.
An optional 10 or 12 feet screen room with a privacy panel can be provided on an extra charge to give a porch feeling. This panel can fold out quickly to keep you dry and bugs-free. With it, you can get a porch feeling even while camping out.
Even with all this, the Jayco 12SC trailer has a hitch weight of 280 lbs. And a payload capacity of up to 980 lbs is comparatively higher than most trailers out there.
Pros:
Durable and well-built camper.
Sleeping capacity of as much as eight.
Supported by a relatively larger 28-gallon freshwater tank.
Cons:
The bed's strapping is glued and can come off easily.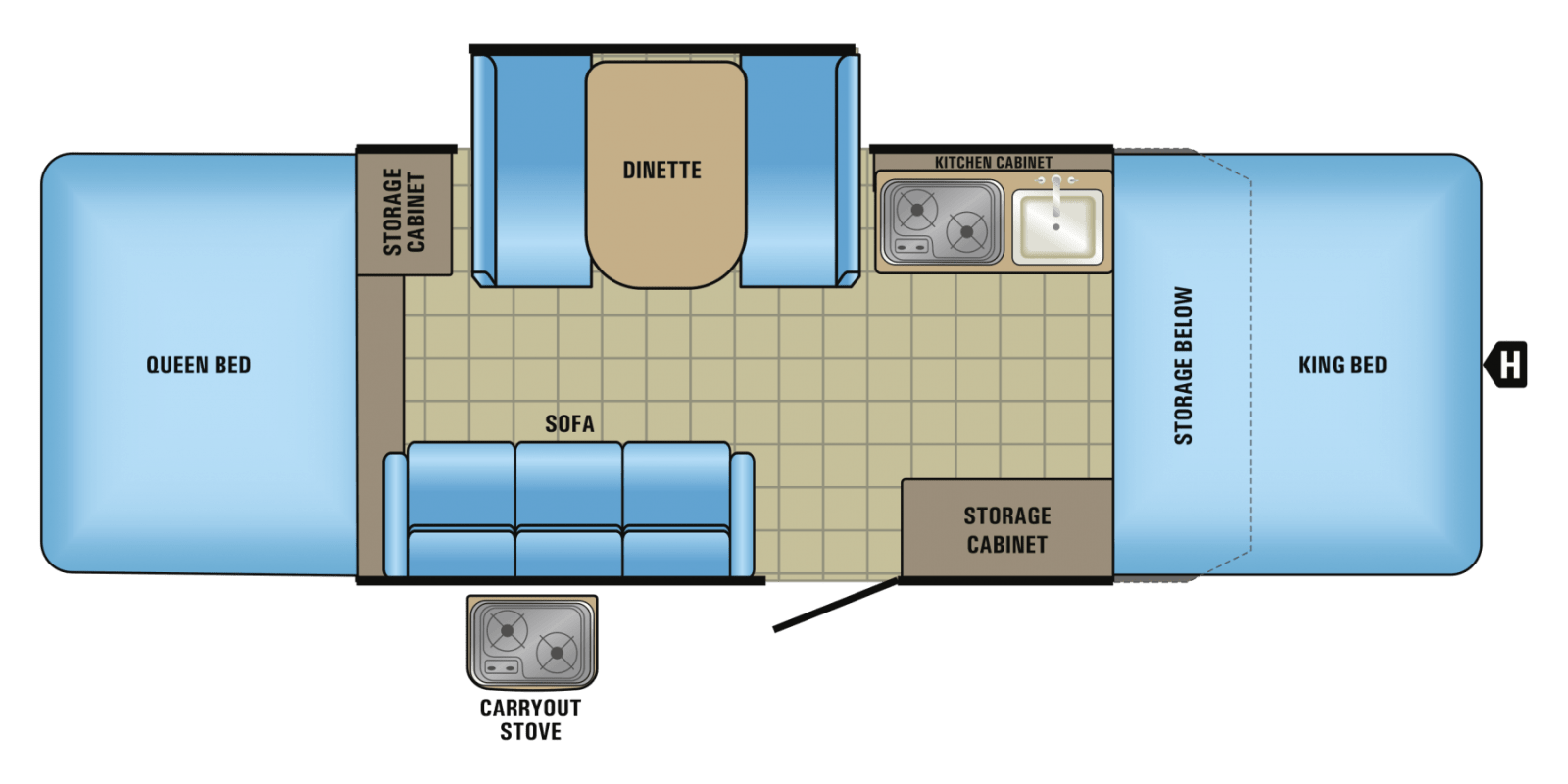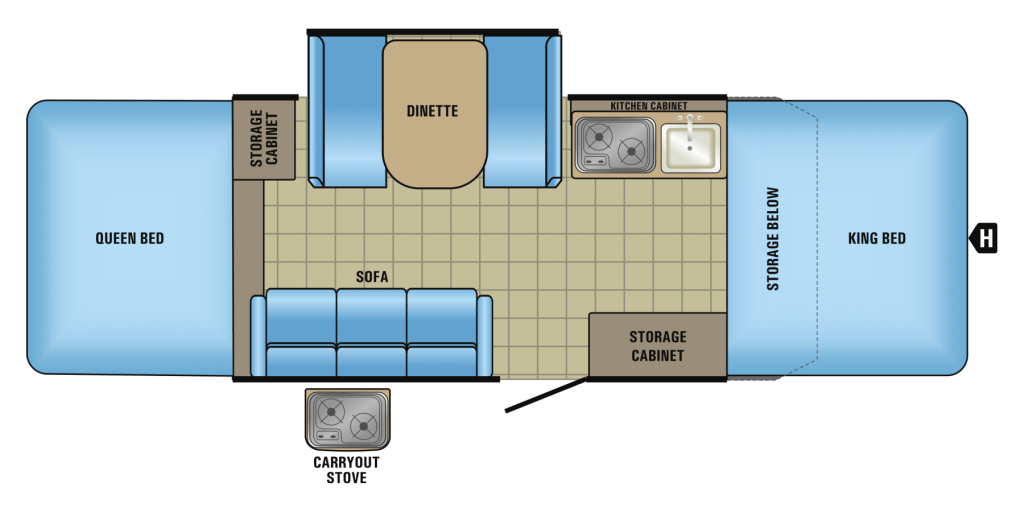 Forest River Rockwood Hw296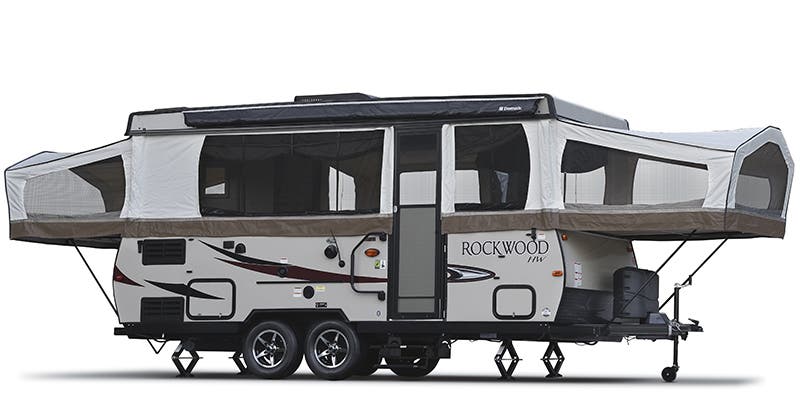 While looking at the Rockwood HW296, you can see that the brand Forest River has lived up to its name as one of the renowned RV makers. The Rockwood HW296 was designed while keeping all the luxuries available at home and then jamming them into a camper.
They didn't just throw these in the RV; they carefully planned on which luxury they should keep and which they should exclude.
Even with all this planning, they did their best to keep the overall weight reasonable. Even with all this, the RV weighs over 3720 lbs in dry weight. And it has a hitch weight of 371 pounds, which means a full-size SUV or a half-ton pickup would be required to tow it.
The Rockwood HW296 comes with a single slide-out section, which maximizes the interior living space. Not only that, there is a retractable awning that can be used to make a little extra living space while you're on the road.
With a king-size bed, a queen-size bed, and a convertible sofa, six people have enough space to sleep in it comfortably.
The bathroom is rather large for a pop-up camper. It is equipped with a plastic toilet and a shower that is separated by a curtain for privacy. A 26-gallon freshwater tank supports the shower and the bathroom.
While the waste tanks, black water, and grey water tank ring in at 12 gallons. It means the tank can hold waste for a more extended period without dumping it.
Pros:
Perfect for a luxurious adventure.
26-gallon freshwater tank
The kitchen is equipped with a three-burner cooktop and a medium-size fridge.
It comes with a single slide-out to increase living space.
Cons:
Requires a medium-size SUV or a half-ton pickup truck to tow.
Somerset Utah 2020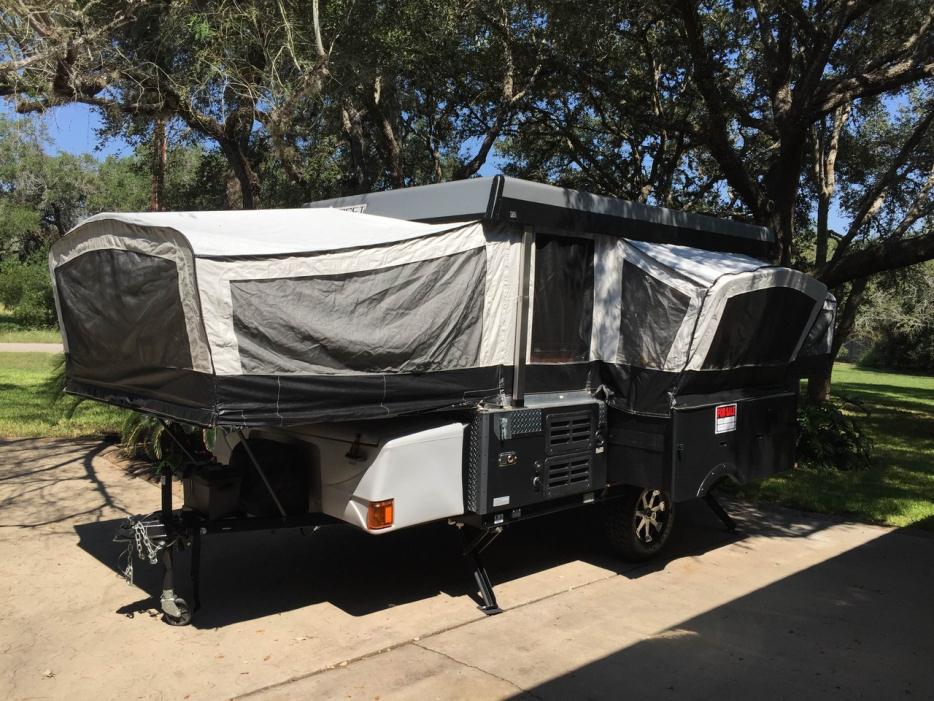 Somerset introduces a new and unique configuration or floor plan to their extremely popular Utan pop-up camper every year. And for the first time, they have included a bathroom in this series. To give this relatively simple bathroom a unique touch, they have included a recirculating toilet.
Somerset Utah 2020 camper is spacious enough to have up to eight people sleeping inside it. And even then, it still has enough space to house a bathroom that can offer everything expected by a family camping. It is a lightweight camper with a hitch weight of 290 lbs; it can easily be towed by a light-duty truck or a medium-sized SUV.
If you want extra living space on your pop-up camper, Somerset Utah is a viable option because it lets you maximize the interior living space by a slide-out section. Moreover, you can attach a screen or a mosquito net to the camper.
The bathroom of this pop-up is unique. It includes a modest shower with a curtain for privacy. A 20-gallon freshwater tank supports the shower.
Utah 2020 camper's recirculating toilet is somewhat rare in the RV industry. It can deodorize and makes sufficient storage for waste. A drawback of this is that the freshwater tank is only useful for showers. It can't be used for the toilet. Apart from that, it is another great pop-up camper with a unique bathroom and shower.
Pros:
It has a slide-out to increase the interior space.
Comparatively lightweight.
20-gallon freshwater tank.
An awning to give more space when traveling with a group.
Cons:
Toilet has no access to the fresh water tank.
The freshwater tank is smaller than other competitors.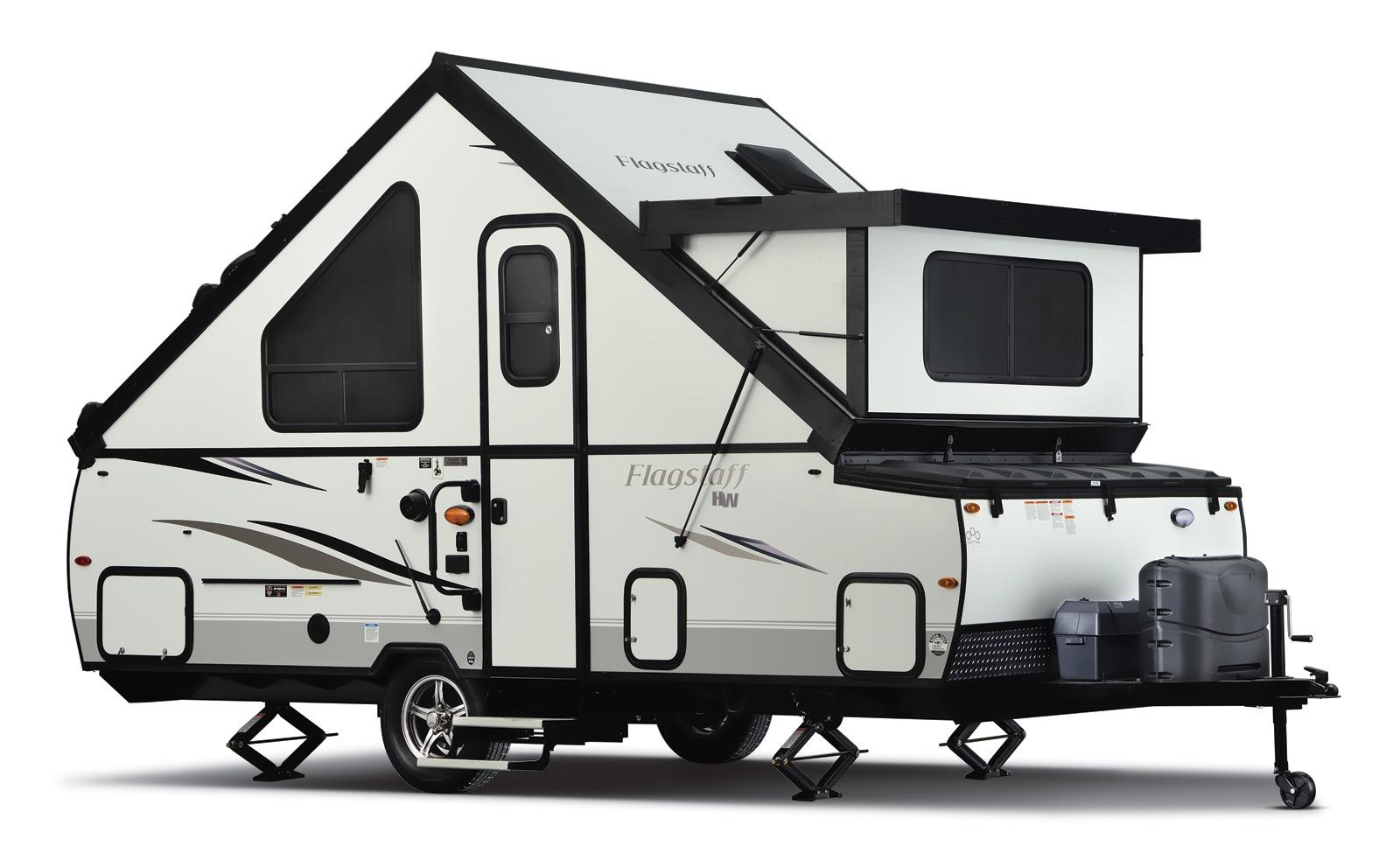 With a bathroom with an aesthetically beautiful design, the flagstaff T21DMHW is another excellent RV giants Forest River product. This pop-up camper is an exceptional choice for couples or families with a single child who wants a luxurious camper to travel at such an affordable price; this could be an excellent choice.
While in other pop-up campers, you might feel like you're in some tent that's attached to a frame. It is classified as an "expendable camper," which is a cunning take on pop-up culture.
It has a height of 353, which is heavier, but you can pull it with ease if you use a light-duty or half-ton cartridge truck.
There are a queen-size bed and a sofa inside this camper. The sofa is easily convertible to a sleeping bed. This limits its sleeping space for up to three people. Simultaneously, a fully equipped kitchen, a spacious bathroom, and floor space cover up the rest of the space.
It houses a cassette toilet with a portable black waste water tank. When the tank hits its maximum storage space, it can be easily removed from an exterior hatch to carry to a nearby dumping station.
The shower has a nice-looking stall with a plexiglass door and a basin made of robust plastic. It is supported by a 26-gallon freshwater tank, sufficient for two or three people to bathe comfortably for days. And it even has a 6 gallons water heater to make sure you can get a decently long warm shower if you are camping in the fall.
Pros
Well-built and attractive pop-up camper.
Perfect for couples and small families.
26-gallon freshwater tank.
Water heater for travelers who are traveling in the fall.
Cons
It doesn't have sleeping space for more than three people.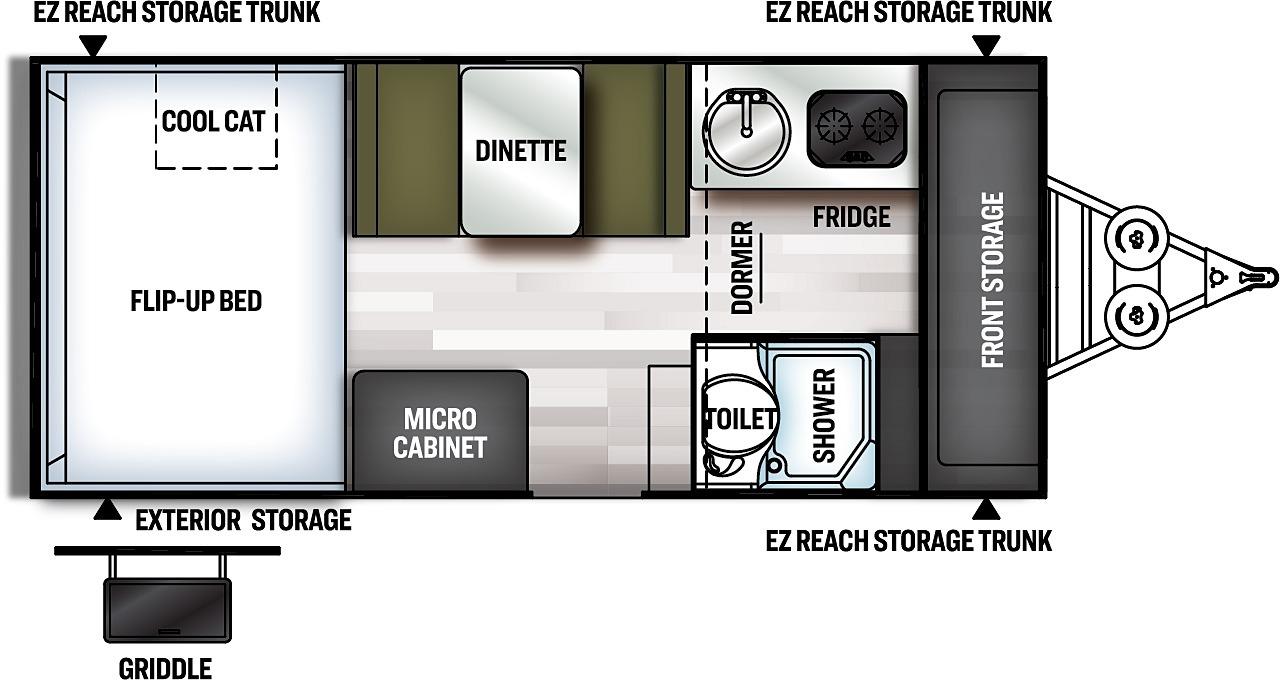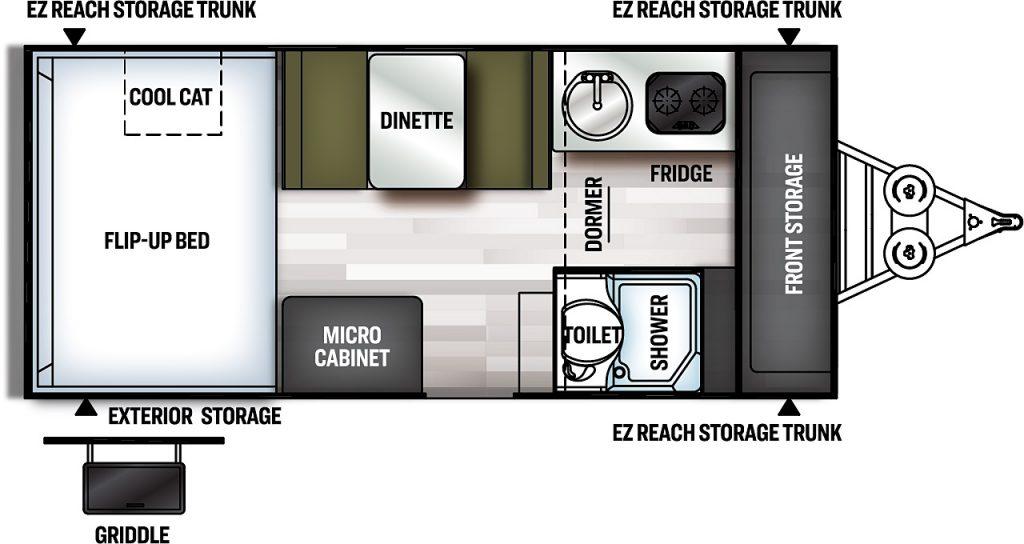 Types of Pop Up Campers
Standard Tent-Trailers
As the name suggests, they are the standard pop-up campers that use canvas for walls. They don't provide much protection against severe weather. A pop-up camper trailer is just like a tent but on wheels. But it can be easily towed by any vehicle, as it doesn't have that much weight.
High Wall Campers
High-wall campers are pop-up campers but with a higher sidewall. The countertops have an average height and are big enough to use. They are comparatively heavier than standard pop-up campers.
A-Frames
A-frame campers are just like the standard pop-up campers, but unlike those, when the folded panels come together into a peak to create a roof, the trailer then gets the shape of the letter "A," hence the name. These trailers are cheaper and lightweight as an SUV or Pickup can tow them.
Teardrop Campers
Teardrop trailers are small travel trailers that are unique. They are compact, lightweight, and easy to pull by many vehicles. They include a kitchen, bathroom, couch, dining table, and bed in various configurations. Unlike pop-ups, all sides are hard sides. They can easily fit and position at camps.
FAQ
Do I Need A Portable Waste Storage Tank?
Portable waste storage tanks camp longer. Not only that, they are pretty useful if you do not park near a dumping station. So, when you need to dump it, put it in your SUV or pickup truck and dump it in the nearest dumping station.
Can I Rent A Tent Camper?
The answer is yes. As the campers are comparatively expensive, buying one will not be pocket-friendly for most people. Another solution to spending a recreational weekend is to rent a camper.
What Are Some Smallest Campers with A Bathroom?
Scamp 13′ Deluxe has a bed, kitchen, and even a bathroom.
The Camp's TAP S Teardrop Camper has space for a bathroom and even a bed to sleep on at night.
Are Pop Up Campers A Good Family Trailer?
Yes, pop-up campers are good family trailers because their pop-up ability allows them to store easier than most regular travel trailers. And these pop-up trailers are getting spacious enough for families up to 5 to 6 people.
Conclusion
While choosing a camper with a bathroom and shower to facilitate you on your travels, you should make a list of all the key functions provided by them. This list should include an estimate of people using the camper and how long you will stay at one place before filing the fresh water tank and dumping the black water waste tank.
Another thing to look at is the payload capacity; you can carry more if you plan a longer camping duration as a higher capacity. Other than that, the hitch load will depend upon your SUV or pickup truck.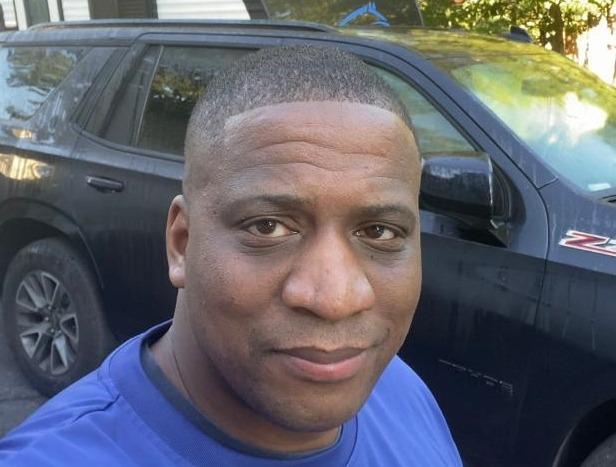 I`m a current Law Enforcement Officer working within the Counterterrorism Bureau in New York State. I have been Camping for over 20 years. My styles of camping include tent, car, truck, van, and RV travel trailer. I have a YouTube channel where I teach all types of camping with an entertaining method: https://youtube.com/@TheSmallsRVAdventures