Best 5th Wheel for Full-Time Living
If you are deciding to shift to life on the road or if you are looking for an upgrade on your current 5th wheel, there is a lot that you need to consider. Choosing the best 5th wheel for full-time living is a very daunting task, and the requirements are different for everyone.
Although, buying the best fifth wheel is a long process that unfortunately includes a round of trial and error. We have tried our best to compile information that might be very helpful to determine the right long-term living option for you.
Best Fifth Wheel for Full-Time Living Reviewed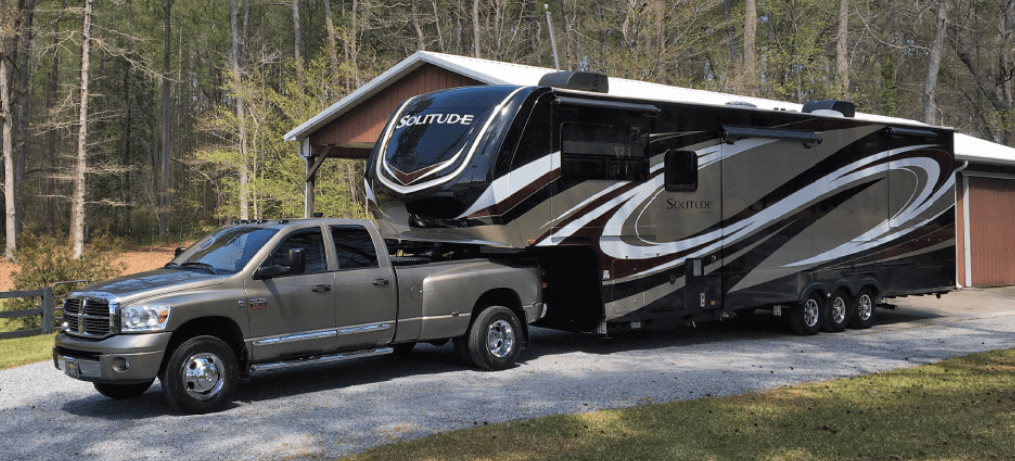 The Grand Design Solitude is a massive luxury 5th wheel, spacious and comfortable beyond limits for your extended stays. This has a gross vehicle weight of 16800 lbs. which is relatively light for its huge size and a cargo capacity of 2446 lbs.
In addition, the Grand Design Solitude is placed on the awe-inspiring Cree 300 suspension system. This also comes with a 10-inch I-beam drop frame, which provides a tremendous amount of storage space in the basement.
The design and build of this vehicle are very modern and have a great appeal for your eyes. You will find enough space to store a 40 lbs. propane tank and a unique door system on the outside.
All its doors are magnetic and feature auto-leveling; the windows are frameless to enhance the overall style. The Grand Design Solitude also has a well-organized wet bay. In this, all the water connections and a filtration system are neatly installed and ready for your use.
The Grand Design Solitude comes with top-notch features. And using this will help you decide if full-time living in a 5th wheel is the right decision for you. A glance inside this 5th wheel vehicle will reveal the basic floor plan.
It has a dining area, kitchen area, an entertainment center, marine-grade speakers, and so much more that will make you feel right at home.
This 5th wheel has dozens of luxurious floor plans that are customizable. Grand Design Solitude is still very cost-efficient and affordable than other 5th wheel vehicles.
Pros
Easy to tow with the right vehicle.
Multiple floor plans available.
Fully laminated walls, ideal for all seasons.
Sleek and modern design.
Ample sleeping space.
Full body weather protection paint.
Cons
Higher price than most of its competitors.


If you are looking to transition from living in your standard house to full-time life on the road, Coachman Chaparral Fifth wheel is the right vehicle.
The Coachmen Chaparral comes with a gross vehicle weight of 12,000 lbs. which is surprisingly less than what others in this range have to offer.
Not only does it have a competitive gross vehicle weight, but it is also only 12 feet 4 inches tall, making it easier to access almost all gas stations.
The vehicle does not lack ceiling height. At 12 feet tall, the Coachmen Chaparral is still big and spacious.
Apart from having 11 different floor plans to choose from, the Chaparral also offers a huge range of add-ons for customization. The Chaparral has upgraded to a very sleek and lightweight design.
Notice how the Chaparral has switched its graphics to a more contemporary style. It gives you a lot of straight lines and contemporary cuts, making it look very appealing.
The next thing you will find very attractive is the ample amount of storage provided, considering that this is not on a drop frame style 5th wheel.
The Coachman Chaparral also comes with a very robust aluminum framing. It also displays a dual-panel window system, a spacious luxury kitchen, and an entertainment center.
It is worth mentioning here that with many customizable options and plenty of USB charging spots. The best thing about Coachmen is that they have a variety of 5th wheels options, and you can easily select one that suits you the best.
Pros
All the models are extremely different from each other.
Provides an excellent floorplan.
Has proven to be a dependable 5th
Easy to tow with the right vehicle.
Cons
Spare parts are not readily available in the market.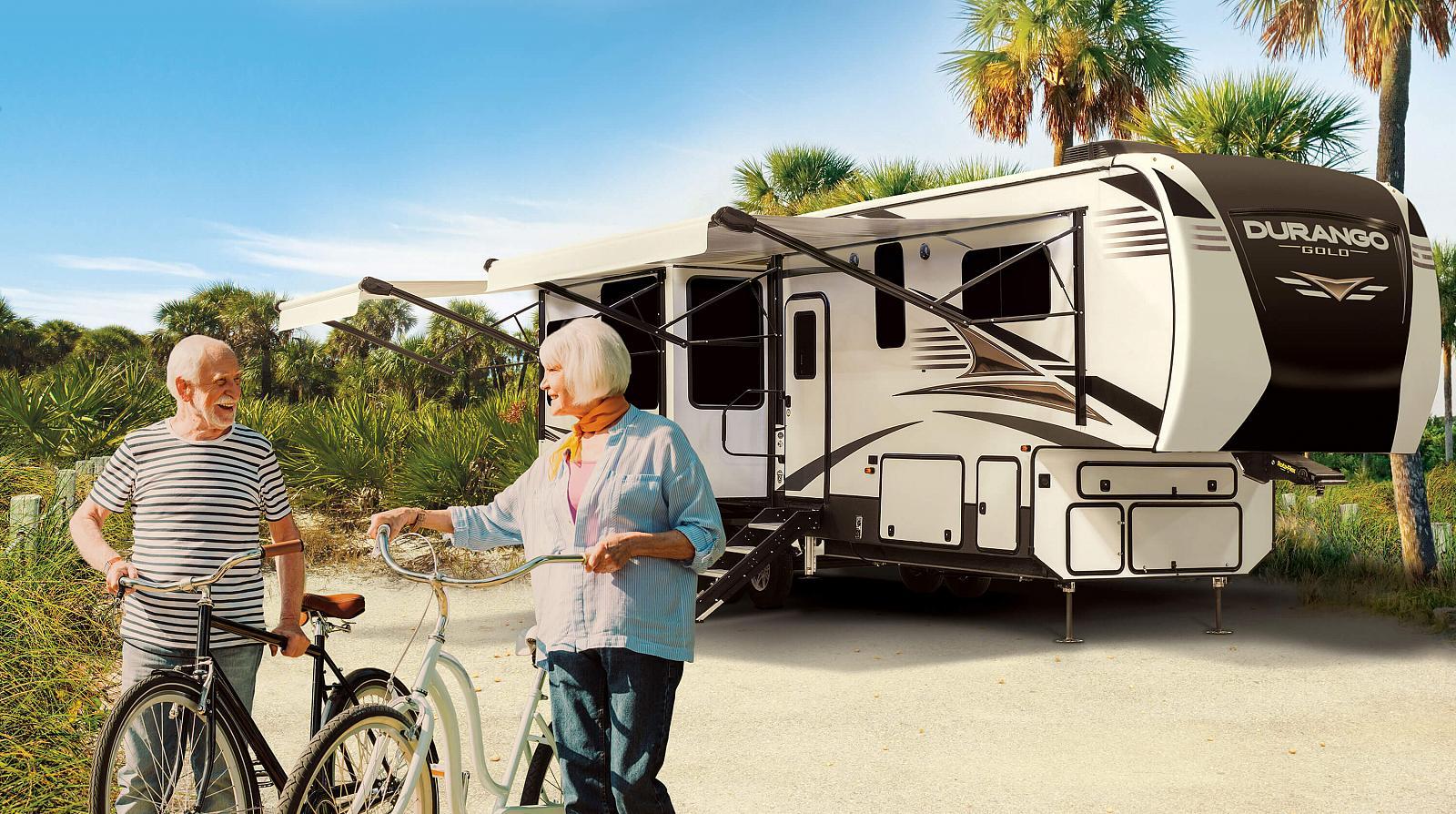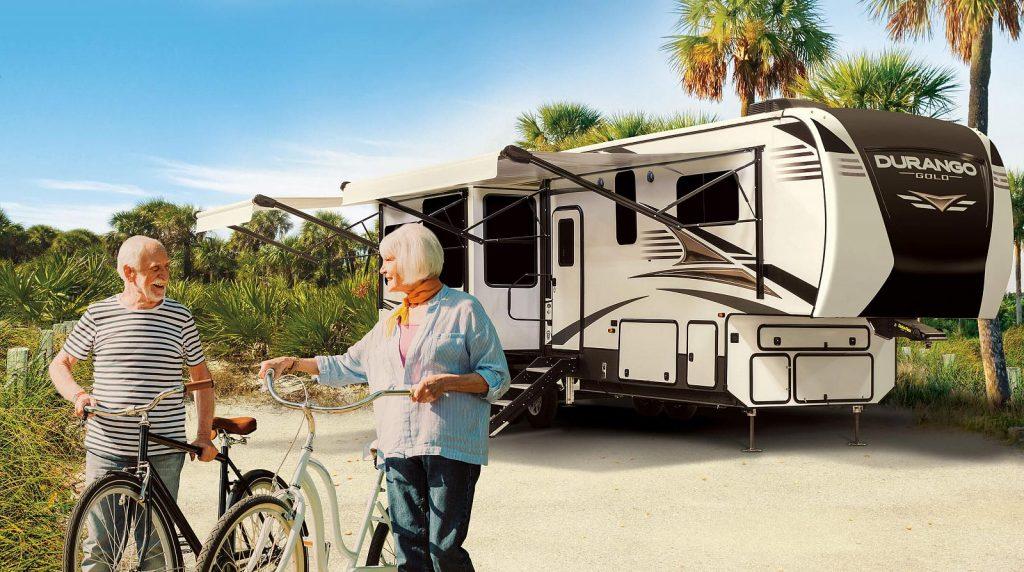 With a massive tinted front window, KZ Durango Gold is a frontrunner in the 5th wheel market. This full-time living 5th wheel has everything you could need to live a truly luxurious life on the go.
The Durango Gold offers a wide variety of customizable designs with weights ranging from 11,370 lbs to 13,870 lbs and lengths from 35′ 6″ to 42′ 5″. Premium materials have been used to build the KZ Durango Gold.
Its sidewalls are aluminum framed and offer high-density insulation thanks to the rig's R-11 lamination. This full-time living 5th wheel provides comfort and protection in all 4 seasons.
It has luxury-grade heated insulation that provides comfortable warmth in colder months. While the specialized heat duct placed in the underbelly of the vehicle maintains temperatures in the hotter months.
The KZ Durango Gold boasts an electric-powered theatre system with reclinable massage chairs.
A full-sized residential refrigerator, a dishwasher, tons of storage space, and an oven are included in the kitchen.
In addition, the rig comes with tons of hidden space and surprising little quirks that many 5th wheels don't offer. For example, this 5th wheel comes with a rather large shower, suitable for people over 6ft in height., a walk-in closet, a washing area, and a king-sized electrical bed.
One thing that sets this full-time living 5th apart from its competition is the option to attach a foldable patio in the rear end. This gives you extra space for camping above ground or just relaxing in nature when your 5th wheel is stationary.
Pros
Ample sleeping space.
Large size awnings.
LED lights pre-installed.
Great storage capacity.
Cons
Requires a heavy truck to move it.
Kitchen is comparatively smaller.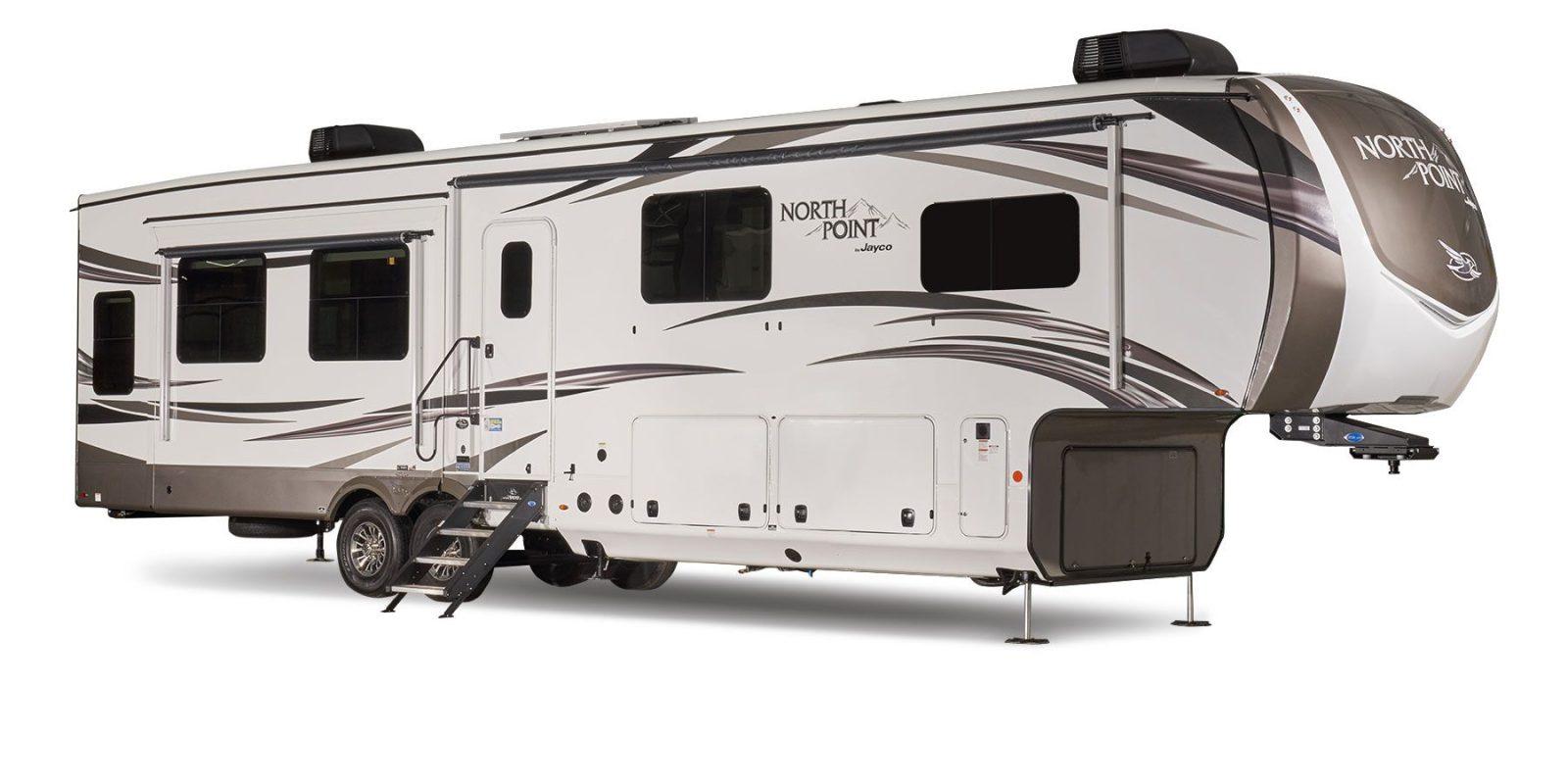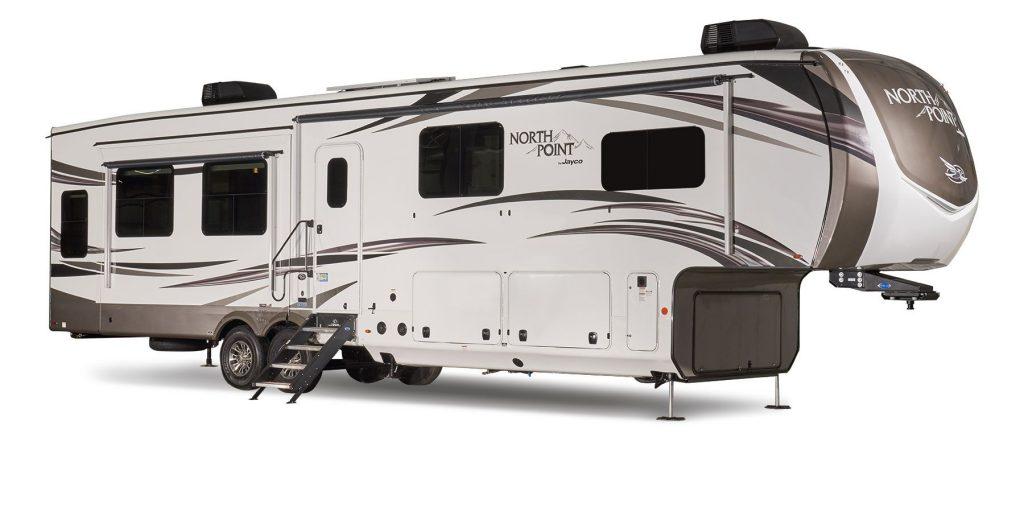 The Jayco North Point comes with a gross vehicle weight of 16500 lbs and has a cargo capacity of 2350 lbs. This is due to its protected basement drop frame and is about 40 ft long. It is comparably lighter than other 5th wheels with similar dimensions.
This 5th wheel comes with good quality preinstalled security cameras. Not only this, but it also has two propane cylinders with storage space for a third one.
The Jayco North Point has a slim rack sliding system that increases the total surface area of the car for sleeping and storage purposes. This comes into use when the vehicle is stationary and retrieves back when in transit to maintain a streamlined shape.
This full-time living 5th wheel is ideal for a family with children. It has 3 dedicated sleeping areas- a master bedroom and a pull-out bed that doubles as an office and a loft big enough to house a queen-size mattress.
The modern interior design has a classy finish- mostly white with lots of dark brown detailing. The kitchen itself has an extendable countertop. The cabinets can easily house many full-sized pots.
The kitchen has a microwave and a residential size refrigerator, and a four-burner residential stove with an attached oven.
This full-time living 5th wheel boasts the customization option of installing not only one but two bathrooms. Out of the two, one is a much smaller, half bathroom with an attached sink and cabinetry.
On the outside, this 5th wheel has an aerodynamic and streamlined front with pre-installed LED lights. Equipped with a weather protection and insulation system, this 5th wheel is perfect for harsh weather conditions.
Pros
Comfortable for a family of 4-5 people.
High-quality material.
Multiple storage options.
Spacious kitchen.
Cons
Warranty claims require a lot of hassle.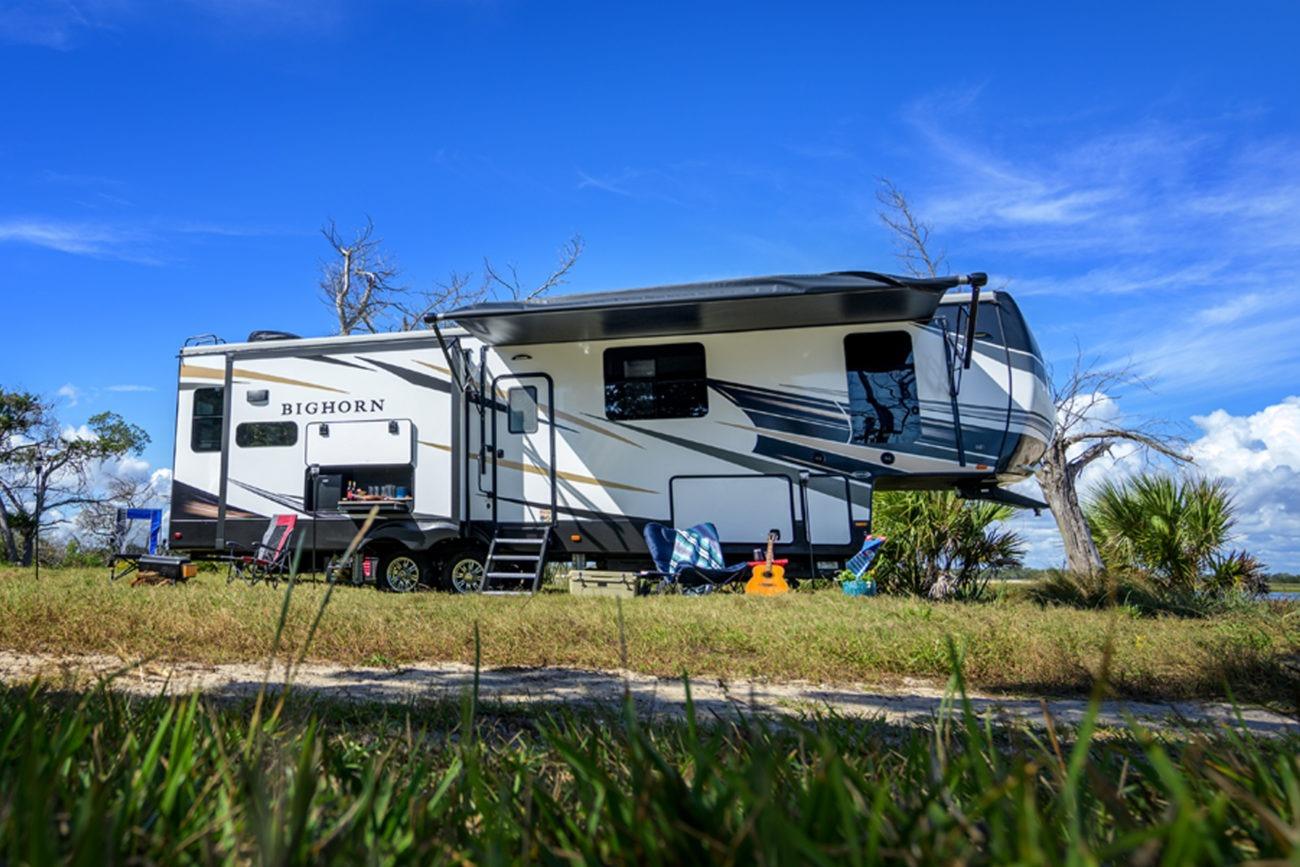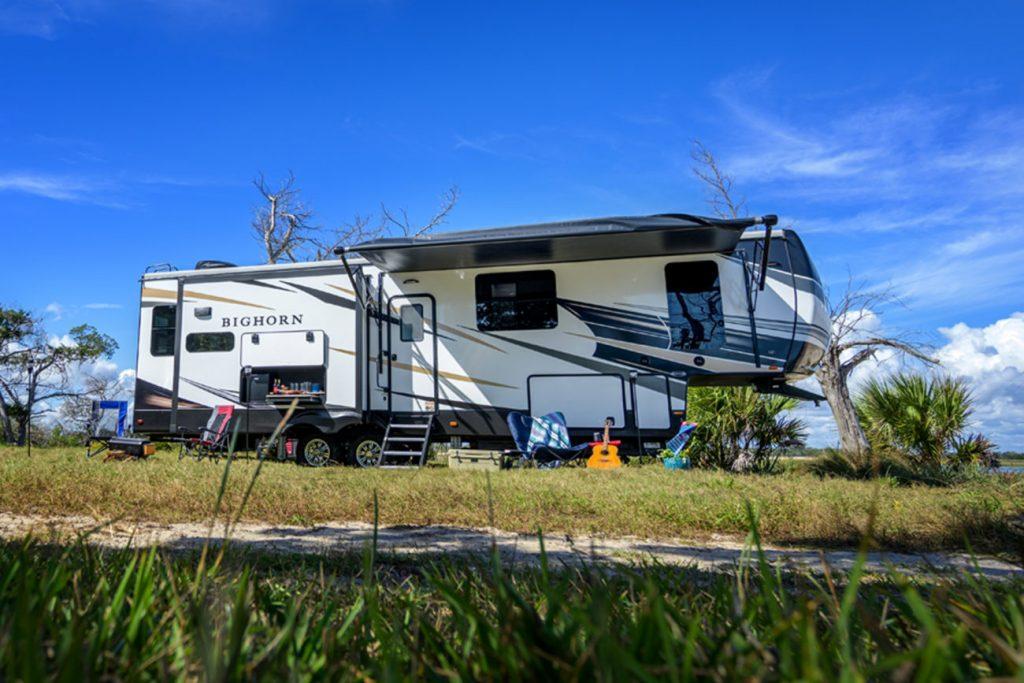 The Heartland Bighorn is a high-end full-time living 5th wheel with a gross weight of 16250 lbs and a cargo capacity of 2864 lbs. It sits on a 7000 lbs axle and G range 16in wheels.
This full-time living 5th wheel has access to the roof with a ladder attached at the back. It also comes with dedicated spaces for a front and rear camera.
The exterior has an excellent and modern paint job which, along with its frameless windows, really add to its luxurious feel.
The interior of the 5th wheel has a sleek modern design with contrasting tones, crown molding, and an excellent kitchen. The kitchen comes pre-equipped with an induction microwave, an oven, and a residential refrigerator.
The Heartland Bighorn offers a wide variety of floor plans. Some larger vehicles have options like half bath and full bath, dual vanities, loft spaces, and walk-in closets.
This full-time 5th wheel is all about storage. It has tons of space-saving, and fashionable storage units tucked away neatly into the walls and furniture. The larger versions of this 5th wheel are great for families with 5-6 people.
Pros
Distinct and inspirational design.
Affordable as compared to the other options.
Good choice for 5-6 people.
Cons
The crutches at the front are weak.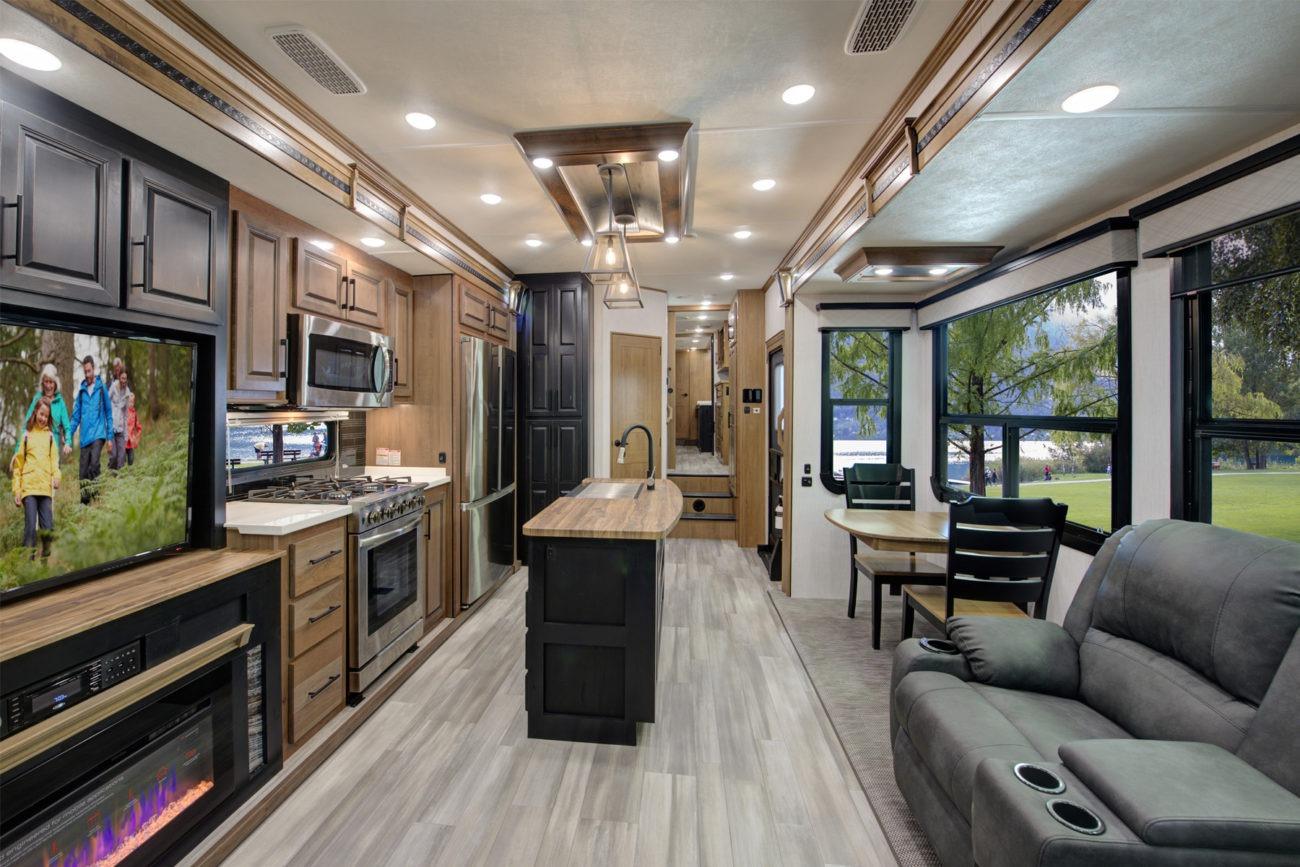 Next in line for fine luxury family travel is the Forest River Wildcat fifth wheel. This is an excellent option if you have a family and are into RV life.
With 2315 lbs hitch weight and its 48-gallon freshwater capacity, you can be off the grid and still have room for plenty of water without any hookups.
In the front area, you will find an easy-to-access propane storage area. And right next to a full passthrough storage section and three slide outs providing multiple storage options.
The Forest River Wildcat also comes with an outdoor kitchen, which is a great amenity to have. Especially if you are entertaining people or generally like to spend time outside cooking. We also have more pass-through passenger storage making it easy and convenient to stay on the road long-term.
The inside space is as luxurious as it can get. The Forest River Wildcat has more than enough room for the family.
But also provides you with luxury details, starting with a fantastic kitchen island with a deep sink and tons of storage underneath. Beyond the kitchen area, you have the entertainment center with a television, a fireplace, and sofas.
That can also be converted into sleeping areas. Moving on to the master bedroom, we can see that there have been no sacrifices made to make the living room area larger.
With a queen-sized bed and a sliding walk-through closet. The Forest River Wild Cat will surely provide you with a luxurious and comfortable traveling experience.
Pros
Spacious living room area.
Multiple slide-out options.
Market competitive price.
Cons
Northwood Arctic Fox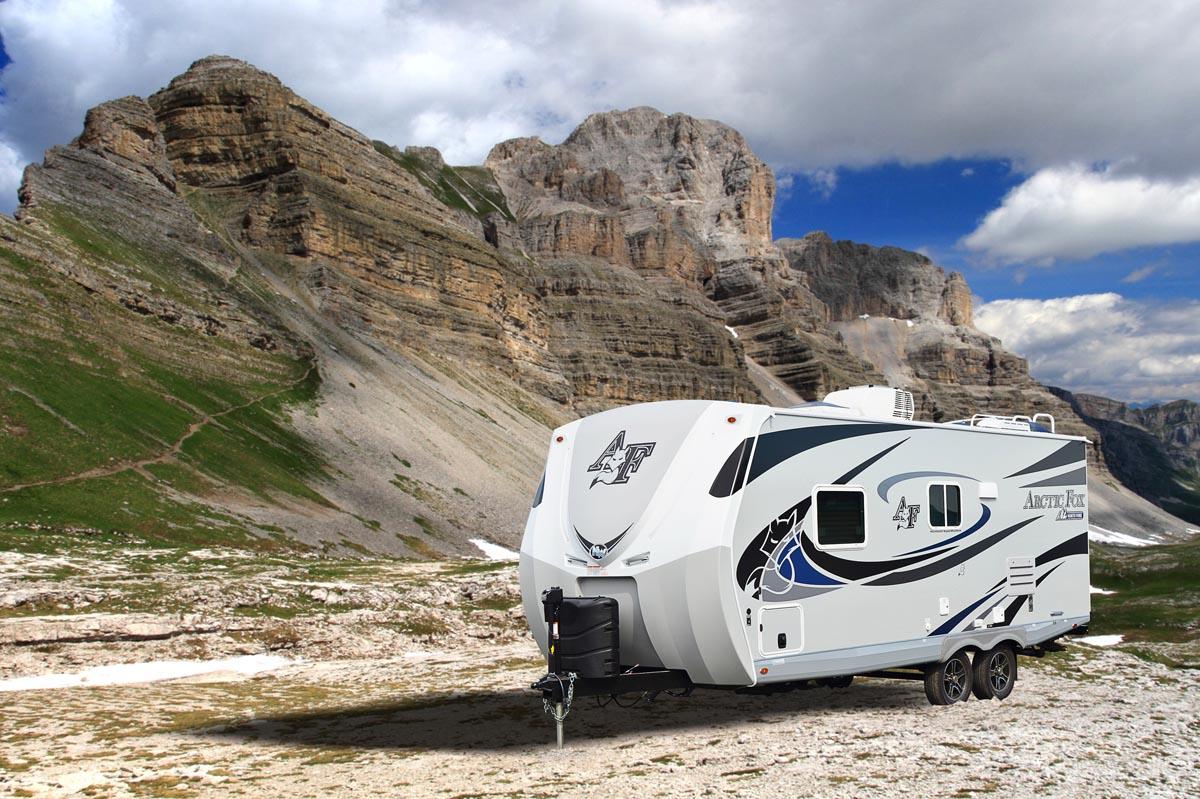 Last on this list, we have the amazing Northwood Arctic Fox that has a gross vehicle weight of around 15,500 lbs and offers a variety of specs. This fifth wheel, unlike the others, is known for its simple and compact yet well-functioning.
Northwood is a company that takes pride in building its structures from scratch using steel off-road chassis. These are independently certified by a third-party test lab using aerospace interference grid technology.
The Arctic Fox comes with a fully welded thick wall, an aluminum structure, and a unique fiberglass cap.
The manufacturers have used high-quality materials for really offroad use. They do wonderful on highways and RV parks, but off-road traveling is where the arctic fox shines.
Providing perfect living conditions for all four seasons, the North Wood Arctic Fox has thermal pane windows and an amazing water heating system.
The interior of the Arctic Fox has your basic kitchen, living area, entertainment center, and a master bedroom perfect for small families.
Pros
Modern design and excellent quality.
Easy to hitch and tow.
Ample storage space.
Perfect for off-roading.
Cons
Does not have the best insulation.
This is not a four seasons trailer.
How To Choose The Best 5th Wheel For Full-Time Living
Let us look at some essential factors that need to be considered while buying a full-time 5th wheel.
Durability
When you are long-term on the road, your 5th wheel tends to pull you through a variety of situations and weathers. Therefore, your 5th wheel should ideally be able to withstand rough weather and road conditions.
Check for the material used for building; is it fiberglass or aluminum? Does it have a strong shock-absorbing system or not? You should consider all these while deciding on a specific model.
Number of Floor Plans Available
Having a variety of floor plans is very important. The higher the number of floor plans available means more options of customizability.
When choosing a fifth wheel for full-time living, it is essential to be able to plan. Choose and pick according to your long-term living needs.
The options discussed above have several floor plans available, ranging from 8 – 30. So, take your time, walk around dealerships and pick an option with the maximum number of floor plans available.
Cargo Carrying Capacity
Look around your house and make a list of things you do not live without. Then, the fifth wheel you choose for your long-term living needs to have space to fit almost all of those essentials.
You should check for options that have drop frames installed as they will provide you with a higher amount of storage space. Storage is one thing, having easy access to it is another. Look for options that have access from both sides of the vehicle.
Unique Features
When looking at a 5th wheel, ask for the standard model features and discuss the different floorplans available.
Check for awnings, waterproof speakers, outdoor slide-out kitchens, water storage capacity, solar panels, USB charging ports, the number of washrooms, closet spaces, and so on.
To get a better idea of what unique features you might need, it is a good idea to visit a dealership next to you.
Heating And Cooling Feature
Your 5th Wheel needs to be able to accommodate for all four seasons if you plan on living full time or even long term on the road. The temperature regulating options become a priority while choosing the 5th wheel.
Material
A good 5th wheel will be made from the best materials available, but they also determine the price category of the 5th wheel. The materials should ideally be lightweight and long-lasting.
Talking about the exterior, it should have a thick well-welded aluminum body coupled with durable fiberglass. Some companies tend to focus more on the main body and cut down on quality.
When it comes to the interior of these 5th wheels, you need to make sure that the kitchen tops are scratchproof. The beds and sofas should be comfortable for long-term use.
FAQs
Which Is the Best 5th Wheel for A Full-Time Living?
The Grand Design Solitude is the best fifth wheel for full-time living. It provides you with a luxury experience, immense storage space, and the highest number of floor plans for customization.
Which One Is the Best RV For a Large Family for A Full-Time Living?
The Coachmen Chaparral is best for a large family as it has a larger space, two fireplaces, and ample sleep space.
Which RV Is Better for A Full-Time Living – Jayco Pinnacle or Forest River Wildcat?
Out of these two, we would suggest the Forest River Wildcat. This one provides more storage and sleeping place coupled with luxurious interior details.
Is Grand Design a Good Fifth Wheel?
Yes, the Grand Design tops our list of the best full-time living 5th wheels.
Which RV Has the Best Resale Value?
The Jayco North Point has the best resale value due to its demand in the market and durability.
Conclusion
We understand that buying a 5th wheel is like buying your very own home sweet home. It needs to be perfect and just the right fit for you and your family.
Living long-term on the road is an exciting experience, but only if you make the right choice. In this article, you have been provided with all the necessary information you might need to buy what's best for you.
Ranging from modern luxury vehicles to the more classic and multi-functional options out there, we have covered it all.
So, gear yourself up with all the necessary information and visit dealerships.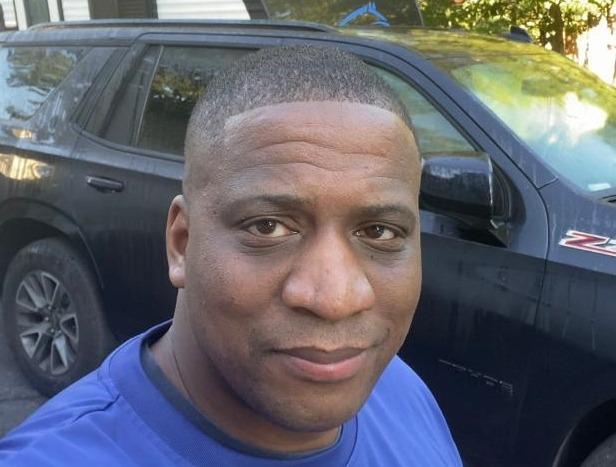 I`m a current Law Enforcement Officer working within the Counterterrorism Bureau in New York State. I have been Camping for over 20 years. My styles of camping include tent, car, truck, van, and RV travel trailer. I have a YouTube channel where I teach all types of camping with an entertaining method: https://youtube.com/@TheSmallsRVAdventures