Top 7 Best Built Fifth Wheels [Pictures Inside]
Getting yourself a fifth-wheel RV is a fascinating thought if you love traveling and spending time on the road. However, it has to be suitable for you.
The material used in its construction should be light in weight, the roofs and walls should be insulated, and the floors should be well-built to bear all the weight.
The market is full of numerous designs and types of fifth-wheel RVs, varying in their sizes, durability, materials used, and much more.
You could be looking for a recreational vehicle with large space, say two rooms, or you could want your RV to withstand your rough usage.
Whatever you fancy, we've got your back as we are going to dig into the details of some of the best fifth-wheel RVs that you could get!
Best 5th Wheel RVs Comparison Table
| | | | | |
| --- | --- | --- | --- | --- |
| RV Name | Length | Dry Weight | Number of persons can sleep | Approx. Price |
| Jayco Eagle Ht 25.5reok | 28.8 feet | 7,775 pounds | 4-6 | $53,552 |
| Forest River River-Stone 39RKFB | 42.7 feet | 16,292 pounds | 4-6 people | $85,000- $131,000 |
| Gulf Stream Sedona 28cbf | 31.6 feet | 7,500 pounds | 10 people | $28,000 |
| Winnebago Voyage V3436fl | 39.6 feet | 11,000 pounds | 3 people | $40,000- $58,000 |
| Keystone Montana 3741fk | 40.2 feet | 13,755 pounds | 6 people | $92,619 |
| Crossroads Rv Redwood 3901mb | 40.3 feet | 14,109 pounds | 4 people | $90,000- $130,000 |
| Grand Design Solitude 377mbs | 40.10 feet | 13,200 pounds | 8 people | $94,000- $100,000 |
Best Built 5th Wheels Reviewed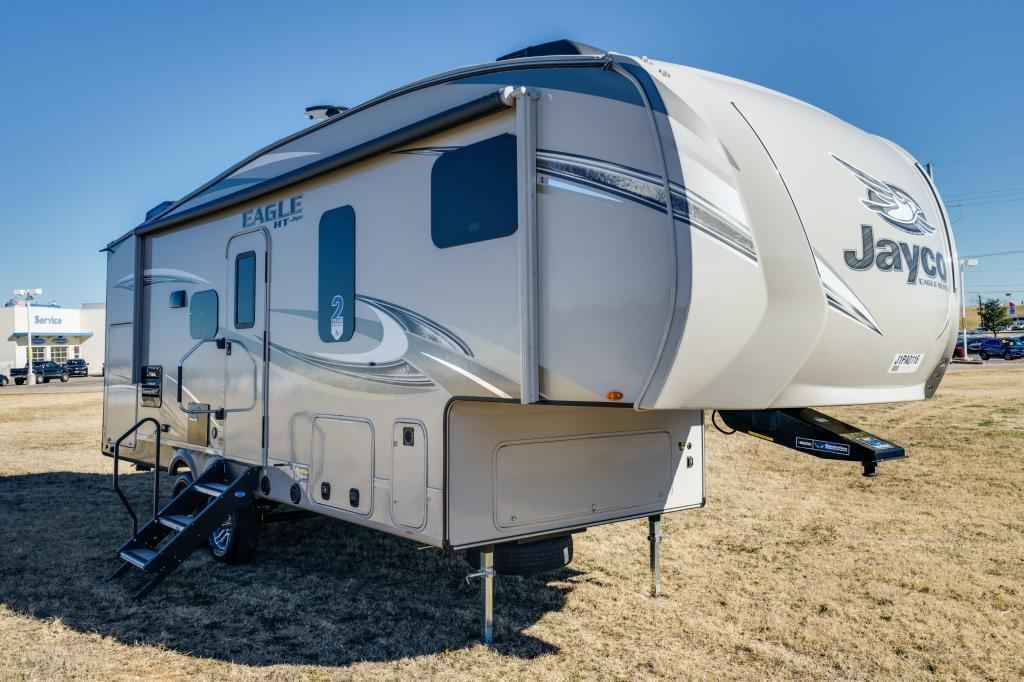 Jayco is working hard to offer the best motorhomes with more available space for the convenience of users. Living in a Jayco Eagle Ht 25.5REOK is like living a luxurious life with all the possible facilities.
This half-ton motorhome is easily towable and suitable to fit any place without any issues. Unlike other RVs, Jayco eagle has an outdoor kitchen or convenient cooking with an open-air experience.
The queen bed inside has a hiding feature which makes it a sofa when you want. To make your roadside living exciting and fun, there is a free-standing table along with the chairs.
Not only this but for your entertainment, there is a LED TV, behind which you have a walk-in pantry for several snacks and paper goods.
An optional fireplace also makes your chilly evening cozier and warmer so that you can feel relaxed. Keep your phones and devices with multiple USB ports, which are in the kitchen and bedroom.
The dual entry bath means you can remove all your tiredness in a few minutes. Get yourself refreshed with a satisfying bath space and a shower skylight.
Moreover, the sliding wardrobe secures all your essentials and clothes easily. The underbelly is fully heated and enclosed for warm nights during freezing temperatures.
The Jayco smart RV system lets you control your tiny device, phone, or tablet functionality. You can also have a comfortable life with its quiet cooling ac. It's time to start living roadside with this RV in any season without any worries.
Pros
Stainless steel kitchen sink.
Dual entry bath.
Queen bed with under-bed storage.
Optional fireplace.
Fiberglass front cap.
Double layer fiberglass insulation in ceiling and floor.
Porcelain foot pedal flush.
Cons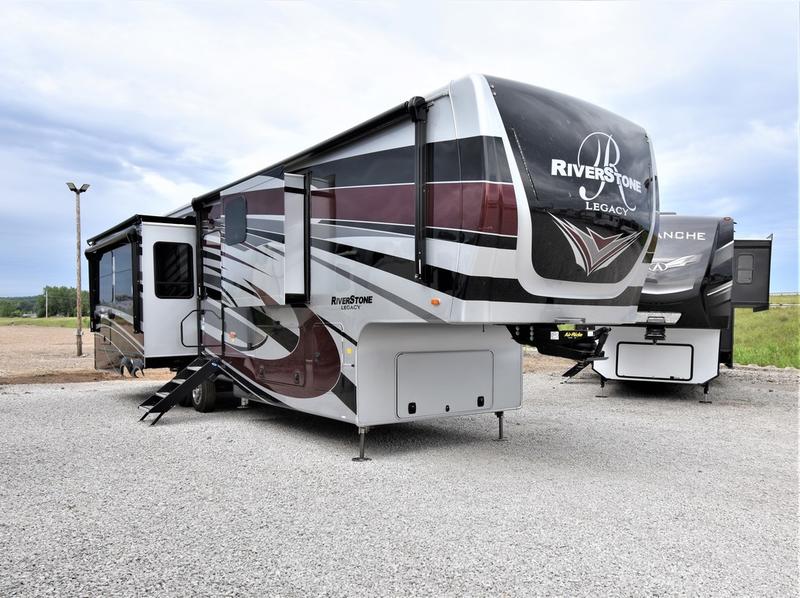 This incredible fifth wheel, easily towable, lets you enjoy your favorite season in the desired state park. You will love to cook in the rear kitchen with a large stainless-steel microwave.
The kitchen has enough counter space to place your crockery and cooked food. Moreover, the pantry lets you store all your cooking stuff.
There is a foldable dinette for your kids to play games, but you can eat food on it too. The other desk allows you to continue your work while you are not at home.
If you don't want to work but relax, you can get a tri-fold sofa in the desk's place. The extra sofa place and theater seats will make your evening more comfortable near the fireplace and LED tv.
The main living area has a half-bath for your guests sitting there. But for you, there is a kind bed in your master bedroom with a complete space bathroom, having a shower seat and dual bath sinks are just perfect.
With an on-demand water heater and exterior docking station, this RV looks more satisfying and fulfilling. The entry steps are so convenient to let you in and out without any issues.
What you'll love about this best-built fifth wheel is that it comes with a king bed. It offers the buyers the stunning four cooktop burners, a French door refrigerator, a bath shower having a seat, theater seats, six different auto leveling jacks, and a washer.
Pros
Under-bed storage.
Satisfying led lights.
Hardwood cabinetry.
Well-performing noiseless air conditioners.
Dexter EZ flex suspension system for smoother driving.
Exterior docking station.
Both half and full baths are available.
Foldable dinette and a desk or tri-fold sofa.
Cons
Low capacity black water tank.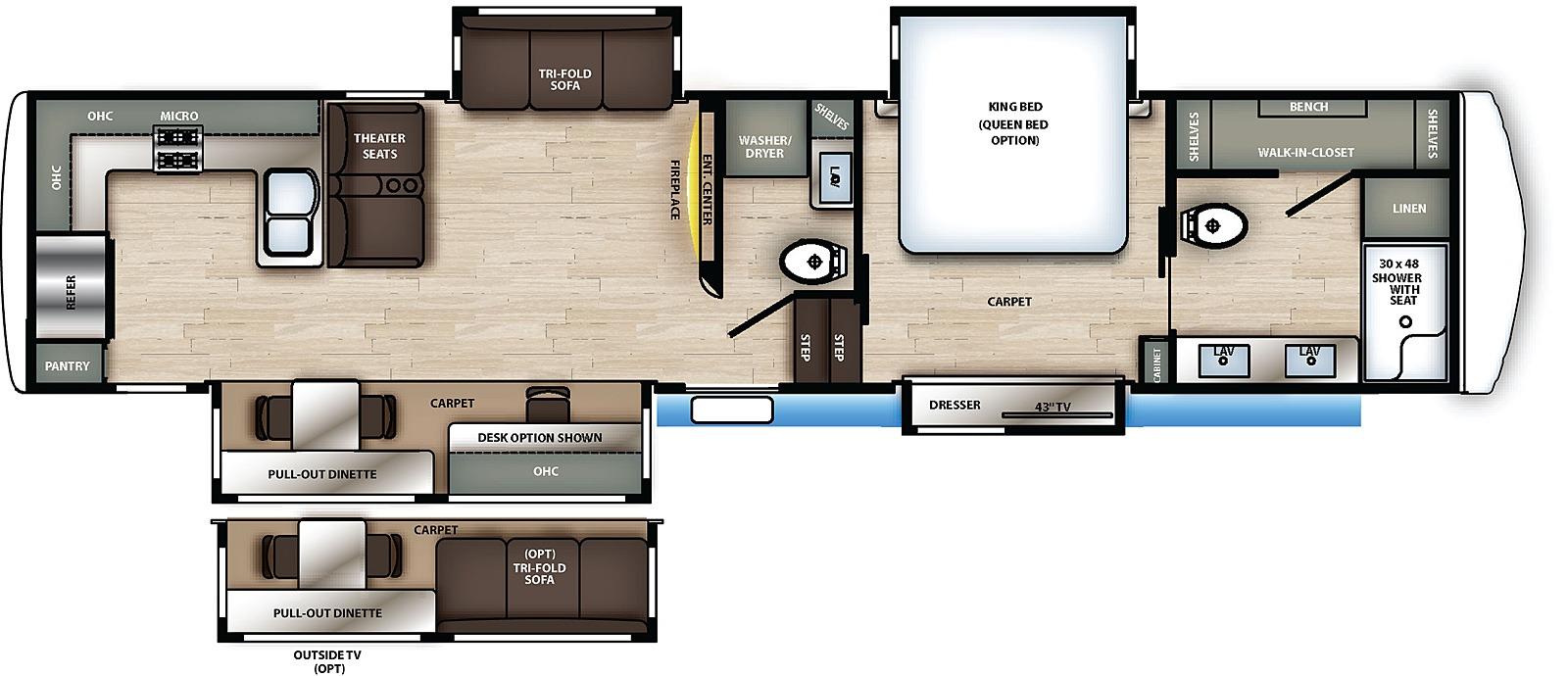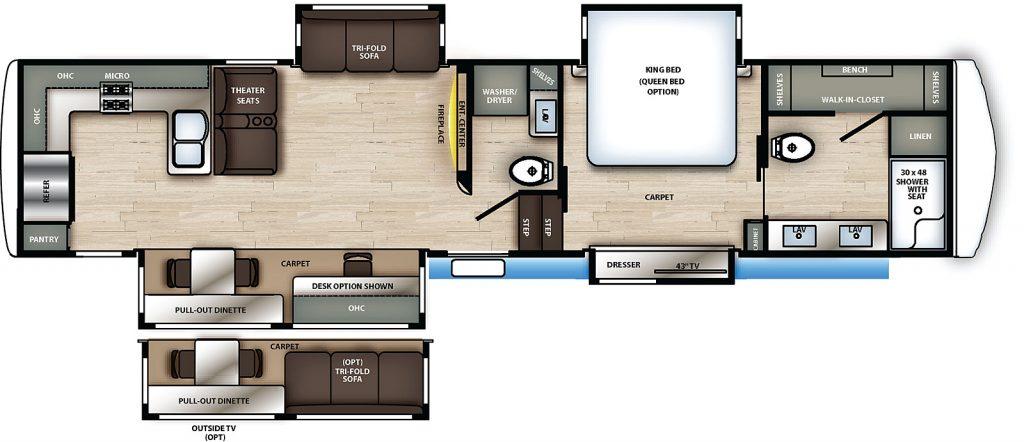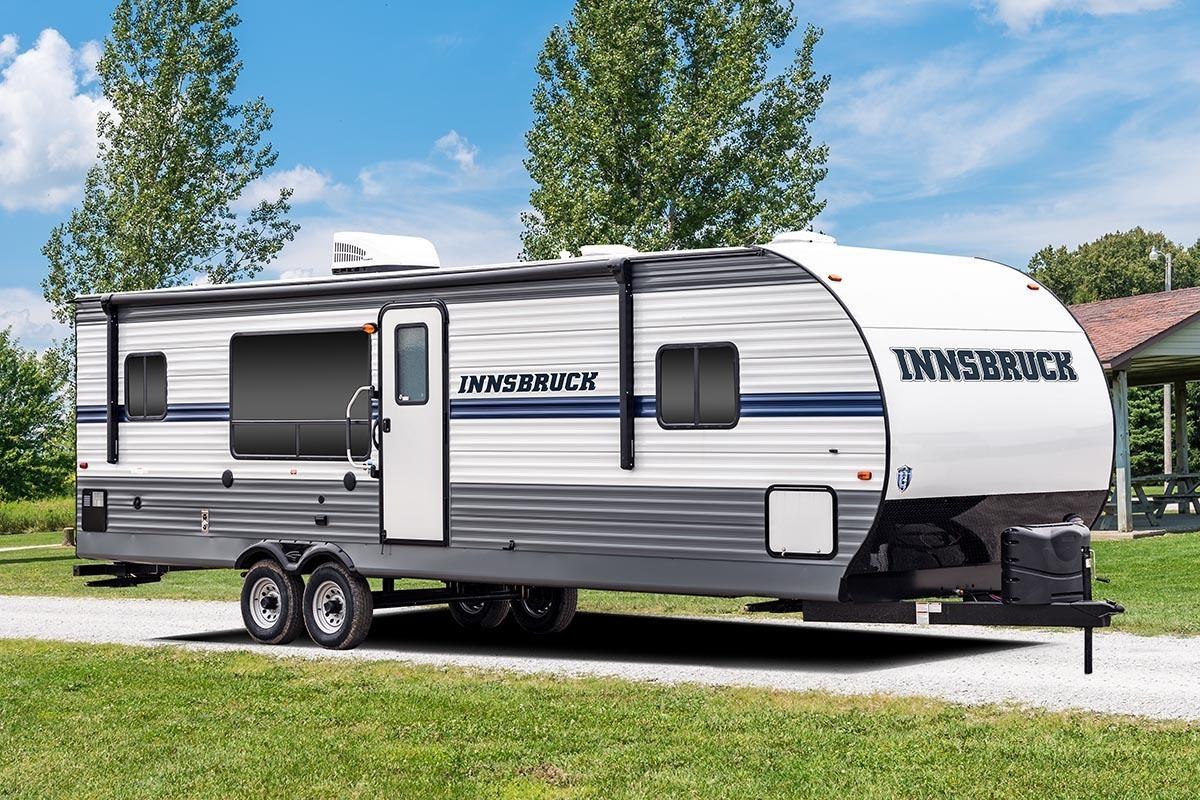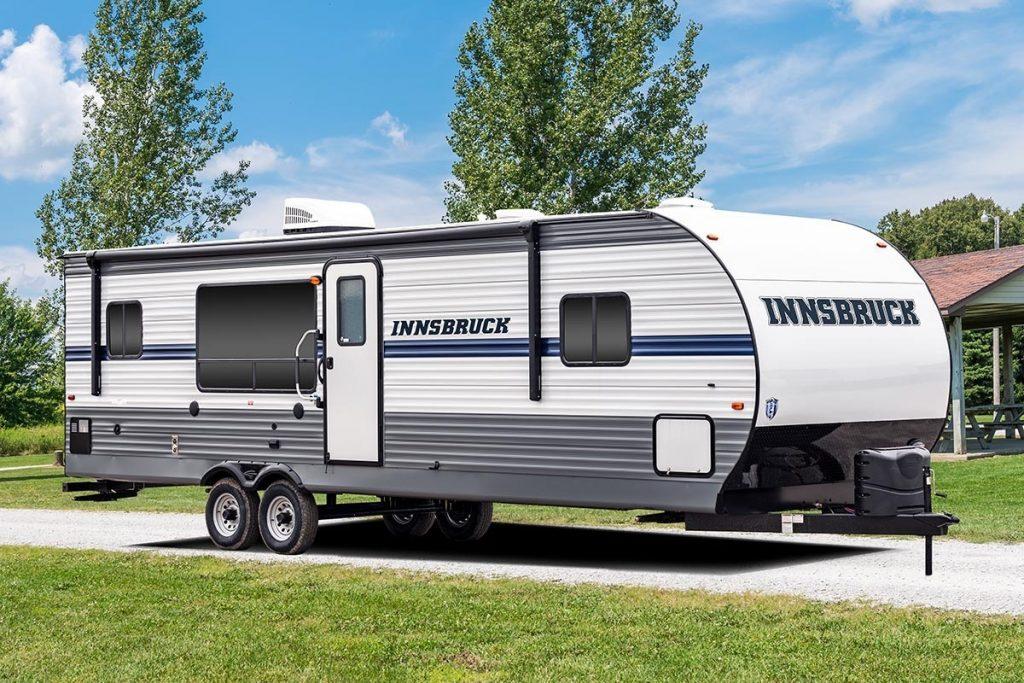 If you want something unique and more beneficial, Gulfstream Sedona 28cbf is the one. It is an all-in-one RV for your fantastic camping adventure. Sedona fifth wheel is the efficient and luxurious choice for you because it is a half-ton towable RV and a helpful companion of yours.
Sedona offers you a vast area to fill up the crowd and have fun. It is one of the best fifth-wheel options in the market these days.
Sedona is worth every penny because of the quality construction and decent interior. It has both satellite-ready and solar-ready prep for different situations.
Its design window treatments are to provide you with noiseless and weather-friendly results. Its power vent hood with a light is to make you feel at home. Are you feeling hungry? Head towards the kitchen and prepare anything you want. There is a three-burner gas range with a reliable microwave and a double-door refrigerator to keep your food fresh.
You can relax on your double bed, which features a premium mattress. You can also play games or have dinner on the booth dinette. If it's not enough, there is an entertainment center with a theatrical feel to keep you happy every time.
The delightful bath setting with a shower tub and curtain lets you maintain your hygiene routine with convenience.
This fifth wheel comes with outdoor and indoor mounting brackets. It also comes with a vinyl roof, fiberglass exterior sidewalls, mini blinds, designer windows, and power landing gear, making it worth investing in!
Pros
Skylight in the bath.
Wide bedspread.
Enough storage spaces.
Foot flush toilet.
Medicine cabinet.
Smoke detector.
Jackknife sofa sitting.
Cons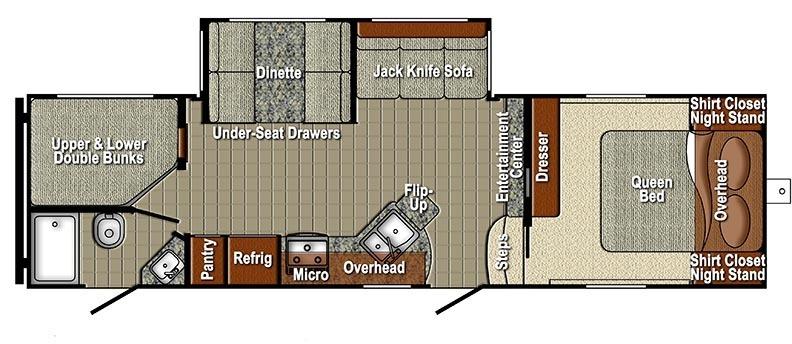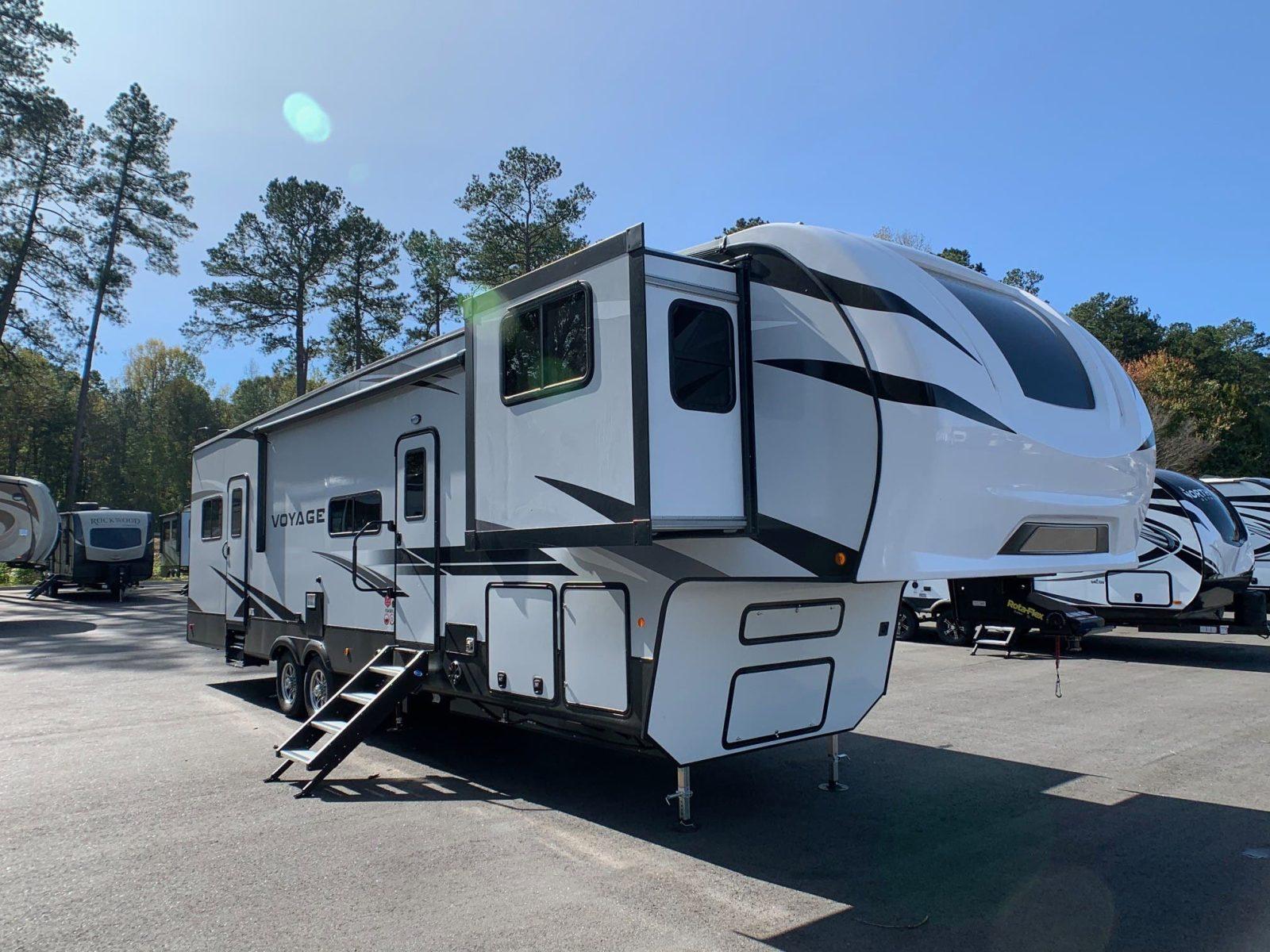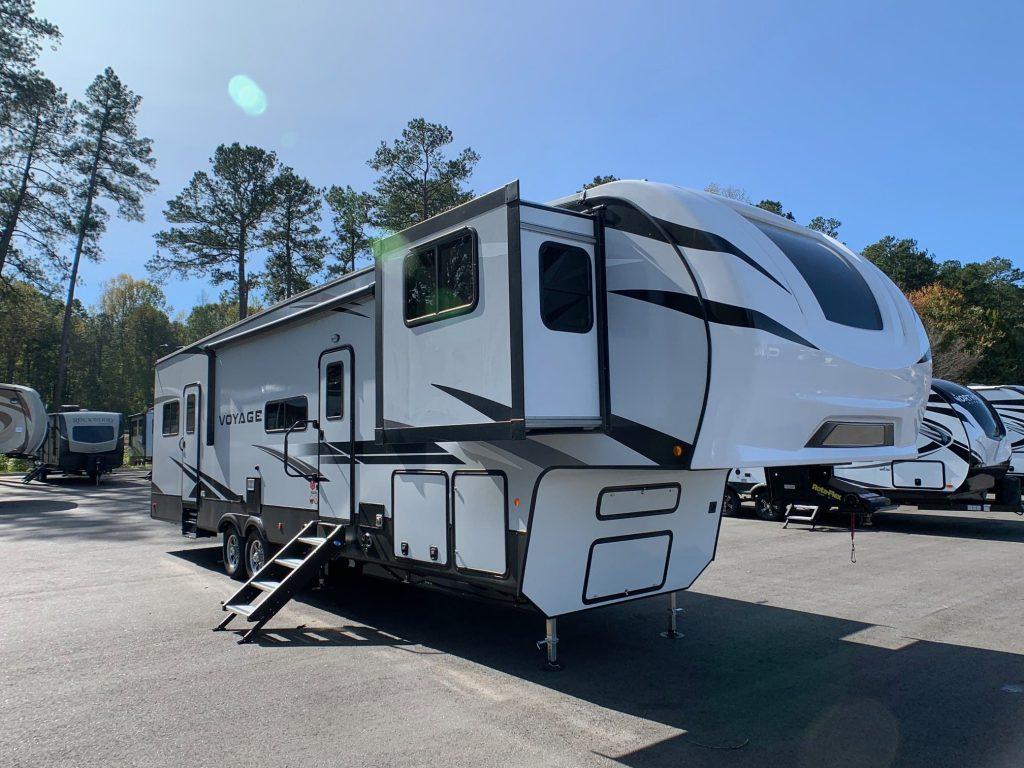 Upon entering the motorhome, you will enter the kitchen, dark wood cabinets, and solid countertops. If you want a pantry, there is an eight cubic foot refrigerator space.
Three burner ranges and a sink in a u-shaped kitchen give you enough space to cook freely. It has a table chair area which you can manage according to your needs. So, sit back and fulfill your cravings within minutes.
The front living room has a wireless charger, desktop, and pantry. The bottom step to never the living room has a space to handle your shoe-throwing. In the living area, there are three deluxe sets of sofas to sit back and relax. There, you will also find natural light, Bluetooth speakers, 50inch LEDs, a fireplace, and windows.
What else do you want there?
You can enter your bedroom with a queen bed and nightstands now, which also have an outdoor entry. With a large window and blackout shades, you can have enough satisfaction any time of the day or night. There are also LEDs, mirrors, a dresser, and enough space to make you feel at home.
Now, the bathroom is in the queue to make you feel blessed, with a linen closet, washer, step-up shower, and top-notch comfortable toilet. There are enough cabinets to hold your stuff with ease.
Overall, it comes with a universal docking station, queen bed, fiberglass front cap, ceiling LED lights, and outdoor speakers, which will make you fall in love with it.
Pros
Huge living space overall.
The living area is quite soothing and eye-catching.
Separate entry for a bedroom as well.
U-shaped kitchen with stainless steel.
The padded headrest of a bed.
Black shades in the bedroom to make you sleep better.
Cons
Not so good insulation system.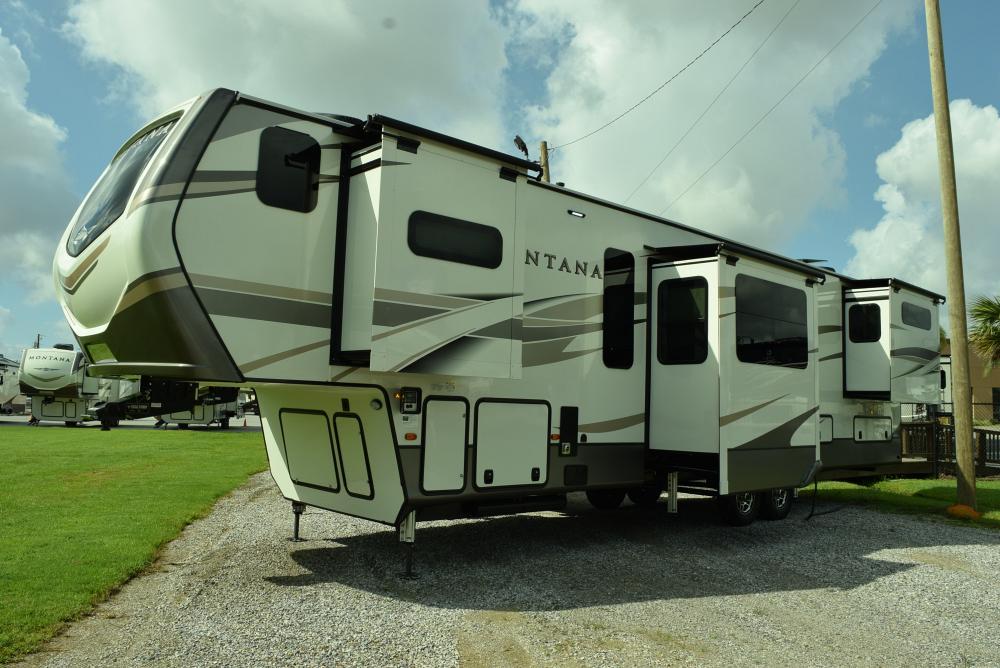 Camping in this fifth wheel is so interesting and exciting because you have no issues and needs left. Keystone Montana is loaded with features to provide you with the most comfortable camping experience.
You can relax on the reclining, hide in bed sofas, and watch your favorite show near the fireplace. When you enter the bedroom, you feel so lucky to have such trendy and space-saving furniture there. The sliding door lets you enter the rear master bedroom. And if you are done with your sleep, it's time to cook some food.
With a wind front shield, the pull-out pantry and counter space let you cook freely but with extra room to place the buffet. You can eat with your loved one on the u-shaped dinette while exploring the natural beauty from the window right there.
Its exterior storage slide-out tray lets you take all your favorite stuff, including fishing poles, golf clubs, etc., with you. There are two awnings to relax under them while enjoying the outdoors.
The motion sensor led lights in the bedroom closet, inside steps, adds more convenience. It also features cross ventilation, proper insulation, heated and insulated tanks, dump valves, and a central vacuum to make your living more convenient and fun.
Overall, it is the best fifth wheel to invest in. It comes with a queen bed, offers a convection cooking method, washer, dryer, residential French door refrigerator, and perfect accommodation for 6-8 persons.
Pros
Vinyl flooring.
Motion sensor led lights.
Four seasons living package.
Proper insulation.
Heated tanks.
Central vacuum.
Dinette with a window.
Pull out counter space.
Enough storage compartments.
Cons

Crossroads Rv Redwood 3901mb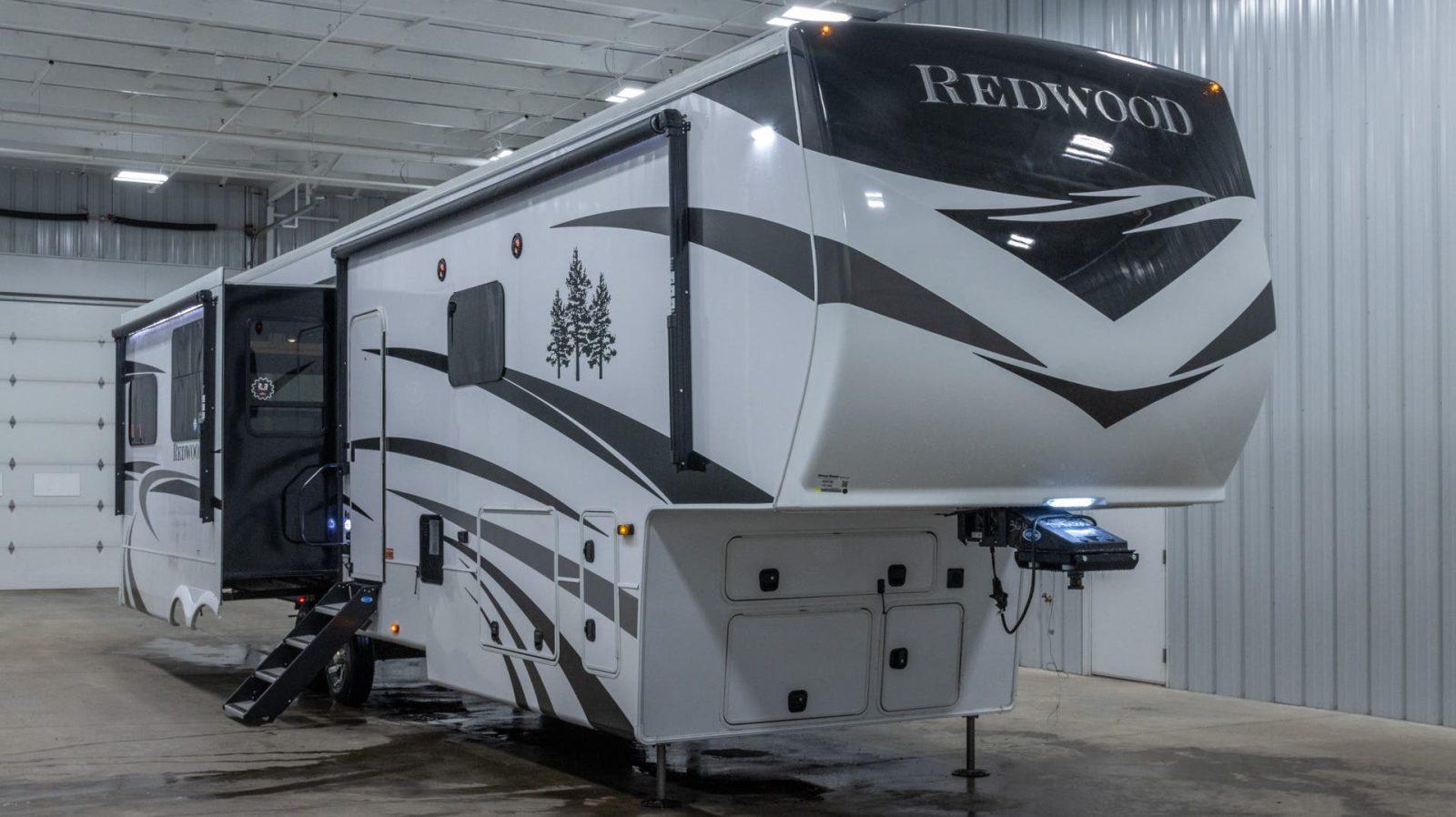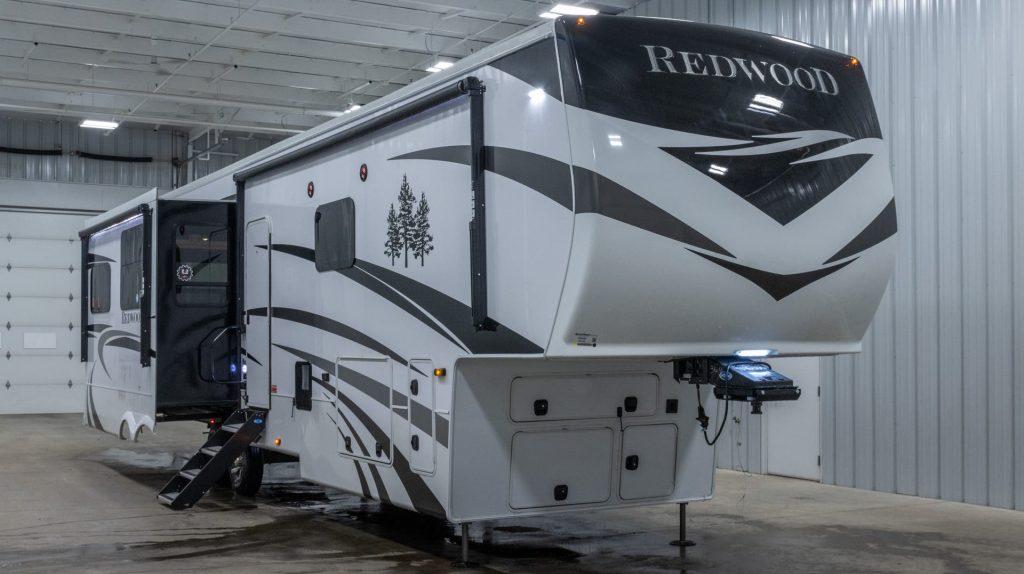 Crossroads RV redwood is what you might be looking for to accomplish your traveling plan with luxury and comfort. There is no better choice than redwood, which has all the possible facilities for you and your friends. Its aerodynamic profile and quality construction are what make it unique, among all other RV options. With a 3-slide solid step entry, you can make going in and coming out easy.
There are two recliner sofas in the satisfying living area to make you sit in whatever position you want. Watch your favorite show near a fireplace, feeling out of the world. Want to eat? Make your meal anytime in the classy kitchen of this RV.
It also features a residential refrigerator with an ice maker, a three-burner gas stove, dual sinks, and a microwave to keep your food warm. Serve your meal on the dinette and invite your loved one to accompany you.
All this will make you tired, and you will need a cozy bed to get rid of that. The bed is not only going to let you enjoy a good night's sleep, but it also has space to fit your stuff.
There are overhead cabinets and a built-in dresser for all your clothes. For a relaxing shower, the enormous shower bath is what makes you happy with the dual sinks option and walk-in closet.
Fall in love with this fifth-wheel motorhome as it comes with colossal shower space, three burner gas stoves, dual pane frameless windows, 6 points hydraulic auto-leveling, and much more!
Pros
Dual sink kitchen counter.
Hardwood cabinetry.
Recliner sofas.
Cozy bedroom with massive storage space.
Residential microwave and appliances.
Vast space to live freely inside.
15k 3rd air conditioner.
Cons
Not counted as the most luxurious option.
Grand Design Solitude 377mbs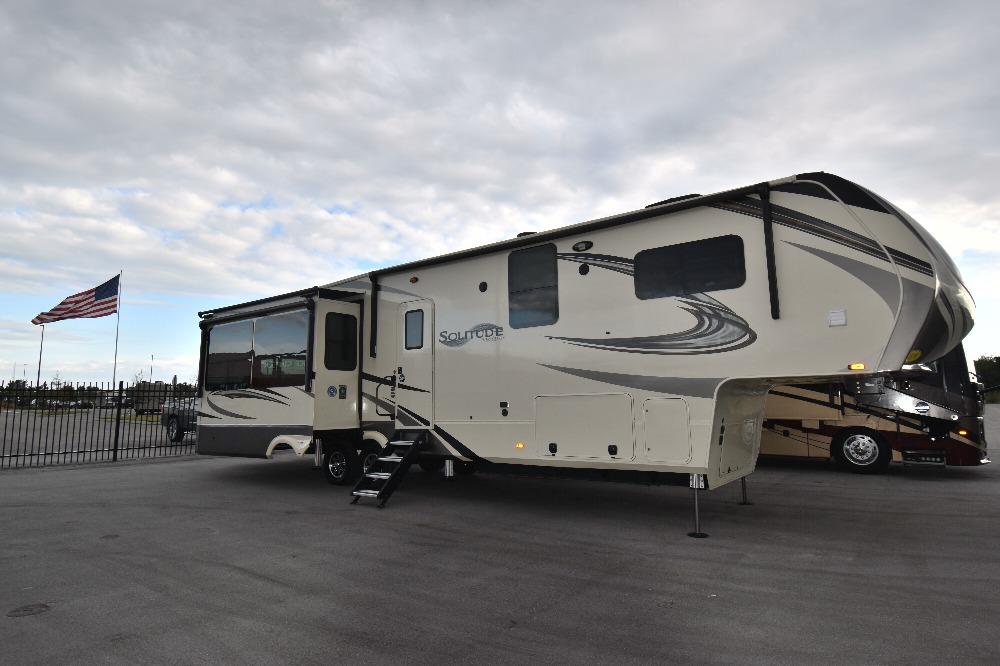 In this fifth solitude wheel, you will not miss your work while staying away from your home. With lovely views of mountains and a large bunkhouse, you don't need to discontinue your office work. This multi-purpose room has a desk and a sofa to keep you working comfortably. The above lot provides you with extra sleeping space, which you can also utilize as a storage area.
The master bedroom with all your necessities and trendy furniture is ready to offer you a cozy environment for a good sleep. There are individual reading lights with a clear view over your queen bed.
Also, under-bed storage allows you to place your stuff inside, and a huge led to refresh your mind through exciting shows. The bathroom features a fiberglass shower door for a safe and relaxing bath with a porcelain toilet and under-mount sink.
The oversized kitchen pantry and high-quality countertops let you cook your favorite meal in the most fun way with convenience. All those necessities including, dishwasher prep, refrigerator, microwave, and hidden storage spaces, are what you want for a dream camping adventure.
The living area includes theater seating, a fireplace, and a cozy environment so that you can have fun with your friends or family. To keep your motorhome organized, there is a shoe space under the steps.
Overall, this best-built fifth wheel comes with accommodation for eight persons, dual awnings, a pull-out kitchen, double pane windows, and much more!
Pros
Tri-Fold sofa.
Glass cabinet door inserts.
Plywood bottoms of drawers.
Well-furnished and affordable beauty.
Stealth AC system.
Maximum insulation.
Taller ceilings.
Removable swivel tables.
Cons
5th Wheel Campers Gallery
FAQ
Which Brands Should I Avoid?
A few brands that you should avoid are Thor hurricane, Fleetwood, and Coachmen. These brands have been in the market for some time. However, their customers do not find their products to be of high quality. They are of high maintenance as high-grade materials are not used. It is time-consuming to sustain them as they are not quite durable.
What Do I Need to Know Before Buying A Fifth-Wheel?
The most important thing to know before getting a fifth-wheel is knowing your truck's power and strength. For perfect balance and safety, you need to make sure your truck can bear the weight of the fifth-wheel you intend to buy. This will allow smooth and effortless towing, which is something you would want.
Which Are the Best 5th Wheels Out There?
Some of the best fifth-wheels available in the market are Grand Design Solitude, Forest River Cardinal, Keystone Laredo, and Jayco Pinnacle. These brands exhibit the best features and provide you all the comfort you want with the ultimate luxury and opulence you could ever imagine!
Conclusion
We have tried to help you by reviewing some of the best fifth-wheel RVs! Nowadays, fifth-wheel RVs are getting back in the game with all these astounding features that make a living on the road as comfortable and easy as it is living at your home.
All of the products giving you these amazing and high-quality attributes make it difficult to choose the best one for yourself. Strong structure or the extra space or lavish bathrooms, you need to prioritize your needs.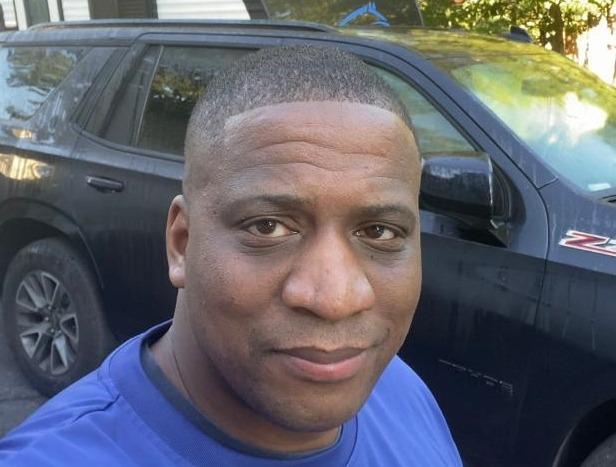 I`m a current Law Enforcement Officer working within the Counterterrorism Bureau in New York State. I have been Camping for over 20 years. My styles of camping include tent, car, truck, van, and RV travel trailer. I have a YouTube channel where I teach all types of camping with an entertaining method: https://youtube.com/@TheSmallsRVAdventures