Towing a Trailer With a Jeep – All You Need to Know
When it comes to freedom for those overland adventures, travel trailers are way better than recreational vehicles. The best part is, you can conveniently park your trailer at your chosen campsite, so you can go to explore the sights and scenes.
But here's a thing!
There's no need for a full SUV or a truck for this either. You can go with a small SUV like a Jeep, especially a Jeep Wrangler capable enough to pull MOST types of travel trailers.
In this guide, you will get to know everything about towing a trailer with your Jeep Wrangler.
So, let's get to it.
What Camper Can a Jeep Wrangler Tow?
Jeep Wranglers are powerful SUVs with the latest models capable of two up to 5000 lbs. But here are certain types of travel trailers that Jeep Wranglers can comfortably tow behind.
Popup trailers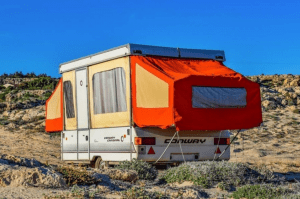 Popup trailers are called fold-out trailers or tent campers. These can collapse as you start traveling. So, you can crank it up into a full-height standing room when you park it at the campsite.
These are incredibly light because all the walls are usually of fabric or canvas that is weather resistant. You can conveniently slide out the bed area in some models and get more space out of your popup camper. It comes with an average gross vehicle weight rating ranging between 600 lbs to 2800 lbs.
Hybrid trailers
These trailers combine a popup trailer with a regular travel trailer. It means, when a popup trailer has hard sides, it's called a hybrid trailer. These trailers have pop-out sleep areas at either or both ends.
The pop-outs are fabric-based, but these trailers are far more insulated due to their hard sidewalls. They are also a lot heavier than popup trailers. The average GVWR ranges between 3000 lbs and 7000 lbs.
Teardrop trailers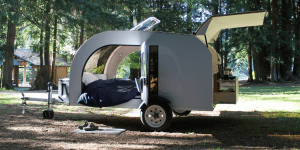 The latest of all the mini trailers' models are teardrop trailers with a shape just like a teardrop, hence, the name. They only have a room for a bed, but a hatch covers your kitchen right at the back.
Some models also come with an outdoor shower option. Some also have small bathrooms and a living area inside. The average gross vehicle weight rating of these trailers ranges from around 500 lbs to 3200 lbs.
Lightweight Airstream trailers
These are old-school classics and incredibly durable designs. But most of these trailers are heavy for a Jeep Wrangler, but the Airstream 16RB Sport comes with a GVWR of 3500 lbs, so it is a suitable option to tow with this vehicle.
But we are cutting a bit too close here, so you will have to backlight and minimal to get this trailer towed behind your Jeep Wrangler.
Things to Keep in Mind Before Towing Something Behind Your Jeep
Before you tow something behind your Jeep Wrangler, you have to keep three points in your mind. One is the vehicle itself, the second is the trailer you are looking to tow, and the third is, of course, yourself, the driver!
Your Jeep's towing capacity and payload rating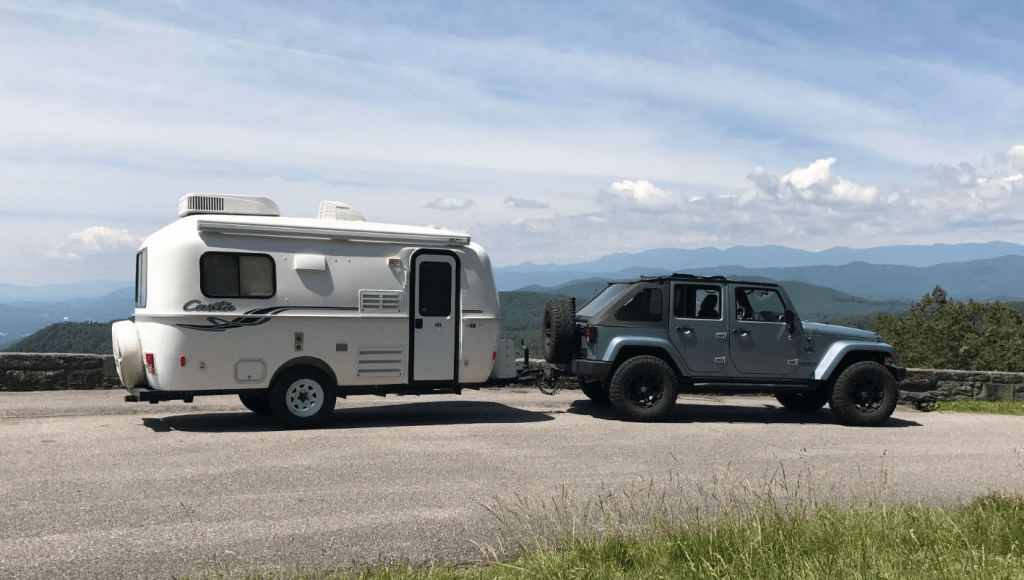 First, let's talk about what your Jeep can realistically handle. Most Jeep Wranglers come with a total towing capacity of 2000 lbs to 3500 lbs based on your model.
Can a Jeep Wrangler Tow 5000 lbs?
Generally, 2-door Wranglers have a towing capacity of 2000 lbs, and 4-door Wranglers come with a towing capacity of 3500 lbs.
Newer models come with more towing capacity where they can easily tow trailers of up to 5000 lbs.
Take JK Wranglers from 2006 to the current model. They all come with this towing capacity. On the other hand, the TJ Wrangler models from 1997 to 2006 with chassis-mounted hitches to drag 4000 lbs behind.
The payload of a Jeep is equally essential. The max payload rating of a vehicle is the total weight of everything that you have on your Jeep, including the fuel, passengers, driver, and any gear or equipment that you will roll with.
Your Jeep's payload rating will be given on the B-pillar or the side door on the driver's side. If your payload is already exceeding total capacity, you shouldn't tow at all.
Your trailer's condition
No doubt, your Jeep will do most of the work when towing a trailer, but you also need to be sure that your travel trailer is in inadequate condition for towing as well. You have to examine it for any rust or damage, especially at the bottom or underneath.
Check to see if the exterior lights, including those turn signals and brake lights, are properly working. Those tires on your trailers need to be in exceptional condition. A lot of tread should be in contact with the road when the trailer is moving.
When you calculate what you can bring with you on your tour, consider the 10% of your travel trailer's gross vehicle weight rating (GVWR) for the payload. It includes your food, water, fuel, gear, equipment, wardrobe, and everything on the trailer.
You, yourself as a driver
Scrutinize yourself as a driver of a heavy travel trailer towed behind your Jeep. Can you handle it safely or not? Maybe you have driven a traveler trailer towed behind a vehicle before. But it would be better to go for a few practice runs to see how you perform or at least get the feel and see how to handle them both.
You must be fully comfortable with the extra length of the vehicle you're driving, and of course, you also need to tackle those sharp corners. Reversing and understanding how your trailer will react when you reverse is another point you need to understand.
A simple trick here is to steer the opposite in which you want your trailer to move when you are reversing. You must understand that even a little change in your Jeep direction when backing up will result in a big change at the end of your travel trailer. And it has nothing to do with the overall length of your trailer.
Equipment Required to Tow a Travel Trailer Behind Your Jeep
The basic equipment you will need to two a travel trailer behind your Jeep includes a wiring plug for your trailer and a receiver hitch. Both these will allow you to connect the turn signal and brake lights or your trailer with your Jeep.
Moreover, you will also need a mount featuring a hitch pin along with a hitch ball that works with your trailer. Safety cairns also require that you sue under the tongue for catching the hitch if it falls.
Most of these aftermarket bumpers do come with a hitch receiver. But they are only rated for a cargo rack and not something as heavy as a travel trailer.
So, the correct rating is crucial for towing. The receiver needs to come with a Class II or Class III rating. Also, make sure it is a 2-inch receiver and not a 1.25-inch one to handle more weight.
Your towing tongue's weight capacity and that of the hitch ball's is also important. Make sure the towing tongue can only take up to 10% of the GVWR of your trailer and shouldn't exceed 15%. And similar is the case with the weight on your hitch ball.
Anything over will significantly reduce the overall performance of the towing system. And you will also notice those sudden movements towards either side. If you tow extra weight, you might cause your Jeep to overheat, and you will have to upgrade your vehicle's cooling system.
Moreover, you will have to install new rotors and brake pads as well if they are old. You can also install a brake or a sway control.
3 Travel Trailers That You Can Tow With a Jeep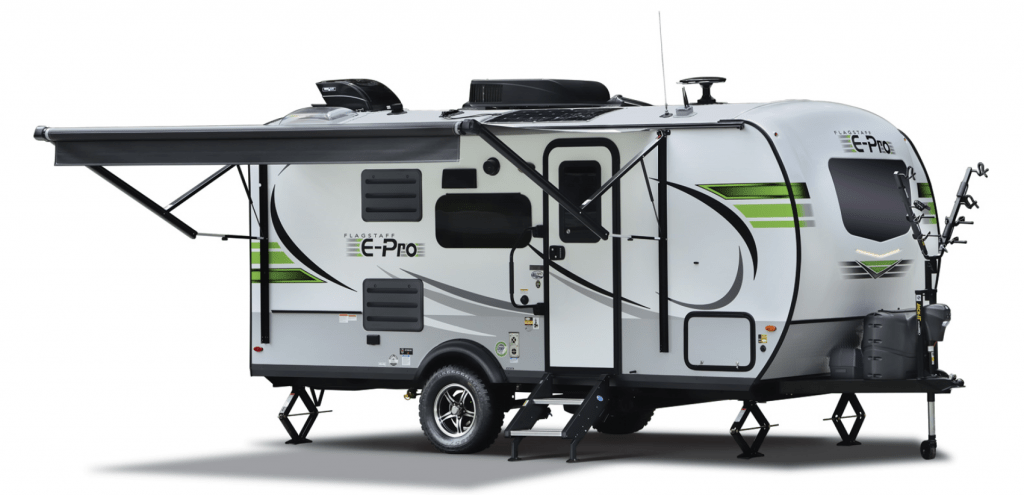 The E-Pro Flagstaff comes with a custom design, and it is a top-notch travel trailer, ideally suitable for a Jeep. Despite beginning small in size, it comes with amenities and looks stylish as well.
This trailer is designed to be driven with a vehicle that you like to drive daily. This trailer comes with a number of standard features, including an AM/FM radio with a USB port and Bluetooth. There is a 12V television in this camper, and it comes with a DVD player.
The rear end also features a ladder, and there is a WiFi router that can boost the range. There is a roof mount solar panel along with a 1000W converter. This trailer also comes with a 13,500 BTU air conditioner and a bike rack with a tongue rack.
The off-road package features 15-inch radial tires, a lift kit, and various other features. There are different floor plans available, and you can go with any one of them based on your requirements. The GVWR for these trailers range from 1272 lbs to over 3500 lbs.
If you are looking for the most standard options, this is the trailer you need to consider. And the best sport is, there are different floor plans to choose from as well.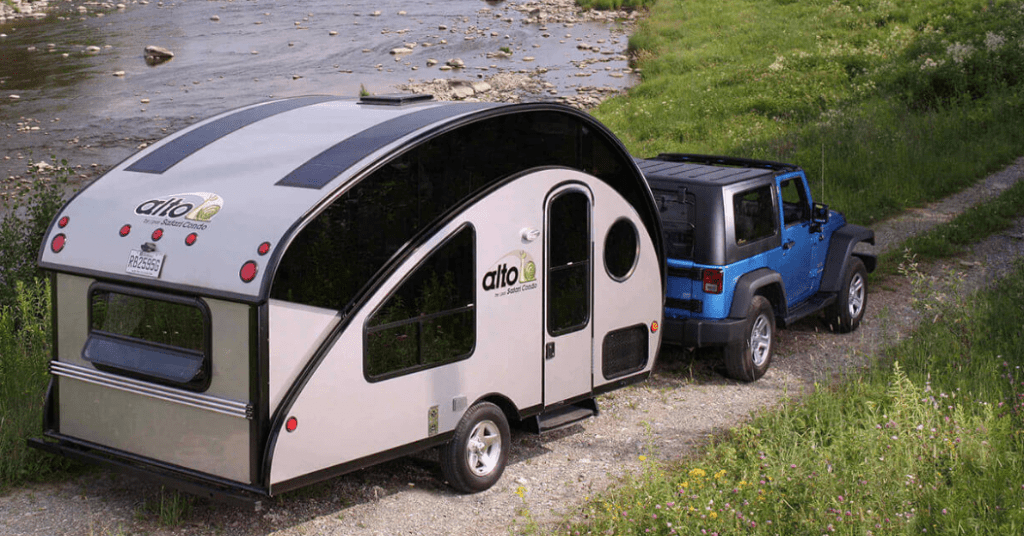 Another one of the top choices you can go for is the Safari Condo Alto travel trailer inspired by an aircraft design. It is lightweight, durable, and aerodynamic.
Therefore, if you are looking for excellent fuel economy, this is the right option because it will put your Jeep through a lot less stress due to less weight and drag. You can conveniently speed up to your destination without any trouble.
This travel trailer comes with a special Flexride suspension system, and it also has a shallow center of gravity. Its entire frame and floor are made of Aluminum, and there are powerful electric brakes present in it.
Everything used in the construction of this travel trailer is entirely recyclable.
The walls and the roof of this trailer are made of special materials like a sandwich. It has a honeycomb core made of plastic with Alufiber on one side and Aluminum on the other. Alufiber has the durability of fiberglass and lightweight features of Aluminum.
The trailer comes with a retractable roof and a fixed-roof version, and you can choose either one according to your needs. The GVWR of different available floorplans range from 1765 lbs to 2947 lbs. These floorplans come with various types of amenities that can significantly improve your overall lifestyle on the go.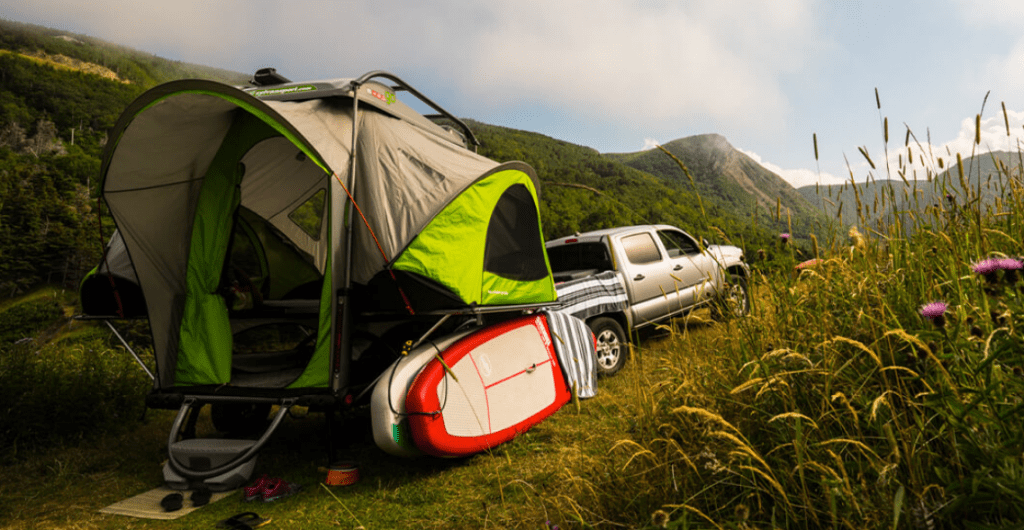 If you are looking for the coolest travel trailer for your Jeep, your search is over. Nothing beats the Sylvansport Go trailer in terms of style and looks. But this trailer is not all about style and equally great in terms of performance and functionality.
This trailer is one of the best-selling mini travel trailers that you can use for your Jeep. It is essentially the Swiss Army Knife of travel trailers with a variety of features and amenities.
It can conveniently carry around a dozen boats or bikes and can carry any equipment.
The features it comes with include a crank handle, equipment rack, tent pod, eight-frame pins, bed panels, and three tent poles. It also features four sleeping pods, four poles for bed support, two table panels, a tailgate step, gear decks, a tailgate bungee, and a storage box.
The package also includes a couple of storage box keys, four ratchet straps, and a stabilizer jack rod. It comes with a GVWR of 1800 lbs and is a top choice to tow behind your Jeep.
It's a completely multi-functional camper that allows you to add a couple of bedrooms along with an awning if you think that more people will join in on your camping trip later on.
Conclusion
A mini travel trailer suitable to tow behind a Jeep needs to be selected based on the trailers GVWR and your Jeep's payload and towing capacity.
In most cases, it ranges between 500 lbs to 3000 lbs, with the newer models being more capable of towing up to 5000 lbs. You need to pick a trailer based on these numbers, so you don't end up damaging the trailers, and your Jeep. But that's not all, you have to make sure the overall fuel consumption remains optimum as well.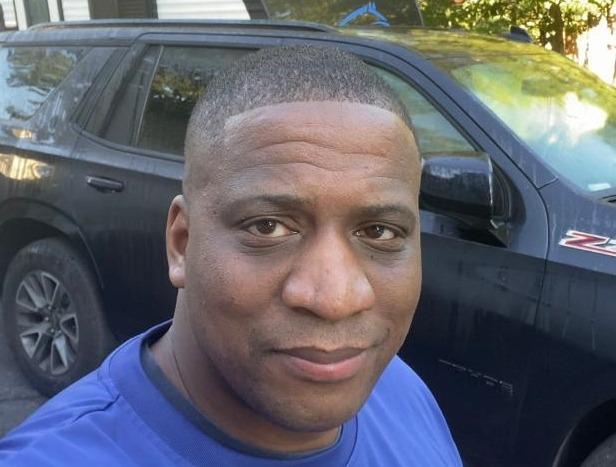 I`m a current Law Enforcement Officer working within the Counterterrorism Bureau in New York State. I have been Camping for over 20 years. My styles of camping include tent, car, truck, van, and RV travel trailer. I have a YouTube channel where I teach all types of camping with an entertaining method: https://youtube.com/@TheSmallsRVAdventures