Top 7 Campers You Can Tow With a Car
Have you ever woken up on a camping trip and thought to yourself, "I don't want to sleep outside tonight!" It might just be that the weather isn't the best and you're tired of spending the night out in the cold. You love the outdoors when the sun is shining down on you, but right now, there is nowhere to escape the rain!
What if you could carry around a portable roof? Somewhere to shelter from the rain and enjoy a bit of comfort? No, we're not talking about towing around a massive RV. What if you could have all that an RV can offer but in a much smaller form?
Check out our list of the best campers you can tow with a car! These compact campers are small enough to be towed by your car without a hassle!
Best Campers That Can Be Pulled By a Car
Sportsmen 130rb Kz-Rv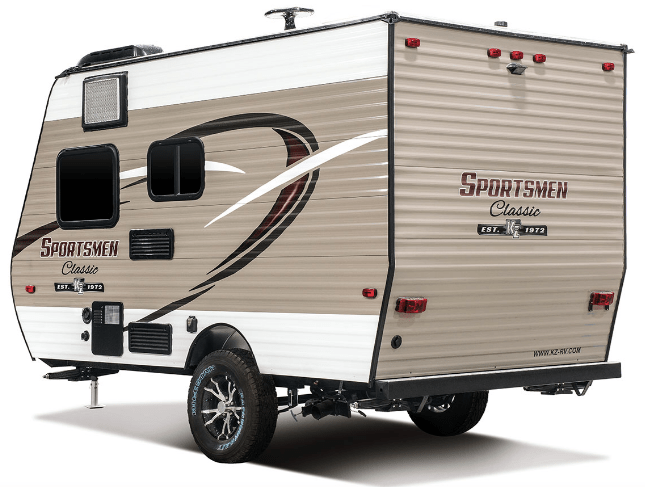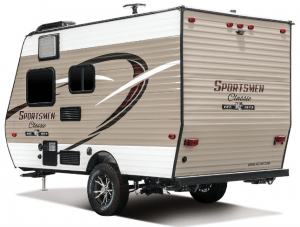 This camper from KZ-RV is built to survive rough terrain without incurring much damage. The Sportsmen Classic is about 15 ft. 10 in. by length and has about 6 x 6 interior height. The width of this spacious camper is about 7 ft.
Everything from the construction to the interior design has been selected while keeping your comfort in mind. This camper uses up every single inch of its shape and is only barely rounded at the hitch end. Other than that, each inch is utilized in creating space and comfort for your use.
This Sportsmen Classic comes with a kitchen, a convertible seating area, a closet, and a tub! That's right, this camper can fit a tub to provide you with the perfect rest at the end of an exhausting day. The smart design on this camper means there is plenty of space for an RV toilet and a shower as well.
The seating area in the kitchen is equipped with high-density foam cushions that are perfect for long travels. On top of that, these cushions double as sleeping quarters saving much-needed space. The seats also feature a storage space as well as the closet that was previously mentioned. This camper ensures that you get to travel with all of the comforts of home within a compact space. There is even enough space in the kitchen to fit a tiny refrigerator.
The best part is that this camper comes with a thick and durable awning that is easy to operate. On a hot day, just pull out your awning and pull up some chairs to wait out the heat. This camper weighs just about 1,803 lbs. You can pull this camper using an SUV without a sweat.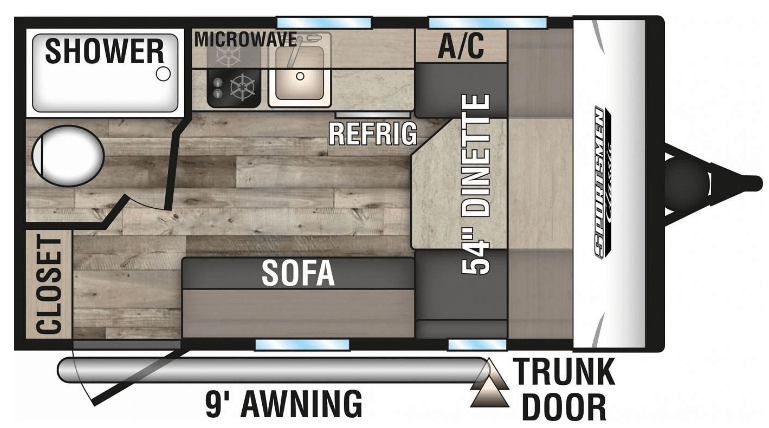 Pika TimberLeaf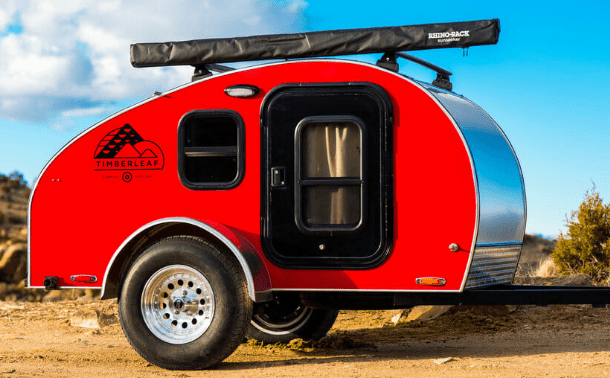 Timberleaf is a light and compact camper that can be pulled by ordinary passenger vehicles. However, this teardrop-shaped camper does even better by coming in at about 8 ft. x 5.6 ft. This lightweight camper is a whole third smaller than the Classic trailer.
Appropriately named after the small, alpine mammal, this camper is the smallest available by Timberleaf. This camper comes equipped with a sturdy, super denser 4-inch double mattress that is just right for two people. This comfortable mattress is surrounded by a massive skylight and large windows.
Despite sleeping within the safe and comfortable confines of the camper, you can experience the outdoors. These windows make the camper feel much larger and spacious while still being small and safe. The interior comes with about 36-inch of headspace. There is just enough space for you to sit up with a cup of coffee and watch the sun go down in a glorious splash of colors.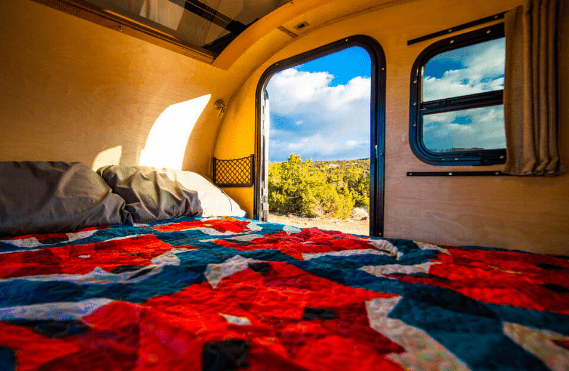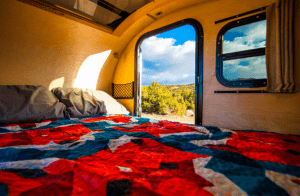 Speaking of coffee, we should mention that this camper comes with a dependable outdoor kitchen. This camper is equipped with a pair of hydraulic gas props at the rear end. These gas props are, of course, easy to maneuver and easy to use.
The PIKA is best for anyone looking for a camper to tow with their passenger vehicle. However, it is available for both all-road and off-road. The all-road suite is perfect for AWD crossovers.
On the other hand, if you're planning on traveling some difficult terrains, the PIKA also comes in an Off-road suite. This package includes a Timbren Axleless suspension and a 4″ lift, and 33″ BFG All-terrain tires. Not only that, but you also get rock armor, electric brakes, and an articulating hitch.
Forest River (Nobo)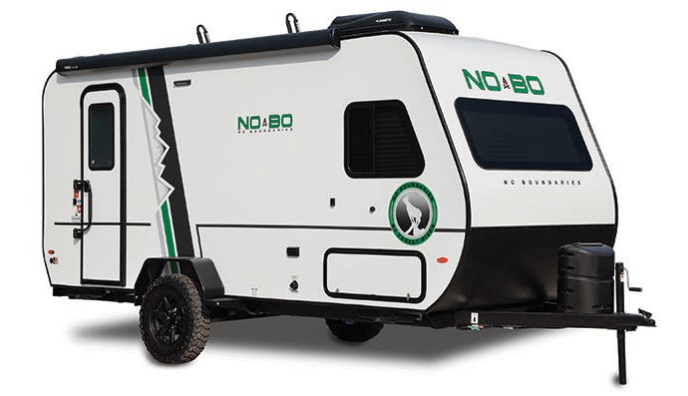 As the name implies, this camper from Forest River is designed to follow you wherever you may venture. The No Boundaries camper has a brilliant design that makes it easily customizable. You can change or add equipment for your outdoor activities without a problem.
The NOBO comes with sturdy tires and excellent suspension that give you plenty of ground clearance. You can easily travel the most rugged terrain without worrying about your camper catching up. One of the best features of the NOBO is that it was designed with multiple users in mind. You can easily tow the NOBO with either a 4- or 6-cylinder vehicle. This way, you don't have to wait around for that big pick-up truck to charge off on your adventure!
It comes with a sophisticated design that promotes customization. This camper is available in multiple styles with several different features and floor plans. For example, the NB 16.8 version has a plastic toilet and comes with grey and black water holding tanks.
The NOBO is especially suited to Overlanding enthusiasts. This camper is available in multiple packages to suit your versatile needs. These Overlander packages include not only your standard crossbars but also RTV tracks. This way, you have greater control over your after-market add-ons. Just think you can manage the weight and positioning on your add-ons just as you need them.
This is particularly convenient when you need to equip your camper according to your needs. You can easily swap out a roof-mounted kayak rack for a rooftop tent when going away for the weekend. You can always put your camper back into the way it was just in time for your annual cross-country adventure! There are no limits to this NOBO camper.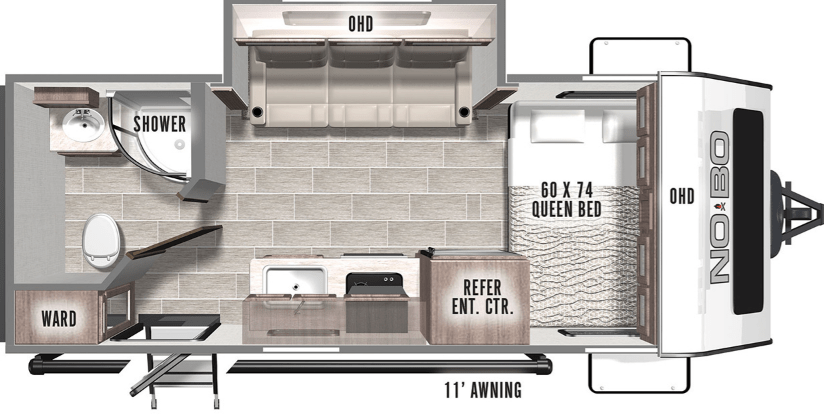 Terradrop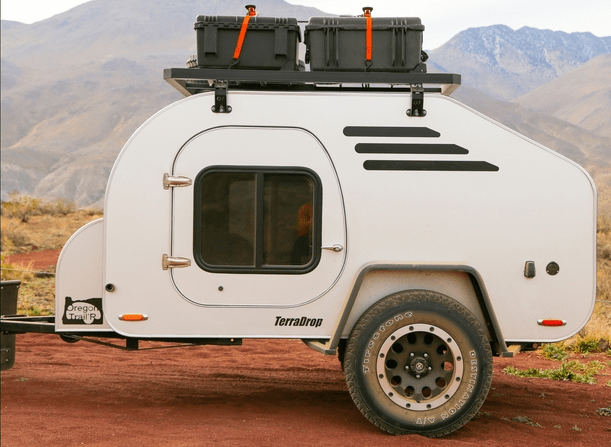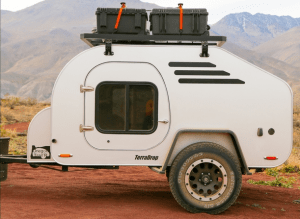 If you dedicate the better part of your year to a road trip, then you know that the right equipment can take you a long way.
On that note, what if we said you could have a sturdy trailer for your RVing activities but light as a teardrop. We're talking about a camper that will come with the trappings of a powerful camper and the weight of a teardrop camper. Don't you believe us? Check out this trailer.
You might be familiar with Oregon trailer as the leading company providing Overlanding trailers. These trailers are great off-road vehicles, and you can believe they brought their expertise when designing this camper. The TERRADROP is equipped with all the basics you would expect from an RV. Despite that, it is lightweight enough that you can tow it with your SUV.
On top of being a sturdy and compact camper, it comes equipped with several features. These include lights under the trailer to light up the forest floor. The wood paneling in the interior is also fitted with power. Your camper is lit up both from the outside and the inside.
The interior also comes with convenient magnetic cabinets for storage and multiple USB ports for all of your devices. And don't worry about using any of the ports for an overhand lamp.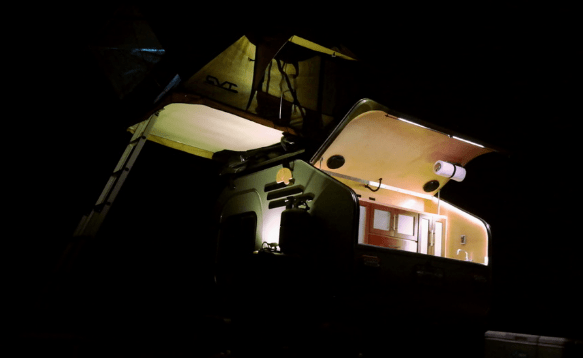 This camper also comes with reading lights and a thermostat-controlled fan.
There are also overhead LEDs in the ship's galley. As we said, this tiny camper can easily support your off-roading adventures.
You'll be happy to know that the TERRADROP is customizable and can be changed to suit your needs.
Intech Luna Lite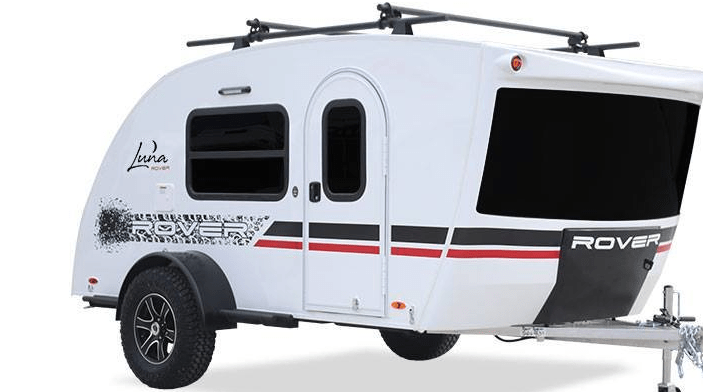 The design takes full advantage of every inch available. You might have noticed that the rear is rounded (to provide a strong balance), and the front is squared. The body of this camper is balanced to provide comfortable travel.
Furthermore, the front of the camper is also fitted with a large picture window. The framing of the window allows you to enjoy the outdoors while sitting comfortably inside. The large window further enlarges the space and makes the camper closer to nature.
The LUNA LITE has an outer shell made of solid aluminum. The aluminum out shell might be lightweight, but it is also extremely sturdy and resistant to damage. This camper comes in a light color pallet to reflect the sun as you drive by.
The interior of this camper is arranged to utilize every inch as smartly as possible. There are twin futons that easily convert into a bed when it's time to sleep. These futons are super comfortable as seats and just as good when converted into a bed during the night.
When traveling on the road, there are perhaps a handful of things we miss more than freshly cooked food. This is why the LUNA LITE will certainly impress you when we tell you about the fully equipped kitchen. The kitchen on this camper can be accessed via a hatch and features a 2-burner stove.
Not only that, but this kitchen also provides a sink, large workspace, and a 12-V fridge. That's right! Not only can you enjoy fresh food but you can store it for later as well.
This camper is about 1,450 lbs. and 15 ft. by 6 ft. in total. The exterior width is about 7 ft. 10 inch and the interior height is about 4 ft. 6 in.
The Chase Flyer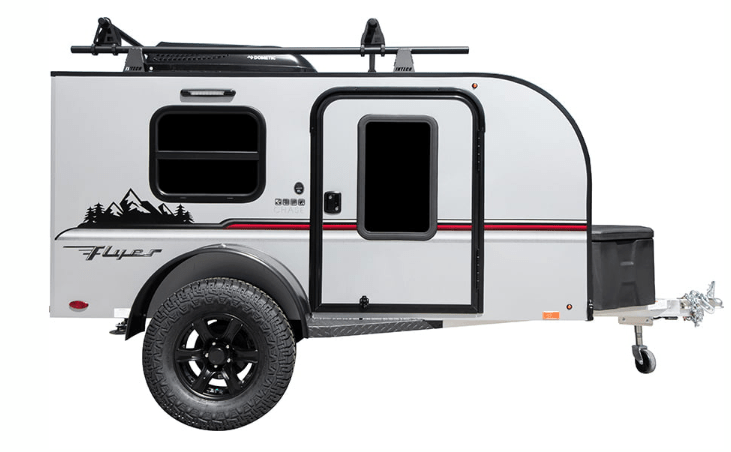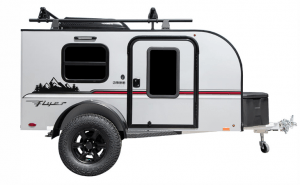 This company is an established name when it comes to state-of-the-art campers, and it's no surprise that they have yet another entry on this list.
This camper can weigh between 850-1000 lbs. (really depends on the customization done), and the overall length is about 12 ft. 4 in. The exterior width is about 6 ft. 10 in, whereas the interior width is about 4 ft. 11 in. The interior height in this camper is around 3 ft. 9 in.
You've seen the fully equipped version of INTECH campers in the form of our other entry. This camper, however, was designed with the precise purpose to allow you to provide the finishing touches by yourself. This camper can be customized according to your needs and preferences.
INTECH provides reliable, well-built campers that can travel rough terrain without causing any inconvenience. The Chase Flyer is no exception to this tradition of quality. Now let's talk about some of the things you can do with this camper.
This camper has been prepared to accept solar panels or a battery. Alternatively, you can also build an off-grid electrical system, and this camper would support that too.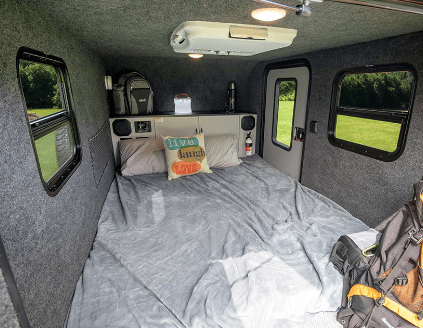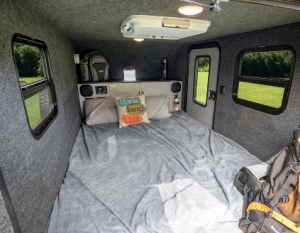 The body of this RV is solid and can accommodate your needs without hassle. The only thing you need to keep in mind when equipping this camper is your preferences and day-to-day needs on the road.
And if you're not comfortable with the amount of space available, you can change that as well. You can always buy an additional tent and expand the Chase Flyer past the original length and width.
This is a great beginner camper for someone new to off-road travel. Maybe you don't plan on sleeping in your camper but it still has space.
Jayco Hummingbird 10rk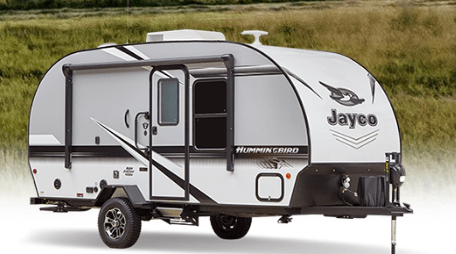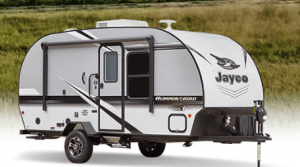 This JAYCO RV is about 1545 lbs. and has a height of about 13 ft. This sturdy camper has an exterior width of about 6 ft. 8 in. and an interior height of 4 ft. 5 in. You might be used to seeing the name JAYCO associated with large and powerful rigs. However, we're here to discuss their contributions to small, durable campers.
The design on this camper shows you that JAYCO believes in playing to their strengths. You'll notice that this camper mixes the curved edges of a teardrop with ceiling height and a longer profile of an RV. This camper indeed means to reflect the finer features of a full-sized RV in a compact camper.
The kitchen on this camper includes a 2-way 12V/110V TV and refrigerator. This camper also comes with a powerful fan-powered roof to keep you cool when the days get hot.
Moreover, you also have a portable Bluetooth speaker mounted on the inside that you can use to stream music whenever you want. This camper also comes with a fully insulated underbelly that keeps you comfortable year-round. These are just some of the features that elevate this camper from the rest.
On top of the spacious width, you also have large windows, ensuring you get a great view as you drive by. When you're ready to drive to your next destination, you can make use of the convenient power tongue. This feature makes hitching and unhitching the camper a matter of seconds.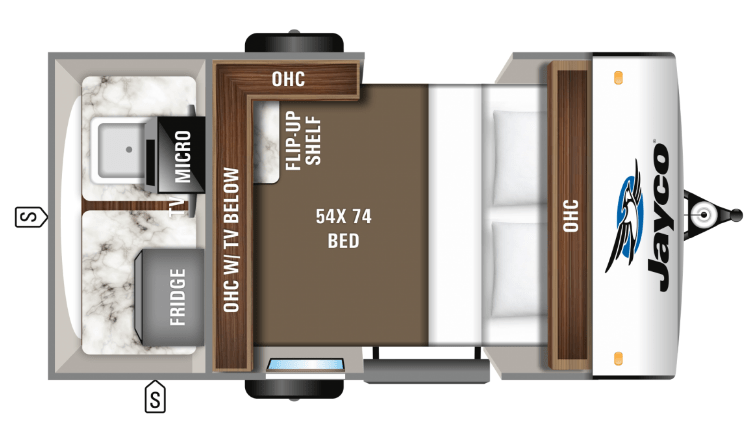 FAQs
What is a Teardrop Camper?
A Teardrop is a lighter and smaller version of your average trailer. You can distinguish a Teardrop from trailers by the size and, of course, the unique curved sides. These curved sides serve to make these campers more aerodynamic.
Why choose a Teardrop Camper?
Well, there are several reasons why you might want to opt for a teardrop camper. First of all, you might want to carry all that much when you travel. A Teardrop will help your pack up only the necessities. These campers, for example, are only big enough to fit two people on the inside. In certain designs, even the kitchen is built on the outside.
Additionally, Teardrop campers can be towed by 4-cylinder vehicles as opposed to larger trailers. These campers are lighter and will cost you less fuel as well. They're also cheaper than RVs and will support your minimalist lifestyle. They're also sturdy and almost certainly can be modified to suit whatever your needs.
How heavy is a Teardrop Camper?
Teardrop campers can weigh as little as 650 lbs. to about 4000 lbs. The whole purpose of Teardrops is that you can tow them with your average passenger vehicle.
Will towing a camper affect my car's MPG?
Yes, it will. An average car would lose approx. 7 miles/gallon when attached with a camper. However, this mileage changes due to the size, aerodynamics, and weight of the camper.
What is the average towing capacity of a sedan?
Surprisingly few people know that most vehicles have enough capacity to tow trailers. It's not always recommended but it can be done in an emergency. However, the average towing capacity of a sedan is about 1000 lbs.
How can I set my car up to tow a camper?
On average most campers come with a fully equipped hitching station. To prepare your car to tow a camper, you need to install tow equipment to your car. You can do this yourself, or you can take it into the shop and have a professional install it.
Conclusion
Well, that was our list of the 7 best campers that you can tow with a car. Every one of these campers can easily be towed by a 4-cylinder vehicle. These campers can prove to be a great investment if you want to get into travel. You could even kit these campers out to suit your Overlanding adventures. There are no limits!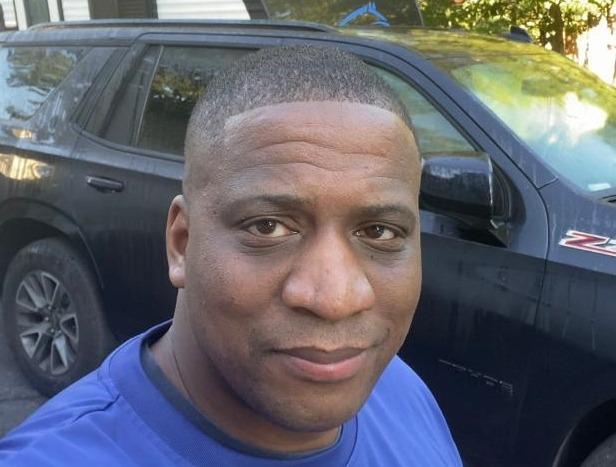 I`m a current Law Enforcement Officer working within the Counterterrorism Bureau in New York State. I have been Camping for over 20 years. My styles of camping include tent, car, truck, van, and RV travel trailer. I have a YouTube channel where I teach all types of camping with an entertaining method: https://youtube.com/@TheSmallsRVAdventures