Top 8 Best Models of Offroad Camper Trailers
Some people are passionate about camping and they love to travel off roads with many essentials in their backpacks.
For these, the off-road campers are an excellent choice as they are compact, lightweight and mainly they are budget-friendly when compared with most RVs and travel trailers.
Off-grid trailers come with a lot of features like a shower, kitchen, bathroom, toilet, etc. Previously these were only available in luxury or large campers.
Due to this, you will get a homely feeling even when you are camping in the extreme wilderness.
There are a lot of camper manufacturers in the market but buying a camper is one of the major decisions you will take in your life as they don't come cheap. You often need to invest a major amount so it is important to buy the right one.
As a result, we have shortlisted some of the best off-road campers that can be taken to anywhere in the world. Let's take a look
Best Off-road Camper Trailers
Here are some of the best off-road campers that you can use to travel anywhere in the world and have the best off-road experience.
LXV Off-road Hybrid Caravan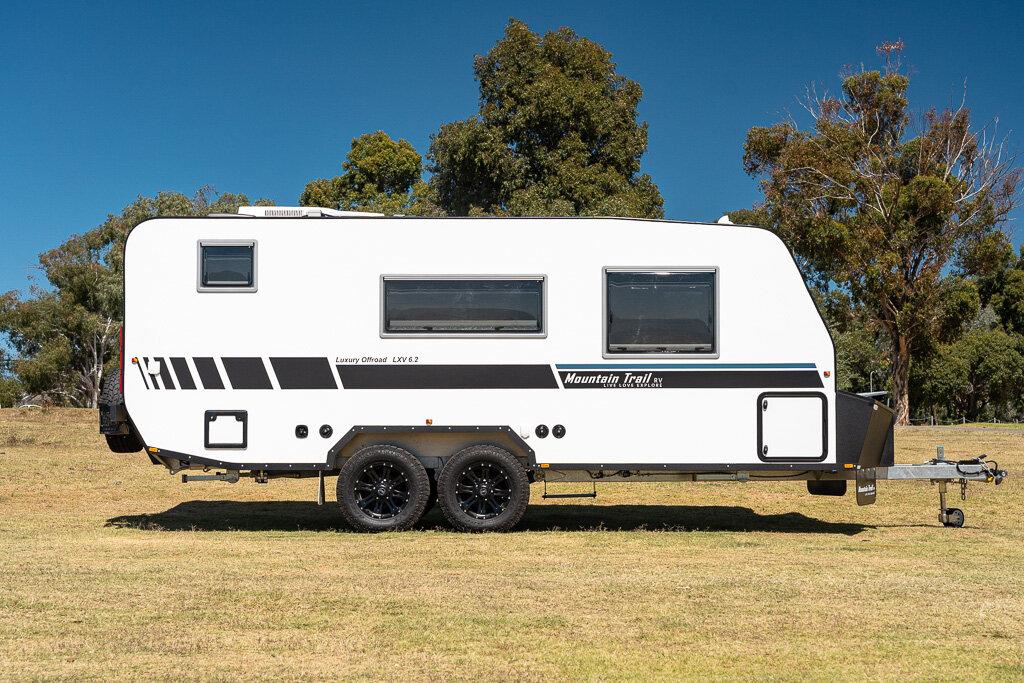 This is one of the good-looking off-road trailers you will see in the market. If you often do mountain camping then this is the best camper you will ever get.
It will give you a luxurious camping experience even if you are camping in a remote area.
The best thing you will notice in this camper is the electrical awning. It gives you one of the luxurious feelings.
This camper also comes with an outdoor mountain kitchen which will help you to cook your delicious food outside and experience the divine views of nature.
So you can enjoy your mouth-watering food by watching the great sceneries.
It also has a multimedia system along with a ninety-five-liter dual-zone fridge. With this you can ensure everything in your camper is in perfect temperature no matter what the temperatures you are camping in.
This off-road camper also comes with many storage compartments so that you will never run out of space or no need to worry about what to carry. Once you step into this off-road camper you will be surrounded by a luxurious feeling.
The interior walls and the roof of this camper are made from composite materials. As these are made from composite materials they are very strong when compared to normal walls and roofs.
Not only this they will also keep you warmer at very low temperatures. They also act as great insulators.
This camper also features a large bed that is surrounded by windows. This will provide you with a lot of ventilation to the room and add extra beauty.
It also features a large LED TV which helps you to watch your favorite shows.
Key features of LXV Off-road Hybrid Caravan:
LED TV
Large bed
Electrical awning
Large storage capacity
Composite walls and roof
Outdoor kitchen
Stove with two burners
Ninety-five-liter fridge
With all these features this off-road camper will cost you around $90,000.
Turtleback Getaway
If you are on a budget and looking for an affordable off-road camper then this is the guy you have been searching for. The Turtleback Getaway comes with two types of package options.
The first one is a standard package that offers you a rear access door, a space utility box, and a gas-assisted weather-tight lid. You can also upgrade this with more features at the time of the build or whenever you need it.
Once you reach the campground, disconnect the trailer and deploy the stabilizer jack by lowering them.
The best part of this trailer is that you can outfit this with any tent model of any size. Also as it comes with a low profile it will be easy to set up anything.
Inside the rear door, you will see a kitchen. Just open the doors when you are ready to cook. The kitchen features a single bowl sink. It also features a camp stove that gives you a great campsite cooking experience.
The main storage box has enough storage space to carry all the necessary items you want. You will also see an optional roof rack storage where you can store your camping gear. Inside the tent, you will see a lot of space where two adults can sleep comfortably.
The tent also features some windows which allow light and air and make it even more comfortable when you are staying there.
Key features of Turtleback Getaway
Comes in two different sizes
Lightweight
Easy to set up
Different tent size options
Spacious main storage box
The strong ladder which helps you to reach the tent
Spacious room to sleep comfortably for two adults
With all these features this comes with an $18,495 price tag.
Timberleaf Classic Camping Trailers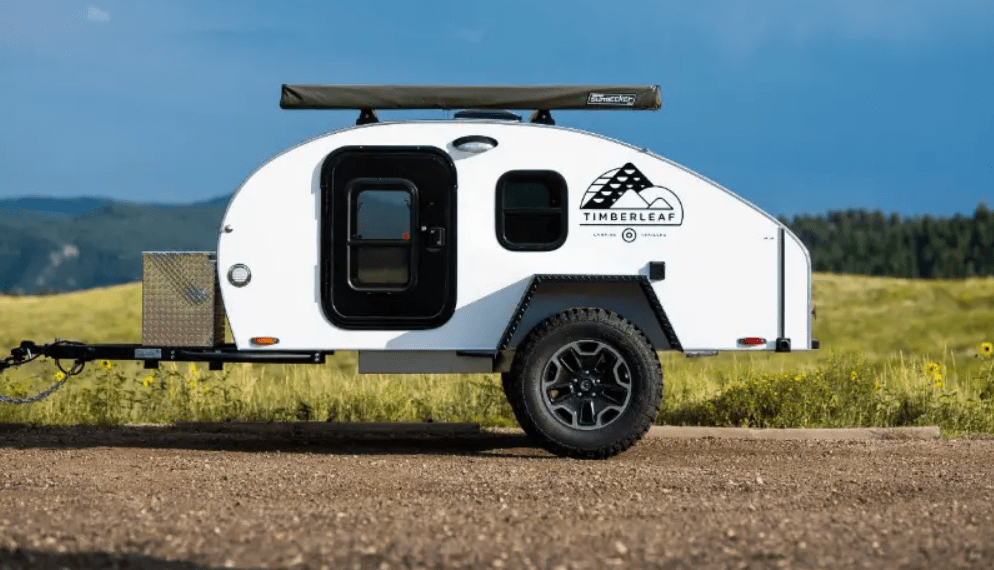 If you are searching for a travel trailer that comes with a unique blend of both performance and looks then this is the guy looking for. These trailers are very much less weight when compared with others, so you can even use a passenger vehicle to tow this.
This is a perfect fit for people who are thinking of towing with their passenger vehicle.
The trailer is featured with rock armor and electrical brakes which allows you to travel in any part of the terrain. This trailer features 4" lift and 33" tires with axle-less suspension that provides you a great experience when camping no matter where you are camping.
Also, this trailer is made with a durable aluminum frame that can withstand any kind of weather situation.
The best feature you will see in this trailer is the outdoor mountain kitchen which we have discussed earlier on LXV Off-road Hybrid Caravan.
You will see the kitchen at the back of the trailer and it is packed with all the necessary appliances.
All these appliances will help you to prepare a great camping meal. You will see a sink, a stove, and a pull-out cooler which will also act as a countertop.
Even though the size of the trailer is small it is accommodated with a queen-size bed that is comfortable to sleep for two adults.
You can also notice windows on the sides of the trailer that will help you to get proper ventilation. In Front of the bed, you will see numerous cabinets that offer you great storage space.
Key Features of Timberleaf Classic
Durable and Strong
Great Kitchen with quality appliances
Many cabinets
Can be used in all types of terrains
Queen size bed
Comfortable Mattress
BruderX Ultimate Off-Road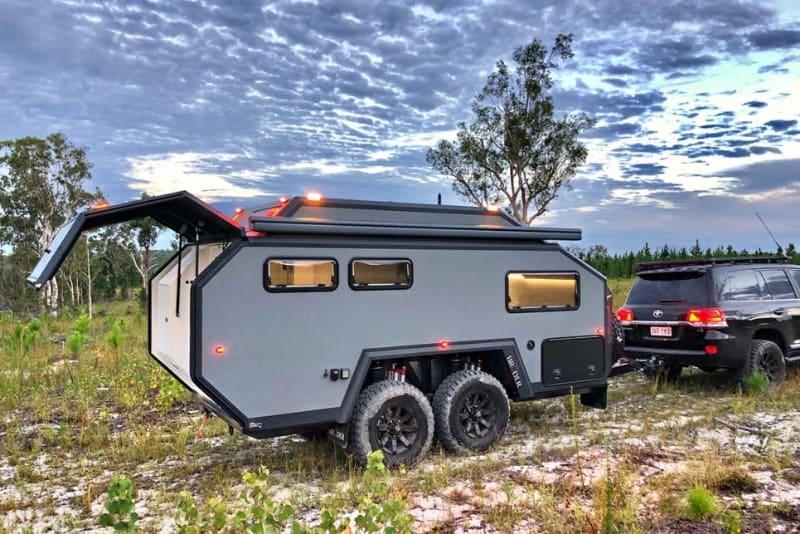 Looking for the ultimate off-road camping experience? Look no further than the BruderX Ultimate Off-Road Camper! With its rugged construction and all-terrain capabilities, this camper can handle any terrain you throw at it.
Whether you're exploring remote back-country trails or just taking a weekend getaway to your favorite campground, the BruderX Ultimate Off-Road Camper is sure to make your camping trip unforgettable.
Designed with both off-road performance and weekend camping efficiency in mind, the BruderX Ultimate Off-Road Camper can easily be towed behind practically any vehicle. Once at your campsite, the rear ramp makes it easy to load up all you need for a perfect outdoor adventure!
The living quarters are fully insulated for year-round comfort, including full watertight doors for added safety against unexpected weather conditions.
The kitchenette features an electric stovetop, sink with running water, counter space, and plenty of storage cabinets.
Best of all? The whole camper cab has power! So go ahead and bring along that electric cooler or mini-fridge you've always wanted!
When the weather's nice, head up to the rooftop deck for a spectacular view of the surrounding landscape. Take a seat on a plush outdoor sofa cushion and breathe in fresh air while enjoying a relaxing break from your camping adventure below.
The roof is fully retractable, allowing easy access to an exterior storage compartment with ladder access to get gear from either inside or out.
Key Features of BruderX Ultimate Off-Road
Aesthetic design
Great build quality
Slide-out Kitchen
Flat TV Screen
Spacious cabin
Queen size bed
A lot of storage
Taxa Outdoors Cricket Camper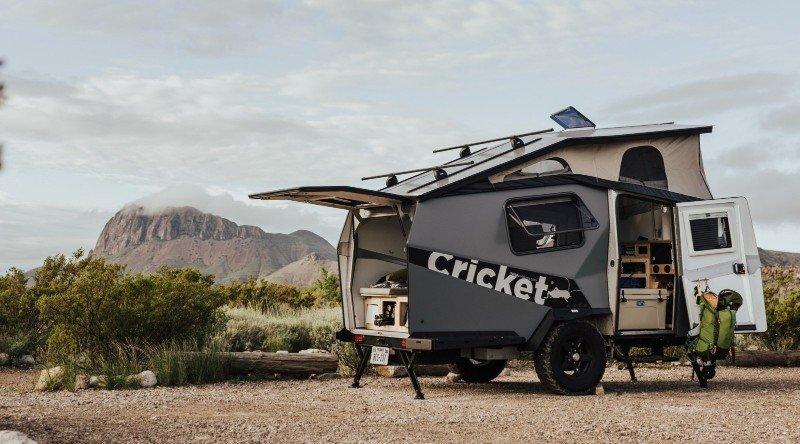 If you're looking for a rugged off-road camping experience, the Taxa Cricket Camper is perfect for you. With its durable construction and stable platform, this camper can handle any terrain.
And with its comfortable interior, you'll be able to relax and enjoy the great outdoors. So come explore nature's beauty in style with the Taxa Cricket Camper.
Let's face it, not all campers are created equal. Some can barely handle the weather of their backyard, let alone the rugged terrain of off-road travel.
That's why having an off-road camper is essential. With its durable construction and stable platform, this camper can handle any kind of terrain you throw at it.
And with its comfortable interior, you'll be able to relax and enjoy your trip in nature's beauty without worrying about harsh conditions.
So come explore the great outdoors in style with an off-road camper today!
The Taxa Cricket Camper is by far the best off-road camper out there. Its heavy-duty construction and sturdy frame allow you to go almost anywhere with ease.
And since its comfortable interior makes the trip much more enjoyable, you'll be able to relax and enjoy your trip in nature's beauty without worrying about harsh conditions.
So come explore the great outdoors in style with an off-road camper today!
The best off-road campers are Taxa Cricket Campers, because of their durable structure that can handle any kind of terrain, thus making it easier to travel through rough paths.
Furthermore, since these campers provide a comfortable space to relax after traveling, they will certainly make for a better camping experience overall. So come discover the beauty of nature by purchasing one of Taxa Cricket's Off-Road Campers today!
Key Features of Taxa Outdoors Cricket Camper
Aluminum body
Protection against UV
Outdoor shower
Smart design
Air condition
Indoor kitchen
XPLOR GT Off-Road Camper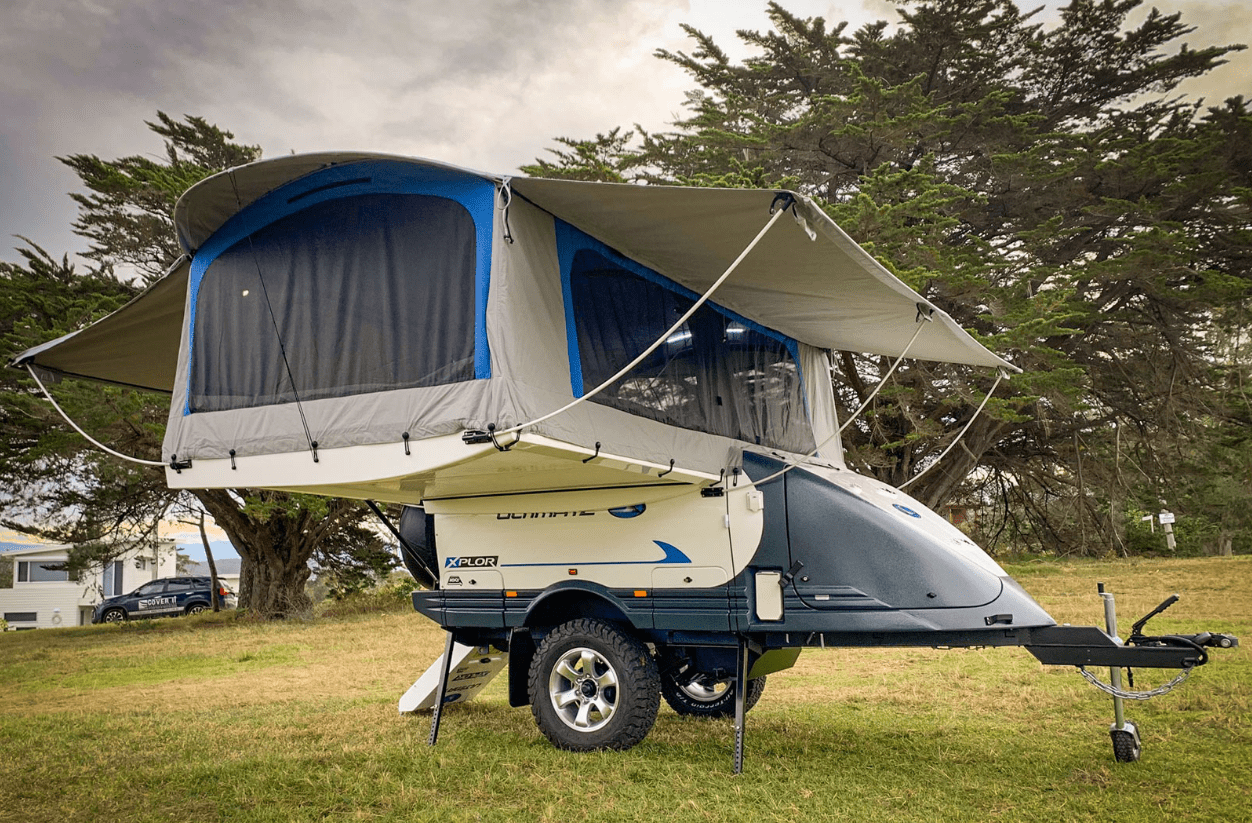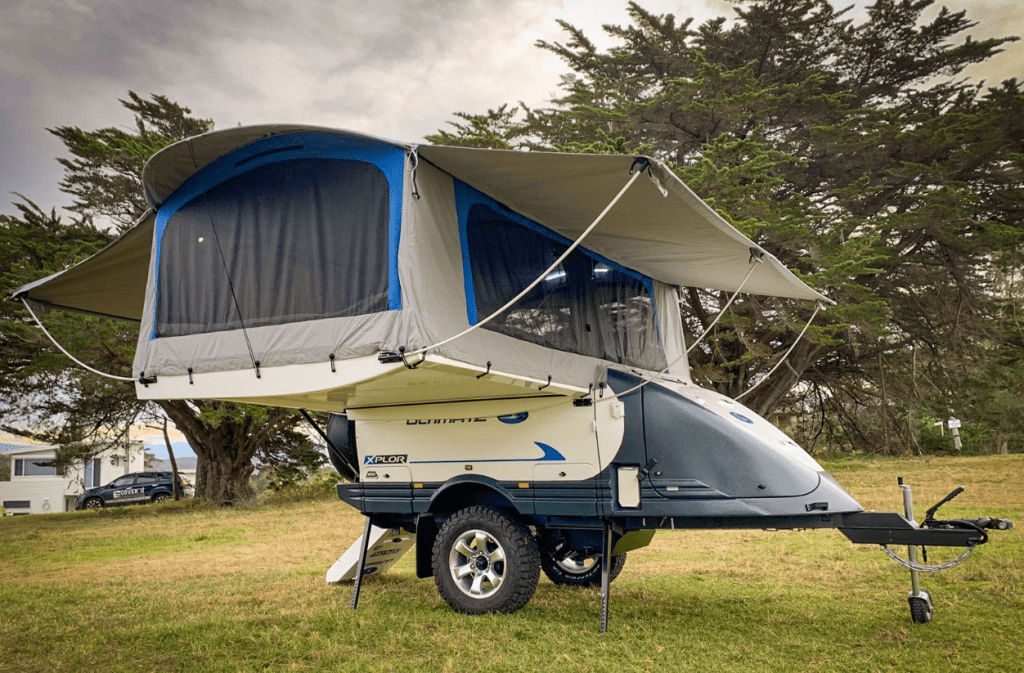 Looking to take your camping experience to the next level? Then check out the XPLOR GT off-road camper!
This bad boy is built for serious outdoor enthusiasts, with a robust frame and superior suspension that can handle even the roughest terrain.
Whether you're looking to explore nature's beauty or get far away from civilization, this camper has you covered. So come on, let's go explore some new territory!
Wow! That's pretty cool, but I'm not sure it's the best for me. What other options are there?
The Bestop Big Top-off road camper is similar to the XPLOR GT in that it offers a high-quality ride and will take you anywhere your heart desires, but it does so with a fold-down roof and rear ramp door.
This Bestop model features great insulation and makes heating and cooling the interior much easier, while still giving the outdoor enthusiast an authentic camping experience.
It also has windows on both sides of the vehicle for added visibility while driving.
Which one would you recommend for someone who doesn't want to haul around such a large camper?
You may want to consider the Bestop Big Top Mini. This smaller off-road camper is perfect for two people looking to go on day trips or weekend excursions without all the bulk of the larger Bestop models.
Best built this little guy with lightweight aluminum, making it easy to pull behind any type of vehicle.
The fold-down design also makes it an excellent choice if you're thinking about getting a new truck and don't yet have one that can tow the larger Bestop models.
Key Features of XPLOR GT Off-Road Camper
Sturdy design
King size bed
U shaped lounge
10 lit compressor
A lot of storage cabinets
USB outlets
Front and rear awning
Air Opus Camper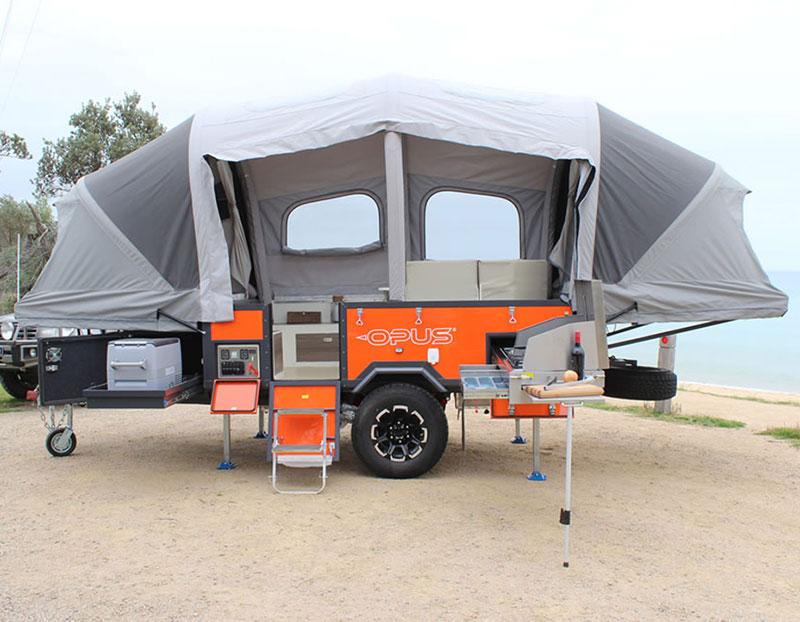 The Air Opus is the world's first inflatable camper trailer. It quickly and easily pops up to provide a comfortable living space for four people, complete with a kitchenette, dining area, and sleeping quarters.
The Air Opus is made of durable materials that can withstand wind and weather, making it perfect for camping trips or weekend getaways.
The Air Opus was designed to make camping easier, faster, and more comfortable. The interior provides a large space for four people with a queen-size bed plus a set of bunk beds at the back.
A sofa/table arrangement is provided in the living area along with kitchen equipment for up to three meals a day.
It has all-around double-layer airtight PVC strips on both sides and six solid support beams inside that give it great structural stability as well as insulation during cold nights outdoors. In total, it can comfortably provide sleeping quarters for 4 adults or 3 adults and 2 children.
The front door opens into an entrance porch from which you have direct access to the main inflatable room via another zippable door. Best of all, the whole Air Opus sets up in only 5 minutes!
Key Features of Air Opus
Durable construction
Microwave oven
Spacious interiors
Big beds
Convertible dinette
Airstream Sport Camper-16 RB
If you're the type of outdoorsy person who likes to rough it in style, the Airstream Sport Camper-16 RB is perfect for you! This tough little trailer can handle any terrain, thanks to its off-road suspension and all-terrain tires.
And when you're ready to retire for the night, just set up the queen-size bed and relax in comfort.
The Sport Camper-16 RB is also equipped with a microwave, fridge, and sink, so you can cook your meals on the go.
Best of all, this sturdy trailer measures just 16-feet long, so it's compact enough to fit into even the most remote campsites.
Key Features of Airstream Sport Camper-16 RB
Can be towed with the help of a passenger vehicle
Dinette can be converted into a bed
Panoramic view
Quality kitchen with quality appliances
Air conditioner
Bluetooth stereo
Things to be considered before purchasing an off-road camper
If you're out on the road traveling for an extended period, either by yourself or with a group of friends, it can be difficult to find places to stay when you are away from civilization.
If you don't want to pay for a hotel or are looking for something with more privacy, off-road campers are the perfect solution.
Off-Road Campers are trailers that are sturdier than normal RVs and easier to drive than regular cars.
They allow you full shelter in the comfort of your trail-rated vehicle! Best part? Off-road campers have all sorts of features that make life easy while camping in the middle of nowhere.
Cargo Capacity
Fuel Economy
Price
Suspension System
The first category that we will talk about is Cargo Capacity. Off-road campers have a variety of shapes and sizes of cargo space, but generally, they are more than enough for your gear.
You can store all the camping supplies you need to go off-road camping without having to worry about compact models or cars with smaller trunks.
Best part? Some models include storage underneath the sleeping area!
Another feature that we found helpful was fuel economy on the Best Off-Road Campers list.
Since these vehicles conform to certain standards, many manufacturers do their best to create efficient machines.
You may lose a little power and speed by going off-road, but you will get great gas mileage!
The price category is not about the least expensive Best Off-Road Campers, but the Best Value.
We considered multiple Best Off-Road Campers side by side and took into account their price compared to what they had to offer.
While you'll pay more than normal RVs for Best Off-Road Campers, remember that they are off-road machines designed for heavy-duty use.
Last but certainly not least is the suspension system concerning Best Off-Road Campers. A good suspension system handles well when driving over hazardous terrain while ensuring comfort at all speeds. Our research showed which models excel in this department and which ones need work.
Different types of off-road campers
These are the different types of off-road campers available in the market. Here are they:
Soft floor camper
Forward fold campers
Refold campers
Hybrid campers
Gallery of Awesome Off-road Campers
Conclusion
There are countless off-road camper models in the market. As there are countless options we have picked some of the best off-road campers for you. These campers come at different prices.
We have added differently priced campers so that everyone can find their dream camper. All the campers we have listed in this article are with exceptional durability and comfort. These off-road campers will surely deliver you a fun and ultimate camping experience.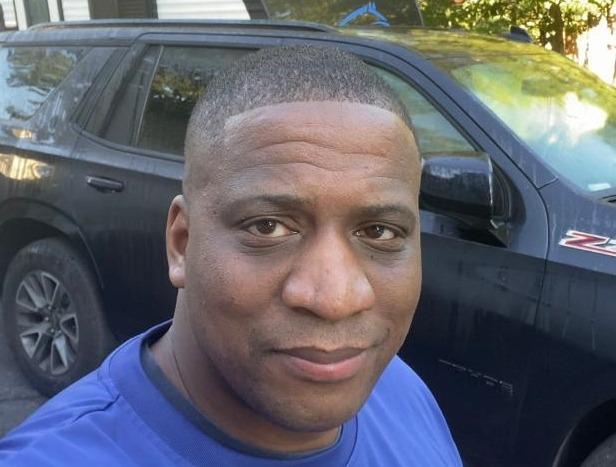 I`m a current Law Enforcement Officer working within the Counterterrorism Bureau in New York State. I have been Camping for over 20 years. My styles of camping include tent, car, truck, van, and RV travel trailer. I have a YouTube channel where I teach all types of camping with an entertaining method: https://youtube.com/@TheSmallsRVAdventures