5 Best Quad Bunks Travel Trailers
If you have a family with more than one child, you will need to go with a floor plan that accommodates them. This is where a quad bunks travel trailer comes in.
It provides you with enough room to put all your kids to sleep in a comfortable environment. Plus, the trailer also has sufficient space for the parents.
Quad bunk beds use vertical space inside the RV and leave the floor space open. There are four bunks along with the master bedroom space for sleeping in these travel trailers.
Keep reading to find the best quad bunks travel trailers that the market has to offer!
5 Best Camper Trailers with Quad Bunkhouse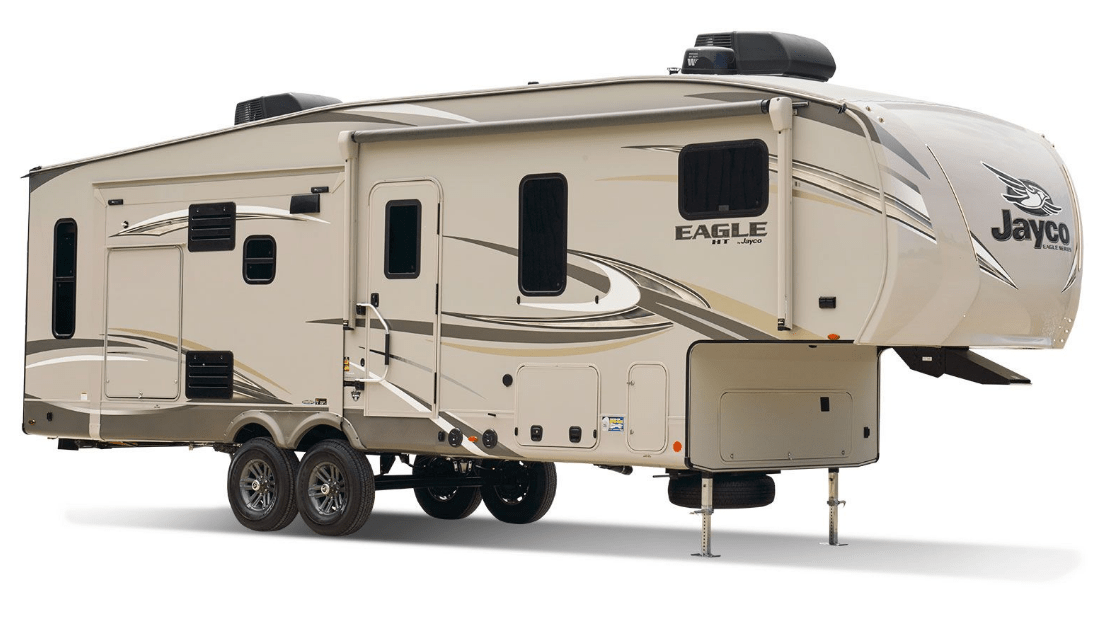 The Jayco Eagle is one of the best camper trailers with a quad bunkhouse. This trailer can comfortably sleep up to 8 people max but, realistically is 5 to 6 people.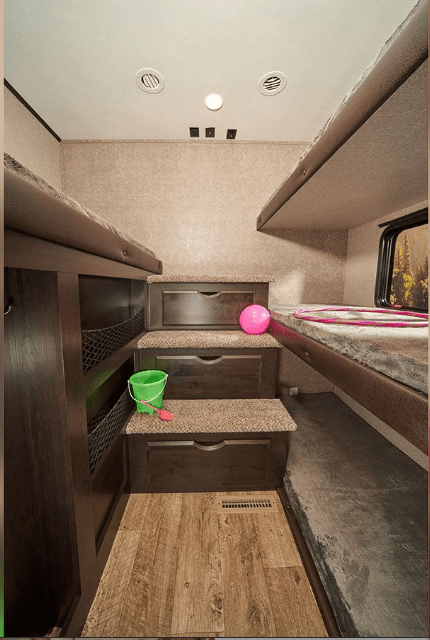 This camper's overall dry weight is around 8606 lbs, and its overall length is just a couple of inches over 36 feet. The trailer comes with a large kitchen and a 35,000-BTU furnace.
Two different slide-outs come out from this trailer. It means that there is plenty of space available in the living area. Jayco is well known for its RVs and the materials that the company uses in the construction.
The Eagle is available in different floor plans, and there are various options available as well. These floorplans are designed to cater to the varying requirements of other families.
The trailer comes with a range of amenities as well. You will find wooden floors along with outdoor television. It also comes with different LED lights in all the rooms.
Moreover, there are porcelain fixtures you can find in the bathroom. The sleeping area features quad bunks, and there is a queen-sized mattress in the bedroom section.
The Eagle is a perfect combination of price and features. And of course, you will have the option to access all the RV controls with the JayCommand mobile app's help.
It's just about making your camping life easy and having fun with your loved ones.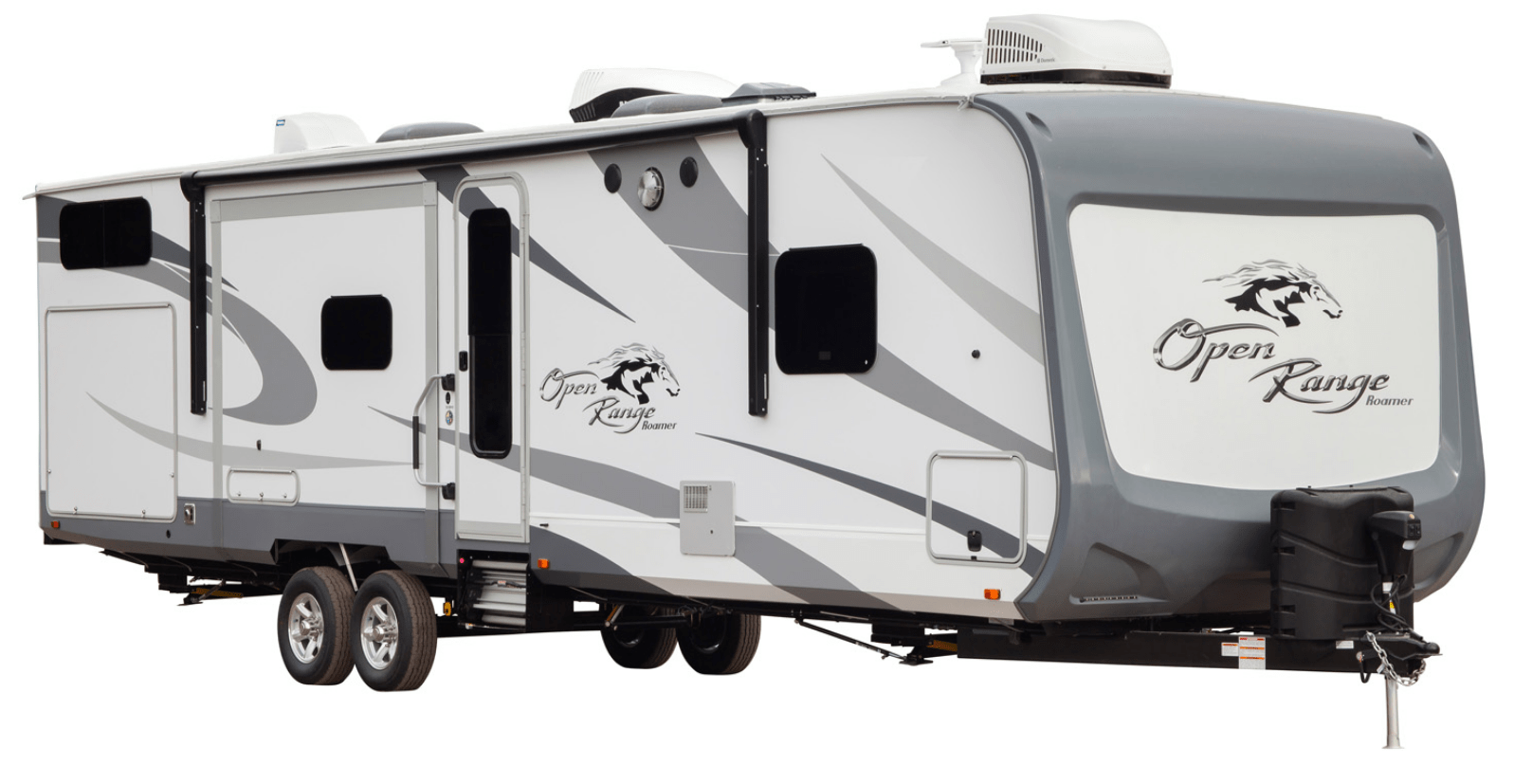 The Roamer by Highland Ridge can comfortably sleep six people at a time, and it comes with a gross vehicle weight rating of 11,500 lbs.
The overall length of this travel trailer is 33 feet and 6 inches. There are four slide-outs in this trailer, and it also comes with a freshwater tank of 50 gallons.
This trailer also comes with a black water tank of 3 gallons and a gray water tank of 62 gallons. The reason why it is among the best is that it comes with plenty of storage space.
There is a large closet inside the bedroom, and there are some storage drawers in the bunkhouse. The AC unit comes with a thermostat, and there are plenty of luxury touches that are worth noticing inside the trailer.
You won't have to deal with any carpets; therefore, living with pets and kids won't be an issue for you. The trailer also features luxurious LED lights, and the kitchen and the bathroom in this camper are both spacious.
Each section of this camper is open and vast, and it utilizes the space available very effectively. Everything is well-managed, and you will have a relaxing time in this camper.
This camper comes with all the amenities you will need to spend a relaxing time with your family off-grid.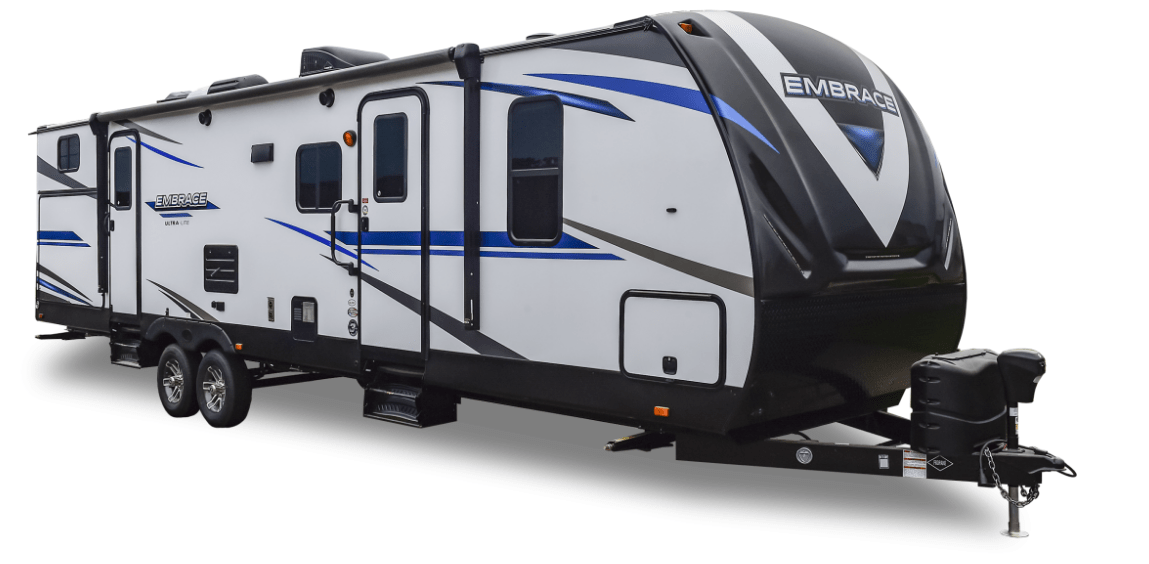 The Embrace by Cruiser comes with an overall length of 36 feet and 5 inches, and it comes with a gross vehicle weight rating of 9740 lbs. The trailer comes with high ceilings that are around 7 feet in height.
It can comfortably sleep nine people, so it's the right choice for large families. The trailer's interiors are high quality.
Everyone in your family will get the feel of living in a small home because of the cozy environment that the trailer gives. The Embrace also features a master bedroom suite and has a king bed in it.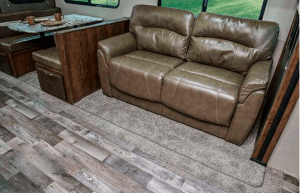 Even when the kids are around, you can comfortably stretch out on it. The entertainment center boasts a 39-inch LED television that will allow you to enjoy your favorite movies during those rainy days.
The bunk area has a slide-out, and there is another in the living room area, with a lot of space to move around. The bunkhouse is present in the rear section, and it also comes with different storage compartments.
The dinette can be used as a bed as well. With this travel trailer, you won't be out of space ever again.
This bathroom has access from the outside, and there is a partition for privacy on the inside.  The kitchen comes with a pantry and a refrigerator, and there is a massive dual sink.
The trailer comes with a freshwater capacity of 43 gallons and a wastewater capacity of 30 gallons.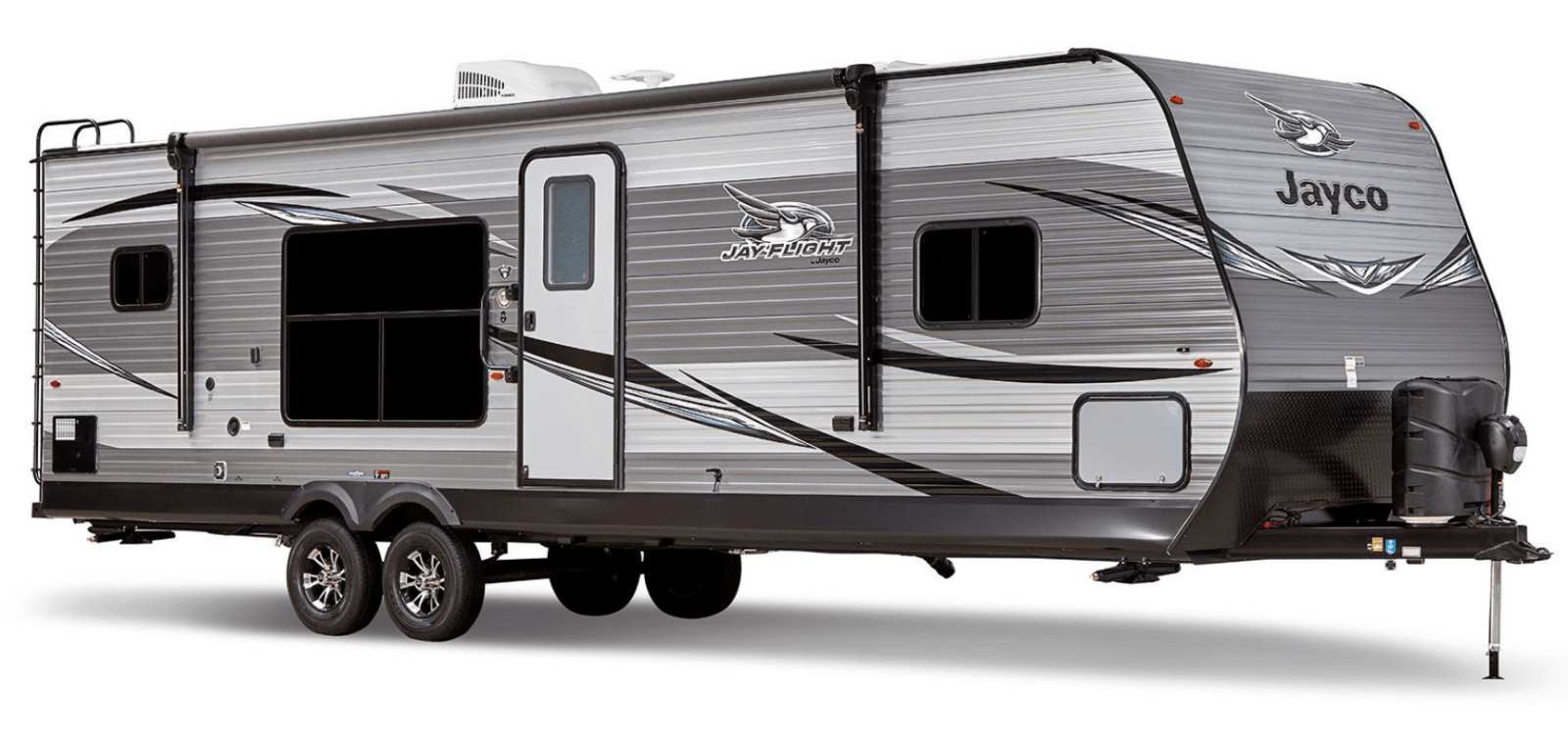 This quad bunk travel trailer has a top-notch kitchen that is designed for you to create different recipes. You will feel as if you are cooking in your home.
There is plenty of storage sauce along with the sink and the furnace. The countertops are built with quality, and there are stainless steel appliances integrated.
This modern kitchen space will be a massive delight for you when cooking for your family and friends. Even the kitchen faucet has that residential touch and features a pull-out sprayer.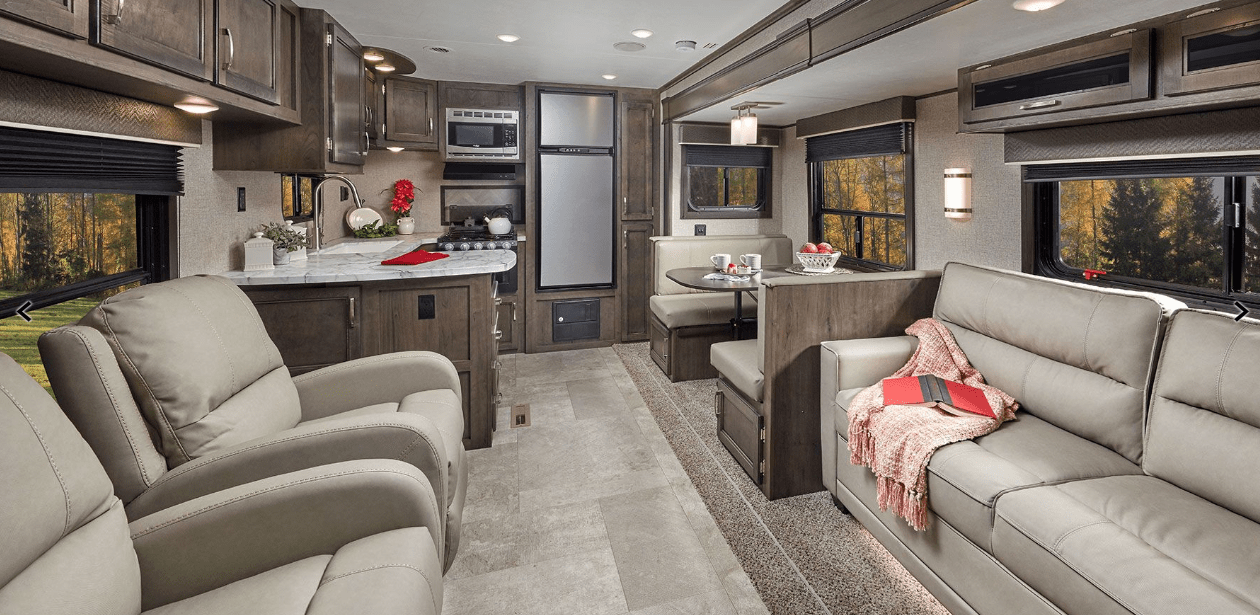 As this is a larger trailer, there is plenty of space available in the entire family's living room area. Living and dining with family is so much fun in this trailer. There are residential-grade carpets inside, and they add a lot to the aesthetics.
The trailer has superior construction and an ingenious floor plan. The master bedroom features a queen-size Serta mattress, and there are storage panels in the bedroom area. The dinette area features a sofa bed, which creates some additional room to accommodate more people.
The entertainment section features an LED TV, and there is a DVD player that features Bluetooth and MP3 player connectivity and HDMI, and the theatre seats are reclining.
Of course, this travel trailer also comes with the JayCommand mobile app. Controlling various RV features will be a piece of cake because you can do that with your smartphone.
The Sunset comes with a sleeping room for ten people, and it weighs around 8700 lbs. The max length of this travel trailer with quads bunks is almost 30 feet.
There is a freshwater tank in it with a 45-gallon capacity. A 30-gallon black water tank and a gray water tank if the same capacity is also available.
One of the best features of this trailer is that it is light in weight. Therefore, it will be gentler on your overall fuel consumption with less drag.
A lot of credit goes to this trailer's aluminum construction, which makes it a lightweight camper. You can also go for extreme weather packs if you are going to camp in a rain-struck area.
This trailer's interior has LED light all over, and there is a king-size bed in the hamster suite. So, you will get your much-desired privacy during the nighttime.
The dinette sections feature a sofa bed, and the size of the dinette is 42 inches. Its kitchen comes with a covered cooktop, and there is a mini refrigerator as well.
You can pull out the cooktop and the sink. The bunkhouse is pretty comfortable to convert into a sleeping space, and the wardrobe has TV hookups so you can easily convert it into an entertainment center.
Everything is easy and straightforward to access, and there is plenty for entertainment even if there is rain outside.
What Does Quad Bunks Mean?
Quad bunks refer to the bunkhouse configuration within a travel trailer. It is a sleeping area that comes with a couple of bunk beds.
It is a separate sleeping area in most cases, and there is a queen-size bed in the master suite beside them. RV owners who have large families find these quad bunks travel trailers very useful.
These bunk beds can either be separate sleeping spaces in the rear section of the trailer. Some trailers also have dinette area sofa beds and bunk beds that manage space pretty effectively.
FAQs
How to choose the best quad bunks travel trailer?
You can't decide your best option based on how many people can sleep in it. There needs to be enough storage space for them to place their belongings as well.
Plus, there should be enough bunk beds in the trailer for them to sleep in comfort. And of course, with more people inside, you will need your camper to have a bit more height for a better room.
Otherwise, the trailer would seem all cramped up for space.
Do bunkhouse travel campers come in shorter sizes?
Yes, you can find bunkhouse travel campers in shorter sizes. The shortest of them can range from 20 to 22 feet in length, and they are lightweight as well.
It means you can tow them behind your mini-SUV as well.
What is the most significant advantage of a quad bunks travel trailer?
The most significant advantage of the quad bunks travels trailer is that it can easily sleep more than six people. So, it is for larger families.
Some of these trailers have king-size bed master suites and a separate bunkhouse. Apart from that, there are sofa beds in the living room, and you can convert the dinette to bed.
There is ample space available in their trailers, and they are big too.
Which is the best quad bunk travel trailer?
The best quad bunks travel trailer in our opinion is the Jayco Eagle. It comes with a luxurious interior and provides you with that relaxing home-like feel with its comfortable and cozy interior.
There is plenty of sleeping room and space for storage as well as comfortably move around the trailer. There are a huge kitchen and a bathroom with double access.
It comes with numerous amenities that will make your camping experience a whole lot of fun. It's essentially your home-away-from-home.
Asen is the owner and main contributor of Camper Life. He is a full-time RV traveler since 2018. He loves camping in nature, fishing, and spending time with his family.
Striving to provide the most valuable information about campers and RVs, he shares everything he learned over the years.
That's why Camper Life is one of the best sources to find information about RV traveling and living.