Top 7 Best RV Power Converters [Buying Guide]
So, you finally got your RV hooked up to AC power and want to use it straight away. But not so fast. While you plug the RV into a 30 or 50 amp hookup, your electronics cannot handle that. You need something that converts that voltage into 12V DC.
And that's where an RV converter comes in. Converters are reliable pieces of equipment that convert AC power into low-voltage DC power. They're essential for any RV electrical hookup. And many converters double as chargers for your RV battery.
But which converter is the best and why? Here are our top 7 best RV converters reviewed.
Product Name
Image
Pros
Price
Powermax Power Supply Converter
Overcharging protection.
Doubles as a charger.
Extends battery life.
10-minute installation.
Provides steady power.

Check Price on Amazon

Progressive Dynamics Inteli-Power Series Converter
Reverse polarity protection.
Low line voltage protection.
Overcurrent protection.
Best for RVs and vehicles.

Check Price on Amazon

Powermax 12v Power Converter
Smart 4-stage battery charger.
Works in extreme temperatures.
Reverse polarity protection.
Overload protection.
Quiet cooling fan.

Check Price on Amazon
Best Power Converters for RV Reviewed
Need a quick and easy solution to a power supply converter? Then the Powermax is the right tool for you. This is a three-stage converter that doubles as a charger. In other words, it provides DC power for all your electronics and can charge up your RV's battery.
But that's not what sets this converter aside from the others. Instead, it's the attention to safety features. For example, this unit has smart circuitry that maintains the RV's battery's charge at a seedy level and avoids overcharging it. In the long run, this will result in a healthier battery and doesn't boil over.
Additionally, the three-stage charging system increases battery life. It keeps your battery charged for a long. Without it, you would be damaging your battery and reducing its overall lifespan.
And the best part? Installation hardly takes 10 minutes. Installation is as simple and easy as plug-and-play.
As a power supply, it provides clean and stable DC power for any electronic circuitry. And the current output is rated at 45 amps, perfect for most RV applications.
However, the power it provides falls short of the current that is rated on the unit. You'll get a few amps below what it is rated at, which is still pretty useful. But it's not close to what's rated on the device. So, don't buy this expecting to use the full 45 amp current from it.
All in all, this is a great choice for anyone who wants a 2-in-1 power supply convert and RV battery charger.
Pros:
Overcharging protection.
Doubles as a charger.
Extends battery life.
10-minute installation.
Provides steady power.
Cons:
Output is lower than the rated amps.
The Progressive Dynamics is an intelligent power supply with a built-in Charge Wizard. This power supply outputs 60 amps of current and has many safety features to keep you and your systems safe.
To begin with, you have reverse polarity protection. This is because it can prove detrimental to your battery. This keeps the circuit off in case the battery is connected the wrong way around. And there's a current limiting circuit that limits the current flowing through the circuit when the max capacity is reached.
In addition to that, the converter features low line voltage protection. This protects the electronic device from low voltage fluctuations. Low voltage fluctuations can damage equipment and render them useless. So, a circuit that protects against that is much needed, especially on an RV power supply, where you have so many electronic components.
This power supply converter provides a smooth and steady DC output. And the charger provides a constant current that doesn't boil the battery over. This elongates the battery's life and reduces maintenance requirements.
It has its limitations, though. This charger is not meant for Lithium-ion batteries. So, if you own one of those, consider a different charger. And it doesn't feature a meter for showing the battery charge percentage.
Overall, the product is qualitative and well-equipped. As a result, it's suitable for anyone who wants more current out of their power supply and needs a stable charging source for their RV battery.
Pros:
Reverse polarity protection.
Low line voltage protection.
Overcurrent protection.
Best for RVs and vehicles.
Cons:
Not for Lithium-ion batteries.
No battery charge percentage gauge.
In another converter from Powermax, one outputs a constant current of 100 amps. It's a more powerful version of the previous converter. And it's suitable for high-power applications.
To start with, the Powermax PM4 is a 2-in-1 power supply converter and RV battery charger. As a battery charger, it's a smart 4-stage battery charger. For those who don't know, a 4-stage charger charges the battery in 4 stages. These stages optimize the charging speed, which in turn ensures that the battery lasts longer.
Aside from that, it features voltage protection, which keeps the battery fluids from boiling and heating up.
On the converter side, it features reverse polarity protection. This keeps the system off in case the terminals are connected the other way around. You also get overload protection, so you're never drawing more power than the system can handle.
In addition to that, you get thermal protection. Heat and cold can put a damper on the output of a power supply. And that's why the Powermax PM4 ensures steady operation irrespective of the temperature.
And since the unit gets quite hot, there's a cooling fan that whispers. Plus, the unit is both UL and CUL approved. Hence, it's on par with modern safety standards.
However, installation and setup aren't easy. You'll struggle with the instructions at first. They're a bit hard to read. And the terminals don't have any positive or negative marking. So, there's a lot of guesswork that goes into it. But once you get it right, you're all set.
Pros:
Smart 4-stage battery charger.
Works in extreme temperatures.
Reverse polarity protection.
Overload protection.
Quiet cooling fan.
Cons:
Instructions are hard to read.
This product from IOTA Engineering is a converter and charger. It has a max current output of 45 amperes and offers one of the best and most qualitative battery charging experiences.
The charger has two charging modes: 13.6V and 14.2V. It operates in 3 stages: bulk, absorption, and float charge. These charging stages keep the battery in a healthier shape. And in the long run, they result in a battery that doesn't run out too quickly.
But that's not all.
Since most converters and chargers tend to overheat, this unit has a low operating temperature. And it even includes a cooling fan to keep the converter at a suitable temperature.
In addition to that, the converter features built-in reverse polarity protection. This keeps the circuit and your electronic devices safe if they are connected backward. You also get overcurrent protection, which limits the current and prevents overheating.
Speaking of overheating, to avoid boiling the acid, this charger features overcharge protection. This prevents the charger from charging your battery over 100%. And in turn, it keeps the battery from boiling.
And the best part?
You get a 120V plug included with the unit! So, it works well to charge solar panels too. However, one major setback is that the charger, known as the IQ4 charger, is not included. So, you'll have to purchase that separately.
Without it, the converter seems a bit incomplete. But some people don't need the charger. So, having the option to dump the charger entirely and only buy the converter is neat and can save you a few bucks.
Pros:
Low operating temperature.
Overcharge and overcurrent protection.
Reverse polarity protection.
Includes 120V plug.
Keeps the battery in good shape.
Cons:
IQ4 charger not included.
Need to power more than one battery? Then what you need is the Go Power! GPC-45-MAX. As the name suggests, it provides a maximum output current of 45 amps. But that's not the interesting bit. What sets this aside is that it can be used to charge up battery banks, up to 6 batteries in one go!
Yes, you heard that right. And that's not all. This is a 4-stage charger. It charges the battery in 4 stages of varying charging speeds. As a result, it optimizes battery health and prevents your battery from losing charge over time.
But wait, there's more. The Go Power is a DC converter that outputs clean, steady DC with as much efficiency as possible.
And to facilitate easy installation, the unit comes with a 15A male plug. Of course, you'll need to read the instructions manual to install it fully. You can't expect an electrical manual to be easy to read. But the manufacturers have made it quite intelligible.
Many newer charger-converters are so big that when we saw the Go Power, we were relieved. It's compact and designed to fit snugly in cramped areas. So, the back of your RV doesn't get too crowded.
Unfortunately, this charger is not for Lithium-ion batteries. You should look into a different charger for that. Additionally, no matter how well the unit regulates heat, it's still more prone to getting hot. Perhaps it's the compact construction that puts all the hot components in one place.
Pros:
Extends battery life.
Comes with a 15A plug.
Easy installation.
Compact and lightweight.
Can charge 6 batteries at a time.
Cons:
Gets hot.
Not for Li-ion batteries.
The Arterra WF-9865 is a 65-amp DC converter meant for mounting on decks and for standalone use. Everything on the converter is automatic, so you don't have to set anything manually.
But that's not even the best part. The Arterra WF-9865 is FCC Class-B compliant. Therefore, it does not cause any interruptions with television, radio receivers, and other equipment in simpler terms. However, it's a recurring problem among converter power supplies, so an anti-interruption circuit is much needed.
Aside from that, the power provided by the converter is clean and steady. The current output doesn't fluctuate, which would otherwise destroy your equipment. Additionally, the fan only runs when needed. This not only saves power but you're also not always bombarded with a loud fan sound.
Furthermore, the Arterra doubles as a 3-stage charger. It charges any RV battery in 3 stages. First, there's the 13.2V DC FLoat charge, followed by the 13.6V DC Absorption charge. Then, finally, the battery goes through what is called the Bulk charge, at 14.4V DC.
This does because it maintains better battery health and prevents the battery from losing charge in the long run. Additionally, the unit features a current limiting circuit. This works as both an overload and short-circuits protection mechanism.
And that's not all.
You also get reverse polarity and temperature protection, along with overvoltage protection.
However, you may struggle with installation. This is because the instructions miss out on a few key bits, such as that you should remove the external fuses when wiring the converter. Hopefully, future iterations will fix this.
Pros:
Do not interrupt TV and radio signals.
Smart 3-stage charging.
Overcurrent and temperature.
The quiet fan turns on when needed.
Steady and clean DC output.
Cons:
Instructions could be clearer.
If you need a compact 2-in-1 converter and battery charger, try this one from Progressive Dynamics. It's a DC power converter with an AC distribution panel and a 4-stage charger.
The DC converter provides a clean and steady DC output. As a result, there are little to no fluctuations, and indeed not any, that would hinder the normal operation of equipment.
As for the AC distribution panel, it's rated at 120V at 30 amps. And it can have up to 5 circuits branching off from it. The inclusion of an AC panel is great since most converters focus on just DC power.
Additionally, the DC panel features 6 fuses, all rated at 30 amps. These prevent too much current from flowing through the system and damaging it.
Moving on to the 4-stage charger, it includes the Boost, normal, Storage, and Equalization Modes. The last one is of particular interest. It's mainly used to prevent sulfation in the battery, which is why most batteries go bad in the first place. Other than that, the other 3 modes ensure you squeeze out the most from your batteries.
But wait, there's more.
Not only does this unit feature over-voltage protection but also under-voltage protection. Unfortunately, under-voltage can be just as detrimental as over-voltage. So, a dedicated circuit for preventing that is extremely useful.
Aside from that, the unit has excellent thermal insulation and prevents the charge from going up or down with the temperature.
However, the manual could use an update. The circuit connections are shown on it, and the instructions are hard to read and sometimes plain wrong.
Pros:
Provides AC power as well.
Overcurrent and voltage protection.
Clean filtered DC power.
Over and under-voltage protection.
Prevents battery sulfation.
Cons:
How To Choose The Best RV Converter?
Now you know what the best RV converters are. But how do you decide that for yourself? Here are a few key buying factors to look out for:
Output Size
First things first: look at the power output. There's no question about the voltage output. You want a converter that converts 110/120V AC to 12V DC. But for the current, look out for the rated amperage rating. Often, the rating is far from what the unit provides.
Converter Types
There are a few different types of converters, such as single-stage and multi-stage converters. A single-stage converter charges the battery until it's fully charged.
As soon as that happens, it immediately cuts off power to the battery. These converters provide constant voltage and current throughout the charging process.
Multistage Converter
A multi-stage converter, opposite to a single-stage charger, charges the battery in certain stages. The stages vary in the output current, voltage, and time spent charging. Each stage has its use and optimizes the battery for maximum efficiency and lifespan.
Deck Mount Converter
A deck mount converter is a type you mount on the deck. These kinds usually offer fully insulated DC power with little to no noise. Deck mount converters are great for those who have a lot of space on the deck of their RV.
Otherwise, you're better off with the other kits.
Distribution Panel Converter
Distribution panel converters are the types that have AC and DC distribution panels in them. These are a bit more advanced and let you control the flow of electricity to all your gadgets.
Distribution panel converters are great for when you want more control. Or for when you have a lot of devices to power off a single converter.
Safety Features
Lastly, take a look at the safety features. Again, there is a lot of diversity in these, so that we will go over them one by one:
Reverse Polarity Protection
Protects from damage caused by connecting the terminals backward.
Overcharge Protection
It prevents the charger from charging the battery beyond 100%.
Overcurrent and Overvoltage Protection
Protects the circuit from too much current and too much voltage, respectively.
Under-Voltage Protection
Keep the voltage above a certain level and prevent low voltage fluctuations.
Temperature Protection
Maintains the temperature at a steady and safe level to avoid power loss.
Overload Protection
Ensures that you never connect a load that the charger/converter cannot handle.
FAQs
What Does a Converter Do on an RV?
A convertor to an RV converts standard 120v AC power into 12v DC power.
How To Choose the Right Size?
Look for the current amperage rating that you need, along with the proper safety features. And if you want a battery charger along with it, consider how many stages it charges in.
My RV Doesn't Have a Converter, Do I Need One?
Yes, you need one because it is mandatory if you utilize your DC accessories and appliances. But this is only when you're on an AC hookup.
Will An RV Converter Work Without a Battery?
Yes, you can run your converter without a battery. But you must be consistently hooked up to shore power.
Conclusion
Providing clean power to your RV's electronics seems like a tedious task. And it becomes even more confusing when you have no idea how any of it works.
Luckily, some power supplies make it a lot easier. And the best part is that many of them double as RV battery chargers. Perhaps one of the best such converters is the Powermax Power Supply Converter.
It provides a steady 45 amps of current and has an ample amount of safety features.
And let's not forget about the 3-stage RV battery charger. It keeps the battery healthy and prevents it from losing charge in the long run.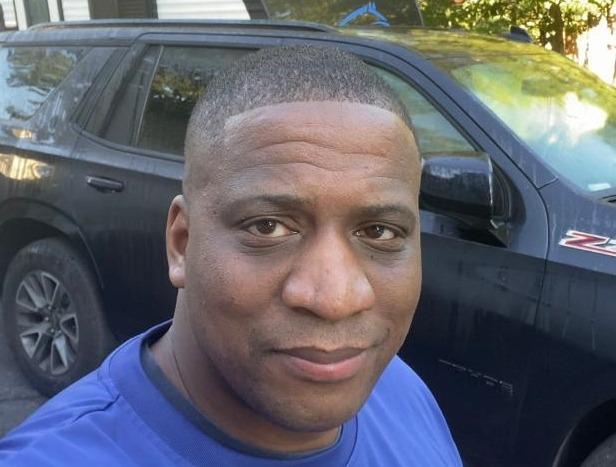 I`m a current Law Enforcement Officer working within the Counterterrorism Bureau in New York State. I have been Camping for over 20 years. My styles of camping include tent, car, truck, van, and RV travel trailer. I have a YouTube channel where I teach all types of camping with an entertaining method: https://youtube.com/@TheSmallsRVAdventures