Top 6 Best Bike Racks for RV: Let`s Choose the Type!
Product Name
Image
Pros
Price
Swagman RV Ladder Rack
Versatile and sturdy.
RV approved.
User-friendly.
Resist's rust and corrosion.
Comfortable design for immediate installation and removal.

Check Price on Amazon

RV Ladder Mount System
Can store and transport portable waste tote.
Lightweight design.
It is highly secured.
Saves enough storage space.

Check Price on Amazon

Camco RV Mount Bike Rack
Bonus straps included.
It can be folded for storage.
It can hold two bikes.
Easy to install.

Check Price on Amazon
You must have seen an RV rolling down with the bike either mounted or hanged over the rig. Are you an RVer who loves biking and moving around the bike to the desired destinations? You must be wondering how you can ease your trouble and get your hands on the best RV bike rack.
Most RV use ladder bike racks to mount a bike. Such racks allow you to suspend the bike vertically or horizontally over the ladder-style bike rack. They are designed for large vans, trailers, 5th wheels, and motorhomes.
Before you invest in a suitable one, you must know which one to consider and which products are the best?
Have a look at the complete list of best RV bike racks, which we think are stunning.
Best RV Bike Racks for Motorhomes and 5th Wheels Reviewed
Swagman is a brand you can trust for the stunning products that allow easy movement of equipment to your desired destination, whether it's a bike shop, a trailhead, race, first ride, or your life's best ride.
This Swagman RV ladder rack mounts conveniently to the RV ladder using hooks. Bike racks and bikes can be placed using rubber straps. Indulge in worry-free security as this ladder rack comes with a dual-free design offering enough support while holding the bike securely.
Don't worry about bikes falling now, as this rack features reflectors at the arm's end for your bike's additional safety.
What makes it unique is its versatility. It can easily fit RVs and motorhome ladder rungs. It can carry around two bikers. This ladder rack offers incredible support to the bikes and comes with a maximum weight capacity of about 35 lbs.—for each bike.
Furthermore, it is quite sturdy and made from lightweight aluminum, which resists rust and corrosion, which means you can always get your bike in place with complete safety.
This ladder is RV-approved as the RVs result in excess strain over the bicycle rack compared to an average car. Moreover, such racks are RV-approved and built in a way that withstands all circumstances.
An RV Rider E-Bike Rack is a convenient and efficient way to store and transport an electric bike. It is an adjustable, wall-mounted rack specifically designed to hold e-bikes in any RV.
It allows for the storage of an electric bike with its wheel still attached, making it easy to move in and out of the RV.
The RV Rider Rack also has a durable frame made from powder-coated steel, providing a secure and safe fit for your electric bike.
It is adjustable, allowing you to fit different sizes of e-bikes up to 55 lbs., and has a two-stage locking system that ensures a secure fit. With the RV Rider Rack, you can easily transport your electric bike in any RV, no matter what size or shape.
The RV Rider E-Bike Rack is an innovative storage solution for your e-bike. It allows you to attach and store your e-bike on the back of your RV with minimal effort. The rack is designed to fit all types of e-bikes, from folding models to full-sized mountain bikes.
The design of the RV Rider Rack is straightforward. It has four adjustable straps that wrap around the frame and connect to two metal bars. The bars are designed to securely fit into the mounting points at the back of your RV.
Once mounted, the rack is designed to keep your e-bike securely in place, even when the RV is in motion.
The RV Rider E-Bike Rack also features an adjustable wheel cradle that can be used to secure the wheels of your e-bike in place. The wheel cradle ensures that your e-bike won't move around while you're driving, reducing the chances of it being damaged during transport.
Overall, this best RV bike rack is a convenient and secure way to store your e-bike while traveling. With its adjustable straps and wheel cradle, it ensures that your e-bike will be safe and secure while you're on the road.
Are you seeking a versatile RV ladder? Get your hands on this RV ladder mount system. It is perfect for transportation and storage. Moreover, it can be used for the chair rack and the bike rack.
What makes it unique is the lightweight design made from aluminum, which securely mounts on the RV ladder and can hold a maximum of around 50 lbs.
The ladder mount is secured with multiple screws and metal brackets. Moreover, it comes with an 85-inch nylon strap ensuring the bike, chair or tote is secured and tied down. It is a perfect utility product that saves enough space and is a perfect sanitary solution for the transportation of portable waste totes.
Thetford's RV ladder mount system comes with additional storage with the ladder for recreational vehicles. You can utilize a Ladder mount system in the form of a bike rack, chair rack, or portable waste tote rack, or it can also carry different items, but that should now exceed 50 lbs.
This lightweight aluminum RV ladder mount system comes with arms having rubber sleeves for prevention against slipping off the items. The rack comes in 21 ½ inches tall plus sticks out in 14 ½ inches.
You can also secure the load using the ladder rack, which comes in an 85-inch nylon strap fitting well to the large smart tote2 waste tote tanks. Enjoy shopping for this product, which comes in a complete package.
However, you need to ensure it comes with only transporting these portable waste tote tanks once they are empty. Tighten the fasteners properly and secure the load and system properly once you stop refueling it.
If you are seeking why you should shop this Camco RV ladder rack, you must know that it is easy to install and holds around two bikers with a maximum weight of 60 lbs.
The perfect form fit of the cradle securely holds the bikes. Plus, it comes with straps that offer enough security to the users.
You'll fall in love with this ladder-mount bike rack as it is foldable and thus offers enough storage. This bike rack comes with soft grip handles that provide a stunning effect plus features locking pins that hold the product in place.
It is one of the top suggestions when we talk about bike racks. What makes it unique is the easy-to-use and easy-to-install features. It fits well with RV ladders. The unit weighs around 8.2 pounds, which makes it easy to use and easy to store.
This Camco RV ladder mount bike rack is a perfect addition to carry your bike while traveling as an RVer.
Besides that, this bike rack is mounted using 1-inch by 1-inch angles plus the J bolts, which also work well as the average hanger hooks. Plus, it comes with a durable and robust frame for the bike. Moreover, the Camco RV bike rack comes with a decent warranty of 90 days.
Get hands-on on the RV bumper-mounted 2-bike rack, which adds some fun to all your trips. Conveniently carry two bikes easily with this 4 to 4.5" square bumper that comes with adjustable mounting allowing a perfect fit for all bicycle lengths.
What makes it adorable is the all-steel construction plus the powder coating, making it resistant to corrosion.
It can hold around 30 lb. weight capacity for each bicycle. Plus, you need to keep in mind that this RV bike rack does not fit well for fat-tire bicycles or ones having wheels with more than 29″. The slotted tire can hold the bike securely and conveniently through a stabilizer post, which offers a complete anchor to the bikes and completely supports them.
Moreover, you should be aware of the RV manufacturers' load restrictions on the vehicle's bumpers. So, what are you waiting for? It's stunning to possess the dual platforms, which mount well and is highly adaptable. The adjustable mounting with complete control of width makes it a perfect breezy product.
This product is an ideal choice for all your average trips.
Swagman 2 bike RV bumper rack allows the transportation of one to two cycles over an RV. Plus, it can also travel over the camper trailer bumper. The maximum weight it can hold is around 30 lbs. for each bike.
It is for square RV bumpers measuring around 4" to 4.5′. Plus, it can install approximately 6.5" and 8" long bolts surrounding the RV bumper.
What makes it unique is the heavy-duty steel construction in a black finish plus the powder coating, which resists it any corrosion.
You can attach this bumper rack using the steel U-bolts that come with the rack and the bumper.
There is an upright bar within the rack's center for additional support, which gives enough support to the bikes during towing. You'll fall in love with the extreme support and easy-to-use rack which supports all frames, bikes, and wheels.
It is one of the best RV bike racks, which can add extra fun to the trips you have been waiting for. Moreover, it comes with dual platforms, which can be easily mounted to the bumper giving customized control over the rack's width, ensuring that the bike fits well each time you mount it.
For perfect security, the slotted tire well is right, and the convenient stabilizer post offers enough anchorage and support for fastening the bikes. Moreover, keep in mind the load restrictions you must follow for a safe experience during RVing.
Swagman Traveler XC2 is an RV-approved rack that works well for various sizes of campers and trailers. You'll like this product because it's easy to assemble and takes only a few minutes to assemble while reading the instructions.
It is a convenient rack to load the bikes quickly and is ready to go. Moreover, when not using it, you can just fold it with the upright bar allowing access to the rear part of the RV. Even if you plan to go on long journeys, you can consider using this rack as it comes with a light, sturdy design.
The best part! It is highly versatile and allows easy transportation of around two bicycles. Plus, it is compatible with the 2", class 3 hitch receiver and mounts well to a 4.5" continuous welded steel RV bumper adapter that also features a 2" bumper adapter.
This RV bike rack is approved to haul all your bikes on the 5th wheel, trailer, or RV. You don't need to worry about shopping for this product as it's undergone strict testing, ensuring to handle all the extra stress of towing behind the RV.
It's quite reliable and allows you to get all bikes to the desired destination safely. This bike rack comes with an upright arm plus a push-button and ratcheting hooks, which offer quick loading of bikes and unloading. Moreover, the black powder coat finish makes it resistant to corrosion and rust.
How to Choose the Best Bike Racks for RV?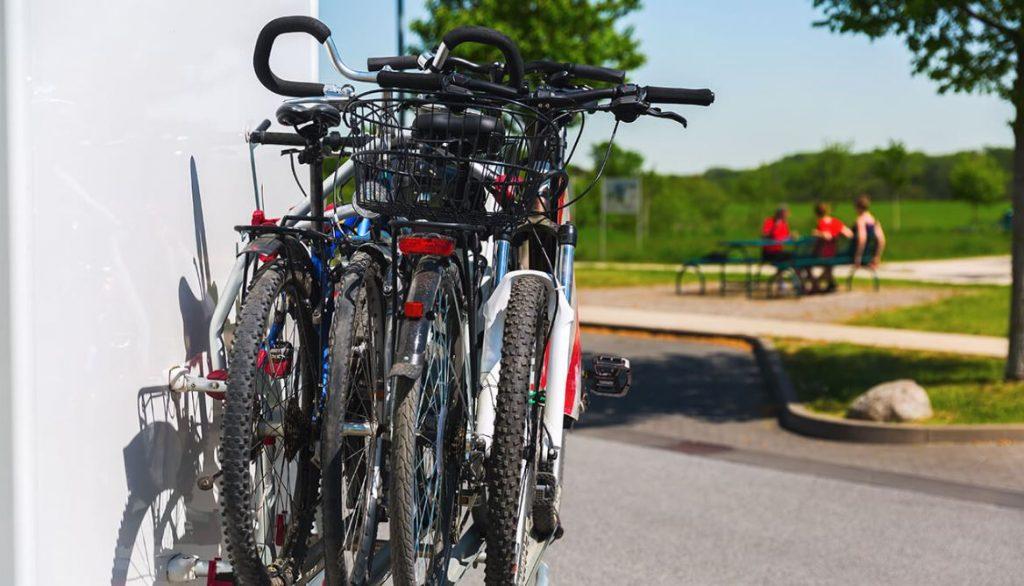 Before choosing a bike rack for an RV, you must understand that not all products are meant to fit each camper. You need to purchase the best RV bike racks to mount easily on the specific motorhome.
RV Approved
If you're an RV owner, you know that it's important to keep your vehicle in tip-top shape and make sure it's outfitted with the right accessories. One of the best ways to maximize your RV experience is to invest in a quality rack. The racks allow you to easily transport your bikes with you on your adventures, giving you the freedom to explore new areas.
But how do you know which one is right for your RV? The key to finding the best bike rack for your RV is to ensure that it is RV-approved.
Here are some best ways to find out an RV-approved bike rack for RV:
A good way to do this is to look for the manufacturer's certification. Manufacturers will often include information about whether or not their product is RV approved on their websites and product labels.
You should also look for a seal of approval from organizations such as the Recreational Vehicle Industry Association (RVIA). The RVIA provides certification for products that meet safety and performance standards for RV owners. When you see the RVIA logo, it means that the product has been tested and is deemed safe and suitable for use in RVs.
Another good way to tell if a rack is RV approved is to contact the manufacturer directly and ask. If the manufacturer cannot provide you with information about RV approval, then you should be wary of buying their product.
It is also important to check with your local RV dealership to see if they can provide any information about the bike rack you are considering. They may have specific recommendations based on what is popular in your area and what works best in RV settings.
Proper fitting
The bike rack should be such that it fits well because if it's poorly mounted, this can result in severe damage to the bike, other motorists, and your RV as well.
Capacity
The holding capacity of the bike racks depends on the number of travelers. It all depends on whether you are traveling alone, with a group, or with a partner. The size and the type of bike rack you need to purchase for an RV vary accordingly.
For one to two bikes, almost all RV ladder mount bike racks work, but it all depends on whether it fits your RV or not.
Type of bike racks
Most bike racks are quite versatile; however, specific bike racks hold typical bikes. A biker rack's mounting capability varies based on bike types like children's bikes, mountain bikes, large framed cruised bikes, electric bikes, and much more.
Ladder Mounts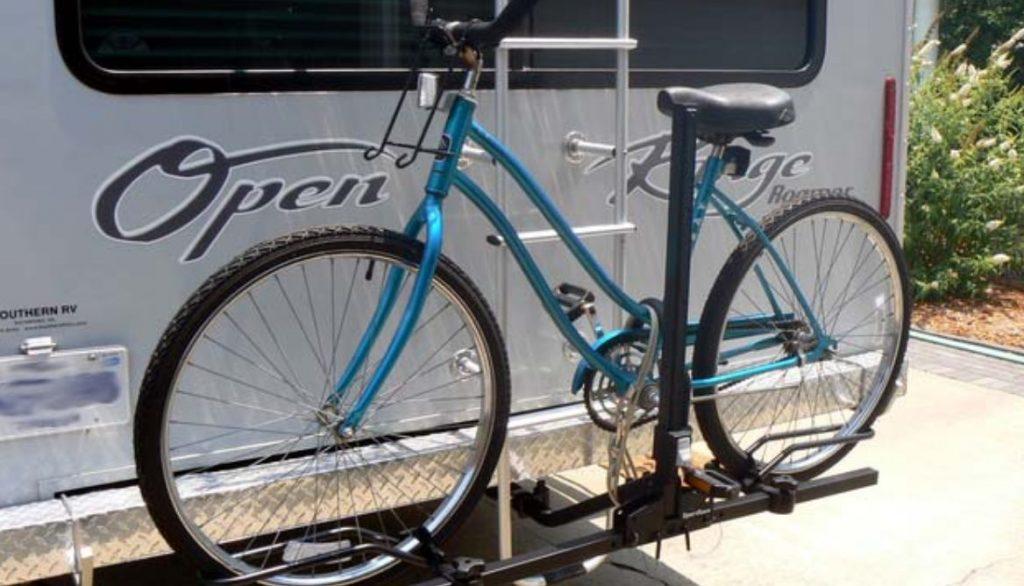 Bike racks come in all shapes and sizes, but one of the most versatile styles is ladder mounted rack. These are great for riders who need to store their bike in a tight space or even hang it up in a garage or shed. As their name implies, ladder mounts look like mini-ladders and can be attached to a wall or ceiling.
The bike's frame is secured between two ladders and held up by straps. They're usually adjustable so you can fit any size bike in there and get it off the ground.
When considering ladder mount racks for up to two bikes, make sure they're securely attached to the wall or ceiling. Check that all the straps and locks are tight and secure before you mount your bike. Also, be aware that some ladder mounts are only suitable for light bikes, so make sure yours can handle your bike's weight.
You may also want to invest in a padded wall mount to protect your bike from scratches and other damage.
Pros
The Ladder mounted rack is easy to install, as they are usually bolted into the ground or pavement.
Flexible, as they can be mounted at different heights to accommodate bike sizes.
Durable, as they are made from strong, weatherproof materials.
Compact, as they can fit multiple bikes in a small area.
Cost-effective, as they are relatively inexpensive compared to other types of racks.
Cons
Not suitable for high-end bikes, as the bikes may be damaged if the ladder mount is not secure.
Bikes can be difficult to remove from the rack, as you must lift the bike over the top of the ladder.
Ladders can become unstable if loaded with too many bikes or if they are not properly secured to the ground.
Bumper Mounted Rack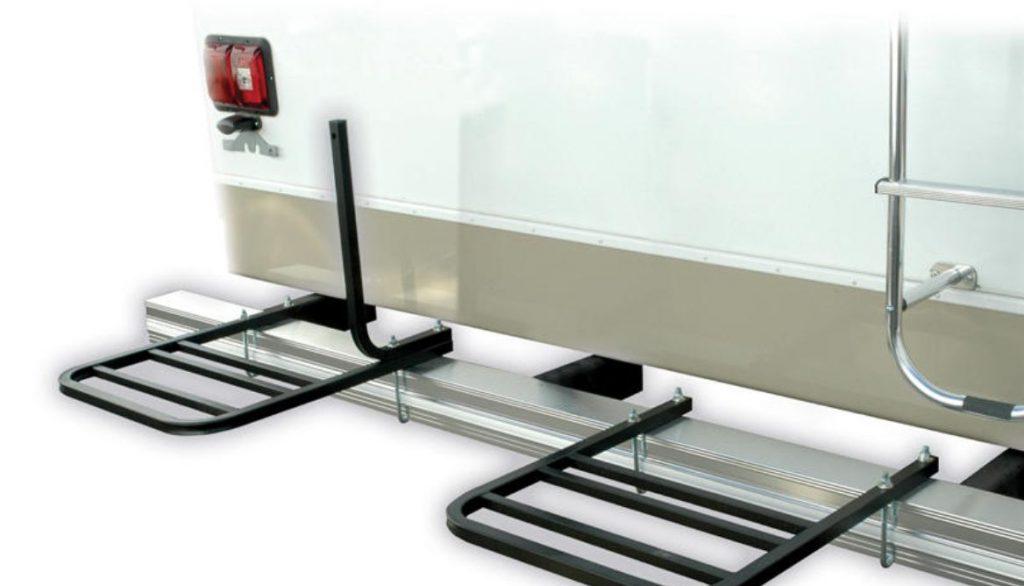 When it comes to RV racks, bumper mount racks are a great choice for cyclists who need an easy and convenient way to transport their bikes. As the name suggests, bumper mounted rack attach directly to your car's rear bumper and can hold up to two bikes at a time.
This type of rack is ideal for short trips because it is easy to install and remove, as well as provides quick access to your bikes.
The downside of the bumper-mounted racks is that they can't carry more than two bikes at a time, and they don't offer any kind of protection for your bikes. Additionally, some models may not be compatible with certain car models, so it's important to double-check before buying one.
But overall, bumper mounts are a great option for anyone looking for an easy way to transport their bikes on shorter trips.
Pros
The Bumper Mounted rack is easy to install and use
Inexpensive compared to other rack types
It can hold up to three bikes
Securely attaches to the vehicle's bumper or trunk
Lightweight and easy to store when not in us
Cons
Not suitable for vehicles without a bumper
May not provide as much security as other types of racks
Could potentially cause damage to your vehicle's paint job
Hitch Mounts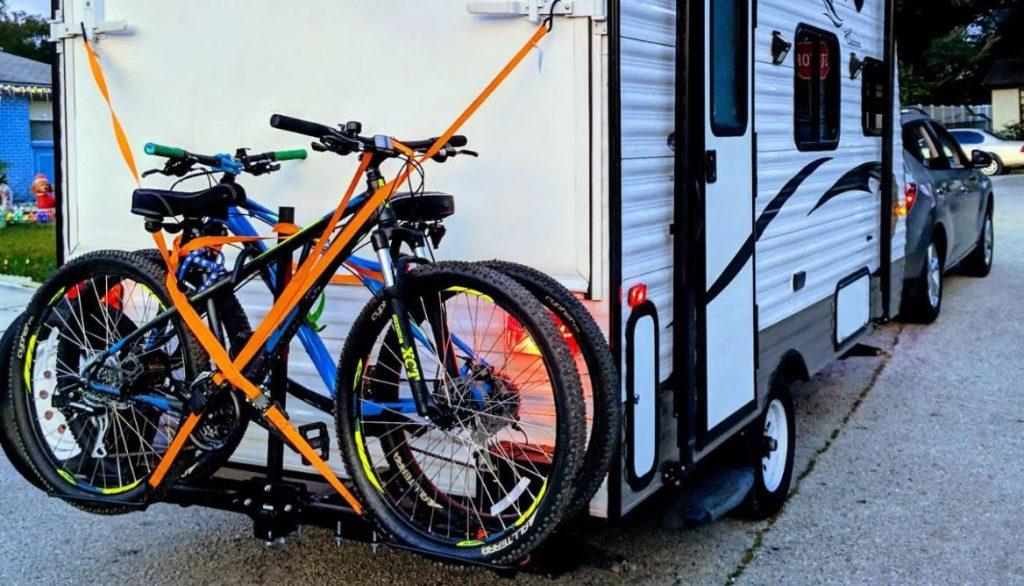 Hanging hitch mounts are designed to hold the bikes in place by the frame, with the wheel hanging from hooks or straps. This type of hitch mount is often the most affordable option, as well as the most compact, making it ideal for smaller vehicles. Platform hitch mounts provide more stability for larger and heavier bikes.
On these racks, the bikes are held in place by the wheels on a platform. Many platform racks also feature adjustable wheel trays, allowing you to easily adjust the size of the rack to fit different wheel sizes.
If you're looking for a reliable and easy way to transport your bike, then a hitch mount could be the perfect option for you. With a wide range of styles and sizes available, you can find the perfect rack to meet your needs.
Pros
Hitch-mount RV bike rack are often relatively easy to install and remove from a vehicle's rear hitch.
They come in various shapes and sizes, allowing them to accommodate almost any bike.
Hitch mounts generally feature strong locking mechanisms, making it difficult for anyone to steal your bikes.
Compared to other racks, hitch mounts tend to be relatively affordable.
Cons
Most hitch mounts can only carry one or two bikes, which isn't ideal for larger groups.
While some models offer additional stability features, many hitch mounts can be somewhat unstable when carrying multiple bikes.
Complicated installation
Front Mounted RV Bike Rack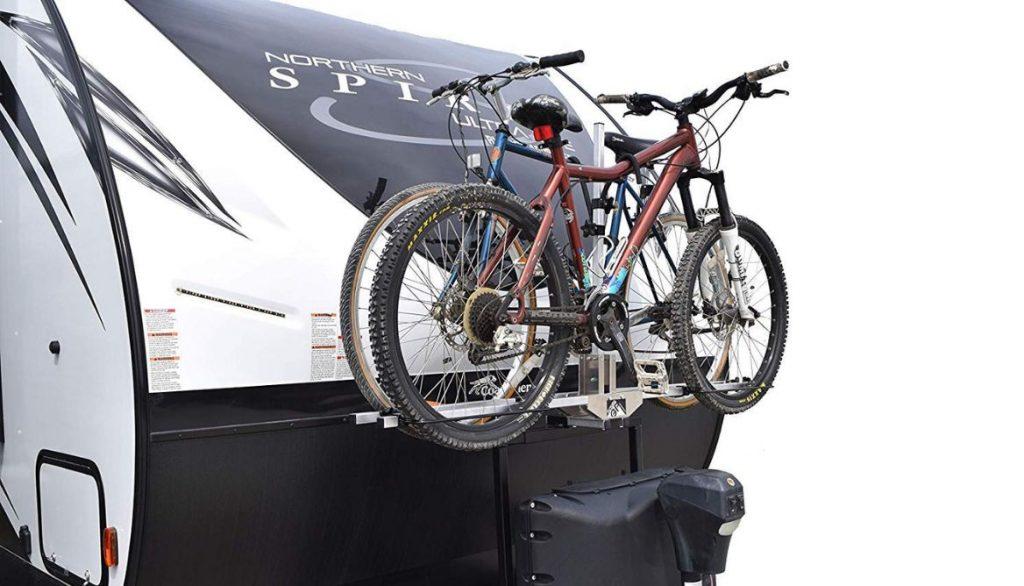 When it comes to the best bike rack for recreational vehicles (RVs), a front-mounted rack is a great option. This type of rack allows you to keep your bike securely in place while you drive your RV. They are usually easy to install, often attaching directly to the RV's frame.
No matter which type of material you choose, make sure you get one that is compatible with your RV. Also, if you plan on taking multiple bikes with you, make sure you get one with enough space to accommodate them all. Finally, make sure to check the weight capacity of the rack to ensure that it can handle your bikes safely.
With a front mounted RV bike rack, you can rest assured that your bike will be safe and secure while you enjoy your time on the road. With the right one, you'll be able to take your biking adventures to the next level!
Pros
Easy to access and store
Can fit multiple bikes
Securely attaches to the front of your RV
Lightweight and easy to install
Gives you additional storage space
Cons
Not as secure as rear-mounted racks
It can be difficult to reach when RV is parked
May cause aerodynamic drag due to its position on the front of the vehicle
Other Mount Options
When it comes to bike storage, there are more than just traditional racks available. In addition to the types of bike racks discussed above, Rver can also take advantage of other mount options to store their bike. Here are a few of the most popular:
1. Wall Mounts: Wall mounts allow you to keep your bike out of the way, off the ground, and easily accessible when you need it. They can be used to hang a bike vertically on the wall or horizontally from the ceiling.
2. Lift Systems: Lift systems make it easier to store bikes in a garage or basement. This type of storage allows you to raise and lower the bike with a pulley system for easy access and safe storage.
3. Freestanding Racks: Freestanding racks are a great option for those who don't have enough space to install a permanent bike rack. These portable racks can be placed wherever you need them and don't require any installation.
4. Trunk Mount Bike Rack: The trunk mount bike rack is designed to fit onto the back of your vehicle's trunk lid. This type of bike rack can hold up to three bicycles and provides a secure way to transport your bikes. Its low-profile design makes it ideal for cars with limited space in the trunk.
5. Roof Mount Bike Rack: The roof mount bike rack is designed to be mounted on top of your vehicle's roof. This type of bike rack can hold up to four bicycles and offers excellent stability for transporting your bikes. It also takes up minimal space in your car and provides easy bike access.
6. Spare Tire Rack: This type of rack attaches to the back of your RV and uses the spare tire as its base. It's a great way to get your bikes off the ground and is usually easy to install. This type of rack is usually well-suited for smaller bikes, as larger ones may need additional support or reinforcement.
They can be great for families who are just getting into biking, or those who want an inexpensive option.
7. Truck Bed Rack: A truck bed rack is a great option for those who have a pickup truck and want to carry their bike without needing to purchase a roof or spare tire rack. This type of rack attaches directly to the bed of the truck, providing a stable and secure platform for your bike.
It also doesn't take up any space inside the cab, so you'll still have plenty of room for passengers or cargo. Some racks even come with built-in locks to keep your bike safe from thieves.
8. Tailgate Pad: A tailgate pad is a great option for RV campers who need to carry their bikes but don't have a roof or spare tire rack. The pad attaches to the tailgate of the RV and is designed to hold the bike in place during transport securely.
It also helps protect the bike from scratches and dings, making it a great choice for RV campers who want to keep their bike looking its best.
9. Platform Racks: Platform racks are a great choice for those looking for a secure way to transport their bikes. These racks are mounted to the frame of your vehicle and feature adjustable arms that secure each bike in place.
10. Wheel Chock Racks: Wheel chock racks are perfect for those who want a low-profile option for transporting their bikes. The rack attaches to the floor of your vehicle and holds each bike in place by the wheel.
11. Folding racks: Folding bike racks are designed to be easy to use, store and transport. These types of racks attach to your vehicle's roof, trunk, or hitch. They are great for those who do not have a lot of space, as they can be folded up when not in use. Folding racks usually come with straps or clamps to secure the bikes to the rack.
Some folding racks even come with wheel holders, which can make transporting multiple bikes easier. Folding racks are often lightweight and can be used with a variety of vehicles.
12. Rear door racks: The main advantage of these racks is that they are very space-efficient, providing a good amount of storage without taking up too much real estate on the back of your RV. They typically come with straps that can be adjusted to fit most door sizes, making them incredibly easy to install.
Weight limit
Before buying the best RV bike racks, you need to know each RV ladder mount bike rack's weight limit as it varies from one model to another.
However, all models come with maximum parameters. It's best to ensure the weight properly before you place the bikes on the RV rack.
Warranty options
Most RV racks come with a guarantee or warranty option, one of the most important considerations while buying the RV bike rack. The premium RV products come with a limited warranty option and might also include a 30-90 day money-back guarantee.
Moreover, such products also come with free customer service, limited-time service, and much more.
Mounting and descending
This matters when you are buying the RV bike rack because the height of the buyer matters. For tall people, ladder bike racks work well; however, people with less or around 5", will find it daunting to handle it.
Bumper-mounted racks are not 100% secure, but they are easy to use. So, it's better to choose the most convenient style.
Universal Fit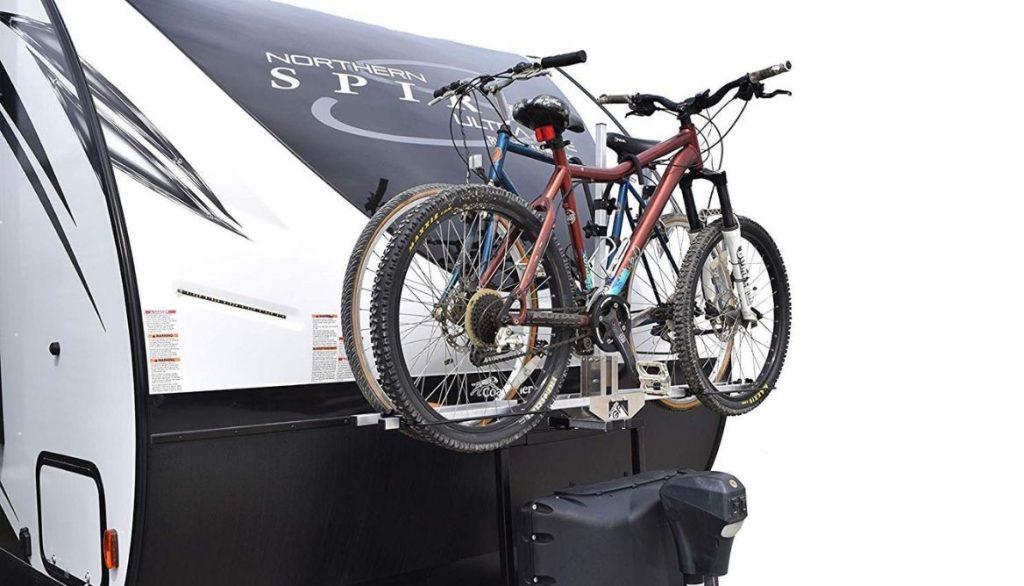 When shopping for a bike rack for your RV, you want to ensure it is a good fit. Look for racks that are designed to be "universal fit", meaning they will fit most vehicles regardless of size or shape. Many racks come with adjustable arms and straps that can be used to secure the rack to your RV.
Also, look for racks that offer adjustable cradles to accommodate different bike sizes. This will ensure your bike fits securely and won't be damaged while being transported. Finally, make sure the rack is durable and built to last. Check the manufacturer's warranty to ensure your bike rack for RV will last for many years.
When selecting a universally fit RV rack, it's important to choose one that's made from strong and durable materials such as steel or aluminum. This ensures that the rack can withstand the weight of your bike without bending or breaking.
Additionally, universally fit the best RV bike rack should feature adjustable arms so you can easily adapt them to fit different RV shapes and sizes. With the right universally fit bike rack for RV, you'll be able to easily and securely transport your bikes with you no matter where your RV takes you.
Times you'll access bikes
People who need bikes regularly; need immediate access to the bike, so they want a rack that is a suitable choice, which is most commonly a hitch, bumper, or spare tire mount rack. Roof-mounted and ladder ones are quite difficult to access.
Presence of a ladder
If your RV has a ladder over the back, then choose the RV ladder bike rack, which allows easy mounting and unmounting of the bikes allowing it to carry two bicycles at once. Such racks are easy to access, and easy to install, with excellent upper body strength and height.
Number of bikes
These are the main things you should consider while buying the bike rack. Knowing this makes you short down your choices. On average, the bike racks accommodate around 2-4 bicycles. Some varieties can carry approximately six bikes, while others have around one bicycle.
Style and size of the biker
Before buying the RV bike racks, you must know which type of style and size of the bicycles you want this rack to carry, allowing you to make the best decision.
Space to add the hitch mount
You can easily connect these racks and provide space for around three bikes quickly. To get hands-on on one of such RV racks, check the RV has enough room.
Foldability
When it comes to choosing a bike rack for RV, one of the key considerations is foldability. Many RV owners choose racks that can easily be folded up when not in use, saving space and allowing for easy storage. This feature is especially useful for smaller RVs, as space is often limited.
When searching for a foldable RV bike rack, it's important to check for any necessary assembly instructions before purchasing a foldable bike rack. This will ensure that you can assemble the rack quickly and correctly.
Also, make sure to look at how securely the bike rack attaches to your RV. A secure attachment ensures that the rack is safe and stable while your vehicle is in motion.
Consider the above key factors, and you will find the best foldable bike rack for your RV.
FAQs
Which brands manufacture the best RV bike racks?
Choose RV bike racks from reputable brands like Swagman, Camco, Lippert, and many more. Moreover, famous brands offer a good warranty and exchange return policy for buyers, which means you don't need to worry about the product when you buy them, so be confident when purchasing bike racks.
How to fit the bike rack with the RV?
There are different approaches for diverse types of racks, which is why it's strongly advised to adhere well to the manual instructions rather than improvising it on your own. There are easy-to-install instructions with the modern-day rack models, making them easier to set up your bike racks without any hassle.
Once you get your hands on the manual, plus the right tools, you will be able to finish attaching your bike rack to the rig before it's too long. Moreover, if you require any support, you can connect with professionals.
How to maintain the bike rack in top shape?
Most bike rack models eventually break down if you don't look after them properly, so it's best to take care and make them last for a longer time. So, wash the rack periodically and adequately using a mild detergent, and then clean it with a soft cloth.
Moreover, if you want the rack to work smoothly over the rub, lube its mechanism periodically. Use the lubricant moderately and avoid going overboard as it results in the accumulation of dust, debris, and dirt, leading to several issues. Plus, if you are off-season, remove the bike racks from the vehicles and place them in storage.
How fast can you drive with a hitch-mount bike rack?
Hitch mount bike rack is the easiest to use. They are sturdy and secure and have fewer disadvantages than the other bike racks.
What type of bike rack is best for E-Bikes?
A hitch-mounted platform rack is the best bike rack for your E-Bike as it provides easy access, secure fitment, and allows for multiple bikes to be stored safely in one location.
What is the easiest hitch bike rack to use?
A hanging hitch rack is the easiest bike rack because it requires minimal effort and installation time, with no need to remove your bikes.
Which is better: trunk or the hitch bike rack?
Trunk racks are usually more affordable and easier to install, but they don't provide the same level of security or stability as hitch racks. Hitch racks provide greater stability and can hold more bikes at once, requiring more installation time. Ultimately, it's up to you to decide which rack is better for your needs.
Do hanging bike racks damage bikes?
No, hanging bike racks do not usually damage bikes. However, you should always ensure that your bike is properly secured to the rack and check it frequently for any signs of wear or damage. Make sure to use appropriate padding and straps to protect your bike's frame from scratches or dents. Additionally, you should always inspect the bike rack for any damage before use.
Can I Attach Other Things To My Bike Rack?
Yes, depending on the type of bike rack you have, you may be able to attach other items such as cargo boxes and surfboards.
Is it OK if my bike touches the RV while I drive?
No, it is unsafe to drive with a bike touching the RV. This can cause scratches and damage to both the bike and the RV, and can even be dangerous if the bike moves while you are driving. To avoid this, ensure your bike rack for RV is mounted securely and keep your bike far enough away from the RV so that they do not touch.
What's the best way to mount a bike rack?
The best way to mount a bike rack is to use a hitch rack. This is because these bike racks are more secure than other types of bike racks, so your bikes won't come loose while you driving. They also offer more flexibility than other racks, so you can adjust the height and tilt of the rack to get the perfect fit for your needs.
Conclusion
Choosing the best RV bike rack can be a challenge, but with careful consideration of the options, you can find the right one for your camping needs. With the above-mentioned choices, there's sure to be a bike rack that fits your RV perfectly. It's also important to make sure that whichever type of bike rack you choose is compatible with your RV or camper.
We understand finding the most suitable RV rack is a challenging job, but once you follow the right guidelines, you will end up choosing the best product for your bike. For us, the winner of this product roundup is Swagman RV Ladder Rack because its comfortable design allows instant installation and removal.
Which type of RV bike racks did you like the most from the above-mentioned types? Please tell us in the comment section with solid reasons.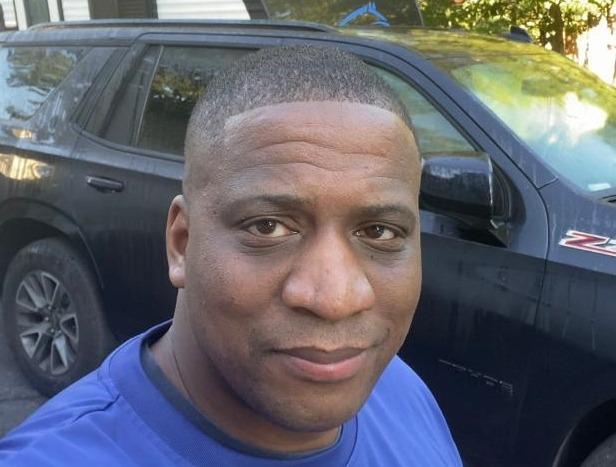 I`m a current Law Enforcement Officer working within the Counterterrorism Bureau in New York State. I have been Camping for over 20 years. My styles of camping include tent, car, truck, van, and RV travel trailer. I have a YouTube channel where I teach all types of camping with an entertaining method: https://youtube.com/@TheSmallsRVAdventures