7 Best Small Motorhomes for RV Living
Living in a motorhome can be just as thrilling as living in a permanent house, if not even more. The more significant the house, the better. Many people like to cut down a few bucks using a smaller motorhome.
Small motorhomes are hailed for their smart space-saving designs and cheaper rates. They're easier to store and manage and can sleep up to 5 people at max capacity. Class C RVs and campervans are the most famous examples of these.
But which motorhomes are the best small motorhomes for RV living?
Here are 7 of the best small RVs and campers on the market.
7 Best Small Motorhomes
Winnebago Revel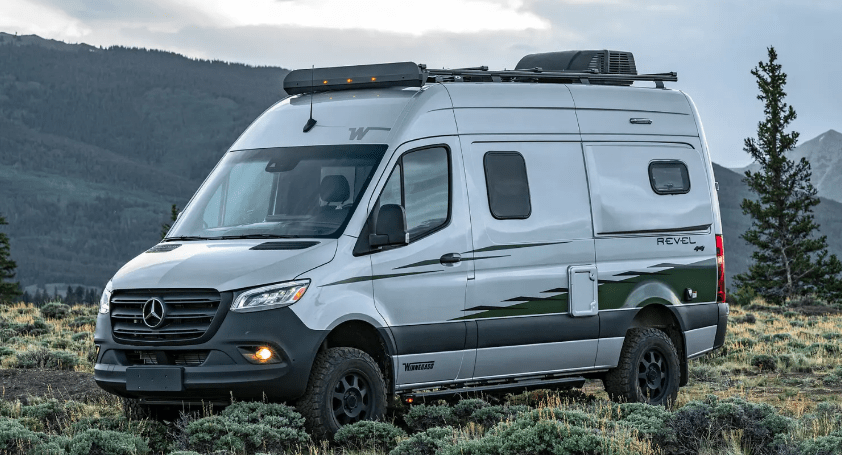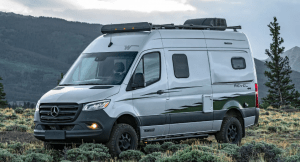 The Winnebago Revel is a compact RV that's built around a 4WD Benz chassis. It's an excellent choice for those that like to stray off-road and lose themselves in the wilderness. The Revel has been designed with one goal in mind: to allow off-roading for RV drivers.
And it's not just the 4WD that facilitates this. The Revel comes equipped with two powerful LiFePO batteries, which keep it going for more extended periods. Moreover, the Revel adopts a Hydronic Heating System that keeps you warm during the cold nights. And all of this can be controlled either via Bluetooth or through a conveniently placed LED screen.
As for the interior, the Revel features a shining new dinette. It comes with vinyl flooring, aluminum-constructed cabinets, and elevated seating.
Since the Revel is a Class C RV, space is sacred. Its power lift bed can transform into a gear garage for extra storage. And a lot of the components, such as the batteries, are accessible from the exterior. You can also access the mini-fridge from both inside and outside.
What's more, the Revel comes with a 21-gallon freshwater capacity, and the water heater is completely constant. This accounts for soothing baths and hot steaming showers.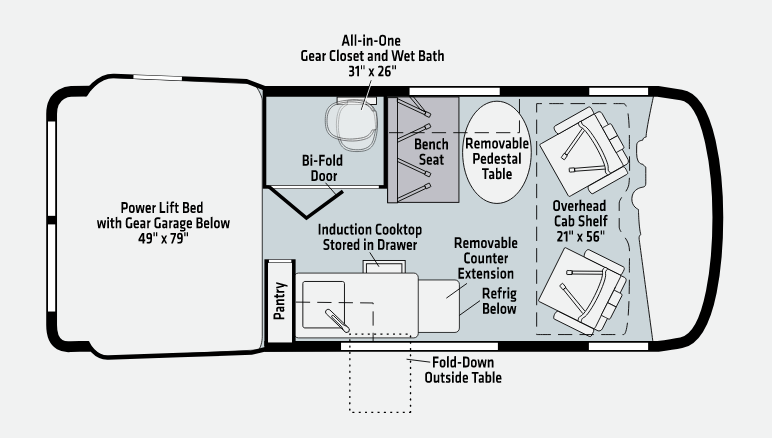 Entegra Odyssey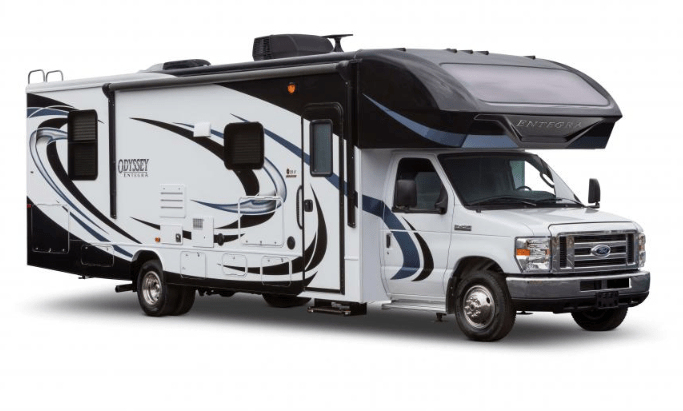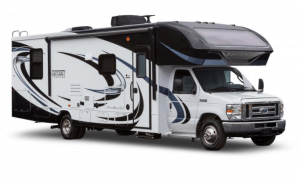 The Odyssey by Entegra is a highly cultured Class C RV that packs comfort and portability. The creators have blended the idea of a seamless floorplan with a space-saving design. You get to choose from several floor plans, fully equipped with a queen bed, a dinette, and an exterior TV.
It's based on the Ford E-450 frame with a four-wheel drive and a rugged exterior. These features allow a stable, shake-free ride. You also get the option of an exterior TV under the awning, as well as an outdoor kitchen with a mini-fridge.
Inside, you get swivel chairs, a toilet, an indoor kitchen with a microwave, and a cab-over bunk. The bunk is of particular note here since it allows up to 3-4 people to sleep in the same RV. You can also switch out the regular sofa for a theater sofa. Some floor plans also include a fireplace to keep you warm during the winters.
As for safety, the Odyssey features a power anti-lock braking system paired with E-rated tires. Aside from that, you also get a 7,500 lb. hitch for towing along with a leveling jack for camping on rough surfaces.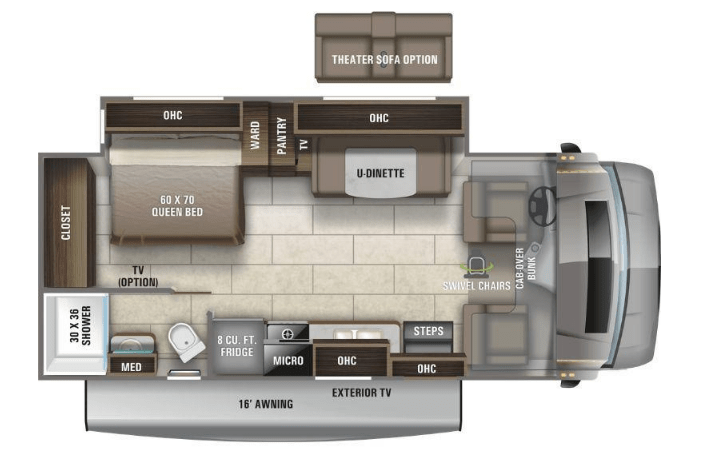 Storyteller Overland Mode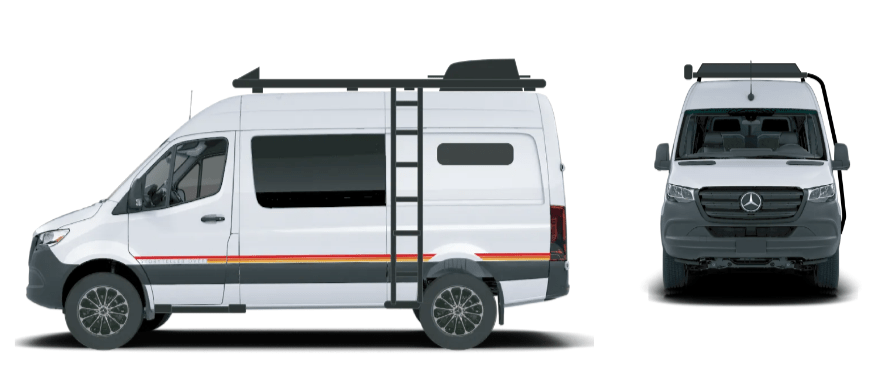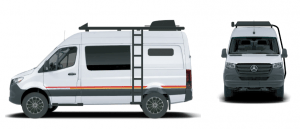 Storyteller's Overland Mode is one of those RVs that you buy for the sake of it. It's premium, luxurious, and is highly versatile in its functionality. Boasting over 14 cab conveniences and settled on a Mercedes-Benz Sprinter chassis, this RV is ready-to-go.
To start with, this is a 4WD RV that's for urban adventures and off-road trips. It's powered by a 3,600-watt inverter, which runs everything from the multimedia to the air conditioner. The exterior is from an aluminum frame with a powerful Energy Storage System. This system harnesses the sun's energy for economically-efficient daytime travels.
And at night, you can sleep well knowing the interior has everything you need. You get a Dreamweaver Bed that folds into a comfortable working space, along with High-Density Foam cushions. If you want to accommodate more people, then convert the lounge sofa into a 2-sleeper.
Stuck in the cold? The Overland Mode comes with a heating system powered by Diesel, along with thick wool insulation. There's also an onboard freshwater tank with a Hydronic Heating Loop. Even the driver and co-driver seats are heated. The Overland also includes a 10.25" multimedia touchscreen, along with a wireless charging option.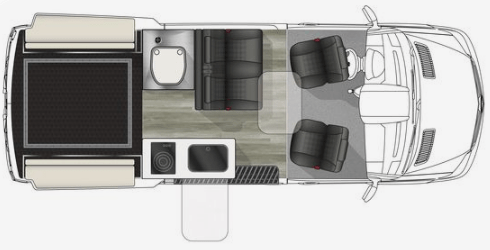 Mercedes Benz Metris Weekender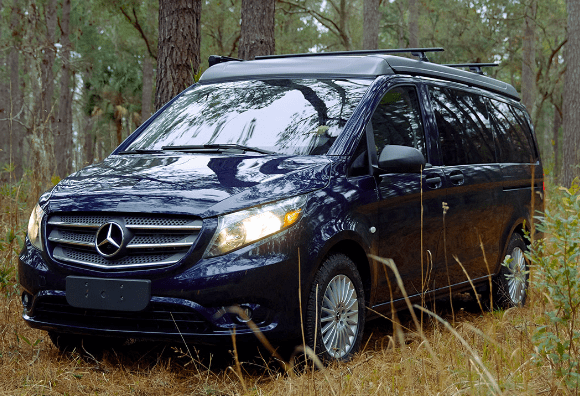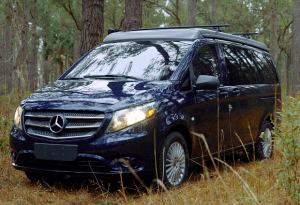 The Metris Weekender may not look like your regular RV, but that's because it's also a daily driver. Resembling a cross between an SUV and a Class C RV, the Weekender is Mercedes's take on the German pop-top camper. It's small, convenient, and can be used for both traveling and daily chores.
This camper can easily accommodate up to 5 people and comes fully integrated for off-road adventures. Besides all the in-house features, you can also opt for extra features, such as solar panels, roof racks, and an exterior kitchen.
For the technical details, this vehicle has a tow rating of 5,000 pounds. It can run for up to 15,000 miles before requiring a major repair. And it comes equipped with a rearview backup camera, an ECO start option, and an ATTENTION ASSIST technology. The latter can detect when you're feeling drowsy or being inattentive. And it will suggest you take a break from driving. This could make a life-saving difference.
It's one of the safest driving solutions for those who want a daily driver-motorhome hybrid. However, you should consider a regular small motorhome if you already have a passenger vehicle.
Jayco Melbourne 2021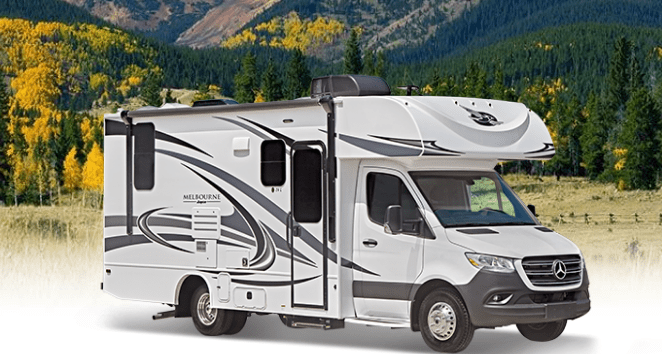 Not a fan of unconventional motorhomes? Then consider the Jayco Melbourne 2021. Flaunting a signature class C RV exterior, the Jayco is highly revered for its storage capacity. It comes with premium glass overhead cabinets and a large 43-gallon freshwater tank.
The Jayco Melbourne has an 83-inch tall ceiling with LED lights and safety belts to keep you grounded at all times. It comes with a 13,500 BTU air conditioner, along with a dinette and a fully-integrated control panel.
You also get a bedroom slide that sits segregated from the rest of the RV, giving you more privacy. It features a queen-sized bed along with a sliding door, which is exceptional on an RV of this size.
Unfortunately, for something so abundant in space, it's surprising that the kitchen is relatively small. It's nothing too unworkable, but it would've been better if the kitchen was a bit bigger. In addition to that, there are hardly 2-3 floorplans for you to choose from, though you do get some level of customization.
Luckily, Melbourne has separate plumbing lines for grey and black water directly from your lavish toilet. The bathroom has been designed with a neutral tone in mind.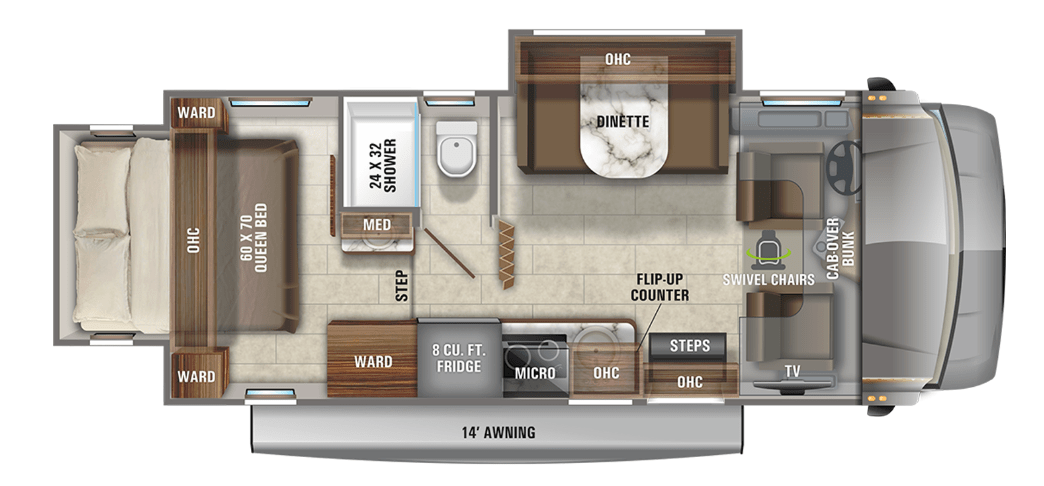 Leisure Travels Vans Wonder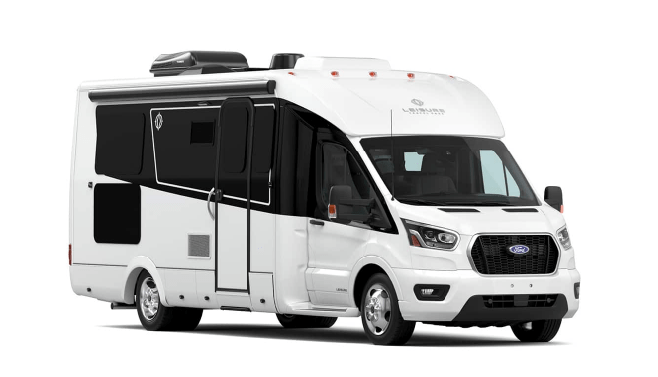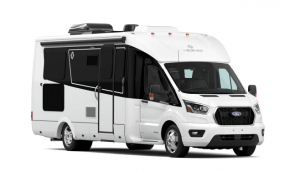 The Leisure Travels merges a Ford Transit Chassis with a classic American condo design. Each floorplan is just as premium as the next. And you get a recurring pattern of lavish dinettes, marble counters, and deluxe lounge chairs.
Those of you who like to disconnect from the world can connect to your favorite music via the Blu-ray player. The Wonder includes a 28-inch LED TV for home-theater enthusiasts to keep you entertained for all your travels.
But you don't have to look for entertainment inside. Your very own queen sizes bed comes with a transom window that lets you glimpse at life outside your little RV. Some floor plans replace the queen-sized bed with two twin beds for the benefit of privacy.
The exterior depends upon a Ford Transit Chassis that features a 10-speed automatic transmission. A 250 amp alternator supplies power to all your devices. And the 15 cubic feet of exterior capacity make this a good outdoor camper.
The chassis is from insulated aluminum that's been vacuum bonded with the frame. This results in a chassis that's twice as durable as steel chassis. On the outside, you get two large storage compartments along with a bicycle slide.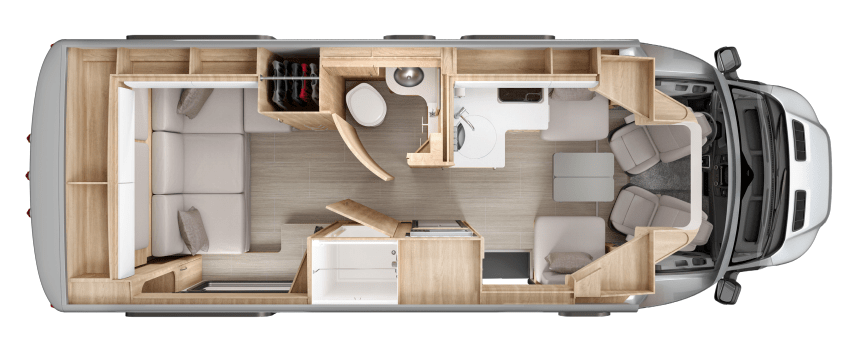 Kimbo 6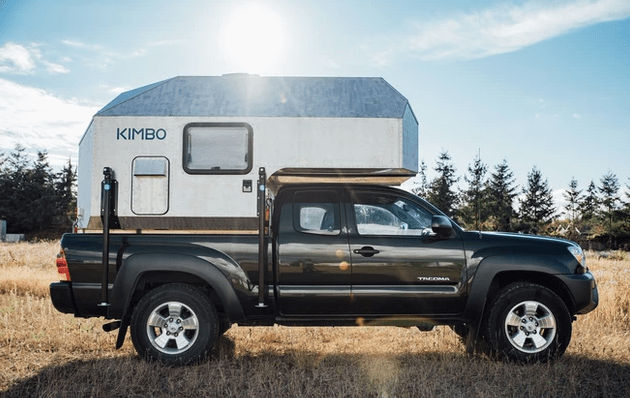 Need a place to sleep during your outdoor adventures? The Kimbo 6 will keep you going. Designed like a slide-out set atop pickup, the Kimbo 6 is a one-seater ready for all your adventures.
The most obvious drawback here is the sleeping capacity. It's not suitable to accommodate more than one person. But its compactness and mobility are what make it stand out. This is a 6-foot long camper that can drive both on and off the road.
Inside, you'll find a luxurious loft area that features a full-sized bed that can sleep, one person. For more people, there are benches to allow socializing and entertainment. Moreover, there's an array of baskets on the top rail for storing your bags and devices. A small sink is also fit near the entrance, with a fully-integrated mini-kitchen.
To keep you warm in the winters, the Kimbo 6 features R5 insulation paired with double-glass insulated windows. It isn't built on a frame and instead uses the pickup's trucked for support. Your power options are limited to a 12 V battery, a 110 V outlet, and an external 120 V connection. You also get a few USB ports for charging up your devices.
FAQs
What type of motorhome should I buy?
Motorhomes are available in several styles. The most common types are the RV (Remote Vehicle) and travel trailer. Both are similar in many aspects but have a few significant differences. The most prominent one is that travel trailers cannot run on their own. They require a vehicle to tow them. RVs, on the other hand, don't need to be towed.
How much does a motorhome cost?
The cost will significantly vary depending on the type, size, and features. A standard class C RV will cost you no less than $100,000. Campervans will cost you as low as $20,000.
Can I try motorhomes before I buy them?
Yes. Some companies give you the option to rent a camper before you fully buy it. In fact, instead of permanently buying the camper, some brands let you rent it for a few days then return it.
Conclusion
Small motorhomes are a great escape for those who like adventures. They're easy to store in your garage, cheaper than larger motorhomes, and can be driven with ease. And many deploy unique space-saving strategies such as folding beds and over-head cabinets.
If there's one motorhome that's frugal on space, it's the Winnebago Revel. It is compact, looks spotless, and can veer off-road with no consequences. It's just for this purpose.
Regardless of what you choose, outdoor drives are always a thrill. So let your motorhome take you wherever the wind blows!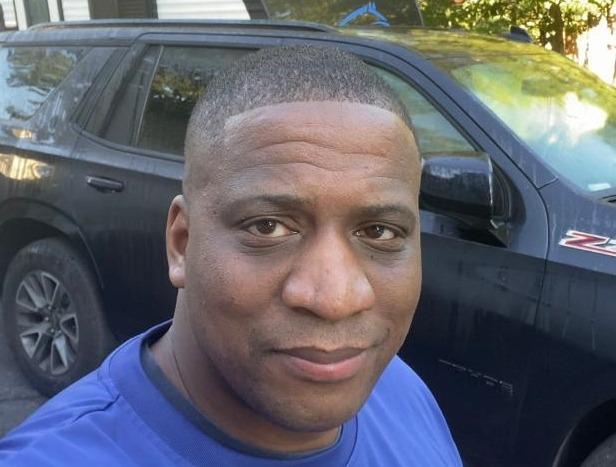 I`m a current Law Enforcement Officer working within the Counterterrorism Bureau in New York State. I have been Camping for over 20 years. My styles of camping include tent, car, truck, van, and RV travel trailer. I have a YouTube channel where I teach all types of camping with an entertaining method: https://youtube.com/@TheSmallsRVAdventures