Bunk beds are a great way to maximize space and increase sleeping space and capacity in a travel trailer, our homes and houses, and even motorhomes. It's a great way to realize your money's worth because they are known to be durable and most offer other satisfactory features.
In this guide, I'll be telling you about some of the best Rvs with 4 Bunk Beds you could buy, their floor plan and features, and some requirements and questions that are mostly asked about bunk beds. Let's dive right in!
7 Travel Trailers with Bunkhouse
Bunkhouse travel trailers allow you to use space creatively by using corners of RVs, creating plenty of room for adults or anyone to move around.
If your camping adventures include kids and adults, you'll need to have a bunkhouse. Your kids will need their own separate spaces to have fun with one another and hide their toys or games.
Floor plan and living space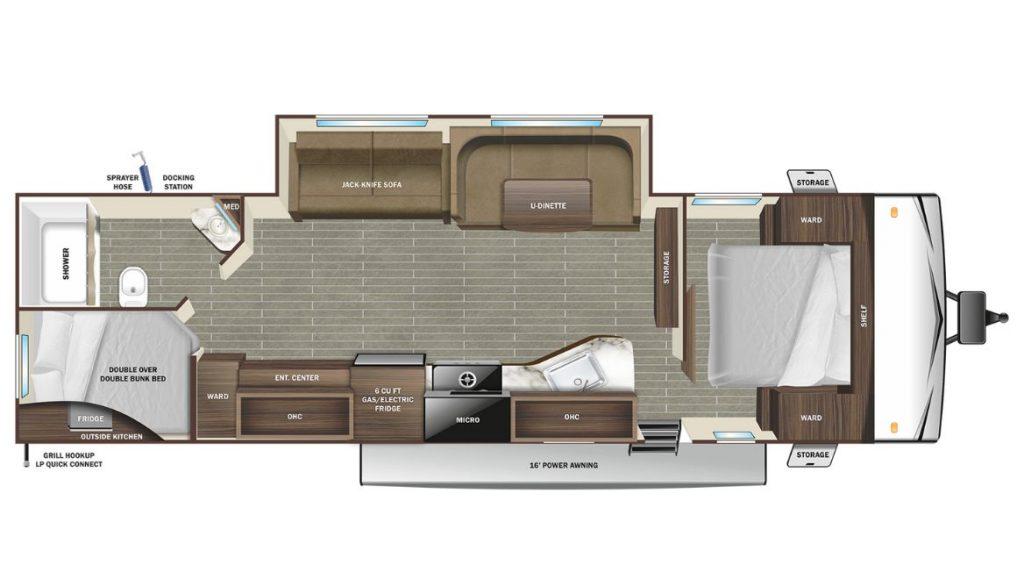 This camper has a bunk at the rear end of the trailer. It manages available space well and can sleep up to 10 people if planned properly.
The interiors are available in only one finish, but it contributes to the trailer's overall look and gives it a nice aesthetic touch. You can always go for some upgrades and add-ons to further facilitate your trips based on your requirements.
The camper comes with roof insulation to keep it comfortable on the inside, regardless of the weather outside. It also features a walkable roof and has a PVC membrane to keep the interiors waterproof. The roof has led ceiling lights on the inside.
It has a 13,500 BTU roof AC radio with indoor/outdoor zoned speakers, an AM\FM stereo with Bluetooth, and an HD digital TV antenna with WIFI prep.
Its glass windows are all tinted and maintain privacy pretty well. It comes with radial tires, and a tri-fold sofa and the door catches magnetic baggage. The electric brakes are self-adjusting too.
Bathroom
The bathroom features a foot flush toilet, a shower, hardwood cabinet doors for keeping items, LED ceiling lights, and floor flush residential vinyl flooring throughout. It also has a water bypass and a DSI water heater.
Kitchen
The kitchen area has a dinette and LED TV that acts as an additional seating space and entertainment center, pressed membrane countertops with a sink included, a microwave, pocket screwed number core cabinets, and a 12volt two-door refrigerator.
Starcraft Autumn Ridge Features:
13,500 BTU AC.
Exterior height: 81".
Fiberglass cover and insulation.
Water capacity: fresh-45, grey-60, black-60.
HD digital TV antenna with WIFI prep.
Dinette and LED TV for entertainment.
Vinyl flooring.
Jayco is one of the finest travel trailer manufacturers in the industry, and their Jay Flight Series is one of the best created by the brand. This series belongs to the towable trailers that come with a smart design and construction.
They feature plenty of functional lighting, durability, and storage. Jayco provides all its customers with a 2-year limited warranty and a 3-year structural warranty. The company stands behind all its products and the quality they have to offer.
Living space and floor plan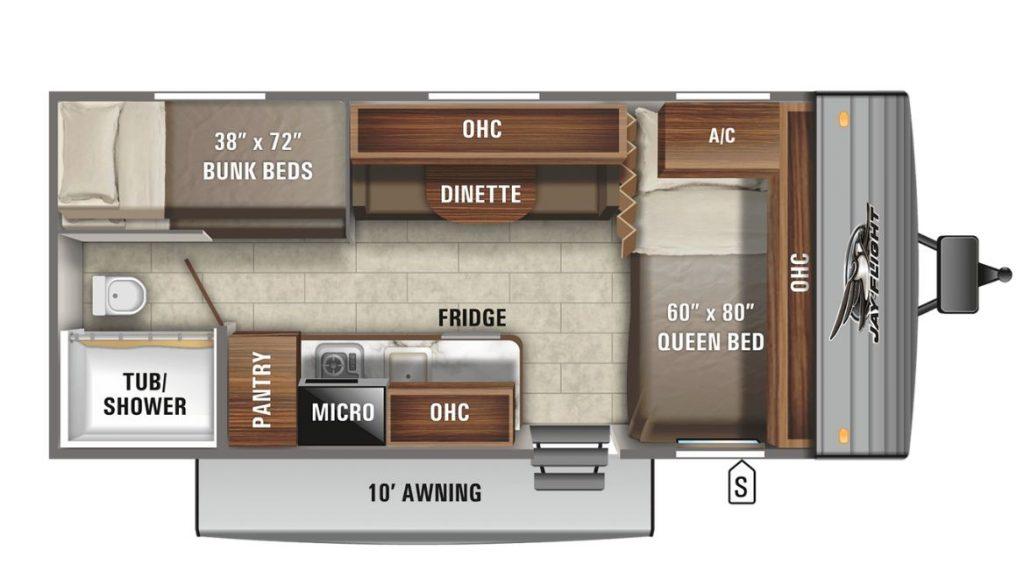 The 174BH is one of the best-sellers by Jayco because it comes with bunk beds. It also features a queen bed, so you don't have to deal with any moving parts.
The 184BS comes with a slide-in design, and you can convert the dinettes and sofa into a queen-sized bed and bunkbeds for more sleeping space and you get to use the available space well.
Due to the design of the bed of 174BH, one of the people who are sharing this bed will have to crawl over the other for a midnight bathroom break. But it also means the length of the bed is not going to influence the living space either.
Kitchen
The pantry and the dinette are right across each other, and the dinette has overhead cabinets that allow you more storage. The kitchen, on the other hand, also comes with storage cabinets, a sink, a 2 burner stove, a refrigerator, and countertops for cooking space.
Bathroom
The bathroom is fully equipped with a toilet, tub, and shower with a glass door. It has ample room for movement, so I think you'll enjoy using it.
The bunk beds on the rear end right along the dinette have 4-inch mats to provide you with a soft sleeping surface. Moreover, there is plenty of legroom in these bunk beds.
Features:
Hitch weight: 305 lbs.
UVW: 2,935 lbs.
CCC: 815 lbs.
Exterior height: 8'11".
2-year limited warranty and a 3-year structural warranty.
Seamless roof material with a 20-year warranty.
Adjustable and removable dinette table (main booth dinette only).
13,500-BTU, roof-mounted A/C.
The bunk beds on the rear end right along the dinette have 4-inch mats to provide you with a soft sleeping surface. Moreover, there is plenty of legroom in these bunk beds.
The Lance Camper is one of the best travel trailers money could buy. With bunkbeds in place, you get the option of trying out different floor plans as well before you finalize your purchase.
The living area and floor plan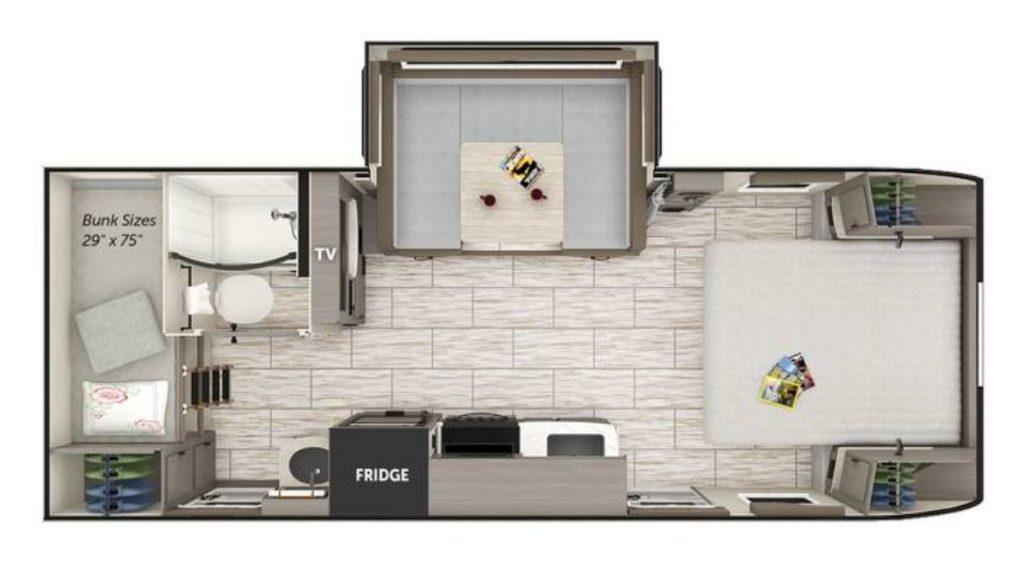 This travel trailer has a length of 25'8″ has and a bunk bed placed at its rear. It's an excellent choice for a medium-sized family because it has plenty of room in it.
The camper's overall weight is more than 4500 pounds and will hook up well with your small truck or an SUV. It features three bunk beds in total, and they provide plenty of space for three adults.
You can also configure the area covered by these bunkbeds to use it as additional space for storage for storing toys, gadgets or even your bikes.
The sleeping capacity for this travel trailer is seven adults, and the height of its interior is around 6 feet 5 inches.
There are different mood and reading led lights in the bedroom, and the entire trailer is insulated correctly. The dinette also features pull-out drawers and provides you with additional storage space.
This camper comes with all-weather protection and It has an awning with wind sensors that can cause the close detection of strong wind currents, suitable enough to be used throughout the year.
There is a convertible sofa present inside the camper, and you can convert it into a queen sized bed.
Kitchen
The kitchen features a sink, a two-door refrigerator, overhead storage, and led lighting. There is ample room available for more seating space by adding dinette seats for five or more people. Space for more storage can also be added under the dining seats.
Bathroom
The bathroom has enough room to move around and features standard equipment; a shower for baths and a toilet. it also has a skylight and a high-rise faucet.
Lance Camper 2185 Features:
Hitch weight: 755 lbs.
UVW: 4,565 lbs.
CCC: 1,435 lbs.
Exterior height: 10'2″ (with A/C).
Fresh Tank" 30 Gal, Grey Tank: 20 Gal, Black Tank:18 Gal.
Propane 2-5 Gal.
AM/FM/DVD Stereo W/Int & Ext Speakers (Bluetooth).
Venture RV created the Sonic Series of travel trailers to provide customers with superb towing efficiency. Plus you won't have to compromise on style and comfort for that.
It's one of the main reasons why the Sonic Series has been a massive success for many travel trailer users. They have a solid construction but come with a single axle.
Therefore, they are better suited to work with any SUV or small truck. The best feature is it uses LevelMatePro, a smartphone technology for leveling a towable travel trailer or RV.
This means you can level your trailer in one go and focus your precious time on other more important things. The adjustments are easy and automated, and you don't need to worry about the light conditions.
The living area and floor plan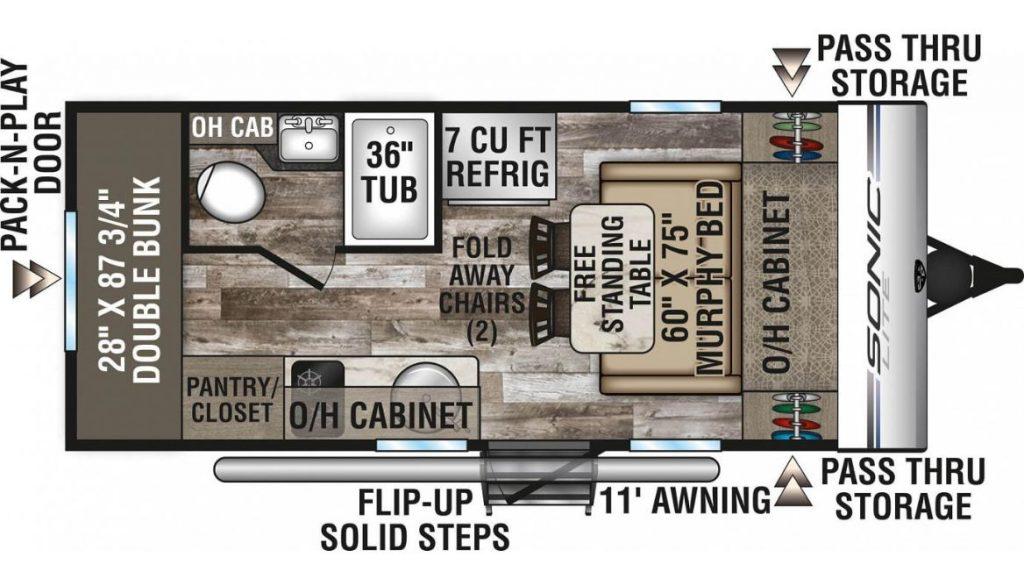 You can choose from seven different floor plans, and most of them are focused on bunkbeds and increasing and decreasing their numbers. You can get a separate sleeping space for the kids that can be converted to space for storage when not in use.
Additionally, you won't have to use the living space with these bunk beds meaning quickly move around easily when the kids are asleep. This is one of the huge advantages of using a floor plan with bunk beds.
The master bedroom has a King sized bed that saves a lot of space because it can be folded up when it's not in use. The bunk beds are present in the rear section of the trailer, and they are all double in size.
The rear wall end of the trailer has just two bunk beds and a colossal Pack&Play door that provides you with a pass-through storage and access to the bunk area. You can use this area to store your bikes, hiking packs, or other camping gear.
Bathroom
Some travel trailers might have more space for a bigger tub with a glass door and vice-versa because of the doubled sleeping space. It also has a shower, a porcelain toilet and vanity sink and a lot of space for one to move in.
Kitchen
The Kitchen area has a dinette, overhead cabinet space, Refrigerator, and countertops with enough cooking space. It has a 12′ awning, a place to plug a tv, and an outdoor kitchen that can act as an outdoor entertainment center.
Venture RV Sonic Lite Features:
Hitch weight: 410 lbs.
UVW: 2,990 lbs.
CCC: 1,010 lbs.
Exterior height: 9'11" (with A/C).
Fresh tank: 38 gals, Grey tank: 30 gals, Black tank: 30 gals.
furnace BTU: 20000 BTU.
Water Heater TypeGas/Electric DSI.
The R-Pod by Forest River is one of the best options for you to consider if you'll have kids or lots of adults on your trip because you will be able to manage plenty of sleeping space for them without an issue.
The living area and floor plan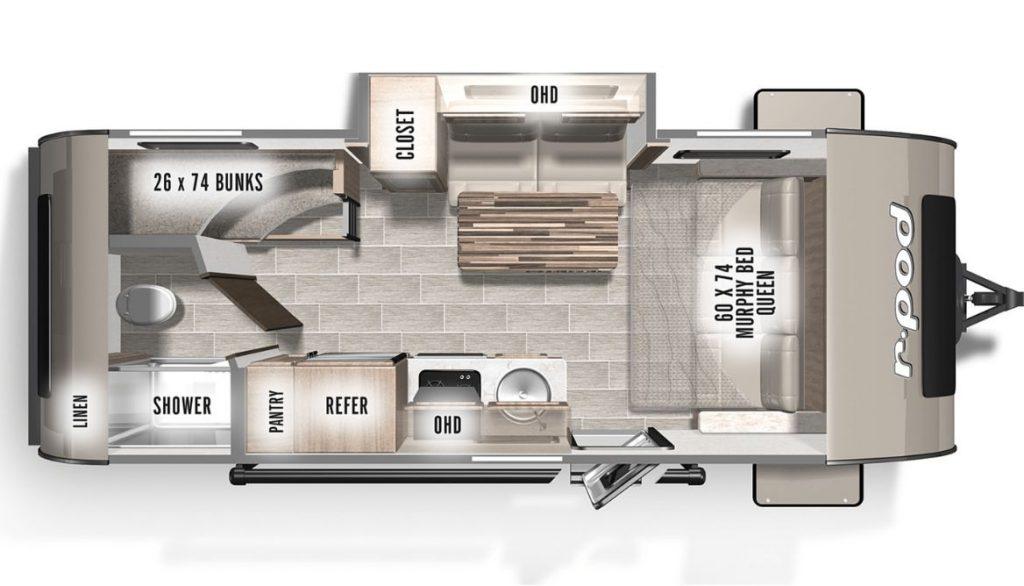 The floor plan of this trailer is remarkable when it comes to managing space. It not only features bunkbeds but also comes with a huge Murphy bed located in its master bedroom.
There is sofa seating for five people and because it's a large trailer, you can also utilize the space outside with the help of a 10-foot awning.
You will also find that there is plenty of room for storage as well. Everything ultimately remains in its place, and you won't have to make a mess every time you need an item.
Kitchen
You can manage to slide out an outdoor kitchen for cooking and have some space for gatherings just outside the camper. The camper manages adequate airflow, and you can conveniently cook inside it without having to deal with the smell lingering in the trailer.
The kitchen has a unique design and a pantry for extra storage. The trailer also features a massive space for a 6 cu ft refrigerator, and the kitchen features a large sink. It has an overhead cabinet with plenty of storage as well.
Bathroom
The Bathroom layout is a stand and shower type with a toilet beside it and there is some more space for storage for keeping items beside the shower. The RV has Fresh, Gray, and Blackwater tanks of 30 gallons each.
Forest River RPod-193 Features:
Hitch Weight: 435 lb.
UVW: 3,654 lb.
Awning Size:10′.
Fresh Water Tank, Gray Water Tank, Black Water Tank: 30gal.
Total Propane Tank Capacity: 4.7 gals.
1 Awning: 10 ft. (120 in).
Power Retractable Slideout: 1.
Dutchmen Aerolite's typical bunkhouse layout comes with plenty of headroom for you to move around. and due to its spacious interior, provides you with ample space for living and resting.
The living area and floor plan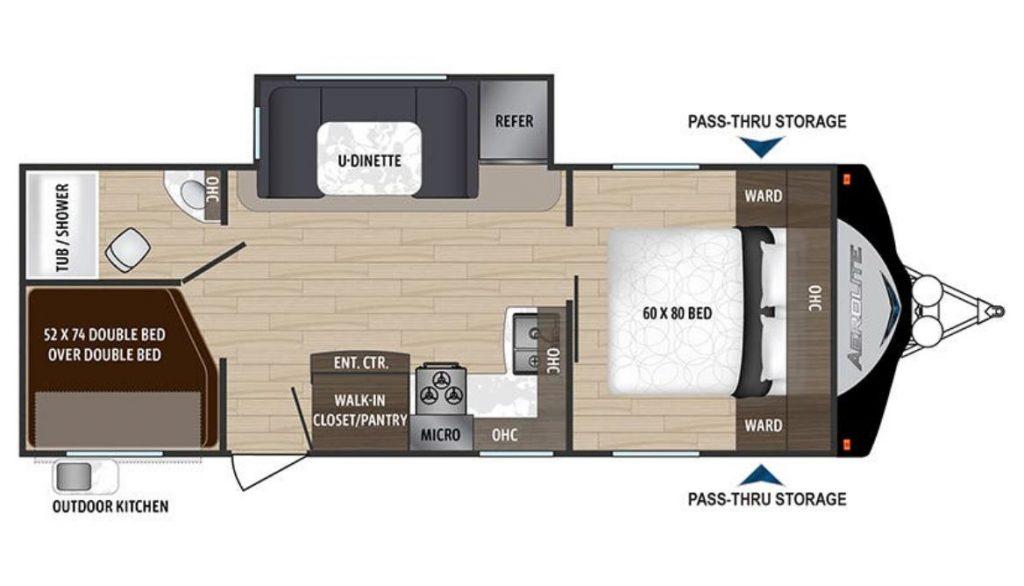 These quad bunk travel trailer series come with an extreme weather package with multiple floor plans allowing you to add or subtract queen beds and bunkbeds and utilize any available space to the fullest.
These trailers which are light like the prime time tracer integrate luxury well into their construction. Their design is one of the largest in the quad bunkhouse travel trailer models meaning more space for the adults.
It can conveniently sleep up to 7 people if you use the living area for sleeping purposes but it's best to leave it empty, so you can freely move around while your kids are asleep.
The master bedroom is present in the front section of the trailer. It can be separated with a partition from the living space for privacy which will come in handy when you are traveling with rowdy kids.
One of these bunk beds' best features is that they come with plenty of legroom, so it would be great for anyone taking a nap. Each of these bunks can conveniently sleep up to two adults comfortably.
You can also use this section as a storage tube to place all your gear if it's not in use. The only problem with this idea is that you will have to take out all the gear before someone can get to the bed for some shut-eye.
Kitchen
The Kitchen located in the center of the RV has vinyl-style flooring. It has a u-shaped dinette with a television within the area for entertainment. It has an oven, a three-burner cooktop, an overhead fan, and a mid-size refrigerator.
Bathroom
The Bathroom located at the rear end has vinyl-style flooring, a porcelain toilet, and a shower with a shower curtain.
Dutchmen Aerolite 2573BH Features:
Hitch weight: 921 lbs.
UVW: 6,282 lbs.
CCC: 3.398 lbs.
Exterior height: 11'5″ (with A/C).
Fresh Water Tank: 50.0 gal, Gray Water Tank: 78.0 gal, Black Water Tank:28.0 gal.
Propane Tank Capacity: 40 lbs.
1 Power Retractable Awning.
KZ has been one of the top travel trailer manufacturers in the country, and it strives to make RVs more affordable. The KZ Sportsmen Classic is no different either.
The living area and Floor plan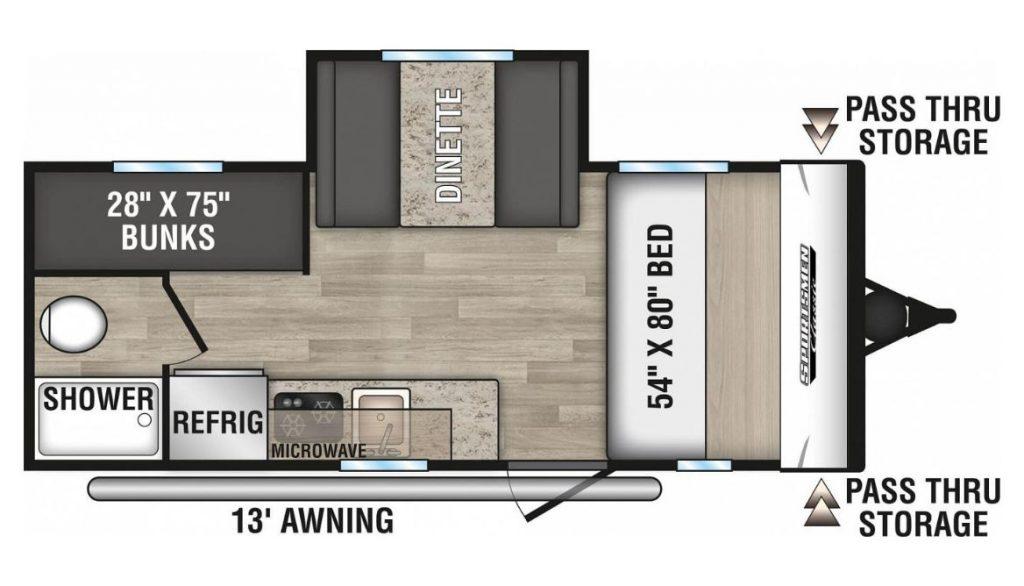 This travel trailer houses a range of different floor plans and can be towed with a range of other SUVs and small trucks. Your RV trip can also be conveniently planned with the KZ mobile app's help.
You can also manage lists of things concerning your trip, and it can help you get all the things you need to do in a timely fashion.
The trailer comes with a friction hinge door that doesn't give stress when opening and has plenty of living area and pass-through storage available. It has bunk beds in the rear end and the trailer can conveniently sleep up to 5 to 7 people at a time.
The bunk beds are present right next to the dinette slide out and you can use the dinette as a sleeping area by converting it. So, If you are looking for that slumber-party camping feeling, this trailer is the right choice.
There are different floor plans available so you can make the right choice based on your needs and alter the number of bunk beds as you like.
Kitchen and Bathroom
The Kitchen has an 8cu ft refrigerator, a 2 cooktop burner range, overhead storage with cabinets below, and a fire extinguisher by the door.
The bathroom is located at the rear and has a shower with enough space to move around and a toilet.
KZ Sportsmen Classic 181BH Features:
Hitch weight: 370 lbs.
UVW: 2,840 lbs.
CCC: 660 lbs.
Exterior height: 9'4″ (without roof A/C).
Fresh Water Cap: 20gal,Waste Water Cap: 26gal, Gray Water Cap: 26gal.
1 Awning: 13′.
Furnace BTU: 20,000.
Highland Ridge Open Range Roamer 310BHS
The Highland Ridge Open Range Roamer 310BHS just has a lot of extra room. The 4 slide outs are relatively easy to set up and take down by using the ACCU slide system, making extension and retraction secure and seamless.
It has an awning Length of 19′ 0″ and a ladder for roof access on the outside and the inside has led lighting, hardwood cabinet doors, and no carpets on the floors of the living and Kitchen area making messes easy to clean.
The living area and floor plan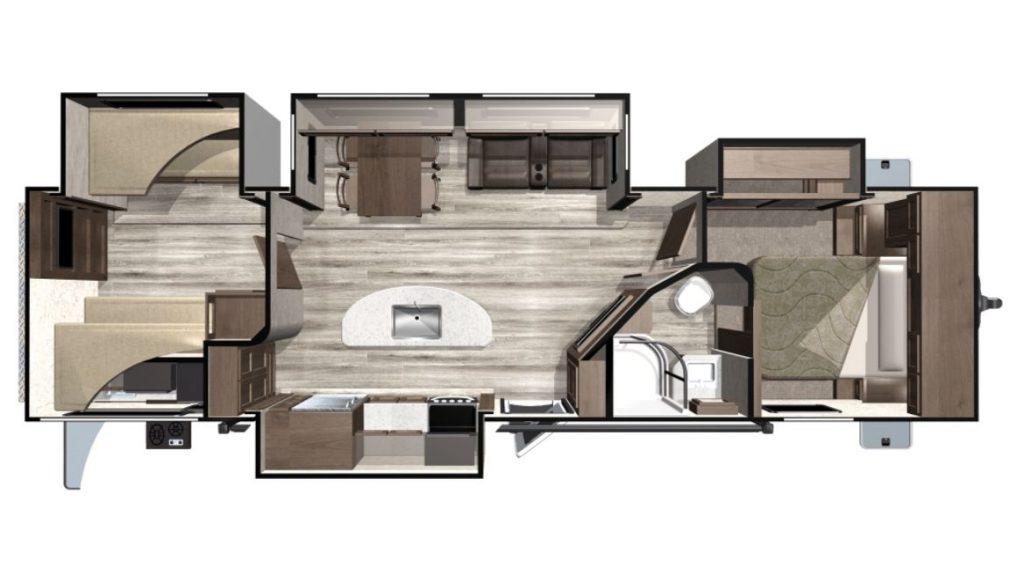 The bunkhouse room at the rear wall end of the travel trailer has a booth-style dinette area that can be converted to a bed with a top bunk on one side, and a normal double bunk on its opposite side with additional space for storage underneath that could act as more seating during the day.
The bunk rooms and master bedroom can be accessed through french doors that give a home feeling and also keep noise out. The room has built-in drawers with great hanging space for clothes, a queen murphy bed, led lights, and interior access to the bathroom.
It has a primary seating area on the main slide-out that can be converted to a queen bed bringing the total sleeping capacity to 9.
Kitchen
The Kitchen has an 8 CU ft refrigerator, solid countertops, lots of outlets, a three burner cooktop range, and a center island which is great for prepping during cooking.
The trailer also has an outdoor kitchen with a sink, mini fridge, prep area, a three burner cooktop slide, and room for a 32-inch Tv for entertainment.
Bathroom
The Bathroom has a big enough shower with a glass cover door, a vanity sink, and a foot flush toilet that is very easy to use.
Buyers loved the huge closet and shelf space, the wide size of the RV, and the second AC unit with digital thermostats that are available in the trailer.
Highland Ridge Open Range Roamer 310BHS Features:
Fresh water tank: 50.0 gals, Gray tank: 62.0 gals, Black Tank Capacity:31.0 gal.
DHW: 1,227 lbs.
UVW: 9,265 lbs.
CCC: 2235lbs.
GVWR: 9265 lbs.
Number Of Slideouts: 4.
Television and DVD Player: 1.
Patio Awning: 1.
Warranty (Months): 12.
Outdoor kitchen.
FAQs
What is the bunkhouse floor plan?
The bunkhouse floor plan is a layout that features enough beds to accommodate all the family members, including your children. Some travel trailers have twin-size bunk beds, while they have bunk beds set up on either side of the main bed.
You can either go for a budget-friendly or luxurious floor plan. But most of the basic floor plans will feature a closet, a fridge, a kitchen, a bathroom, bunk beds, and the main bed.
What are the ideal space requirements for bunk beds?
A 15-foot travel trailer would be more than sufficient for a 2-person family. But if you have kids and pets, you will have to go for a more extended bunkhouse trailer. The longer trailers also come with multiple features, such as increased storage space and more closets.
What is the difference between bunkhouses and bunk beds?
There are no features that officially differentiate a bunkhouse RV from a bunk bed RV. But Bunkhouse RV might come with a separate sleeping area with its entertainment and bath areas.
On the other hand, a bunk bed RV might only feature bunk beds in one corner or mainly in the rear. It emphasizes more space for sleeping everyone comfortably.
What is the shortest bunkhouse travel trailer?
The 2021 KZ Sportsmen Classic 181BH is the smallest quad bunk travel trailer. It has a UVW (Unloaded Vehicle Weight) of 2,980, a Dry Hitch Weight of 390 lbs, a GVWR of 3,500 lbs and an Interior Height of 78″.
It can be used for small family outings because it is durable, lightweight and very easy to tow.
What should I look for when buying a bunkhouse travel trailer?
When buying quad bunk travel trailers or a quad bunkhouse you need to consider a lot of things.
You have to think about the model you might want, its available sleeping space, dealer fees and any other features you might need in a quad bunk travel trailer or a quad bunkhouse. Generally, these are what you should look for:
Towing capacity: You need to first know the towing capacity of the model you're going for and what you'll be using to tow it. The towing capacity of a quad bunkhouse or any other trailer model is usually found in its manuals.
(Gross vehicle weight rating): this is the total weight your travel trailer can carry in addition to its weight. It's usually found on the door of your trailer.
Dry weight or shipping weight: This is the original weight of your trailer. Any additional weight you want to be on the trailer must be added to its dry weight to make sure that its total weight falls under the GVWR.
Construction: Nowadays there are different construction types to choose from. You can choose a traditional, fiberglass, or laminated type. The other types are easier to clean but the traditional type is easier to repair.
#picture of construction types#
Personal needs: You might prefer a particular floor plan that can fit four bunks, slide-outs, a rear master bedroom, a vanity, and medicine cabinet, pass-through storage, or a bear cave storage.
You might also require a three-burner range cooktop, a double sink or vanity sink, heated holding tanks, a residential refrigerator, or an outdoor kitchen.
You might like to have any of this lineup of features in your trailer so you should make your choice carefully.
What's the best size camper for a family of 4?
The ideal exterior length for a family of four would be 25-30 or 32 feet. This length will allow you to park efficiently, offer extended season camping for different campgrounds and parks, and will also have enough sleeping space for 4 to and additional sleeping capacity for 2 more people.
How long are bunks in a camper?
Bunkbeds have different lengths and sizes and sometimes can be custom-made to fit a particular room's space or a quad bunkhouse travel trailer.
They are usually included in quad bunk travel trailers to maximize vertical space and harmonize with other included features like slide-outs, u shaped dinette which may be converted to a twin bed, a master suite, and others.
These are the usual lengths for bunk beds that can be found in a quad bunk trailer:
Can you put bunkbeds in an RV?
Bunkbeds can be used to give more room and increase sleeping space in an RV. You could decide to add two or four bunks to your RV or trailer usually opposite the master bedroom.
I'd advise building them on slide-outs so they can be put away when they're not needed. You can add built-in bunkbeds by watching YouTube videos and DIY or calling for a professional.
What is a quad bunk?
By using a slide-out or slide-outs, quad bunks can be made to fit in rooms, quad bunkhouse travel trailers, and RVs. It's just a combination of two bunkbeds to make four bunk beds to make a quad bunk room.
How do you separate bunk beds?
Some RV users prefer to have bunkbeds that can be separated to form 2 normal beds. A metal bunk bed would be the best choice if you're looking for something like this.
You can separate bunk beds by reading the manual included when you purchased the item, or by watching YouTube tutorials.
Can adults use bunk beds?
Yes, adults can use bunkbeds, but because most are designed for child use, their size is really important. It is also important that two people do not use a top bunk together to avoid any type of accident.
You can ask a professional for information, and check customer reviews to know secure bunkbeds you could purchase for your RV or trailer.
What is a Bunkable bed?
A bunkable bed is one of two single beds that can be combined by placing them over one another to form a bunkbed.
If you're new to bunkbeds, you should ask a professional and watch YouTube videos for more information on coupling them to prevent accidents from occurring in the long run.
How do you move a bunkbed by yourself?
First, you'll need to disassemble it by removing the top bunk from the down bunk. Then you separate it by removing all the screws and nuts so you can be able to carry it easily.
After that, you should think of the route to where you want it to be placed newly then reassemble it there. It might be hard for you to do this alone so you can either educate yourself with YouTube videos ask for help from friends and family and again, opt for a professional.
Conclusion:
The winner of this roundup of the best travel trailers with bunk beds turns out to be the Starcraft Autumn Ridge. This travel trailer features a bunkhouse, so it accommodates plenty of space for your entire family to sleep comfortably.
The travel trailer comes with a lot of storage space, and there is a queen-sized bed and a kitchen, and a bathroom to meet your family's needs and requirements.
We hope you gathered some helpful tips from reading our guide. We would like to know which quad bunkhouse travel trailer you liked better so feel free to tell us all about it in the comment section below!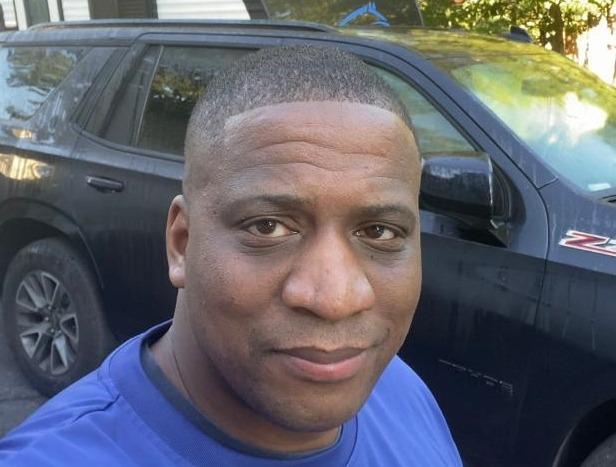 I`m a current Law Enforcement Officer working within the Counterterrorism Bureau in New York State. I have been Camping for over 20 years. My styles of camping include tent, car, truck, van, and RV travel trailer. I have a YouTube channel where I teach all types of camping with an entertaining method: https://youtube.com/@TheSmallsRVAdventures