7 Best Travel Trailers With Bunk Beds
Travel trailers with bunk beds significantly increase the sleeping capacity, room and provide you with additional floor space. Therefore, they can work well even if you have medium to large families.
These trailers feature bunk beds, and they manage space quite well. These bunk beds come with two beds that are over one another and form a unit.
So, even if you have more adults or children on your trip, you can use these bunk beds and increase your sleeping capacity significantly.
Keep reading to find the best travel trailers with bunk beds that money can buy!
7 Travel Trailers with Bunkhouse
When your camping adventures include kids and adults, you need to have bunkhouses. Your kids will love their own separate spaces to have fun with one another and hide their toys or games.
This trailer allows you to use the space available in the trailer creatively. As the bunk beds are holding up some space in the corner, there is plenty of room for the adults to move around.
Maybe you don't want to convert your living space into a sleeping space and keep the sleeping area to one side. If that is the case, you will love to have bunk beds.
This camper is a suitable choice for medium to large families and has bunk beds set up at the rear end trailer. This trailer has managed available space well, and it can sleep up to 10 people if you can manage the space properly.
The interiors are available in only one finish, but it contributes to the trailer's overall look and gives it a nice aesthetic touch. You can always go for some upgrades and add-ons to further facilitate your trips based on your requirements.
The camper comes with fiberglass food and roof insulation to keep it comfortable on the inside regardless of the weather outside. The trailer also features a walkable roof and has a PVC membrane to keep the interiors waterproof.
Its glass windows are all tinted and maintain privacy pretty well. It comes with radial tires, and the door catches magnetic baggage. The electric brakes are self-adjusting too.
There is a tri-fold sofa along with shower surrounds and pleated shades as well for privacy.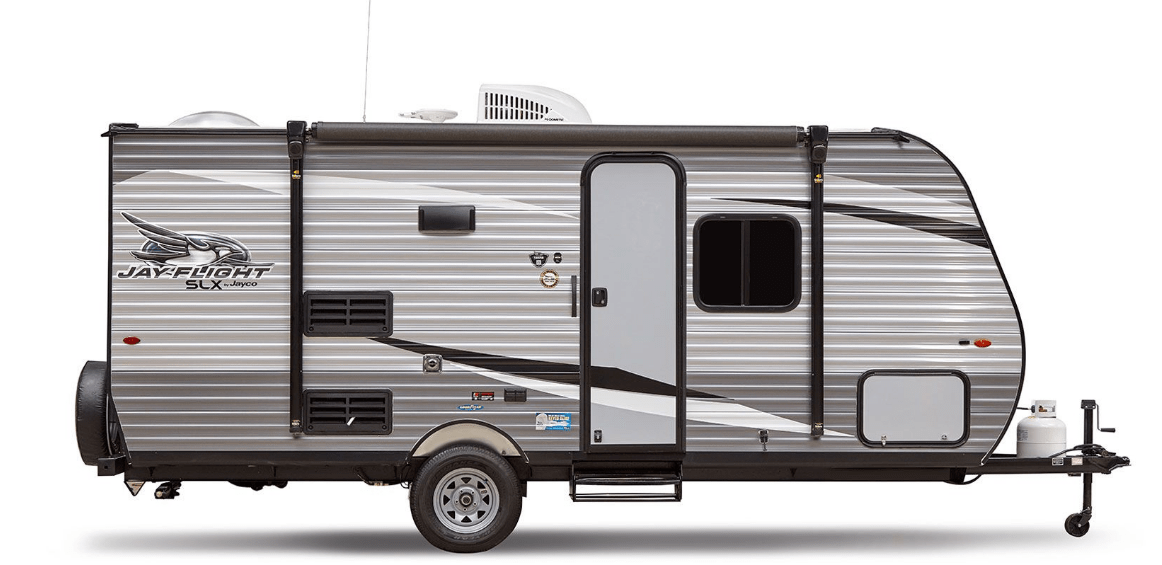 Jayco is one of the finest travel trailer manufacturers in the industry, and their Jay Flight Series is one of the best by the brand. This series belongs to the towable trailers that come with a smart design and construction.
These trailers feature plenty of functional lighting, durability, and storage features. Jayco provides all its customers with a 2-year limited warranty and a 3-year structural warranty.
It means the company stands behind all its products and the quality they have to offer. It is one of the reasons why Jayco is one of the top-selling brands on the market.
The 174BH is one of the best-sellers by Jayco because it comes with bunk beds. It also features a queen bed, so you don't have to deal with any moving parts.
The 184BS comes with a more slide-in design, and you can convert the dinettes and sofa into bed and bunk beds. Therefore, the layout is excellent, and you get to use the available space well.
But due to the design of the bed of 174BH, one of the people who are sharing this bed will have to crawl over the other for a midnight bathroom break. But it also means the length of the bed is not going to influence the living space either.
The pantry and the dinette are right across each other, and the dinette has overhead cabinetry that allows you to store more. The kitchen, on the other hand, also comes with a full pantry and storage cabinets.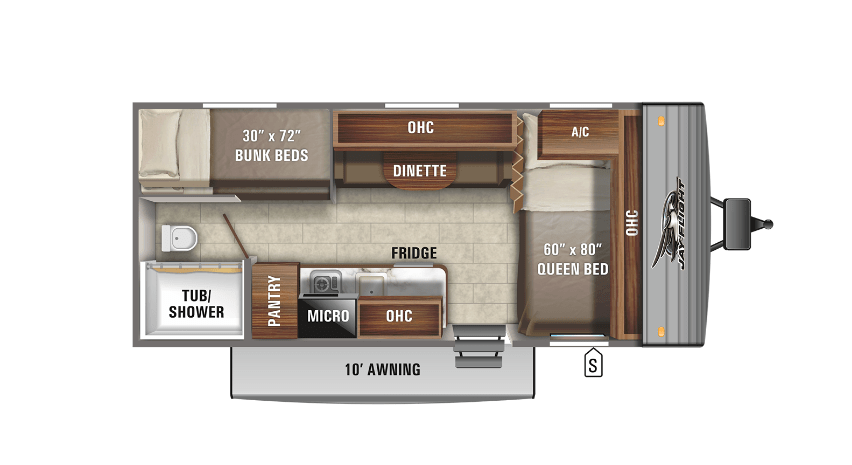 The bunk beds on the rear end right along the dinette have 4-inch mats to provide you with a soft sleeping surface. Moreover, there is plenty of legroom in these bunk beds.
The Lance Camper is one of the best travel trailers; with bunk beds in place, you get the option of trying out different floor plans as well before you finalize your purchase.
The camper has its bunk bed placed right at the end. The camper is an excellent choice for a medium-sized family and has plenty of room in it.
The camper's overall weight is more than 4500 pounds, and it will hook up well with your small truck or an SUV. The camper features three bunk beds in total, and they provide plenty of space for three adults.
You can also configure the space covered by these bunk beds to use it as additional storage space. And you can use it for storing toys, gadgets or even your bikes.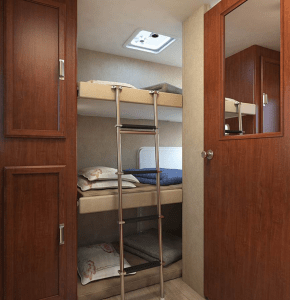 So, you can configure it either for sleeping more people or store more items. This trailer's sleeping capacity is seven adults, and the height of the interior is around 6 feet 5 inches.
Apart from that, there is plenty of space available for dinette seats for five or more people. The standard equipment features a bathroom with a shower and a toilet with a skylight and a high-rise faucet.
There are different mood and reading lights in the bedroom, and the entire trailer is insulated correctly. The dinette also features pull-out drawers and provides you with additional storage space.
The camper comes with all-weather protection and is suitable to be used throughout the year. There is a convertible sofa present inside the camper, and you can convert it into a queen-size bed.
This is one of the best travel trailers with bunk beds, and it comes equipped with all the features that you will cherish during travel.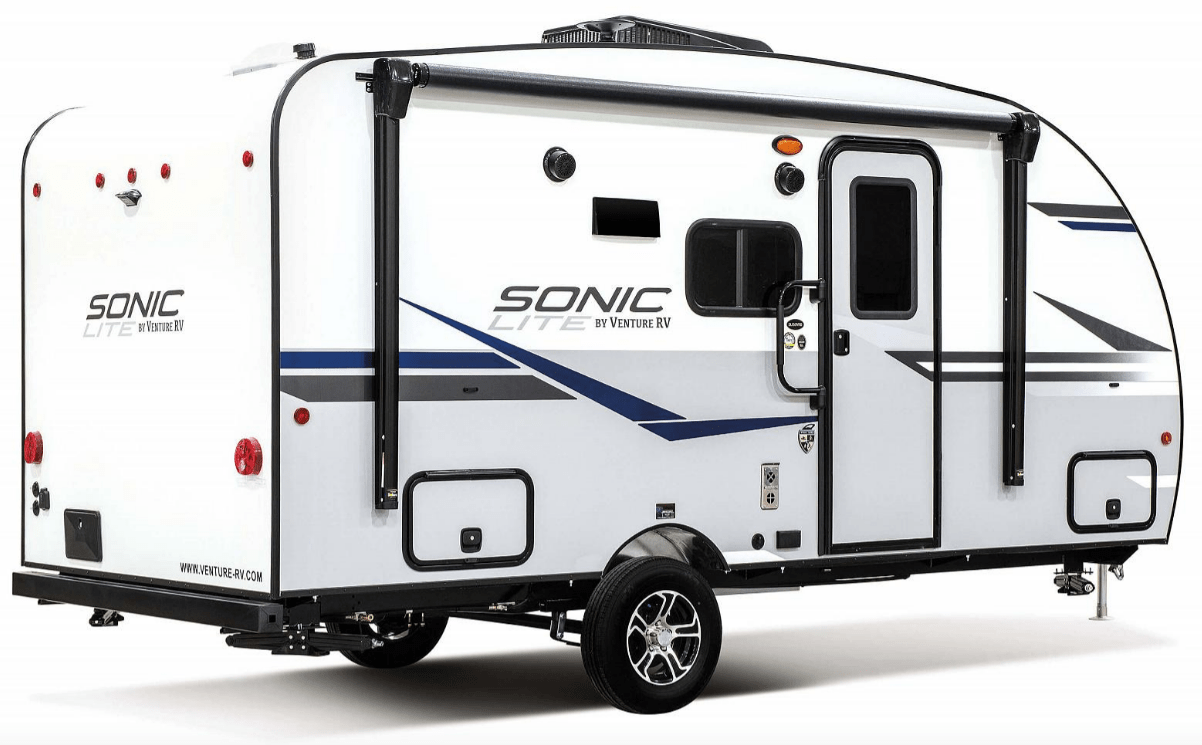 Venture RV created the Sonic Series of travel trailers to provide customers with superb towing efficiency. And the best part is you won't have to compromise on style and comfort for that.
It is for this reason; the Sonic Series has been a massive success for many RVers. The trailers have that same solid construction but come with a single axle.
Therefore, these trailers are better suited to work with any SUV or small truck. The best feature is it uses LevelMatePro, a smartphone technology for leveling the towable RVs.
It means you can level your trailer in one go and focus your precious time on other more important things. The adjustments are easy and automated, and you don't need to worry about the light conditions.
You can choose from seven different floor plans, and most of them are focusing on bunk beds and increasing and decreasing their numbers. Therefore, you will get a separate sleeping space for the kids and can use the space for storage when the beds are not in use.
Additionally, you won't have to use the living space with these bunk beds and quickly move around when the kids are asleep. This is one of the huge advantages of using a floor plan with bunk beds.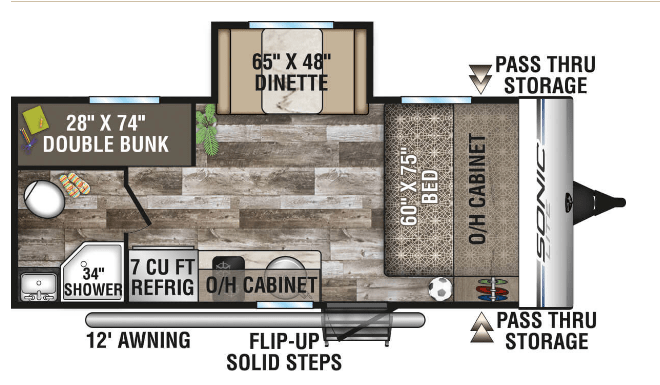 The master bed is the Murphy bed to save a lot of space when the bed is not used as you can fold it up. The bunk beds are present in the rear section of the trailer, and they are all double in size.
The rear end of the trailer has a colossal Pack&Play door that provides you with access to the bunk area, and it comes in handy if you use this area to store your bikes, hiking packs, or other camping gear.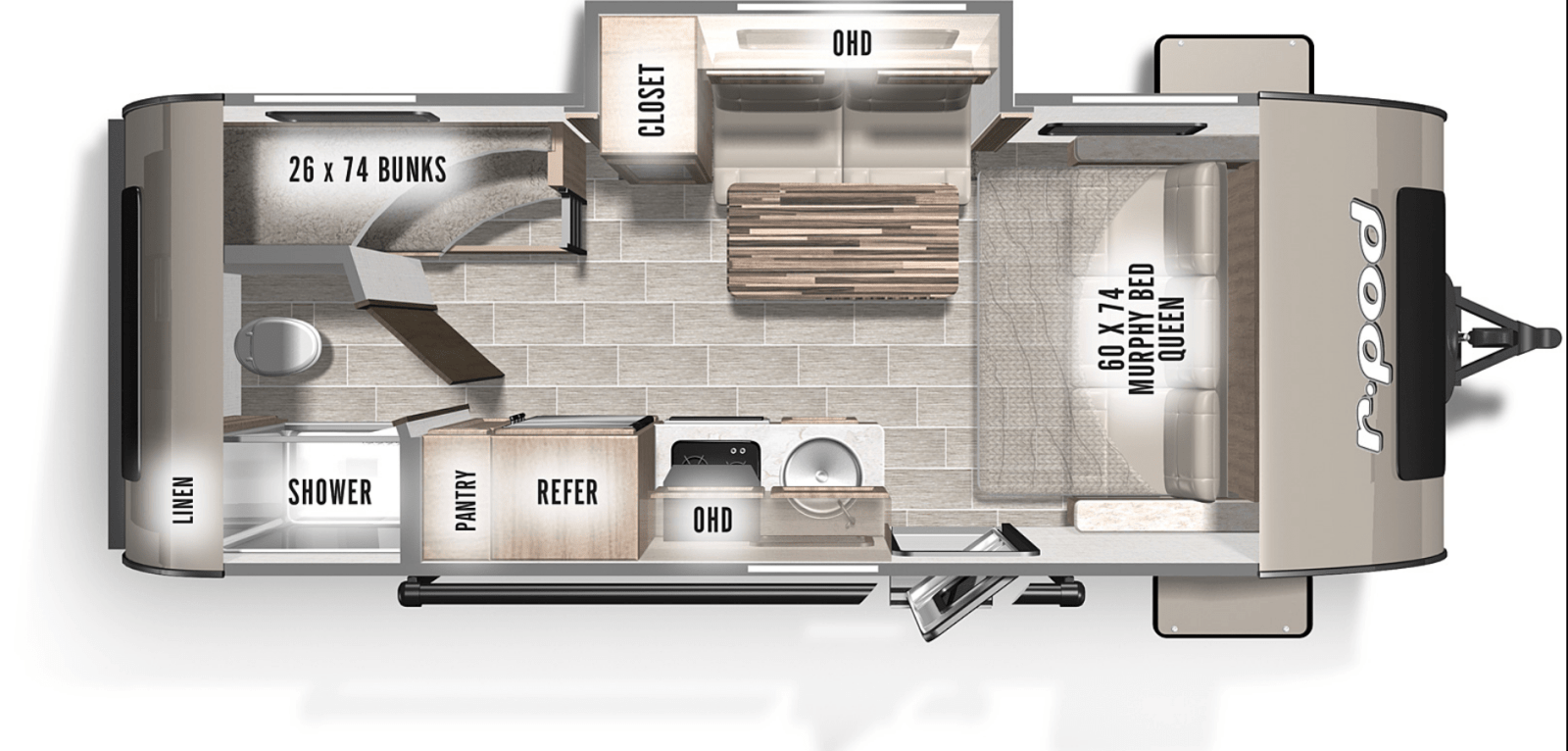 The R-Pod by Forest River is one of the best options for you to consider if you have kids with you on your trip. Even if more adults join you on your trip, you will still manage plenty of sleeping space for them without an issue.
This travel trailer not only features bunk beds but also comes with a huge Murphy bed. It means that it utilizes available space effectively without compromising on any space availability.
There is sofa seating for five people, and the trailer also features a bathroom layout with a shower and toilet. The kitchen also has a unique design and a storage space for the pantry.
As this is a large trailer, you can also utilize the space outside with the help of a 10-foot awning. The floor plan of this trailer is useful in managing space.
This trailer is spacious, and you will also find that there is plenty of room for storage as well. So, everything remains in its place, and you won't have to make a mess at all.
The trailer also features a massive space for a six cubic feet refrigerator, and the kitchen features a large sink. The cabinetry comes with plenty of storage as well.
With this trailer, you can manage an outdoor space for cooking and having some space for gatherings just outside the camper. The camper also manages an adequate airflow, and you can conveniently cook inside it without having to deal with any mess or smell at all.
If you are looking for a versatile travel trailer with bunk beds, you don't need to look any further because this camper does a fun job to meet all your needs and requirements.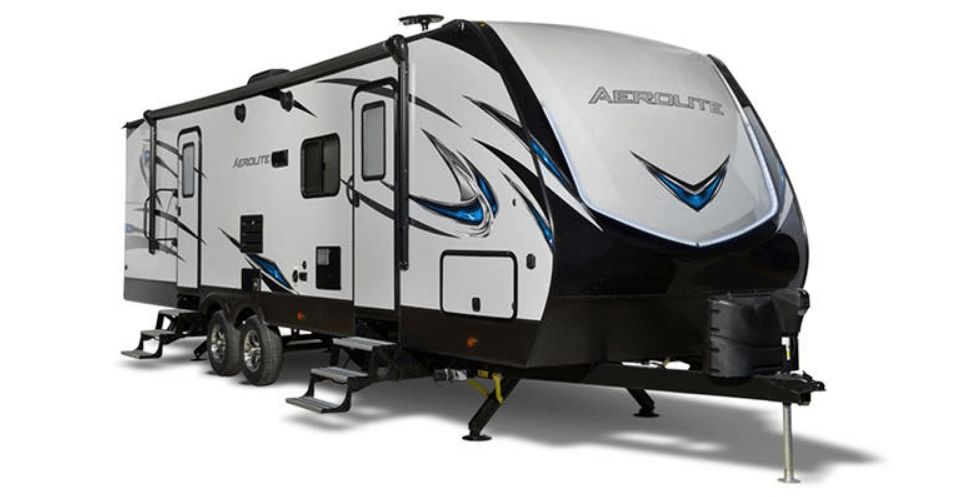 Dutchmen Aerolite comes with plenty of headroom for you to move around. And due to its spacious interior, it also provides you ample space for living and resting.
The AeroLite Series of travel trailers come with different floor plans to add or subtract a queen bed and bunk beds into or from your trailer.
But the best part is that there are plenty of options that allow you to add more bunk beds and utilize that available space to the fullest. These trailers are light and integrate luxury well within the construction and design.
The trailer is one of the largest in the bunkhouse models. Therefore, you will get sufficient space to put adults into the bed using that bunkhouse on end.
It can conveniently sleep up to seven people if you use the living area for sleeping purposes. But it is best to leave the living area empty, so you can freely move around while your kids are asleep and get the most out of the time available at your hands.
The master bedroom is present conveniently on the front section of the trailer. It can be separated with a partition from the living space for privacy. It will come in handy when you are traveling with the rowdy kids.
One of these bunk beds' best features is that they come with plenty of legroom. They are suitable for anyone who likes a bit of room when taking a nap. Each of these bunks can conveniently sleep up to two adults pretty comfortably.
You can also use this section when not used as a storage tube to place all your gear. The only problem with this idea is that you will have to take out all the gear before someone can get into taking a shut-eye.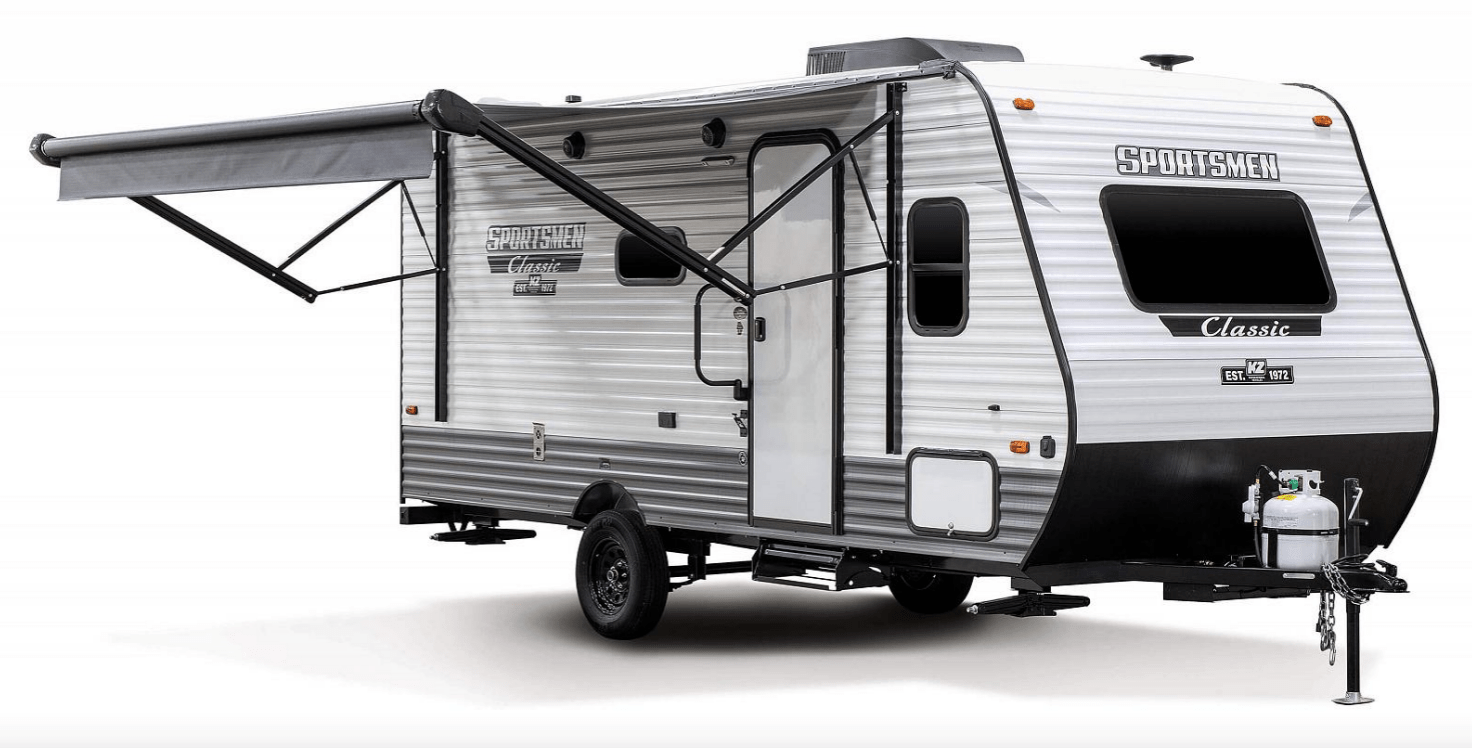 KZ has been one of the top travel trailer manufacturers in the country, and it strives to make TVs more affordable. The KZ Sportsmen Classic is no different either.
The trailers house a range of different floor plans. You can tow it with a range of other SUVs and small trucks. It can conveniently plan your RV trip with the KZ mobile app's help.
You can conveniently manage everything using this app, and this trip planning app can help you get all the things done in a timely fashion. But that's not the only positive associated with this app.
The trailer comes with a friction hinge door that doesn't put much stress on one side throughout the day.
The trailer comes with plenty of living area and a lot of storage space available. There are bunk beds in the rear end. The trailers can conveniently sleep up to 5 to 7 people at a time.
These bunk beds are present right next to the dinette slides. And you can use the dinette and convert it into a sleeping area as well. If you are looking for that slumber-party camping feeling, this trailer is the right choice.
Therefore, if you love spending time with your family and friends, this is the right kind of travel trailer for you with bunk beds.
There are floor plans also available. So, you can make the right choice based on your needs and alter the number of bunk beds.
FAQs
What is the bunkhouse floorplan?
The bunkhouse floorplan is a layout that features enough beds to accommodate all the family members, including your children. Some travel trailers have twin-size bunk beds, while they have bunk beds set up on either side of the main bed.
You can either go for a budget-friendly or a luxurious floor plan. But most of the basic floor plans will feature a closet, a fridge, a kitchen, a bathroom, bunk beds, and the main bed.
What are the ideal space requirements for bunk beds?
A 15-foot travel trailer would be more than sufficient for a 2-person family. But if you have kids and pets, you will have to go for a more extended bunkhouse trailer. The longer trailers also come with multiple features, such as increased storage space and more closets.
What is the difference between bunkhouses and bunk beds?
There are no features that officially differentiate a bunkhouse RV from a bunk bed RV. But Bunkhouse RV might come with a separate sleeping area with its entertainment and bath areas.
On the other hand, a bunk bed RV might only feature bunk beds in one corner or mainly in the rear. It emphasizes more space for sleeping everyone comfortably.
Conclusion:
The winner of this roundup of the best travel trailers with bunk beds turns out to be the Starcraft Autumn Ridge. This travel trailer features its bunkhouse, so it accommodates plenty of space for your entire family to sleep comfortably.
The travel trailer also comes with a lot of storage space, and there is a queen-sized bed also available. This trailer also comes with a kitchen and a bathroom to meet your family's needs and requirements.
The trailer comes with bunk beds situated in the rear section. And they can comfortably sleep your kids while leaving the living space free for you to use.
Asen is the owner and main contributor of Camper Life. He is a full-time RV traveler since 2018. He loves camping in nature, fishing, and spending time with his family.
Striving to provide the most valuable information about campers and RVs, he shares everything he learned over the years.
That's why Camper Life is one of the best sources to find information about RV traveling and living.