Best Apache Camper: Top 6 Models Till Now Revealed!
The beginning of the best Apache camper can be traced back to 1957 when Gene Vesely built a trailer to carry his outdoor equipment. Recently, there has been a surge in demand for these campers as people are looking to accommodate their household stuff while going on an awesome journey.
The problem comes when you are unable to find an RV in a good condition. However, there is no need to worry anymore! This article covers the RV renovation method alongside a detailed explanation of top-rated campers to choose from.
Want to start renovating your RV soon? Let's dive into the details!
Quick Comparison
Take a look to comparison table of camp trailers:
1961 Apache Chief Tent Camper
The 1961 Chief camper is an exceptionally well-engineered camper. It consists of a folding full-size tent with associated collapsible poles that fold over a mattress and into a transportable aluminum storage container with side doors.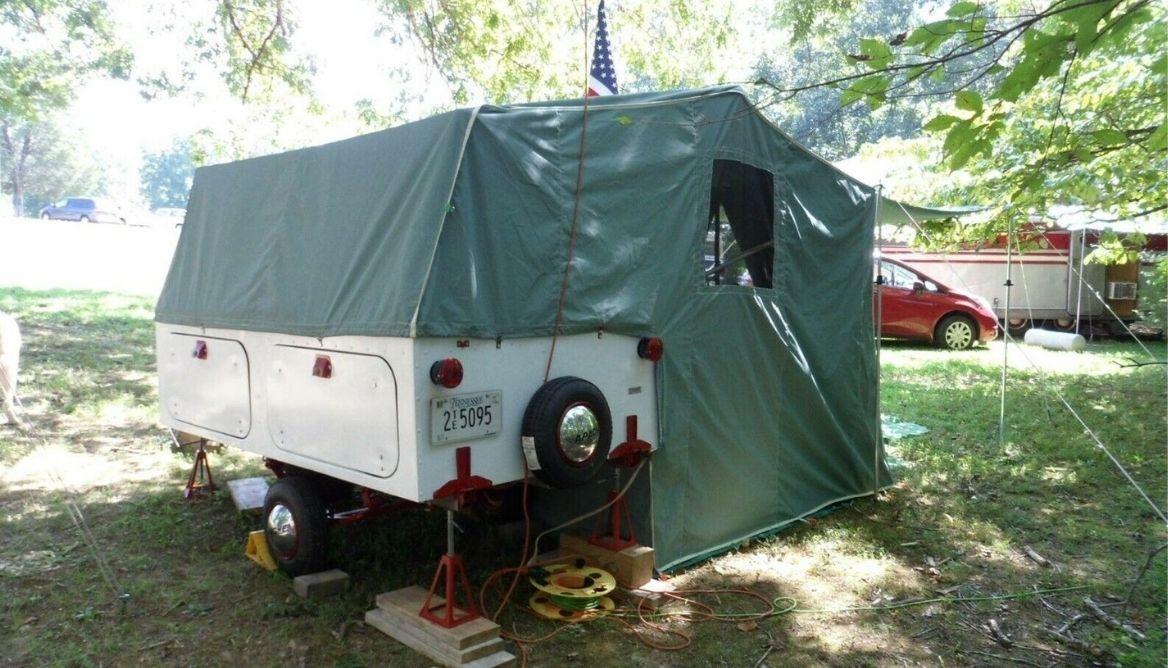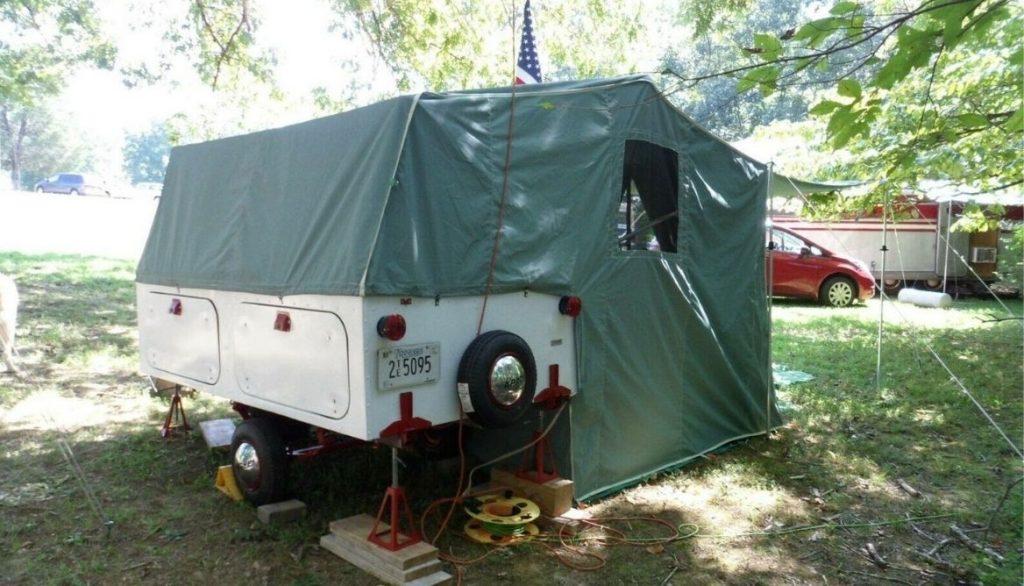 Features
It keeps you off the chilly ground, doesn't leak at all, and has enough space for two extra persons on the floor, with an alley down the middle for a trio fun trip if needed.
The sleeping bags, screen tent, tarps, cooking, tackle and tool boxes, and anything else you need for a camping trip can fit in the various location of compartments.
The cabin in this apache camper is well-insulated and has a gas lamp for use in adverse weather, which can occur at either end of the fishing season.
Downside
When you take it to campgrounds, everyone wants to know about it and go inside. What a brilliant idea Apache had.
However, abandoning the idea of a dinette in this camper is the only downside.
1974 Eagle Apache Camper
Eagle camper, also referred to as rear folding hard floor camping trailer. This camper is fully capable of off-road travel and includes sleeping space for two. You will have plenty of room to spread out thanks to the fully fix annex that comes standard on the Apache camper. One can also apply the concept of a pop-up camper to make it more appealing.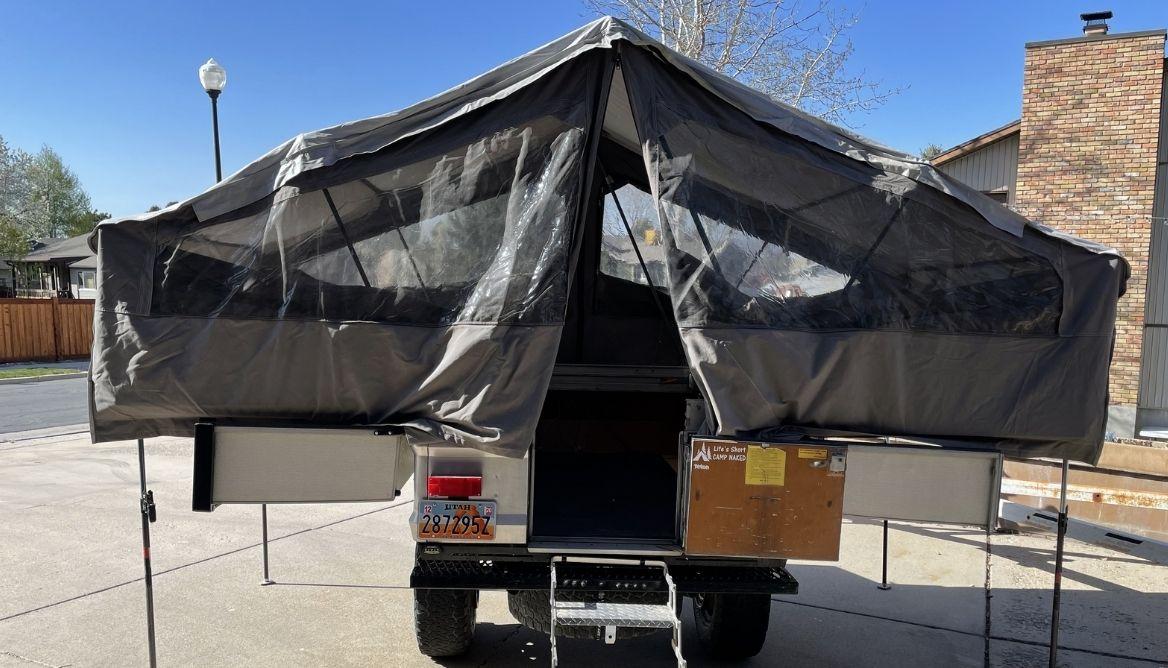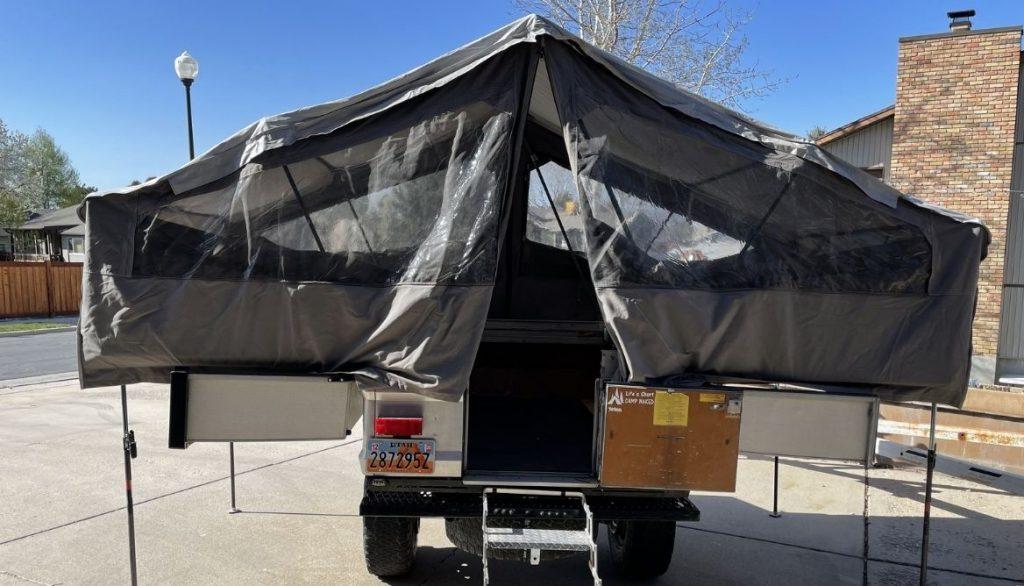 Features
With Eagle Apache camper, you can use tents as lodgings before moving up to the platform/topper.
This recreational vehicle provides a lot more room at the rear than the back of the vehicle. However, you also have space to modify it and make it more enjoyable.
Most of these camp trailers are manufactured years ago and the appropriate hubs for truck tires will keep you interested in it in the first place.
Downside
The plywood and staple structure of a typical pop-up won't work for some sites you want to visit, so it's better if you look to explore more options.
1969 Apache Falcon Camping Trailer
The Falcon camper is a kind of Apache's base model and has eagle lids on both sides of it which fold up to the top. These camp trailers are super fun if you are looking to spend a night in them.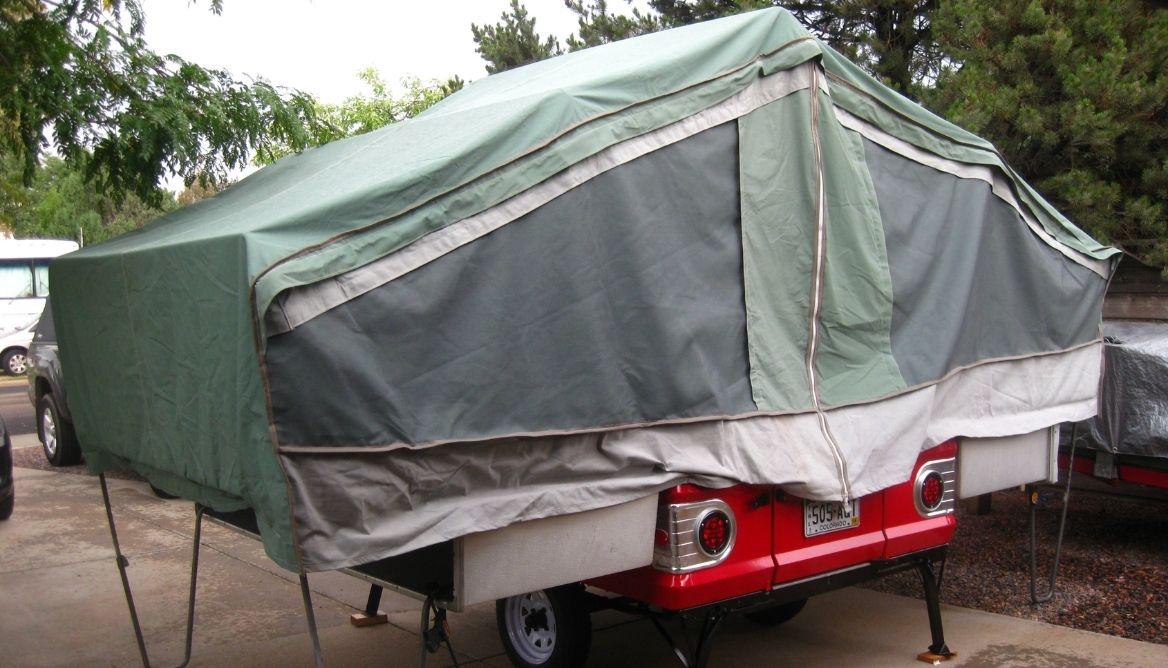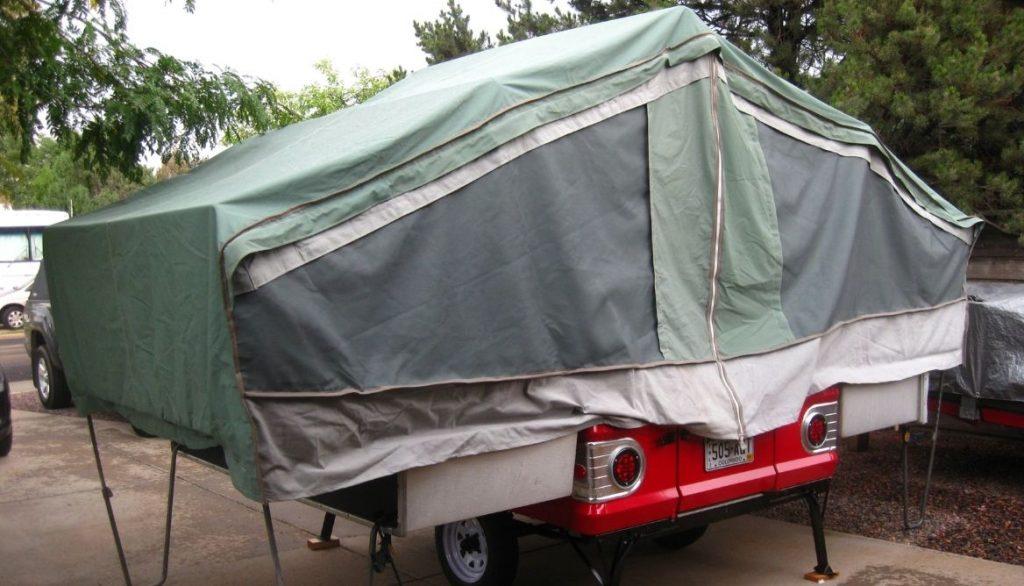 Features
The spacing in these camp trailers is very auspicious as you enjoy the cooking and modify the seating plan based on your needs.
You can also add a table if you want to fill up the storage even more amazingly.
Downside
However, the existing carpets are outdated and not properly placed but you have to adjust to it anyway. Replacing the carpets can risk tearing them off.
1965 Apache Buffalo Vintage Camper
1965 Buffalo campers are a real beauty. The tires of these campers are of ideal size and you also get a spare one as a bonus. The couch and bed cushions come in good shape but it is ideal to keep this camper in a dry, warm garage.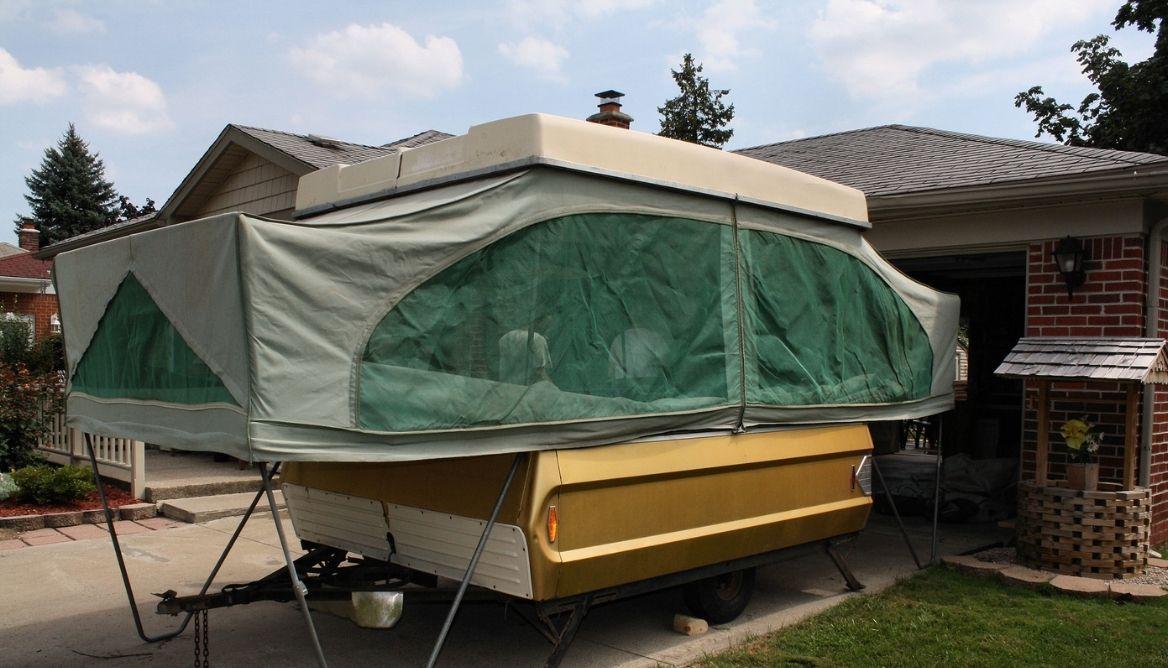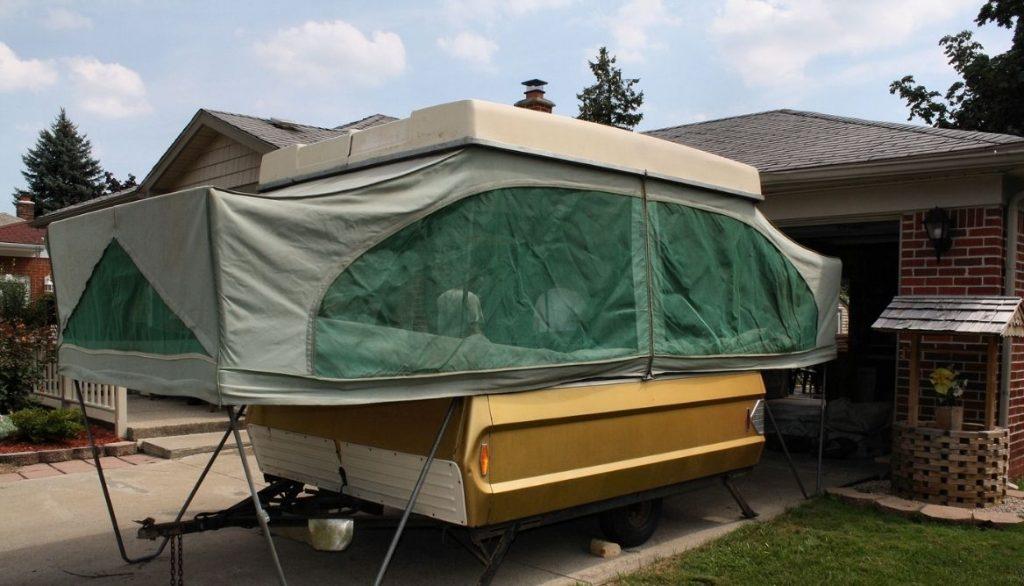 Features
They have a mini-fridge and a Coleman stove already installed in them.
They include laminate flooring
This model is generally attractive for its age.
Downside
You might feel some difficulty zipping up the pockets of canvas due to its usage and being one of the old models in the market.
1974 Apache Mesa Camper
After doing a lot of research, we found out that the 1974 Mesa model is the best bang for your buck. Due to its exceptional features and pretty good condition and shape this recreational vehicle helps you create some long-lasting memories while on an awesome journey to a distant location.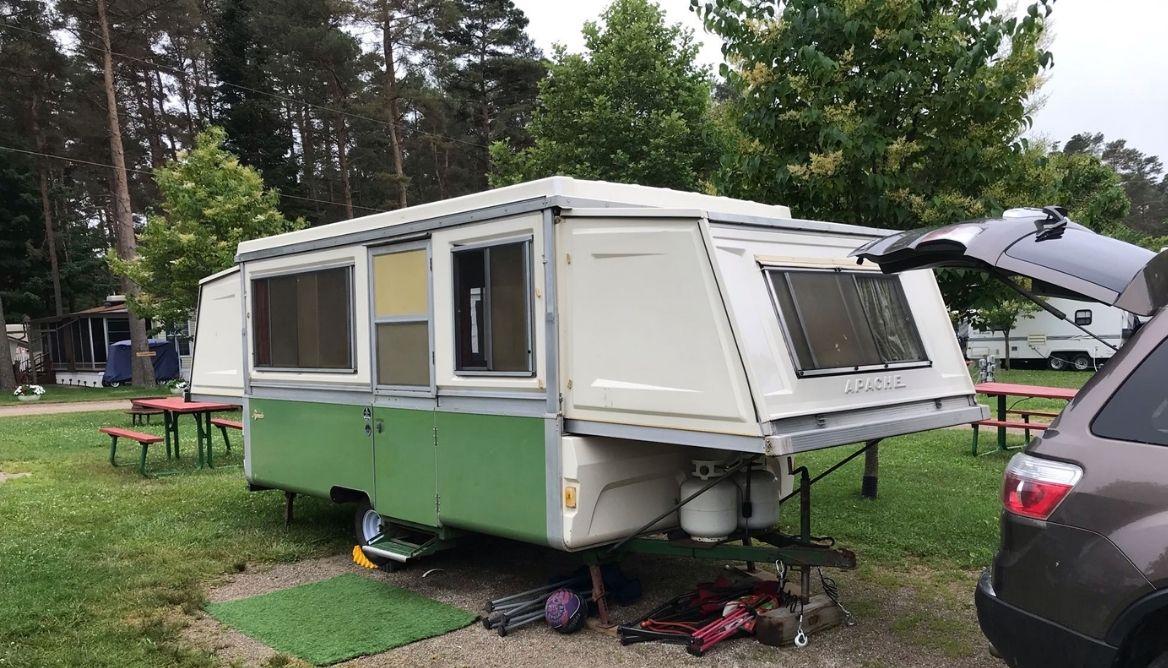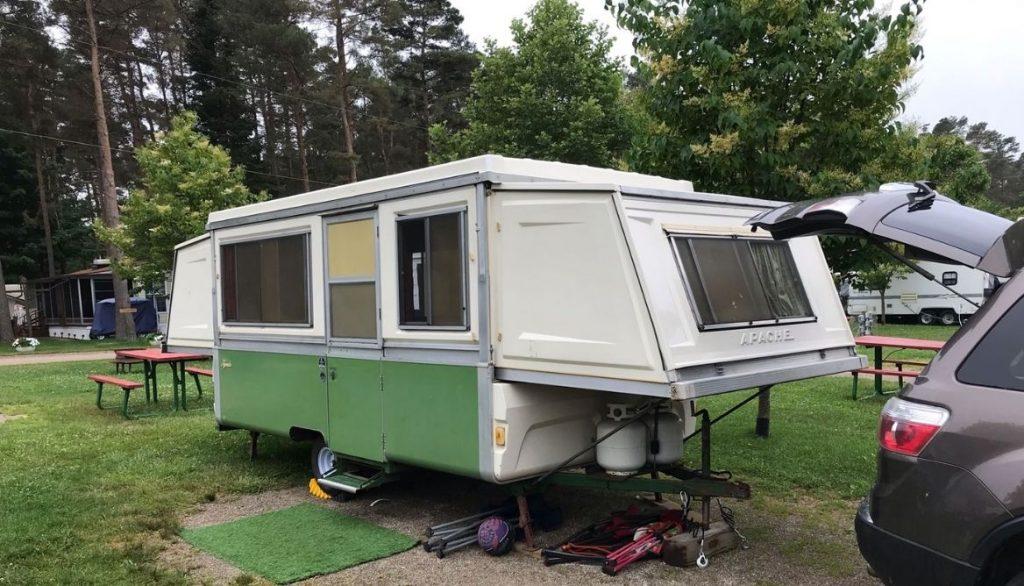 Features
This recreational vehicle comes with a heater, a refrigerator, and snug sleeping quarters installed.
Even a group of six people can easily fit into it.
Due to its rough exterior and weight of only 1500 pounds, it can be towed easily.
Downside
Being 44 years old, you might need to do some maintenance work to upgrade it. Just look to modify it per your needs as it will save you cost and time.
1976 Apache Ramada
The 1976 Ramada camper's standard model doesn't come with any canvas but it's modular and folds up. The sides of this camper are hard which makes it a proper camper to stuff anything up on it. Even if you leave it under the sunshine for months, it won't affect it a bit.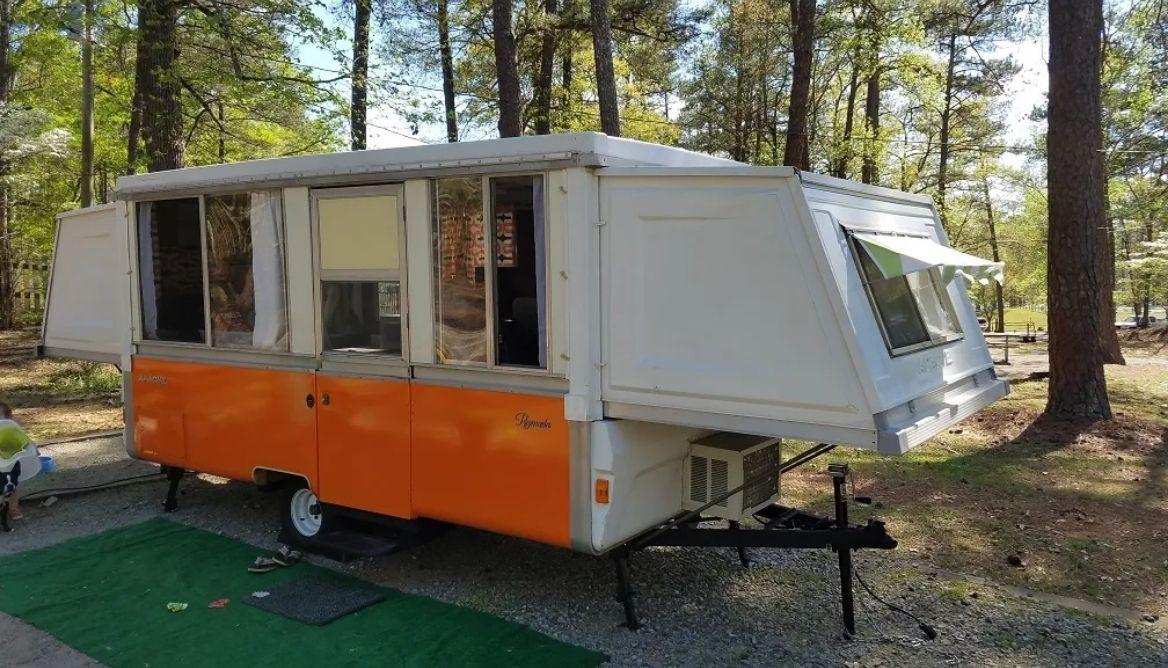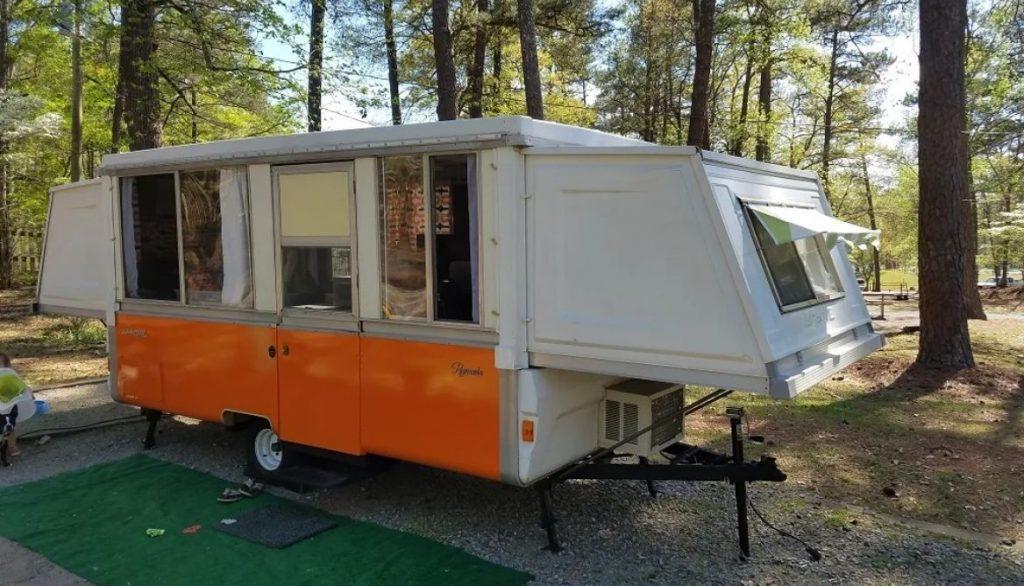 Features
The inside of this recreational vehicle is fully paneled which makes it cut down the moisture.
It also buffers the sound inside and outside of it quite a bit. It comes with a 10-gallon holding tank.
The typical stove and refrigerator also come in quite a good shape.
You also get a dinette when you fold up the bed.
Downside
The plastic inside this recreational vehicle often has some cracks and critical areas and you have to go through some time taking maintenance work to patch those cracks.
Apache Camper Restoration – What to Change
If you aim to preserve the historical charm of your Apache camper while giving it modern conveniences, a few of the maintenance things you could do are described below: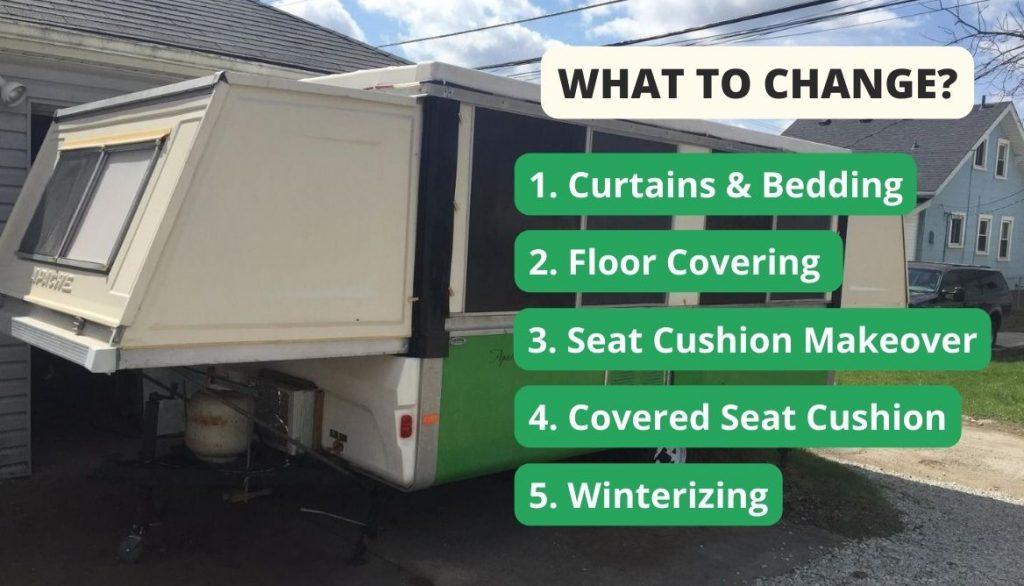 1. New Curtains & Bedding
To renovate an Apache camper curtains and bedding completely, consider these steps:
Replace the curtains for added natural light and a pop of color.
Decide on the bed situation – while the upholstery may be in good shape, consider covering the bed frames with the mover's blankets.
Mover's blankets are a budget-friendly and durable solution that can be purchased for around $4.
Note: Rather than a full renovation of the bed frames, using a mover's blankets can save money and still provide a functional solution.
2. Floor Covering Upgrades
Based on our research, you should settle on an outdoor carpet to protect the floor. It may be cut with simple scissors or a utility knife and cost less than $20.
Floor Plan Creation
To create a guide for carpet installation in a camper, follow these steps:
Measure the dimensions of the room.
Tape together multiple newspaper sheets to form a single sheet.
Cut along the outside margins to create a floor plan.
Place the newspaper template on the carpet and use chalk to outline it.
Cut out the carpet to fit the room and make necessary trimming.
As additional information, the newspaper template can easily be removed and cleaned.
3. Seat Cushion Makeover
Move on planning to re-upholster the dinette cushions and remove the unsightly orange plastic trim that encircles the camper's roof.
Use polyester fabric shower curtains to cover the cushions. They may be cleaned easily and maintain their durability over time.
You have to recognize the importance of washability when you see kids scuff their dirty feet and sticky marshmallow hands all over them.
As additional information, you may modify the design such that the loops at the top of the curtain look like normal buttonholes, and the coverings may therefore be easily detachable.
4. Covered Seat Cushion
Use foam cushions as they allow you to make your own design.
You can use the button holes in the shower curtain as an edge, wrap the curtain over the cushion, and stitch down one side.
Next, use the button holes as guides to sew them underside of the cloth.
Once the buttons are undone, you can remove the cover and wash it.
5. A Clever Solution to a Design Dilemma
Before winterizing a recreational vehicle, the orange plastic trim on the top should be removed with care. Once removed, it should be properly stored.
When winterizing, the temperature is a key factor to consider. To avoid any potential damage, covering the orange plastic with shelf paper is a safer alternative to simply ripping it off.
For a smooth application, apply the shelf paper in manageable sections, just as you would when wallpapering a room in your house.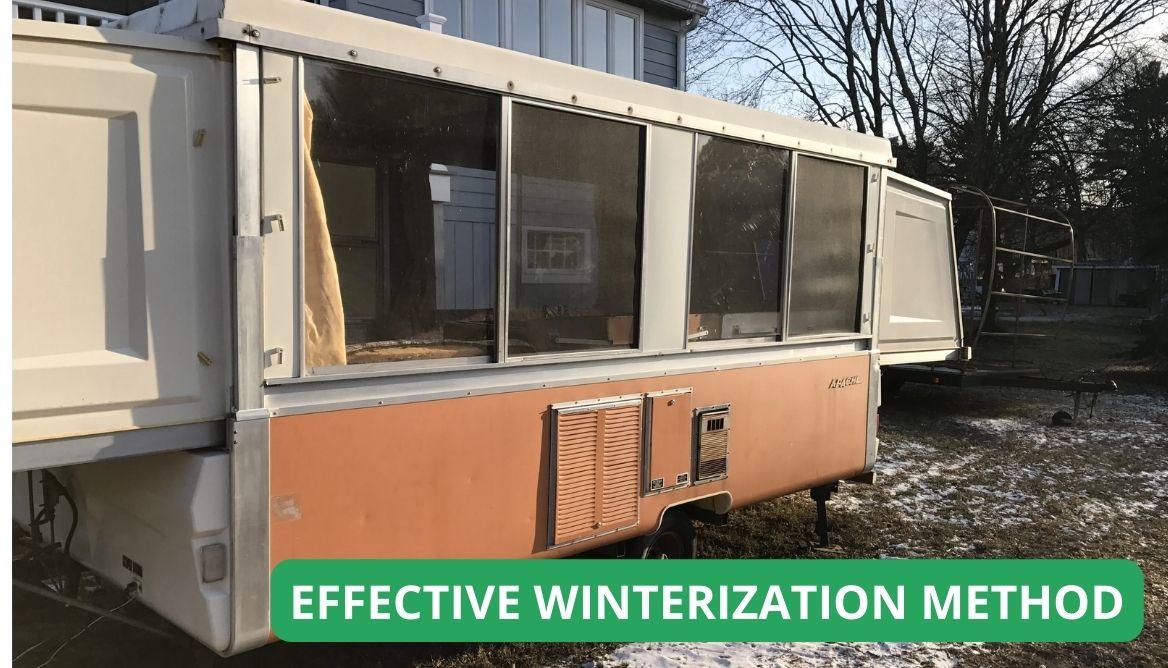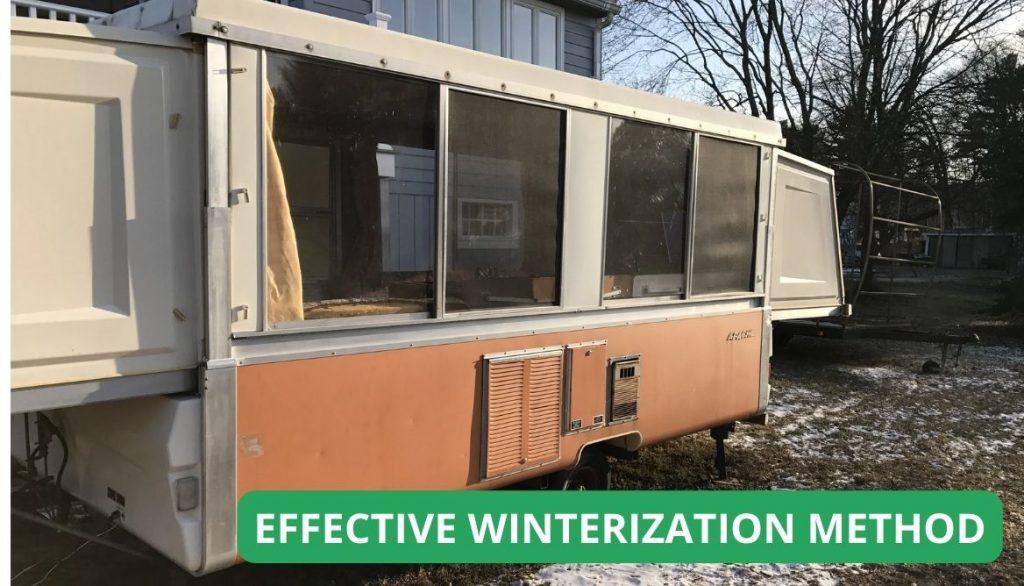 The Process
Follow the steps below for an effective winterization method:
Step 1: Washing. Thoroughly wash and wipe down the recreational vehicle area. A microfiber cloth and some water will do the trick.
Step 2: Gather Tools and Cut. Take a ruler and a paper cutter and get one piece of paper ready. It doesn't have to be flawless, but it should be at least as big as whatever you're planning to glue it to.
Step 3: Ensure the Process is Ok. Make sure it looks OK by holding it up before you remove the backing.
Step 4: Remove Backing. Get rid of the protective backing.
Step 5: Aligning. Align the designs, and overlap as necessary.
Step 6: Make it Equal. Make sure the paper is pressed firmly into the plastic and that the edges are equal and straight.
Step 7: Begin Again if Confused. If you find yourself wandering, simply pick up the paper and begin again.
Step 8: Polishing. Polish the paper, starting in the middle and working your way to the edges. To get a crisp line, press the paper into the corners.
Step 9: Get Rid of Excess Stuff. Use a utility knife to remove the excess stuck material from the edges.
Step 10: Repeating. Repeat this job multiple times or until your arms hurt from holding them over your head.
FAQ
What is the best quality camper on the market?
Ramada camper consistently tops the list for one of the amazing quality camper in the market.
Do they still make Apache campers?
Apache campers did not manufacture camping trailers in 1982,1983. Hence, they also closed production after 1987.
What is the best quality travel trailer brand?
Names like Airstream, Jayco, Thor Motor Coach, and Winnebago have been the top travel trailer brand for decades.
Who makes Apache campers?
Gene Vesely started Apache in 1957 to produce pop-up RVs. Apache began producing Class C motorhomes in the 1970s, but they never strayed far from their primary focus on producing high-quality, feature-rich weekend trailers.
Are Apache trailers any good?
Surely they are! The highest gross weight these all-purpose trailers can transport is 500 kilograms, and they offer a remarkable strength-to-weight ratio.
Conclusion
These camp trailers have provided a variety of storage options with an amazing overall built quality to the recreational vehicle enthusiast. It's up to you how you modify it based on your requirements as the standard RV's doesn't include all the necessary things due to outdated models.
Out of all these models, our personal favorite is the 1961 Chief Tent Camper due to the availability of different compartments, complete insulation, and a folding tent.
Have you ever renovated an RV before? Which of these Apache models did you find most awesome? Let us know in the comments section.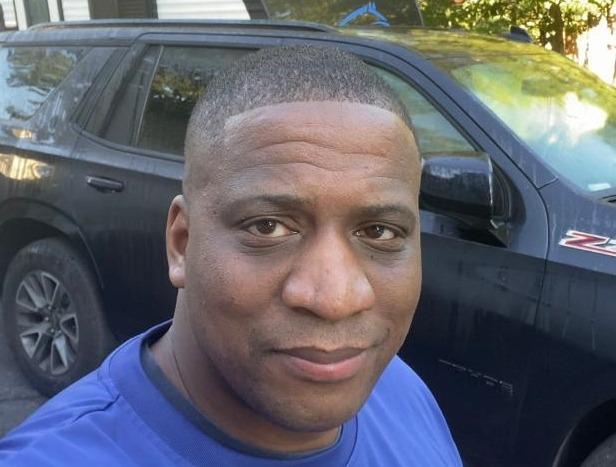 I`m a current Law Enforcement Officer working within the Counterterrorism Bureau in New York State. I have been Camping for over 20 years. My styles of camping include tent, car, truck, van, and RV travel trailer. I have a YouTube channel where I teach all types of camping with an entertaining method: https://youtube.com/@TheSmallsRVAdventures