Top 5 Best Lightweight Toy Haulers
If you are going on a vacation to the beach or in the mountains, you might want to bring your Jet Ski or four-wheeler to enjoy it to the fullest. Carrying a jet ski or four-wheeler with you will be impossible unless you use a Toy Hauler. Toy haulers are a type of RV with a garage at the rear end, with a ramp-door to access.
Even if you don't want to use it as a toy hauler, its expansive space can provide you with endless possibilities on how you'd use the space. Toy haulers usually have a dinette at the back when you load a toy and a bed to the top. So, you can invite your friends and family on vacation too, instead of one big toy.
Here are the top 5 best lightweight toy haulers reviewed.
Best Lightweight Toy Haulers
Forest River Xlr 19hfs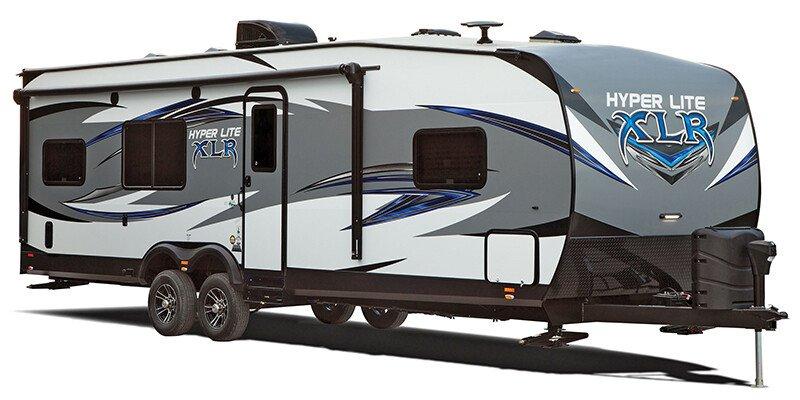 Whenever we talk about the Forest River, trust and reliability are what come to mind. Over the years, they have produced a variety of RVs. One such product of reliability is the XLR Hyperlite 19HFS.
This toy hauler comes with all of your favorite outdoor toys and gears. It is a 28-feet long trailer and weighs approximately 5,272 lbs. And the maximum cargo load it can bear is 2,528 lbs, which means that it can carry a total of 7800 lbs.
If you want to bring in jet skis or four-wheelerswith you on the trip, the Hyperlite 19HFS got it covered with its 12-foot garage space. It has a spring-assisted ramp door on the back, which comes down to put your gear in or out of the trailer. It also has the space to hold smaller stuff for you, such as fishing gear or portable gas tanks.
This garage space isn't limited to hold stuff; you can use it for other things, too, because its ramp door and floor are insulated. It comes with a bed if you have guests or large families. You can pull the electric bed down from the roof.
It also has two foldable couches that you can unfold to convert into a pass-thru dinette. And if you plan to stay at one place for a longer period, the garage has TV and cable connections to provide entertainment.
The freshwater tank of this trailer can hold up to 54 gallons of water. And for waste, it has separate grey and black tanks. These tanks each hold 32 gallons. And a 15,000 BTU ducted AC is installed to cool the hot summer days.
Pros:
Huge carrying capacity.
32 gallons capacity for grey and black waste.
Perfect for families.
Cons:
The electric bed might cause problems.
2021 Jayco Octane 161 Travel Trailer
Unlike others who try to build longer trailers, Jayco decided to modify the dimensions in Octane 161. This trailer's length is 20 feet and 8 inches, with a garage space that is more than half of it, at 11 foot 7 inches. It is 8 and a half feet wider, which is comparable to a larger RV. And the height of this trailer is 10 feet and 8 inches.
With its smaller length, Jayco installed a Queen bed which is an electric convertible. These sofa beds, when required, can be raised to the ceiling to make space for jet skis, kayaks, four-wheelers, etc. The bed can be stored along the walls for a bonus height when you are carrying something taller.
You got the garage space for the large items, but it takes a hit to store smaller items such as clothing and other items. The Jayco Octane 161 is not designed to be a living home but for adventure or shorter trips. It doesn't have any hanging closets, and there are limited cabinets on this trailer to store your everyday items. So, you would have to bring luggage to keep your clothes inside the trailer.
Its freshwater tank can hold 53.2 gallons of water. And for wastewater, the grey water tank is 28 Gallons, and the Black waste water tank has 45.4 gallons. The bathroom has a plus point. Even if you are seven feet tall, the trailer's height makes sure you have enough space for showering comfortably.
Pros:
High enough for seven feet tall people.
A double than average warranty.
Comes with solar and backup cameras.
Cons:
Kz Sportsmen Le 270thle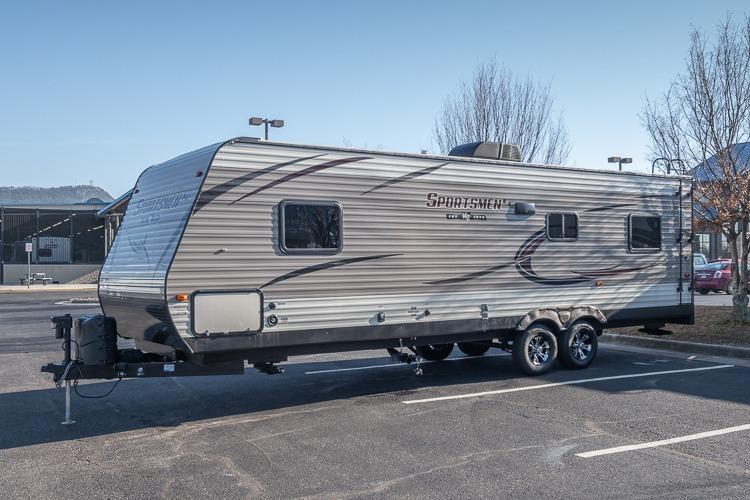 KZ was recently acquired by Thor Industries, one of the biggest manufacturers of RV. One such brand of their famous campers is "Sportsmen LE." Its 270THLE toy hauler is a lightweight travel trailer, but to make your trips feel luxurious, they have packed it with tons of features.
Overall, it is 30 feet and 8 inches long, and it has huge space inside it to store items. And with a 7 foot 7 inches long and 5 foot 8 inches wide cargo space, you can carry a four-wheeler or jet skis with you to the camping area.
The bedroom has a king-size bed, and with this bed are USB ports to charge electronics. While for more beds, you can use the rollover Sofas in the garage. The interior of the RV has speakers installed to play your favorite podcast, music, etc. Campgrounds come with other campers, so you may compromise your privacy. Therefore, its windows are tinted to limit the sunlight and keep RV's interior cool.
When unloaded, Sportsmen LE 270THLE weights 5,490 lbs. And it can carry cargo up-to 3,310 lbs. The fresh water tank can hold 40 gallons of water. While the gray and black wastewater each use a tank with a capacity of 32 gallons in it.
To make your adventure a perfect one, the Sportsmen LE offers everything from extra cabinets to a master bedroom.
Pros:
Master bedroom with USB ports to charge.
Storage cabinets here and there.
Equipped with a refrigerator and complete kitchen set.
Cons:
Not enough space for larger families.
ACT has been able to manufacture high-quality toy haulers over the years at a considerable price. This has been possible because of their strict manufacturing rules of "no waste and keeping a sharp value on customer value."
One such aluminum Toy hauler from ATC is the 8.5′ x 24′. Unlike the low-priced units, this isn't easily affected by water damage. You don't have to worry about rust, delamination, or mildew, even if the water gets in the crevices. You can even wash this unit with a hose.
The tables and beds on it are entirely reconfigurable as they aren't permanently attached at one specific point. They are locked onto the track system on the floor. This track system is long throughout the length of the cabin. You can change the whole toy hauler's design as per your requirement.
This is a relatively expensive RV, but it is worth it. Most RV trailers available in the market will lose their value over time. But this ATC toy hauler won't. They will age so slowly that you think of their depreciation in years.
The bathroom inside this unit is quite spacious. It consists of a full-size mirror, cabinets, a toilet, and a large shower. Not only that, the whole trailer has small cabinets to place your belongings in. It seems like cabinets surround the kitchen and bathroom.
Pros:
The aluminum body is susceptible to water damage.
Plenty of cabinets to store your belongings.
A larger bathroom than present in most RVs
Cons:
It has zero sleeping space.
2021 Winnebago Spyder 23fs
Winnebago, over the years, has shown its clear commitment to high-quality standards for its customers. They proved it in the manufacturing process and the products chosen to install inside their campers. This is also proven because they usually come up in the "the best of" lists for RVs and Campers.
When we call an RV lightweight, the company uses low-quality materials or products to achieve it. But the Spyder 23FS makes sure that it doesn't go for a "lightweight" but a "solid" build. One such example is the huck bolt frame. It is more expensive than a typical welding joint of metals. But the end product of Huck bolt is so strong that it is usually used in Airplanes, school buses, and semi-trucks for solid frames.
The loading ramp used on Spyder 23FS is of a heavy-duty build. It can hold up to 3,000 lbs, which is much higher than the combined weight of whatever you load on this RV. Most toys weigh less than the 1000 lbs mark, so you can guess it won't cause any issue to the ramp.
When it comes to sleeping space, this RV is a beast in that too. It has a king-size bed in the bedroom. A queen-size bed is in the garage space, and two sofa beds are located at the dinette. This way, you can have up to seven people sleeping inside the RV at once.
And lastly, the bathroom of this toy hauler has a shower and a toilet. The freshwater tank of the bathroom is 100 gallons. And there are two different tanks of 50 gallons each for the grey and black wastewater.
Pros:
4,000+ lbs cargo capacity.
Its fuel tank has a capacity of 40 gallons.
The RV is of Solid build.
Cons:
FAQs:
What Is The Cheapest Toy Hauler?
If you are looking for the cheapest toy hauler available, then that isn't a 'cheap' option. In the cheapest, you'd have to compromise with many of the features that are in a typical toy hauler. One such is the 2021 inTech Flyer Explore. This is one of the cheapest available, but it has no bathroom or water supply. And the sleeping space can be taken over by cargo present in the toy Hauler.
What Is The Best Travel Trailer Toy Hauler?
The Forest River XLR Hyperlite 19HFS is one of the best travel trailers. It has a 12 feet long garage where you can hold any of your toys. Not only that, it has a Queens bed, the latest kitchen too. And the electric bed on top of the garage space provides extra sleeping space. You can connect a TV event to the wall to have a perfect experience.
Who Makes The Best Small Toy Hauler?
While there are tons of small toy haulers that are in compact shape and design. The best small toy hauler available in the market is from Jayco. It's the 2014 octane super lite 161. It has a garage space of 8 feet. For sleeping, there is a foldable sofa and a flip-up electric queen-bed. But it will be completely unavailable if the garage space is filled. All in all, it is the best small toy hauler with a balance between comfort and size.
How Much Do Toy Haulers Cost?
Toy haulers cost from 15,000 USD to 60,000 USD. The difference is due to the feature present inside the toy haulers. A 15,000 USD toy hauler might have to make compromises with stuff like toilets, storage space. Simultaneously, a +50,000 USD toy hauler will have all the features and a build quality that can last for ages.
Conclusion
Even with a wide selection of toy haulers present here, you should choose the one that's best for your RV lifestyle. You might be sleeping on your bed, so you'd prioritize a toy hauler with a bed. Or you'd be having a private bathroom to use. Some of them go extra on the cabinet space.
But we'd recommend the Forest River XLR Hyperlite 19HFS reviewed in the list, as it checks all our requirements of a Toy Hauler. It has sleeping space for up to six people. An ample garage space to store your everyday items inside it too.
When you select the perfect toy hauler travel trailer, you are ready to start your adventures. You should be confident what you have selected is the best option for your needs.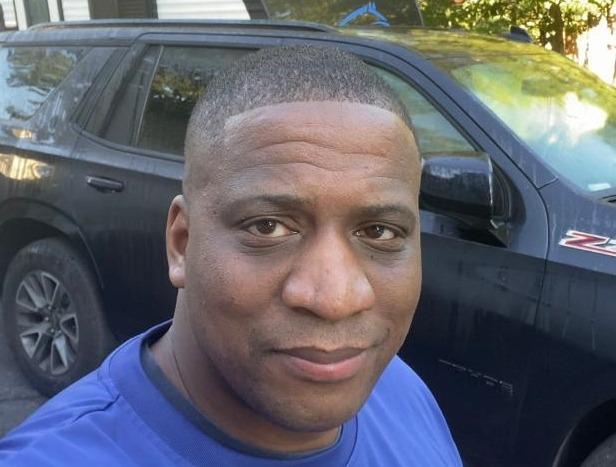 I`m a current Law Enforcement Officer working within the Counterterrorism Bureau in New York State. I have been Camping for over 20 years. My styles of camping include tent, car, truck, van, and RV travel trailer. I have a YouTube channel where I teach all types of camping with an entertaining method: https://youtube.com/@TheSmallsRVAdventures