Best Heater for RV Boondocking: 7 Safety Methods Explained!
Are you tired of feeling cold and uncomfortable while boondocking in your RV?
Buying the best heater for RV boondocking not only makes your investment worthwhile but keeps your RV insulated in the longer run. It's time to keep all your RV heater worries at bay!
Whether you choose an electric or gas-powered RV heater depends totally on your needs. This article will assist you to differentiate between two options along with some insights on the 3 best heater types and a few safety guidelines. Let's get straight into it!
Our Top Picks for RV Boondocking Heaters
We evaluated many different portable RV heaters and limited the field down to the top 6 best RV heaters. We considered each model's heat production, efficiency, portability, and durability while making our selections.
Read below for more details!
This compact RV heater produces considerable heat, allowing you to stay warm and cozy even in the depths of winter. This heater generates between 4,000 and 8,000 BTU, with the latter being its maximum output.
In the event of a frigid evening, the 4,000 BTU setting would quickly and easily make it comfortable. Using the maximum heat setting is a good choice if that is what you need. Camco's space heater is fully gas-powered.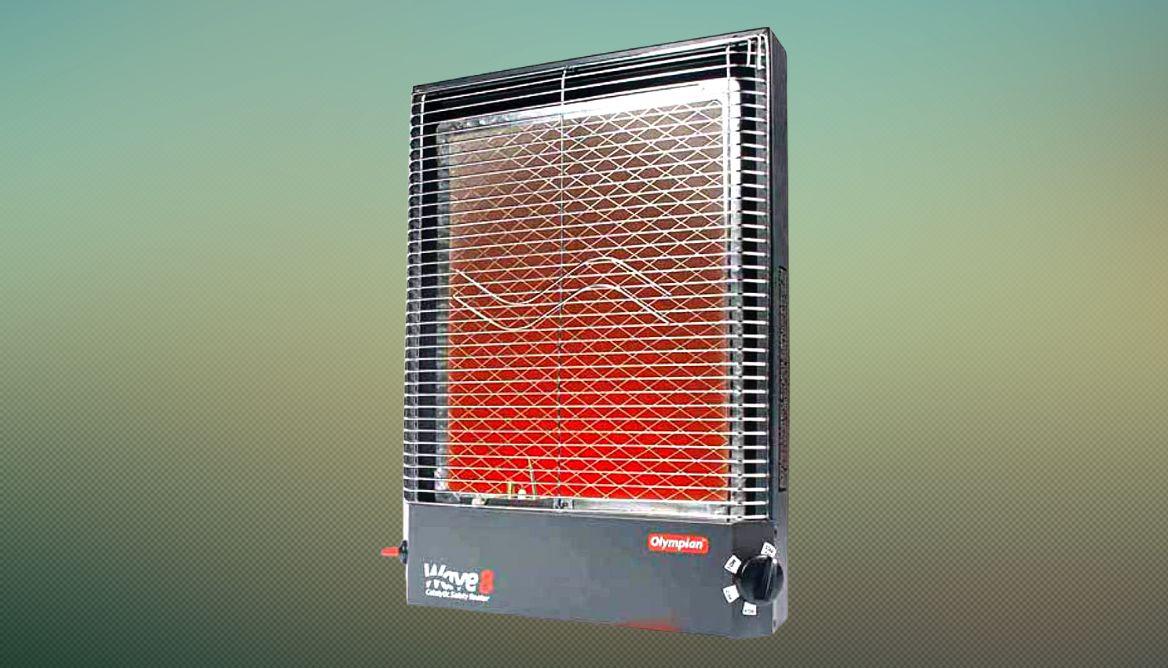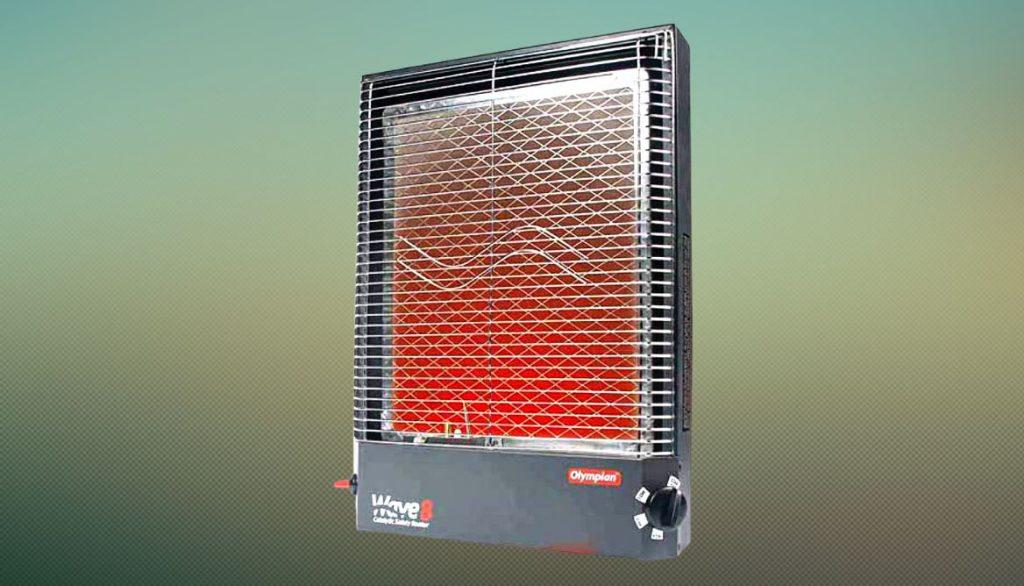 Ideal for Small RVs
In smaller recreational vehicles with limited storage space, this heater works well since it can be mounted on a wall. If you prefer, you can make it freestanding rather than mounting it. To prevent accidents, the heater's safety shutoff feature is another strong point.
Pros
Preventative shutdown feature
Inaudible functioning
Portable with wall mounting option
8,000 BTUs maximum output
Cons
A few of its parts can get overheated sometimes
Mr. Heater Buddy F232000 is also one of the best RV heater that runs on gasoline like the Camco 57351. With a maximum output capacity, it can easily heat large rigs of 30 or 40 feet in length. This vehicle/tent heater has a revolutionary design and is ideal for heating vehicles and tents.
However, this heater is not very large, in contrast to many others that can deliver 9,000 BTUs. That's why it's preferable to use it in RVs only. Depending on your needs, you may hook up this camper heater directly to a propane tank or a distant source.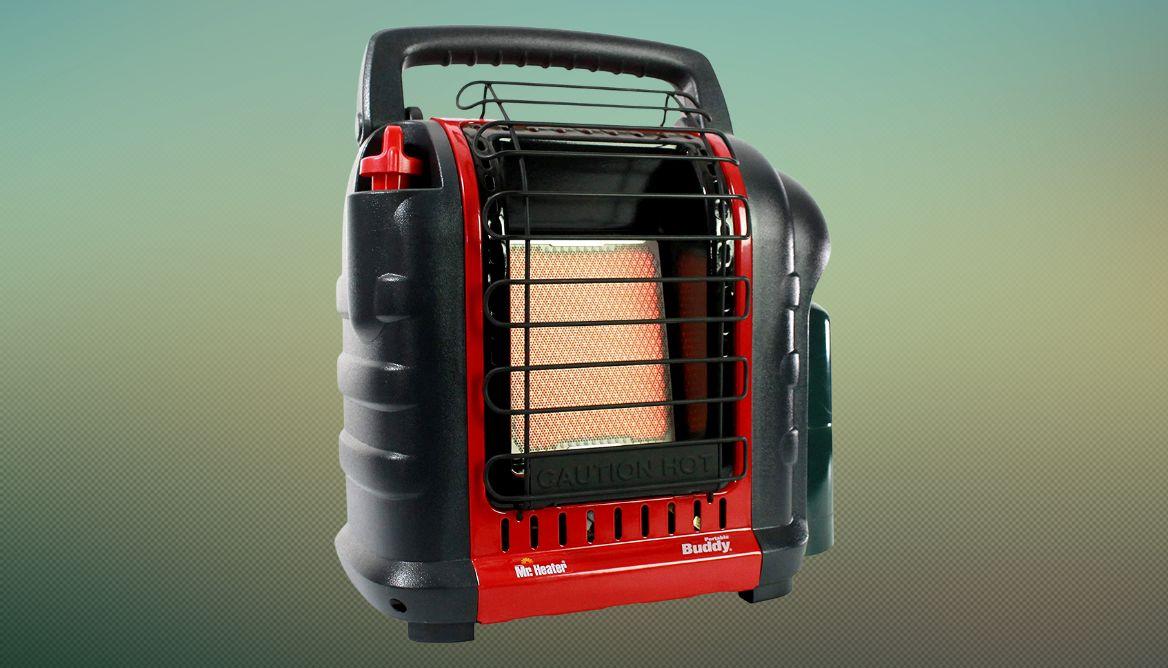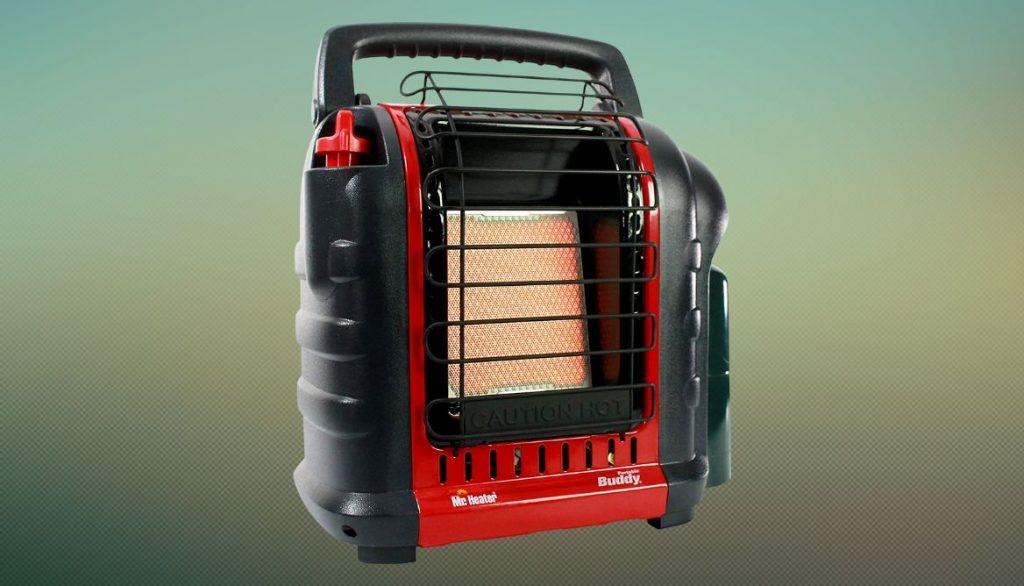 Handle and Guarantee
Moreover, there is a carry handle on top of the heater, so you can easily transport it. In addition, it is important to note that this Mr. Heater product is protected by a prolonged three-year limited guarantee.
Pros
Excellent warranty
Hold-down handle with a swiveling regulator
Strongest possible output
Long-lasting build quality
Cons
Overheating risk
Not safe to keep it running while sleeping
Trailers, motorhomes, fifth wheels, and camping tents can all benefit from having this Caframo heater. This best electric space heater is different from the gas and propane gas heater models discussed above.
In other words, this is one of the best electric RV heaters that will never lead you to accidentally overexpose yourself to carbon monoxide. It also eliminates the need to regularly replace expensive propane tanks.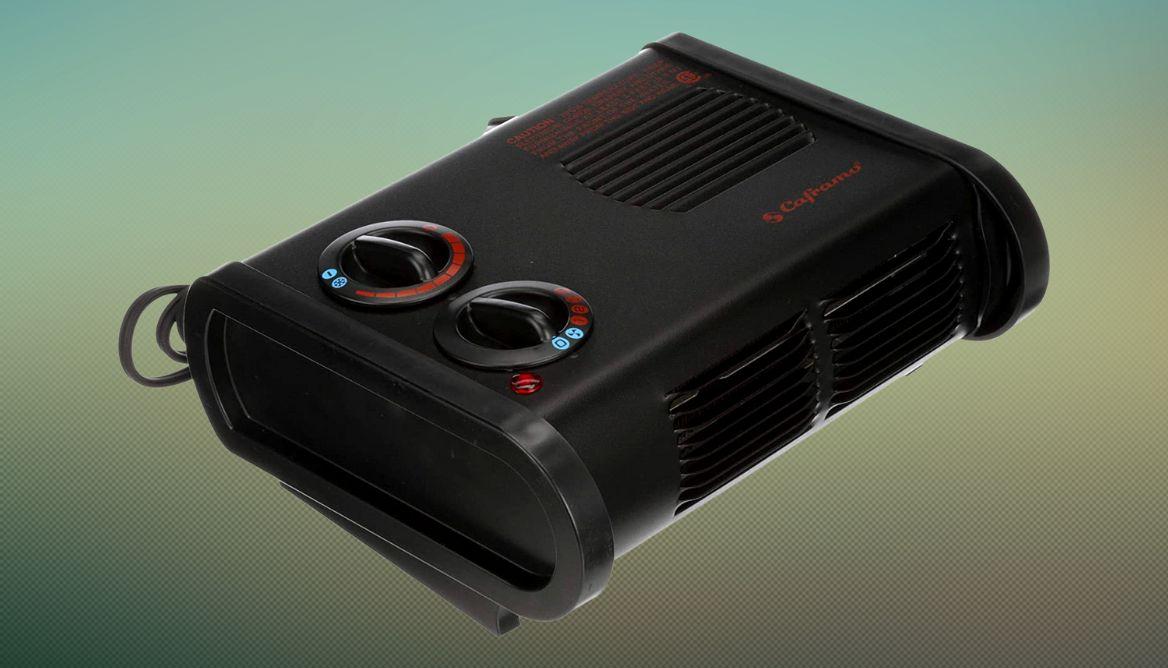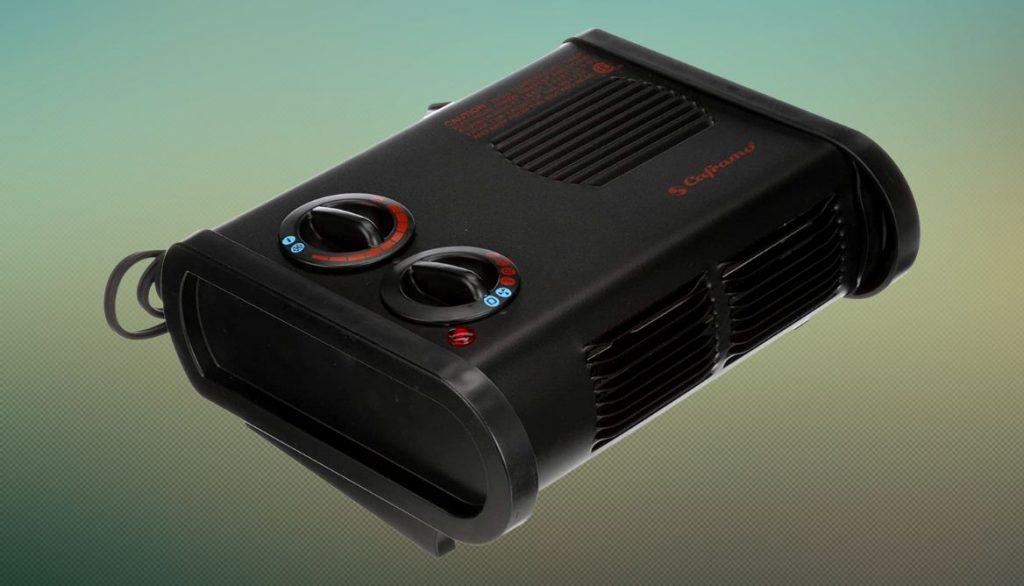 Thermostat Feature
In case you are wondering, this product can be used with any regular household 120V outlet and any standard electrical outlet and voltage can power it. The thermostat on this heater is an additional point.
The adjustable thermostat can be set to trigger the heater's activation at a specified temperature. It can generate a maximum output of 5,200 BTU out of its 5 heat setting options.
Pros
Fully electric powered
Carbon monoxide poisoning-free.
Multiple adjustable thermostat temperature settings
Normal power plug-in required
Comes with a 5-year warranty
Out of many other available heaters for RVs, this one is purely state-of-the-art. It's ceramic, with eleven different temperature options, three of which are completely silent. The heater is ideal for use at night because of its silent heat settings and automatic shutoff in case of overheating.
There aren't many safer heaters out there when we look at this particular product. If it's left on for too long, in addition to overheating, it will turn off. Plus, the exterior won't get hot like some other options, so it's perfectly safe to touch which makes it a user-friendly option!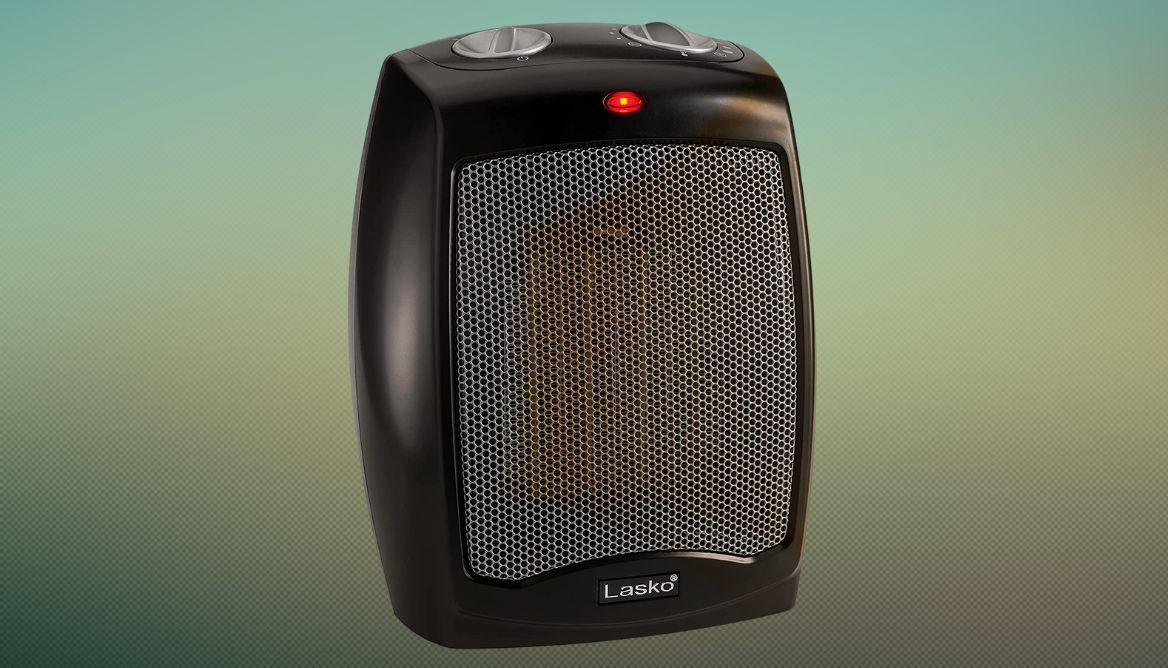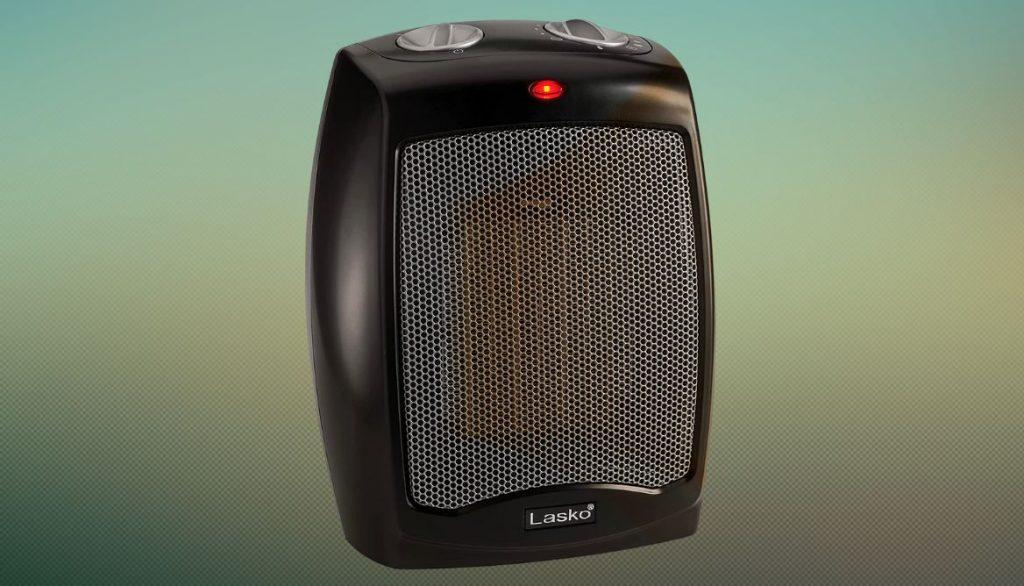 Pros
Lower risk
1,500 BTU output
3-Years of limited guarantee
Safer to touch from exterior
Easily assembled and requires no additional tools
This Mr. Heater model has the highest BTU output of any heater on the market at as high as 18,000. This is the heater to get if you have a large motorhome or trailer that you want to keep the RV warm in the winter or any other time of year.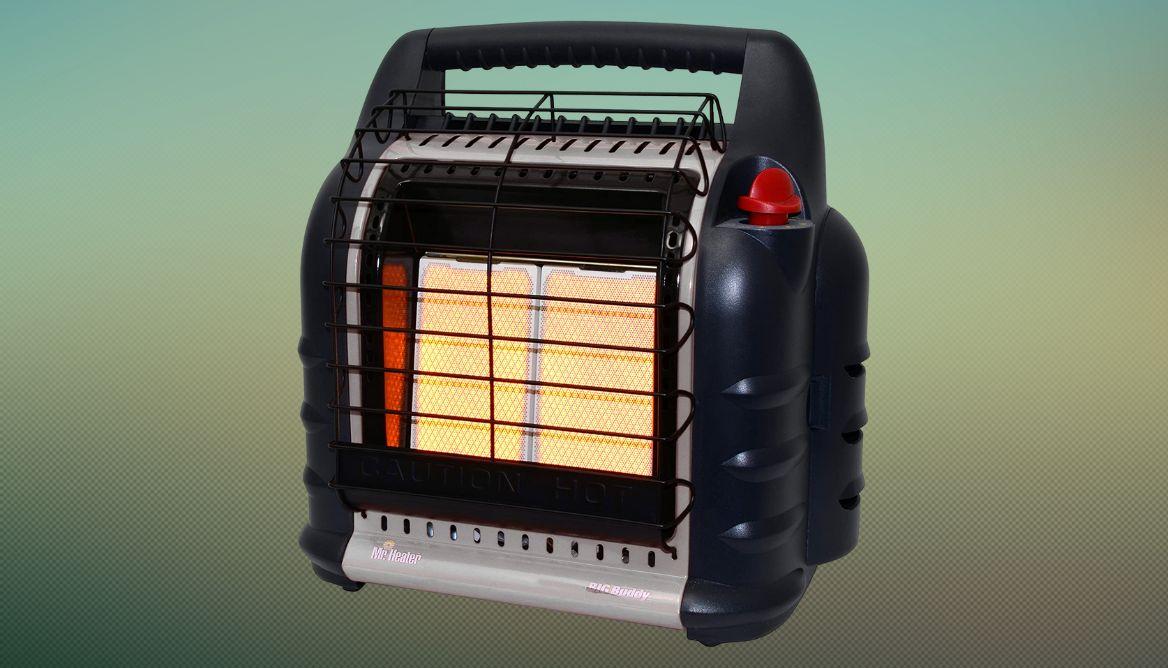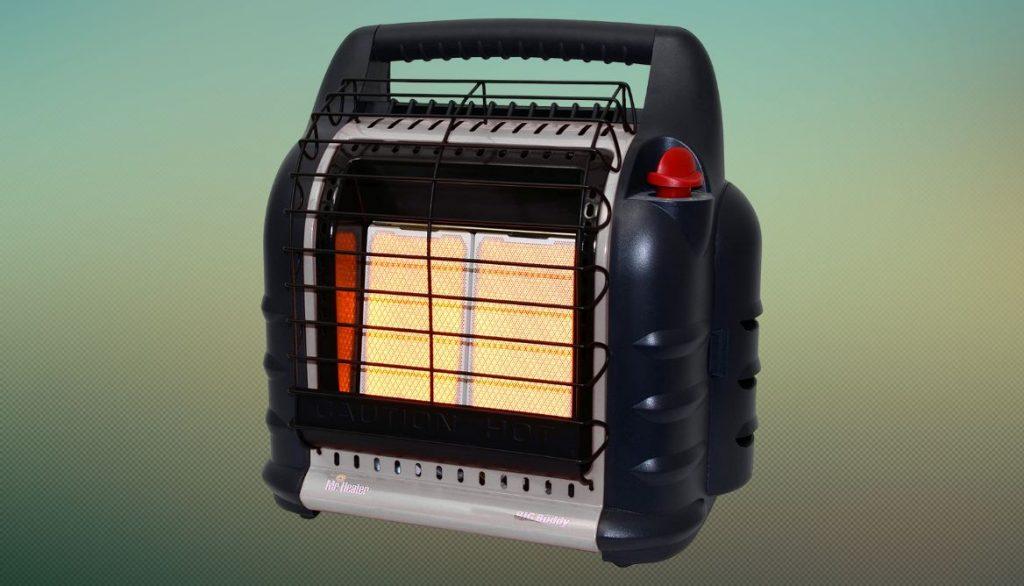 Here are some highlights of this heater.
The maximum area that can be heated by the heater is 450 square feet.
This heater offers three heat settings: 4,000 BTU, 9,000 BTU, and 18,000 BTU.
This heater model contains a tip-over sensor and an auto shut-off feature to keep you safe in case it slides over.
Pros
High-powered heater
The ergonomic carry handle makes it a breeze to transport.
A convenient storage cover
Features 3 different temperature/heat settings
Conveniently turns off by itself
Cons
Some parts get extra hot
Not suitable for overnight heating
Lasko's commitment to producing high-quality heaters makes this model a go-to option. The quality of construction and functionality of this heater are both outstanding.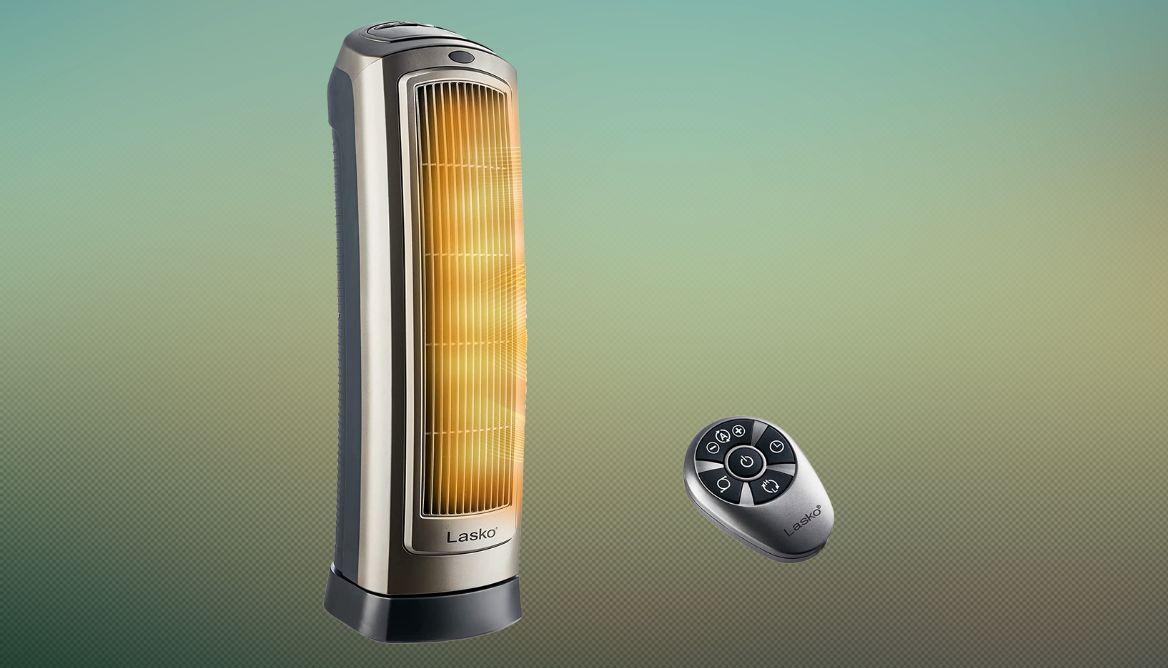 Let's check out what makes it different:
With its maximum output, it can be adjusted to one of two noiseless temperature/ heat settings.
Unlike the majority of heaters, this Lasko heater has a remote for simple operation. Its eight-hour timer is an exceptional feature.
Pros
Safer to use it
Overheating protected
Silent option heat settings features
Remotely controlled
Why Not Just Use the RV Furnace While Boondocking?
A propane furnace is often the preferred method of heating in recreational vehicles. Yes, they can effectively warm the room but the downside is that they consume a lot of propane due to the fan mechanism and the controls. They also tend to make quite a disturbance at times.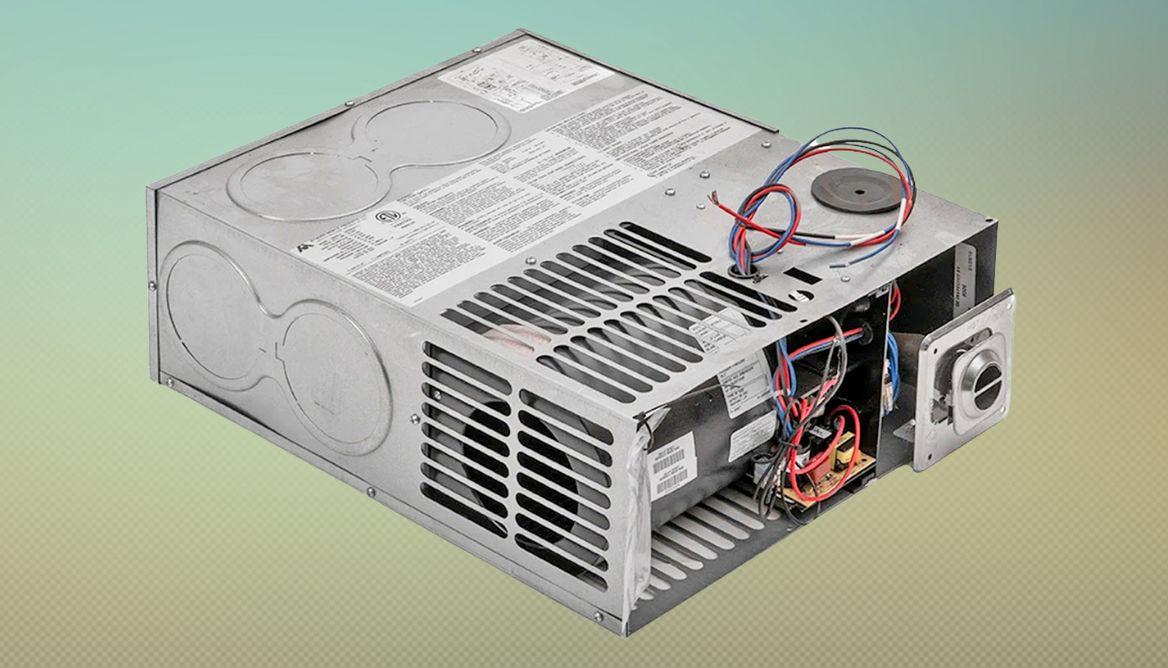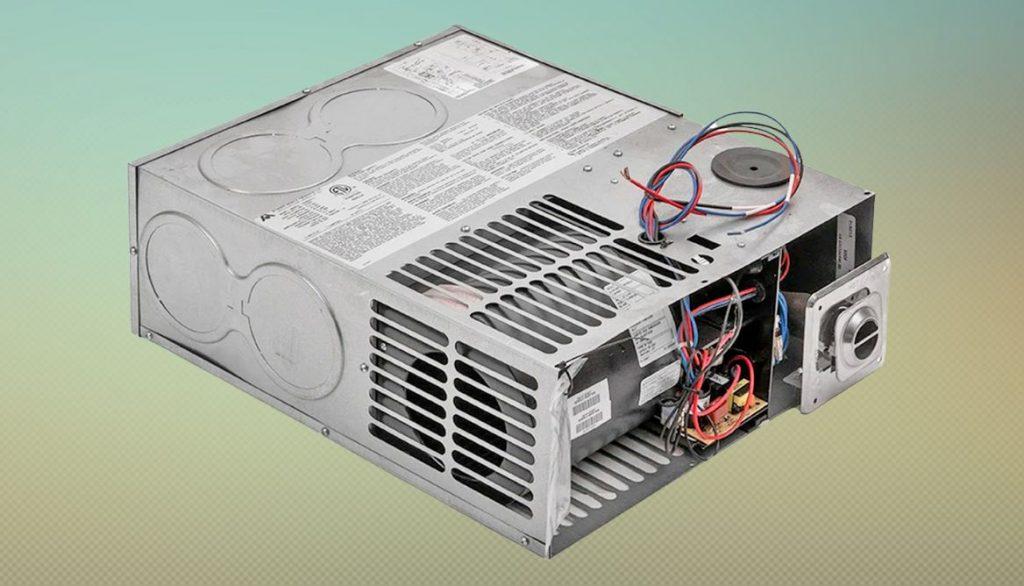 Note: The majority of the campers we know who use RV propane heaters do so only when necessary like when the best electric space heaters are not easily available.
In our experience as a regular boondocer, a few key features should be present in the ideal heater for boondocking.
Requires no electricity, not even 12 or 120 volts
Is completely fuel-efficient
A silent feature is available; as nobody enjoys listening rumbling heating system
Doesn't makes the RV stuffy with humidity
Can be relied upon to keep it running during the night
Best Heaters for Boondocking
When boondocking, or camping without hookups, it's important to choose a heater that is energy efficient and can run on the limited power supply of your RV or trailer. Some good options to consider include:
Radiant Ceramic Heaters
Radiant ceramic RV electric heaters utilize ceramic components to transmit heat into the RV. The infrared heaters emit radiation that warms the RV's contents and occupants. These radiant heaters offer a number of advantages, including: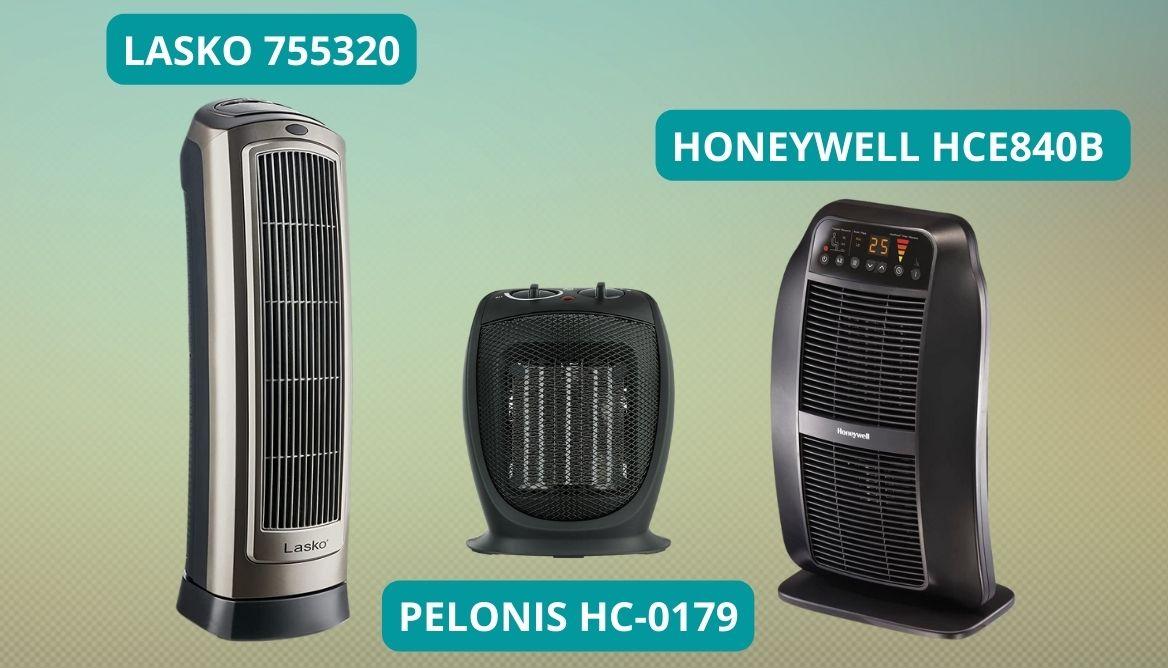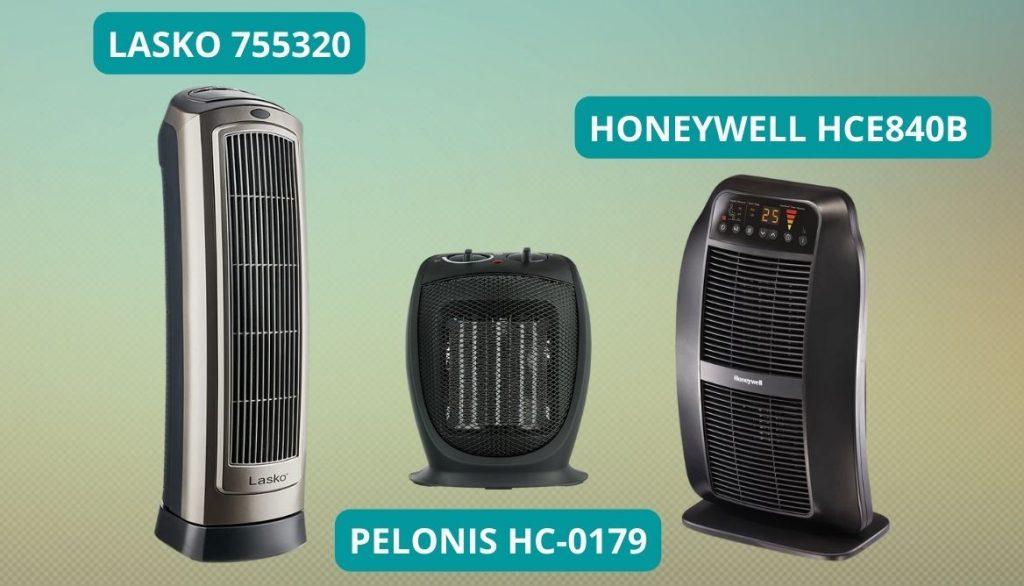 Effective and efficient in heating an RV
Easy to store and transport due to their small size
Less prone to malfunction due to the absence of moving components
Make hardly any noise and are usually silent
No toxic byproducts from their use
Popular radiant ceramic electric space heaters include the Lasko 755320 Ceramic Tower Heater, the Pelonis HC-0179 Ceramic Heater, and the Honeywell HCE840B Heat Bud Ceramic Portable Space Heater.
Things to Keep in Mind
It's important to keep in mind that radiant ceramic heaters are:
Best suited for medium to small RVs, and not for bigger ones.
Also, make sure there's enough ventilation in your van
That you're familiar with the manufacturer's instructions for the heating equipment you're using.
Catalytic Heaters
Catalytic heaters employ a catalytic converter to break down molecules of propane and oxygen, releasing heat. The infrared heater radiation they put off warms the RV's inside.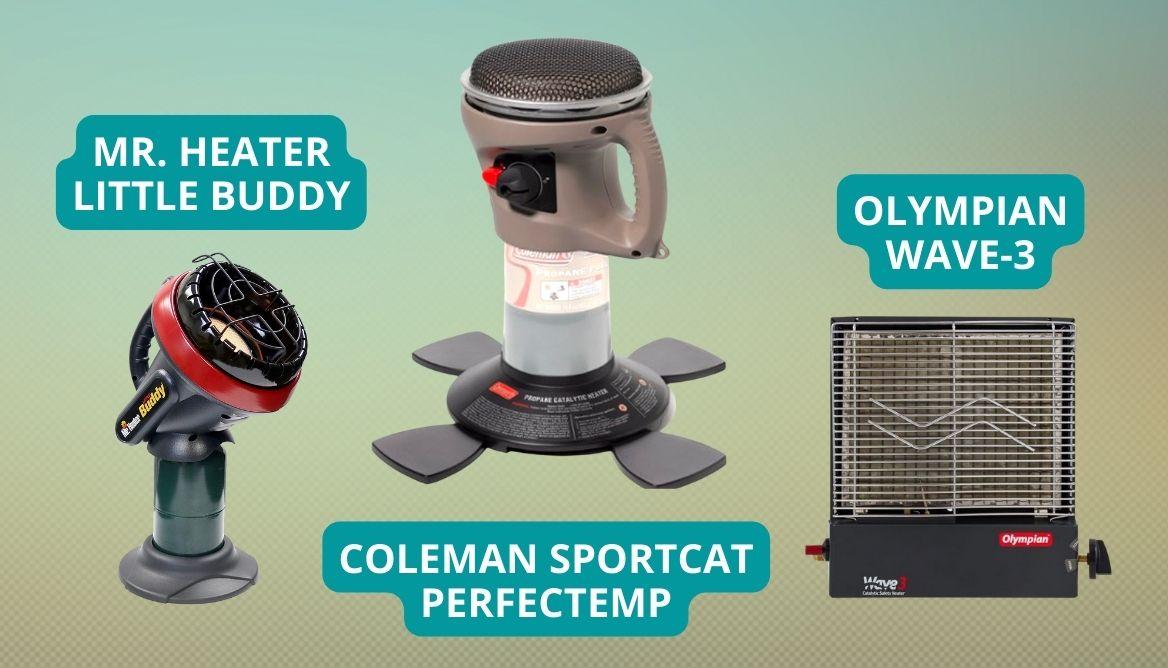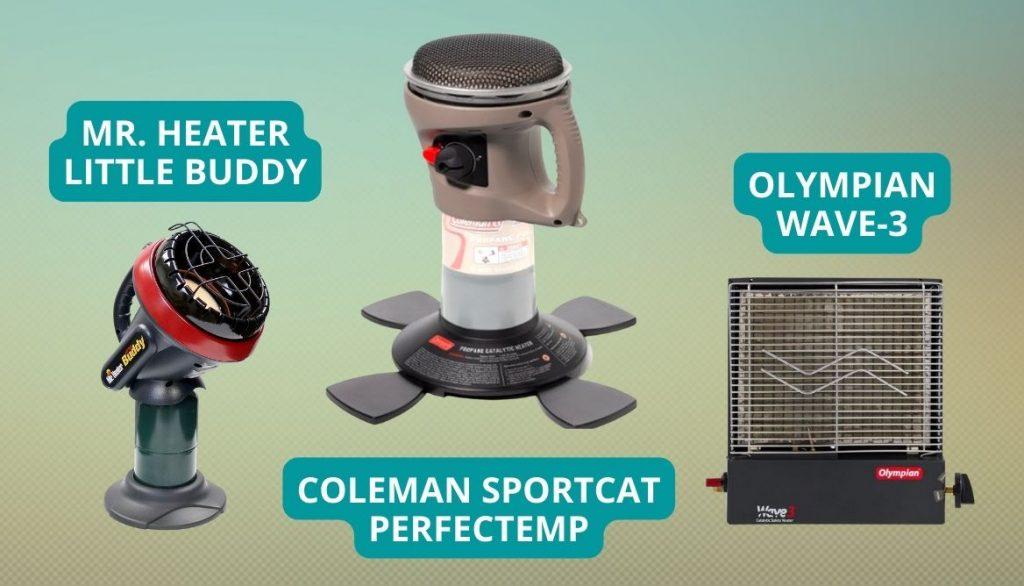 Catalytic heaters have several advantages:
More cost-effective than traditional propane heaters because of their low fuel use.
They don't emit many smells or pollutants
Handy for usage in closed environments like motorhomes, cabins, boats, etc.
The Olympian Wave-3, the Coleman SportCat PerfecTemp, and the Mr. Heater Little Buddy are just a few examples of well-liked catalytic heater types.
Ventilation
While catalytic heaters have a good reputation for being safe for indoor use, it's always essential to read the owner's manual and have enough ventilation before using any heating equipment.
Replacement
The catalytic converter should be replaced when it shows signs of deterioration and only the appropriate gasoline should be used.
Additional Considerations
Both ceramic and catalytic propane heaters are oxygen consumers that produce plenty of water vapor and maybe a little bit of carbon monoxide as waste products. Therefore, you must consider the following things: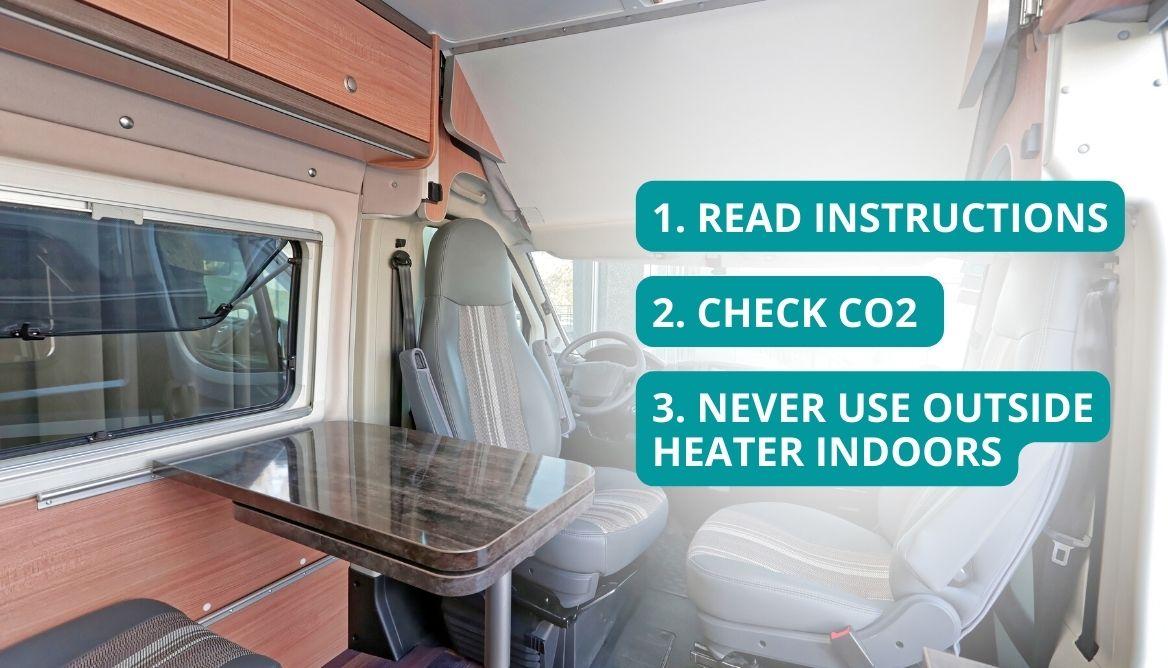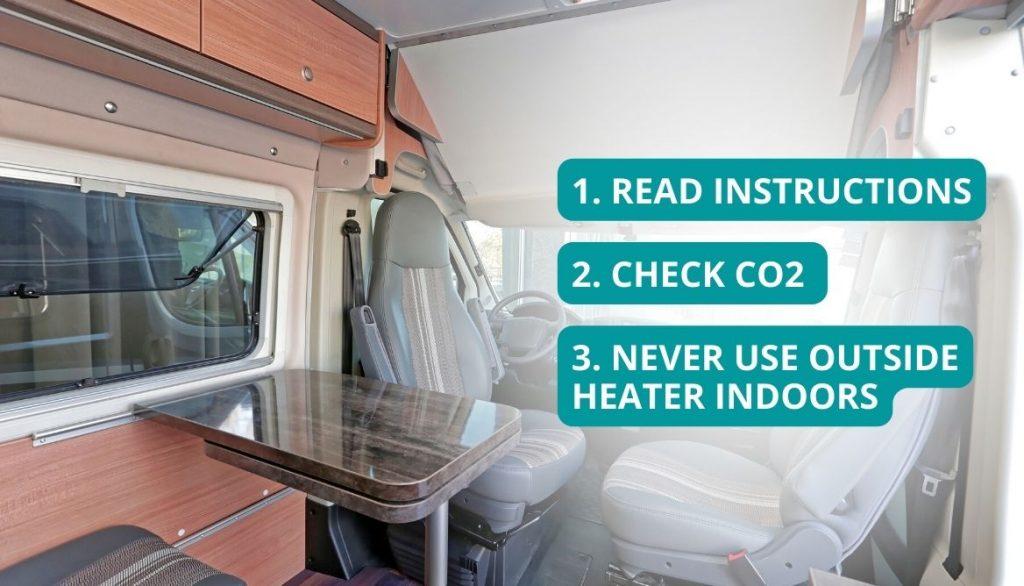 While using an interior heater, ALWAYS adhere to the manufacturer's guidelines and make sure there is enough ventilation by opening a window or two.
In addition, check the smoke alarm, LP detector, and CO2 detector to make sure they are all working properly before setting off in your RV.
Never transport an outside heater indoors!
Types Of RV Space Heaters
When it comes to a space heater, your major options are an RV electric heater and a propane heater, both of which are great alternatives to fixed installations like RV furnace. Find out everything about each type below!
Gas Heater/Propane Heater
A gas heater is one of the most popular choices for heating an RV's interior. These heaters provide warmth by combustion. A number of burners are enclosed within a combustion chamber in these heaters.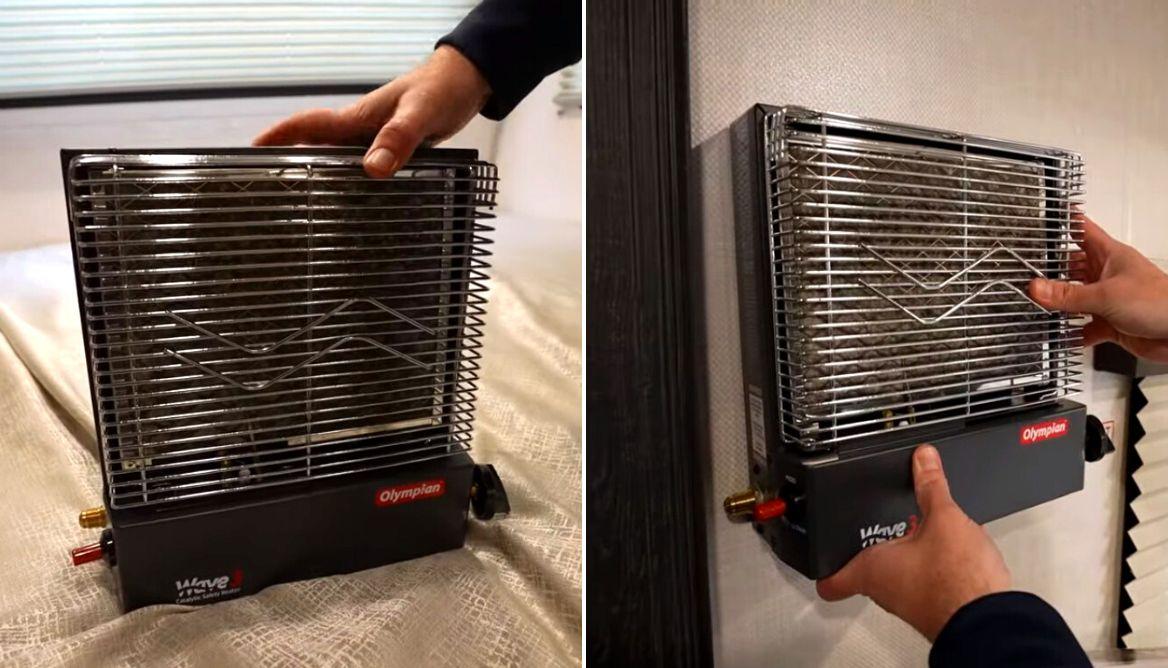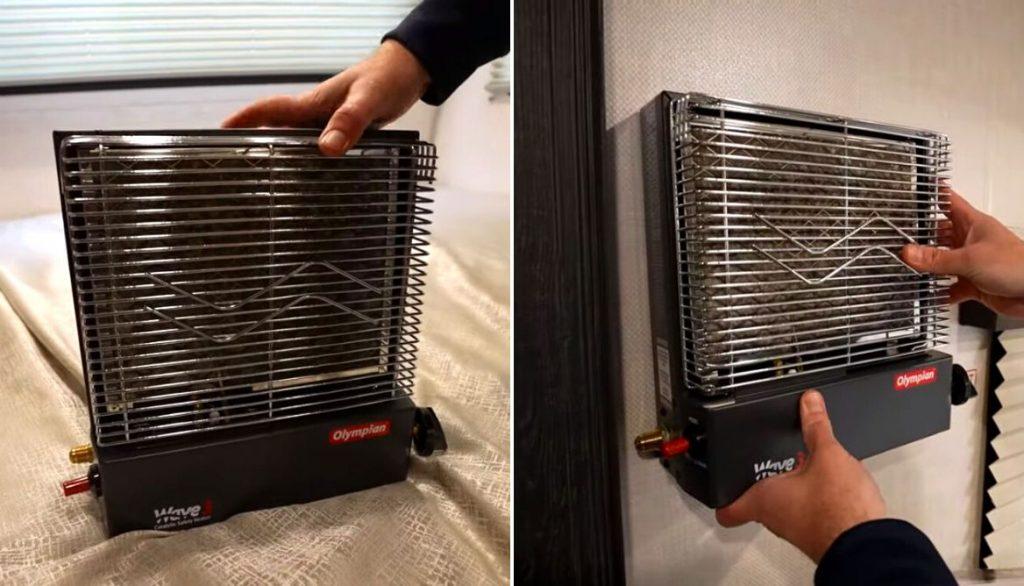 When lit, these burners turn on and generate heat which is sent to the heat exchanger. However, it is released after the set point is reached.
The temperature in your RV starts to increase because of this. One can choose between two distinct gas heater designs mainly identified as propane and natural gas. It's important to note that propane is a synthetic gas.
Unlike an electric heater or natural gas heaters, portable propane heaters don't release any toxic fumes into the air. Contrarily, natural gas contributes to global warming through its emissions.
Electric Heater
As an alternative, many campers opt for the best electric heater. The power is turned into heat by these heaters and then distributed throughout the RV. When electrical current flows through a resistor, heat is generated. Then, the heat is released via an outlet.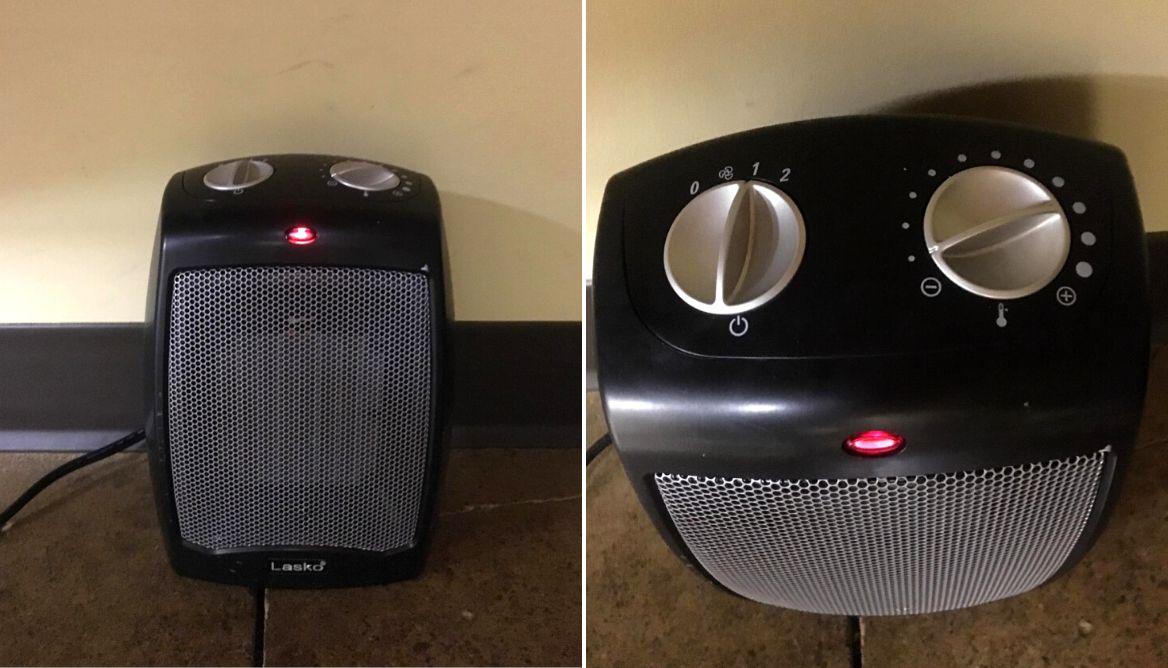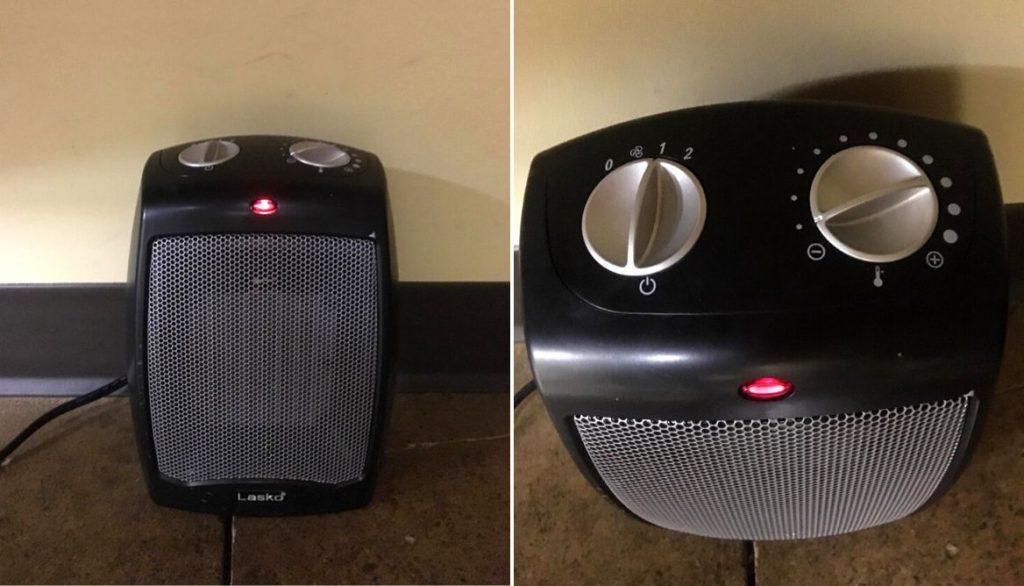 In contrast to gas heaters, electric heater don't emit any gases during functioning. However, there are instances when they need a fan's help to effectively distribute the heat.
Oil Furnace
The functioning of an oil furnace is identical to that of a gas heater. However, it has a reservoir inside of it that is filled with oil. The radiant heat is generated in this reservoir as a result of the burning of the oil, and it is subsequently distributed throughout the system via the vents.
Because an oil furnace does not emit CO while it is burning, using one is not only acceptable but also completely safe.
RV Space Heater Safety
You should get a good portable heater for your RV if you want to spend a lot of time inside during the winter. An RV person's primary worry while looking for the best electric RV space heaters is likely to be related to the device's safety features.
In fact, heating systems from a space heater is the second leading reason for residential fires after electrical short circuits, as per the National Fire Protection Association. Because of this, homeowners and RV owners alike are hesitant to put in a space heater.
Safety Guidelines
While it's true that heating systems provide a risk, the vast majority of recreational vehicle fires are not caused by them. No such issue will arise if we observe all safety precautions when utilizing a space heater in your RV.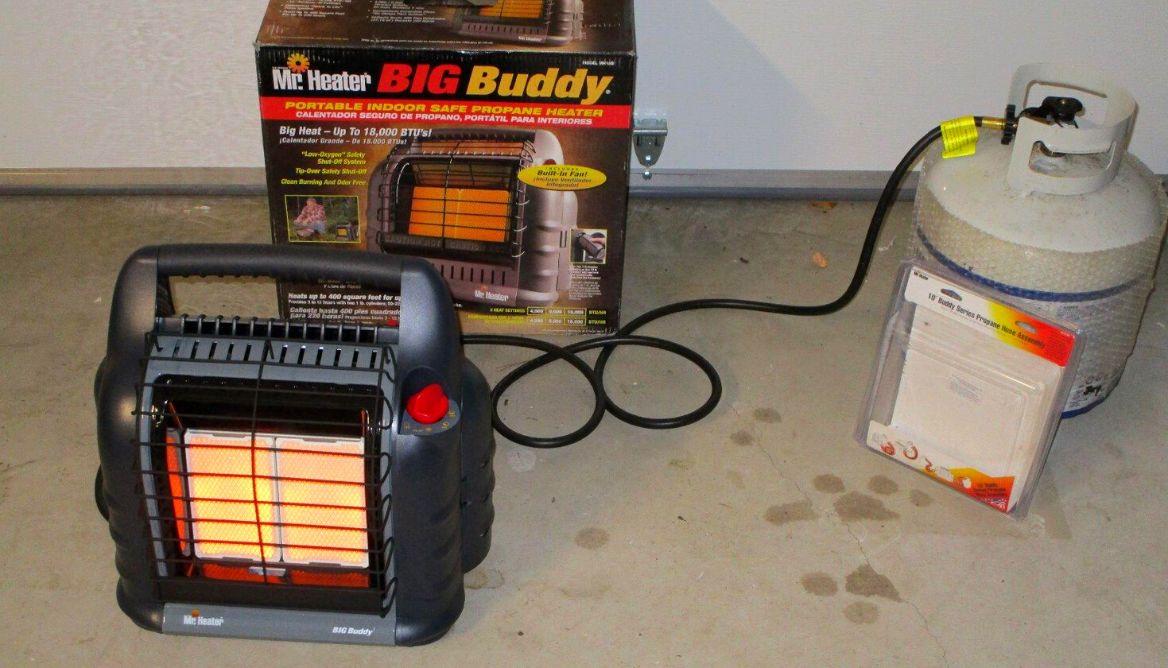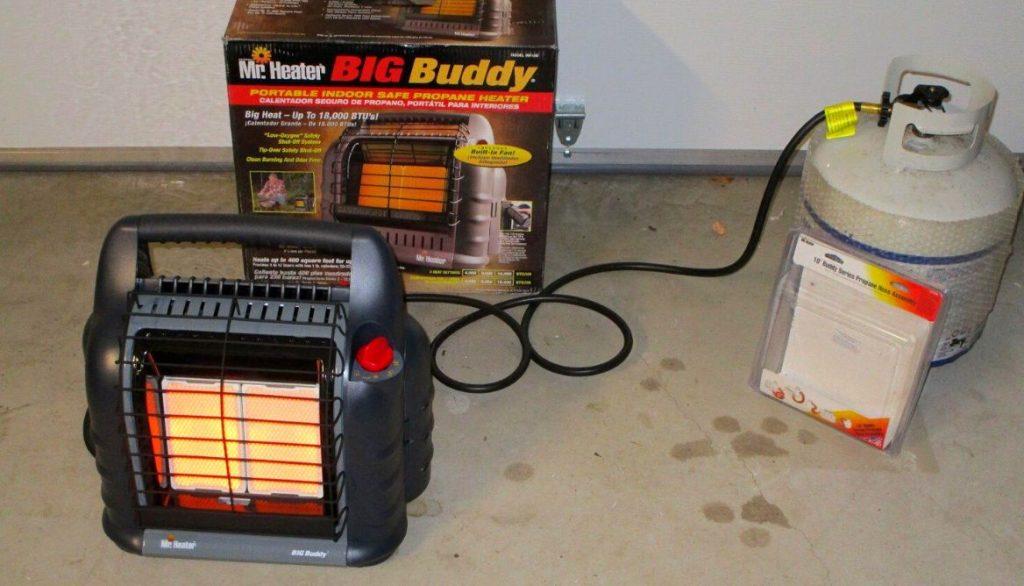 Here are a few tips to help keep you and your RV safe:
Only use RV-specific heaters. Because of the limited electricity available in an RV, these heaters are often smaller and more energy-efficient than those found in a regular home.
Examine the ventilation in your RV. Vents are a standard feature in many recreational vehicles; for optimal ventilation, it is essential to maintain these openings unobstructed at all times.
Never place the best electric heater near flammable materials. Any flammable items, such as drapes, beds, clothes, etc.
Heaters should be used only while the RV is occupied. Don't ever go to bed with a running heater or leave a space heater on while you're away.
The heater should be kept away from the couch and other furnishings.
Take all necessary measures and operate your heater in accordance with the manufacturers' safety instructions.
It's important to know how to use a fire extinguisher and to always have one ready.
CO2 detectors are essential; have one installed and change the batteries periodically.
By following these guidelines, you can ensure that you and your RV stay safe and warm during your camping trip.
How to Safely Use an RV Boondocking Heater
When it comes to heating the interior of your RV, you may use either a gas or electric heater. But proper and safe use is necessary to avoid potentially disastrous mishaps. Both propane and electric RV heaters pose risks if used improperly.
Important RV heater safety features & tips are as follows: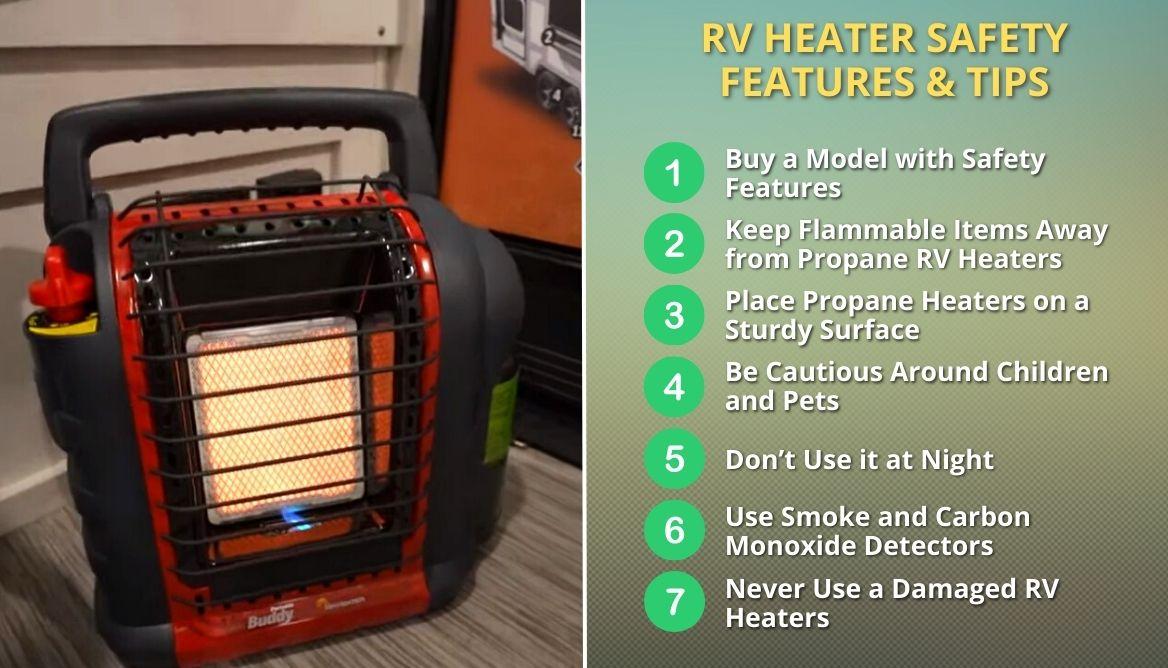 1. Buy a Model with Safety Features
The most reliable & best RV heaters include safety features already integrated into the equipment. The automatic shut-off switch for when it tips over is among the most crucial safety features portable electric heaters could have.
A pressure-sensing shut-off switch, an oxygen depletion sensor, and a high-limit shut-off switch are a few examples of other typical safety features.
2. Keep Flammable Items Away from Propane RV Heaters
Make sure that your heater is located a safe distance away from anything that might catch fire. Whether you have the best electric heater or RV propane heater, you must take care to ensure that it does not come into contact with any potentially harmful items, such as blankets, clothes, or any other.
3. Place Propane Heaters on a Sturdy Surface
Always make sure to position your electric RV heater on a level, secure surface to minimize the risk of it toppling over. Also, your space heater should never be used when the vehicle is moving in any way.
4. Be Cautious Around Children and Pets
Keep an eye on your children and pets at all times when the propane RV space heater is on. This decreases the likelihood that the heater may be knocked over while it is being operated.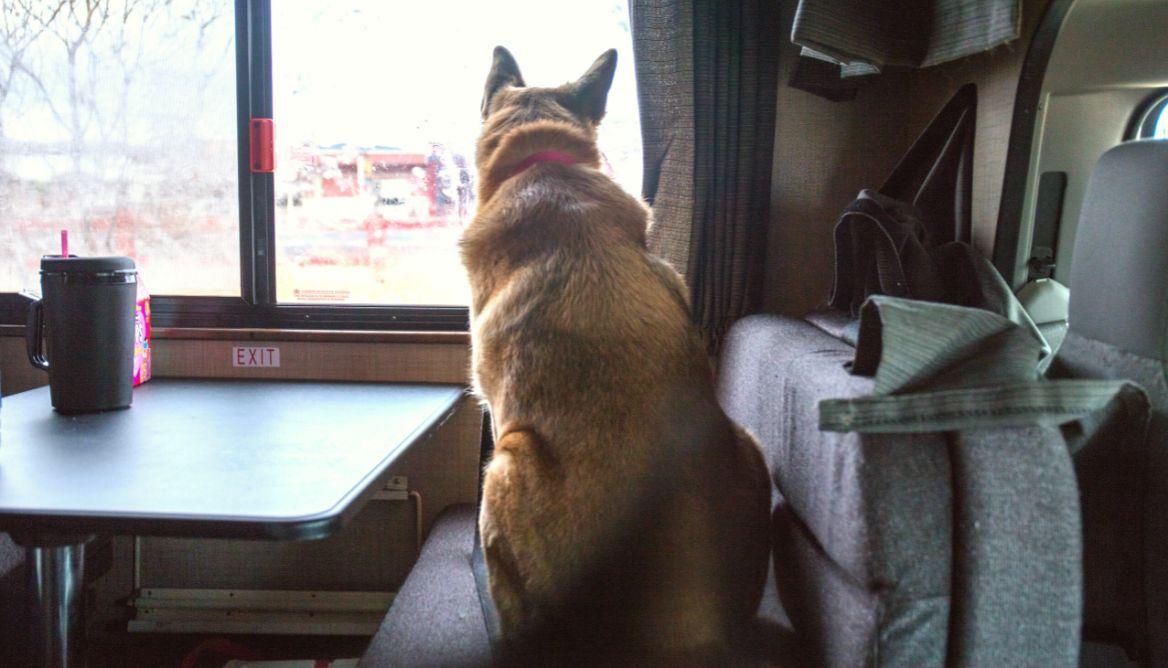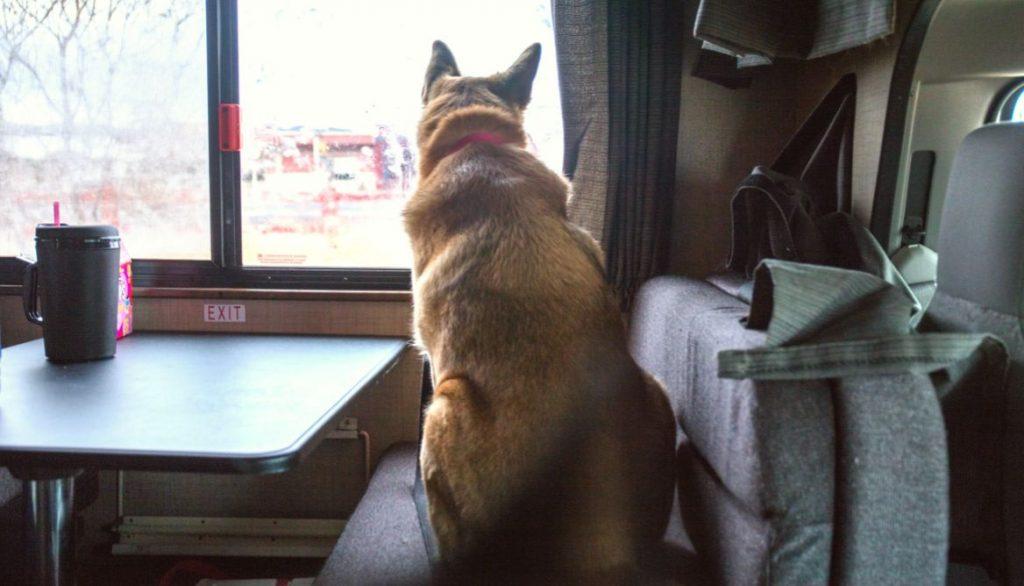 In addition to this, if it gets knocked over, you will be able to pick it up more quickly.
5. Don't Use it at Night
Space heater in recreational vehicles should not be used when sleeping due to the fire risk they provide. When utilizing any heating equipment, it is critical to ensure that it is in correct working order and has been maintained in accordance with the manufacturer's guidelines.
There should also be sufficient space in the area where the heater is being used, and functional detectors should be installed throughout the RV. To be on the safe side, only use a heating appliance while someone is awake and able to keep an eye on it.
6. Use Smoke and Carbon Monoxide Detectors
Keep the smoke detectors and the carbon monoxide detectors in your RV in working order at all times. When it comes to maintaining your safety when using a heater in your RV, these accessories are absolutely essential. Be sure to check the detectors' batteries and test them on a regular basis.
7. Never Use a Damaged RV Heaters
It is preferable to spend the night in the freezing cold rather than take the chance of starting a fire. A damaged electric heater, particularly one with shredded cables, has a high probability of starting a fire.
Never turn on an electric RV heater that has even the slightest sign of damage. The first option is to either purchase a new electric heater model or have the broken one repaired.
FAQ
Why do they call it Boondocking?
Camping in uninhabited mountainous regions is known as "boondocking," a phrase assumed to have been derived from the Tagalog word "bundok," which means "mountain." The word is commonly used to describe RV camping since recreational vehicles (RVs) are completely self-contained and don't require any sort of infrastructure to function.
What is the most efficient heater for RV?
There are countless best RV heaters but a few of the top-rated infrared heater models include Camco 57351 Olympian Wave, Mr. Heater F232000 MH9BX Buddy, Caframo Limited, Lasko Ceramic Model CD09250 Heater, Mr. Heater 2F274830, and Lasko 755320 Ceramic Space Heater.
What type of RV is best for Boondocking?
One of the maximum sleeping capacities may be found in small class C RVs. Class C rigs also often have more powerful batteries and larger storage tanks than smaller trailers.
Can I leave my RV tank heater on all the time?
Whether parked at home or on the road, it's perfectly safe to leave your electric heater on in your RV at all times. Of course, there are drawbacks, such as the expense and negative effects on the environment caused by gasoline usage, but nobody should worry about the situation's safety.
How can I heat my camper without electricity?
There are several ways to heat a camper without electricity, some of the most common methods include: insulation, propane heater, wood-burning stove, solar heater, and portable heater.
Conclusion
Now that you are familiar with our top picks for the best heater for RV boondocking, it will be easy for you to select the most cost-effective option that serves the heating purpose for you.
So, what methods do you follow to keep your RV cozy at all times? Do you currently own any gas, furnace, or portable heater?
If yes, then what are your experiences regarding that? Please share with us in the comment section below. Let us know if you need any further information regarding these heaters!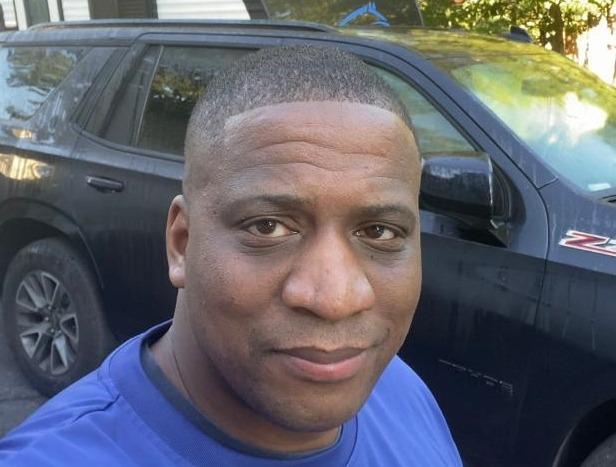 I`m a current Law Enforcement Officer working within the Counterterrorism Bureau in New York State. I have been Camping for over 20 years. My styles of camping include tent, car, truck, van, and RV travel trailer. I have a YouTube channel where I teach all types of camping with an entertaining method: https://youtube.com/@TheSmallsRVAdventures