Pop-Up Camper with Slide Out: Top 7 Campers with Slide Outs Reviewed
Are you tired of cramped quarters and limited space in your pop-up camper? Look no further than a pop-up camper with slide out. These campers offer added square footage and increased comfort for your camping trips.
In this article, we will review the top 7 campers with slide-outs on the market and things to keep in mind when buying a used camper. Say goodbye to the struggles of limited space and cramped sleeping arrangements, and a warm hello to the luxury of a slide-out pop-up camper. Let's get started!
Quick Overview
| | | | |
| --- | --- | --- | --- |
| | FOREST RIVER ROCKWOOD HW296 | | FOREST RIVER ROCKWOOD 2280 BHESP |
| | | | |
| | Pop-up Camper with dinette slide-out | | Pop-up Camper with a bathroom |
| | | | |
| | | | |
| | | | |
| | | | |
| | | | |
| | | | |
| | | | |
| | | | |
| | | | |
Top Popup Campers with Slide-Outs Reviewed
Over the years, campers have seen a massive transformation. Now, you can even get one with slide-outs and a bathroom as well. Having a bathroom in your camper is very convenient when you're in the wilderness. Similarly, a slideout provides you with extra storage and sleeping space.
Here are some of the best pop-up campers:
1. Forest River Rockwood HW296
The HW296 is one of the most versatile and popular campers with a slide-out. This camper is really great because it can accommodate your whole family. It has sleeping space for 7 people which makes it great for groups/families.
| | |
| --- | --- |
| | Pop-up Camper with dinette slide-out |
| | |
| | |
| | |
| | |
| | |
| | |
| | |
| | |
| | |
There is more than enough storage space in this Forest River camper that you can use to store all essential items. Check out its great options:
There are two tent-end beds in the HW296 which make it an excellent choice if you care about comfort.
This pop-up camper has a sofa and a table.
You get more camping space and there is a full-size shower as well.
It also comes with a three-burner stove so cooking isn't a problem.
Pros
The camper has a very intuitive design
The comfort is top notch
The full-size shower is a big plus
The sleeping space is quite big
Storage capacity is also large
Cons
It comes at a hefty price tag
2. 2022 Aliner LXE Sofa Bed
If you are looking for a pop-up camper that does well on the road then the Aliner LXE can be a great choice for you. It features good interior space. The best thing about this camper is that it has both a shower and a toilet built in.
It has really good features and benefits:
Microwave, fan, refrigerator, and solar pot.
You can easily get things done inside this compact camper.
All of the camping essentials are present here like cooking your own food, as it comes with a burner and oven as well.
The Aliner LXE offers good ventilation and it is a good choice if you are looking for a pop-up camper.
Pros
It is a very compact camper
The ventilation is really good
It is easy to tow
The shower/Toilet combo is really good
Provides a good space/facilities for cooking
The design is also robust
Cons
There should be more sleeping space
3. Forest River Rockwood 2280 BHESP
The Forest River 2280 BHESP is a feature-packed premium pop-up camper. This camper can easily accommodate a lot of people as there is more sleeping space here than regular campers.
| | |
| --- | --- |
| | Pop-up Camper with a bathroom |
| | |
| | |
| | |
| | |
| | |
| | |
| | |
| | |
| | |
The Forest River Rockwood features:
There are two tent end beds present that allow for increased interior space.
The Forest River 2280 BHESP Forest with a hot water package and above all, you can also get an additional shower as well.
With its two tent end beds, cabinet doors, and front deck storage, this Forest River camper is easily one of the best choices for campers.
Pros
It provides excellent convenience and comfort
There is ample room for storage
The build quality is superb
It has really great safety features like smoke detectors and a fire extinguisher
Designed really well with good ventilation
Cons
Some owners reported clearance problems
4. Trailmanor 2922KB
If you have a large family or a big friend group then the Trailmanor 2922KB is the best choice for you. It has all of the standard features that are present in the base model but with the extra touch of comfort and convenience.
| | |
| --- | --- |
| | Pop-up Camper with a bathroom |
| | |
| | |
| | |
| | |
| | |
| | |
| | |
| | |
| | |
| | |
Trailmanor has the following benefits:
There are double-size and king-size beds
It has a full bathroom
It comes with a really good durable construction and can easily withstand rough weather conditions.
There is a three-burner stove present that you can use to cook your favorite dishes.
Overall, it is one of the best pop-up campers that don't compromise on comfort and features.
Pros
It has a solid build quality and an intuitive design
There is a lot of sleeping space for up to 6 people
A three-way fridge is a great addition
Easily prepare food with the included burner
Cons
Towing this pop-up camper is really difficult due to its large size
5. Coachmen Clipper 125ST
The Coachmen Clipper 125ST provides you with all of the features that you expect from a fully decked-out camper. The thing that makes it one of the best pop-up campers is its large interior space, extra sleeping space, and plentiful storage area.
| | |
| --- | --- |
| | Pop-up Camper with a bathroom |
| | |
| | |
| | |
| | |
| | |
| | |
| | |
| | |
| | |
Coachmen Clipper provides next features:
You can use the three storage cabinets for storing all of the essential things.
There is additional space present beneath the dinette seats.
This slide-out camper comes with a big bathroom
Also has additional stuff like a sofa, stove, and sink
Pros
It is really spacious on the inside
Large sleeping space with king-size beds
The storage area is pretty massive with three cabinets
It has an intuitive and clever design
It is easy to tow
6. Air Opus OP4
The Air Opus OP4 is a pop-up camper that comes with all the latest bells and whistles. It has plenty of space for up to 4 people and you can sleep comfortably on the two double beds. There is a kitchen area with a sink. The ceiling is quite high so you don't feel cramped inside.
| | |
| --- | --- |
| | Pop-up Camper with a kitchen slide-out |
| | |
| | |
| | |
| | |
| | |
| | |
| | |
| | |
| | |
Look out for great Air Opus benefits:
Large windows and a skylight provides ample light inside the camper.
With its off-road tires, you can take the Air Opus OP4 anywhere you want.
The chassis is also all-terrain so it can handle any type of rough situation.
Setting up this camper is really easy and can be done within 90 secs.
The Air Opus is also really easy to tow.
Pros
It is designed really well with a high ceiling
Plenty of indoor lighting due to the large windows and skylight
The double beds are really comfortable
You can easily cook your meals in the kitchen area
It can easily handle any type of weather and terrain
7. Forest River Rockwood Premier 2716G
If you are looking for the ultimate outdoor experience then it doesn't get much better than the Forest River Rockwood Premier 2716G. You get a shower and a cassette toilet here that you can use to freshen up after a long time outside.
| | |
| --- | --- |
| | Pop-up camper with a dinette slide-out |
| | |
| | |
| | |
| | |
| | |
| | |
| | |
| | |
| | |
The main highlight of this forest river camper is its power lift system. Using it, you can easily set up the camper in any area. Check its features:
The power lift system is a real standout as it cut downs the set-up time to a few minutes.
This Forest River camper contains scissor pole beds that provide really good support.
It is really a comfy camper and also has plenty of sleeping space as well.
The Forest River Premier 2716G is definitely one of the best premium outdoor pop-up campers.
Pros
It has a very roomy interior
It is really well insulated
Power Lift System makes it easier to set up
It provides a large and comfortable sleeping area
Pop Up Camper with Slide Out
A pop-up camper with slide-out is an RV that combines the compact design of a pop-up camper with the convenience of a slide-out. The slide-outs are generally present on the side of the camper and can be extended for additional living space. Due to such a design, you get more room to move around and get more storage room.
With an intuitive design, a pop-up camper with a slide-out is best suited for family camping. You basically enjoy as tent campers do but through the safety of the camper.
Why Choose Popup Campers?
There are a lot of reasons that can lead to choosing a pop-up camper. Some of those reasons are:
Affordability: Pop-up campers are generally less expensive than large RVs.
Maneuverability: This is a key feature of pop-up campers as they are generally lightweight and it is easier to tow them.
Versatile: You can use pop-up campers for a variety of different reasons such as hunting, camping, or any other outdoor trips.
Easy Set-up: Small pop-up campers are easy to set up and take down. It just takes a few minutes.
Large Storage Room: Even the small pop campers contain a good amount of storage area where you can store essential things.
Determining Camper Size for Towing
Determining the camper size for towing depends upon factors like towing capacity of the vehicle and the weight of the camper, etc. The tow rating of every vehicle is mentioned in the manual.
Furthermore, if there are a lot of things present in the camper then make sure your vehicle is able to tow the camper safely. If you have a small vehicle, then you can go with a small pop-up camper that your vehicle is able to tow without any issues.
The Pros and Cons of a Pop-up Camper with Slide-out
Pop-Up camper with Slide-out has the following pros and cons:
Pros
Due to the collapsable nature of slide-out small pop-up campers, you can easily fit them in tight parking spaces
They have plenty of room for storing things
You can cook food and sleep in them
You can easily maneuver them and they are also easier to tow
These are more affordable than large RVs
Leaking is one of the most common and troublesome issues with pop-ups with slide-outs
It is hard to maintain pop-ups with a slide-out
Pop-campers with a slide-out are more expensive than traditional campers
Things to Consider When Buying a Used Pop-Up Camper with Slide-Out?
If you are on a tight budget and looking for a used popup camper with a slide-out, then you should keep the following things in mind: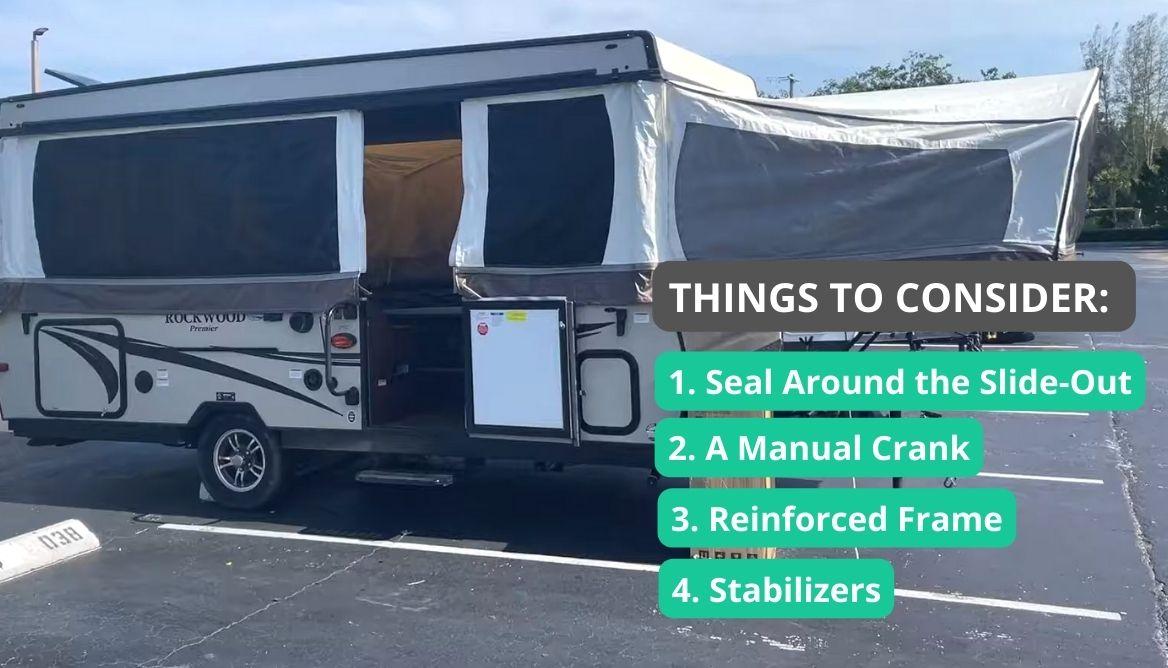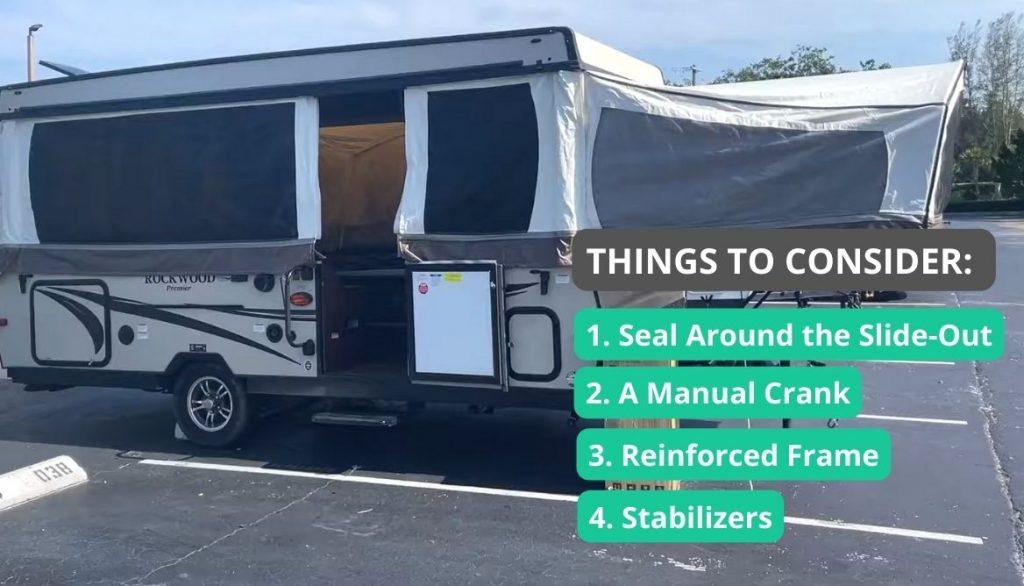 1. Seal Around the Slide-Out
A slide-out is a very vulnerable part and can easily develop leaks. There is a tight rubber seal present on the lip of the slide-out. Make sure to check the seal and its condition. If the seal is old then it is not going to last for long.
2. Reinforced Frame
You should avoid all the campers with a rusted slide-out frame. When the slide-out is extended a lot of force is exerted on the camper. It is best to choose one with a reinforced frame.
3. A Manual Crank
Nowadays, every camper has a motor. It is easier to start but it can also fail as well. That is why it is best to choose a camper that has a backup manual crank.
4. Stabilizers
You don't get stabilizers in a new pop-up camper but an old one might have them. Stabilizers are good because they can help in supporting the weight of the slide-out. But there is also a downside as the stabilizers can cause the slide-outs to bend or crack due to extreme pressure. So, purchase it according to your needs.
Slide-Out Camper Van Maintenance
Maintaining a slideout camper can be a bit of a struggle if you are taking regular care then it should be that difficult. You should check the following things:
Check the slide-out seals and if they are brittle, use some seal protectant.
Lubricate the slide-outs so that it is able to move quicker and smoother. Make sure to use lubricant made for slide-outs for the best effect.
If the alignment of the slide-outs is not in place then take help from a professional. Don't try to do it yourself as you might make it worse.
Rent/Buy Popup Campers with No Credit
No Credit Campers is a service that allows you to buy or rent a camper if you have no credit. It is available in 46 states in the USA and offers financing and loans for buying an RV or a camper. In order to qualify for the financing, you need the following:
18 years of age
Permanent US resident
A bank account
Steady source of income
Visit nocreditcampers.com and apply for a loan.
FAQ
Do pop-up campers have slideouts?
Yes, pop-up campers do have slideouts that you can extend or contract depending on your need.
What is the smallest camper with a slide-out?
There are different small campers with a slide-out. Some are as short as 6-8 ft in length.
What are the disadvantages of a pop-up camper?
Some of the disadvantages of pop-up campers are difficulty in towing, easy wear and tear, leaking, and hard maintenance.
Is it worth buying a pop-up camper?
Some of the disadvantages of pop-up campers are difficulty in towing, easy wear and tear, leaking, and hard maintenance.
How long do pop-up campers last?
A well-maintained camper can last up to 15 years. It basically depends upon the level of maintenance and how much you actually use it.
Is a pop-up camper better than a tent?
It really depends upon your needs. But if you can spend some extra money then a pop-up camper is definitely a better buy than a tent. It provides enhanced weather protection, extra comfort, privacy, and convenience.
Conclusion
Pop-up campers with slide out offer really great comfort, convenience, and compactness without sacrificing living space. All of the campers that we've reviewed are some of the best in the market but our personal favorite is Forest River Rockwood. It has a large capacity of up to 7 people, 20 gallons of water storage, and a three-burner stove.
What factors do you consider most important when choosing a pop-up camper with a slideout? Tell us your thoughts in the comments.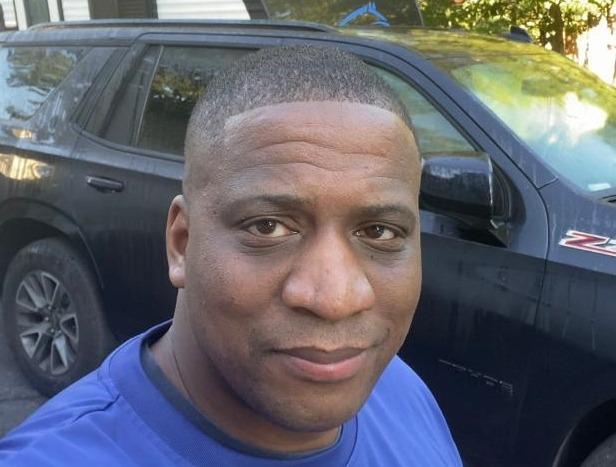 I`m a current Law Enforcement Officer working within the Counterterrorism Bureau in New York State. I have been Camping for over 20 years. My styles of camping include tent, car, truck, van, and RV travel trailer. I have a YouTube channel where I teach all types of camping with an entertaining method: https://youtube.com/@TheSmallsRVAdventures