Wiring Fleetwood RV Electrical Schematic: 5 Things You Should Know!
Modifying the wiring of your RV and its accessories is a straightforward process when you have access to a Wiring Fleetwood RV Electrical Schematic. Even if you are taking the appropriate precautions, it is important to note that there are still inherent risks involved such as electric malfunctioning, battery discharge, electrical leaks, and fire breakout.
This article covers the 5 basics of Fleetwood motorhome wiring diagram, 2 ways to connect it, and lastly 5 wiring diagram tips to help to learn better.
Let's roll in for a better understanding!
A Sneak Peek Into Wiring Fleetwood RV Electrical Schematic
RV electrical schematic diagram for this type of RV can be found in various locations. It's important to note that there are many different Fleetwood models, floor plans, and electrical configurations available.
To learn more about this topic and obtain your wiring schematics, continue reading!
Fleetwood RV Wiring Diagram – Explained in Detail!
Wiring Fleetwood RV electrical schematic is a visual representation of the physical wires in your RV. Manufacturers, including Fleetwood, create and publish these wiring diagrams to assist electricians in understanding how different wires connect.
For Assisting Professionals
You can assist professionals by obtaining the appropriate Fleetwood motorhome or travel trailer wiring draft for your basic Fleetwood model and printing it out.
It's important to note that not all Fleetwood models are covered by the straightforward wiring drafts provided and further research may be necessary to find the appropriate size and model with an abstract drawing.
The Basics of Wiring Schematic
To power all of the RV's appliances and systems, Fleetwood RVs feature elaborate electrical infrastructures. Some of the fundamentals of Fleetwood RV electric wiring are outlined here.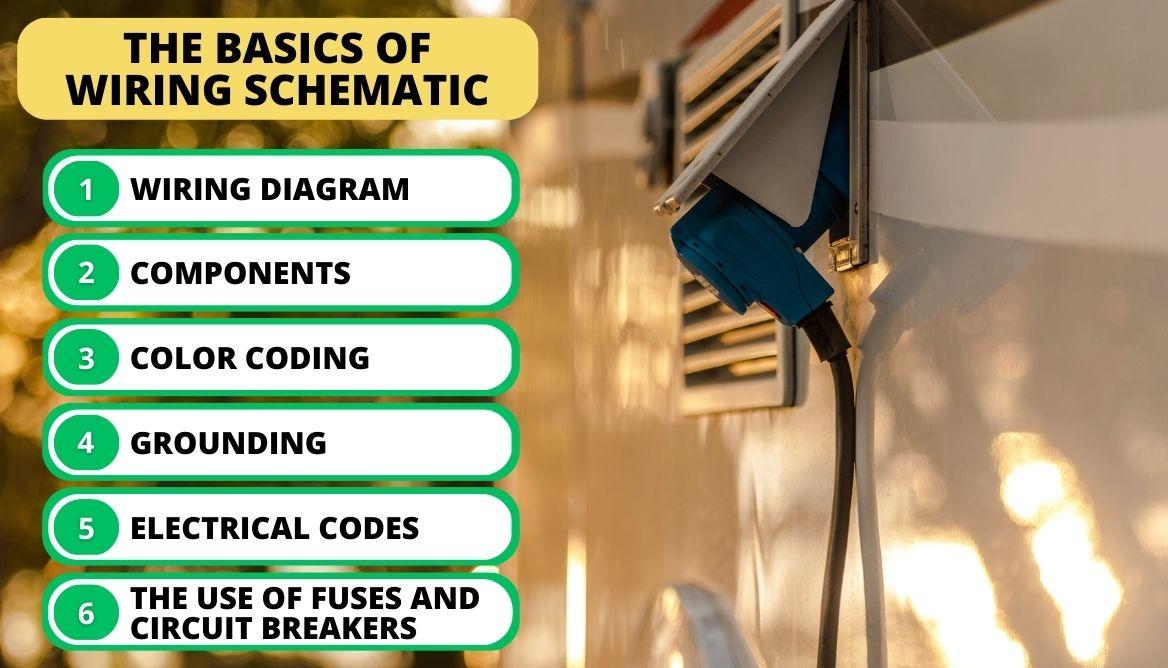 1. Wiring Diagram
Here you will discover schematic wiring samples that showcase the physical connections between components found in a Fleetwood RV. These illustrations portray both the engine and chassis electrical system, the electrical layouts of the home portion of the vehicle, as well as other schemes.
2. Components
The following components are very helpful to understand before working on your RV:
| | |
| --- | --- |
| | |
| | To wire all 12v devices to fuse panel |
| | Connects 14AWG wires to 12v fuse panel |
| | Connects 14 AWG wire to each 12v device |
| | Fuses to protect each 12v device in fuse panel |
| | |
| | Perfect, low-energy lights for our camper van |
| | Charge phones and other 12v devices |
These are all examples of components that will be represented on the wiring diagram.
3. Color Coding
Check the codes for different below:
Differentiating cables and circuits using color is a common feature of Fleetwood RV wiring schematics. Having this knowledge makes it less difficult to figure out what's wrong with the RV's electricity and fix it.
4. Grounding
The RV's electrical system cannot function properly or safely without being properly grounded. The electrical system's grounding points and their connections to other RV parts will be marked on the wiring schematic.
5. Electrical Codes
Fleetwood RVs can run easily on 240V AC power. In this arrangement:
Black is for L1
Red for L2
White for common
Green for ground wires
Leg 1 (L1) and Leg 2 (L2) are "HOT" (above ground) wires that supply 240VAC. At the electrical pedestal, the neutral is normally connected to the ground. The breaker panel is the typical last destination for 240VAC before it is divided into 120V circuits.
Washing machines, dryers, and air conditioners in high-end recreational vehicles may require 240V AC power, although this is not always the case.
6. The Use of Fuses and Circuit Breakers
Protecting the electrical system against overloads and short circuits is the job of fuses and circuit breakers. Amperage ratings and fuse/circuit breaker locations may be seen on the wiring schematic.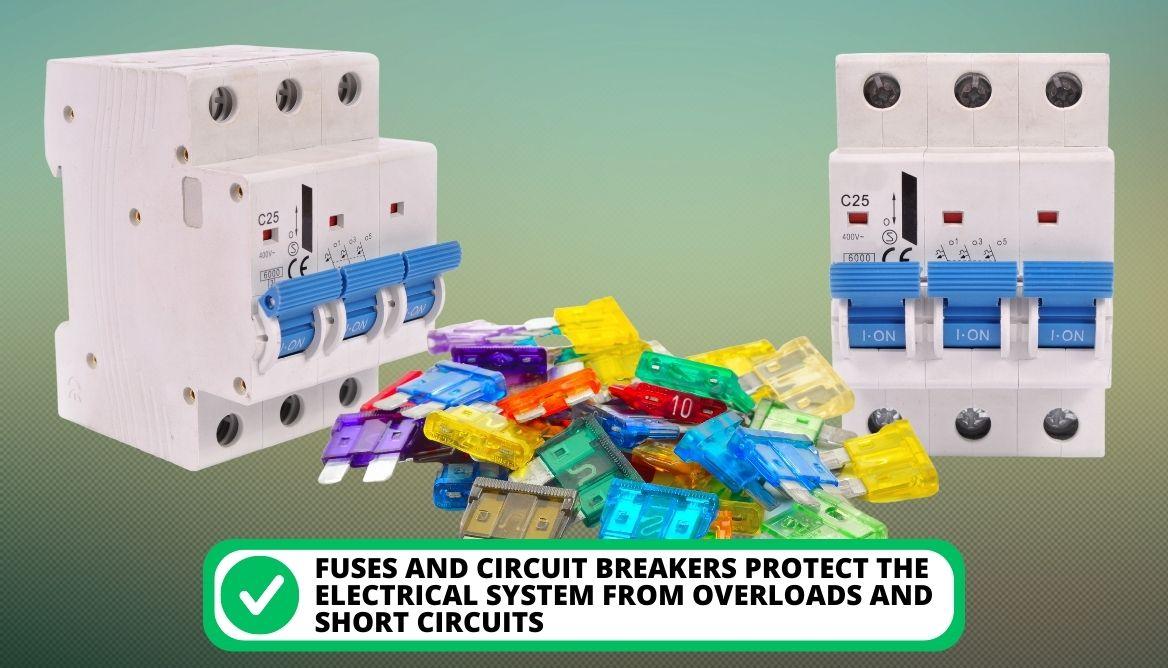 Ultimately, every Fleetwood motorhome owner or repairman must be familiar with the RV's electrical wiring diagram. It facilitates efficient and risk-free electrical system change, troubleshooting, and repair.
2 Professional Ways of Wiring Fleetwood Diagram
The two electrical systems ways of wiring a Fleetwood diagram with a battery and van conversion are as follows:
Van Conversion
The first approach is a basic wiring systems design that is widely used in van conversions. An alternator is wired with a van battery and used to run the vehicle's electronics.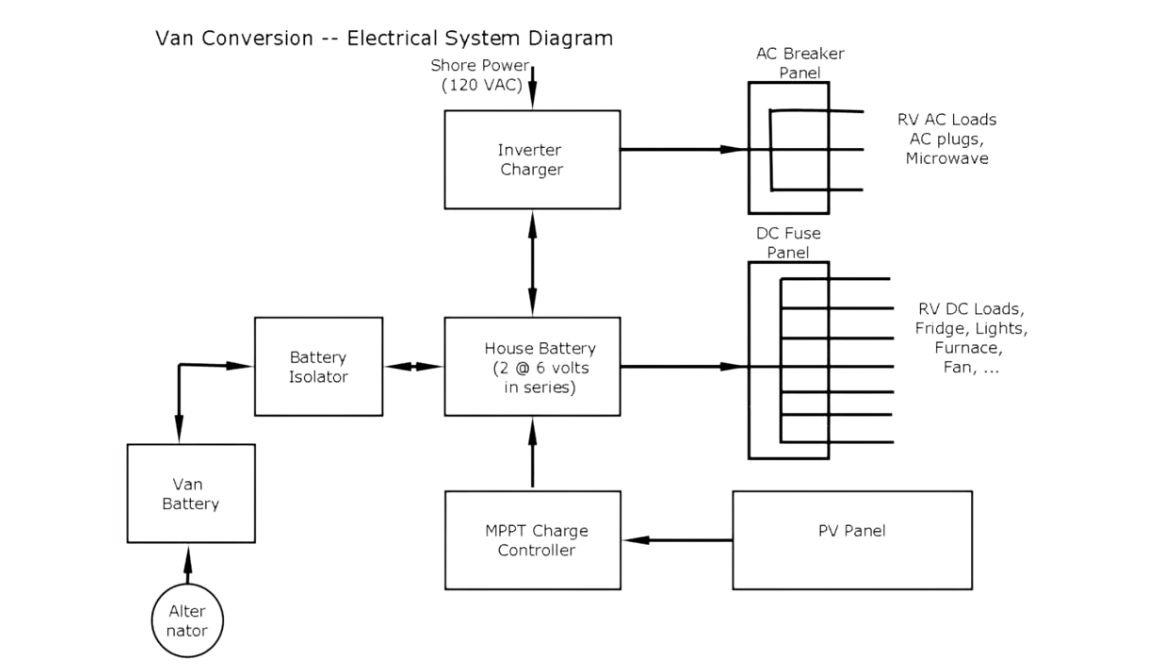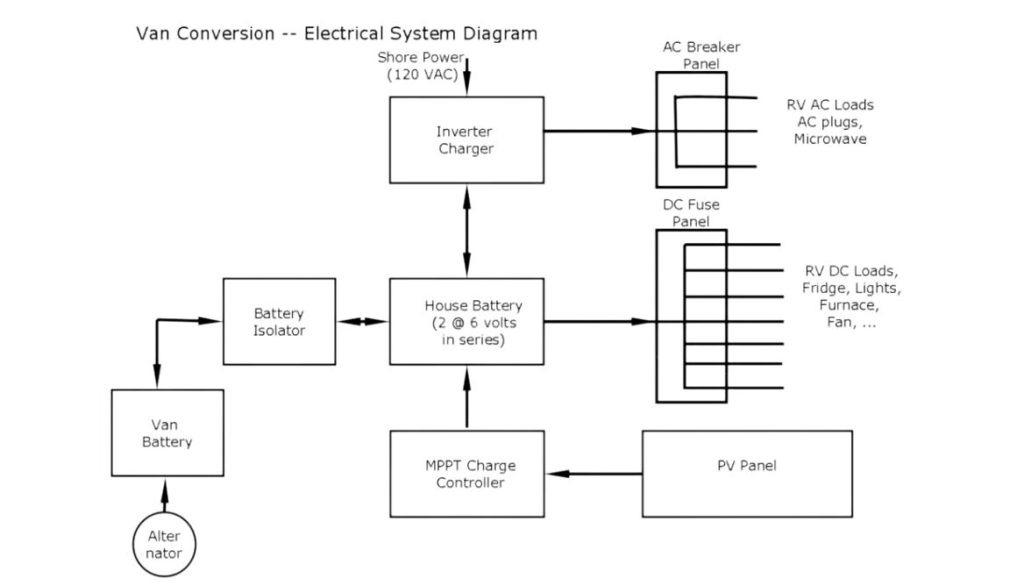 Start by connecting the positive terminal of the van battery to a battery isolator using a heavy-gauge wire. The battery should be close by, and so should the isolator.
Use a thick gauge wire to join the battery's negative terminal to the van's chassis. The electrical system will benefit from the solid ground provided by this.
Follow the manufacturer's instructions to ensure that the wires used to connect your appliances and wiring systems to your fuse box or circuit breaker panel have the correct gauge.
Connect RV panel to an MPPT charger controller carefully.
An inverter charger of shore power 120 VAC and MPPT charger controller should be connected to house battery.
Install a battery charger or inverter if you want to charge the battery or power AC breaker panel.
A house battery of (2-6 volts in series) is used to power DC fuse panels.
Battery
The alternative is an elaborate wiring configuration, more common in bigger RVs and motorhomes. It incorporates a more complicated system that can power several batteries, charge controllers, and solar panels.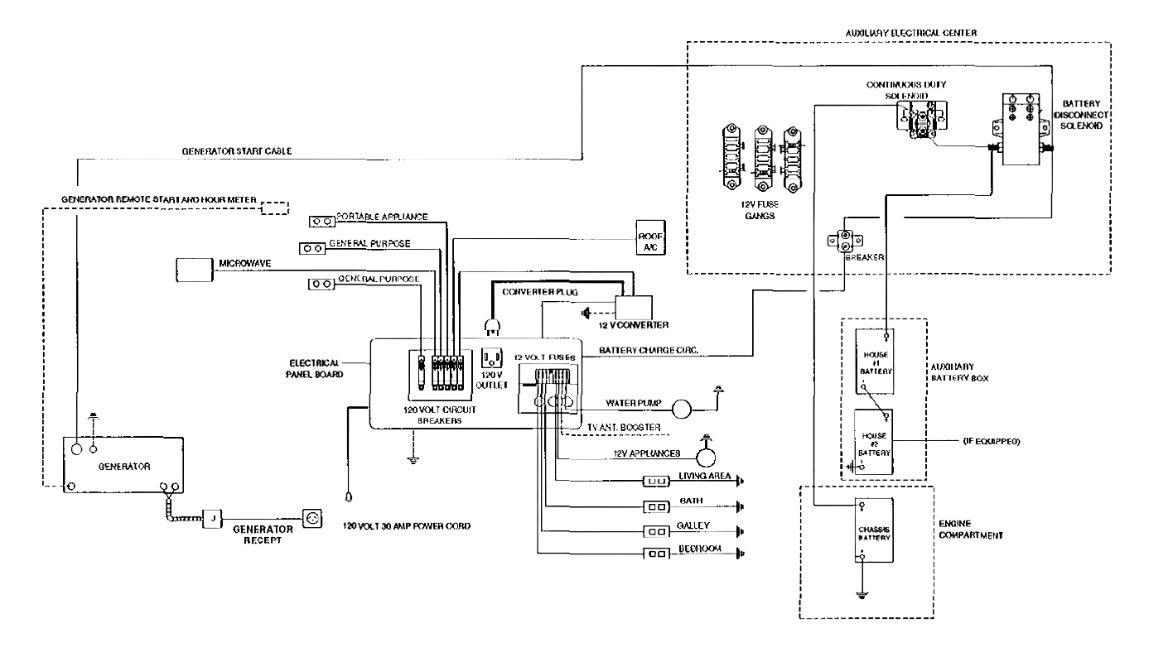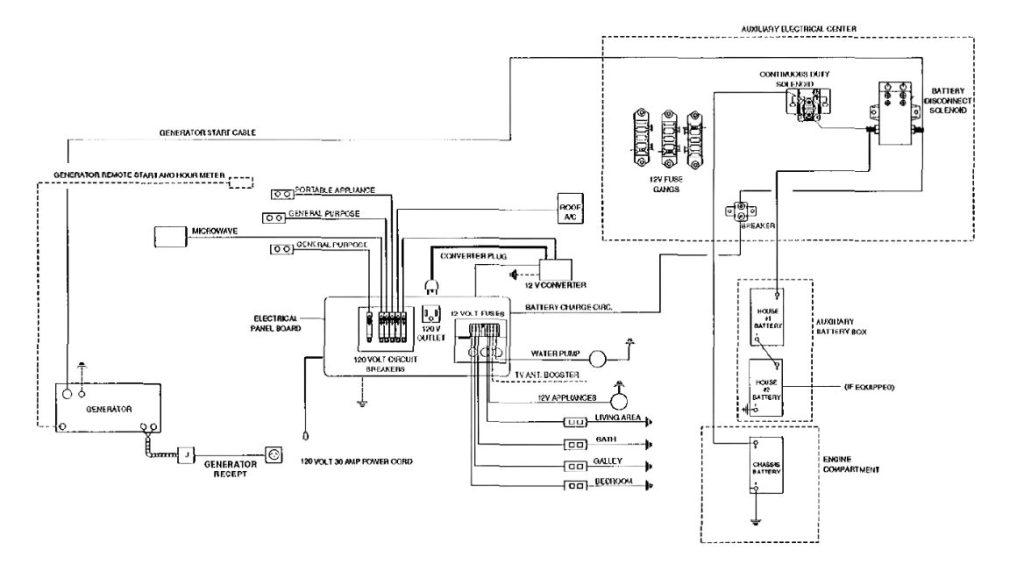 Connecting more batteries in parallel or series is a simple approach to increase the system's power. Battery isolators or combiners/balancers may be required for this purpose.
A charge controller is required to regulate the current from the solar panels to the batteries. The charge controller will ensure that the batteries are charged in a secure and efficient manner.
Connect the solar array to the power inverter using the appropriate-sized wires. The quantity and size of solar panels for a system are determined by the system's power requirements and the available sunlight.
To run devices that require AC power but only have access to DC power from your batteries, you will need an inverter.
Installing a battery monitor will allow you to keep track of the charge levels of your batteries at all times.
Both of these wiring schematic approaches need careful preparation and execution to provide the highest levels of security, dependability, and performance.
Wiring a camper van or RV properly and safely involves reference to wiring diagrams and adherence to local electrical rules.
Fleetwood Motorhome Wiring Diagram – Downloading Guide
The availability of plumbing schematics depends on the age and type of the camper. So getting hold of the schematics is not that much difficult if you thoroughly read every detail in this article.
Nonetheless, there are certain additional things you may do appropriately to get a better understanding of the wiring diagram: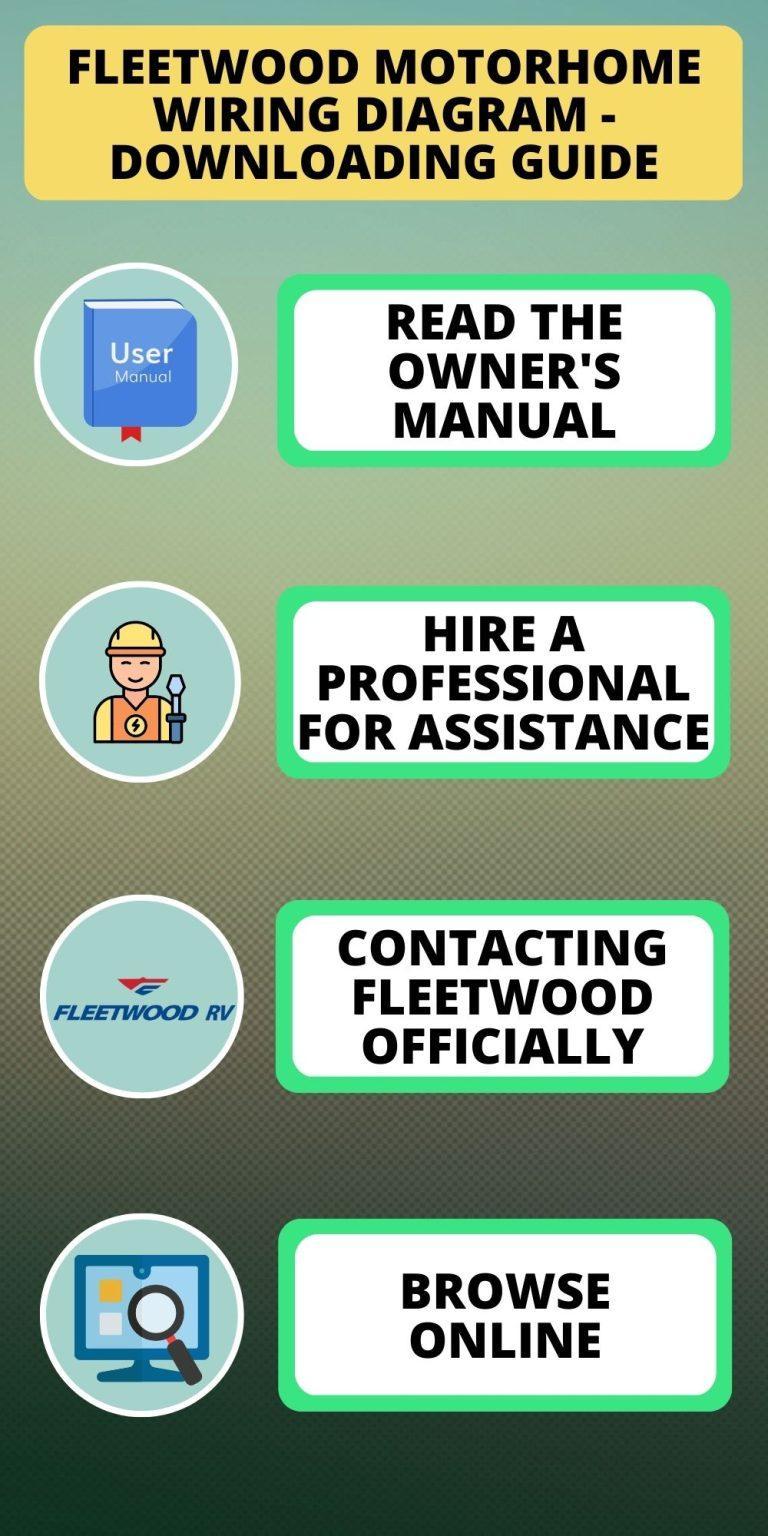 Read the Owner's Manual
If you have any questions, look in the manual. A schematic or wiring diagram or at least some rudimentary information regarding the electrical system should be included in the owner's handbook for your Fleetwood RV.
Look for terms like "electrical system" or "wiring diagram" in the index or table of contents to find the appropriate chapter.
Hire a Professional for Assistance
If you can't find a Fleetwood motorhome wiring diagram and feel uneasy tinkering with your motorhome's electricity on your own, you may always call a professional electrician for help. Depending on the current electrical setup, they may be able to provide you with a wiring diagram or draw one up for you.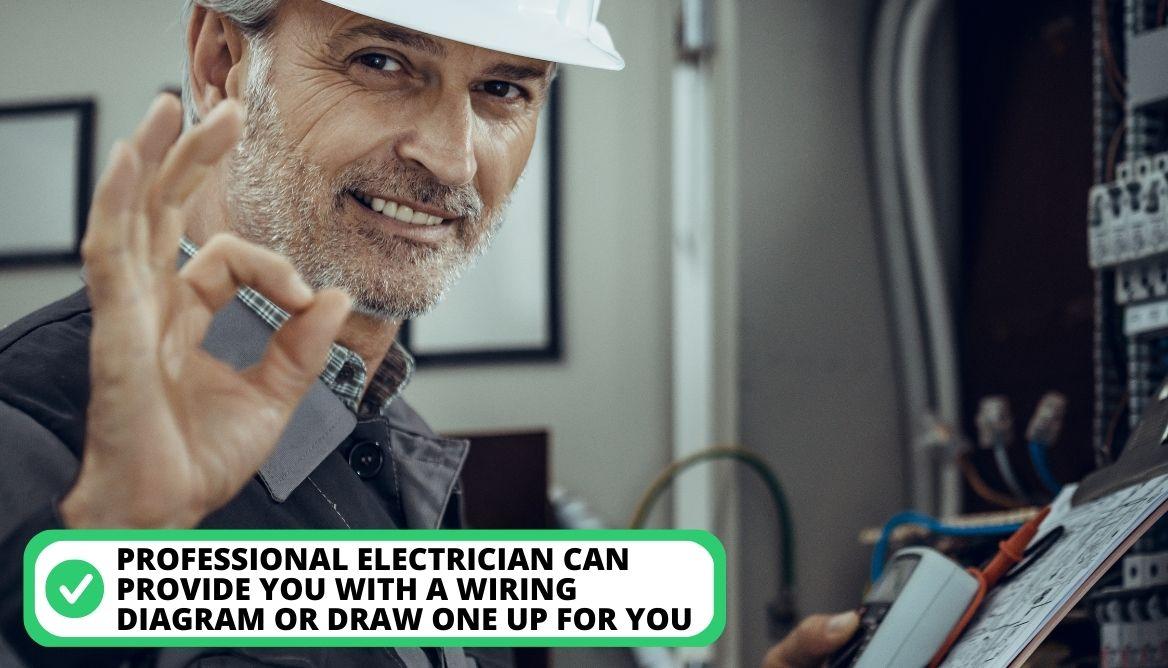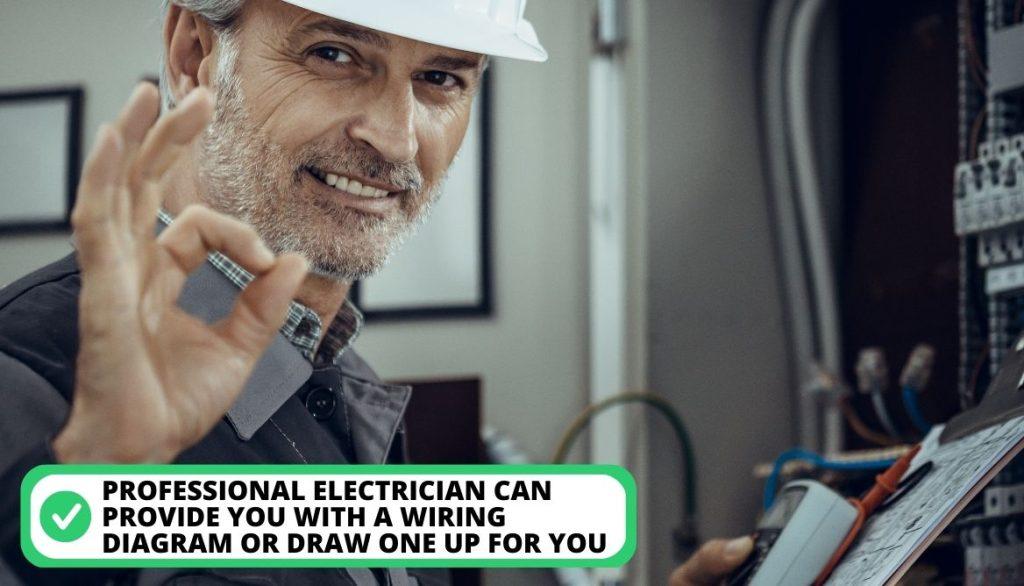 Contacting Fleetwood Officially
If you have lost your wiring diagram and cannot locate it in the owner's handbook, please contact Fleetwood for assistance. They could have a digital or printed copy of the wiring diagram for your RV's particular model.
Browse Online
You can check and download the wiring diagram for your Fleetwood motorhome here. A wiring diagram that is too old may not work with a modern RV. While utilizing wiring schematics, all necessary safety measures and electrical regulations must be adhered to, both for the sake of the worker's health and the motorhome's.
Tips and Tricks About Wiring Diagram
Here are some tips for reading and using Fleetwood wiring diagrams: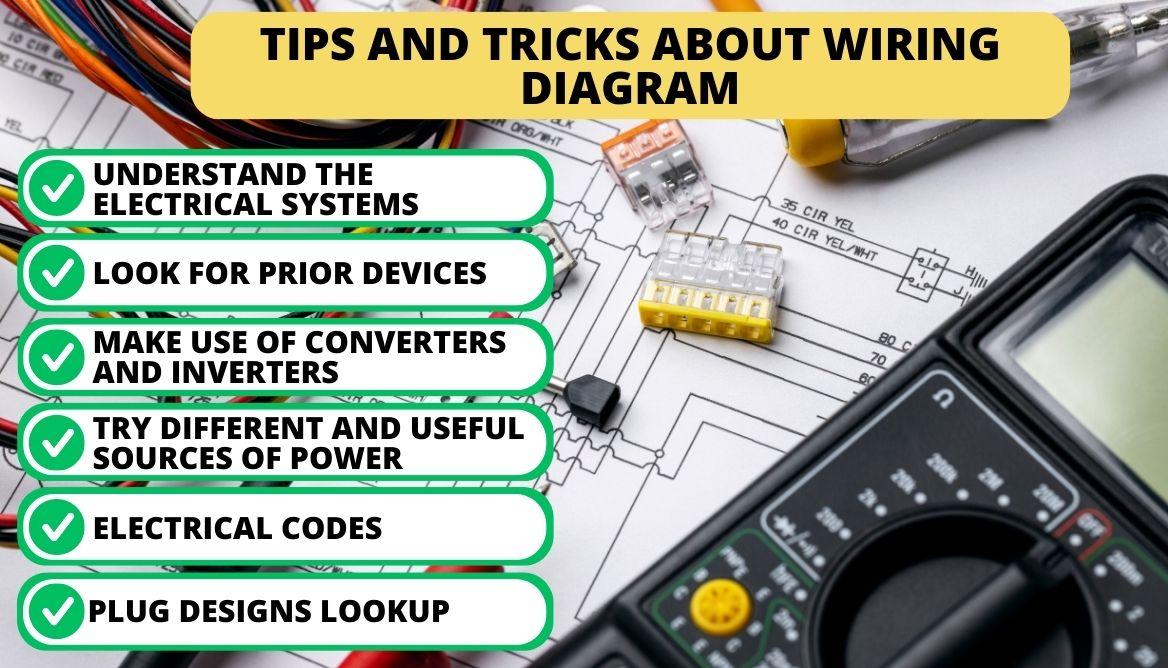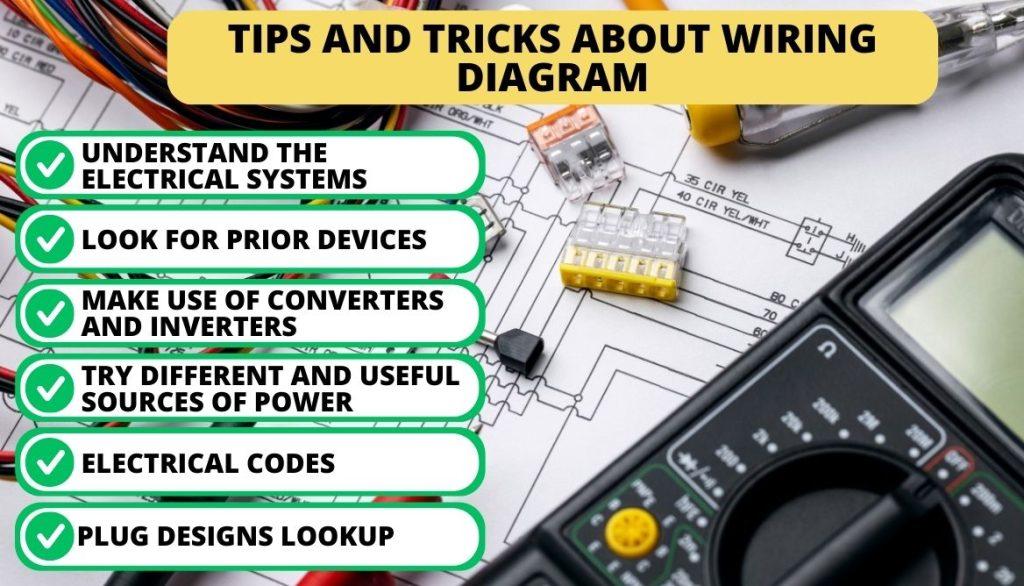 Understand the Electrical Systems
Travel trailers and RVs have two straightforward wiring diagrams, one based on alternating current and the other on direct current. To prevent confusion and complications, ensure that you don't mix up these electrical structures.
Look for Prior Devices
The direct current (DC) wiring in your camper van or motorhome is designed to supply power to permanent fixtures, such as the range, oven, water heater, fridge, and pump. The items that require 120 volts, such as TVs, stereos, and lights, are powered by alternating current (AC), and therefore take second priority.
Make Use of Converters and Inverters
In your daily life, you will encounter the processes of converting and inverting. It's important to remember that these two are distinct functions and should not be used interchangeably. Converters are used to change alternating current (AC) into direct current (DC), while inverters perform the opposite function, converting DC to AC.
Try Different and Useful Sources of Power
There are multiple energy suppliers to choose from, but it's important to note that the power available from the grid on land typically only provides alternating current (AC).
Direct current (DC) is frequently used in solar panels and battery packs. While some generators can produce both AC power and DDC this is not the usual case.
Plug Designs Lookup
It's important to familiarize yourself with various types of plugs to avoid unintentionally plugging in the wrong power supply and causing damage to your device or socket. Plugs that are rated for 50 amps usually have four prongs, while those rated for 30 amps typically have three prongs.
Wiring Fleetwood RV Electrical Schematic
Take a look at the wiring Fleetwood RV electrical schematic diagrams:
Fleetwood Tioga Wiring Diagram. Electrical Drawing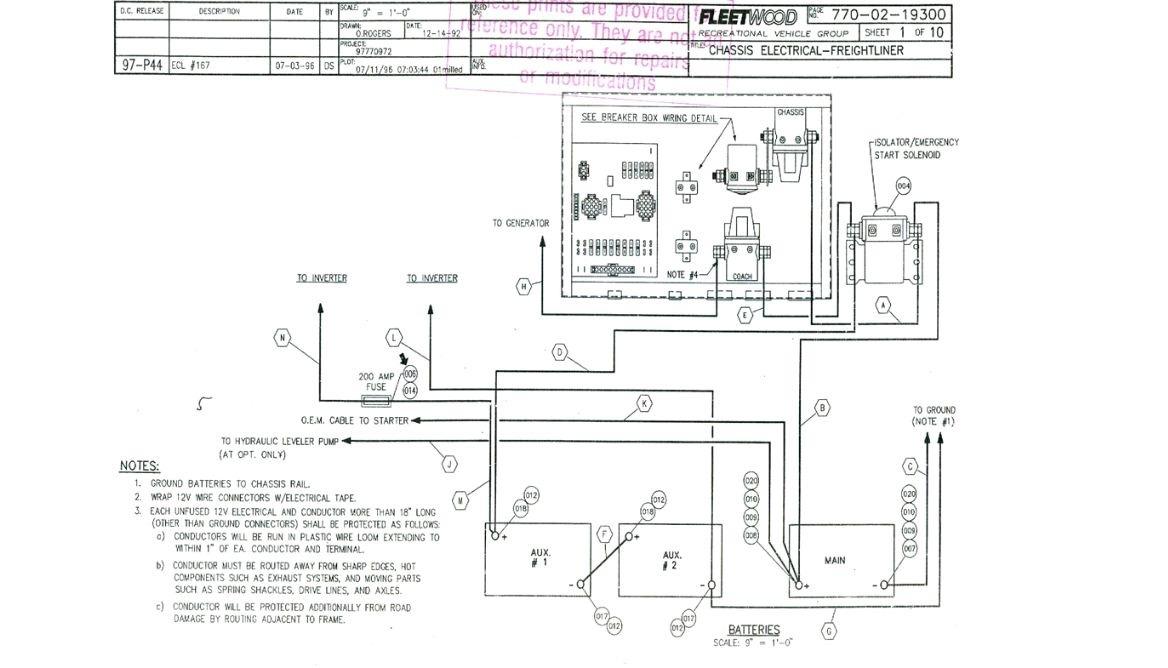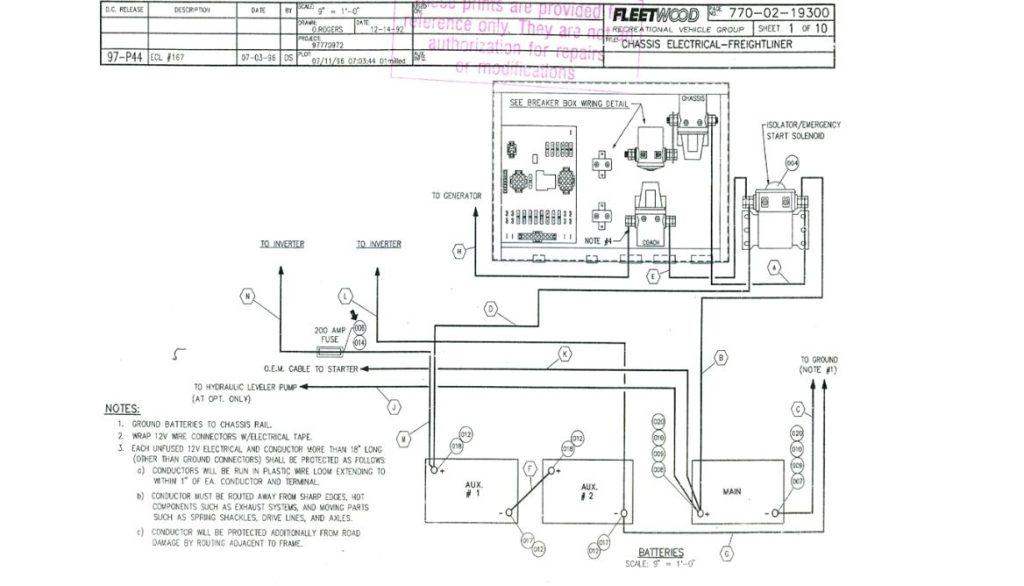 Fleetwood RV Chassis Electrical Diagram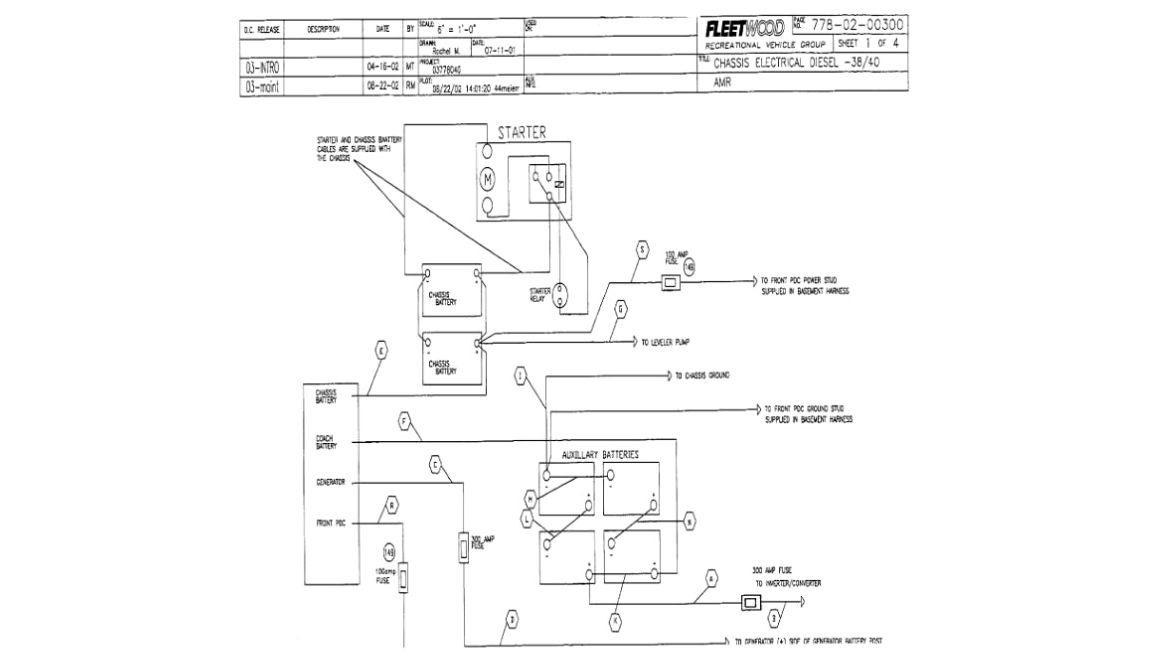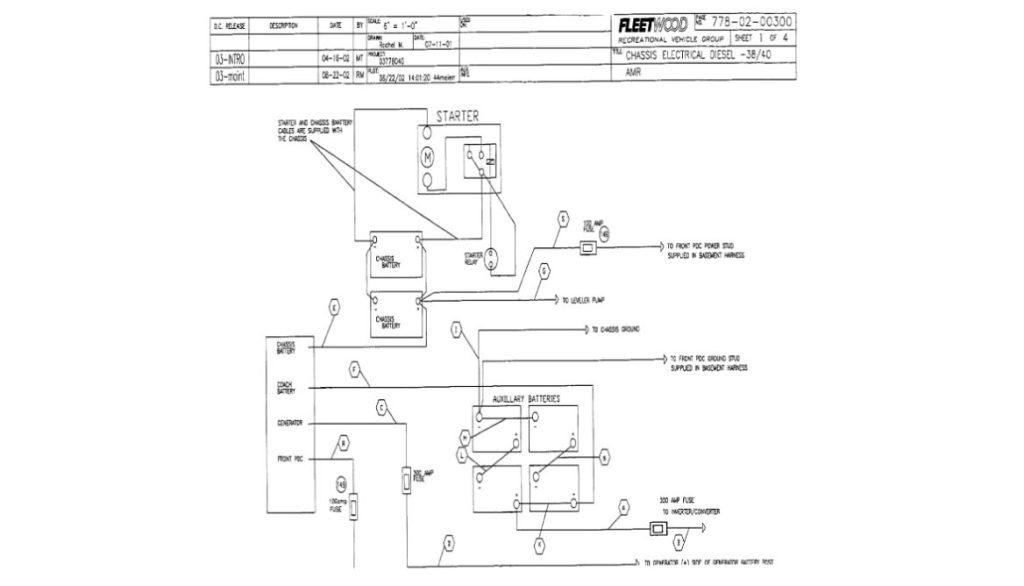 Power Circuits of Fleetwood RV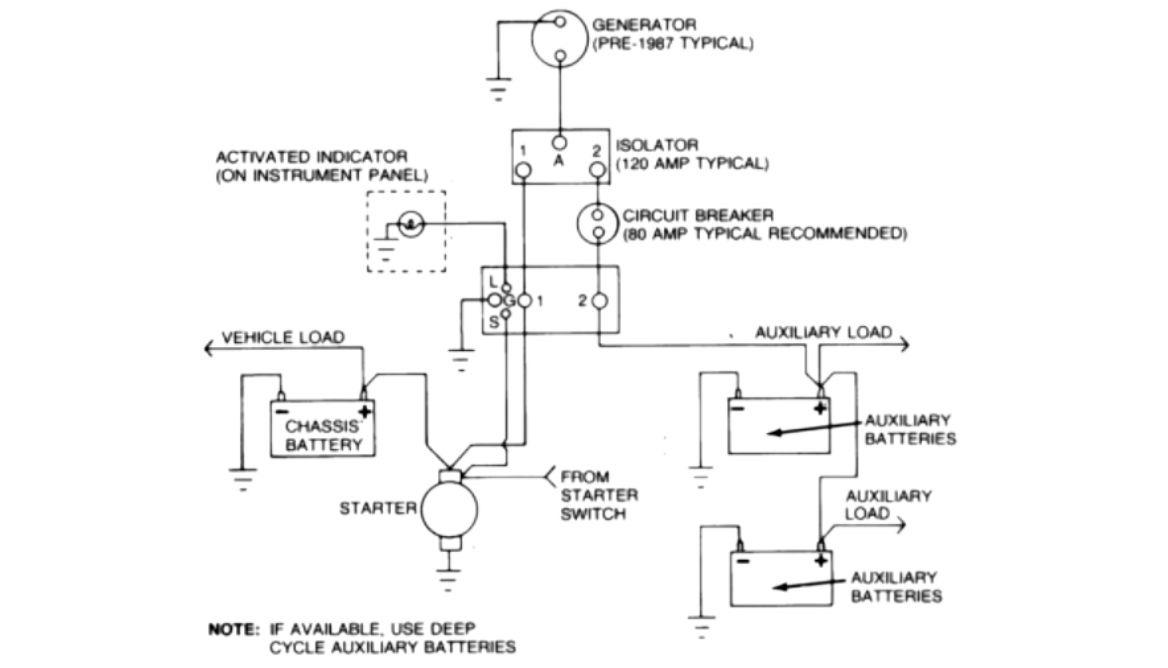 Rv Park Wiring Diagram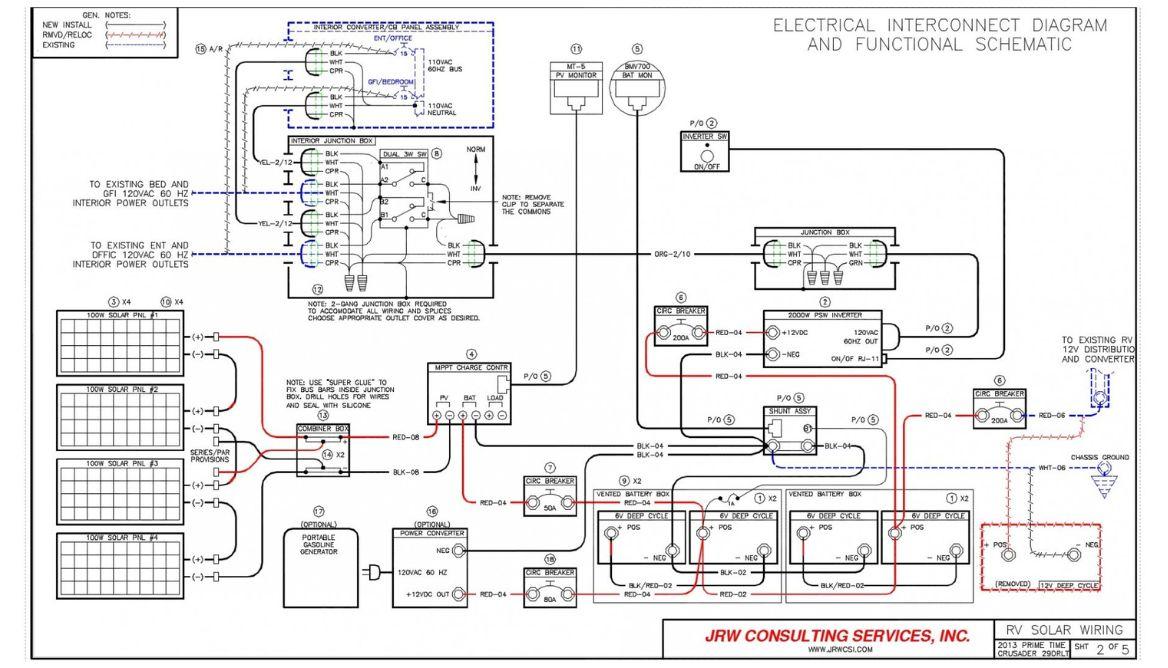 Wiring Diagram Od Rv Park 1995 Fleetwood Southwind Rv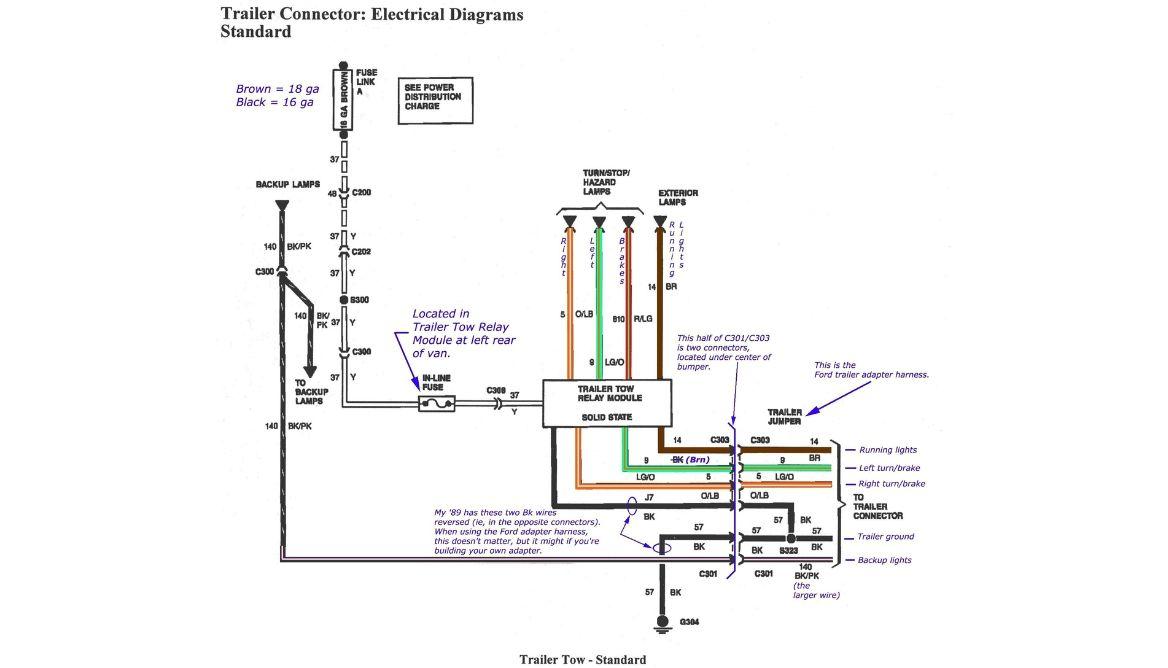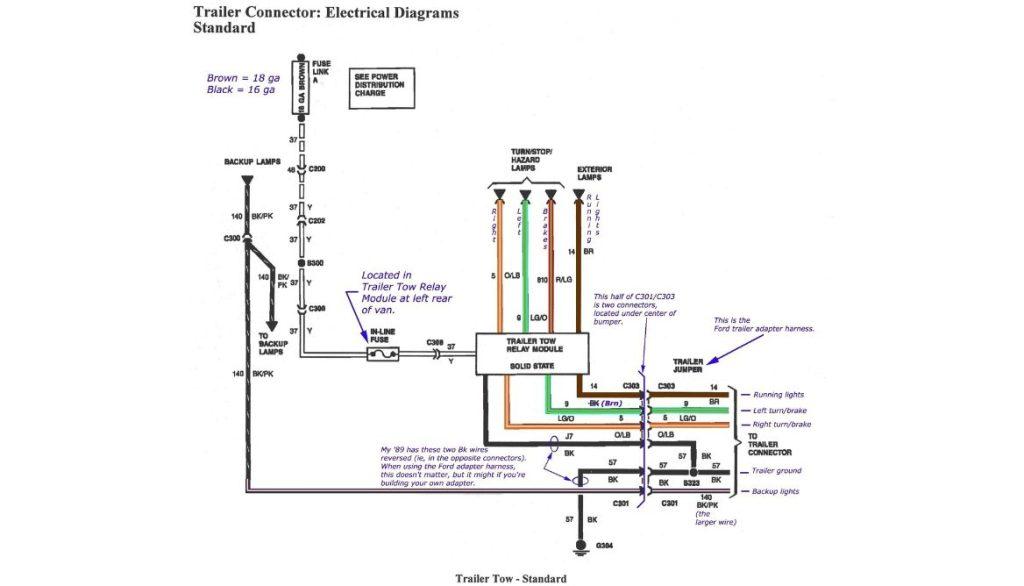 Fleetwood Motorhome Wiring Diagram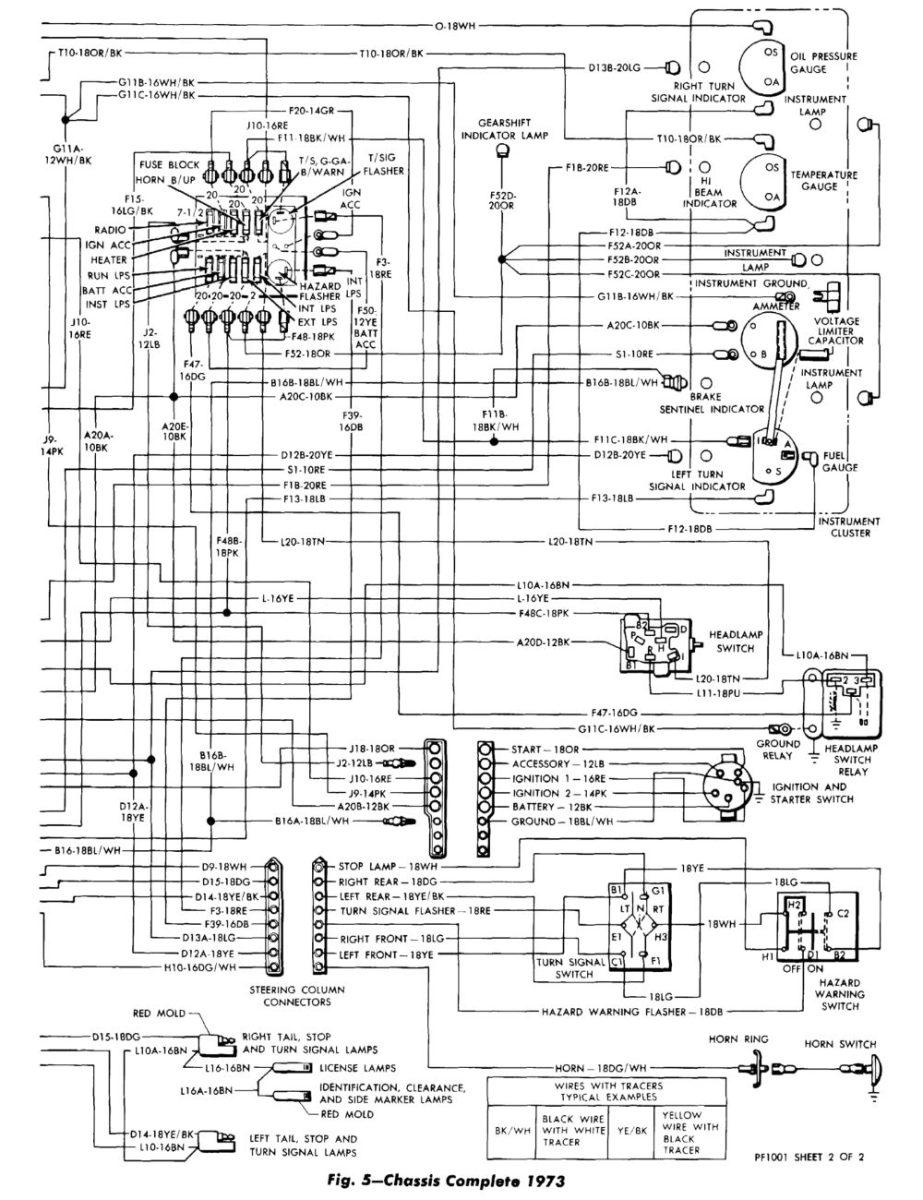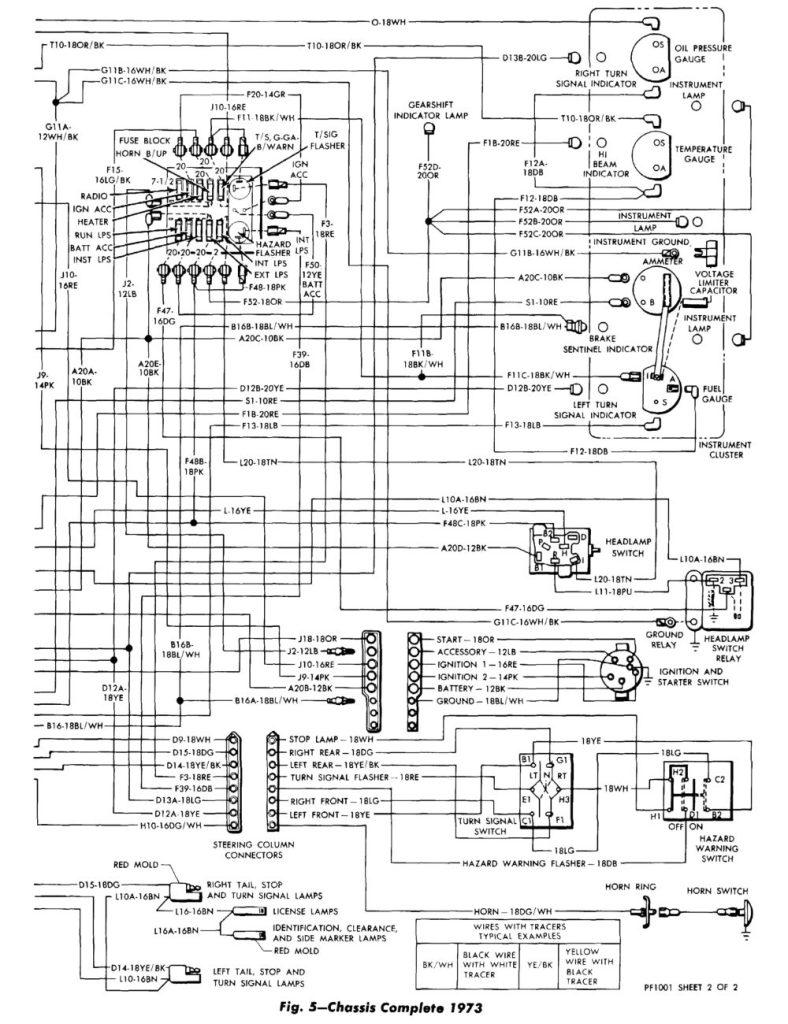 Fleetwood Rv Wiring Diagram Od Rv Park 1995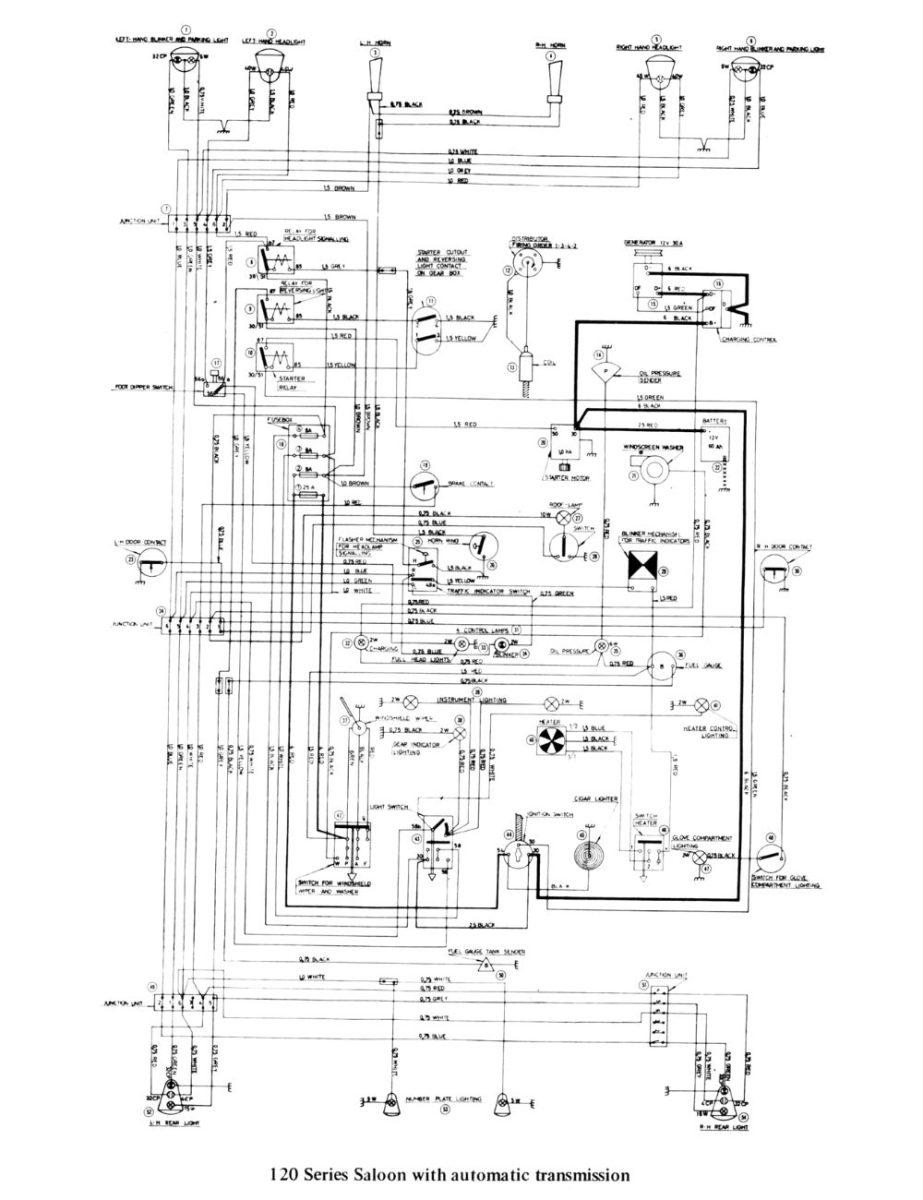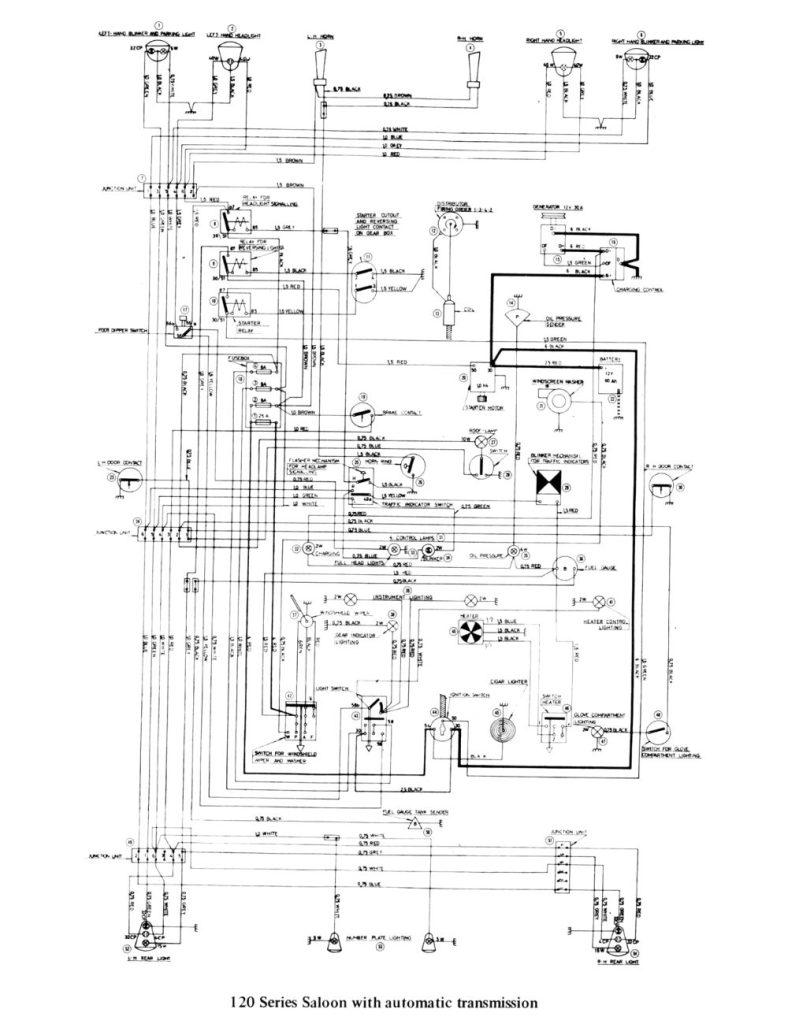 Furnace Wiring Diagram Fleetwood Rv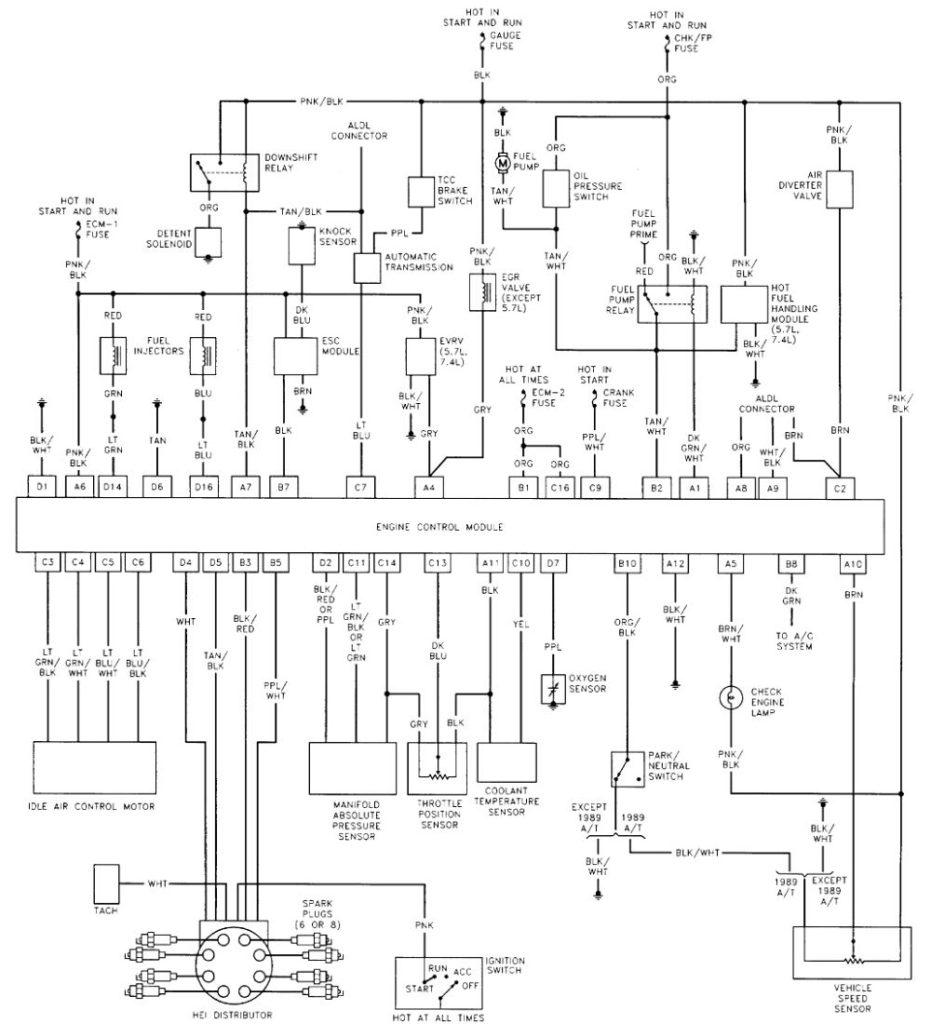 Fuel Injector Wiring Diagram Fleetwood Rv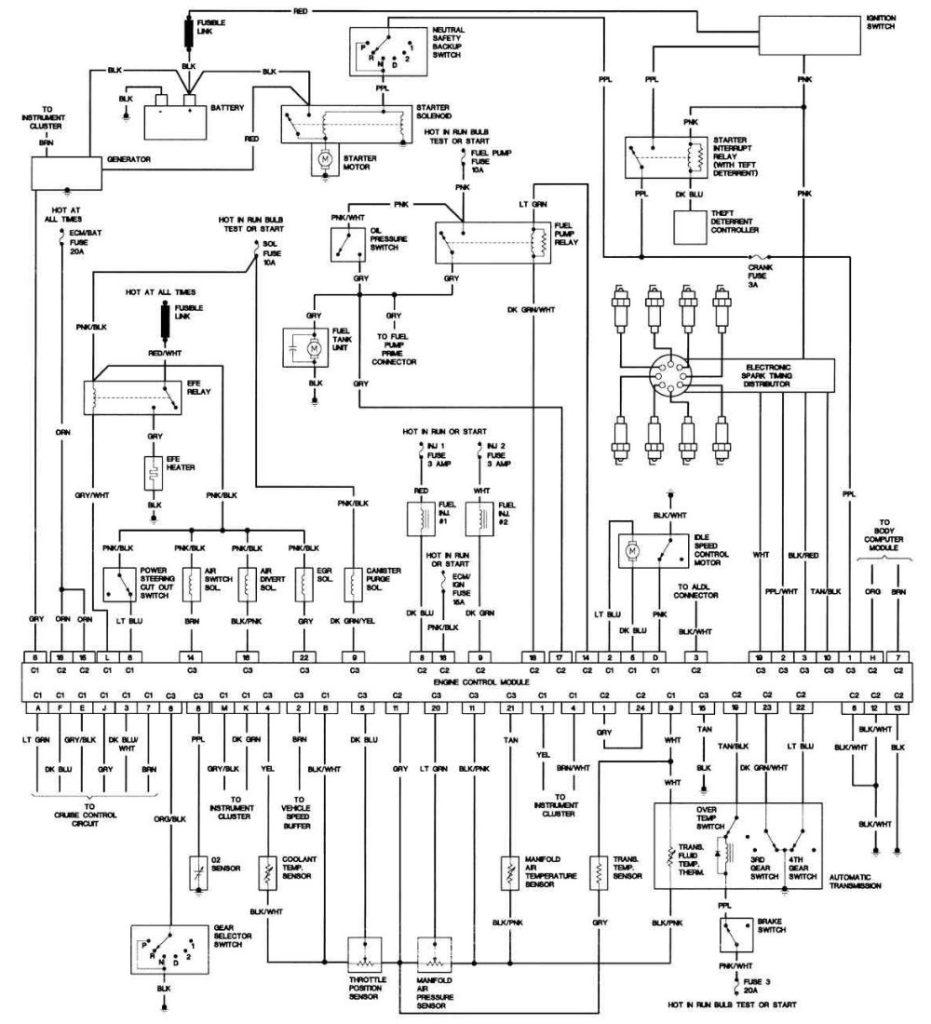 Chassis Wiring Diagram. Fleetwood Motorhome Wiring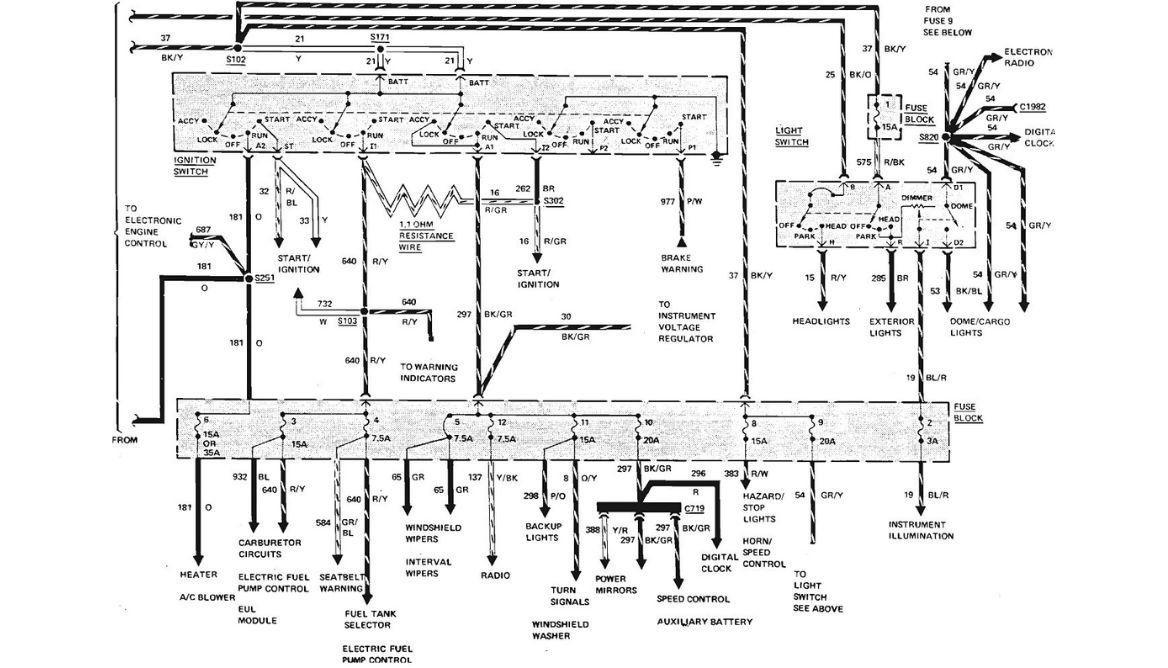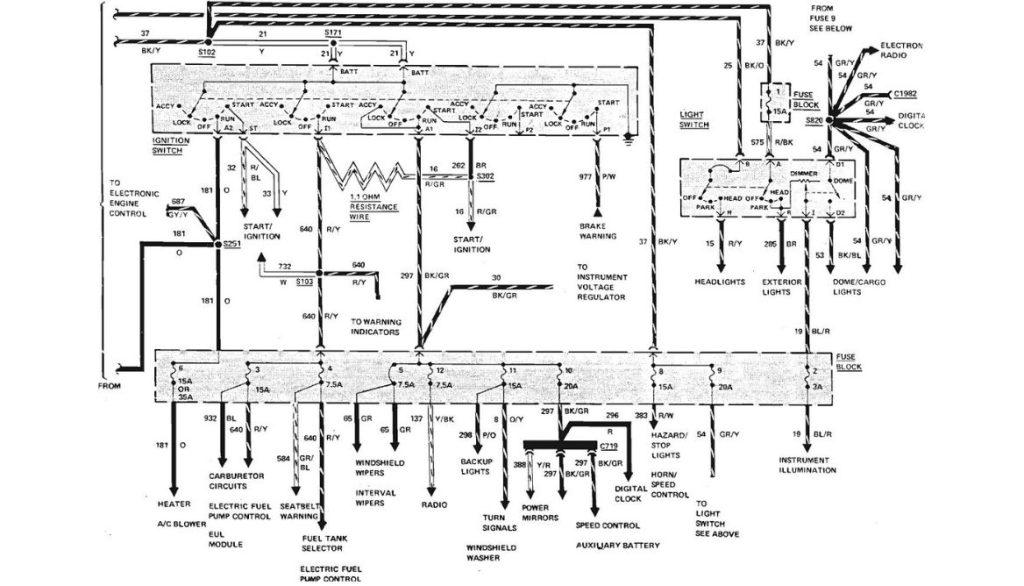 Ci Motorhome Wiring Diagram. New Fleetwood Motorhome Wiring Diagram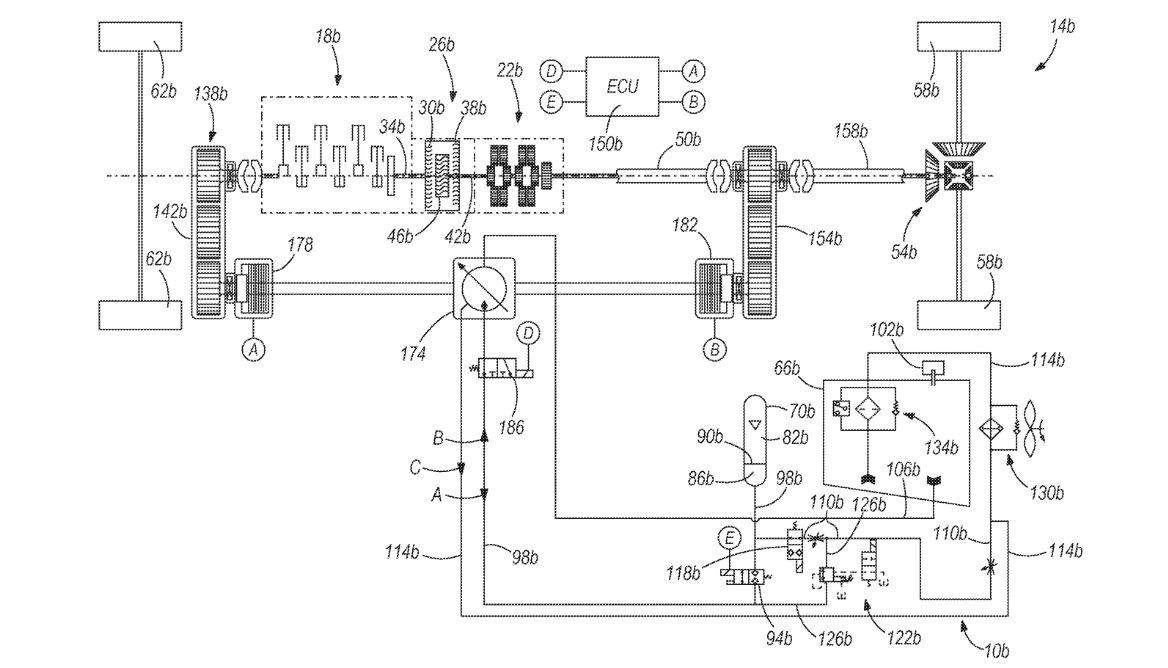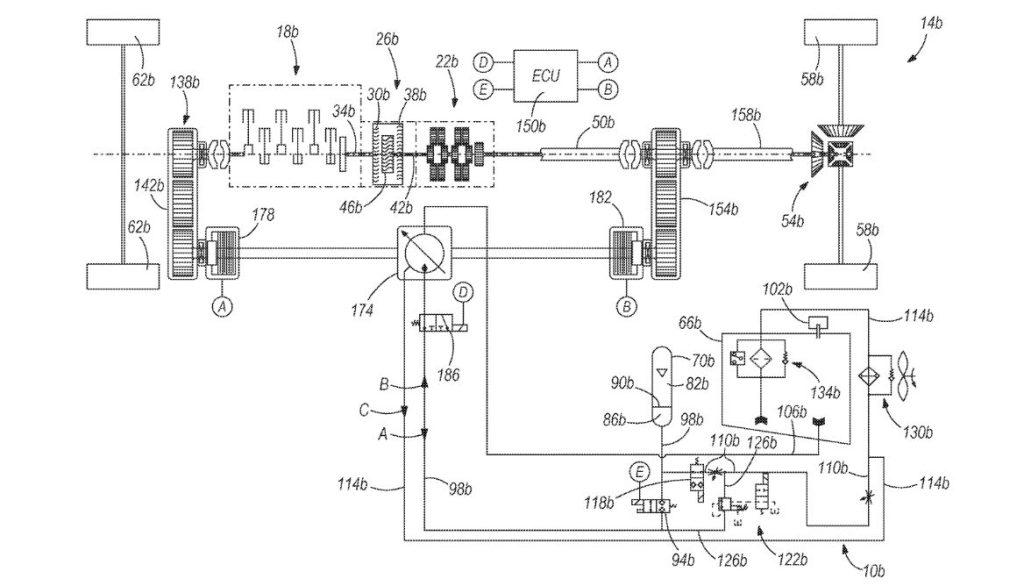 Wiring Diagram Od Rv Park 1995 Fleetwood Southwind Rv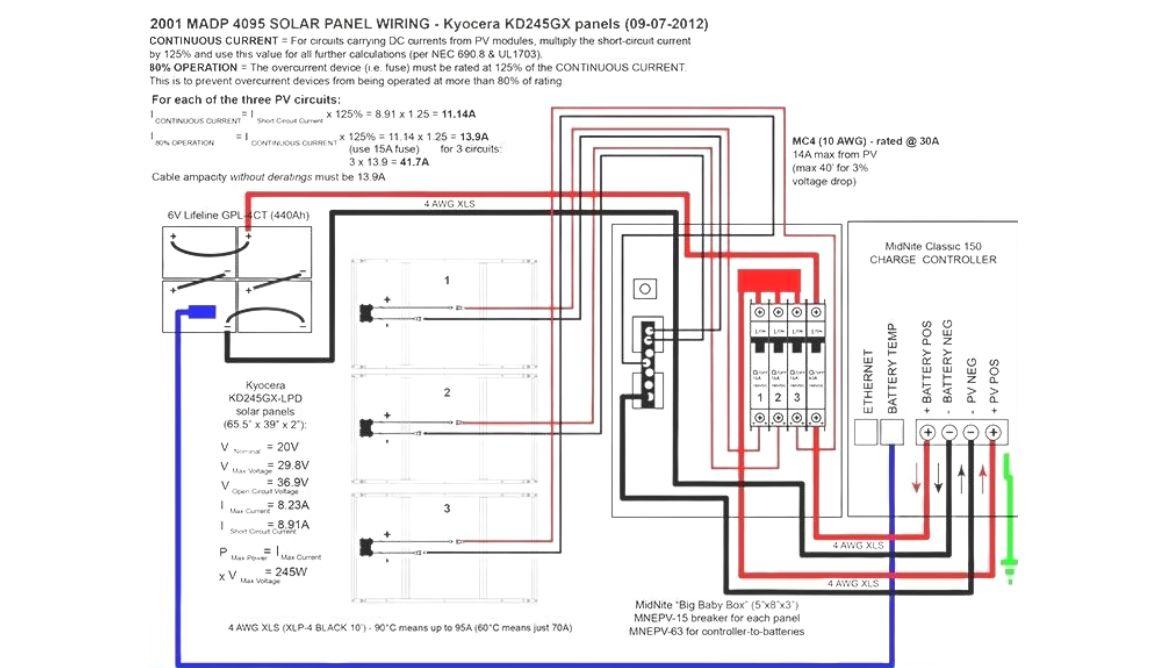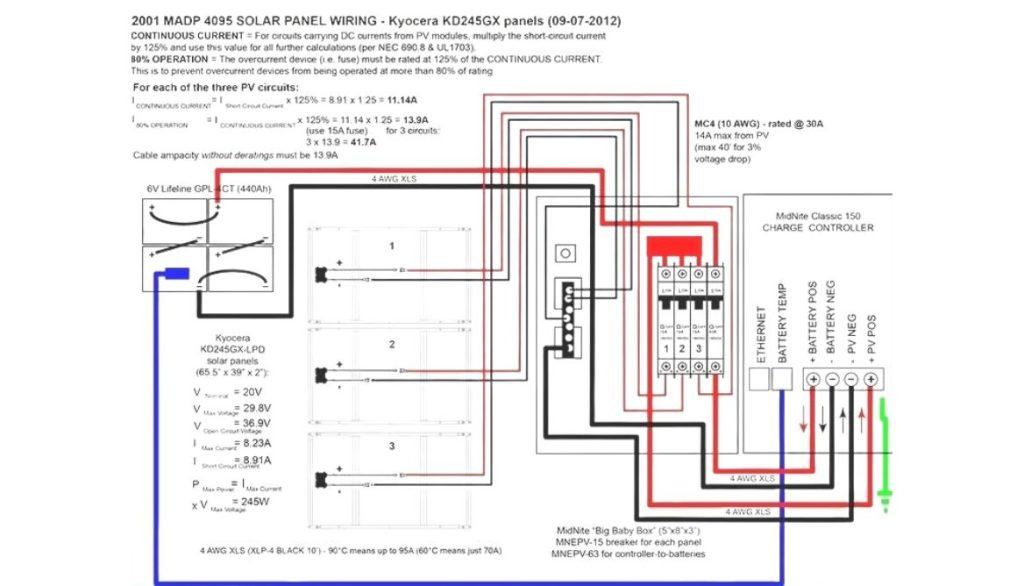 Wiring Diagram Od Rv Park 1995 Fleetwood Southwind Rv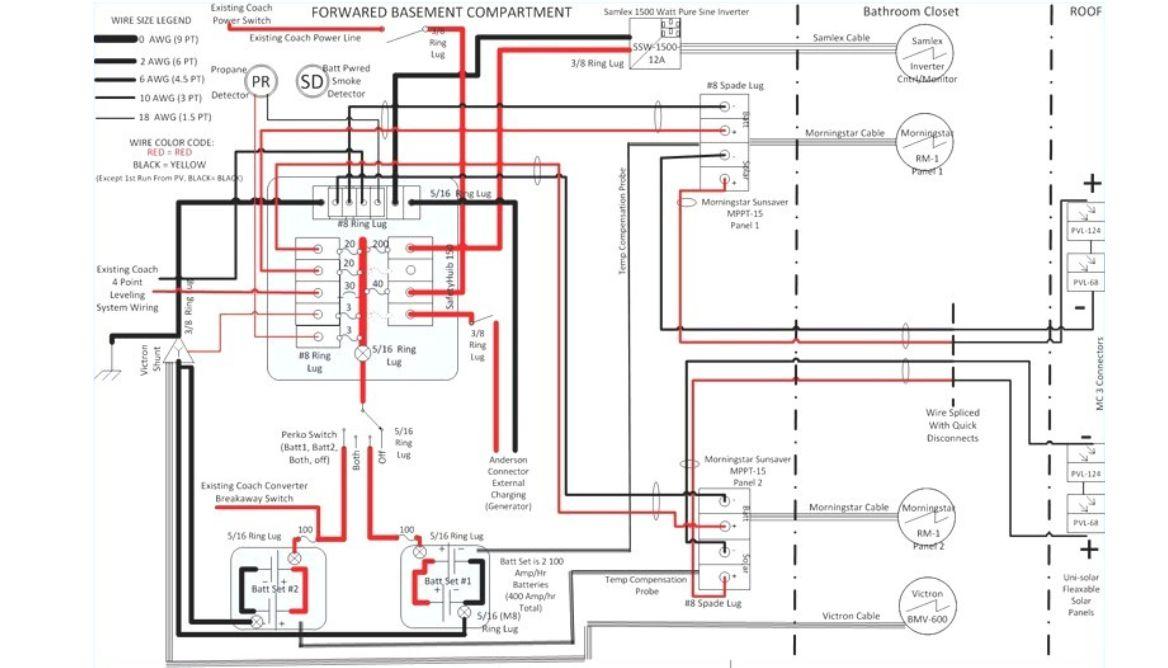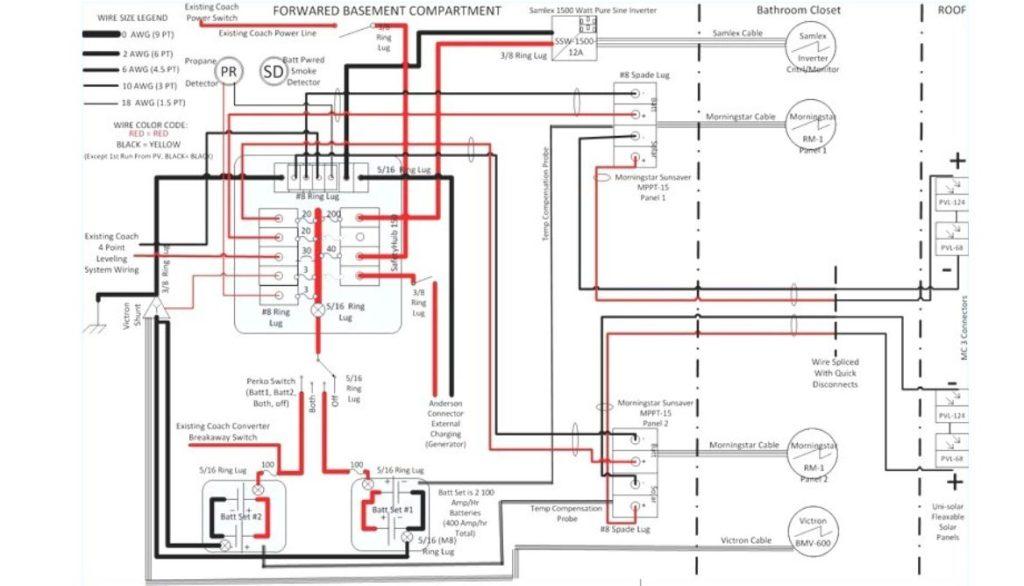 FAQ
How is an RV wired?
An RV is weird because most of them have a hybrid AC/DC electrical system, with the shore power connection providing the AC power and the battery providing the direct current.
What is a typical RV electrical system?
The typical RV electrical system utilizes 30 Amp systems, including your motorhome which has a 30 Amp, 120-volt, three-prong plug. At most campsites, you can directly connect the RV power cord to a 30 Amp outlet.
How do you set up an RV electrical system?
Setting up an RV electric system requires these steps such as determining the power requirements, installing a battery bank, installing a converter/charger, installing an inverter, installing a distribution panel, installing light fixtures & outlets, and testing the system finally.
Who is the manufacturer of Fleetwood RV?
REVG is the manufacturer of recreational vehicles (RVs) bearing the Fleetwood brand. Those interested in learning more about Fleetwood motorhome can visit their website!
Is Fleetwood a good brand of RV?
Yes, Fleetwood is surely a good brand of RV! Their motorhomes have earned a well-deserved reputation for their superior quality and reliability. With a history spanning more than six decades, the company has been recognized as "iconic" by Motor Home Specialists, a testament to its legacy.
Conclusion
Any RV owner who wants to ensure that their vehicle runs efficiently and safely must understand the wiring and electrical schematic of a Fleetwood RV. By following our tips, you will be able to identify the essential components of your RV's electrical system and diagnose any common issues that may arise.
Have you ever done a DIY by just looking at the wiring Fleetwood RV electrical schematic diagram? What is the major difficulty you have faced when connecting electrical wires by yourself? Enlighten us with your answer in the comment section below!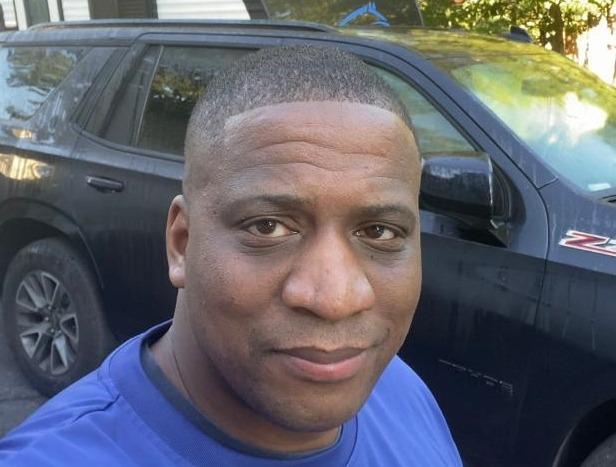 I`m a current Law Enforcement Officer working within the Counterterrorism Bureau in New York State. I have been Camping for over 20 years. My styles of camping include tent, car, truck, van, and RV travel trailer. I have a YouTube channel where I teach all types of camping with an entertaining method: https://youtube.com/@TheSmallsRVAdventures