Top 15 Best RV Wash and Waxes [Buying Guide]
You have to have your trailer washed on time, but you don't know which type of wash will be the most effective on your specific vehicle. Well, that's why we made this comparison table of the best car washes and waxes that will make your trailer shine.
To help you to find the best wash and wax for RV, in this article we will discuss the 15 best washes and waxes that offer excellent results at an affordable price!
In this comprehensive guide, you will learn about the:
The comprehensive and fair reviews about these 15 best washes and waxes
The complete process of washing and waxing an RV. The comprehensive answers to FAQs about washing and waxing an RV
Tips to choose an effective wash and wax for your vehicle
The different types of RV washes and waxes.
Best RV Wash and Wax Reviewed
Cleaning your motorhome, travel trailer, or recreational vehicle (RV) can be tedious and time-consuming. But making sure it stays clean doesn't have to be complicated! Waxing and washing your vehicle regularly can save you time, money, and effort in the long run by keeping your vehicle looking shiny and new. To help you with this task, we've compiled a list of the top 15 RV washes and waxes that will keep your vehicle looking great, even after those long road trips.
Gel-Gloss RV wash is a revolutionary new vehicle wash and wax product. It is a concentrated gel and RV cleaner that's water soluble, so it rinses off with just water. Gel-Gloss is a safe RV cleaner for all paints, including clear coats, has no wax additive, and leaves a hydrophobic shine that lasts for months! Gel-Gloss RV wash is made from natural earth minerals which act as an abrasive without scratching the paint. It's tough on dirt and grime but gentle on your paint finish.
You can also use this RV wash and wax product as a prewash or clay lube to loosen heavy contamination before washing the vehicle. Simply pour Gel-Gloss onto the paint's surface and sit for 15 seconds. Then scrub thoroughly to remove embedded dirt, dust, and road film. Rinse with water and dry thoroughly. Dry time will vary depending on temperature, humidity, the drying agent used, and the degree of soiling.
To prolong the life of your Gel-Gloss application, we recommend using one application every six months or less if used in cooler climates. Available in 16 oz., 1-gallon & 5-gallon sizes. Gel-Gloss may be applied by hand or machine. In cases where larger quantities are desired, you may mix two gallons of concentrate per four gallons of water.
The Aero cosmetics RV wash and wax or RV cleaner kit are one of the best RV wash and wax. Give your vehicle the best care with this kit that includes everything you need in a convenient carrying case. The set is perfect for those who want to get their car or RV wash and wax done at home or on the road! Featuring an eco-friendly formula, this kit will give you superior protection from the elements. All items are in a handy carrying case, so it's easy to take them wherever you go!
This best RV wash included scrubbing pads and gloves that allow you to keep your hands clean while you tackle dirt, bugs, sap, bird droppings, and other stains. And because it's made of all-natural ingredients, any harmful chemicals won't be left behind to damage your paint finish. Aero Cosmetics RV wash and Wax Kit will leave your ride looking like new without the hassles of professional detailing.
This one-of-a-kind kit will safely remove hard water spots if you have a car, motorcycle, or SUV – no matter what type of surface it's made of. You can use it for tough jobs around your house car wash.
This Camco RV wash and wax is a heavy-duty best RV wash that removes dirt, grime, bugs, tree sap, bird droppings, exhaust residue, rail dust, and industrial fallout. It does so by combining solvents' power with emulsifiers' cleaning power. The wax leaves a durable coating that will protect against harsh conditions.
Unlike most products on this list, it is not available in an aerosol can but comes in a concentrated form which you mix with water before use. The downside? One customer says that Camco RV wash and wax or RV cleaner do not adequately protect exterior surfaces.
Despite these drawbacks, many reviewers are pleased with the quality of the product. Other customers say they have been using this product for decades and swear by it. So if you're looking for a heavy-duty solution to keep your rig shining, then go ahead and give Camco Pro-Strength RV Wash and Wax a try!
The Meguiar's Fiberglass Restoration System has three parts that work together to remove oxidation, scratches, and stains on fiberglass surfaces.
The first step is a heavy-duty polish that removes all dirt, grime, and loose paint, which often causes surface issues.
Next up is an abrasive polishing pad for some serious shine.
Then use a gel coat for some extra shining of your RV surfaces.
Finally, it finishes with a protective wax that locks away UV rays and helps prevent further damage to the fiberglass surface. This RV wash includes a bottle of their liquid wax and microfiber towels for application.
As a frequent traveler in an RV, I've tried many different best RV washes products on the market. I found Thetford Premium RV Wash And Wax to be my favorite because it is easy to use, smells great, and does not leave a white residue behind! Thetford RV Wash And Wax is available online or at your local retailer. If you need help finding out where to buy this product, simply contact their customer service team by phone.
Thetford's directions are as follows:
Use one ounce of soap per gallon of water and work into a lather with your hands.
After applying to the surface with a sponge or wash mitt, sit for two minutes before rinsing off thoroughly.
Wash RV with clean water from the hose or power washer if desired.
Do not allow soap to dry on the surface; it will cause streaking if allowed to dry.
Reapply as needed until dirt and/or grime is removed from RV surfaces. At the end, apply a gel coat with carnauba wax.
It can also be used in various dilutions for other cleaning needs, such as tile floor cleaners, pet shampoo, laundry detergent, and more. It has a long shelf life of up to three years when stored properly.
Mothers is a well-known brand when it comes to car care products. This is also known as a waterless car wash. They have been around for more than 40 years, so you know you can trust the quality of their products. and the Mothers California Gold RV Wash and Wax will not disappoint. This product has been designed with a water-based formula. This uses wax as its principal cleaning agent instead of harsh chemicals that could damage your vehicle.
It's gentle on sensitive surfaces like RVs' rubber trim, glass, and gel coat finishes. The only downside to this product is that some people might find it challenging to apply. This is because it's best applied by hand rather than using a brush or sponge.
Another thing to note about this RV wash is that it won't do anything about those annoying bugs and bird droppings, but no one product will do everything. For those who want an environmentally friendly option, we recommend Meguiar's Bug & Tar Remover.
Meguiars Rinse-Free RV Wash and Wax is an easy, one-step process that keeps your rig clean, shiny, and smells. It is an excellent product because it's quick, doesn't require soap or water, and rinses off without streaks. Plus, you can use this best RV wash on both fiberglass and rubber roofs!
The downside of this RV wash and wax is that the finish doesn't last as long as some other products. But this is the perfect option if you want something convenient and easy. The best thing about this Wash and Wax is how well it cleans up surfaces like headlights and grills – even if they've been neglected by years of sun damage!
So if you need something to help restore them to their former glory, this is your product. However, Meguiar's Rinse-Free RV Wash and Wax have so many upsides that I'm willing to overlook these minor issues.
Mothers have a variety of the best RV wash and waxes for all different types of vehicles. Mothers Marine Wash & Wax is specifically formulated for boats, RVs, motorcycles, and trucks. The unique formula washes away dirt while leaving a protective film on the vehicle's surface to guard against the sun's harmful rays. The carnauba RV wash and wax also gives a deep shine, making your rig look like it just rolled off the showroom floor.
This RV wash and wax can be used as often without fear of streaks or buildup. It's safe for use on fiberglass and metal surfaces. There are separate formulas for use on various types of paint jobs, so don't be afraid to ask the company which one is right for you.
A little goes a long way, and you'll be able to tell when it's time to apply more. Just keep scrubbing until the water starts running clear, then rinse well with fresh water. Be sure not to leave any residue behind on your vehicle's body.
When you're done cleaning up, store your Mothers RV wash and wax product somewhere cool and dry between uses. That way, it will last longer and work better each time you use it.
This paste wax formula protects your rv against UV rays and other environmental pollutants that can cause damage to the paint over time. It leaves a clean finish with a high gloss shine.
Meguiar's One-Step Cleaner RV Wash and Wax is waterless car wash. It can be applied by hand or machine. To use it by hand:
Wash your vehicle as usual.
Apply this RV wash and wax directly onto a soft foam applicator pad to remove stubborn stains. Then work it in small sections until you cover the whole vehicle.
For maximum results, use a second applicator pad to buff off excess wax after working it into the surface of the paintwork for three minutes.
Allow this RV wash and wax to dry before applying a coat of liquid carnauba wax.
You should also do a protective coating against UV rays.
If you're using this product on a vehicle by machine, spray it in light coats and allow it to dry between coats. Apply liquid carnauba as directed above when finished.
Meguiar's brand offers exceptional value, and its RV cleaners are trusted. They used by professional detailers worldwide. Though not as flashy or innovative as some competitors, Meguiars offers outstanding performance at an unbeatable price point.
Camco Wash and Wax is a multipurpose and best wash, wax, rinse, and protectant. This RV wash and w also protect against rusting by providing a barrier between metal surfaces while repels water. It is a biodegradable wash that leaves behind a fantastic shine that lasts for up to two months!
You can clean your entire vehicle inside and out with just one product for ultimate protection. For UV protection, you should also use a protective coating for UV rays.
Camco Wax and wash has been formulated with natural cleaning agents. You don't have to worry about harmful chemicals being left on the surface of your vehicle. It's easy to use – spray on and wipe off with a microfiber towel or cloth.
Camco rv wax and wash offers this product in three convenient sizes: 16 oz., 64 oz., and 128 oz., which means you will have plenty of time before re-ordering.
You may be wondering how often you should use Camco RV Wash and Wax. The answer varies depending on the level of detail desired; however, most people recommend applying at least every two weeks, if not sooner.
Keeping an RV clean can be a monumental task. With a waterless RV wash and wax kit, you can keep your rig looking great without the hassle of high-pressure hoses or buckets of soapy water. This kit includes everything you need for a thorough, streak-free wash in one box: A RV wash mitt, RV Polish, clay bar lubricant, RV wash soap, RV wash brush, conditioning shampoo, shampoo applicator sponge, microfiber towel; all-purpose cleaner; wax applicator pad; 3 oz—bottle of detailing spray.
The cost is about 12 dollars on Amazon, but we have seen it on sale for as low as $19.99 at CVS and Walmart stores.
Once you've used it a few times and gotten more familiar with what you need to do before washing your rig, it should only take about 10 minutes or less to get your rig looking squeaky clean! The only drawback is that it doesn't come with any rags.
You'll want to use either old towels or old shirts if you don't want to run out and buy new ones just for this project. Otherwise, this kit will save you time, effort, and money by allowing you to maintain your rig without breaking the bank.
This best RV Wash and Wax is formulated with the highest-quality environmentally friendly ingredients. Its formula is made with natural, biodegradable carnauba wax and gentle cleaning agents. These cleaning agents will not strip away the protective sealant on your vehicle.
Simply mix it in a bucket of water and then apply it by hand or machine. This product gives your vehicle a uv protection against UV rays. This great RV wash and wax product can be used for all vehicles.
It also has many uses outside of washing and waxing, including interior detailing and polishing leather. Many customers have said this is one of the best products they've ever used for their RVs.
I love this product! Says Terry Jones. I don't know what I would do without it! Exclaimed Danielle Rose. Finally, something that works as it should! Exclaims Jessica Cole.
Karcher's Rv Wash & Wax is a high-quality RV wash. It is a two-in-one product that quickly removes dirt, grime, and brake dust from your vehicle. It also adds a layer of protection. Karching's Rv Wash & Wax is a heavy-duty cleaner with no wax, so you can use it on any surface without worrying about applying too much wax. It is easy to use with its spray-on formula and needs five minutes of scrubbing to work its magic.
This RV wash and wax includes a colorless polymer sealant that will protect the surface from uv rays for up to six months. For best results, wash the car first, then apply the Rv Wash & Wax before it dries. A four-ounce bottle costs $14.99 on Amazon or at Walmart in-store. Both websites have an average rating of 4 stars, but some complaints say the product was ineffective.
Reviewers have said they were happy with how well this RV wash and wax product cleaned their vehicles and left them feeling smooth. Overall, this is a good option if you're looking for something to help keep your car looking shiny.
Turtle Wax Ice Car Wash is the best at removing dirt, salt, and grime from your rig. It's super concentrated, so a little goes a long way. All you need is two tablespoons of soap in one gallon of water. You can also use it on boats, cars, trucks, or any other vehicle with a rugged exterior. Just remember not to get it near the dashboard or windows.
Turtle Wax Ice RV Wash is an excellent option for RVs because it's specifically designed for plastic. This high-quality RV wash is also low sudsing, biodegradable, and leaves behind a streak-free finish. Plus, with an economical price tag of $4.99 per bottle, you'll be able to use this RV wash on your entire rig without breaking the bank!
This RV wash and wax smells amazing too! This smell will last for weeks after washing your rig. Don't forget to keep some Turtle Wax ice car wash in your garage or shop – you never know when you need it! Turtle wax is made from natural products and will not harm your paint or vinyl windows. You can use a microfiber towel to dry off as this product does not have much lint left behind.
One significant benefit of turtle wax is that the formula will also protect against UV rays from sun damage. Use sparingly if your rig has metallic surfaces, as they may become pitted and corroded by the high pH levels in this product.
Chemical Guys Citrus Wash & Gloss is not as strong as some other products on this list, but it's a tremendous all-around wash that can do your car and RV without any problems. The pH level is also pretty neutral, so you don't have to worry about stripping off any wax or paint protection while using it.
If you're looking for something more substantial and want more shine, we recommend going with something like Blackfire Wet Diamond dry sealant. But if you want an all-inclusive product that will help clean the dirt away, then Chemical Guys Citrus Wash & Gloss will work out just fine for what you need.
And finally, this cleaner might be what you're looking for when trying to remove grease from your vehicle's windows. All you need to do is spray the cleaner onto your windshield, rinse it with a hose and dry it off with towels.
How to Choose the Best Wash and Waxes For RV?
Choosing the best wash and waxes for RV is a daunting task, but you need to choose the most suitable product based on the following factors.
Abrasiveness
Have a complete look over the RV wash and wax abrasiveness when you plan on purchasing it. If you buy a too-abrasive product, you might end up with scratches over the RV finish.
The best way to evaluate RV wash and wax's abrasiveness is by researching the hazing or scratching test. The score should be on the high end so that it has less abrasiveness.
Durability
Durability is another crucial factor that you need to consider while buying RV wash and wax. Choose the product which offers long-lasting effects compared to the others which need constant reapplication.
The RV wax and wash's long-lasting ability shows how many times you need to reapply the product within a year. If you see a product in the market which comes with less information regarding the duration of protection coverage, you should be altered to buy that product.
Versatility
When buying the RV wash and wax, choose the quite versatile product and work well overall surfaces and different vehicles.
If you end up buying such products, you will end up saving a lot of money. You don't need to purchase different cleaners for all vehicles, whether you have a bike, truck, car, or motorcycle.
Environmentally Friendly
This is the incredible thing that you need to consider while buying the RV wash and wax. Choose a product that comes with environmentally friendly ingredients.
The RV wash and wax should not have ingredients like fillers, extenders, or any harmful substances. Choose the products which are labeled biodegradable as you might spill some.
Convenience
It's easy enough to go out and buy a car wash kit or just go with a soap that you have on hand. But if you want something that will give you peace of mind, then you should consider using a convenient wash and waxes for RV. They're designed for automotive surfaces, making them perfect for any vehicle, including RVs. If you're still unsure what kind of product is right for you, here are a few tips on choosing the best convenient wash and waxes for an RV.
1) Only use products that are made for vehicles.
2) Read reviews from other users to get more details about how well the product works before buying it.
3) Look at the ingredients list to see if they include any items that could damage your paint or bodywork.
4) Be wary of cheap brands since they may contain harsh chemicals that could strip away the protective coating on your vehicle.
5) Stick to tried-and-true brands such as Turtle Wax, and Mothers, who have been in business for many years. Always do their research before introducing a new product line.
6) Be aware of your budget since options are available for every price point depending on how much you plan to spend and whether you plan on doing this.
Protection
UV Protection is a must-have if you want to keep your RV looking newer for longer. With so many options, it can be challenging to choose the best UV protection. But with these some tips, you'll be able to make a more thoughtful decision about what wash and wax products are best for you against UV rays.
Ability to offer protection to your RV's custom graphics
To protect your vehicle's custom graphics, use a product designed specifically for that purpose. Some wash-and-wax products offer protection against UV radiation. It will keep the graphics on your RV looking bright and new. If you're looking to get some of those spots out of those vinyl graphics, you'll want to use an exterior wash such as Meguiar's Gold Class Wipe-On Wax.
These products are designed to safely remove tough dirt and grime from exterior surfaces without damaging them. The sealant can apply in less than five minutes by hand or machine, depending on the desired application thickness, and depth of shine for today's modern waxes.
While most consumers don't give too much thought to what they put on their car, it is crucial to consider these factors when choosing a wash and wax product for your RV.
A quality car care system will not only enhance the appearance of your vehicle but also prolong its life with proper maintenance.
An excellent way to maintain your car's pristine condition is to have a professional detail service come over once or twice per year. Like other vehicles, preventative maintenance is vital to save money on costly repairs down the road.
Washing and Waxing Your Recreational Vehicle (RV): A Comprehensive Process in Different Steps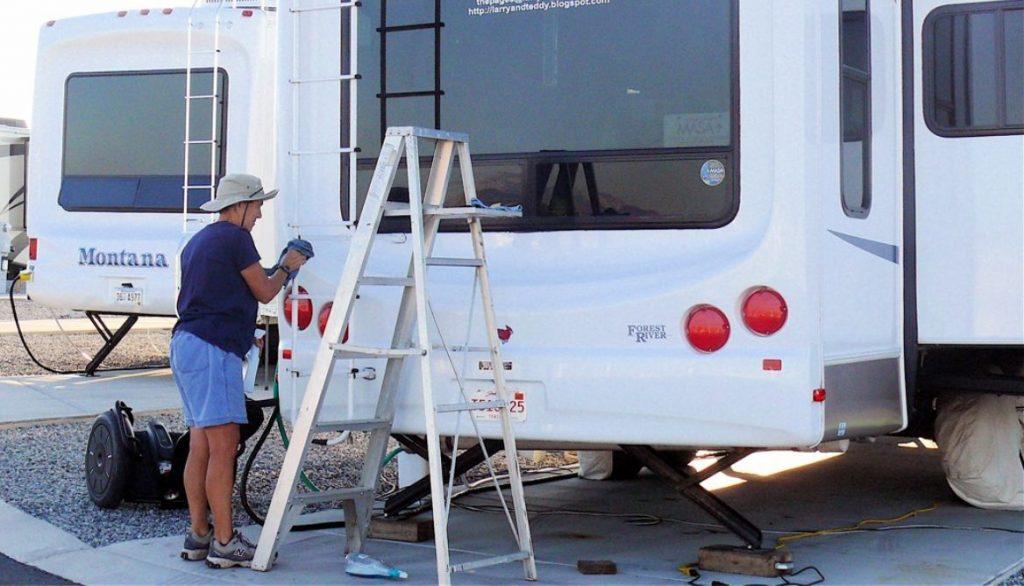 If you own an RV, you know that it takes more than just regular car washing and waxing to keep your rig good and running well. Luckily, there are unique products and techniques. You can use them to clean your vehicle and protect its surface from the elements so that it looks as good on the inside as it does on the outside. Below are different steps to wash and wax your recreational vehicle (RV) to keep your home on wheels looking great all year.
Step 1: Check Tire Pressure Washer
Before washing, it's essential to check your tire pressure and ensure your tires are properly inflated. If they need air, take care of that first. You can use a tire gauge to measure the air in each tire. You want all the tires to have roughly the same amount of air inside them so that the weight is even across all four tires, which is crucial for safe driving.
If you're unsure about the correct tire pressure, consult your vehicle owner's manual or ask a qualified service technician. For example, if one of your tires has less than 25% air left in it and the others have over 25% air left in them, this will be considered under-inflated. The best way to tell if a tire has low enough pressure is by touching it with one hand and pressing it with another.
Step 2: Prepare Your RV
Take the below steps to prepare your RV for washing and waxing:
Put your RV in storage mode. This means you should close all the windows, turn off all the appliances, and ensure no food or water is inside.
Sprinkle a generous amount of baking soda on the floor to neutralize odors. If you have a gas stove or propane heater, ensure they are turned off. You should also be disconnected from your RV's power source before storing it for an extended period.
To wash the outside of your RV, use a hose with soap that won't damage the paint job.
Rinse the entire exterior with clean water until it is free from soap residue.
To wax your RV, use a high-quality carnauba wax or synthetic sealant. It will last longer and provide more protection than waxes made from petroleum products.
Step 3: Complete Process
You can complete this process of washing and waxing an RV by the below steps:
Scrub the tires with a brush or a sturdy sponge.
Dirt, sand, and other particles can get stuck in the treads of your tires and scratch your RV's paint as you drive. Scrubbing them off will help prevent this from happening.
Clean the roof with a high-pressure hose to remove dirt, dust, bird droppings, tree sap, and other debris accumulating on your RV between washes.
Spray down the side panels of your RV, front and rear bumpers, and wheel wells using the same mixture above.
Rinse everything off until it runs clear, then dry it off entirely with towels or a chamois cloth for the best results.
Avoid drying items while they're still wet because moisture could be trapped underneath and cause mildew to form.
Wash the windows, headlights, taillights, grills, and exhaust system with a gentle cleaner like Bon Ami or Mr. Clean Magic Eraser. This will give these surfaces a nice sheen without scratching or etching.
The next step is inside! Vacuum the interior carpet, upholstery, headliner, dashboard, trunk mat, and floor mats before starting to wash.
Remove any crumbs or spills by vacuuming or wiping with a damp cloth.
Wash the interior walls and ceiling with a scrubber or soft brush if necessary.
Types of RV Wash and Waxes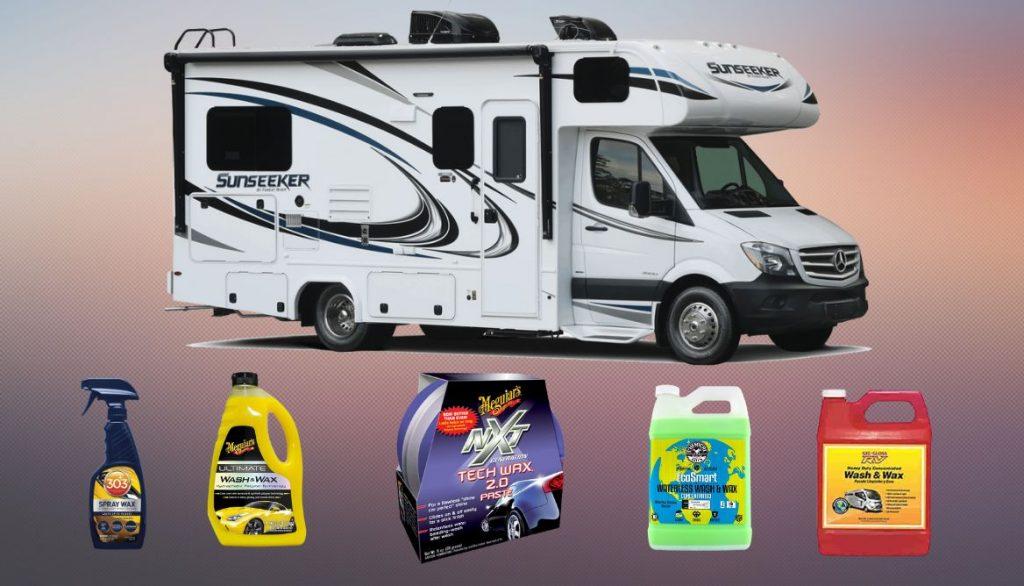 If you have an RV, you know the value of protecting it from the elements. If you're using your RV regularly, washing it regularly should be at the top of your to-do list. Of course, if you're not using your vehicle that often, doing a wash and wax every few months might be enough. Either way, there are different types of RV wash and waxes to choose from that will offer varying levels of protection depending on the frequency at which you use your camper van or motor home.
Spray-on Wash and Wax
Spray-on wash and wax is the most popular type, but it's not always the best option. For example, if you have a large or older vehicle with faded paint, applying spray-on wash and wax can make your paint look dull. If you need more protection for your vehicle, opt for a liquid wash and wax instead. Liquid washes give more shine and protection. Liquid soap will also help to remove dirt from your vehicle's surface. It also gives it a fresh-from-the-carwash feeling!
In addition, it'll do wonders in removing any residual oils on your paint job caused by everyday driving conditions. Opting for a good quality soap may be expensive, but it'll be worth every penny when you see the results on your vehicle! With this type of wash and wax, you don't want to use anything other than water. All in all, no detergent or dishwashing liquids are needed because they will strip away the coating on top of your paint job.
Liquids Wash and Wax Products
There are a variety of different liquids that you can use on your RV. It is important to know that what type you need before purchasing is essential because not all liquids will work for all jobs. Some people like using soap and water, others prefer liquid wax, while some prefer spray wax. There are also cleaners, protectants, polishes, and sealants to choose from. The decision comes down to personal preference based on the environment where the vehicle is stored and used.
Also, depending on how often the vehicle will be exposed to weather extremes such as rain or snowfall. If it is left outside in these conditions more than occasionally, heavier protection may be needed. You should consult the owner's manual or contact the dealer when unsure which product is right for you. However, products with a high-gloss finish will likely have lower UV resistance and need frequent touch-ups.
Conversely, products with less gloss (usual will resist sun damage better but require a lot more time and effort for application. For example, if you apply liquefied wax once every year or two months, liquid might suffice for your needs.
Pastes Wash and Wax
Washing your car doesn't have to be an all-day affair, nor is it difficult and time-consuming. Instead, you can use Pastes Wash & Wax to clean your car and make it look new again quickly. This simple paste is specially formulated for today's vehicles. It eliminates the need to scrub at your car's or truck's surface and causing damage that makes cleaning the car harder in the long run! In just five minutes per week, you can use Pastes Wash & Wax to protect from UV rays while you enjoy a shine that lasts.
Eco Friendly
Washing your RV with eco-friendly products is a great way to protect your investment. Eco-friendly products are gentler on the environment, making them safer for the planet. Eco-friendly cleaners provide added protection against rust. It can be a problem if you're not careful with your regular wash routine.
One of the best eco-friendly cleaners for RVs is soapnuts. These small brown nuts contain saponin. Saponin is an organic compound with natural cleaning properties when activated in water. To activate the saponin, you must boil four or five soapnuts per gallon of water. The lather will easily clean away dirt and grime without chemicals.
When rinsing off the soapnut lather, use fresh water instead of detergent. Be sure to add one cup of vinegar per quart of rinse water to remove soap residues and bring out the shine after washing your RV!
Biodegradable Ingredients RV washes and Waxes
RV wash and wax products come in various formulas that use biodegradable ingredients. You should always read the label on the product you are considering using to ensure that it is a safe, non-toxic formula for your vehicle. Always be mindful of any citrus or other oils. This is because these can damage plastics, rubber, vinyl, and other surfaces that could be located on or near the body of your vehicle.
Be sure to keep some air freshener around because all types of soap will leave an unpleasant odor as they dry. A mild odiferous cleaner can help if you are without any air freshener. Use sparingly so that the smell does not become too strong.
One way to tell when your RV needs more than just a wash and wax is by looking at dirt streaks, hard water spots, or stains from unknown substances. It may also need more attention if it has been sitting idle for an extended period and no longer feels slippery when rubbed across its surface.
FAQs
Do RV Wash and Waxes Work on All Surfaces?
It all varies on the product you purchase. Most of the time, such products are perfect for specific surfaces. Make sure to read the product description while you buy the RV wash and waxes.
How Often Do You Need to Wash Your RV With an RV Wash and Wax?
If you plan on maintaining the glorious shine of your RV, then wash it regularly and use the RV wash and wax. According to the experts, it's best to wash an RV after every six months or twice yearly based on your purchase.
Clean your RV regularly as the dirt and all grime buildup over the RV, so you need to perform a thorough cleaning. You don't need to stick to the six-month cleaning; if the RV is dirty, you need to maintain a perfect shiny finish.
Not only dirt, but RV's are also prone to issues such as UV rays, tree sap, insects, road grime, acid rain, and bird droppings.
You might end up with massive damage if you leave RV untreated, such as discoloration, corrosion, staining, and chemical spotting. Using a top-notch quality RV wash and wax can simply help in getting rid of such issues.
What Are Some Other Tips for Washing Your RV Exteriors?
Other tips for washing RV exterior includes the following:
Park the RV safely away from direct exposure to sunlight as UV rays can damage the RV.
Spray some water on the RV exterior with the hose. This helps in getting rid of dust.
Then use a sponge or other preferred tool for washing the RV exterior.
Use the right amount of RV wash and wax.
Once you are done cleaning, rinse thoroughly and wipe using a dry cloth.
Avoid using high water pressure and hot water over the RV exterior.
Use the sprayer nozzle from a distance of a foot and a half.
If you are cleaning RV metallic parts, it's best to use RV wash and wax with a low abrasive level.
Avoid using the wrong products as they can cause corrosion or rust.
Can You Use Car Wash and Wax on an RV?
You can use a car wash and wax on an RV if you have a painted one. However, if the RV parts are made from fiberglass or come with a gel coating, you need to use a special type of RV wax and wash.
If you don't use the right wax and wash, it can lead to oxidation which can cause dullness or a chalky effect over fiberglass.
Car wash and wax on an RV leaves a perfect protective layer that prevents wear and tear plus weather effects. The wax prevents sun damage, dirt, and water.
What is the best RV wash and wax?
Our winner for this product round-up is the Gel-Gloss RV Wash and Wax. This RV wash lacks phosphate, which can harm some vehicle parts. It gives adequate cleaning, protection, and a perfect shine to your RV.
With the best RV wash and wax products, you need to use the best cleaning tips and get effective cleaning results. RV wash and waxes have made your life easier as they require less effort, less time, and more reliable, safe products for which you won't regret in life.
Conclusion
Investing in your car or truck isn't enough anymore. You need to keep it maintained to ensure that it's always looking its best, and this includes the exterior of your vehicle as well as the interior. One of the best ways to keep your trailer shining in no time is with a good car wash and wax, but there are so many out there that it can be hard to choose which one will give you the best results with the least amount of hassle.
Choosing the right RV wash and wax will not only increase the shine of your vehicle, but also extend its life by protecting it against environmental damage, like rusting and cracking due to extreme temperatures, as well as exposure to harmful substances on the road, like brake dust and dirt from other vehicles.
Thanks for reading these the fifteen best RV washes and waxes for cars and trucks to help you get your trailer shining in no time. I hope these best RV washes and waxes will prove very useful to you. Please name the wash and wax, which you had enjoy the most and that you utilize for your own car or RV.