Top 5 Best Dual Battery Isolators and Kits [Buying Guide]
Product Name
Image
Pros
Price
KeyLine Chargers Dual Battery Isolator
Easy installation.
Compact, simple design.
Sturdy construction.
Comes with a one-year warranty.

Check Price on Amazon

True UTV-SBI-CK UTV Dual Battery Kit
Comes with silicone insulators.
Features 3M dual lock fastener.
Has a 36mm blue led voltmeter along with a dual display.
Automatic isolator battery.
Easy to follow instructions.

Check Price on Amazon
At some point in life, most of us have faced dead battery issues while travelling or camping around. That is why a dual battery isolator is essential for any number of batteries.
Dual battery isolator have many handy aspects including avoiding the primary battery from depleting and preventing the vehicle from starting.
This article will review some of the best RV-friendly dual battery isolator. We'll discuss each battery isolator's pros and cons, in addition, to building & design and the most necessary considerations to be taken while choosing a dual battery isolator.
Let's dig into this article and make sure that you select the best dual battery isolator for your needs.
Best Battery Isolators Reviewed
Most vehicles only come with one starter battery out of the packaging. It makes sense that individuals frequently wish to add a second battery. It may be for motorized winches, an entertainment setup, working illumination, or even just to have a standby.
You should undoubtedly give credit to a dual battery isolator if you've ever gotten into your vehicle on a chilly night and felt delighted to see that it definitely started.
Choosing Between the Best 12V DC Dual Battery Isolators
For a really practical Isolator experience, go no further than the KeyLine Chargers Isolator VSR Kit. You must be determined to put in the time and effort required to get full command of your battery power, then this kit offers outstanding value for the money and so is very reliably useful.
If the tempreture is humid and you cant decide which battery will run best is such conditions then True UTV-SBI-CK UTV Dual Battery Kit is the best possible solution for you. This isolator is very resistant and due to complete layer of coating protection.
Simple but effective, the Blue Sea Systems Add-A-Battery Kit is a great addition to any explorer's inventory. This system is simple to operate and strong enough to handle virtually any twin battery installation, regardless of whether or not you plan to utilize the isolator in an automobile.
If you are looking to charge two batteries seprately without a hitch then Ampper 12V 140Amp Dual Battery Isolator Kit is best for your needs. Epecially, if you plan to travel some harsh weather places then this kit is go-to option for you and morever, it can be used without complexity.
Finally, the True UTV-SBI-CM UTV Dual Battery Kit properly monitors your battery so that you don't have to worry about battery drainage. Even if you forgot to switch off ignition, this islotor will surely provide a safety.
Keyline Chargers an elegant dual battery isolator provides a great technique to keep your current production steady, something that's typically impossible with solid-state electronics. This device's VSR will activate at 13.3 volts and smoothly shut down at 12.8 volts. It is expected that the 140 Amp Dual Battery Isolator will supply everything required to have two batteries charge simultaneously.
Build & Design
This extremely little isolator was designed to be portable and fit almost wherever you could need it. It fits under the hood with ease because it is 2.6 x 2.6 x 2 inches in size. You can get the tools near your dual battery configuration in any scenario.
For usage off-road, KeyLine Chargers' Isolator has received IP65 certification. You're largely protected whether something gets dirty or damp. However, water exposure is not rated for the IP65 certification. It more closely resembles rain and light sprinkling artillery support.
Don't think of this isolator as being completely waterproof, and it shouldn't be a problem.
These systems are great for withstanding vibration since the isolator is normally well-built, and the thick, well-protected cable complements it. Placing the power-in wire and the power-out wire is almost all that is required for setup if you follow the instructions.
Other Considerations
The 140 Amp dual battery KeyLine Chargers Isolator VSR includes a 20-foot cable and a 2-foot battery grounding wire. The first is red while the second is black. The colour labelling will be slightly beneficial for people who are unsure of what they are doing.
If you are a first-time user, the supplied instructions may not be especially useful. They provide imprecise and useless descriptions of concepts. KeyLine reduces the likelihood of getting lost significantly. The majority of individuals can be led using single-coloured wires, while the remainder can be led with wires of varying lengths.
This isolator includes brass positive and negative battery couplings, soldered metal fittings, thermal protect casing, and a variety of bungee cords.
Keyline Chargers contain an isolation converter with a one-year guarantee notwithstanding the unlikeliness with which this sort of equipment requires servicing. There are not many possibly breakable moving parts. As long as you can do a reinstallation, you should be OK.
If you live in an area that experiences a lot of moisture, this is the dual battery pack that will serve you the best. Because of the sticky coating and sealing qualities, the cables are resistant to corrosion. This is the ultimate solution for people who live in the more moist lower troposphere.
Build & Design
The newest generation of the UTV specialized Dual Battery Connection Kit was just announced in January 2018, and it contains the True UTV-SBI-18 smart battery isolator.
This isolator was created from the ground up specifically for stator charging systems. This system offers you the most effective charge management for your supplementary batteries while also safeguarding your primary battery, which is used for starting the vehicle.
It comes with true 18" and 12" sealed 6ga red and black cables and 6mm lugs.
True kits come with the only fully adhesive-sealed and 100% waterproof cables available in the industry. Mounting may be accomplished in three different ways using these kits. Screws, the 3M Dual Lock fastening, or leaving it hanging in wires are the traditional options.
True Amalgamated provides quality and performance that is unparalleled.
Other Considerations
The lithium version of UTV-SBI-CK is a distinct form of battery isolator that possesses advanced characteristics that necessitate the implementation of specialized management programs to preserve those characteristics.
The lithium batteries that are now available for use in this business are NOT 12-volt batteries; rather, they are 13+ volt batteries. Because of this, an isolator that is configured to deal with this and other characteristics that might not be immediately apparent is required.
It includes a traditional screw type, leaving it suspended within wires, or a 3M dual lock fastener. The top-notch quality and performance of this dual battery isolator and kit are unmatchable.
We have invested the time and effort necessary to carry out the necessary research and testing, and as a result, we are pleased to announce the recent release of the UTV-specific LITHIUM Dual Battery Connecting Kit.
This kit includes the True UTV-SBI-19L smart battery isolator for Lithium Batteries, which was designed specifically for stator charging mechanisms. This system offers you the most effective charge monitoring for your Lithium supplementary batteries while also safeguarding your primary battery, which is used for starting.
Just recently, a LITHIUM Dual Battery Connecting Kit designed specifically for UTVs was made available. This kit includes the True UTV-SBI-19L smart battery isolator for Lithium Batteries, which was constructed from the ground up for stator charging mechanisms.
This kit offers stunning charge management for the accessory battery. It also protects the primary and second battery during startup.
This system offers you the most effective charge management for your supplementary batteries while also safeguarding your primary battery, which is used for starting the vehicle.
The Blue Sea Systems Add-A-Battery Kit is a simple yet effective piece of equipment. Regardless of whether you anticipate on using the isolator in a vehicle, this solution is simple to operate and durable enough to handle any twin battery configuration. This gear is on the pricey side, but you have to realize that you get what you pay for when it comes to a high-quality dual battery isolator.
Build & Design
The components of this dual battery isolator that come into contact with electrical current are tinned copper lugs, used for optimal conductivity and their resistance to corrosion.
The unit is further protected by a weatherproof chassis, specifically allowing the charger to be IP67 waterproof.
That's one of the higher waterproofing certifications, so it's rated to survive temporary submersion for up to a couple of feet.
The battery component measures roughly 2.5 x 4 x 0.5-inches, while the starter component has a diameter of roughly 4-inches.
Other Considerations
People who don't want nearly as much power as what's provided by this 120A DC unit may get from Blue Sea Systems' counterpart, which is a 65A DC unit.
However, given that the prices for the two options are practically interchangeable, it would be in your best interest to shell out a few more dollars for the 120A DC unit. It is almost always desirable to have some space for improvement.
However, this dual battery isolator has the ability to deal well with voltage drop situations. These types of battery systems have voltage-sensing relays that provide greater safety.
The battery that is included in the package is an E-series dual-circuit battery, which is constructed to withstand significant amounts of damage and wear.
However, after ten years of consistent usage, it is possible that you'll have to upgrade this battery system. How carefully you handle the internal battery will have a significant impact on the outcome.
Power-insensitive isolator for two batteries. Mainly used to charge and separate two battery systems from two generating units using a single alternator. Features a voltmeter and a controller switch for simple use. Heavy, water-resistant, shock-resistant, dust-proof, and endures severe weather conditions; maintain principal batteries charged and ready to ignite vehicle.
Build & Design
The build & design is composed of ABS plastic, which is sturdy and built for safety usage. The back cover insulates the terminals against any short circuits that may occur, and it is equipped with four sets of bolts.
On/Off switch with two positions, 275 A continuous at DC 12V, 455 A intermittent at DC 12V, and 1250 A momentary at DC 12V are the operational settings.
It is very compatible and is utilized for DC 12 – 48 V systems to isolate and safeguard the electrical systems; can be locked along with other switches or used on its own as a standalone device.
When the motor vehicle or boat is not being used, the purpose of this device is to prevent any power from being drawn from the battery and to properly disconnect it.
The copper terminal stud size is 3/8 inches (10 mm) x two, and it is extremely easy to install. It is universally used for cars, vehicles, RVs, and boats, as well as the switch on electrical equipment.
Other Considerations
Begins to operate at 13.3 volts and stops operating at 12.8 volts; Universally applicable to automobiles, recreational vehicles, all-terrain vehicles, utility terrain vehicles, boats, and electrical equipment powered by two batteries.
Make sure your vehicle's main battery is fully charged at all times and ready to start the engines. Plan for the use of two different battery systems, heavy construction that makes it appropriate for use practically everywhere, even off-road.
The VSR kit includes all of the necessary components for a full installation, including battery cables, battery terminals, tinned copper lugs, heat shrink tubing, and cable ties.
Universally applicable to automobiles, recreational vehicles, all-terrain vehicles, utility terrain vehicles, boats, and electrical equipment requiring two batteries.
This dual battery isolator will safeguard your starting battery that is used in the beginning while also providing you with appropriate power monitoring for your subsidiary battery. This dual battery isolator package provides you with all of the necessary components for a quick and simple installation, such as the meters that automatically switch on or off when the ignition is turned on or off.
Build & Design
The new and improved Connect & Monitor Kit now includes the True UTV-SBI-18 battery management systems isolator, which was designed and constructed from the ground up specifically for stator charging methods.
This system offers you the very best charge management for your supplementary batteries, while also safeguarding your main battery, which is used for starting the vehicle. This kit has been updated to include a BRAND NEW single voltmeter that has dual blue displays.
This volt meter is resistant to shock and water and gives you the ability to examine the level of charge in your batteries in real-time.
All True kits include what the company believes to be the only entirely adhesive-sealed and completely watertight cables in the industry.
There are three different mounting options available with these kits. Screws, the 3M Dual Lock fastener, or leaving it hanging in wires are the traditional fastening methods. True Amalgamated's unparalleled excellence in both quality and efficiency
Other Considerations
A dual-battery installation kit that is efficient and easy to install. Incorporating the most recent iteration of the UTV Battery Isolator (UTV-SBI-18). PEP® is included in this completely automated Smart Battery Isolator device.
This kit was developed to accommodate the specific requirements of the stator charging systems used on the vast majority of UTVs now available on the market.
The design of the isolator kit ensures that the available amps from the stator of your car are channelled first toward maintaining the primary starting battery and that the second battery is not attached until after the permissible voltage level has been reached.
In the event that the combined systems fall below the disconnect threshold, the isolator will disconnect, ensuring that your primary starting battery will always be kept fully charged compared to a second battery.
The former 15CM's two meters have been combined into a single device to create the new Single Meter – Dual Display, LED volt meter.
This meter displays the voltage drop levels of both the major and second battery simultaneously, allowing for precise real-time monitoring. It saves crucial space and time during the installation process because of its one-meter length.
What Are Dual Battery Isolators And How Do They Function?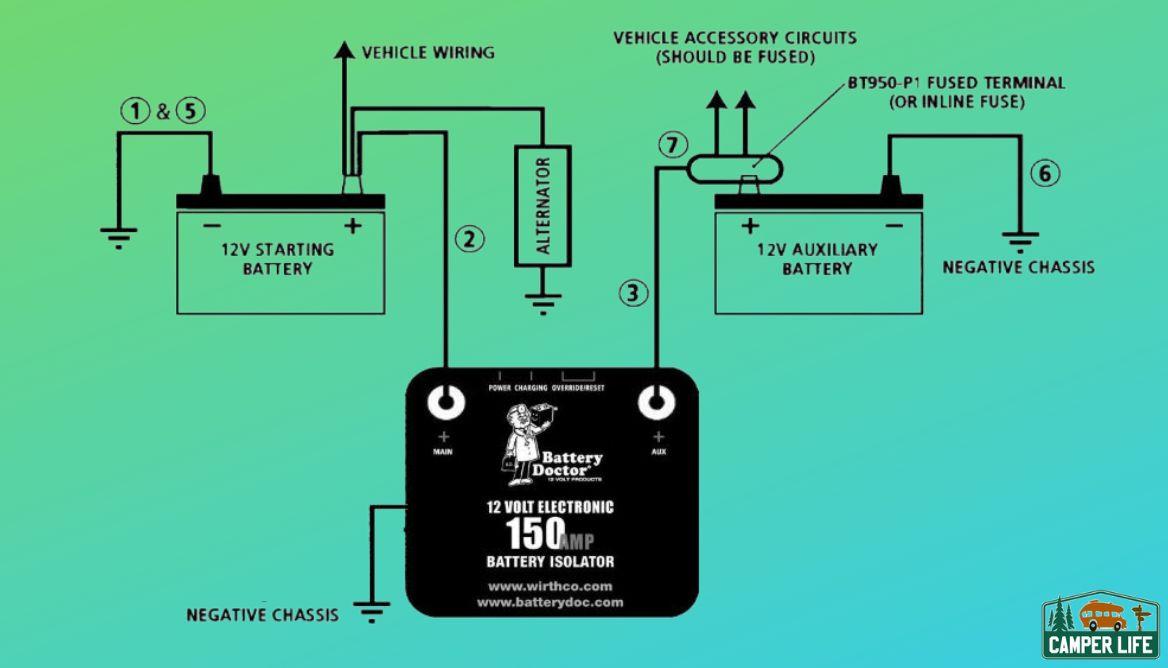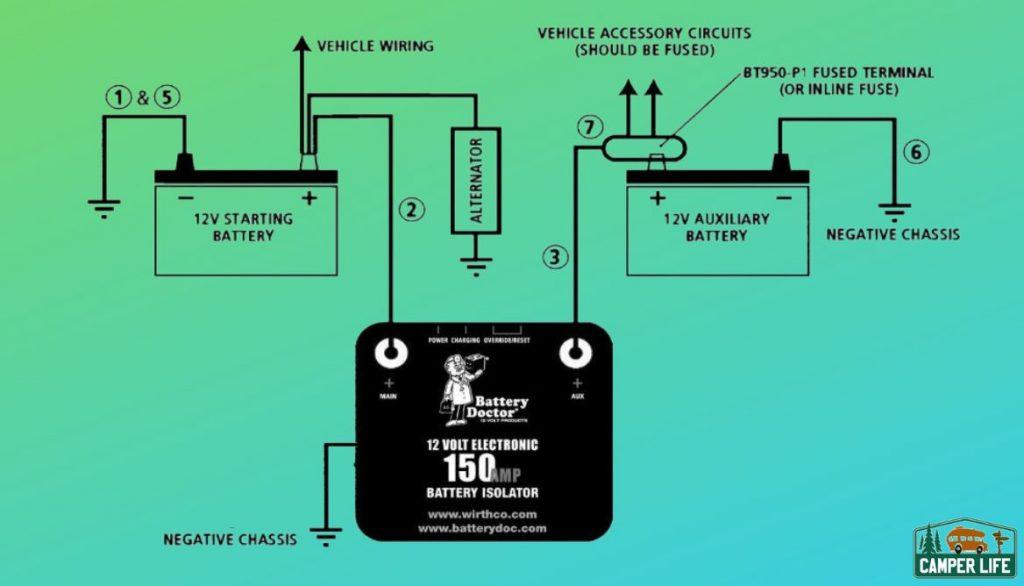 As the name suggests, isolators function by isolating the main battery which is used to start the vehicle leaving it to maintain its charge when the engine is not running.
If your RV has additional appliances such as portable refrigerators or additional lighting bulbs, which uses the vehicle's battery power, the moment the engine stops running, the isolator will cut off the prime battery used to start the engines so that the appliances don't drain both batteries.
When a vehicle's engine is started, there is a surge of power to the starter battery which triggers the alternator making it start producing power. The isolator responds by providing power to the prime battery until it is charged fully.
An isolator for batteries keeps various batteries in a car isolated from each other so that the automobile always has the availability to a secondary battery power supply. Furthermore, a battery separator prevents a vehicle's entire circuit from pulling power from numerous packs at the same time.
If this were to happen, it would quickly deplete all of the batteries, which would lead to the failure of the ignition grid. A car with two batteries, each of which is connected to the isolator, is an example of a straightforward installation that may be found in some vehicles.
The battery isolator is coupled to the dynamo of the car, which is the component that is in charge of supplying the vehicle with electricity generation and recharging the batteries of the vehicle.
Devices are used by the battery isolator in order to ascertain the total number of batteries to which it is linked and to extract power from the battery with the highest capacity.
The alternator will charge the second battery tray that is not currently being used, and the battery isolator will switch the power source if the currently used battery unexpectedly dies.
Upon the primary battering reaching its maximum, the current is switched to the auxiliary battery. The current that is used to power up the appliances is derived from the battery.
When to Use a Battery Isolator (and When Not to)
Isolators for the battery will function well in your setup if all of the following requirements are met:
You are driving an older van that has an alternator with a set voltage: To function correctly, the battery isolator requires a constant voltage. If you have a modern car (one manufactured in 2015 or after) with a variable voltage "smart" alternator, it is highly unlikely that an isolator will be of any use to you.
These are lead acid batteries for your auxiliary devices (AGM, gel, flooded lead acid batteries): Because of their subpar construction, the vast majority of isolators are not designed to perform admirably when used in conjunction with lithium batteries.
(There are certain isolators that are designed specifically for lithium battery; however, the price tag on them is so excessive that they are virtually totally ineffectual due to their lack of affordability.)
You have very little money to spend: The fact that DC-DC battery chargers are more expensive than battery isolators is pretty much the sole benefit that battery isolators have to offer. Investing in a DC-DC charger is the preferable option if you are not restricted by a certain budgetary allotment.
Buying a battery isolator for your setup is strongly recommended if you responded positively to each of the three questions presented earlier in the paragraph.
If, on the other hand, none of the aforementioned situations apply to you, then you will need a DC-DC charger. This is because DC-DC chargers may charge batteries directly.
Manual Vs Automatic Battery Isolators
Manual switches can also be used in isolating the batteries. Both will serve the same purpose of providing current to the primary battery until it is fully charged then switching the current to charge the auxiliary battery which powers the appliances in your RV.
A manual switch requires human intervention. This poses a challenge since humans forget easily and in an instance where the isolator is not turned on draining all power in the primary battery, the vehicle will stall. Automatic isolators will links the batteries for charging and isolate them while discharging, very smart, right? An isolator with surge protection is recommendable as it protects the vehicles onboard computer.
Top Batteries for The Dual-Battery System
Batteries come in two main forms, either shallow cycle (single high-current discharge) or deep-cycle battery. Shallow cycle batteries are mainly found in vehicles from the manufacturer. They provide a high amp charge which is able to start the engine.
Deep-cycle batteries provide sustained power over long periods of time hence preferred as an auxiliary battery for a dual battery system. The deep-cycle battery is larger in size and more expensive as compared to their counterpart shallow-cycle battery.
The dual-battery system varies in size and weight. Variation in the internal lead plates in terms of numbers ad thickness brings out the overall difference. The internal lead plate and their thickness define the amp-hour capacity of the battery. For a better dual-battery, choose one with more lead plates and whose terminals are dual fit.
Shallow-cycle batteries have thinner plates and take less time to charge to full as compared to deep-cycle batteries which have thicker plates and takes more time to charge to full. In a dual-battery system, it is necessary to put into consideration if the battery isolator is capable of charging both batteries.
While on a mission to purchase a dual-battery system, it is necessary to put into consideration the type and formation of the batteries.
Which Are the Best Types Of Isolators?
There exist numerous isolators in the market but this article shortlists the best and highly regarded.
Diode Isolators
The battery circuits in this type are isolated from each other. Each battery is an independent power source since the current flow is isolated. The circuits act as a one-way valve between batteries.
Solenoid Isolators
This type charges the batteries in a parallel manner. When the ignition of the van is turned on, the solenoid isolator switches on allowing the current to flow in both batteries. When the primary battery is full, the isolator solely diverts all the current to the auxiliary battery. For parallel charging dual-battery, it is recommended the batteries be uniform; of the same age, capacity, size, and of the same design. When the ignition is turned off, the isolator's switch automatically isolating the primary battery and the auxiliary battery is left for consumption.
Electronic Isolators
In the dual battery system, electronic isolators are regarded as the best. The batteries are not a must be identical and of the same properties, the electronic isolators are modified I manner to recognize and identify the difference in the batteries adjusting the charge rate. However, the primary battery is obviously given priority allowing it to charge while the engine is running and isolating it when the engine is off.
On the basis of vehicle usage, it is best to choose the right system. For RVs, the van will mostly be on-road hence the system should not be of concern on dust and water resistance features. For off-road vehicles, the best system is one with water and dust resistance features.
Smart Solenoids
This type of isolator is essentially a smarter version of solenoid isolators. They possess voltage sensors that allow automatic operation. They are smart enough to hold voltage to the auxiliary battery until the primary battery reaches a predetermined voltage then charging commences to the auxiliary battery. Charging proceeds parallel for the dual battery.
When the ignition is turned off, the smart solenoid sensor turns on. Draining of the primary battery will reach a predetermined voltage then the sensor will isolate it leaving the auxiliary battery to be used by the electrical appliances. The sensors function in such a manner to avoid draining all power and flattening of the starting battery.
Voltage Sensing Relays Isolators
They function like smart solenoid isolators. However, the charging of the dual battery is not parallel. In addition, it uses a relay and not a sensor with the two batteries electrically separated. In an instance when the main battery drains below a predetermined level, the auxiliary battery is disconnected from charging to charge the primary battery to its predetermined level.
What Size Battery Isolator Do You Need
The size of your dynamo will determine the isolator that you will need. Even though it is quite unlikely that you would ever observe the entire dynamo output amperage passing through your isolator, you should still use it because it is the only basic foundation you have.
Determine the maximum amount of amps that can be produced by your engines and make sure your isolator can take it.
In rare cases, the spec sheets of the vehicle will include the maximum amount of amperage that the dynamo is capable of putting forth. In the event that you do not own this or are unable to locate it. In most cases, it will be printed onto a metal plate that is affixed to the dynamo directly.
Voltages and Amperages
By adopting apparently basic features like start isolation, your sensitive electronics may be shielded from the sort of voltage dips that may occur while the engine is starting. These dips in voltage may be caused by the engine itself. It is possible that your delicate electrical systems will not be harmed as a result of this.
In addition to being isolated from one another, separate automobiles each have their own particular batteries. The specifications for each variety of battery are different from one another. Isolators should have ratings that enable them to carry the amount of voltage and current that you anticipate pulling from them. These values may be found on the manufacturer's data sheet for the isolator.
These typically range anywhere from 120A to 150A and may be discovered on the most effective battery isolators that are now on the market.
Even while there are kits available that are more powerful and are designed specifically for certain tasks, the vast majority of people can get by just fine with virtually any battery isolator that has been constructed in the proper manner.
Systems that are equipped with batteries that have a longer lifespan ought to make use of supporting hardware that likewise has a longer lifespan.
Size and Shape
When selecting the correct size battery isolator for your car, you should use the maximum output of your alternator as a basic guideline. This will ensure that you make the right choice.
This number ought to be listed somewhere, either in the manual that accompanies your vehicle or stamped onto the alternator itself, and you should be able to find it.
Therefore, if the maximum output of your alternator is 175A, you will want a battery isolator that is rated for 175A at the very least. This is the very minimum need.
However, even if your alternator may be able to generate 175A, only a portion of that current can be utilized to charge your aux battery. If you want to fully charge your aux battery, you will need to use the alternator's full capacity.
Because a portion of it is being utilized to power the numerous other systems and electronics in your vehicle, the amperage that is being supplied via your aux battery isolator may be a significant amount lower. This is the case because of the fact that your vehicle has a lot of electronic components.
In addition to this, the vast majority of battery isolators that are now on the market are offered in sizes ranging from 125A to 150A.
These are the most common options. Larger isolators are available; however, once the current rating surpasses 150A, their price begins to increase; at that point, you might as well simply acquire a DC-DC charger anyhow because the price difference is negligible.
To make a long story short, if you want to use a battery isolator, a fundamental 125A to 150A smart isolator should have sufficient capacity for the great majority of situations. This is because battery isolators are designed to isolate currents ranging from 125A to 150A.
How To Charge Your Van's Starter Battery While Driving with Dual battery isolator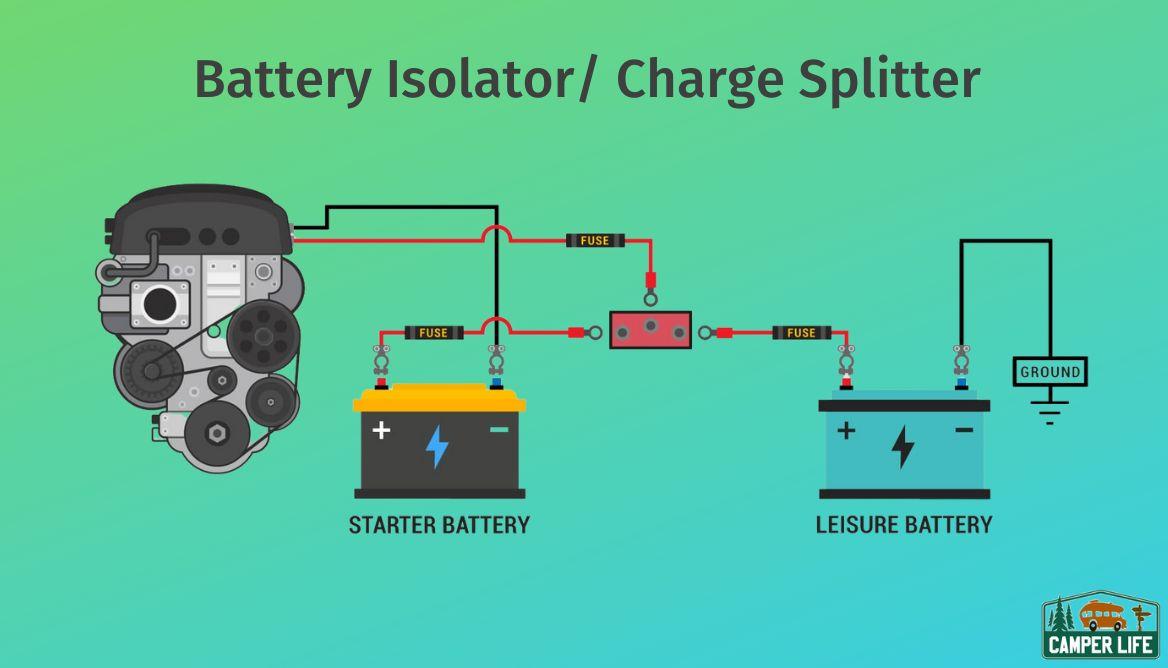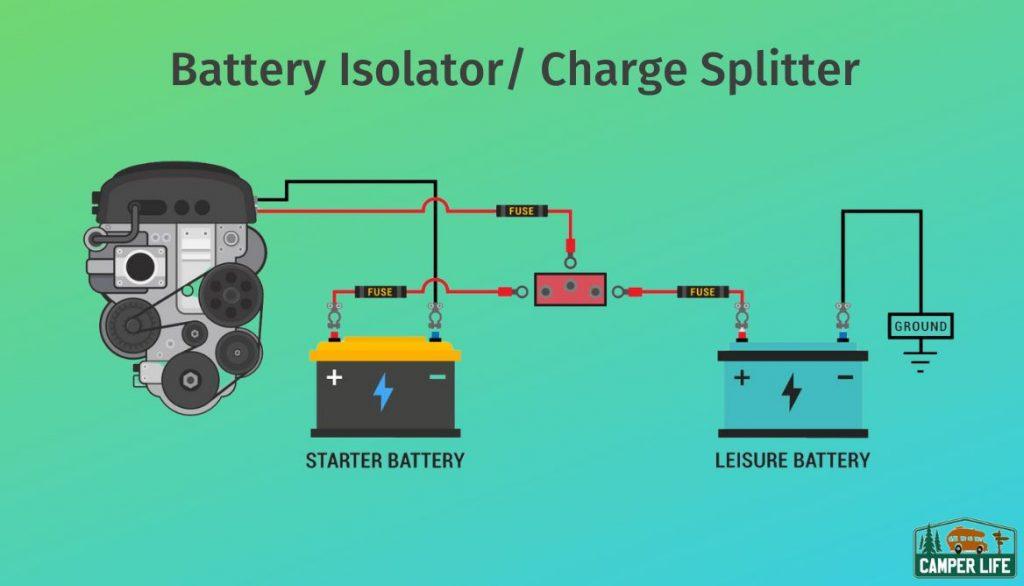 All cars have alternators. An alternator transforms potential power from your RV's engine into electricity to run devices and charge your starting battery.
Connecting the positive terminals of both batteries in parallel lets your alternator charge your second battery. However, paralleling your batteries drains the starter battery when the engine seems to be off, which is bad if you intend to restart your RV in the morning!
Let's see a step-by-step process:
Step 1: Take your start battery and disconnect it from the negative terminal of the battery. This is a crucial safety measure that disconnects you from the starting battery so that you do not receive an electric shock. Find a location that isn't difficult to get to. The engines bay is the common location for the mounting of battery isolators (you may need to temporarily remove your start battery to make room).
DC-DC chargers are often positioned at the back of the vehicle, next to the auxiliary battery, so that they are protected from the elements.
Step 2: Install the charging unit in its location. Find a location that isn't difficult to get to. The engine bay is the common location for the mounting of battery isolators (you may need to temporarily remove your start battery to make room). DC-DC chargers are often positioned at the back of the vehicle, next to the auxiliary battery, so that they are protected from the elements.
Step 3: Connect the van's battery to the electrical hub using a cable that runs from the engine compartment. You may need to pull this out from underneath your van. To prevent a short from occurring, wrap the cable connecting the battery with sheathing or flexible conduit.
You may keep it out of the way by using zip ties. Check to see that the cable is securely fastened and that nothing is dangling limply from the ceiling. Drill a hole up through the floor of your van so that the cable may be routed inside. Caulk silicone should be used to seal this.
Step 4: The charging device should be grounded. A common ground point on the chassis of your vehicle should be used to attach either the DC-DC charger or the battery isolator. It is recommended to utilize a ground screw that is already installed.
Step 5: Connect the charging devices to the ignition circuit of your car if this becomes necessary. There are several DC-DC chargers, as well as battery isolators, that need you to tap into the ignition circuit of your vehicle.
Step 6: Join the charging device to the start battery of your vehicle. Adjust the length of the battery cable by cutting and crimping it to fit your needs. Connect a power wire from the DC-DC charger or isolator to an inline ANL fuse.
Connect a second cable from the fuse to your starting battery. If you are using a DC-DC charger, this will be the longest cable that you ran under your van. Isolators for the batteries are installed in the engine compartment.
Step 7: Connect the charging device to the aux battery on your vehicle. Adjust the length of the battery cable by cutting and crimping it to fit your needs. Run a power wire from the DC-DC charger or battery isolator to an inline ANL fuse.
After that, run a second cable from the fuse to your auxiliary battery (for battery isolators, this is the lengthy cable you ran beneath your van). Chargers that use the DC-C format are installed next to the aux battery.
Step 8: Check that everything is functioning properly once you have reconnected your start battery. Start the engine of your vehicle, wait a few minutes, and then double-check to make sure that the aux battery is charging.
Readouts are something that should be provided by DC-DC chargers. Battery isolators will come equipped with indicator lights, and you may use a multimeter to verify the voltage that is present at the terminals of your aux battery.
FAQ
Will dual batteries hurt my alternator?
The majority of alternators are only capable of charging a single lead acid battery and attempting to charge any more than that might cause the alternator to overheat and melt its winding. On the other hand, a twin battery system shouldn't harm your alternator if it is connected properly and has the appropriate components installed.
What is the purpose of a dual battery isolator?
Isolators for two separate batteries With the help of a REDARC dual battery isolator, you can extend the life of the battery in your RV and make sure it stays charged. A multi-battery isolator from REDARC will allow you to go further and be out in the wilderness for a longer period if you use it as a solenoid priority system in a twin-battery setup.
Should the battery isolator be positive or negative?
Although it is possible to operate the switch in either direction, the positive power lead is often where it is located since this is the most usual configuration. The reason for this is that components frequently have more than one path to ground; hence, installing a switch in the "main" ground power wire could not isolate the accessory from the earth.
Do battery isolators fail?
Connecting the house battery and the engine might potentially cause isolators to malfunction. This enables the usage of your RV equipment to drain the batteries in your engine. The higher voltage battery will attempt to charge the lower voltage battery as a result of the two batteries' mismatched voltages, which might affect the lifespan of both batteries.
With the engine off, you may check the voltages on the three isolator terminals to determine whether either battery is putting out voltage on the alternator terminal, which ought to be zero.
How many amps is a dual battery?
Charge current for dual battery chargers may commonly run anywhere from 6 to 50 amps. So, which of these options do you think will work best for you? As a general rule, battery bank sizes ranging from 75 to 200 AH require a dual battery charger with a capacity of 25 amps, while larger capacity requirements should be met with a battery charger with a capacity of either 40 or 50 amps.
Do you need a fuse on a dual battery system?
Yes, according to the technical definition, you must employ a fuse to safeguard a wire whenever there is something (a battery, an alternator, or anything else) that is capable of supplying electricity TO the line. To ensure that the whole length of the wire is safeguarded, the circuit breaker or fuse should be located as near to the power supply as is physically practicable.
Do you need a dual battery to run a fridge?
It is going to be necessary for you to have a dual battery system if you want your vehicle to be able to power accessories while it is parked, such as a portable refrigerator, safety lights, or radios. Installing a 4WD twin battery system will protect your gear from the possibility of losing power and ensure that your vehicle is always prepared to be started.
What is an intelligent battery isolator?
Automatic battery separation is achieved via the use of the simplest and most technologically advanced approach possible: a smart isolator. These devices can be mounted between batteries that share ground to automatically regulate the charging process that is being applied to the batteries. However, they will continue to offer isolation if a charging source is not available.
Conclusion
It might be difficult to choose the best battery isolator because there are so many alternatives available. The best course of action in light of this is to think about your power requirements and choose which batteries are suitable for your car.
Try to select a battery that fits your budget, but don't just pick the cheapest one. Any of the options on our list above are excellent picks if you're shopping for a new dual-battery isolator. Choose the one that will smooth out your next experience, then relax and enjoy the ride.
Was this article useful to you? If you have any questions, kindly let us know in the comment area.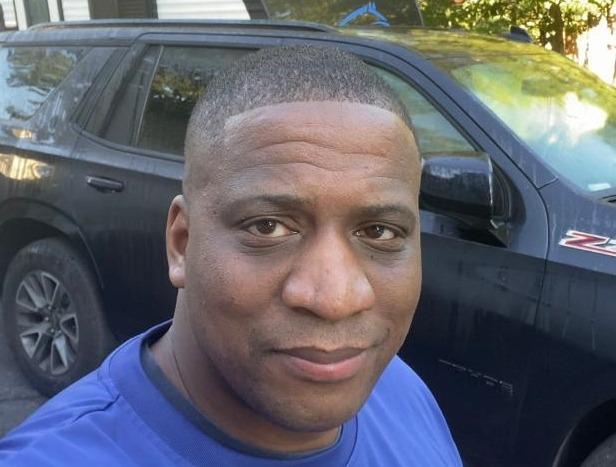 I`m a current Law Enforcement Officer working within the Counterterrorism Bureau in New York State. I have been Camping for over 20 years. My styles of camping include tent, car, truck, van, and RV travel trailer. I have a YouTube channel where I teach all types of camping with an entertaining method: https://youtube.com/@TheSmallsRVAdventures