5 Best Luxury Fifth-Wheel Campers
Purchasing the best luxury fifth-wheel camper might seem like a daunting task. There are several fifth-wheel campers on the market with different luxuries. But you need to consider your preference and choose the one that typically meets all your needs of the best fifth-wheel camper.
Whether you are dreaming of buying one or plan to buy in the future, here is the list of the 5 best luxury fifth-wheel campers.
Comparison Table:
Camper Name
Length
GVWR
Hitch weight
Fresh Tank

Capacity

Gray Tank

Capacity

Black Tank

Capacity

AC Capacity
Grand Design Solitude 385GK Four Slide Luxury Fifth Wheel
40-feet
16,800 lbs
2,724 lbs
93 gallons
106 gallons
53 gallons
30,000 BTU
DRV Mobile Suites 40KSSB4 Fifth Wheel RV
41-feet
21,500 lbs
N/A
100 gallons
75 gallons
50 gallons
30,000 BTU
Keystone Avalanche 378BH Fifth Wheel
40-feet
16,500 lbs
2,820 lbs
66 gallons
83 gallons
83 gallons
28,500 BTU
KZ Durango Gold Luxury Fifth Wheel
41 feet
15,600 lbs
2320 lbs
67gallons
53 gallons
40 gallons
N/A
Crossroads Redwood
42.17 ft.
14,988 lbs
2,732 lbs
66 gallons
82 gallons
82 gallons
30,000 BTUs
Best Luxury Fifth Wheel Campers
Grand Design Solitude Four Slide Luxury Fifth Wheel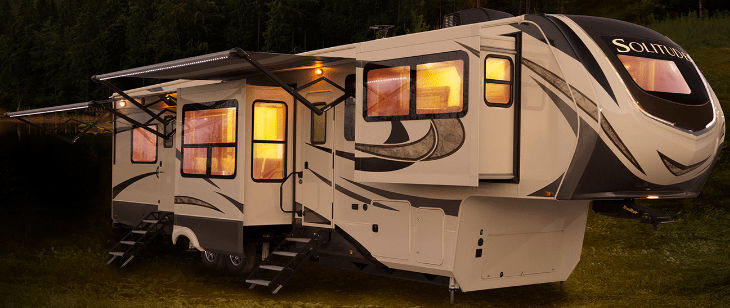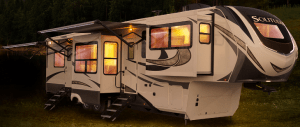 For comfortable living, nothing is better than a grand design solitude four slide luxury fifth wheel. This beauty has a lot to offer you for a luxurious living concept. The price is relatively high for this fifth wheel. It will indeed be a long-term investment.
The durability is increased because of the fiberglass and aluminum construction. It is a big thing to be towed. So, be prepared to arrange a ton for a pickup truck.
This luxury fifth wheel will store about 93 gallons of freshwater with gray and black water tanks. Not only this but the beauty is designed in a way to deal with any climatic change.
You can enjoy a 30,000BTU air conditioning system for hot days. Whereas, for chilly weather, 35,000 BTU propane furnaces are always there for you.
The interior features an open kitchen and living room concept. You can watch your favorite show right from the kitchen on the big flat tv.
Along with the shoe storage, there are a large pantry, refrigerator, and three burner stoves. They let you cook anything you want. The external kitchen extension is a great idea to prevent the air conditioning system from mishaps. You can even enjoy grilling there.
The living room has a comfortable leather reclining seater to satisfy you. Also, the queen bed can be opened from the giant sofa. A skylight in the large shower of the bathroom adds elegance to the fifth wheel luxury.
The bedroom includes a choice between a king- or queen-sized bed along with a dresser, walk-in closet, and a flat tv screen.
Other Features:
Linen closet in the bathroom.
Fireplace near the sofa.
The open concept of living and kitchen.
Hitch weight of 2,724 lbs.
Heavy-duty construction.
Luxurious interior with built-in pass-through storage space.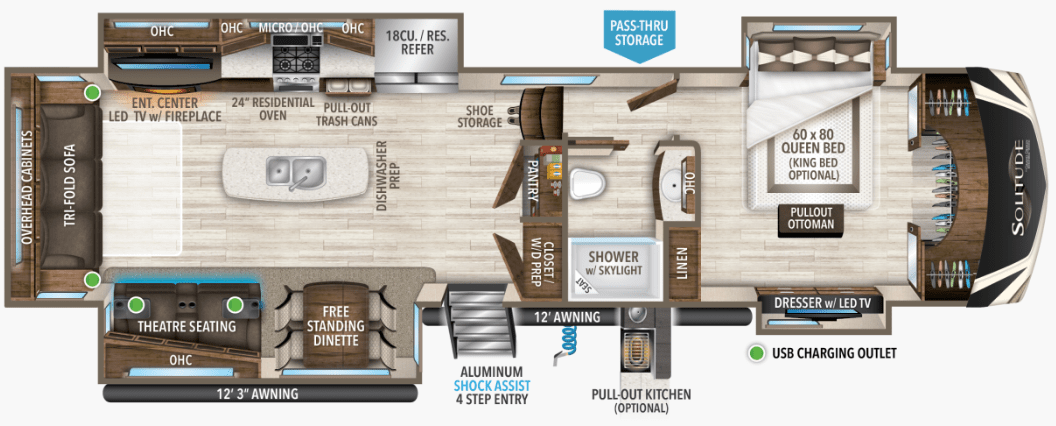 DRV Mobile Suites Fifth Wheel RV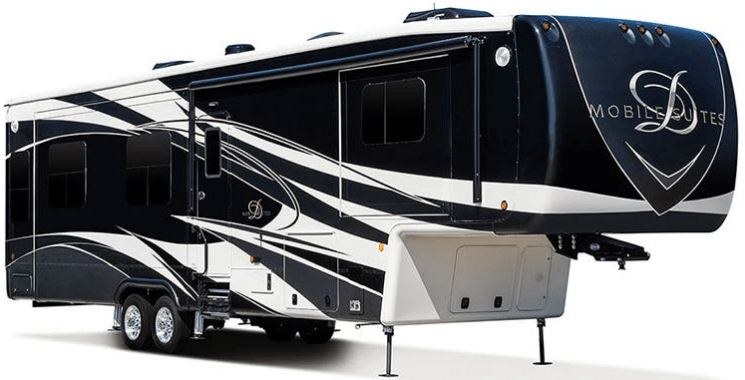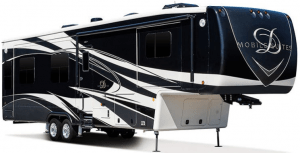 For those looking for luxury while traveling, DRV Mobile Suites Fifth Wheel RV is the right choice. This fifth-wheel camper is quite heavy to tow. But this can be ignored when there are so many luxurious and comfortable features.
It's expensive but worth every penny because of the four slides-out sections and a classic interior. With its open concept, you can have more space as compared to other RVs.
You don't have to worry about the temperature rise. Because you live in a DRV mobile suite with an ideal air conditioning system of 30,000 BTU.
It's a heavy-duty fiberglass exterior to keep the environment cool inside. You can also use a mini fan while preparing food to avoid excessive heating.
A perfect option for chilly weather, this RV has a 40,000BTU furnace to keep you warm and toasty. Camping with zero facilities out there? This thing has a substantial fresh, gray, and capacity for black water storage.
Its kitchen has all the equipment. They include a residential refrigerator, three-burner stove, oven, sink, and proper countertops. It also has some free space to let you cook conveniently.
There is a tv screen in the front of the tri-fold sofa and recliners for a relaxing evening. It's nighttime, and you are missing your bedroom. This beauty has a huge master bedroom with a fantastic bathroom. You don't have to compromise your hygiene as well.
There is a dresser and a tv in a slide-out section to give you enough space. You can even ask for a queen size bed for more space. The closet is large enough to keep all your essentials and stuff secured inside.
Other Features:
100 gallons of freshwater capacity.
Four slides out sections.
Vanity mirror in the bathroom.
Huge enough to let four people live inside.
Separate bathroom door.
A tiny fan in the kitchen to balance the temperature while cooking.

Keystone Avalanche 378bh Fifth Wheel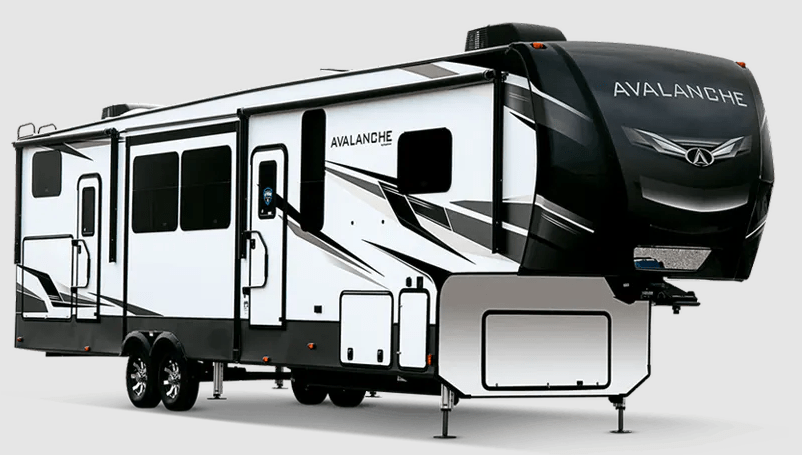 Most RVs let 4-6 people live inside, whereas this incredible thing has a capacity of 12 people. Now, living in comfort while traveling with extended family or a group of friends is possible.
With not a troubling weight, the Keystone Avalanche has all the luxuries for you. Made of fiberglass and aluminum, it gives you long-term comfort. There is a two-inch receiver hitch if you are planning to tow a small vehicle.
66-gallons of freshwater with about 83 gallons of gray and black water separately. The capacity is enough to enjoy your long camping trip without any worries. If the number of people living inside decreases, the power becomes more feasible.
The camper keeps the interior cool on humid days with 28,000BTU and warm during cold days with 35,000 BTU.
The extra storage space allows you to store all of your stuff. In addition, the external kitchen and entertainment center adds more space inside. Moreover, there are two bathrooms along with the rear bunkhouse for additional luxury.
To let you cook and wash with ease, there is a dual basin sink and a pantry to store all your tableware. With all the luxury kitchen features like a refrigerator, oven, countertops, and three burner stoves, you can prepare a meal conveniently and fast.
You can also use a removable table as a dinette. The bunkhouse features two bunk beds with a sofa and loft bunk, giving your space to place a tv.
The master bedroom in this trailer comes with a king bed with underneath space, tv, and a closet so you can put all of your stuff in it. For your laundry, the slide-out section has a washer-dryer combo as well.
Other Features:
Outside access to the rear bathroom.
Two entrances to the master bedroom.
The bathroom has a medicine cabinet, vanity mirror, linen closet, shower seat, sink, and a toilet.
A removable table in front of a tri-fold sofa.
Huge space for an extended group of people including, a bunkhouse.

Kz Durango Gold Luxury Fifth Wheel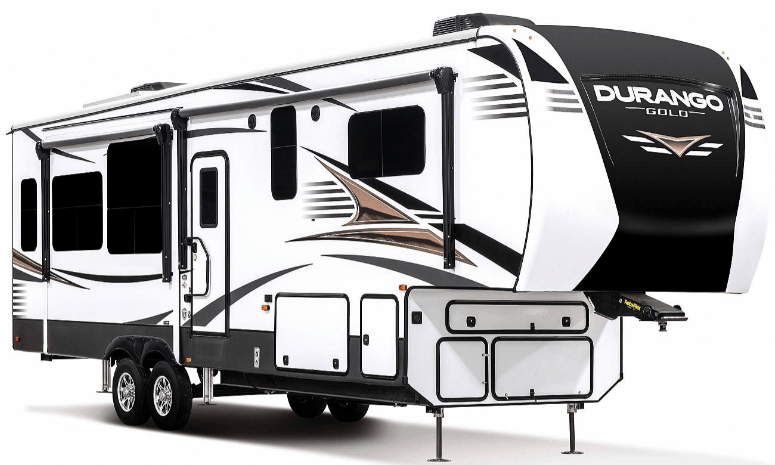 KZ Durango gold can do wonders for you. The mild shade and luxurious interior will make you feel at home. It is the best choice if you want to live permanently in this RV.
The kitchen is in the rustic shade for an elite look. There is a stainless-steel dishwasher, refrigerator, oven, and sink for your convenience. The removable dining place allows you to have more space when is not being used.
The living room comes with recliners. A sofa that makes it a cozy place to relax in chilly weather with a fireplace and a giant tv screen. If you are bored inside, go out as the RV has an 11-inch awning along with built-in LED lights.
And if you are tired, take a break in the master suite. There is a king-sized bed with a massive closet to give you more space.
This trailer comes with a washer and dryer for your laundry so that you can have clean clothes all the time. Moreover, there is a rear storage space to let you store as many things as you want.
Other Features:
Auto leveling with 6-point.
Full-length closet in the bedroom.
11-inch awning.
The theater seating also has a massaging option.
18-cu ft refrigerator.
Solar panels.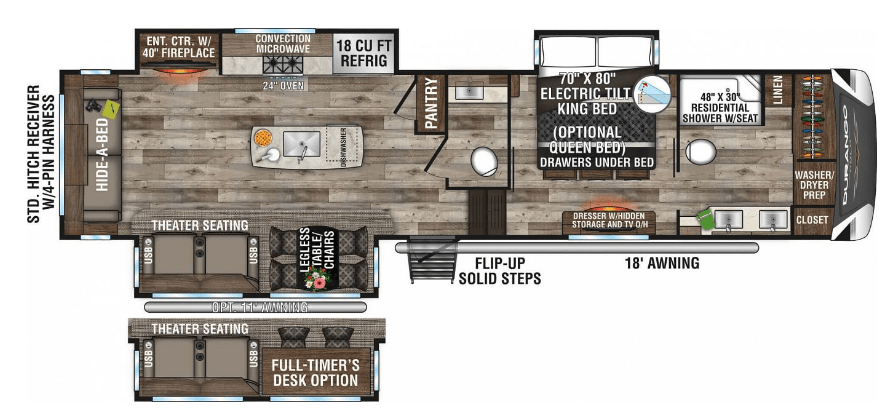 Crossroads Redwood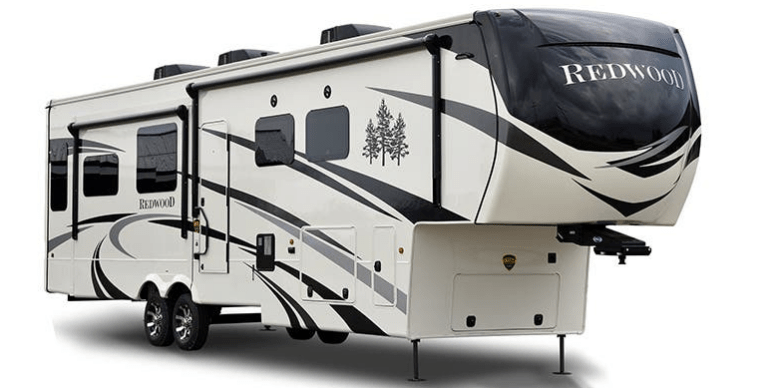 Crossroads Redwood is designed to take roadside living to another level. The luxurious features it offers are classy and highly comfortable to live in this RV. The affordable price range makes it more valuable. With an aerodynamic profile and heavy-duty construction, the camper will last long.
Not only it provides comfort and luxury, but the camper is also durable in all four seasons. The dream kitchen and fantastic structure of this RV are desired by many campers.
With an ideal air condition system and a vast water capacity, the trailer is ready to serve you with all the possible facilities. For those buyers who adore spending time outside, there is an awning with LED lights to make your nights memorable.
Moreover, enclosed heated water lines are to prevent the water from freezing during temperature drops.
The kitchen in this trailer is packed up with all the necessities and residential appliances to make your cooking easier. Its high gloss hardwood cabinets are to provide you with durability. Whereas it also features a farmhouse sink and waterfall faucet.
For added luxury, the bed can be tilted, so you get more space whenever you want. There are dimmer and switches to control the light and temperature settings. Smart HDTVs and wireless chargers are to take care of your technologies.
The bedroom features a washer and dryer combo so that you don't have to worry about the increasing laundry.
Other Features:
Central vacuum system.
Solar prep.
35,000BTU furnace.
Insulated doors and dual pane windows.
Command automation system.

Pros and Cons of Luxury Fifth Wheel Campers
Pros:
They are tall, long, and more extensive.
Come with additional slide-outs.
They come with additional basement storage.
They offer luxury amenities to the users.
Easy to hitch and easy to drive.
Excellent value for money.
They stay stable at the times of towing.
Cons:
They weigh more.
Expensive.
They need a pickup truck.
FAQ
What is the most luxurious 5th wheel trailer?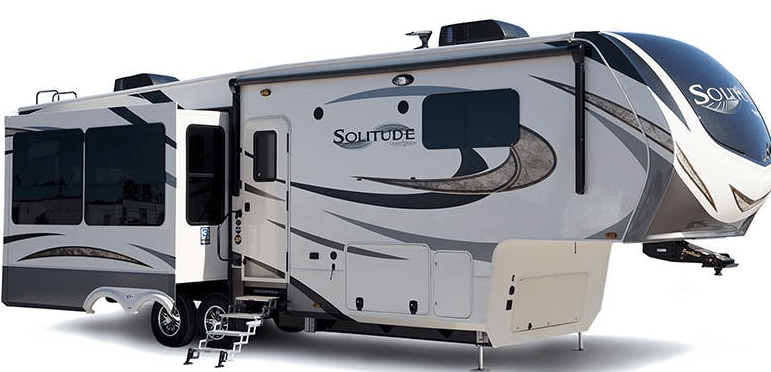 The most luxurious fifth-wheel trailer is the Grand Design Solitude 385GK four-slide. It comes with the most stunning features in our list of different fifth-wheel campers.
What is the best brand of fifth-wheel campers?
When we talk about the brand that has been the best in manufacturing luxurious and top-notch fifth-wheel campers, then Grand Design Solitude is the name that wins the race. It is a top-notch brand that offers all amenities, luxurious requirements, and it is at competitive prices.
What are the best 5th wheels for a full-time living?
If you prefer buying the best fifth-wheel camper for full-time living that gives you the feel of staying at home, then our list of products will help you out. The top fifth-wheel camper is Grand Design Solitude, which we talked about and considered the best fifth-wheel trailer.
Next on our list of fifth-wheel campers are KZ Durango Gold and DRV whole house. They are the fifth wheel campers which allow accommodation for several people with perfect comfort similar to home.
What techniques make a fifth-wheel trailer a "luxury" camper?
When we talk about the interior space with esthetics, then luxury is the term that defines the space and lighting of the fifth-wheel trailer. They are luxury campers because of several factors like convenience and comfort, which are on the top of the list.
Furthermore, the large refrigerator, an extra BTU air conditioner, a huge shower, hookups for dryers, washers, etc. also make fifth-wheel trailers luxurious.
For some buyers, luxury fifth-wheel trailers mean leather furniture within the living room, an open layout concept, the king-sized bed within the master suite, and more.
Lastly, it all depends on the preference of the buyer and needs.
Conclusion
These days, there are several luxury fifth-wheel campers on the market because of the extra attention paid by the RVers. Before buying the fifth wheel camper, you need to assess its specifications, why you need it, and how you'll use it.
However, the top-notch priority of each buyer is to check the comfort level of the fifth-wheel campers. If you like glamping, the best fifth-wheel trailer is Grand Design Solitude. These stunning fifth-wheel campers come with excellent specifications that you'll fall in love with.
If you have a limited budget, you might need to look for another tremendous fifth-wheel camper like Crossroads Redwood. If you are a family with a large number of people, choose the luxury fifth-wheel camper like Keystone Avalanche. This fifth-wheel camper comes with dual bathrooms, privacy in the master bedroom, and much more.
So, what else do you need? Just consider your needs and preferences to get your hands on the best luxury fifth-wheel camper!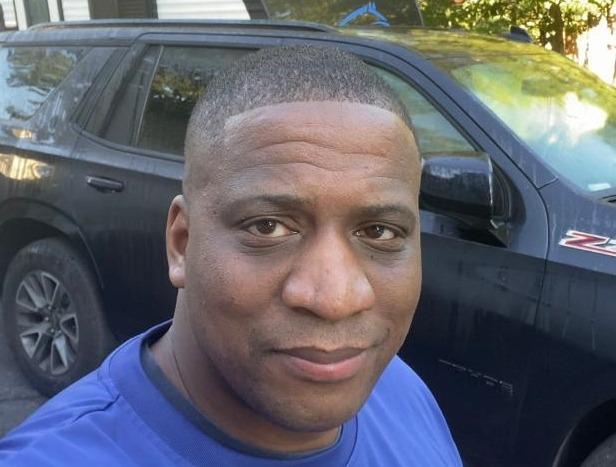 I`m a current Law Enforcement Officer working within the Counterterrorism Bureau in New York State. I have been Camping for over 20 years. My styles of camping include tent, car, truck, van, and RV travel trailer. I have a YouTube channel where I teach all types of camping with an entertaining method: https://youtube.com/@TheSmallsRVAdventures