Best RV Exercise Equipment Compact Enough To Travel With
Whether emotionally or physically or mentally everyone wants to lead a fitter and healthier life. This looks like an easily achievable task. But when it comes to reality it requires a lot of hard work and practice especially when you are busy with your work like travelling or unable to go to the gym because you don't have time and so many reasons.
During the olden days, people have no concentration on fitness. But things have changed drastically and people have started concentrating more on their physical and mental health. Nowadays fitness has become a part of life. Some people don't even start their day without doing exercises. They go to the gym regularly.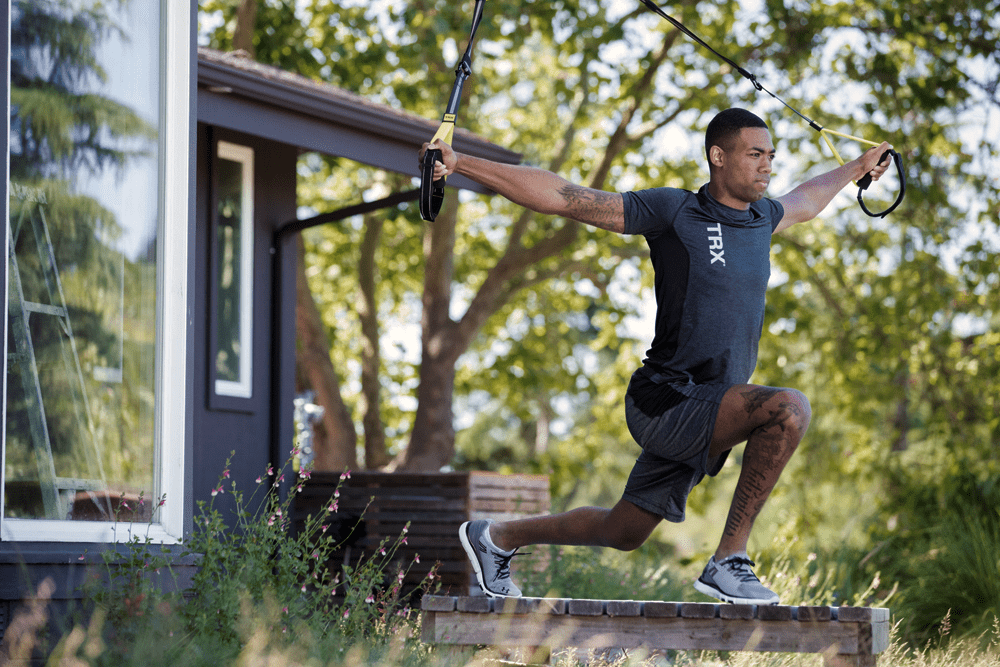 For those people who cannot start their day without exercising they will face some problems. One of those problems arises when they are going on a vacation in an RV. There they don't find any gyms and they cannot start their day without exercising.
So especially for these kinds of people some of the manufacturers have made gym equipment that is portable and they can be taken with them without occupying more space in their RV. In this article, we are going to discuss the Best RV Exercise Equipment. So let's look deep into them.
Best RV Exercise Equipment
These are the best RV exercise equipment you must have when traveling.
Dumbbells
Dumbbells are one of the most favourite gym equipment for anybody. They are also easily portable. Using dumbbells for exercising has many advantages. Some of them stimulate the muscle growth, they help to improve the muscle force and increase flexibility of the muscles and they will help to provide better coordination between muscles and joints. So the dumbbells have many advantages. The dumbbells are also available in different sizes and different weight categories like two kgs, five kgs, six kgs, ten kgs and so on.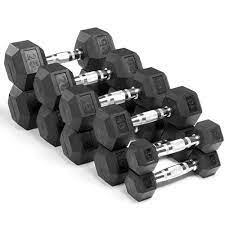 Pros
Easy to carry
You will get different weights
Lots of benefits
Cons
Occupies more space
Expensive
Storage problems
As there are many advantages with the dumbbells there are also some disadvantages. One of the disadvantages is storage. As these dumbbells come in different weight categories you want to buy all of them which occupies more space in your RV. To check this problem you need a dumbbell rack which can store all types of dumbbells in a safe place.
Making a dumbbell rack is so easy. So let's look at how to make a dumbbell rack at home easily in simple steps.
How do I build a dumbbell rack?
Before building a dumbbell rack you need some materials. These are the materials you need when you are building a dumbbell rack.
2x4s (or 2×6/8s)
Wood screws
Wood glue
Plywood
Sawzall
Sandpaper
Drill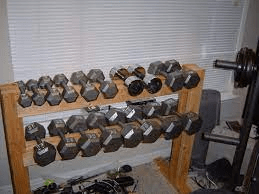 Steps to build a dumbbell rack
Follow these steps to build your custom dumbbell rack.
The first step here is to determine the height of your dumbbell rack like what height you need. According to your prescribed height, cut the vertical boards.
Now it's time to make the feet for your rack. The feet will help you to keep away from hurting and tipping over.
Now attach the feet to your vertical stands. You need to determine how long you want your dumbbell stand.
Now attach the horizontal boards to the vertical stands. This will give you the overall size and shape of your dumbbell rack.
Now it's time to fix the screws to connect your dumbbell rack together. The screws may not be enough to hold the total weight of your dumbbell rack. You also need to use a corner metal brace or a metal support to secure the dumbbell rack to hold the weights for a longer time.
That's all. Follow these simple steps to build your custom dumbbell rack at home. You can also see the detailed review for the dumbbell rack here. If you want more information about this read a guide to learn how.
Jump Ropes
Jump ropes are mainly used for cardio workouts. These jump ropes are the best exercise equipment as they are small in size and they do not take up much space in your bag or RV. Also they are not expensive. These jump ropes will provide you with total body exercise from arms to knees as you jump or skip.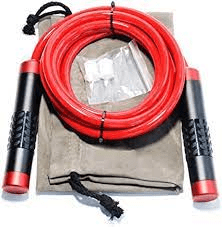 Pros
Easy to carry
Occupies less space
Great for cardio and arm exercises
Less expensive
Cons
More stress on knees and tarsals
Stability Ball
Stability balls are one of the best exercise equipment that will provide you with a great stretch in certain muscle and hone groups. These stability balls are mainly used to strengthen abdominal and lower back muscles. The strengthening of these muscles will provide you with a great balance and posture. It is advised to carry a stability ball that comes with its own pump.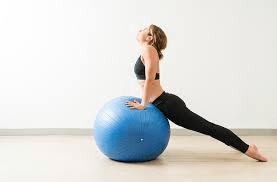 Pros
Helps to strengthen back muscles
Increases posture and balance
Easy to store when you remove air in it
Cons
You need to remove air before storing to make it occupy less space
You need to inflate the ball before using
Agility Ladder
Using an agility ladder will improve your speed and agility. These factors will boost your fitness levels and help to do any kind of exercise. Using an agility ladder is also great for the heart. As you use the agility ladder with great speed the rate of blood flow increases and keeps your heart in great condition. Usage of agility ladder also prevents the risk of heart attacks. As these are flexible and foldable you can carry it with you anywhere.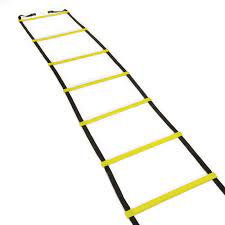 Pros
Helps to improve agility and quickness
Easy to store as they can be foldable
Can carry anywhere
Provides great cardio exercise
Prevents the risk of heart attacks
Cons
You will become tired soon
Fitness Band or Fitness Tracker
The fitness bands or fitness trackers will track your every movement. The fitness bands will monitor your heart rate, they will monitor how many calories you have burned today, how much time you have slept today and many more. Most of the fitness bands also come with different types of sports mode like badminton, cycling, swimming, jogging, walking and many more. All in all if you want to track your daily activities then a fitness band will be a great option for you. Nowadays latest fitness bands are monitoring your blood pressure and blood oxygen levels also.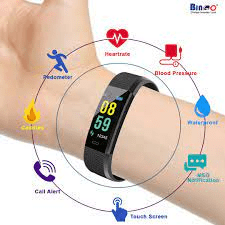 Pros
Tracks your heart rate
Monitors blood pressure
Monitors SPO2
Tracks your sleep cycle
Step counter
Different types of sports mode
Cons
If you want accurate results you need to wear all the time
Yoga Mat
If you do yoga every morning then the most important item you need is the yoga mat. Yoga mats are available in different sizes. You can choose one according to your comfort. As these yoga mats are foldable they can be stored easily. Also they occupy less space in the room.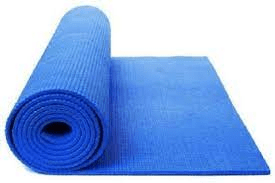 Pros
Easy to store
Occupies less space in the room or RV
Single mat is enough to do all types of yoga workouts
Cons
They will gradually become dirty
Need to wash them regularly
Is it worth it to build an RV exercise gym or just bring equipment?
It depends on the personal opinion. Some members love to barring the gym equipment while some others want to build their own RV exercise gym. Both of them have advantages and disadvantages. If you bring the equipment it will save your time. But they may be costly. If you prefer to build your RV exercise gym then it will be a time taking process and also requires a lot of patience. But this method is the cost effective one. You can choose any method you want.
How to store RV exercise equipment securely?
One of the biggest problems of RV exercise equipment is the storage. If you follow these steps you can store your RV exercise equipment securely and comfortably.
Get flexible equipment
Store behind the door
Use your wall and ceiling space
You can also use baskets if you want to store them more securely
Use every inch of your space
Allot the space of every equipment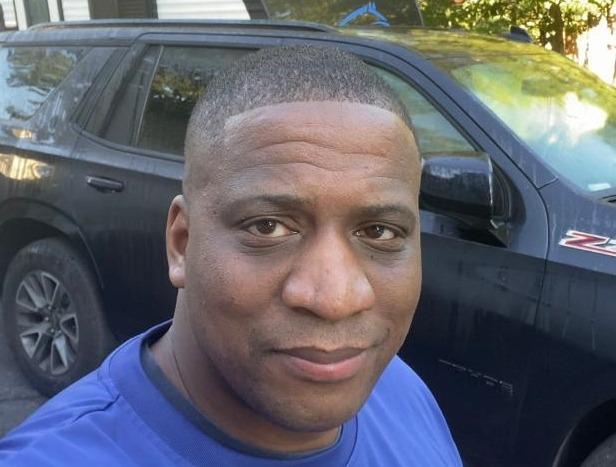 I`m a current Law Enforcement Officer working within the Counterterrorism Bureau in New York State. I have been Camping for over 20 years. My styles of camping include tent, car, truck, van, and RV travel trailer. I have a YouTube channel where I teach all types of camping with an entertaining method: https://youtube.com/@TheSmallsRVAdventures