Aliner vs Rockwood: 2023 Guide and Detailed Comparison In 5 Parameters
Are you trying to learn about the Aliner vs Rockwood for your next RV purchase? Both brands offer unique features and benefits, so deciding which one best fits your needs is challenging. Our 2023 guide provides a detailed comparison between these two A-frame campers in five key parameters: price, size, safety, comfort, and amenities.
We'll help you determine which RV fits your budget and lifestyle best. Read on to learn more about the differences between Aliner and Rockwood RVs.
An Overview Of Frame Campers
Let's take a comprehensive overview of A-frame campers.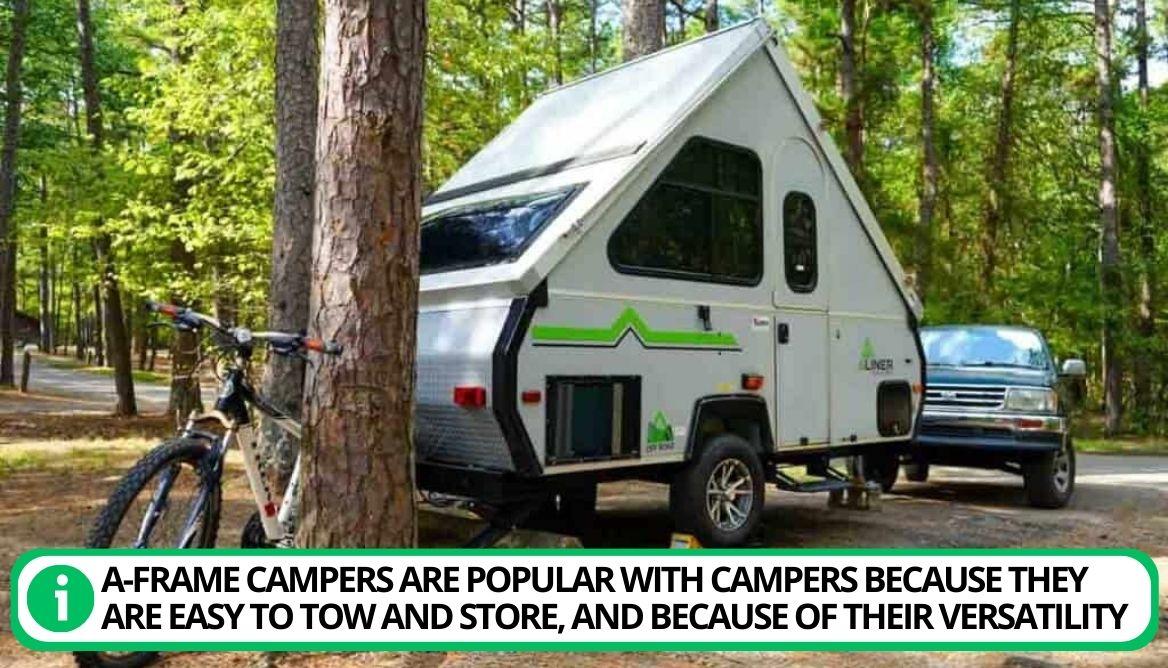 What Are A Frame Campers?
A-frame trailers, also known as hard-sided pop-up or fold-down campers, are a type of RV characterized by its hard walls, as opposed to the canvas. They are popular among campers because they are easy to tow and store and for their versatility. Moreover, A-frame camper weigh various from 1,800lbs to 3,800lbs.
Most A-frame Campers come in various sizes and floor plans, making them perfect for families or solo campers.
They are also easier to set up than classic pop-up trailers, thanks to gas strut lifts that help lift the walls and roof.
Moreover, A-frame campers cost is between $11000 to $26000.
They are the perfect choice for those who want a camping experience that combines the comfort of an RV with the ease and convenience of pop-up campers.
Are They Any Good?
A-Frame campers are worth considering if you want a comfortable and convenient camping experience. They have many advantages over traditional tents or RVs, such as:
Easy to tow: A Frame campers are lightweight and easy to push with almost any vehicle. This makes them a great choice for those who want to go on camping without investing in a large, expensive tow vehicle.
Compact design: Frames are compact, making them easy to store and maneuver in tight spaces. They are perfect for camping in small campsites or remote locations where larger RVs cannot go.
Comfortable interior: Despite their compact size, A-Frame campers can offer plenty of comfort and amenities like a sofa bed, solid fiberglass high walls, and an outdoor shower. Many models have full-size beds, kitchens, and even bathrooms, making them a great option for those who want to enjoy the outdoors without sacrificing comfort.
Why Choose A-Frame Campers?
You should choose A-frame campers due to the following reasons:
Hard walls: A-frame campers have hard walls, which offer protection from the elements. Unlike traditional tents, they have walls made of hard materials, which can keep out moisture, rain, snow, and wind. This can be especially beneficial for those camping in harsh or unpredictable weather conditions.
Well-insulated: A-frame campers are typically well-insulated, making them a great option for camping in colder climates. The hard walls, combined with effective insulation, can help keep the inhabitant warm and cozy no matter the weather outside.
Provide comfort: Whether looking for a weekend getaway or a longer camping trip, an A-Frame camper can offer you the perfect balance of comfort and convenience.
Aliner vs Rockwood Comparison Table
| | | |
| --- | --- | --- |
| | | |
| | | |
| | | |
| | | |
| | | |
| | | |
| | | |
| | | |
Rockwood And Aliner A-Campers- A Comprehensive Discussion
Here, you will read about the comprehensive discussion between Rockwood and Aliner.
Aliner Campers' Overview
Are you a camping enthusiast searching for the perfect equipment to fit your lifestyle? Aliner A-Frame camper might be an exceptional choice here!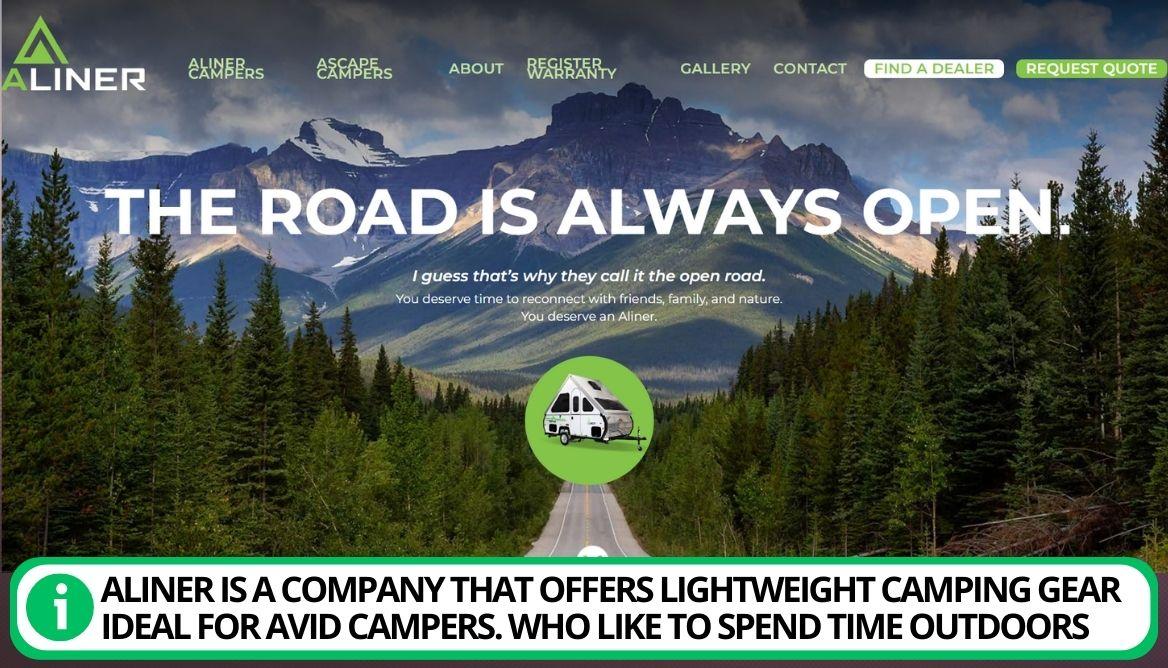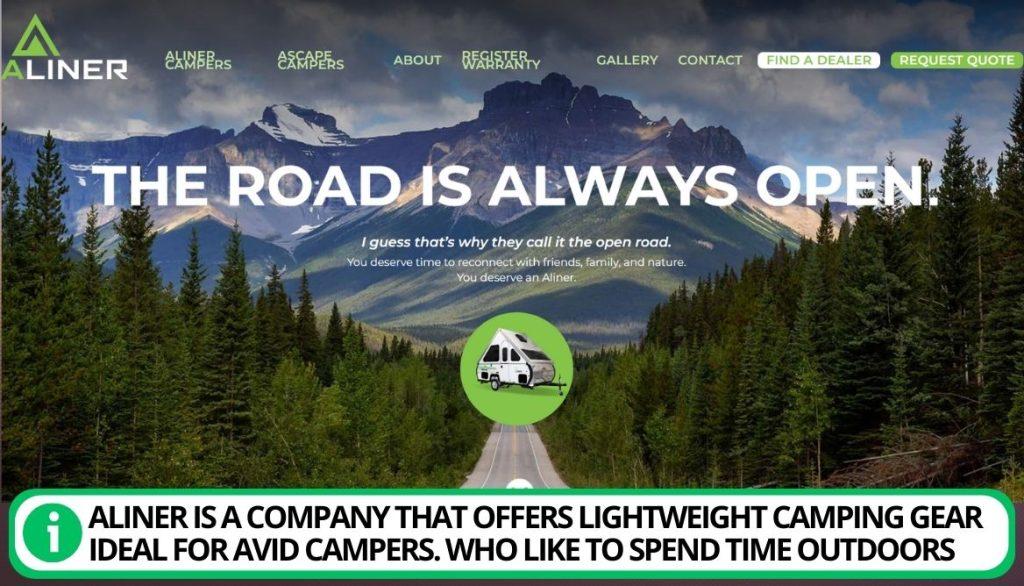 Aliner is a company that offers lightweight camping equipment perfect for avid campers who want to experience the great outdoors easily.
It is well-known for its A-frame campers, designed with an aluminum exterior durable enough to handle the roughest terrains.
These camping vehicles are also incredibly compact, so you can easily fit them into your garage.
What makes AlinEr special?
The setup is the thing that makes it unique among other best A-frame campers. Setting up an Aliner trailer is incredibly easy and quick, making them the perfect camping equipment for families who want to maximize their time outdoors without wasting time setting up the RVs.
Compact
One of the most notable features of Aliner RVs is their compact size.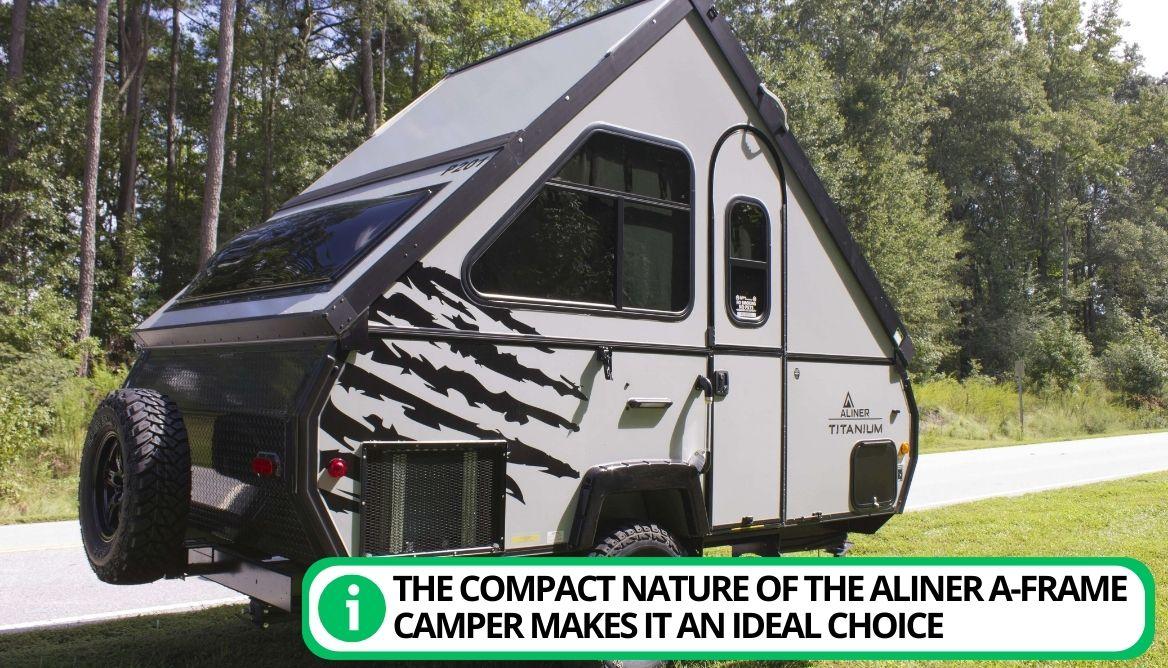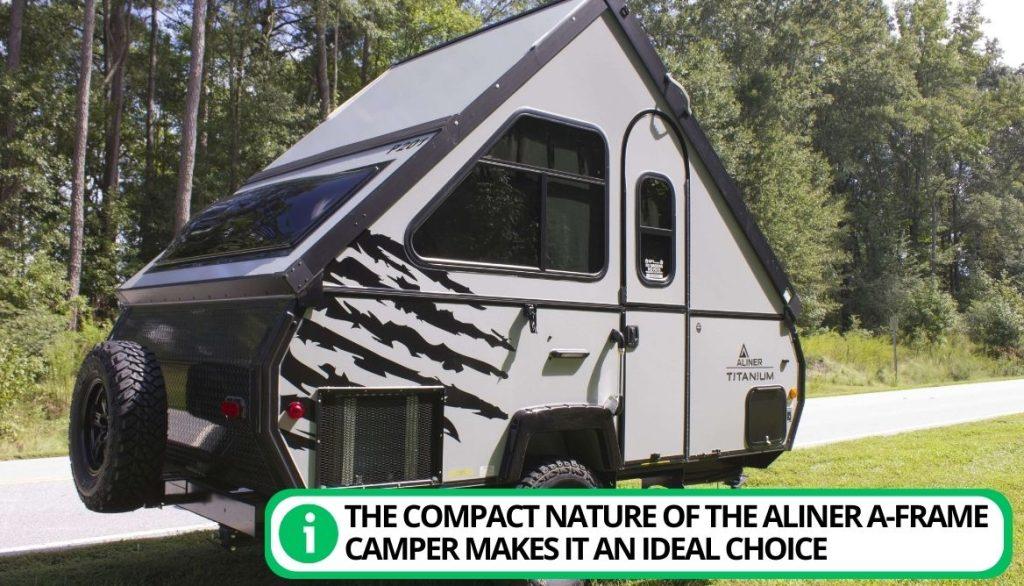 These best A-frame campers are incredibly lightweight and easily stored due to their foldable roofs.
This convenience allows homeowners to park their camper in their backyard or garage without taking up too much space.
This is a huge advantage over other pop-up campers that can be large and bulky, making them difficult to store.
The compact nature of the Aliner A-frame camper makes it an ideal choice for those who want to travel light while still having all the comforts of home.
Tiny Footprint
One of the biggest selling points of Aliner A-frame camper is its small footprint.
Thanks to their innovative design, these RVs are easy to maneuver and take up minimal space.
Made with overlapping extruded aluminum structures, they are durable and can withstand the elements.
Owners can easily leave their Aliner in the yard with a tarp or store it in a garage with ample room to spare.
If they don't have a home, they can also be easily stored in a storage facility.
This makes the Aliner A-frame camper a fantastic choice for anyone who values mobility and convenience.
Suitable Option For Families
Aliner RVs are designed with families in mind, making them an excellent option for families who want to hit the road and experience all the joys of camping. These ones the best A-frame campers provide comfort and convenience on the go and come equipped with:
A rear double bed,
Dinette,
Sofa bed,
Twin beds,
Kitchen.
Aliner RVs have all the features necessary to stay in the great outdoors, including:
Heating and air conditioning systems
Electrical hookups
While the Aliner RV is not the smallest or lightest travel trailer available, it is an incredibly versatile option for anyone on the go who wants to enjoy the best of both worlds – the comfort of home and the great outdoors.
3 Variants
Aliner comes in three variants, each designed to meet different camping needs. The most luxurious model is the Deluxe, with extra windows and a cable connection. Additionally, this model offers various useful equipment and accessories.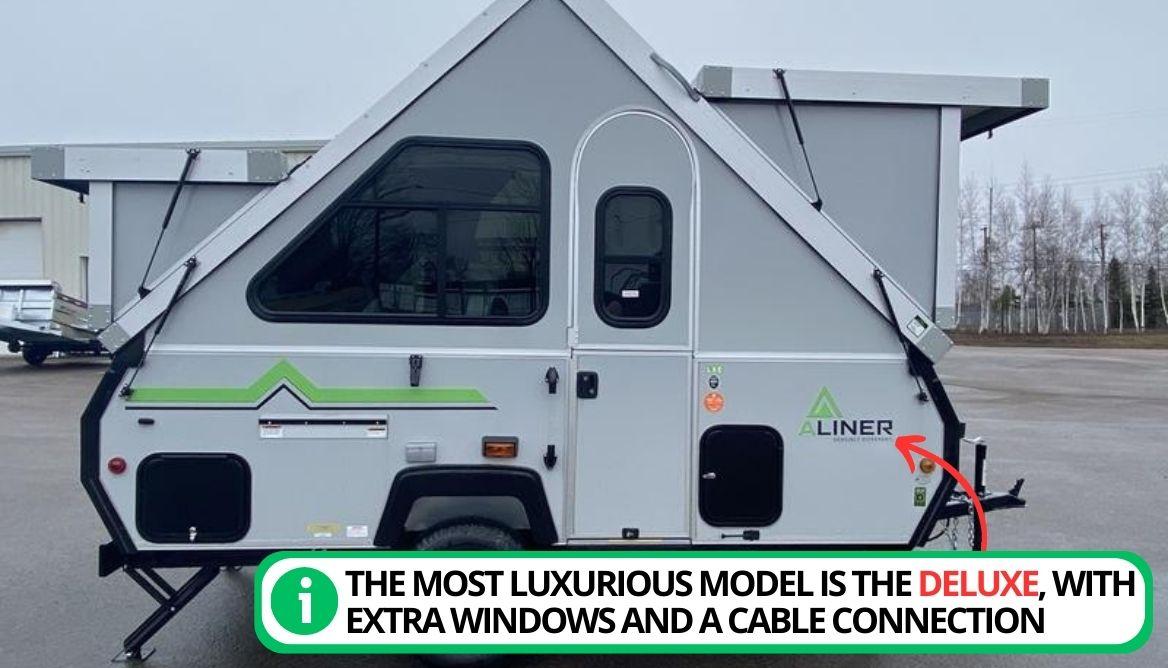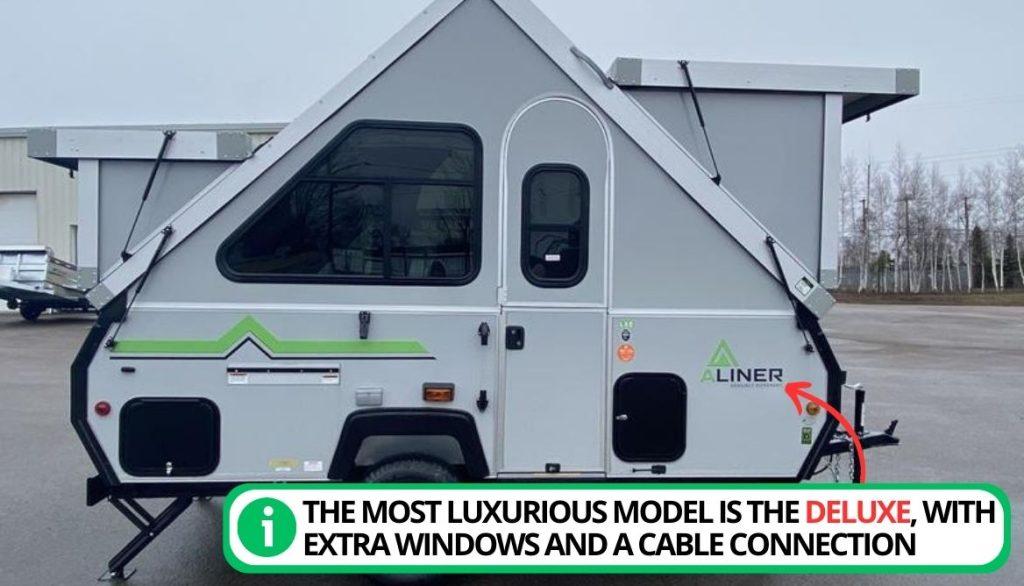 You can even buy additional accessories from third-party sellers and receive a discount on the price. The Deluxe camper boasts several impressive options:
AC, water heater
Stereo
An outdoor grill
Overview of Rockwood A-Campers
Let's take a look at an overview of Rockwood campers.
Rockwood RV
Rockwood RV offers a range of camping vehicles and A-frame campers perfect for those who love the great outdoors. With a fifth-wheel, travel trailer, and pop-up camper options, Rockwood has something for everyone.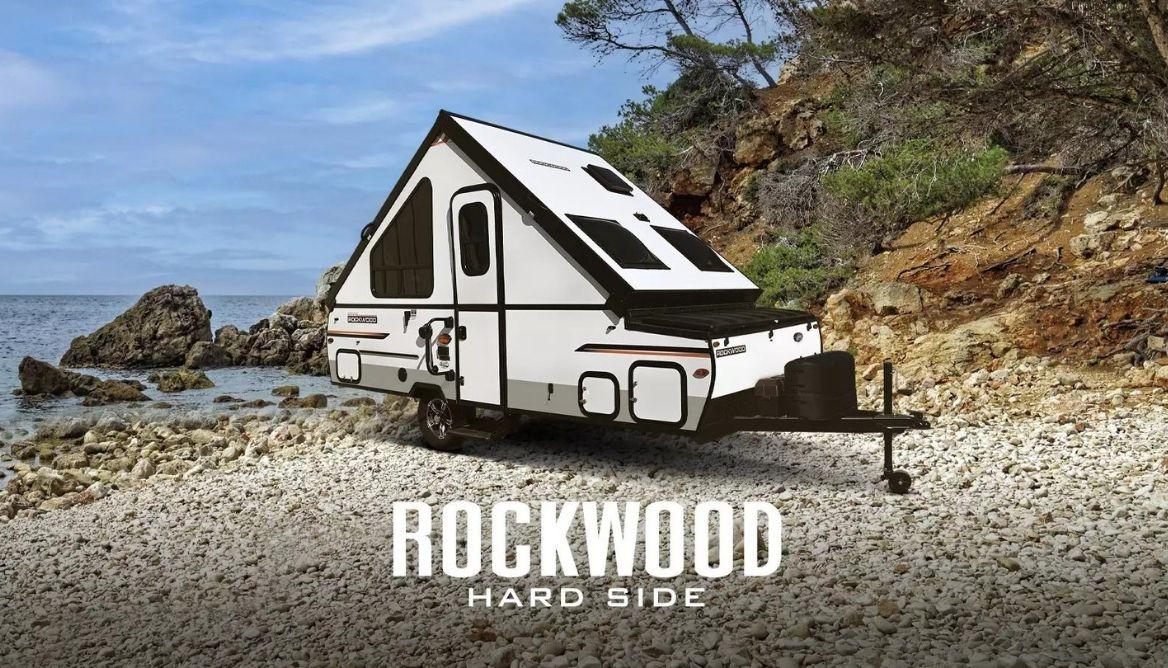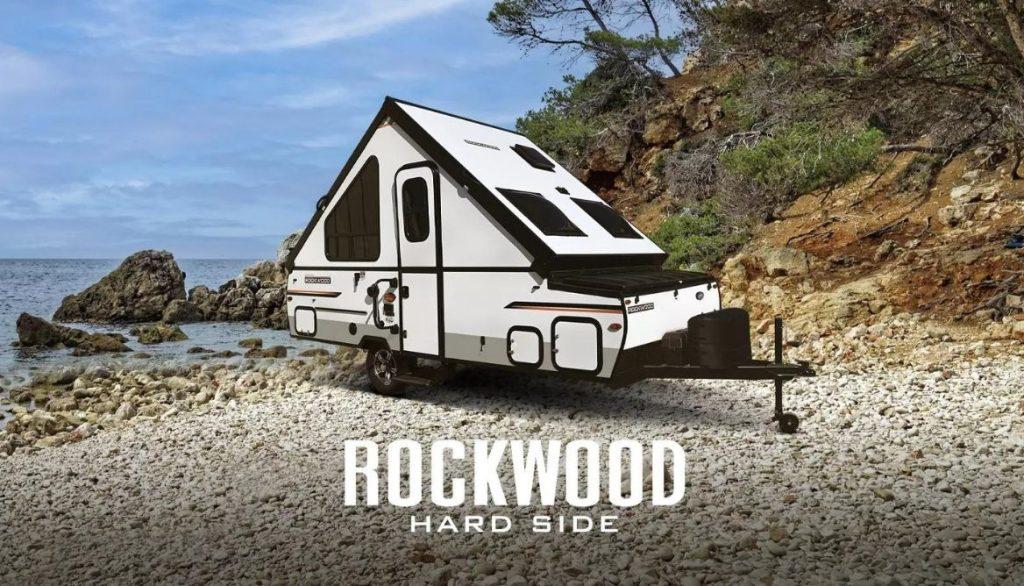 The campers are designed for intelligent living and are popular with RV buyers. Rockwood trailers have:
Warranty
Standout kitchen
Superior quality
Thoughtful exterior features
This one of the best A-frame campers is designed with the customer in mind and has a reputation for durability and reliability. This is particularly important for those who plan to take their trailer on long road trips.
All in all, Rockwood RVs are perfect for first-time campers and avid ones alike. They offer the perfect balance of comfort and adventure and are an excellent choice for families or couples who want to enjoy the great outdoors in style and comfort.
So, whether you're a seasoned camper or just starting, Rockwood A-frame campers are worth considering.
Awnings
One of the standout features of Rockwood A-frame camper is the awning. While many trailers come with manual covers that can be complicated and tedious, some Rockwood models come equipped with automatic shelters.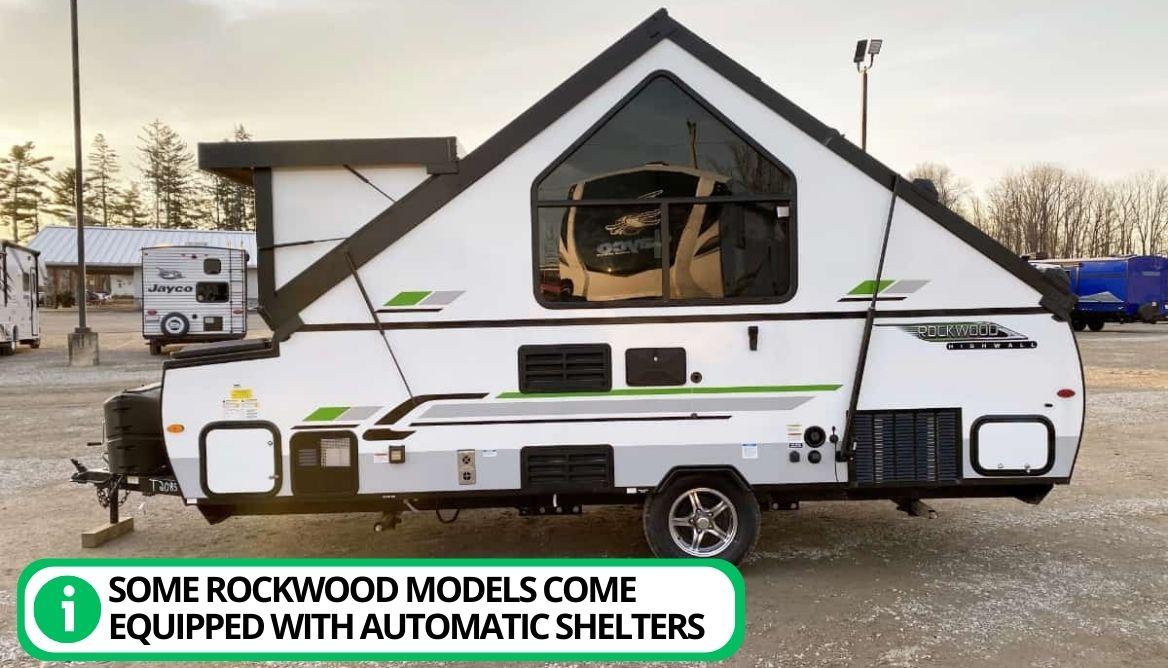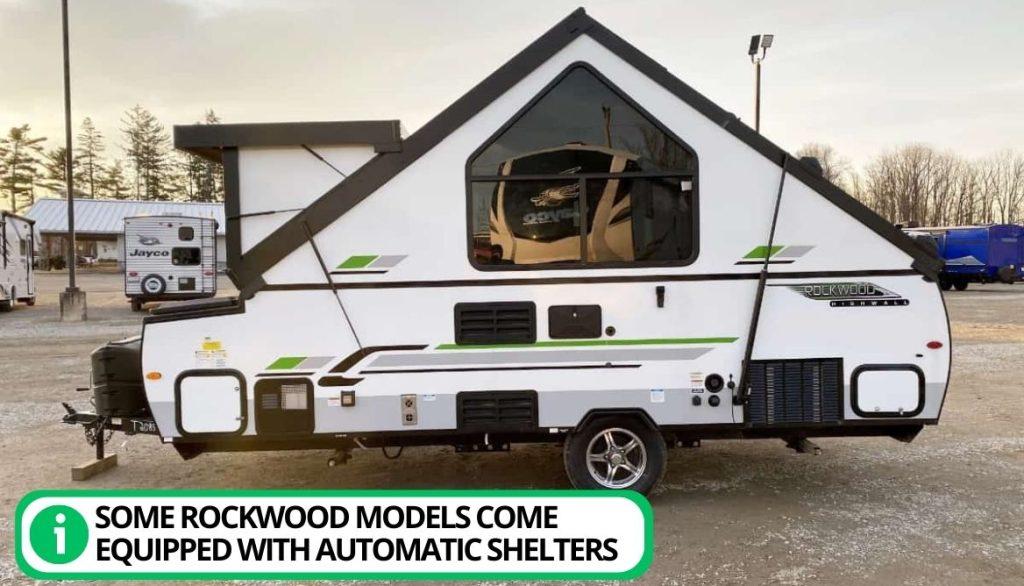 This feature makes setting up camp easier and ensures that the awning can be extended several feet to provide ample shade or block out the sun.
This means you can relax comfortably outdoors without worrying about the harsh rays of the sun beating down on you.
Vast
Having enough space to move around comfortably is a must when going on an extended camping trip. Fortunately, Rockwood A-frame campers are built with that in mind.
These RVs are spacious, with plenty of room for you and your family to enjoy your adventure comfortably. You'll find plenty of cabinets and compartments throughout the vehicle, including:
Under the double bed
Bunk beds
In the bathroom
Some models even come with a medicine cabinet, making it easy to keep your supplies organized and accessible. Overall, Rockwood A-Campers is a great option to consider if you're looking for an RV that is spacious, comfortable, and well-equipped for an extended camping trip.
Windows Without Frames
The modern interiors of Rockwood Signature Fifth Wheels are equipped with all the latest amenities, such as: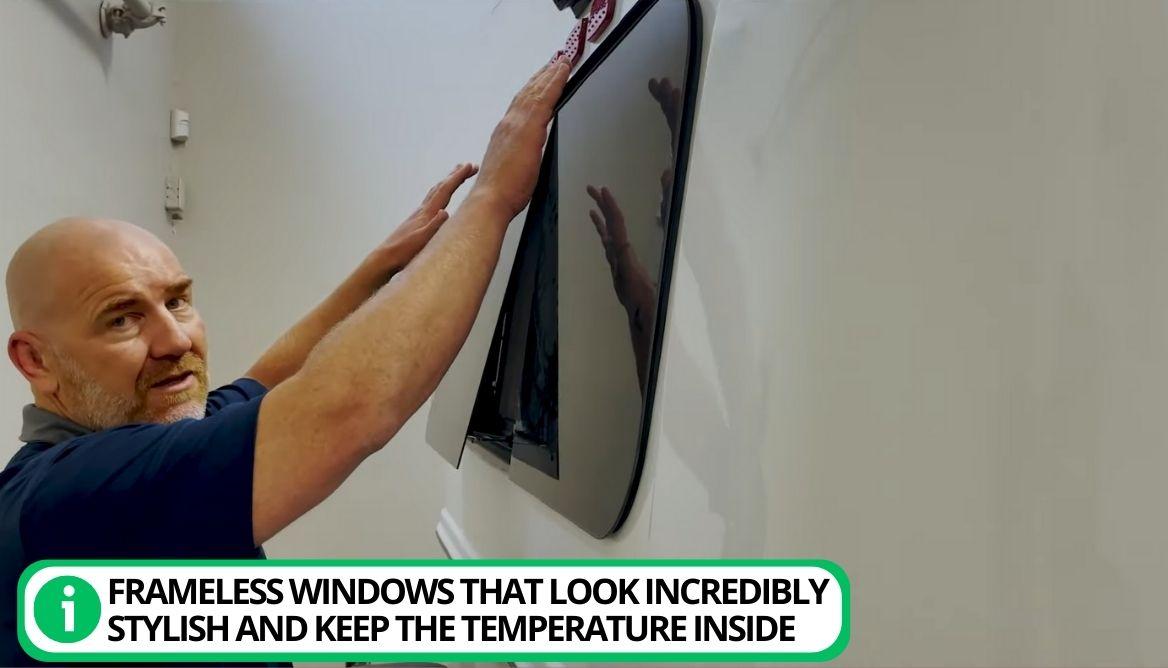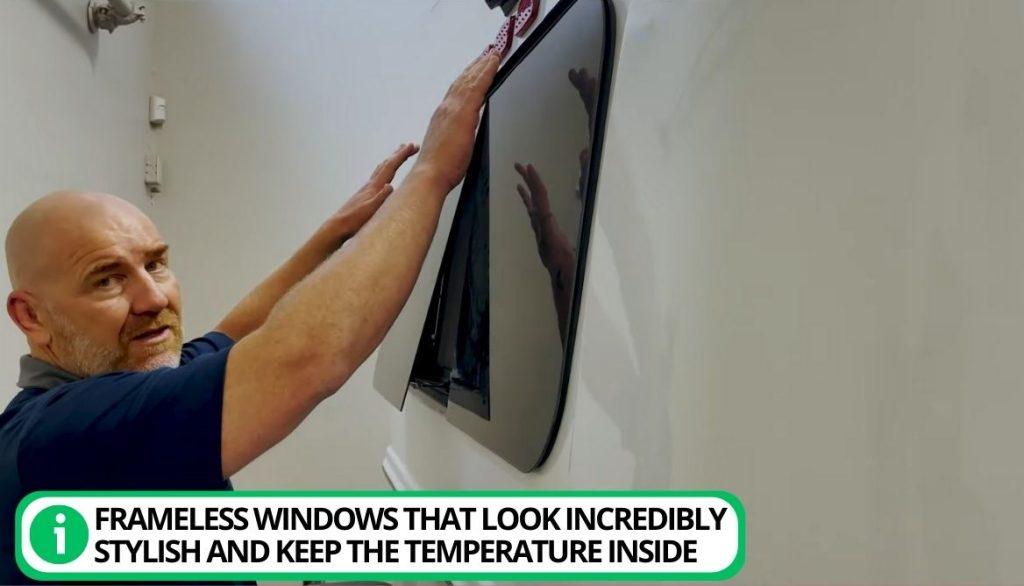 Heated holding tanks
Solar panels
What sets them apart from the rest, though, are the frameless windows that look incredibly stylish and help maintain a cool and private atmosphere inside the camper.
The aluminum frame also helps prevent heat transfer, ensuring the interior remains cool and always comfortable. So, if you want an RV that is as stylish as it is functional, a Rockwood A-Camper might be the perfect choice for you.
Aliner Or Rockwood? Here's The Ultimate Winner Between These Two Best A Frame Campers!
We'll compare the two and give you the answer to the age-old question: "Aliner or Rockwood?"
In-depth Comparison
When comparing the Aliner and Rockwood RVs, it's clear that each has its advantages and disadvantages:
The Aliner offers a more affordable and lightweight option.
At the same time, the Rockwood provides more features and amenities for a higher price.
Cost
Regarding cost, Aliner RVs are generally cheaper than Rockwood campers.
However, it's important to note that Aliner RVs tend to lose half of their value within the first five years. This is something to consider if you plan on reselling in the future.
Additionally, Aliner campers have a smaller interior and less storage space than Rockwood campers, which may be a deal breaker for those needing ample living and storage space.
Space
Regarding space, the Rockwood motorhomes have the advantage over the Aliner.
The Rockwood offers more amenities and is roomier overall, making it the ideal choice for those who want a lot of space and comfort without sacrificing portability.
With a front trunk, double bed, power roof lift, and a flip-up lid for storage, you won't have to compromise on storage either.
With more space and amenities, one of the biggest A-frame campers, Rockwood is the choice for those who prioritize comfort and convenience.
Size
When it comes to size, the Aliner pop-up campers win.
It's compact design and folding roof make it much smaller than the Rockwood when set up and in storage.
The Aliner's floorplans are smaller than the Rockwood's but still offer plenty of space for sleeping and lounging.
Due to its smaller size, many homeowners leave their Aliner in the yard under a tarp, but it's also easy to store in a garage. Even those without a garage can easily find space for the Aliner due to its small footprint. In terms of size, the Aliner has the advantage.
Features
When it comes to features, Rockwood Motorhomes take the lead over the Aliner A-frame camper. With more storage space and better overall design, these motorhomes offer a wide range of floorplans to meet the needs of a diverse group of consumers.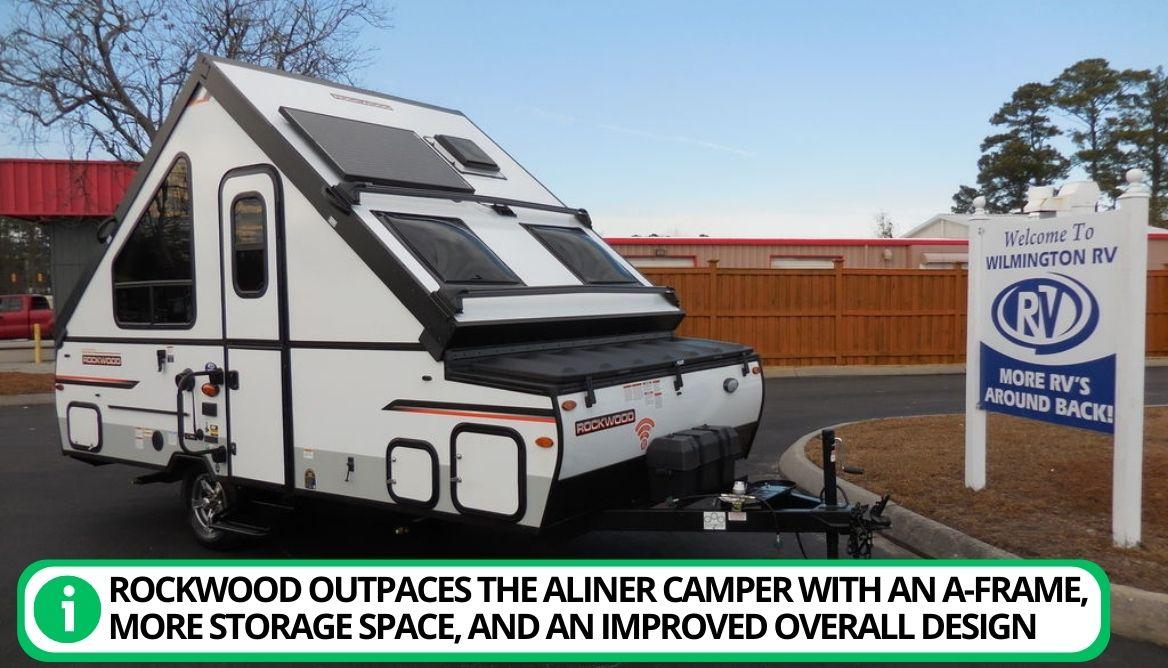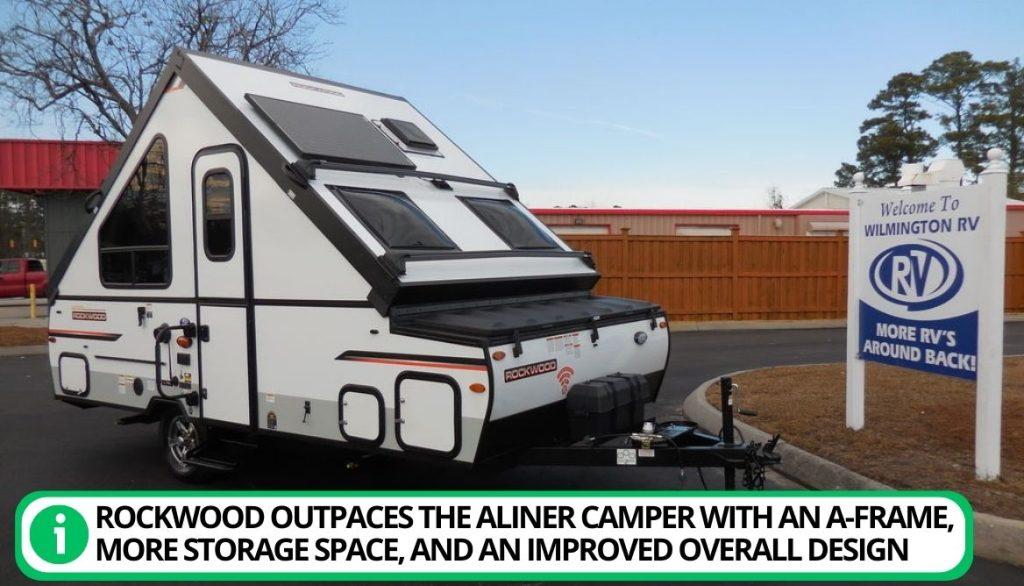 High-wall models, in particular, are especially spacious, featuring privacy panels and solar panel prep as standard features.
With the ability to accommodate up to six to nine people, some models even have a sleeper couch, making them a great choice for family members or friends staying over.
The interior of this A-frame camper is also very functional, featuring a hard wall shower and a residential-style toilet, making this a top pick for a luxurious camping experience.
Which One Is The Best A Frame Camper?
Deciding between Aliner and Rockwood motorhomes can be tough, as both offer unique features and advantages.
On the one hand, Rockwood motorhomes are known for their spaciousness and numerous amenities, including ample storage space and top-of-the-line features.
Meanwhile, Aliner motorhomes are more compact and budget-friendly, making them popular among those looking for a more economical option.
Ultimately, the better depends on the individual's specific needs and budget. Those looking for a more luxurious option with plenty of storage space and features may lean toward a Rockwood motorhome.
In contrast, those seeking a more compact and affordable option may opt for an Aliner motorhome. It's important to weigh the pros and cons of each and determine which one is the best fit for you.
FAQs
Do Aliner campers leak?
No, Aliner A Frame campers are generally known for being leak and bug-free due to their sturdy construction and seamless design. However, it's important to note that proper maintenance and upkeep are still necessary to prevent potential leaks.
How many people can sleep in an Aliner?
Three people can sleep in an Aliner A-frame camper.
What is the best frame trailer?
Is Forest River and Rockwood the same?
Yes, Forest River is the manufacturer of Rockwood campers.
Who is the manufacturer of Rockwood?
Rockwood is a division of Forest River RV, and they are one of America's favorite RV manufacturers, manufacturing pop-ups, travel trailers, fifth wheels, and hybrid towable.
Conclusion
Our comparison of Aliner vs Rockwood A-Frame Campers has covered important factors such as cost, space, size, and features. While Aliner has compactness and family-friendly designs, Rockwood A-frame camper offers more space with added amenities such as awnings and frameless windows.
No matter which brand you choose, both are trusted and reputable choices in the market. We hope you found this detailed comparison of 5 parameters helpful.
Have you owned either an Aliner or Rockwood A-Frame Camper? Which brand do you prefer and why? Let us know in the comments!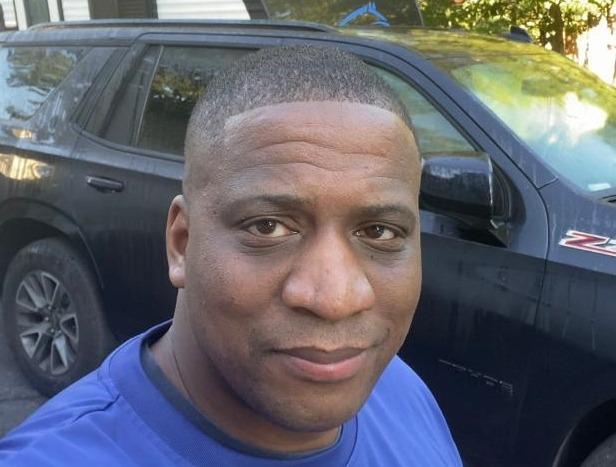 I`m a current Law Enforcement Officer working within the Counterterrorism Bureau in New York State. I have been Camping for over 20 years. My styles of camping include tent, car, truck, van, and RV travel trailer. I have a YouTube channel where I teach all types of camping with an entertaining method: https://youtube.com/@TheSmallsRVAdventures