How to Set Up a Campsite with a Teardrop Camper in Less than 5 Minutes
Setting up a campsite with a teardrop camper in less than 5 minutes may seem like an impossible task, but with the right equipment and a little bit of practice, it can be done. Want to know in what way? Here are some tips on how to do it.
What should you consider before your first travel with a teardrop camper?
Driving tips for caravanners with teardrop campers:
· It is very important to check not on the road how much your trailer can "clap". Otherwise, when driving in reverse, there is a danger of damaging the car and the trailer by one another.
· Do not be afraid to stop the car, go out and check the situation, and decide how to act safely in this case.
· Be careful while turning on narrow roads. A machine with a trailer needs more space to turn. And therefore, you need to do that carefully and be sure to let oncoming traffic pass.
The very important thing is to distribute the weight of your stuff in the trailer. If you overload too much the back of the camper that you are pulling, it can endanger road users. Learn more from the video!
Although driving a car with a trailer is quite difficult, off-road adventures will be the most memorable things of the trip.
Some camping tips for caravanners:
Choose the Right Location. The first step in setting up a campsite with a teardrop camper is to choose the right location. Look for a flat, level area with plenty of space for your camper and any additional equipment you may need (tent room, space for table and chairs). Ideally, the place should also have access to water and a fire pit. In some places in Europe, you don't need to drive to the special camping with your home on wheels, but in others, it's strictly prohibited to camp anywhere except camping. So it's important to know more about the laws of the countries where you are traveling.
Practice Makes Perfect. Remember that the key to setting up camp quickly with a teardrop camper roof tent is to practice beforehand. Before your camping trip, set up the tent in your backyard or another suitable location, and practice taking it down and packing it up again. This will help you become familiar with the setup process, so you can quickly and efficiently set up camp when you arrive at your destination.
Simplify Your Setup. To set up a campsite quickly, it's important to simplify your setup as much as possible. Use gear that is easy to set up and take down, and avoid bringing unnecessary items that will slow you down. Consider using quick-set-up and equipment such as tents, and collapsible chairs. These additional options will make your purchase slightly more expensive, but your travel comfort will be at its best for many years to come.
How to set up a campsite with a teardrop camper in an extremely short time?
You can set up camp very easily and quickly using the teardrop camper and some of its extras.
1. Your teardrop camper
It's a kind of cheating, but it's true: your teardrop trailer is made for you can stay and camp as it is. When you ride with a teardrop trailer, you can stop, take out the folding chairs and table – and your camp is ready. So the matter is to choose the "right" camper which is comfortable for you.
When you are choosing a camper, make sure it has:
· a soft bed with a comfortable mattress for at least two people. It's good if it's a mattress that can be folded like a sofa, otherwise, you can only lie inside your camper.
· outlets and a battery. If you've been driving all day long and staying in the rain, trust me, you won't be happy going out and starting your car to charge your phone. A comfortable teardrop camper can also have a TV and radio, and then you can get the comfort of home and your favorite TV series. It is also cool if the camper is equipped with a solar battery because then you are more autonomous during travel.
·        a place for cooking and also a tank with drinking water, stove, gas and, refrigerator. You may also need a kitchen rain cover!·        there is an outdoor shower that can be quickly installed and used.
We do not even mention such important things as good air conditioning, ventilation, heating in the camper, and interior/exterior lighting, because without these things the camper can hardly be considered minimally comfortable.
When choosing a trailer, one of the main questions you have is how autonomous it is. Large trailers with a lot of built-in appliances give the greatest autonomy. The camper trailer does not provide such a level of comfort, but, according to our heroes, this is compensated by what you see outside the window when you wake up in a new place again. Not all of us have enough money and other resources to build a house in the forest. Or by the river. But a camper gives us the possibility to be in a beautiful place in exchange for a level of comfort.
How long will it take to set up a campsite with just your teardrop camper? Less than 4 minutes!
2. Roof tent
It's a great option, underestimated by many travelers. Often people think that a camper top tent is inconvenient and dangerous, but this is not the case if you have chosen the right tent.
· it should be made of a special fabric, an aluminum frame, and a sandwich base made of aluminum.
· the roof of the tent should be protected by a waterproof canopy.
· the fabric of the tent must be durable, not blown, and fire-resistant.
These characteristics must be provided by the seller.
3. Tent-room
Upon traveling with a large company or with children, the limited space of a camper may not suffice. However, some camper manufacturers provide a solution to this issue by offering an additional tent room. The advantage of this option is that it can be set up in a matter of minutes and has walls and a roof that are both waterproof and windproof. Typically, this type of tent room is equipped with windows, doors, mosquito nets, and a floor. Additionally, one of the doors may be combined with the camper door for easier access and convenience.
With the added tent room, travelers can enjoy more space for sleeping, lounging, and storing their belongings. This extra space can be particularly helpful for families with children who require more room to play and move around. Also, the tent room provides a separate and private space for anyone who needs it or wants some extra privacy. In summary, the option of an additional tent room can greatly enhance the experience of traveling in a camper, providing travelers with more space, convenience, and privacy.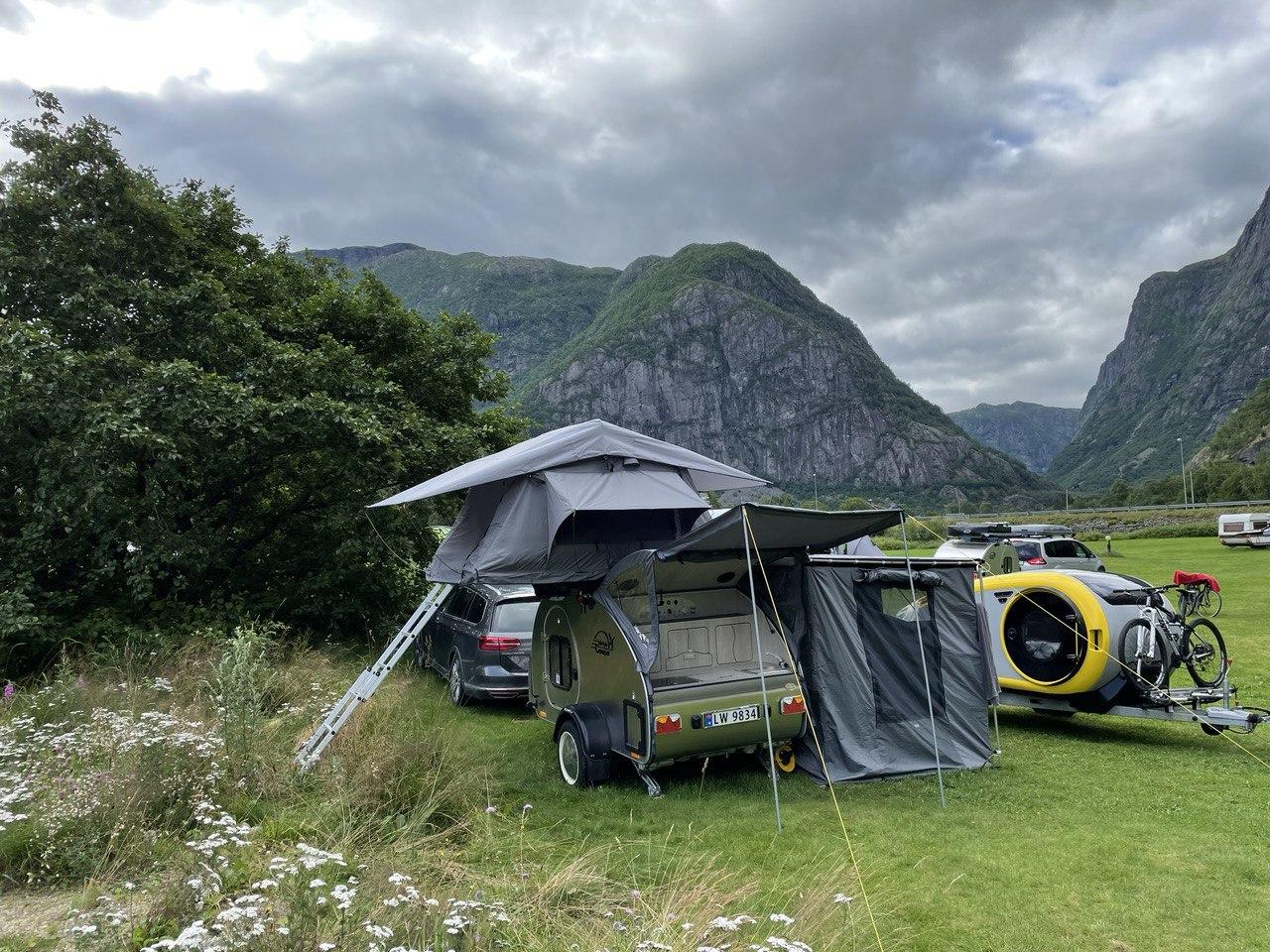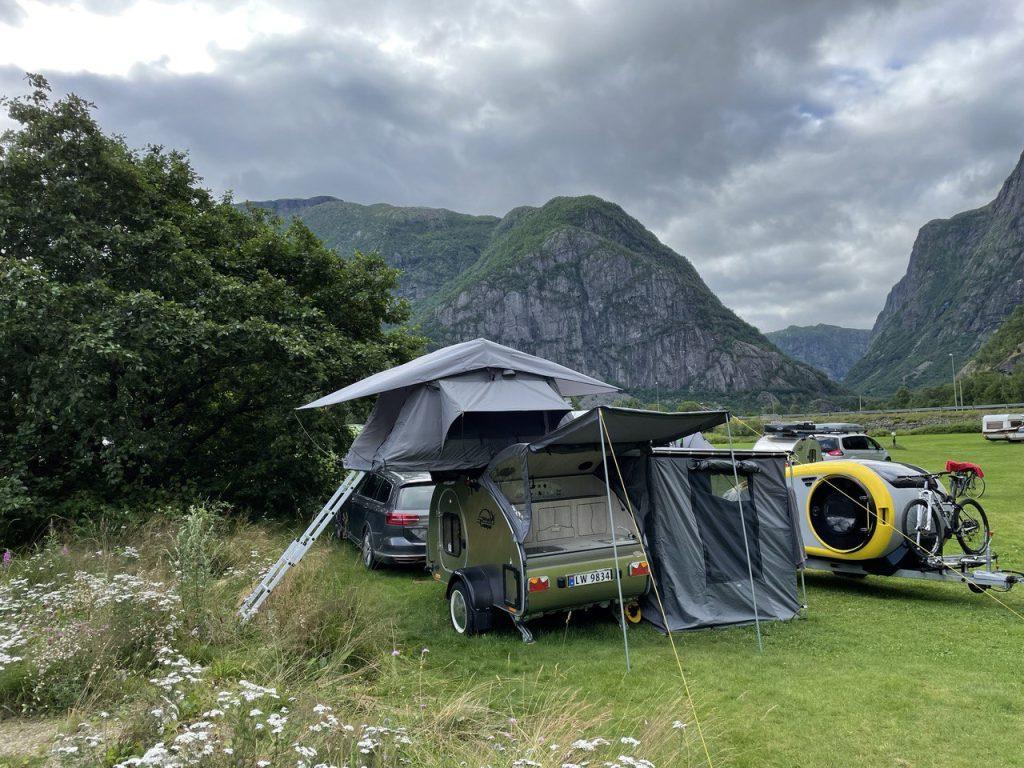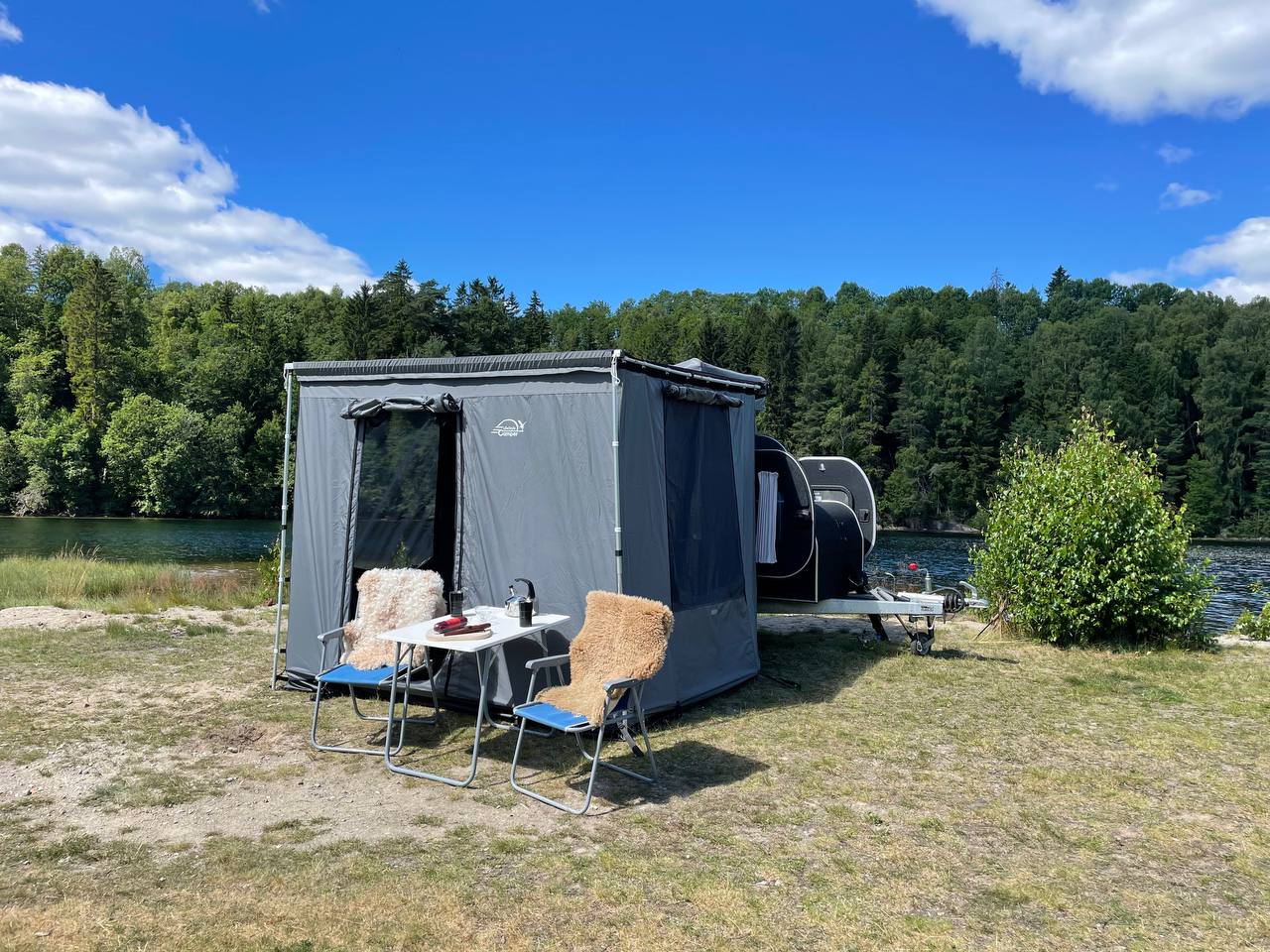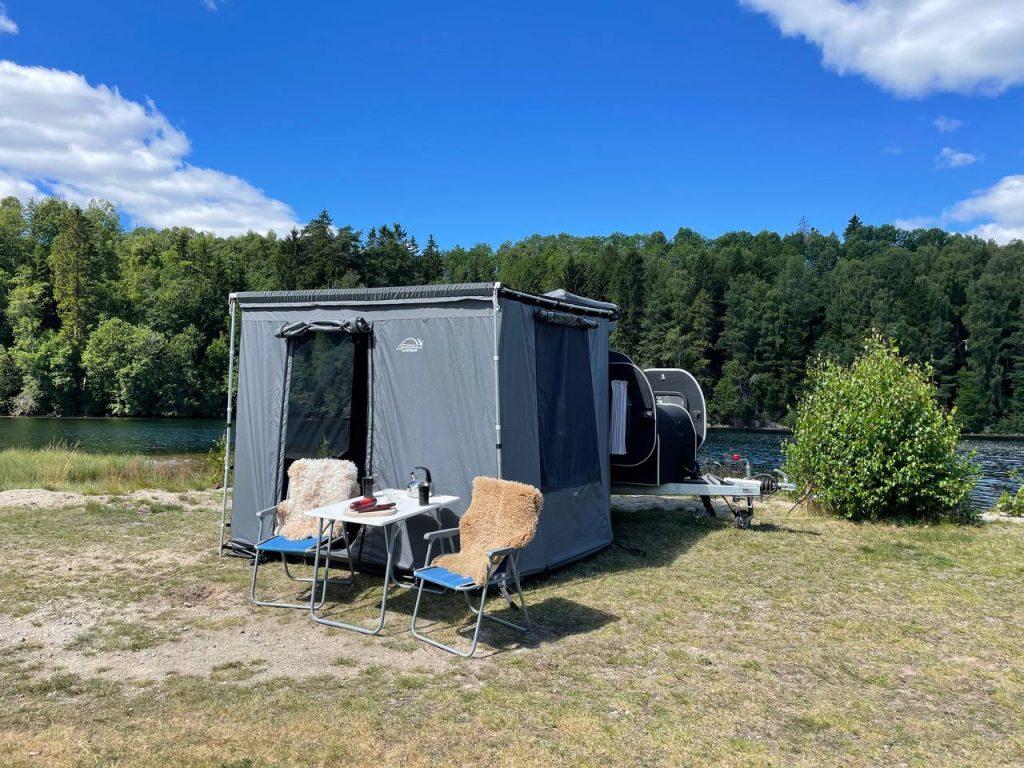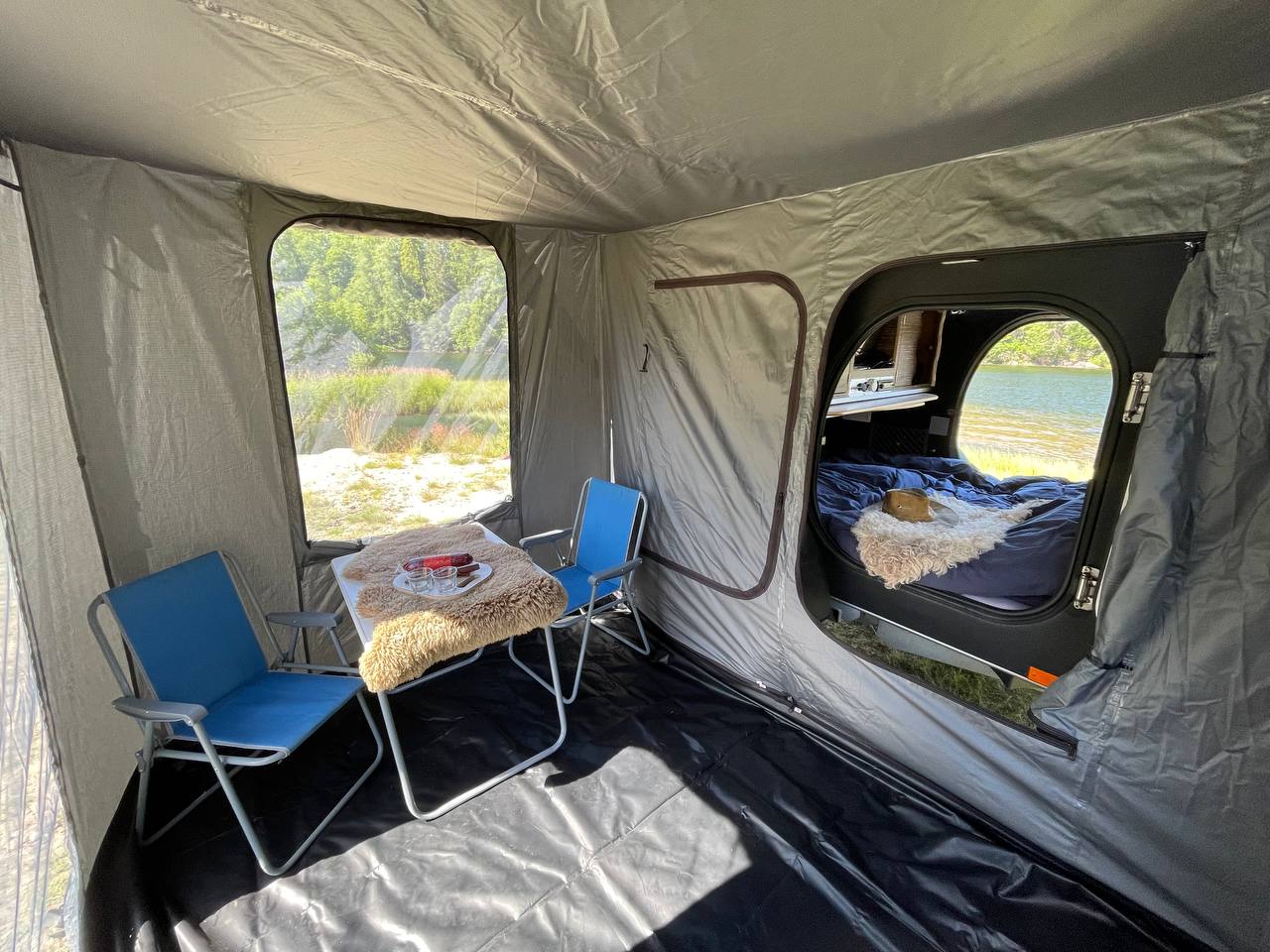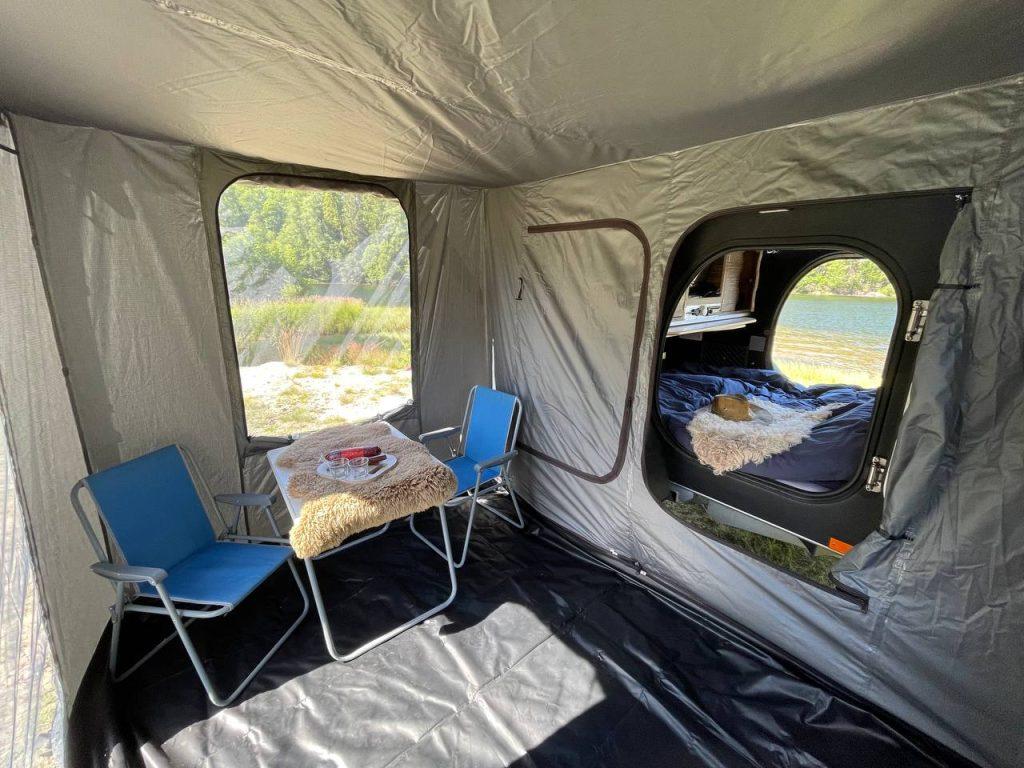 Conclusion
Prepare for your camper trip ahead of time by thinking about equipping it with additional equipment. By following the tips, we mentioned in this article, you can set up a campsite with a teardrop camper in less than 5 minutes. With a little bit of preparation and organization, you can spend more time enjoying the great outdoors and less time setting up camp.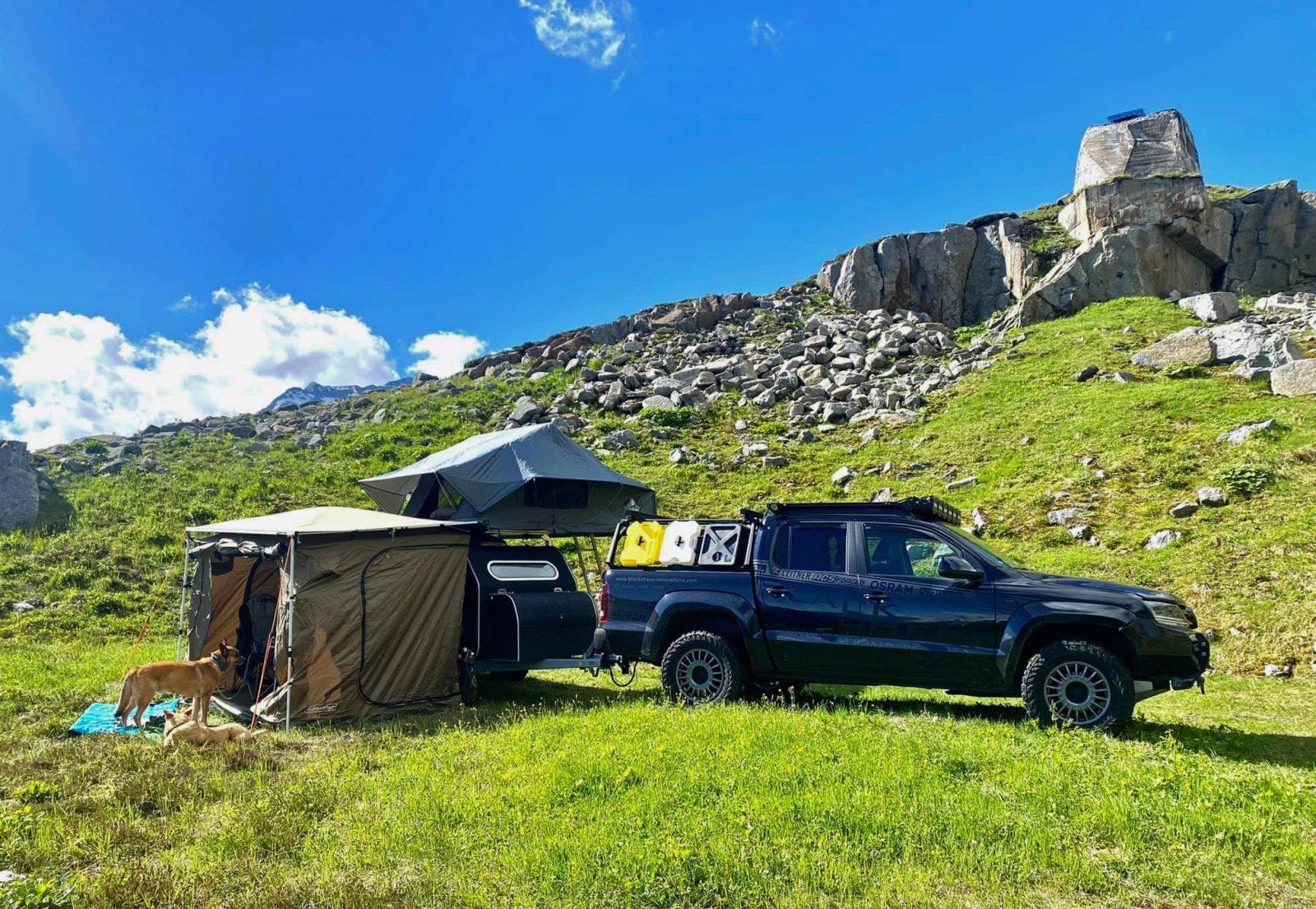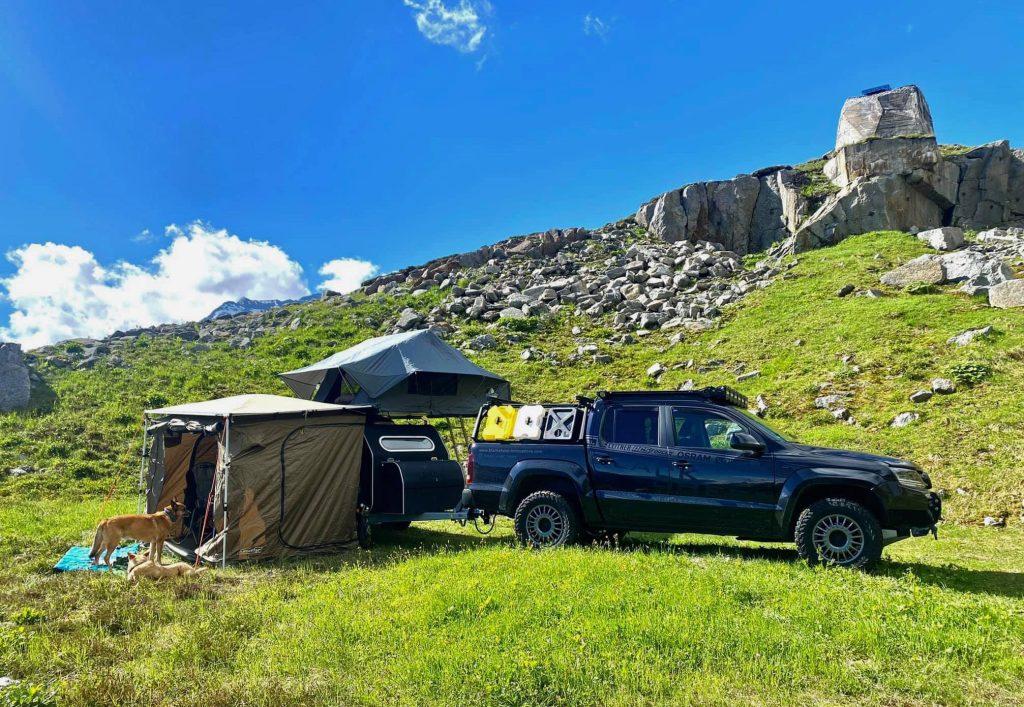 Asen is the owner and main contributor of Camper Life. He is a full-time RV traveler since 2018. He loves camping in nature, fishing, and spending time with his family.
Striving to provide the most valuable information about campers and RVs, he shares everything he learned over the years.
That's why Camper Life is one of the best sources to find information about RV traveling and living.