Predator 3500 Generator Problems with 5 Additional Maintenance Tips
Trying to fix any Predator 3500 generator problems, can be quite a handful for most people. This is considering the model is amongst the best and quietest generators.
In this article, we will review the common problems associated with the Predator and give practical tips for solving them. Our solutions also involve DIY approaches. Keep reading to know more!
Predator 3500 Generator – Overview
The Predator 3500 is an excellent choice if you're looking for a quiet generator. It is known as the '3500' as it initially delivers up to 3500 watts but cuts a few hundred watts to give a 3000 range consistently. Here are additional features of the machine:
Highly portable generatorthanks to its compact size and built-in handle. You won't have any problems moving it around.
Offers you multiple outlets for connecting devices.
Includes a low oil shutdown system.
The machine has an LED display, showing key technical details.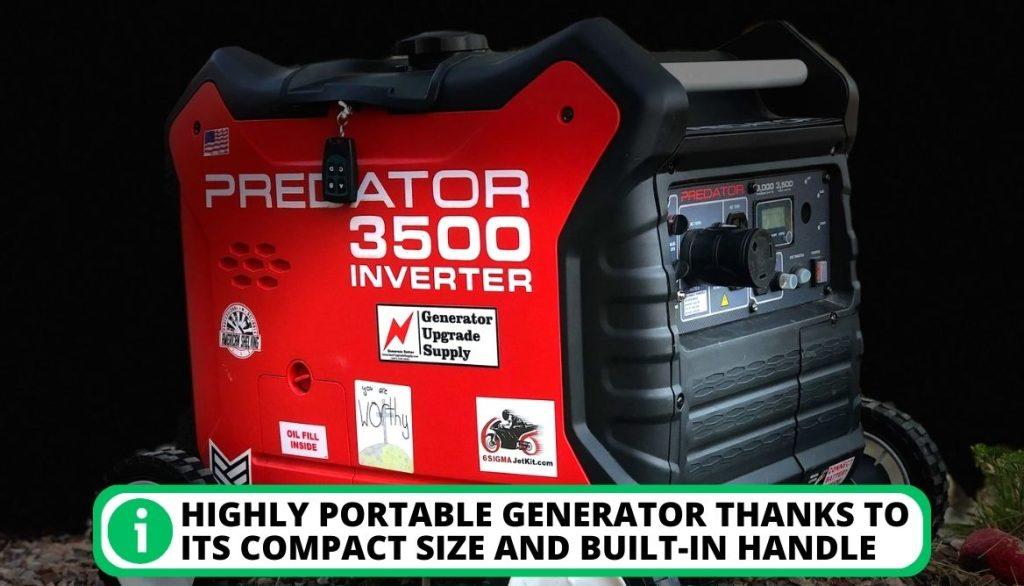 The following table will give you a clear understanding of the Predator 3500.
Predator 3500 Power Information
Starting: 3500 Watt / Running: 3000 Watt

2 x NEMA - 5-20 (3-prong, 120 VAC)

1 x NEMA - L5-30 (3-prong, 120 VAC)
The Noise Levels and Max-run Period
Predator 3500 Technical Details
Common Problems Associated with the Predator 3500 Generator
After using a generator for a while, problems are typical. Let's look at some solutions for different challenges you may encounter.
1. Generator Not Starting or Having More Cranks
Your engine might not start due to technical issues, primarily associated with carburetors. It can be caused by:
Your engine has less oil to start running: Predator 3500 has a checker which you can use to monitor the oil levels. Ensure the generator is on a flat surface for an effective check.
Insufficient or unchanged gas: You can quickly check the gas by shaking the generator. It is advised to change the fuel line after a few months.
Your fuel valves might be clogged, thus not dispersing fuel according to the motor: The fuel valves are essential in your engine's fuel system, which can cause issues if their path is blocked/clogged around the engine block. Get ethanol-free fuel to avoid engine cranks.
Fail: The battery is out of charge or faulty.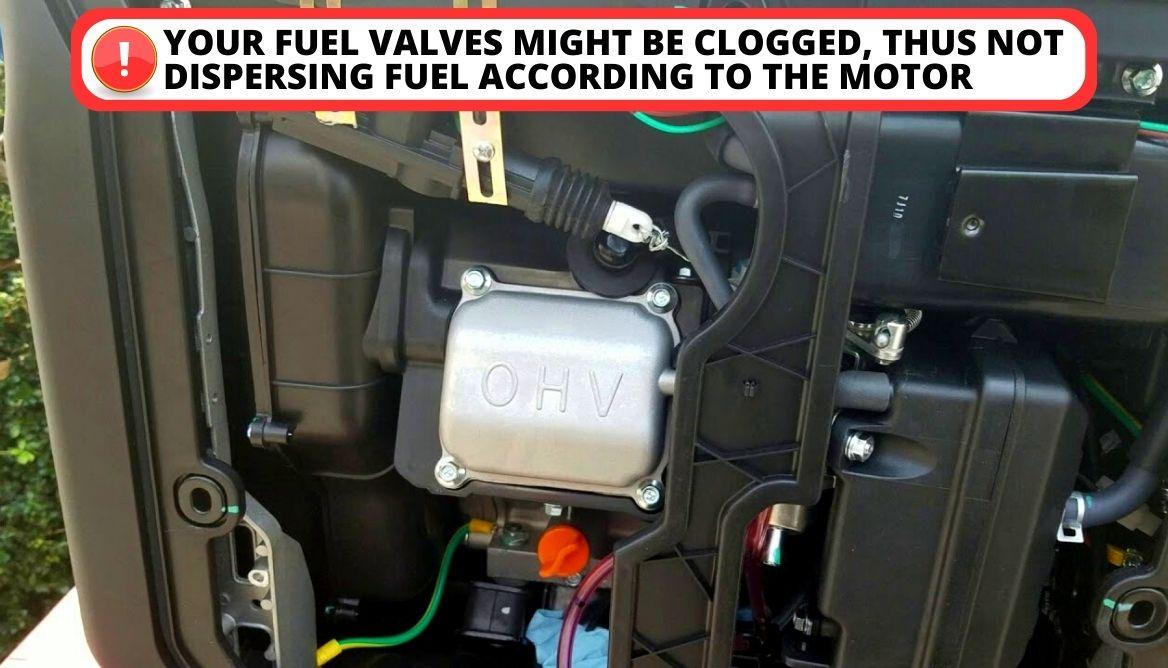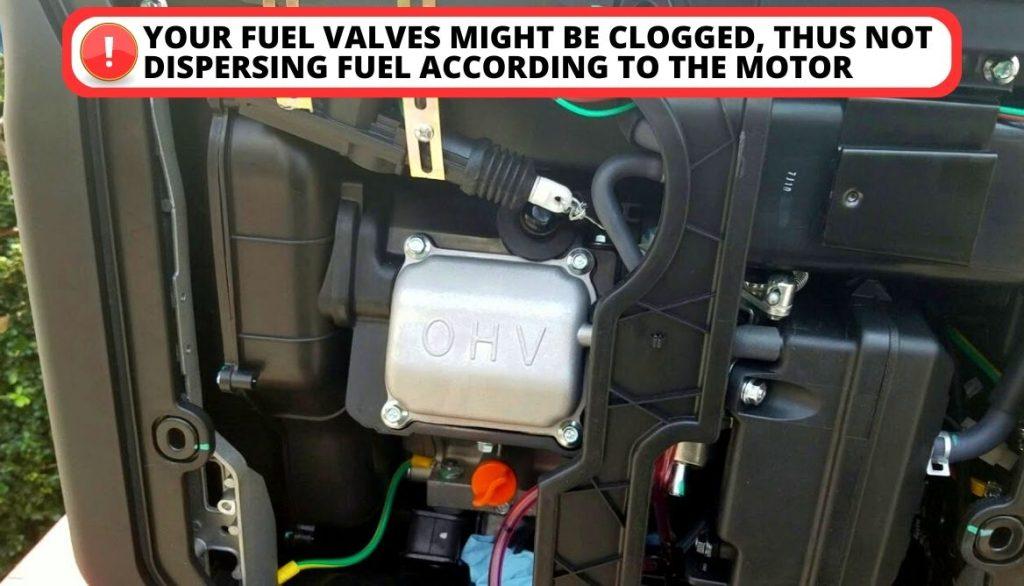 Pro-tip: Using a detergent and water is enough to clean your generator, including the engine's spark plug. You can use simple tools. A toothbrush or simple rug is perfect.
2. Low Power Output
Low power output in the early stages after purchasing a Predator generator might be due to:
Residual magnetism in its alternator.
A failed AVR (Automatic Voltage Regulator), or other electrical components.
Pro-tip: You can always take a DIY approach to check the Predators' capacitors using a voltage screwdriver. If your 3500 engine, including the spark arrestor, has not run for a while, you can give it more time to heat up and boost residual magnetism.
3. Getting Sudden Power Outages
Sudden outages are pretty frustrating.
Usually, such a thing can be caused by your motor.
Also, there can be a carb and gasoline problem, where a clog is restricting fuel flow into the engine.
Apart from using new gas, you can tighten your motor wires and the cables if they're loose.
4. Automatic Generator Shutdowns
If you're experiencing automatic shutdowns, do next:
Check your voltage regulator and tighten any loose connections.
If your capacitors don't improve, get a new AVR, retailing at $10 – $80.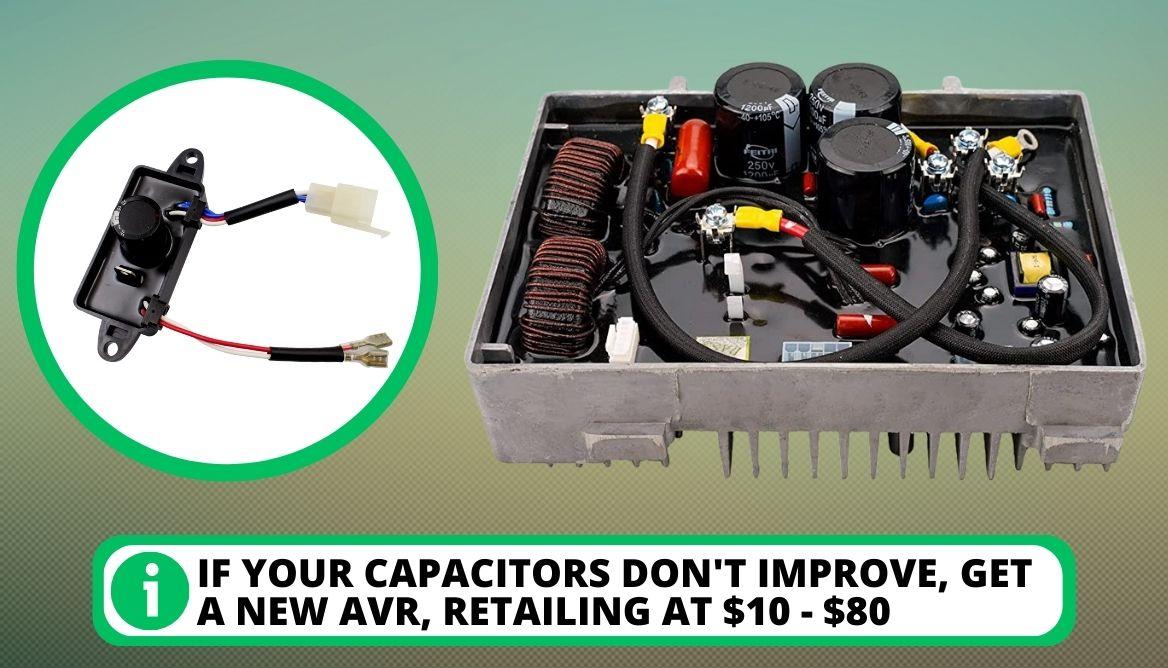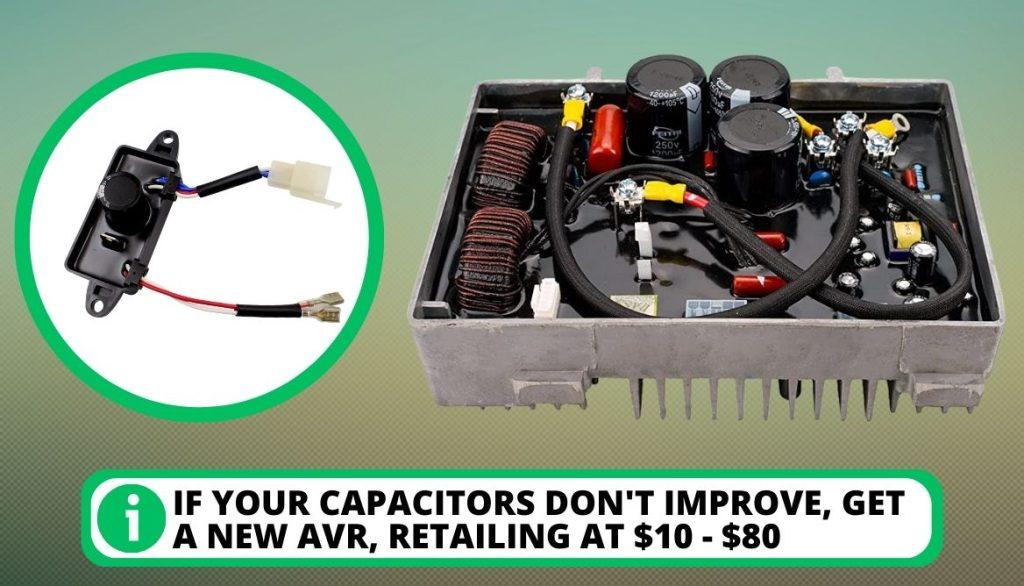 5. The Engine Overheating
Poor aeration can cause overheating and an automatic power outage. Drilling a few holes helps improve airflow for a cool engine. You can do this in the following sections:
Side Casing
Battery cover
Oil door
There are YouTube videos readily available featuring how to execute the same and many other maintenance processes.
Also, get the right equipment for the job. Harbor Freight tools are a great option.
6. Running Weak or Dying on Run
A generator can still perform weakly or lose power even when fully fueled:
This can be due to a clogged-up Varnish in the carburetor. Varnish accumulates if old gas is not replaced regularly.
You can start by inspecting your carburetor and cleaning the spark arrestor to ensure it works correctly.
Proper engine care ensures oil won't overflow onto the engine or clog the carburetor.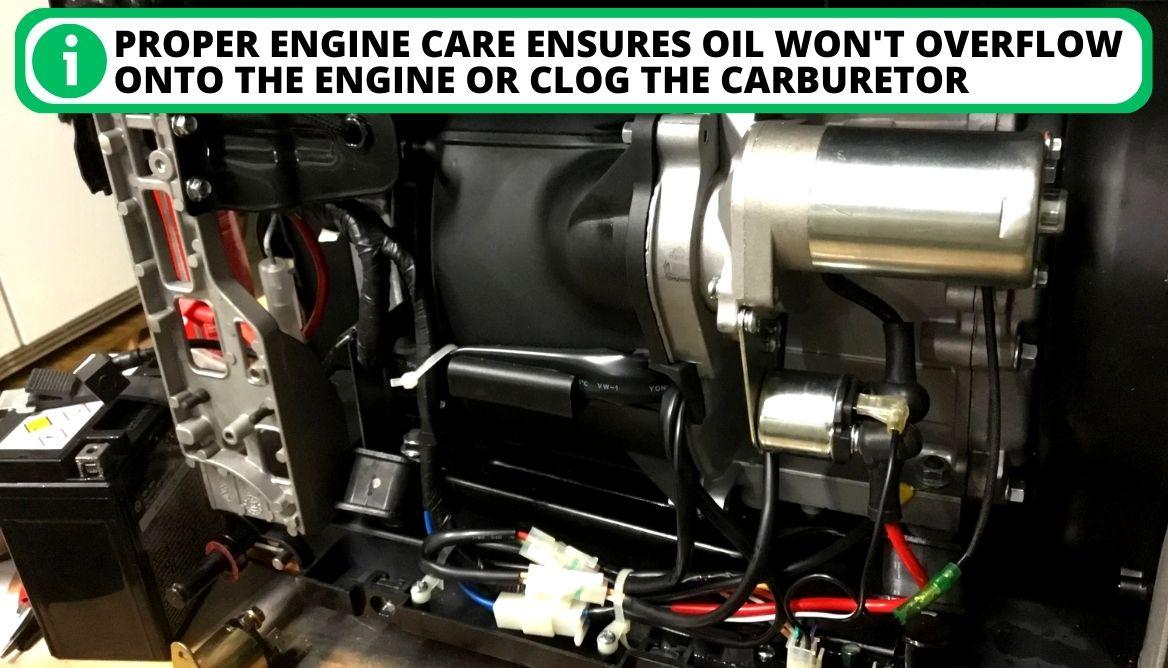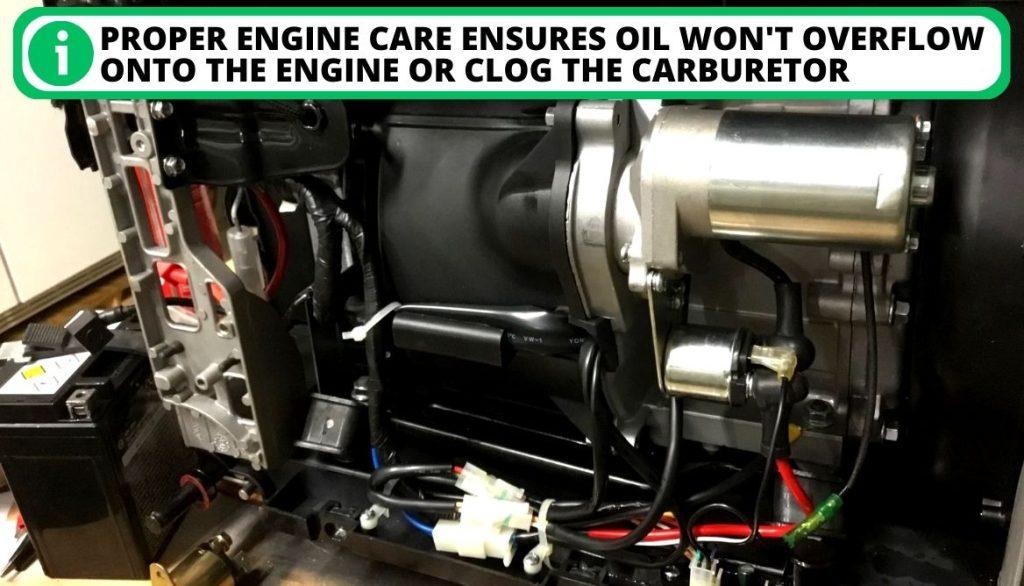 Key Factors Concerning Predator 3500 Generator
There are a few things to keep in mind when purchasing a Predator 3500 generator. Let's discuss some important factors to consider.
1. The Running Period Per Fuel Tank
You'll love the generator's fuel efficiency, translating to longer engine times per gasoline tank. The predators usually hold 2.6 gallons, and perform in the following ways:
The generator at 25% load gives service for up to 11 hours on a full gas tank.
This 3500 version, at 50% load, gives you a run time of approximately 8 hours.
At 75% workload, the engine time is around 5 hours.
At maximum load, the run time is approximately 4 hours.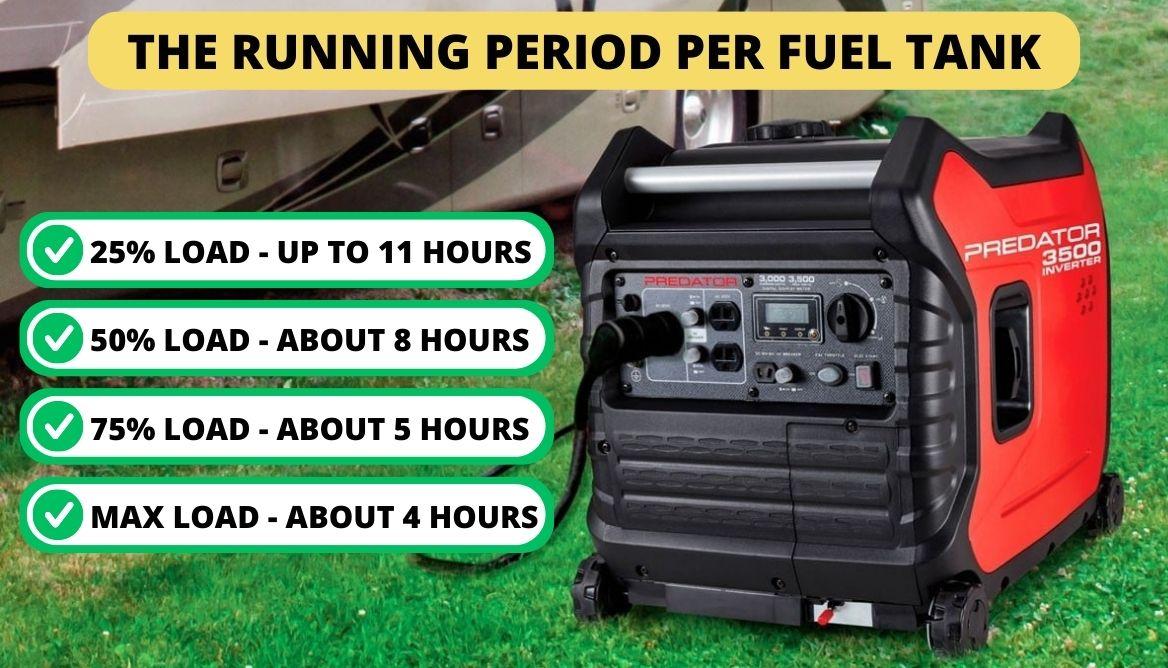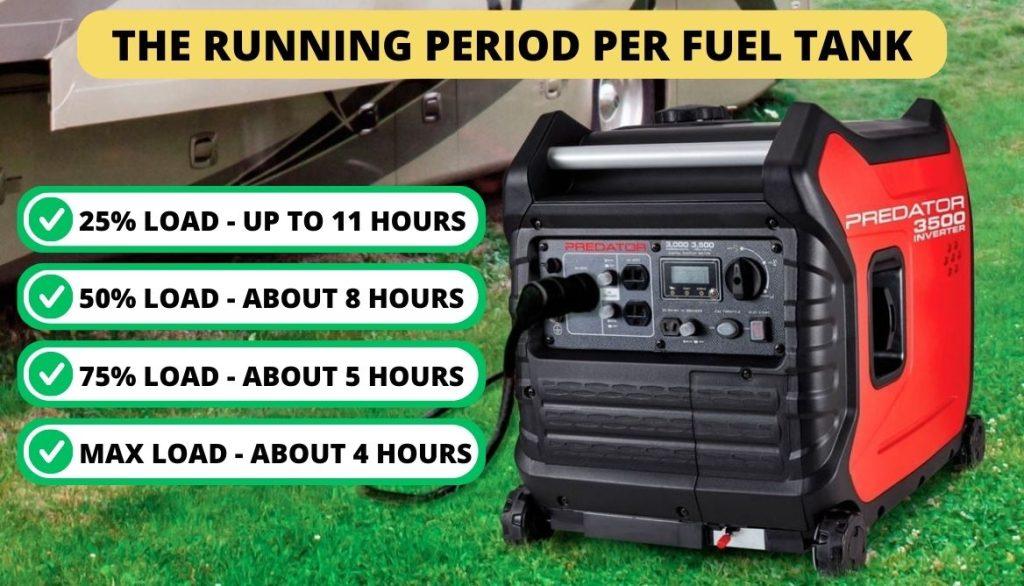 Poorly maintained Predators' engines perform inconsistently which can be inconvenient. The technology incorporated might also not work efficiently, causing low power output per fuel consumption.
2. Inability to Maximize 4 Wheels Usage
The generator's inability to fully utilize its 4-wheel dynamics, despite producing a lot of energy, is another area that needs improvement.
Using electrical appliances and other devices simultaneously results in power loss, which creates hazards.
The fuel tank limit is insufficient to support major four-wheel features.
3. The Void of Warranty Risk after Customizing
Perhaps you can lay off from making any changes to your Predator generator, as it jeopardizes your chances of getting a refund in case of faulty issues.
You can avoid various technical DIY solutions when encountering Predator 3500 generator problems, like drilling holes for proper airflow, before confirming with the company.
Also, follow the manufacturer's instructions regarding warranty terms for appropriate use and maintenance of the machine.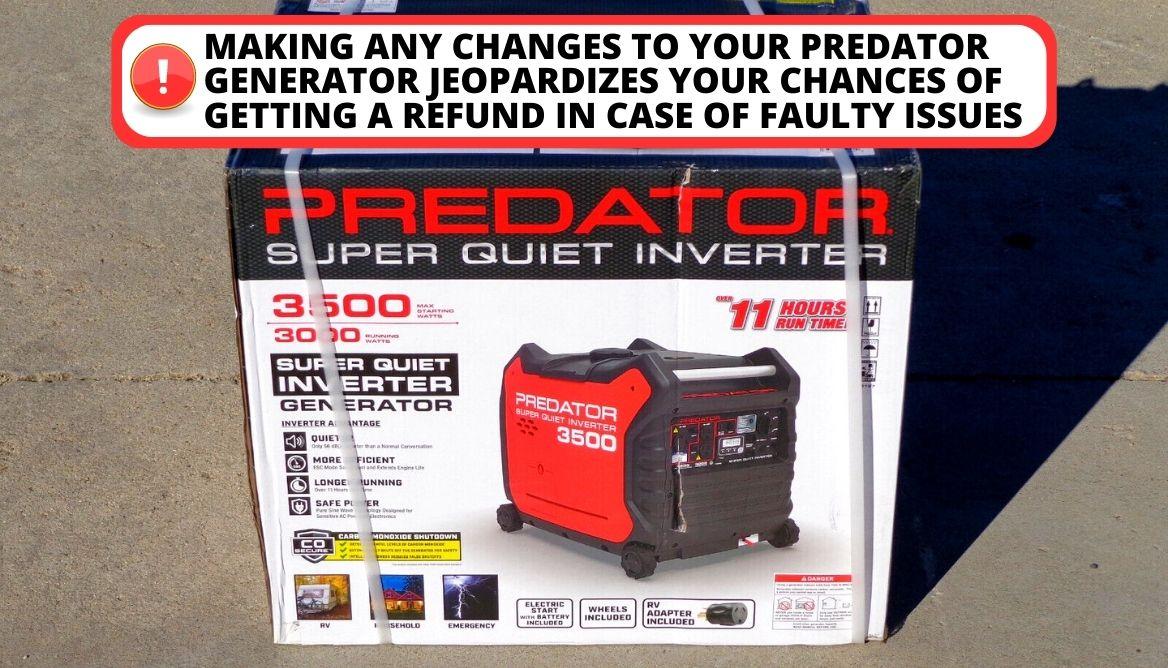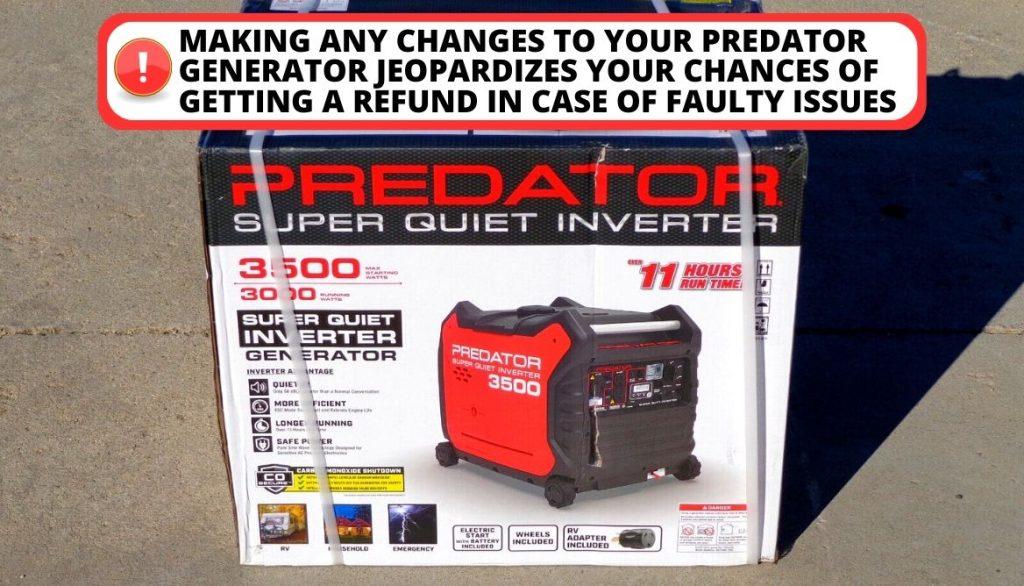 4. Lacking a Fuel Gauge
Despite coming with a monitor, this generator lacks a fuel gauge to help you manage your usage. This forces users to estimate their fuel.
Ways of Properly Starting a Predator 3500 Generator
You can start the generator via different methods: manually or electrically. Here's a walkthrough of how to start different models.
How to Manually Start a Predator 3500
The following are easy steps on how to manually start your generator:
Unplug the generator's devices and appliances to avoid any distractions or interruptions with the startup process.
Use the appropriate amount of unleaded and stabilized fuel.
Next, turn the ESC Throttle 'off,' then move the 'Combination Start' button to the 'Start.'
Hold the engine's 'Starter,' then gently bring it back severally to allow fuel to reach your carburetor.
Follow up by pulling the same handle lightly until you notice a resistance; enable the power cord to retract before instantly bringing it back fully.
You can repeat this procedure until the engine starts.
Continue holding the starter as it retracts to prevent damage when it hits the housing.
The presence of the output light indicates the smooth running of the engine. Give it a few seconds before returning the switch to the 'Run' position. Remember to take caution, as pressing the dial roughly may cause the engine to stall.
Also, allow your Predator to stabilize by letting it operate without any load for up to 5 minutes before connecting devices.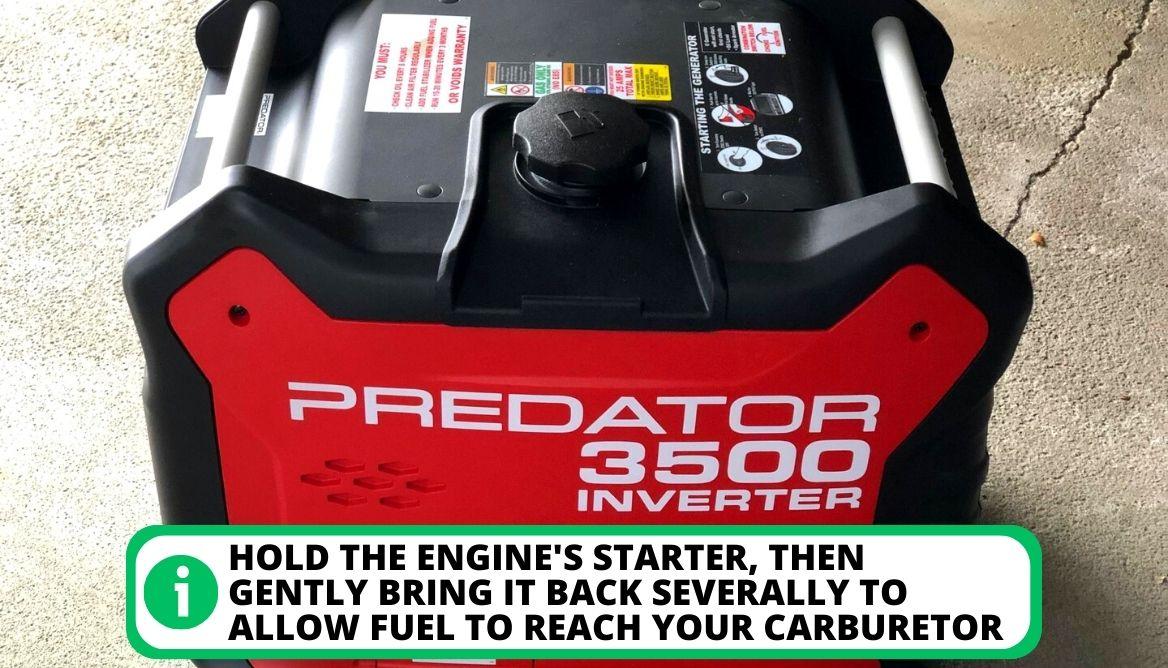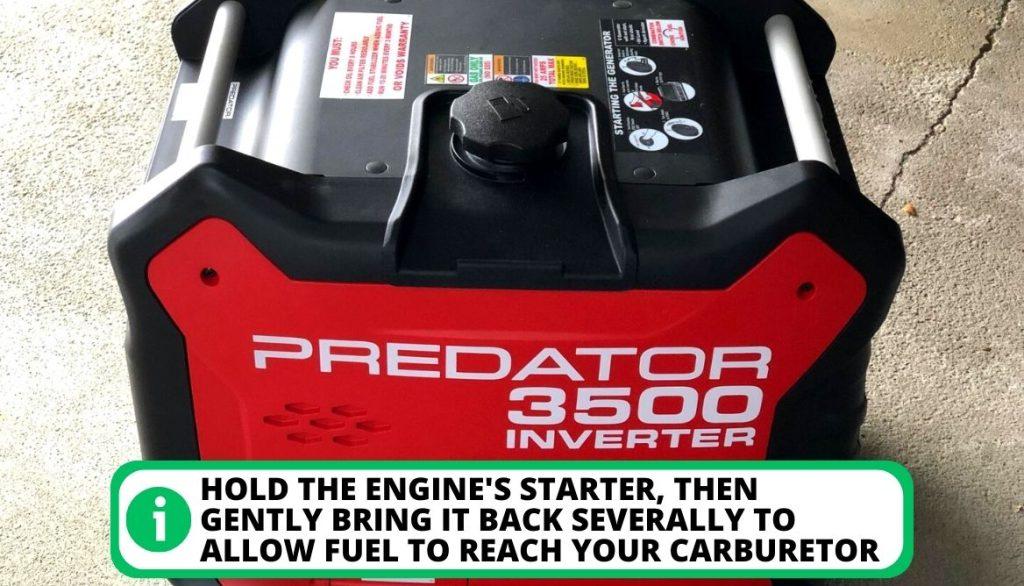 How to Electrically Start a Predator 3500 Generator
If you decide to go the electric way, start by:
Disengage any connected appliances.
Turn the Throttle's switch off.
Turn on the combo switch.
Press the 'Starter' for 3 seconds; release the button for at least 10 seconds before restarting the process if the first time fails.
Wait for a moment after the engine starts and the output light turns on before directing the combination dial to 'Run.'
Finally, let it run for five minutes before connecting any appliances to stabilize it.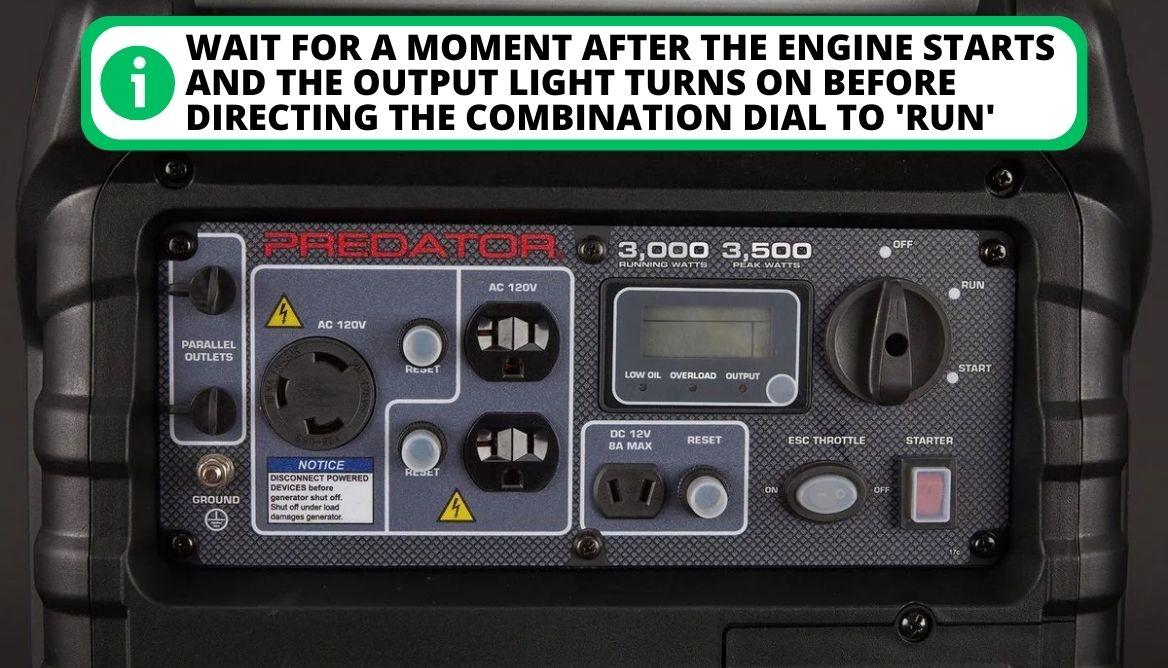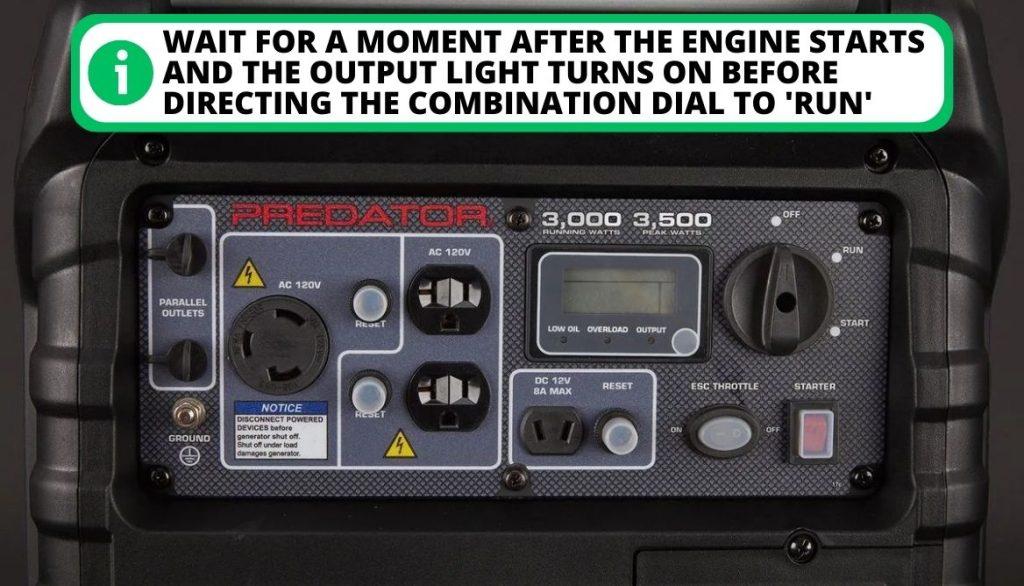 Engine Oil and Maintenance
You get a 212cc OHV engine with these Predator generators. Like any other motor component, it comes with oil requirements, including changes and refills:
Normally, you must change the engine oil after the first 20 hours of operation and every 100 hours afterward.
The recommended oil is the SAE 10W-30, fit for temperatures between 0-100°F.
You can also utilize SAE 5W-30 oil for temperatures from -20-50°F.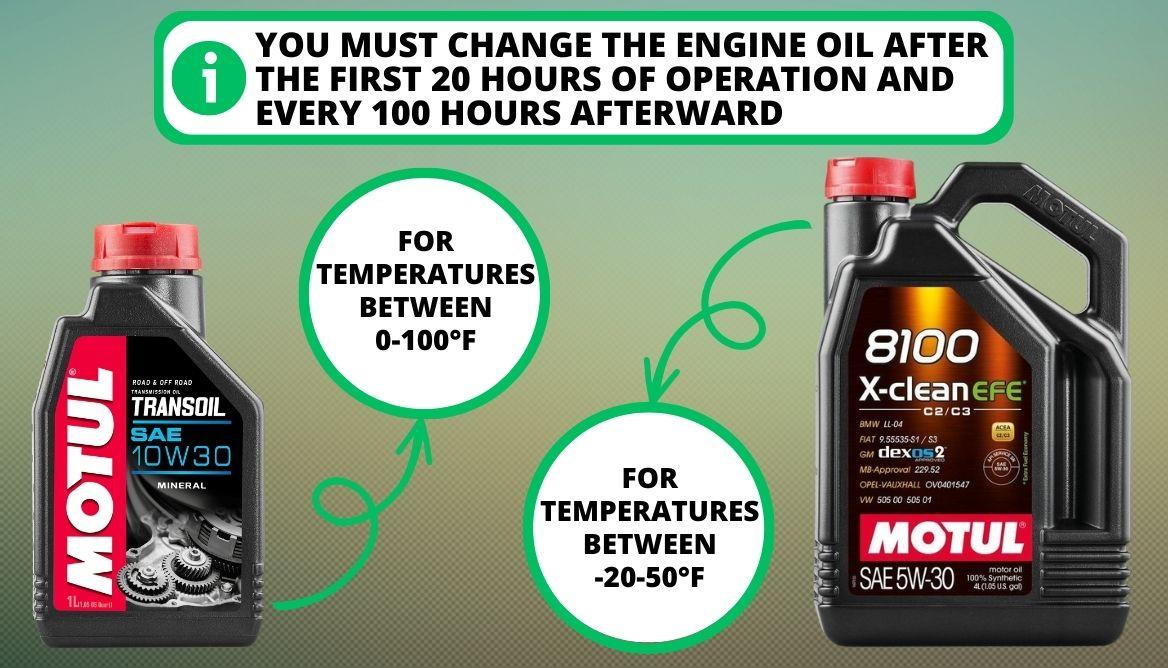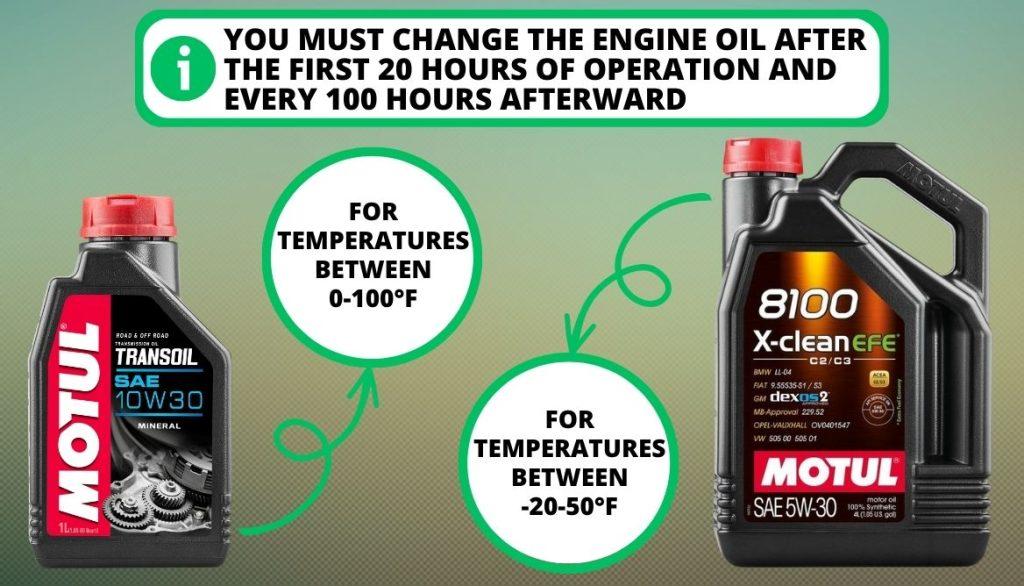 Maintenance Dynamics
Conserving your engine oil involves simple steps like regularly checking the oil levels and the state of your drain plug. Additionally, the state of the air filter can help you maintain enough power, and you should clean or replace it every 50 hours or more.
Additional Maintenance Tips
You can also depend on the following tricks and tips to constantly get good performance from your generator:
Use fuel only stored in a metal can, and always refill the tank after your engine fully cools and is aerated.
The engine can be optimized once a year or after 300 hours of operation by modifying the 'idle' specs and cleaning the oil tank, filter, and spark arrestor to extract any carbon traces.
You should also check the spark plug after every 100 hours or annually. Replace it if the spark plug electrode is worn or has a cracked insulator.
If your generator is equipped with a battery, check its terminals for corrosion and clean them if necessary. Always charge after every 90 days of non-use.
Use a stabilizer if your engine is dormant for 30 days. You can add a stabilizer to the fuel and run the generator for at least 10 minutes to be effective for the carburetor.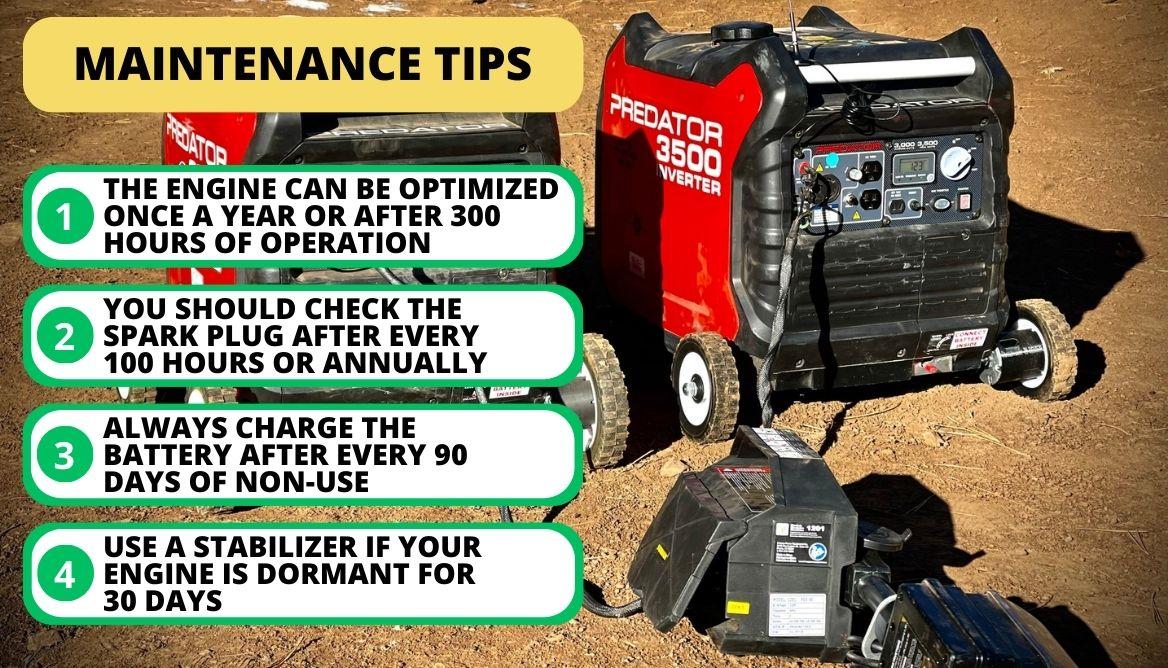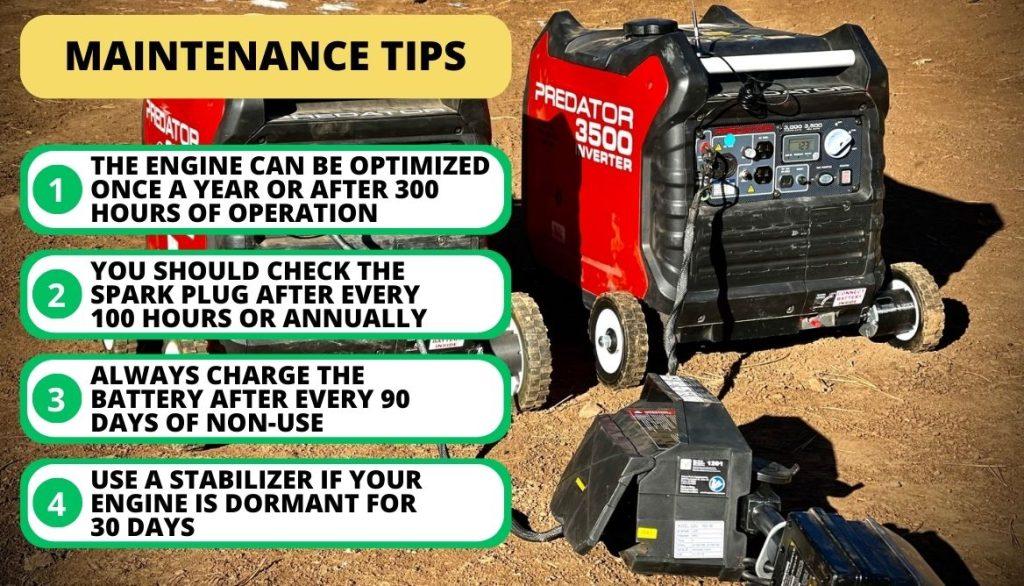 Frequently Asked Questions
How long the does Predator 3500 generator last?
Predator 3500 generators normally last up to 11 hours on 25% load through the 3500 watts. 
Who manufactures Predator 3500 generator engines?
Predator 3500 generators is a product by Lifan Group manufacturers from China. 
What is the ESC button on a Predator 3500 generator?
The ESC buttons help control the engine's speed to the exact required amounts for certain appliances.
How long can a Predator 3500 run on full load?
A predator 3500 will last up to 4 hours on maximum loading. 
How loud is a Predator 3500 generator?
A Predator 3500 generator produces 57 dB of noise, which is perfectly quiet. 
Conclusion
The Predator 3500 generator problems are pretty normal in all auto-machineries. Depending on convenience, you can rely on discussed solutions to sort the issues or contact different experts or manufacturers for professional help.
So, have you encountered any of the discussed problems before? Comment below and tell us any left-out solution that can help our readers.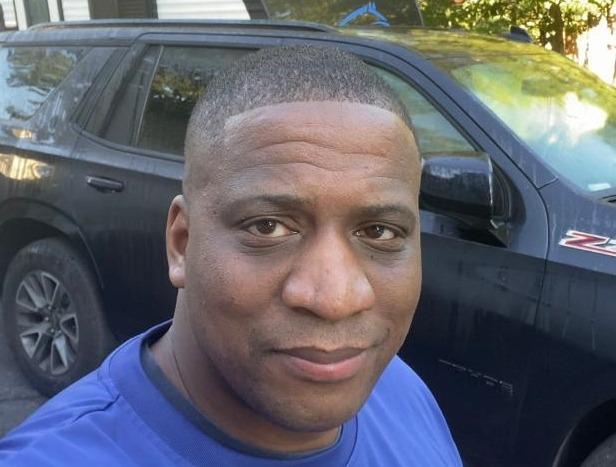 I`m a current Law Enforcement Officer working within the Counterterrorism Bureau in New York State. I have been Camping for over 20 years. My styles of camping include tent, car, truck, van, and RV travel trailer. I have a YouTube channel where I teach all types of camping with an entertaining method: https://youtube.com/@TheSmallsRVAdventures