Dometic WH-6GEA Troubleshooting: A Step-by-Step Guide to 4 Effective Methods
Are you having any concerns related to Dometic WH-6GEA troubleshooting? Perhaps your water heater is broken and not functioning as expected, showing error codes, or experiencing other malfunctions. But do not worry! We have got you covered.
Continue reading this article, and you'll know how to fix the most common issues encountered with the Dometic WH 6GEA heater recreational vehicle unit. So, without wasting any time, let's get started!
An Insight Into Dometic WH-6GEA Water Heater
Dometic WH 6GEA provides reliable hot water solutions in various RVs and camping boats. This model belongs to the renowned Dometic brand.
Here is a rundown of its important highlights:
The WH 6GEA offers an easy electric startup option, so is no manual operation involved.
This heater has a good capacity of 6 gallons.
It features an aluminum build which is almost 2 times lighter than the usual steel ones.
Its thermal blankets add a plus one to the insulation making it more secure.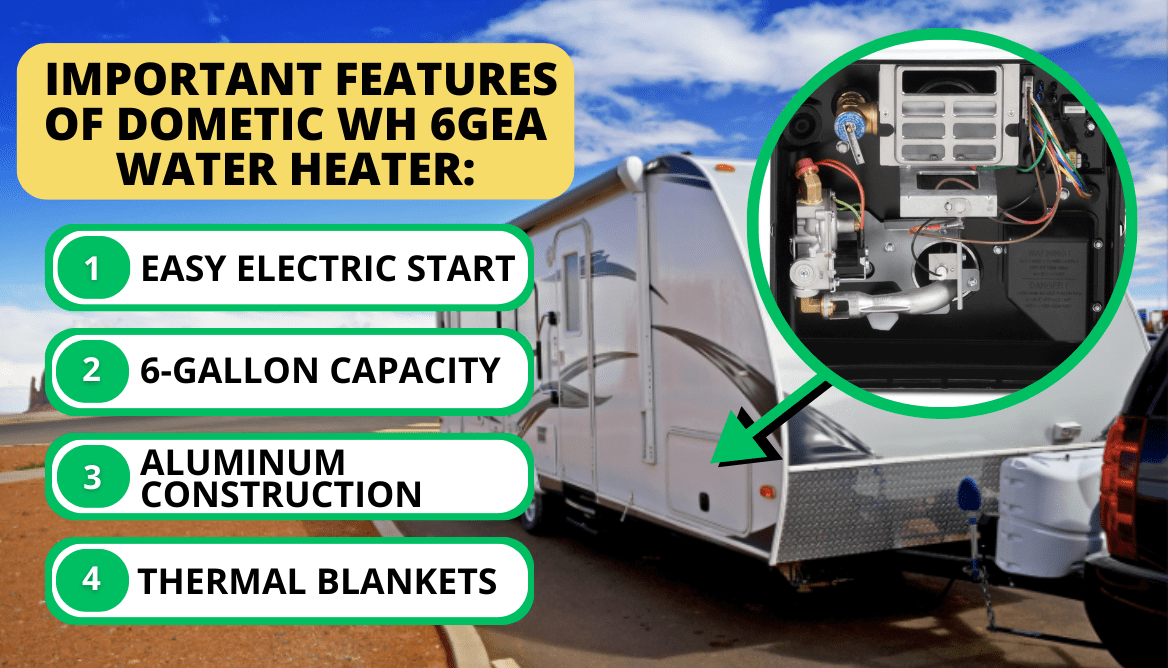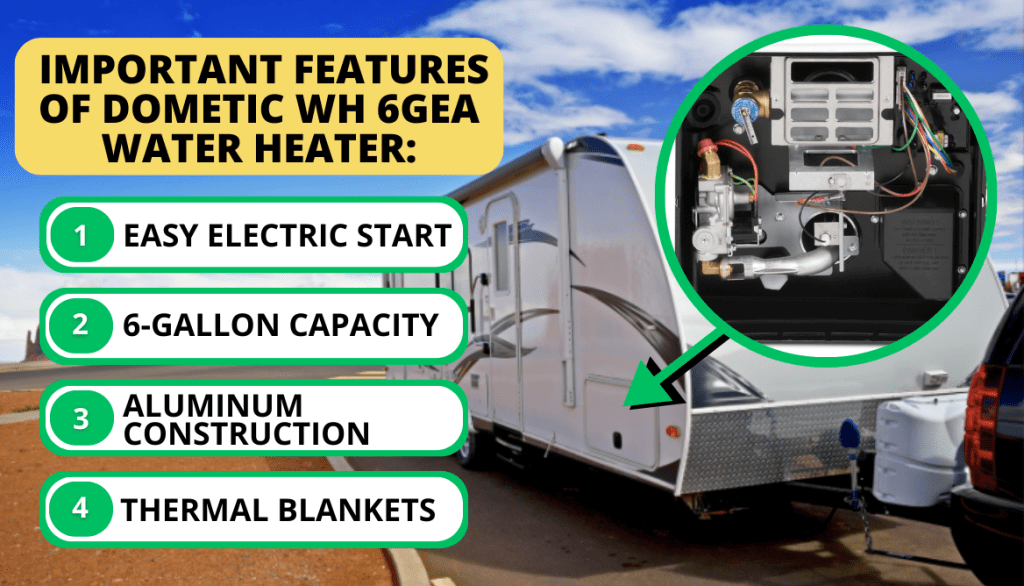 4 Dometic WH-6GEA Troubleshooting Methods Explained!
You can utilize the following methods to troubleshoot common issues related to your faulty Dometic water heater.
1. Look for Issues with Thermostat
If your RV water heaters are not working properly, it is often because the thermostat is not set correctly. This can result in the water not getting warm or becoming too hot.
Solution
To ensure proper working, apply the following settings accurately:
Verify that the thermostat is receiving power. Check the circuit breaker, inspect the wiring, or fuse to ensure it is not tripped.
If everything is working fine, use a multimeter to find out if the device doesn't have any other technical issues.
Contact an expert or take help from a DIY manual if you cannot figure out things independently. If you don't have a manual, download one from the official site by entering the heater's model number on the vehicle.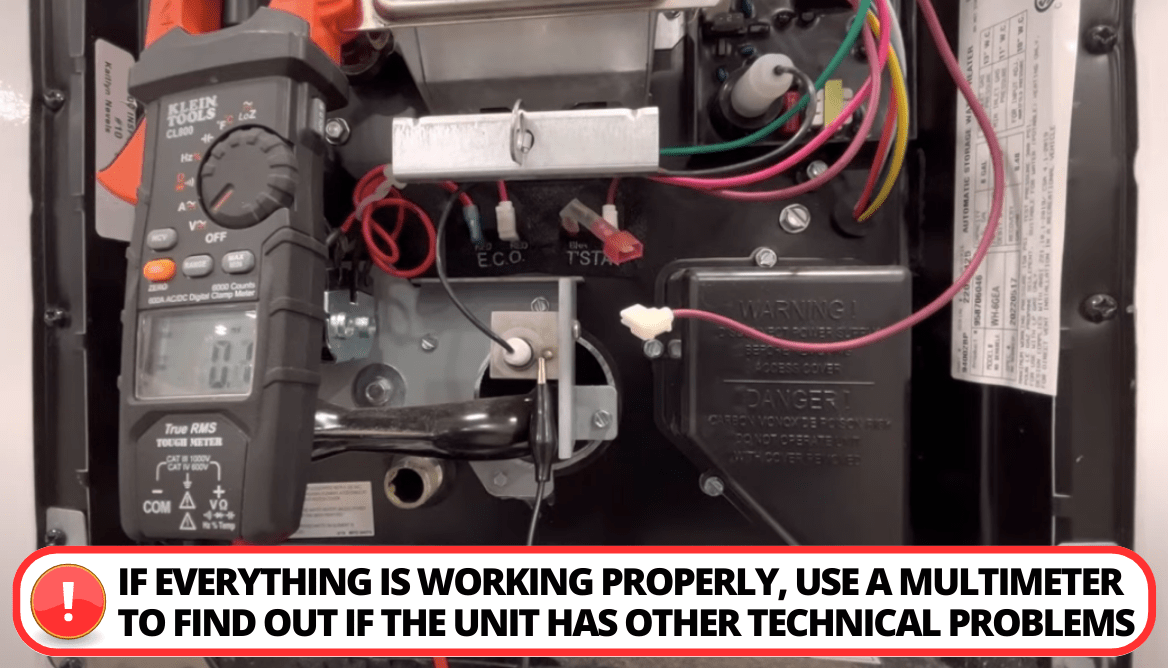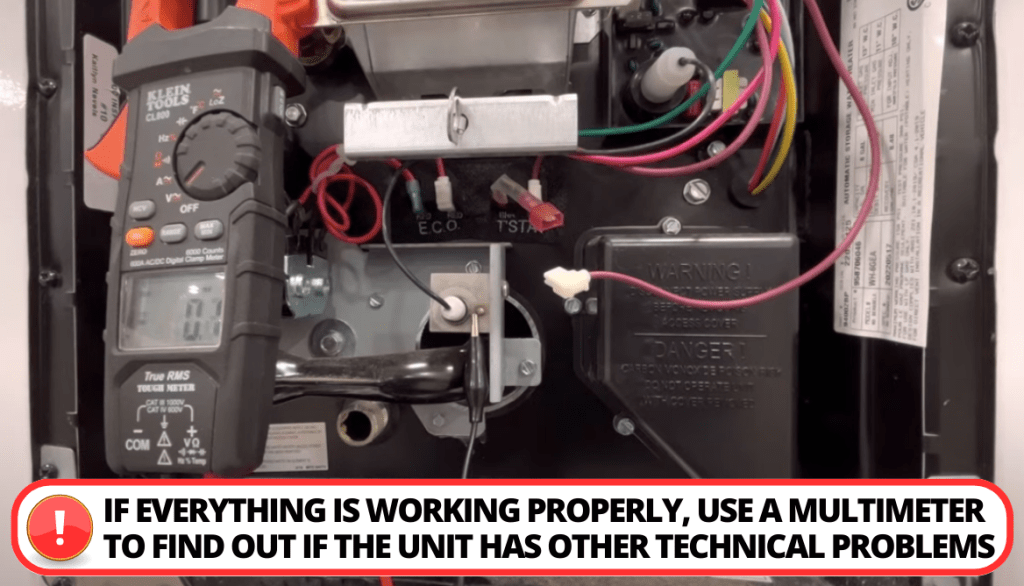 2. Issues With the Water Pressure
Another common issue with the Dometic WH-6GEA water heater is when it doesn't heat water at all. Malfunctions with the water pressure can cause this.
Some of the reasons for low or high water pressure are:
Clogged or leaked pipes.
Faulty pressure regulator.
Air in the water lines.
Pressure issues from the source.
Solution
You can take the following steps to fix the problem:
Turn off some taps of the vehicle.
Adjust the pressure regulator.
Check or clean any clogged or clean pipes.
Inspect the source pressure with the help of a gauge.
Remember, the above solutions may not work every time. Plus, you have to work with a technician if the problem doesn't resolve at all.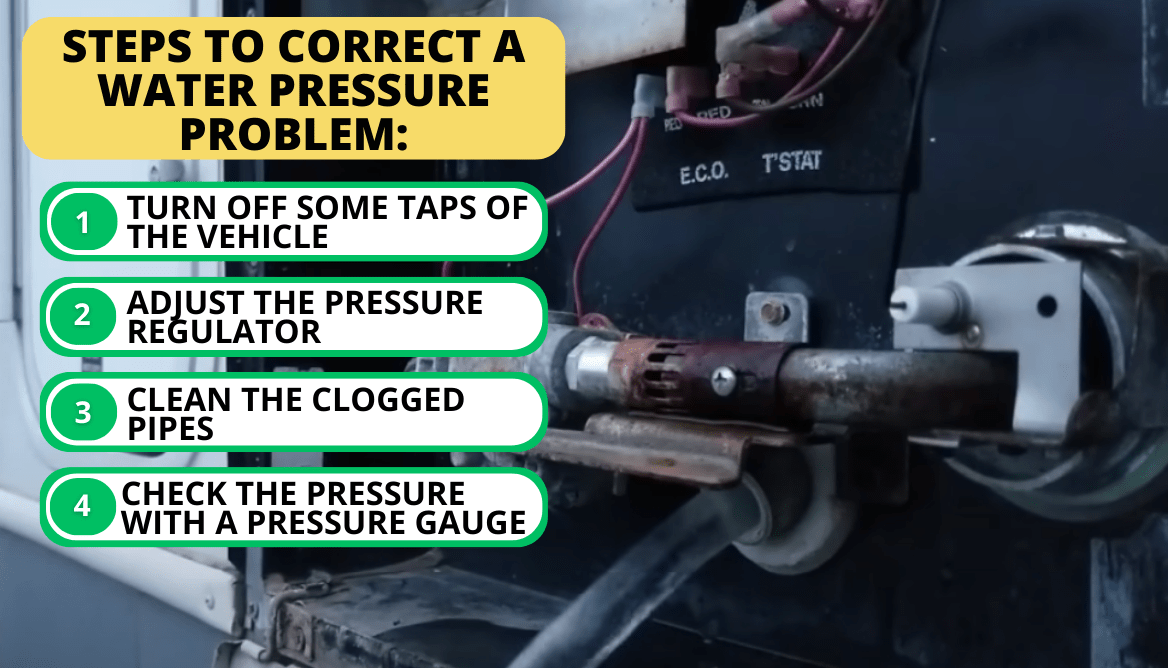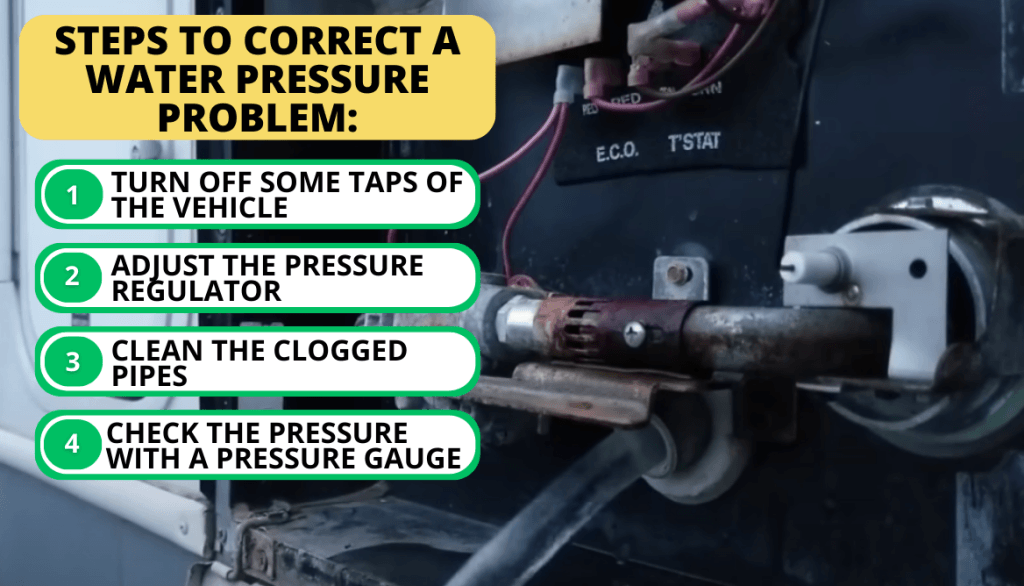 3. Confirm Whether Water Heaters Cause Thermal Fuses to Break Down
It can be really annoying if your Dometic WH-6GEA water heater causes the thermal fuse to stop working. This can happen if the water heater gets too hot.
However, it is important to get this problem fixed so you can have hot water again.
Solution
There are several tips to identify and resolve the problem, including:
Locate the thermal fuse in Dometic WH and check for any blowing causes, such as heating water element issues, thermostat problems, or common electric issues.
Drain the water heater and flush out any sediment or mineral deposits.
Double-check that the water heater is installed accurately and receives the optimum voltage and electrical supply.
First, inspect the heating element for any signs of damage, such as corrosion. If it appears faulty, you may have to buy a new one.
Once you have identified the underlying cause, replace the damaged fuse with the new one.
Additionally, clean the exhaust/intake vents, as restricted airflow can cause overheating and trip the fuse.
After replacing the thermal fuse, restore power to the water heater and test its functionality.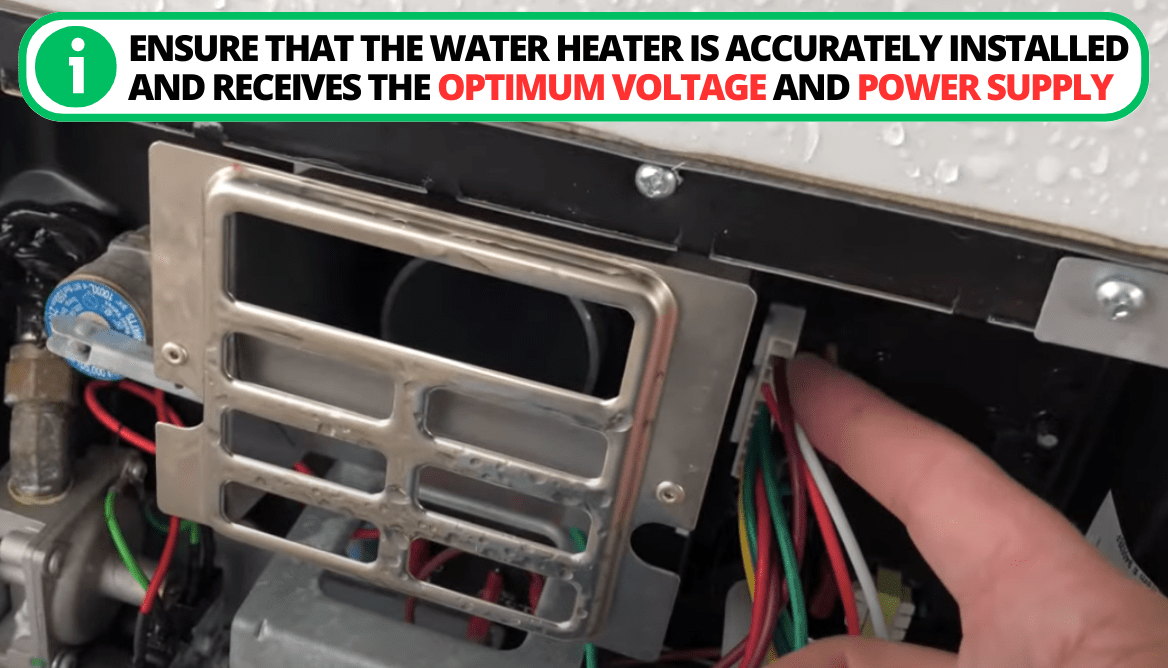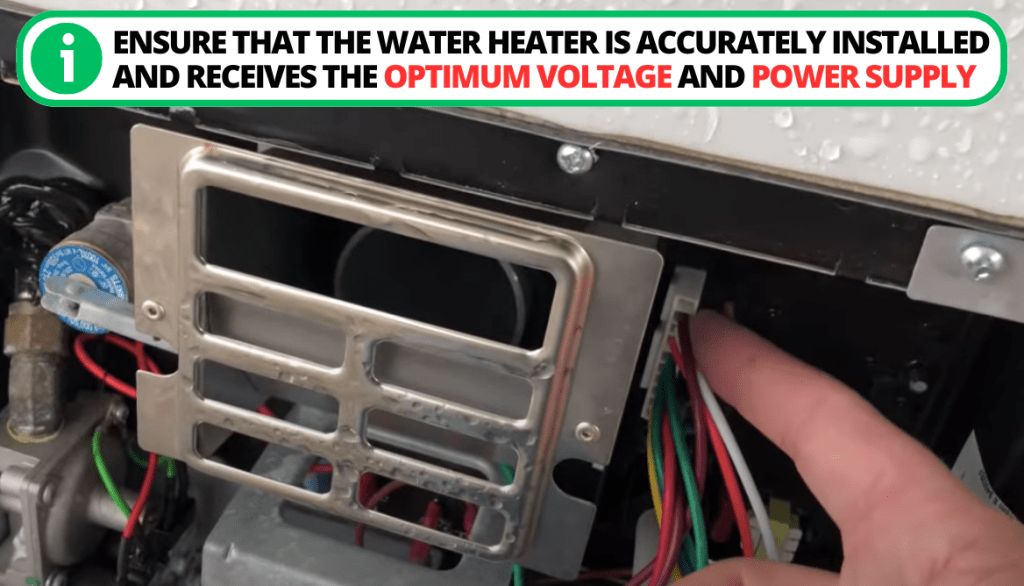 4. Ask the Customer Support Team for their Assistance
If you are still facing difficulties with your Dometic WH water heater despite trying everything explained above, you might need expert help.
Before assuming the device is faulty, it is important to check if there could be any other part causing issues. You can do this by yourself or ask for help from a professional. However, figuring out other possible causes is always good before jumping to solutions.
Solution
When contacting the support team, please make sure to do the following:
Include all the necessary information regarding the issue you are facing.
The support team will analyze the situation and determine the underlying cause of the problem.
Depending on the nature of the issue, they may request you to send your device for repairs or propose an appropriate solution.
By following the guidance provided by the Dometic WH-6GEA water heater support team and staying in contact with them, you should be able to resolve the problem with your water heater.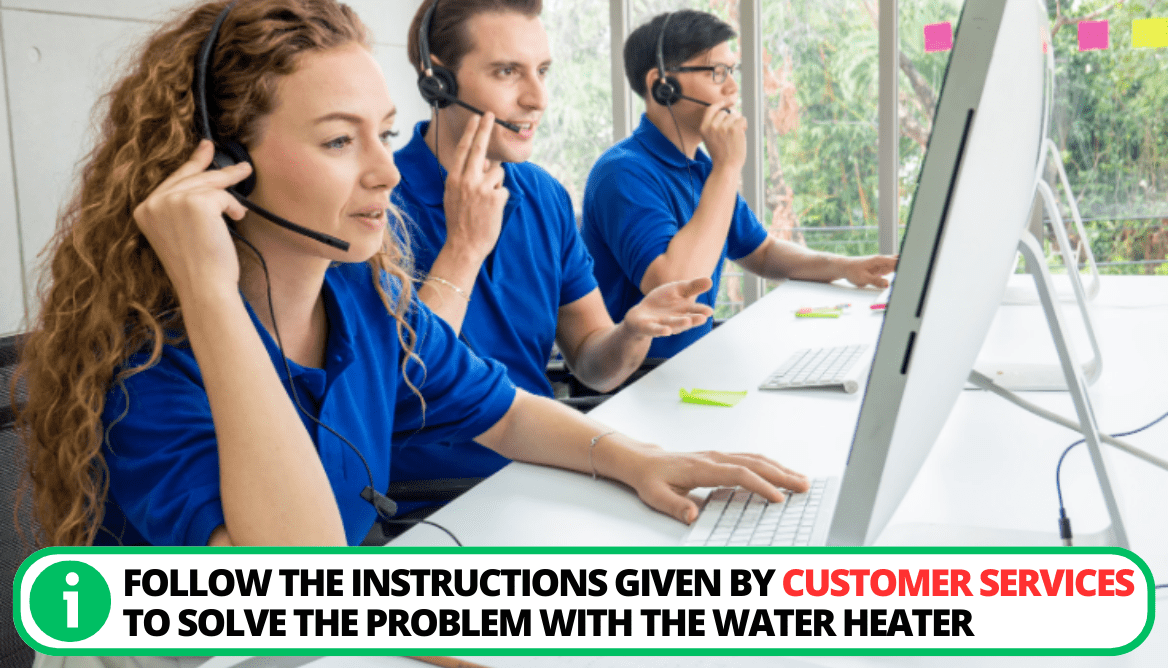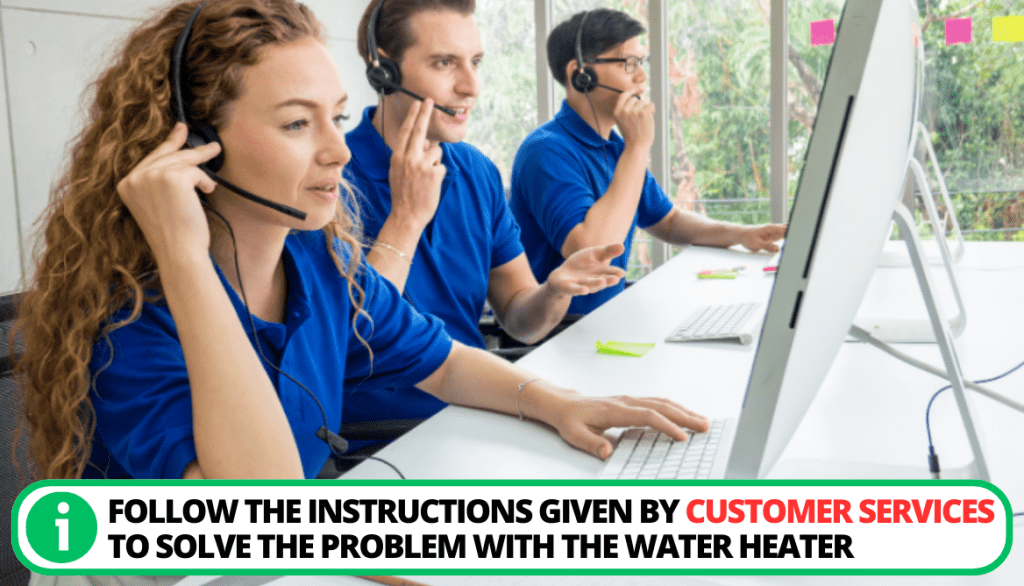 4 Steps Based WH-6GEA RV Water Heater Reset
Sometimes, the issue with your Dometic WH-6GEA isn't that big. With a simple reset, your water heater starts working as fine as before. But how do you do that as WH 6GEA lacks a manual reset button? Well, there is no need to worry.
You must use an Electronic Control Switch instead. Follow the step-by-step guide below to press the reset button and ensure it functions properly.
Step 1: Find the Location of the Switch
To start, find the control switch for your model. This breaker is important as it controls specific functions in your manual device. Depending on how your system and connections are arranged, there are two options: a single or double switch.
Usually, you can find the switch on the wall next to the tank of your Dometic WH-6GEA water heater. Look at that point to locate it.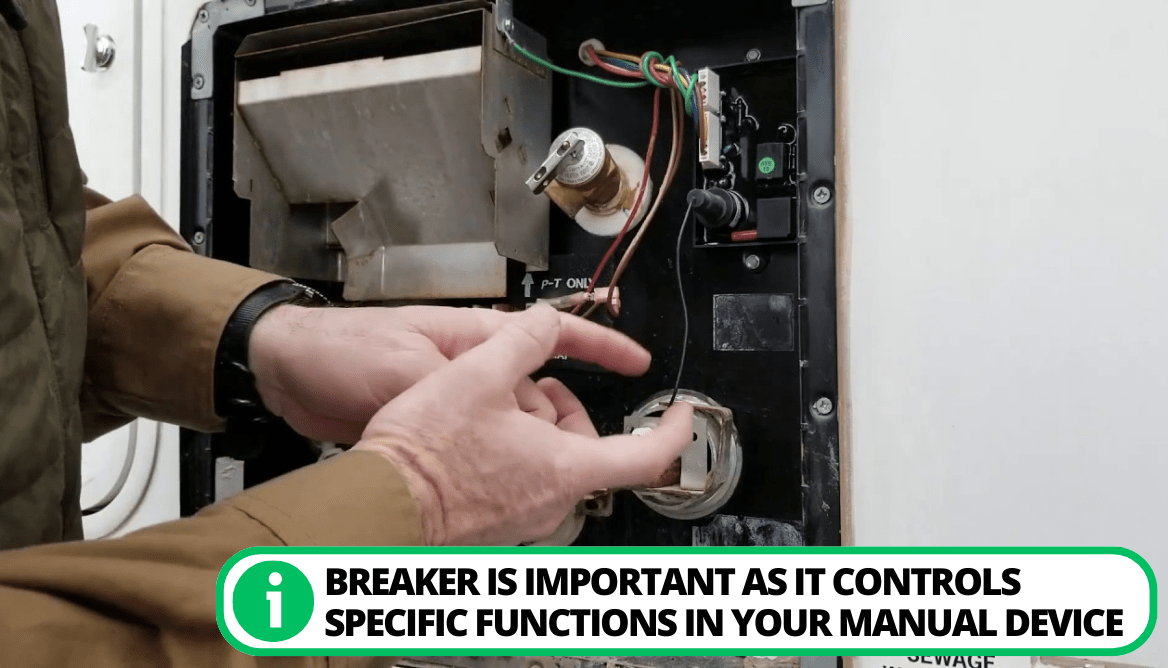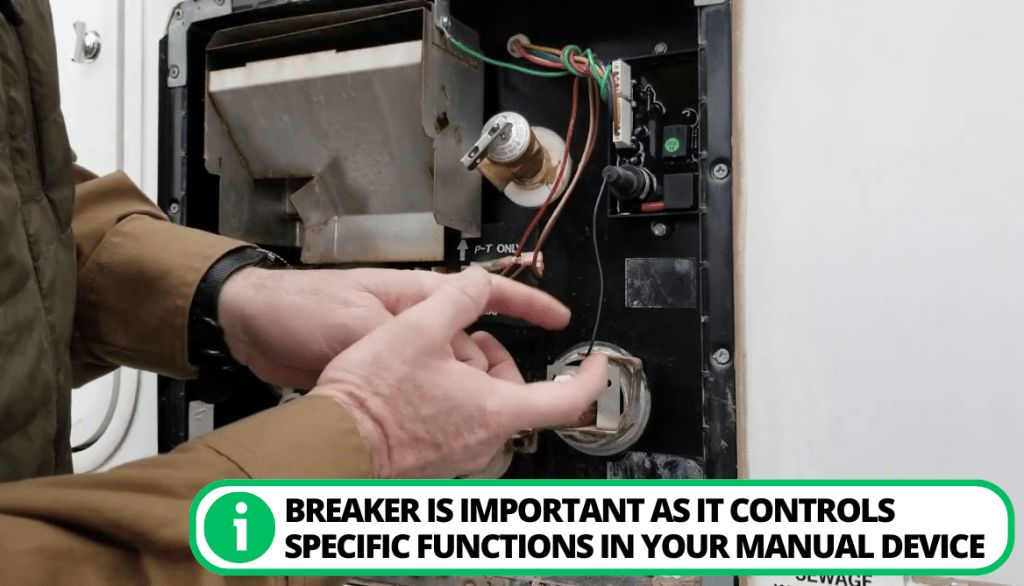 Pro Tip: Before you perform this reset button trick, allow the water to cool down; otherwise, it can cause an injury.
Step 2: Toggle the Switch To Off
Once you discover the electrical control switch, the first step is to turn it off. To do this, flip the switch to the off position. It's important to ensure the switch remains turned off for at least 30 seconds.
Step 3: Turn On the Switch to Notice Any Repair Effects
After the designated time, move the switch to the "ON" position. At this moment, you have completed the reset process. This effective resetting for your Dometic WH-6GEA appliance allows optimal functionality and performance.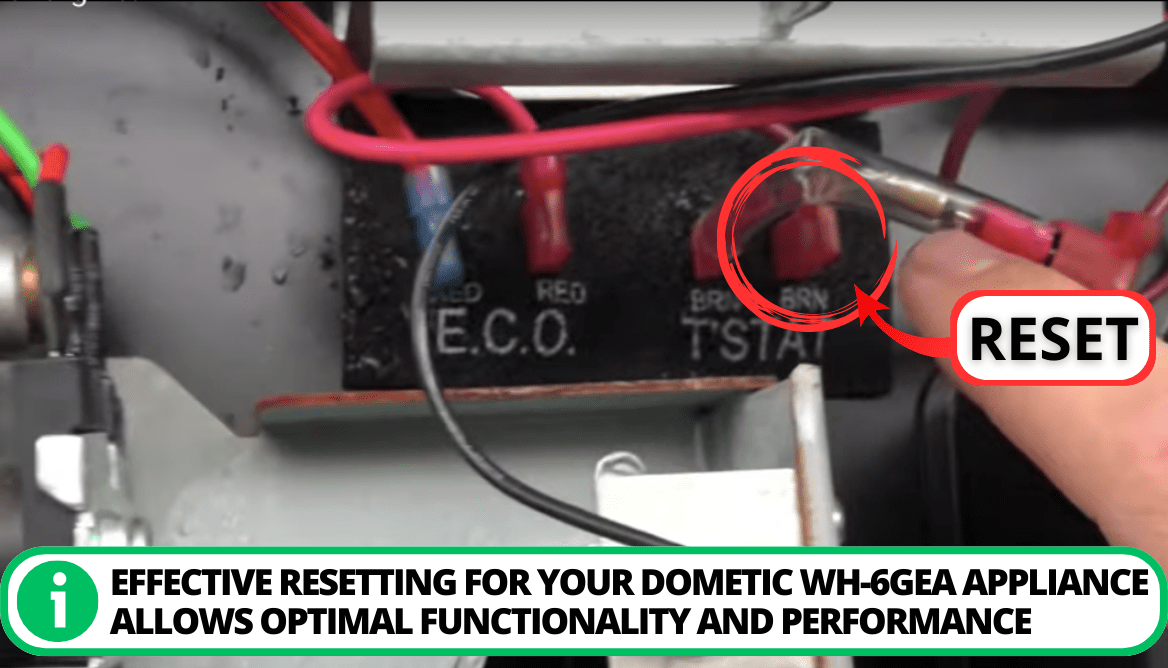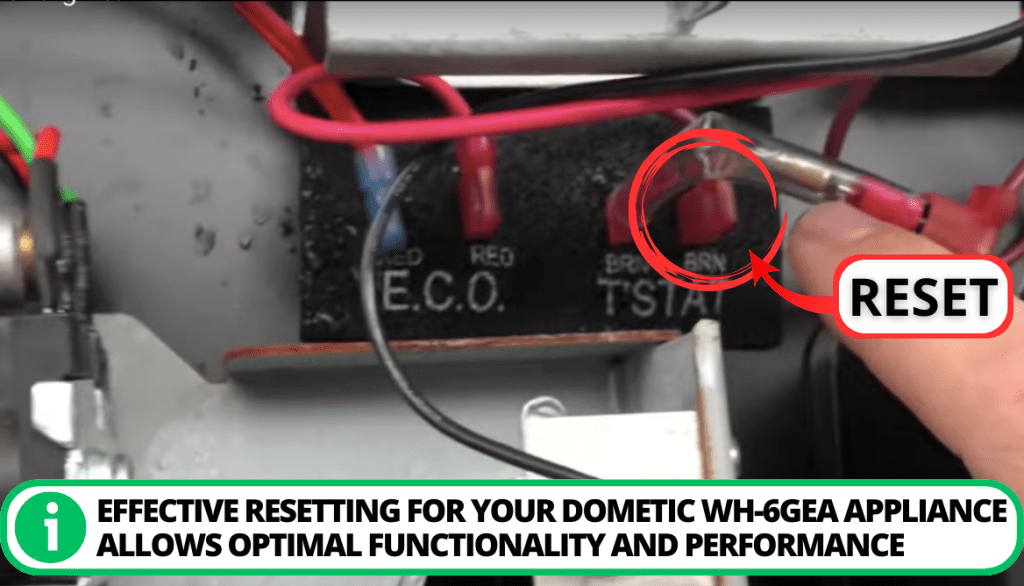 Step 4: Make Sure that Dometic WH-6GEA is Functioning Perfectly
Ultimately, take a moment to carefully examine the appliance, considering its various components work fine. Verify that the units are receiving current to avoid your device may not trip in the future. Pay close attention to device indicators and check for error messages.
What's the Best Time for WH-6EA Water Heater Reset?
When your water heater fails to perform, a lockout condition occurs. It is a safety measure that prevents accidents and ensures the proper functioning of the manual water heater. Various common causes can trigger a water heater lockout.
This is the point where you have to perform a reset to your RV Dometic water heater. Below are some more examples that direct you when to use the reset button:
1. Malfunctioning in Thermostat
The thermostat in your Dometic WH-6GEA RV plays a crucial role in measuring and controlling the temperature of your water heater.
However, if this unit malfunctions, it trips to regulate the temperature properly, leading to problems with the heater's functionality. This situation is known as a thermostat failure, which can result in a lockout and asking for a reset button.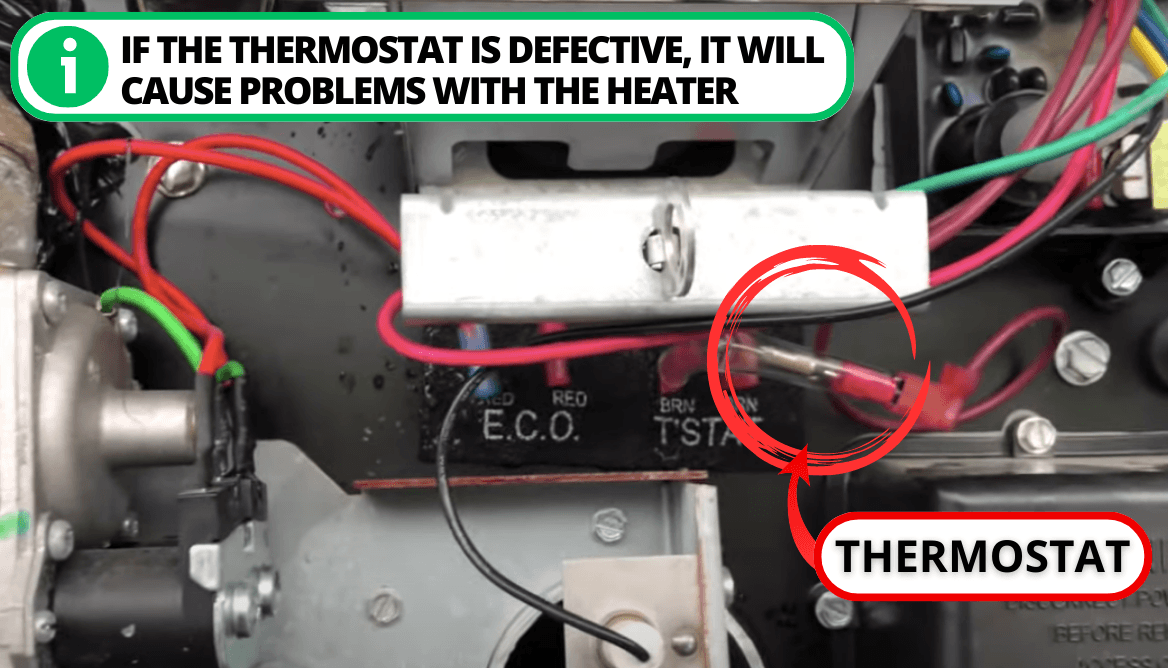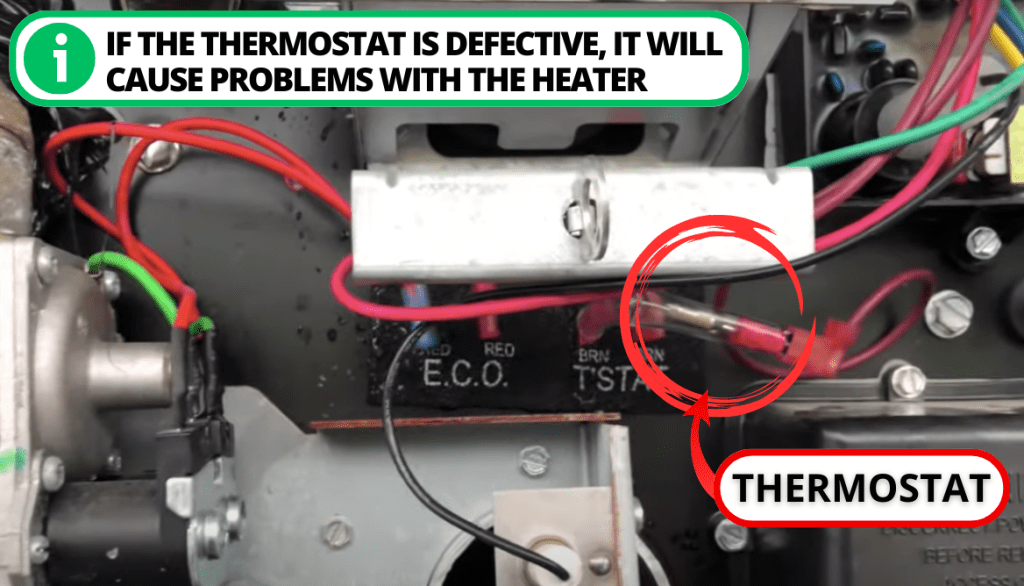 2. Inability to Ignite Electric or Gas Mode
The RV Dometic water heater offers two ignition methods for heating water. One is the electric mode, and the other is the gas mode. Normally, the heater switches to electric mode as a backup if the ignition method trips.
However, if both are not working, the ignition lockout light will turn on, indicating a problem with igniting the water heater temperature.
3. Excessive Heat and Lockout
Preventing overheating water in your recreational vehicle Dometic WH-6GEA RV units is important. The heater has a sensor that detects excessive temperature and attempts to regulate it automatically.
However, if the temperature of the vehicle rises excessively and exceeds the heater's capacity, it can result in a lockout situation. In this case, you must use the reset button to resolve the trip and lockout issue.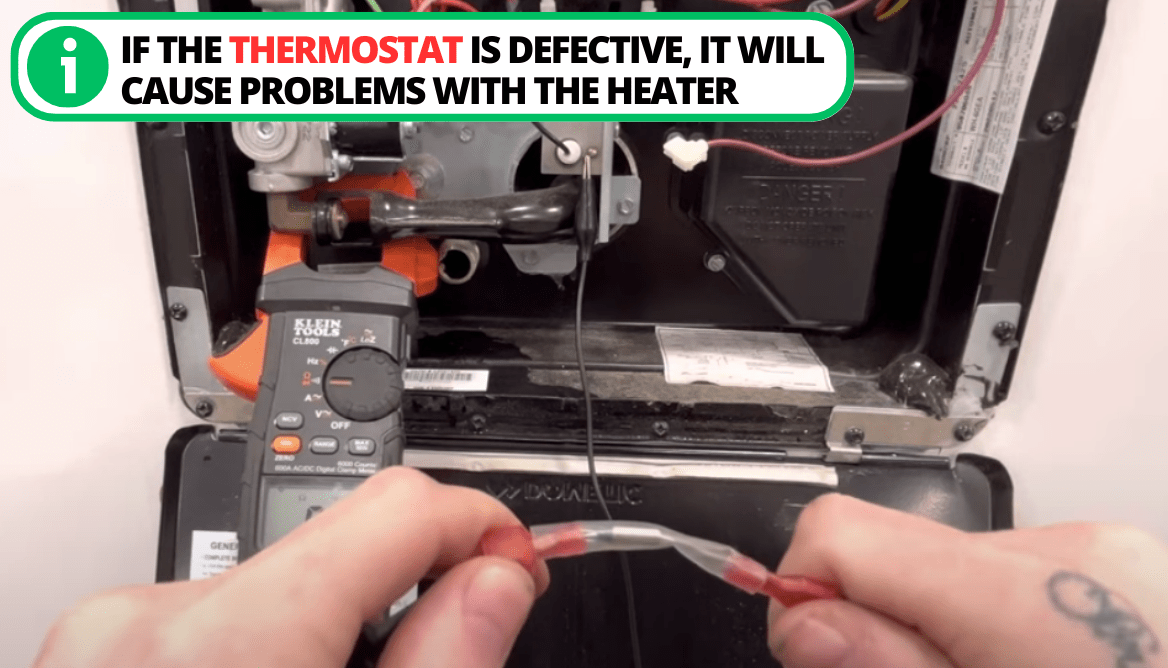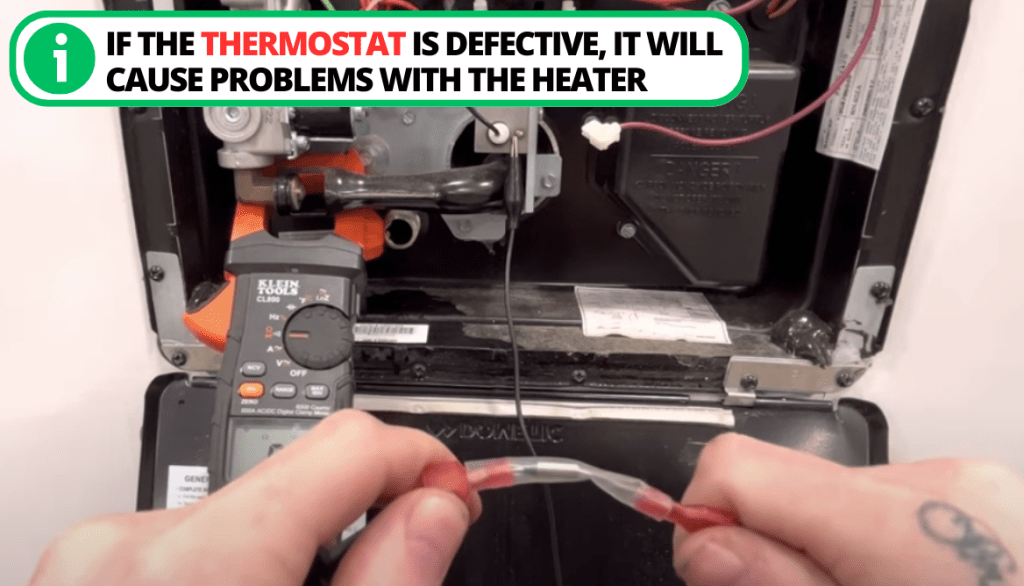 FAQ
What voltage is a Dometic water heater?
Dometic WH-6GEA RV water heaters operate at 12 volts.
Why is my RV water heater igniter not clicking?
If your recreational vehicle water heater igniter is not clicking, it probably means something is wrong with the coil. So, it needs to be fixed or changed. On the other hand, if you hear a click, but the flame does not appear, it could be because the manual valve is blocked or not working properly.
How long does it take for the Dometic water heater to heat up?
It takes under half an hour for the Dometic WH-6GEA water heater to heat up. You only need to push the switch to turn the device on or off.
Conclusion
Troubleshooting the Dometic WH-6GEA can be a simple process with the proper steps. If your heater is not working as expected, ensure your thermostat is getting the required power and placed correctly. If you experience any issue with the thermal fuse, look out for the reason for overheating, fix it, and replace the fuse with the new one.
Moreover, to avoid other possible dangers, check your water heater regularly and solve any problems before they worsen. You can also reach out to support for further assistance.
Do you have any experience with troubleshooting Wh-6GEA? Please feel free to share your valuable answers in the comment section below. We always look forward to assisting you!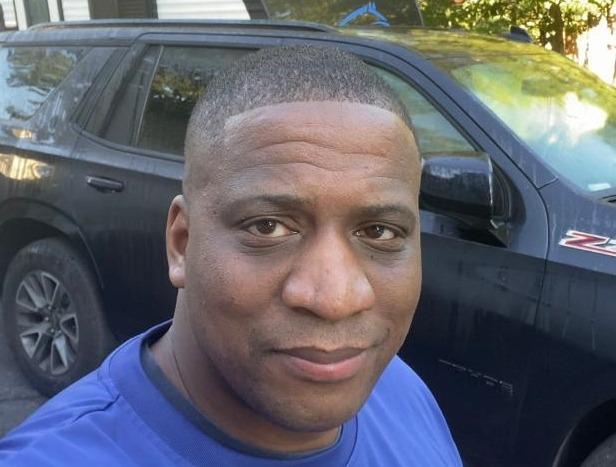 I`m a current Law Enforcement Officer working within the Counterterrorism Bureau in New York State. I have been Camping for over 20 years. My styles of camping include tent, car, truck, van, and RV travel trailer. I have a YouTube channel where I teach all types of camping with an entertaining method: https://youtube.com/@TheSmallsRVAdventures