13 Winnebago Solis Problems: Advanced Troubleshooting Guide
If you are constantly bothered by Winnebago Solis problems and wish to locate possible solutions, you have logged on to the right place. These RVs offer numerous advantages to users. However, despite them, they have a few downsides and troubles.
Without further ado, let's dive into 13 common Winnebago Solis issues and their fixes!
Common Winnebago Solis Problems and Their Quick Solutions
Winnebago Solis is a class B camper van that is one of the best brands when considering an RV camping beast. The manufacturing company based in Forest City, Iowa, US, creates quality RVs.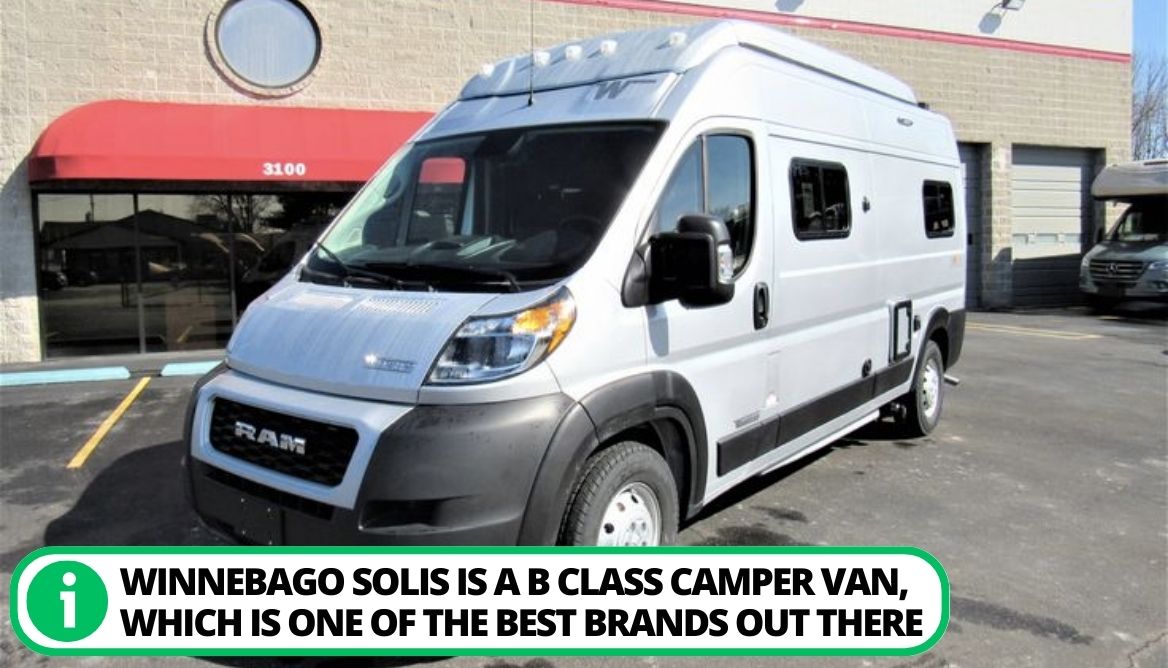 Most of these luxury vehicles aim to provide convenience and comfort. The Winnebago Solis does this at a lower cost. However, it experiences various issues. Let's review some of these problems and solutions!
| | |
| --- | --- |
| | |
| Propane pressure regulator failure: | Replace the pressure regulator |
| | Apply silicon sealant on relevant locations |
| Problems with the pop-top canvas: | Replace the canvas with a sprinter base |
| | |
| | Exert heat on the sealant to repair or buy a new sealant |
| | Conduct regular checks and maintenance |
| | Contact an electrical specialist |
| | Clean and replace air filters |
| | Check the fuel quality and quantity |
| | Conduct inspections on your battery |
| | Regularly check and conduct maintenance |
| Issues with the Android auto: | Purchase a high-quality charger |
| | |
13 Major Winnebago Solis Problems and Fixes in Detailes
As I said before, the Winnebago Solis is a classic RV that offers numerous benefits to its customers. However, let's deeply analyze some of this RV's common problems and solutions.
1. Propane Pressure Regulator Failure
A common problem when dealing with the Winnebago Solis RV is the propane problem. In an RV, several appliances depend on propane. When investigating this issue, you have to begin by checking the source.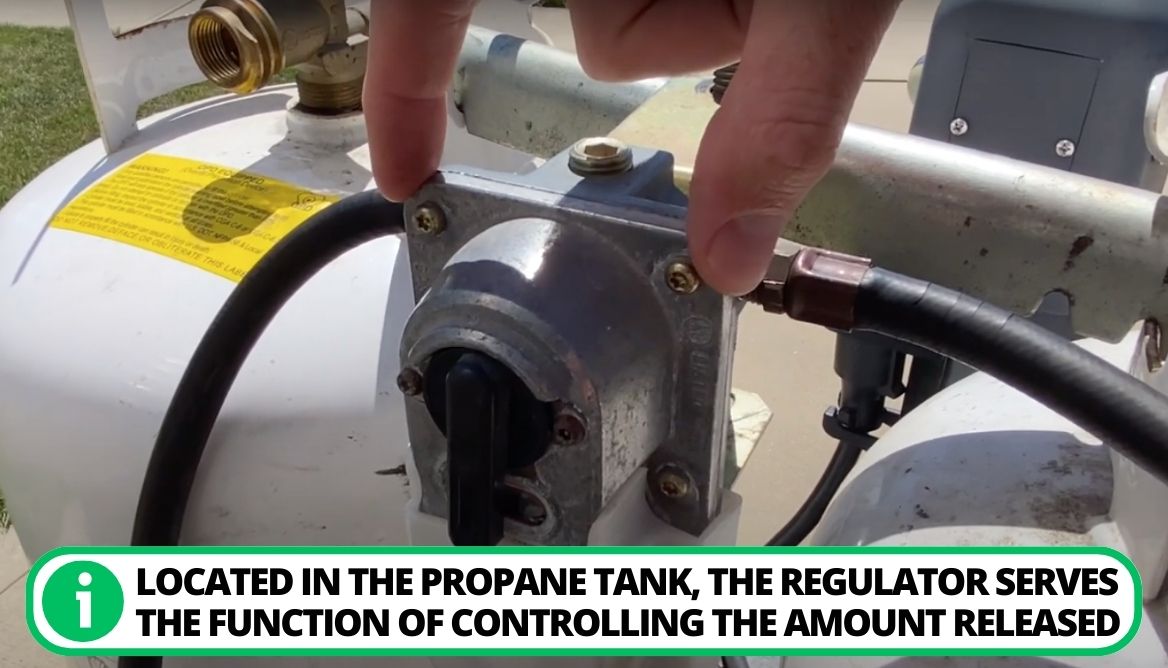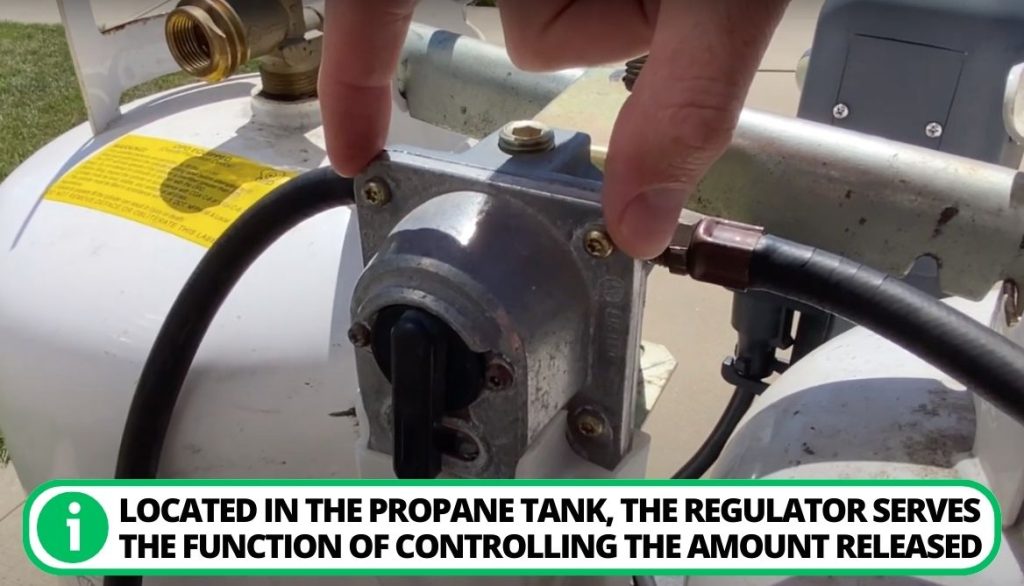 What often causes the issue with propane is the regulator, which fails in most RVs. Located in the propane tank, the regulator serves the function of controlling the amount released. If it's faulty, it may:
Cause the tank to leak, releasing propane.
Hinder adequate propane production to the necessary compartments.
Other issues that could spark up this malady are faults with the stove or water heater.
Important! This propane issue can be harmful and dangerous to RV owners.
Solution
The easiest solution is to fix the pressure regulator. You can easily purchase this item at various RV mechanical stores. When purchasing the regulators. You should accompany them with the right type of propane sealant.
Other solutions include:
Employ the use of pipe fittings or sealants.
Inspecting the propane alliances to inform you if they are faulty and need fixing.
2. Shower Pan Leaks
This is a harmful problem for any RV. Water accessing your RV's interior can mess with the plywood materials, carpets, or refrigerators. Also, increased humidity can cause rot and mildew. Various effects can cause these leakages, including: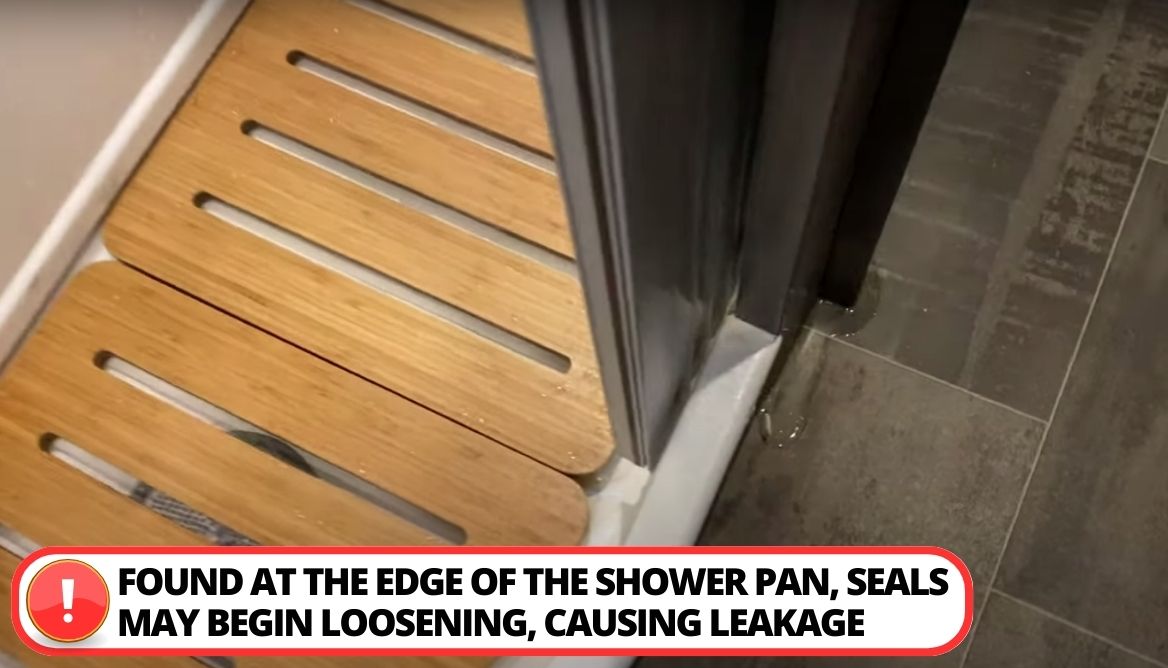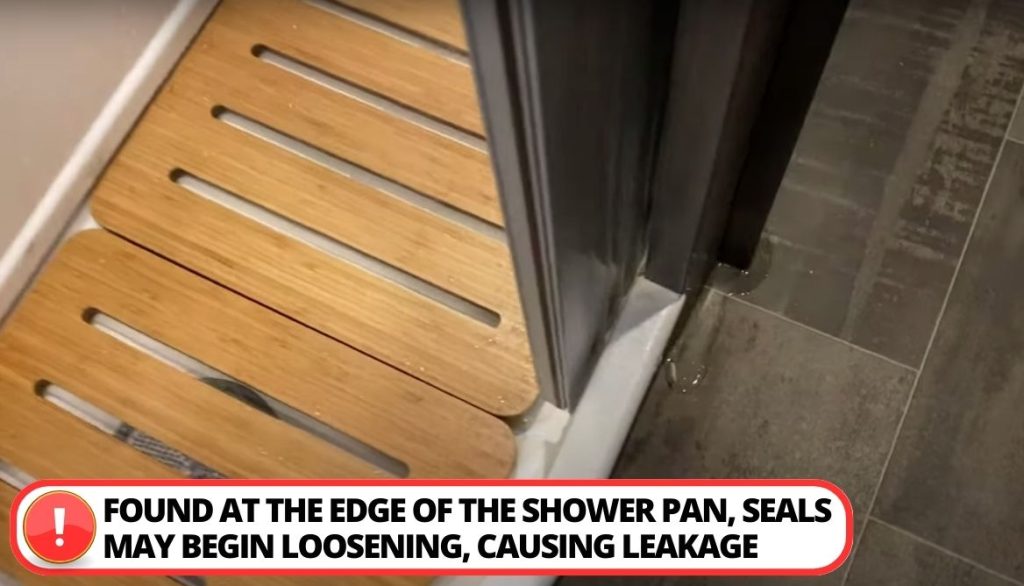 Cracks and damage;
Wear and tear;
Faulty seals.
Found at the edge of the shower pan, seals may begin loosening, causing leakage. When you experience this issue, the water might start flowing from the cassette compartment underneath due to being full.
Solution
If you experience this problem as an RV owner, you must buckle up and deal with it immediately. Use silicone to seal off the exposed areas. If the cracks are serious, it is better to replace the sump. A preferred sealant to use is
Eternabond roofing tape
.
3. Problems With the Pop-Top Canvas
One of the unique features of the Winnebago Solis is the pop-top roof. This feature gives users more sleeping space in combination with the Murphy bed and improves ventilation. However, the issue arises because: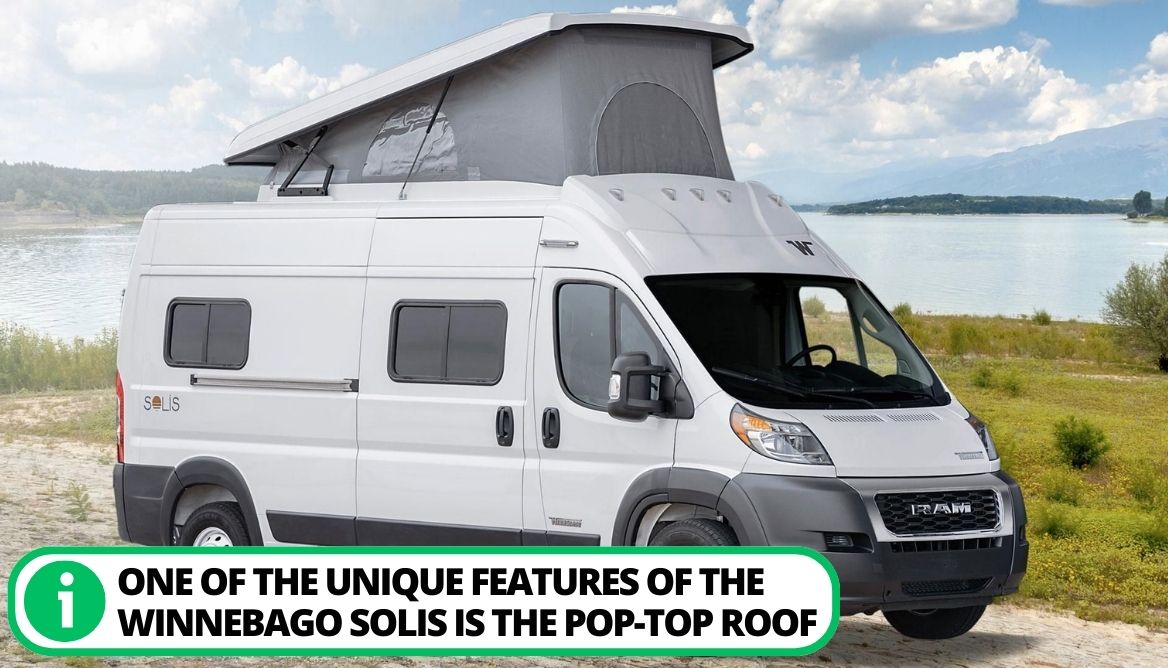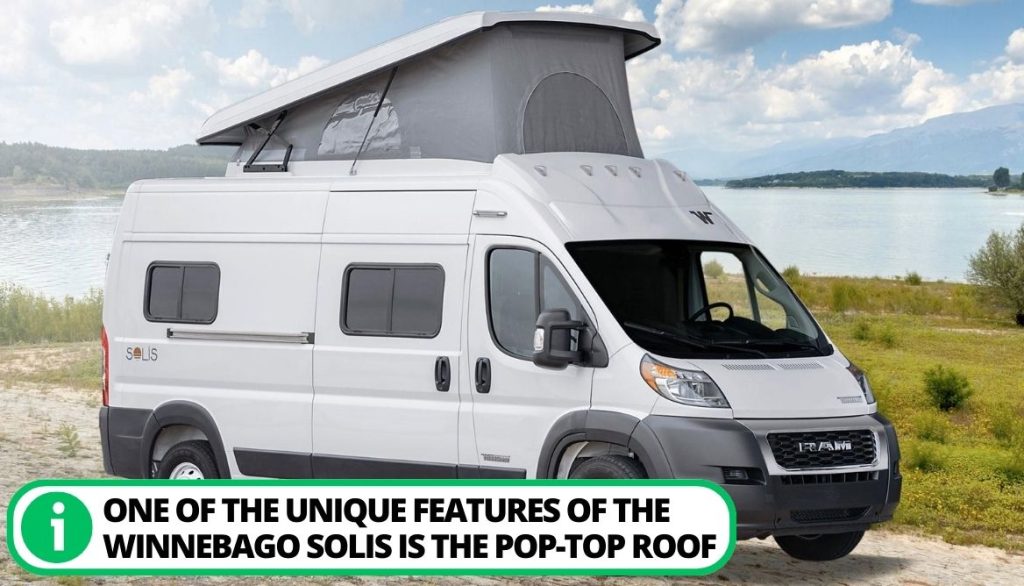 Most of these materials are prone to leakage and breakages.
When constantly exposed to sunlight, wind, and rain, the canvas material may deteriorate, tearing and cracking your pop-top roof.
Solution
When suffering from a damaged canvas, the best solution is to repair it using a canvas repair kit. When fixing holes or dents, clean the damaged area, apply adhesive, and attach the patch. For further maintenance:
Conduct regular inspections and servicing to ensure proper functioning.
For a more permanent fix, switch the canvas of your pop-top roof with a sprinter base.
4. Winter Issue
When purchasing an RV, you must check its performance in the cold. The Winnebago Solis has a good track record in winter performance. When running your RV during cold weather, the temperature drop may present several problems to your camper van.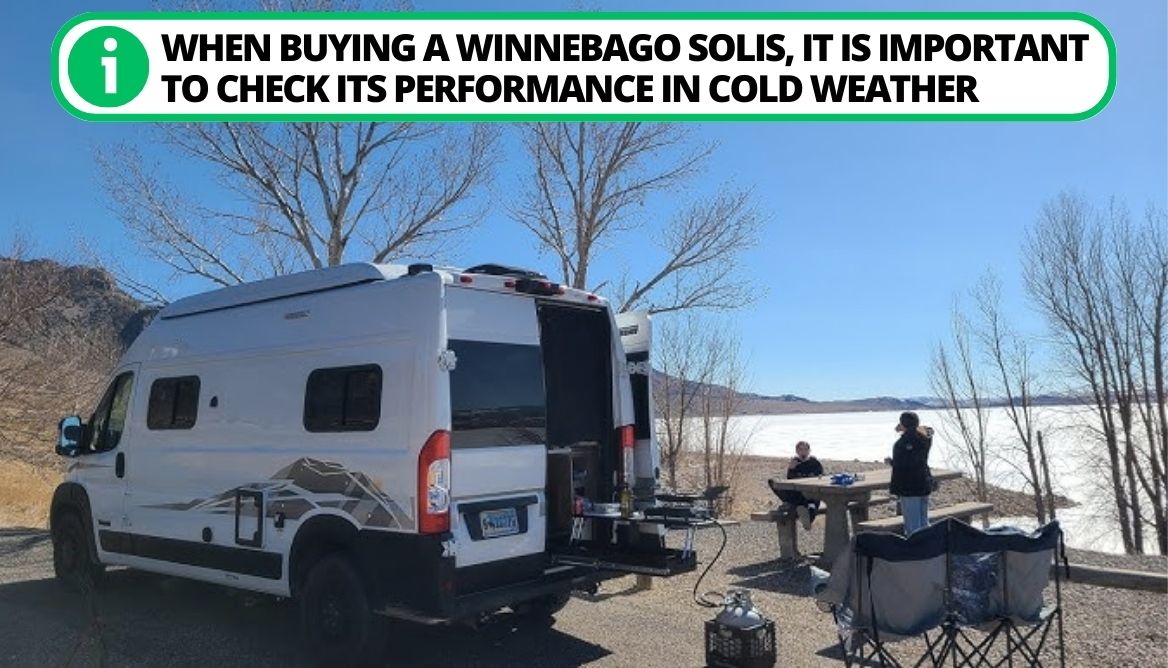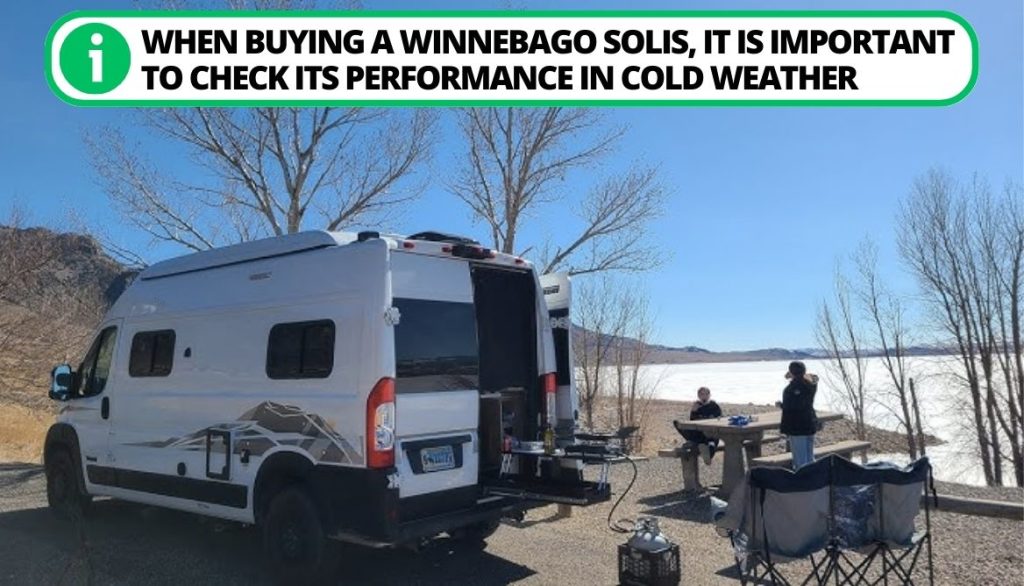 Some include:
Water freezing in the pipes causes damage to your pipes, faucets, and water tanks.
Promoting temperature differences between the interior and exterior of your RV contributes to condensation, mold growth, and rotting.
Snow build-up around the roof and sides may cause friction in operating your RV.
It also leads to damage as you are more likely to hit snow-covered areas and not notice.
Solution
There are numerous ways you can go about fixing these winter-related issues. They include:
Maintaining proper ventilation or acquiring dehumidifiers to regulate humidity levels.
Adding RV antifreeze to the valve to prevent it from freezing.
Normalize clearing snow from your roof and RV sides.
Purchasing and fixing roof covers.
5. Rupturing Seal
The Winnebago Solis has seals and gaskets that act as barriers to distinguish different parts. Sometimes, they begin failing or getting damaged, causing various problems in your RV. For instance, the slide-outs and pop-out roofs of your motorcoach could be held by seals.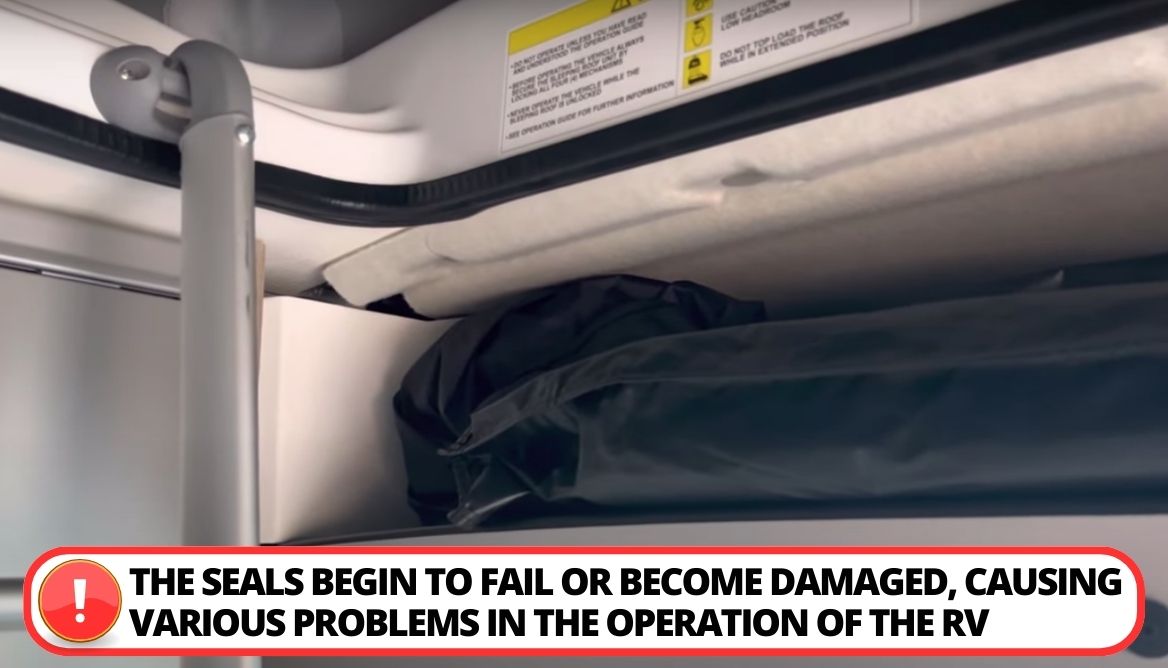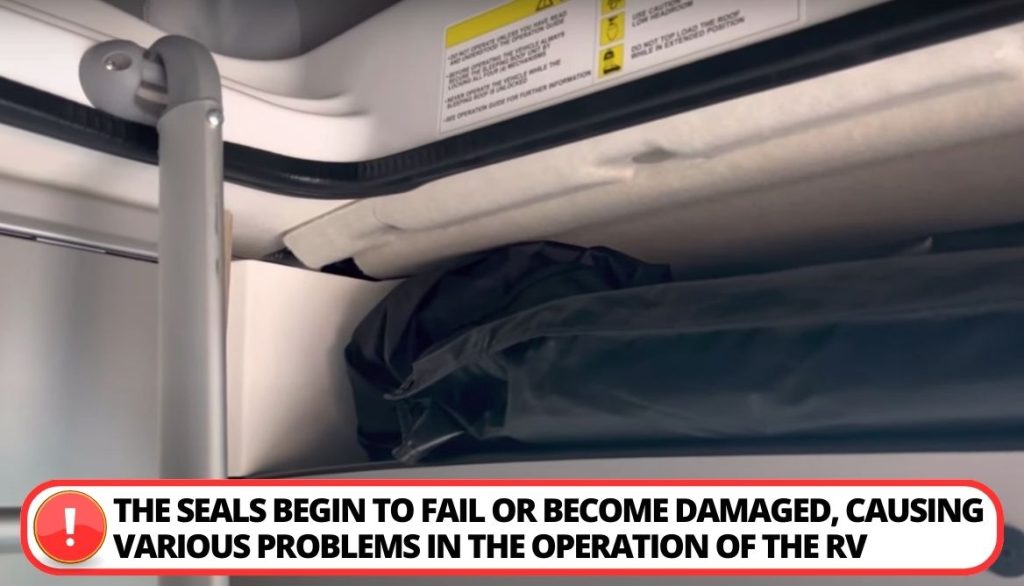 Any form of tampering could result in these structures toppling down. Furthermore, when a seal ruptures or fails, cold and hot air from outside can infiltrate your RV, making it hard to maintain a comfortable living space. Some other common issues arising from their damage include:
Water leakage.
Degradation of the structure of your RV.
Loss of energy by compromising the insulation and creating air leaks.
Solution
There are standard solutions to fixing your seals once they begin coming off. They include:
Through heating. Doing so makes the seals more malleable, and you can move them and place them however you wish.
If they are too damaged from regular heat exposure, the best solution is to purchase new sealants.
When purchasing these materials, look for quality, long-lasting, waterproof seals to ensure longevity. Furthermore, it would be best to regularly inspect your windows and roof to ensure their seals are properly formed.
6. Damages on the Exterior
Defacement on the exterior of your RV is not uncommon, and even vehicles from competitors like Thor Motor Coach or Forest River experience them. Even though this vehicle is designed to endure rough terrains, you will still likely encounter external damage during outdoor adventures.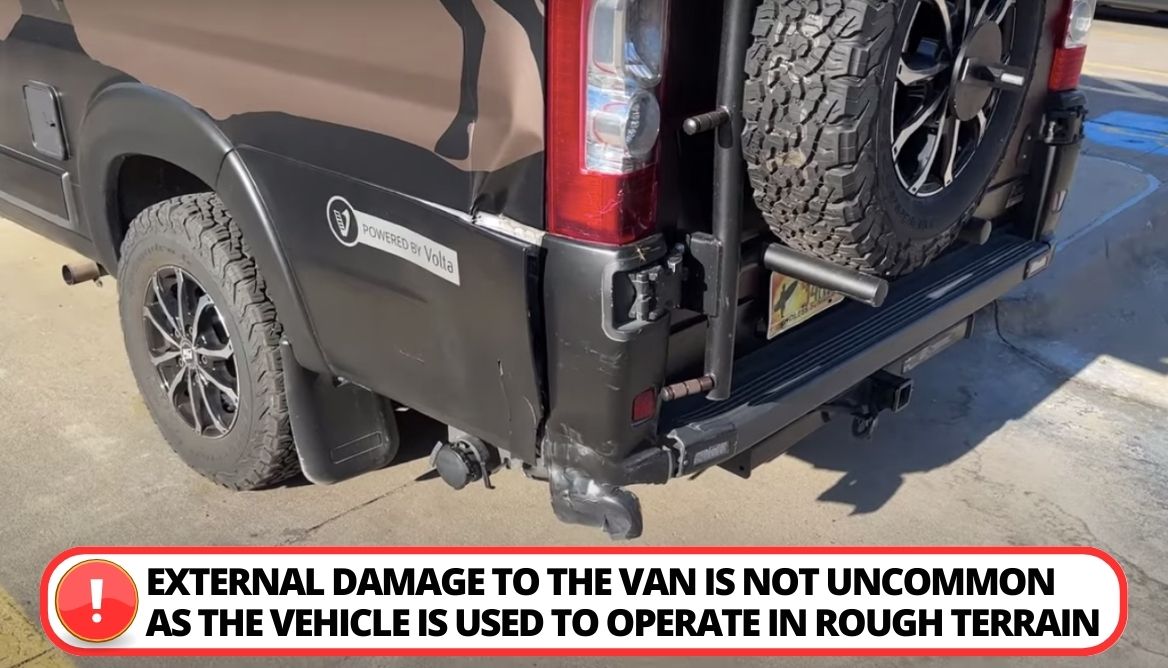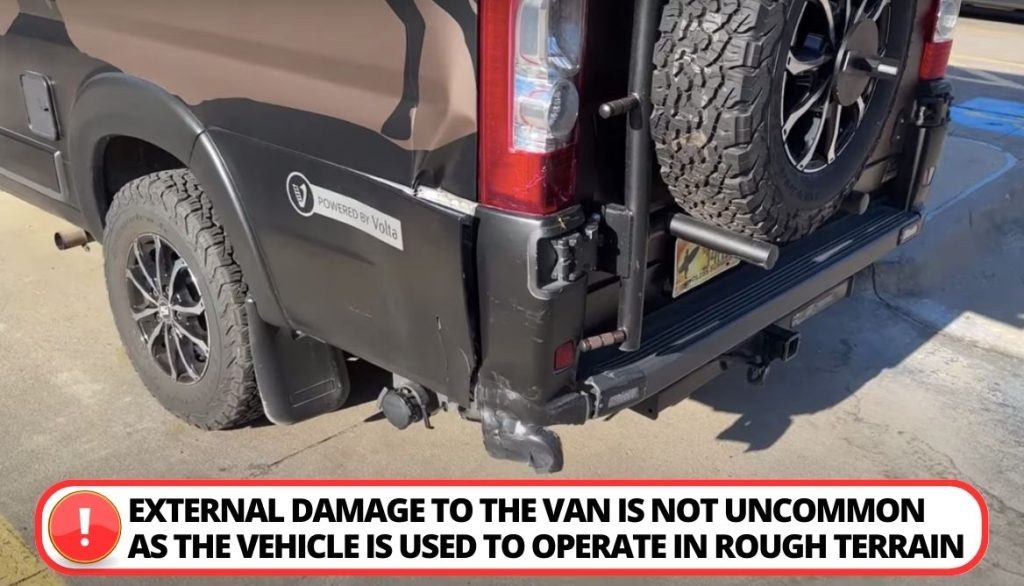 Various items can lead to these damages:
Rocks.
Branches.
Ice particles cause dents or scratches in your RV.
Solution
There are various angles that you can tackle this issue, such as:
You should conduct regular inspections to identify areas where damage may have been inflicted.
If they are minor casualties, you can fix them through techniques like paintless dent repair.
Contacting your dealer would be the best option for dealing with a large patch.
If weather problems are your largest concern, insurance may help reimburse you when they occur. However, before then, you can handle repairs like leakages and drainage.
7. Electrical Issues
One of the most frustrating occurrences you could encounter with your Winnebago Solis RV is faults in the electrical system. Most appliances in your RV depend on electricity to function. Power faults could cause serious inconveniences and, in some situations, cause harm.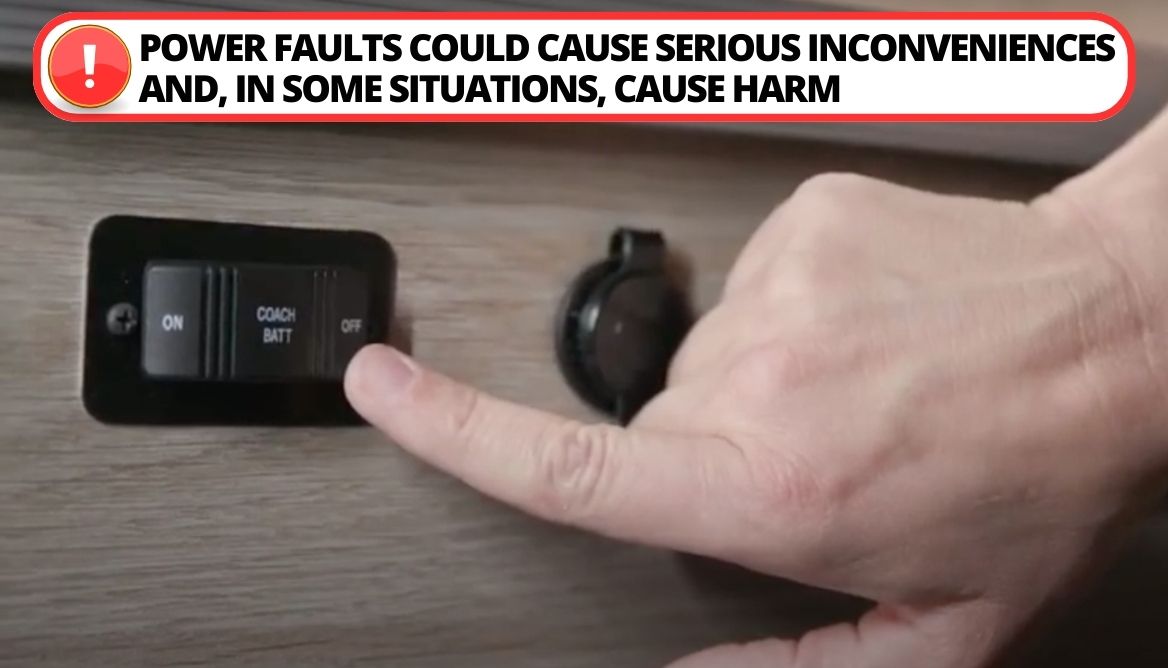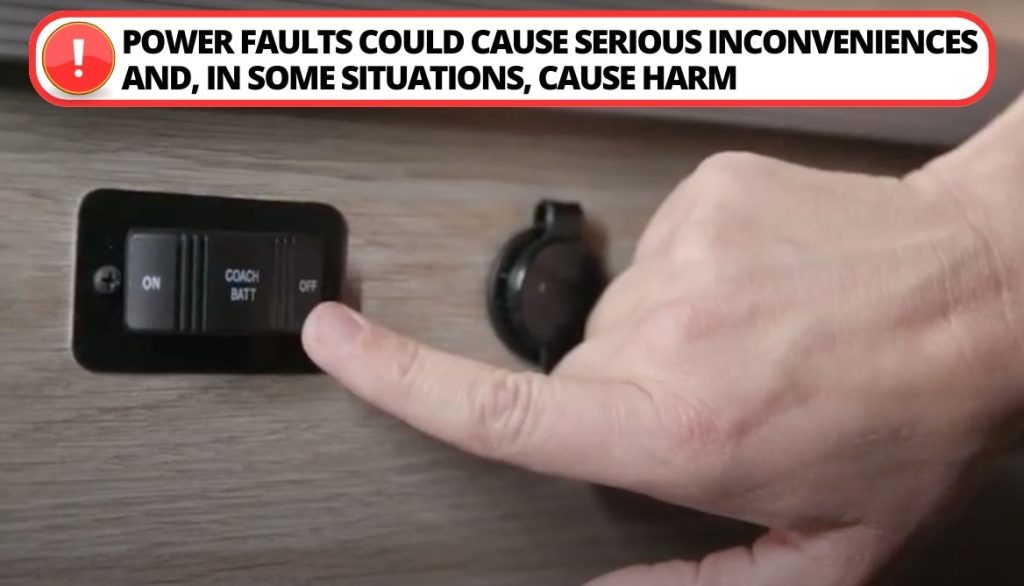 These electrical malfunctions present themselves in varying forms, from having a dead battery, leaving you without the power to simply start your engine, to harboring electrical outlets that don't work.
Solution
If you are not well versed in electrical systems, it would be best to consult a professional and let them look at it. However, when it comes to issues with your battery, the best fix is to purchase a new one, especially if it keeps losing power.
8. Air conditioner Failure
Ensuring your air conditioner is in good condition is necessary to ensure you are comfortable during your ventures. The AC helps regulate the temperature in your RV's interior and is especially important during hot weather.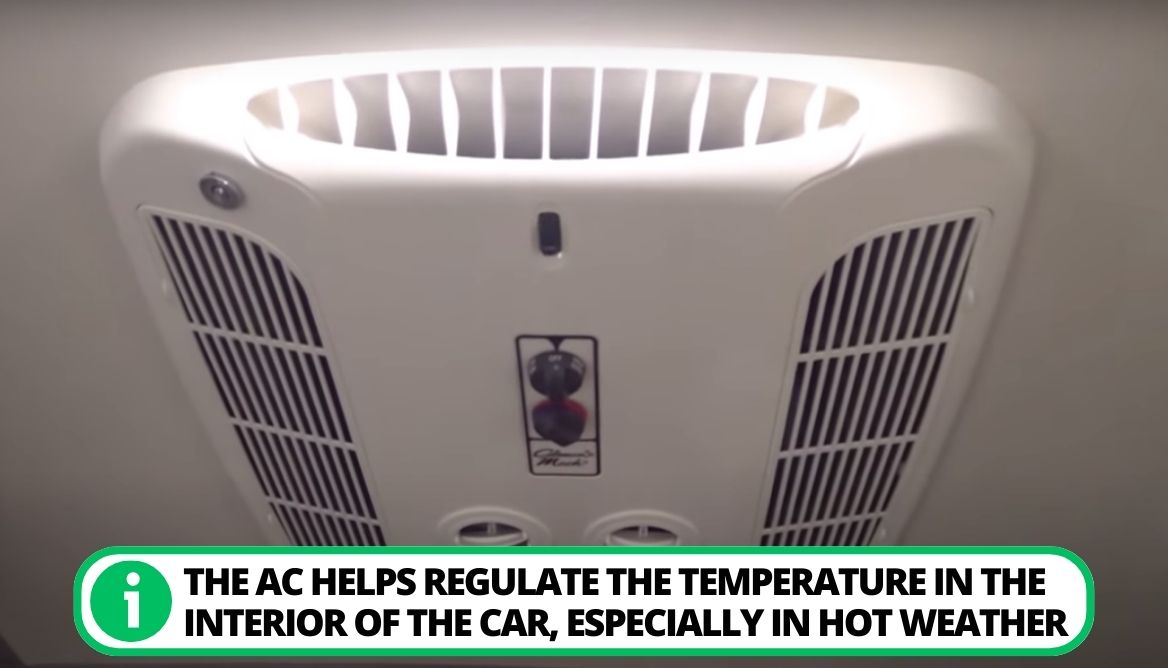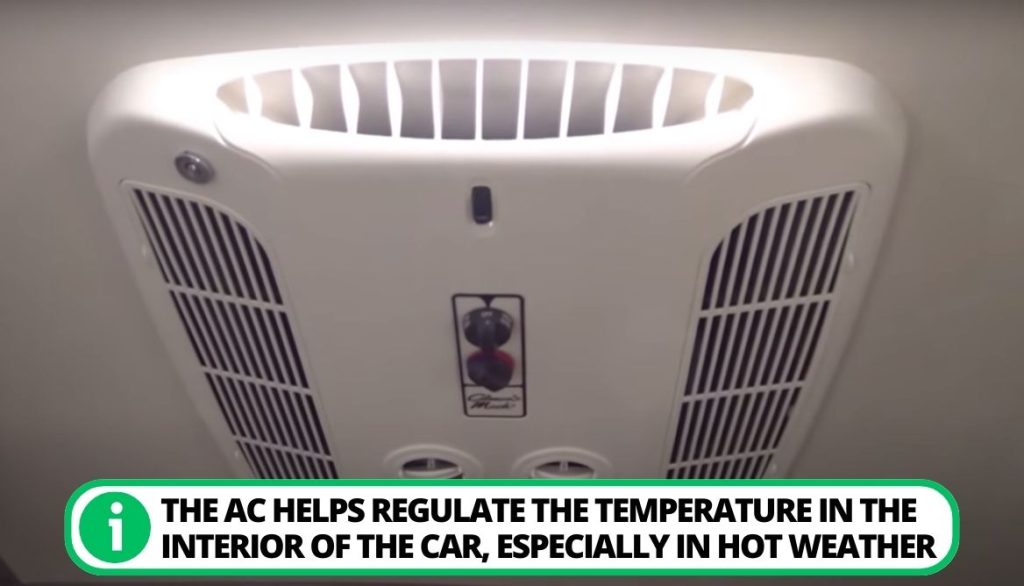 Various factors can contribute to your AC malfunctioning. These include:
Power supply problems.
Faulty thermostats.
Overheating or frozen coils.
Solution
You can employ the following tactics to help you:
Ensure your thermostat is fully functional. If it is damaged, consider purchasing another one.
Through a voltmeter, check whether the power supply displays any abnormalities.
Clean and replace your air filters to ensure proper functioning.
Ensuring proper maintenance of your AC is also crucial in ensuring continued use.
9. Generator Malfunction
A generator is handy when your RV is not connected to shore power. It provides you with power until you can reach your next outlet. They may experience issues in functioning arising from various factors like: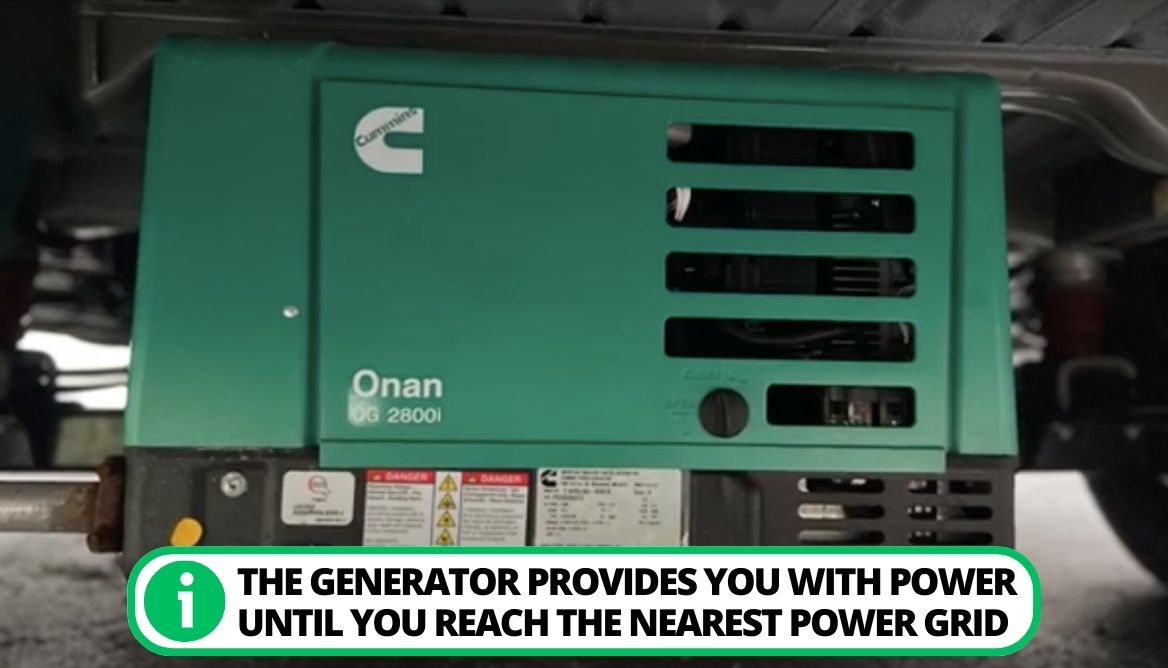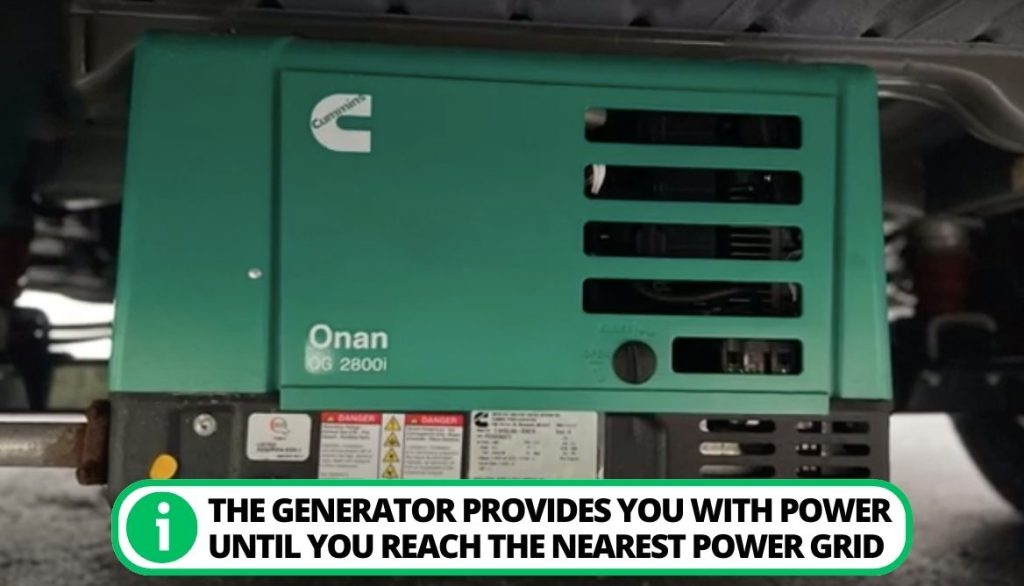 Fuel issues;
Changes in oil and pressure.
Generator overheating.
Before ruling it faulty, check the electrical components like microwaves, refrigerators, and heaters to see if the devices function correctly.
Solution
Check the fuel levels and ensure it is contamination-free. Also, monitor your generator's oil and pressure levels and adjust them to fit your manufacturer's recommendation.
10. Battery Issues
Your Winnebago Solis RV probably has several batteries that aid in functioning, like the chassis and house batteries. These batteries may fall subject to numerous problems like: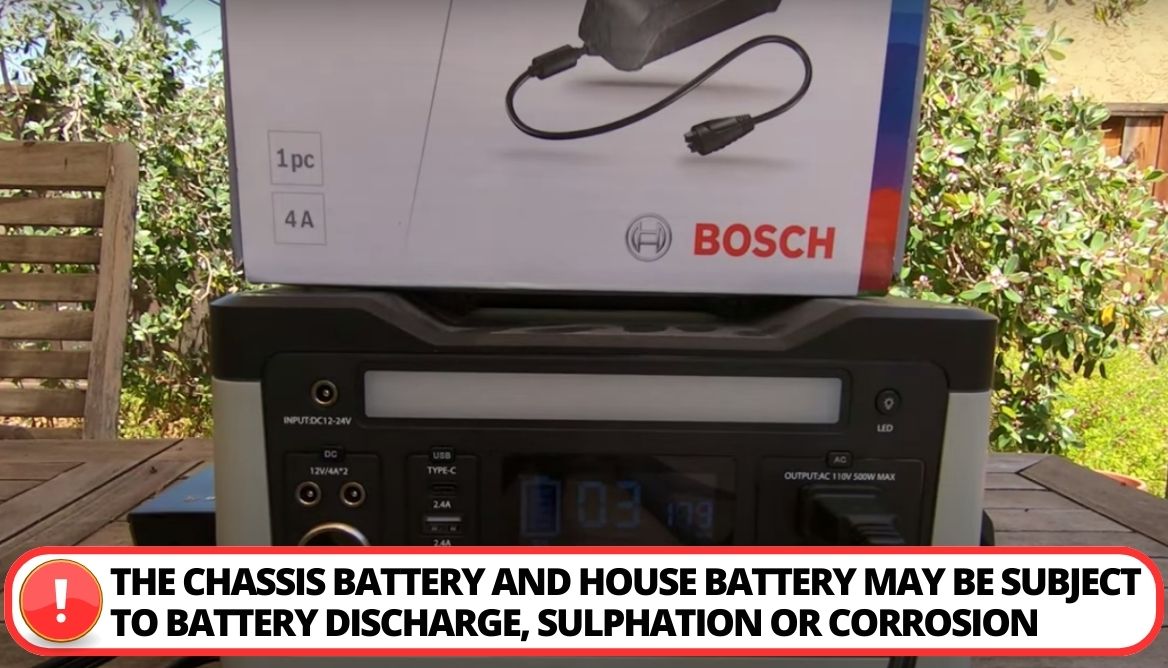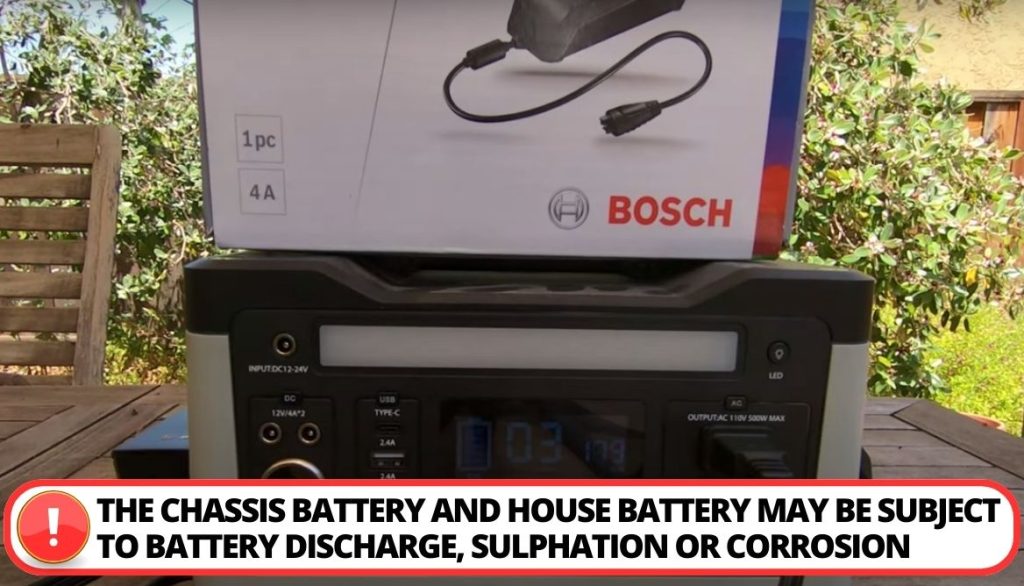 Battery drain;
Sulfation;
Corrosion.
Solution
Identify and address the source of the drain and deal with it effectively. Regularly clean your battery terminals with baking soda and water to curb sulfation and erosion.
However, ensure you have protective gear on, and the battery is disconnected from your Winnebago Solis RV before cleaning it.
11. Water Leakage and its Inconvenience to Your Camping Gear
As an RV owner, avoid water leakages. They can cause the rotting of interior infrastructure and spoil important material like your camping gear. These problems could arise from various malfunctions or breakages in the water system. The issues commonly originate from the wet bath area and spread to other RV parts.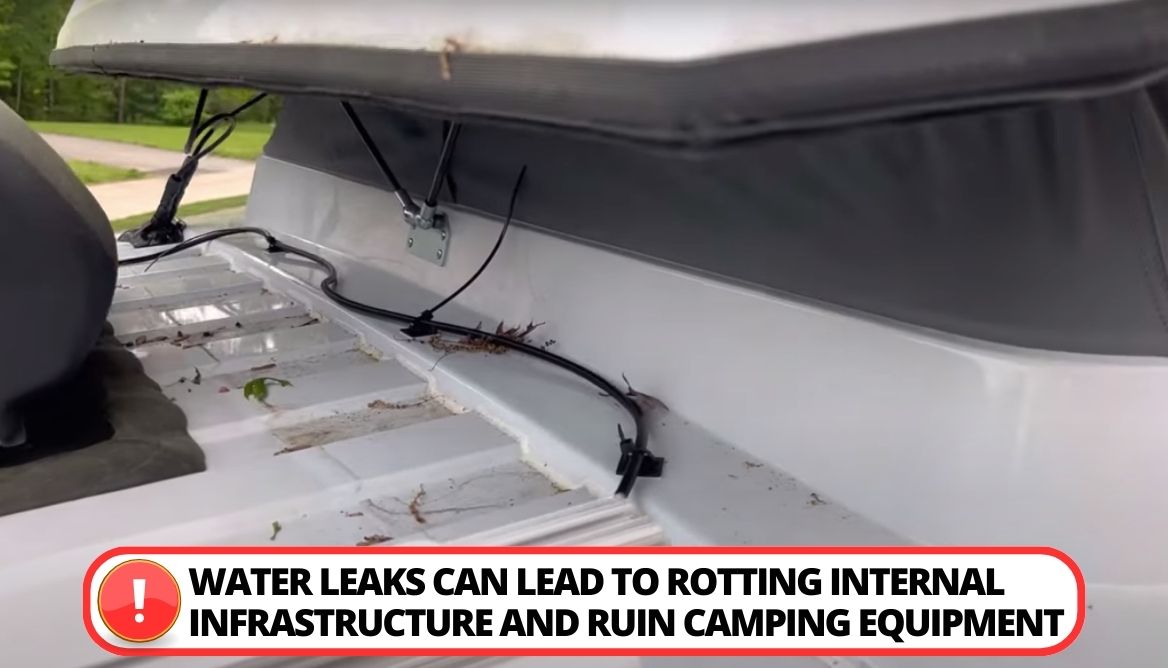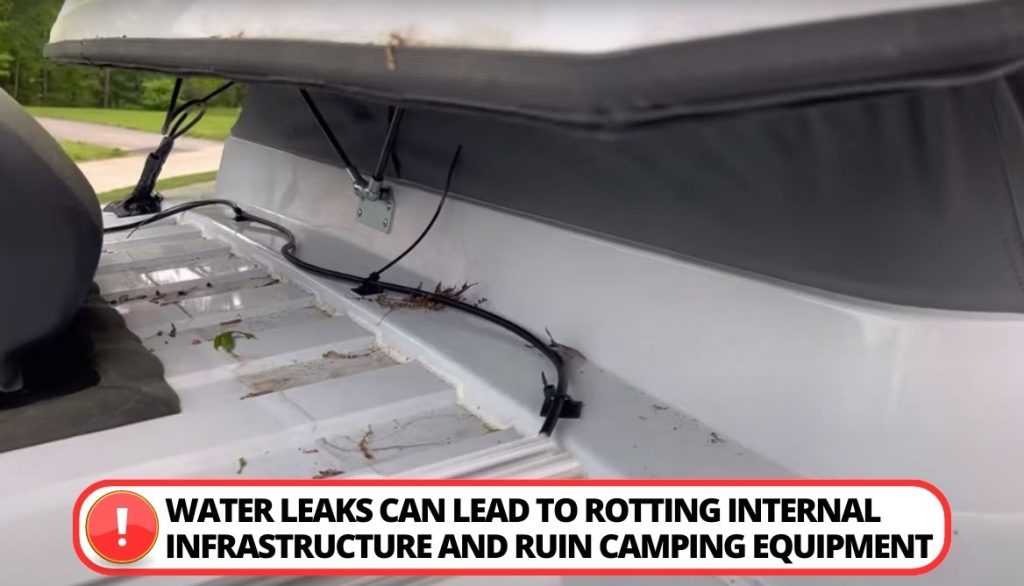 Solution
Regularly check and inspect these faults in the water system and make necessary changes. For instance, if your cassette toilet leaks, you can apply sealant in the affected area. You can use EternaBond RV Mobile Home Roof Seal Sealant Tape to help you with the problem.
12. Issues With the Android Auto
This technology allows users to connect their devices to the RV. In your Winnebago Solis, this feature may malfunction due to various issues, such as connectivity problems resulting from the power supply.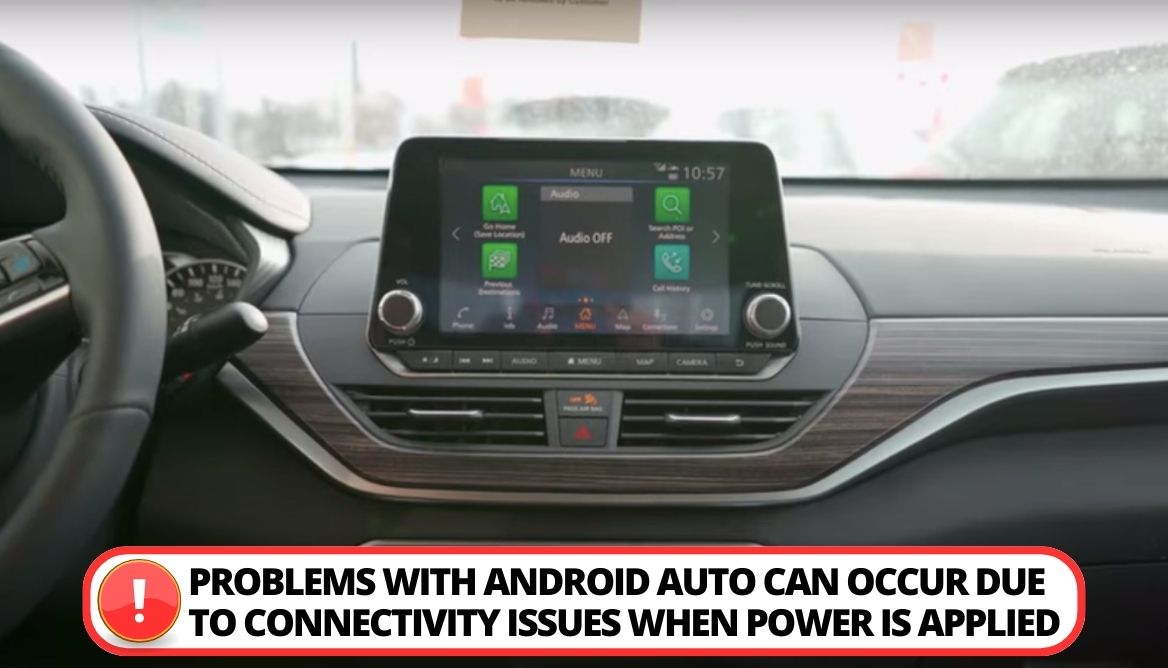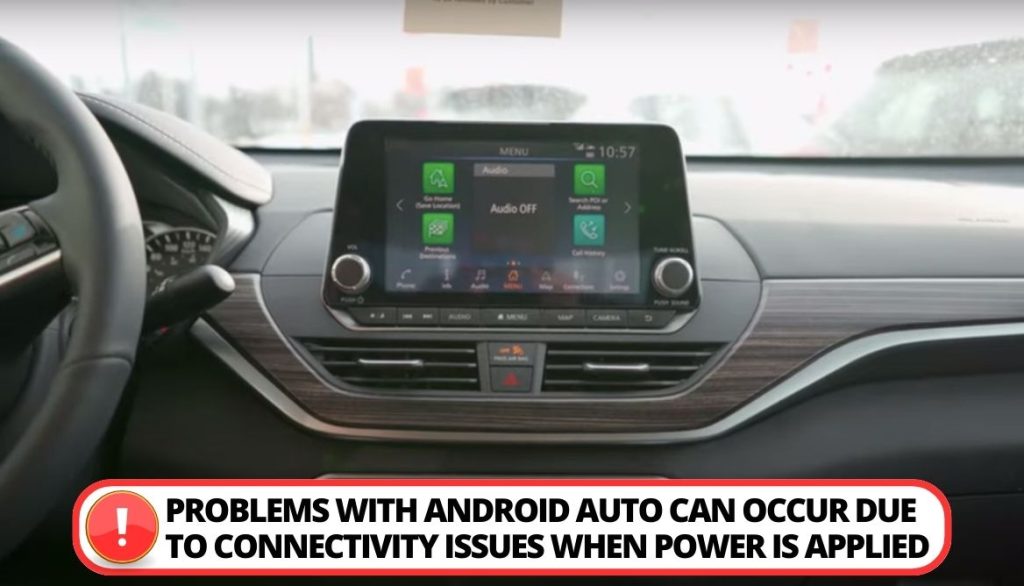 Solution
If you wish to enjoy your journey while charging your phone, consider purchasing a high-quality charger. Additionally, you could check your electrical system to ensure that the Android auto appliance gets enough power.
13. Poorly Insulated Walls
Having poorly insulated walls can affect the overall condition of your RV. Temperature-wise, that would be like leaving the door panels wide open because the cold will enter as it wishes. Additionally, it contributes to energy loss.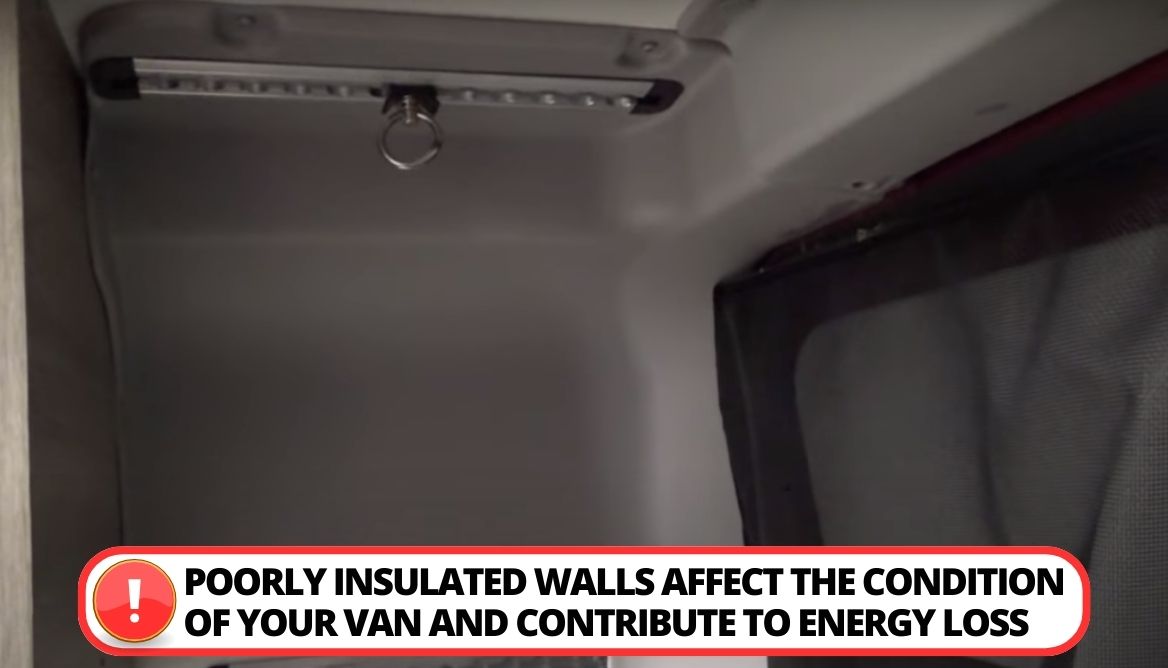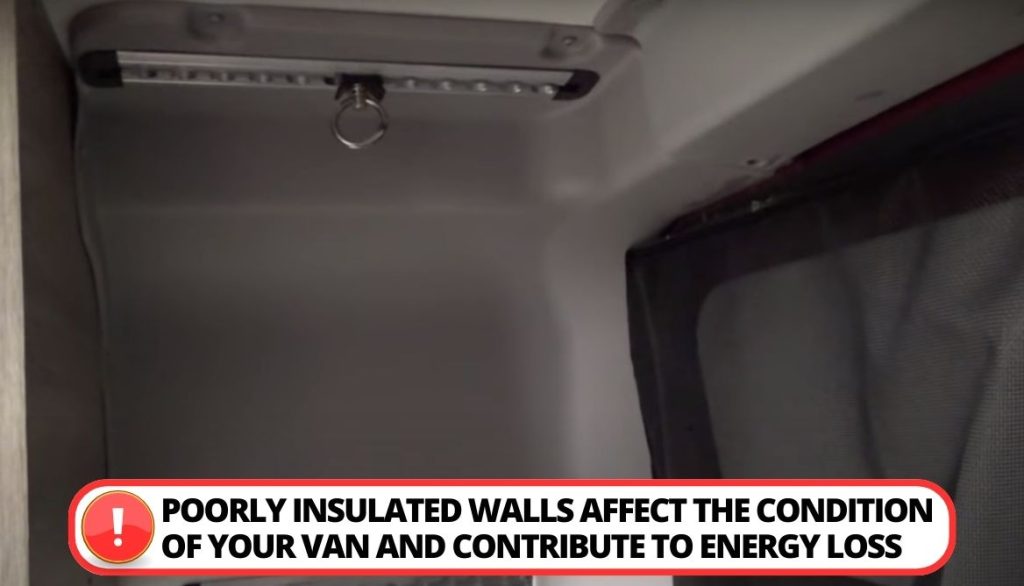 Solution
You can opt to have your RV undergo a foam insulation process to regulate the temperatures. Use thermal curtains or insulated window coverings to minimize the heat exchange through the windows.
General Feedback on Winnebago Solis
This camper van has garnered several views from users, like the person who quoted, "That middle seat looks uncomfortable for long trips. It would be torture for my wife on long drives."
Another user reported, "One key issue on the 59PX is that to make room for the rooftop AC unit, it loses the 59P Maxxair rooftop ventilator fan. So if you can get by without AC, you get much better ventilation, and one that can run on solar or battery power."
These reviews highlight that the camper van is prone to several malfunctions. However, it is still a generally good RV
FAQ
Does Winnebago Solis leak?
Yes, the Winnebago Solis is prone to experiencing leaks. Faults in the plumbing system could cause this element.
How many miles per gallon does the Winnebago Solis get?
The Winnebago Solis runs on 15 to 19 miles per gallon. This element makes it one of the most fuel-efficient RVs.
Conclusion
The Winnebago Solis is a class B motorhome that provides several advantages to owners, such as ensuring you have more space due to the pop-top roof and cassette toilet. This vehicle is, however, prone to issues. The most common problems include propane pressure regulator failure and problems with the pop-top canvas.
However, despite these varying issues, most can be easily fixed. For instance, if you have propane problems, replace the pressure regulator, or if you have issues with the pop-top canvas, then replace it with a sprinter base. Generally, the Winnebago Solis is a fantastic RV.
So, have you had any problematic experiences with the Winnebago Solis? Let us know in the comment section below.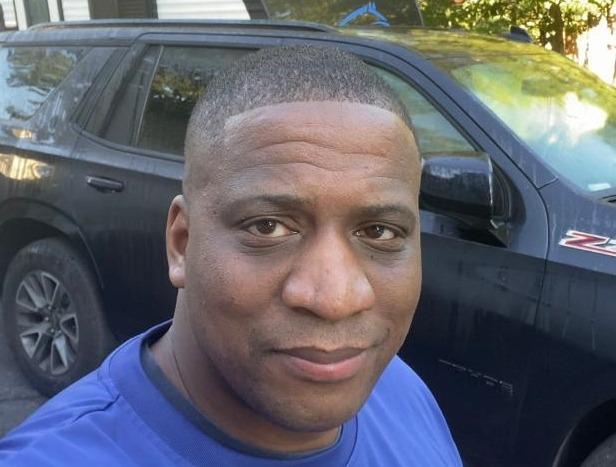 I`m a current Law Enforcement Officer working within the Counterterrorism Bureau in New York State. I have been Camping for over 20 years. My styles of camping include tent, car, truck, van, and RV travel trailer. I have a YouTube channel where I teach all types of camping with an entertaining method: https://youtube.com/@TheSmallsRVAdventures