6 Heartland Big Country Problems: Ultimate Troubleshooting Guide
Have you ever encountered Heartland Big Country Problems? Resolving issues with Heartland RVs may require you to perform simple technical tasks and sometimes you may need professional assistance.
Today, I will unveil a comprehensive overview of Big Country RV and 6 easy fixes you should know when you encounter their problems. I will also refer to some user's experiences with Heartland RV for more detailed information.
So let's get started immediately!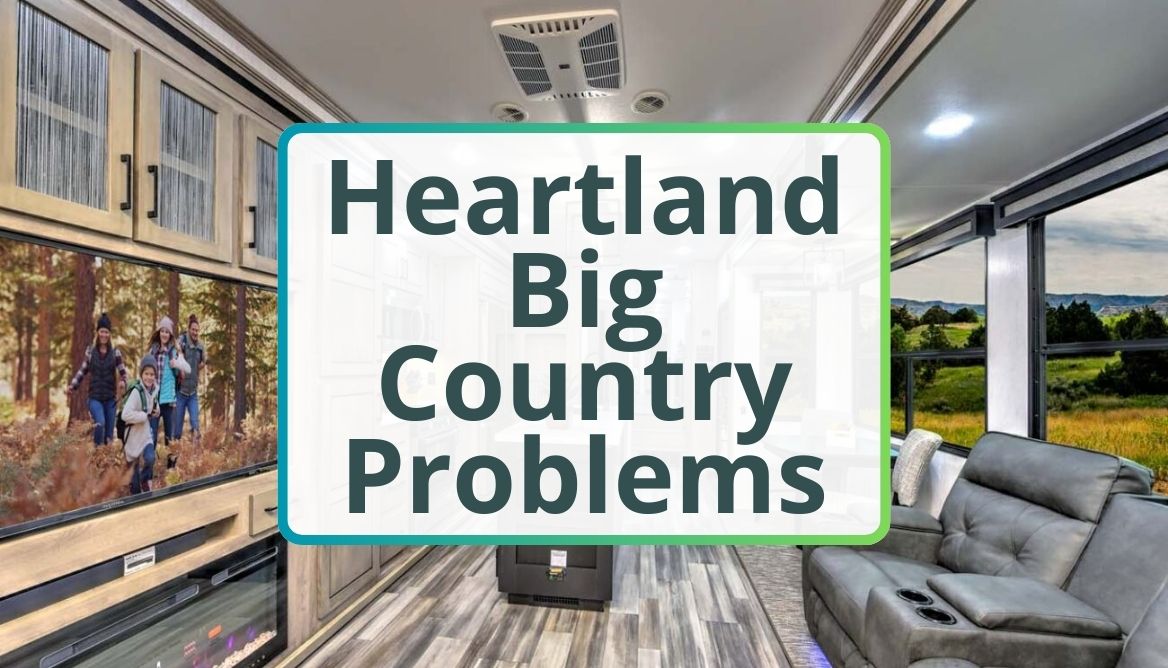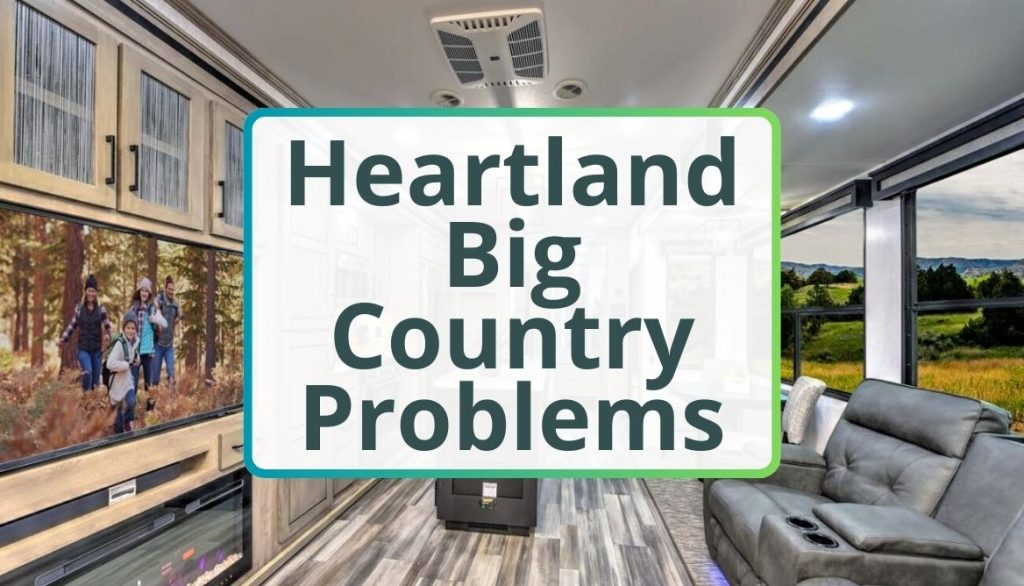 Heartland – Overview
Heartland Big Country recreational vehicles are one of the best fifth-wheel RVs that are luxurious yet affordable to accommodate the vacation needs of different family sizes. They also produce vehicles used for haulage and travel trailers.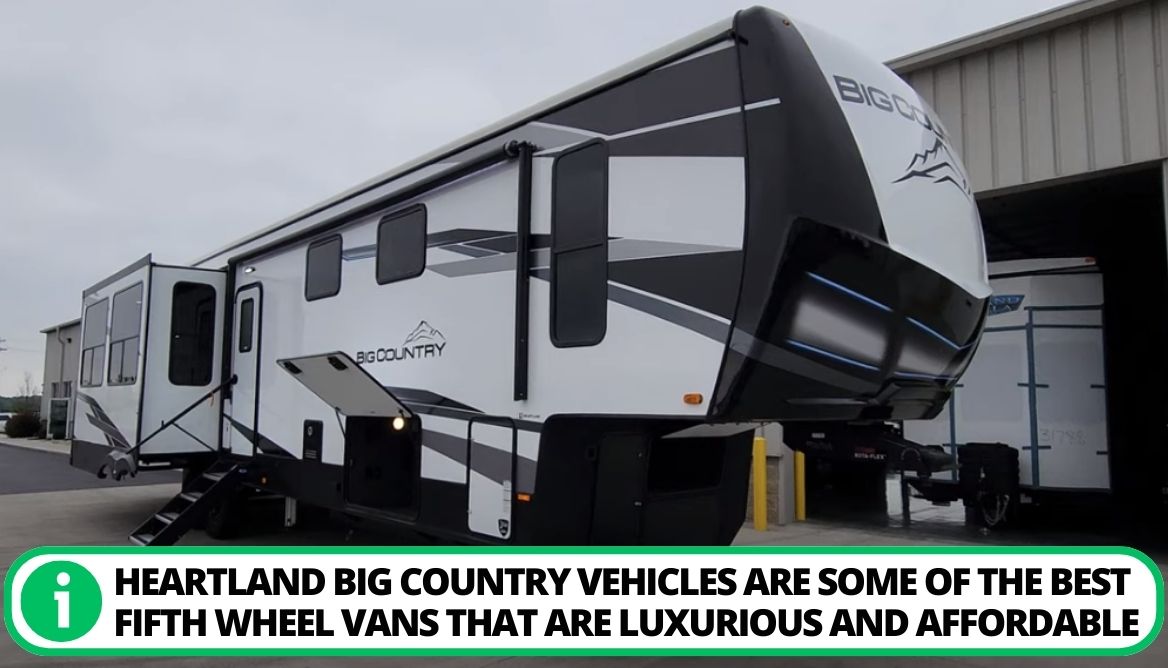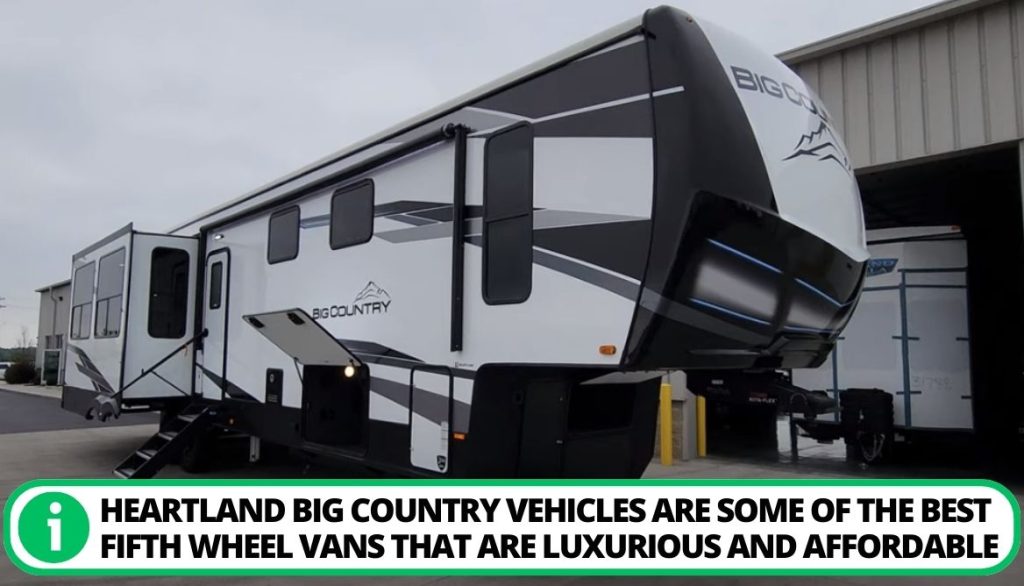 Big Country comes in different models with universal designs, although each model has a unique specification that makes it distinct. Below are the common features you can find in Heartland RVs.
Video showing Big Country overview:
1. Spacious Interior
All Big Country fifth-wheel models have a well-designed slide room installed with a Hydraulic operating system and weatherproof floor plan. Heartland RVs interior is usually furnished with: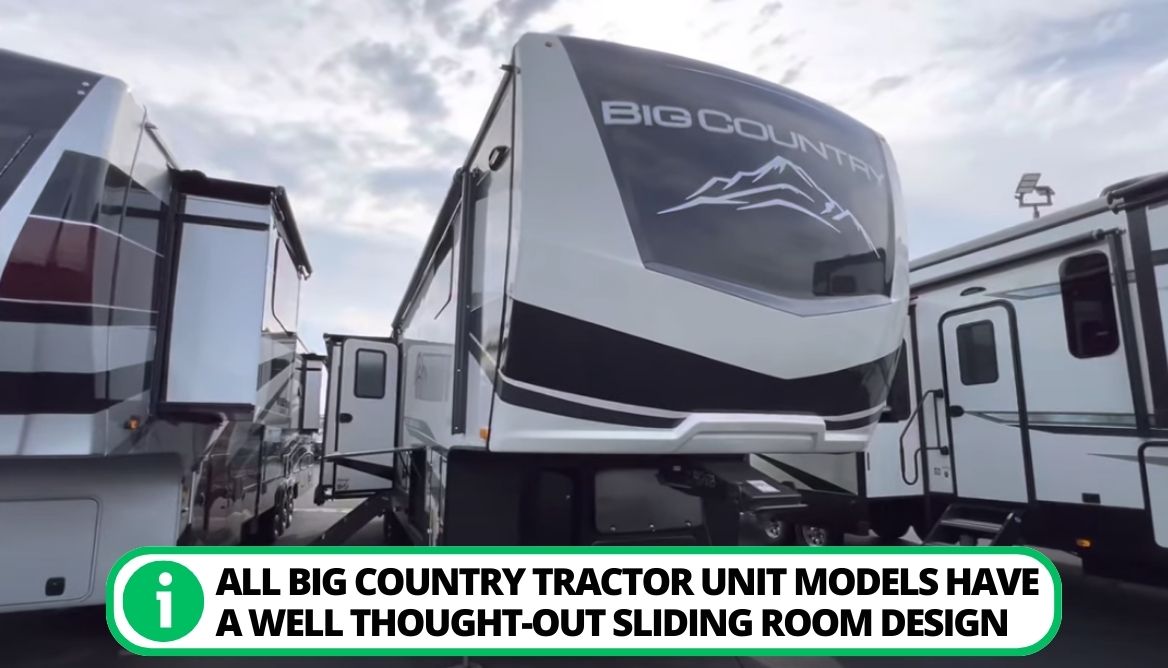 A power theater seat in the living space;
King-sized bed in the room;
Bluetooth HDMI or DVD;
Ceiling fan and A\C system;
Rear kitchen with a full-size pantry;
A large drop frame Storage capacity of three points of access;
Powerful LED light throughout the room in the vehicle.
2. Material and Construction
Big Country fifth-wheel vehicles are constructed with high-quality materials like:
Aluminium and High-Density Block Foam Insulation for the sidewalls;
Seamless Corrugated materials for the Underbelly;
Radiant Foil, Fiberglass for their laminated floor.
3. Facilities and Equipment
Big Country RVs are luxurious recreational vehicles that have a lot of modern facilities and equipment for the enjoyment of the owner. You can always find the following: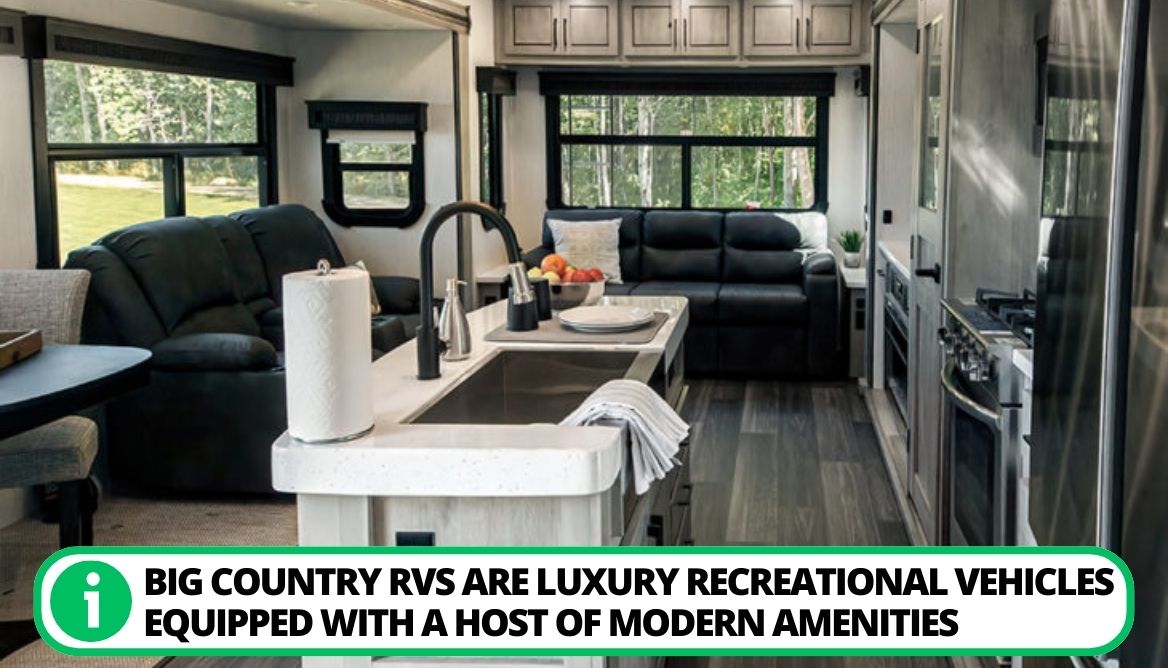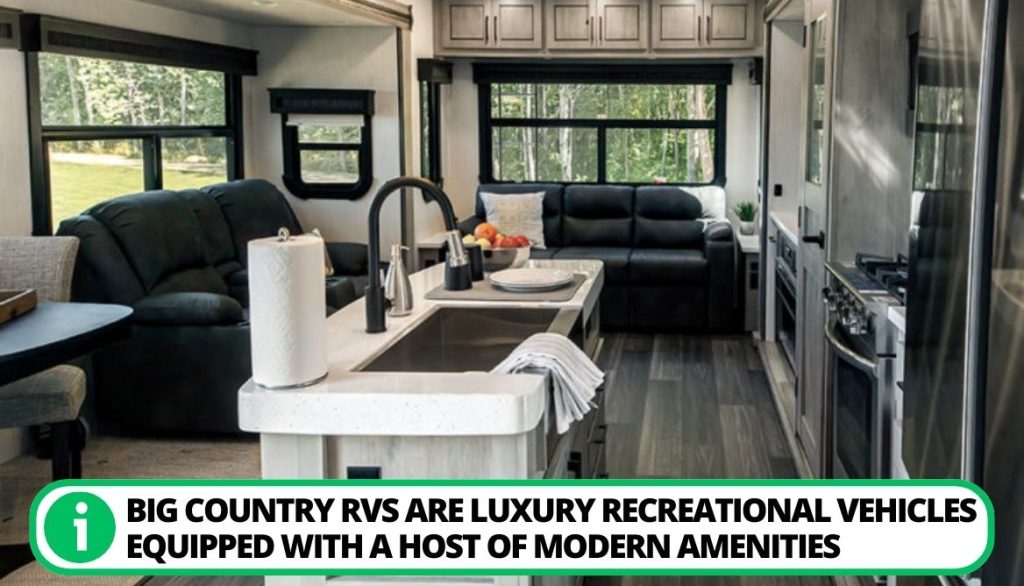 An exquisite kitchen with well-fitted cabinetry and solid surface countertops;
Bedrooms with closets, washers, and reading lights;
A Full-size pantry for storage;
High-quality cooking appliances in the rear kitchen;
Grandeur bathroom with basic amenities;
Smoke detectors and fire escape windows for safety.
4. Interior and Exterior Options
A video to support:
Big Country RV provides various luxury touches and options you can specify to the company before purchase. These fifth-wheel models ensure they meet the needs of every family that comes their way. Below are the options you can ask for:
32" Bedroom TV;
Dual pane frameless windows;
A kitchen with a full-size pantry and stainless steel farmhouse sink;
Slide toppers – awnings;
30″ microwave.
You can see their website or contact them for more available options for your Heartland fifth-wheel RV.
Life in an RV is quite the escape from the slow march toward whatever it is we call the golden years. Maureen Anderson, The Career Clinic
Heartland Big Country Problems and Solutions Table at the Glance
The main purpose of this article is to help you sort out any issue your Heartland Big Country RV is giving you.
So, before I go extensively into the Heartland RV common problems. Let me quickly use the table below to give you an insight into what I will be discussing.
| | |
| --- | --- |
| | |
| Plumbing problem or water leakage: | Take to the dealer shop or refer to customer service |
| | Lubricate parts. Check for strut line disconnection or faulty switch and then repair at the dealer's shop |
| | Replace all bad furniture |
| | Replace the flooring material |
| Electrical disconnection and battery issue: | Consult a professional or Go to the Company's customer service; Replace dead batteries |
| | Lubricate the faulty slide-out system frequently and always check for obstruction |
| RV Stabilization or level issue: | Check for tire blowout, Use stabilizer jacks when parked or the Rota-Flex pin box to reduce chucking when driving |
| Cooling or Heating Problem: | Check for faulty AC, Fan, or Heating system |
6 Heartland Big Country Issues and Fixes
Now that I have highlighted issues you might encounter with the Heartland RV, let me discuss succinctly how to troubleshoot them.
1. Plumbing Problems and Water Leakages
This is one of the common problems that usually occur to Big Country RVs. Plumbing issues may arise as leakages from your Heartland RV kitchen sink or toilet drain due to a faulty pipe or loose connection into the tank where the water was supposed to be disposed of.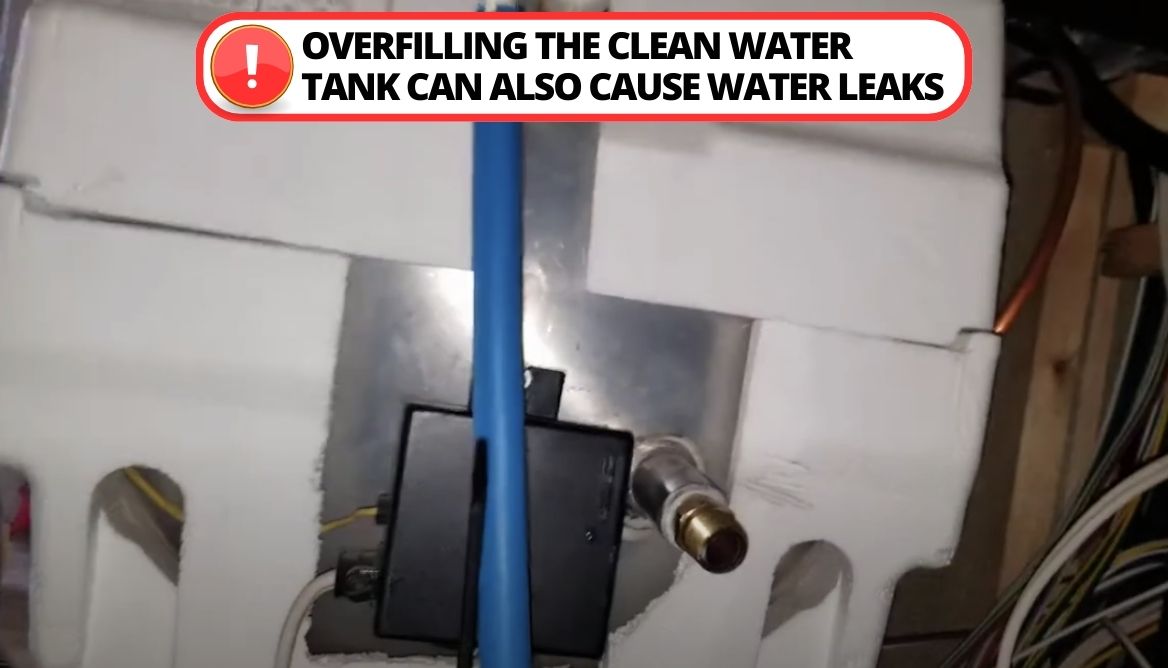 Overflowing of your RV fresh water tank could also cause water leakages as well a damaged roof, worn windows, and doors could make water sip into your Big Country if rain falls.
Solution
Plumbing issues can not be solved by a novice like you! The best option for this problem is to seek professional help from the Heartland's dealership or company.
You can still do away with water leakages around your sinks and drains or windows and doors. Use the following instructions to solve this problem:
Suppose you notice a wet carpet around your kitchen sink or still water around your toilet drain. This may indicate a block pipe that needs to be cleared for the free flow of water.
Check the pipe connecting your sink or drain to the waste water tank and tighten the pipes properly.
Repair damaged roofs, faulty windows, and bad doors if you notice water sips into RVs during rainfall.
You can stop overflowing water from the freshwater tank by inspecting the check valve. If you notice any opening around the valve, then you need to tighten it with a hex driver for proper closure.
2. Awning Problem
Awning problem usually happens to all RVs. The awning of your RV provides that outdoor shade from the sun. The proper functioning of your awning can be hindered by: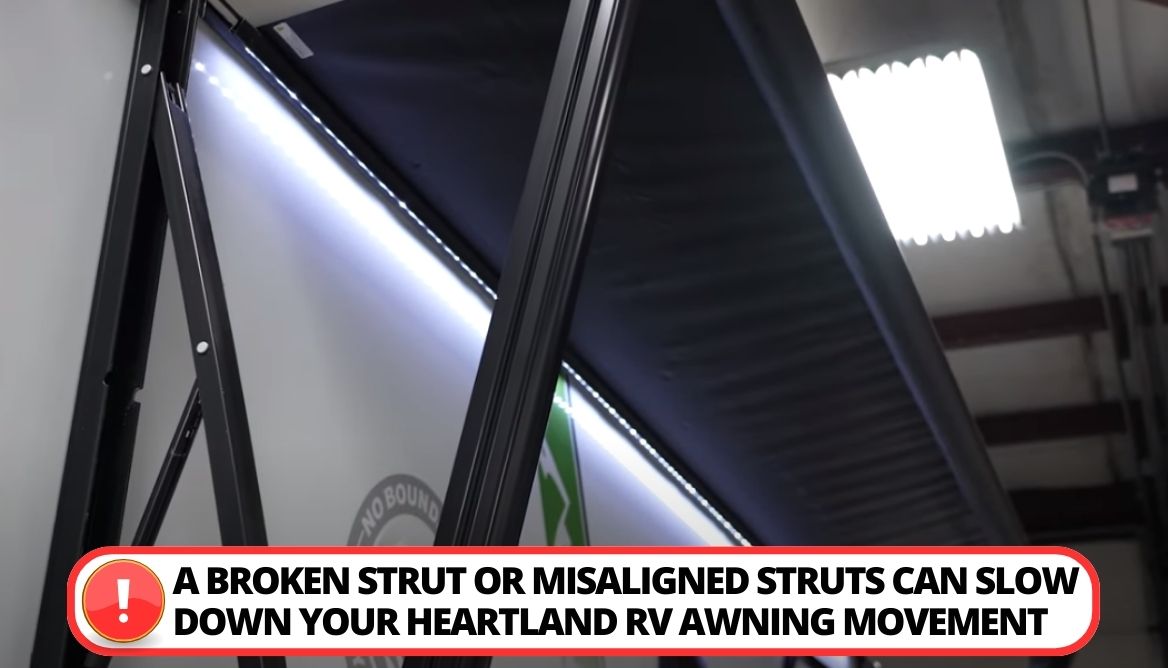 Faulty or bad struts: The strut is the metal arm in your awning motor system that is responsible for the in and out of the awning. A broken strut or misaligned struts can slow down your Heartland RV awning movement.
Broken Rivets: The awning rivets are responsible for keeping your RV canopy fastened and stabilized when your awning is opened or closed. A broken rivet results in a loose or sagging awning canopy.
Solution
To solve the awning problem, you need to troubleshoot what the issue is. If the problem occurs due to faulty struts then follow the instructions below:
The first thing to do is to disconnect your Heartland RV from the electrical power source.
Inspect your awning struts for integrated wire misalignment.
Carefully separate the integrated wire used for the strut connector lines if you notice the wires come in contact with each other.
If separating the wires does not work, then the problem comes from a faulty awning switch.
Replace the switch with a new one, but you can still connect your awning using the power lines at the back of the awning switch.
As for the loosening of your canopy or awning fabric, replace all damaged rivets. If the replacement does not work out, then consider changing the canopy itself.
3. Defective Furniture
You may notice the cabinet around your kitchen or toilet sink grows molds or shows signs of water damage due to consistent internal water leaks.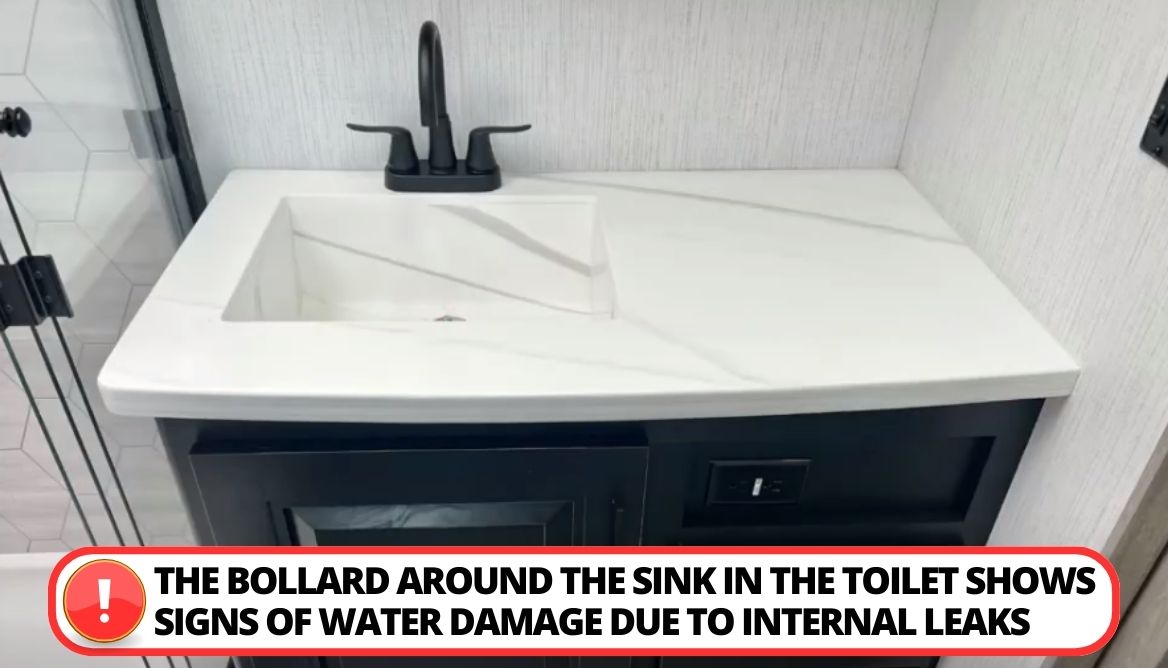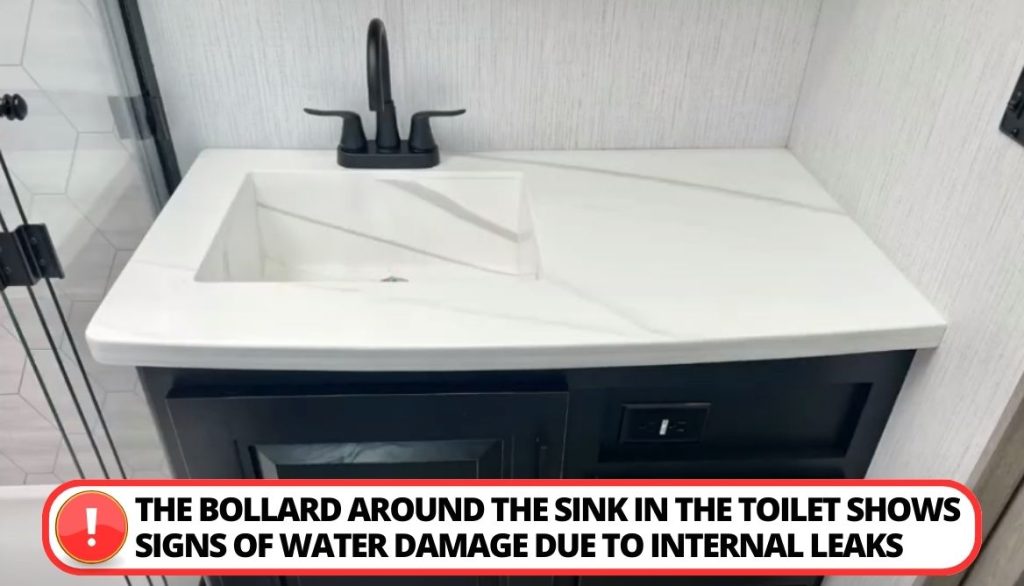 The furniture in the living space may wear out, or peel off due to weather and climate such as rainfall, humidity, etc.
Solution
You cannot solve this problem yourself, the options you have are:
Use them till they completely wear out and dispose of them.
Take it back to the company if the warrant period is yet to expire for a minor repair or contact the company for a renovation option.
4. Bad Flooring
The flooring problem is another prominent issue that affects Heartland's Big Country RV. This issue is not easy to fix just like the plumbing problem. Bad flooring will most likely occur to your Heartland RV because its room flooring is usually made from plywood and vinyl.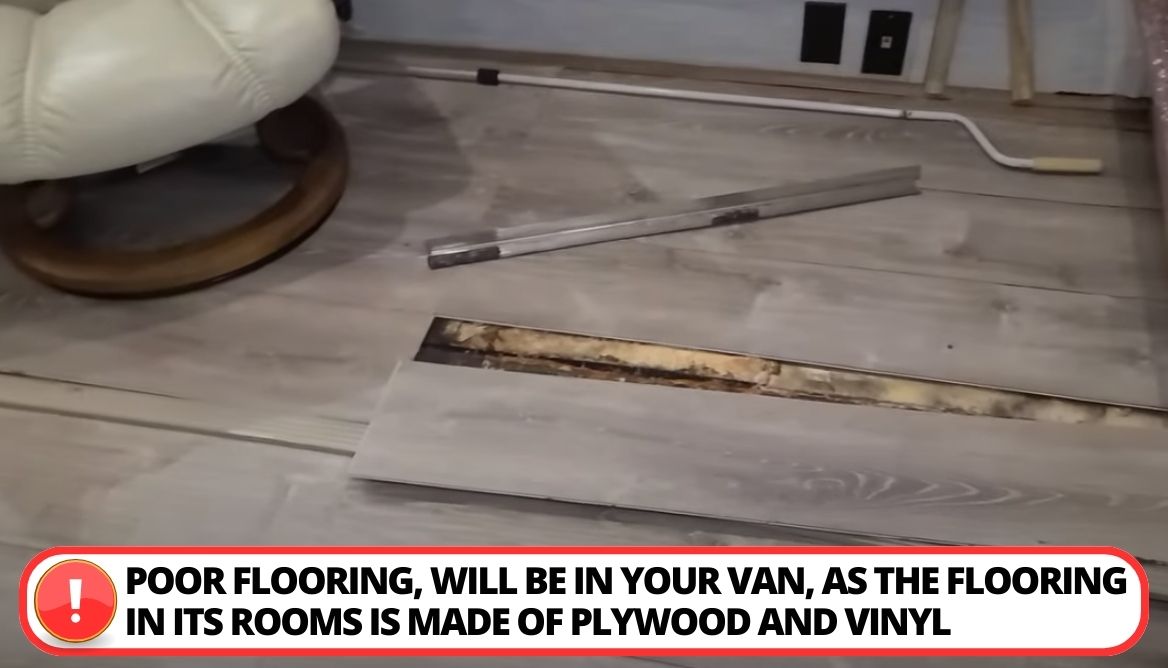 As time goes on the plywood underneath the vinyl wears out and cracks due to usage and other factors such as water and humidity. The vinyl too will get damaged due to bad plywood.
Solution
For you to solve the Bad flooring issue you will need professional help. Merely replacing the plywood or putting a new layer of vinyl or carpet yourself might give out the luxury touches.
5. Electrical Disconnection and Battery Problem
Electrical disconnection is a major problem that occurs in all vehicles.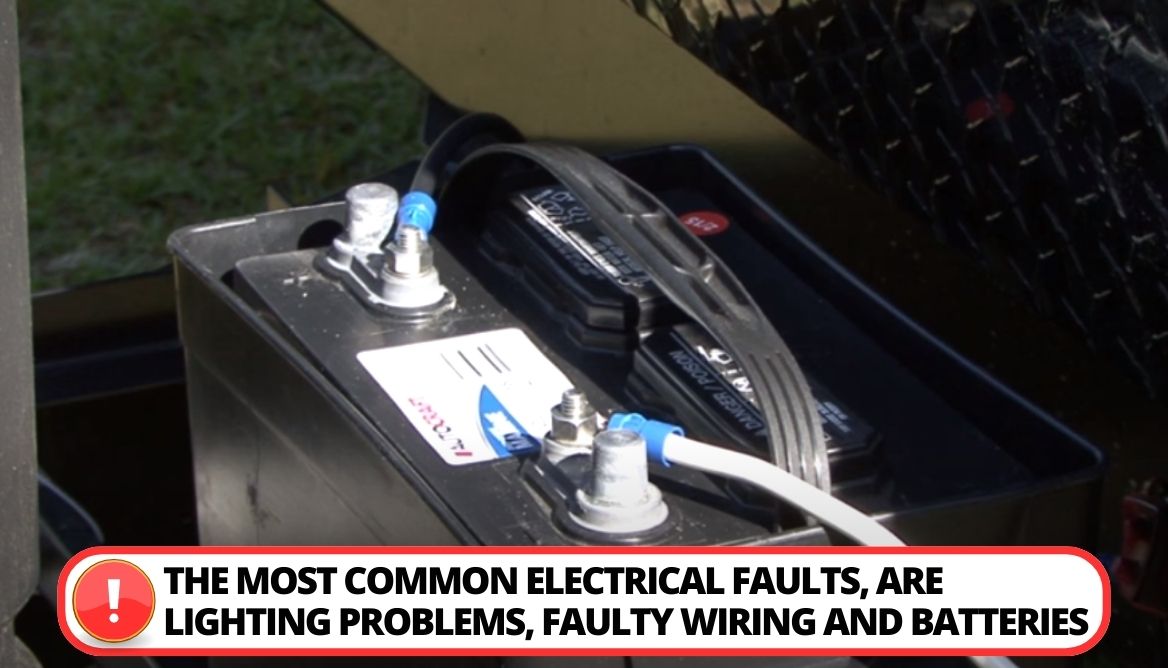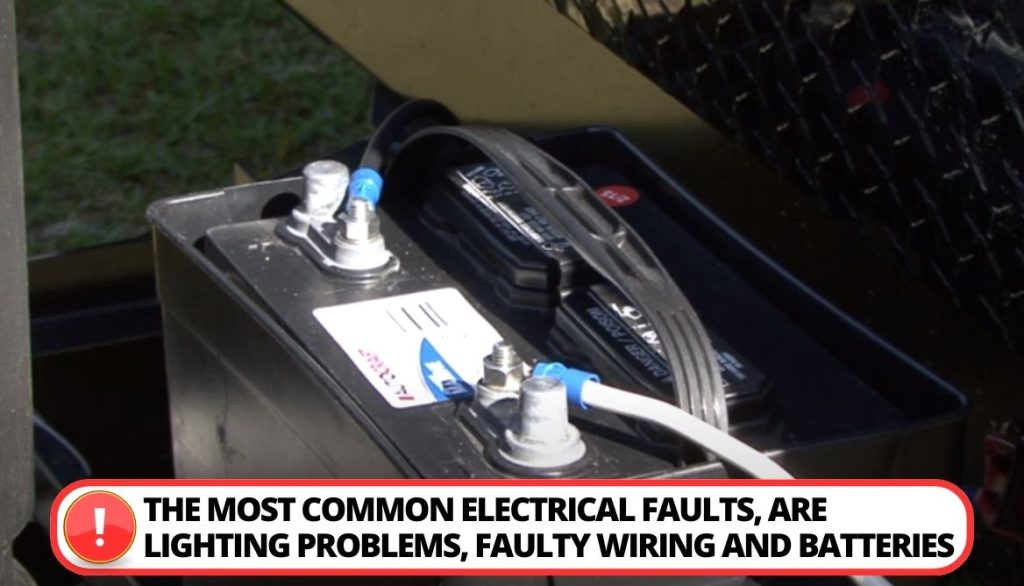 The most common electrical disconnection that disturbs Heartland RV are Lighting problems, defective wiring, and disconnected sockets and batteries.
Electrical disconnection may also affect the functioning of your appliance if they are not connected to the power source.
This disconnection can also affect the movement of your awning due to a cut of electrical power from the battery.
Solution
To solve the electrical disconnection of the appliance:
Check if the appliance is connected to the power source.
If connected properly, try inspecting the sockets and fuse boxes for blown out. Replace all faulty sockets.
Replace the dead battery in the terminal connected to your power system if it is not working properly.
If you tried the above and it does not work, then you will need an expert for a thorough check because electrical issues are difficult to manage yourself for safety reasons.
6. Faulty Slide
There is no way you can escape from the Big Country RV slide problem if you have one. The slide-out system is a very important component of the camping vehicle that makes it serve its purpose of creation. The slide-out door gives you access into and out of the vehicle.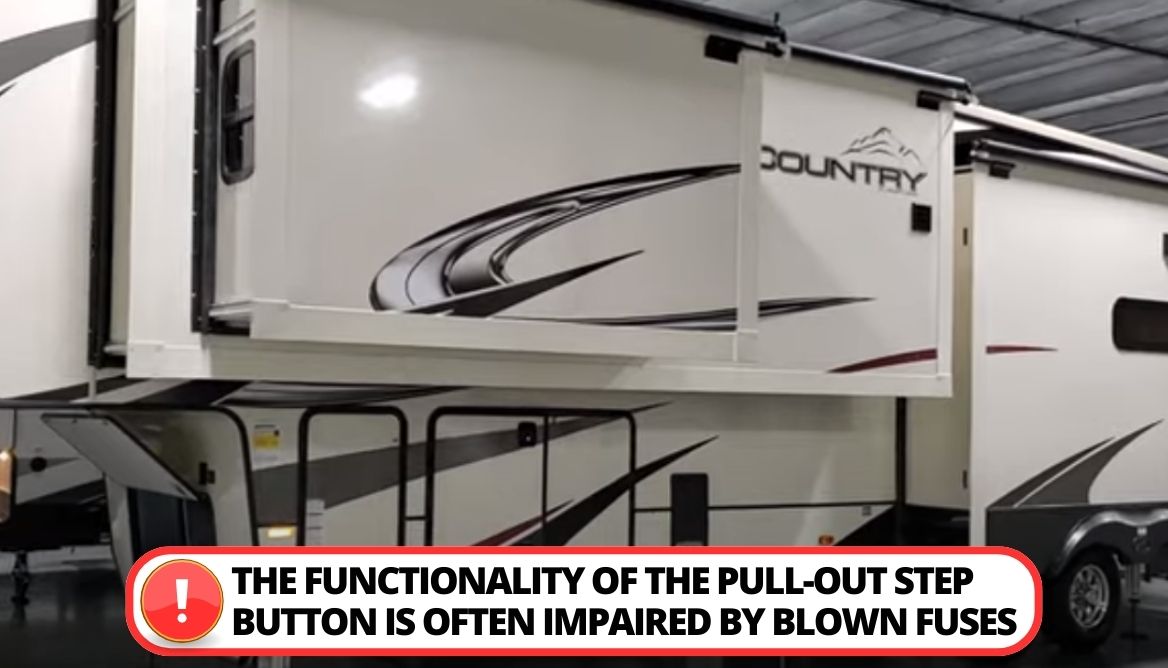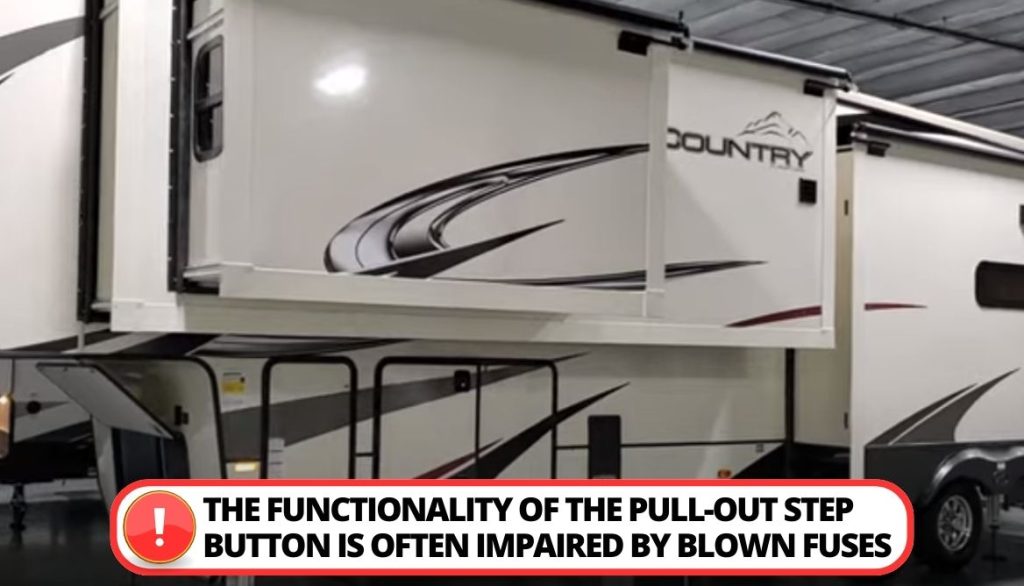 Faulty slide-outs often become stuck, sometimes work slowly, and may also make some unusual sounds when retracting. All these may be the results of the following:
Lubrication issues;
Obstruction;
Dust Accumulation;
Slide-out motor and power failure;
Water leaks.
So how do you solve this problem? Check below for a solution.
Solution
The first thing to do when you want to resolve a slide-out issue is to know the cause of the problem.
If you notice that the slide-outs are making unusual sounds when opening or closing, inspect the system for strange objects or dust accumulations.
Remove any strange objects or debris and clean regularly to prevent dust.
Then you need to lubricate the system frequently for smooth movement using the wet bolt kit.
Water leaks cannot be completely avoided especially during rainfall. To keep your slide-outs safe, always apply sealant at water ingress areas.
Use silicon-based products on seals to prevent your slide-out from rusting and corrosion.
If you have applied all the above and the slide-out is still giving you issues. You will need to contact the company or call a Heartland RV professional to help you out. You will also need to consult an Authorised Heartland RV expert to resolve the slide-out motor and power failure.
Users Experience With Heartland Big Country
In this section, I will give you reviews of other users so you gain more knowledge about Your Big Country RV. Big Country RV provides a luxurious life on wheels as:
Deborah said Heartland RV has:
Great space and floor plan…kitchen in the middle separates the living area from the bedroom…provides additional quiet space when needed. The fireplace adds warmth when needed…the stadium seats are heated and comfortable for watching TV. Deborah
Tarie Kendall also testified:
I lived in this Heartland RV for two years. I was stunned by the storage and how roomy it felt inside. All the slides work perfectly and it's so easy to maintain. I am a single woman who maintained this RV by herself. It's a great RV and it was a very nice place to live.Tarie Kendall
Most of the Heartland RV problems users encounter plumbing problems, water leaks, and bad flooring:
William Alley said:
I have had a couple of minor plumbing issues. It does not have heat pump air conditioning. Floors under slide-outs have decayed around the edges.William Alley
Doug Austin wrote:
I recently bought this 2014 Big Country BC2950RK Used from the original owner. For the first time, I totally filled the freshwater tank. I now have water dripping from the underbelly cover. Doug Austin
FAQ
Why are Heartland Big Country RVs prone to leaks?
Heartland Big Country RVs are always prone to leaks because of heavy weather conditions like rainfall. Other factors like duration of use, wear and tear, etc. can affect the kitchen sinks, toilet basins as well as the slide-out door and furniture in the Heartland RV.
Why do the slide floors on Heartland Big Country RVs rot?
The slide floors rot due to consistent water leaks and sometimes high humidity levels which causes the plywood used for the flooring to swell up.
What can I do to prevent problems with my Heartland Big Country RV?
If you want to prevent your Heartland Big Country you need to follow the necessary precautions in the owner's manual. Clean and Lubricate your Heartland RV slide-out door regularly with silicone-based sealant.
You should also watch out for water leaks and make amendments as soon as possible to prevent further damage to the surroundings. Call for professionals on issues like plumbing electrical, motor failure, etc you can't handle yourself for safety reasons.
Conclusion
Heartland Big Country is one of the most sought-after Heartland RVs out there, especially in the Western world. They offer the luxury touches and comforts of home while on the wheels. Even though they are made from high-quality materials and a high level of expertise, it doesn't guarantee that they will not develop faults.
Most of the Heartland RV problems are not that serious and can be solved on your own such as water leakages, awning problems, and slide-out issues. There are other issues such as plumbing issues, Bad furniture, Damaged flooring, and electrical failure which require Heartland's expert help.
Have you ever had a problem with your Heartland Big Country RV? Please share your experience with me in the comment section. Thanks for your Response.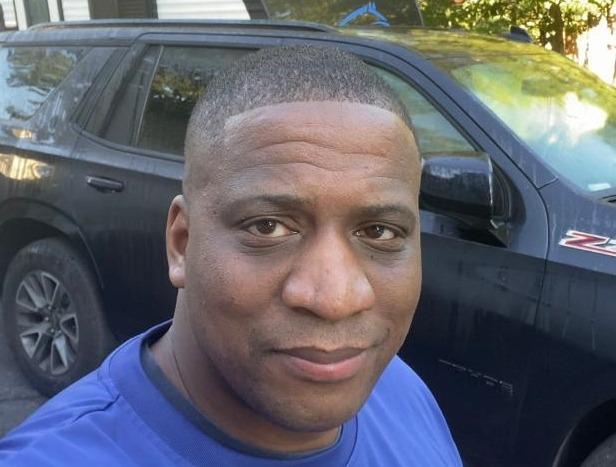 I`m a current Law Enforcement Officer working within the Counterterrorism Bureau in New York State. I have been Camping for over 20 years. My styles of camping include tent, car, truck, van, and RV travel trailer. I have a YouTube channel where I teach all types of camping with an entertaining method: https://youtube.com/@TheSmallsRVAdventures