Westinghouse IGen4500 Problems: Troubleshooting Guide of 7 Common Issues
Are you experiencing Westinghouse IGen4500 problems? No worries! It can happen. Despite being a reliable generator celebrated for its efficiency and dependability, some issues can arise. It is best that you know the reason behind them and their solutions to avoid unnecessary frustration.
Read on as we address issues such as generators not starting, making excessive noise, battery failure, and more. Let's dive into the details!
Westinghouse IGen4500 – Overview
The Westinghouse iGen4500 Inverter Generator is a premium portable power solution. Here's what you need to know: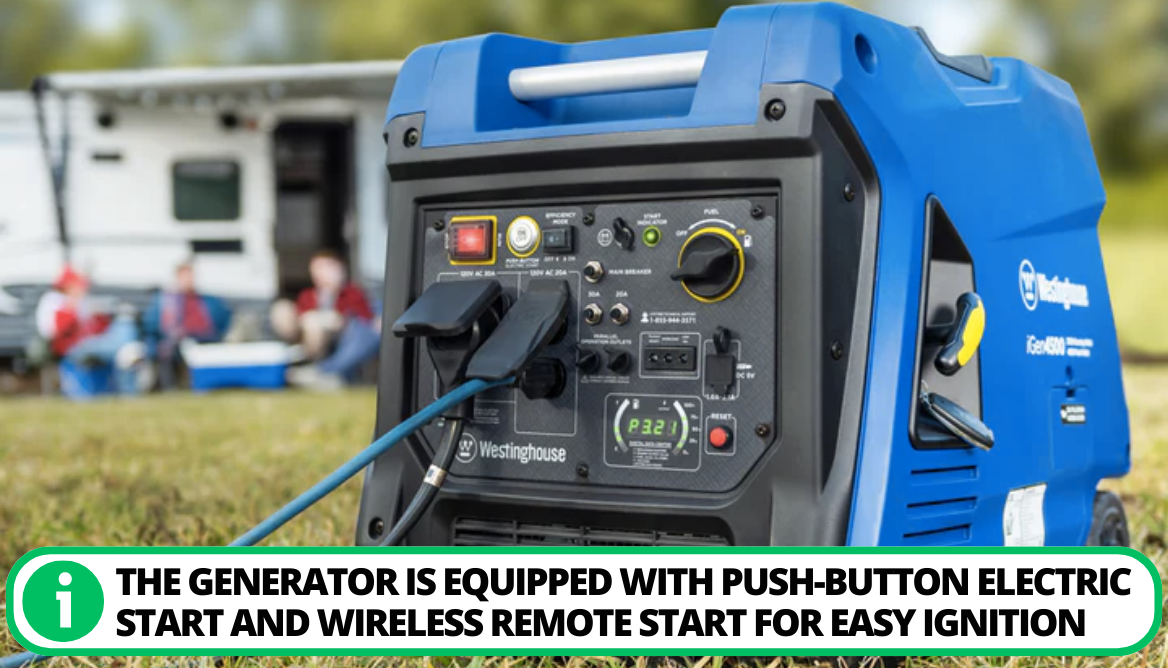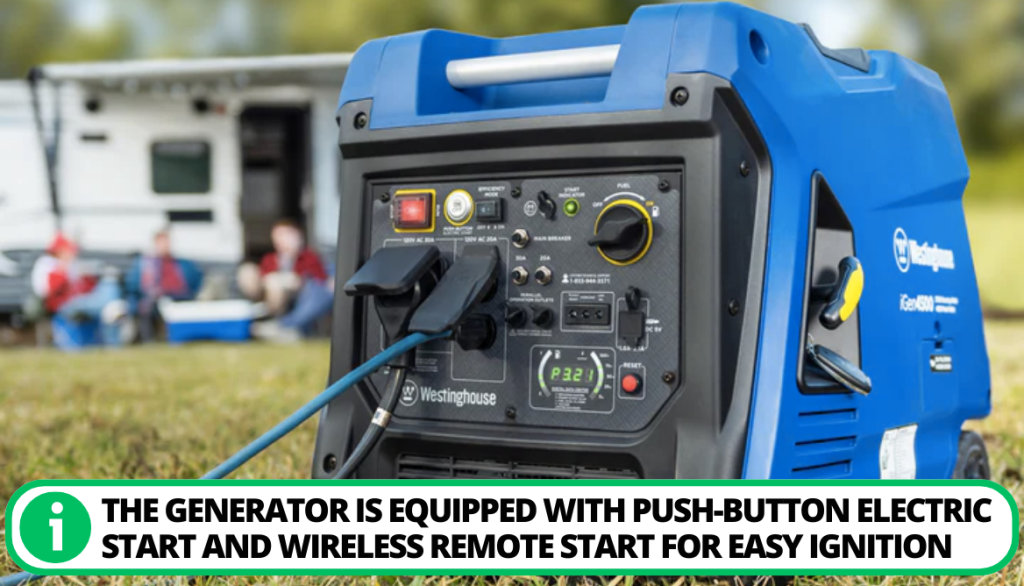 With a 3.4-gallon tank lasting 18 hours, it offers maximum fuel efficiency, featuring a TT-30R RV Ready Outlet, two 20A household outlets, and USB ports.
The safety of sensitive electronics is guaranteed with less than 3% THD.
The generator has a Push-Button Electric Start and wireless remote start for easy ignition.
Its lightweight, compact design with wheels and an extendable handle enhances portability.
It comes with a 3-year limited warranty and lifetime technical support and is used for camping, and emergencies whenever there is a power outage.
Let's go through its specs and features to learn about it in-depth:
| | |
| --- | --- |
| | |
| | |
| | |
| | |
| | |
| | |
| | |
| | 1 Duplex 120V 5-20R, 2 USB, 1 120V TT-30R |
| Total Harmonic Distortion: | |
| | |
| | |
| | |
| | |
| | |
| | |
| | |
| | |
| | |
| | |
| | |
| | |
| Engine Speed/Displacement: | |
| | |
| | |
| | |
| | |
| Automatic Low Oil Shutdown: | |
| Carbon Monoxide (CO) Sensor: | |
| | |
| | |
| | |
| | |
| | Oil Bottle, Oil Funnel, Spark Plug Wrench, Remote, Battery Float Charger |
| | |
| | |
| | |
| | |
| | 29.6L x 21.5W x 24.3H in. |
| | |
Westinghouse IGen4500 Problems: 5 Reasons You Should Know
The Westinghouse iGen4500, like any other generator, may exhibit typical symptoms of malfunction that can be challenging for beginners to diagnose. Here are some common signs to watch for: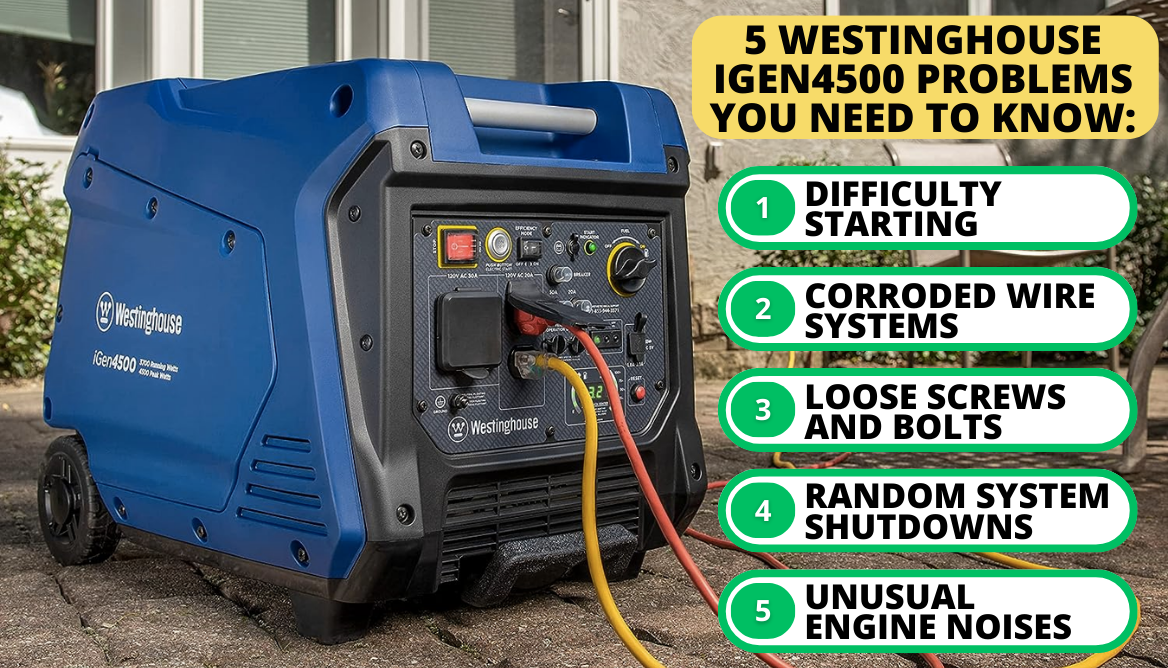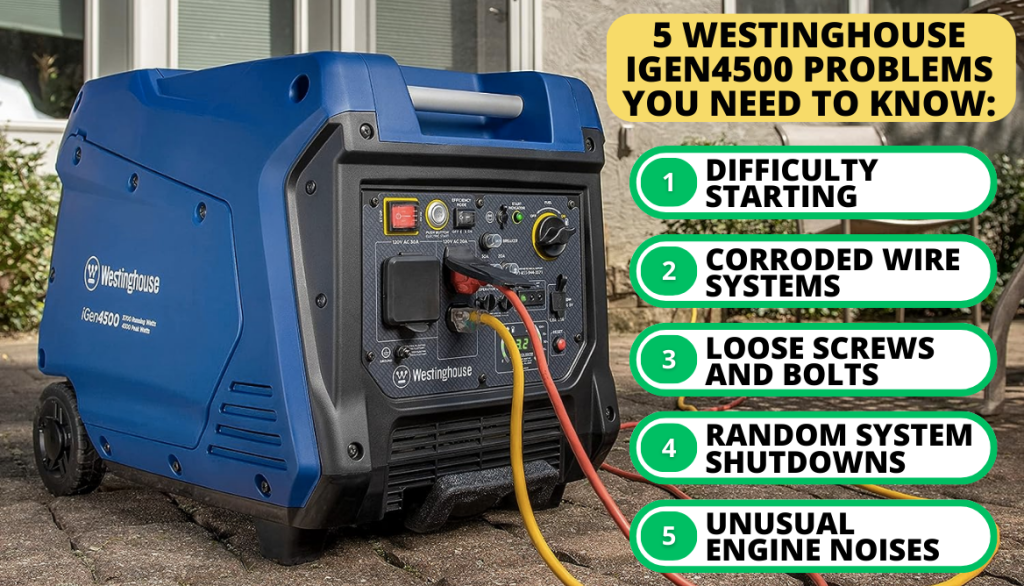 Difficulty Starting the Generator System: Possible issues with the battery, electric start, fuel supply, or contaminated fuel.
Corroded Wire Systems: Result of exposure to moisture, leading to poor connections and potential short circuits.
Loose Screws and Bolts: Vibrations may cause them to become loose, compromising stability and risking damage.
Random System Shutdowns: Caused by low oil, fuel problems, clogged air filters, or spark plug issues.
Unusual Engine Noises: Indicate potential internal problems, such as worn-out components or loose parts.
7 Frequently Encountered Problems in Portable Inverter Generator Westinghouse IGen4500
No need to go for expensive repairs. Let's discuss the common problems and the easy steps you can take to solve them. Read below:
1. Not Powering On
Some Westinghouse iGen4500 owners may face challenges with starting the generator and encounter issues like stalling or inconsistent power output during operation.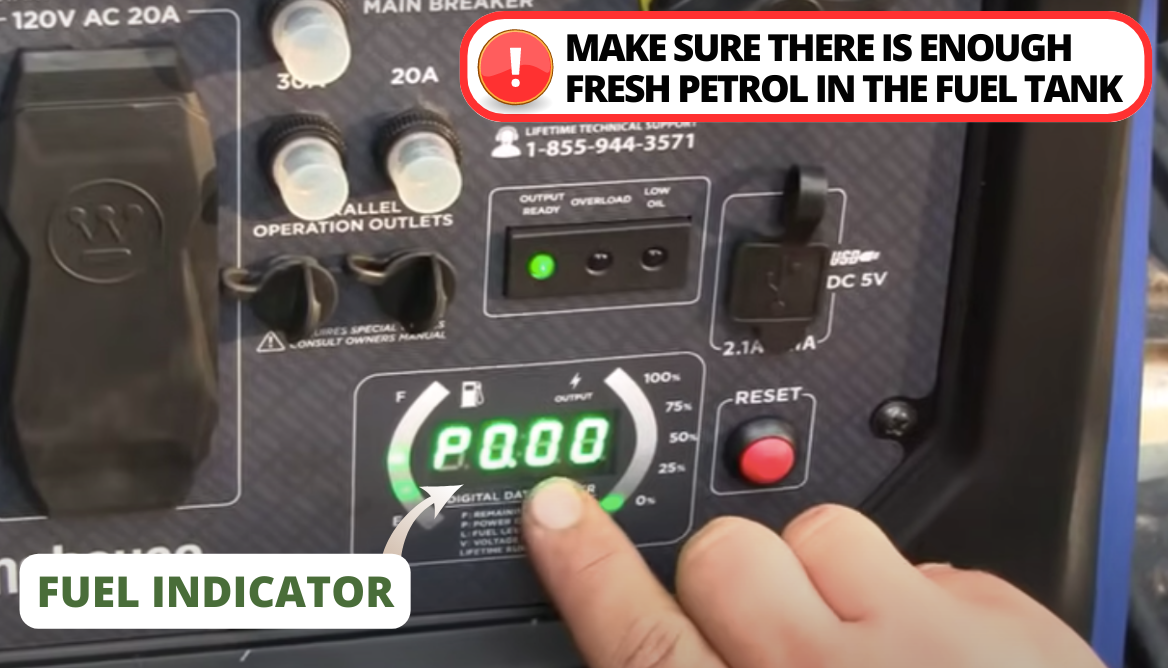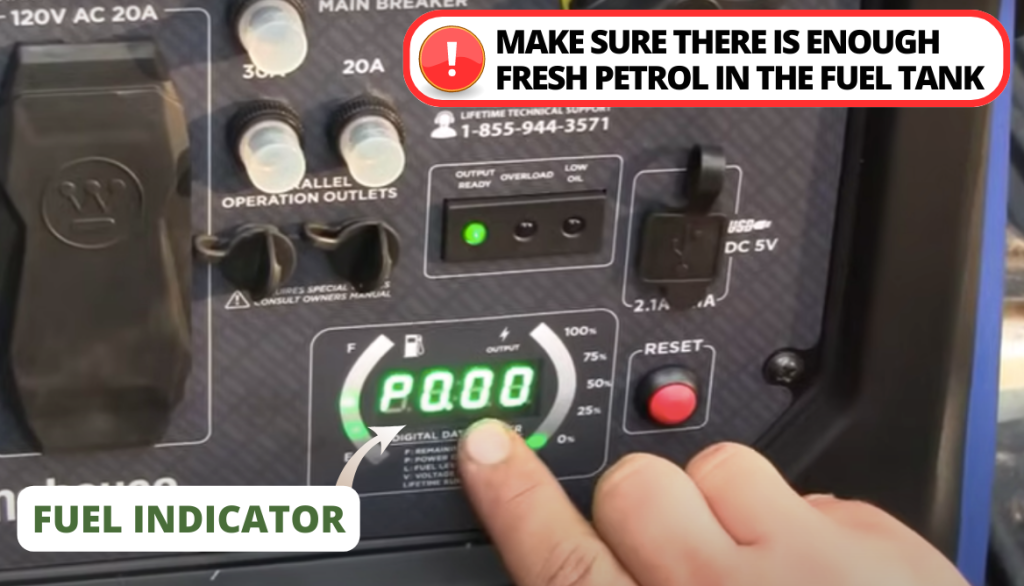 Solution
Opt for the following measures to fix ignition failure:
Make sure the fuel tank contains sufficient fresh gasoline and the valve is in the open position.
Check the oil level and ensure it falls within the recommended range. Add or change the oil as needed.
Clean or replace the spark plug if it is fouled or showing signs of wear.
Inspect the air filter and clean or replace it if it appears clogged.
2. Inconsistent Power Output and Overloading
Certain users might encounter problems with the generator tripping, the circuit breaker, or power outages.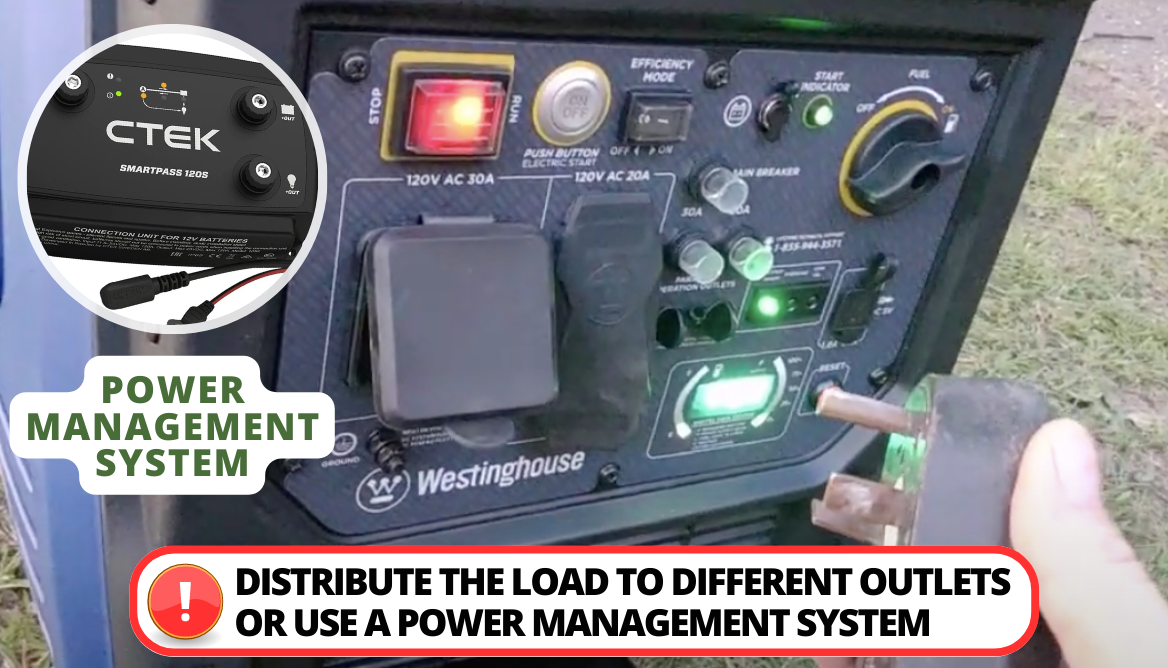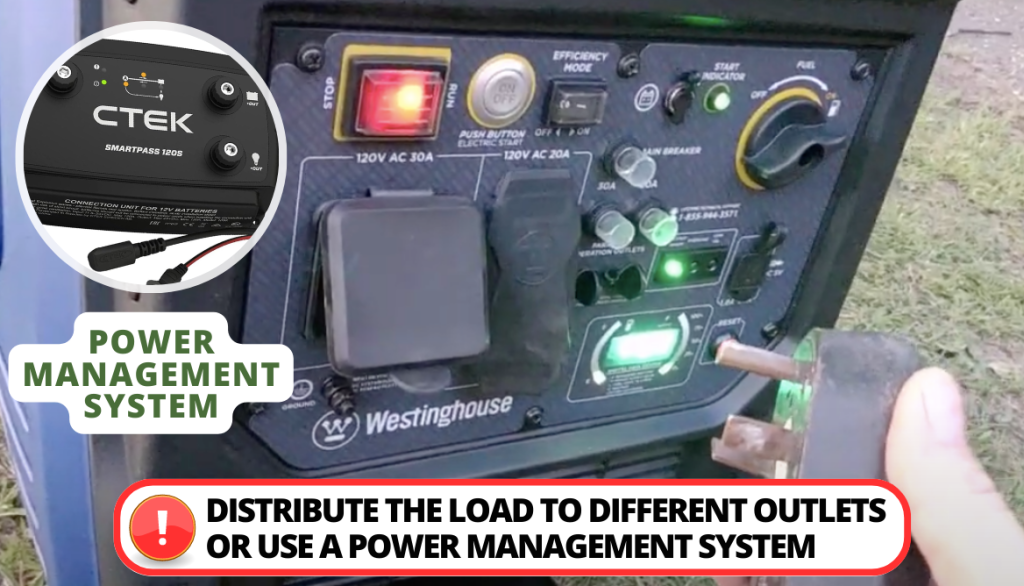 Solution
Here is how to fix the power issue:
Don't plug in too many things at once. Keep the load within the generator's rated capacity and remove any unnecessary or high-power-consuming devices.
Check the circuit breakers on the generator. If you find tripped ones, then reset them.
If you're using extension cords, go for the right size and length to avoid voltage dropping.
Spread the load across different outlets or use a power management system so you don't overload the generator.
3. Fuel Level Problems
Users may come across challenges like fuel leaking out, lines clogging, or difficulties in transferring gas.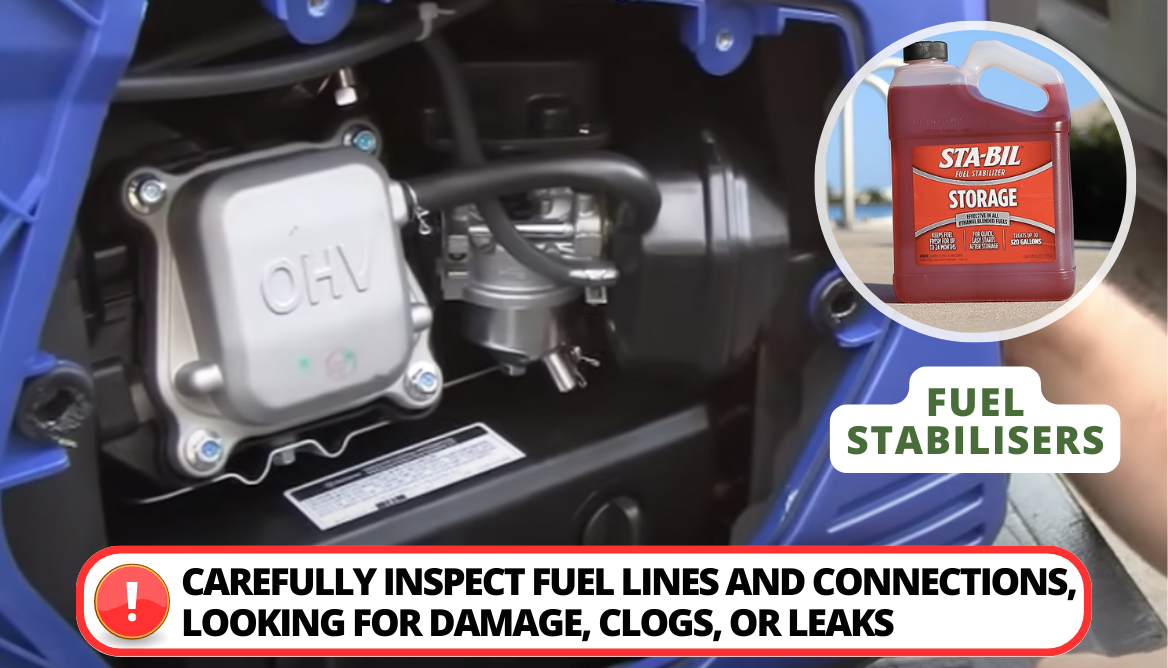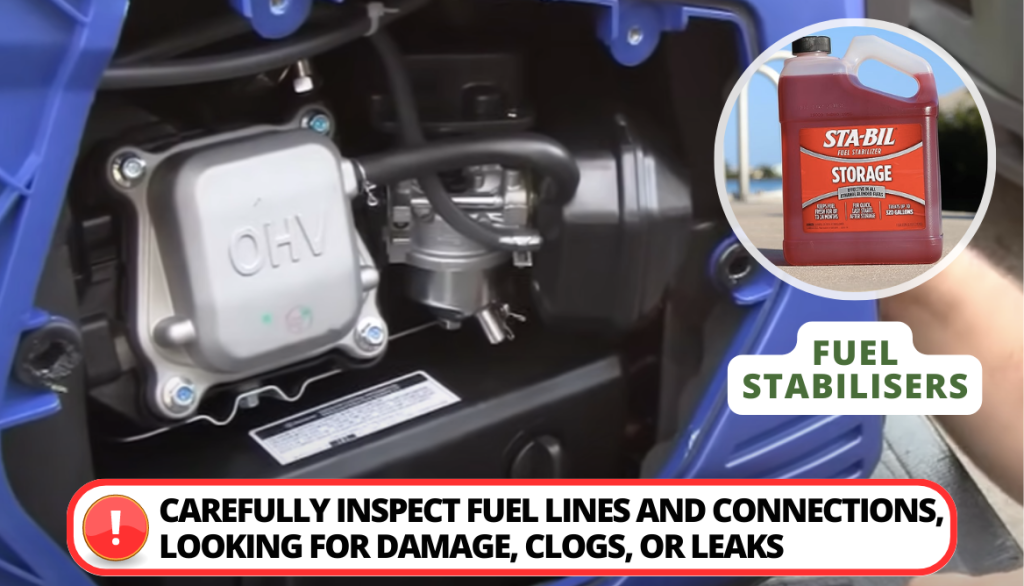 Solution
Listed below is how to deal with the fuel problem:
Take a good look at the fuel lines and connections, keeping an eye out for damage, blockages, or leaks. Swap out or fix any worn-out parts.
Give the fuel tank a good cleaning to ensure no debris or gunk interferes with the fuel flow.
Check that the fuel cap for a tight seal and proper ventilation.
Stick to the rules of fuel storage and usage – opt for clean, fresh gasoline, and don't forget fuel stabilizers when necessary.
If those fuel issues keep on bugging you, don't hesitate to hit up Westinghouse customer support or seek a hand from a qualified technician.
4. Noisiness and Vibration
Certain users might notice the excessive noise level or vibrations generated by the iGen4500 generator.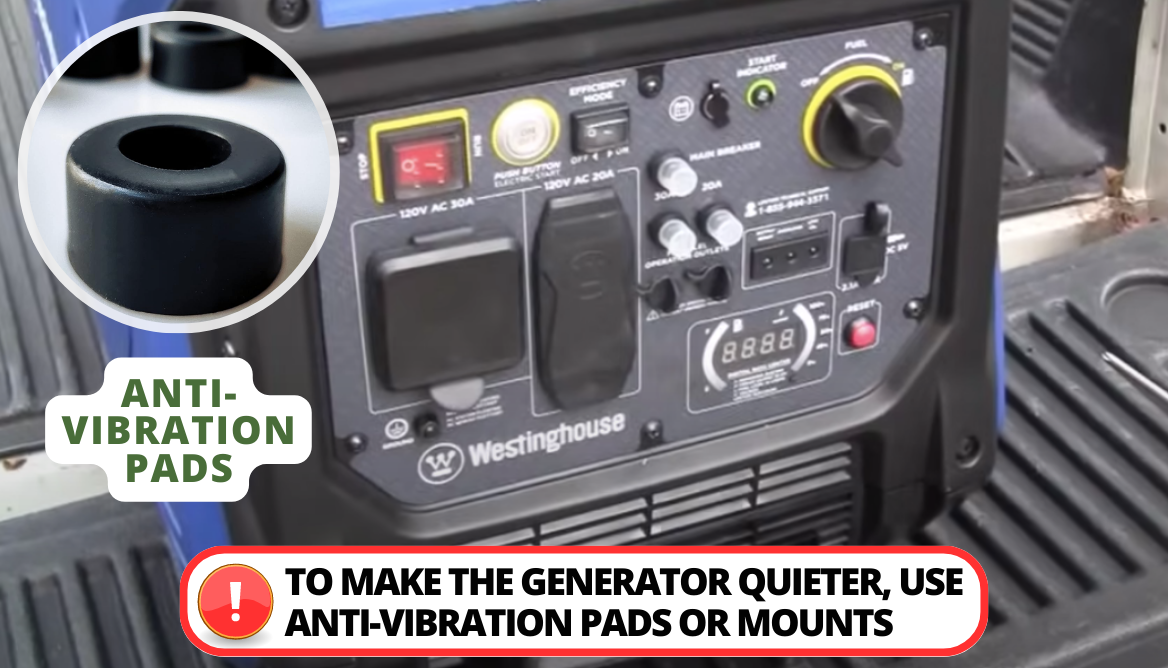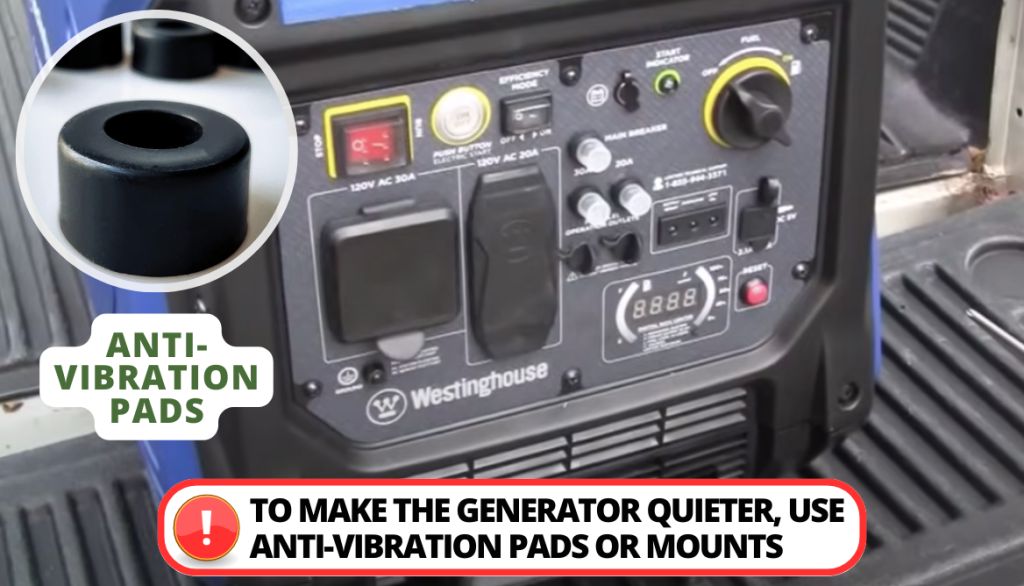 Solution
Here's how to fix the loud trembles and shakiness:
Find a stable spot for the generator to minimize vibrations that are bothersome.
Use some anti-vibration pads or mounts to make it even quieter.
Perform regular maintenance. This includes checking the screws and bolts to avoid any rattling.
Keep the generator at a safe distance from living or sleeping areas and a stable surface. This will minimize noise disturbances.
5. Battery Malfunctions
Battery failure is one of the most common generator problems. The battery may wear out due to being used for years or without proper maintenance.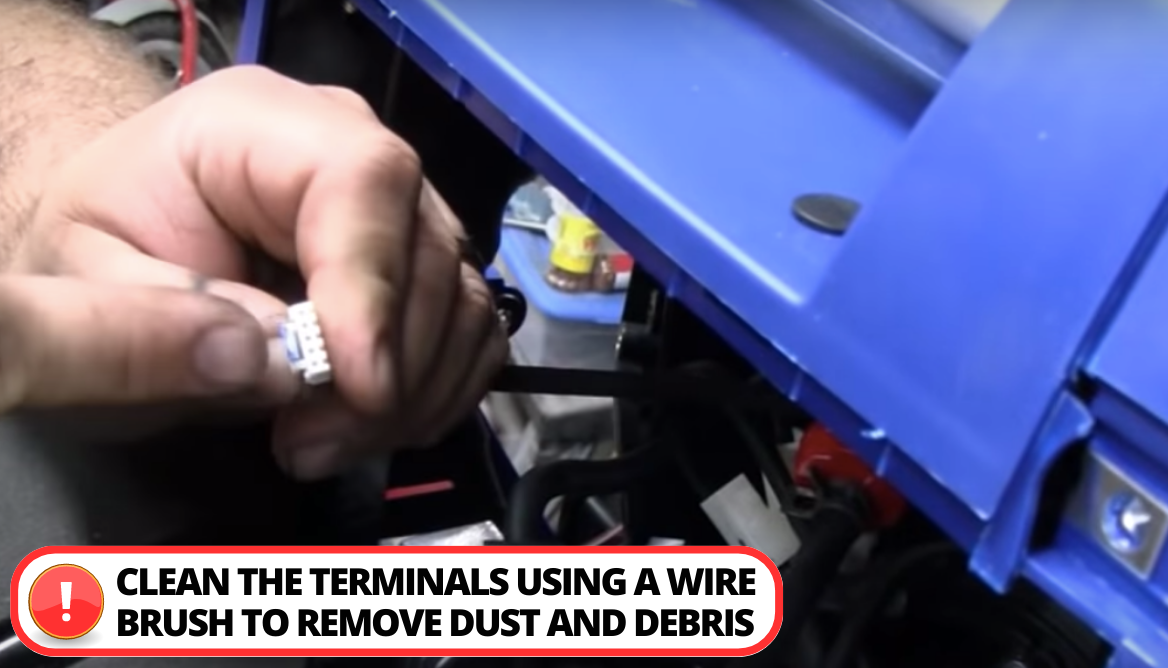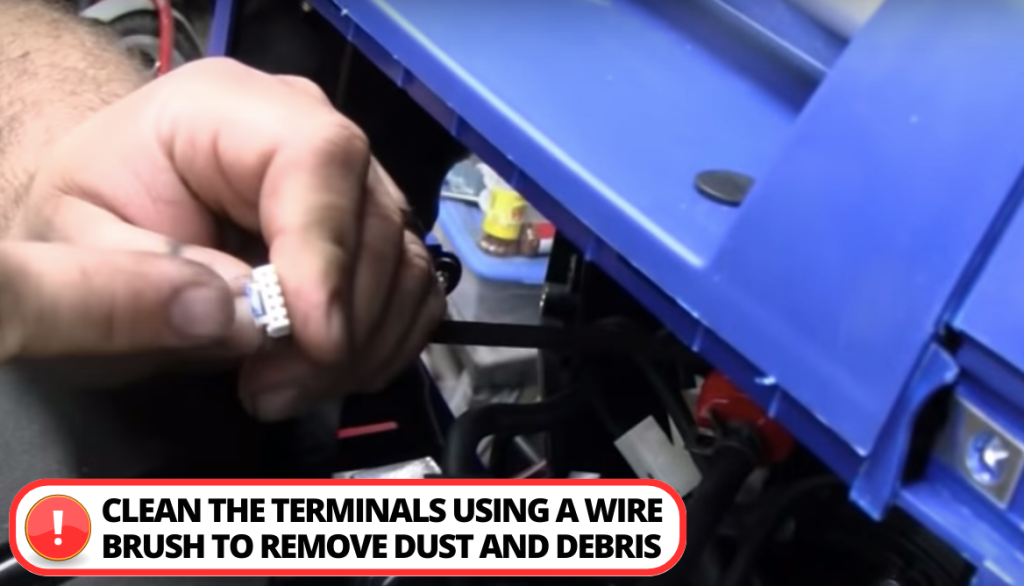 Solution
Listed below is how to deal with battery issues:
If the battery is worn out from regular use, consider replacing it with a new one.
In case the issue is due to negligence, check the circuit breaker. Find the flipped slot and flip it back into its original position. This might get the generator working again.
Clean the terminals using a wire brush to remove dust and debris. Then tightly secure it to maintain proper connections between the battery and the generator.
6. Generator Leaks
Coolant leaks are caused by excessive usage and wear on coolant hoses. Fuel leaks often occur in new generators that have not been regularly used. If you experience these issues then do this: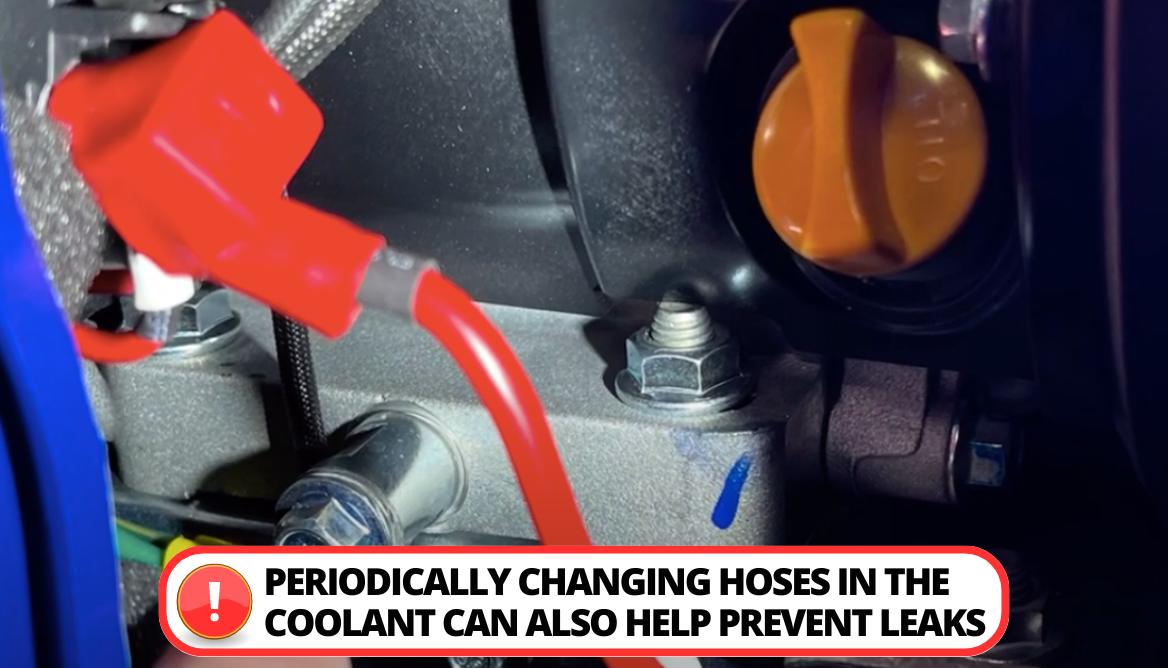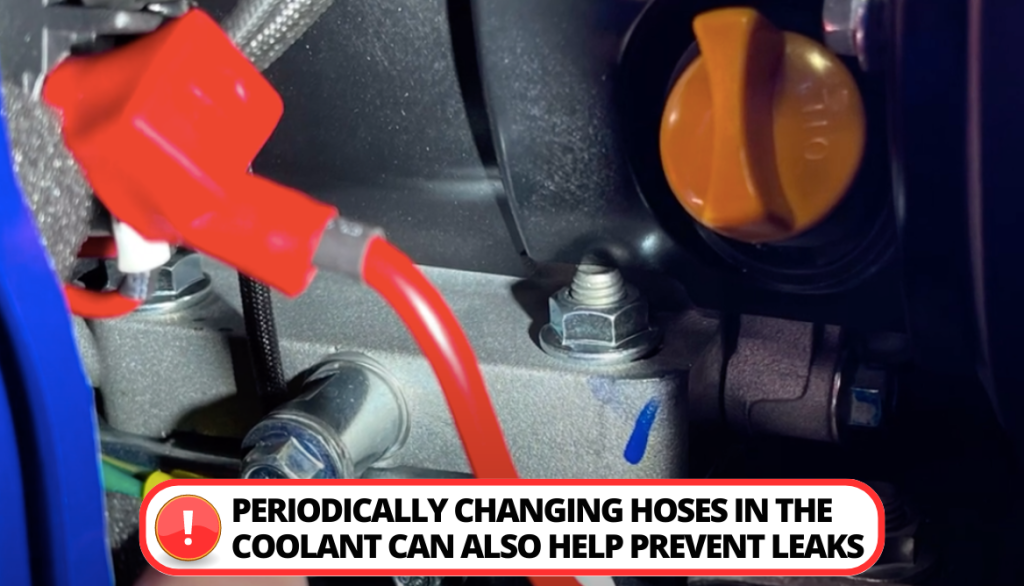 Coolant leaks
Avoid coolant leaks by:
It is essential to check the coolants twice a year and look for any damage.
Replace damaged coolant to prevent system failure.
Periodically changing hoses in the coolant can also help prevent leaks.
Fuel Line Leaks
If fuel leaks into the tank and causes the generator's starting issues:
Consider seeking professional assistance to address the problem effectively.
To prevent such issues in the future, always check the fuel level before using the Westinghouse iGen4500.
7. Dirty Air Filter
If the air filter becomes too dirty, it cannot effectively remove debris. This will lead to various issues and reduce the generator's lifespan.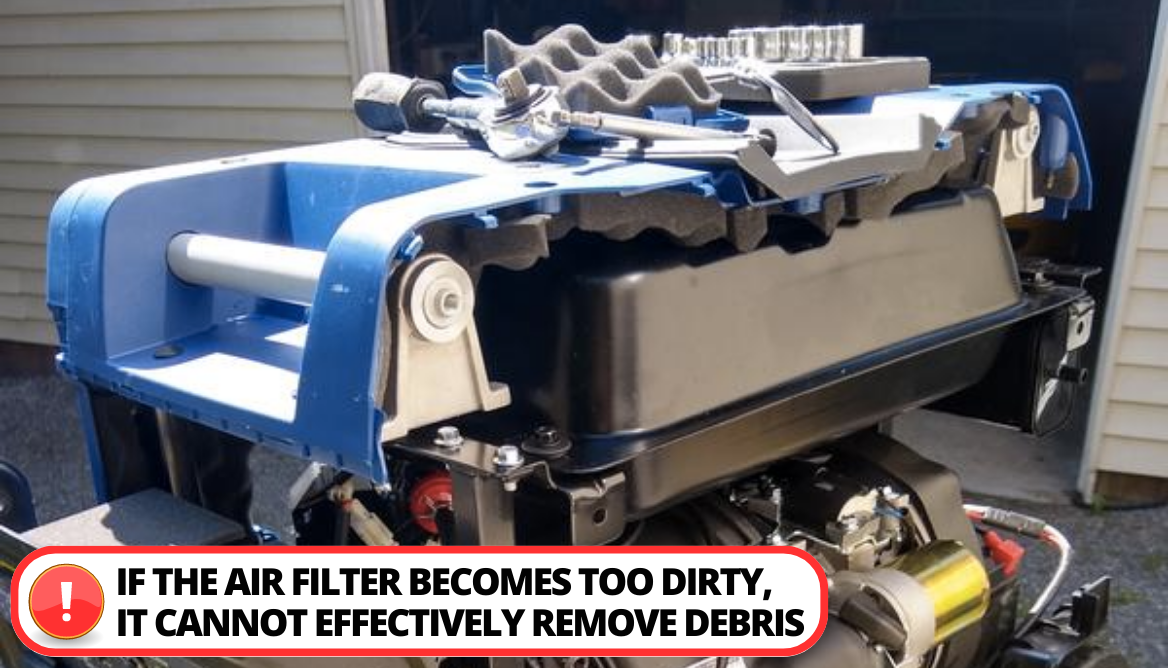 Solution
Below are the steps to deal with filter issues:
Turn off the generator and fuel valve to stop the fuel flow to the carburettor. Then only perform any maintenance or repair.
Find the air filter assembly on the generator's left side and unscrew the cover knob.
Take out the foam air filter from the housing, being cautious as it may be oily.
Take out the metal grate from the air cleaner housing and remove any nuts inside the housing.
Using pliers, remove the clamps and detach the rubber hose on the left side of the air filter assembly.
After removing all hoses, the air filter assembly will be free, allowing you to effortlessly replace the old filter.
Put the air filter assembly back together by firmly reattaching all nuts and bolts.
Westinghouse IGen4500: General Troubleshooting of Portable Inverter Generator
Now that you know most problems and their solutions, also know the following. It is a list of SOPs you can follow when trying to troubleshoot: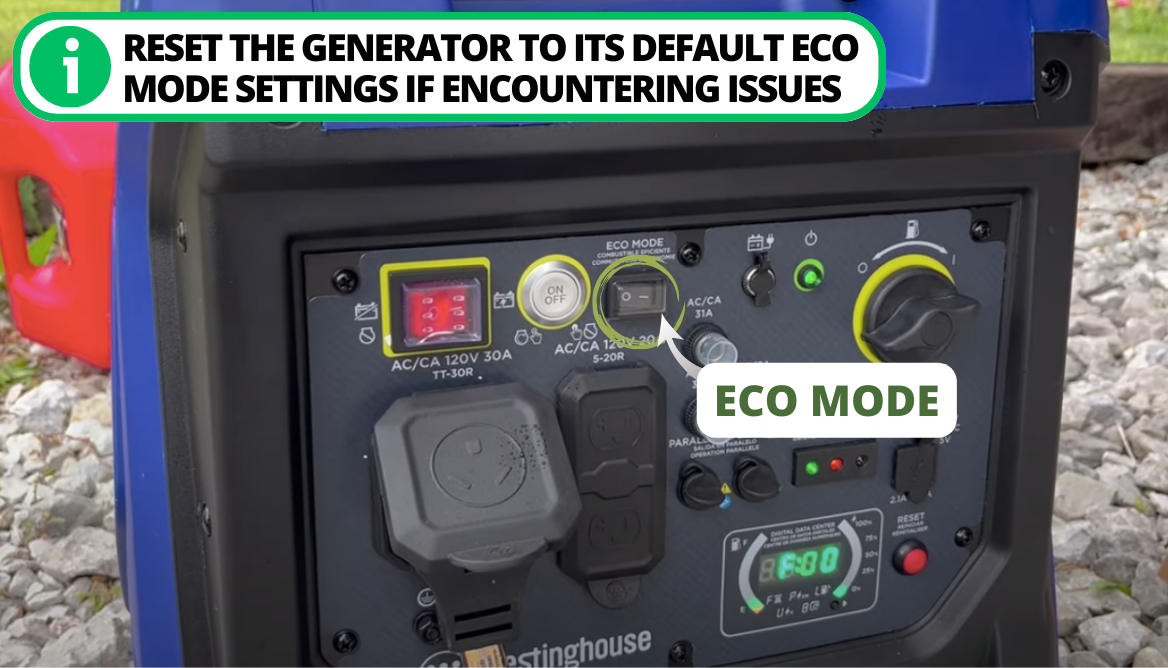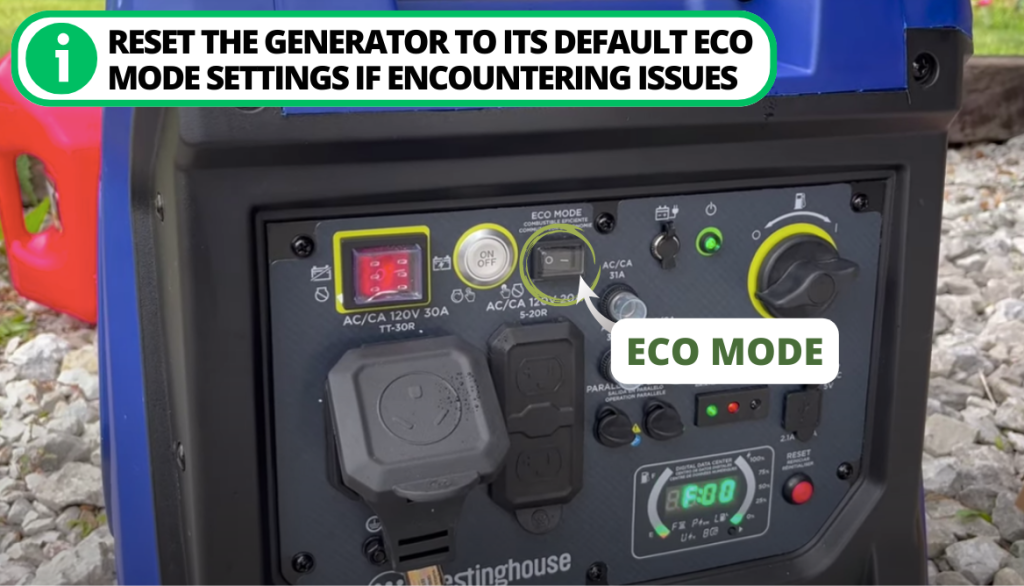 Ensure there are no fuel leaks and that fuel connections are secure.
Confirm that the battery is sufficiently charged.
Adjust the choke position if needed.
Check for any obstructions or bends in the fuel line.
Prevent overloading the generator's capacity.
Keep an eye on oil levels and inspect for any leaks or damage.
Reset the generator to its default eco mode settings if encountering issues.
Seek assistance from a professional technician for complicated or recurring problems.
If you still need further assistance, Westinghouse customer support is active and helps out.
FAQ
Are Westinghouse Motors any good?
Yes, Westinghouse Motors are considered good, most dependable, and safe on the market.
Why does my Westinghouse generator keep shutting off?
The Westinghouse generator keeps shutting off because the oil level in the engine doesn't meet the recommended requirement. It might be too high or low.
How loud is a Westinghouse 4500 inverter generator?
Westinghouse 4500 inverter generator is not very loud. It only generates 46 to 56 dB.
How long does a Westinghouse igen4500 run on a full load?
Westinghouse iGen4500 can run roughly for 18 hours on a full load.
Conclusion
To put it briefly, you might encounter Westinghouse igen4500 problems like not starting, leaks, noise level problems, etc. Most of these will be solved if you keep proper maintenance. So check if the battery is adequately charged, and adjust the choke position if necessary. As well as inspect the fuel line for obstructions.
You should also verify the connected load remains within the generator's capacity. Then inspect oil levels for leaks or damage. If the problem persists try resetting the generator or seek professional help.
Please do comment on what troubles you faced with the generator and if you found the solution. We are reading!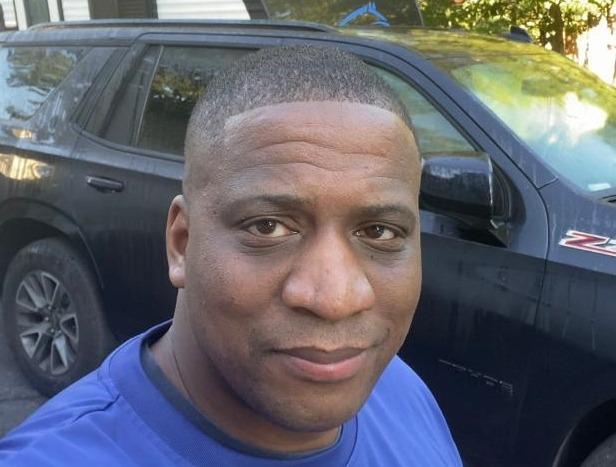 I`m a current Law Enforcement Officer working within the Counterterrorism Bureau in New York State. I have been Camping for over 20 years. My styles of camping include tent, car, truck, van, and RV travel trailer. I have a YouTube channel where I teach all types of camping with an entertaining method: https://youtube.com/@TheSmallsRVAdventures