Best Vans for Campervan Conversion
If you're looking for a camper van conversion, you've come to the right place! Here at Camperlife, we've compiled a list of the 8 best vans for conversion.
We've done the research for you and hand-picked these vehicles which will be the best vans for camper conversion based on dozens of real-world customer reviews. We also took into account their fuel economy, ease of repair, and seven other factors to help you decide which model is right for your needs.
If you need any more information before making your decision, check out our blog post on 8 Best Vans for Camper van Conversions!
Best Vans for DIY Campervan Conversion
Mercedes Benz Getaway Van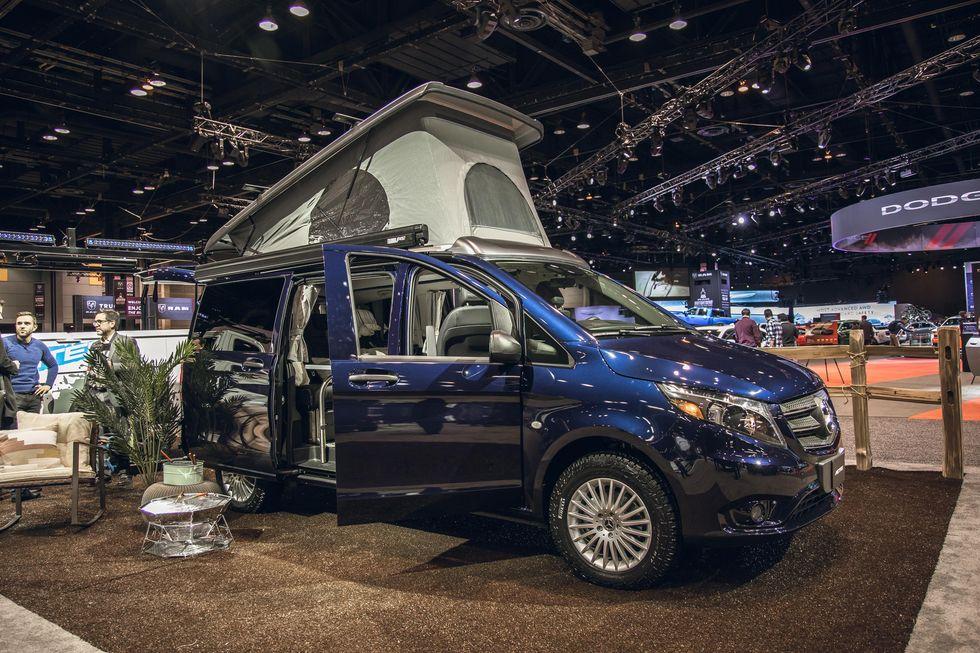 | | |
| --- | --- |
| | |
| | |
| | |
| | |
| | |
| Range (Miles per Charge): | |
| | |
Also known as Mercedes Weekender, this vehicle is essentially a factory camper-van offering.
It utilizes a backbench seat that converts to a bed for two and an elevating roof that creates a comfortable sleeping area for two people.
If you are looking to buy this campervan then you should budget about 60,000-70,000$ for the base version.
When you look at the options, things are a bit more interesting. It has the option of adding solar panels for anyone looking to buy this van for long-term use.
Other really good options for camper enthusiasts are the pullout rear kitchen, eight-foot awning, and sliding doors.
Mercedes Benz Sprinter Getaway Van is most suitable for:
The Mercedes Sprinter Benz Getaway Van is a dream van vehicle that is the best van for long road trips. It's a perfect vehicle for families with children who enjoy traveling in style. The Mercedes Sprinter Benz Getaway Van has all the amenities you need to make your trip comfortable, including air conditioning, an AM/FM radio, and a CD player.
Airstream Interstate Nineteen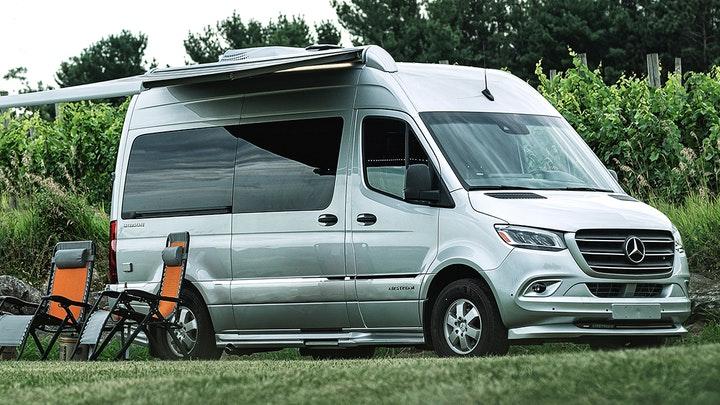 | | |
| --- | --- |
| | |
| | |
| | 9′ 7″ (inc A/C & Antenna) |
| | |
| | |
| | |
| Range (Miles per Charge): | |
| | Mercedes-Benz® 3.0L V6 Turbo Diesel engine |
Based on the Mercedes Benz Sprinter, this luxurious campervan includes a fold-out bed, a bathroom, a kitchen, and swiveling front seats so they can face the campervans' interior.
The name Nineteen comes from the campervan's nineteen-foot length which means that it can easily fit into a standard parking space.
Essentially, for about 165,000$ you are getting Airstreams' best-selling class B motorhome wrapped in a smaller and more compact package.
So if you are looking for some alone or couple time, then this van might be perfect for you whether you are going to the campgrounds or to explore the city.
AirSTream interstate is most suitable for:
The Airstream Interstate Nineteen is the best van for individuals who want a comfortable place to stay while exploring the country or traveling across it. It provides an easy-to-set-up space for your guests as well as an easy-to-clean space for yourself when you arrive at your destination.

The Airstream Interstate Nineteen Sprinter Van is also an ideal choice if you're looking for something different from a typical motor home or fifth-wheel trailer. With its classic design and modern amenities, this trailer will make for an interesting addition to any family's collection of vehicles.
Winnebago Solis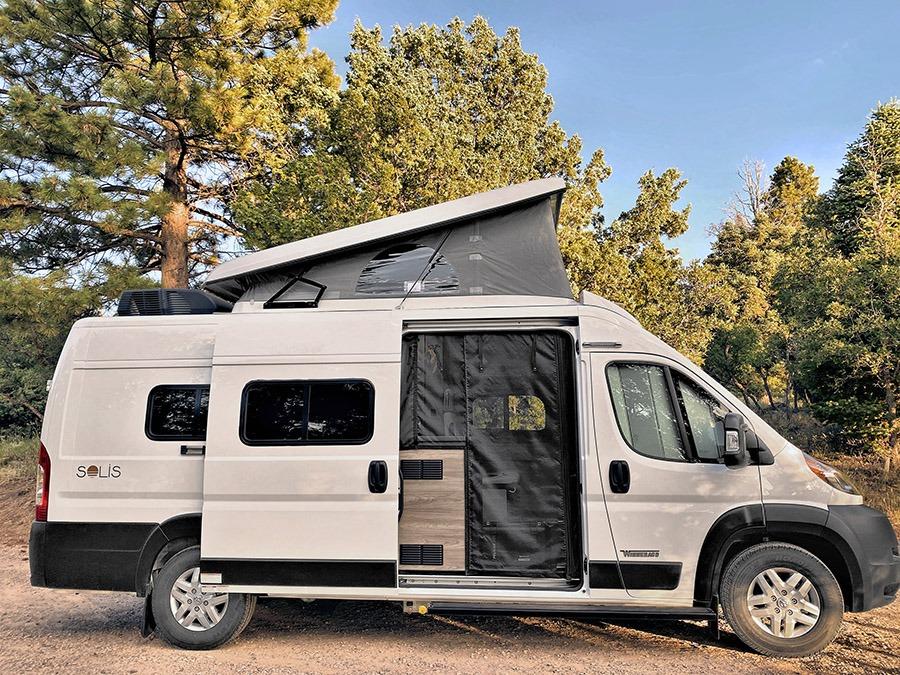 | | |
| --- | --- |
| | |
| | |
| | |
| | |
| | |
| | |
| Range (Miles per Charge): | |
| | |
Winnebago is one of the most trusted RV brands out there and their 2020 Solis model is a great-sized converted campervan.
With its price tag of about 107,000$, the van is well equipped with a reconfigurable bed, a pop-up roof for space, swiveling seats, full insulation in the walls, and beware: a heated bathroom. Yes, you heard that right.
Whether you are looking for short weekend trips in the wild or a longer living in a campervan, this vehicle would serve your purpose well.
And if you are looking to convert about any other model of van, I'd suggest you use specialized software that lets you build the layout of your dreams.
A tool that I've found super useful is VanSpace 3D and you can read my review here.
If you want to check some cool conversions that you can make to your van today, check out the gallery below.
Winnebago solis is most suitable for:
The Winnebago Solis is the best van choice for people who are looking for a small, versatile vehicle to get around town. With its manageable size and easy-to-use controls, it's comfortable for drivers of all ages and abilities.
It's also great for anyone who wants to travel in style with a luxurious interior that offers plenty of space for passengers, their luggage, and whatever else they may need on their trip.
Ford Transit Van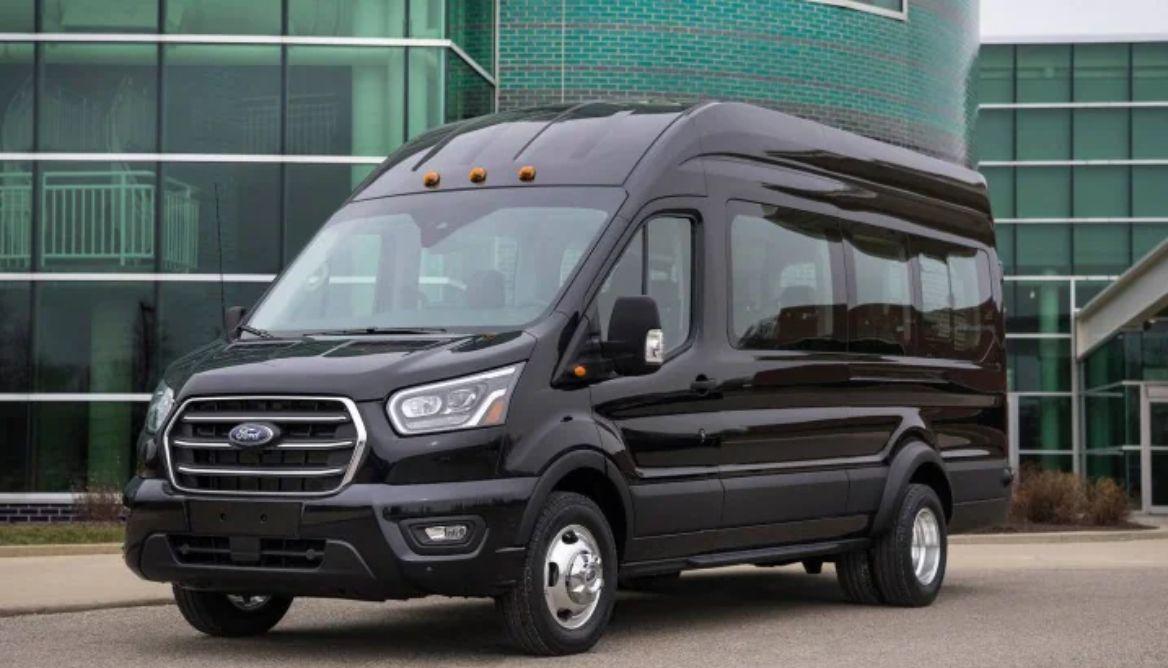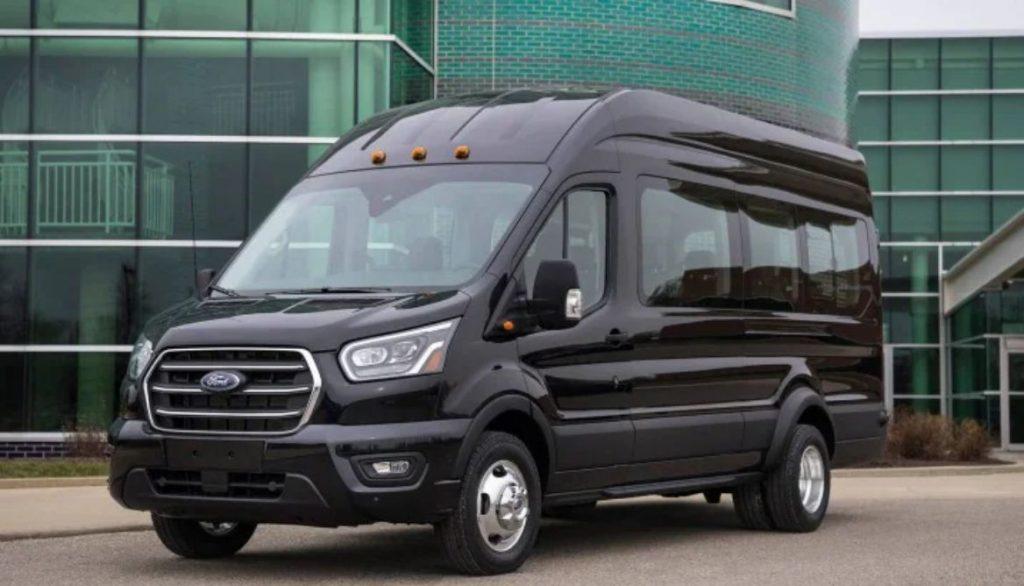 | | |
| --- | --- |
| | |
| | |
| | |
| | |
| | |
| | |
| Range (Miles per Charge): | |
| | |
The Ford Transit Van is a full-size van with a high roof. The ford transit was first produced in 2000, and it has been continuously improved in terms of reliability and quality.
The Ford Transit Vans come in various body styles, including a luxury version called the MKT.

While the ford transit popularity has declined, the Ford Transit Van Conversion remains one of the most popular vans on the market today due to its durability and versatility.
The Ford Transit has a large body with two rows of seats that can seat up to nine people. The floor of the ford transit van conversion can be easily removed from the frame, making it easier for drivers to load and unload cargo.
Ford transit is most suitable for:
The Ford Transit is great for those who need a reliable van for hauling. It can hold up to 12 passengers and has a maximum weight capacity of 8,000 pounds. The best part about the Ford Transit is that it has a large storage capacity in the back, which makes this vehicle great for families or small groups of people who need transportation.
If you're looking for a van that can easily handle your family's needs, then the Ford Transit would be the one to go with. The Ford Transit is extremely durable and versatile enough to serve as their main mode of transportation while they are out on adventures around town or even just around town.
Ram Promaster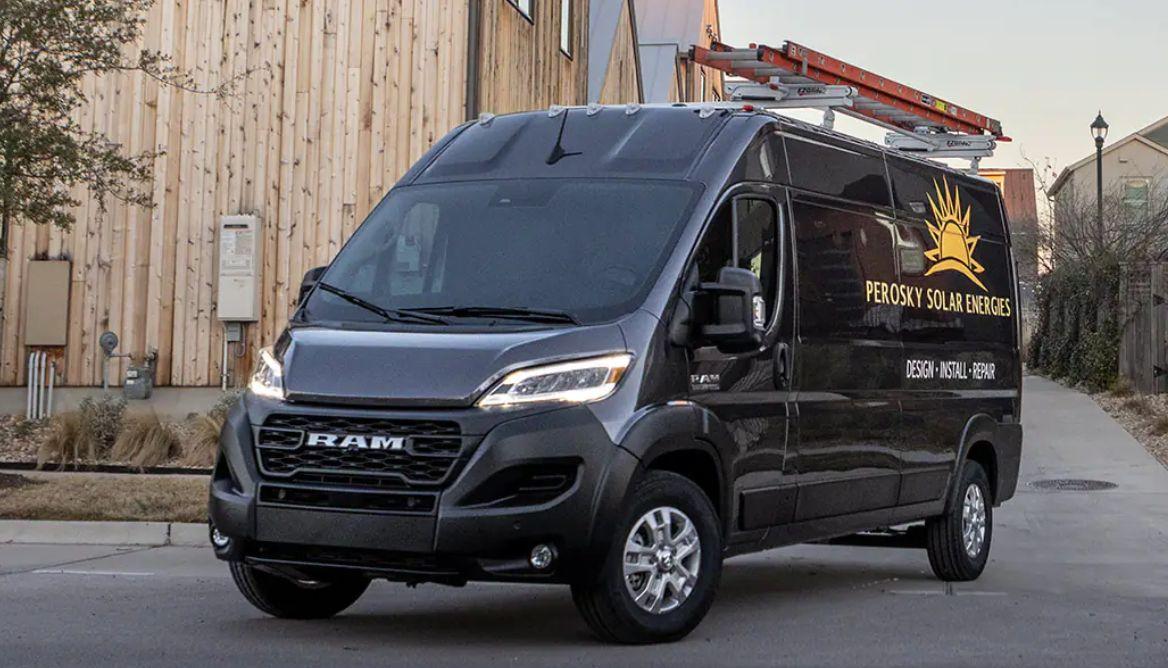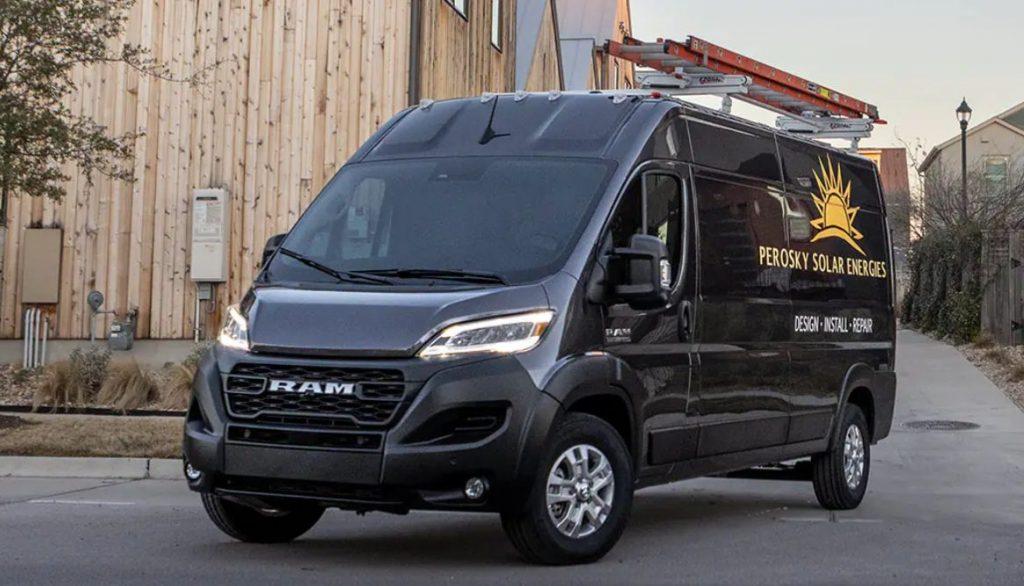 | | |
| --- | --- |
| | |
| | |
| | |
| | |
| | |
| | |
| Range (Miles per Charge): | |
| | |
The Ram ProMaster Van Conversion is the perfect vehicle for families who want to get around town without worrying about space—and it's even got enough room in the back for your pup to enjoy a ride without having to worry about being confined to a crate.
The Ram ProMaster Van Conversion is available in three trim levels: Base, SXT, and SLT. The base model starts at $28,000.
Ram Promaster is most suitable for:
Ram Promaster Van is one of the best box vans to convert for those who love to go fast. It has a top speed of 225 km/h and can reach 0-100 km/h in just 2.8 seconds! This makes it ideal for people who want to drive in style and make a statement on their way to work, or out with friends on the weekend.
The Ram Promaster is the perfect van choice for anyone who needs to haul a lot of cargo. It's spacious, comfortable, and has so much space for your gear with added high roof.
Nissan NV Cargo Van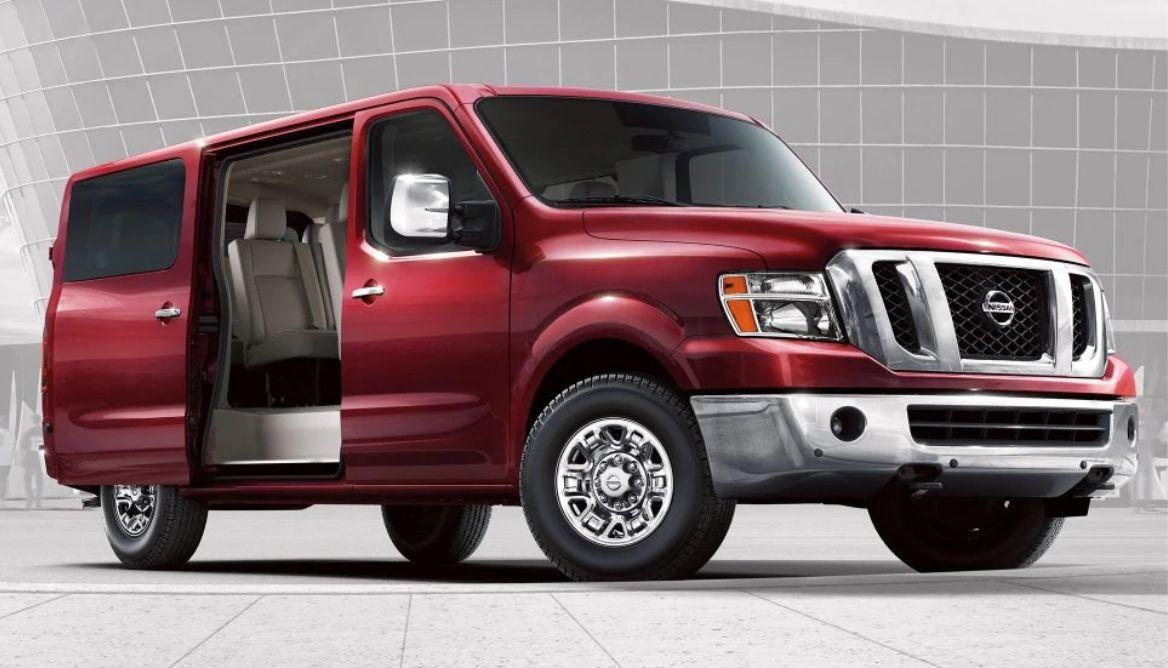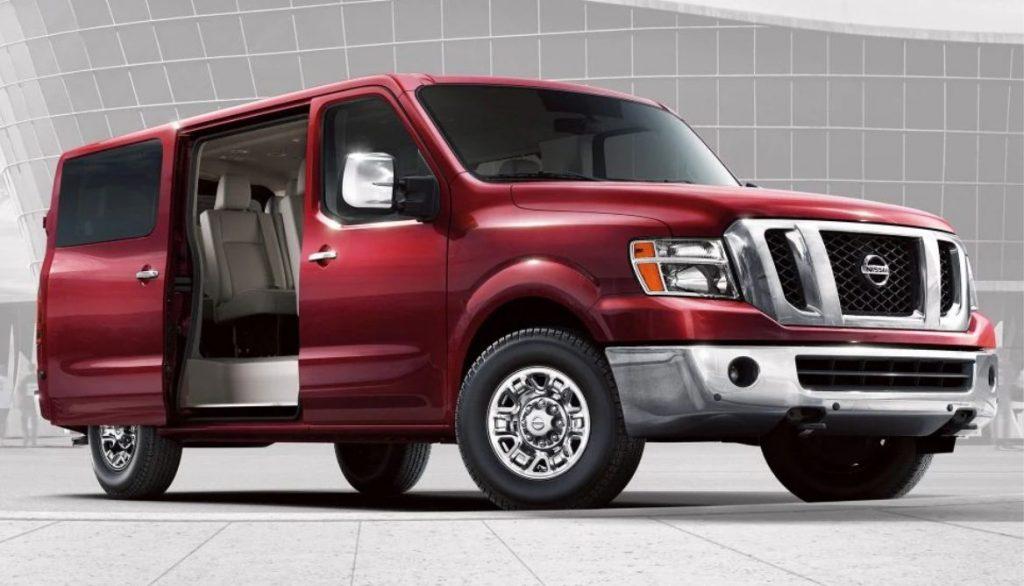 | | |
| --- | --- |
| | |
| | |
| | |
| | |
| | |
| | |
| | |
| Range (Miles per Charge): | |
| | 5.6-liter Endurance® V8 gas-powered van engine |
Nissan NV Cargo is a vehicle with a cargo van body style, available in four trim levels—S, SV, SL, and Platinum. The Nissan NV Cargo Van offers seating for up to eight passengers and has a maximum towing capacity of 1,000 pounds.
The Nissan NV Cargo Van can be equipped with a DVD player, navigation system SiriusXM satellite radio Bluetooth hands-free calling Bluetooth audio streaming audio-visual system USB port auxiliary input jack HD Radio rearview camera rear parking sensors Heated front seats heated rear seats power driver seat power passenger seat dual zone automatic climate control manual folding split rear bench heating/cooling powered memory seat power adjustable pedals.
Nissan NV Cargo is most suitable for:
The Nissan NV Cargo Van is the best van for the camper who's looking to haul cargo, whether that's transporting household items or hauling construction materials. This van has a maximum payload capacity of 1,500 pounds and an average fuel economy rating of 11 miles per gallon.

This van can be used for many different purposes, including moving heavy objects, transporting people and their belongings, or even carrying animals. The Nissan NV Cargo Van has a maximum cargo load capacity of 1,500 pounds and offers six passenger seats.
GMC Savana Cargo Van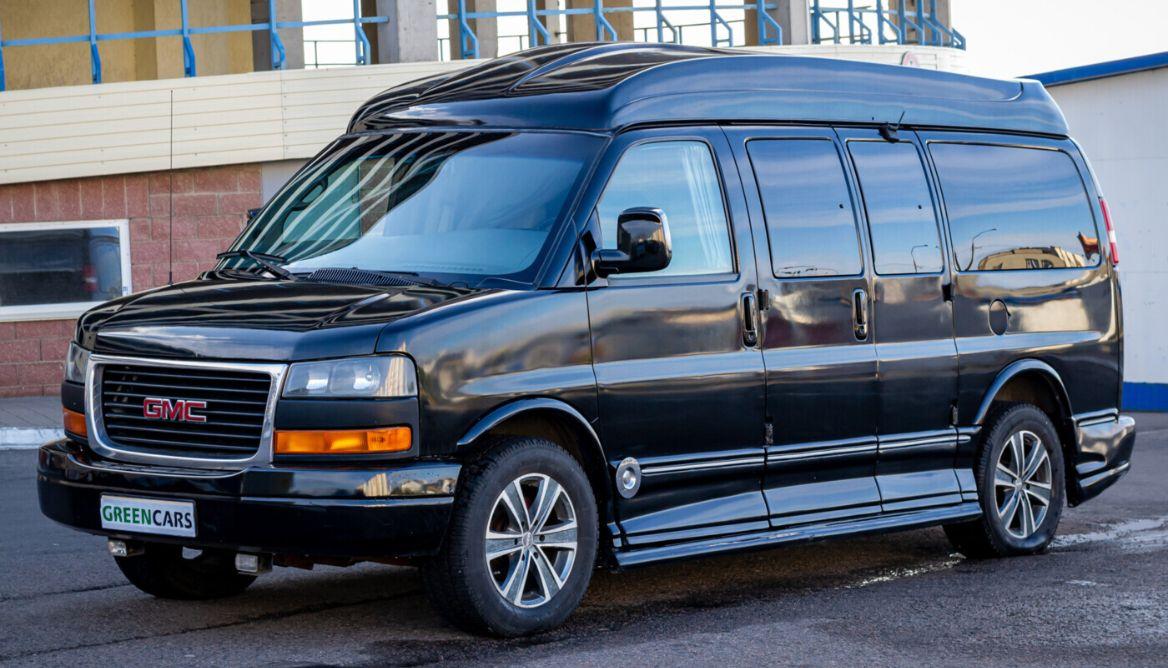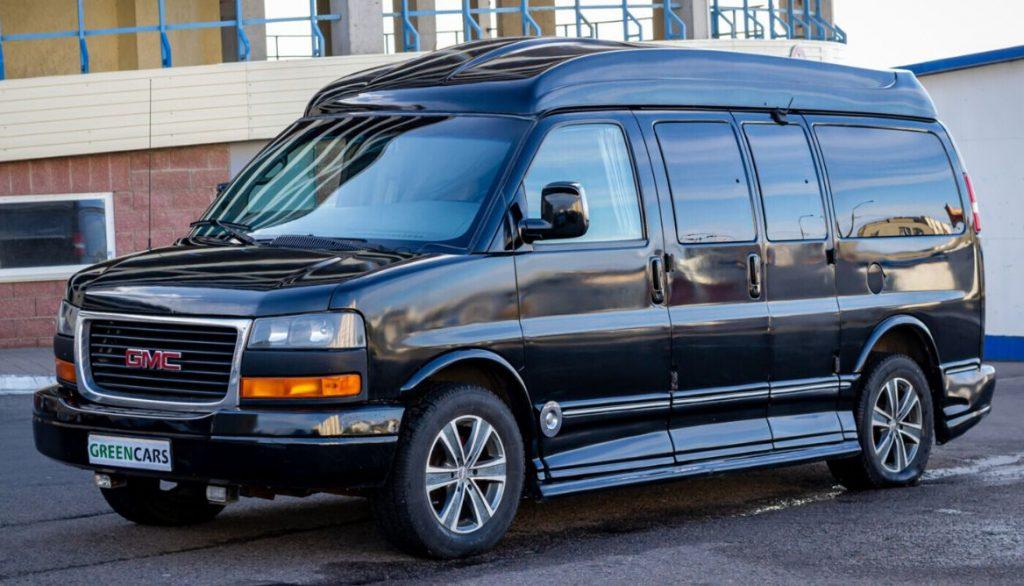 | | |
| --- | --- |
| | |
| | |
| | |
| | |
| | |
| | |
| Range (Miles per Charge): | |
| | 5.6-liter Endurance® V8 gas-powered van engine |
The 2020 Savana Van is a great option for those looking for a minivan that can carry their entire life's treasures. With its V8 engine option and affordable van pricing, this van is sure to be a hit for parents who want to save money by not having to spend big on a car for their kids.
The reason why you should consider buying this vehicle is that it has many great features that others don't have. For example, you can go up to 12 miles per hour in first gear, which is pretty fast! Also, it has four-front-wheel drive, which means it can handle any terrain or weather that you might encounter while traveling on the road—including snow and ice!
The Savana Cargo Van features a comfortable ride with adjustable seats and air conditioning. You'll be able to comfortably ride along in this vehicle with your family, pets or friends!
Savana cargo is most suitable for:
You're probably wondering, who is the GMC Savana Cargo Van best for?
Well, first off, it's a great van for anyone looking for a practical and cost-effective vehicle van. It's also ideal for people who don't need to haul around tons of stuff, but want something that can hold up to the rigors of daily use.
It's a great choice for families with children, as it has enough room to fit two car seats in the back seat. The cargo area is also large enough to store all the things you might need from home on your trips.The Savana Cargo is a great affordable van for small business owners. It's easy to maneuver and has a lot of storage room.
Volkswagen Crafter Panel Van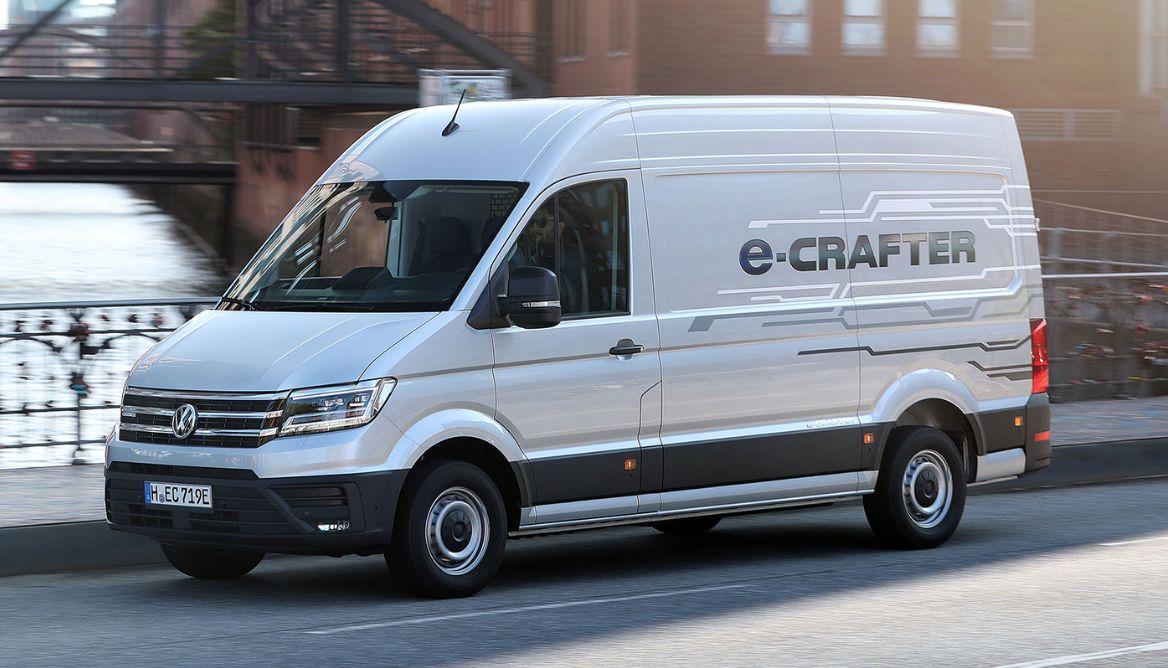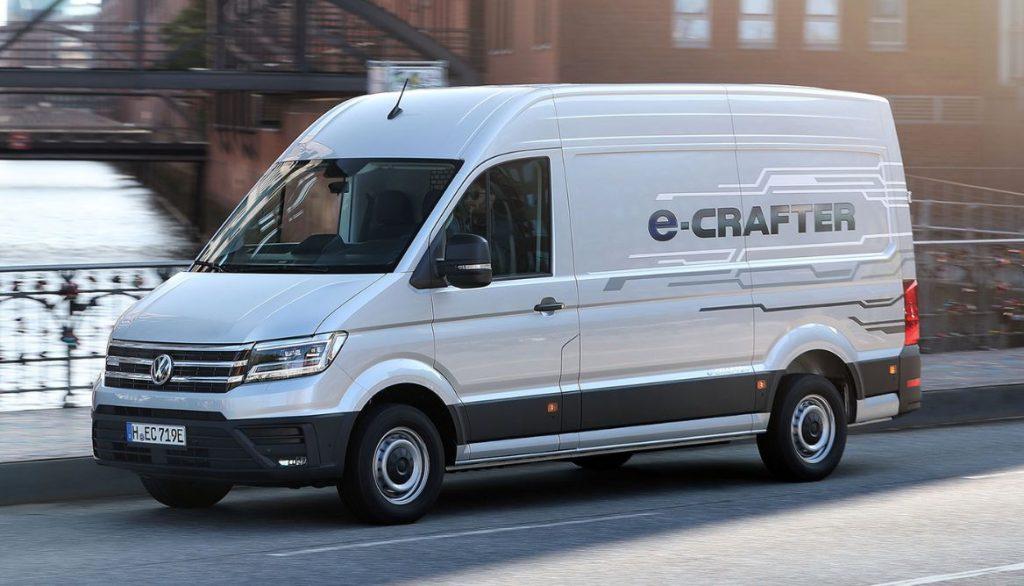 | | |
| --- | --- |
| | |
| | |
| | |
| | |
| | |
| | |
| Range (Miles per Charge): | |
| | |
The Volkswagen Crafter is a brand-new panel van for your company. It's got all the amenities you need to get the job done, and it can be customized to fit your needs.
The interior is spacious enough for even the largest loads—the common floor space measures 192 square feet—and has plenty of storage behind the seats: up to 12 cubic feet of space on each side of the cargo area (that's 72 cubic feet total).
The Crafter is available in three trim levels: Base, S, and VR6. All have a diesel engine. The Base model gets 40 mpg on the highway; the S gets 42 mpg, and the VR6 gets 44 mpg.
The Volkswagen is most suitable for:
The Volkswagen Crafter Panel Van for the camper is best for people who are looking for a reliable, safe ride.
It is built to last and can take a beating without breaking down. The seats are comfortable and provide good support while driving. The windows all roll down easily, and there are two doors on each side of the vehicle which makes it easy to get in and out of the vehicle when you need to.
Things To Consider Before You Buy Van Conversions
If you're thinking about buying a van conversion, there are a lot of factors to consider. First of all, you need to know what you're getting into. Is it worth the money? How will it fit in with your lifestyle? Will it be warm enough for winter camping?
If you have an old sprinter van that needs some work, or if you have the money for a brand new one, there are some other things to consider:
Expenditure
One of the most important things to consider is price. If you're on a budget, you might want to consider buying an older model that has been well-maintained and customized. This will save you money in the long run because it's likely to be more reliable than newer models.
Capacity Storage
Another thing to think about when buying a sprinter van conversion is cargo space. The more storage space you have, the better! You can fit your groceries on one side of the sprinter van, and your luggage on the other side for easy access.
Size does matter
Another thing to consider is the overall size of the vehicle. You'll want it to be large enough than a smaller van for everyone in your family so that everyone can have their own space at night or when they're sleeping—but not too large so that it takes up all of your driveways!
Motor Engine Specs
The engine of your sprinter van conversion will be the most important aspect to consider when deciding on a vehicle. This is because it has a significant impact on the performance and fuel efficiency of your vehicle.
If you are considering converting an older model car, then you should opt for a more powerful engine. However, if you are looking to purchase a more modern model, then you should look at the fuel efficiency that it offers.

Planned Usage
Another factor to consider when purchasing your van conversion is its intended use. The type of van living that you intend to undertake will determine which type of engine would be suitable for you. For example, if you are planning on traveling long distances, then you may want to opt for an engine with low fuel efficient van because this will save money on petrol costs over time!
Essentialities
Camper van conversion is a great way to travel and have a great time. But before you go for one, there are some factors you need to consider.
Does it come with all the essentials? Do you need to buy extra accessories and parts?
Restoration ease
How easy are repairs for this type of vehicle? Are there any special tools needed for them? If yes, which ones do you need or should look for?
Brand value
Is it known for being reliable or not? What is its track record like in terms of problems experienced by previous owners?
Dealership web
Do they have an established dealership network that can provide you with all the necessary information regarding this type of vehicle van conversion as well as after-sales service options available in case something goes wrong with yours during your ownership period
Power Efficiency
You'll want to make sure that any camper van conversion you buy has at least 100% of the efficiency of an equivalent full-size vehicle. This means that it has all the amenities of a regular van—including air conditioning and heating/cooling—but also includes everything necessary for running as well as possible on the road.
For example, if your sprinter van is only capable of operating on 2 cylinders at once, then a camper van conversion will not be able to run efficiently enough on three!
Chasis
The drivetrain should also be considered when purchasing a camper van conversion. If you're looking to replace a standard transmission with something more advanced (like an automatic one), then make sure that your new model can handle it!
Should you buy a new base vehicle or a used van to convert your camper?
When you're looking for a camper van conversion, it's important to consider what type of vehicle is going to be best for you
There are two types of van conversions: used and new.
Used van for camper
If you're buying a used cargo van for camper, it will have been previously owned by someone else. This means that it may not have the same care as a new car or truck would have, so you'll probably want to make sure that the vehicle hasn't been in an accident or anything like that before buying it.
If that's not possible, ask some questions about the history of the car—you might even want to check online with Carfax to see if there are any reports of accidents or claims filed against the owner or previous owners before making your purchase decision.
New Cargo vans for camper
The other option is buying a new passenger van from your local dealership, but this does mean that you take on the responsibility of maintaining the vehicle yourself for its entire life expectancy (which could last many years) and paying for repairs when necessary.
Should you do DIY Camper Conversion?
Whether you're an experienced DIY conversion enthusiast or a novice, there are some important things to consider when choosing to do a camper sprinter van conversion on your car. Here are some pros and cons to help you decide whether or not it's for you:
Pros:
Customize the interior of your own van as much as you want.
Make van conversion fit your style!
Cons:
More expensive van than buying other vans
Need to find someone to do van conversions,
Why You Should Hire a Professional Van Conversion Company:
Pros
Get the same quality vehicle for less money.
More options for customizing your vehicle.
More information about the van conversion process
Cons
May not be able to get your vehicle back in the same condition
Best DIY Campervan Conversions Gallery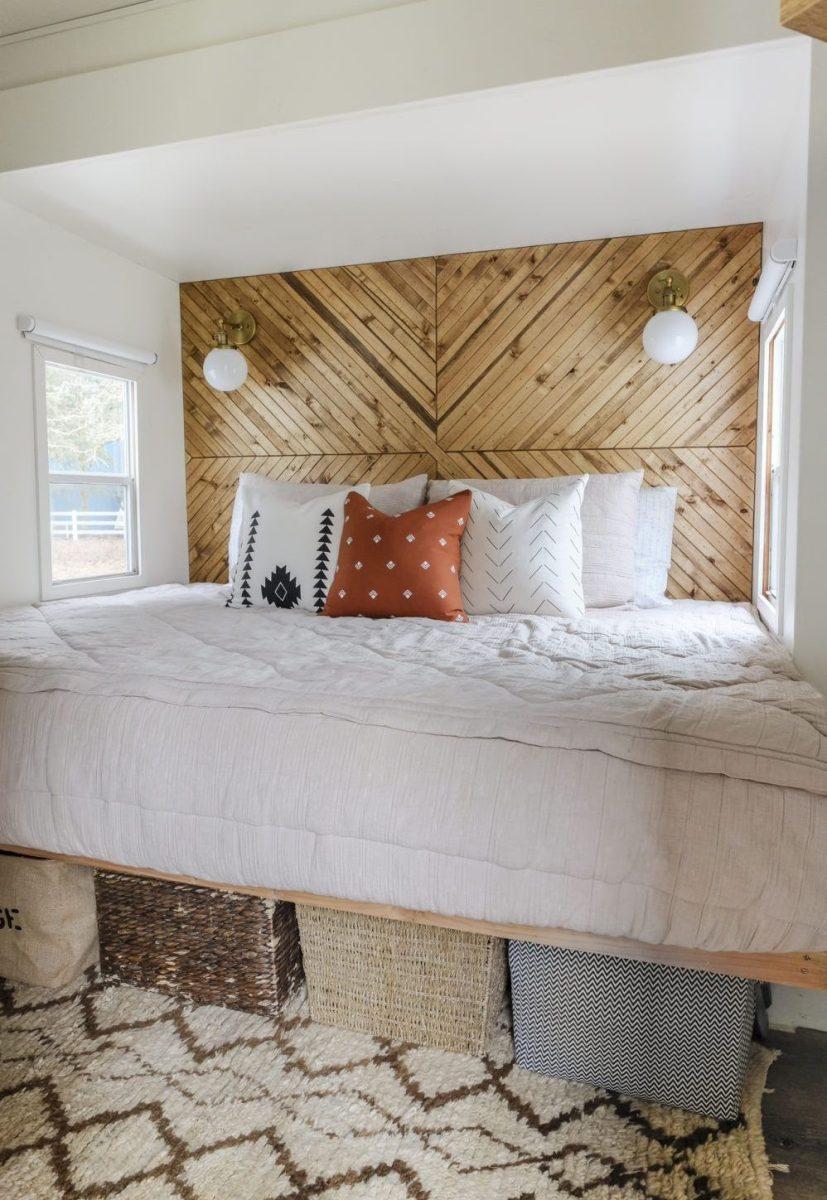 The Ford Transit 12-passenger van rental is the ideal option when you want a lot of room at a reasonable price. Obviously, it is extremely risky to buy any car unseen.
If you're working with a more compact vehicle, their off-road trailers are a fantastic way to cultivate space when maintaining ultimate terrain and traveling flexibility.
FAQs
What is the Average Cost Of A Van Conversions?
The average cost of a DIY van conversion is $16,000.
This figure includes the cost of buying a van, which can cost between $4,000 and $6,000; the cost of a van conversion into an RV; and the cost of licensing and insurance.
It also includes other expenses such as gas and maintenance.
What type of van is best for conversion?
The van you choose for van conversion is going to depend on a few different things.
First, what kind of van conversion do you want to do? There are lots of different options out there, but they all require some careful consideration.
Second, how much room do you need? If you're looking to house a family or a bunch of friends, then you might want something bigger than a single person could comfortably fit in.
Third, what kind of powertrain does your vehicle have? If it has an engine and transmission, then it's likely that this will be the easiest way to convert your vehicle into a camper conversions unit—you can get just about any engine from any manufacturer and put it into your car or the right van. However, if your car or camper vans don't have an engine or transmission (or if the one it does have is not the best option for van conversion), then you may have to look at other solutions.
How much does a high-top conversion van cost?
The cost of a high-top van conversion depends on the make and model.
If you're looking to buy used high-top camper conversions-sprinter vans, you'll have to budget for parts and labor. You can expect to pay $5,000 or more for a high-top conversion, and if you're buying new, plan on spending between $15,000 and $25,000.
Are conversion vans worth it?
The short answer is yes!
In fact, they're so good that you'll want your business to run on them.
Camper Conversion is a simple way to get your brand noticed in any space, whether it's on the streets or in the office. They're easy to use and can be customized for your brand's message.
Plus, conversion vans are great for small businesses because they have low operating costs and make it easier for everyone involved to get around town.
Is it cheaper to buy or convert a van?
It's cheaper to buy the right van than a van conversion.
Van conversion
Van conversions are generally more expensive than buying a new van (like chevy express cargo van), and that expense gets even higher when you factor in taxes, fees, and other costs.
New cargo van
Buying a new cargo van is usually more cost-effective than converting an old vehicle. However, converting can be an option if you're looking for an inexpensive way to get your family around.
Can you sleep in a conversion camper van?
Yes, you can sleep in a camper conversion cargo vans iftheir rear cargo area isspaciousenough!
What Is the Best Small Van to Convert?
If you're looking for a small van to convert, you should consider these Nissan NV200.
What Is the Best Van to Convert for a Family of 4?
There are a lot of great sprinter vans on the market, but which one is right for you? If you're looking for family cargo vans with plenty of room for kids and gear in the back, consider the Winnebago Solis. This car can fit up to seven people inside and has enough rear cargo area to hold all your gear. It's also easy to drive, which means no stress driving long distances. The only downside? The price is a little high compared to other models.
Is It Worth Converting a Van into a Camper?
A van conversion is a great way to make the most of your RV. For example, it can be used as a camper or even a house on wheels!
Camper Van Conversion Resale Value
The resale value of a camper sprinter van conversion depends on what kind of model you have. For example, if you have an older model with less horsepower, it will sell for less than an expensive model with more powerful engine options. However, if you have an older model that has been well-maintained and well-maintained parts are available for repair or replacement, then it may be worth more than newer models with new features.
Is it Legal to Convert a Van into a Camper?
The short answer is yes, it's legal for cargo vans to convert into campers. There are certain regulations and restrictions that apply, however, so make sure you understand them before going ahead with your camper conversion.
It's Time to Make the Camper Van Conversion of Your Dreams!
Conclusion
We hope you found this guide on the best vans to convert for camper cargo vans conversion helpful. We know there are a lot of sprinter vans to consider when making such a big decision, so we wanted to help you make the right choice.
Now that you've read this post, I want to ask you one last question: What's your favorite type of van for camper conversion? If you like what we've written here, please share it with your friends and family and let us know by commenting below your favorite camper conversion van!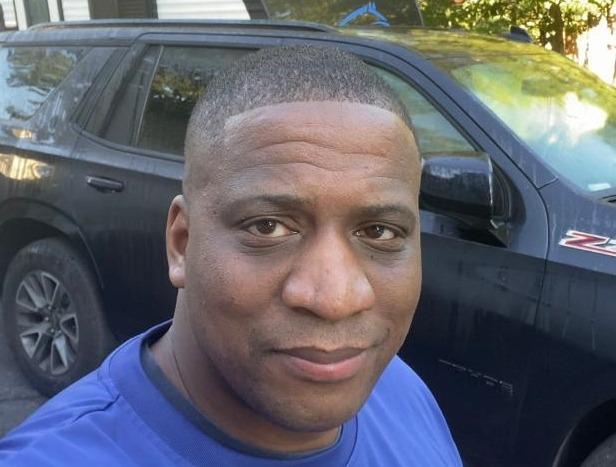 I`m a current Law Enforcement Officer working within the Counterterrorism Bureau in New York State. I have been Camping for over 20 years. My styles of camping include tent, car, truck, van, and RV travel trailer. I have a YouTube channel where I teach all types of camping with an entertaining method: https://youtube.com/@TheSmallsRVAdventures