Vanspace 3D Review: Custom Camper Layout Builder
Van life has become increasingly more popular nowadays. However, if you decided to build your own campervan then you know it is not easy.
But the difficult part comes up when you are customizing your van build.
Campervan builds are slow and a time taking process.
But luckily due to the advancements in technology here is a software called Vanspace 3D that will make things easier for you.
Using it will help you visualize your van conversion ideas. It allows you to create the floor plan of your dream RV.
Use Vanspace to make changes, test conversion ideas, see how the changes affect the space, and make the campervan of your dreams.
Vanspace 3D Review
Vanspace 3D is an easy-to-use 3d modeling software that gives you complete freedom to build stunning van designs in just a matter of minutes.
It doesn't require any design experience as you just need to select and drop components from the list wherever you want.
Depending on the size of your van you can easily customize the size of the items.
Features of Vanspace 3D
Vanspace 3D comes with a plethora of features and items.
It has 170+ templates of popular van models.
500+ resizable furniture and other components.
Many design textures and colors.
Custom van generator that helps you to recreate any van or camper floor plan.
Unlimited floor, walls, and space design possibilities.
Simple drag and drop method which is easy to use.
The first-person view gives you an in-van feeling.
Apps are available for both Windows and Mac.
Create exportable designs with accurate measurements.
When starting to build your van, we suggest you make a list of big objects that you need to include and start with them.
The list may include items and spaces such as:
Fridges/Refrigerators
Stove
Sink
Propane Tanks
Mattress
Shower and toilet
Storage spaces
Accessories
Etc
If you need more information on the topic check this article:
How Much Does Vanspace 3D Cost?
You can purchase Vanspace 3D software for just $37 and this will give you unlimited access for one year.
In addition to this, you will get 170+ van templates, unlimited van designs, 500+ furniture, and other components, and one year of free software updates.
With all these benefits you may be thinking of purchasing this software with lifetime access. For that, you just need to pay an additional $17.
That's all. You will get lifetime access to this software. With a lifetime purchase, you will get some more benefits.
Ultimate budget tracker calculator.
$4984 van build revealed.
Tips from fulltime van lifer.
You can download pre-designed van layouts.
Get access to Vanspace Facebook Community.
How to use Vanspace 3D software?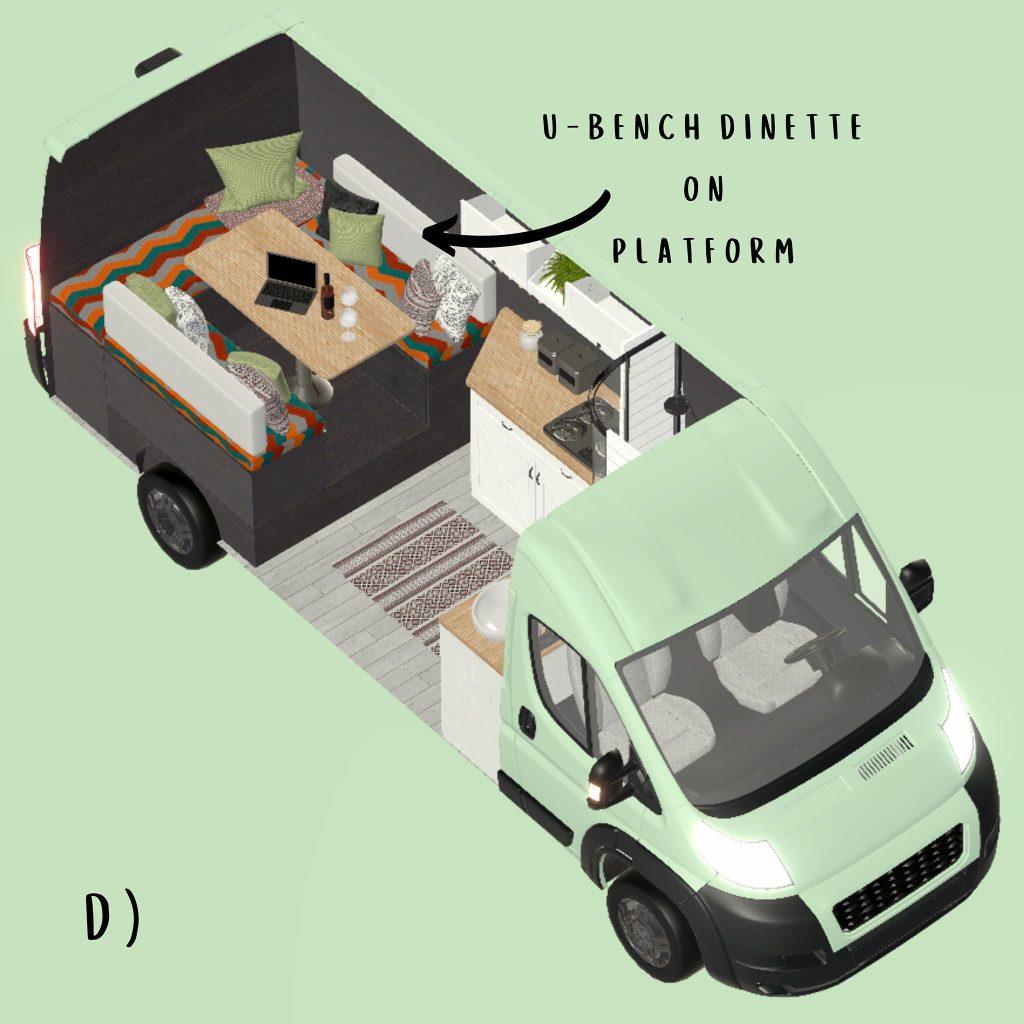 We have already mentioned that this is an easy-to-use interior design software that uses a drag and drop method.
The difference between Vanspace and other similar software like Sketchup is that Vanspace is made exactly with van conversion design ideas in mind.
They have 100+ different templates of popular van models like Ford Transit, Mercedes Sprinter, etc. And they continue to add more over time.
Here are some steps you need to follow to build your custom build by using Vanspace 3D software.
Firstly select your van type. There are a lot of templates available. You can choose one from them.
This software comes with pre-made components like furniture, beds, kitchen, electrical equipment, etc. Drag and drop the required item.
Change the size, texture, and design of the components if you want. This will give you a complete visual of your van.
Once done move to first-person 3D view so that you can check for any hidden spaces and make adjustments accordingly.
Once all set, download your design. You can even share your design with your friends.
Pros of Vanspace 3D
No experience is needed to use this software.
Simple and easy to use.
Drag and drop method.
You can view it in a first-person view.
Can be used on both Windows and Mac.
Easily download and share your designs with your friends.
A lot of pre-made different designs.
Cons of Vanspace 3D
No free version is available.
No apps for Android and IOS.
Frequently Asked Questions
These are some of the most frequently asked questions when purchasing Vanspace 3D software.
Is Vanspace 3D free?
No, but is pretty affordable. It is only 54$ for the lifetime version.
Is Vanspace 3D worth it?
Definitely. I've personally used it for a campervan conversion and proved to be valuable.
It's very useful to see how actually everything will look when you convert your van to a campervan.
Can I use Vanspace 3D software with my van?
Yes, you can use Vanspace 3D software with any van, bus, or camper. Already there are a lot of pre-made van templates.
Even if you want to design a rare model you can do it just by adding the dimensions in the custom van option.
Do I need an extraordinary computer or laptop to use Vanspace 3D?
There is no need to use fast computers or laptops. You can just use this software on normal computers or laptops.
The Vanspace 3D software developers are trying to release the mobile version soon. If you purchase the latest version of this software you will get a free mobile version when it is released.
Can I use this software on mobile or smartphone?
No, Vanspace 3D software is not yet available for mobile users. Vanspace 3D developers are working to release the mobile version soon.
Do I need any design skills to use this software?
No, there is no need to have any design skills to use this software. Without having any experience you can still build your custom van.
Can I use this software on all operating systems?
This software is available only as a desktop app for both Windows and Mac OS. You can download it and use it.
Conclusion
With all these advantages and features Vanspace 3D is one of the most used software to design custom van builds.
With Vanspace 3D it has become easy to build and design custom builds like never before.
What are you waiting for? Start designing your dream van today by using Vanspace 3D software.
Asen is the owner and main contributor of Camper Life. He is a full-time RV traveler since 2018. He loves camping in nature, fishing, and spending time with his family.
Striving to provide the most valuable information about campers and RVs, he shares everything he learned over the years.
That's why Camper Life is one of the best sources to find information about RV traveling and living.