Top 7 Travel Trailers with 2 Bedrooms
Ever had a family crash in your house on weekends? You must know how it feels when you have people lying down on couches or the floor.
The same can happen in RVs. Whether you are a permanent RVer or an occasional one, you should always be prepared for it. So, RV manufacturers introduced a new type of trailers – the two bedrooms trailers.
They house a dedicated bedroom to hold bunker beds or even another bedroom. Yes, a second bedroom inside the same RV.
Down below is a list of RVs with two bedrooms.
Comparison Table
Trailers
Length
GVWR
Hitch weight
Fresh Tank

Capacity

Gray Tank

Capacity

Black Tank

Capacity

Jayco Jay Flight Bungalow 40BHTS
41'0"
13,000 lbs.
1,660 lbs.
38 gallons.
39 gallons.
39 gallons.
Keystone RV Premier 34BIPR
38' 1"
9,400 lbs.
975 lbs.
43 gallons.
30 gallons.
30 gallons.
Dutchmen Aerolite 284BHSL
37'5″
11,000 lbs.
702 lbs.
52 gallons.
39 gallons.
28 gallons.
Prime Time Avenger ATI 26BK
28'11"
7,488 lbs.
490 lbs.
42 gallons.
34 gallons.
34 gallons.
Forest River Wildwood 37BHSS2Q
39'0"
9930 lbs.
970 lbs.
39 gallons.
30 gallons.
27 gallons
CrossRoads Sunset Trail SS331BH
37'6"
9,735 lbs.
936 lbs.
45 gallons.
60 gallons.
60 gallons.
Highland Open Range Ultra Lite UT2510BH
29'3"
7,400 lbs.
555 lbs.
51 gallons.
29 gallons.
29 gallons.
Best 2 Bedroom RVs
Jayco Jay Flight Bungalow 40BHTS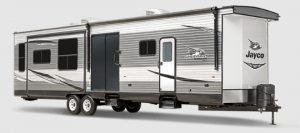 In the list of Travel Trailers, you will always find at least one of Jayco's trailers. That's because Jayco's high-quality trailers manufactured with cutting-edge engineering have proved themselves over the years. One such line of models, Jay Flight, is the best-selling travel trailer in America.
Jay Flight's Bungalow can provide a residential feeling even if you are away from home on vacation. Its dry weight is 10,850 lbs., which is worth all the comfort it provides. It has a hitch weight of 1,660 lbs. You'd need a class V towing vehicle to tow it.
The Jay Flight Bungalow has six-floor plans, and the one we will focus on is the 40BHTS. This is a residential layout with two designated bedrooms. One bedroom on the end of the trailer houses a queen bed of 60×80 with plenty of storing space.
The other bedroom has a sleeping capacity of 6 to 8 people. Between these bedrooms is a bathroom with a toilet seat and a shower.
It has a Magnum Truss roof system. The roof is made of seamless DiFlex II. It is screwed to the body, unlike other RVs where it is stapled, and it is made of thicker wood.
This accommodates to have safer wiring all around your RV and better weight distribution. The interior of this travel trailer is 96 inches high, while doorways are up to 84 inches. An 18 cubic foot whooping refrigerator with an ice-maker is a huge perk in this trailer.
The Freshwater tank has a capacity of 38 gallons. Simultaneously, the Blackwater waste tank and grey water tank have a capacity of 39 gallons. These will last you a few days at least, depending on the number of people staying with you on the RV.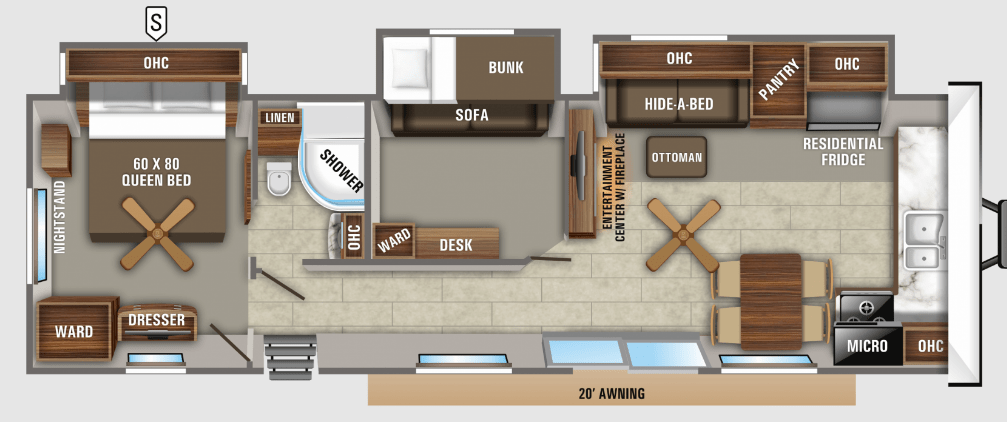 Keystone RV Premier 34BIPR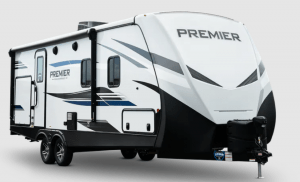 Keystone's Premier line is a luxury travel trailer. It is equipped with vaulted ceilings, a new Max-Depth slide room, and a fiberglass front cap. It is a lightweight trailer with a dry weight of 7420 lbs.
A hitch weight of 975 lbs., which low compared to the luxury it has fitted inside it. You would require either a full-size pickup truck or an SUV to tow it.
The 34BIPR is a housing beast. It has a bunkhouse in the rear. It has two bunk beds on one side, while a sofa on the other with a bunk bed on top of it. The bunkhouse has a mount for tv and storage for clothing and games.
While in the bedroom, there is a walk-around queen-sized bed of 80×60. It has a laundry chute and dual wardrobes. Both of these are equipped with power sockets to charge your electronic devices such as tablets and laptops.
Right after the master bedroom are the bathroom with a shower, sink, and a porcelain toilet seat. The shower is comfortable to use even for a six-foot-tall person.
The porcelain toilet has a foot flush, cornered shelves, and a cornered stainless-steel sink. The bedroom has a private entrance to the bathroom.
In the middle of the travel trailer, there is a 50-inch tv to provide entertainment. Underneath it is a 20-inch electric fireplace. The kitchen tops are made of stainless steel with backlit knobs.
On the opposite is a sink with a kitchen top for extra space.
The Premier 34BIPR has a dream dinette that can be converted into a bed. And there is a theater seating which faces the TV. The whole travel trailer has to store spaces, so you won't have to worry about storing your belongings in the RV.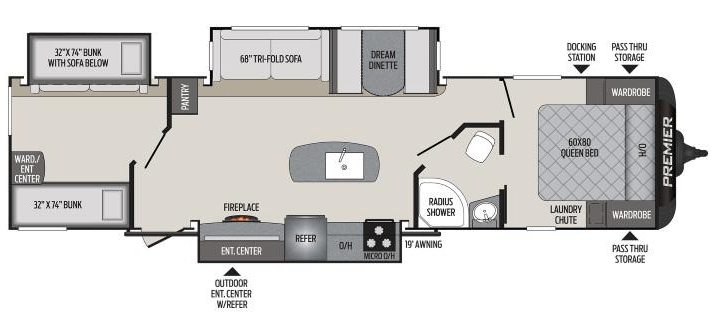 Dutchmen Aerolite 284BHSL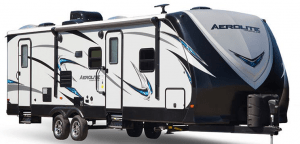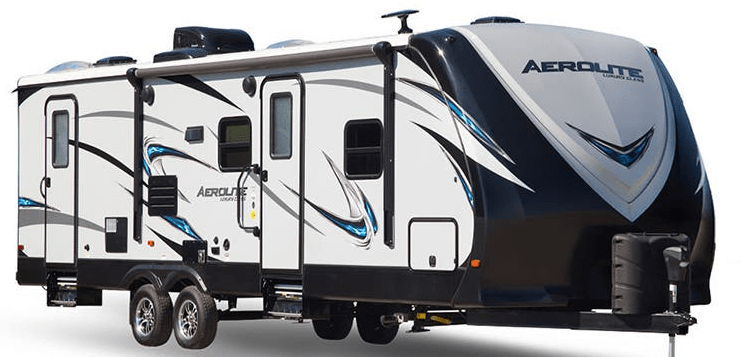 The Aerolite travel trailer line of products is a luxury leader. It is a lightweight trailer with a dry weight of 6,520 lbs. and a payload capacity of 1,080 lbs. Moreover, it has a hitch weight of 702 lbs so that you can tow it with a full-size truck.
It is equipped with tons of features, such as the iN-Command remote operating feature, and it is a touchscreen panel that gives you access to the lights, heater, and water pumps. It is protected by a passcode so that kids can't mess up with it.
The iN-Command can be paired up with a phone app that gives you remote access to all the features. Other than that, the RV is equipped with 4G LTE Wi-Fi.
It has a King-size bedroom on the front side of the RV. It is a 70×74 bed. This bedroom has wardrobe closets on both sides with cabinets on the top. It also houses power sockets for you to charge accessories. Underneath the bed is ample storage space.
The bedroom has a separate entrance, which is useful if you have guests. On the other side are three bunk beds with a happi-jack system. There are three bunk beds with a ladder to climb on the topmost bunk. When not in use, you can lower them all to provide extra space.
Next to the bunk bed is a bathroom. This bathroom has a tub, yes, a tub in RV. In it, you have plenty of space to give a bath to kids. There is a toilet with a foot flush and a sink.
The kitchen or the living room of the RV has a dinette and a sofa. They both can be converted into sleeping beds to provide that extra space.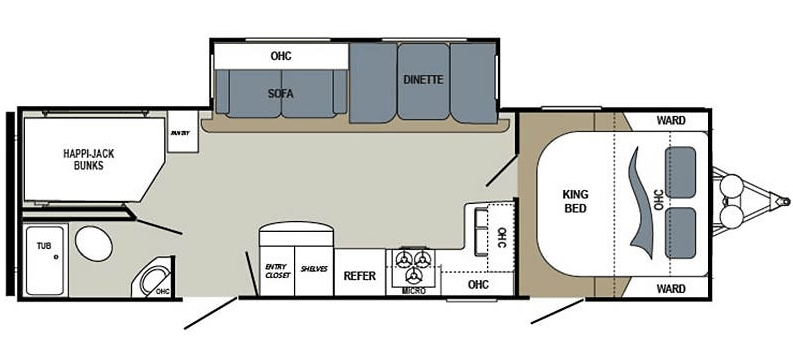 Prime Time Avenger ATI 26BK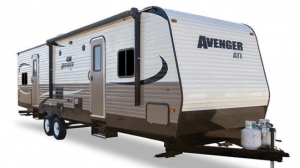 Even though being an unknown RV manufacturer, Prime Time has produced reliable travel trailers. Over the years, they have lodged in the RV business, maintaining their presence. That is why one shouldn't ignore their trailers in huge lineups of Jayco or Forest River.
The Prime Time Avenger's ATI 26BK is a lightweight travel trailer with a dry weight of 4,821 lbs. It has a hitch weight of up to 500 lbs. You can tow it with a half-ton truck.
The ATI 26BK floor plan comes with a master bedroom with a queen-sized bed. The bedroom has mirrored wardrobe closets on both sides and cabinets on top to provide storage space.
On the other side of the trailer is the secondary sleeping space. There are two double bunker beds on the back. Two adults can easily sleep in one bed at a time.
Adjacent to the bunkers is a bathroom with a door. It is a small bathroom equipped with a porcelain toilet with a foot flush and a bathtub. A 42 gallons fresh water tank provides water to the bathroom.
For blackwater waste and greywater waste, there are two separate 34 gallons tanks. It is a moderate size, meaning you won't have to dump the tanks often.
In the living area, there is a leather couch that can convert into a bed with ease. It also houses a dinette, this can also be converted into a bed by lowering the table and putting back cushions. On top of it is a cabinet for storage.
In the kitchen area is a double-door refrigerator. It can run on both electricity and propane. Also, in the kitchen area, there is a three-burner stove. The kitchen has cabinets on top and bottom to store silverware etc.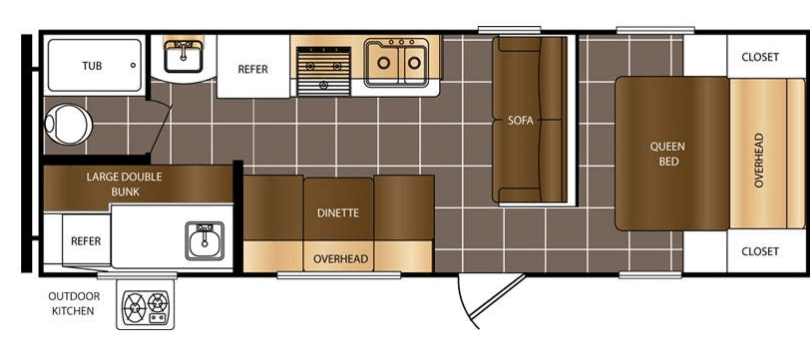 Forest River Wildwood 37BHSS2Q
Forest River has, over the years, lived up to its name. Their Wildwood line trailers have two bedrooms, unlike most other RVs where they jam in a few bunk beds and call them bedrooms.
The 37BHSS2Q has such a floor plan from the Wildwood series. It has two bedrooms on the opposite side with a living area in between.
The Wildwood 37BHSS2Q is a lightweight trailer with an Unloaded Vehicle Weight (UVW) of 7,660 lbs. At the same time, the hitch weight of this trailer is 970 lbs. It can be towed by a ton pickup easily.
Both of the bedrooms, on the front and the back, have a walkthrough queen-size bed installed. It is a 60×80 bed. In the front bedroom, there are wardrobes on both sides with mirrors.
It also has storage space underneath the mattress to hold extra luggage or whatever you want. There are outlets on both walls so you can charge your accessories.
On the other end is the bathroom. The bathroom is spacious, unlike other RV bathrooms. It has a countertop around the sink to hold your items. Not only that, it has mirrored cabinets for medical supplies too.
It has a glass-covered shower to save the bathroom from splashes. And it also has a porcelain toilet with a foot flush. Behind the toilet is another cabinet where you can store clothes.
The bedroom at the back has a dressing table and a private door to exit the RV. In the living room, you got a three-burner stove with an oven and a refrigerator. On the other side is a dinette that can convert into a bed. And a sofa that they call a versa lounge which can convert into a lounge sofa too.

Crossroads Sunset Trail SS331BH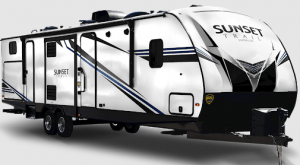 The Crossroad RV is known for its larger bedrooms and complete kitchen sets. When compared to other trailers, they are lightweight and weigh from 4,000 lbs. to 8,000 lbs. One such model from Crossroad Sunset Trail is the SS331BH.
It has a dry weight of 9,735 lbs. and a hitch weight of 9,36 lbs. If you got a one-ton pickup of a full-size SUV, this travel trailer could be towed by them.
The one thing that makes the SS331BH unique is that it has not one but two bathrooms. One is on the front side that is between the living area and the Master bedroom. Whereas the other bathroom is placed adjacent to the bunker room at the back.
First, we'll talk about the living area of the RV. It has an entertainment center on one corner with a TV and an electric fireplace underneath it. This fireplace provides a cozy feeling in the RV. The kitchen has a 7 cubic feet double door refrigerator. A three-burner stove with backlit knobs.
It has a centered sink with extra countertop space. The living area has a dinette that can convert into a bed and a TV-facing sofa to give that theater experience.
There is a King-size bedroom at the front, which has access to the bathroom. The bathroom has a porcelain toilet, a sink, and a glass shower. The bedroom on each side has two mirrored wardrobes and storing space underneath the mattress.
At the back of the RV is a dedicated bunkroom. This bunker room has two bunk beds on the opposite walls and a sofa on one side. The bathroom adjacent to that bedroom houses a porcelain toilet and a sink.

Highland Open Range Ultra Lite UT2510BH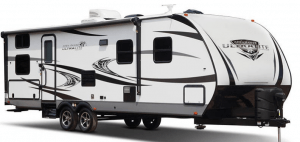 Highland is a sub-brand of Jayco whose assets were purchased in 2014. Even though it is a part of Jayco, it handles manufacturing, warranty, sales, marketing, etc., on its own. Highlander RVs are known for their formula of more room and less weight.
The Open Range Ultra Lite UT2510BH is a spacious travel trailer that can house up to eight people. It achieves that with the help of a bedroom on the front side, a bunkhouse, and a U-shaped convertible dinette.
Even though the trailer is roughly 29 feet long, it fits a queen-size bed. The bedroom has a unique sliding door so that you can access it from both sides.
This is useful as it isn't a walk-around because of the low space. The bedroom also utilizes space by providing storage space underneath the bed. It also has cabinets on both sides.
The living room has a 39 inches TV with an entertainment center, and here's where you will find the convertible dinette. It is a U-shaped dinette that is wide enough so that you can fit in it all the way through.
The table can be lowered to convert it into a bed. The stove has three burners with exhaust on top. An oven is there if you love baking. The kitchen and living room have enough space to house all your everyday items. It also has an 8 cubic feet refrigerator with a freezer.
On the back, you will find a bathroom with a porcelain toilet seat. It also has a bathtub where even your kids can bathe. It also has a sink with a medicine cabinet. This bathroom connects the trailer with the bunkhouse at the back.
The bunkhouse has two large-sized bunks beds. This bunkhouse has its closet to store toys and shoes for your kids.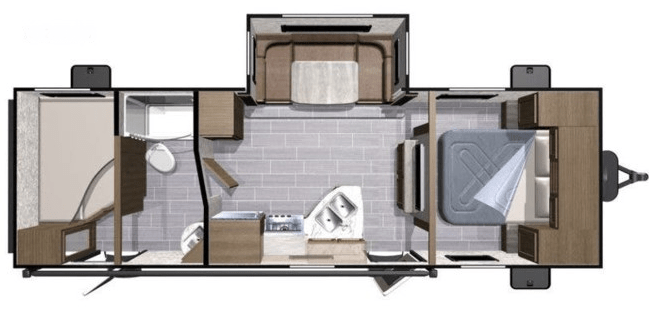 Pros and cons of travel trailers with 2 bedrooms
Pros:
Travel trailers with 2 bedrooms provide a lot of space, such as 2 bathrooms and a common living room. All that makes it perfect for a family or a big group of traveling or camping.
It provides a lot of space to store stuff as slide-outs are provided.
You can have a large group of people up to 8 to stay in the RV at once.
Travel trailers with two beds have complete packages like a complete kitchen and bathroom with a shower and a sink.
Cons:
As a travel trailer with 2 bedrooms is more significant than usual RVs, it can cause many issues to park it at some places.
You may have privacy issues if you have many people to stay with.
FAQ
Is a bunkhouse counted as the second bedroom in a camper?
A true second bedroom is considered a luxury in campers because it takes extra space. Therefore, RVs with a bunkhouse separated by their door are called two-bedroom RVs. The door adds extra privacy for residents that are staying in both bedrooms.
Are there campers with two bedrooms and two bathrooms?
Yes, like a two-bedroom travel trailer, there are two bedrooms and two-bathroom trailers. The Crossroad Sunset Trail SS331BH is an example of this type of camper. Although it does not have complete bathrooms with all accessories, it completes the two bathroom mark.
Are there RVs with 2 queen bedrooms?
Yes, there are RVs with 2 Queen Bedrooms. One notable RV is the Forest River Wildwood 37BHSS2Q. It houses two bedrooms, one at the front and one on the back. Even then, it doesn't fail to provide other accessories such as a complete kitchen and entertainment center.
Conclusion
Modern RVs have many features to provide you comfort. One such is a two-bedroom feature. It is quite useful if you have guests to stay with. These travel trailers mentioned above have all sorts of secondary sleeping spaces.
They either have a dedicated queen-size bedroom like the Forest River model or a dedicated bunkhouse like the Highland Open Range and Keystone's Premier travel trailer. The manufacturers make sure that you get all the benefits even with extra space.
We hope you are satisfied with the above-provided reviews on RVs and can find the one that fits your needs.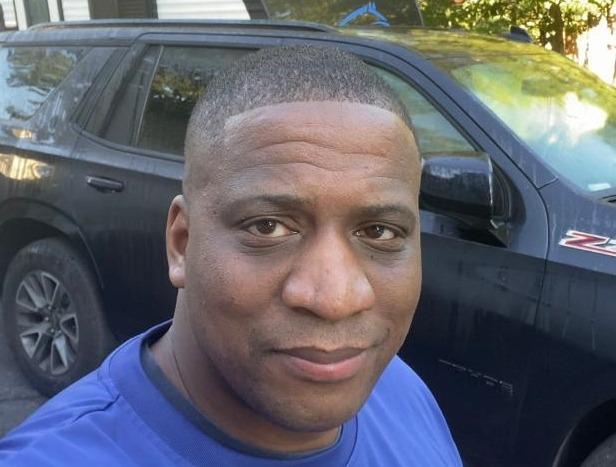 I`m a current Law Enforcement Officer working within the Counterterrorism Bureau in New York State. I have been Camping for over 20 years. My styles of camping include tent, car, truck, van, and RV travel trailer. I have a YouTube channel where I teach all types of camping with an entertaining method: https://youtube.com/@TheSmallsRVAdventures