5 Best Front Living Room Fifth Wheels
RVs have come a long way from their conception in the early 20th century. For people with an adventurous spirit, they have been an ideal invention of the modern age. With the ability to call anywhere home, an RV can truly make the world one's oyster.
When the RV has a front-facing living room, there is maximal space upon entrance. It leaves plenty of room for privacy in the back. Whether you choose to set up a private sleeping area, reading corner, or a mini gaming arena there, the decision is entirely up to you.
Whatever the case, the common living area, like that of a traditional home will always be found upfront in such RVs. So, along with taking your home with you on adventures, you can make friends and bring guests too.
Finding a fifth-wheel RV without breaking your bank balance is a daunting task. We have scoured through the internet and compiled a review of the best front living room RVs for you to choose from.
Which are the Best Fifth Wheels with Front Living Room?
Heartland Landmark Lafayette
The Lafayette is a luxurious RV to make a home away from home. Upon your first step, you enter into a spacious living area featuring a 55-inch or 65-inch flat-screen tv.
The sofas have built-in heating, massage, and reclining features to give you extra comfort. While they recharge your travel batteries, they can also charge your phones and gadgets via USB ports.
The fifth wheel has full HVAC features along with a heated water tank, so you never go too hot or too cold. When you combine the sofas' capacity with the king-size bed, you can easily host up to 6 people into this RV.
For entertainment, you get a home-style DVD player, radio, and Bluetooth compatibility built-in. The RV also comes ready for Wi-Fi connectivity if you subscribe to a service provider.
Along with its front living room, this fifth wheel also comes with five-star attention to detail. It has walk-in closets with cedar-wood lining and slow-closing drawers. Even its AC is designed to operate quietly.
For more homely facilities, Heartland has loaded the RV with a cordless vacuum and a washer-dryer. It also has low-level nightlights to help you and your family get a good night's sleep.
The fifth wheel comes with a master-control switch like those found in high-end hotels. It can help you control the vehicle's lights, slides, water heater, and tank monitor.
If you're one for the view, you will enjoy the dual-panoramic windows in the RV's main slide. The luxury-lover in you will also appreciate the spa-style feel of the bathrooms. They feature perks such as marble-like showers and teak wood seats.
All in all, the Lafayette is an all-around favorite you can't go wrong with. For a safe bet on a fifth wheel with a front living room, this is a solid choice.
Keystone Cougar 25RES
The Keystone Cougar is an all-around fan favorite. Though petite, its layout is the perfect example of a private and premium fifth wheel with a front-facing living room.
Upon entrance, you walk right into the living area. To your right is an elevated corridor that leads to a bathroom, and later the bedroom.
In the living room itself, you have a separate dining booth for memorable mealtimes. Next to it is the 68″ sleeper sofa, facing a respectable entertainment system.
You get a large screen TV and the option to add a fireplace. You also get hidden and visible storage space for convenience on long trips.
The bedroom comes with a cozy queen-size bed and spacious wardrobes. It is completely secluded to give you better comfort and privacy.
The RV also comes with an outdoor grill area, making it perfect for food-lovers and summer campers alike. The latter will also appreciate its fridge, microwave, and extra sink in the living area. If you like to cook on the go, you will also love the kitchen area's convection oven.
Overall, the Cougar can host up to 5 people, which makes it perfect for small families. Additional options can add features such as standing dining areas and theater seats.
The RV's front-facing living room is benefitted by its panoramic windows. You get an excellent view of the landscape and surroundings, as well as an abundance of sunlight.
The fifth wheel also comes with water heaters and air conditioning, so it can accompany you on warm and cold vacations alike. Its wooden interior will make you feel at home no matter where you are.
All things considered, Keystone's Cougar is an excellent pick for a fifth-wheel with a living room upfront. It guarantees privacy and comfort and is trusted by thousands.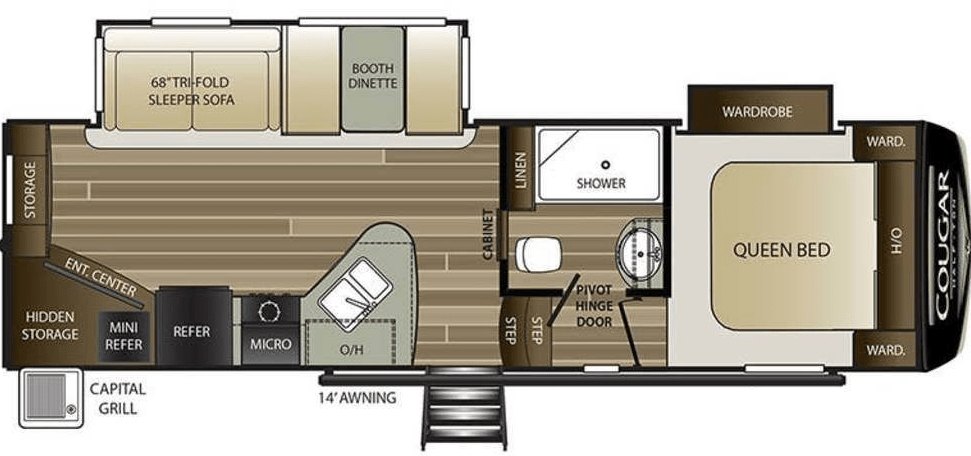 Coachmen Chaparral 370FL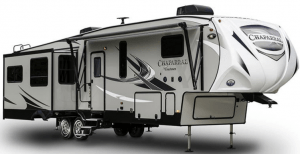 If you're looking for a full-fledge home on wheels, the Coachmen Chaparral 370FL is a magnificent option.
This large RV can easily host up to 8 people. Its secluded bedroom with a private entrance door makes it stand out.
The bedroom holds a queen-size bed by default, but you can opt for a king-size option as well. Its wooden accents and tasteful lighting complement its spacious wardrobes. You can mount an additional television right in the bedroom.
The front pantry hosts a respectable dining area, featuring a table with 4 chairs and a cabinet unit. The pantry also holds a 4-door fridge along with a full-size oven, microwave, stove, and plentiful wooden cabinets.
You can access the secluded lounge area after climbing a small flight of stairs. This elevation makes the lounge more exclusive and upscale.
The 3 double-sofas in the lounge are all made with premium leather. Two of them are pullout beds, while one serves as theater seating.
The entertainment center of the RV is also highly appreciable. It hosts a large flat-screen TV, along with a very cozy fireplace.
You can also find drink-holders in the theater seats as well as USB charging ports. It also features lighting accents that elevate the RV's interior aesthetic.
One of the key features of this RV is its water storage. It can hold 48 gallons of fresh water, 45 gallons of black water, and 90 gallons of greywater. This means fewer stops for you to refill or empty tanks along the way.
The Coachmen Chaparral is perfect for a large group making the road trip of a lifetime. If space, storage, and style are important to you, this RV is one of the finest options out there. Plus, with all its water capacity, the Chaparral is ideal for long trips.

Jayco North Point 381FLWS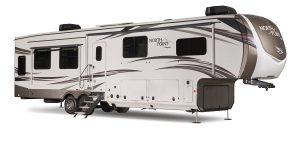 With 2 entertainment centers and 2 triple-seater sofas, this RV is bound to be bigger than most.
At 14,020 lbs., this RV is one of the heaviest vehicles on this list. It can very easily host 6 people at the very least.
With its huge 75-gallon freshwater capacity, it can sustain eight people with ease too. The fifth wheel has a similar design to that of the Chaparral, with a few notable exceptions.
One of the most unique things about the North Point is its island-style kitchen. In an RV, this is rare.
Along with an island-sink, you get a residential fridge, oven, stove, microwave, and a 4-seater dining area by default. You also get a dual entrance into the RV, but both doors open into the front-facing living room.
Towards one end, there is a comfortable bedroom with a queen-size bed, which you can upgrade to the king-size option. The bedroom has several excellent wardrobes and a remarkable entertainment center.
On the other end of the fifth wheel, there is the sitting area. It features 2 three-seater sofa beds and one theater sofa.
The theater sofa faces a large entertainment center. You can choose to install a fireplace in this area. The lounge also features an ottoman along with sofas, which is a nice extra touch.
The aesthetic of the Jayco is extremely premium. It features high-tech controls and extreme attention to detail. Its clean wooden interior, along with its abundance of windows, will give you the cleanest and most comfy experience of any RV out there.
The North Point may not be suited to those looking for a small and light fifth wheel. However, if comfort, space, and luxury are most important to you, this RV is the way to go.

Coachmen Brookstone 344FL
The Brookstone is one of the sleekest and most elegant fifth wheels ever made. Its wooden flooring and accents, along with modern lights, make it one of the best-looking options out there.
One of the best things about the Brookstone is the presence of a guest bathroom near the pantry. A bigger bathroom is located inside the secluded bedroom, making it very private and comfortable.
The bedroom features a roomy wardrobe with huge mirrors, which makes the room look spacious and well-lit. With overhead storage, you get extra space to store spare blankets or fun books to fall asleep to.
The pantry comes fully equipped with a 4-door fridge, a modern stove and oven, a microwave, and an island-style kitchen with a futuristic sink. It also has a 4-seating dining table.
The entertainment area has plush leather sofas, including 2 pullout bed sofas and 2 theater seats. A fireplace is installed under the large tv screen for an extra homely aesthetic.
The Brookstone can hold 60 gallons of fresh water and 90 gallons of grey and black water each. This makes it one of the best fifth wheels for long-distance journeys.
An excellent feature that Coachmen offers is its 3-D tour of its RVs. You can explore their offerings on their website very conveniently to get an easy real-world feel of their products.
If you take a 3-D tour of the Brookstone, you will find that it is made to look as luxurious as possible. You will feel right at home in this fifth wheel, no matter how far from your hometown you may be.
The Coachmen Brookstone 344FL is an elite fifth wheel that creates a prestigious experience of a home away from home. If you're looking for a roomy, beautiful fifth wheel, look no further.
FAQs
How much does a front living room fifth wheel cost?
There are many fifth wheels available on the market, and prices go higher the more luxurious your choice gets. On average, fifth-wheel vehicles cost around $30,000 to buy.
Insurance can cost between $800 to $925 per year. If you are renting, you may have to spend between $60 to $150 per night.
What is the difference between a fifth wheel and an RV?
RV stands for a recreational vehicle. A fifth wheel is a kind of RV. Traditionally, the word 'RV' may be referring to any form of a vehicle where one can live. Many times, this means a travel trailer.
The main difference between a travel trailer and a fifth wheel is the hitch that connects the vehicle to the truck. Fifth wheels use a jaw hitch, whereas travel trailers use a ball and coupler.
What are the different types of RVs?
RVs are divided into two types. One type is trailers, which are attached to a truck to be moved around. The other type is motorhomes, which come with their own driving mechanism. Fifth wheels require pickup trucks to be attached to for movement.
Should I choose a fifth wheel or a motorhome?
If you plan to stay on the move frequently, choose a motorhome. But if you have a destination in mind where you can stop to enjoy the view and local culture, a fifth wheel is the superior option.
Is it cheaper to stay in an RV or a hotel?
A typical vacation costs between $1400 and $4500. On an RV, the charges range between $865 to $3100. We can say that getting an RV is more affordable than staying in a hotel.
Conclusion
Fifth wheels are an excellent tool for travel and vacations. Especially when you are on the move with the family, it becomes tough to make routine pitstops.
Fifth wheels eliminate the constant need for bathroom and meal breaks. You can comfortably make long journeys in them while cooking, relaxing, and refreshing as needed.
Perhaps the most exciting thing is that you never have to settle for any single view with an RV. Just drive off to whichever location suits you best, and you can find yourself a new landscape to keep you inspired.
With front-facing living room fifth wheels, you get an open layout at the entrance. This gives a spacious outlook to the interior and wards off claustrophobia.
Modern RVs come fully-equipped with all kinds of technological feats. From Wi-Fi to charging ports, to smart controls, RVs of today are as futuristic as it gets.
So if you've dreamt of taking road trips with the family, or if you want to camp without compromising on comfort, getting an RV is the way to go.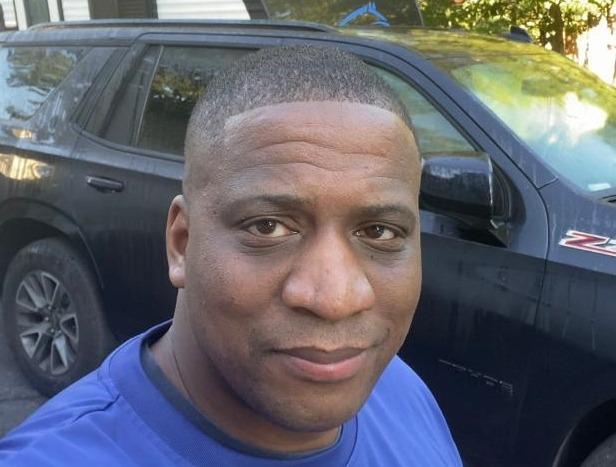 I`m a current Law Enforcement Officer working within the Counterterrorism Bureau in New York State. I have been Camping for over 20 years. My styles of camping include tent, car, truck, van, and RV travel trailer. I have a YouTube channel where I teach all types of camping with an entertaining method: https://youtube.com/@TheSmallsRVAdventures