Grand Design Solitude Problems: 8 Major Issues and Troubleshooting
Are you facing with Grand Design Solitude problems and don't know what to do? Worry not! Keep reading and I'll discover your 8 major issues and easy troubleshooting from electrical issues to plumbing faults.
Also I'll cover real owner experience difficulties and reviews, so be sure to read to the end. Let's get straight into it.
What Is Grand Design Solitude?
The Grand Design RV Solitude trailer is a line of fifth-wheel recreational vehicles designed by the Grand Design company. They are well known for their luxurious and spacious trailers. Some of their outstanding qualities include: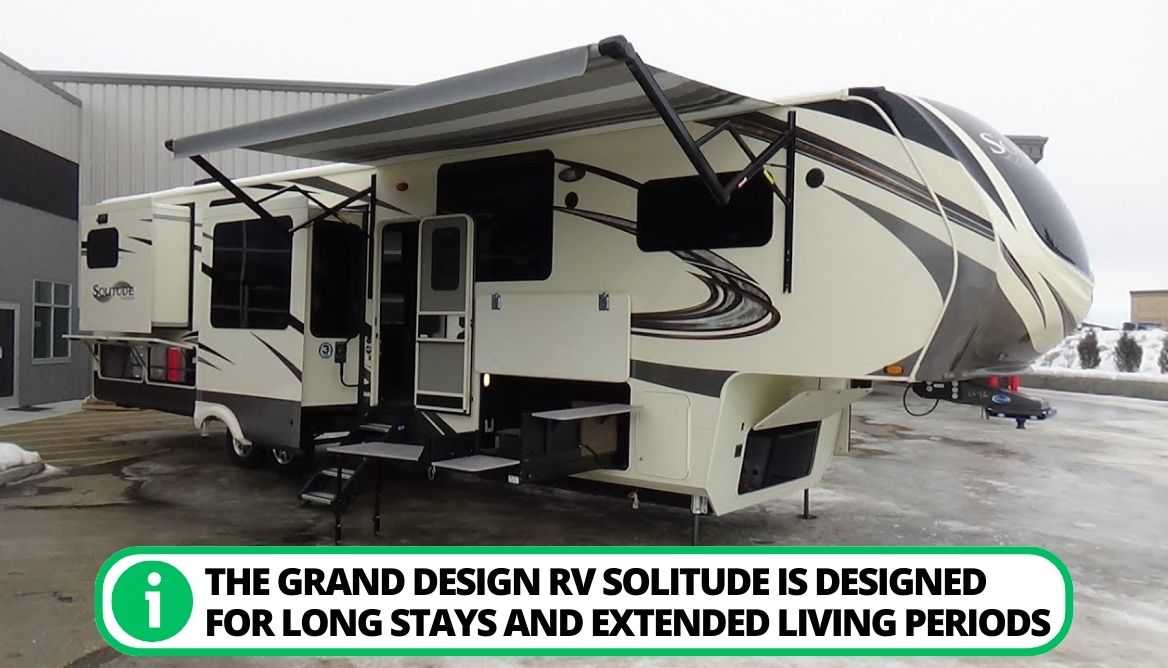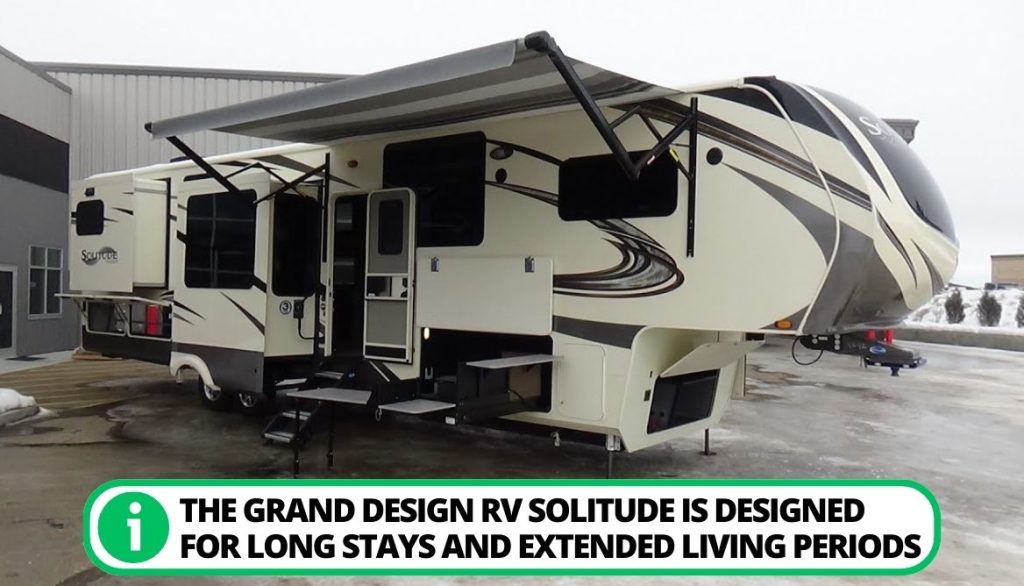 Taller ceilings;
Larger cabinets;
Designer scenic windows;
Multiple slideouts.
The Grand Design RV is designed for long stays and extended living periods, making it the perfect option for long trips and camps. The Solitude boasts a 101″ Wide Body Chassis and a wide rail design.
These features offer a firmer jack stance and facilitate the enclosure of the slide-room gear packs in the frame rails.
Grand Design Solitude Issues and Solutions Table at the Glance
Here is a tabulation of the Grand Design RV problems and solutions at a glance.
| | |
| --- | --- |
| Grand Design Solitude Issues | |
| | Replace faulty appliances |
| Issues with the Slideouts: | Remove rust and lubricate |
| Problems with the axle bearings: | |
| | Remove the membrane and fix it |
| | |
| | |
| | Position the room temperature sensor efficiently |
| | Contact the awning company |
8 Grand Design Solitude Problems and Fixes
Let's look at the eight common problems experienced by this particular RV, along with their solutions.
1. Electrical Issues
In your Grand Design Solitude RV, electrical issues may manifest in several forms, from issues with the batteries to problems with the LCD. An interplay of several factors may contribute to this occurrence in your Grand Design RV.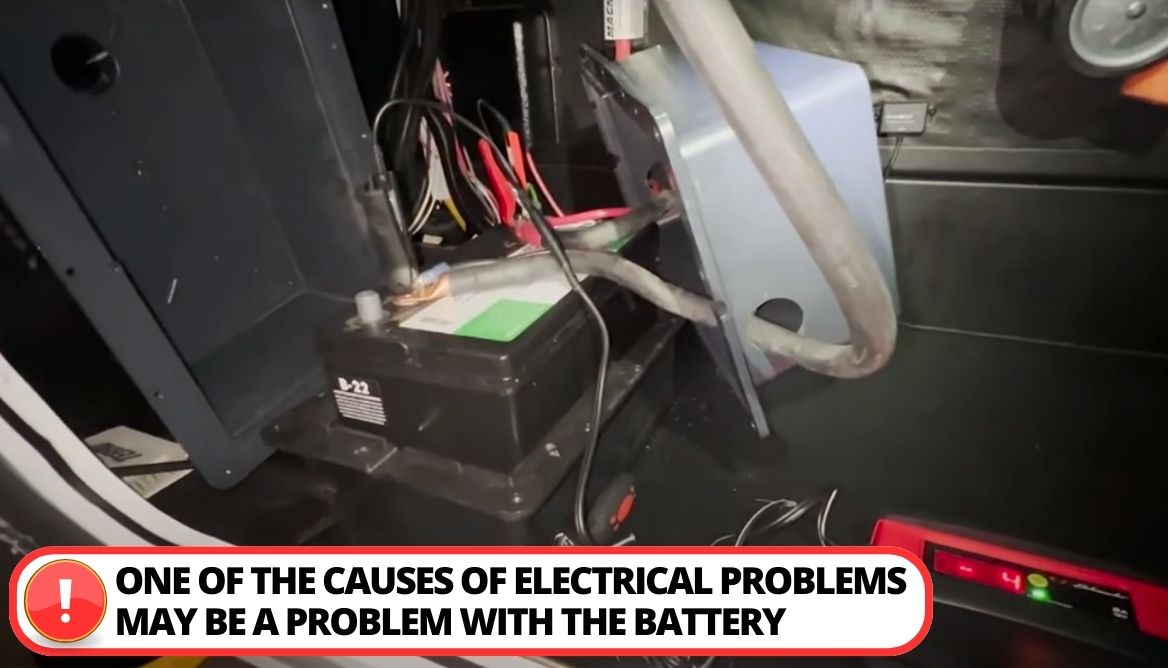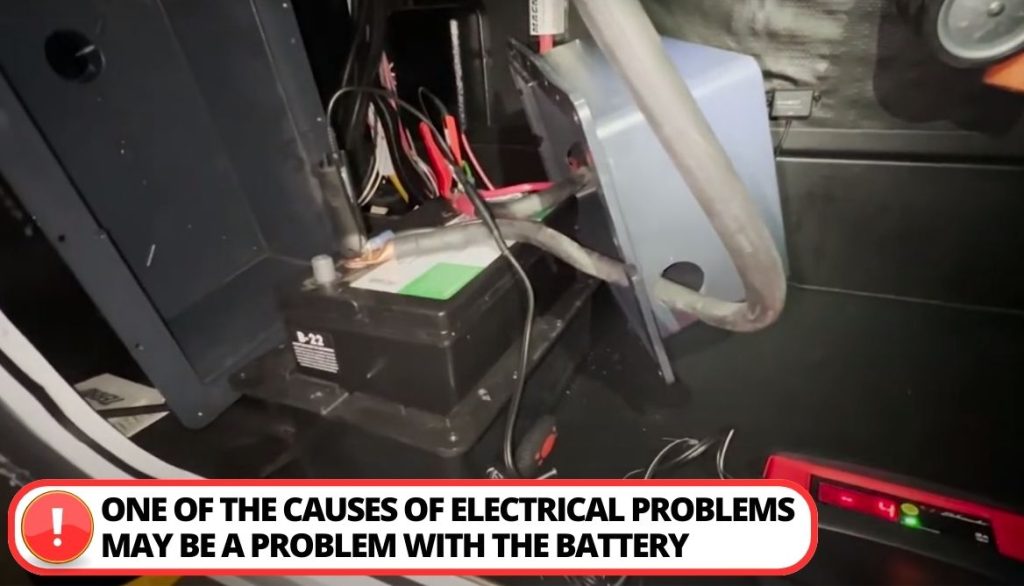 If you notice appliances like your lights or refrigerator acting up, your RV may have electrical problems. Some of the instigators of electrical issues this issue include:
Battery Problems;
Inverter or converter malfunction;
Faulty circuit breaker;
Blow fuse;
Wiring problems. This happens when you have loose, corroded, or damaged wires.
Solution
Solving the electrical issues in your Grand Design RV shouldn't be that difficult, especially if you have a professional's guidance. You must inspect individual parts and treat them as needed. For instance:
If your bulb is faulty, replace it with a new one. If it still doesn't work, review the wiring.
Inspect the circuit breaker if your refrigerator uses propane but not 110v, causing an electrical issue. If damaged, get a new one.
If your fuse has served its life and is blown, buy another one.
If your battery is experiencing issues, try connecting your Grand Design RV to shore power first to see how it responds; if not, replace it.
Important! If you fix these electrical problems yourself, you'll evade a huge budget. But if you ring in a professional, you may have to part with an upward of $200.
2. Issues With the Slide Outs
Regarding slideouts, the most significant issue with the Grand Design RV is their getting stuck. In such a travel trailer, slide-outs are fitted to provide extra space that you can use for activities like sleeping.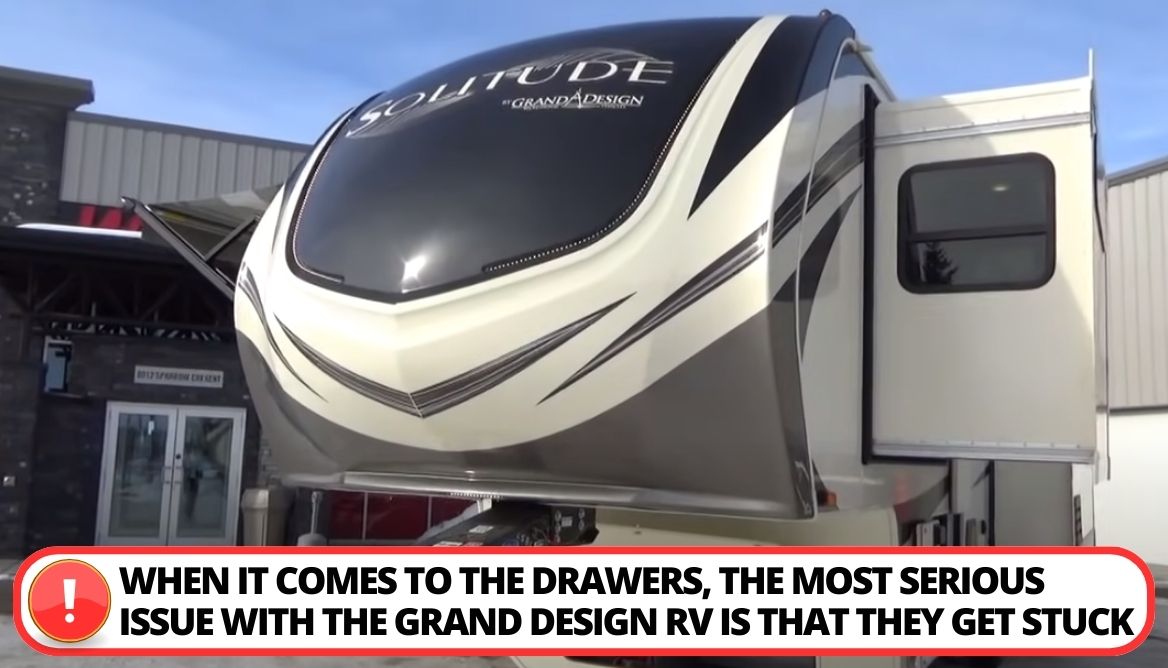 Multiple factors can cause your slide-outs to malfunction, such as:
Misalignment: This is the most common problem resulting in these issues. When not correctly aligned, it can result in difficulties in retracting or drawing them out.
Seal damage: The rubber gaskets in your slide-outs may get worn out, resulting in water leaks and pest invasion.
Motor and gear mechanism issues: Slide-outs use a gear and motor to facilitate movement. These appliances may wear out with time, leading to inefficiency
Solution
There are several ways you can go about to fix these problems.
For starters, check for obstructions and eliminate them, if any, to deal with misalignment.
You can also apply lubricant to eliminate any friction causing misalignment.
For the seals, regularly inspect them to avoid the common problem of dealing with worn-out seals. If damaged, basically replace them.
You should also ensure the slide-outs get at least 12V of power. You can achieve this by reviewing the fuses and circuit breakers to ensure they function sufficiently.
3. Issues With the Axle Bearings
Another common issue associated with a majority of Solitude Design RV fifth wheels is problems with the axle bearing that result in tire problems. This essential part of your Grand Design trailer serves two primary functions: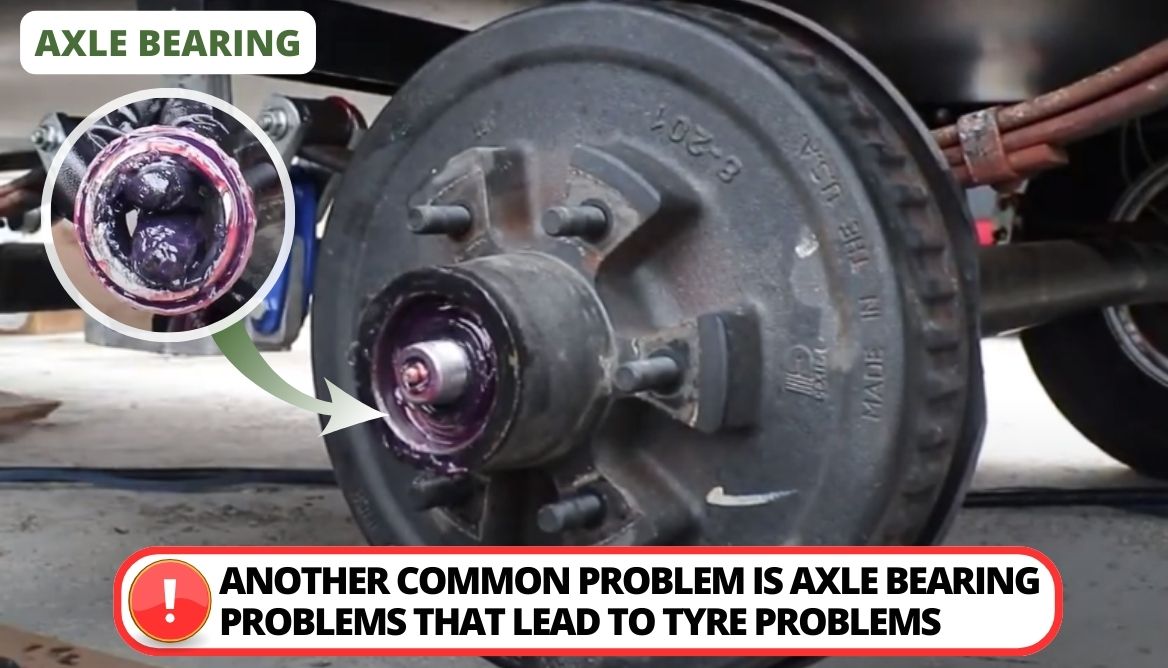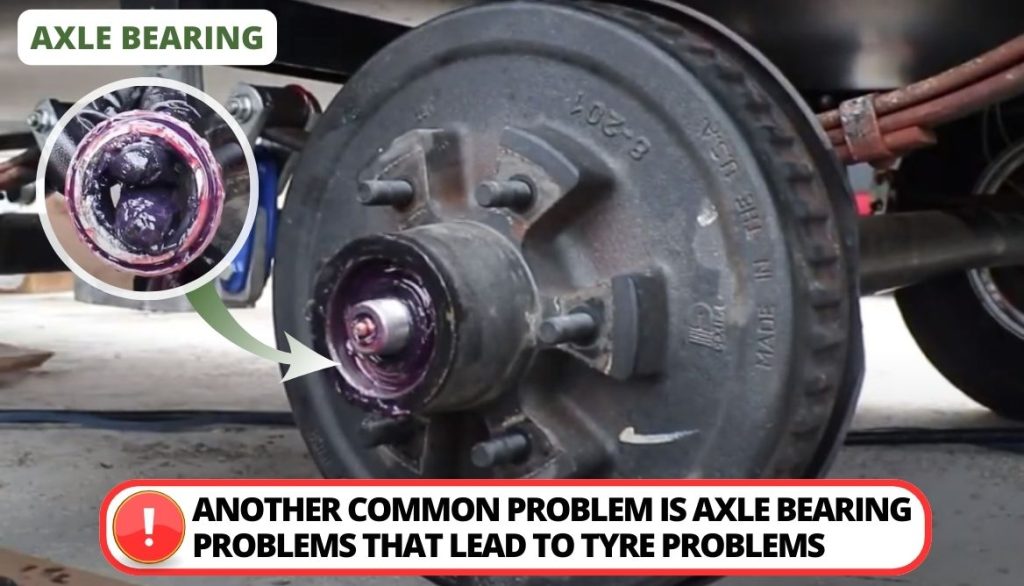 Controlling the wheels' movement;
Bearing the weight of your travel trailer.
Important! An issue in the axle bearings may pan out into more serious problems for your trailer. For instance, your tires may be imbalanced, leading to uneven wear. Furthermore, it can lead to hub damage or the RV's CV joint.
Varying factors may contribute to the malady:
Poor lubrication;
Leaking hydraulic fluid;
Worn-out axle bearings.
Solution
If you notice the mentioned symptoms in your tires, you should fix the axle bearings. To do so:
Inspect the axle bearings to detect any rust.
If so, do away with it and properly lubricate the necessary parts.
Fix the hydraulic fluid if it is leaking to curb rust formation.
You can also avoid traversing muddy terrains with your Grand Design RV often to prevent the bearings from aging quickly. If the earing still trouble you after these process, replace them immediately
4. Bubbles in the Roof
Owners of these travel trailers often see bubbles on the roof membrane. This issue shouldn't trouble you as much as it isn't severe. Nevertheless, it can be not very pleasant to put up with.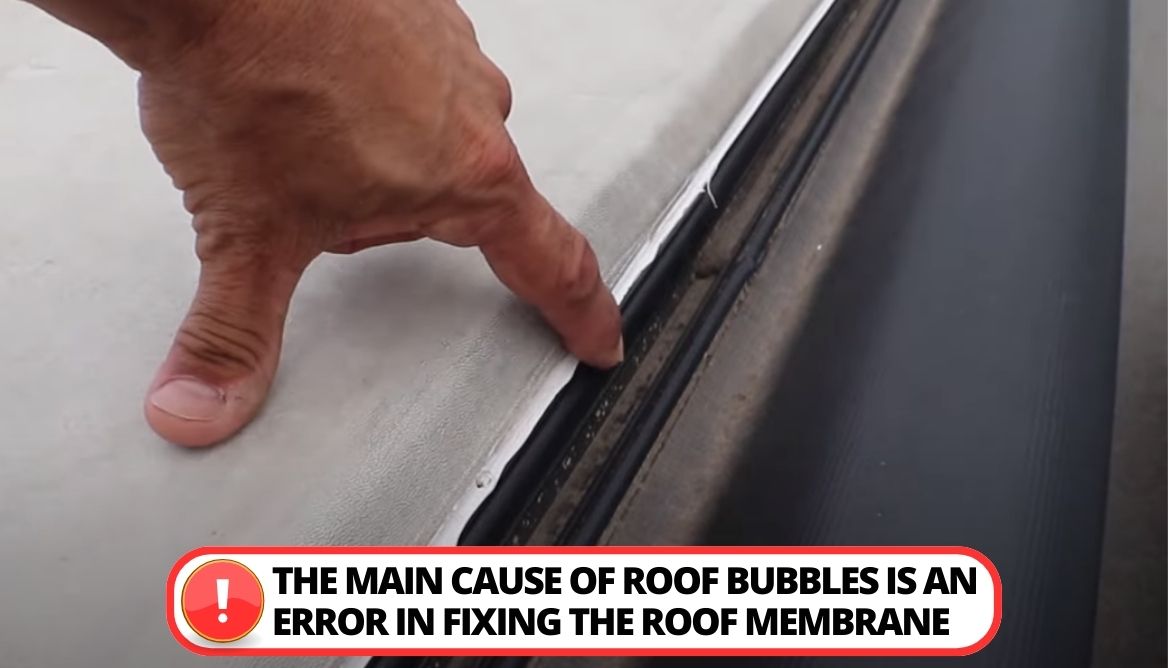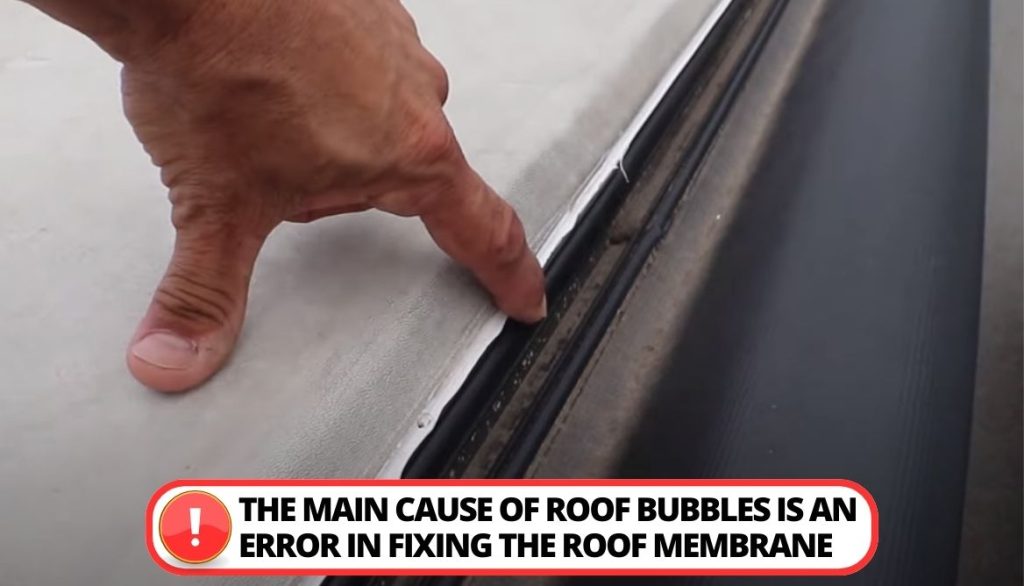 The main cause of this problem is usually an error while fixing the roof membrane. However, other issues that may spark this occurrence include:
Inferior roof membrane quality;
Water leaks;
Physical damage.
Solution
Fixing the roof is simpler compared to the problems mentioned before. To do so:
Extract the roof and tighten it back.
Get a professional and fix the entire membrane if your roof has incurred extensive damage that water leaks through when properly tightened.
Note: Repairing the roof will cost approximately $ 300 to $350 per linear foot.
5. Untethered Screws
Regarding Grand design RV travel trailers, loose screws are a challenge you will frequently encounter. They primarily affect the kitchen and bedroom areas, bringing issues with the cabinet drawers and bed boxes.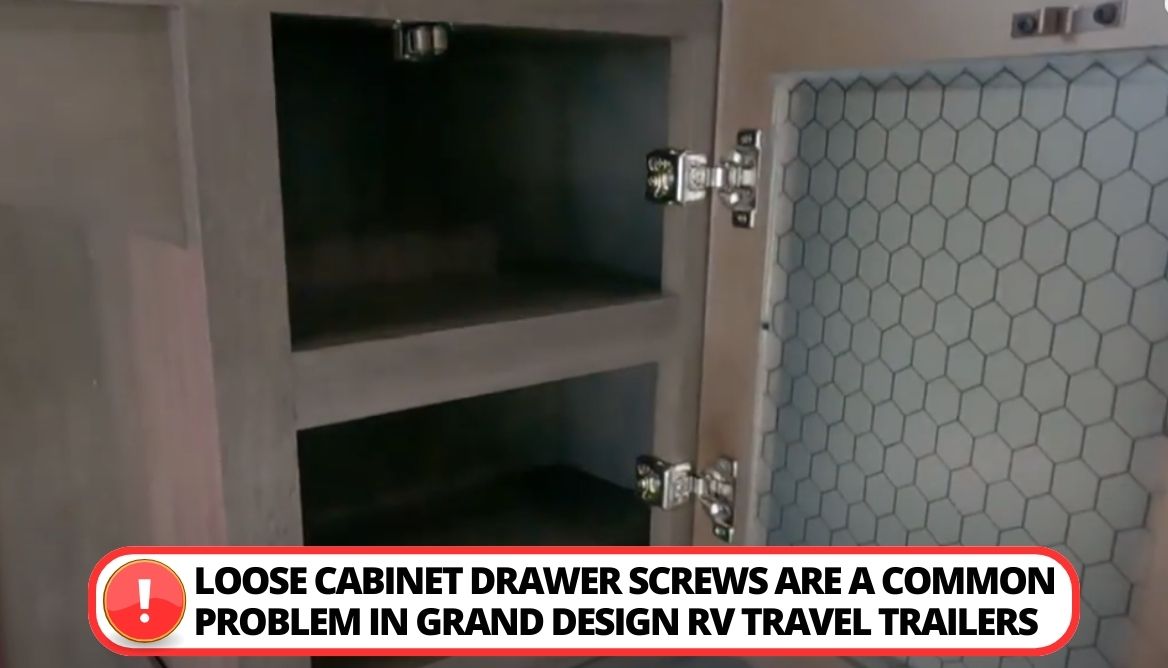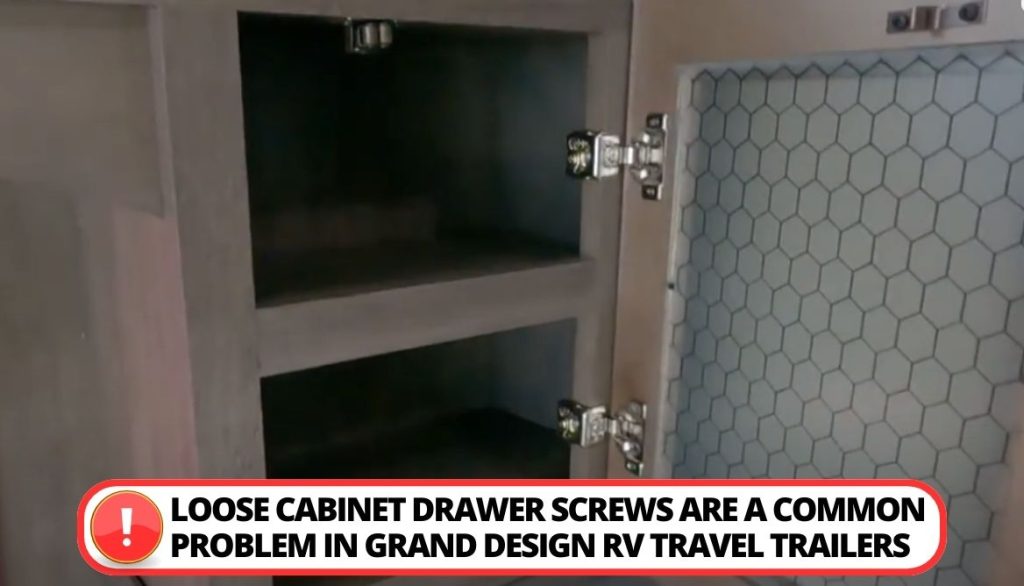 When not correctly fitted, they may cause these items to start sagging. Sometimes, cabinet doors fling open or hit other items, emanating unnecessary noise. The manufacturer is mainly to blame for this problem because the screws weren't tightened enough during installation.
However, other than that, extra causes include:
Driving on bumpy terrains;
Poor quality screws;
Wear and tear resulting in inefficiency.
Solution
Fixing loose screws isn't rocket science. Simply inspect your current assortment. If they are extremely damaged or worn out, acquire new ones.
Don't worry; replacing screws isn't that expensive. However, if they can still function adequately, tighten them to ensure they don't get loose again.
6. Plumbing Faults
Plumbing malfunctions may manifest differently in your Grand Design RV. Common problems include: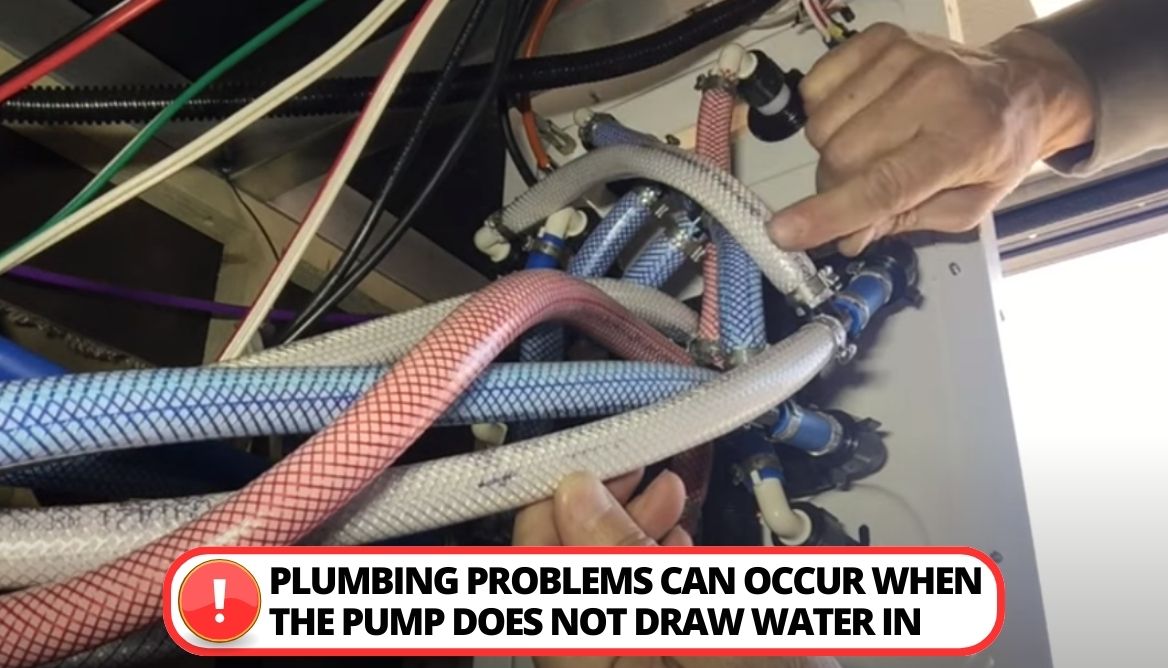 The pump is not sucking water, thus flooding your Grand Design RV.
Sometimes, the valves get stuck, and you may need a little nudge to function correctly.
Experiencing water leaks is a common occurrence when dealing with this problem.
Solution
Most websites also don't offer guidance on how to approach these problems. However, I have the solutions outlined for you.
If you notice the cables have loosened, you must lower the coroplast. In some rare circumstances, you'll need to acquire a new cable.
Contact your manufacturer to fix the issue of the pump not sucking water.
7. Thermostat Problems
If you have any issues with the thermostat, the best people to contact would be professionals from Dometic. Grand Design may come in to assist during the fixation. The most common challenge is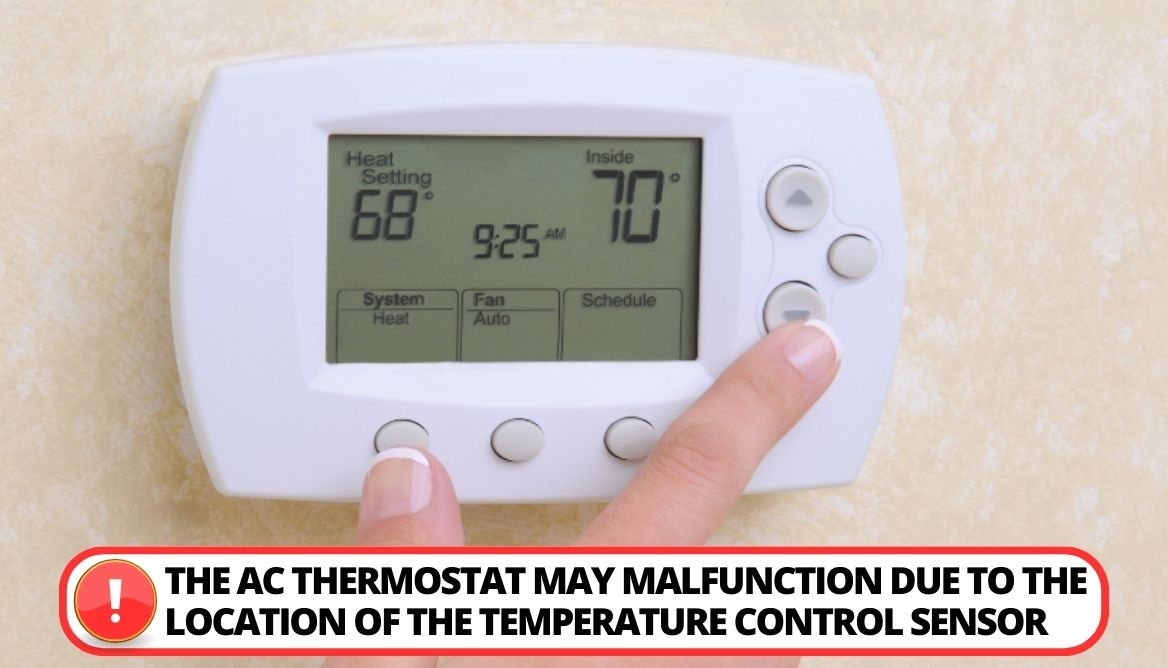 The lack of connecting the heater duct to the plenum.
Furthermore, using duct tape instead of screws to hold it down often leads to detachment.
Sometimes, the thermostat of your AC unit may fail due to the location of the positioning of the temperature control sensor.
Note: When placed in the wrong area, it may render the AC unit unable to cool the Grand Design RV. This often happens when placed in the duct without being extended into the room.
Solution
You can reposition the room temperature sensor into a more open location to allow the AC to execute its functions properly. If you still experience common problems,
contact Dometic
, the thermostat manufacturer, to see if they have any pointers to fix the problem.
8. Awning Issues in Your Grand Design RV
Regarding awning issues, various users report the arm is not fully closing. This problem, however, is an error by the device manufacturer, mostly Dometic or LCI. In some instances, they may fail to conduct efficient quality control on their appliances.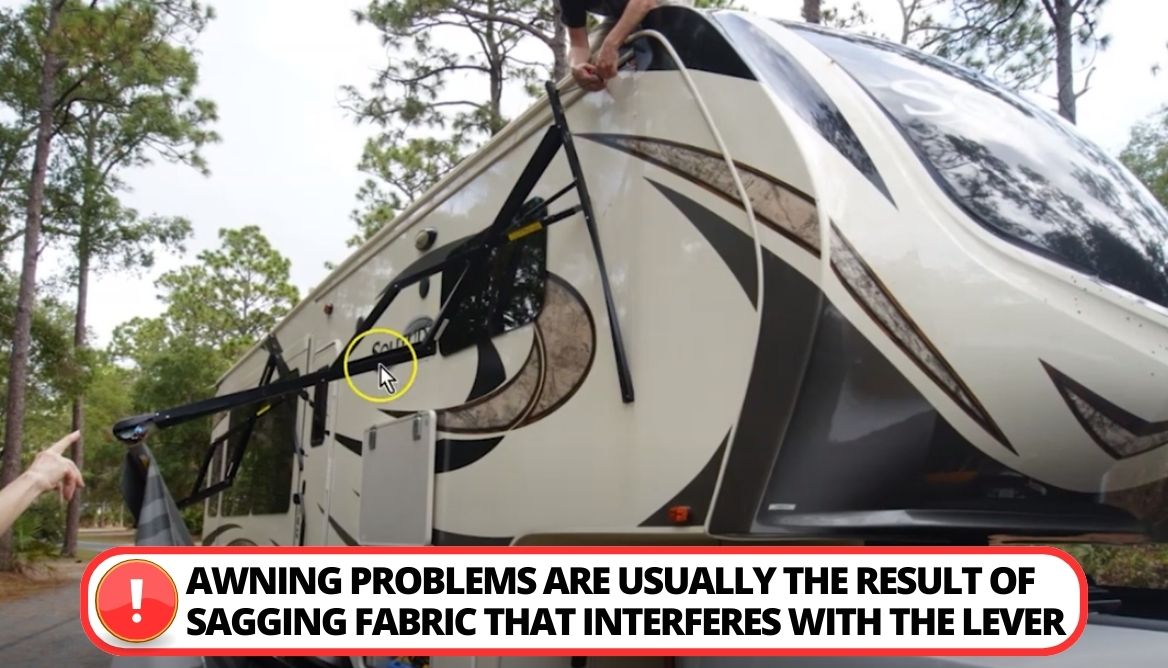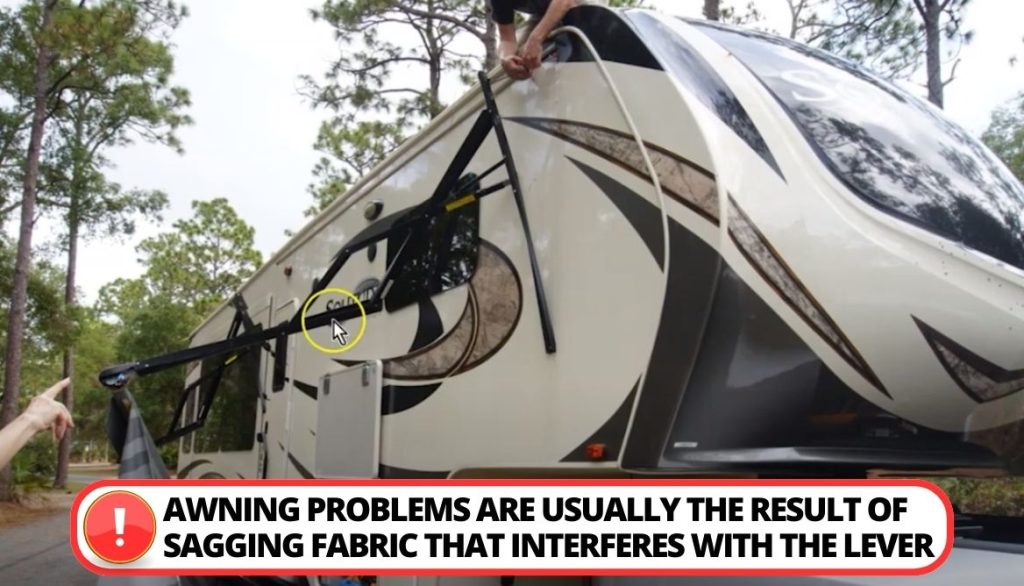 The arm not fully closing is usually a result of the fabric sagging, thereby obstructing the arm.
Solution
To solve this, you can loosen the screw and tighten the fabric. However, this will only offer you a temporary fix. To properly deal with it, contact the company that does the awning.
Users Experience With Grand Design Solitude: Extended Warranty
Despite the problems associated with GD Solitude, users generally have positive feedback. The most outstanding feature of the Grand Design RV is the spacious living space.
Jerry and Nancy Ford
The following users, Jerry and Nancy Ford, had the following to say:
"We purchased this unit because it was cheaper priced than the smaller unit we were looking for. Bigger unit with all the features we wanted and then some. Quality craftsmanship throughout the unit. Excellent floor plan and very spacious."
Wayne Carpini
Another user, Wayne Carpini, said: "We bought our 2022 Grand Design Imagine XLS 22MLE in February 2022, and I have been so pleased with it and the layout and design, along with all of its storage space under the bed and the pantry. The only thing I replaced was the mattress."
With a warranty period of up to three years, users can always get help from the manufacturers.
FAQ
What Are the Recalls on Grand Design Solitude?
Grand Design RV generally recalls 2021 to 2024 Solitude fifth wheels, equipped with certain CURT 7000 and 8000 lb axles. Most users express interest in the spacious setting and luxurious materials.
What Is the Difference Between Grand Design Reflection and Solitude?
Of the two trailers, the main difference between the Grand Design Reflection and Solitude lies in the luxury. The Solitude is more luxurious and has more space.
How Can I Prevent Grand Design Solitude Problems?
The best way to prevent Gran Design Solitude from common problems is by conducting regular checks. If there are any issues, regularly fix them.
How Do I Get Warranty Service for My Grand Design Solitude?
According to most reviews, you can get your Grand Design Solitude RV trailer warranty through a local dealer. The warranty guarantees warranty repairs in case of damage. Users have an extended warranty of up to three years.
Conclusion
That's all I rounded up on Grand Design Solitude issues. While some of these offenses pass as joint problems, some go deeper. Some common issues include electrical issues, problems with the slide-out bubbles in the roof, and untethered screws.
Some of the solutions to fixing these common problems include replacing faulty appliances, applying lubricant on the slide-outs, repairing the hydraulic fluid, and removing and tightening the membrane.
Grand Design RVs are generally good trailers with a positive rating online. Their luxurious space and spacious features give them the upper hand.
What difficulties or malfunctions have you encountered while using the Grand RV Solitude model? Kindly let us know in the comments below.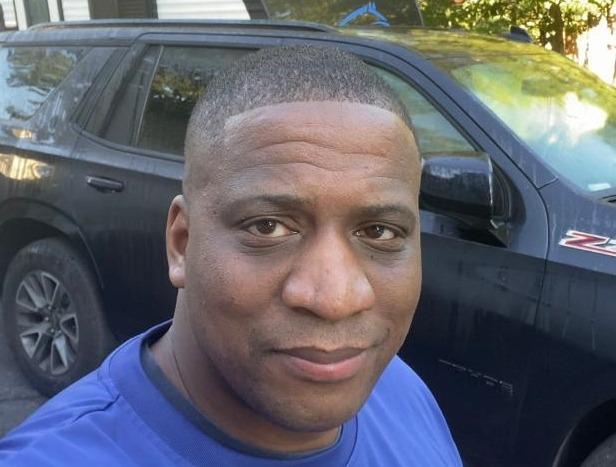 I`m a current Law Enforcement Officer working within the Counterterrorism Bureau in New York State. I have been Camping for over 20 years. My styles of camping include tent, car, truck, van, and RV travel trailer. I have a YouTube channel where I teach all types of camping with an entertaining method: https://youtube.com/@TheSmallsRVAdventures