10 Best Class C Motorhomes Under 30 Feet (by real reviews)
Purchasing and Owning your best Class C motorhome under 30 feet could be a huge task. They cost anywhere between 100 to 200 thousand grand. Therefore, you must research them before purchasing, to make sure the C RV you've purchased is perfect for your needs.
A class c motorhome is usually identified on the main criteria:
Differences in size and design compared to B class and A class motorhomes
It's sleeping capacity and its placement
It's diverse but complimented floor space and floorplans
Family-friendly designs and features
Handling And maneuverability
Making decisions can be a challenging task. So, we've made a guide for you, consisting of Top 10 Best C Class Motorhomes Under 30 Feet.
Best Class C Diesel Motorhomes Under 30 Feet Reviewed
Although the Tiffin Wayfarer Class is known for its Class A motorhomes, they have mastered the C Class and added it to their luxury motorhomes fleet.
Power Sources and Overview
The Tiffin wayfarer has a fuel efficient 3.0 6-cylinder Turbo Diesel Engine making it easy to drive. It has a 170-watt solar system, a 15,000 Mid Air Conditioner with a heat pump, and a 30,000 BTU propane dusted furnace.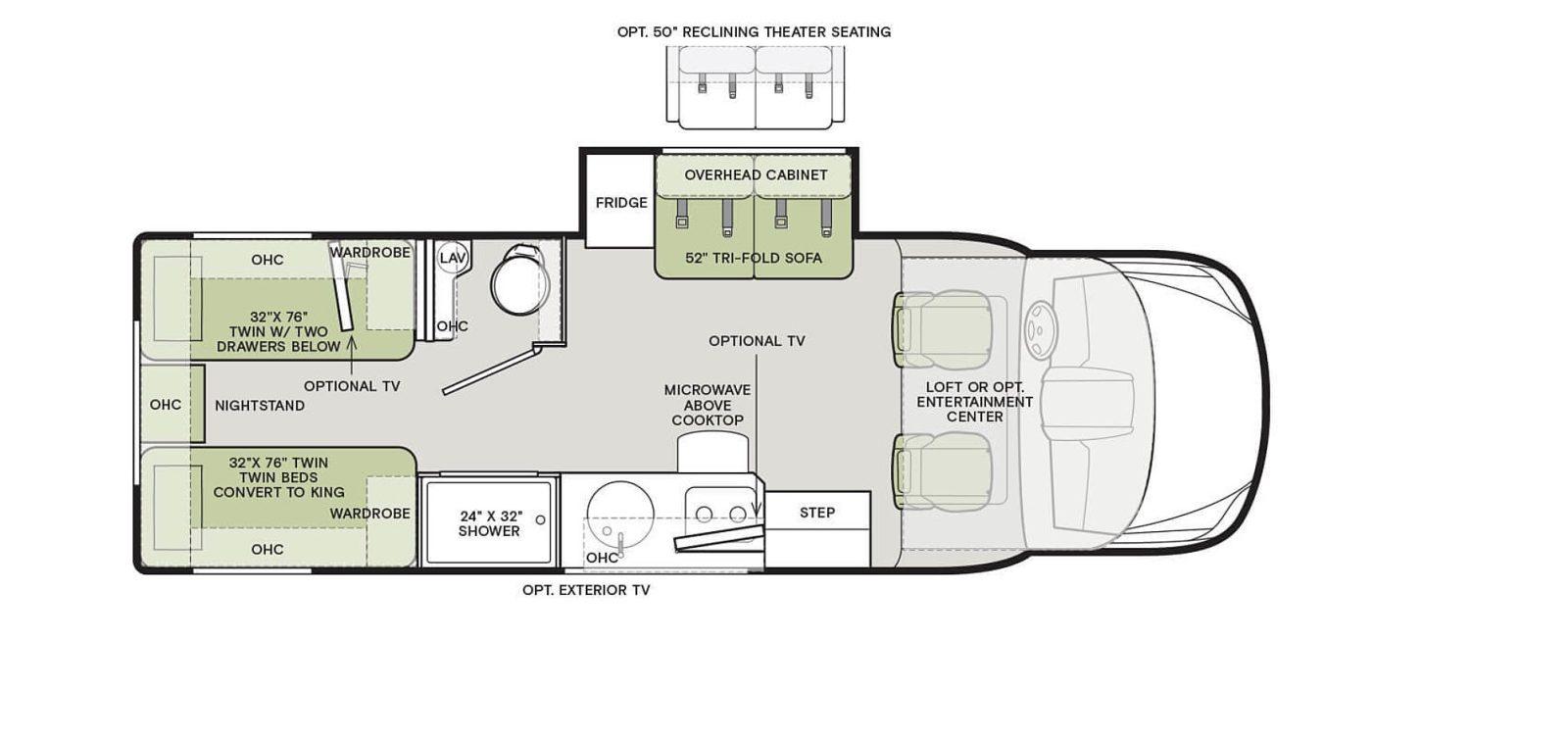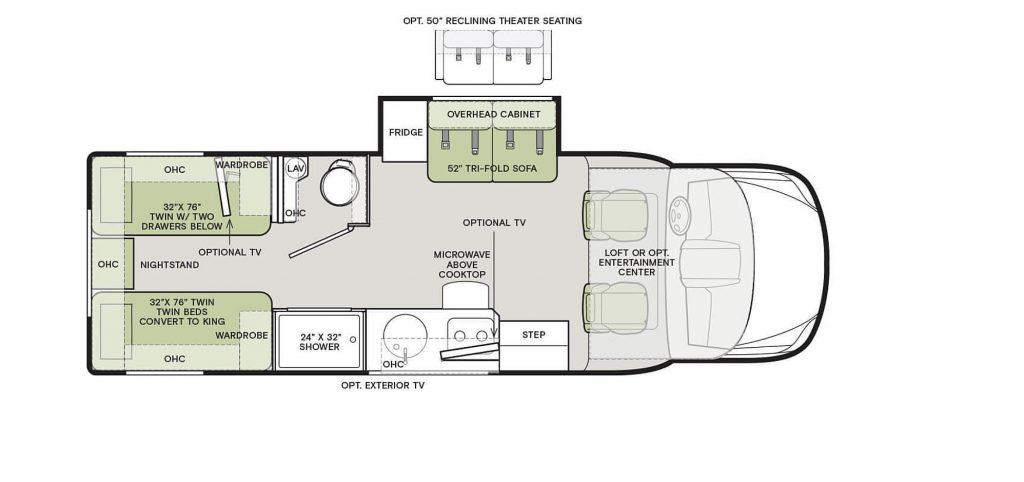 Although this Class C motorhome has a Mercedes Benz chassis, it is equipped with fenders, lights, and a reshaped grille. It also has a cab over the bunk.
Living Space
The Tiffin Wayfarer Class C diesel motorhome has four-floor plans, all having a length of 25 feet and 7 inches. In one of these, the area above the driving cab is used as a loft. in the other plan, it is used as a flip-up entertainment center.
Finally, there's a floor plan that fits a convertible king-sized bed at the back of the C RV.
As it is a luxury Class C motorhome, it isn't designed to accommodate that many residents and only has a sleeping capacity of 4 people.
Bathroom
The bathroom is equipped with a sink with counter space, a shower with a glass door, a toilet, and a 32-gallon fresh tank that can last many days before it needs a refill. There is also the 33-gallon gray tank and 28 gallons black tank.
Kitchen
The kitchen is equipped with everything needed from the countertop sink and overhead and below cabinet space, to the refrigerator, microwave, and 2 burner stove.
The Winnebago view class is one of the best-known brands of Motorhomes. There are several reasons for the popularity of their motorhomes. It has a one-piece fiberglass roof for durability and a molded front cap.
Living space and floorplan
This C-class motorhome has three different floor plans, each 25 feet and 6 inches long. The bedding and interior space of each of these floor plans is unique from one to another.
For example, the 24D uses a murphy bed in a slide-out option with the bathroom on the back. Whereas in the 24J, there is a queen size bed at the back with an attached bathroom. This all completely changes in the 24V floor plan.
In the 24V, there is a twin bed at the back, with a bathroom in the middle of the C Rv. In all these floor plans, up to 4 people can sleep in Class C at once, so there are lots of options to make Winnebago Outlook feel like your own Class C Motorhome.
With all these, the Winnebago view class is classy in terms of entertainment but has all the features you'll need. It comes with an HDTV, USB chargers all around the C RV, and many more functions.
Kitchen
This C RV manages to fit a full galley kitchen. It has a great interior space with good led lighting, a sink with sturdy countertop space, with cabinet or storage space above and below it. It also has a microwave, a refrigerator, a 2 burner stove, and a convertible dinette.
Bathroom
The Winnebago view class is designed with convenience and functionality in mind. The bathroom has a countertop sink with a cabinet above it. Beside the sink is the toilet and shower with shower glass. This RV has a 37 gallons freshwater tank, and 41 gallons for its grey and black water tank, which is larger than that of a travel trailer.
The Jayco Melbourne class is built over the Sprinter van base chassis from Mercedes-Benz. Underneath it is the powerful V-6 turbo diesel engine that gives up to 325-pound torque. On top of that is one-piece seamless fiberglass that covers the molded front cap area providing aerodynamics and a streamlined design to the model.
Floor space and plan
This Class C RV is equipped with three different floor plans. The 24L floor plan has a queen murphy bed as its master bedroom bed with a bathroom. It can fit both in the Class C motorhome with the help of a slide-out option. The slide-out also slides the dinette out, giving you space to walk around the Class C RV.
The 24R floor plan has a queen murphy bed over its convertible sofa with a bathroom at the back. This bed is on a slide-out, allowing the residents space to walk to the bathroom even when in use. Finally, the 24T floor plan has a twin bed at the back, an overhead bed, and a bathroom in the middle of the Class C RV.
Kitchen
This Class C RV comes with all the features of a complete kitchen set; a refrigerator, sink, enough countertop space, cabinets and a microwave. There is also ample room for you to move freely.
Bathroom
The bathroom has a shower and shower glass on the inside, with a sink and toilet. On the outside, there is an electric patio awning with an LED light strip and an outdoor shower.
Forest River is an eco-friendly Class C RV which means it has been "certified green". The Forest River Sunseeker provides a lot of options to choose from.
Floor Plan
Forest River Sunseeker has a whopping 20-floor plan for under 30 feet Class C RVs making it one of the best Class C motorhomes out there. To make it easier for you to choose from, the Sunseeker lineup is divided into 4 models- 3 Sunseeker Classic models, 8 Sunseeker LE models, 5 Forest River Sunseeker MBS models, and 2 Sunseeker TS models. All of these range between 23 feet and 30 feet, and some offer slide-outs.
One main attraction for class C RV users is the unique split-level design of the Sunseeker. It gives maximum headroom and interior space in the Motorhome. Apart from that, the features offered inside the Class C RV play an essential role in attracting them.
The rear queen bed, convertible dinette, and sofa make sure you have enough sleeping space inside the C RV to support up to 6 people. The Cab over bunk can also be used as a sleeping area.
Kitchen
The galley kitchen has a 3-burner cooktop, solid surface Kitchen countertop, microwave oven, and a 10.7 cubic foot refrigerator.
Bathroom
The full bathroom in this Class C RV has a composite toilet, a shower with a shower door, and a skylight. This C RV also has a 35-gallon fresh water tank, and a 32-gallon grey and black water tank.
Coachmen Freelander Class C Motorhomes are known for their high-class features and quality components.
Overview and Floor Plan
The Class C Motorhome has a state-of-the-art Ford chassis and Chevy while still managing to have a low price compared to the competition. This isn't the only reason it's preferred. The floorplans and family-friendly features in this Class C RV make it stand out in the crowd.
This Rv under 30 feet motor house has a variety of floor plans available. Its floor plans have 60 to 100 cubic feet of more space on its exterior for storage. Most are 27 feet long, but a few managed to be as low as 24 feet long.
All of these floor plans use the same rot-resistant aluminum frame, which is lightweight and waterproof. Not only that, they use the same Congoleum vinyl flooring and have a cab over bunk.
Moreover, the floor plans also include family-friendly packages. You get a child safety net with an upgraded mattress, and it has separate fans for sleeping areas. As these C RVs consider sleeping space a priority, 8 people can sleep in it at once so this could very well be your best class C motorhome under 30 feet.
Bathroom
The private bathroom in this C RV is at the back. This gives you enough space to have larger families stay. The bathroom is equipped with a shower and shower door, a toilet, a sink with a counter top and a 50-gallon fresh water tank, a 34-gallon grey water tank and a 31-gallon black water tank.
Kitchen
This Motorhome has a Magic Chef three-burner cooktop, refrigerator, microwave, and many more. The kitchen has ample room which allows you to move at will.
Thor Motor Coach Siesta
The Thor Motor Coach Siesta is a compact and versatile design. It is one of the best C Class motorhomes under 30 feet. The Siesta uses a Mercedes-Benz 3500 chassis bundled with a diesel turbo engine.
Floor Plan
The living space of the Thor motor coach has residential vinyl flooring inside the Siesta motorhome. It has an 80″ ceiling with soft-touch vinyl.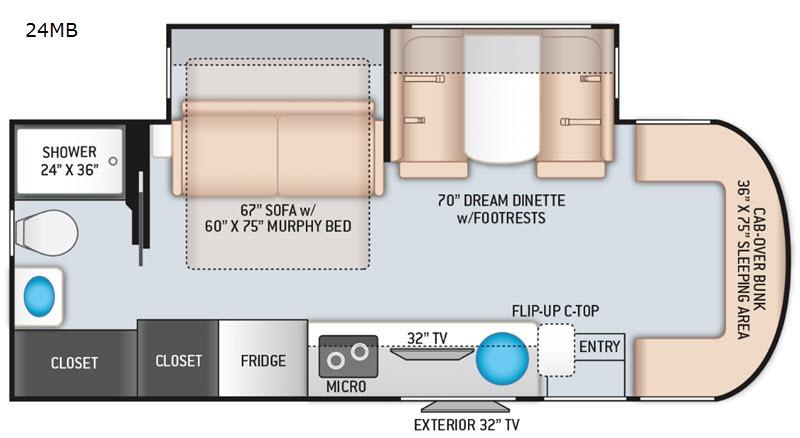 This Motorhome comes with 4 different floor plans. The 24MB has a bathroom in the private bedroom with a storage wardrobe and a Murphy bed.
This bed fits into the slide-out, so residents have no trouble going to the bathroom when pulled down. Apart from that, it has a convertible dream dinette and cab-over bunk for sleeping space.
The other two models of the Thor motor coach are the 24SS with a slide-out queen bed with a bathroom in the back and the 24ST has a twin bed that can be converted into a king bed. In addition, it has a bathroom in the middle of the RV.
Bathroom
The 24SK comes with a private room at the back. This room has cushioned seating and a TV. There's a flip-up bed that can convert this room into a bedroom. Next to it is the bathroom with a shower, toilet, and sink.
The bathroom which was thoughtfully made has a foot flush toilet, solid countertop sink, and a shower with a glass entry door.
Kitchen
The kitchen is equipped with a two-burner gas cooktop with a protective cover, a microwave, and a large stainless steel sink bowl with a cover.
In addition, there is a double-door refrigerator for food storage. It also has some cabinet space above and below the sink and space for storage by the entry door.
Entegra is underrated in the RV business but has worked its best to come to the top.
Overview and Floor plan
The Entegra Qwest is built on the Mercedes Benz's 3500 chassis like the Siesta from Thor Motor Coach and is equipped with a V-6 Turbo 188 HP diesel engine that is fuel-efficient.
The inside of the Motorhome is built with curved cabinetry, giving you the experience of living in a modern European residence. To support this look, it has woven vinyl flooring combined with a soft touch vinyl ceiling.
This Class C RV which is likened to the Thor motor coach also has a U-shaped dinette for its eating area.
The Qwest has 5 different floor plans for its under 30 feet Class c motorhome. All of these plans are 25 feet and 2 inches long.
Whichever floor plan you choose will depend on your needs. For example, they can have different bed sizes in their private bedroom, including a twin bed and a queen-sized bed.
Bathroom
If you would want it in the back or middle of the RV, each floor plan has a different placement of the bathroom. There is also an outdoor shower on the outside and aluminum skirt-hung baggage doors or a rear storage garage for extra exterior cargo with a 14 feet awning with an led light strip.
Kitchen
The kitchen has all its storage units crafted with high-quality material. The galley houses a 2-burner cooktop, a 6 cubic feet refrigerator, and a convection microwave. It also has a stainless-steel sink with a cover that acts as a cutting board.
The Gulf Stream Conquest is a remarkable C Class motorhome. It is a great option for RV users in search of a compact and versatile RV. The exterior of this Class C RV is made of seamless EPDM Rubber roofs.
The flooring of the RV uses vinyl for that remarkable finish and pleated fabric shades in the windows for the privacy of the residents.
Floor plan
The Gulf Stream Conquest has 10 different floor plans. They vary from 24 feet in length to 33 feet. It's under 30 feet models use the Ford Chassis E350, with a V-8 gas engine.
The 6237-floor plan of this RV has an elevated queen-size bed with storage underneath in its master bedroom and a U-shaped dinette in the middle with folding chairs.
While the 6238 has the same bed composition with a pull-out table giving you space in the middle while the 6245 has a larger side out, with a queen-sized bed and dinette in it. The 6250 uses the same slide-out, but it gives you space for a pass-through storage closet for all the clothes you might need.
Bathroom
The bathroom and toilet are located on the way to the private bedroom with overhead cabinet space in the back. The bathroom has a shower with enough room and opposite that, a porcelain toilet with a solid countertop sink.
Kitchen
With all these options for floor plans, the Gulf Stream Conquest gives you another opportunity for TV. the kitchen of this Class C RV has a three-burner stovetop and counter space with a refrigerator. In addition, it has two stainless steel sink bowls and cabinet space.
The modern, sleek design and beautiful living spaces are what make this RV remarkable and the Thor motor coach Quantum Sprinter model takes it to another level and makes it an exceptional motorhome for living on the road.
Overview and Living space
The body of the Thor motor coach quantum uses a Mercedes-Benz Sprinter Chassis. It has a 3.0-liter V-6 188-hp diesel engine.
The floor plan of the Sprinter Class C has 4 designs. The CR24 has a full-size bed in the slide-out, while the dinette is in a separate slide-out. The KM24 has a single long slide-out that consists of a queen-sized bed and dream dinette.
Both designs of the Thor motor coach quantum have a bathroom next to the private bedroom at the back. The MB24 has a large slide-out in the middle and a Murphy bed and dream dinette.
The DS24 has a bedroom at the back which has a full-size bed with a privacy curtain, separating it from the rest of the RV. The bathroom is located in the middle of the RV, next to the bedroom.
Kitchen
The Kitchen in the Thor motor coach quantum consists of a refrigerator, a pantry, and a convection microwave, and a storage wardrobe for storing items.
Bathroom
The bathroom has a toilet, shower with enough room, and sinks to make you feel at home even on the road.
The Dynamax Isata 3 Series Class C motorhome is fully loaded with features for comfort, so you will be fully rested even on the road.
Overview
Dynamax uses a Mercedes-Benz Sprinter Chassis on its Class C motorhomes. The chassis comes with an aluminum truss structure roof. This roof is crowned with a one-piece fiberglass roof and skin, making it durable and aerodynamic.
Even though it's a luxury motorhome, it is very accessible. This class c RV comes with 2-floor plans. They are both 24 feet and 7 inches long. They use premium vinyl flooring in the RV, and for the roof, soft-touch padded vinyl ceiling.
The 24FW floor plan has a queen bed and booth dinette in the slide-out. The bathroom is adjacent to the bed at the back, while in the 24RW floor plan. At the back is a bedroom with a queen-size bed.
Bathroom
In the middle of the RV is a bathroom that has a shower with a glass door and a toilet in it. The slide-out is smaller compared to that in the 24FW, and it houses the booth dinette.
Kitchen
For privacy, the windows in this RV use blackout roller shades. At the same time, the kitchen has a gas cooking range, a 7-cubit double-door refrigerator, and a convection microwave. In addition, the RV houses hardwood shaker-style cabinetry and soft-closing drawers.
How To Choose The Best Class C Motorhomes Under 30 Feet
Sleeping Accommodations — How Many and Where
The first thing to check before choosing the best class C motorhomes is to check your usage. How many people will be sleeping in it? And where will they sleep? Are you planning on going on a family trip or inviting your friends over for the journey?
Once you answer these questions, you'll know what sleeping accommodations you require in your Class C Motorhome
Floor Plans Available
Every Motorhome has three or four-floor plans available. They are designed for different purposes. There are single plans, couple plans, and even family plans. This gives you control over your Motorhome's design.
Furthermore, you can design the RV however it suits your needs. Because of the limited space, you have in a motorhome, you need to use the space efficiently. Check out all the floor plans available, and choose the one that suits you best.
Slideout Options
Even though the Class C Motorhomes have ample space compared to others. But still, an addition to that space will feel extraordinary. That's where the slideout option comes in. Even the 3 feet extra space will play a vital role in making your Motorhome feel less crowded.
They often house convertible sofas, so it's a nice thing if your RV has one. In the daytime, you can use it as a dining table, and when it's time to sleep, convert them into a bed.
Handling And Driver Amenities
Class C Motorhomes have ample space, but they're harder to drive. Because of their large size, maneuvering them will be a challenge. That is why not only the Motorhome but the driving experience should be comfortable too. So, that it doesn't tire you up on the trip.
In addition to that, there should be facilities for the one who's driving the RV. If you are disturbed during the driving session, it can put you and your loved ones at risk. But, as the primary function of the RV is driving, it shouldn't be a burden for you.
Special Features
The Class C Motorhomes aren't limited to these features. They have extra features that make them remarkable. The RV should be durable to withstand all kinds of weather.
Apart from that, make sure that it has the latest technology available. The newest Wi-Fi and Bluetooth may seem minor upgrades, but they make the trips worth remembering.
What are the Advantages of Class C RV?
Class C RVs have a lot of uses and can be used for different activities like camping and a whole lot more. They come with notable benefits and a few of these are:
A Class C RV is known for its ability to be more easily maneuvered than other RVs because of its length and weight. They might not even require you to tow your car for further exploration.
Class C RVs are rare and family-friendly because they put different needs into consideration like a living space, a flip-up entertainment center or overhead entertainment center, safety features, modern amenities, and more.
Motorhomes also give enough space for money so you'll be getting your money's worth.
What are the Disadvantages of Class C RVs?
Some Class C RVs have dated appearances, though the Sprinters and Mercedes RVs are more modern.
It has an average fuel economy, and the engine is known to get loud and hot while driving especially when compared to class A diesel pushers.
Class c motorhomes also have limited storage spaces, are less luxurious and strain on their sprinter vans or truck chassis and or engine happens because of accumulated weight.
FAQs
What Is the Best Class C Motorhome?
The Coachmen Freelander Class C RV is one of the best motorhomes. Even though it's under 30 feet, it has enough space to have up to 8 residents at once. The coachmen motorhome is equipped with all the technology advancements. It has an HDMI and USB charging station in the RV.
Are Tiffin Motorhomes Good Quality?
Tiffin Motorhomes are known for its remarkable Class A motorhomes. But this doesn't mean that they're not good in the Class C motorhomes. On the contrary, they have perfected their skills and have proved to be one of the best RV manufacturers. And nowadays, they are producing high-quality motorhomes.
What Is the Best Month To Buy An RV?
Due to the winter season in October and November, the sales fall. This leads to good discounts from the dealerships. And in December and January, the sales nosedive. Making them the best months to buy an RV.
Why Purchase A 30-Foot RV?
The 30-foot RVs are easier to maneuver on the road. So, they'll be remarkable whether you use it in the crowded city lances or on the down winding mountain roads. In addition, the 30-foot size makes it perfect to have additional family members on the trip.
How We Chose the Best 30-Foot Rvs?
When buying an under 30-foot RV, follow our guide where we have explained what to look for in an RV whether you're planning to use the RV for family trips. Or a single or duo trip. If you need extra space when parked or not. All this depends upon your needs in choosing the best 30-foot RV.
Conclusion
Buying an RV is a big thing. They cost a lot, so make sure to get the one that fulfills your needs and isn't overkill because if you don't manage your budget, you can put yourself in bad condition. We hope you have gotten all the necessary information to choose the best C RV through our guide. If you select one of these, we can assure you of contentment cause they are the best of their kind.
They provide all the features available, in a limited space so you should be able to make great decisions and choose your best class c a motorhome under 30 feet.
Have you traveled in a Class C RV under 30ft? If you've had experiences with Class C RVs, we would love to get your feedback and thought on it. Was your stay comfortable? Did the Motorhome suit your needs? how was your driving experience? we'd love to hear more about it so visit our comment section below and tell us all about it!
Reference: https://camperadvise.com/best-class-c-rv-motorhomes/