Alliance RV vs Grand Design: Which RV To Buy For Camping in 2023?
Shopping For a new RV can be stressful for most people, especially when choosing between Alliance RV vs Grand Design. These trailers have recently placed their footing in the market, and I will guide you through the pros and cons of each and a detailed comparison of the vehicles.
Without further ado, let's get into it straight away!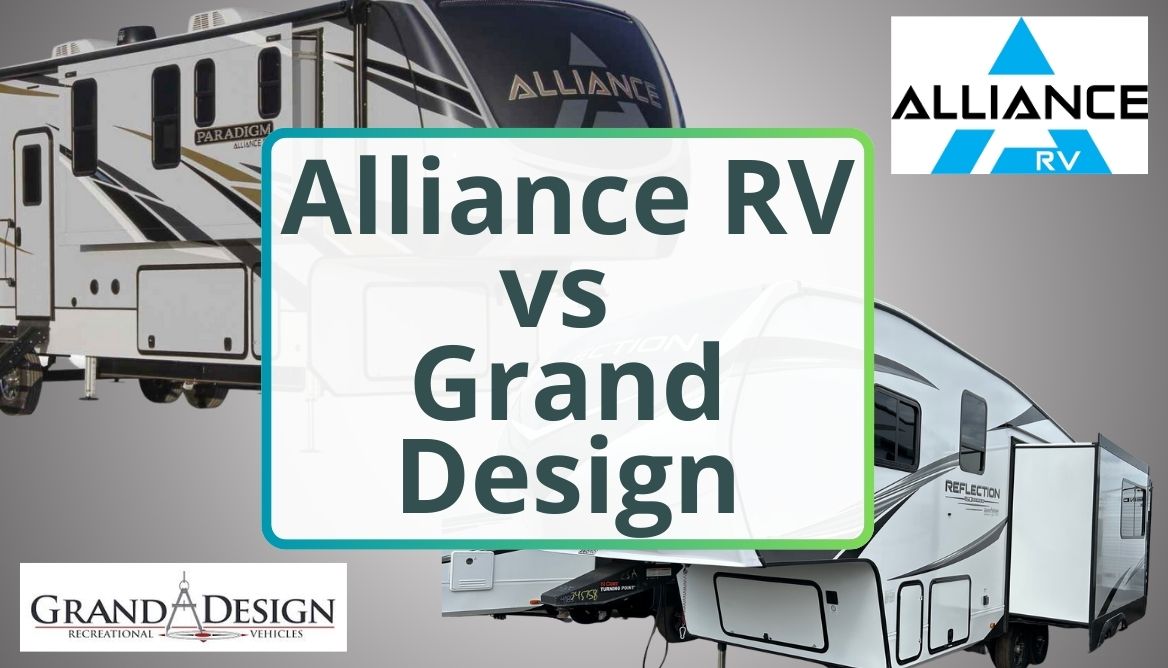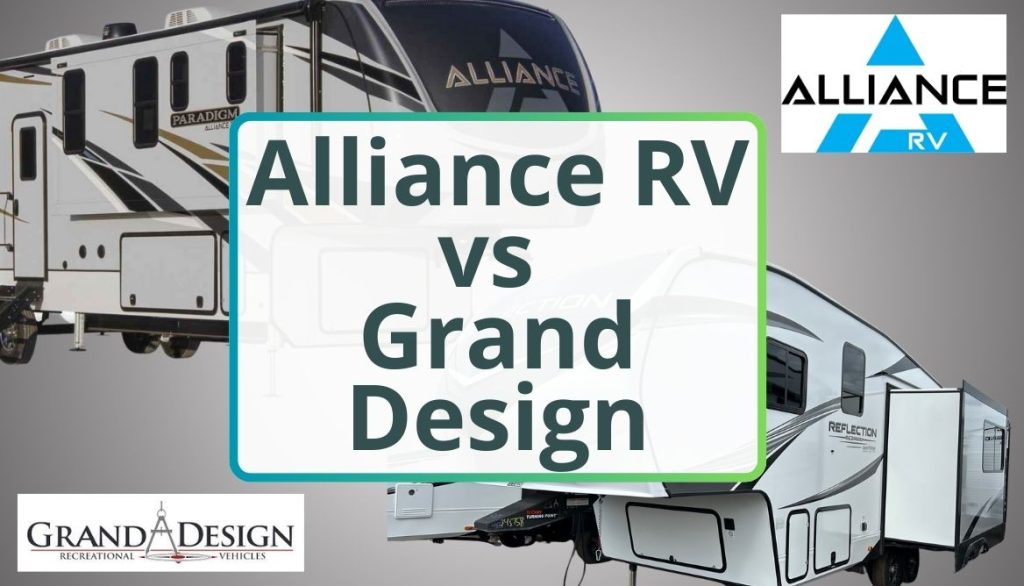 Alliance RV vs Grand Design Comparison Table
As a camper with 20 years experience I will tell you what you should be looking at is RV performance. So let's discover a tabulation of the elemental contrasts regarding Alliance RV vs Grand Design.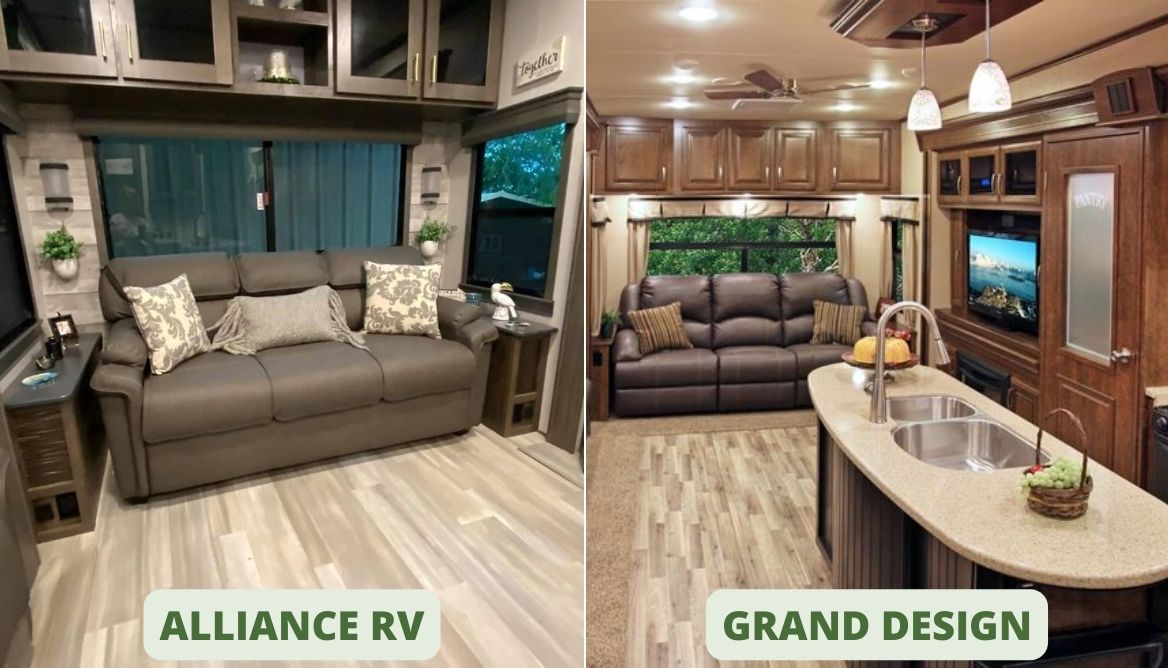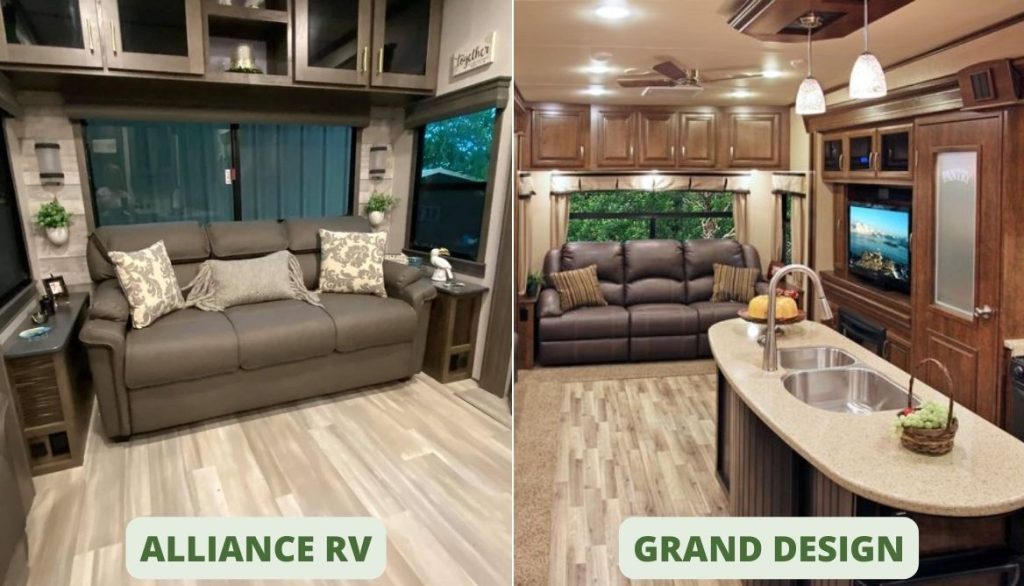 | | | |
| --- | --- | --- |
| | | |
| | | |
| Chassis (the base frame): | | |
| | | |
| | | |
| | | |
| | | |
| | | |
| | | Luxury 5th wheel, travel trailers |
| | | |
| | | |
| | | |
| Customizable Electronics: | | Top-grade luxurious choice |
To understand which RV brand to select, I'll start by walking you through a brief description of each.
What Is Alliance RV?
Situated in Elkhart, Indiana, Alliance RV manufacturers debuted in 2019 with founder Brian Brady, an initial founder at Heartland RV, and his sons, Ryan and Coley. By designing their vehicles entirely from scratch, you can ease worrying knowing that you are cruising in an authentic state-of-the-art vehicle when acquiring an Alliance RV.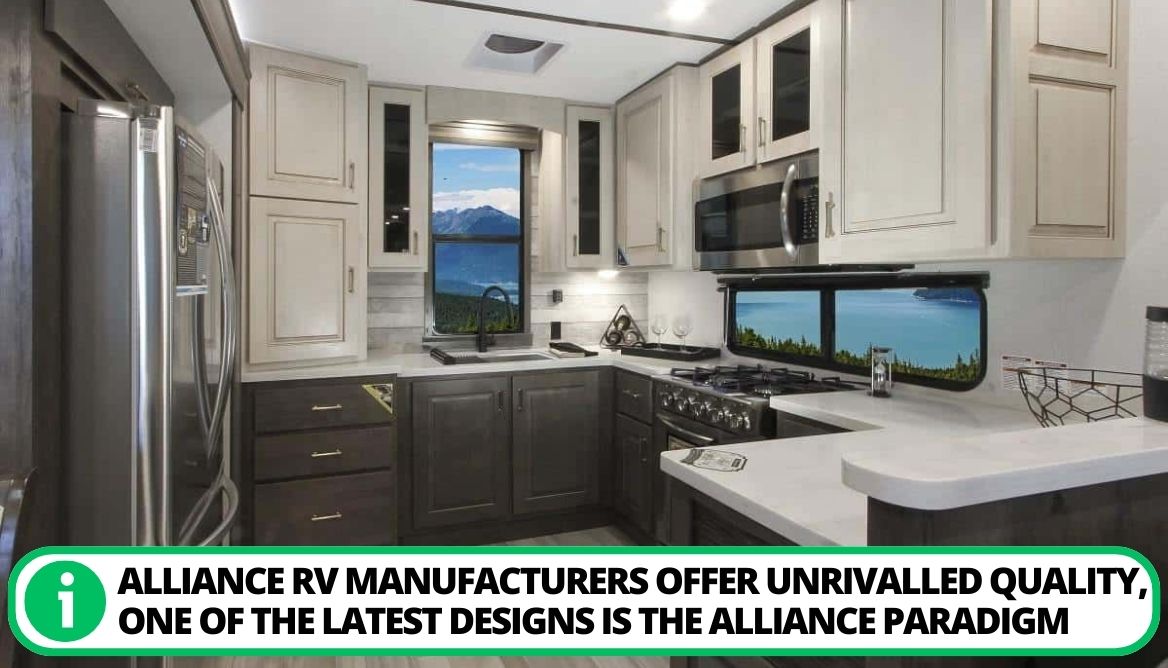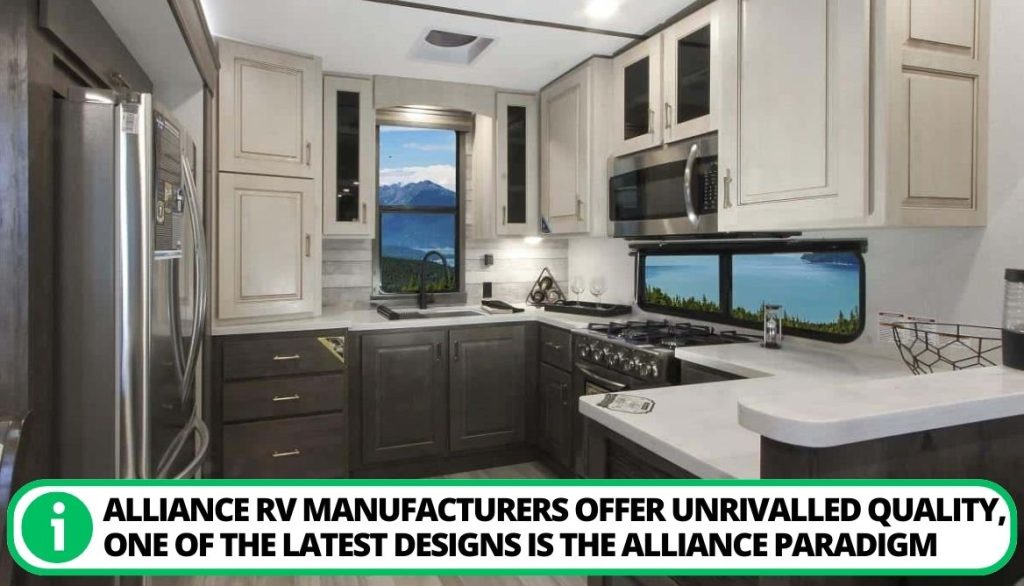 Alliance RV manufacturers are well-versed in craft trailers, motorhomes, and fifth wheels that tend to your needs. One of its latest sophisticated projects includes the Alliance Paradigm, which competes fairly against other RV brands like Forest River RV.
Characteristics
This brand sets out to offer customers unmatched quality. Some of its distinctive characteristics include:
It has a PVC roof covering;
Centralized docking mechanism;
Dexter 4K springs;
Mylar-reinforced exterior seals;
It features a benchmark 101″ Wide Body Chassis.
Pros and Cons of the Alliance RV
The advantages and disadvantages I've depicted from Alliance RVs are:
Pros
Stellar customer service;
Great construction material. The manufacturers use premium resources;
Offers a comfortable and convenient trip;
Better pricing;
Through pre-delivery evaluation.
Cons
Small dealership coverage;
They are a new competitor.
What Is Grand Design RV?
Grand Design RV is an excellent choice if you prioritize comfort and aren't afraid of splurging a little. This recreational vehicle manufacturer emphasizes quality and proper customer relations, which have massively contributed to its success.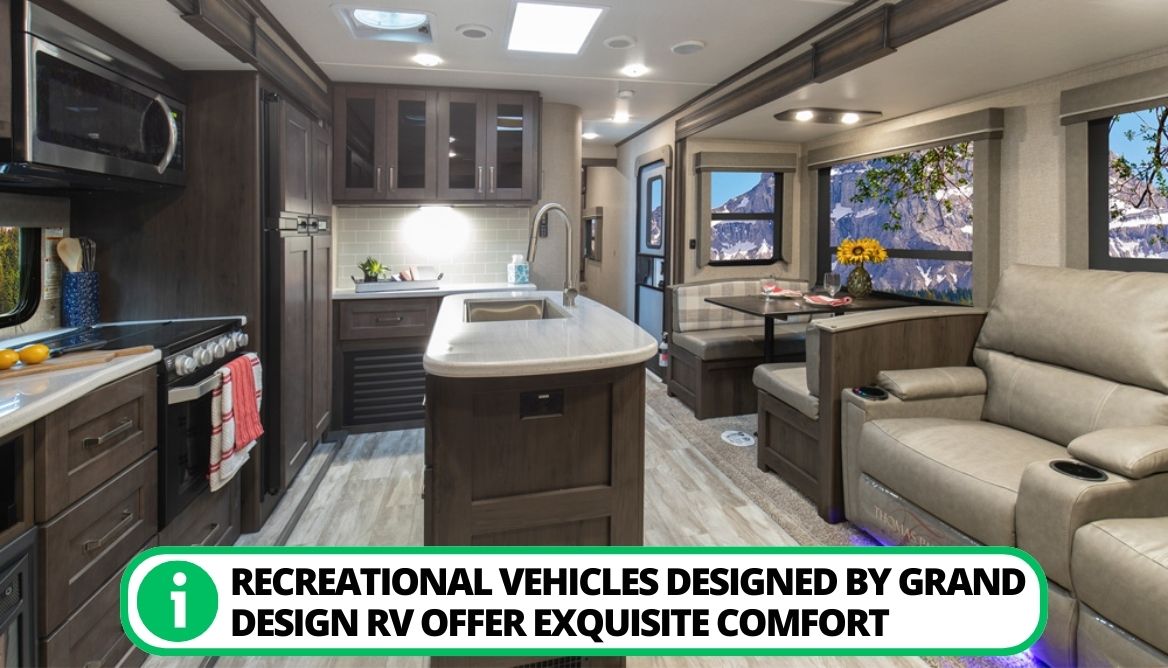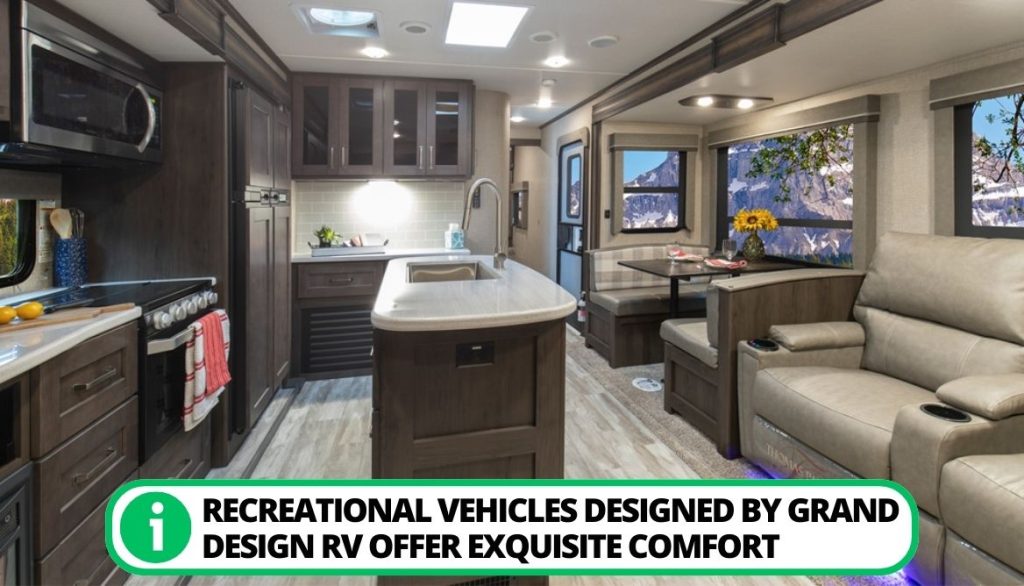 The recreational vehicles designed by this manufacturer offer exquisite comfort, so much so that you can turn them into a home alternative. Its famous projects include the Grand Design Solitude and Grand Design Reflection, extremely opulent fifth-wheel RVs.
Characteristics
Let's review the elements constituting a Grand Design RV:
Roof Ladder (S) Solar Power Inlet and Power Tongue Jack for Solar Panels;
(S)28-Inch Radius door;
Large water pump;
Extremely oversized tank capacity;
2″ Freshwater drain valves.
Pros and Cons of the Grand Design RV
The advantages and disadvantages of Grand Design RVs are:
Pros
Great after-sale services;
Crafted to provide extreme comfort and opulence;
Rigorous pre-delivery testing.
Cons
More costly;
Poor selection of certain building resources.
Alliance RV vs Grand Design: 7 Parameter Detailed Comparison
These RVs bear distinguishing qualities. Depending on your preferences, your specifications will vary. Nevertheless, here are the Grand Design Alliance RV comparisons.
1. Construction
When I bought my first 1985 Chev Frontier RV Class C trailer, I didn't realize how important it is to pay attention to construction. And unfortunately, this has cost me a lot of money in the long run. After all, the quality of the build determines how long the vehicle will last. Therefore, I would like to start my comparison with this parameter.
Alliance RV and Grand Design adopt contrasting building approaches on a goal basis. Let's know the details!
Alliance RV
Alliance RV focuses on effectiveness and durability; therefore, they use a single precious material to manufacture the whole RV.
This tactic is known as unitary building. It is advantageous because you don't have to worry about parts tearing off or easily succumbing to wear. You can use that RV for several years if you properly maintain it.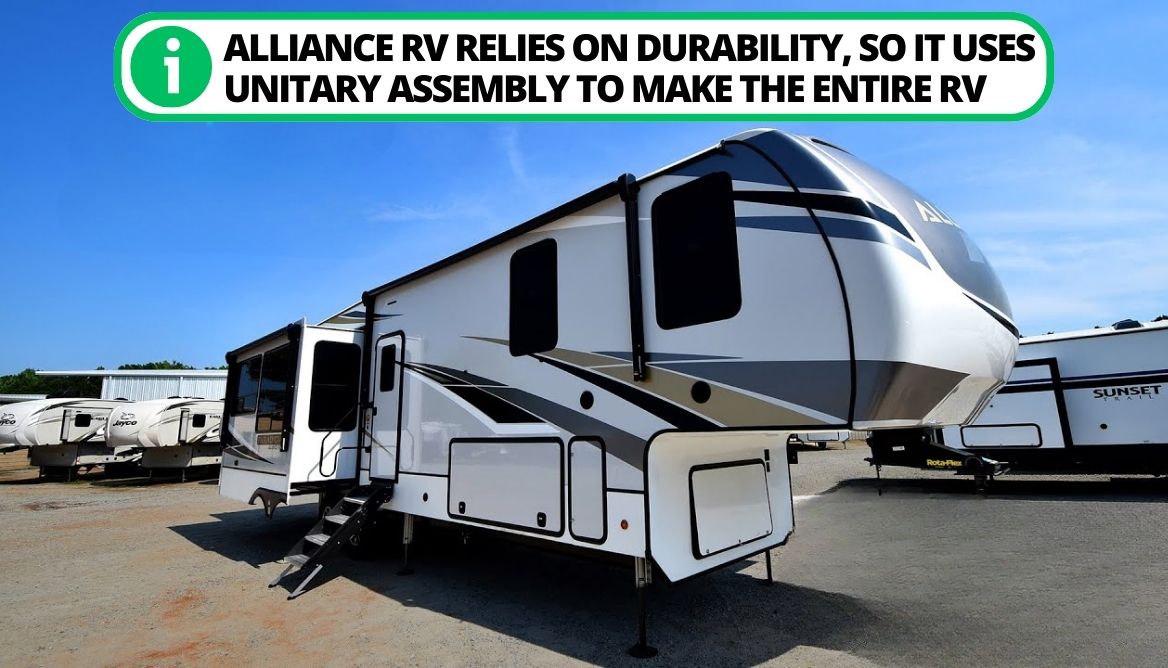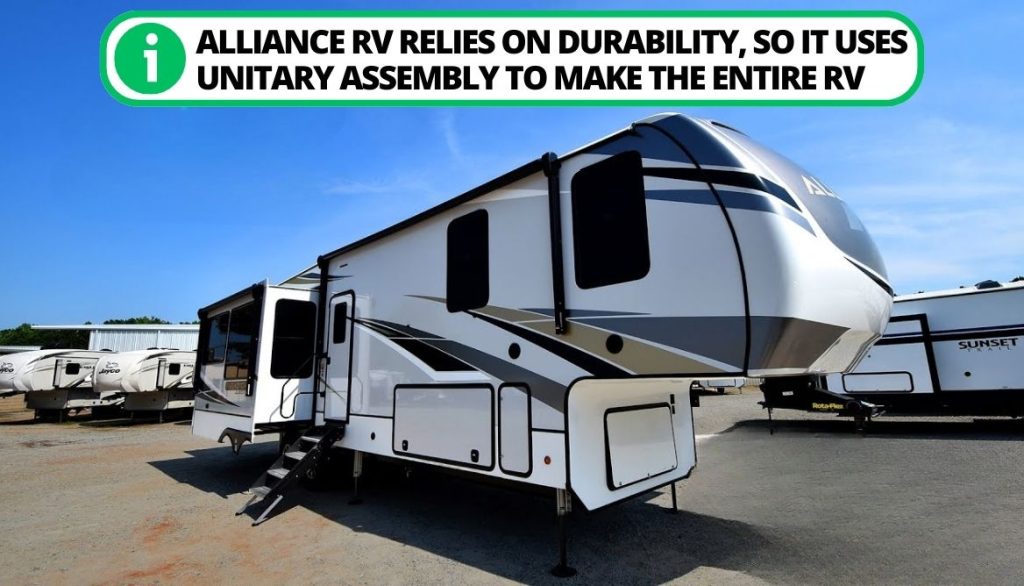 Grand Design RV
Grand Design RVs adopt a more customized approach. This company incorporates several components to come up with the perfect RV. This tactic is the stick-built design. This technique improves certain aspects of the RV, like fuel consumption, while sacrificing quality in the process.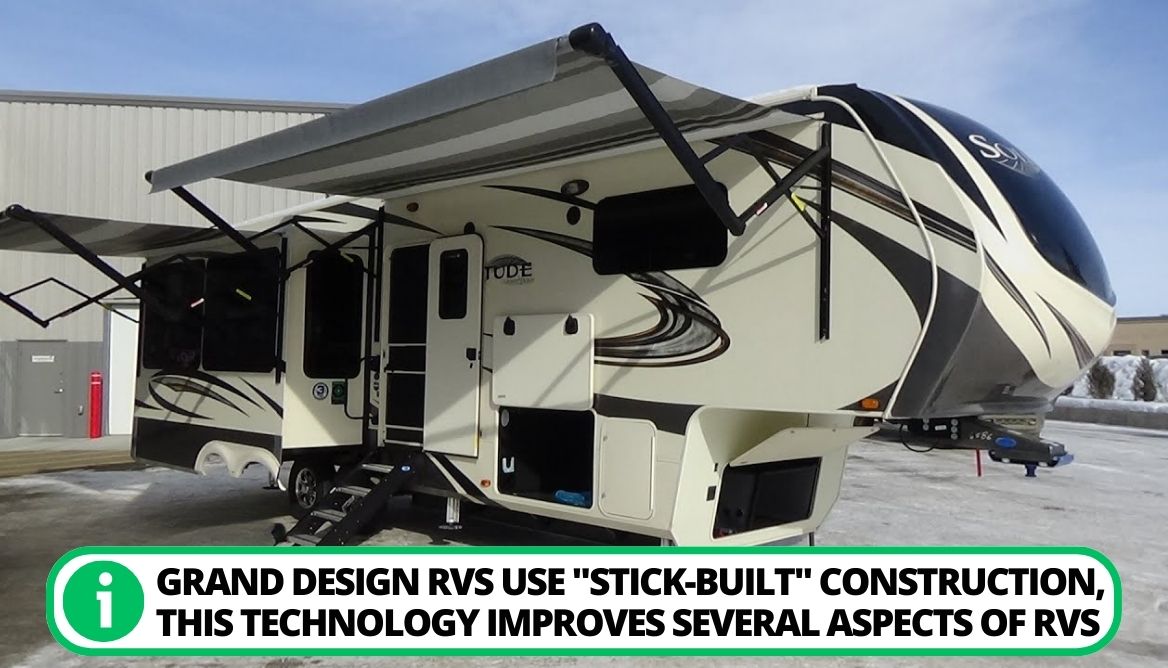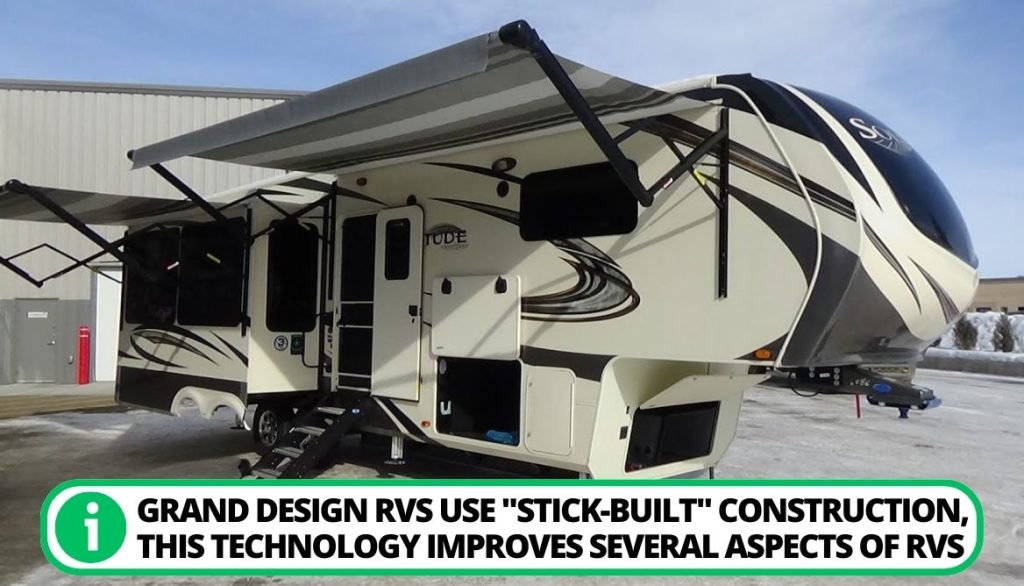 Winner: The Alliance RV wins this round because, despite designing an effective recreational vehicle, they ensure that quality is upheld. This feature makes it a great selection for RV enthusiasts.
2. Chassis Structure
These vehicles bear varying chassis. Grand Design manufacturers employ a standardized chassis. This feature forces the company to: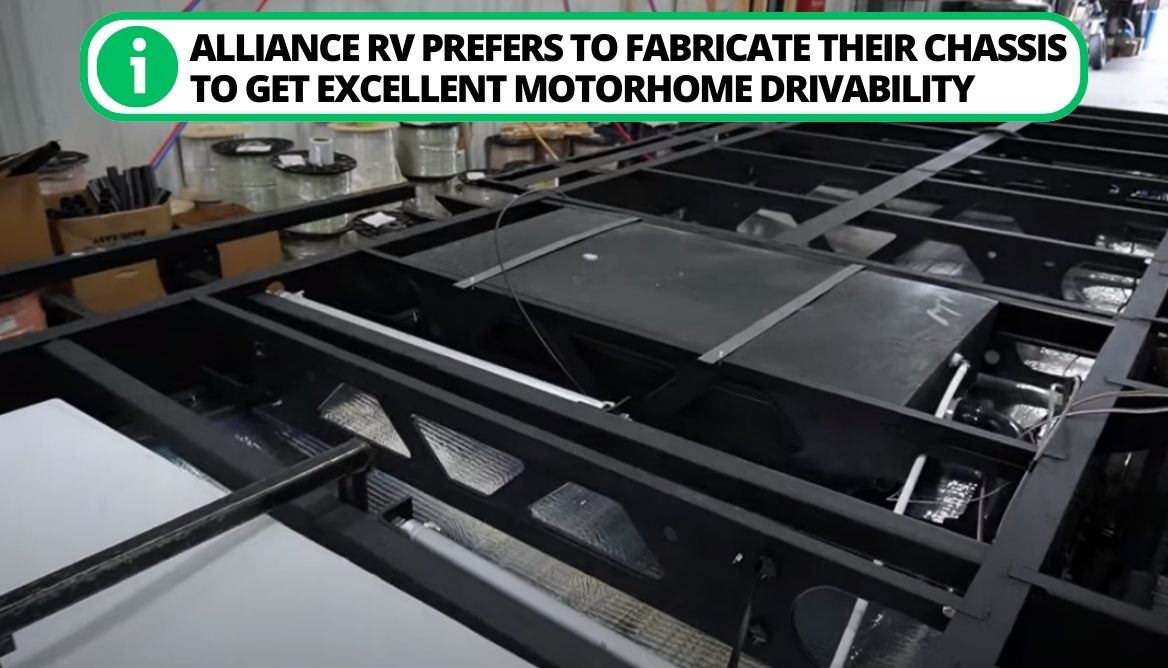 Get resources from multiple vendors at subsidiary prices.
Impose high costs when selling the RVs.
Alliance RV prefers to tailor their chassis to fit its requirements. This adds to the production cost. However, you will derive stellar motorhome handling transmission, making the ride enjoyable.
Winner: Having efficient control over your motorhome is necessary and integral to your safety. It is for this reason that Alliance RV also wins this round.
3. Interior Design
The whole point of a Grand Design Alliance RV purchase is having fun during your travels. Alliance RV narrows in on bettering effectiveness and durability. You can receive top-up amenities like stainless steel appliances and exemplary air conditioners by paying extra.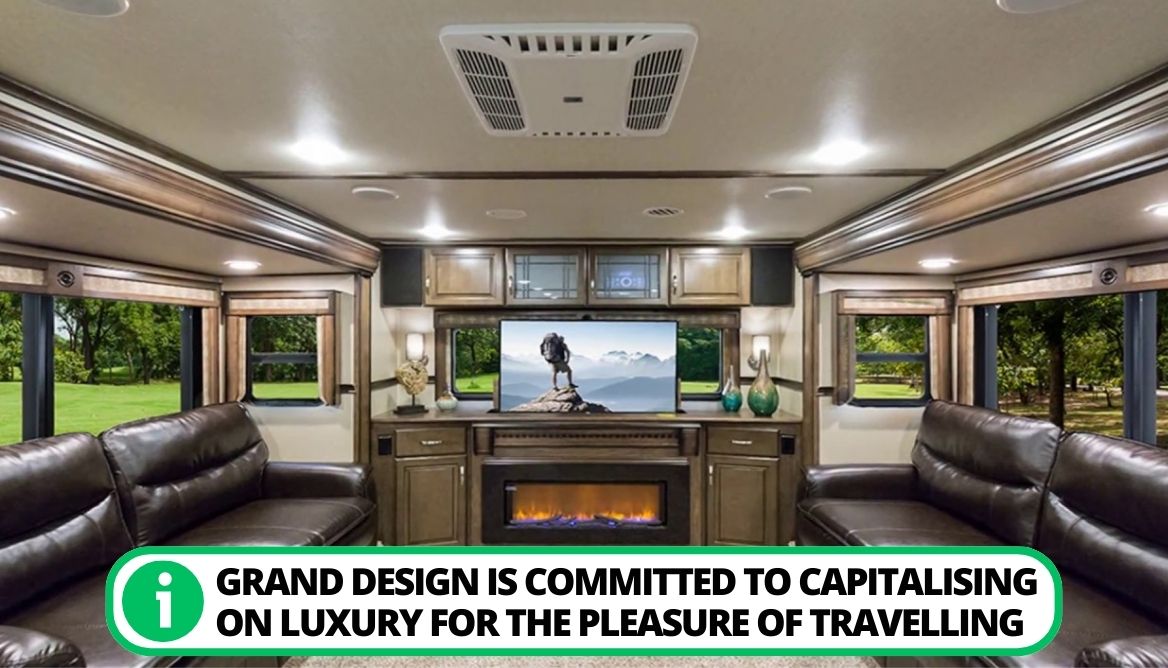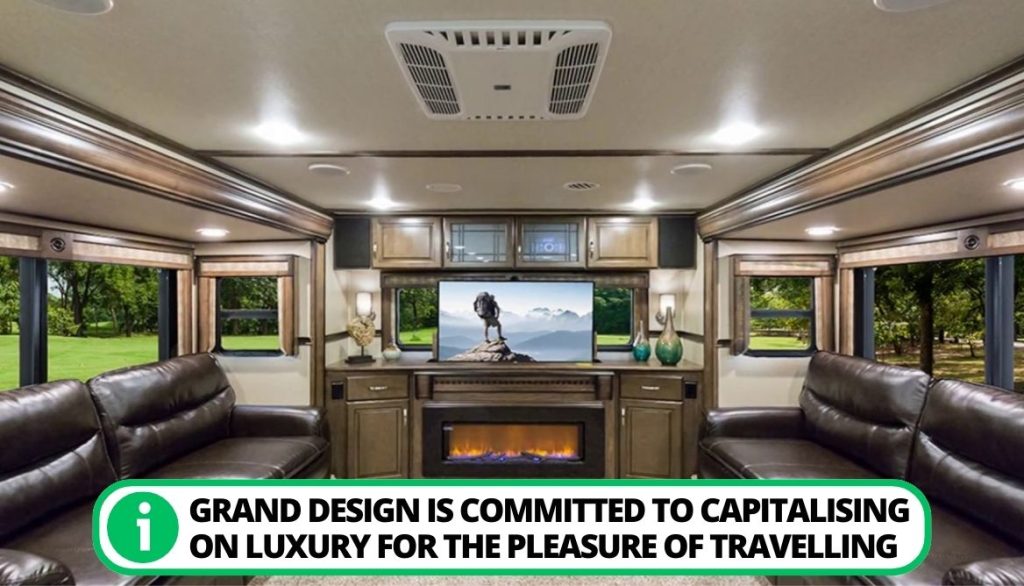 Now, this is Grand Design's area of expertise. This RV firm aims to capitalize on luxury. Grand Design RVs include the resources that require extra funds on an Alliance RV and in a more splendid manner.
Winner: This is an easy pick because the Grand Design RV exists to satisfy travelers' comfort. While quality Alliance RVs maximize the trailer's performance and endurance, Grand Design focuses on the customer experience.
4. Build Design
With relation to the building approach, these RVs use different resources. Alliance RVs employ Adzel, a more premium and refined material that is great when aiming for durability. These materials are also subjected to an intense pre-delivery testing exercise to ensure that every component is in working order.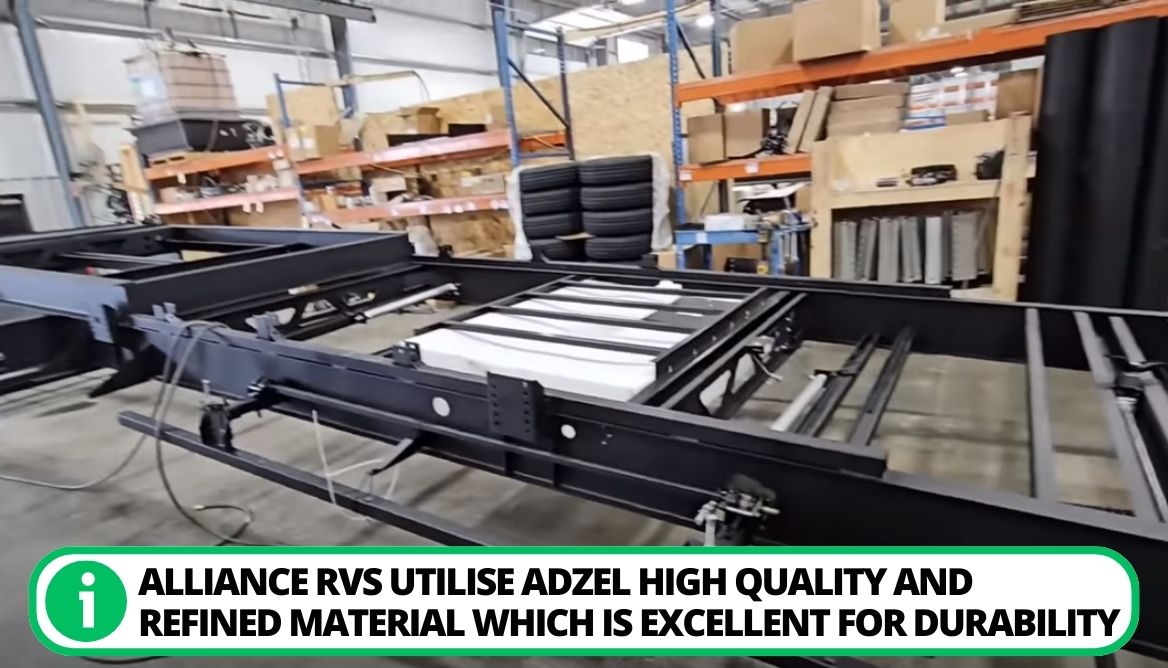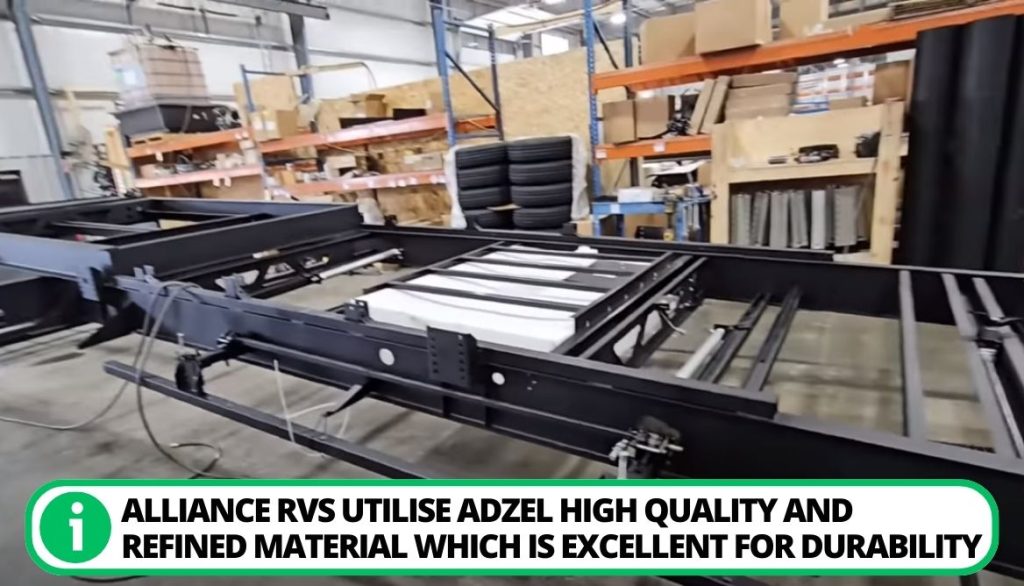 The build design allows Alliance RVs to have:
Frames with proper insulation, ensuring energy preservation.
A rigid trailer compartment to bear certain conditions.
Grand Design RVs usually don't last as long as Alliance RVs. This occurs because this recreational vehicle manufacturer uses plywood, less heavy than Adzel. Constructing a Grand Design recreational vehicle using this material makes the RV lighter than its counterpart.
Winner: While Grand Design also runs their trucks through decent quality assurance programs, trading quality for luxury and a better fuel economy isn't worth it. Alliance RV tops this section.
5. Price and Value Derived
Alliance RVs recently bloomed in the recreational vehicle space. Due to this factor, the firm has a limited product line. Most Alliance RVs cost between $80,000 to $115,000. These trailers are a fantastic selection when operating on a budget.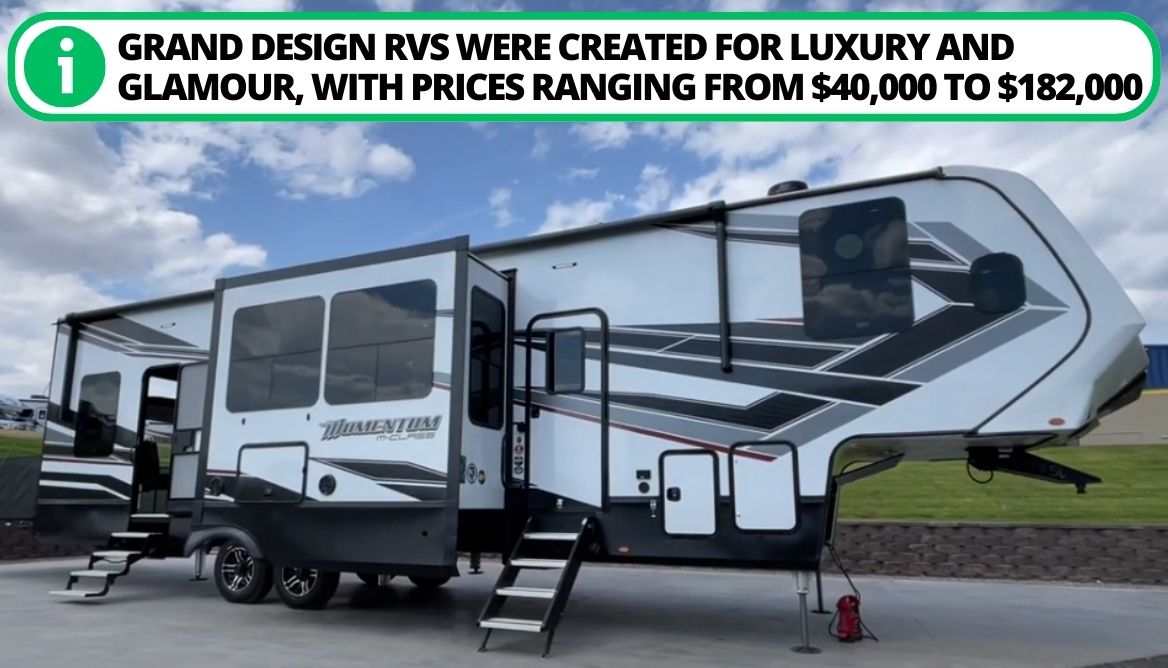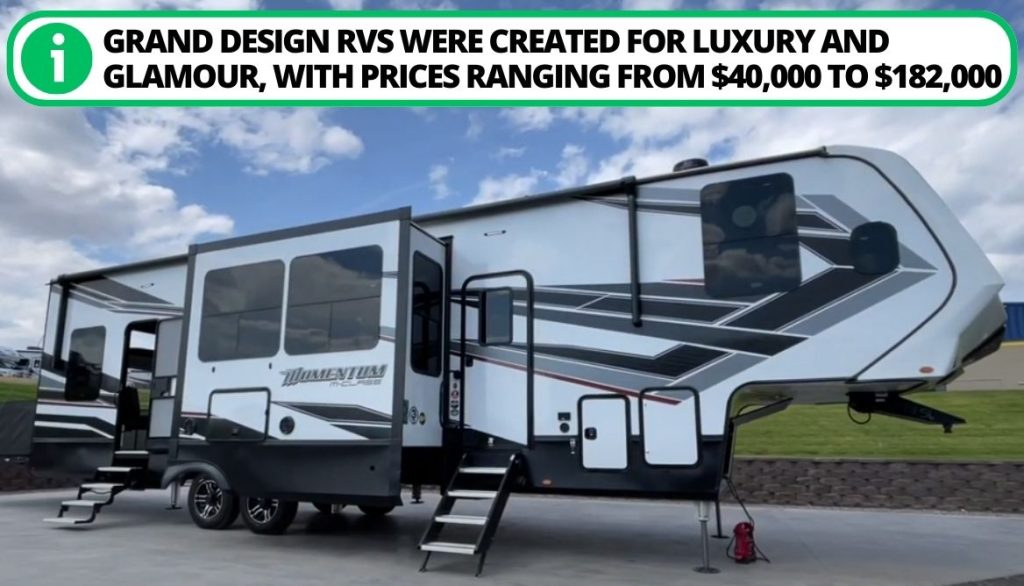 Grand Design RVs, however, were crafted to offer opulence and glamor. Their comprehensive catalog of RVs allows their price range to fall between $40,000 to $182,000.
Winner: The cost and value for money will depend on what you desire. When you have a certain fixed amount and want to enjoy performance and durability, the Alliance RV has got you; if you seek splendor, Grand Design RVs will sort you.
6. Customer Service Expertise
When grading customer service, there are factors like years of operation that you should factor, like how long the company in question has been in operation. Alliance RV has been in the sector for under a century. Their client approach based on remarks is applaudable.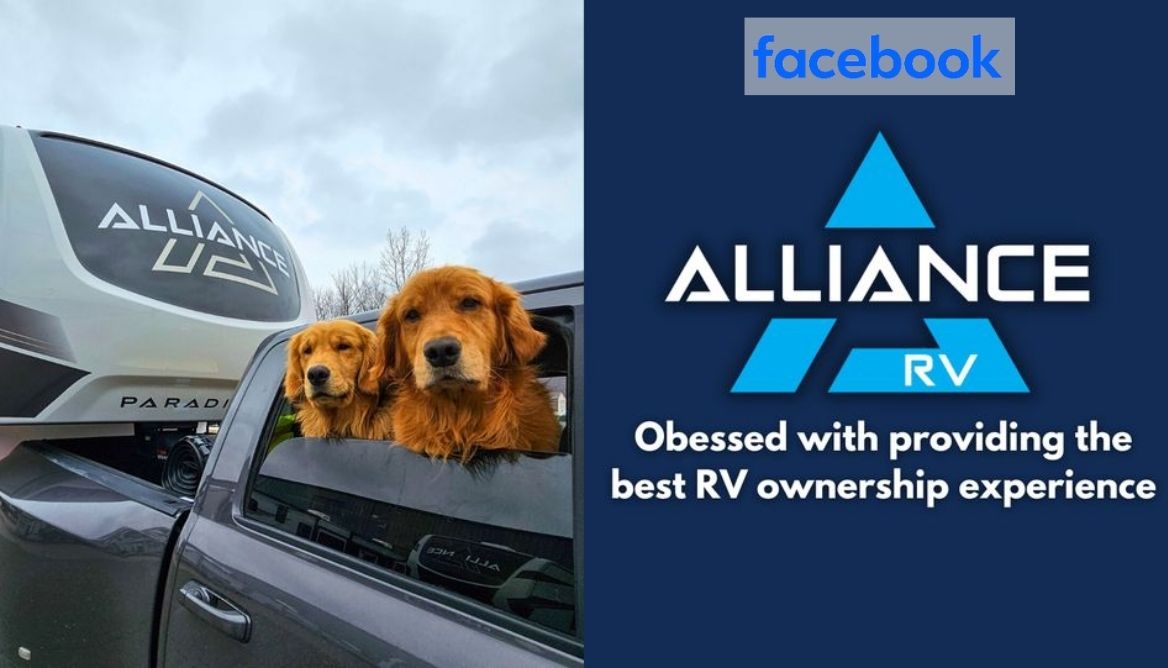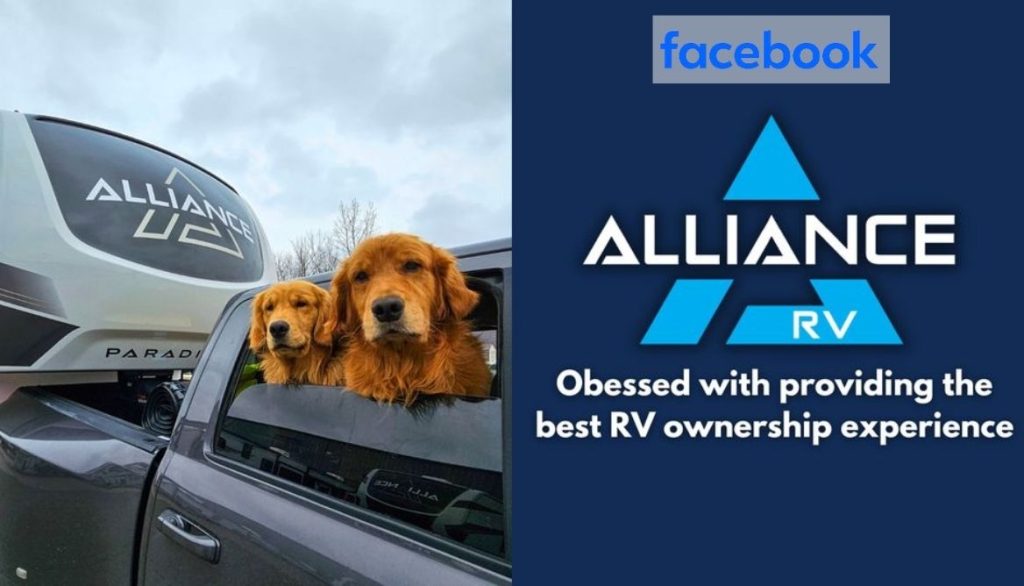 Alliance RV cares so much, they use a Facebook group to derive issues and ideas to improve. Their closeness to the customer base makes them understand precisely what to deliver.
While Grand Design hasn't been crowned the epitome of poor customer service, ratings aren't in their favor. They offer exemplary after-sale services; however, the firm could improve its customer service operation.
Winner: Alliance RV proves superior in this department.
7. Warranty Issuance
Alliance RV issues an annual warranty that covers the drivetrain, chassis, and engine. The main parts, like those mentioned, accrue a prolonged allowance for 3 years maximum.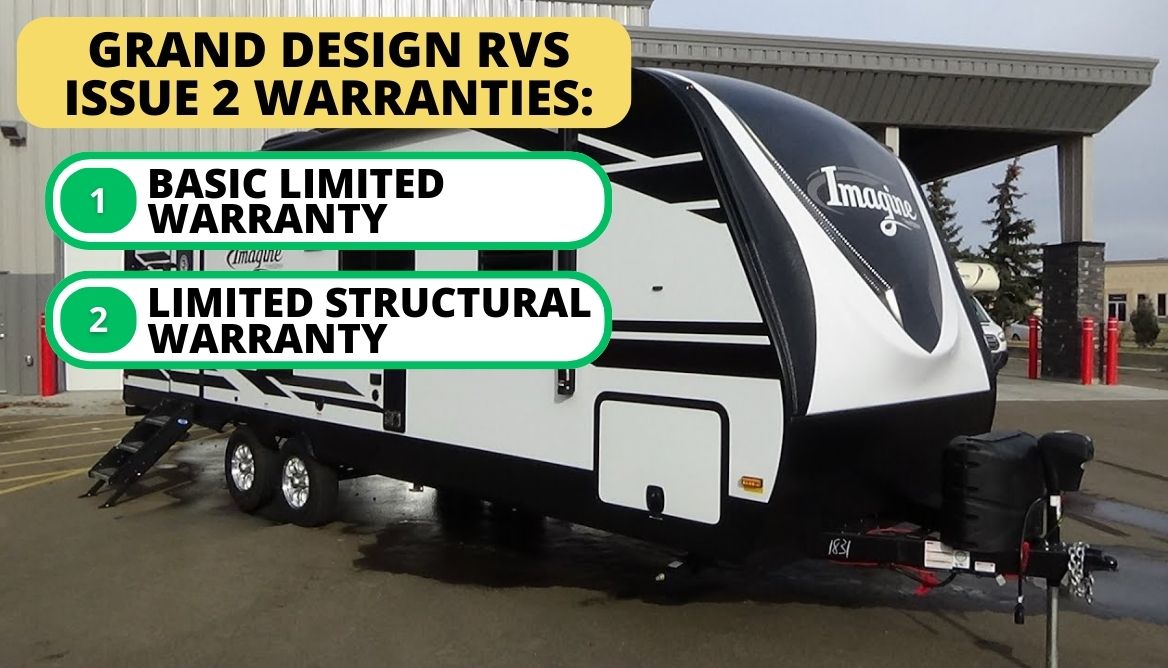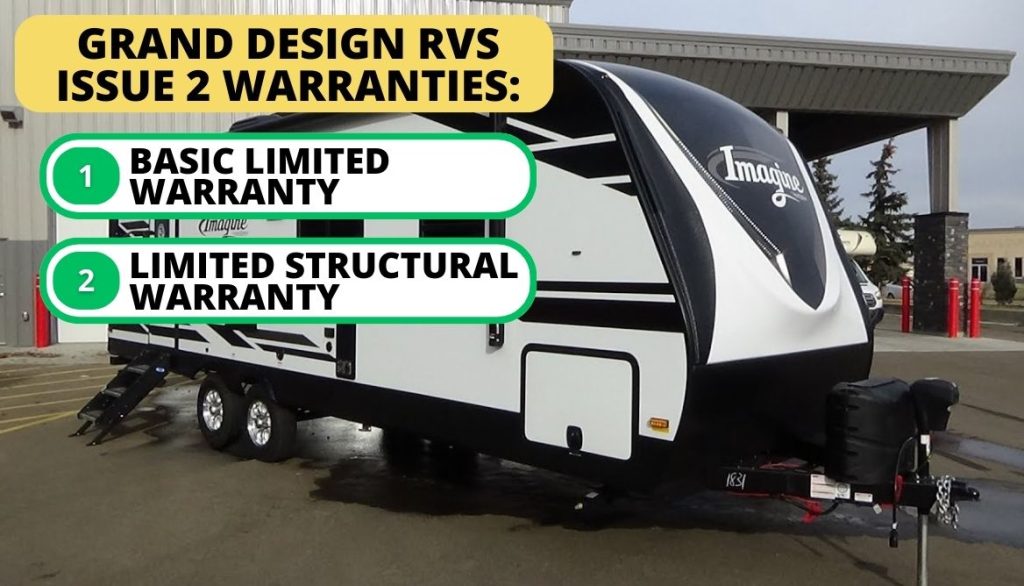 The Alliance RV assurance also ensures that materials and gadgets fixed by the firm are repaired on their behalf in case of any issue.
Grand Design RVs issue two warranties:
Basic limited warranty: This type of assurance accounts for manufacturing equipment and appliance defects. If you sell your vehicle, the warranty transfers to the new holder.
Limited structural warranty: This guarantee gives you up to 3 years of repair on designed elements. Selling your Grand Design trailer, however, refrains the transferability of the warranty.
Winner: In the battle of Alliance RV vs. Grand Design RVs, the latter wins this round. This result is because this RV offers complex yet effective warranty plans.
A Reflective Guide on Owners' Experiences and Remarks
While it might sound far-fetched theoretically, these RVs are out to ensure you reap the best experience.
Bill, for instance, had the following to say regarding Alliance RV manufacturers:
"
I have owned 8 RVs over a period of 45 years. This Alliance is by far the best of them all. It has heavy-duty construction and is very well-designed. After 21 months and 20,000 plus miles, I must say this unit can handle anything.
"
Bill, an Alliance RV Owner
Gene Smith, a Grand Design trailer owner, cited:
"
Love the layout of this unit. The two doors into the bathroom are a great feature for an RV. Storage in and underneath is great and hard to fill up. We have a queen sofa bed, so we often take grandkids on trips.
"
Gene Smith, a Grand Design RV Owner
Which One is The Better Option?
The Alliance RV vs Grand design RVs debate can finally rest after understanding the different characteristics, benefits, and disadvantages accompanying these trailers. Both RVs have positive prospects and shortcomings.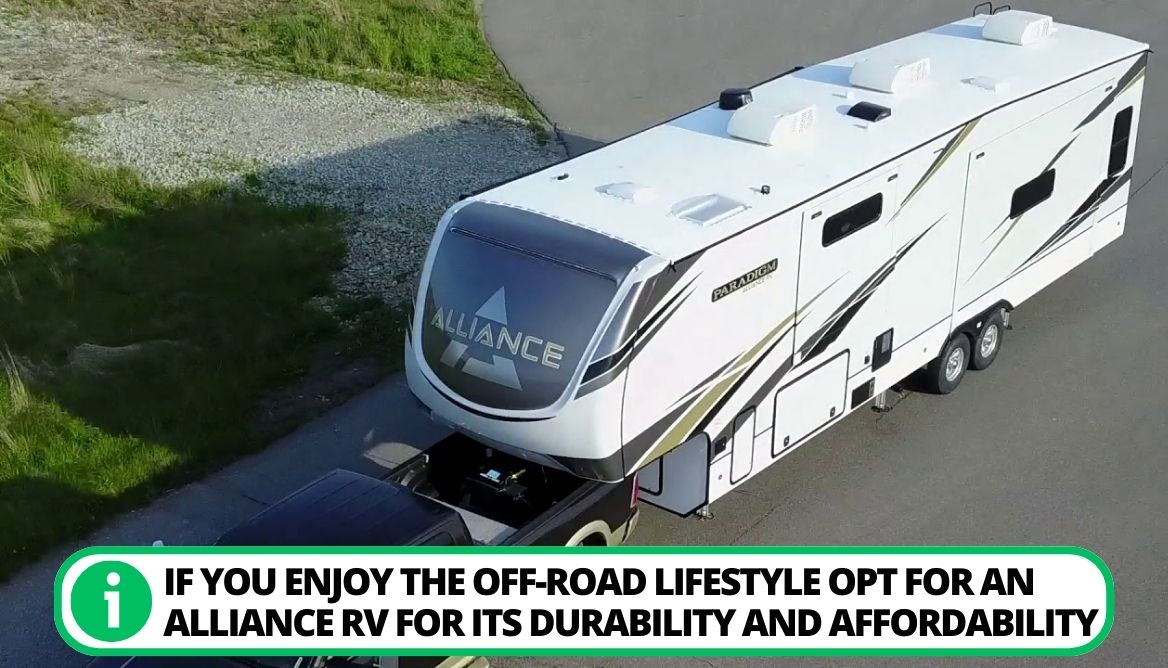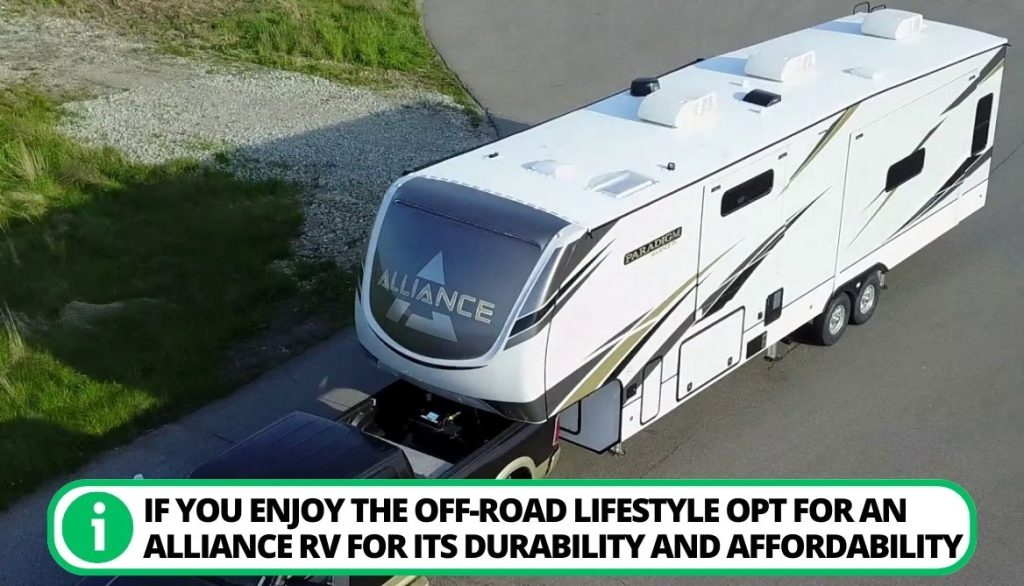 If you fancy the RV lifestyle and regularly tour, go with the Alliance RV due to its durability and affordability. However, if you are there solely for the luxury features, the Grand Design RVs will suit you.
FAQ
Are Alliance RVs Good Quality?
Yes, Alliance RVs are good-quality trailers. Manufacturers use Adzel to make the trailer compartment more sturdy.
Is Grand Design Worth the Extra Money?
Grand design is worth the extra money because you reap from having standard premium objects like stainless steel appliances. This trailer also maximizes comfort.
Is Grand Design a Quality RV?
Grand design is a quality RV that undergoes rigorous evaluation checks before delivery to minimize error. While they can't match Alliance RVs quality-wise, they are decent.
What Are Some of the Most Popular Alliance RVs?
Some of the most popular Alliance RVs include Vegas, axis, and the Tempest.
Conclusion
With this newly acquired knowledge of the Alliance RV vs Grand Design, choosing a trailer between these fifth-wheel manufacturers becomes easier. They bear different structural characteristics in terms of build quality and chassis.
Both have different advantages and disadvantages. The Alliance RV is less costly and offers better quality. However, they have a small dealership coverage. On the other hand, the Grand Design RV is great if you seek luxury and has an efficient warranty, but it is pricey.
Generally, however, pick the RV that suits your needs and is within your budget. So, which one do you want to choose?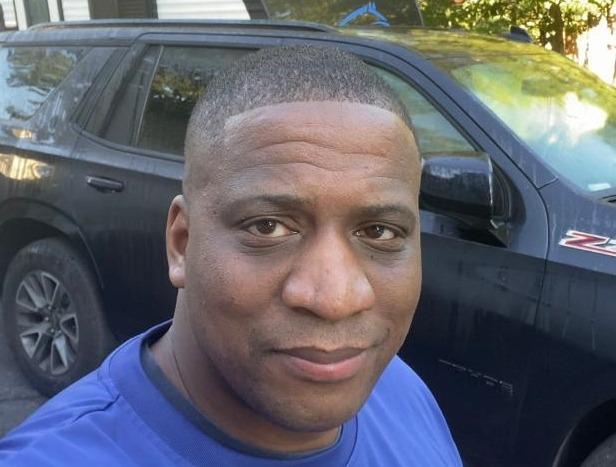 I`m a current Law Enforcement Officer working within the Counterterrorism Bureau in New York State. I have been Camping for over 20 years. My styles of camping include tent, car, truck, van, and RV travel trailer. I have a YouTube channel where I teach all types of camping with an entertaining method: https://youtube.com/@TheSmallsRVAdventures