19 Awesome Bus Conversion Ideas: Amazing Gallery
Do you want to improve your travel experience as a camper or Rver? If yes, then you should learn about the bus conversion ideas of converting mini buses. There are many reasons to convert a minibus into a new mobile home or mini RV, but one of the biggest reasons people do so is because it's easier and less expensive than building an actual house from scratch. If you're interested in doing so, here are 18 awesome minibus conversion ideas to get your inspiration going!
In today's guide, you will learn about the following exciting things:
19 Awesome conversion ideas of buses with their pros and cons.
Essential tips to know before minibus conversions
Things to remember when converting a minibus
Mini Bus Conversion Ideas
A mini bus conversion is very similar to a school bus conversion, but it takes everything to the next level.
A skoolie conversion adds furniture and other necessities into an empty space. A minibus conversion process goes even further by adding flooring, cabinets, windows, insulation, ventilation or any other feature that will make the interior more usable.
Just like with school buses, there are many reasons why you should choose this type of vehicle for your road trip home – short travel times (since they are smaller), fuel efficiency (since they are lighter) or affordability (since they are cheaper).
But unlike school buses, repurposed full-size mini buses have fewer seats which also increases comfort and floor space.
The best thing about these types of vehicles – besides the floor space and low cost – is that they are widely available.
There are thousands of minibusses in every state, waiting to be taken off the road.
They get regular use at airports, school districts or local communities so there is no need for you to buy new vehicles just for your travels.
Since these vehicles were never designed with living quarters in mind, you will have to take on a conversion project. This means that the floor plan will vary greatly depending on personal preferences.
See also: How to Design Your Campers Layout
If you want max floor space then choose an extended length vehicle (which can offer up to 295 square feet), or if comfort, privacy, and storage are more important then go with a coach-style model (which has around 160 square feet).
Some of the features you can find in school bus conversions are flooring, cabinets, windows and insulation.
Some of the flooring options include wall-to-wall carpeting (for increased floor space), hardwood floor (for a more streamline vibe) or laminate flooring (which keeps water away from your feet).
Other interior components that may be added into your mini bus conversion project depend on personal preference and budget: small kitchen and kitchen appliances, solar panels, bathroom fixtures , electricity system, water heater, bunk beds, and furniture .
When it comes to kitchen appliances – besides a stove and fridge – you might add a sink equipped with hot and cold water.
If plumbing is not part of your road trip expenses then choose an open floor plan instead which will give you extra floor space.
On the other hand, if plumbing is part of your budget then floor space might be reduced in favor of adding a bathroom with a composting toilet and a shower inside the mini bus.
After you finish converting your vehicle into a home on wheels, there are many places to explore with these types of vehicles – desert landscapes, mountain trails or vast ocean vistas.
Once you get behind the wheel and start taking road trips with your converted mini bus you will notice that there are some features that help improve convenience and functionality.
You can add storage compartments like plastic floor bins (for items that need to be easily accessible) or exterior storage compartments (for larger items that would otherwise take up floor space inside).
You can also install a ladder rack, bike racks and side rail system for additional storage space. And if you have some floor space left then consider adding a mattress with bedding so you don't have to sleep on the floor.
First things first: school buses aren't just for school kids anymore! One of the best types of vehicles to turn into an RV is a school bus because they're built tough and they have large, wide-open interiors that can be easily customized.
If you want to build your own camper school bus, here are a few styles that could work for you.
1. The School Bus Living Room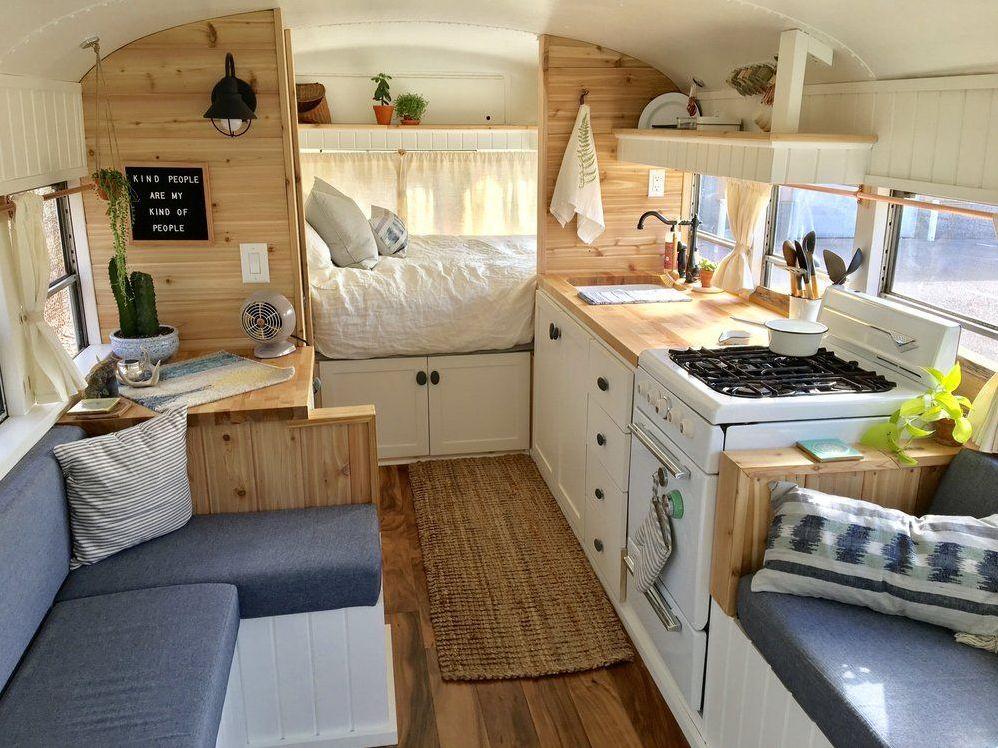 Best used as: a living room on wheels, a master bedroom on wheels.
I think my favorite school bus conversion option is to use it as a living space. There's nothing better than being able to relax in bed while on vacation, and this design allows you to do just that.
In place of traditional seats, I would recommend using comfy sofa beds or maybe even a futon (that way you can also use it as a couch during the day).
The school bus living room includes:
A sofa bed on one side of the school bus for sleeping and relaxing
Another sofa or futon across from it for watching TV, playing games, reading books, etc.
Plenty of space to live comfortably while on vacation! It's like bringing home with you wherever you go.
Disadvantages: None! This is one of those camper school bus floor plans that I think would work well for just about anybody!
The only thing I might consider changing is maybe switching out the lower section for a bathroom so you don't have to leave the school bus to use your facilities.
2. Camper School Bus Conversion For One or Two People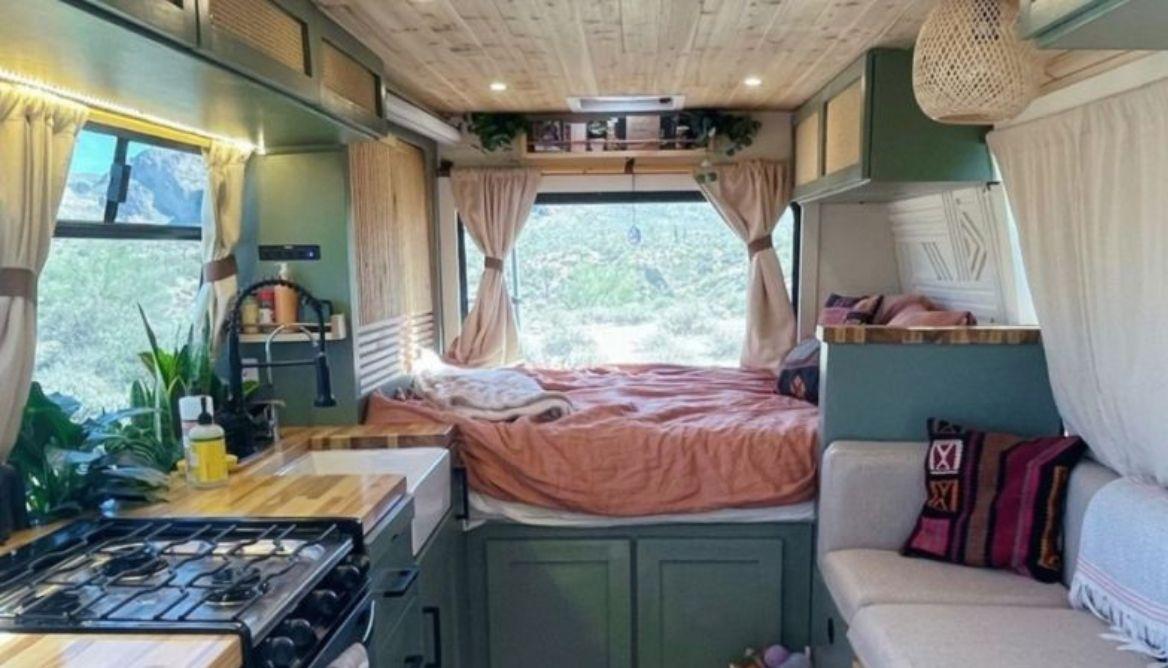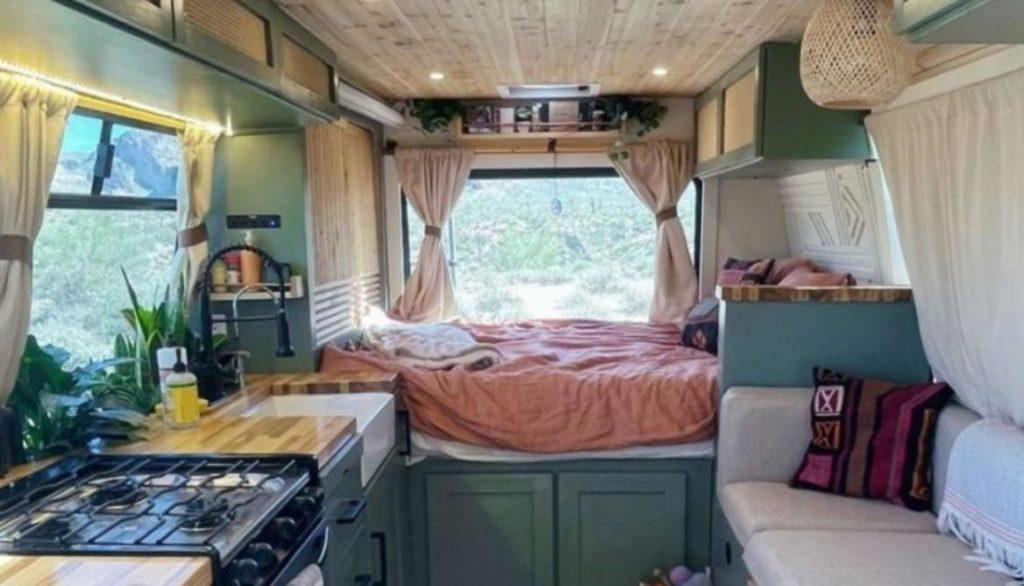 Best used as: A spare bedroom on wheels.
If you're camping by yourself or with only one other person, this is a good design for you.
It's basically the same school bus living room floor plan, except the pull-out bed has been replaced with a smaller sofa or futon so that there's more space for daily activities in the school bus interior.
The lower section of the school bus would be perfect for installing a bathroom so you don't have to leave your sleeping quarters while you're staying inside your converted school bus camper.
Advantages: Plenty of extra living space! With this floor plan, you'll never feel cramped on the road.
Disadvantages: None! This school bus conversion floor plan is great for one or two people who are looking for a little extra space while they're traveling.
3. The School Bus Kitchenette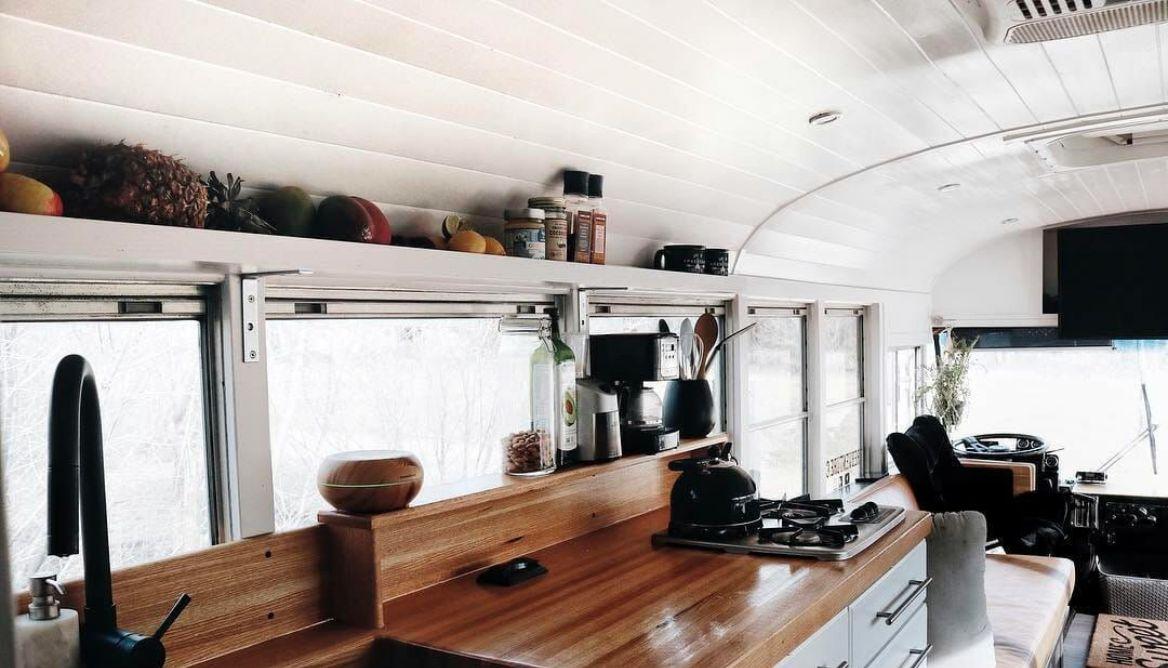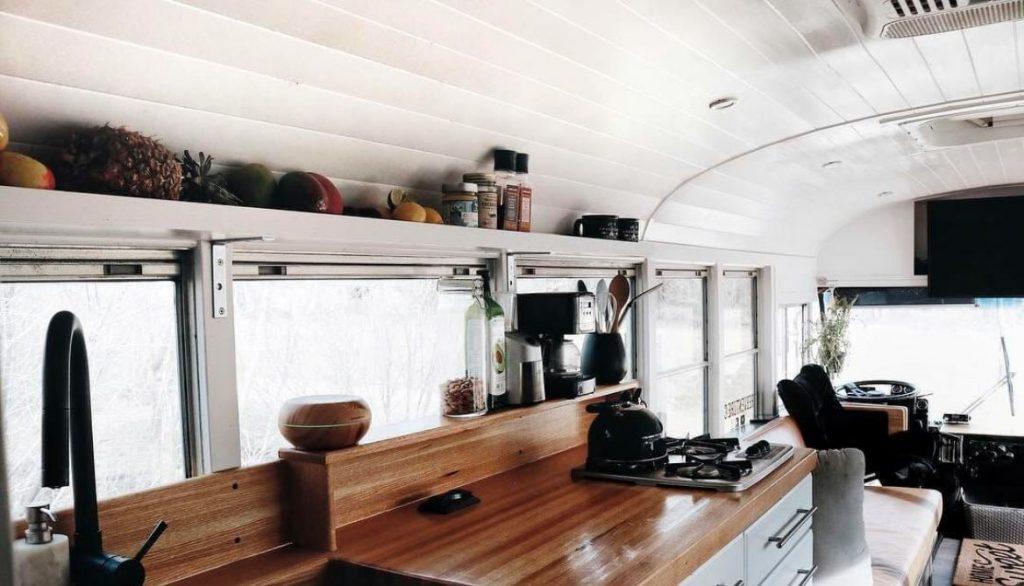 Best used as: A small-sized full kitchen on wheels.
This school bus conversion idea might not include much space to live in, but it would be perfect for someone who wants to cook meals on their way to their destination.
If you love cooking while you travel, this school bus conversion design could work well for you because of all the cabinet and countertop space inside the school bus interior.
Plus, if your school bus doesn't have an engine in it, then you can use the school bus for storing your camping gear.
Advantages: Plenty of cabinet and countertop space! This school bus conversion floor plan would be perfect for anyone who loves to cook while they're traveling.
Disadvantages: There isn't any living space in this idea, so if you don't enjoy cooking on the road, I wouldn't recommend it.
Also, this school bus design probably requires having an engine installed in the vehicle before converting it into a camper.
4. School Bus Lofted Bed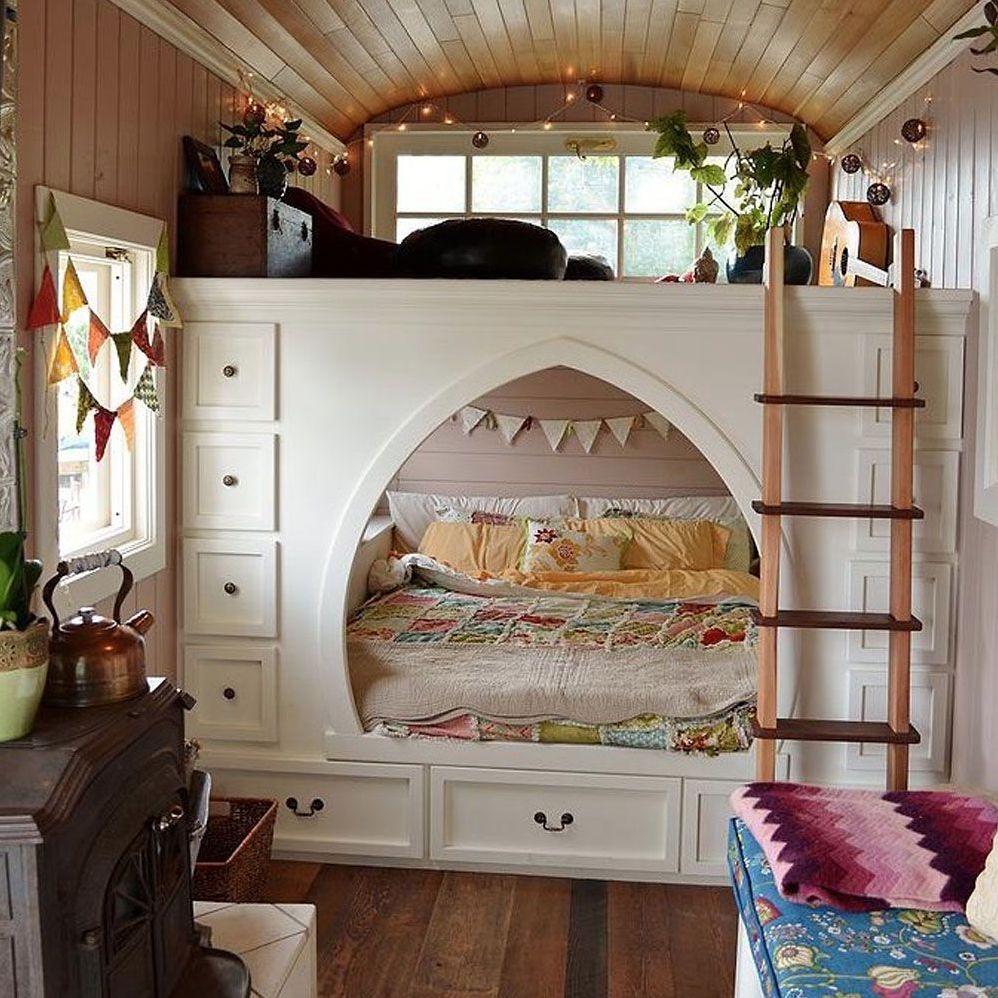 Best used as: A sleeping area with additional living space overhead.
This is another school bus conversion floor plan that uses the school bus itself for storage instead of installing a lower section.
If you love being able to stand up inside your school bus, then this school bus conversion idea could work for you.
Plus, it's perfect if you don't want to feel crowded on the road; there's plenty of floor space and overhead area for everyone.
Advantages: You'll never feel cramped with this school bus conversion design! There will be plenty of space to both live in and sleep…which means no one will have to crawl over each other when they need to get out of bed.
Disadvantages: This school bus floor plan probably works best when traveling with only one other person or a small family (because more than two people will require using an outside tent).
Also, building a school bus loft bed isn't the easiest school bus conversion idea to pull off.
5. Window Short Bus Conversion Idea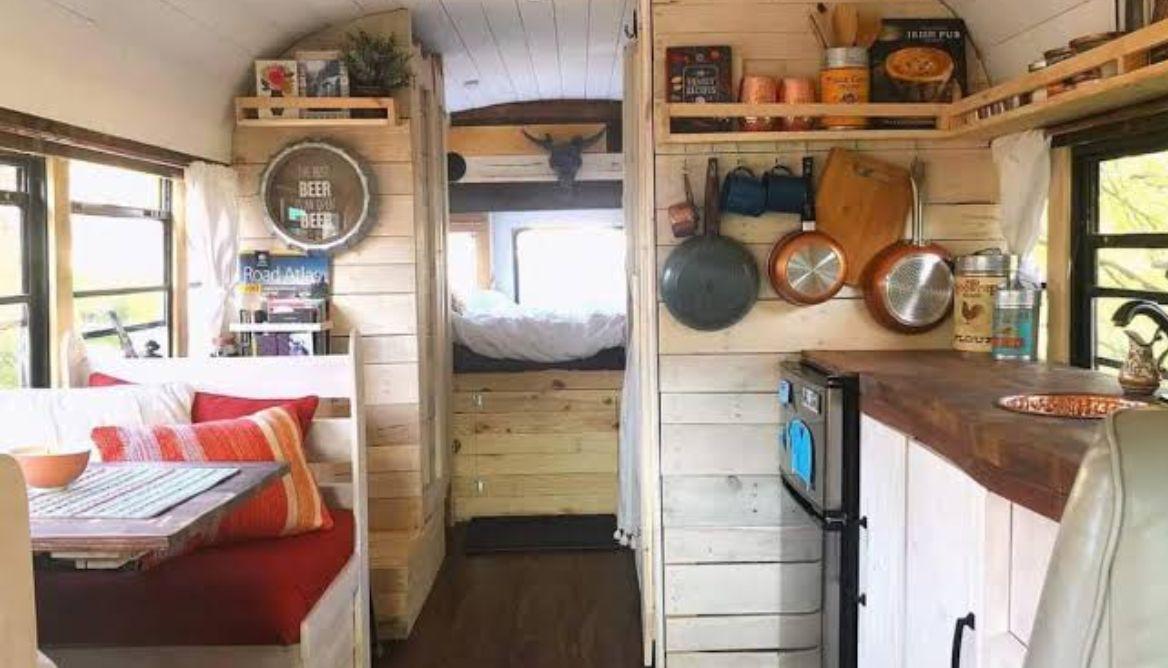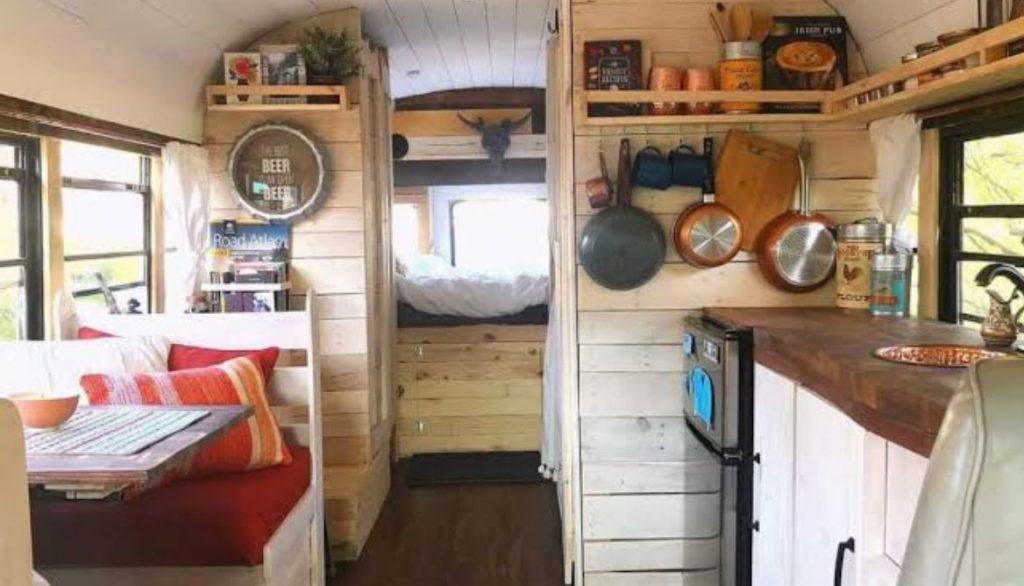 Best used as: To create a mobile home.
This bus can be converted into a house with walls and roofing. These types of conversions are often used as RVs or camping vehicles but can also be used as long-term homes.
A window-short bus typically has windowss up on the side of the bus, which allows light in and makes it easier to see outside without being blocked by an overhang.
These buses usually have sliding doors that make access to the interior much more straightforward than standard buses, which require climbing steps.
Advantages: A window-short bus is also ideal for people who want to live on their own for a time before moving into a more permanent residence, as it offers both convenience and privacy.
Disadvantages: They need to be equipped with air conditioning, so there may be better types of conversion of buses during the hot summer.
6. Half Walls Short Bus Idea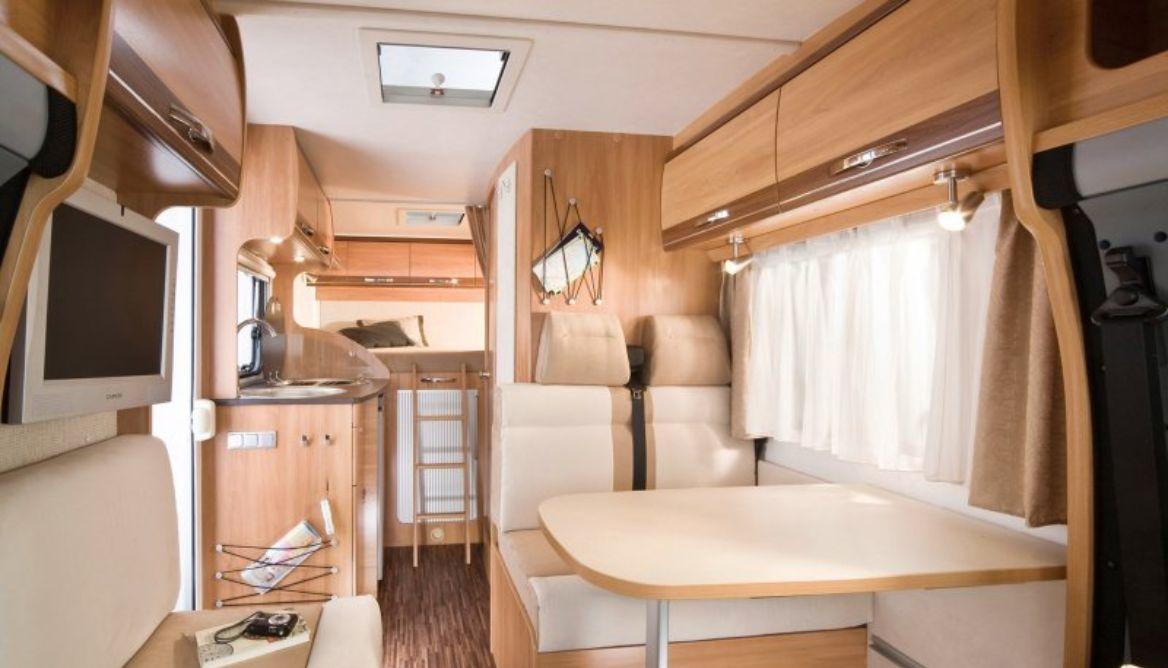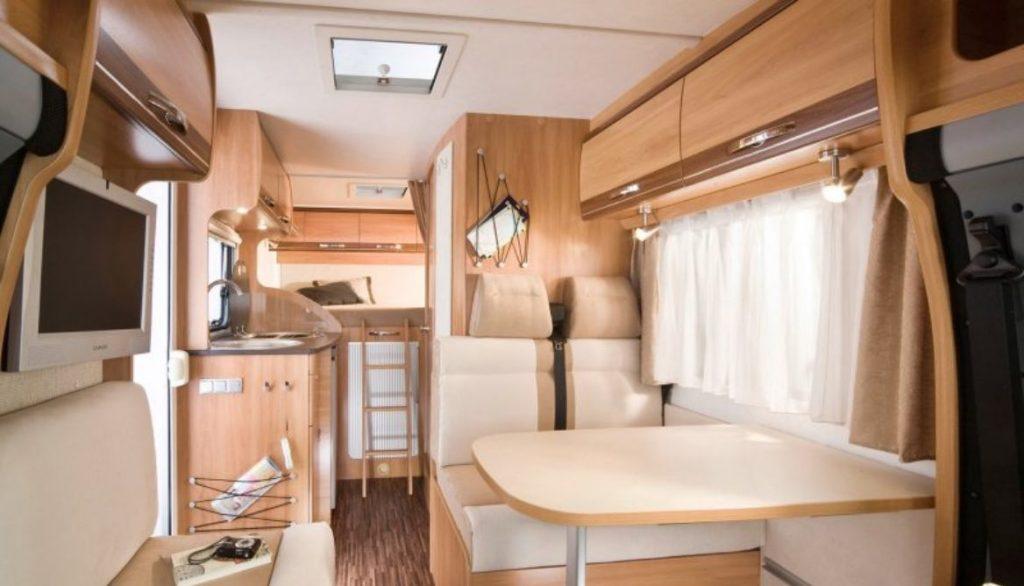 Best used as: For that must transport their employees and customers.
This bus conversion idea is unique because it looks like two separate buses stuck together back-to-back. It also offers plenty of storage areas and opens flexible seating options. This bus is not the best option for those who live in freezing climates because it does not have heat.
Advantages:
The best part about half-wall minibus conversions is that they're effortless to customize, so you can make them feel more like home. We love how compact these look!
This setup would be perfect if you have a lot of long hauls and need to carry small and more significant groups of people.
The roomier side could also work if you have children and pets in your group since there's plenty of room for them to roam around.
Disadvantages: It could be more practical for small businesses because you can't go to clients' homes. There's plenty of space in here! Of course, if you're only carrying a couple of people with you, then there should be plenty of legroom left over.
7. Work From Home Ready Short Bus Conversion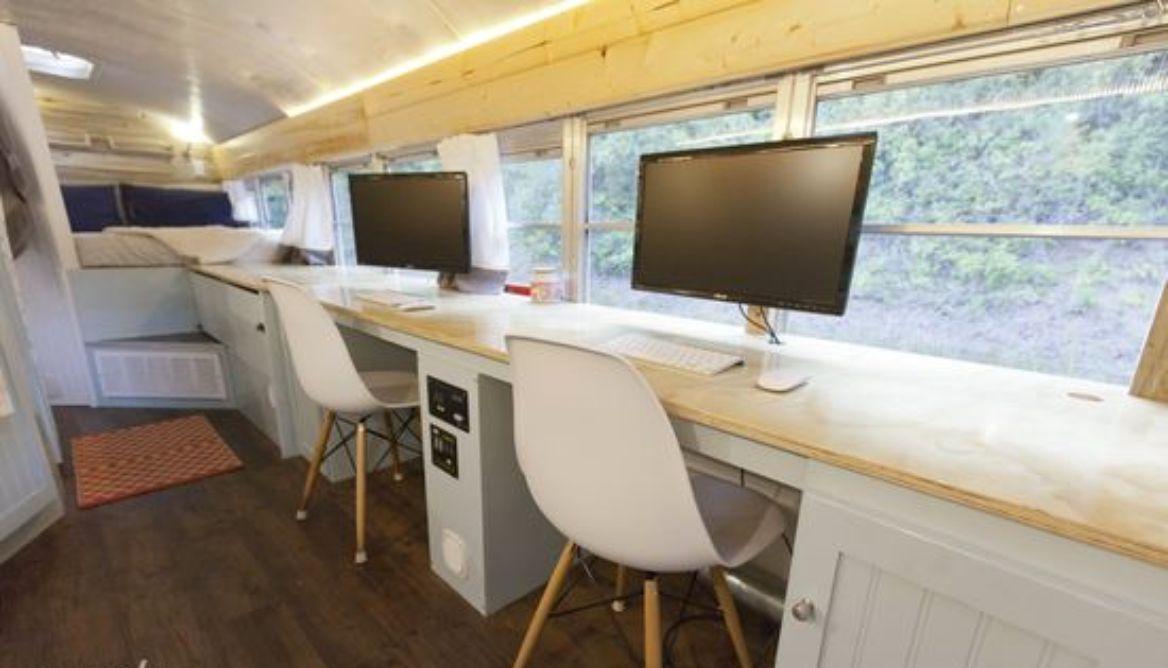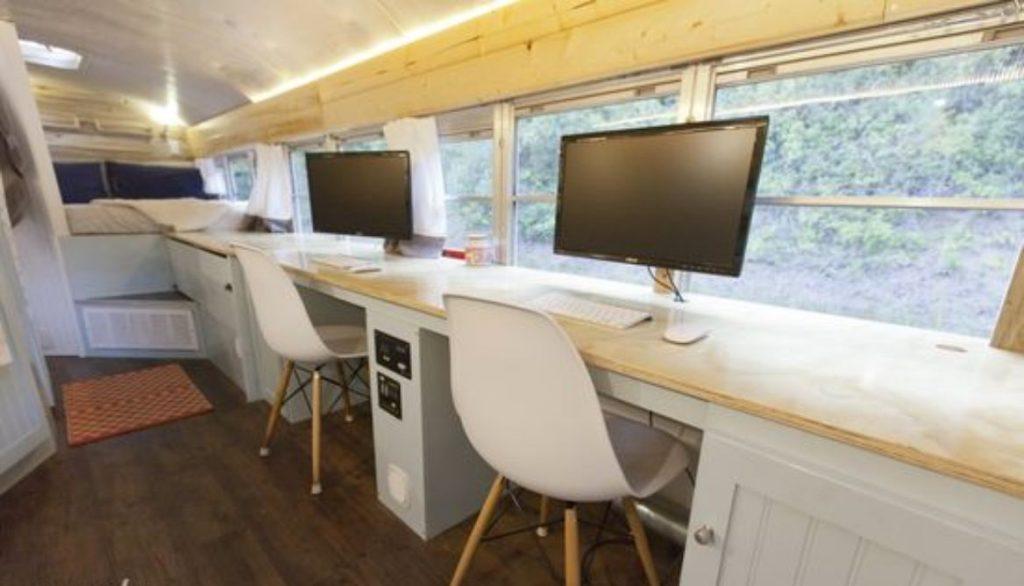 Best used as: Freelance workers' trips.
The work-from-home ready short bus conversion is excellent for work-from-home professionals because the whole back of the bus is a private office with a window. Even better, it's on wheels, so you can take your Office with you and move whenever necessary!
This minibus conversion was originally a school bus but has been renovated into an adorable home.
It has two bedrooms, a bathroom, and an open living room/kitchen space that would be perfect for kids or adults who want to spend time together while cooking.
Advantages:
This little house is on wheels, so you can take your home wherever you go!
It also has a solar system installed on the roof, providing all the electricity needed to power all three rooms.
And did we mention it's wheelchair accessible too? Perfect for those who have limited mobility and don't have access to traditional homes.
Disadvantages: It only has one door leading in and out, making security difficult. However, this can be fixed by installing a ramp or other forms of accessibility to make everything more convenient for everyone.
8. The Guys Bus Conversion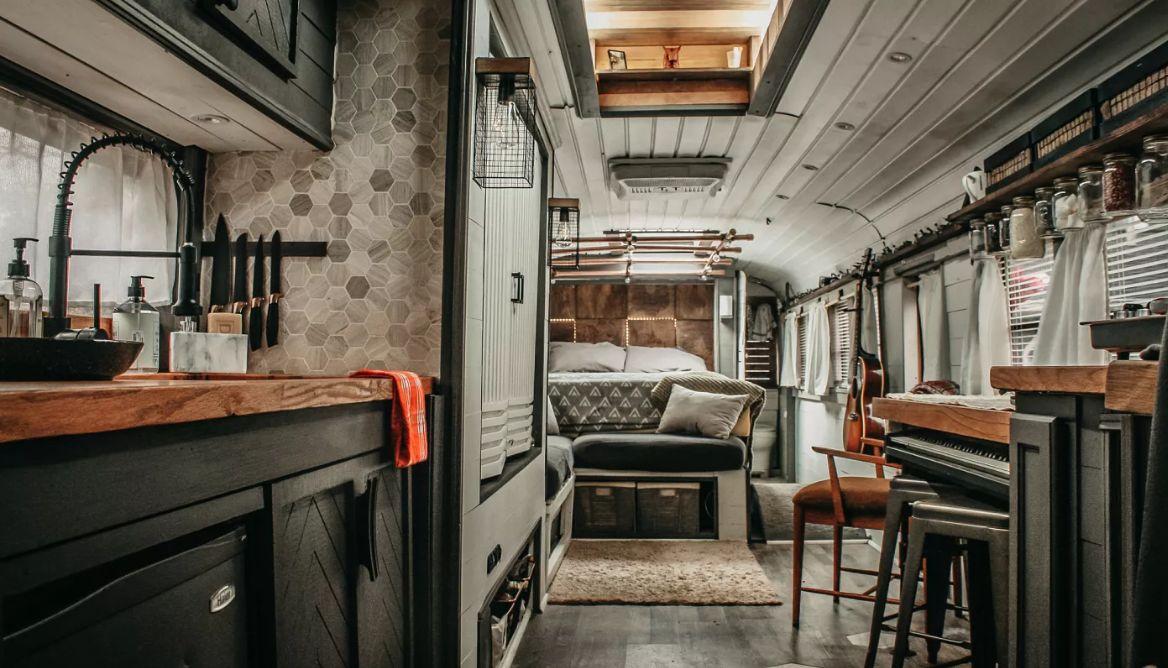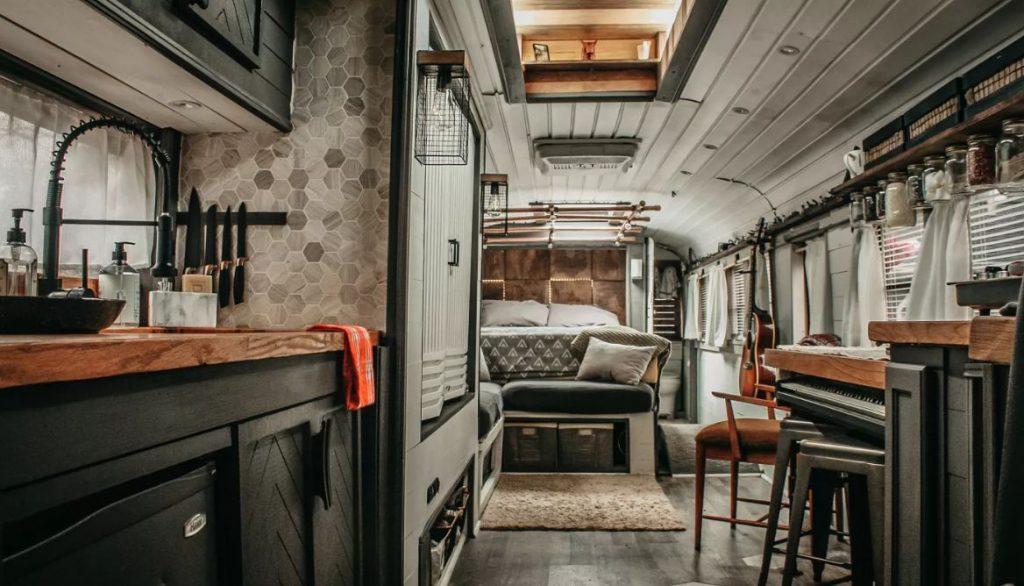 Best used as: Guys travelling.
This vehicle conversion is a double-decker bus that's been redesigned to have the feel of an apartment. It includes a:
Full kitchen
Living room
Led lights
Guest bed
Kitchen sink
Bedroom on the top deck
There are also two bathrooms, one on each level.
The lower deck provides a bed, work desk, and TV for relaxing after a long day.
This is an incredible minibus conversion idea because it combines all the best features of both worlds into one vehicle! You can drive from place to place while working or sleeping inside your tiny home. It's like having your hotel suite on wheels! And since there's no second floor, there will be less noise pollution than with a standard bus conversion.
Advantages:
It only costs $20,000—much cheaper than most camper van conversions costing upwards of $100k!
It has windows on three sides for maximum light, which makes the interior seem even more spacious than it already is.
The glass wall separating the driver from passengers in this design also makes driving much safer as passengers won't be able to distract him from behind!
Disadvantages: Since the bed takes up so much space, there's little room to store anything else. Investing in some closet organizers before moving in may be a good idea to make things easier.
9. Mid-Century School Bus Conversion Ideas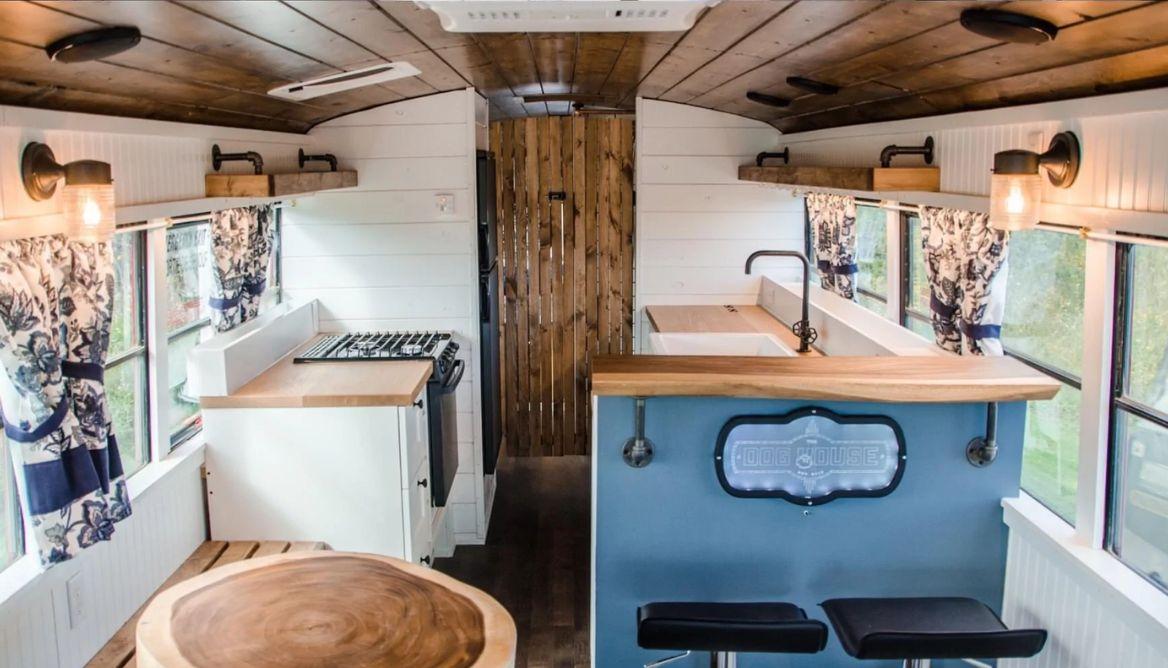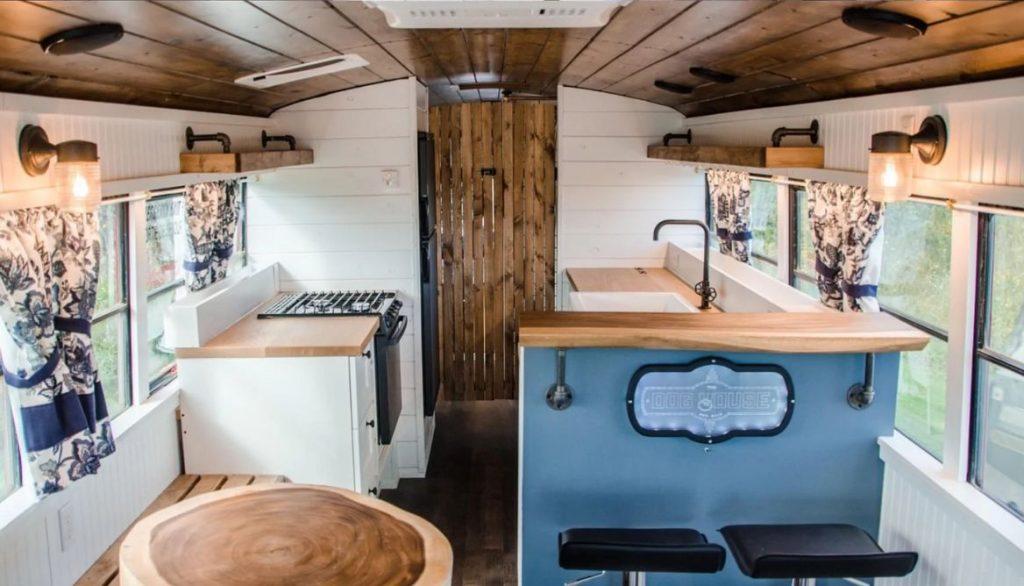 Best used a: With an open living space in the back, this bus conversion is perfect for those who want to live out of their car. Or a place to read your favorite book.
This school bus conversion is a modern take on the classic school bus. The outside of the bus retains its familiar look with minor updates, but it has been renovated.
Before starting your journey on this bus, ensure you have enough gas because you're covering some serious ground! Be careful, though, because gas stations can sometimes be few and far between, so be prepared to drive long distances.
Advantages: You don't need to worry about where you will park – there's plenty of room! Parking in front of your house? No problem! Parking at work? No problem, either. Make sure you know parking restrictions, such as street cleaning days and metered parking zones.
Disadvantages: One downside is that sometimes people can see right into the driver's seat, which can be annoying if they're peering into your ride while trying to avoid eye contact.
10. The Cabin Bus Conversion Ideas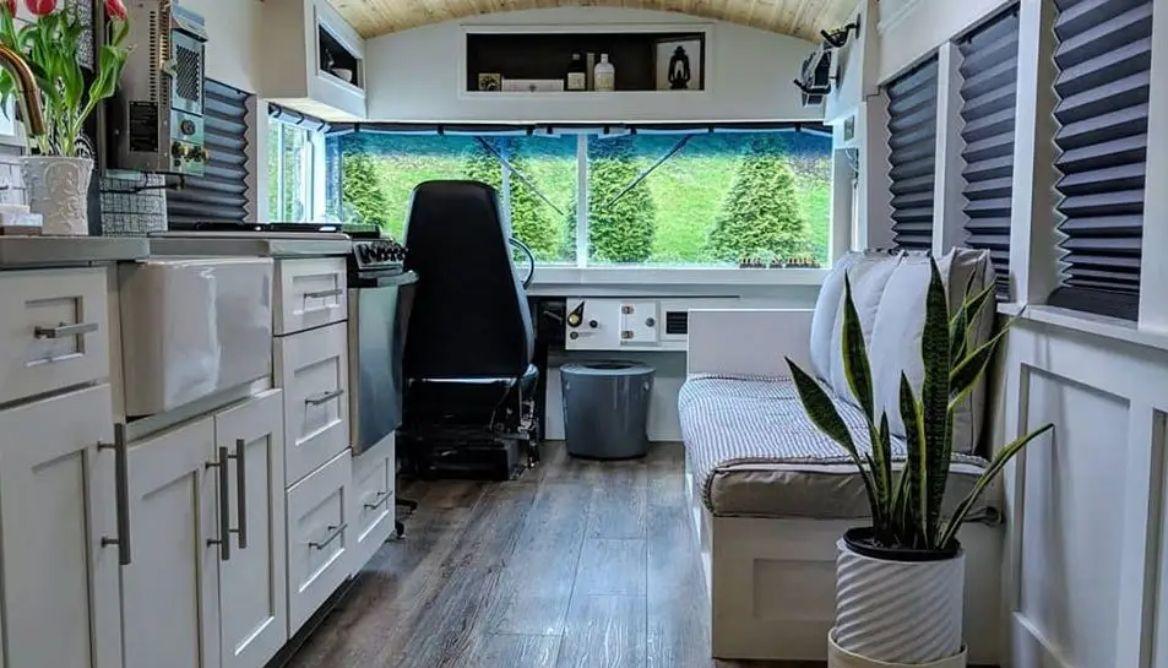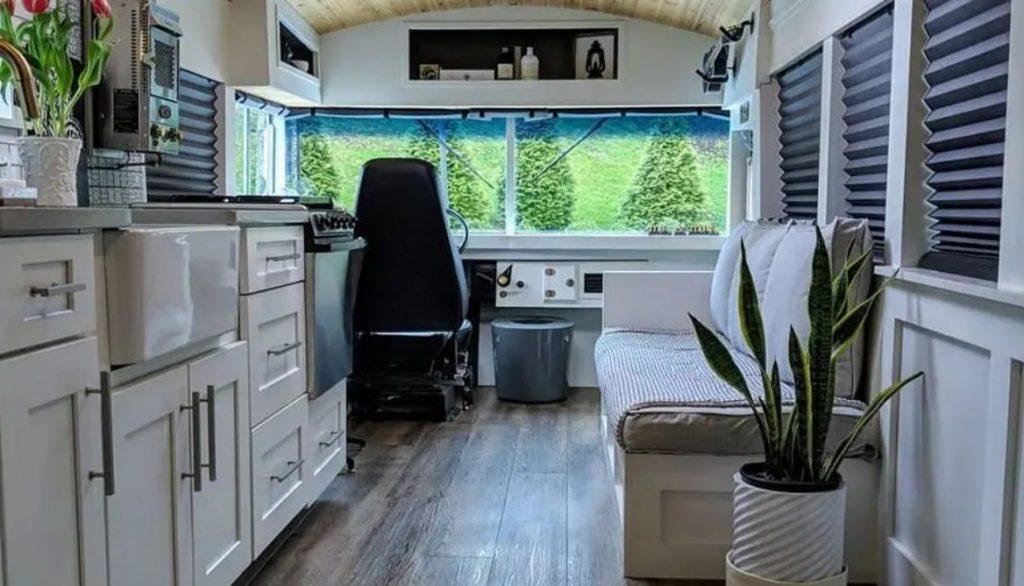 Best used for: Couples or small families, offering all the comforts of home inside your vehicle!
A cabin bus is an excellent conversion idea. It's one of the most popular ways to convert a minibus because of how spacious and comfortable they are. With creativity and skilled hands, you can create a custom-built cabin bus that perfectly suits your needs and lifestyle. A few examples of possible design elements include:
Seating area with a loveseat and coffee table;
primary bedroom with private bathroom;
closet/dressing room with sliding mirror doors;
bed under the loft with reading lights overhead;
kitchenette area equipped with a sink,
microwave,
refrigerator and cabinets;
Refrigerator unit outside the storage area in the back by the door.
The converted bus below features separate sleeping quarters and other creative features like stainless steel countertops, bright green accents throughout the design, and a touch-screen entertainment center.
Advantages:
The most extraordinary thing about these conversions is their versatility – they can be used as campers, motor homes, vacation homes, or live-in vehicles during retirement years.
And finally, if you're feeling ambitious, you could install solar panels to produce electricity for various parts of your cabin bus conversion…and start living off the grid!
Disadvantages: One main disadvantage of the cabin bus is the lack of headroom on the upper level if you use the ceiling as flooring. Keep this in mind when designing your cabin bus conversion, and only plan on having up to two people up there at any given time.
11. The Spanish School Bus Conversions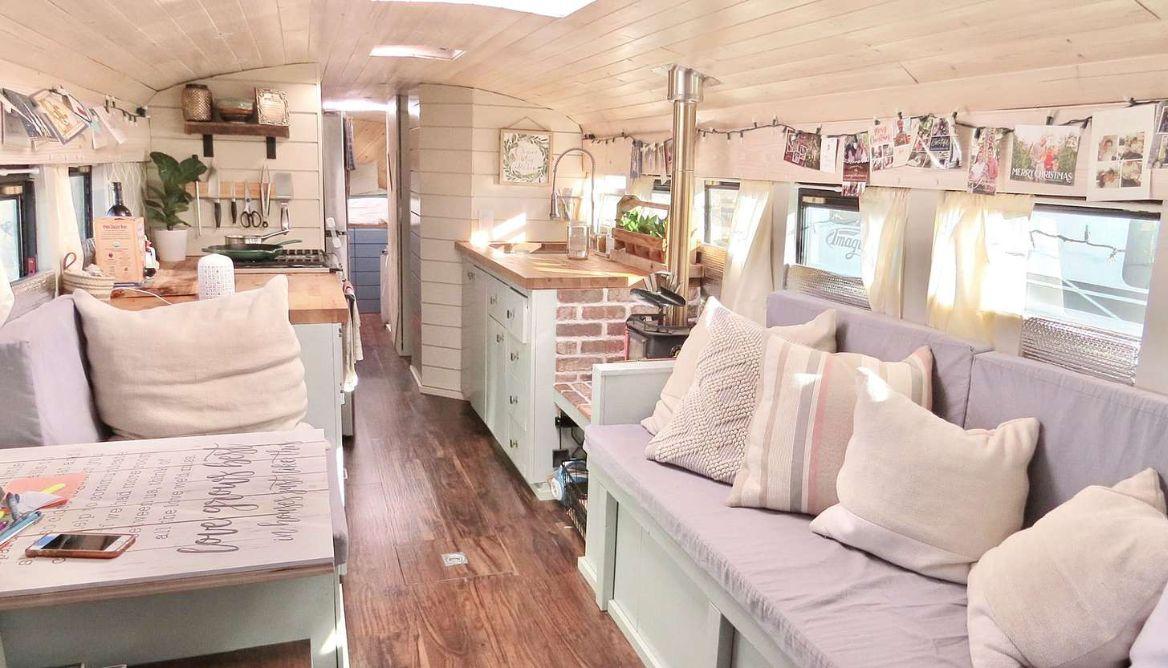 Best used for: People looking for someplace to stay close to nature without giving up creature comforts.
The idea of a Spanish School bus conversion is to take an old, retired school bus and turn it into a mobile home or camper. As the name implies, this trend originated in Spain but has spread worldwide, with bus conversions everywhere from Australia to New Zealand. The interior design focuses on comfort and spaciousness while paying homage to the original purpose of the vehicle by leaving many of the original features intact.
Advantages: This might be the perfect solution. Whether you're looking for a place to spend the night when you're hiking in one of America's national parks or want to spend your days exploring, this bus will allow you to go further and see more.
Disadvantages: This type of conversion is typically much more expensive than any other school bus conversion as it requires professional designers and builders with experience working with these types of vehicles.
12. A Luxurious Skoolie Bathroom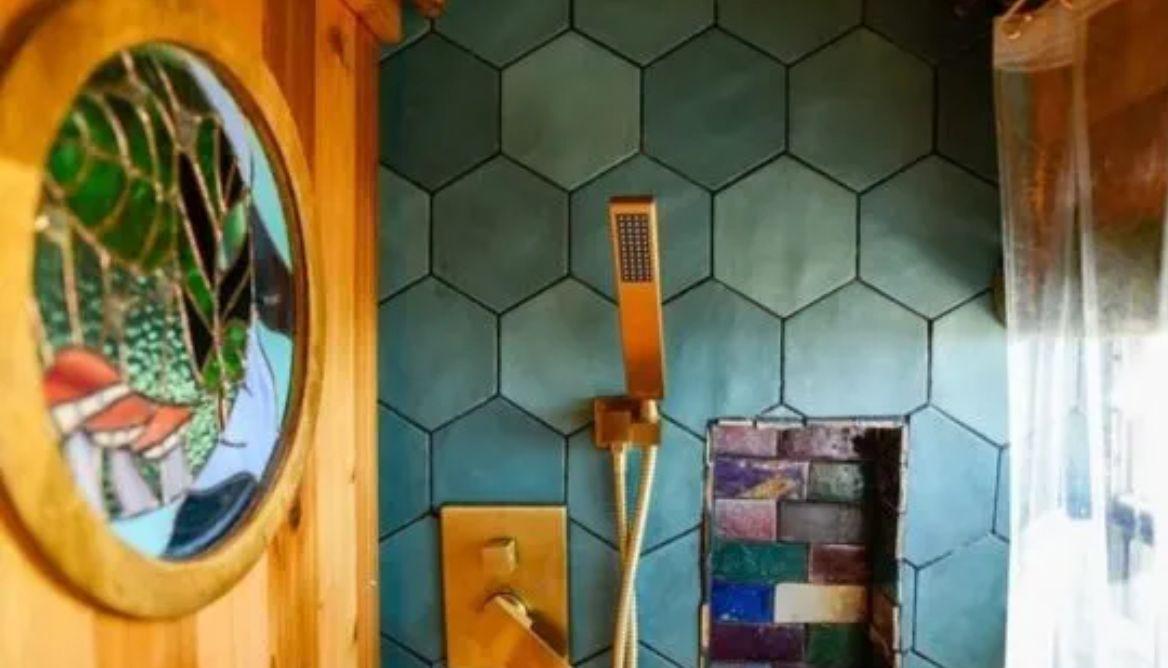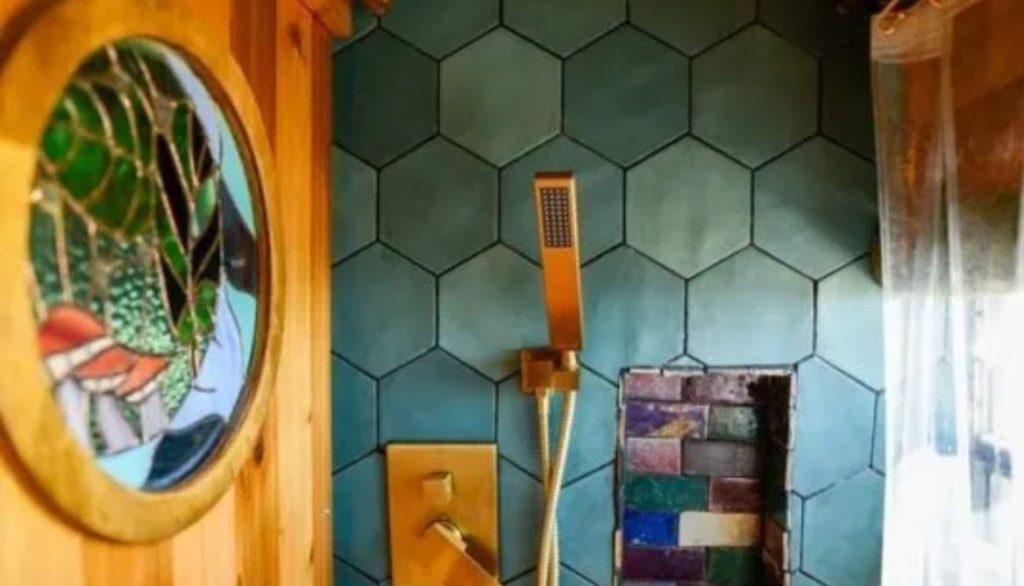 Best used as: A luxury bathroom under a reasonable budget.
The skoolie has a lot of potential for other uses, and one of the most popular is as a luxury bathroom. A skoolie conversion can be both beautiful and practical. If you're looking to go this route, here are a few things to consider:
Size: There's a lot of space in these buses, so don't worry about not having enough room for your tub or shower. But it's still essential to think about the logistics – where will your water heater go? What size pipes do you need? And what about storage for your towels and toiletries?
Location: Skoolies are built on a truck frame, meaning they're taller than most houses (many stand 13 feet tall). Keep this in mind when planning out your new space.
Cost: These luxe beauties can come with a hefty price tag – anywhere from $7500 to $15000 –but that cost includes delivery, installation, and installation costs!
Advantages:
It saves space because there is only one door into the unit instead of two doors separating different rooms inside.
It also makes the team feel more connected since the entire length of the van functions as part of the living quarters.
Disadvantages: This type of luxurious bathroom is its lacks privacy. There's no separation between the bed areas and living quarters.
13. Skoolie Bedroom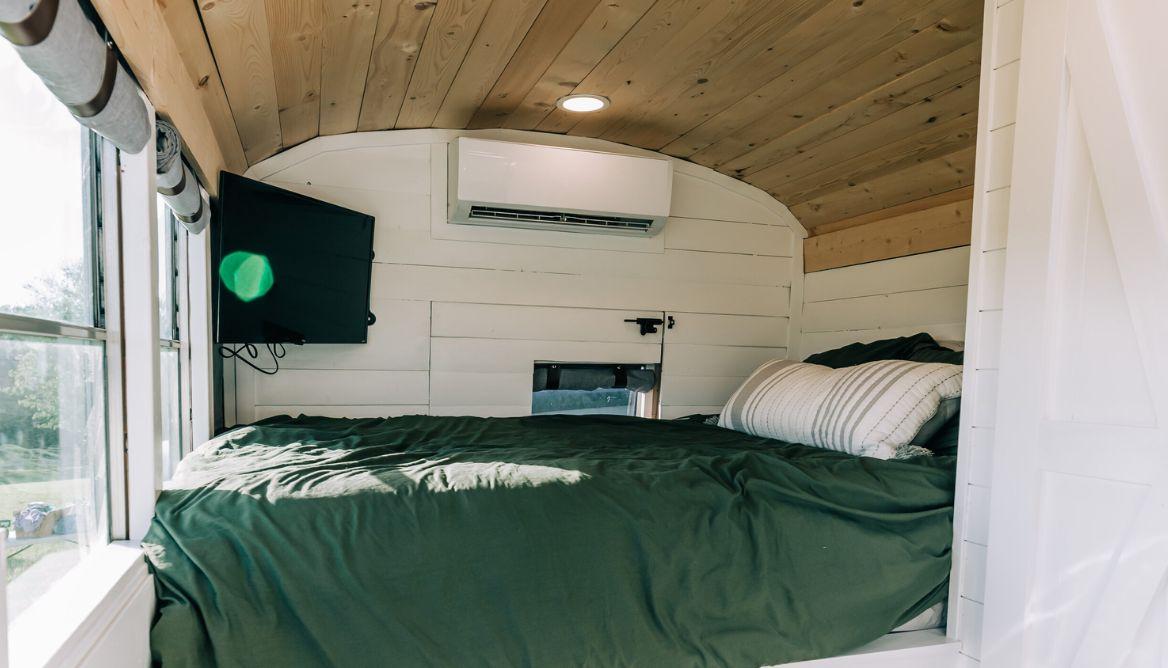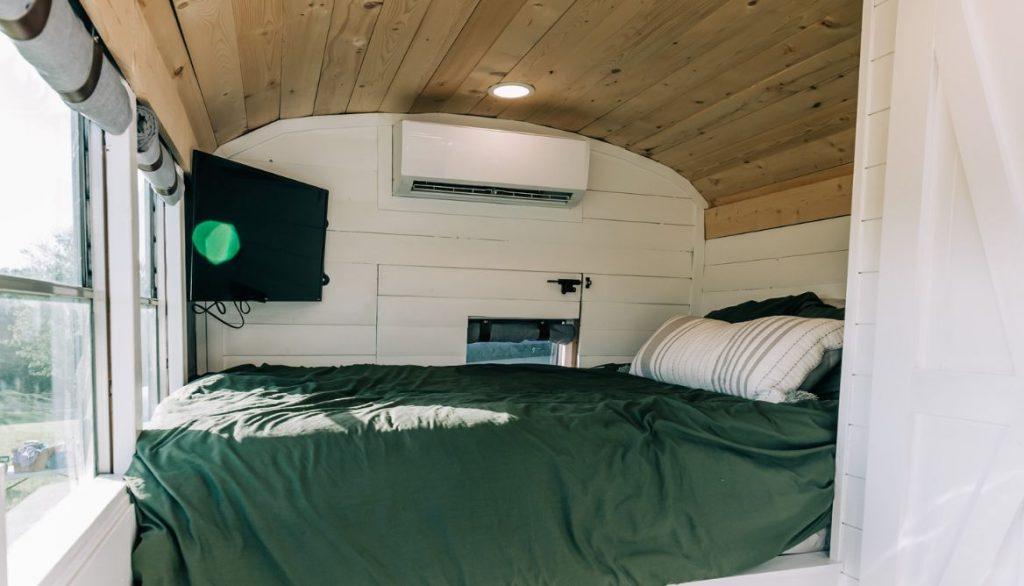 Best used to: Sleep comfortably as a couple
This type of bus conversion starts with gutting the entire thing and adding a lofted bed that goes all the way to the ceiling. The bed can also be set up to accommodate two people. Although this design lacks enough storage area, a trailer or cart can be used for items other than clothes.
Advantages: The Skoolie bedroom includes a lofted bed, which allows two people to sleep comfortably together.
Disadvantages
The downside to this conversion is that it removes any storage room from the vehicle, so you should consider getting a trailer or cart for your belongings.
Another issue with living inside a bus is that there are no windows, which could make claustrophobic-prone folks feel uncomfortable.
One option to increase visibility would be installing large front windows like some old-school buses have (which have pros and cons).
14. A Skoolie For a College Student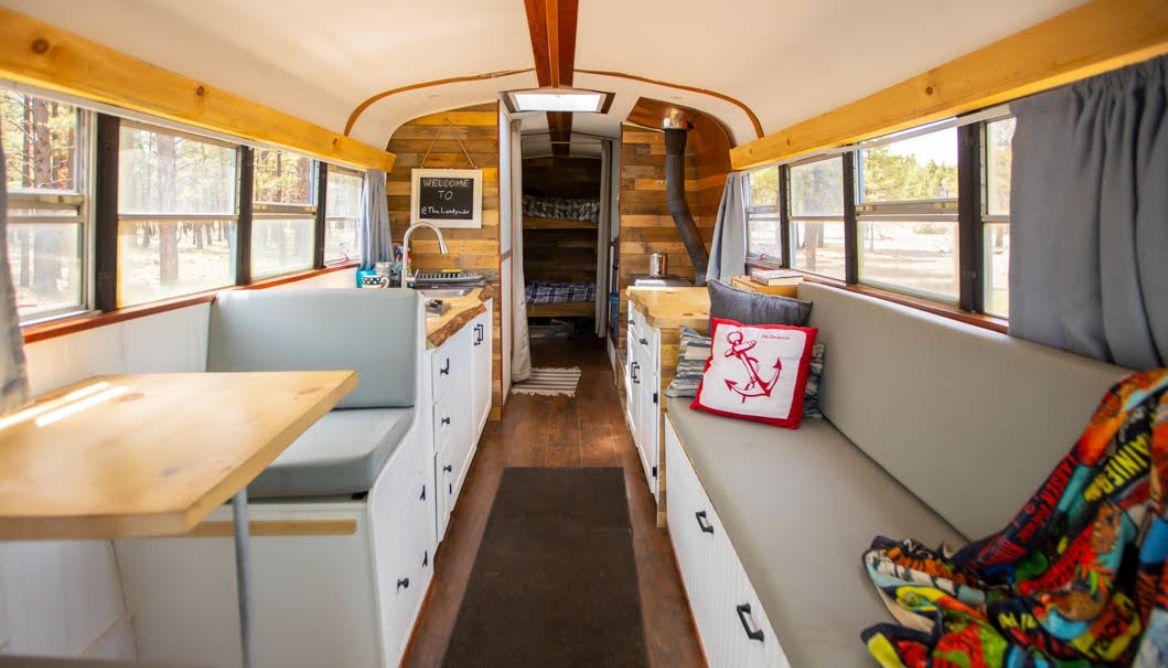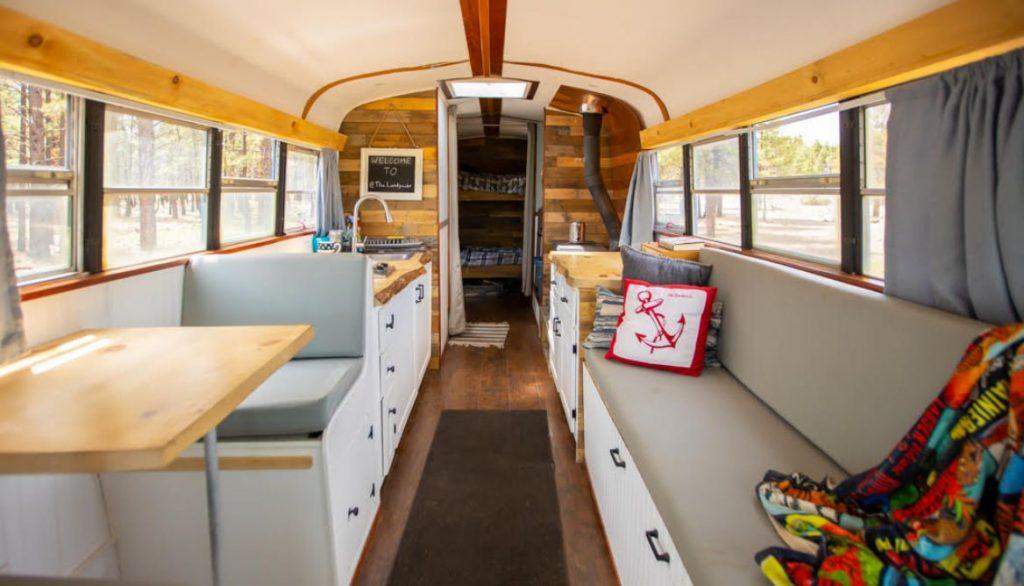 Best used for: College students traveling
It's another excellent idea for a college student. The bus can be customized to include any creature comforts the student would like, such as furniture and electronics, as well as a storage area for books and other things students might need on campus. If you're ambitious, install a solar theme or renewable power system to ensure electricity is available during those long study sessions!
Advantages:
This conversion will help the student feel independent and confident in their living situation.
Disadvantages:
It can take quite some time to find and purchase a bus, remove all the features you don't want, and add all of those you do.
The finished product could also be small, depending on what type of bus you end up with—and at college, it's not likely that your skoolie will get much rest.
15. Mobile Office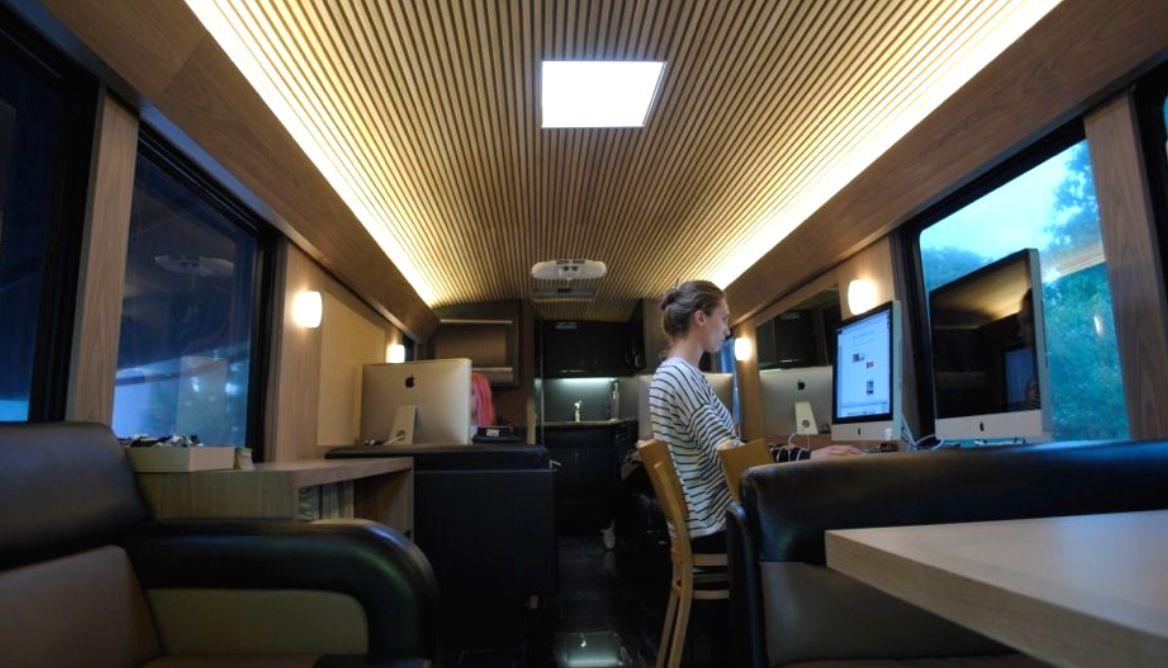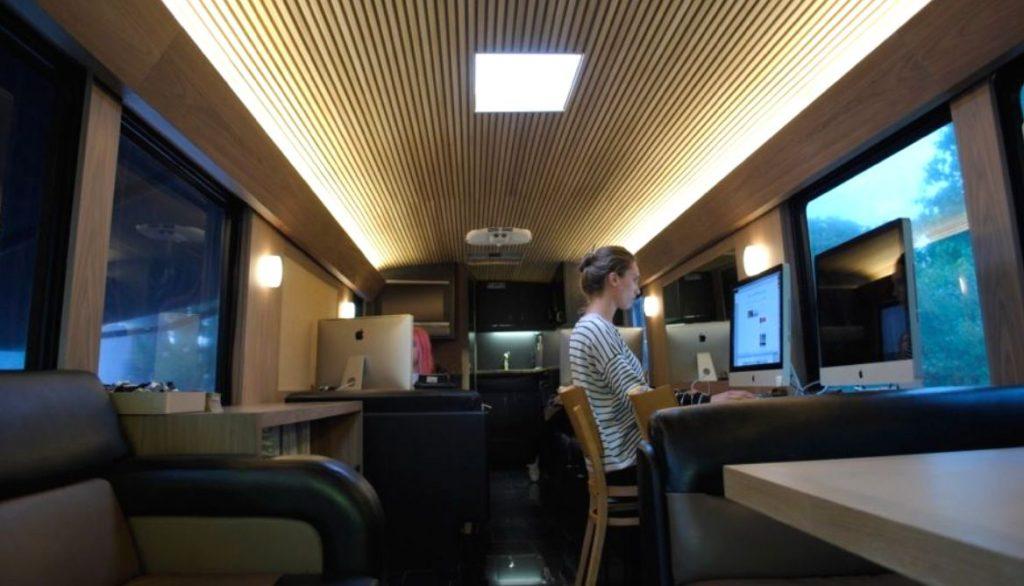 Best used for: Entrepreneurs, freelancers, and small business owners who need to work on the go.
Some people convert used buses into mobile offices, but many opt for newer vans or trailers. In addition to being cheaper than buses, these vehicles have better insulation and electrical capabilities than most full-sized converted buses.
While you can use your office anywhere, there's a power outlet and access to Wi-Fi. Some businesses go even further by taking their mobile offices on road trips! Mobile companies often rely heavily on social media – and why not?
When driving around town, it's much easier to take photos of beautiful scenery or extraordinary landmarks and share them with followers than in an office with only windows on one side.
Advantages: There are many benefits to using a mobile office for your business, from saving money on rent to taking your Office with you when you travel. And best of all, converting a bus into your mobile Office can be cheaper than building an actual one!
Disadvantages: The significant disadvantage of mobile Office is the lack of privacy for meeting clients. Since meeting rooms at shared spaces are usually private, if you're renting out space at a shared workspace, this may not pose a problem.
16. School Bus Conversion ideas by Mid-West Wanderers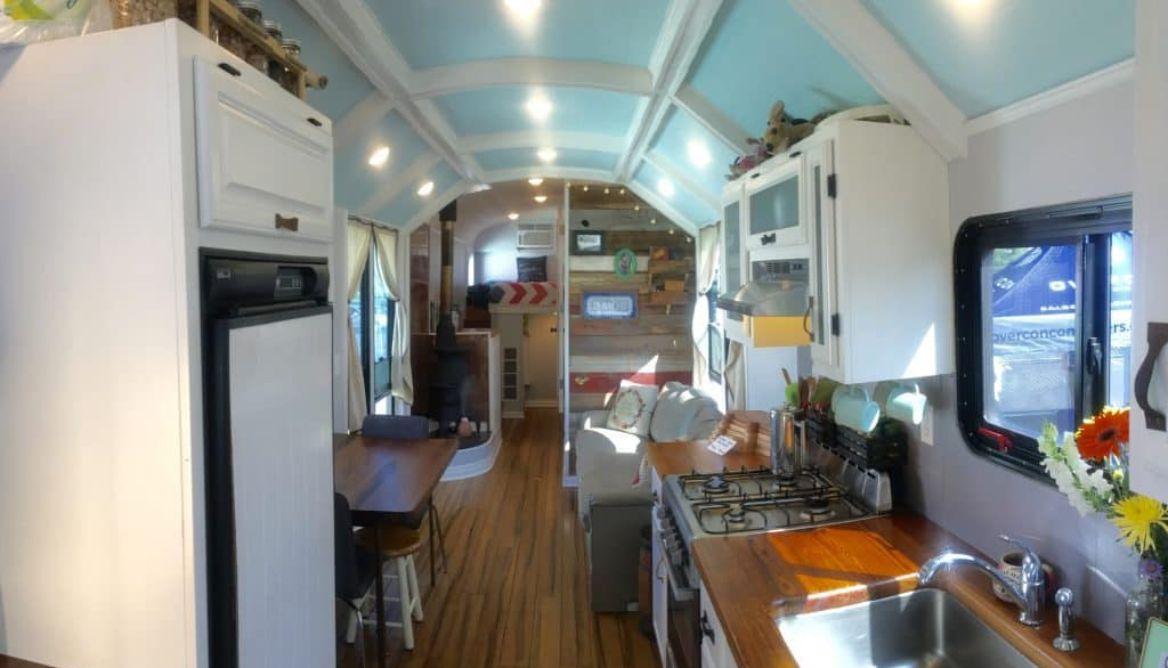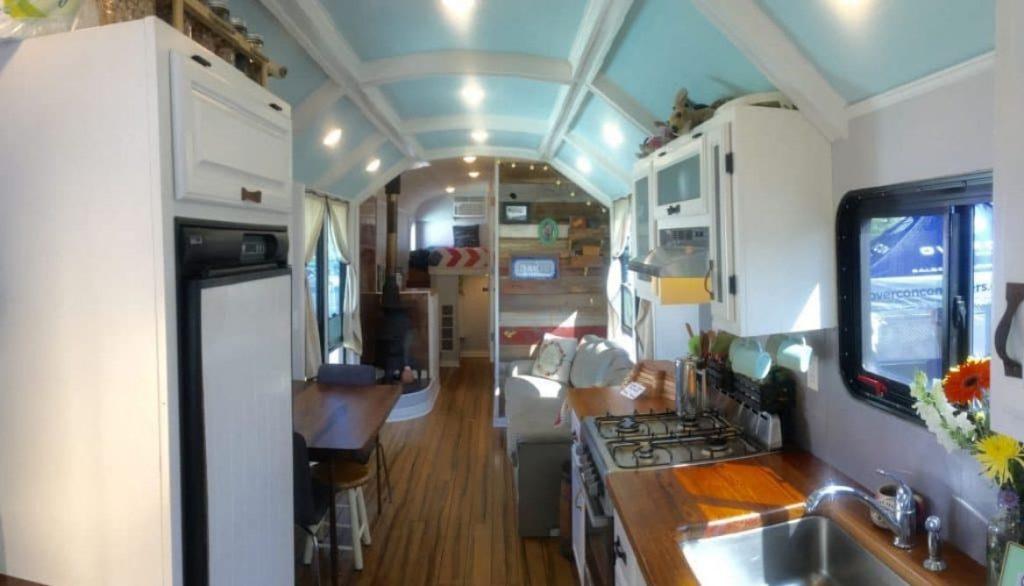 The conversion involved :
Taking out the back row of seats.
We are removing the windows on either side of the rear wheel well.
We are replacing them with large sliding glass doors.
We are putting up a railing to protect pedestrians from getting hit by the door when it opens.
It also has wooden floors, a custom kitchen with stainless steel appliances (including an electric stove), and air conditioning and heating systems that work via computer thermostats and solar panels.
There's a:
full bathroom with a shower,
sink and toilet;
two couches;
Three large built-in bunk beds that can sleep six people;
a minibar;
a porch with chairs and tables on it and large side windows,
plus an area outside to place coolers,
bikes,
luggage, etc.
Advantages: The best side? It was created as a school bus, so there are plenty of nooks and crannies for storage!
Disadvantages:
One main disadvantage of school bus conversion by Mid West Wanderers is finding parking spots is more challenging than finding a regular car.
Another thing to consider if you're in hotter climates like we are is that it gets hot inside in summer and can get cold during winter as there's no heater.
17. Tiny Home on Wheels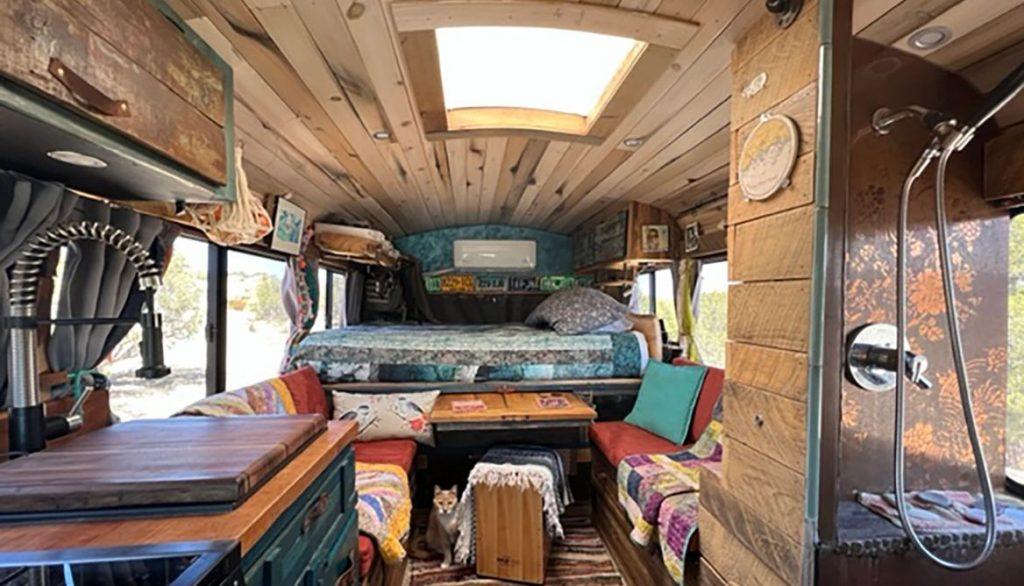 This tiny home on wheels is a great way to save space and transportation costs. It also has the bonus of being mobile if you need to relocate your business. The cabin can be customized with all the modern amenities you desire, such as a fully functioning kitchenette, bedroom, bathroom, storage unit, and even solar panels for power generation.
When converting an old bus into your dream home, there are many options to choose from! Another option is to transform it into a luxury RV with a living room and bedrooms.
Advantages: The top floor of this design includes a loft where skylights have replaced the windows, so you can enjoy the stars while you sleep at night.
Disadvantages: The Tiny Home on Wheels is the lack of mobility. However, you can still benefit from low-cost transportation and a minimalistic lifestyle if it doesn't matter to you.
18. Mira and Jeremy Thompson School Bus Home
Mira and Jeremy Thompson live in a school bus they converted into their dream home.
"We wanted more time to see family, travel, and live in the moment, so we got married and hit the road for a couple of years, part of which we spent in a mini school bus. We fell in love with the freedom but eventually wanted a home base near our families." (Mira and Jeremy)
The Thompsons were tired of renting and wanted to buy something, but they couldn't afford anything in their area, so they decided to buy a bus for $4,000. They added insulation, four skylights, solar panels and an 11-inch-thick memory foam mattress on top of the trailer hitch.
The project took them about a year to complete, and it only cost them an additional $3,000 in materials because they did most of the work themselves. Now they have their little paradise where they can enjoy time together as a family.
Advantages: One best part? The space still feels airy and not cramped like you would expect a typical RV or van conversion to be. It also has ample storage space inside thanks to all of its windows, making it easier for them to stay organized when traveling too!
Disadvantages:
There aren't any bath or shower facilities. For example, they often shower at gas stations or friends' houses.
And, while they usually park in parking lots to sleep at night rather than dealing with traffic lights, stop signs, and long driveways, sometimes those spaces fill up, leaving them no choice but to find street parking.
19. Betsy Blue Double Decker Bus Home
This Betsy Blue Double Decker bus home is just for you if you want cabin-in-the-woods to feel without all the work. This company will take your old minibus and turn it into a two-story living space with a kitchen, bathroom, bedroom, and more. This is perfect for you if you want to go camping but only want to pack up some of your gear each time.
The bus features two levels of living space, so there's plenty of room for everyone. The lower level includes a bedroom, shower/bathroom area, Office or sitting room, and storage space. In contrast, the upper level features a full kitchen with a refrigerator and stove, a dining area, a sofa bed, an office desk, and a bathtub.
Advantages:
The exterior is designed to look log cabin style – complete with mossy shingles that give it an earthy feel – which means you can enjoy being close to nature even indoors.
It also has plenty of windows for natural light, so everything feels nice and bright!
This might be your project if you need more than an office at home.
Disadvantages: There is no elevator to carry things upstairs, so you must use the stairs. But as long as you've got someone who needs exercise in your family, this shouldn't be too much of a problem.
Read These Tips Before a School Bus Conversion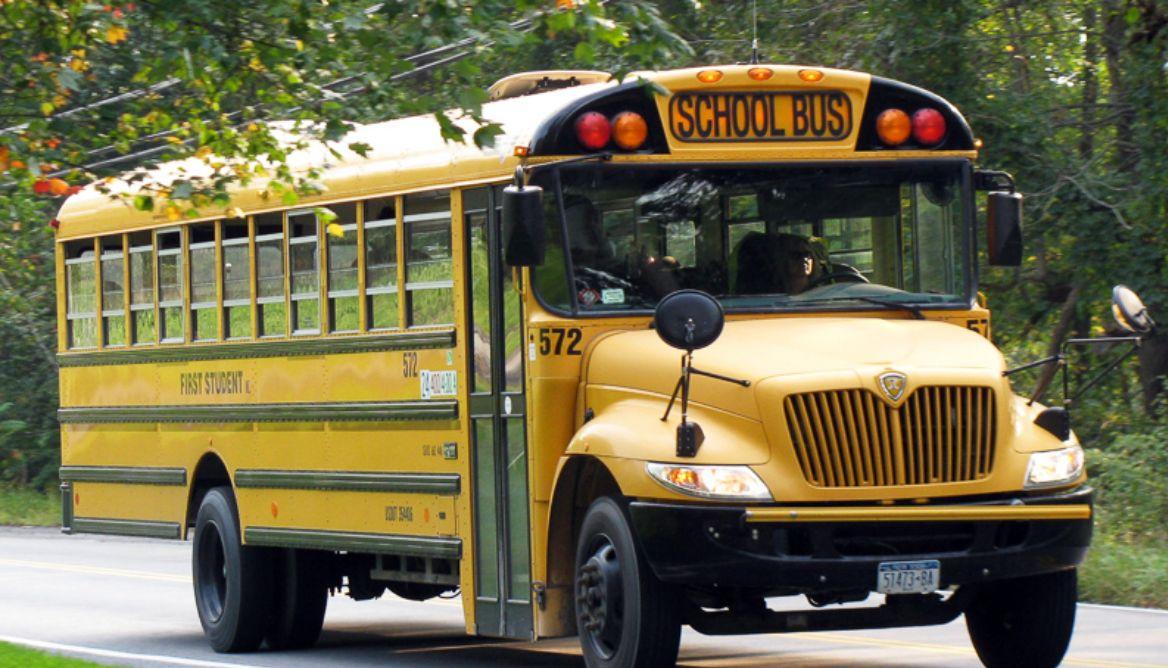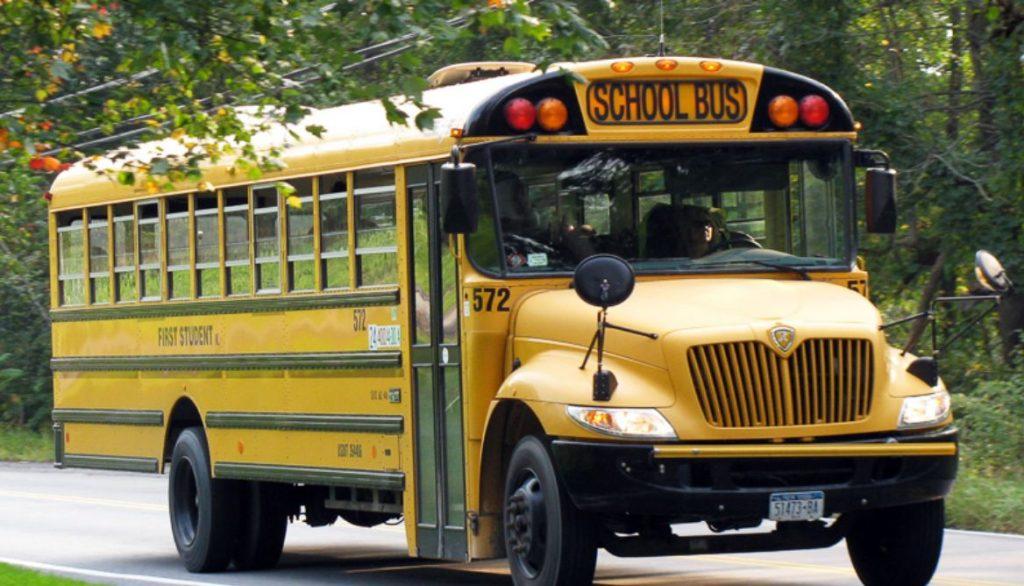 Simplicity is Perfection
Simplicity is the number one thing to remember when converting your bus into a camper. You want to convert only a little of your bus or add anything that will make it easier for you to travel or get through tight spaces.
That's not what a conversion is about! It should be an experience where you can easily and quickly pack your belongings and take off on the open road.
With a dash of style, your bus conversion doesn't have to be boring! One way to spice things up while sticking with simplicity is by adding some personality through paint colors or decorating with personal touches like memories from past adventures.
Use a Bold Color
Bold color is one of the first things people notice about your bus. It can be a great way to create an unforgettable first impression on potential customers. You can use bold color schemes in many ways, so let's look at other options. Follow the below tips while choosing a bold color:
When choosing bold colors, please keep it simple. The best approach is to choose one or two colors that complement each other well and mix them for your paint job.
You could also use contrasting shades to highlight the most detail in your bus conversion and make it pop against its surroundings.
Finally, feel free to use pastels for your color schemes.
Brighten it Up
Brightening your minibus before conversion is a great idea, even if you plan to convert it into something dark. Paint the inside, outside, and other exposed surfaces with white paint. You will be amazed at how bright this will make the space!
It also helps lighten up corners that are hard to reach to find potential issues. If there needs to be more natural light coming in, invest in an LED bulb or two for maximum brightness, goo; a good kids room too.
Remember to cover vents and outlets with screens for safety reasons too.
Use Raw Accents
Consider using natural accents before the mini-bus conversion. Wood, metal, or stone alke for an attractive accent on a small area of your minibus interior and counter space.
The best way to incorporate these into your design is by using wood as an accent wall in your minibus bedroom or as a mantel over your fireplace, which can be accompanied by metal and stone accessories like candles and vases.
Your fabric choice will depend on what will look good with what you've already put together.
Balance Aesthetic and Utility
When designing your bus's layout, it is essential to consider aesthetics and utility. If you have the opportunity to talk with someone who has been through the conversion process before, they can offer some advice on what they wish they had done differently or what was helpful.
One of the most important decisions you will need to make when deciding on your layout is which side of your bus you want your entrance to be on. The bus needs to be set up so that people can walk into the bus without bumping into things like desks, couches, etc.
You will also want to think about where you would like your windows to be located so that there isn't too much light coming in from one direction or another (this could affect visibility).
Nap Spots. More Nap Spots
Adding some comfy new nap spots is a great way to make your minibus conversion more comfortable. Whether you're just looking for a place to curl up and take a nap or find the perfect spot for your whole family, here are three of our favorite tips for finding the ideal sites on your minibus.
First, check out the 2-in-1 Convertible Sofa and Daybed to create an intimate space perfect for couples or families with kids who need their own space while traveling.
Second, turn unused storage spaces into different sleeping areas with Bed Platforms: beds that fit neatly into your vehicle's rear storage area.
Third, use Space Bags vacuum sealers to pack down large items like tents and pillows, so you have plenty of room for napping in any corner of the bus!
Gallery of Some Awesome Bus Conversion Ideas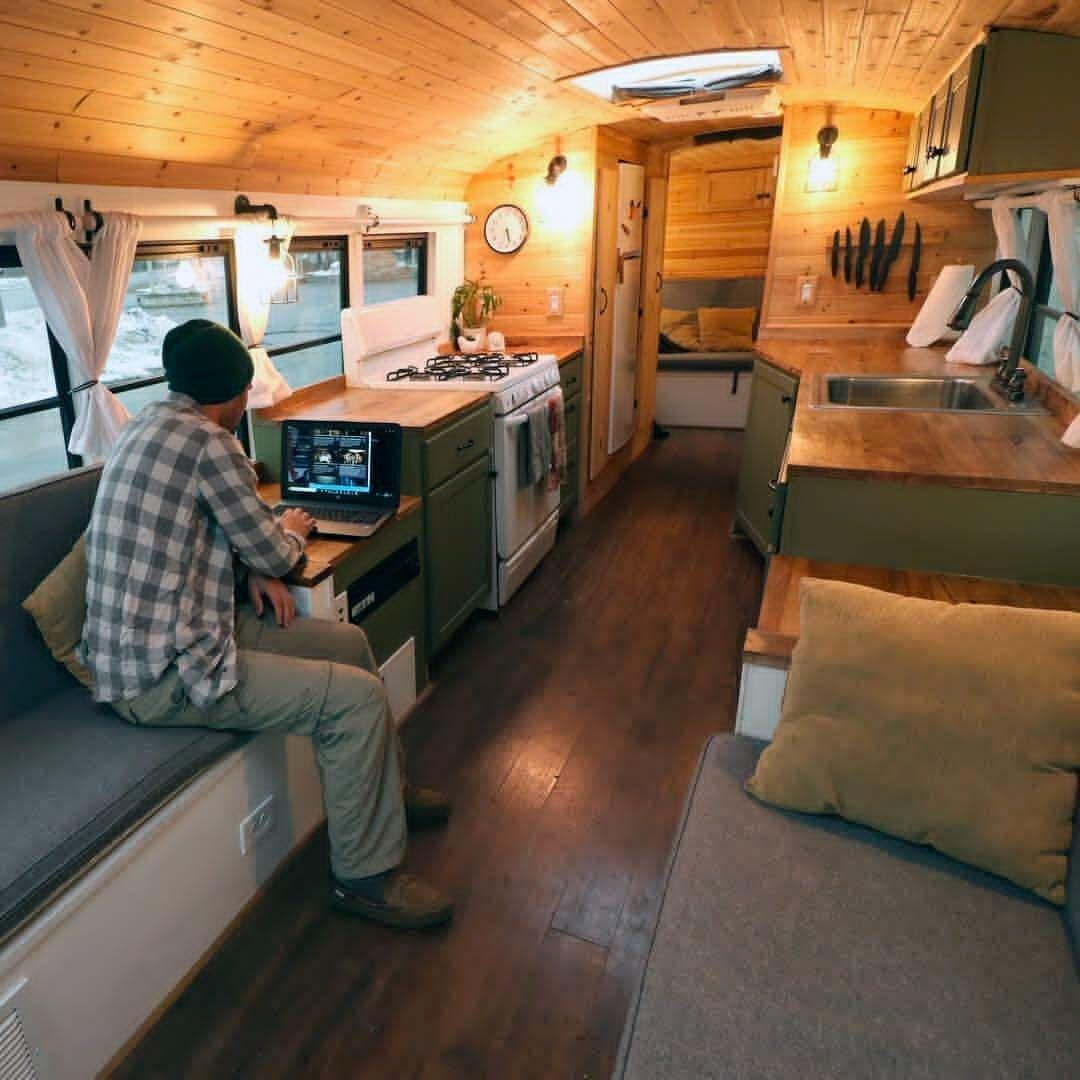 FAQ
What's the difference between an RV and a mini bus?
You may be wondering what the difference is between a recreational vehicle (RV) and a minibus.
Both types of vehicles can get you to your destination quickly and comfortably, but the differences between the two are significant.
When people think about an RV, they imagine a big, roomy vehicle that is often towed by a truck.
The RV is a home on wheels. This is where the term "boondockers" comes from. The biggest difference between the RV and the short buses is size.
The average RV is 60 feet long, which is twice as long as the average mini bus.
The other main difference is the number of people it will accommodate. A typical RV can sleep up to 10 passengers, while a mini bus can only hold six people comfortably.
What is the cost of converting a mini bus?
In fact, you will be saving more than $10,000 when you do it yourself instead of hiring the services of someone else to build a camper.
First, you need to determine the amount of money you want to spend. This is going to depend on the style of camper you want and whether you can get financing.
Then, you'll have to figure out the materials you need and where you are going to get them. Once you've established a budget, you'll need to find contractors to help you with the project.
Depending on how complicated the design is, you may have to pay a small fee to have someone professionally install the windows and trim in your camper.
You may have to pay to have a professional finish the kitchen or bathroom. The most expensive part of building a camper is usually the roof deck because you need an experienced roofer to build it.
Is it possible to convert a mini bus for less than $20,000?
It is! In fact, when a mini bus is converted, it can cost as little as $18,000 to convert it into a mini home on wheels.
The key here is that you have to choose a reliable mini bus conversion contractor who can do the job well, fast and at a low price.
You can find such a company by searching online for "mini bus conversion."
What are the benefits of a mini bus conversion?
A mini bus conversion is the process of converting one type of bus into another, often using new technology. For example, you could convert a regular bus into a shuttle or a school bus into a tour bus. If you're looking to improve conversions for your business, a mini bus conversion could be just what you need.
A mini bus is an ideal choice for people who are in a hurry and don't want to waste much time commuting. You can just take a ride in it, and you can do that almost anywhere. If you live in a big city, you can easily get one to go to work.
However, if you are looking for one to drive around the countryside or to travel to places like amusement parks, shopping malls and beaches, then it is best if you choose a mini bus conversion van. A mini bus conversion van will not only provide you with the convenience of a mini bus, but it will also be more convenient for your family.
For instance, a mini bus conversion van is more spacious than a regular mini bus.
How long does it take to convert a Skoolie?
The time to convert a bus depends mainly on the individual's ability to do their work, the number and complexity of the projects being tackled, and whether or not someone is doing all the work themselves. It can take anywhere from three to six months.
In what order should I build my Skoolie?
The short bus conversion process is a series of steps that you should take to build a skoolie. You can also pair it with the best skoolie bathroom ideas. The overall result will be somehow similar to the school bus home.
The first step is to determine what type of short bus you are converting and whether it will be used as a daycare, camper, or another purpose. This will help you narrow down the next step and which process will work for your needs.
Next, you need to purchase your bus. You can find buses at auction, buy new from an auto dealer, or find one on Craigslist or Facebook Marketplace.
After the repair, check if there are any issues with the body, such as rust or damage. Some problems with these areas may require additional maintenance before converting the bus into a home.
Next, you'll want to remove all seats inside the bus and any unwanted items inside.
After this, you'll want to install insulation for soundproofing, including underneath the flooring.
Then, add drywall throughout and paint it to match your tastes before installing flooring, cabinets, and other fixtures (such as counters), depending on how you plan on using your minibus conversion!
What can I turn a school bus into?
One of the most popular conversions is turning a bus into a camper. Undoubtedly, the school bus conversion ideas are worth it. While they're usually used as travel vehicles, there's no reason not to turn one into a home on wheels. Before embarking on this school bus conversion idea, check your local municipality for any restrictions or building requirements that may apply.
Is it cheaper to convert a bus or buy a camper?
Many people ask, is it cheaper to convert an old school bus or buy a camper? And the answer is that it depends. Many variables go into this equation, such as how much you want to spend, how much time you want to spend on maintenance, and what amenities you need.
That being said, buying a camper is usually less expensive because they're generally cheaper than buses. Another option to consider is purchasing a second-hand bus from an individual instead of buying a new one.
Things to Know when converting a minibus
When converting a mini-bus into a bed and breakfast, there are some things you should know that might surprise you.
First of all, the project is a bit of a challenge.
It's not just about flipping a house, but it can be compared to a full-scale home renovation job, making it a large undertaking.
You'll have to replace everything from the roof to the flooring and add many other features to make it comfortable and attractive.
Considering a mini-bus conversion, you'll want to keep these things in mind when preparing to move forward with your plan.
There are different minibus conversions, including whole, half, and quarter.
The type of conversion you choose can affect your resale value.
Depending on your destination and how often you plan to take the bus, you can find the proper conversion for your needs.
Also, you need a specific category license to drive these vehicles.
Conclusion
To help you to convert your minibus into full vehicles or RVs, we've given 18 awesome short bus conversion ideas. Remember, every idea is scalable, meaning that if you want to start small and keep the cost down or go all out and create your own luxurious mobile tiny house on wheels—you can do whatever you want!
Thank you for reading my guide on minibus conversions! We hope it was helpful to you. Which design of these mini bus conversions do you like the most? Please tell us in a comment below. We would love to hear from you!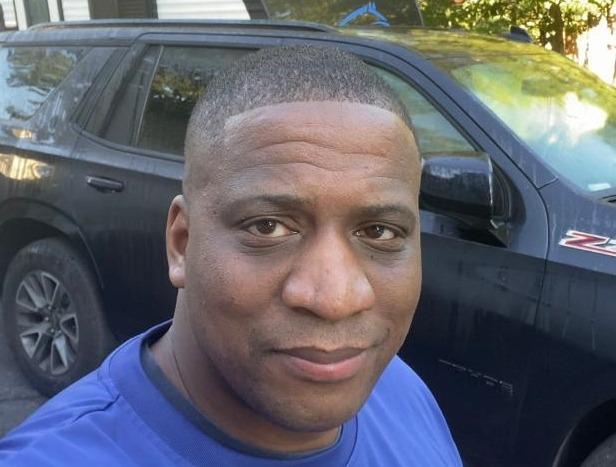 I`m a current Law Enforcement Officer working within the Counterterrorism Bureau in New York State. I have been Camping for over 20 years. My styles of camping include tent, car, truck, van, and RV travel trailer. I have a YouTube channel where I teach all types of camping with an entertaining method: https://youtube.com/@TheSmallsRVAdventures