13 Awesome Bus Conversion Ideas
If you're a camper or a full-time RVer and you're looking for a way to make your travel experience even better, consider converting a minibus into your new home on wheels.
Not only will this give you more living space, but it can also be a lot more comfortable than traditional camping.
Plus, it's the perfect way to add some extra luxury to your next road trip. Check out these conversion ideas to get started!
Mini Bus Conversion Ideas
A mini bus conversion is very similar to a school bus conversion, but it takes everything to the next level.
A skoolie conversion adds furniture and other necessities into an empty space. A minibus conversion process goes even further by adding flooring, cabinets, windows, insulation, ventilation or any other feature that will make the interior more usable.
Just like with school buses, there are many reasons why you should choose this type of vehicle for your road trip home – short travel times (since they are smaller), fuel efficiency (since they are lighter) or affordability (since they are cheaper).
But unlike school buses, repurposed full-size mini buses have fewer seats which also increases comfort and floor space.
The best thing about these types of vehicles – besides the floor space and low cost – is that they are widely available.
There are thousands of minibusses in every state, waiting to be taken off the road.
They get regular use at airports, school districts or local communities so there is no need for you to buy new vehicles just for your travels.
Since these vehicles were never designed with living quarters in mind, you will have to take on a conversion project. This means that the floor plan will vary greatly depending on personal preferences.
See also: How to Design Your Campers Layout
If you want max floor space then choose an extended length vehicle (which can offer up to 295 square feet), or if comfort, privacy, and storage are more important then go with a coach-style model (which has around 160 square feet).
Some of the features you can find in school bus conversions are flooring, cabinets, windows and insulation.
Some of the flooring options include wall-to-wall carpeting (for increased floor space), hardwood floor (for a more streamline vibe) or laminate flooring (which keeps water away from your feet).
Other interior components that may be added into your mini bus conversion project depend on personal preference and budget: small kitchen and kitchen appliances, solar panels, bathroom fixtures , electricity system, water heater, bunk beds, and furniture .
When it comes to kitchen appliances – besides a stove and fridge – you might add a sink equipped with hot and cold water.
If plumbing is not part of your road trip expenses then choose an open floor plan instead which will give you extra floor space.
On the other hand, if plumbing is part of your budget then floor space might be reduced in favor of adding a bathroom with a composting toilet and a shower inside the mini bus.
After you finish converting your vehicle into a home on wheels, there are many places to explore with these types of vehicles – desert landscapes, mountain trails or vast ocean vistas.
Once you get behind the wheel and start taking road trips with your converted mini bus you will notice that there are some features that help improve convenience and functionality.
You can add storage compartments like plastic floor bins (for items that need to be easily accessible) or exterior storage compartments (for larger items that would otherwise take up floor space inside).
You can also install a ladder rack, bike racks and side rail system for additional storage space. And if you have some floor space left then consider adding a mattress with bedding so you don't have to sleep on the floor.
First things first: school buses aren't just for school kids anymore! One of the best types of vehicles to turn into an RV is a school bus because they're built tough and they have large, wide-open interiors that can be easily customized.
If you want to build your own camper school bus, here are a few styles that could work for you.
1. The school bus living room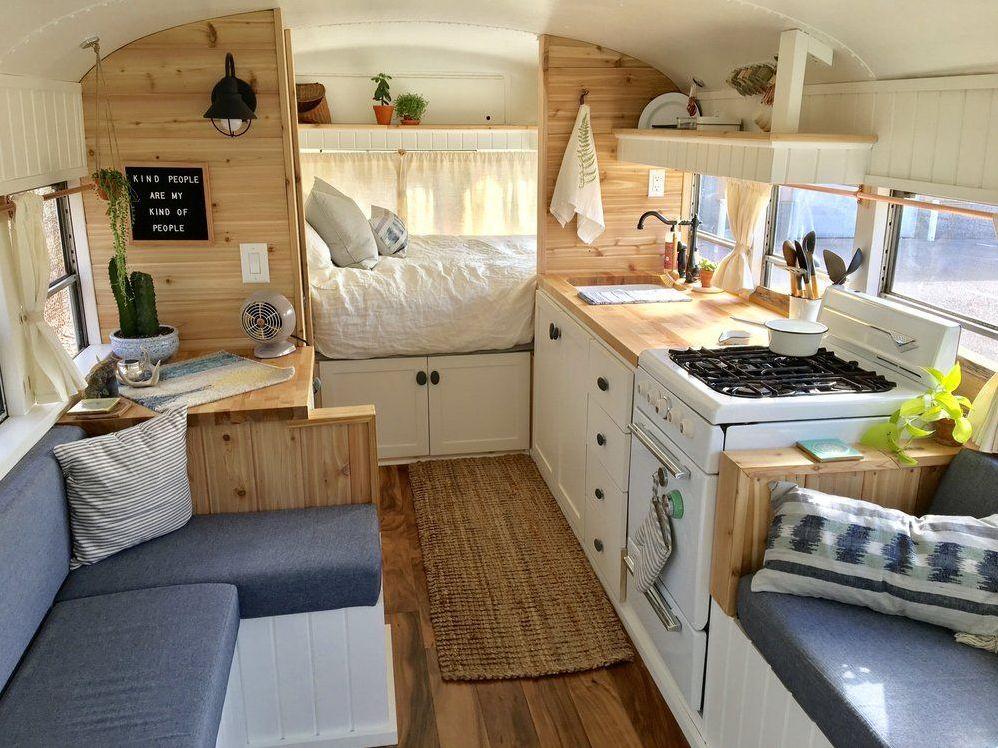 Best used as:
a living room on wheels
a master bedroom on wheels
I think my favorite school bus conversion option is to use it as a living space. There's nothing better than being able to relax in bed while on vacation, and this design allows you to do just that.
In place of traditional seats, I would recommend using comfy sofa beds or maybe even a futon (that way you can also use it as a couch during the day).
The school bus living room includes:
A sofa bed on one side of the school bus for sleeping and relaxing
Another sofa or futon across from it for watching TV, playing games, reading books, etc.
Plenty of space to live comfortably while on vacation! It's like bringing home with you wherever you go.
Disadvantages: None! This is one of those camper school bus floor plans that I think would work well for just about anybody!
The only thing I might consider changing is maybe switching out the lower section for a bathroom so you don't have to leave the school bus to use your facilities.
2. Camper school bus conversion for one or two people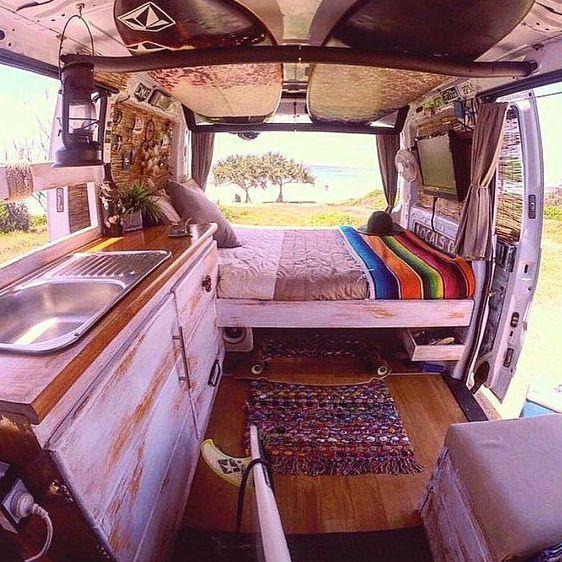 Best used as: A spare bedroom on wheels
If you're camping by yourself or with only one other person, this is a good design for you.
It's basically the same school bus living room floor plan, except the pull-out bed has been replaced with a smaller sofa or futon so that there's more space for daily activities in the school bus interior.
The lower section of the school bus would be perfect for installing a bathroom so you don't have to leave your sleeping quarters while you're staying inside your converted school bus camper.
Advantages: Plenty of extra living space! With this floor plan, you'll never feel cramped on the road.
Disadvantages: None! This school bus conversion floor plan is great for one or two people who are looking for a little extra space while they're traveling.
3. The school bus kitchenette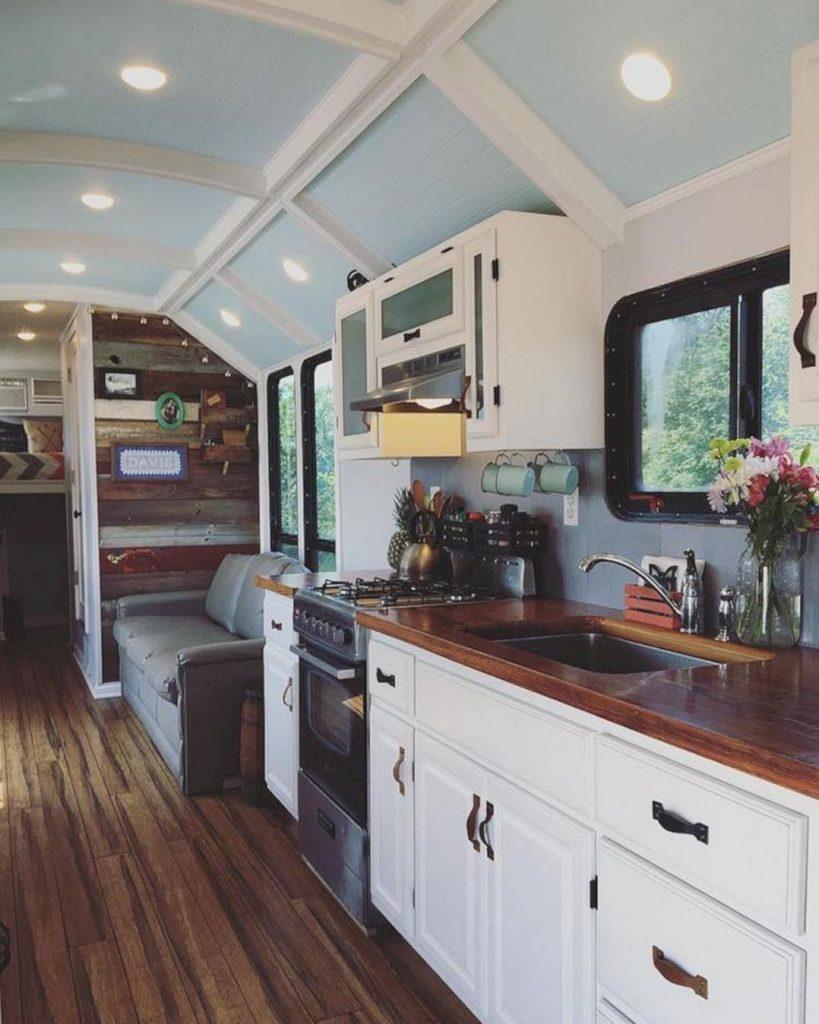 Best used as: A small-sized full kitchen on wheels
This school bus conversion idea might not include much space to live in, but it would be perfect for someone who wants to cook meals on their way to their destination.
If you love cooking while you travel, this school bus conversion design could work well for you because of all the cabinet and countertop space inside the school bus interior.
Plus, if your school bus doesn't have an engine in it, then you can use the school bus for storing your camping gear.
Advantages: Plenty of cabinet and countertop space! This school bus conversion floor plan would be perfect for anyone who loves to cook while they're traveling.
Disadvantages: There isn't any living space in this idea, so if you don't enjoy cooking on the road, I wouldn't recommend it.
Also, this school bus design probably requires having an engine installed in the vehicle before converting it into a camper.
4. School bus lofted bed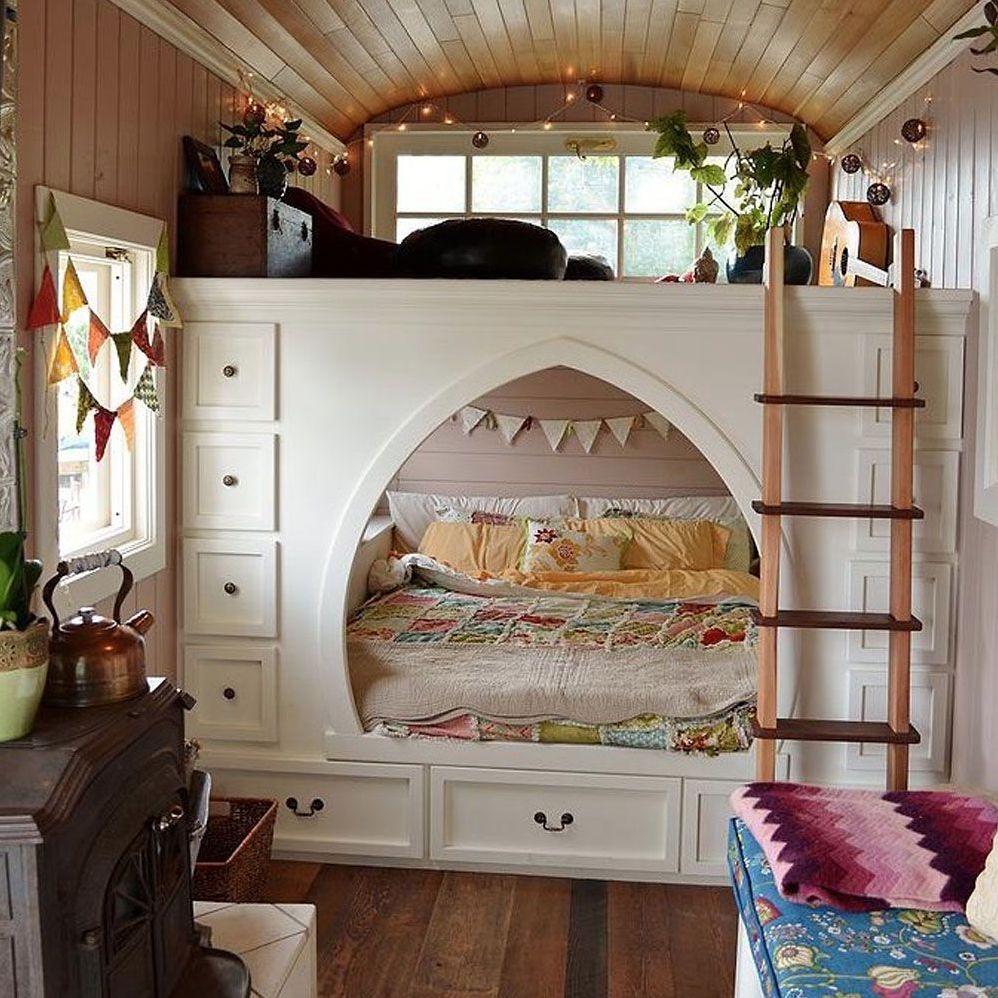 Best used as: A sleeping area with additional living space overhead
This is another school bus conversion floor plan that uses the school bus itself for storage instead of installing a lower section.
If you love being able to stand up inside your school bus, then this school bus conversion idea could work for you.
Plus, it's perfect if you don't want to feel crowded on the road; there's plenty of floor space and overhead area for everyone.
Advantages: You'll never feel cramped with this school bus conversion design! There will be plenty of space to both live in and sleep…which means no one will have to crawl over each other when they need to get out of bed.
Disadvantages: This school bus floor plan probably works best when traveling with only one other person or a small family (because more than two people will require using an outside tent).
Also, building a school bus loft bed isn't the easiest school bus conversion idea to pull off.
Gallery of Some Awesome Bus Conversion Ideas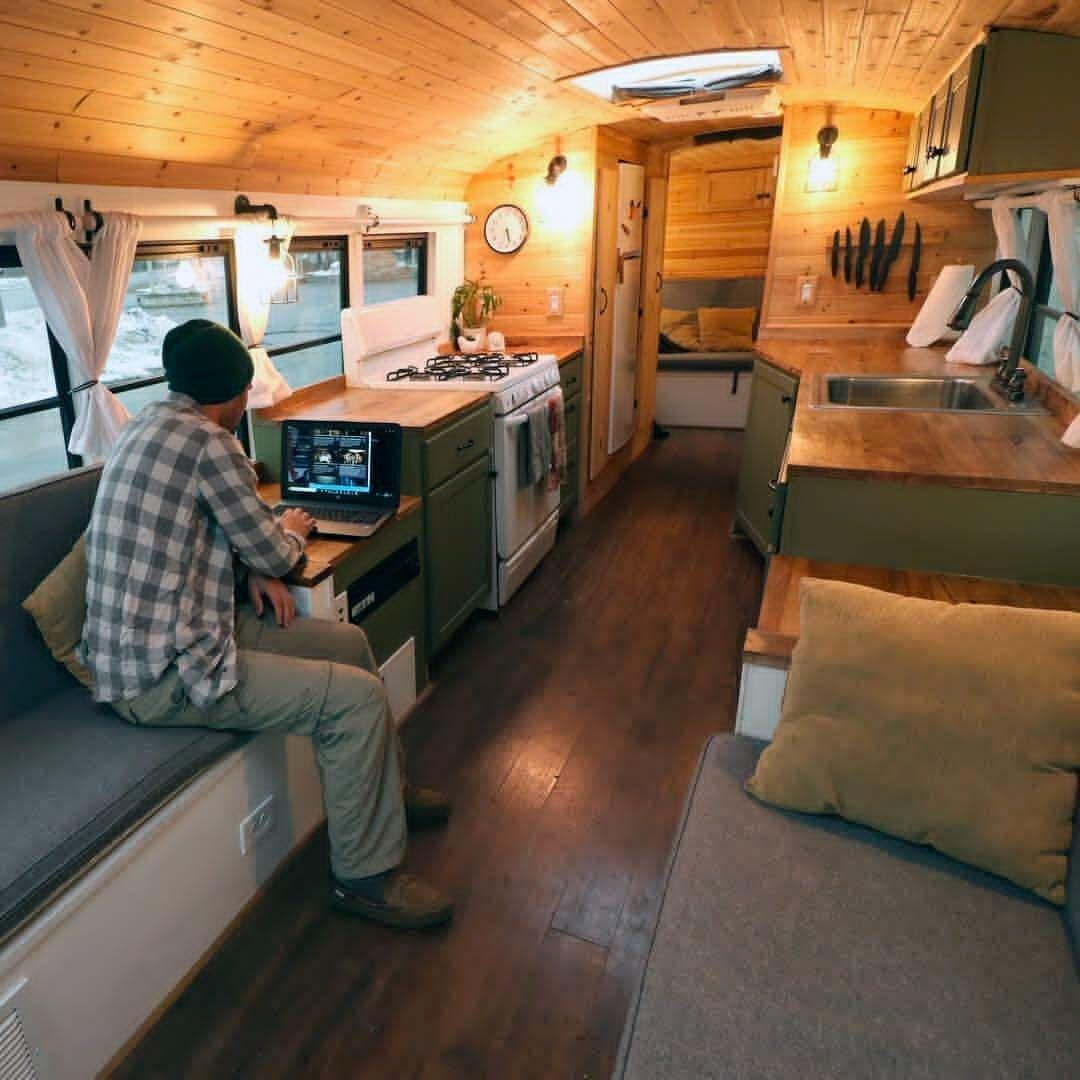 FAQ
What's the difference between an RV and a mini bus?
You may be wondering what the difference is between a recreational vehicle (RV) and a minibus.
Both types of vehicles can get you to your destination quickly and comfortably, but the differences between the two are significant.
When people think about an RV, they imagine a big, roomy vehicle that is often towed by a truck.
The RV is a home on wheels. This is where the term "boondockers" comes from. The biggest difference between the RV and the short buses is size.
The average RV is 60 feet long, which is twice as long as the average mini bus.
The other main difference is the number of people it will accommodate. A typical RV can sleep up to 10 passengers, while a mini bus can only hold six people comfortably.
What is the cost of converting a mini bus?
In fact, you will be saving more than $10,000 when you do it yourself instead of hiring the services of someone else to build a camper.
First, you need to determine the amount of money you want to spend. This is going to depend on the style of camper you want and whether you can get financing.
Then, you'll have to figure out the materials you need and where you are going to get them. Once you've established a budget, you'll need to find contractors to help you with the project.
Depending on how complicated the design is, you may have to pay a small fee to have someone professionally install the windows and trim in your camper.
You may have to pay to have a professional finish the kitchen or bathroom. The most expensive part of building a camper is usually the roof deck because you need an experienced roofer to build it.
Is it possible to convert a mini bus for less than $20,000?
It is! In fact, when a mini bus is converted, it can cost as little as $18,000 to convert it into a mini home on wheels.
The key here is that you have to choose a reliable mini bus conversion contractor who can do the job well, fast and at a low price.
You can find such a company by searching online for "mini bus conversion."
What are the benefits of a mini bus conversion?
A mini bus conversion is the process of converting one type of bus into another, often using new technology.
For example, you could convert a regular bus into a shuttle or a school bus into a tour bus.
If you're looking to improve conversions for your business, a mini bus conversion could be just what you need.
A mini bus is an ideal choice for people who are in a hurry and don't want to waste much time commuting.
You can just take a ride in it, and you can do that almost anywhere.
If you live in a big city, you can easily get one to go to work.
However, if you are looking for one to drive around the countryside or to travel to places like amusement parks, shopping malls and beaches, then it is best if you choose a mini bus conversion van.
A mini bus conversion van will not only provide you with the convenience of a mini bus, but it will also be more convenient for your family.
For instance, a mini bus conversion van is more spacious than a regular mini bus.
Things to Know when converting a mini bus
When it comes to converting a mini-bus into a bed and breakfast, there are some things you should know that might surprise you.
First of all, the project is a bit of a challenge.
It's not really just about flipping a house, but it can be compared to a full-scale home renovation job, which makes it quite a large undertaking.
You'll have to replace everything from the roof to the flooring and add a bunch of other features to make it comfortable and attractive.
If you're considering a mini-bus conversion, you'll want to keep these things in mind when preparing to move forward with your plan.
There are different types of mini bus conversions, including full, half and quarter.
The type of conversion you choose can affect your resale value.
Depending on your destination and how often you plan to take the bus, you may be able to find the right conversion for your needs.
Also you need a specific category license to drive these vehicles.
Conclusion
Thank you for reading my article on the minibus conversions! I hope it was helpful to you.
Please comment below on any ideas you may have or any questions you may have about the article. I would love to hear from you!
For more great articles, please subscribe to the blog, and feel free to leave your comments below.
Asen is the owner and main contributor of Camper Life. He is a full-time RV traveler since 2018. He loves camping in nature, fishing, and spending time with his family.
Striving to provide the most valuable information about campers and RVs, he shares everything he learned over the years.
That's why Camper Life is one of the best sources to find information about RV traveling and living.