10 Best Enclosed Trailer Camper Conversion Ideas [Pictures Inside]
Buying a used RV or a new RV from the retailer will be very expensive. Even if you purchase an expensive RV sometimes, you don't like the design. As a result, nowadays, most people are deciding to build a travel trailer on their own.
You may be wondering if it is possible. Yes, it is possible and, it is pretty common nowadays. One of the most popular ways to do this is by using a cargo trailer.
Once you find a perfect cargo trailer, you can set up a DIY project and make yourself an awesome camper.
Cargo vans are the best vehicles for camper conversions because they come with a lot of space inside so that you can fit all your amenities. Simply, you can make everything out of a cargo van.
You can even build out a luxury travel trailer from a cargo van. So, for this reason, building out a camper from an enclosed cargo trailer is becoming popular in the camping community.
Another reason these enclosed trailer camper conversions are becoming popular is that you can get the best at an affordable price.
Keep in mind that this is not an easy task. It takes a lot of time and effort to successfully convert your cargo trailer into a camper trailer. Once done, you are ready to hit the road or you can rent your travel trailer and earn some money.
In this article, we are gonna show you some of the best cargo trailer camper conversions that you can use as an inspiration for your conversion. Let's dig deep.
The Best Cargo Trailers for Camper Conversion
Without further delays let's have a look at some of the most beautiful, creative, and stunning cargo trailer conversion ideas. You can use one of these cargo trailers and convert them into a travel trailer.
6×10 Haulmark Cargo Trailer
This is simply an awesome travel trailer conversion. If you look at it you may think that it is a cargo van, but it is a camper. They used slim rooftop solar panels to provide electricity to the rig.
The best part of this rig is that they have used all materials from the scratch and built a camper that perfectly suits them. They have even created a workspace for working comfortably. 

For storage space, they have created some overhead storage cabinets to store some camping stuff. Also, there is a storage option under the bed. Some of the highlight features of this camper conversions are:
A rooftop solar panel that provides electricity to the entire rig
Two burner stove
Water heater
Sink
Shower
Mini refrigerator
City water connection
Full insulation
If you are looking to build a full-timing RV you can opt for this design.
Steve and Kelly's Rustic Rig
This is one of the most traditional-looking 17-foot v-nose travel trailers. The owners of this trailer are actually into the market to buy a new travel trailer. Before buying one they have some requirements. Some of them are:
The travel trailer does not weigh more than 4000 pounds.
They needed a good ground clearance as they often do off-grid camping.
They wanted dual axles and an electric braking system for extra safety.
A good quality travel trailer that can withstand any type of weather.
A queen-sized bed.
Insulated roofs and walls.
Shower and a composting toilet.
Air conditioner.
They searched the whole market and found that if all these things are present the trailer is heavier. If the trailer is lighter some of their requirements are missed. So they decided to build their travel trailer.
They found one travel trailer manufacturer company, explained all their requirements, and ended up with a 17-foot v-nose trailer.
Stealth Camper with Rugged Charm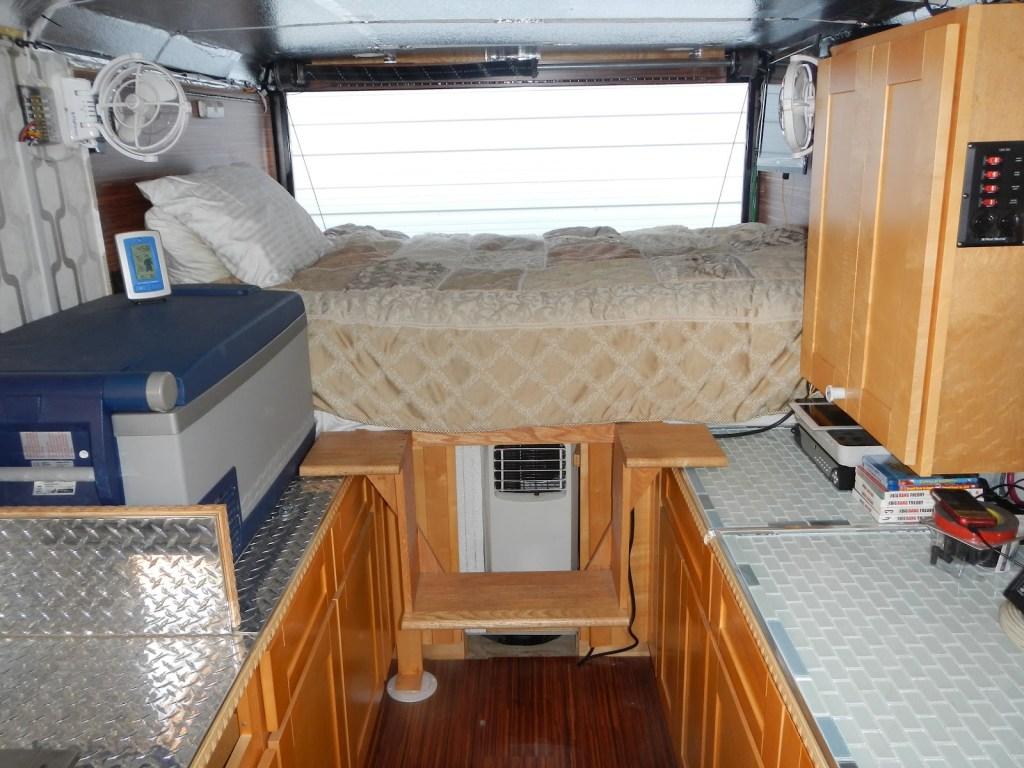 If you are fond of weekend adventure camping or an urban-type camping inspiration then you can opt for this design. The coolest part of this camper is you can easily park this one in campgrounds and RV parks.
As they are small in size you can even park them in the streets without worrying about the space. The best part of this is the entire camper is designed taking inspiration from tiny homes or tiny houses.

The coolest thing the designer does is that they have used glass tiles all over the kitchen and the bathroom. This created a stunning and modern look. You can use this camper for weekend trips.
The owner used over 1500 watts of solar panel to provide electricity to the entire rig. This rugged camper comes with a 2.37-gallon water tank, water purifier, and a 26 inches TV. This rugged camper also has seven inches wide interior space to roam around.
Cozy Cabin for Off-Grid Camping
If you are looking for off-grid camping without any hookups then, cargo conversions are better.
You can use this camper conversion idea if you often do off-grid camping because you can carry your drinking water easily, and there is a composting toilet.
With this design, there is no need to look for a well-developed campground or an RV park.
This is a 7×12 insulated cargo van. The owner of this cargo van converted this into a camper van that can be for two people.
As this cargo van is small in size, they do not implement a bathroom facility. But they have established a propane Coleman stove along with gravity plumbing with a hand pump.
An Engineering Marvel
Not everybody can turn a 16-foot Haulmark cargo van into a luxurious travel trailer. But Bill did it. He was an engineer by profession and always loved to travel with his Rottweiler. But many hotels didn't accept his dog. 

To get rid of all these things, Bill decided to use his 16-foot Haulmark cargo van and, within a few days, he turned it into an 80-square-foot tiny home with all luxurious amenities. 
As it had very little place inside the cargo van Bill used his engineering brain and found an innovative way that will quickly transform this bedroom into a workspace or a dining room, or a living room. 
He also added a toilet along with some plumbing facilities. In addition to this, he added a microwave. All these things made by him turned the 16-foot Haulmark cargo van into a masterpiece. With this, he can now travel anywhere along with his Rottweiler.
Converted Cargo Trailers Gallery
Guide to a Successful Cargo Trailer Camper Conversion
As a lot of people are preparing to convert a cargo van into a luxurious camper van, some people might want to give it a try. But they don't know where to begin.
Here is a guide that will help you in this process. Follow the tips mentioned here and start your cargo conversion. Once it is ready hit the road and enjoy.
Establish your budget
This is an important step you need to think about before starting your work. Many campers want to do this DIY option because it is a money saver. Some campers even converted them with just $2000.
The other advantage of this conversion is that you can convert your rig into any way you want. Regardless of whatever plans you have in mind, it is very important to set up a budget.
Also, research a little bit on the materials and the gears you want to install on your rig. This will help you to establish your budget. Also, you won't run out of funds with a half-completed rig.
Consider your camping style
Before customizing your cargo van you need to think about your camping style. This will help you to customize your rig accordingly and in the end, you won't be disappointed.
Suppose if you want to boondock in the wild and you have customized your rig in a hurry with all the amenities that suit to travel in a well-developed RV park then you will surely be disappointed. So to avoid all these consider your camping style first.
If you're not wanting to do it all yourself, you can purchase an RV from anywhere using a service like A1 Auto Transport RV shipping service. This way, you can save big time on any headache if you don't want to take on the burden of a camper conversion.
Systems to install
Camping in the wild is totally different from camping in a well-developed campground. If you prefer to camp in campgrounds and RV parks that are filled with all hookups and bathrooms then you can omit having a bathroom and concentrate more on shore power and water.
If you love to go boondocking all the time then you need to consider options like a battery, inverter, solar panels, composting toilet, fresh water tanks, etc.
Layout
The best thing you will get if you use a cargo trailer for camper conversion is that you will get a blank slate. You can have the freedom to customize whatever way you want.
See also: How to Design Your Campervan Layout?
Here are some of the considerations for your layout plans:
How many people are traveling with you? Are you a solo camper or a group traveler? This will help you to use the space effectively. If you are a solo traveler you can opt for less sleeping space and if you are a group traveler you can go with more sleeping space.
How do you prepare your food? Do you prefer cooking outside to get a camping experience? If so, you can omit a kitchen and have extra storage for extra stuff. If you prefer to cook in a kitchen then you need to consider a kitchen with a sink and an ample counter.
If you plan to work from your rig then consider a small workspace for yourself.
What activities do you perform while camping? If you are a hiker then no issues as you just want a pair of boots and a backpack. But if you are a mountain biker you need extra space to store your essentials.
How long do your trips last? If you are a weekend traveler then you can adjust without having a comfortable bed. But if you spend months camping you need to consider a comfortable mattress.
All these things will help you to get your rig into the shape you want.
Draw your plans
With the previous step, you should have got an idea of what you should consider in a camper. Now it is time to sketch some ideas on paper. Go for multiple revisions until you find the perfect plan.
What you have in mind sometimes won't work if you physically see it. So it is better to draw a plan. This will help you to understand how your camper will be once it gets into shape.
If paper and pencil don't work for you, you can take a piece of chalk and draw on the floor of your rig. This will help you to visualize your trailer. You can also use premade layouts that are available online if you aren't comfortable with your own plan.
Get into the work
Once your plan is ready, now it's time to get into the work. If you don't have any camping experience previously you can rent a camper and start with your first trip. You will be amazed by that trip.
Also, this will help you to give new ideas and make some changes to your plan. Sometimes you may even find a very important thing you missed in your plan or sometimes you may have added a thing that you haven't used at all.
Once your plan is finalized, start with your work. If you aren't comfortable with your work you can hire professionals and tell them about your plan and they will make it ready for you.
Also, you need to be open to new changes because once you start the work sometimes you will end up with a totally different plan than you previously had in mind. It will allow you to solve the issues that exist when customizing your rig.
Hit the road
Once your rig is ready it is time to hit the road. First, try a short weekend trip to check all the things are right for you. Once everything is right you can go wherever you want.
FAQ
Do cargo trailers make good campers?
As cargo trailers come up with a lot of space you can convert them into stunning campers. Also, the cargo travel trailers are suitable, cost-effective, and versatile. So most people prefer cargo trailers for camping conversion.
The best part of the cargo vans is that almost any cargo van can be converted into a camper van. With all these advantages you can convert a cargo trailer into an amazing camper.
Can you sleep in a cargo trailer?
No, you cannot sleep in a cargo trailer without making any modifications to them. Sleeping in an enclosed trailer without any modifications will lead you to injuries because of the falling objects.
But once you convert your cargo van into a camper van you can comfortably sleep otherwise it is not at all recommended.
What is the best cargo trailer for a camper conversion?
No matter what kind of cargo van you have, you can turn any cargo van into a beautiful and luxurious camper. But you need to consider the size of the cargo van before starting the conversion.
If your cargo trailer comes with folding doors, then you can convert your cargo van into a Toy Hauler. A lot of people prefer this one.
Can you do your cargo trailer camper conversion yourself?
Absolutely you can do your cargo trailer conversion yourself. In fact, most of the campers prefer this method as it saves a lot of money.
If you are looking to convert your cargo trailer into a camper try checking out our guidelines mentioned above. This will help you to perform the conversion smoothly without much worrying about the budget and what to include in your camper.
How Much Does It Cost To Convert A Cargo Trailer Into A Camper?
Since each camper conversion is unique the prices may vary from person to person. If you want a simple camper conversion it will don't cost you much, but if you want your camper to be luxurious with all the amenities then it will cost you more.
Overall the expected range to convert a cargo van into a camper trailer will range from $5000 to $15000.
If you are starting everything with new the trailer itself will cost you around $4000 to $5000. If you are looking for a used cargo van it will cost somewhere around $2500.
If you come across a cargo van with a price tag less than or equal to $1000 then there is something seriously wrong with it. So better avoid them.
Conclusion
These are some of the cool camper conversion ideas that you can consider for your project. If you have some DIY skills you can convert your cargo van into an amazing camper.
Once you finish converting it will give you an amazing experience. But if you aren't comfortable converting it on your own you can hire some professionals and explain to them what you need and they will make it for you.
Converting a cargo van into a camper van will not only give you an amazing experience but also saves you a lot of money. It will give you complete freedom to make whatever you want.
If you do not have a cargo trailer with you you need to buy one. It will increase your budget. But it has an advantage. As the trailer is new you don't need to worry about the parts that need to be replaced in the old trailer or whether your old trailer works or not.
Once you have picked up your trailer for camper conversion you can start with the process and end up with a beautiful and amazing camper. All your hard work never goes in vain.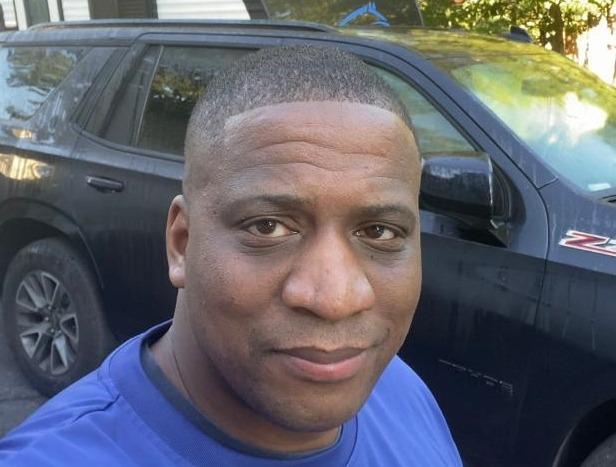 I`m a current Law Enforcement Officer working within the Counterterrorism Bureau in New York State. I have been Camping for over 20 years. My styles of camping include tent, car, truck, van, and RV travel trailer. I have a YouTube channel where I teach all types of camping with an entertaining method: https://youtube.com/@TheSmallsRVAdventures