How to Remodel Your Old Camper? Tips and Ideas
Camper van, travel trailer, RV, and caravan are a type of vehicles that allow you to camp or sleep inside. When compared with a camping tent travel trailers have a lot of advantages.
They provide additional storage, better comfort, and protection.
If you have an old RV or a camper and are looking to remodel it to minimize the expenses, we are here to help you.
We provide you with complete guidance to get your task successfully done. Also, we provide some of the cool campers' remodel ideas for some inspiration.
But before beginning the work you need to make sure that your old camper does not have any mechanical issues. If you notice any mechanical issues, first rectify them and later proceed with the renovation.
If you are not an expert or don't know about plumbing or electrical works you can take help from professionals. Once all these issues are fixed you can start with your renovation.
To save your time we are providing you with some cool and amazing old camper renovation ideas along with the guidelines to be followed when renovating an older camper. Have a look at them.
Cool Old Camper Renovation Ideas
These are some of the cool renovation ideas that you can take as inspiration.
Just a little paint will create some magic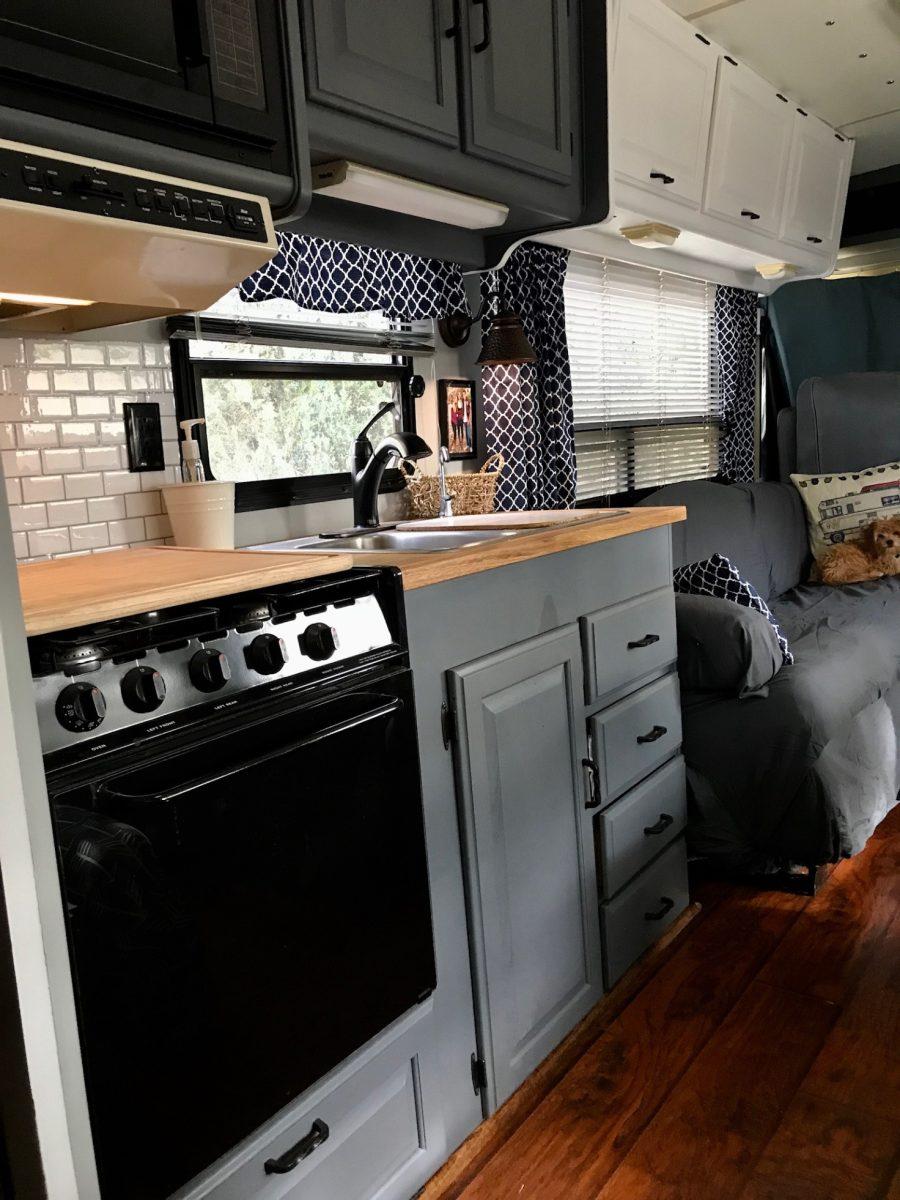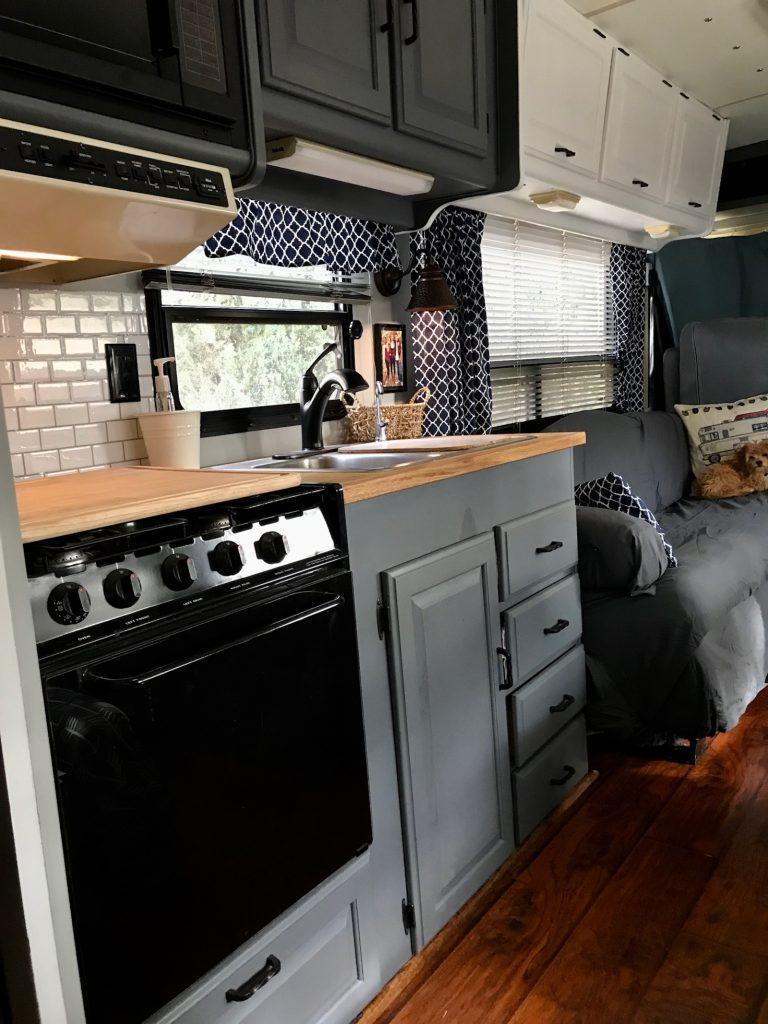 This is a simple and cool RV renovation done by Deb to her motorhome. She renovated her motorhome. Out of all, we found her kitchen renovation simply awesome.
The best part of this kitchen renovation is it looks different. But there aren't many changes and expenses to achieve this crazy renovation. She just painted her whole kitchen and added minor changes to it. That's all. It's done.
She just painted her cabinet with a new coat of paint and added some new curtains along with reupholstering her dinette set, added new tic tac tiles, added a countertop or counter space and a faucet, etc. That's all. It changed the look of the kitchen.
Amazing Bathroom Renovation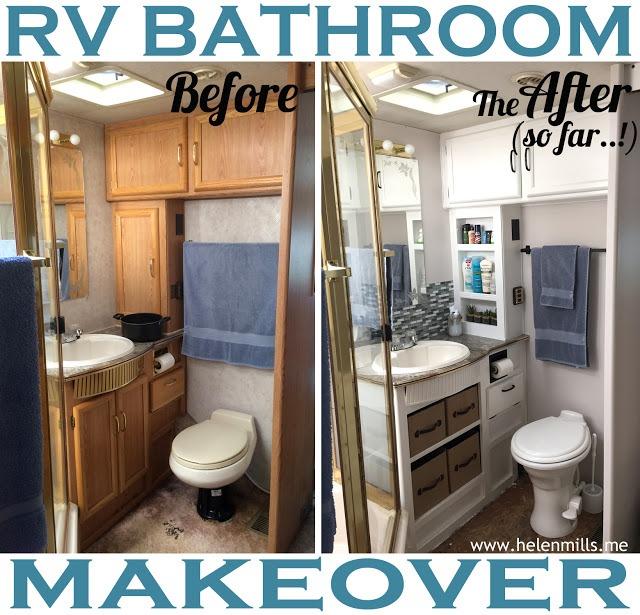 If you are looking for a stunning bathroom remodel then you need to look at this. This is an excellent bathroom renovation done by Helen Mills.
When you look at the above images you may think that it is a huge process and needs a lot of money for the renovation. But it is not true.
All these are very small upgrades. All together they gave an outstanding look to the bathroom and made it completely new.
What she does is, just replace the old cabinet doors with new pull-out storage boxes and give them a new coat of paint. You can find these new pull-out storage boxes in IKEA.
Also, she added a stick-on backsplash over the sink and replaced the old toilet with the new one. Simple, but gives you a marvelous makeover.
Making changes to the exterior
Even Though it does not make any changes to your day-to-day camping experience, it is advised to keep your exterior in great shape and condition. Some campgrounds don't even allow you to bring your rig inside the premises.
So to avoid all these issues you need to take care of your exterior as well as your interior. Just give your rig a simple paint job and you are all set. No one is going to stop you.
Make changes to your flooring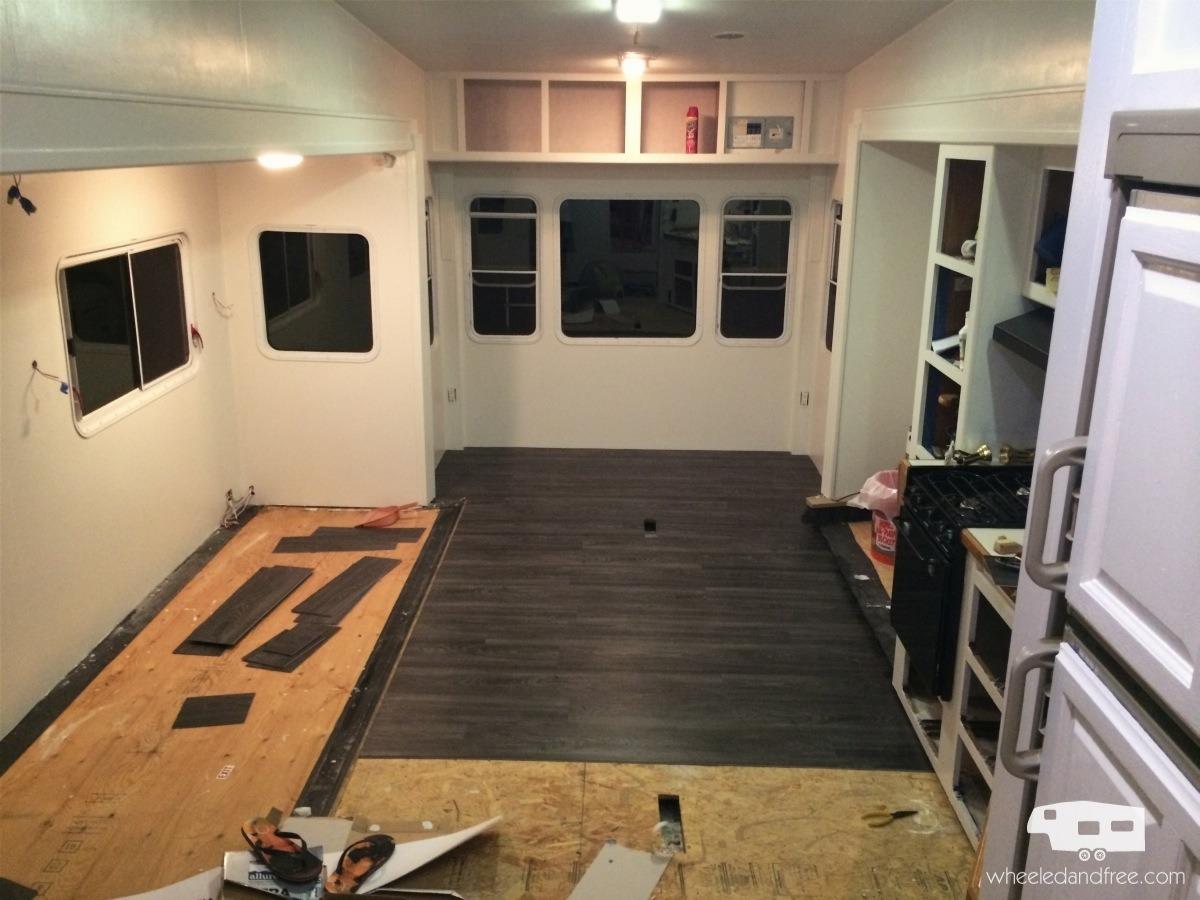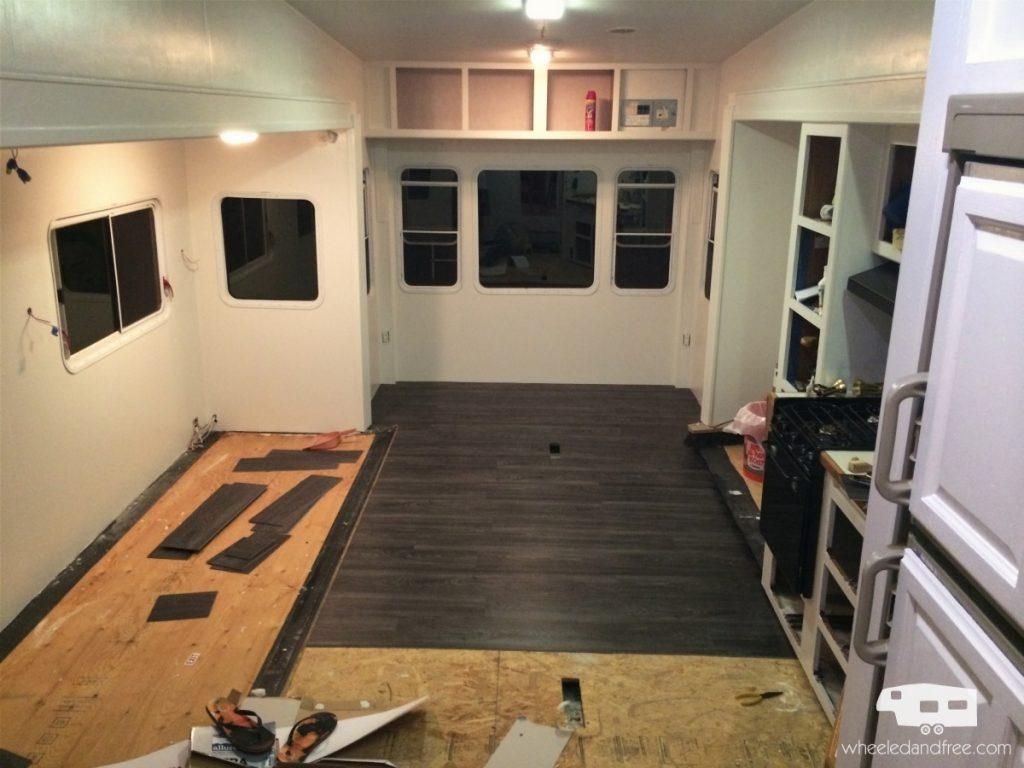 You can get a completely new look just by changing the flooring of your old camper. Just remove your old carpet and replace it with a new one or completely upgrade with a new hardwood flooring.
After this upgrade, you will notice an amazing change happened to your old rig. This is what the owners of this fifth wheel did.
Simply revamp the old flooring with new flooring and give your camper trailer a modern look.
A Complete Guide to Renovate Vintage Trailers, Vintage Campers, and Old Campers
Well, here is a complete guide to renovating your old camper or vintage camper. But before heading to the topic first you need to know the steps to renovate an old camper.
Here you go:
Find out a place where you can comfortably work without any disturbances.
Then rip out all the unwanted or damaged things.
If you find any water leakages, bugs, or insect damages, first fix them.
After fixing these, head up to the kitchen and renovate it.
Once your kitchen is renovated, head to the bathroom.
Once finished renovating your bathroom, check for any additional storage space you need to add.
Check whether your previous water tanks and solar panels are working great. If not, replace them.
Finally, give a paint job to the outer part of the rig.
That's all. You are done. These are the simple steps everyone needs to follow while renovating their older rigs.
To make it very easy for you, here we are providing you with further details for every step mentioned above.
Set up and tools
Before getting into the demolition work you need to set up all the things so that you won't need to search for them in the middle of your work.
Before doing all these works first you need to find a perfect place that will protect your rig from all weathers. Suppose you are doing a paint job and suddenly it rains heavily, all your work goes in vain. So find a place that will protect your rig.
As it is a DIY project you need to have the proper equipment to work smoothly. So these are the tools you are going to need:
Reciprocating and circular saw: These will help you to remove or build anything for your rig.
Jackhammer: These can be used to remove or break tiles. You will need this during the first half of your renovation process that is during the demolition of your rig. So it is better to rent a jackhammer rather than buying.
Cordless drill: You need this equipment to unscrew your cabinets, cushions, built-in beds and couches, and other appliances. Here the cordless part is very important because you don't need to mess up with the cord which is always following you.
Angle grinder: After successfully removing the tiles from the walls or the floor you need to remove all the leftovers like hardened glue or vinyl. Also, you need to use the angle grinder for sanding the wooden surface. You can also use it to remove the rusted bolts.
Air cleaner: These will help you to suck all the dust and dirt in your camper. It will make your experience pleasant. Although it is not necessary if you have one you can use it.
Bars: You can use either a large crowbar or a small crowbar for demolition purposes.
Nail picks: You need this to pull out the nails from the walls or wooden surfaces.
Hammer: This one is a must. It is used in demolition work as well as building work.
Pliers: These are used to cut electrical wires and level the nails.
Snips: These are also a must. They are used to cut the aluminum. As your camper is made up of aluminum you need this.
Nippers: Sometimes you will face some stubborn nails that cannot be plucked. These will help you.
Shop-vac: This will suck up entire dust.
Plastic scrapers: These will help to remove old putty without damaging the surface.
As you are set with all the tools, you can start the demolition work.
Demolition
Constructing anything is very difficult but destroying anything is very easy. As this is an easy step you will enjoy this process.
But the thing to remember is you are not destroying the camper completely as you are remodeling it.
The end goal of this demolition is to peel off everything that comes in your way. But you need to leave something that will help you to remodel your camper.
As there are many items in your camper you need to make sure what is important and what is not. Some of the things in the camper are very important to you and they don't at all need renovation. So make sure of what item you are working on.
If your electronic appliances, cabinets, or any part of the wall is good it is better not to touch them unless you want your camper to be fully remodeled.
So the amount of demolition depends on what you want to change in your camper. The most common items that anybody wants to remodel in their old campers are carpets, fabrics, mattresses, and cushions.
Also while demolishing your old camper make sure to check whether your camper is free from water damages or any animal or insect attacks like termites. If you find any damages you need to remove the exterior walls to fully inspect them.
Damages
Any vehicle will become old and get damaged at one stage. So you need to be prepared. Out of all the damages, the most common damage found in every camper is water damage.
The water damage occurs when your vehicle is placed outside. The only solution for this is to replace the entire wood and the ceiling that is damaged. If you see water damage in the walls it is better to remove the aluminum and inspect the walls fully.
Also, have a look for the parts that are damaged due to the sun. If you find any of them, replace them with new parts. For example, the parts that are made up of rubber, plastic, and vinyl will crack when exposed to the sun.
Also, check doors and windows. If they work perfectly, don't touch them.
If you find any mold or mildew on the floor, get rid of that floor and replace it with a new floor. Remodeling your floor will be more expensive than buying a new floor for your camper.
Kitchen
After successfully fixing these damages, it is time to renovate your kitchen. As the kitchen is very close to the living area it is better to make it look nice.
If you find any damaged or outdated cabinets replace them. Also, you need to add cabinet latches to make sure your cabinet doors won't open when you are traveling on bumpy roads.
If you want to make your kitchen look good it is better to add a new cook-top. Most of the cook-tops run on propane and you can easily find one online.
As yours's is an old camper your fridge might be outdated, so it is better to replace it. To make your kitchen look good it is better to replace all the old items with the newer ones like a toaster, racks, and stove covers.
After replacing all the older items with the latest items then go to cabinets and give them a paint job to make it look cool. Once all these are done your kitchen renovation is completed.
Bathroom
Congrats, now you have reached the next step. It is time to replace your bathroom even though it is not a place where you spend most of the time. As these bathrooms are small it is easy to renovate them.
If your camper is using an old toilet it is advised to replace it with a new composting toilet. It is a type of toilet that turns human waste into compost. So there is no need to worry about dumping your waste. If you wish you can even add a shower
You can even add some tiles to your bathroom to make it look modern. After renovating the bathroom now it is time to renovate your storage.
Storage and floor
Now you are done with all the heavy tasks. These are small and can be done easily. Look for the storage cabinets and paint them with a new layer. Once finished you can even add hangers to hang your clothes and other stuff.
During the demolition stage, you have successfully removed the carpet. Now you may be thinking of replacing the old carpet with the newer one. But we don't recommend it to replace as you may spill some juices. Also, dust particles might get stuck on your carpet.
Add power, water, and heat to your camper
After done with storage and floor it is time to add items that support off-grid camping. If you want to live off-grid you need to have all these things.
Outside
After you are done with the interiors now it is time to renovate your exterior. Here you just need to clean the surfaces and give them a paint job.
Now your old camper is completely renovated. Pat your back as this is not an easy task.
Gallery of Vintage Travel Trailers Remodel Ideas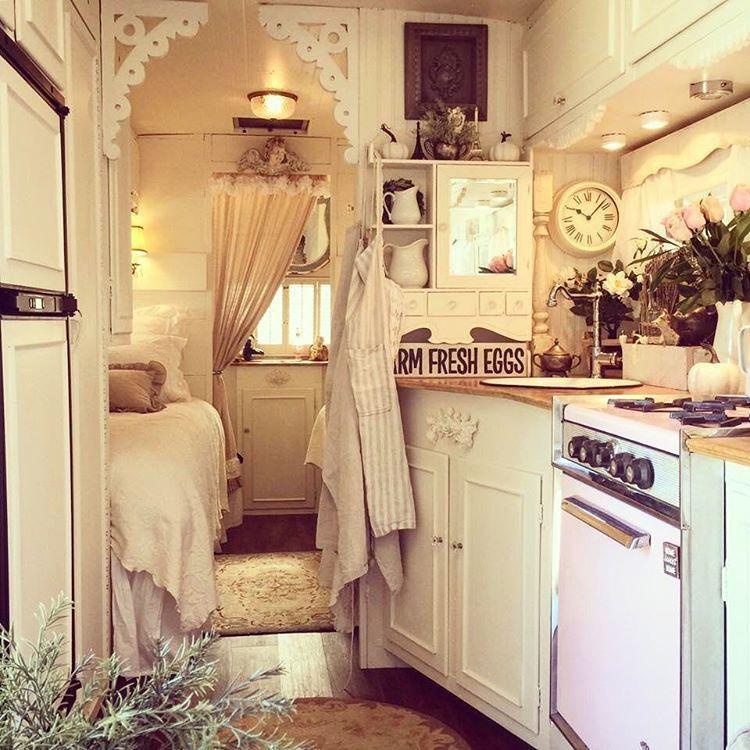 FAQ
These are some of the most common questions asked when renovating old campers.
How do you modernize an old camper?
Follow the simple steps mentioned here to modernize an old camper:
Upgrade your upholstery
Remodel your bedroom
Remodel your flooring
Add new lightings and other decorations
Paint your cabinets
All these steps mentioned here will help you to modernize your old camper.
Is it expensive to renovate an RV?
The cost of renovating an RV or old camper depends on what items you are adding. Usually, the cost of an RV renovation ranges from $5000 to $15000. Sometimes if you want to add luxury items to your camper it will cost even more.
Is it worth it to remodel your old camper?
Yes, it is totally worth it to remodel your old camper. The main reason behind this is the cost. Yes, the cost of renovating your old camper is less than the cost to purchase a small motorhome.
How hard is it to renovate your old camper?
Renovating your old camper will take a lot of time and also it is a daunting project. It also depends on how far you are going into this project. This means that it depends on whether you are fully renovating your camper or partially renovating your camper.
Conclusion
We hope this article provides you with all the details related to renovating your old camper. For a successful renovation try following all the guidelines and tips mentioned in this article.
You can use these renovating ideas to turn your old camper into something that can be used either as a full-time camper or a weekend camper.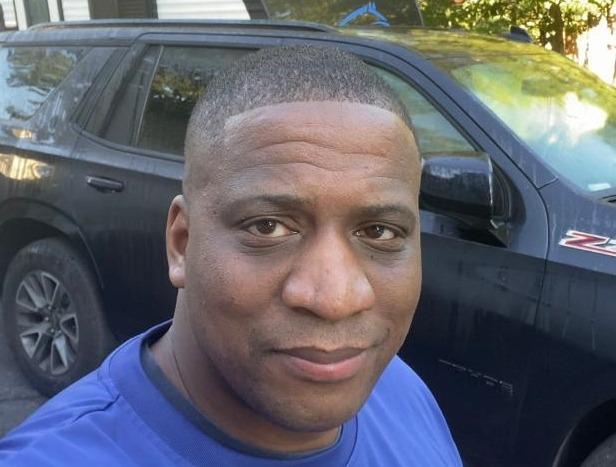 I`m a current Law Enforcement Officer working within the Counterterrorism Bureau in New York State. I have been Camping for over 20 years. My styles of camping include tent, car, truck, van, and RV travel trailer. I have a YouTube channel where I teach all types of camping with an entertaining method: https://youtube.com/@TheSmallsRVAdventures