Enclosed Trailer with AC: 2 Advantages to Save You Time and Money
Are you looking for a comfortable way to travel with your recreational vehicle? An enclosed trailer with AC is the perfect option to keep you cool while on the road. They are becoming increasingly popular for commercial and recreational use.
Not only are they great for keeping items safe and secure, but they also offer a comfortable environment in which to work or relax. In this blog post, we'll discuss two major advantages of having an enclosed trailers that can help you save time and money.
Here, you will also read about:
The drawbacks of enclosed trailers and their solutions
Things like the cost to consider while buying these trailers
Types of an enclosed trailer AC unit
Best air conditioners for enclosed trailers
Owning an Enclosed Trailer with AC: 2 Pros You Don't Know
Let's take a look at some key benefits of having an enclosed trailer with AC.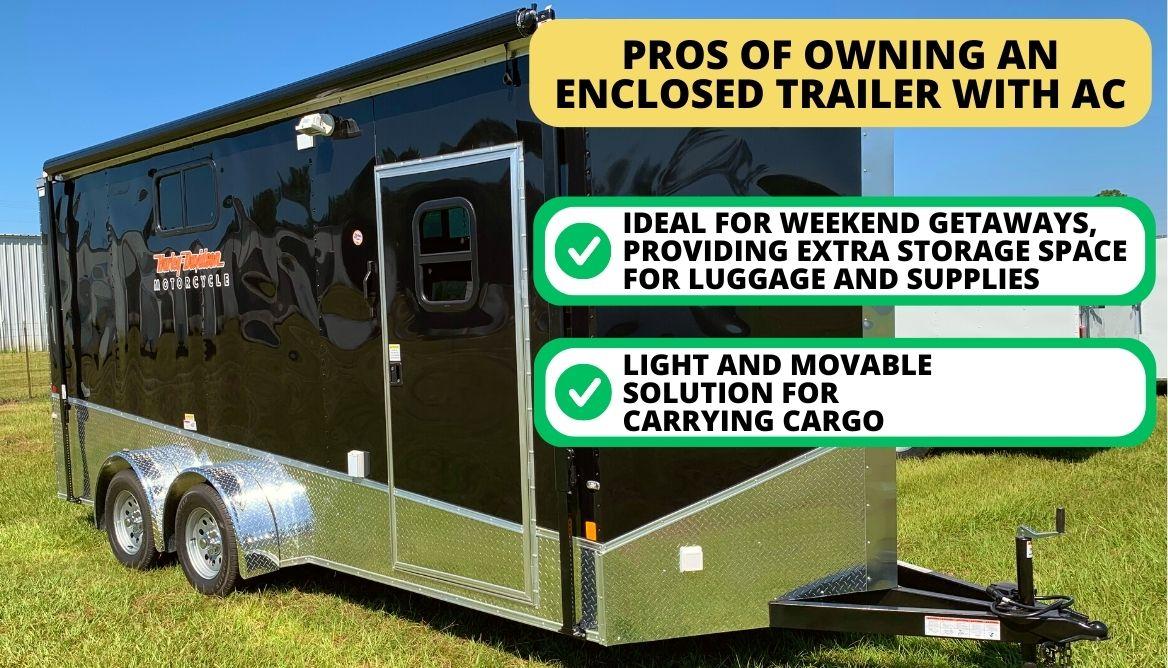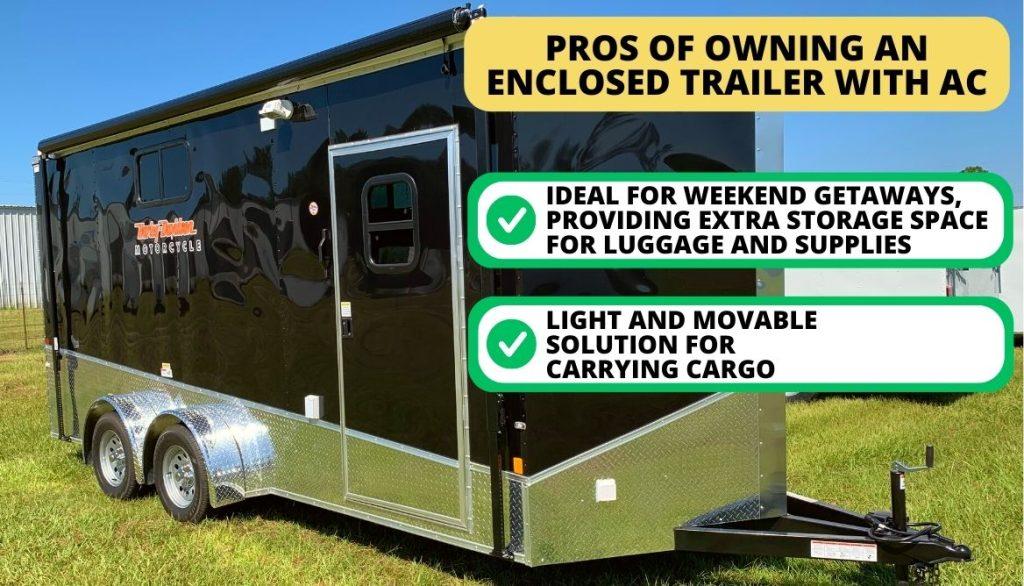 Trending and Popular
Enclosed trailers are trending as recreational vehicle options. And here are some main reasons for its popularity.
They're ideal for weekend getaways, providing extra storage space for luggage and supplies at an affordable price.
With AC, you'll be able to enjoy a comfortable journey, no matter what the weather is like outside.
Plus, since these trailers can easily be towed behind a car, you won't have to worry about the hassle of renting or buying a separate vehicle for the trip.
Light and Movable
Owning an enclosed trailer allows for a light and movable solution for carrying cargo. This issue is a great benefit for those who need to move large items frequently, or who want to take their vehicles and equipment on the road.
It is easy to tow and can be stored almost anywhere.
With an enclosed trailer, you won't need to worry about your cargo getting damaged or exposed to the elements.
Plus, it can be quickly loaded and unloaded without the hassle of trying to fit everything into one truck bed.
Why using RV Trailers Can be Problematic? 4 Biggest Disadvantages
Let's discuss some of the major cons of using these RV trailers.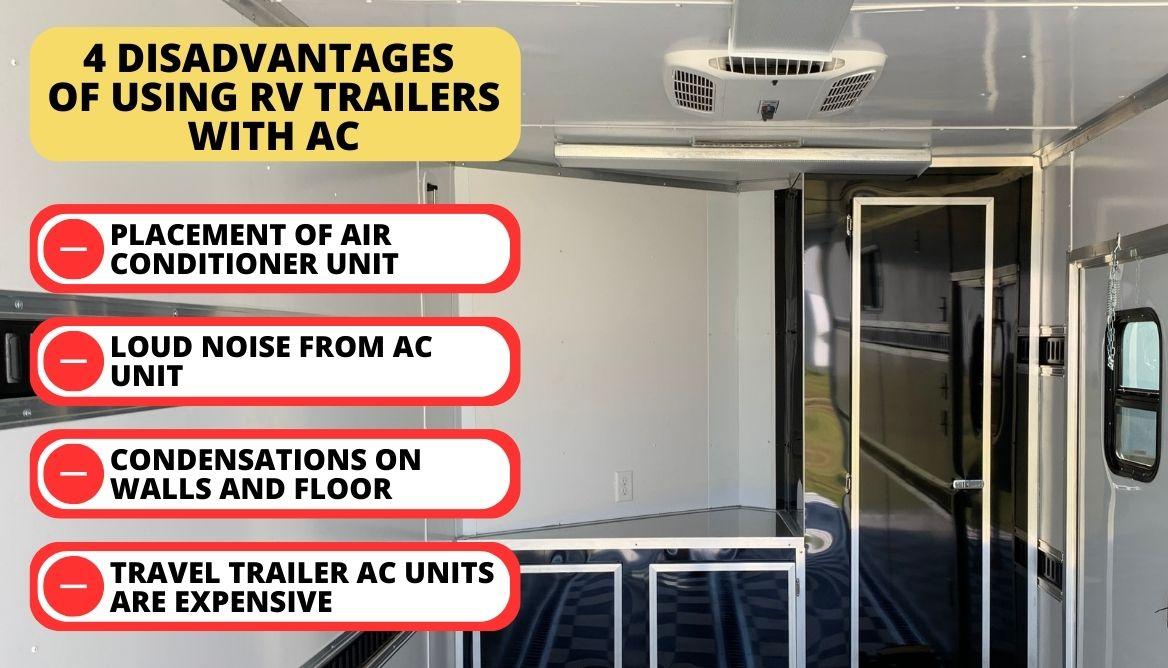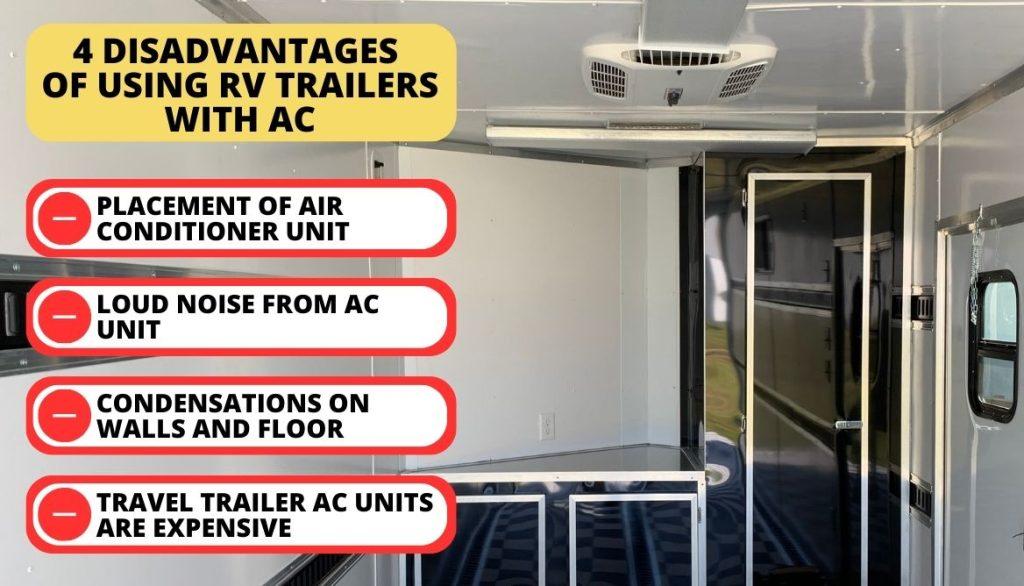 1. Placement of Air Conditioner Unit
The first drawback is the placement of your unit. When looking to add a unit to an enclosed trailer, it is important to consider where it should be placed. Generally, the best place to put the unit is on the top of the trailer.
Solution
It is possible to buy a used unit of AC that was once on a camper. This solution can be cost-effective, since purchasing a new unit specifically for an enclosed trailer can be expensive.
2. Loud Noise from AC Unit
Operating an air conditioning unit in an enclosed trailer can be noisy. This event is due to the thin walls of the trailers, which can amplify the sound. A wall of enclosed trailer having AC is usually made of steel or aluminum, materials that do not absorb noise well and can transfer vibrations and sound.
Solution
Foam insulation can be used to help reduce noise from an enclosed trailer with a unit. The foam padding should be applied around the unit, where it makes contact with the body of the RV trailer. Depending on the size of the unit, the trailers may need to be disassembled to get access to the areas needing insulation.
Benefits of Foam Insulation
Foam insulation is a cheap and easy solution to help reduce noise from your enclosed trailer having AC.
It is also fairly simple to install and will not require professional help.
3. Condensations on Walls and Floor
Owners of enclosed trailers with AC may notice water or light moisture on the insulated walls and floors. This issue is more common in uninsulated trailers, but can still happen in insulated trailers depending on the climate.
Solution #1
To combat this issue, it is recommended to add extra insulation or use a dehumidifier to reduce the amount of moisture inside the enclosed trailer having AC.
Solution #2
One way to overcome that drawback is to install
Duct insulation
. It is a cheap and low-profile way to insulate an enclosed trailer with AC, and it's better to add to existing insulation than to treat it as if there is none. It looks like foil bubble wrap and can be found in shiny foil, white, or black colors at most local hardware stores.
The Best Thing about Duct Insulation for Insulated Walls
Duct insulation is easy to install and helps keep the temperature in your enclosed trailer having AC comfortable year-round.
Attention! If the climate is very hot, the OEM insulation may not be able to insulate well enough to prevent condensation from forming on a wall and floor.
4. Travel Trailer AC Units are Expensive
Enclosed trailer units have high costs. And there are several factors that contribute to the high budget of travel trailer air conditioning units.
First, they need to be compact and efficient. It requires advanced technology and materials that can withstand the rigors of travel.
Additionally, enclosed trailers with AC need to be able to run on limited power, such as from a generator or battery. This can increase their complexity and cost.
Finally, they need to be able to withstand extreme temperatures and weather conditions, which require robust construction and quality components.
Solution
For those looking for a solution to having an enclosed trailer with AC on a budget, portable air conditioners are an option. Though they require sacrificing a bit of space and must be emptied of water from time to time, they provide a much cooler environment than most other options under a reasonable budget.
3 Things that Make an Enclosed Trailer with AC a Big Investment
When deciding to buy an enclosed trailer with AC, you need to be aware that this is a big investment. And here are three reasons for this statement: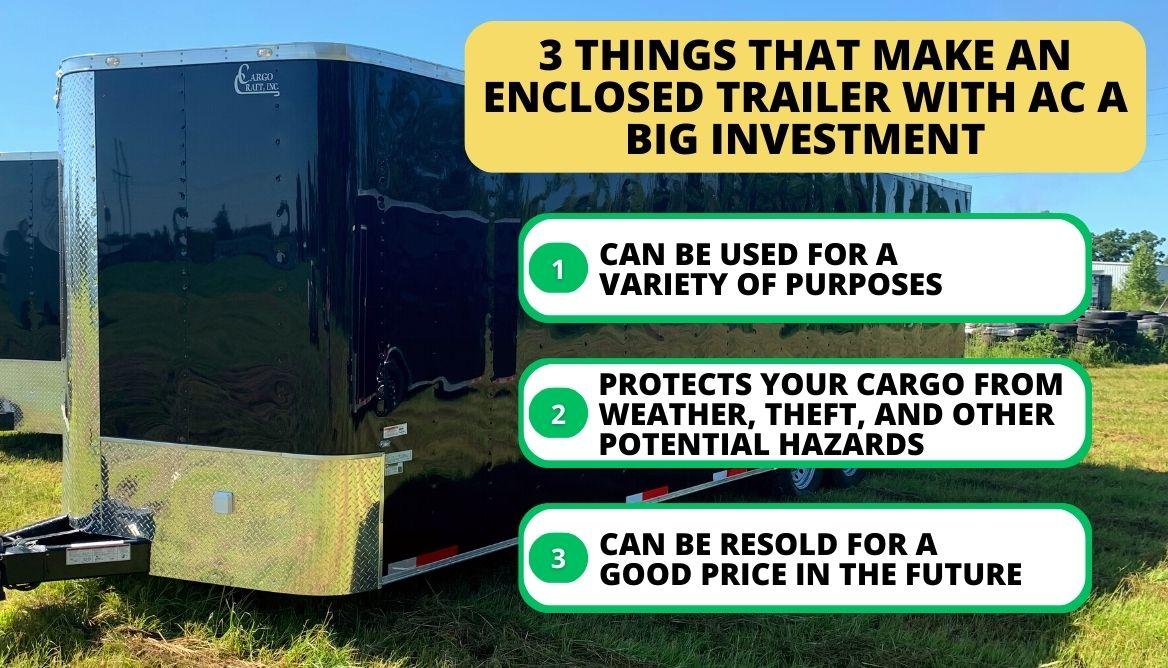 Versatility: An enclosed trailer with AC can be used for a variety of purposes such as hauling goods, transporting vehicles, or even as a mobile office or workshop.
Protection: The enclosed trailer protects your cargo from weather, theft, and other potential hazards during transport, ensuring its safe arrival at its destination.
Resale value: Enclosed trailers with AC hold their value well and can be resold for a good price in the future, making them a worthwhile investment for any business or individual.
Window Type RV Aircon
Window-type RV air conditioners are the most common and popular choice for enclosed trailers. They are
Small
Light
Easy to move around.
They are also less expensive than roof-mounted units, making them the ideal option for smaller trailers. What's more, they provide cooling quickly and efficiently, making them perfect for hot summer days.
Things to Consider While Buying an Enclosed Trailer with AC
Following are some crucial things to keep in mind while purchasing an enclosed trailer have AC.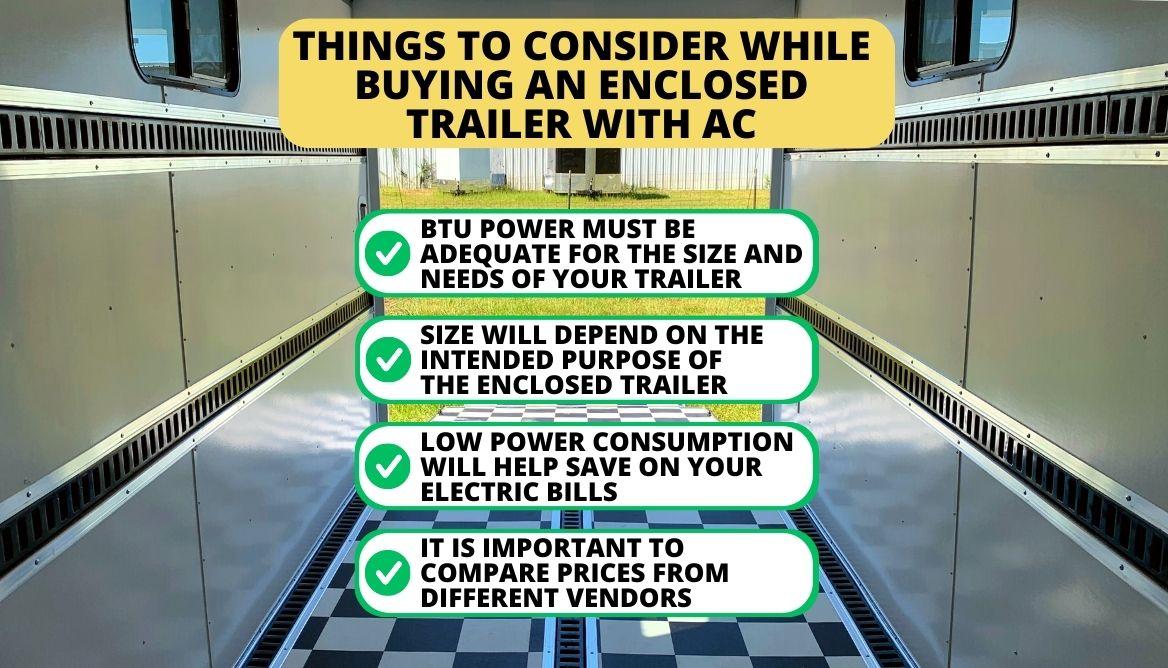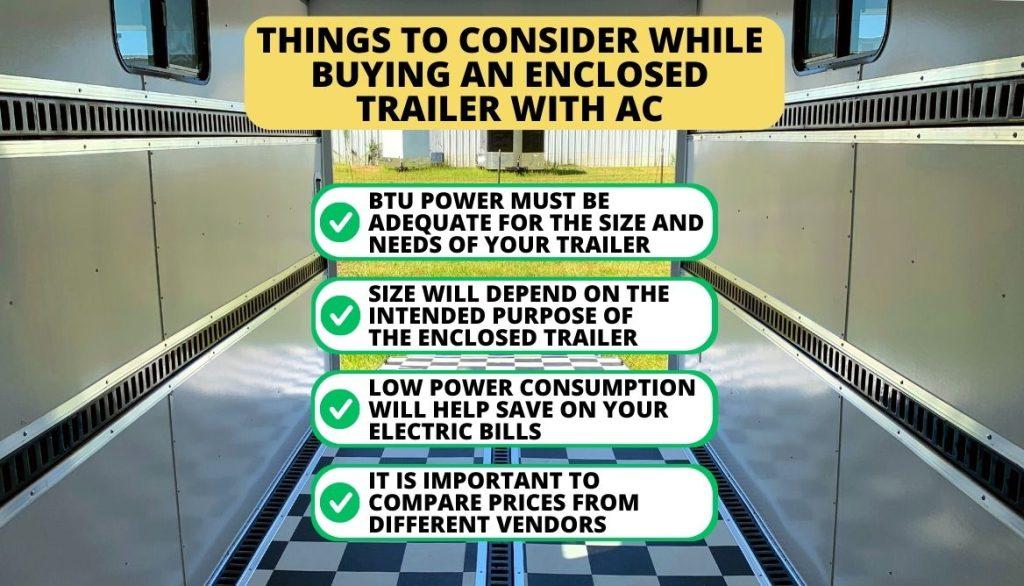 BTU Power
The first thing to consider when purchasing an enclosed trailer with AC is BTU energy. BTU (British Thermal Units) is the amount of energy needed to cool a specific area.
BTU rating must be adequate for the size and needs of your trailers.
If the unit doesn't have enough energy, it won't be able to adequately cool your enclosed trailer have AC.
For example: An enclosed trailer measuring 8 feet x 12 feet will require a unit of Ac with at least 10,000 BTUs.
Size
When choosing an enclosed trailer having AC, it's also important to consider the size. This fact will depend on the intended purpose of the enclosed trailer. Make sure to measure the interior and exterior space, to provide that the trailer you select is large enough to accommodate your needs.
Power Consumption
If you plan to use the trailer for extended periods, then you should look for a model that uses as little electricity as possible.
A unit with a low amperage draw will help save on your electric bills.
On average, an air conditioner with a 5,000 BTU rating can consume up to 10 amps.
Consider buying an inverter generator if you want to run your trailer's AC without draining your battery quickly. Ensure that the unit has a high-efficiency compressor for maximum efficiency.
Price
Before making a purchase, it is important to do your research and compare prices from different vendors. This will help you get the best deal on the type of trailer that meets your needs.
The cost of an enclosed trailer having AC unit can range from a few hundred dollars to thousands of dollars, depending on the size and features you choose.
Generally speaking, the more features that you opt for, such as extra insulation, better AC units, or increased space, the more expensive it will be.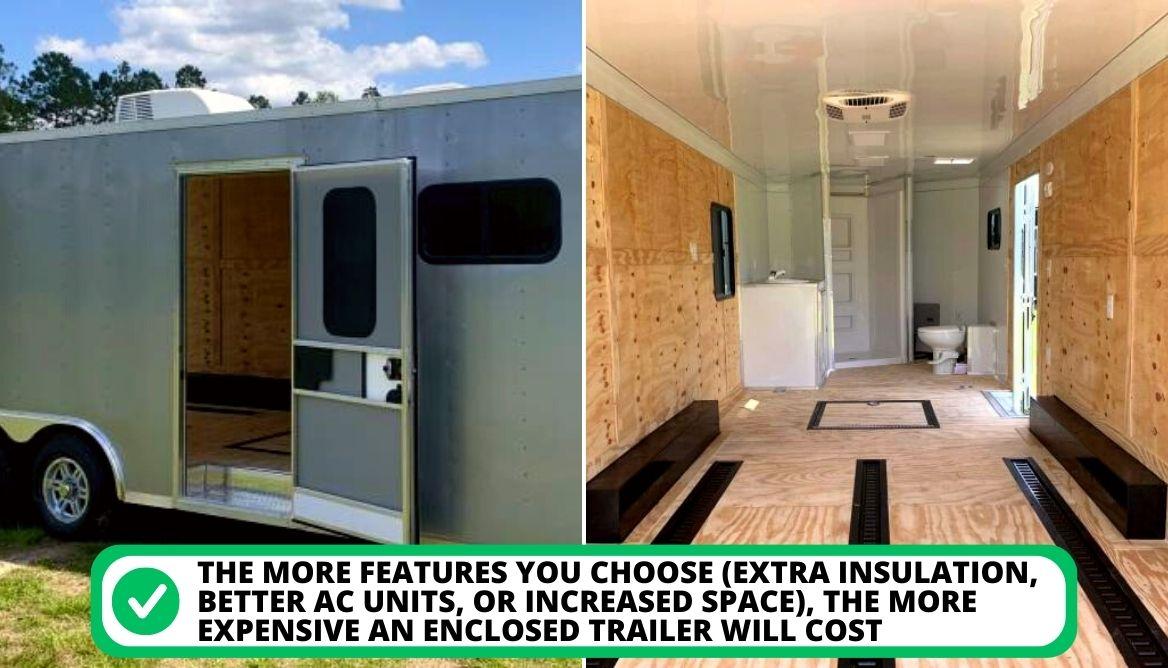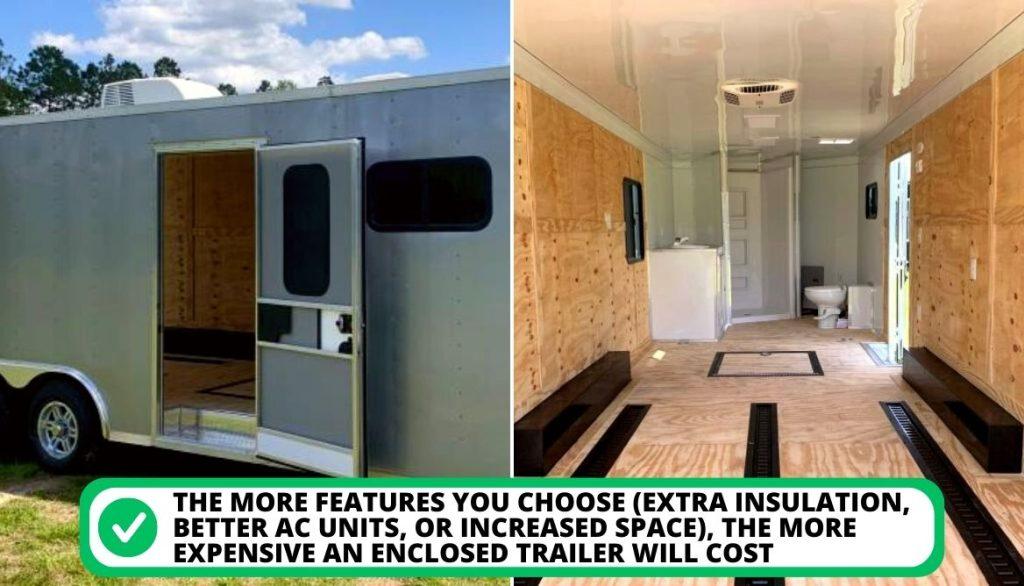 When deciding on a budget for a trailer with AC keep the below points in mind:
Make sure to factor in any additional costs associated with installation and maintenance.
Additionally, you should factor in the cost of upgrades or modifications that may be required after the initial purchase, such as installing better insulation or upgrading the unit.
Types of Enclosed Trailer AC Units
Here are some types of enclosed trailer AC units:
Window AC Unit: It is a popular choice for enclosed trailers within an affordable cost range. It is mounted on the wall or window of the trailer and works by blowing cool air into the room while expelling hot air outside.
Portable Unit: It is a self-contained unit that can be moved from one place to another.
Rooftop Unit: These units are ideal for larger trailers or those that require more cooling energy.
Split Unit: A split is a more advanced option that is designed for enclosed trailers with more space. It consists of two units – an indoor unit and an outdoor unit.
Ducted Unit for AC: These units are mounted on the roof of the trailer and have a network of ducts that run throughout the interior.
Best Air Conditioners for Enclosed Trailers
Here you will find some best air conditioners for your RV-enclosed trailers.
The Domestic Penguin ll is an ideal air conditioner for enclosed trailers having AC. It boasts a sleek design and lightweight EPP foam housing, making it easier to install than other models. The fully automated comfort control makes the Domestic Penguin ll simple to use and its R410A refrigerant makes it eco-friendly.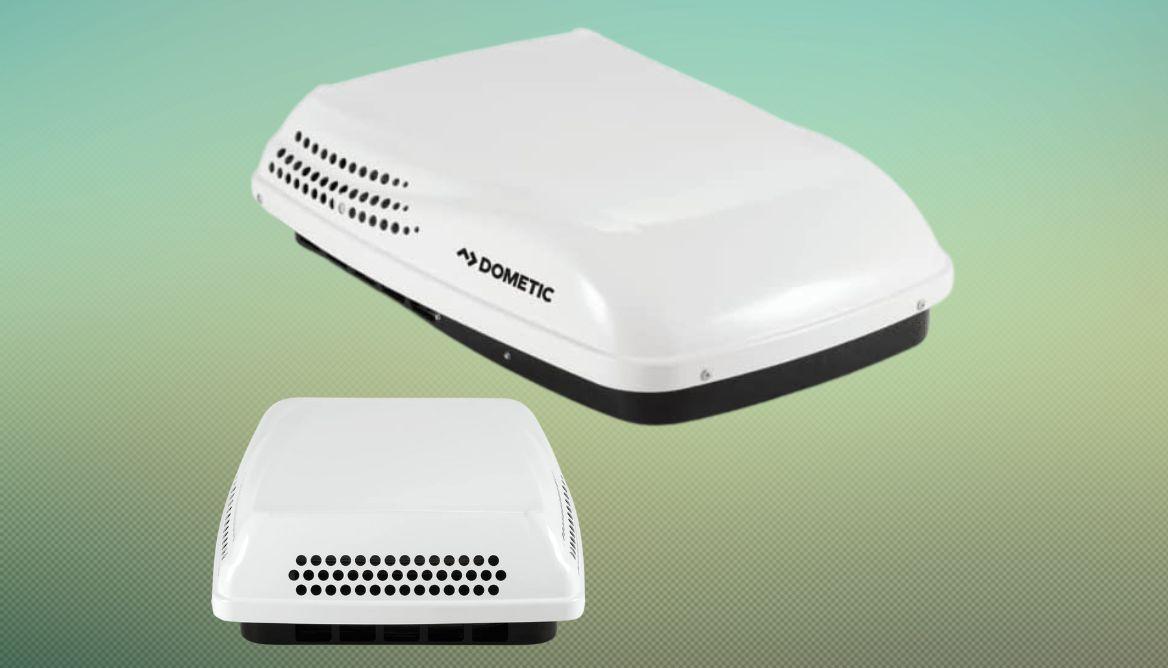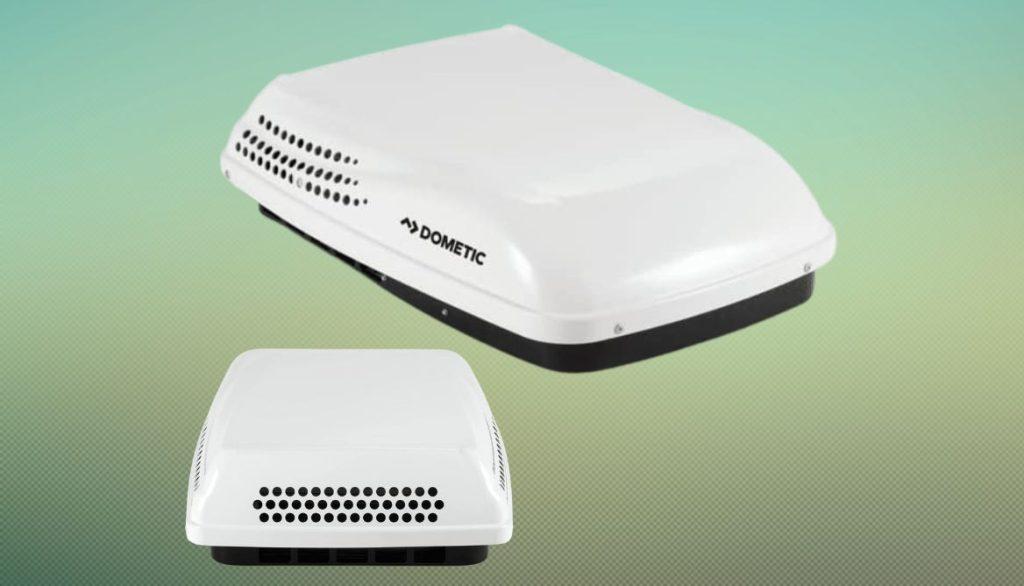 Features
It is a lightweight unit at just 113 pounds and runs quietly when on.
This unit is also covered by a 2-year warranty and has a 15,000 BTU cooling capacity.
Its design allows it to fit into most standard air conditioning systems without any issues.
The Penguin II also features a powerful heat pump system which makes it capable of heating the RV quickly, even during cold nights.
Plus Point: While the cost is higher than other units, it is worth the extra money due to its energy efficiency, heating capabilities, and rugged design.
Pros
Easy to use with fully automated comfort control
Premium comfort with high-performance motor and fan
Lasting strength with rib-reinforced base pan
Cons
Low profiles of 11 ¼ inches
Requires an inside ceiling assembly and control kit, (available separately)
The Furrion chill is a small, rooftop RV AC that is perfect for enclosed trailers and uses environmentally-friendly R410A refrigerant.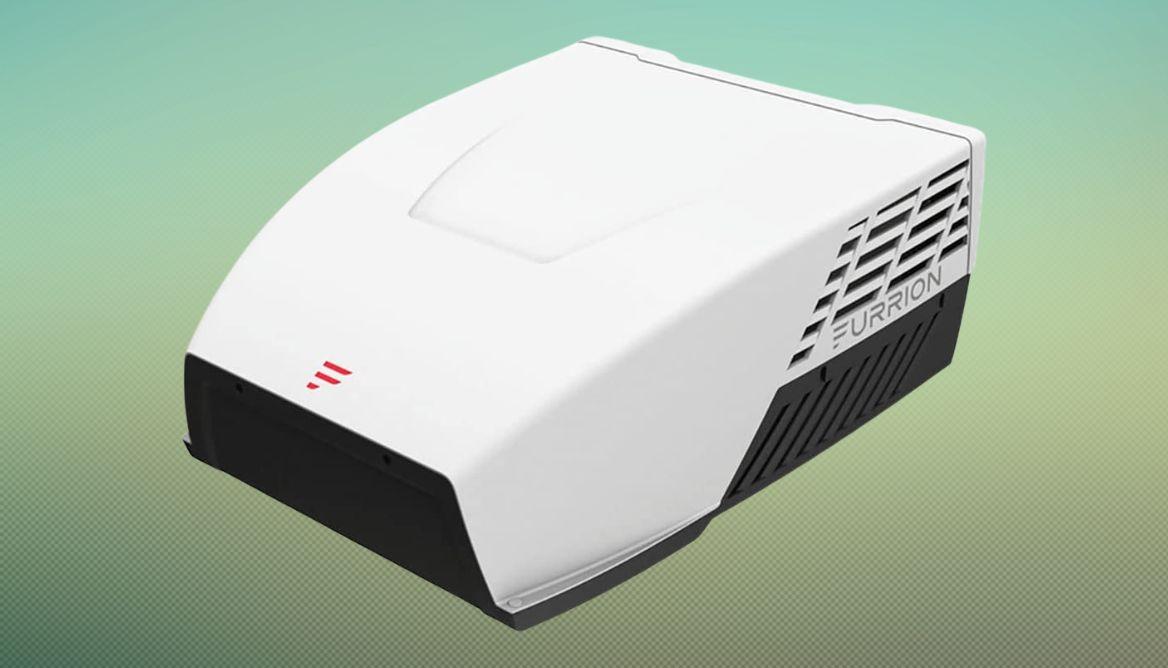 Features
It has a UV-resistant cover and is a non-ducted system, although it can also be used in ducted RVs.
With a cooling energy of 14,500 BTU and 2 fans to move the cool air around, it is designed to be energy efficient and can resist vibrations and function in extreme climates.
The unit also comes with a 24-month warranty.
Pros
Environmentally friendly, R410A refrigerant
Lightweight and aerodynamic design
Easy to install
Cons
Not as powerful as other AC units
May need an adapter or converter for use in other countries than the USA
The RecPro RV Air Conditioner is one of the quietest air conditioners on the market and installs over a 14×14″ cutout.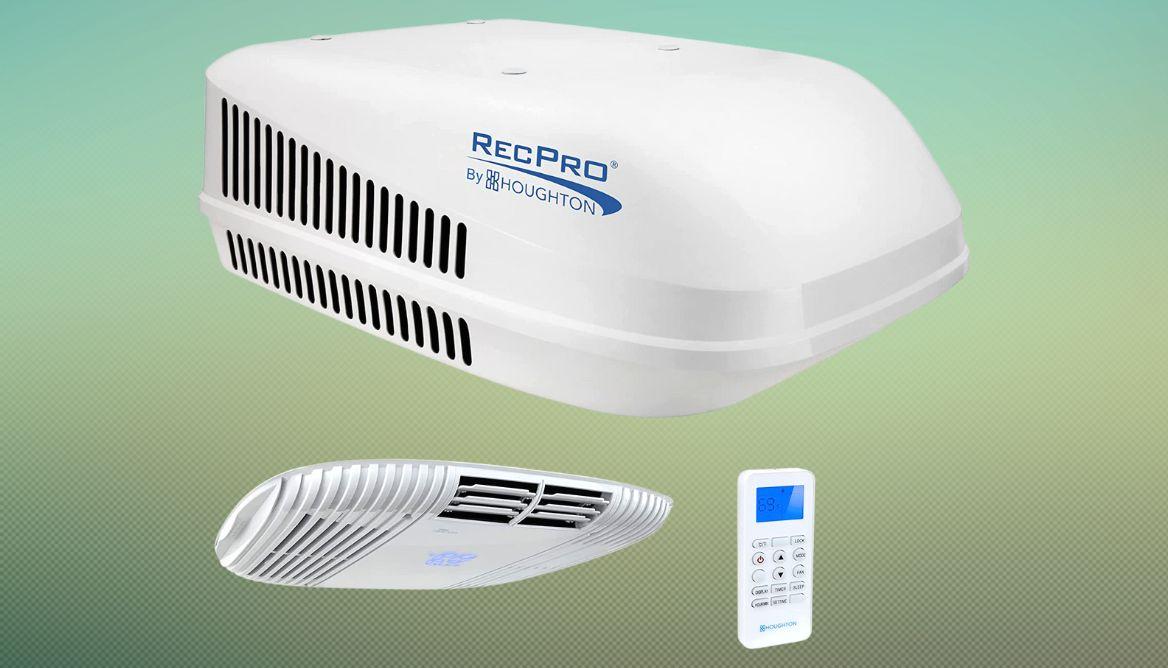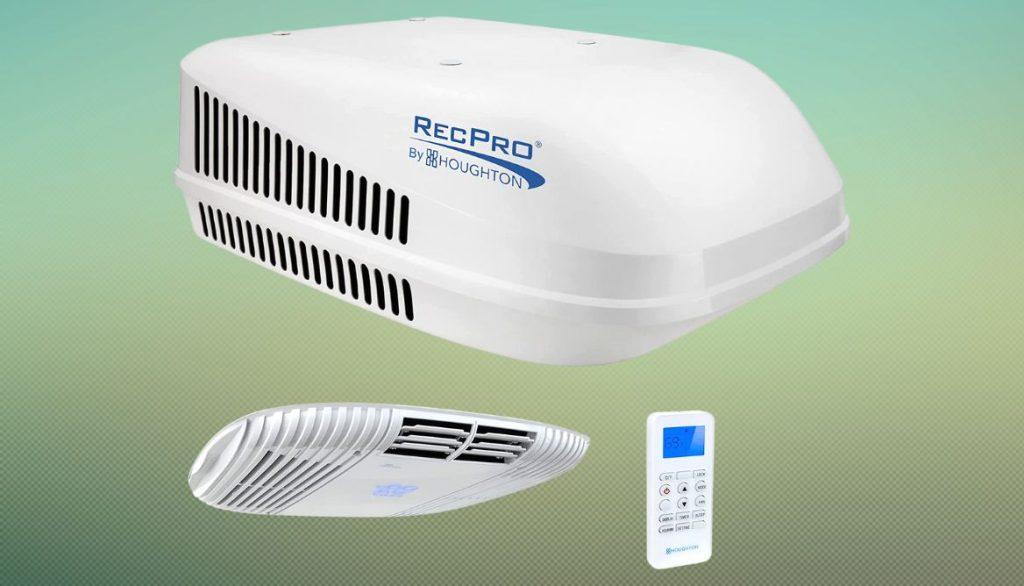 Features
It has a low energy usage, drawing a max of 1550W compared to the leading competitor at 1750W.
No soft start capacitor is required for its installation.
The air conditioner is easy to install at home and weighs around 73 lbs.
With the included remote control, you can easily switch between several cooling modes.
Pros
High-efficiency, compressor
Adjustable thermostat
Low noise output
Cons
It has a high price point.
Consider These 5 Factors When Picking an RV Air Conditioner
Here are five factors to consider when picking an RV air conditioner:
BTU capacity
Type of RV air conditioner
Energy requirements
Noise level
Energy efficiency
FAQs
Can you put AC in an enclosed trailer?
Yes, you can install an air conditioner in an enclosed trailer. There are various sizes and types of air conditioners available to fit the size and shape of your trailer. 
How do you cool an enclosed trailer?
Cooling an enclosed trailer having AC typically requires installing an air conditioner unit with a thermostat. A unit should be sized to fit the size or of the trailer, and it should be enclosed properly to ensure proper airflow.
What size air conditioner for an enclosed trailer?
The size of the air conditioner you need for an enclosed trailer having AC depends on the size of the trailer and how much cooling power you need. But generally, 12,000 to 13,000 Btu AC is considered suitable for your RV trailer.
Is it OK to enclose an AC unit?
Yes, it is OK to enclose this unit as long as you take the proper precautions and ensure adequate ventilation to prevent overheating. Ensure that the outside air can enter and circulate freely inside the enclosed trailer having AC.
How hot does it get inside an enclosed trailer?
The temperature inside an enclosed trailer having AC can become quite hot and uncomfortable, especially during the summer months. Proper insulation and ventilation are necessary to help keep the temperature inside at a comfortable level.
Conclusion
Enclosed trailers with AC are a great way to save both time and money. They provide comfort and convenience for those looking for an economical solution for their camping or RV trips. With the right research, these trailers can be a great addition to your home on the road.
When considering the purchase of an enclosed trailer with AC, it's important to keep in mind all the factors mentioned above. Doing so will help you make an informed decision that best meets your needs and budget. Do you have some more useful tips to find the best-enclosed trailers?
Let us know in the comments below!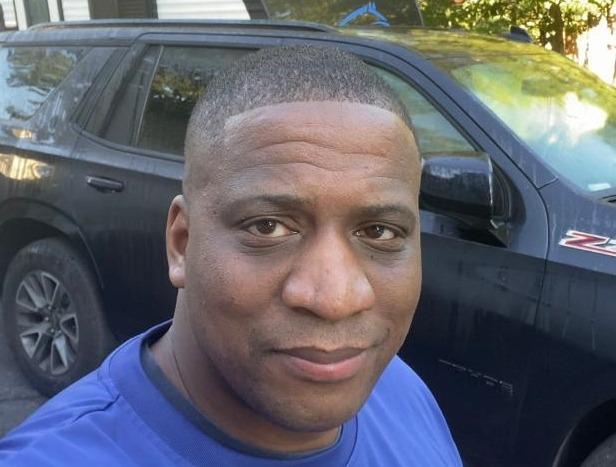 I`m a current Law Enforcement Officer working within the Counterterrorism Bureau in New York State. I have been Camping for over 20 years. My styles of camping include tent, car, truck, van, and RV travel trailer. I have a YouTube channel where I teach all types of camping with an entertaining method: https://youtube.com/@TheSmallsRVAdventures