Best Campervan Interior Design Ideas [+Gallery]
Camping has never been so easy before! Over the years, thousands of camping transports have been produced but the camper van has been the favorite amongst camping enthusiasts. The beginning of the camper van was first marked in 1947.
If you are looking to enjoy your van life more then you should consider the pop-up small camper van interior ideas. The ideas are important because they make your travel and accommodation more flexible.
In this article, you will be able to learn about making proper use of limited space and natural light. In addition to that, we will guide you about the current flooring trends along with double storage furniture options and sleeping pods to focus on.
Let's dive into this article and see how to effectively use the storage space through amazing camper van interior ideas.
20 Small Campervan Interior Ideas
Campervan interior ideas are a great way to make your campervan work best both practically & aesthetically. Van life has never been so enjoyable before. If you own a van and love to travel, then it is high time to counter space available in your van to use it more amazingly.
Each camper van includes storage space that can be used based on your specific needs and the amount of time you spend in a campervan.
Let's look at some more essential benefits of a small campervan:
Perfect to enter small spaces (such as low garages)
They can cost you low
Can be used as a daily routine vehicle
Below are the 20 amazing camper van interior ideas that can help you with your van conversion and make it more delightful.
1. Set up better-lighting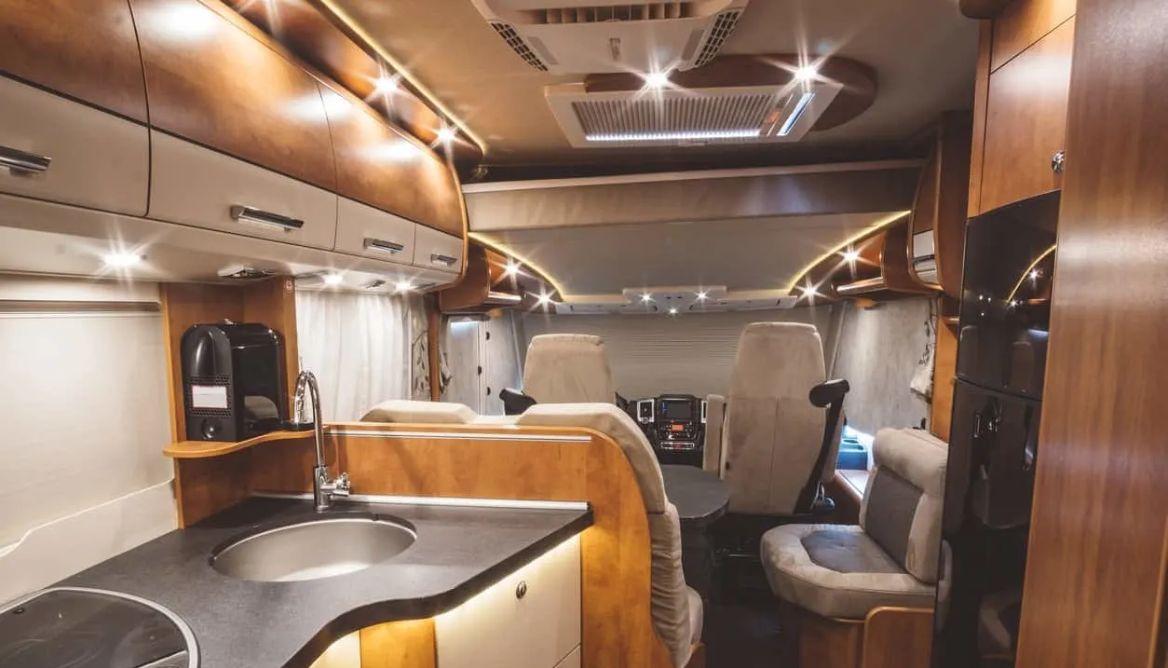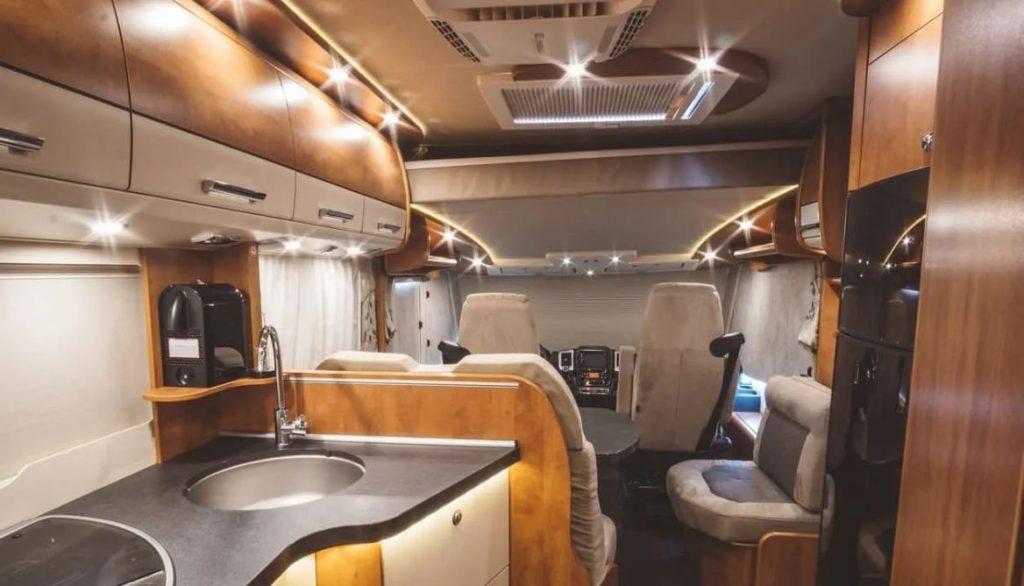 Campervan lighting can serve as the best way to improve the van interior and make van life more relaxing. The lighting can be desirable, romantic, and enchanting based on your needs.
Are you familiar with lumens? If you install a bulb in the van interior lumens are used to indicate its brightness. Each space inside your van requires different lighting and lumens can be helpful to distinguish among them.
For more appealing and comfortable lighting always aim for:
750-800 lumens for the working area & kitchen
550-600 lumens for bathroom
350 lumens for use in reading light
450-500 lumens for the living area

2. Bunk beds for a family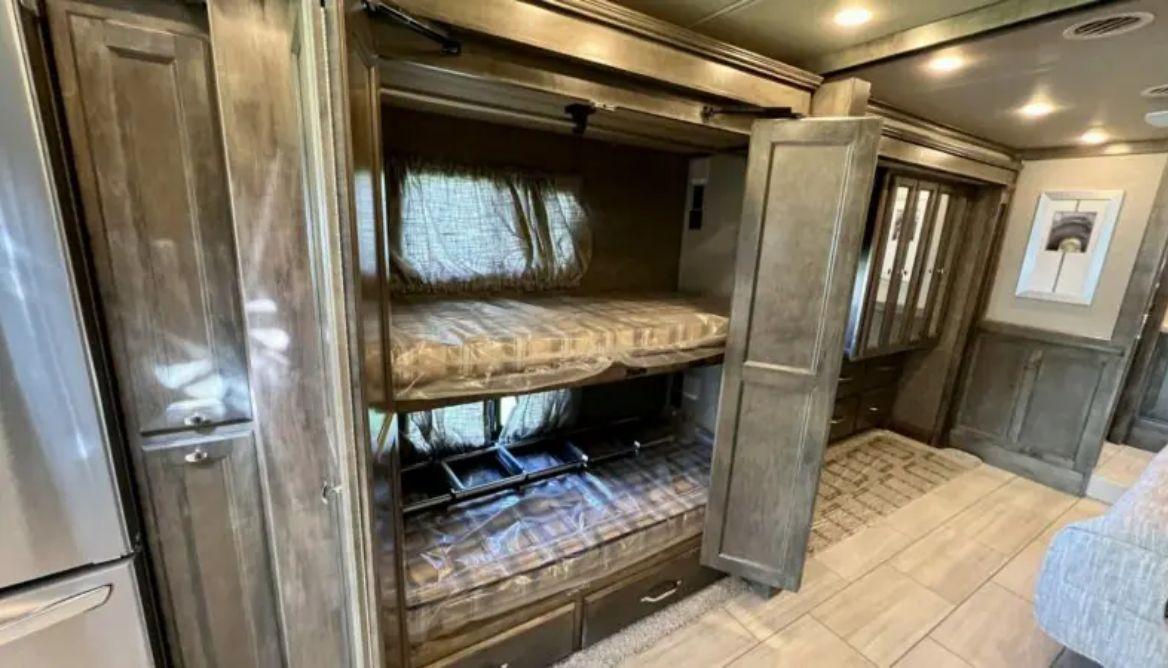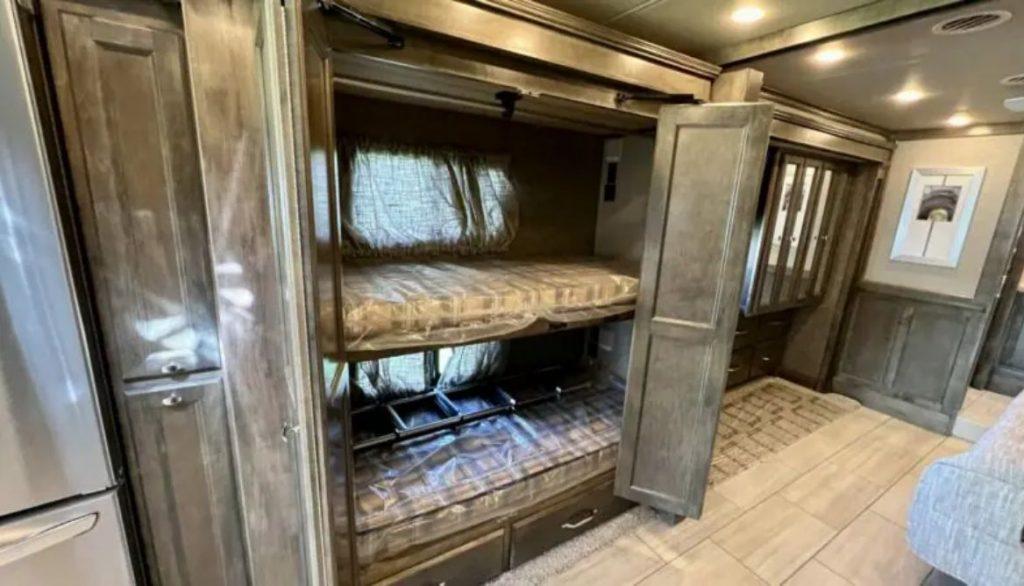 If you own a campervan and haven't bunk beds already installed, no need to worry as you can add them all by yourself. Bunk beds inside your van are a great way to avoid exposure to creepy crawlies and other disturbing factors. They help you and your family to make van life safer and more inspiring.
The other main benefit is that you are able to save the accommodation cost when you plan for vacations. Bunk beds make your camping more wonderful and fill you up with a high level of experience.
The ideal bunk mattress's size range from 25 by 72 inches to 34 by 76 inches. However, the specific size depends upon your van interior.
3. Walls dress-up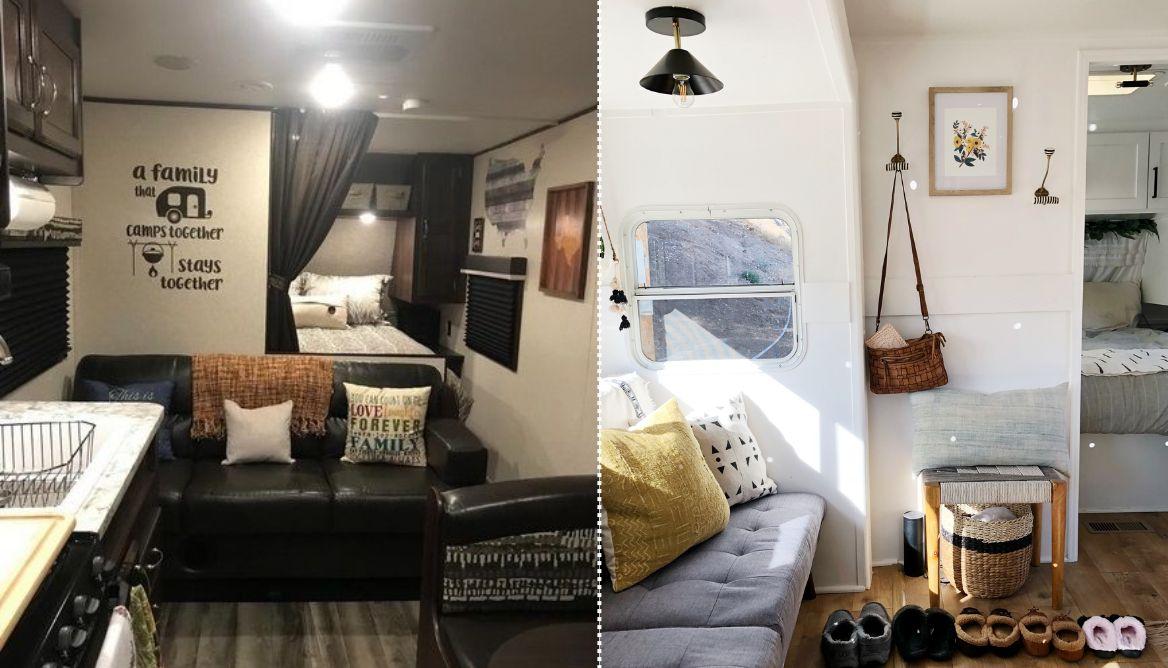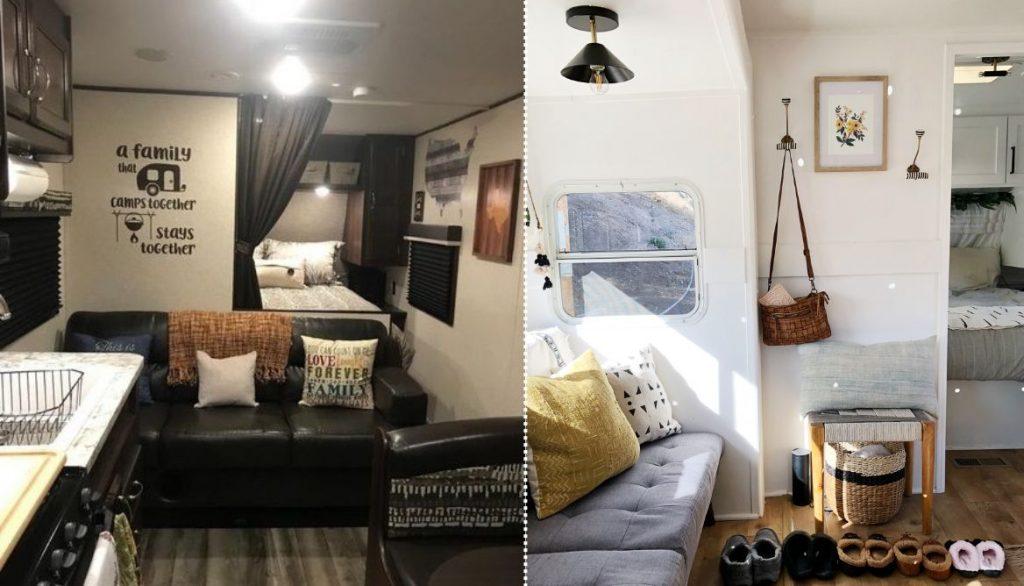 Decorating the walls of your campervan allows you to customize your van interior in a rich manner. There are many different ways to decorate it but the best among them is the artwork or family photos.
Walls dress up to take your van conversion to a whole new level. Artworks are a better way to remember your artistic friends you met on the road and the family photos remind you of the sweetest memories you have captured in photos.
A few other things that you can decorate on your camper van interior walls are:
String lights
Mirrors
Map
Chalkboard (to write to-do)
4. Double Storage Furniture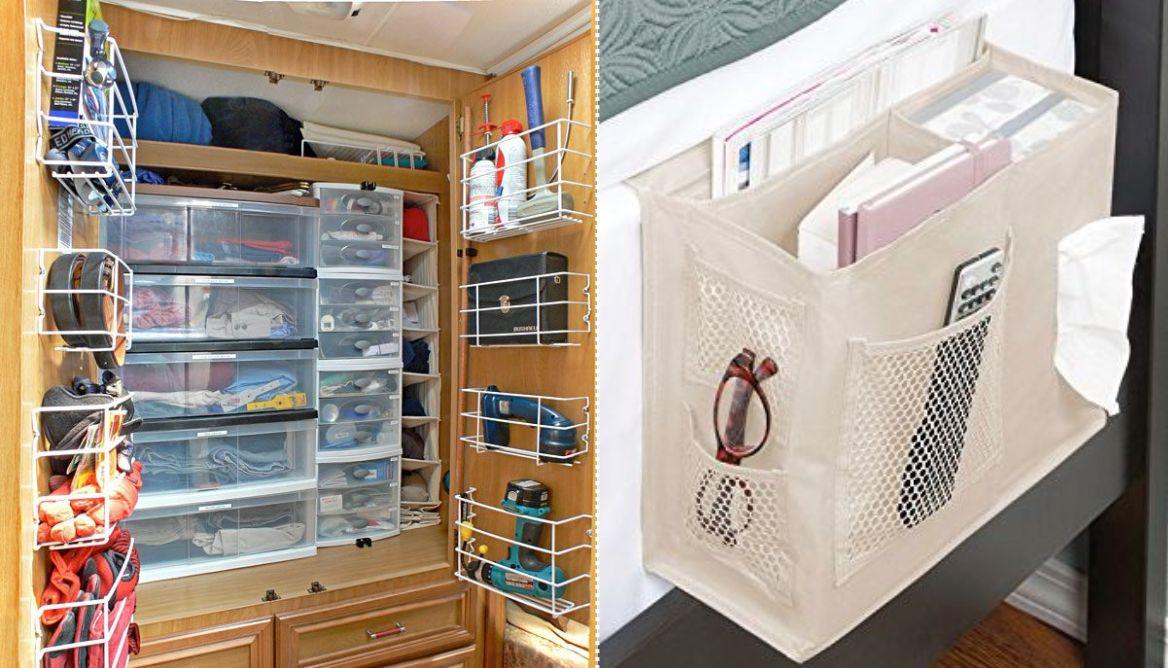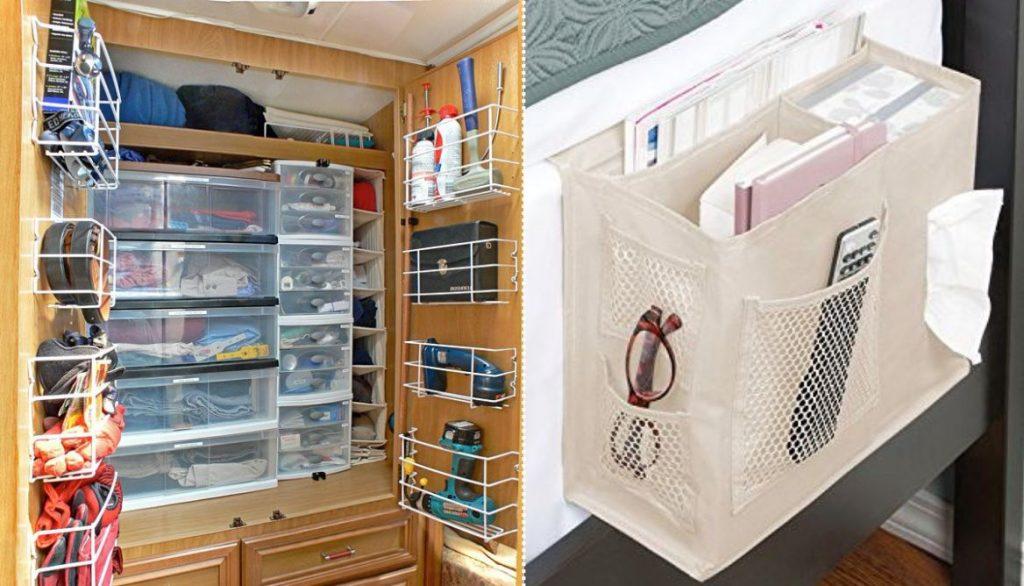 Whenever you think of adding up some furniture inside your campervan, always try to choose one that serves as double storage space. It is always beneficial to counter space inside your van in such a manner that you get enough room to implement van interior design.
Building a shelve alongside a bed has been mostly used among van lifers. With this, you find enough space to store your clothes and other important stuff.
Open shelving inside your campervan kitchen serves as a multi-storage space. You don't have to worry about swinging the cupboard and you can also hang your towel by placing a rail across the shelving front.
5. Skylights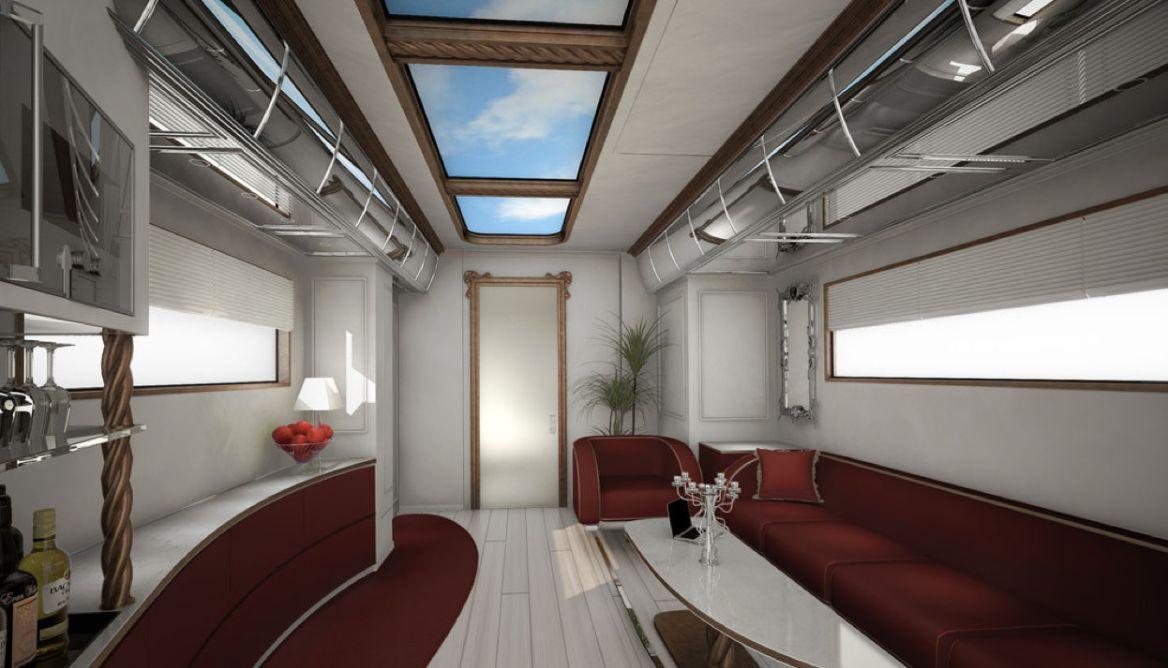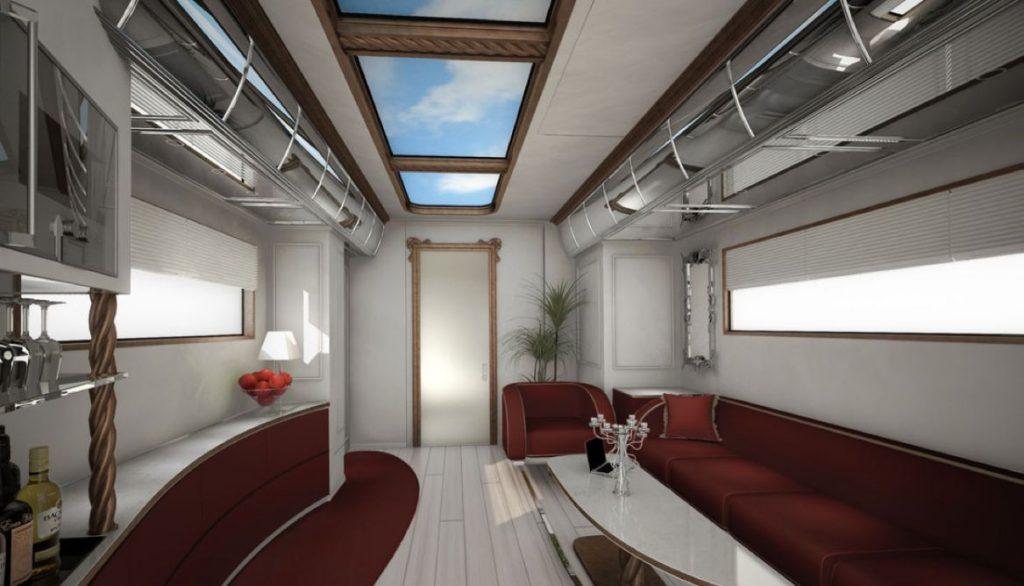 Skylights along with providing enough lights serve for ventilation purposes too. During warm nights it is helpful to allow more air inside thus making your van life more comfortable.
Installing a skylight is never an easy task and it is highly recommended to hire a professional for that work. However, if you are planning to install it on your own then there are a few useful tools that you will require. Such as:
Drill
Jigsaw
Mastic Tape
Carbon Fibre Paint
Hole Saw
6. Wood Burner Stove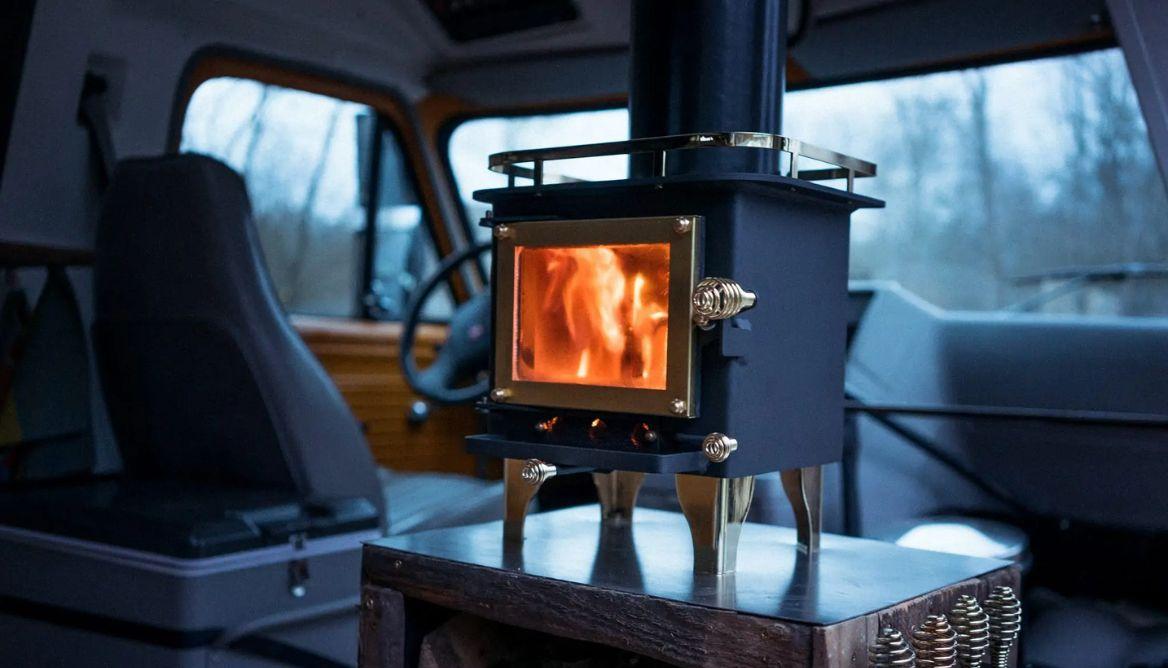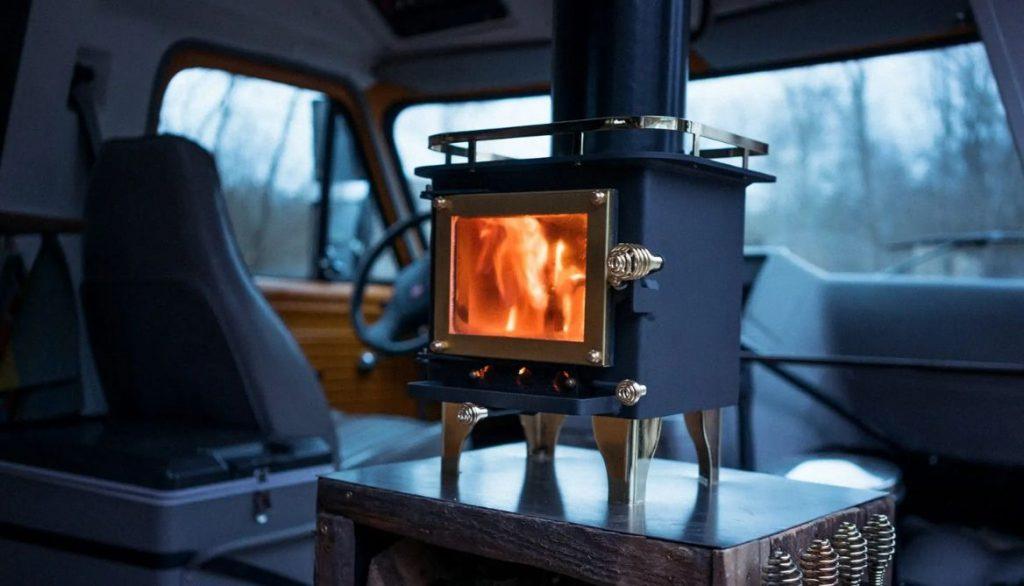 A wood burner stove is an amazing campervan interior idea that gives you a cozy feel inside your van. If you are planning to travel to colder places then fire is a must-have item. It also makes the interior space more friendly.
However, a wood burner can be installed properly without any professional help. The main thing to focus on is to remove all the flammable stuff from around the wood burner area.
7. Pull Out Kitchen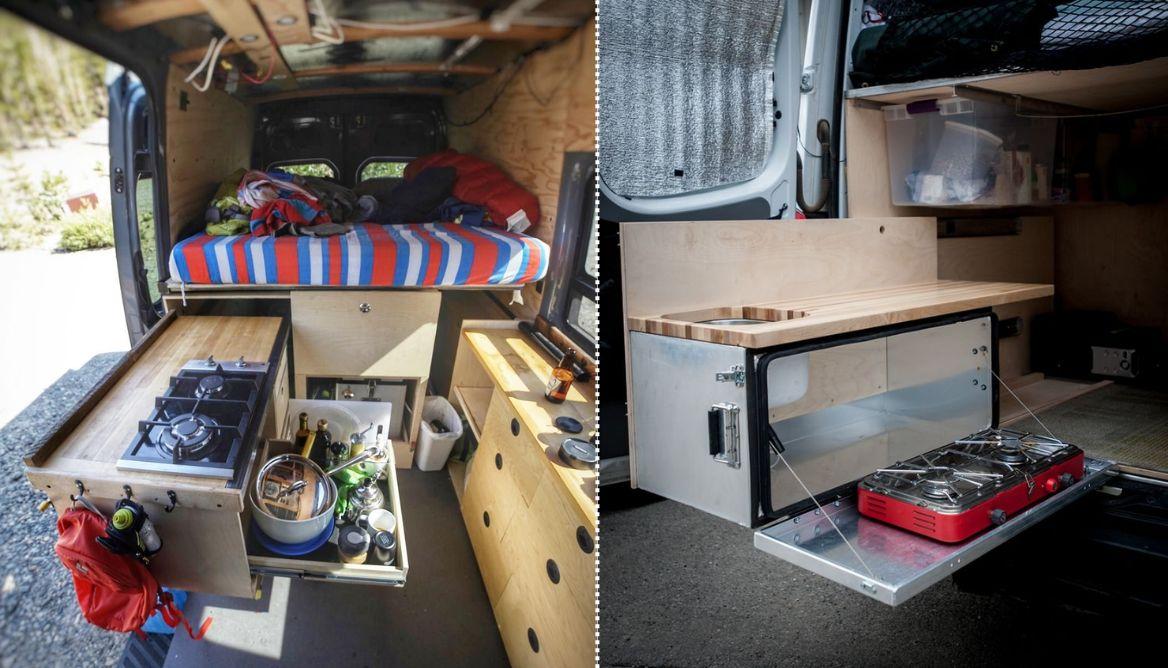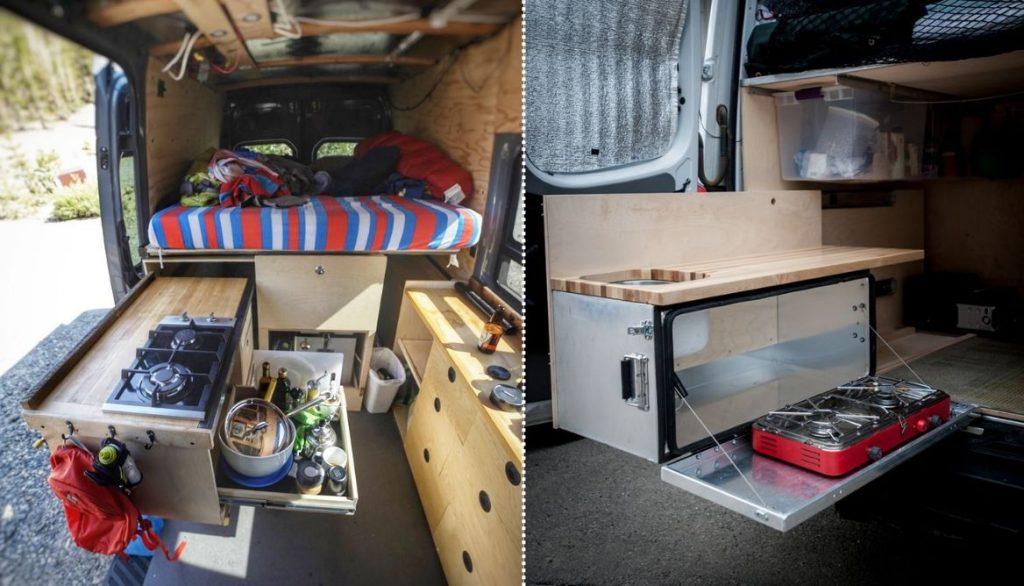 The pull-out kitchen takes up less space and lasts long once installed properly. They are very useful to cook meals outside the van. Washing dishes is also very easy with a pull out kitchen as you can avoid water splashing inside your van.
This amazing camper van interior idea makes your van life healthier as you easily avoid the smoke gathering inside.

8. Gear Storage Boxes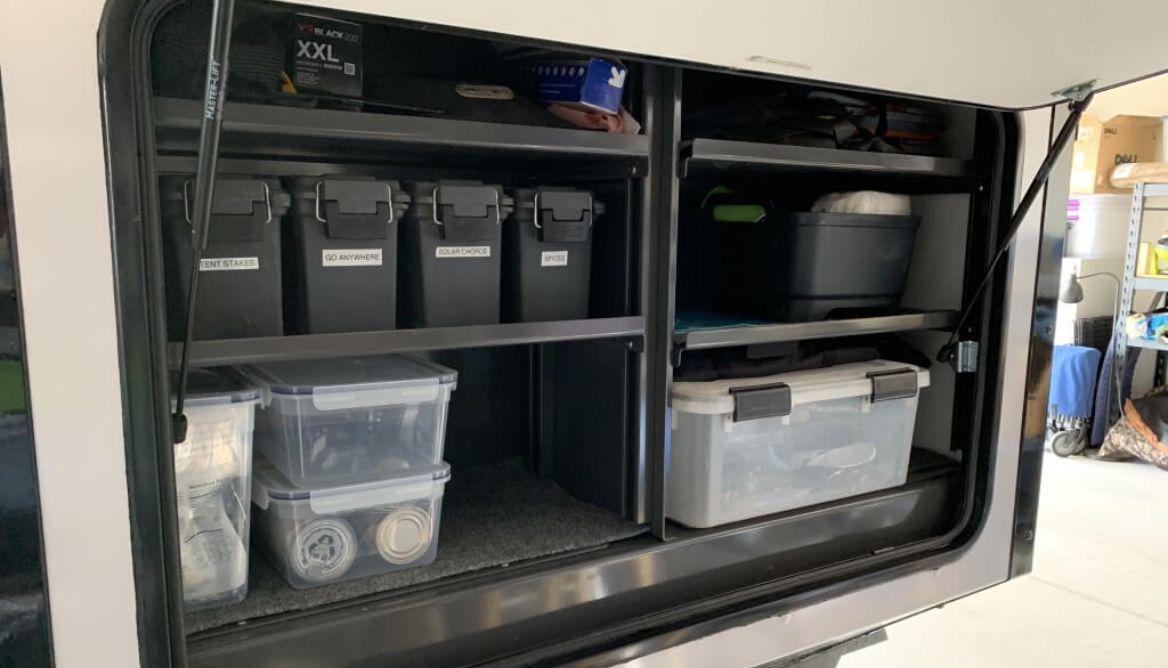 Remaining organized on road helps you to remember the placement of your particular stuff more precisely. The custom compartments inside the gear storage box allow you to store every item separately.
The storage box moreover has been very useful for van lifers. You can store kitchen items, first aid, and clothing stuff. Thus, it gives your sprinter van more space and a better interior look.
A gear storage box can be easily stored beside your van door to save so much space and make use of other areas to carry out other ideas. Benefits of having a gear storage box:
Protects your items from breaking up
Serve as a long-lasting storage solution
Enhances space efficiency
Allows easy cleaning
9. Space-Saving Pull-Out Table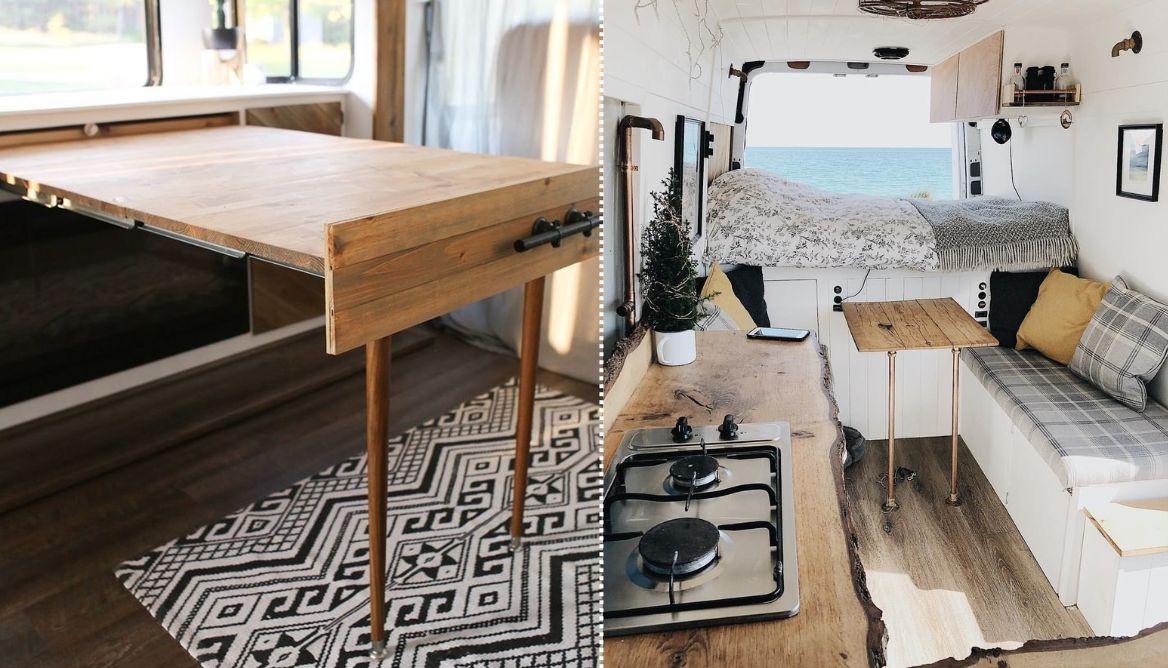 Pull-out tables are suitable for every size of the van due to their ability to fold up when not in use. It helps you make your camper van more flexible and functional.
Now, you can counter space easily in your work area. The main benefit is that you can design the table all by yourself and according to the van's interior design.
10. Dining and Work Area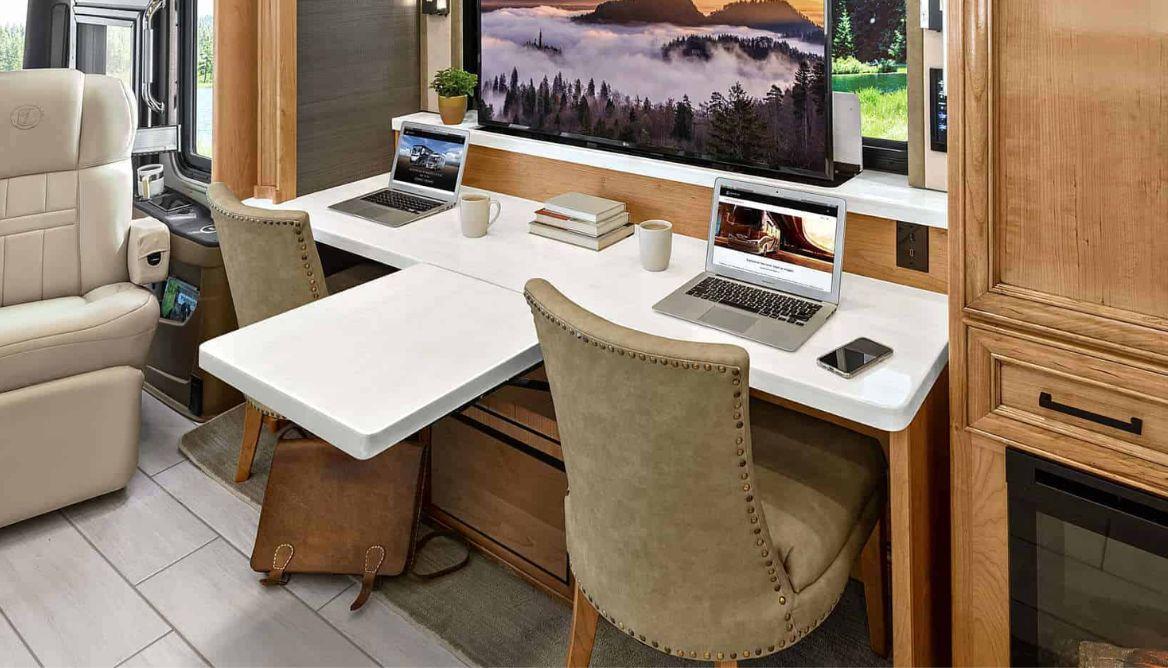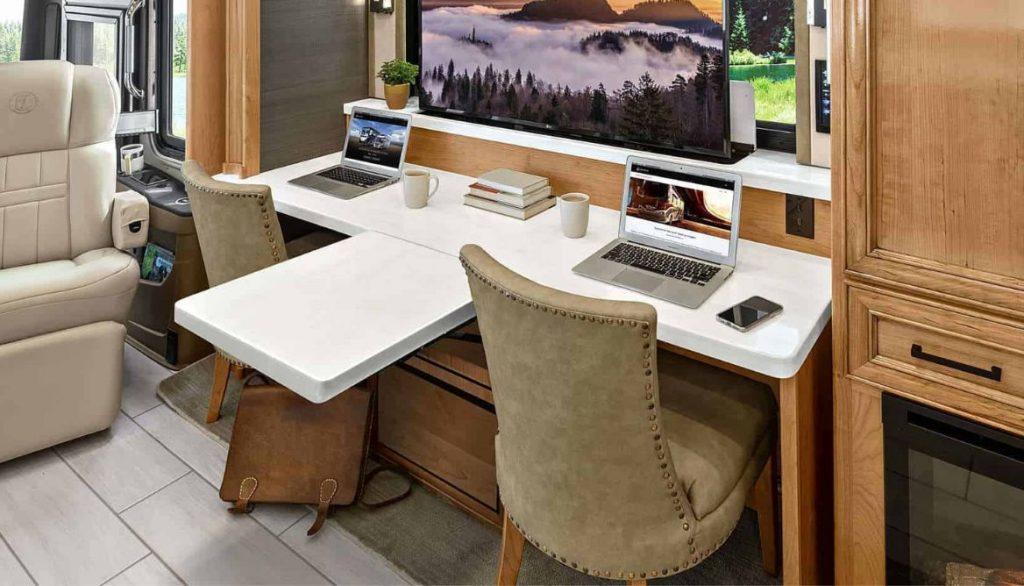 When it comes to van conversion ideas, the making of dining and work areas shoots up your van life inspiration to a whole different level. The dining area allows you to socialize, eat, and work all in the same area.
The dining and work area is very beneficial especially if you are traveling with your family. It allows you enough space to sit together and enjoy your travel. When you need to work you don't have to hassle and look for the space, your work area serves you best at the time of need.
11. Decorate Interior with Prints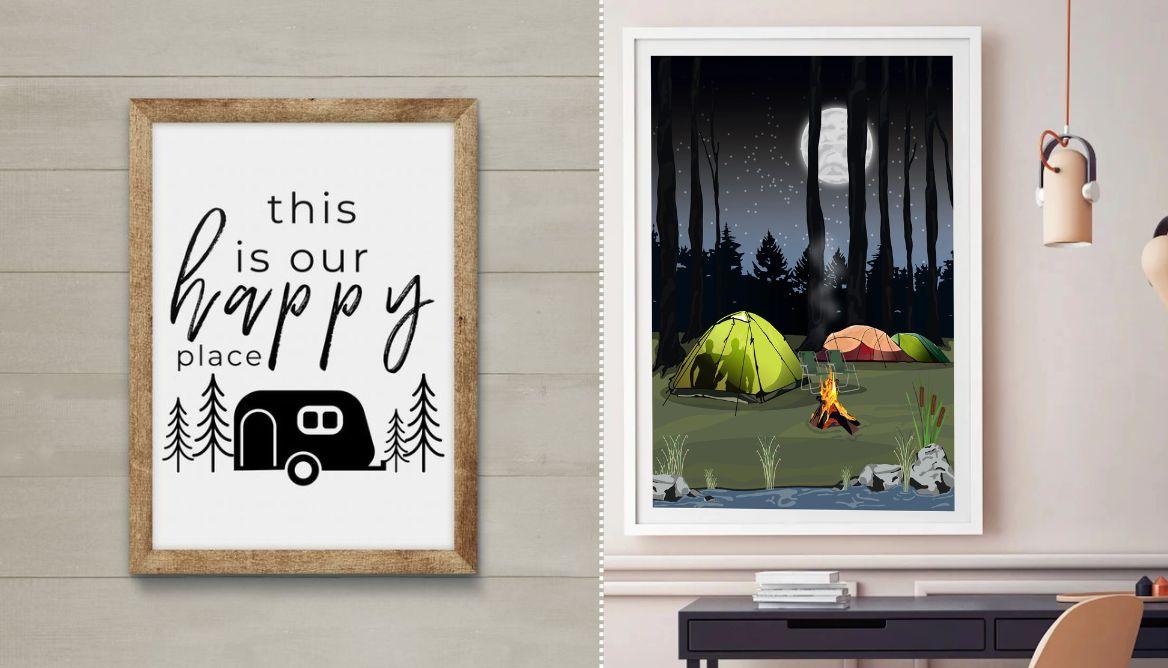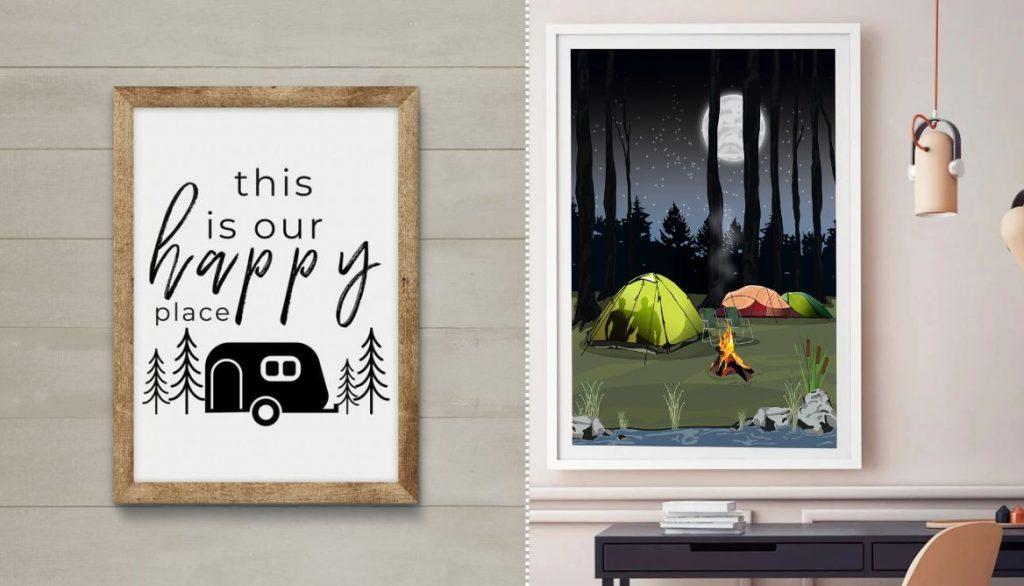 Print decor helps your travel more inspiring. The print decor layouts bring a sense of adventure inside your camper van and make you realize how cool is that to own van.
Print decors make van conversions more enthusiastic. They somehow also make you remember the memories of your life journey. Prints make your van interior design more adorable.
12. Hang Up Plants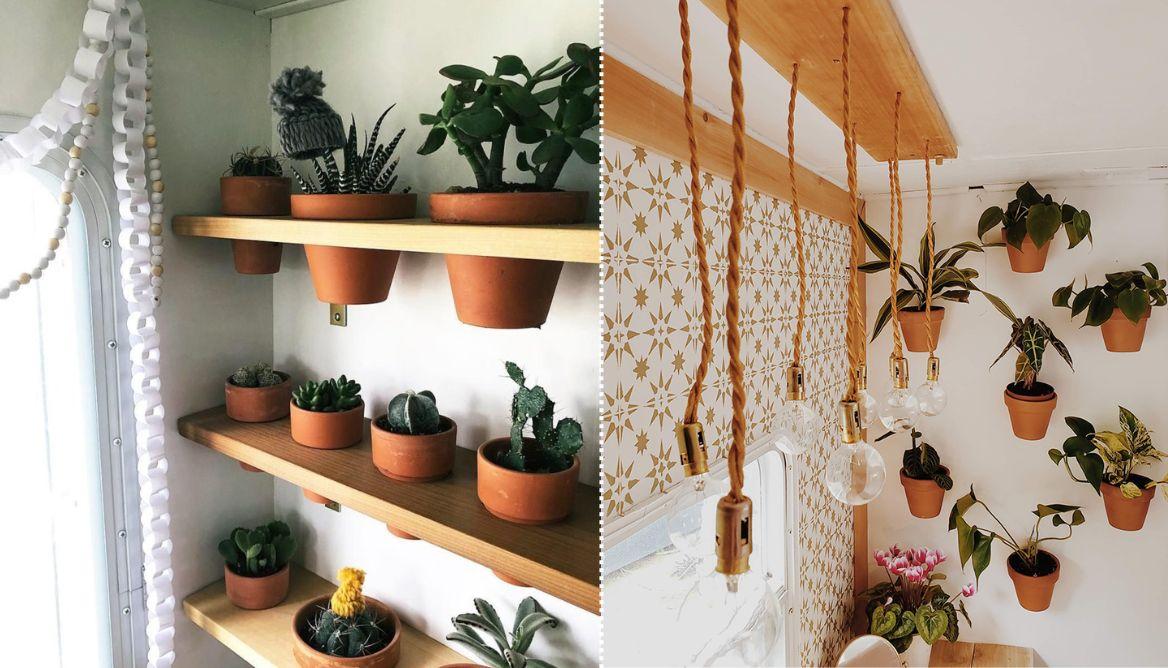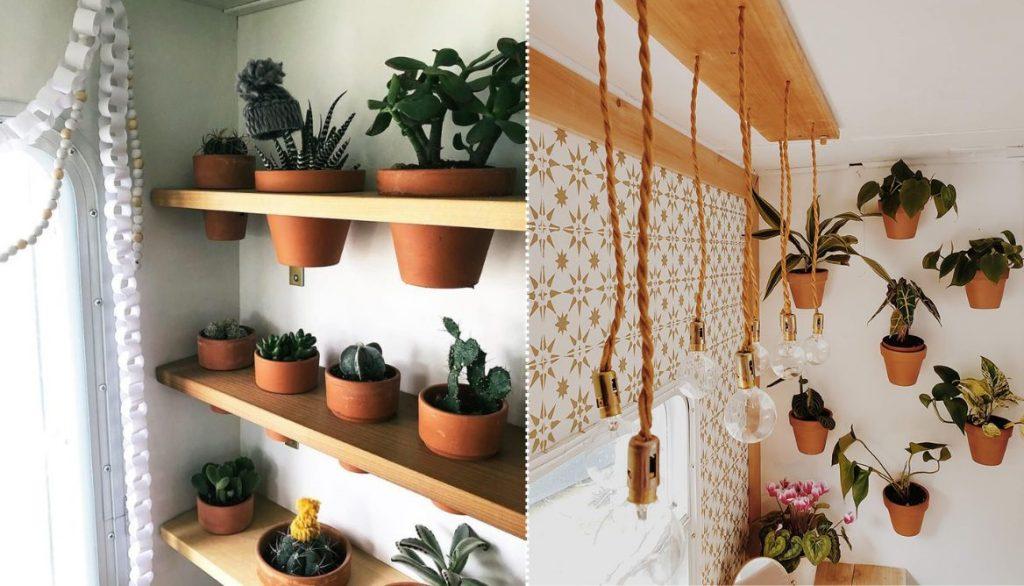 When you drive for so long while traveling and look up to rest for while, plants can help you reduce your stress level and purify the air around you. This calming and cozy environment can prove really helpful to reduce your tiredness.
Hang-up plants can fit in such a small space so you don't have to search for a particular area as you can hang them in the dining or even in your kitchen area.
13. Sketch Mural or Install a Wallpaper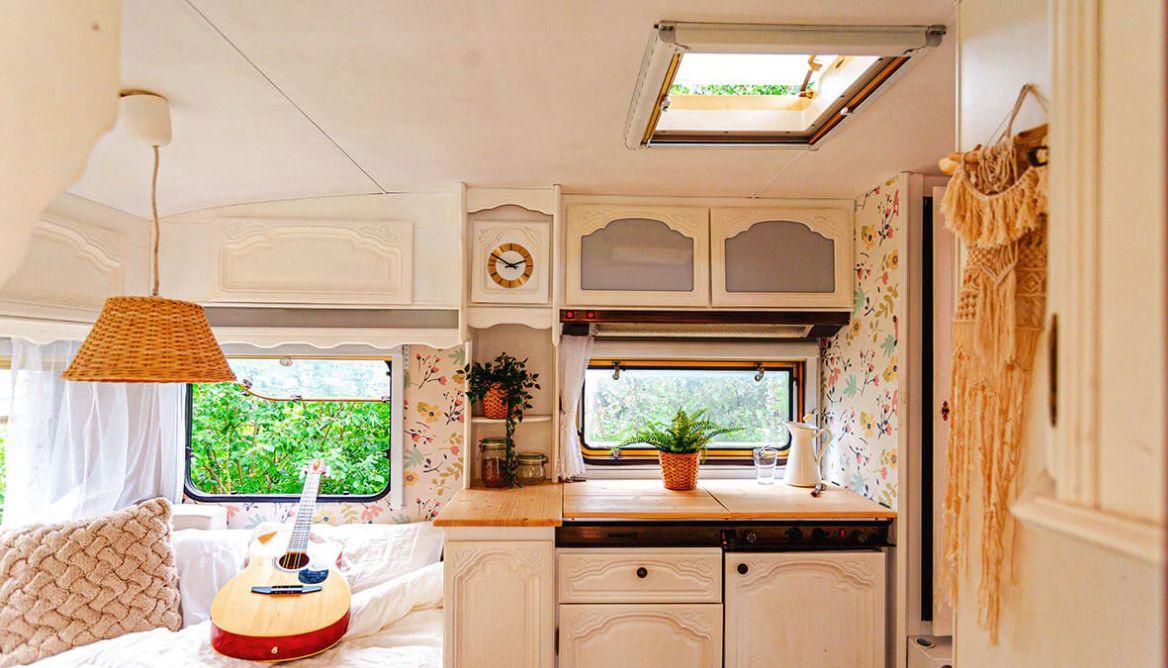 Do you own a sprinter van and are fond of sketching? Why not implement it on your camper van? A mural sketch inspires the look of your camper van interior and helps you show your guests a strong personality and character.
If your campervan walls are empty, now is the time to fill them up with wallpapers. It helps your campervan stand out and it becomes a great backdrop when you take pictures of it.
14. Install a Projector and Screen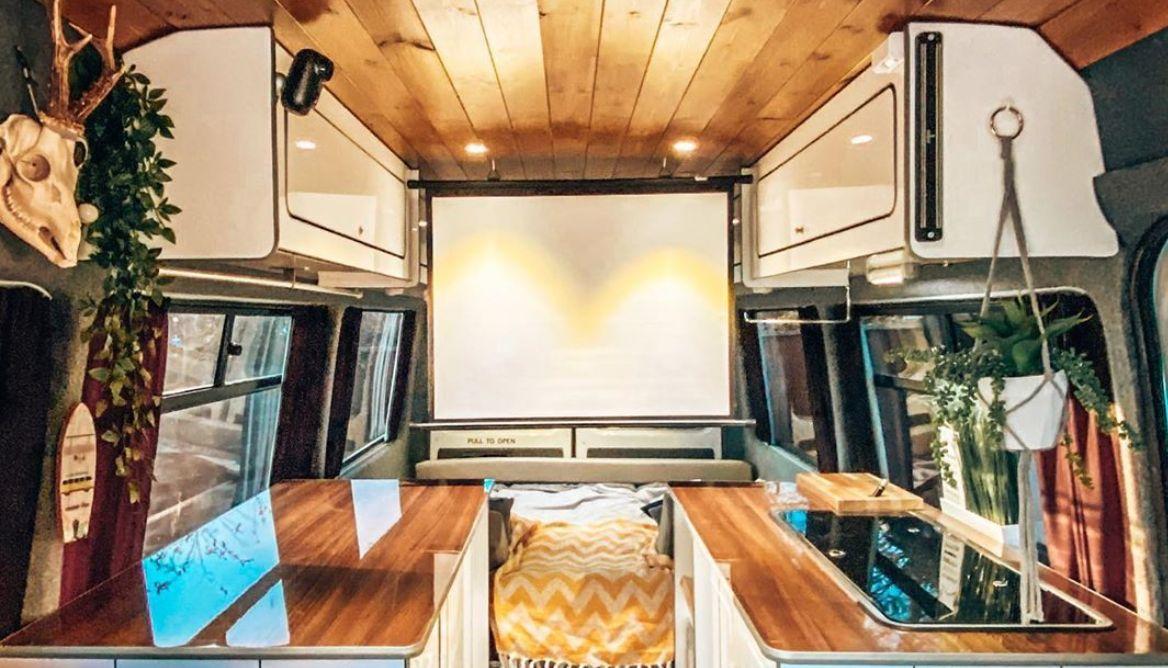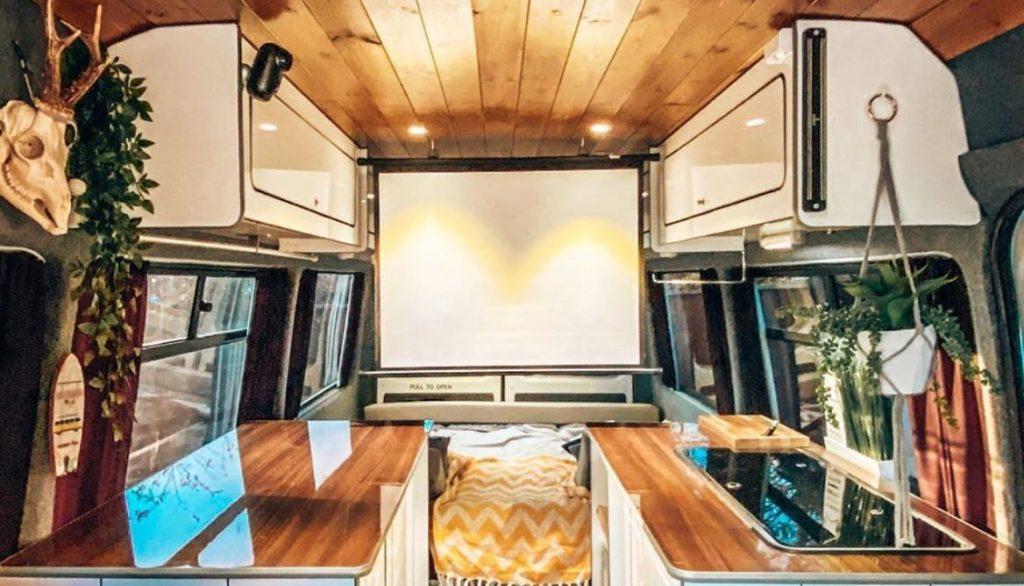 Entertainment should never be out of our lives especially when we are traveling. While traveling we often feel a lack of connection. At this point, a projector and screen are the best way to get connected again.
They both serve as a great deal of entertainment and make you feel connected to the world around you. You can watch your favorite movies and get other updates all at once.
Rather than mounting a TV that takes up more space, a projector is the best choice as it takes up very less space and can be easily put away when not in use.
15. In-Built Tailgate Shower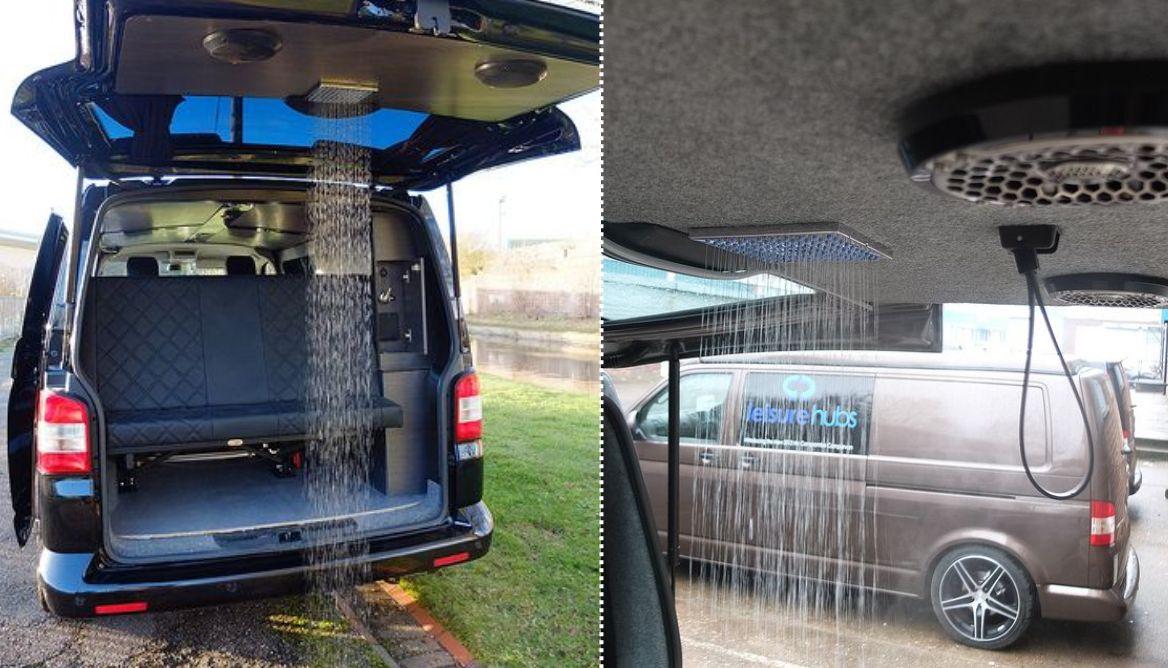 After a very long and tiring day, you think of getting fresh and cleaning yourself or other washable equipment. This is where the in-built tailgate shower comes into place.
It provides you with hot water to clean yourself without dirtying up the interior of your van. It doesn't exceed your vehicle size and makes you fresh to get on the road again with a fully refreshing mind and a great shower photo.

16. Build a Removable Hanging Table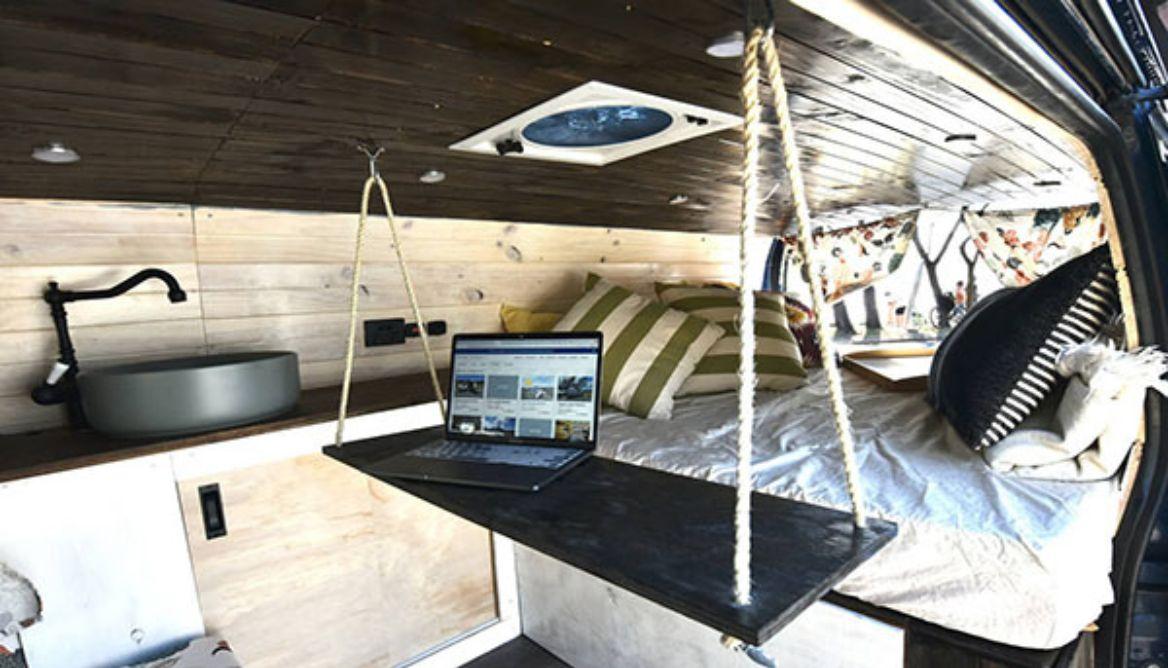 When you wish to have a table in your camper van but you can't give up on storage space then the removable hanging table is the most suitable option. It's super easy to set up and get the table ready for use. The only thing to take care of is to use secure bolts for hanging it.
Now, van conversions are based on many items being installed inside your campervan but there are only a few that save you space. A hanging table however saves you floor space and it doesn't need legs underneath it.
It doesn't require any expensive materials to build and can be easily removed when not in use. However, there are still some concerns to look after when installing a hanging table such as:
Not suitable to place drinks on it
Needs to be hanged safely to avoid falling
Only suitable for high-top vans
17. Porthole Windows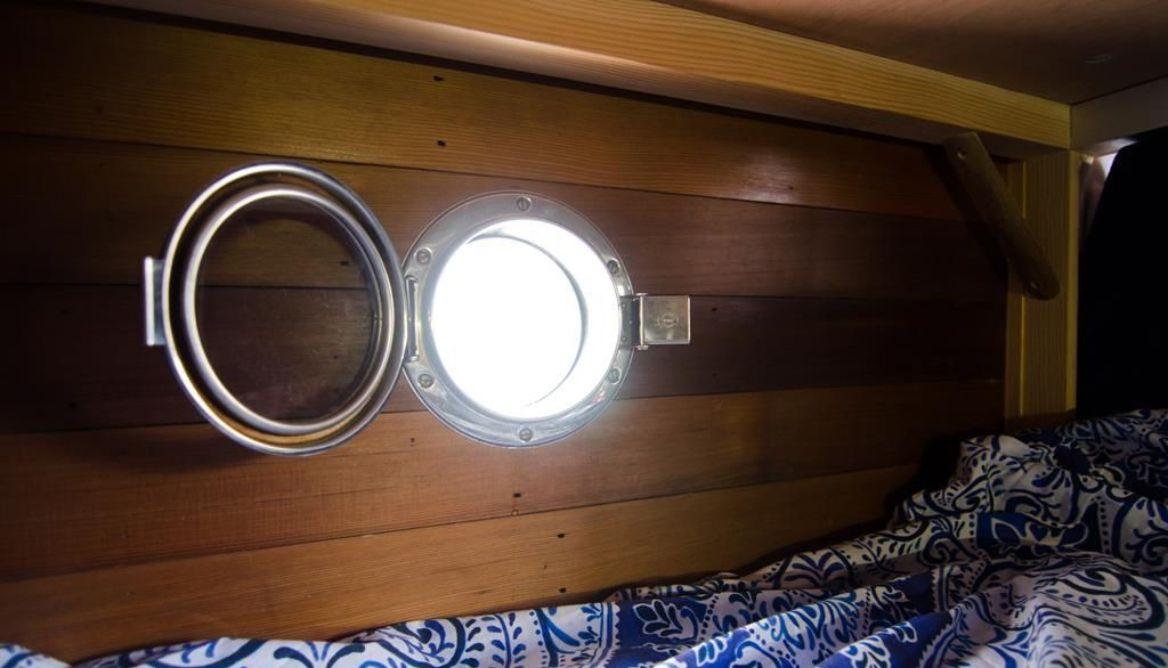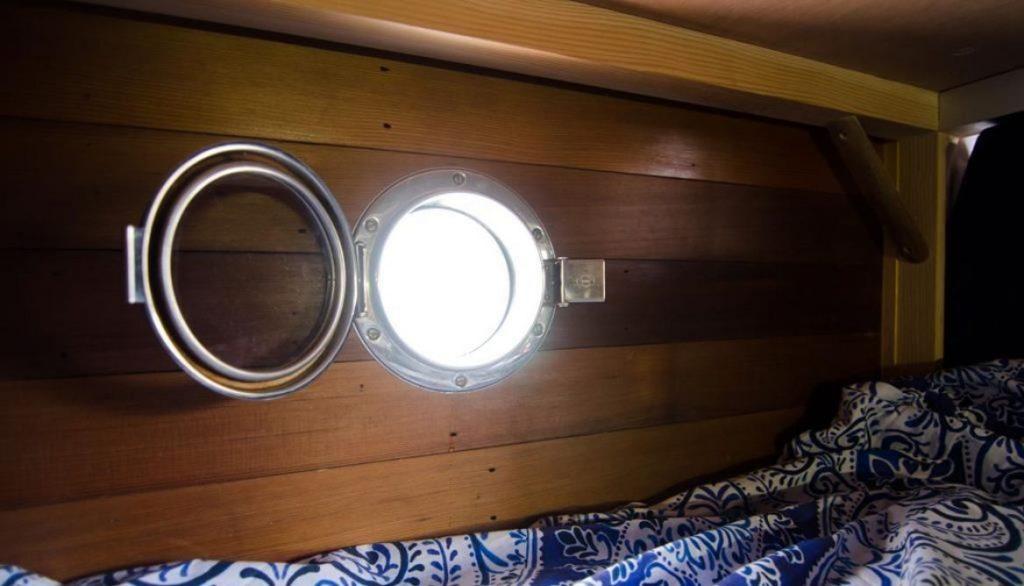 Windows are a great way to have a sense of freedom while you are on the move. They are really a feature piece in a van build project and let the light shine inside your van.
If you need some fresh air you can just easily open them up and enjoy breathing purely. They make your campervan stand out from the crowd.
18. Geometric Flooring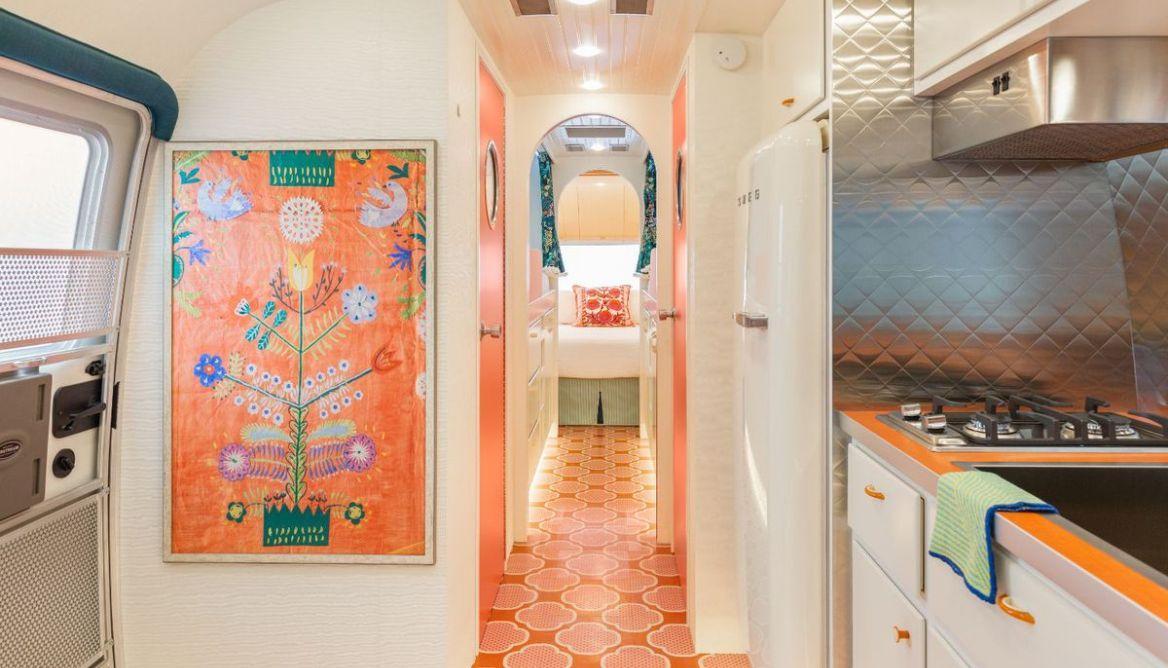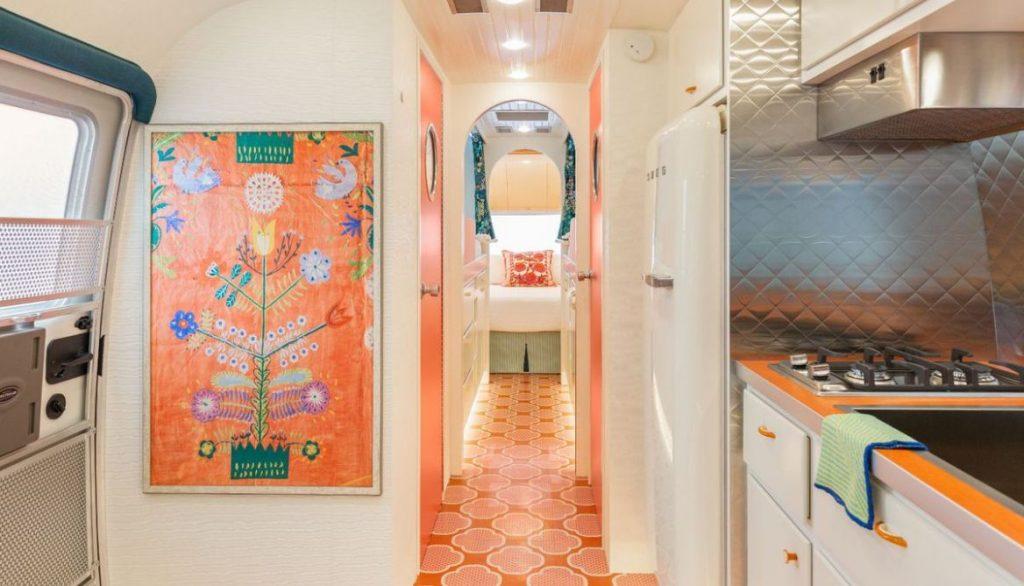 Geometric flooring has been the recent trend among van lifers. Its 3-D pattern design looks amazing and gives it an edge when compared to other flooring options.
It is greatly durable and comes with a very long life span. It spices up the interior look of your campervan.
They are also good at enduring friction that helps your items not to slip over. Its durability saves you maintenance costs.
While you are working on your van build project, you consider the cost of each item before installing it. The geometric flooring is however very budget-friendly.
19. Sleeping Pods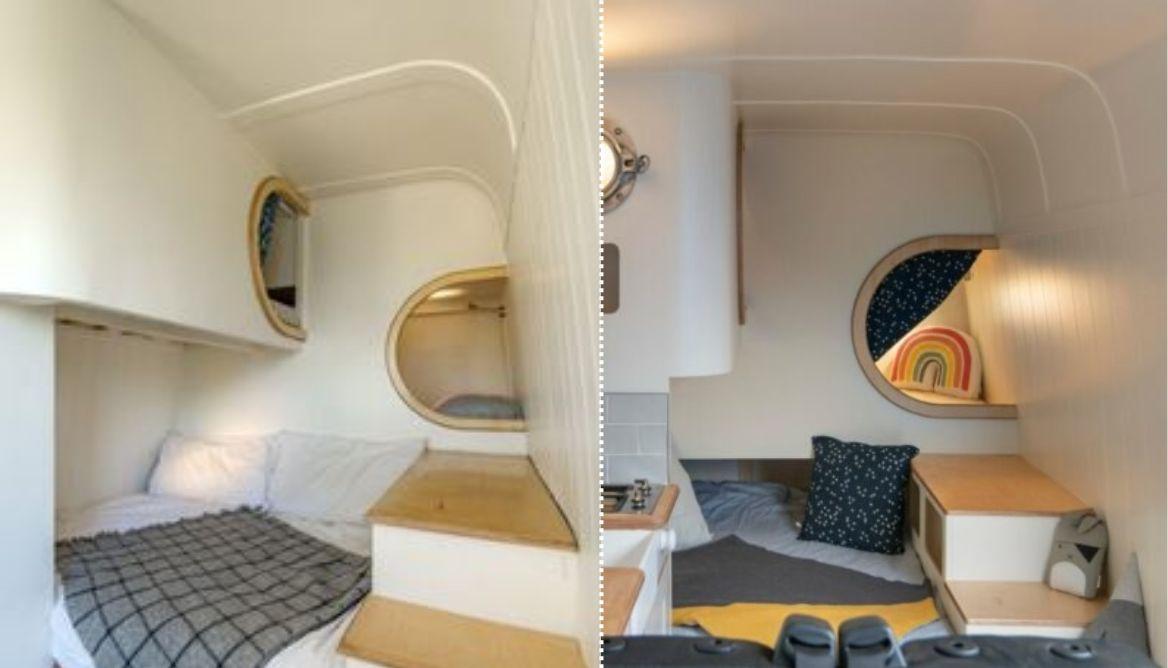 Need some personal space while taking the family on the road? Then you should think about including sleeping pod beds in your campervan.
Getting the whole family on board, especially the older kids, is one of the more innovative van life ideas out there. Giving each child (and adult) a sense of privacy, these individual sleeping pods provide the impression that everyone has their own room.
Young people may find pods appealing since they can personalize them to make them feel like a mini-version of their bedroom at home.
They are a much better option than a large fixed bed and give you the feeling of a tiny home. They are also a great way to save space and are among the best campervan conversions idea.

20. Camper Van Oven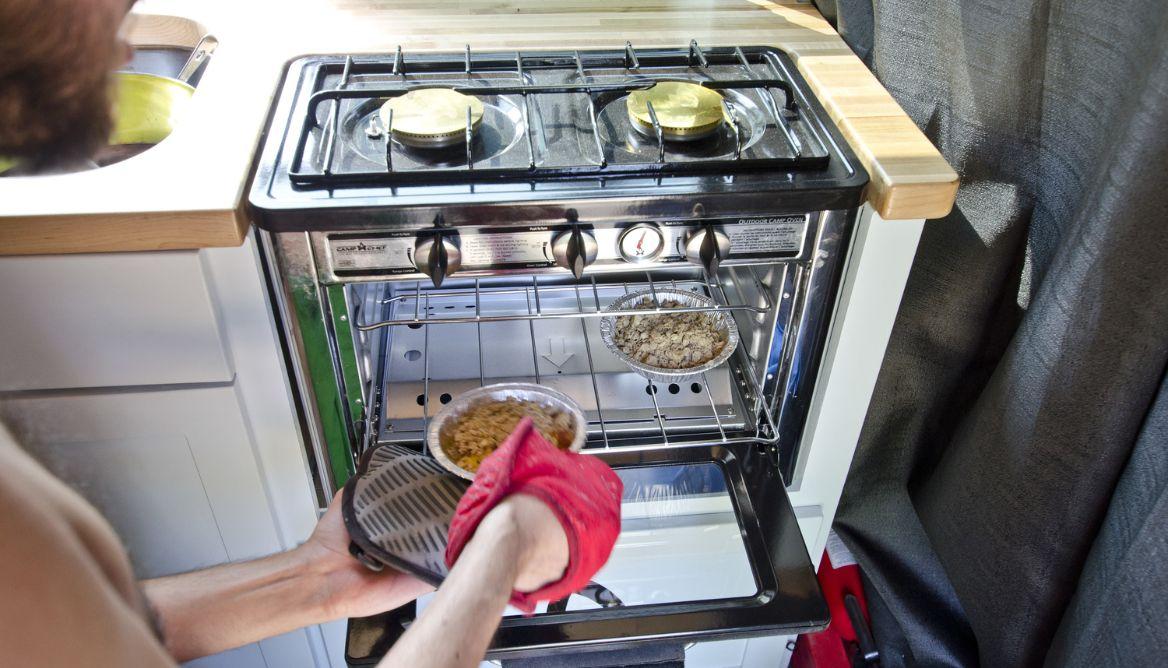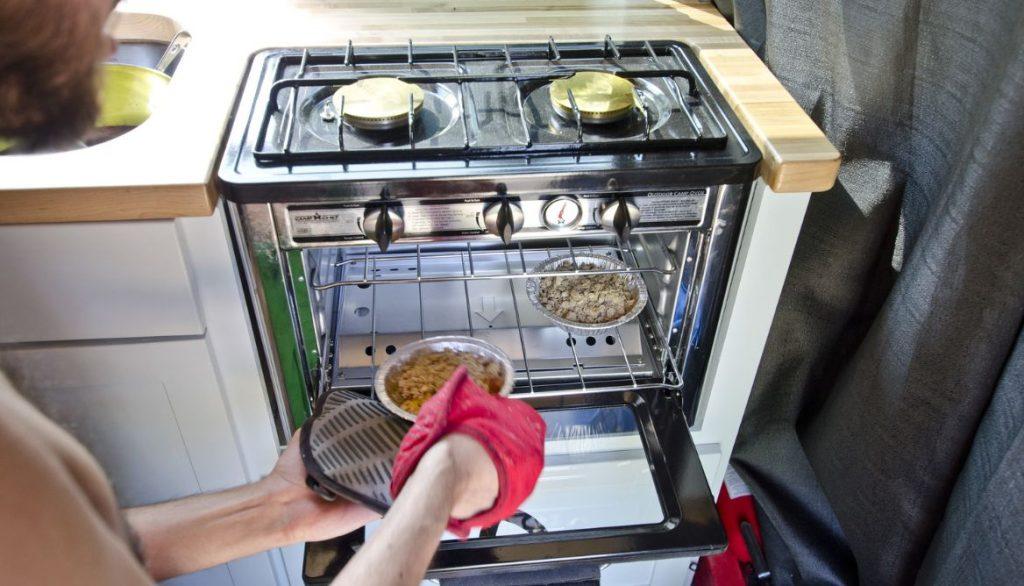 While you are looking for ideas for the interior of your camper van, you may find that you are inspired to take things one step further by installing an oven in the kitchenette layout that you have created.
Imagine how warm and inviting the interior of your van would feel on a chilly night if the air were filled with the fragrance of freshly made toast or muffins.
However, in order to ensure that the oven is suitable for use inside a camper van, you will need to take certain care while installing it. You may use it to make items like pizzas and brownies, as well as warm previously prepared meals.
An oven inside your van also gives you the vibe of your home and makes your van build project more described as a tiny home.
Van Interior Designs Gallery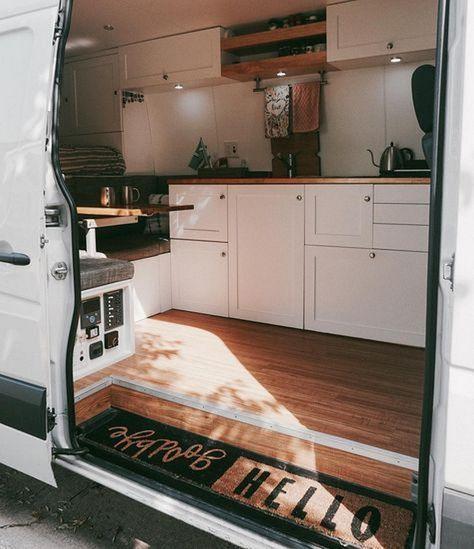 FAQ
How much storage space is needed to design the best campervan?
Depending upon your needs. The best way is to make a list of all the items or furniture you want to install inside your campervan. This will help you in concluding the best decision.
If you are thinking to install a single bed or double bed then a two-berth camper van is the best option. If you are looking to install additional beds then a four-berth or even a six-berth will serve your purpose best.
What is the main point of van life?
To put it more simply, van life is an innovative way of living that a lot of nomadic people choose to adopt in order to live a simple life while still having the ability and convenience to move all over the world.
What is the best way to counter space in a camper van?
Look to organize things in a good manner. Keep every item in its place. Use the best storage alternatives for large items. Use small gear storage boxes to store items more conveniently.
Conclusion
We truly adore each and every campervan idea that is featured in this list; they are all one of a kind and inspire us to begin planning our next conversion.
We really hope that this list has provided you with some fantastic camper van interior designs that you can use for your future project.
Did you love our campervan interior ideas? Are there any other ideas that we have missed but you know them? We always welcome new suggestions as they help us to grow more!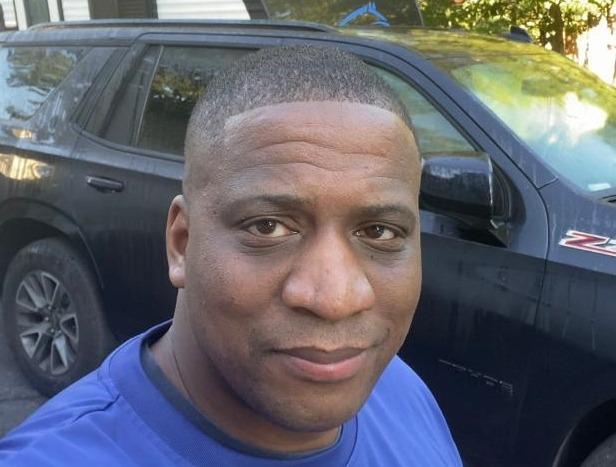 I`m a current Law Enforcement Officer working within the Counterterrorism Bureau in New York State. I have been Camping for over 20 years. My styles of camping include tent, car, truck, van, and RV travel trailer. I have a YouTube channel where I teach all types of camping with an entertaining method: https://youtube.com/@TheSmallsRVAdventures