Amazing RV Bathroom Storage & Decor Ideas [That Anyone Can Do]
There are many creative ways to use space in an RV, and this includes the bathroom. The best way to maximize small space is to make good use of the storage space.
Here are some great ideas for RV or travel trailer bathroom organization.
First, let's start with the most common and simplest of RV bathroom storage ideas. Next, I'll go into more unique and creative RV bathroom storage ideas.
And, lastly, I'll give you some ideas for RV bathroom accessories that you may not have thought of.
Here's a quick overview of the different types of bathrooms and ideas for each.
RV Bathroom Storage Ideas
There are many ways to design a bathroom, but they all have the same basic requirements, such as the need for a sink, toilet, and shower.
The key is to learn what type of style you want and then find a designer who specializes in that style.
The best solution for storing small items in your bathroom is to use the back of your bathroom door. We love using our shoe organizer in our RV bathroom.
It would be a good idea to have a window pocket organizer to go over your front door.
If you're planning a camping trip, the next few RV shower storage ideas will make your life much easier. These are some great ways to store your shower equipment.
You could install a tension pole in your RV shower to make it a more comfortable place to hang your wet towel, and it wouldn't move or fall while you're traveling.
If you want to stay in one place while traveling, this shower holder will help. It is also easy to clean and does not move around in your camper.
A good RV organization hack is to hang your bathroom organizer above your shower stall on the wall. This will keep your shampoo and conditioner bottles from getting wet and causing damage.
I also use soft travel-size shampoo and conditioner containers. It makes it easy to squeeze the last drops out of them.
RV Towel Holder or Racks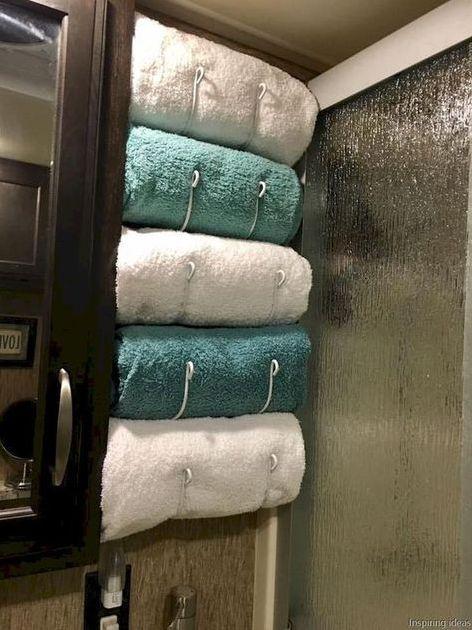 When it comes to organizing towels in an RV, there are many ways to do it, but this article will show you how to organize towels to make your life a little easier.
This is an attractive solution for any type of small bathroom. A wine rack that works as a towel rack could work for RV bathrooms.
This is the perfect way to organize your bathroom. You could use the stainless steel rack pictured below and install it above your shower.
Command hooks are great for hanging things on the bathroom door. They come in different sizes and are available in different colors.
One side of the hook can be used for towels, and the other side can be used for your shoe/bathroom organizer.
Screwmetal hooks are a must have for your RV bathroom door. If you need something stronger, try using screwmetal hooks to attach them to your RV bathroom door.
Curtain rods are very helpful for RV owners. They're great for hanging towels to dry, and they can be used in many other ways, too.
If your RV is equipped with a rear-facing bathroom, you can have a clean and dry towel stored in your RV's closet.
Jewelry Holder For RV Bathroom
It's important to take advantage of every inch of wall or flat surface in your bathroom to store your toiletries and other supplies.
This is a great idea for hanging your jewelry, and there are many ways to do it. Use a hanging jewelry organizer like this one to keep your jewelry in order.
RV Bathroom Trash Can
You should definitely invest in a small trash can for your camper bathroom. This one is particularly good because it has a lid.
If you're trying to avoid clogging your black tank, then you need to get rid of all those feminine products and use the trash can instead. That way, you won't have to deal with the mess.
The reality of RV life is that it's not fun to talk about, and you will have to dump your tanks more often. It's also why I highly recommend you have a lid to your bathroom trash can.
Toothbrush Holder and for RV Bathroom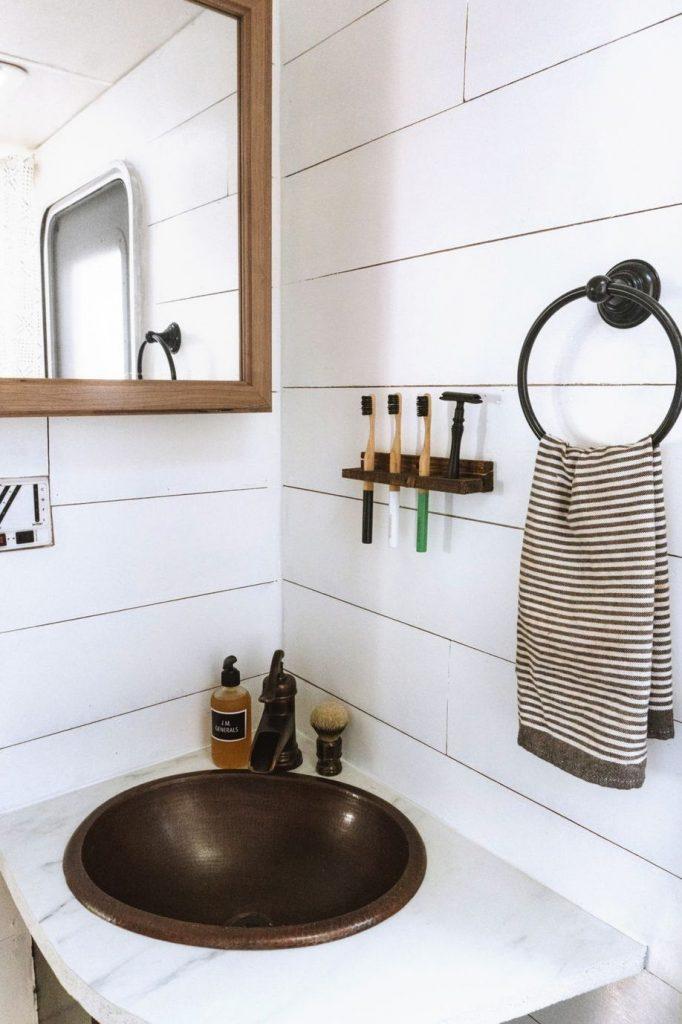 Now, there are several creative ways to organize your family's toothbrushes and toothpaste. One way is to mount a toothbrush holder to an available wall like this one.
If you're looking for a simple way to store your toothbrushes, you may want to look into purchasing some plastic toothbrush holders and then placing them in your bathroom hanging organizer on the back of your bathroom door.
If you're going to travel, you might find this one useful. It's designed to stay closed and keep the inserts in place so they don't shift around.
Under Bathroom Sink Storage
If you have a lot of space under your RV bathroom sink, then you could consider buying a small set of organizers.
You'll find that they're easy to use and will make keeping your bathroom items organized much easier.
I like these shelves that I found on Amazon. They'd be perfect for organizing my RV medicine cabinet.
Laundry Bag for Your RV
Most RVers will keep their dirty clothes in a soft-sided laundry bag and store it in their RV shower. A strap makes it easier to carry the laundry to the washing machine.
You should take your laundry out of the dryer and put it in a laundry bag in your bathroom for a couple of reasons.
First, you need to remove it from the dryer and take it out of the dryer so that it doesn't get wet and ruin any clothing items that you put into it.
Second, you want to keep the bag in the bathroom because if you hang it on a pole, then it will get wet when you take it out of the shower.
Travel Makeup Organizer
Travel make-up organizers are perfect for the RV lifestyle. They're small, compact, and easy to carry so you can easily take them on your next trip.
Medicine Cabinet Organizer
When traveling with your RV, you may have to store items in the RV's medicine cabinet. This plastic organizer will fit well in the cabinet and help organize your supplies.
First Aid Kit
Keep an emergency kit in your RV in case of any emergency. Get a kit with bandages, gauze, tape, antiseptic ointment, scissors and tweezers, and a roll of toilet paper.
Put it in a bag in your RV or keep it in your bathroom.
You can probably get by with a mini-first aid kit. However, as a family of six we also keep a large one on hand and as we go through bandaids we refill the first aid kit.
RV TP and Wipes Or Toilet Paper Holder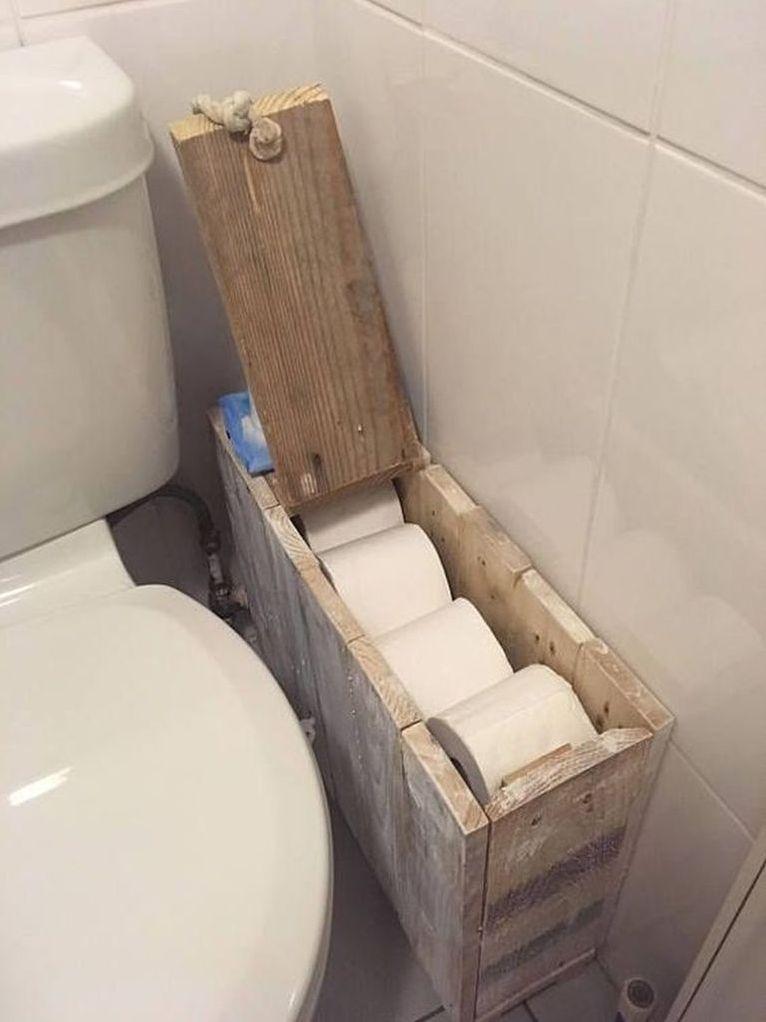 If you're going to use toilet paper in your RV bathroom, you'll want to consider a TP dispenser like this one instead of relying on the toilet paper roll itself.
Not only will it save money, but it'll help avoid the risk of clogging your toilet.
Wall-mounted Baskets
There are many ways to screw into your cabinets, but if you don't want to mess with a power drill, then you can use a regular hand screwdriver to do the job.
Most cabinets are sturdy enough to hang a basket.
You should have a set of baskets like this in your bathroom. It'll make it so much easier to clean.
You'll find all sorts of sizes of the baskets, from this one that's just for a few cups to this one that will hold almost 100.
The best plumbing system is one that will steer clear of your plumbing pipes.
RV Bathroom Decor Ideas
Don't let a lack of space keep you from having a beautiful and functional RV. It's easy to create an RV that looks great and works well for you.
There are many ways to spruce up your "home away from home." These ideas will make your house feel more welcoming.
Shower mat
This machine-washable microfibre accent rug is made of non-slip material, so it should stay where you put it.
Folding Travel Hair Dryer
If you have a good idea for a hair dryer, this won't work for you. You'll need to find a different way to get your hair dry.
But if your RV is connected to shore power (AC power), you could use a small, folding hair dryer like this one from BaBylissPRO to help with your hair routine.
It's easy to fold up and store away when you're not using it.
It's a well-rated hair dryer that's small enough to fit in your handbag or carry in your car. It's a great little product at a great price.
Hanging RV Shower Caddy
This shower caddy has a hanger on top and is made of heavy duty, durable mesh, so it won't tear easily. It's also a sturdy, well-designed product that will last for years.
It's made of mesh so that it won't pool water in the pockets and get stagnant.
It's time to get rid of the plastic liner and start using the space for something else, like hand towels or other necessities.
The RV Shower Caddy will make your next camping trip a little bit easier. It is portable so you can take it with you wherever you go and use the shower at your campsite or a public shower.
Tension Bar Shelves above your RV toilet
If you're going camping, you can take the baskets down and set them in the tub or shower. If you're traveling, just take them down.
You can buy tension rods at most of your local stores (I bought some at Walmart), but if you do online shopping you can buy it on Amazon.
Mesh Hanging Shower Curtain Organizer
These are very handy for keeping your toiletries in a neat and organized manner.
It doesn't matter if your sink countertop is filled with creams, lotions, shavers, and other things. You can just put them all in this organizer.
Because RVs are so small, you'll still have easy access to them.
The best way to hang up your mesh laundry bag is to hang it on the dry side of the shower curtain, or the wet side of the shower curtain (inside the shower).
This bundle will help you get organized in your RV. It includes three books that will show you how to organize your RV in the best possible way.
Gallery of RV Bathroom Decor and Organization Ideas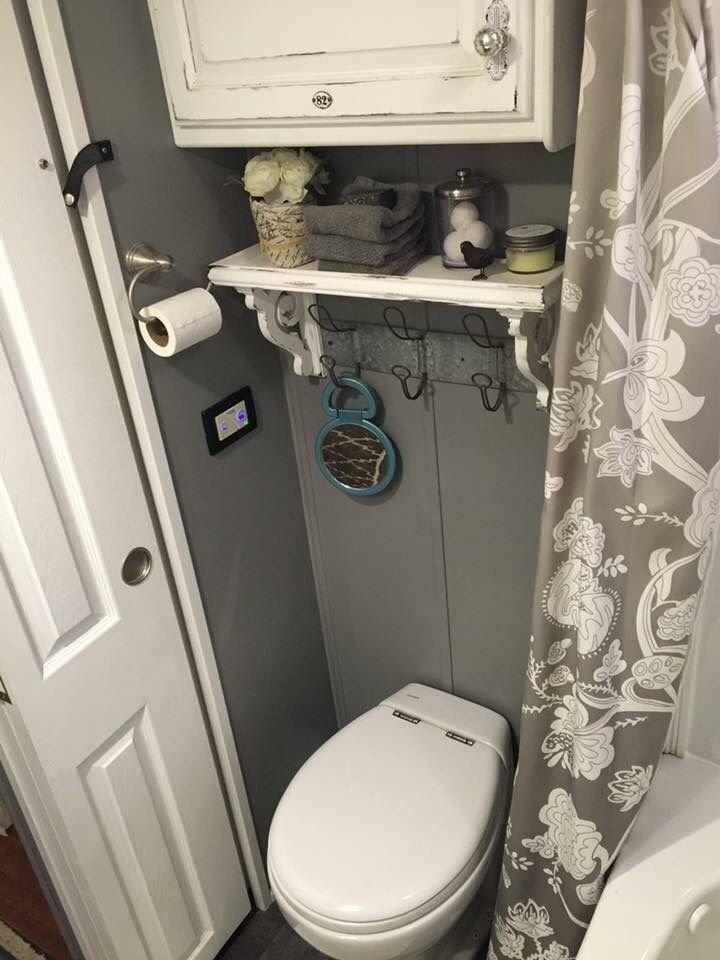 Conclusion
The RV bathroom storage ideas are a great way to organize all your towels, toiletries, and other essential items. It is a simple solution that is practical and easy to install and maintain.
These tips will show you how to organize everything you need for a week-long vacation.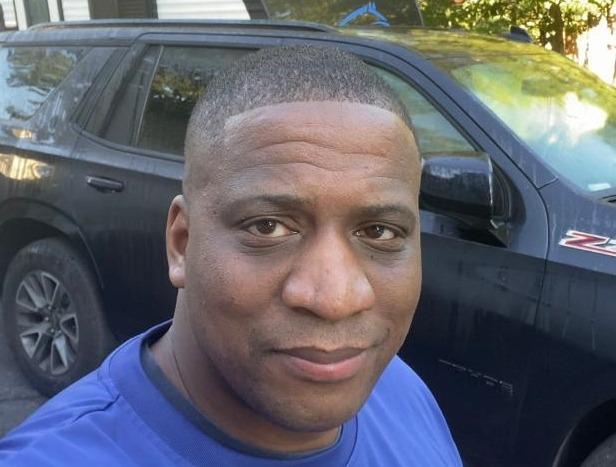 I`m a current Law Enforcement Officer working within the Counterterrorism Bureau in New York State. I have been Camping for over 20 years. My styles of camping include tent, car, truck, van, and RV travel trailer. I have a YouTube channel where I teach all types of camping with an entertaining method: https://youtube.com/@TheSmallsRVAdventures