How Much Does a Camper Weigh?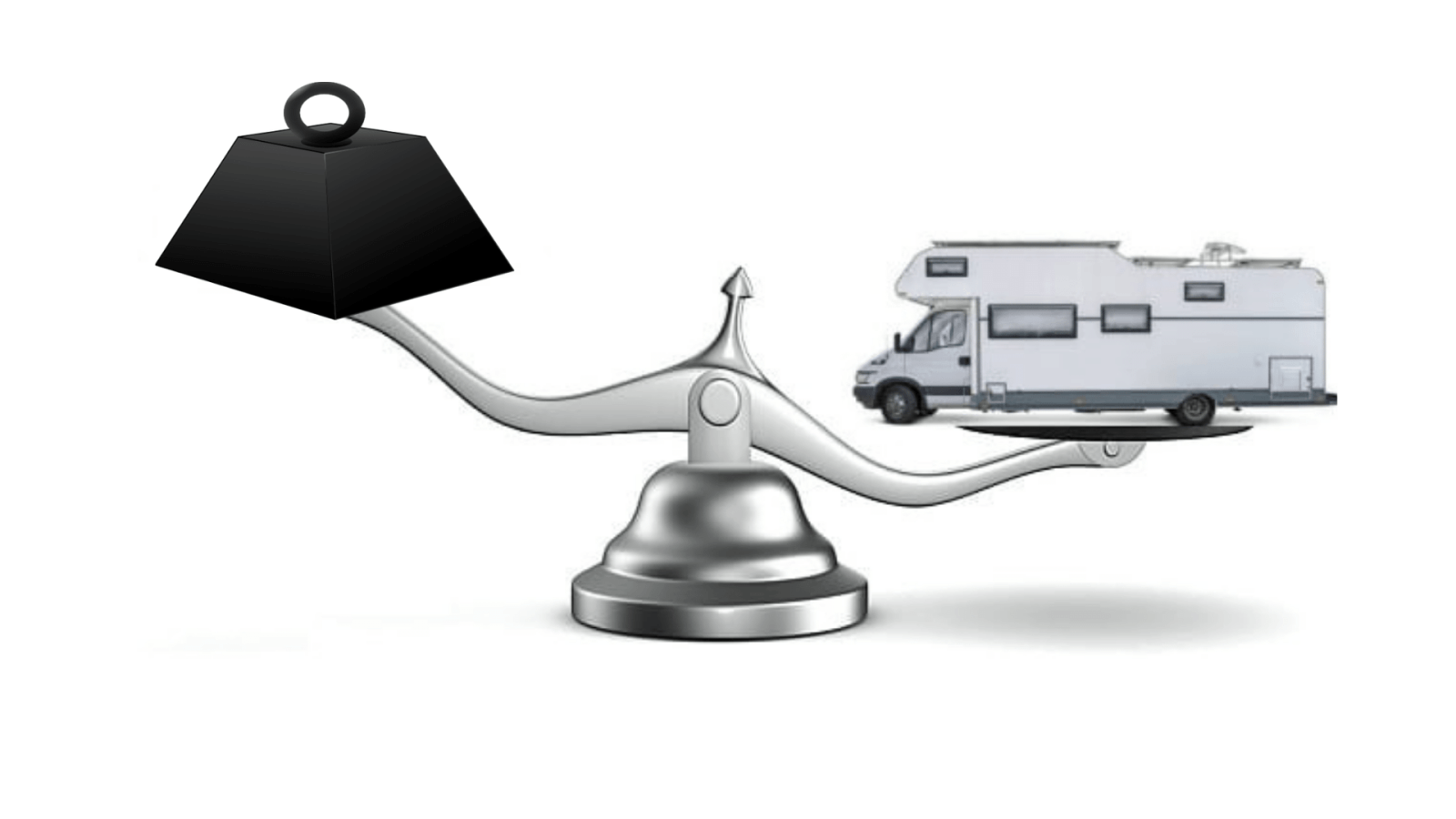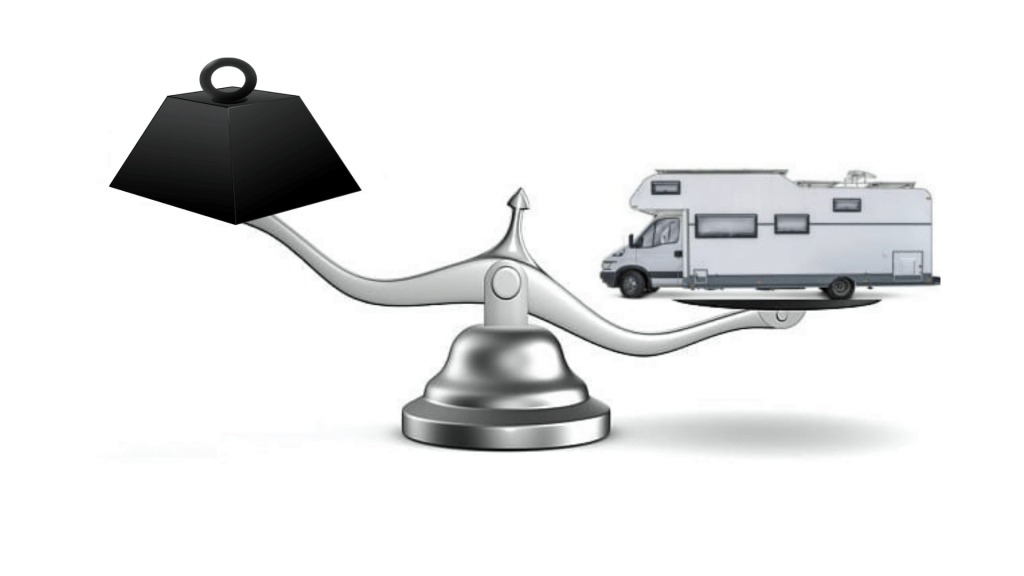 Weighing a camper is critical, especially if you are looking to buy one. This guide will help you take some steps to find a mobile camper's weight and make other relevant decisions accordingly, especially about its overall cost.
How Much Does It Weigh?
There are different means to find the answer to this question. You can resort to various weight measurement methods and plan your trips likewise. But based on the available tools at hand and the journey you are planning to take, some of these techniques might be more important than others.
The most important and useful of them all is measuring the Gross Vehicle Weight and Dry Weight measurement.
Dry Weight
It refers to a camper's weight without any additional fuel, passengers, or cargo. This weight can vary from one camper to another based on the manufacturer and the internal features, along with the loading space size.
Nothing is confusing because this weight is usually directly proportional to the number of amenities present inside the camper. Campers with more amenities weigh more and include the added space for more travelers.
The numbers are going to vary a lot between different campers from different manufacturers. It can range from 1000 lbs. to 9000 lbs. But on average, a camper weighs around 5000 lbs. The campers that are towed weigh a lot less than the self-driving units.
But for towing, you will also need a vehicle with an accurate towing capacity for traveling. Self-driving units are not dependent on any external vehicle. They also weigh a lot more due to the added driving cabin.
To find the exact dry weight that a camper has, you will have to unload all your equipment that includes those propane tanks and the batteries, and visit the local station for weighing.
Once you are done with the weighing process, detach your camper and take your while for weighing. Now subtract these two numbers, and you will weigh your camper.
Gross Vehicle Weight
The most practical answer to the question "how much does a camper weigh" is gross vehicle weight or GVW. It is the overall weight of your vehicle with the propane tanks and all the cargo inside it.
There is no need to panic if your camper comes up with a different GVW based on various features and amenities and the passengers inside. The most accurate way is to have everything (that you will take on your trip) inside your camper along with the supplies and equipment and then weigh it.
Max Camper Load
Your max camper load is the total weight that it can carry in usual circumstances. It only includes the weight of the driver but not the passengers. Normal practice is to add 1500 lbs to the dry weight of your camper.
If you are towing beyond the max camper load, it will significantly damage your towing equipment over time, and you will have to reduce your speed as well, significantly when driving uphill.
Examples of Average Camper Weight
To simplify the above discussion, we can say the average weight is around 5200 lbs dry weight. And this is when the tanks are not filled, and there is no gear inside them. You can add 1500 lbs of equipment and water to this number to get close to a real scenario.
It all depends on the overall length of a camper trailer and its construction. So, you need to go through some examples to understand it all comprehensively.
You can expect your camper to be around 250 lbs per foot of the camper's length which only includes the box length and doesn't include the hitch. Generally, a truck or a small SUV that has been marketed for towing around 7200 lbs is good enough for towing a camper within 24 feet in length.
Here are some common examples of popular campers and their weight;
| | | | |
| --- | --- | --- | --- |
| Camper Manufacturer | Model & Year | Dry Weight | Length (box only, no hitch) |
| Jayco | 2015 Jayflight 19RD | 3715 lbs | 19 feet |
| R-Pod | 2017 RP176 | 3786 lbs | 17 feet |
| Coleman | 2017 CTS192RDWE | 3974 lbs | 23 feet |
| Rockwood | 2017 Mini-Lite 2504s | 4800 lbs | 25 feet |
| Salem | 2017 Hemisphere 24BH | 5118 lbs | 24 feet |
| Jayco | 2015 Jay flight 26RKS | 5605 lbs | 26 feet |
| Cherokee | 2017 West 274DBH | 7705 lbs | 38 feet |
| Jayco | 2015 Jay flight 27RLS | 6030 lbs | 27 feet |
| Jayco | 2016 Jay flight 38BHDS | 7690 lbs | 38 feet |
Construction Type & Camper Weight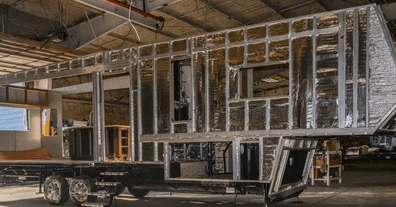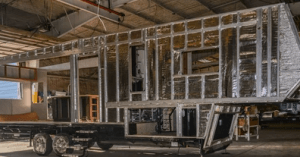 Camper manufacturers have two distinct ways of manufacturing a camper. One of them is to use fiberglass in construction. In this way, your camper has smooth external sidewalls. There is an aluminum metal structure, and they are pretty lightweight.
The other one is the stick-built construction. These feature corrugated aluminum sides on the external sides, and they also come with bumps on the external sides. You are adding a lot of weight to the lumber here, if everything else remains the same and equal, they can be 900 lbs heavier than their fiberglass counterparts.
Slides & Camper Weight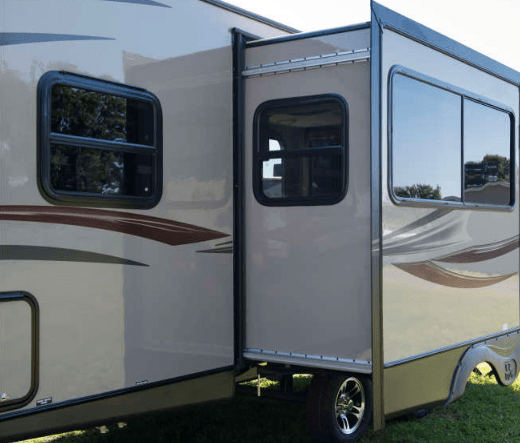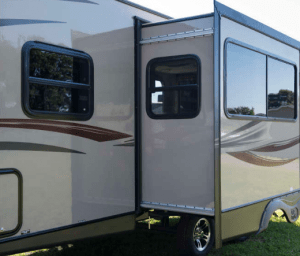 If your camper features slide-outs, you will see a sudden jump in your camper's weight. With just a single slide-out, you can add up to 800 lbs to the overall weight. But if there are pop-outs that are only made of canvas, they won't add much to the overall weight. So, you don't have to consider them a significant point of consideration at all.
Gear & Water Weight
Water will weigh around eight pounds per gallon, and on average, a camper holds around a 48-gallon tank of freshwater. So, only your freshwater is going to add about 400 pounds to the overall weight of your camper.
And then we have to load the gear or equipment into the camper as well. A generator that is capable of running a camper AC weighs around 90 lbs. Plus, you will also add about 400 lbs of camping gear, kitchen supplies, and food, even if you do not load everything like crazy.
Debunking RVs Weight Numbers
Seeing all those numbers can be pretty confusing when you look at the lot where a camper is present. Some salespeople will give you dry weight, while others will provide you with gross weight. You should go for the unloaded camper weight and 1500 lbs to the number for water and other gear like we have discussed above.
Unloaded camper weight
It's the weight of the camper without any gear or water inside it. It's just the total weight of the camper without anything else.
Gross vehicle weight
This is the total weight of a camper with full tanks and the average load of gear. It can weigh the max amount of trailer.
Cargo capacity
The max amount of stuff and gear you should have in a camper is called the cargo capacity, and it shouldn't be more than the numbers for which the camper is rated.
Dry hitch weight
It's the weight put on your towing truck's camper ball when the camper doesn't have its water and other gear loaded in it.
This number is relatively low and will be almost around 10% of the camper's overall weight. For instance, a 25 feet camper, its dry hitch weight is roughly going to be about 500 lbs.
Never Exceed the Towing Vehicle Limit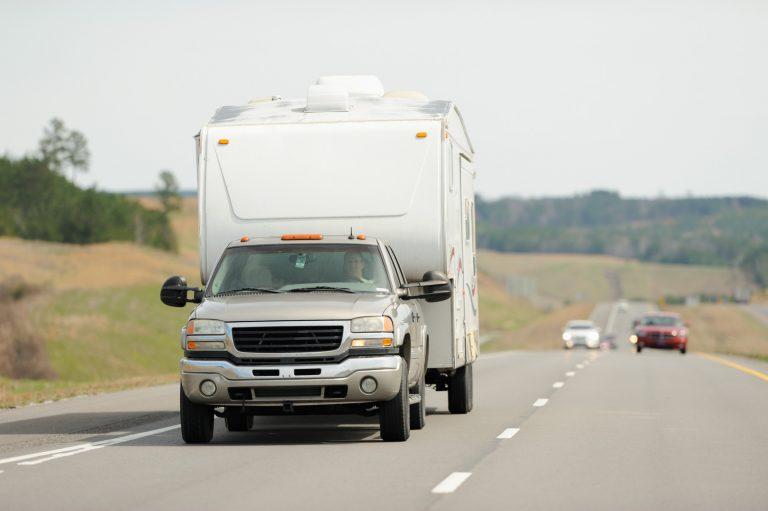 The maximum towing capacity of your towing vehicle can significantly exceed the overall weight of your camper. But you need to make sure that you never exceed it.
We would suggest you consider the weight of your camper and add 1500 lbs to it. Now keep this number in mind and make sure that it is not more than 80 percent of the total towing weight that your vehicle is rated for.
There are numerous good reasons for this, and the most important is that if you exceed this limit, you will burn out your transmission way before it should burn out. Moreover, you won't be able to drive anywhere around the speed limit, specifically uphill.
You have to leave a little margin of error if there is a case where the camper company or your vehicle manufacturer is given an overly positive number for marketing concerns.
It would be better for you to open the foot in your vehicle and look at the sticker at the bottom of the driver's door.
This sticker will have information on how much your towing vehicle can tow. It's better to go with that number when towing a camper behind. The towing capacity will significantly vary based on the vehicle package you bought.
Do You Need a Truck for Towing?
You have to be cautious about what camper manufacturers say and what the salesmen tell you. Today, almost all the campers you will find on the market are advertised to be lightweight in various categories.
But the truth is you can find a camper for almost any type of towing vehicle, even a car. But if you are looking for a 26-foot trailer and don't go with your Mini-SUV and use it as your towing vehicle.
For larger campers, you need a truck for better towing performance. You won't have to deal with any issues for a long time to come.
Final Thoughts
You have to make sure you properly weigh a trailer and assess those numbers in the right fashion. Don't go for the numbers or features provided to you by the salespeople of manufacturers, they are just there to make their sales. It's your responsibility to spend your money smart, according to your needs and requirements.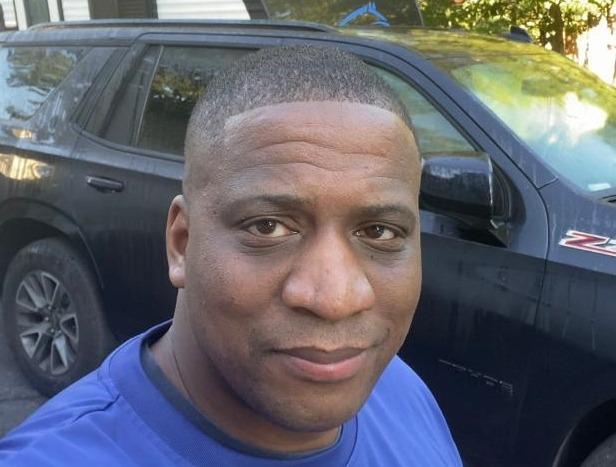 I`m a current Law Enforcement Officer working within the Counterterrorism Bureau in New York State. I have been Camping for over 20 years. My styles of camping include tent, car, truck, van, and RV travel trailer. I have a YouTube channel where I teach all types of camping with an entertaining method: https://youtube.com/@TheSmallsRVAdventures