Top Bunkhouse Travel Trailers Under 30 Feet Long
If you travel a lot, you might know bunkhouse travel trailers are a smart choice for the road. These bunkhouse travel trailers provide you plenty of privacy with separate bedroom sections with bunk beds stacked somewhere in the back of the RV.
This way, you can fit in with more individuals with ease. But there is a lot more to it than meets the eye!
Pros & Cons in a Nutshell
They come with individual sleeping spaces that are handy if they want to stay longer and parents want to sleep. Their layout is far more comfortable, and you don't have to wait for long to convert those dining spaces into couches and beds.
These bunkhouse travel trailers are cozy; you will also notice they come with a hefty price tag. First of all, you will have to go for a sturdier towing vehicle to tow such an extensive trail behind. If you are not an experienced driver, you will have a troubling time driving such a huge load.
Moreover, you will need a larger parking space with a large trailer whether you are at a campsite or a grocery store. But the tiny house trend is growing on everyone, including the RV manufacturers, and now you see bunkhouse floor plans in shorter trailers.
Best Bunkhouse Travel Trailers
Venture RV SL169VBH Sonic Lite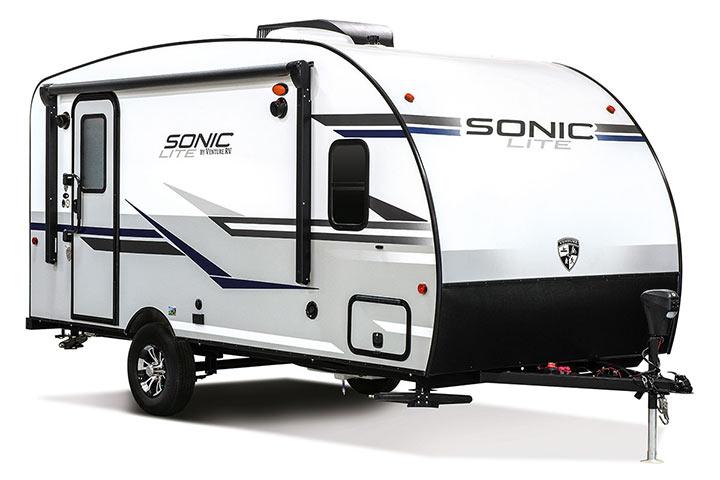 Specs:
Exterior height: 9 feet 11 inches.
Length: 21 feet 4 inches.
Hitch weight: 410 lbs.
Cargo carrying capacity: 1010 lbs.
Unloaded vehicle weight: 2990 lbs.
This series of high-quality under 30 feet long bunkhouse travel trailers was developed for the consumers who want to go for better towing efficiency.
This model features some durable construction, but they are for a single axle frame. So, this trailer is lightweight and offers a very simple towing. This trailer also features LevelMatePro to use your smartphone for leveling your RV.
In other words, you can conveniently level your RV on the first go without any errors. It will enable you to save a lot of time, and you can do so at any time of the day.
It is available in seven different floor plans, and there are three decor options available too. A couple of these models include bunkhouses, while the SL169VBH doesn't feature any slide-outs.
These slide-outs can be useful to provide you extra space. But they also come with a hassle, and you will have to spend extra time and effort on maintenance. You will always have to take some time out from your busy schedule.
This model comes with a 60×75 bed (Murphy), and you can use this area as a dining space when you unfold it. There is a freestanding table along with some foldable chairs.
With this design, you will get double sleeping space in the dining area and have a larger bathroom. So, you will find a large 36-inch tub in it as well.
The rear section features double bunk beds that are longer than the bunks you will find in other models. If your teenage kids need more legroom, these will serve them perfectly.
KZ Sportsmen 181BH Classic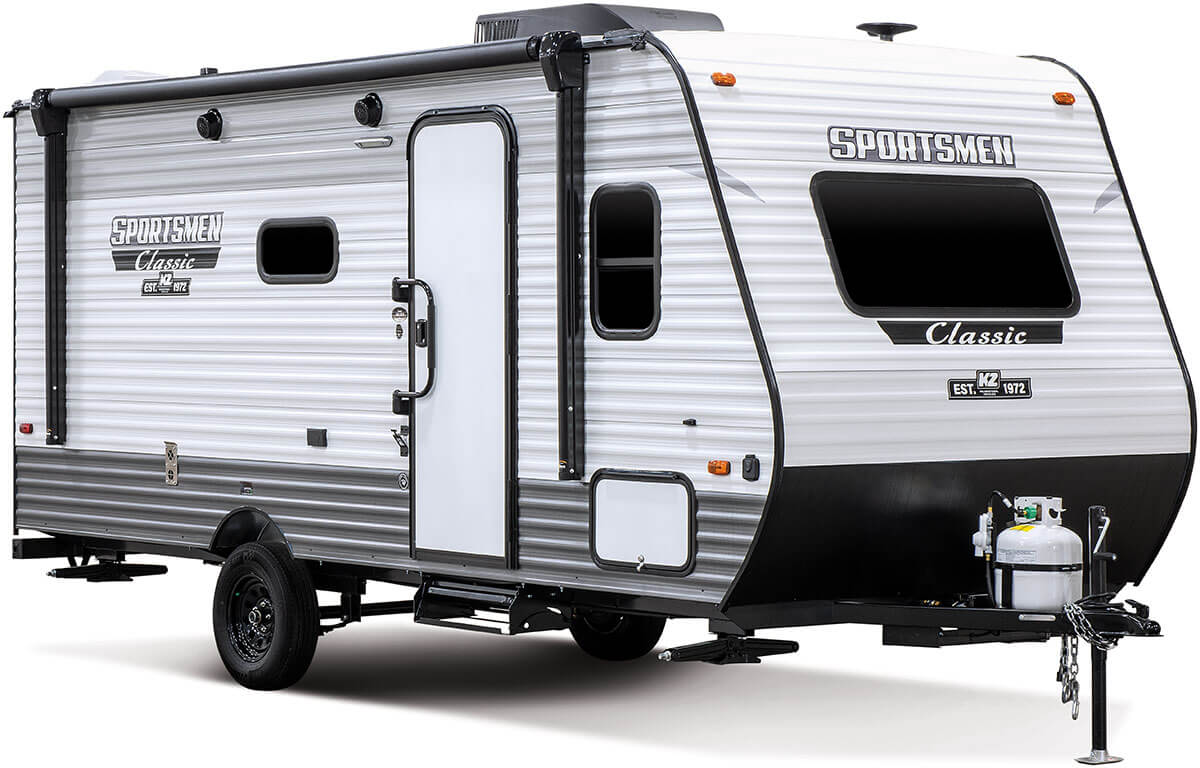 Specs:
Exterior height: 9 feet 4 inches.
Length: 20 feet 6 inches.
Hitch weight: 370 lbs.
Cargo carrying capacity: 660 lbs.
Unloaded vehicle weight: 2840 lbs.
The brand has a range of different trailers on offer with classic appeal associated with their floor plans. The best-selling trailer by KZ is the Sportsmen Classic, and you can conveniently tow it behind your SUV.
You will also get to use the RV app by KZ to manage your trip with your phone's help. You can set a repair and maintenance schedule on this app. And there are digital versions of owners' manuals available on this app.
There are 9 different floor plans available in this model. And three of them come with tent beds. While the other three come with a couple of bunk beds.
On the entrance, there is a friction hinge door and solid stairs. This is a mechanism that makes entry and exits very simple for all your family members.
In the open living space, there is a 54×80 bed present which is the largest sleeping space in the camper. This bed features overhead storage along with a touch lighting system. Plus, there are charging plugs present on either side of the bed.
And right next to the dinette slide, you will find those 28×75 bunk beds. You can also convert the dinette to your sleeping surface. And this trailer can conveniently accommodate up to six people.
If you're looking for that slumber party feel, this camper will be well-suited to your needs because it has an open floor plan.
Starcraft 180BHS Autumn Ridge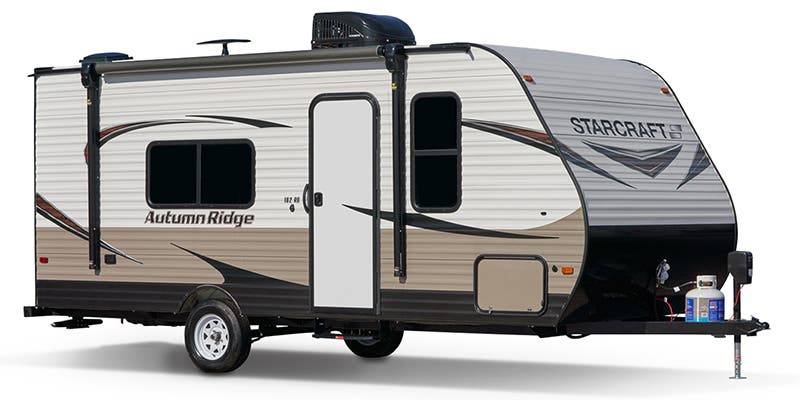 Specs:
Exterior height: 10 feet 3 inches.
Length: 22 feet 0 inches.
Hitch weight: 375 lbs.
Cargo carrying capacity: 750 lbs.
Unloaded vehicle weight: 3765 lbs.
Starcraft's coach comes with a couple of twin-sized bunk beds in the rear section of the coach. And the bunk area is linked with the full bathroom, where the head areas of these bunks share the wall with the toilet. The foot end is open, and you can conveniently get in or out of the beds from here.
The floor plan features durable decking, and on that, there is wood Congoleum. This laminated material is patented and can comfortably absorb sound. Therefore, it will last for a long time to come and keep your coach looking great at all times.
The cabinets have lumber core materials, while the drawers use ball bearings for protection against wearing. The heat registers are on the walls and not on the floors to ensure that pet claws or toes don't catch them.
This trailer also comes with a self-adjusting braking system which is a standard feature on this coach. It will prevent any drag or additional stress on the towing vehicle due to your vehicle's braking system.
It also comes with a slide-out for its dinette, and you will get an extra walking space inside your recreational vehicle.
And that is why we have chosen it out of the different floor plans available in this model. The slide-out adds to the overall value of this recreational vehicle.
Jayco SLX 174BH Jay Flight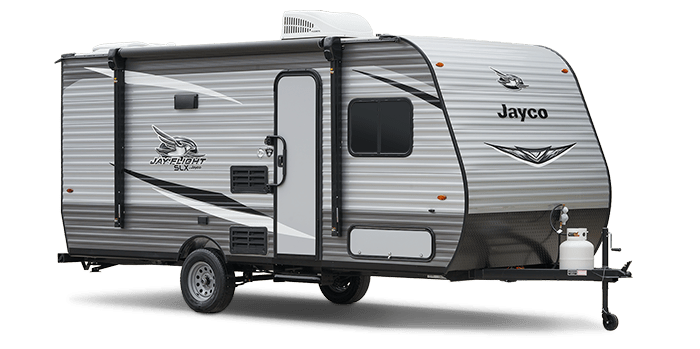 Specs:
Exterior height: 8 feet 11 inches.
Length: 21 feet 6 inches.
Hitch weight: 305 lbs.
Cargo carrying capacity: 815 lbs.
Unloaded vehicle weight: 2935 lbs.
Jayco is among the most popular recreational vehicle manufacturers, and Jay Flight is one of the best-selling models by the brand. This line is designed to be a very convenient towable trailer that comes with a smart design.
There are plenty of creative areas for functional lighting and storage and benefit from its durable features.
This model has six different floor plans on offer, and three of these floor plans come with bunkhouses in them. The 174BH floor plan model is the best because you will get a queen bed and a bunkhouse.
You won't have to deal with any moving parts you will have to convert to access these sleeping spaces.
The queen size bed in this trailer is its master bed, and its length is almost the width of the trailer. It means one of the bedmates will jump over the other for a bathroom break in the middle of the night. But it also means you won't have to compromise on any living space either.
The gallery and the dinette are right across, and there is overhead cabinetry on the dinette that also features a full pantry and cabinets. The bunk bed section on the rear area is right along the dinette wall, and there are 4-inch mats for a well-cushioned surface.
The bank on the top folds up and out, and you can use the area for additional storage if you want.
Lance Camper 2185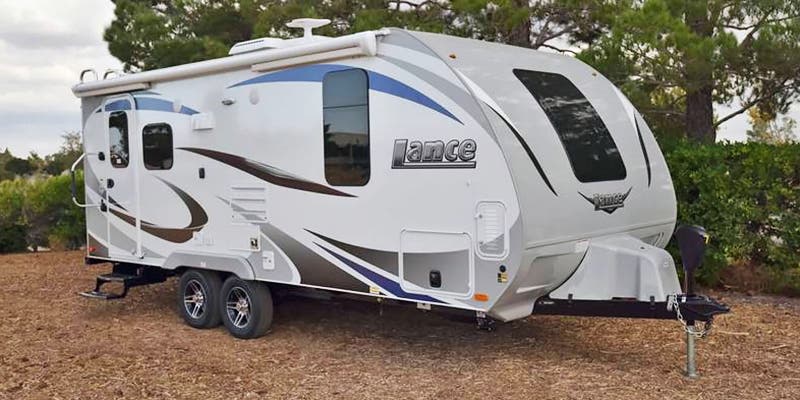 Specs:
Exterior height: 10 feet 2 inches.
Length: 25 feet 8 inches.
Hitch weight: 755 lbs.
Cargo carrying capacity: 1435 lbs.
Unloaded vehicle weight: 4565 lbs.
These trailers come with a special awning which comes with lateral arm support. Your Lance Camper will look stunning and will provide you with maximum shade. It also means that you will get a penalty if you use wall space for windows and add any other additional features.
There is also a direct response window sensor present in this awning. It means the awning will retract when it senses constant motion. Therefore, you won't have to rush to close the awning because if any rough winds blowing the awning will take care of itself on its own.
The company marks only 10 models, and the one we are talking about here is the only one with a tow rating of over 6000 lbs. It is available in three different decor options.
You can go for a sleek interior featuring a walk-around queen-sized bed that can be converted into a sofa bed, and you get to enjoy a larger living area.
It all comes with a slide-out dinette that can accommodate up to 5 people, and you can convert it into a sleeping space where two adults can rest comfortably. There is some additional storage right under the sleeping area of a dinette.
This trailer also features a galley and a wet bath that also come with storage. But the rear section of this trailer comes with a bunkhouse with a three-bunk design.
Such a space can conveniently accommodate three adults, or you can use the top two beds for sleeping, the third one at the bottom for storage.
Forest River 25BRDS Flagstaff Micro Lite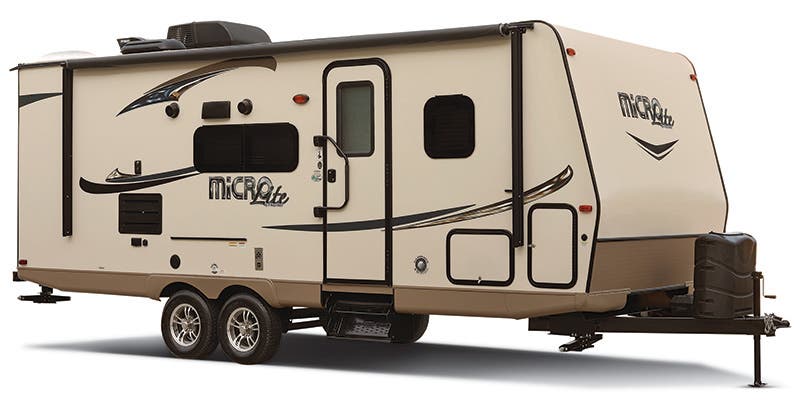 Specs:
Exterior height: 10 feet 11 inches.
Length: 25 feet 11 inches.
Hitch weight: 709 lbs.
Cargo carrying capacity: 1569 lbs.
Unloaded vehicle weight: 5300 lbs.
If your primary concern for a travel trailer is weight and size, go for this model. This line of campers is suitable to work with most towing SUVs and minivans that you will find on the market. Therefore, you won't have to upgrade your towing vehicle to work with this recreational vehicle.
There are 10 different floor plans available in this model. And three out of them include bunkhouses. We have picked this one because it comes with more extensive bunk beds. Other floor plans feature longer and narrower beds.
As it is only 26 feet long, the trailer can be comfortably parked, and you can conveniently maneuver it too. The primary sleeping space features a queen-sized bed (murphy), and it is effortless to set up. This bed is a powerful way to set up even for those who lack physical strength.
This bed comes with a residential-type mattress, and you won't find that thin-layered foam sheet like you find at some of them out there. So, this bed is extremely comfortable for sleeping.
The sofa comes with a reclining function. Apart from that, there are a double area door wardrobe and end tables that you can use as nightstands on either side.
There is a U-shaped dinette, and it's present on the slide-out, and you can upgrade to freestanding chairs and a table. Its kitchen has an L-shaped counter with a sink, boasting a double basin. It allows you to prepare your food more comfortably.
The bunkhouse in the rear section is right next to the bathroom. This bathroom is quite spacious, and so are bunk beds.
Final Thoughts
Bunkhouse floor plans have added new life to the overall RV industry because more and more families find them to be more useful according to their lifestyle. In the past, there was a tradition of having some sleeping space for the kids on those fold-out dinettes and sofas.
With these bunkhouses, your kids will have their own private space. Everyone has a proper space now to call it their own inside the recreational vehicle.
The floor plans come with separations as well, and kids and their parents can have guns without each other too. And the best part is, the smaller trailers make life even more comfortable because you would only find these amenities in larger trailers in the past, but not now.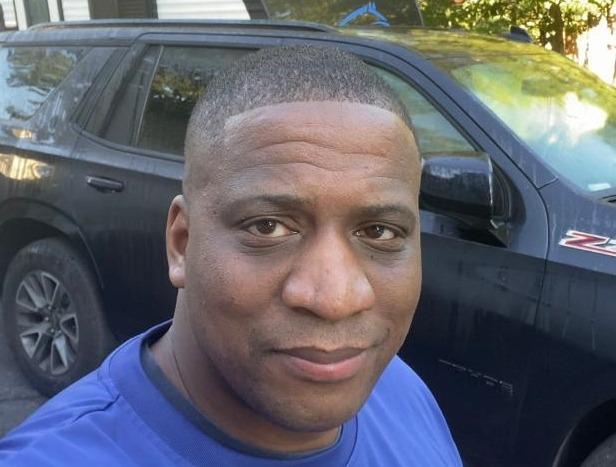 I`m a current Law Enforcement Officer working within the Counterterrorism Bureau in New York State. I have been Camping for over 20 years. My styles of camping include tent, car, truck, van, and RV travel trailer. I have a YouTube channel where I teach all types of camping with an entertaining method: https://youtube.com/@TheSmallsRVAdventures