14 RV Furniture Ideas You Need to See
It can be quite difficult to furnish an RV or travel trailer. Different types of RVs need different arrangements and should show a certain way of thinking.
Keep in mind how many people you are traveling with, how much sleep space you need, and how you will store your gear when you aren't using it when you're thinking of the RV furniture you want.
When choosing chairs, sofas, beds, and tables, you will want to consider comfort and luxury.
In an RV, regular furniture may suffice, but it may be larger and less versatile than RV-specific furniture.
Things To Consider Before Buying RV Furniture
Measurement and Space
To make sure you account for the space you take up while sitting or laying on the furniture, make sure you measure everything carefully.
A good fit must be present. Think about the size of the door of the RV. It's important that whatever furniture you bring in fit through that opening.
This detail has already been considered by most manufacturers of RV furniture.
Storage and Versatility
RV furniture that has built-in storage space or items that serve multiple purposes should be considered, because of the limited space in RV and travel trailers.
A great way to save space is by wearing Hawaiian shirts.
Cost
It's a good idea to plan your budget ahead of time when buying RV furniture.
Delivery, installation, and service costs are things that should be taken into account. In the long-term, heavy items cost you more in gas.
Style, Comfort, and Fabrics
Pick a color scheme and a design style for your RV furniture.
Adding a touch of luxury to your RV interior can be accomplished by adding plush seating, leather upholstery, and a uniform aesthetic.
RV Furniture Ideas That You Need to See
Captain's Chairs and Recliners
If you are doing most of the driving on your summer vacation, your first purchase might be the Captain's chair.
The driver's seat of this dual-purpose chair can be used as a comfortable place to relax after a hike.
Comfort, stability, and support are some of the things that you want while driving. When you are ready to relax, a plush leather recliner may be what you are looking for.
You can choose from a range of chairs in leather, vinyl, or fabric, with features such as remote slide and swivel, power reclining, heated seats, and even a built-in massage feature.
You can expect to spend around $400 for a budget-friendly option and $1,000 or more for luxurious options.
RV Dining
RV or travel trailers make the process of camping in the wilderness simpler and quicker, and they can be used for meals.
There aren't many RV-specific stoves that have three burners. There are ways to make the kitchen in an RV into a more spacious area.
A sink with a diagonal angle to the general direction of the RV lets the user stand up straight and not have to hunch while washing up.
Storage areas with hooks or latches have a pantry to make sure no one makes an emergency exit from transit.
If you want to keep mice out of the RV or camper, you need to think about how to keep the kitchen clean.
To prevent varmints from entering your stores, check the storage areas and cabinets to make sure they are well-made and have tight seals.
RV Beds
If you have a comfortable bed, you will get a good night's rest.
Before buying an RV bed, it is important to decide if you will have a dedicated area for a bed in your RV or some kind of conversion.
If you already have a separate area for sleep, a memory foam mattress topper may give you a big upgrade.
Check the weight limit of your vehicle to make sure you are not exceeding it with additional pieces of furniture if you are using a residential mattress or furniture that is not specifically made for an RV.
Try out the new piece in person, especially with beds. It is worthwhile to see if your height fits the mattress or if it can accommodate two people.
If you can't see the bed in person before you buy, read all the reviews and speak to the salesperson about the details.
Sofas and Sleepers
Recliners are great pieces of RV furniture for non-dedicated sleep areas.
You can have friends and family travel with you while still maintaining a sense of privacy if you have a jackknife bed that transforms your living space into a guest bedroom in the evening.
If you put a new sofa in the RV, make sure it's secured to the floor.
If you don't want to anchor the sofa permanently, you can use furniture tie-down and bungee cords to make sure the couch doesn't go across the cabin in a tight turn.
You can find some sofas with storage underneath for as low as $500, even if they are explicitly made for RVs.
Great RV Furniture
THOMAS PAYNE 68" Jackknife Sofa
The jackknife sofa from THOMAS PAYNE is built with supportive, high-density foam covered in low-maintenance Polyhyde upholstery with contrasting topstitching.
It is a lightweight and versatile piece of furniture that helps preserve interior space. It can be fastened to the coach wall to allow you to store more stuff underneath the couch.
It can be turned into a bed with just one easy motion. There is a sofa with dimensions of 68 x 28 x 23 inches.
The couch is in the bed position with a depth of 42 inches. The universal leg kit is sold separately and pairs well with the couch.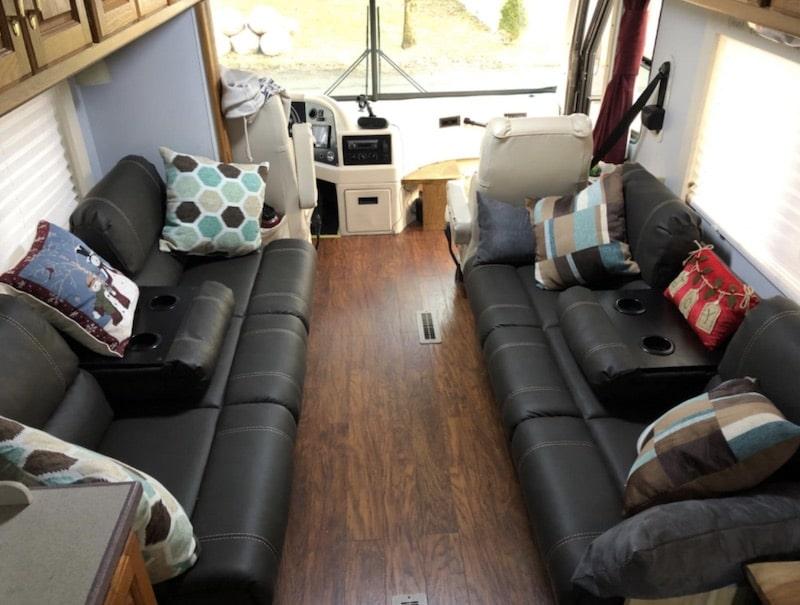 THOMAS PAYNE 62" Tri-Fold Sofa
The tri-fold sofa from THOMAS PAYNE is designed to make you feel good during the day and sleep well at night.
The sleep surface is made of supportive high-density foam so that no support bars can get in the way of your sleep.
It has a lightweight aluminum construction that does not require much assembly.
There is a sofa that has dimensions of 62 x 34 and 38 inches. Finally, it comes with a one-year limited warranty.
RecPro Charles Collection | 67" Double Recliner RV Sofa & Console
If you're looking for theater seating to replace the couch in your RV, there's no better option than this one from RecPro.
It has dimensions of 67 x 39 x 37 inches and it is easy to clean. Because it is a space-saving recliner, it is an excellent option for RV and trailers.
It needs to be three inches clear from the wall to fully recline. Between the two seats, there is a set of cup holders.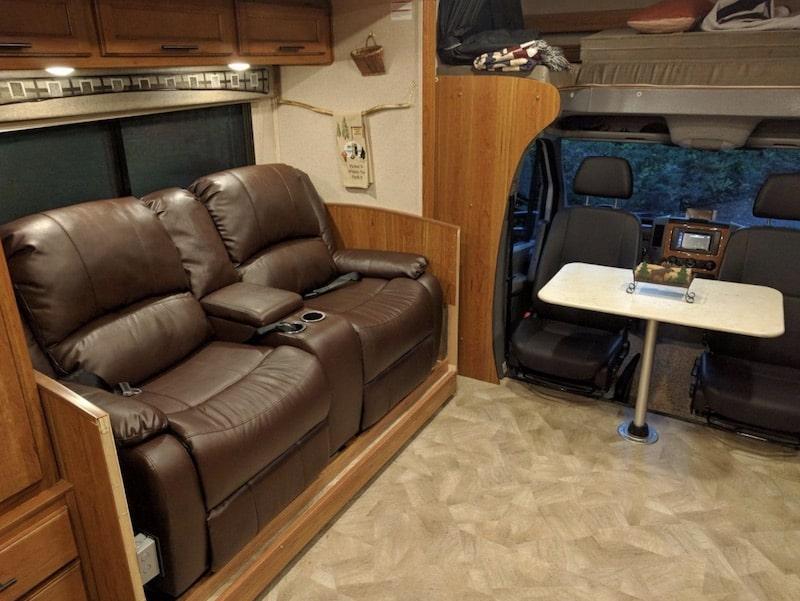 RecPro Charles Collection | 30" Swivel Glider RV Recliner
An excellent option for RV owners is the set of RV recliners from RecPro. They have a unique modular design that can be used in RVs and other tight spaces.
It requires 12 inches of clearance to recline. It can be assembled in less than five minutes if you ship it in two boxes.
There are padded backs and seat cushions on the back of the chair. It is very easy to clean thanks to the faux leather. It has dimensions of 37 x 30 and 39 x 39 inches.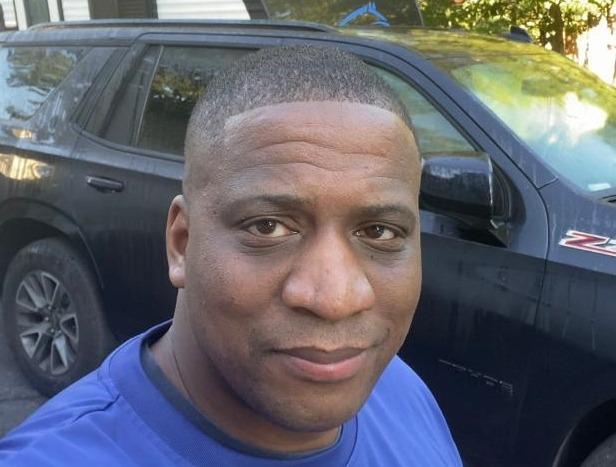 I`m a current Law Enforcement Officer working within the Counterterrorism Bureau in New York State. I have been Camping for over 20 years. My styles of camping include tent, car, truck, van, and RV travel trailer. I have a YouTube channel where I teach all types of camping with an entertaining method: https://youtube.com/@TheSmallsRVAdventures