Top 10 RV Campgrounds Near Asheville, NC
Want to go RV camping in Asheville, NC but don't know where to start? Then you've come to the right place.
Like most cities in the United States, Asheville is riddled with RV campgrounds and tent sites. And they're not just used by the locals. Tourists from all over the country flock to witness the beauty of the mountain ranges that divide the city. And the rivers that run through the mainland attract adults and children alike.
But with so many campgrounds to choose from, which one is right for your vacation plan?
Here's a rundown of the top 10 best RV campgrounds near Asheville, NC.
RV Camp Spots near Asheville, NC
Asheville Bear Creek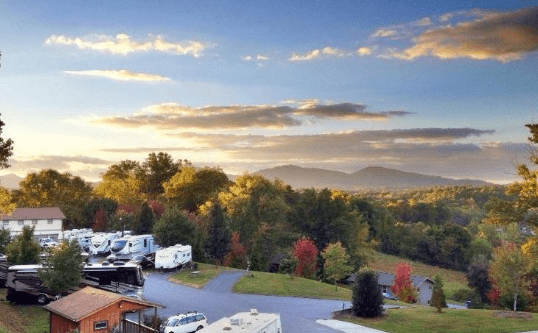 Amenities:
Luxurious heated swimming pool.
Free access to Wi-Fi and cable.
Furnished with two laundry facilities.
The clubhouse is available at no additional charges.
Hooked up with electrify, water, and sewage system.
A nearby hair salon.
Designated areas for dog walks.
Playgrounds for children.
RV Rates
The rates at the Asheville Bear Creek are fairly reasonable. A 30 amp site will cost you about $55 (or $50 with a discount). 50 amp sites cost the same. Adding an extra person will cost you about $3.
Activities Available for RVers
RV campers get free access to both Wi-Fi and cable. 3 large bathhouses are maintained regularly. In addition to that, you also get 2 shared laundry facilities. Rally groups can also acquire a clubhouse at absolutely no extra charges.
If you're up for it, you can take a detour and explore the nearby attractions, such as the many local restaurants and breweries. Try paying a visit to Lake Lure, the world's most beautiful man-made lake.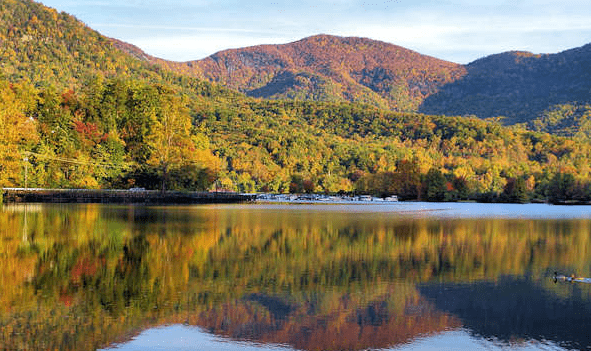 What People Say About This RV Spot
Other people who've been to Asheville Bear Creek consider it a solid 10/10. The park garnered a total rating of 95%, while the restrooms had a 100% rating. Moreover, the scenic beauty of the park was rated at 89%.
Mountain Stream RV Park
Amenities:
Completely hooked up with electricity and sewage.
30 and 50 amp options available.
Access to cable TV.
Dog walking area available.
Restroom and shower service available.
RV Rates
Rates on this RV Park vary depending on the amenities that you're availing of. A single night at the Mountain Stream RV Park can cost as little as $41 and as high as $60. However, you can catch a decent discount if you book a whole week. The weekly prices start at around $246 and can go as high as $360.
Activities Available for RVers
Aside from the fun of living and camping in an RV park, there are some nearby attractions. The closest attraction at just 5 miles is the Blur Ridge Parkway. This is a scenic natural resort with lots of places to explore. After that, you can relax in the Quiet Reflections Retreat.
For adventurers and rock climbers, try visiting Chimney Rock, just 45 miles from the park. It has a mesmerizing view laced with a unique acrophobic thrill
What People Say About This RV Spot
People seem to like the Mountain Stream RV Park for its connection to nature. One park resident said that they had finally found peace in this park after five and a half years of adventuring.
French Broad River Campground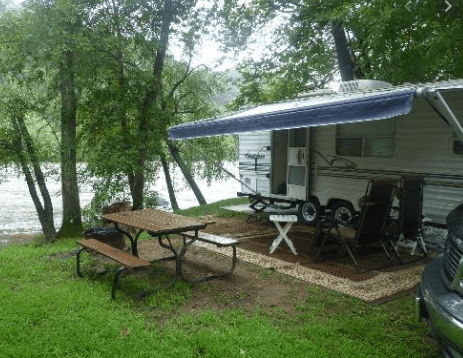 Amenities:
Access to Wi-Fi.
Fishing and tubing facilities.
Electrical and water hookups.
Access to hot showers.
Communal campfires.
Clean and well-maintained bathhouse.
RV Rates
The RV rates of the French Broad River Campground are pretty much fixed at $45 per night. You can also avail of a small discount by booking a weekly stay, at just $270 per week.
Activities Available for RVers
There's a lot to do at the French Broad River Campground. It's situated along 2,000 feet of the river, making it extremely scenic and mood uplifting. The river also opens up fishing and tubing opportunities. You can also share a campfire with your friends near the river.
Apart from that, there are also horseback riding and golfing facilities nearby. You can find some mountain biking and hiking trails nearby for those who have a knack for nature. And in the winters, bring your friends along for a skiing activity.
What People Say About This RV Spot
Most people seem to love the idea of fishing in the RV Park. One particular user said that the segregation from society and their daily grind helped uplift their mood. Another user commented that the warm river water flowing over their hands reminded them of their hometown.
Creekwood Farm RV Park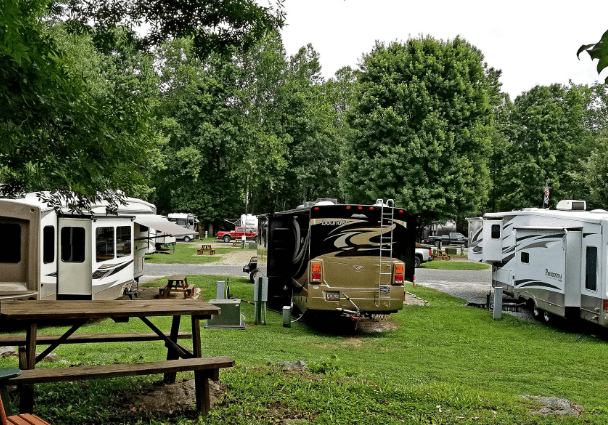 Amenities:
Laundry and showering facility.
Car wash available.
Picnic tables for couples and friends.
Fire pits for socializing.
Cedar cabins
High-speed Wi-Fi and cable TV.
ATM available.
RV Rates
Creekwood Farm RV Park has different lodging rates for different sites. A single day in the creek can cost you up to $47, while a whole month will cost you $1,075. The daily rate for the Premium Creek is $53 and that of the cabins is $87. You can also avail of their most recent deal: stay for 6 nights and get the 7th night free of charge.
Activities Available for RVers
There's a lot to see and do at this RV Park. Aside from the excellent park and picnic facilities, you can go beyond and explore the nearby attractions. If you're the type of person who loves hiking and mountaineering, then consider visiting the Maggie Valley. It's a small mountainous town and has lots of popular attractions.
For those interested in history, visit the Wheels Through Time Museum. It's a commemoration of historical American automobiles. Here you'll find the rarest motorcycles and hill-climbing mobiles.
What People Say About This RV Spot
People seem to love the park, especially for its Cedar cabins and amenities. Maggie Valley seems to be the most popular attraction here.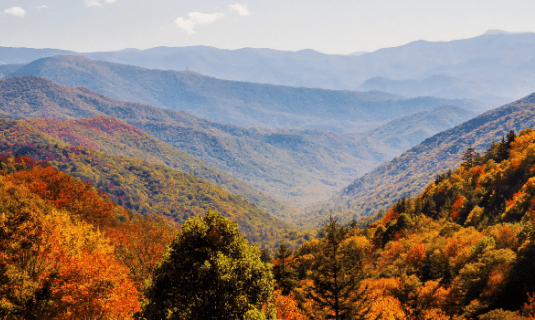 Campfire Lodgings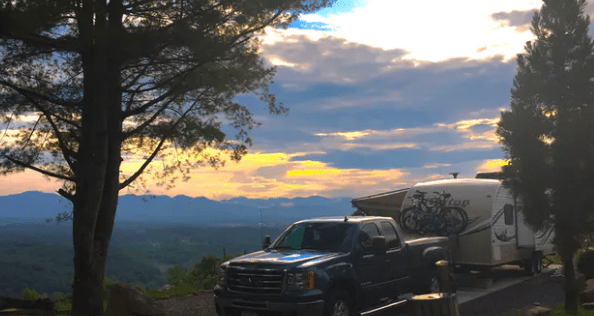 Amenities:
Communal campfires.
Picnic tables for families.
A luxurious view from the mountaintop.
Fishing pond.
Wi-Fi is available.
Premium RV suited and yurts.
20, 30, and 50 amp available.
Full hookup available.
RV Rates
Reservations in the Deluxe RV suite will cost you around $55 a night, while those in the Premium RV suite will cost up to $80. The tent site with full hookup costs $40 a night and $35 a night without hookup.
Activities Available for RVers
This is by far the most engaging RV Park on this list. It has facilities nearby for hiking, golfing, skiing, horseback riding, fishing, tubing, and even kayaking. Kayakers and whitewater rafters, in particular, will love the waterfall just a few miles from the park.
For the more introverted adventurers, there's an art gallery and a multitude of craft shows. You can also jam to classic mountain music or visit the antique store just ahead.
What People Say About This RV Spot
Adventurers who tried out the Campfire Lodgings loved how evenly the tents' spaces were. People especially admired all the fun activities and the nearby supermarkets. So you're never too far from society.
Some reviewers fell in love with how wonderfully this park represents Asheville culture. They adored the art gallery and the musical night.
Rutledge Lake RV Park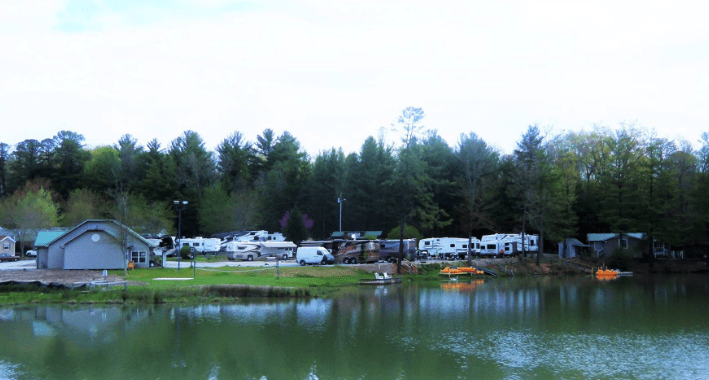 Amenities:
Lavish gravel sites.
Picnic tables with fire rings for socializing.
Full hookups available.
30 and 50 amp available.
Pets are permitted on leash.
Handicap-accessible pull-through site.
Centrally located pool and playground.
RV Rates
Rutledge's daily rates include packages for 2 adults and up to 4 children. Prices vary drastically, especially if you're staying on the weekend. However, you can expect the prices to go as low as $48 and as high as $60 a night. The pull-through and lake-fronts will cost anywhere from $55 to $60 and even $76 on holiday.
Activities Available for RVers
The Rutledge RV Park packs a lot of local attractions. For those interested in history and culture, there are several museums and art centers to visit. You have the Asheville Art Museum and the Folk Art Center. If you book the park at just the right time, you can witness the drum circles and live music.
For the adventure-lovers, there's the famous Chimney Rock State Park and the North Carolina Arboretum.
What People Say About This RV Spot
RV drivers and family vacationers who visit the Rutledge RV Park all seem to adore it. One reviewer commented about the sheer beauty of the lake site. And others admired the facilities available, such as the basketball courts and the cycling roads.
Lake Powhatan Recreation Area and Campground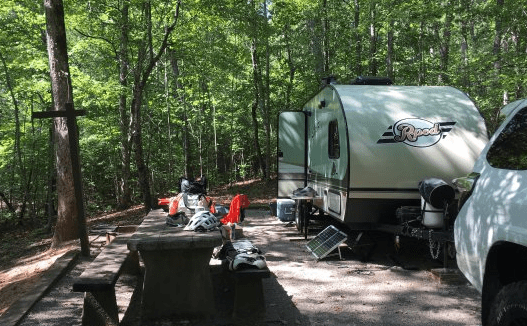 Amenities:
Beach and swimming facilities.
Full hookup sites available.
Campfire sites are available.
Bathroom and showering areas.
Pets allowed on hiking trails.
RV Rates
The rates at these campgrounds can vary depending on how many people you have in your RV. A typical campsite that can house up to 8 people and 2 vehicles can go as high as $22 a day. But that's without the full hookup. If you want to access electricity and commercial plumbing, that'll cost you an additional $9.
Activities Available for RVers
It is a great place to visit for those who love hiking. There are plenty of hiking trails that you can even bring your pets along. There's Lake Powhatan itself to explore. It's a popular site for photography and swimming. You can also use the campground's in-house swimming pool or the nearby beach. For those interested in art and folk culture, consider paying a visit to the Folk Art Center.
What People Say About This RV Spot
There's lots of conversation around the lake. It's a popular area for those who love nature and photography. Some users found that the site is best used for family camping. Others thought of it as more of a solo adventure where it's just you and nature.
Cullasaja River RV Park
Amenities:
20, 30, and 50 amp.
Full hookup available.
Cable and high-speed internet are available.
Bathhouse for showering.
Over 90 camping sites.
Nearby waterfall and hiking trails.
RV Rates
Since the river is the main attraction here, the Cullasaja River RV Park rates increase as you get closer to the river. The daily fee for campsites on the river is $40, while those away from the river are $35. You can also book the campsites weekly, monthly, and seasonally.
Activities Available for RVers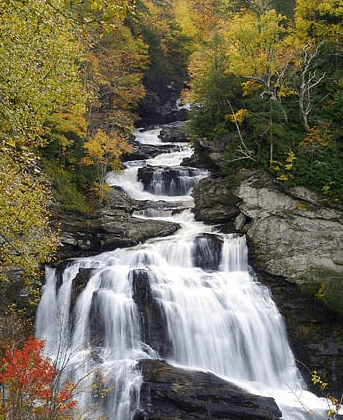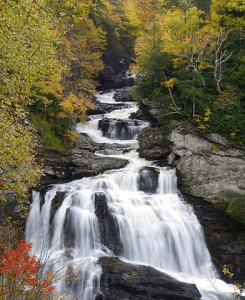 Vacationers and adventurers can enjoy the sheer natural beauty of this site. It's close to the Cullasaja River Gorge, which is a great site for photography and sight-seeing. Even closer to the park is the Cullasaja Falls.
For dining and catering, there's the Asian King Buffet and the Willy's Bar-B-Que. You can pay a visit to the Boone Thai Restaurant for some exquisite cuisine.
What People Say About This RV Spot
It appears that the scenic beauty and captivating waterfalls of Cullasaja invite more people every year. The hospitality of the accommodation particularly enthralled adventurers. Many reviewers noted how the soothing sounds of the river would quickly put you to sleep. Others marveled at just how segregated the area is from all society.
Park Place RV Park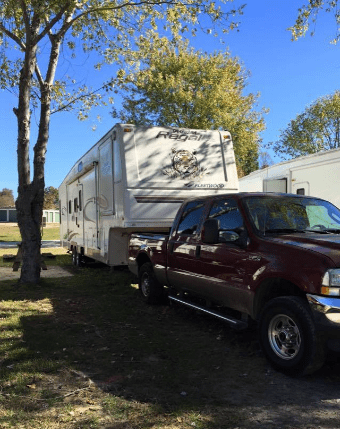 Amenities:
Air-conditioned meeting hall.
Large clubhouse.
Nearby restaurant.
Outdoor swimming facility.
Firepit and lounging area.
RV Rates
Daily rates at Park Place are fixed at $75 a night and $250 for the whole week. For monthly plans, you can get both the 30 and 50 amp packages at $699. This offer can be reduced to just $679 for those who sign up for more than 4 months.
Activities Available for RVers
The Park Place RV Park packs a lot of fun activities for both adults and kids. Within the campground, you can engage in the volleyball, soccer, and basketball courts. A large clubhouse with a pool table and lounge area keeps the adults satisfied. For children, there's a large playground full of fun and educational activities.
Outside the campgrounds, you can have a deluxe meal at Dickey's Restaurant. You can also visit the local parks or the aquatic center nearby for a fun family outing.
What People Say About This RV Spot
Locals seem to love the area for the proximity to restaurants and nearby stores. It's still secluded from society, so people like the idea of convenient natural lodging. Many reviewers were quick to point out the catch-and-release pond, a popular place for catch-and-release fishing.
Mama Gertie's Hideaway Campground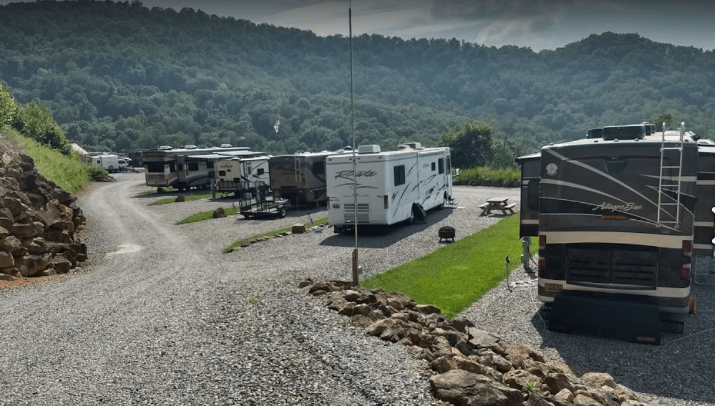 Amenities:
Bathhouses and laundry services available.
Large pavilion.
Cable and Wi-Fi available.
Communal fire pit for socializing.
Dog Park.
RV Rates
You can get a 30 amp water plus electric site for just $62. And for $65, you can get the full hookup. Some sites have a better mountain view, and hence, these can cost up to $135. If you want to rent out a cabin, it will cost you $96 per night (2 nights minimum stay). A tent will cost you $48 a night each (2 nights minimum).
Activities Available for RVers
Mama Gertie's Hideaway keeps you connected to nature. It's dotted with trails and waterfalls along with rivers for canoeing and rafting. Step outside the campground and witness the town area, full of antique stores and speciality gift shops, as well as a vast farmer's market.
You can also take a trip to the famous Biltmore Estate, the country's largest house. The town also packs a lot of memorabilia for art-enthusiasts.
What People Say About This RV Spot
People who stayed at Mama Gertie's loved the scenic view. Those who booked the Mountain View suite were pleased with both the view and the hospitality. Those who explored the nearby towns adored the art and culture of the area.
FAQ
What features do RV camp spots near Asheville, NC have?
Asheville, NC has a lot of scenic views. Most RV camp spots are situated near the countryside, away from modern society. A lot of the RV campgrounds sit atop mountain ranges or are near rivers and waterfalls.
What popular attractions are in Asheville, NC?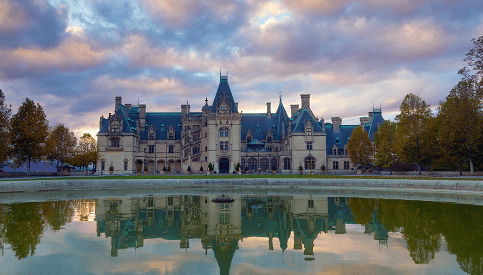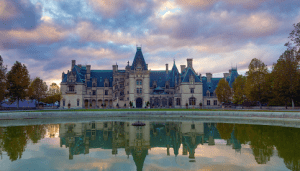 Perhaps the most famous tourist attraction in Asheville, NC is the Biltmore Estate. This is the largest house in all of the US that was built in the 19th century.
Another popular attraction is the North Carolina Arboretum. It consists of gardens and trails scattered across 434 acres. If your campground is near Chimney Rock, then you should try hiking there. The path to the top is a bit dreary, but the view from the top is spectacular.
How much does an RV camp spot near Asheville, NC cost?
RV camping spots can cost as low as $60. You'll usually get different rates depending on the type of hookup. 50 amp hookups will cost more than 30 amp hookups. And a full hookup (complete with electricity and water) can cost you up to $120.
Certain campgrounds may charge you extra for camping in key scenic areas in the facility. You may also get charged extra on the weekend and for bringing extra people along.
Conclusion
There's a lot to see and do when you're in Asheville, NC. But nothing beats these 10 RV camp spots that fully immerse you in nature and art. Take your time to let the mountainous views and the thrilling hikes sink in.
If you're confused, you can start with the Bear Creek RV Park and then visit nearby attractions from there. It's got almost everything, including a bathhouse, a clubhouse, and even a pet area. Most importantly, it's close to Lake Lure, one of the largest man-made lakes in the world.
Wherever you decide to go, make sure to make a reservation beforehand. And don't forget to capture some lovely moments!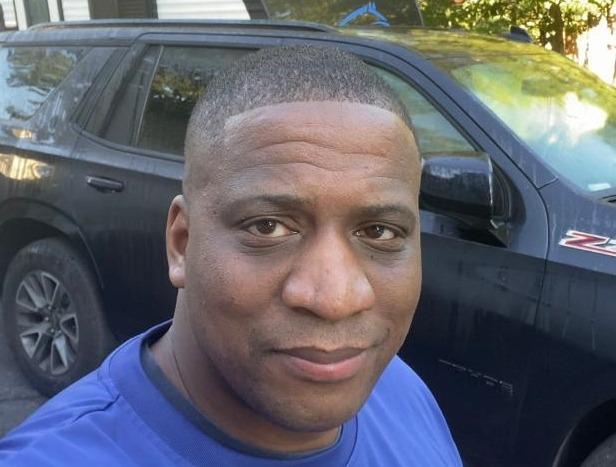 I`m a current Law Enforcement Officer working within the Counterterrorism Bureau in New York State. I have been Camping for over 20 years. My styles of camping include tent, car, truck, van, and RV travel trailer. I have a YouTube channel where I teach all types of camping with an entertaining method: https://youtube.com/@TheSmallsRVAdventures