Top 7 Best Portable Grills for RV [Buying Guide]
Product Name
Image
Pros
Price
Pit Boss Portable Grill
Full stainless-steel body.
Lightweight and portable.
Powerful heat output of 10,000 BTUs.
Suitable for medium-sized families.
Integrated lid thermometer.

Check Price on Amazon

Weber Propane Grill
Unique design.
Suitable for smoking and roasting.
No cold spots or heat loss.
Cast aluminum exterior.
Additional prepping space.

Check Price on Amazon

Coleman RoadTrip Portable Grill
Freestanding grill for outdoor purposes.
Three Temperature Zones.
20% more temperature control.
Suitable for medium-sized families.
Two side tables.

Check Price on Amazon
Traveling in your RV with your loved ones is something no one wants to miss. So, why not vamp up the experience by bringing your favorite tailgate along?
There are several grills out there that are suited for this exact purpose. They're made smaller than regular grills to save space in your RV and are mostly available as gas grills. This is because gas grills are just so much easier to manage. They don't make a mess, and gas tanks can easily be stored away in the back of your RV.
But how do you know which grill is the best? And more important, which is the best portable grill for RV? We answer all this and more in our ultimate portable RV grills review.
Best Portable Grills for RV Reviewed
If you're looking for a fully stainless-steel portable RV grill, the Pit Boss is one of the best choices. It has a 430 stainless steel main body and lid and a grate made of 304 stainless steel. Both these types of steel are commercial-grade and can withstand heavy amounts of corrosion and tarnishing.
But don't worry, the steel won't make it weigh a lot. The Pit Boss hardly weighs 27 pounds, and that's mainly due to its small compact size. It's designed to be portable and sit on top of your kitchen counter for ease of use. The bottom features four folding legs to provide a more comfortable working height. And the lid has a large steel handle that latches to the body and can be used for easy carrying.
Inside, you'll find two 10,000 BTU burners that deliver explosive punches of heat and smoke to your food. They're great for searing and charring, but the temperature might be a bit colder than other grills. On the topic of temperature, since the handle is made from steel, it can get quite hot. You should wait for the grill to cool down before picking it up.
The cooking space is about 276 square inches, which is sufficient for catering to medium-sized families. That's still quite a lot, considering how small and compact the product is.
And that's not all.
The lid features an integrated temperature gauge for quick temperature readings. And igniting the fuel is easy too, through the push and turn system.
Pros:
Full stainless-steel body.
Lightweight and portable.
Powerful heat output of 10,000 BTUs.
Suitable for medium-sized families.
Integrated lid thermometer.
Cons:
If the color of steel doesn't please you, the Weber Q1200 will. It's got a little niche look that falls into line with modern product design and features two side tables on a compact grill. The color is pure black that shines ever so slightly. And the legs exist as a robust cross-shaped stand that distributes its weight evenly.
However, what sets this grill aside the most is its lower power and unique design. It's not made for the whole family. Instead, it's for one or two people, making it perfect for couples on a road trip. There's only one burner on its assembly, which can provide a maximum of 8500 BTUs per hour. This is relatively low compared to other products and most likely won't be able to sear or char the food well.
To enhance the low heat output, the cooking space is somewhat better at retaining heat. The grates are coated with porcelain enamel, which prevents cold spots and loss of heat through convection. In terms of surface area, the grate only provides 189 square inches of cooking space solely for personal use.
Moving on to the exterior, the lid and body are made from cast aluminum, which is a more durable form of metal. This gives it that signature Weber shine. The lid also comes integrated with an in-built thermometer for taking temperature readings on the fly.
The two side tables flip out to provide additional prepping space for meat and patties. And the bottom features a cross-shaped frame made from glass-reinforced nylon.
Pros:
Unique design.
Suitable for smoking and roasting.
No cold spots or heat loss.
Cast aluminum exterior.
Additional prepping space.
Cons:
Tired of gas grills that are just too low? Meet the Coleman RoadTrip 285. This is a portable propane grill made for road trips in RVs, but with one exception: it has a pop-up stand. The stand can be collapsed for transportation as well as for grilling on the counter. You can use this grill even in your backyard. It's highly convenient and easy to transport.
Of course, that's not the only significant feature Coleman has. Following the trend set by Coleman grills decades ago, the RoadTrip features three Temperature Zones. To be a bit more descriptive, the Temperature Zones work just like three separate burners. Except, the temperature can be controlled independently of the other zone. So you can direct more heat towards one half of the grill or equalize it in the center.
In addition to that, the RoadTrip offers 20% more control over the heat output of this grill. Speaking of heat output, the RoadTrip delivers a combined output of 20,000 BTUs. This is more than enough for extreme-temperature searing and charring. And it's what makes this grill so versatile.
The grilling area is a bit compromised, though, to make it small and manageable. You get 285 square inches of cooking space, which should be enough for a family of 4 to 5. But don't expect it to feed a larger family.
But that doesn't mean Coleman is short of space. While the cooking grate is small, it comes with two side tables that can be used for prepping and marinating.
Pros:
Freestanding grill for outdoor purposes.
Three Temperature Zones.
20% more temperature control.
Suitable for medium-sized families.
Two side tables.
Cons:
Does not cater to larger groups.
The Char-Broil may look space-age, but it's as down-to-earth as it gets. It is a portable propane grill with a cast aluminum firebox and an aluminum lid. The first thing you'll notice here is just how comfortable it is to hold and carry.
It comes fitted with a high-impact frame. The legs and carry handles of the frame are connected in a cross, distributing its weight evenly. It hardly weighs 20 pounds, which makes it easier to travel with. It won't take up much space in your RV's storage.
As for the technicalities, the grill offers a 200 square inch cooking space. This is suitable for cooking up to 8 patties at a time. Unfortunately, the grates are made from stainless steel instead of cast iron. Cast iron would've been a much better choice for higher-temperature applications.
If you decide to crank up the temperature, though, the Char-Broil has your back. It incorporates its proprietary TRU-Infrared technology. In this, a bent steel rod is placed underneath the cooking surface. This rod performs two functions. One, it evenly distributes heat coming in from the firebox. And two, it catchers fat droppings and vaporizes them on the spot for maximum flavor and smoke.
But wait, there's more. The Char-Broil Grill2Go also comes with a built-in temperature gauge, as well as grill lights. Both of these make your grilling life a whole lot easier.
Both the firebox and the lid are made from aluminum, but the lid's latches are stainless steel. Steel is the right choice as it's resistant to corrosion and will keep the latches in top shape.
Pros:
Distributes heat evenly.
Vaporizes fat for maximum flavor.
Built-in thermometer.
Corrosion-resistant construction.
High impact frame.
Cons:
Not for higher-temperature applications.
Portability comes at the cost of diminishing cooking space, but not in the Flame King. This RV-mounted BBQ has been designed with a warming rack on top of the primary cooking space. And as such, it is one of the very few portable grills to feature secondary space.
To get technical, the Flame King offers up to 214 square inches of primary cooking space. This will accommodate 7-8 burger patties and will feed a small or medium-sized family. Beneath the grate, a single burner is responsible for heating the entire area. It delivers intense spurts of heat, up to 12,000 BTU in strength. And is highly recommended if you want to smoke, sear, or char your food.
Unfortunately, the Flame-King doesn't have much going for it in terms of looks. Yes, it looks like an elegant gas grill, especially with its box-like design that contrasts with the other kettle designs. However, the one thing that puts us off is the burner. It's not integrated into the body of the grill. It sits outside on a rather mediocre-looking compartment loaded with stickers.
But what it lacks in looks, it makes up for the inconvenience. This grill is the first on this list, which is mountable, meaning you can easily set it up against a counter or a tailgate. Or you could let it stand on its own. It has two legs supported on a wide base. It seems to be quite unstable from its looks, but we haven't noticed any wobbling when using it.
Pros:
Includes a warming rack.
Can roast eight burgers at a time.
Suitable for high-temperature applications.
Mountable to a counter.
It also comes in freestanding mode.
Cons:
The Coleman Camp is a versatile outdoor grill made for hunting, camping, road trips, and traveling tailgates. It's made from a high-impact stainless steel body with a lid of the same material. The material choice is also optimal for maximum heat retention.
When you open the lid, you'll immediately be greeted by a gorgeous cast iron grate that sits atop a single burner. The burner has a heat output of 11,000 BTUs, perfect for well-done steaks, charring, and smoking.
However, despite its extreme BTU output, the unit is still pretty small. To be more specific, it has a cooking space of about 180 square inches. This is only sufficient for personal use or use by a couple. It's not recommended for medium or large-sized families.
But this only means that the unit is more portable. It's hardly 5.6 inches in height, which is incredibly low considering that other units tend to be as high as 1 foot. It's smaller than usual and weighs only 3 pounds. So it makes the perfect personal grill.
The Coleman Camp uses unique heat technology that ensures efficient cooking, which is thrifty on the fuel. It utilized every ounce of the gas to heat the entire cooking surface. The unit also features Perfect Flow Technology. It's an innovative heat transfer system that ensures optimal performance even in the cold. Due to its high BTU, it is highly recommended for people traveling in colder climates, particularly those in the North.
Pros:
Extreme heat output for searing.
Maximum heat retention.
It only weighs 3 pounds.
Good for personal use and couples.
Works in the winter as well.
Cons:
The Traeger Pellet Grill stands out as a highly advanced and portable RV grill. This is the first pellet grill on our list. Visually, it looks highly appealing, with a glossy dark grey finish and a shiny black frame.
The body and hood are perfectly cylindrical, adding a premium look to its overall design. The lid features a large carved Traeger logo and a small elegant handle for opening it. The pellet hopper is casually placed at the side for an integrated look.
But looks aren't all the Traeger has. This is a pellet grill that utilizes an Arc Controller that can vary voltage and thus energy usage. It also features a temperature setting option, which lets you vary the temperature in 5-degree increments. This is a significant development since pellet and gas grills are usually viewed as being uncontrollable.
Moreover, the Traeger Pellet Grill can achieve a maximum temperature of 450 degrees Fahrenheit. It has a cooking space of 300 square inches and a pellet hopper capacity of 8 pounds. For reference, this is enough to roast 12 whole burgers, three rib racks, and two whole chickens.
In addition to that, once you're cooking, you can turn on the Keep Warm Mode. Your food won't go cold, and you can enjoy it once you're done with your chores.
To be fair, the unit is quite large. The legs make it stand as high as 3 feet. However, what's interesting is how the legs can be folded down for countertop usage and storage.
Pros:
Looks and feels premium.
More control over temperature.
Suitable for 12 burgers and two whole chickens.
Features a Keep Warm mode.
Large pellet hopper.
Cons:
Too large for transportation.
How to Choose the Best RV Grill?
Choosing the best portable RV grill isn't an easy task. Here's how you can get started:
Cooking Space
First and foremost, decide on a cooking area. You want a cooking space that is small enough to reduce the size of the grill but big enough to accommodate all your guests. Naturally, a cooking space of 100 to 200 square inches is preferable for personal usage. It can accommodate 1-3 people and will save you a lot of space as well.
Grill covers help use space more effectively by protecting the grill and maximizing its longevity. They also add an aesthetic touch to outdoor cooking space and keep pests away when the grill is not in use. By covering the grill when it's not in use, it can be left outdoors, freeing up indoor storage space. Additionally, top heavy-duty grill covers to protect it from weather elements like rain, snow, and UV rays, which can cause rust and corrosion]. It also keeps the grill clean and free from foreign dirt, preventing damage to the inner parts of the grill. Overall, using a grill cover is a smart way to maximize space, protect the grill, and prolong its life.
200-300 square inches and above cooking spaces are great for catering to more guests. If you have a large family or a group of friends, choose this range of cooking spaces. Remember, the more cooking space you have, the bigger the grill will be.
Some grills also feature secondary cooking space, which is the space on the warming rack. Others might come with a side smoker for smoking food. And some may even have side tables for preparing meat and marinating it.
Weight and Portability
Next, consider how portable the grill is. Size and weight factor into this. We already talked about size. For weight, look for any grill that's below 20 pounds. Grills heavier than that usually won't be too small either. Nor will they be easy to use on the fly.
But a few other factors do come into play when talking about portability. Make sure that your grill has collapsible legs, integrated wheels, and a carry handle or two. These features make your grill a lot more portable and easy to manage. Plus, they'll save space in your RV's storage.
Fuel Source
Fuel plays a significant part in the functionality of the grill. There are a few different types. The most common one (at least for RVs) is the gas grill. It either uses liquid propane or propane gas to heat your food. This is the right choice since gas grills can get just as hot as charcoal ones. And they provide more control over the temperature. Plus, gas is more comfortable to carry than, say, carrying a bunch of charcoals.
Pellet grills are your second best choice. They don't get as hot as charcoal or gas grills. But they do add a lot more flavor to the smoke. The pellets can be a nuisance to carry. But they won't stain or break apart like charcoal.
Finally, electric grills are becoming the norm among modern campers. Many can work on solar power, and you can hook them up to your RV's power source as well. They're not cheap, though, and certainly don't get as hot as the others.
Temperature Control
Regardless of which type of fuel you decide to use for your grill, you should still have some temperature control options. For this purpose, gas and electric grills are the best as they let you control the temperature in small increments. Pellet grills might also allow for more control, though there's not a lot of it. And finally, charcoal grills, more often than not, have no temperature control.
But even in a charcoal or pellet grill, there are several ways to control the temperature. Some grills have damper vents that let you control oxygen flow to the firebox, and some have chimneys that stabilize smoke production.
Mounts and Stands
Finally, consider how you're going to mount or stand the grill. Many grills come with stands, which can either be short or tall. Short stands are suitable for cooking on a counter or the floor. More elevated stands are great for outdoor cooking where you have no other mounting option.
Some grills offer other mounting options. For instance, there are the stake-mounted grills. These are grates placed directly above a fire pan. They can be hard to maintain, but you can actively control the temperature in them.
Then there are the tripod-mounted grills. They're not the most stable, but they offer the most amount of adjustability.
FAQs
What to look for in an RV grill?
RV grills are the same as regular grills, except for one major factor: portability. RV grills are designed to lighter and smaller than regular grills and usually have a shorter mount. Most RV grills are gas grills since they're easier to manage and much more portable. You can find some larger RV grills as well, but if you want to save space, you'll have to compromise.
How much does a portable RV grill cost?
Portable RV grill costs can range from $150 up to $600. It all depends on the brand you get, the features, and of course, the size.
Small grills that aren't freestanding will usually cost less than $200. But larger grills, especially those that have freestanding mounts, will cost as high as $300.
What are the best portable RV grill brands?
Many grill brands out there make portable grills for use in motor homes and RVs. Coleman is the first name that comes to mind. It has a wide catalog of portable grills, both freestanding and mounted.
Char-Broil and Weber are two more good brands. Their primary focus is on non-portable grills, so you'll only find a few portable RV products in their catalog.
Conclusion
For RVs, you want to look for a portable grill that can be easily stored in the back of the vehicle. We looked at seven such products that fit the criteria we were looking for. However, only one – the Pit Boss – took the lead.
The Pit Boss is a tiny compact grill that is quite powerful in its own right. It has two separate burners with electronic ignition and a lid thermometer. And it looks gleaming too, which is why it's one of the best portable grills for RV.
So enjoy the moment with your new grill, and get your tailgate started!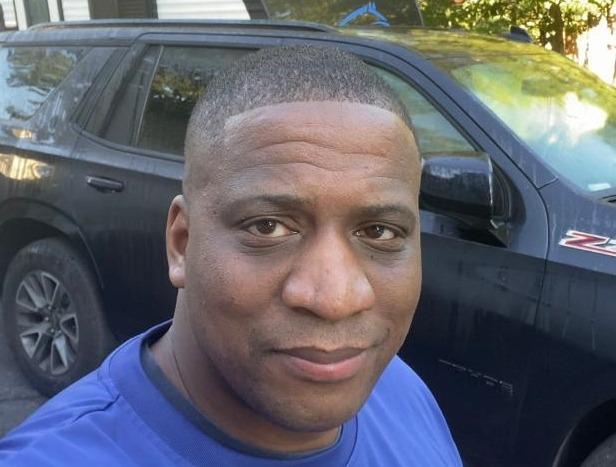 I`m a current Law Enforcement Officer working within the Counterterrorism Bureau in New York State. I have been Camping for over 20 years. My styles of camping include tent, car, truck, van, and RV travel trailer. I have a YouTube channel where I teach all types of camping with an entertaining method: https://youtube.com/@TheSmallsRVAdventures