5 Best Small Truck Campers
With the latest small truck campers on the market, people find it challenging to choose small truck campers because of the wide range. To solve your mystery and choose the best one, we have reviewed the 5 best small truck campers. They come with stunning features to make your camping experience sound and safe with the small truck campers!
Best Small Truck Campers Reviewed
Gfc Xl Platform Truck Camper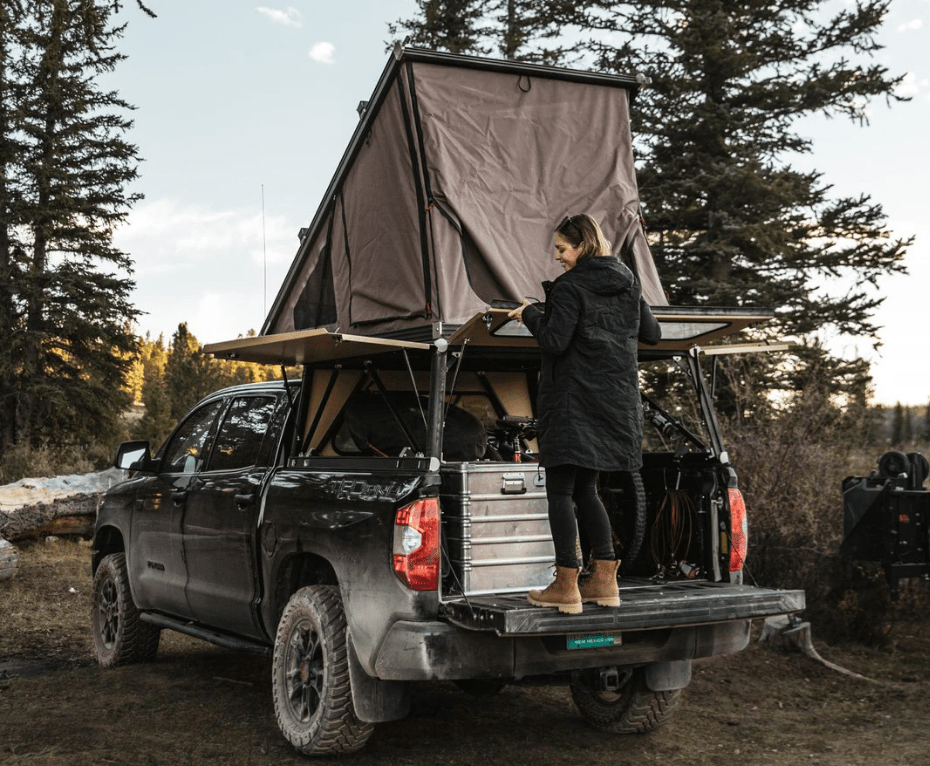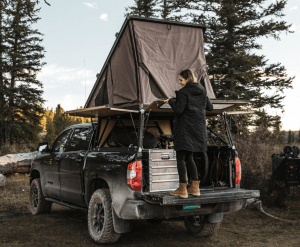 This is the camper known as Go Fast Camper, which has been on the market for around three years. With several orders of this camper and popularity in town, you must be wondering what this is all about. GFC is by Bozeman MT, with most parts made in the US.
The intelligent design with competitive prices and top-notch quality makes this camper a great choice. What they look like is similar to the camper shell having a rooftop tent over the top.
The rear and the sides of this camper door can be easily opened, from which you can climb up. What you'll love about GFC is that it is a sleek, strong camper without compromising any functions.
They are not so bulky and easy to move faster and off-road. This camper is not so convenient as other campers, but it can withstand off-roading use and store anything.
This camper includes:
Pop Top Camper Assembly or the sleeping area.
Operable Hard Side Panels.
Selection of different base colors.
Installation kit.
The camper design features panels on the right and left sides that open through gas-powered shocks. Get easy access over the bed of the truck from different angles. These camper push-lock panels are featured, which come with a key and lock system for securing the GFC.
The frame of the bed in this camper is made from .65″ 1.5 DOM steel. This material is ultra-lightweight and holds easily against stress. All parts of this camper are powder-coated.
Here are other additional options that you can buy separately, including:
Front or the rear windows.
Tent side door
Customized colors of panels and frames.
The accessories in this camper include:
Fitted Bed Sheets.
Crossbar Rack Mounts.
Awning Brackets.
Camper Wind Skid.
Antenna Delete.
Light Mounts.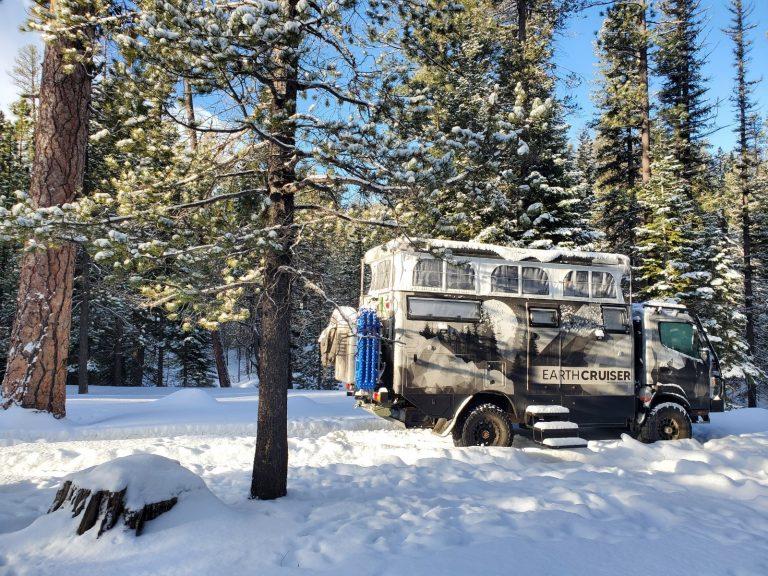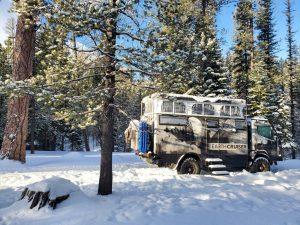 Are you a buyer who is seeking a hard-shell truck camper that is the best one? Consider buying EarthCruiser GZL. What makes them unique is their long-standing capability to run off-roads plus their expert craftsmanship.
Earth Cruisers are regarded as one of the reliable off-road vehicles which you can easily invest in. This stunning camper looks like a studio apartment within the back of the truck.
Plus, this camper comes with a full-size folding bed, having renewable power features, kitchen appliances, running water, and much more that makes this camper a luxurious choice.
Inclusion of things in this base camper:
Solar systems which are around Zamp 2 x 100 watt.
House battery having the power of 90 amp.
A power inverter with 600 watts.
The battery system of the camper.
Freshwater tank having a capacity of 22 gallons.
Fridge or freezer.
Greywater tank having a capacity of 9 gallons.
Propane Cooktop having two burners.
The water heater with a capacity of 2.6 gallons.
The propane tank is around 3 gallons.
It also comes with additional amenities which can be purchased through extra charges like:
Water purification system.
Portable 90-watt solar panel.
Additional 90 amp battery.
Expandable table for dine-in.
Camper Jacks.
Bluetooth stereo.
GZL is the camper you need to consider if you want an easily removable trailer. This camper is mounted well over the patented rail mechanism over the truck's chassis. The rail system allows easy removal and remounting of this GZL with the use of an auto-alignment system.
If you wonder what's the price of this EarthCruiser GZL camper, it's around $36000 plus a $5000 depository. However, for additional amenities, you need to pay more!
If you are not limited on your budget and can choose the truck camper, which is aesthetically pleasing and comes with the essential details, you can try investing in Bahn's custom campers.
Bahn campers have 30 years of experience to offer a customized interior layout for buyers that match well with the people's adventurous needs.
The amenities in this camper include:
Induction or diesel cooktops.
Hot water or diesel heat.
Outside and inside the kitchen.
Single-sided doors, double back doors, or both.
AC panel.
Solar charging system having the power of 100-400 watts.
Wet bath.
Pure sine wave inverter has the power of 1000-3000 watts.
Freshwater tank capacity of around 100 gallons.
Compositing or cassette toilet.
Bunk beds, queen-size beds, or king beds.
Customized veneer, hardwood cabinets.
Racks or rear door ladder.
Roof racks in full length.
So, what are you waiting for? The price range of this camper varies from $115000-$590000. The customized trailer fits well to any bed length, any model, or any making because of its mind-blowing customization.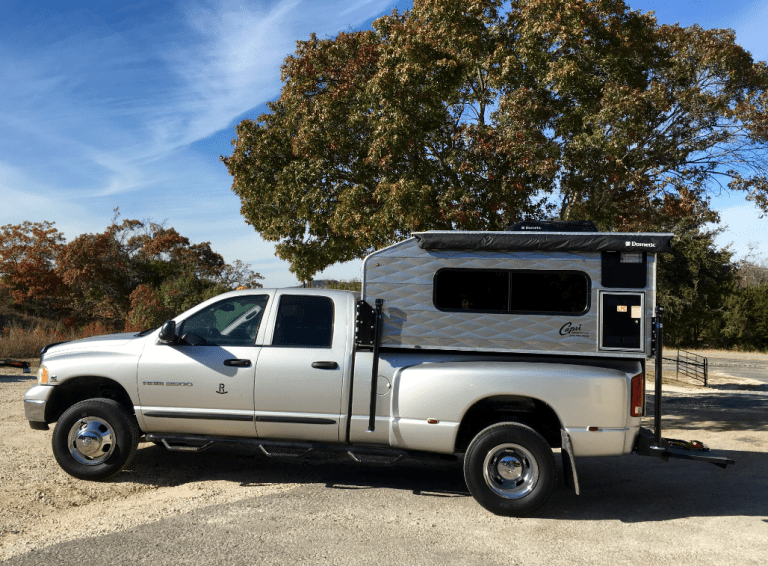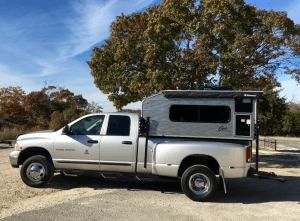 This company has around 50 years of experience in building famous truck campers. They are the brand which is known for the production of ideal truck campers. They come in non-cab-over or the cab-over models, but the cozy and small truck camper is the cowboy version.
What you'll love about this compact truck camper is that it comes with reflective cooling technology in the exterior with lightweight composition, making this camper an ideal choice for off-roading.
The cowboy model camper features:
A battery system.
Stunning motorized ventilated fan.
48″ X 80″ bed having a heavy foam mattress.
It comes with three truck windows.
Comes with the hardware and three cabinets present overhead.
It comes with exterior and interior LED lights and bright lights on the porch.
It comes with several interior outlets of 110V and single 12V plus dual USB ports.
Comes with a fire extinguisher.
Dual exterior outlets having 110V.
Acrylic back door handles.
Features wood-grain floor.
Contains smoke alarm, LP, and CO alarm.
Customized wood grain panels in the interior.
It comes with stripping and a color scheme.
Features 30-amp power plug within the back wall.
Moreover, you can add additional amenities like blackout shades, AC, showers, fridge, and much more. You can also select different colors that can coat the accents, base, truck fixtures, and stripes. This model comes with around $7995 and accessory packages of about $1895- $8595.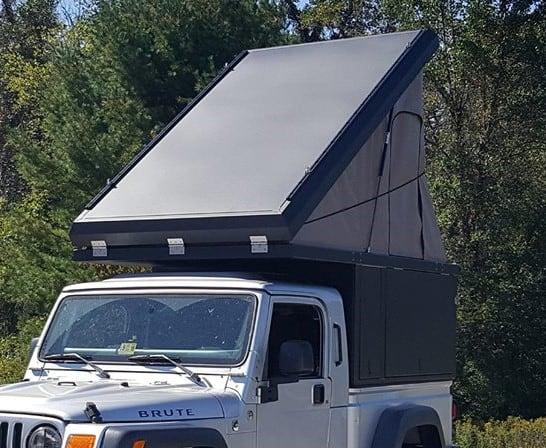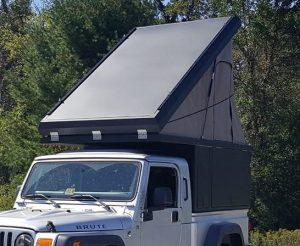 Standard Snap! Treehouse is a company that is custom-made and veteran-owned within Pennsylvania. The standard model featured by this company comes with the aluminum truck cap having a rooftop insulated camp. You can quickly lower or raise the roof using gas piston assistance.
As soon as you raise it, the sleeping platform can be seen, waterproof and features a memory foam mattress offering a comfortable feel and upgradation from the standard tent.
The buyer's gear stays firm like pillows, sleeping bags, blankets, or more if the Treehouse is kept closed or moved on the road. This camper comes with personalized touch on a common platform with easy access to the office for full-time use.
This base model comprises of:
It comes with the side access doors, which are open on both the sides of the cap with stainless steel hinged mechanism and latches with a locking cam.
Insulated ceiling.
The rear door of tailgate type.
Insulated and carpeted interior.
T-track over both roof sides to the baskets or mount racks and more. It loads around 350 pounds over the cargo baskets or racks.
Two white or red LED lights keep the sleeping deck lit.
Plus, it comes with pull straps and a gas piston, which helps lower and raise the roof.
It comes with lockable latches.
Features full or double size memory foam mattress featuring a washable, removable cover.
The sleeping deck is carpeted.
It comes with a three-step ladder for accessing the sleeping deck.
It offers a weight capacity of around 600 pounds in the sleeping deck.
Four-sided tent for all seasons.
Features marine fabric having superior properties for reducing heat, UV protection, and heat reflection.
Dual USB charging ports.
It comes with double 3-layer windows.
It's available in three different models ranging from $6500-$15000.
FAQ
Can a 1/2 Ton Truck Carry A Camper?
Mostly, the answer is a No because a ½ ton truck cannot carry a camper because of the lack of prerequisite payload of carrying a heavy trailer.
What Is the Lightest Weight Truck Camper?
Scout Yoho camper is one of the lightest weight truck campers weighing around 900 lbs.
Can You Live Full-Time in A Truck Camper?
Yes, you can live full-time in a truck camper to meet all problematic situations and have appropriate preparations to face such situations. Other than that, choose the truck camper, which comes with the necessary amenities to meet your everyday needs.
Is It Legal to Ride in A Truck Camper?
Yes, it is legal to ride in a truck camper with only a few exceptions. Most of the states allow the users to ride easily in a camper if the truck is moving. However, other states at the same time do not allow the passengers in 5th wheel or travel trailer campers.
Do Truck Campers Have Toilets?
Yes, truck campers do come with bathrooms, including wet baths, toilet-only rooms, or dry baths based on different trailers.
Wet baths, as the name indicates, comes with a toilet, shower, and sink. On the other hand, dry baths come with separately placed shower stalls, sinks, and toilets. The truck campers having a toilet room only does not feature any shower or sink.
Some manufacturers have also formed cassette toilets on the primary camper side. Few people, however, buy campers without any bathroom as it occupies space, which adds weight plus cost.
Do Truck Campers Tip Over?
Yes, truck campers are easy to tip over because they are comparatively heavier than other campers. But they do tip over if you haul a camper when entering a sharp turn. Bear in mind that truck campers are easy to tip over compared to cars.
Conclusion
The best small truck camper is the GFC which is much lighter and comes with an appealing design compared to other campers in the market. Plus, this camper features high strength, durability, and comfort, which is worth mentioning.
The material of this tent is also made from top-notch materials, including steel and aluminum. If you seek a camper that is a durable option, you need to try this! The easy setup and a perfect night's sleep make it worth investing in.
So, what are you waiting for? Invest in a small truck camper now and indulge in the best experience!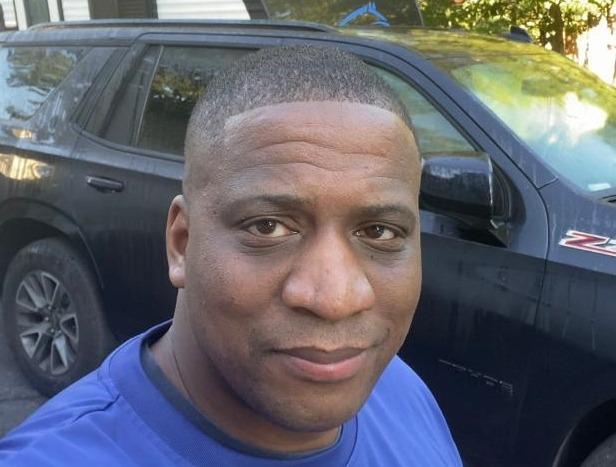 I`m a current Law Enforcement Officer working within the Counterterrorism Bureau in New York State. I have been Camping for over 20 years. My styles of camping include tent, car, truck, van, and RV travel trailer. I have a YouTube channel where I teach all types of camping with an entertaining method: https://youtube.com/@TheSmallsRVAdventures