15 Awesome Luxury Interior RV Living Ideas
If you thought that a set of wheels was just to get from one place to another, then you could not be further from the truth.
RVs are as luxurious and comfortable as most modern homes and they can show up in some of the so-called luxury homes that are out on the market today.
A look at some of these amazing vehicles on wheels will leave you wondering if it would be a better idea to hit the road on one of these instead of spending a lot of money on a tiny studio apartment.
From those that are moving homes for Hollywood's elite to the ones that have been crafted to simply flaunt, here is a look at a few of the very best on the road today.
Buckle up and enjoy the wealth on wheels!
Awesome Luxury Interior RV Living: Stunning RVs
VARIO Perfect Platinum.
It's a good idea to start the journey with a bit of good fortune. If there was an RV that could boast of being as perfect as possible, the VARIO Perfect Platinum would be it.
If you step inside, you will be taken to a palace on wheels and this home on the move challenges the envelope of what one might consider being magnificence and richness.
There is more to this place than meets the eye and cherry wood interiors that steal the show are only the start.
A plush welcome can be found in the living room which is lit up by lighting.
A sophisticated kitchen that has everything you could need, large bedrooms with entertainment units, 32-inch television units, extensive cabinets, and a modern bathroom all help in offering a premium ride.
One of the best on the planet, calling one of these you own will cost you a premium, but Platinum never did come cheap!
Luxury RV from A-cero Architects.
If you're looking for a cool, contemporary RV home that borders on the modern design trends of elegant minimalism and also has a tiny little garage for additional transportation needs, then this is the one for you.
The design of the ultimate RV is something truly to behold, no matter how demanding your requirements might be.
A delight for those who love sleek and fashionable interiors in neutral tones, this RV puts a designer home on wheels and does with amazing ergonomics and surprising style.
All of the furnishings and décor inside this RV are made out of a special material that will not make you feel like you're moving around on the road.
You can park another car in this RV, but the living space, dining areas, and bedroom will make you wonder if you stepped into an RV or a world-class hotel room.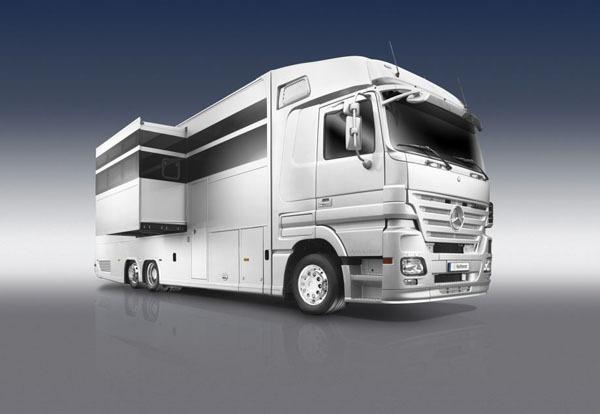 The Heat by Anderson Estates.
If the image of the heat is giving you faint memories of the last time you saw one of the big Hollywood stars on an outdoor shooting endeavor, then you pretty much are bang on the target.
Mobile home to some of the best in the glamorous world of cinema, the Heat from Anderson Estates is all about treating you in the best way possible.
This doesn't mean that the trailer home is for the big boys from the movie industry alone.
The RV's interiors are made of leather, oak wood, and marble, and the fact that you get a 5-star experience the moment you step in suggests a thing or two about the quality here.
Not only is the kitchen and dining space large enough for the owners of the vehicle, but also their guests.
A spacious master bedroom, cool lobbies, and a refreshing shower can be found within. This is truly designed for a star.
The Heat is not just for a luxurious stay, but also for holding business meetings while on the move and meeting with your A-lister clients while on the road.
It will bring the conference inside its affluent doors in the most exquisite way possible if you want to round out your business image in style and don't want to go for a luxurious ride that many car rental companies have on offer.
Scouts Retreat -Airstream.
There is a wonderful little design from the company that has been specializing in creating prolific vehicles that are not just a symbol of love for the life on the road, but interestingly NASA has been using the Airstream RVs to travel.
The name 'Airstream' is certainly rarefied air. The compact, yet classy trailer is all about living on planet Earth.
The décor here is a treat to the eye and the smart kitchen station along with a daft work area ensure that you can get the job done while on the move.
Simple, subtle, and snazzy, this is an RV many of us can not only dream about but can hope of calling ours one day.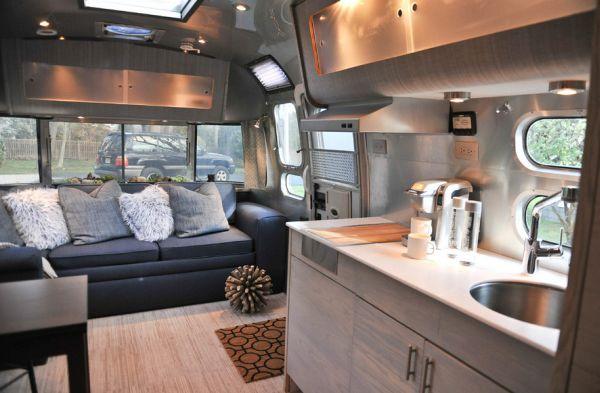 Lifestyle Luxury RV LS37IK.
It is not that these amazing mobile homes are just for the rich and famous and while one of these will set your bank account back by a lot, it is money well spent if you are spending it on an RV like the LS37IK.
There are several models that they offer which are all draped in sumptuousness and they know how to craft an amazing and extravagant home on wheels.
The 2013 line-up from the company features incredible interiors that are as good as any other you will ever come across and the elaborate use of wood, leather, and classy décor will ensure that the moment you step into one of these RVs, you will simply forget.
Elemment Palazzo from Marchi Mobile.
Is it not possible to see a palace on wheels?
The Elemment Palazzo designed by Marchi is a contender for the top spot and can be more than just one amazing and gorgeous mobile home.
It is for those who might not be fond of all the cherry wood interiors that they saw inside the VARIO that this is set back by $3 million.
Elemment Palazzo goes in a different direction with clean and well-defined lines.
While the automatic boarding stairs will lead you in, the leather furnishings, 40-inch television sets, an automatic, pop-up flybridge lounge, and a couch that can transform into bar furniture at the touch of a button are some of the highlights inside.
There is a cool rain shower on top of 93 mph, as well as the glow-in-the-dark paint on the outside, which should tell the world where your beloved is camped for the night.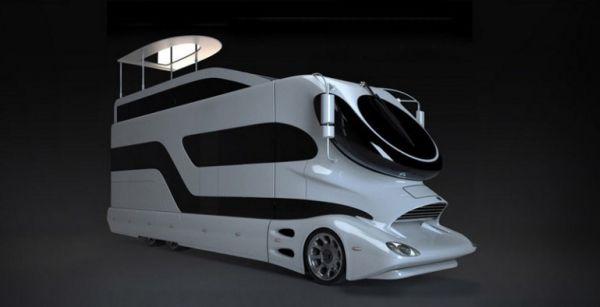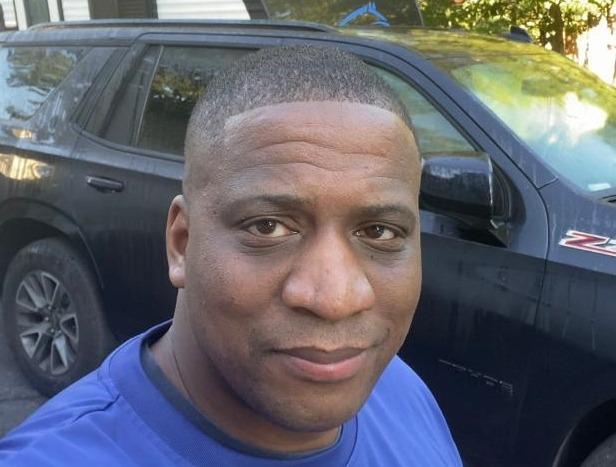 I`m a current Law Enforcement Officer working within the Counterterrorism Bureau in New York State. I have been Camping for over 20 years. My styles of camping include tent, car, truck, van, and RV travel trailer. I have a YouTube channel where I teach all types of camping with an entertaining method: https://youtube.com/@TheSmallsRVAdventures