VW Bus Interior Ideas: 10 Reasons To Buy a Better Bus!
Are you looking for VW bus interior ideas to spruce up your ride? Whether you're restoring an old classic or customizing a newer model, the interior of your VW camper bus can be transformed with the right inspiration. From modern updates to retro designs, there are plenty of ways to create a unique and cozy space.
In this blog post, we'll share some of our favorite Volkswagen internal side ideas to help you find the perfect look for your ride. Here, you will also explore:
The important considerations before buying a VW bus
Top reasons to purchase a campervan
Our final verdict about these ideas
The Best VW Bus Interiors – Our Top Picks
Let's get started to find out our top picks for the best Volkswagen bus interiors.
1. Stella Volkswagen Bus Interior
It is the perfect blend of vintage and modern. Tia and Jordan have restored a 1975 VW Kombi called Stella, giving it a bohemian style. The kitchen slides out on the side of the vehicle, and a solar panel is installed on the roof to generate electricity.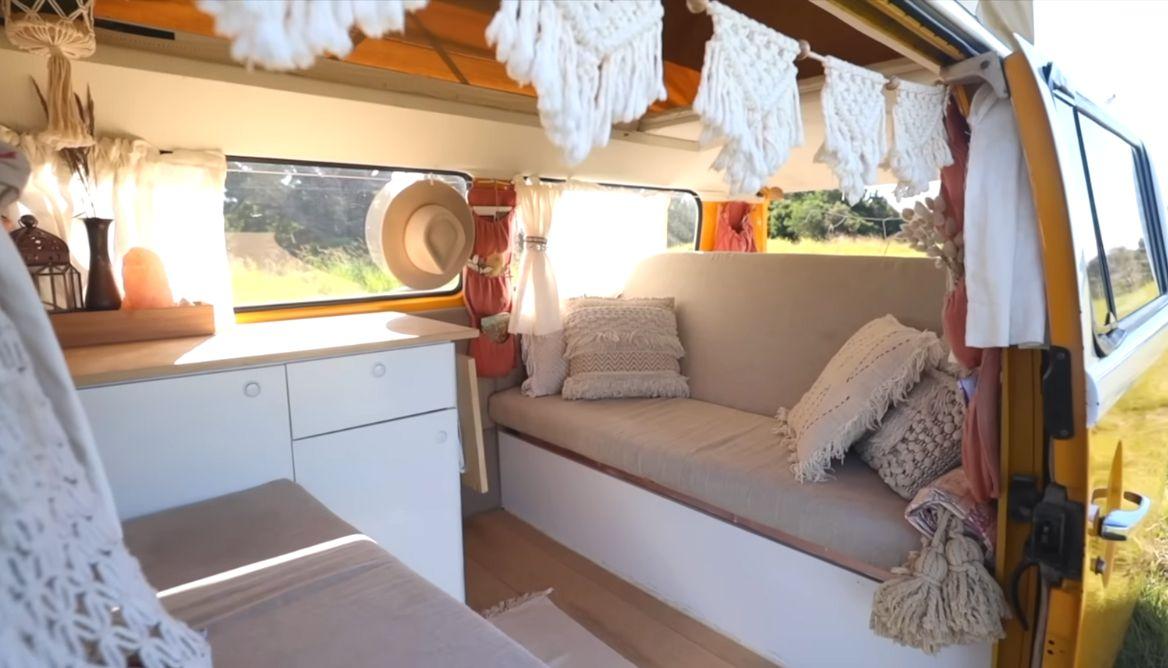 Features
It includes:
Two benches that turn into a bed
Two cupboards
The kitchen is hidden under a bench
2. Ala Lani Volkswagen Bus
The 1979 Automatic Deluxe Westfalia Volkswagen van owned by Vintage Safari Wagons is a great camper to take on holiday. With its modern amenities and classic design, this camper van has it all. The bright light blue exterior color is matched by the interior, making it a cheerful place to relax.
Features
This camping van interior has:
A small kitchen with cupboards
A bench
A swivel table in the truck cabin
An icebox
A sink water tank
A propane stove
Plenty of storage areas for all your necessities.
Plus Point: Everything is easy to access, even when the top is popped up.
3. VW Grand California 680
Shaun and Lizzy recently tested a pre-production model of the VW Grand California 680 on a 3,500-mile European tour with their dog, Bentley. The camping van offers generous space and extra headroom for travelers. The driver and passenger seats swivel around to face a bench and a table can be mounted between them for additional comfort.
Features
It is equipped with a small kitchen that includes a two-burner gas stove, a wet bathroom, and a pull-out fridge.
The back seat can be converted into a double bed and there are great place for storage lockers.
It also has a garage with a shower point, making it ideal for camping trips.
All in All: The VW Grand California 680 is a great option for extended travel adventures.
4. Blu Max Classic VW
It has been fully rebuilt but follows the original floor plan for sleeping up to four adults. On board Blu Max Classic VW you will find:
An icebox
Sink
Potable water tank
Propane camp stove.
Features
This Van interior has plenty of storage space in the overhead cabinet and under the bench seat.
The interior also includes a fold-down table, comfortable seats, and a pop-top roof with mosquito netting.
With its classic, stylish look, this van makes the perfect home away from home, allowing you to explore all the wonders of nature without sacrificing comfort through window or roof.
5. Kimon Volkswagen Bus Interior
The Kimon bus Interior offers an elegant and comfortable way to upgrade your VW bus. Its sleek design, practical elements, and unique characteristics make it a great option for anyone looking to make the most of their VW bus.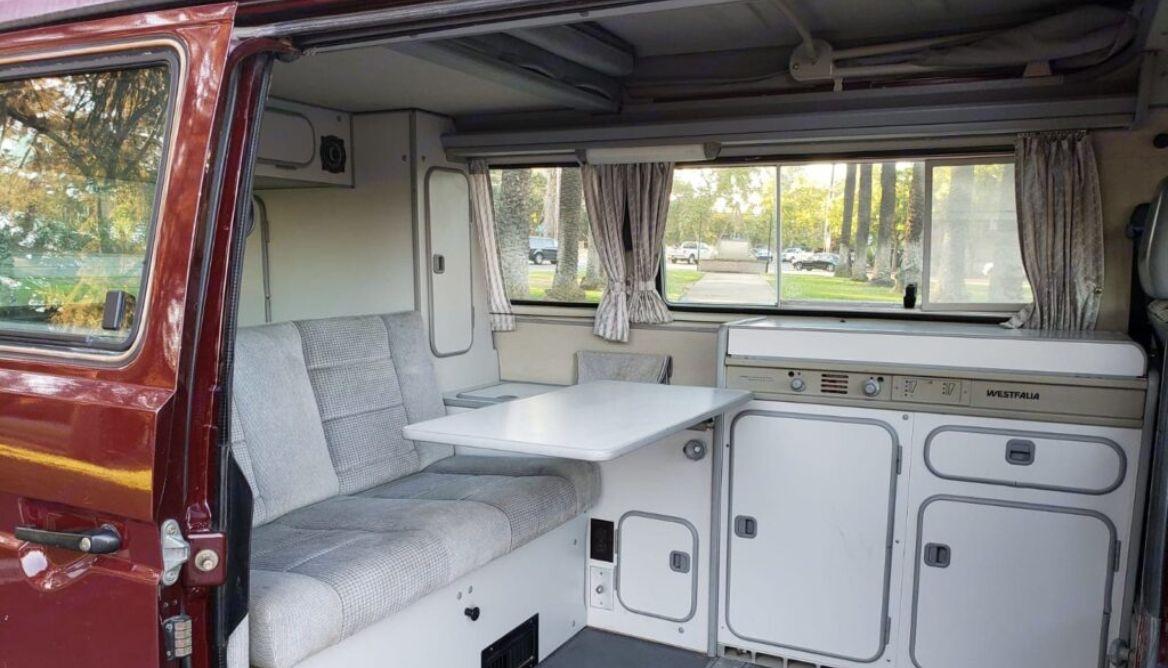 Features
The curved closet of this interior is made from the beautiful same wood and can be used to store items such as clothes or books.
The fireplace grate beneath the bed adds an interesting design and also doubles up as a speaker cover for your music.
The kitchen includes hanging jars, great for storing food, a mini fridge, utensils, and other kitchen essentials.
Comfortable chairs can be found along with a pull-out table, allowing you to have meals or drinks in style.
6. Camper Van Interior – Van Steading
Van Steading is one of our top picks when it comes to VW bus interiors. It offers a modern yet classic design, giving your vehicle a timeless look that will never go out of style.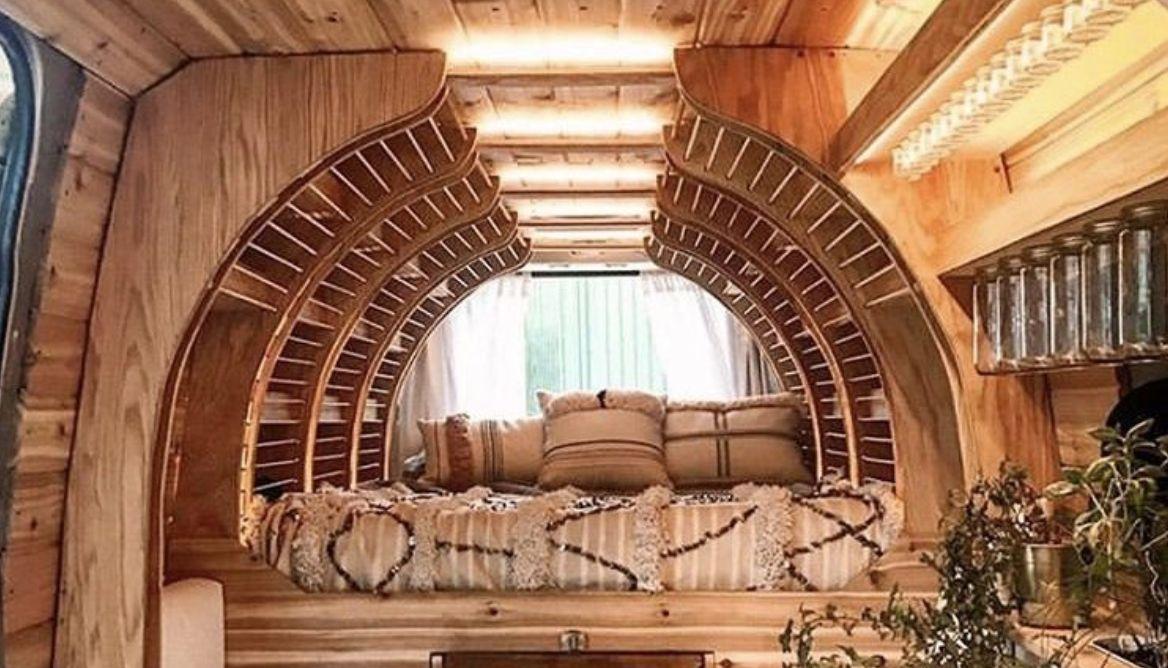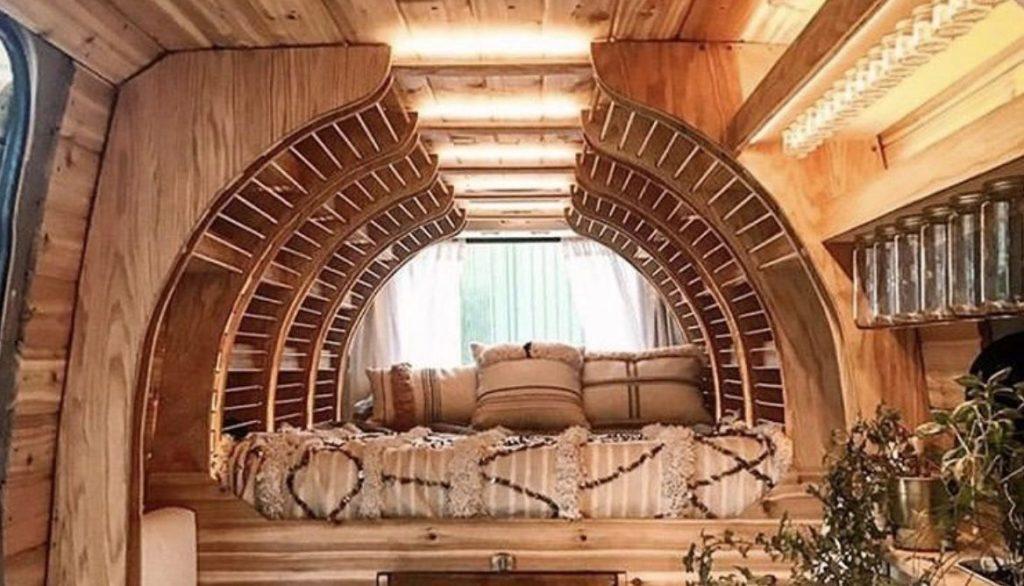 Features
The interior looks like a tiny home a mid-century style with clean lines, solid colors, counter tops, and plenty of storage options.
The interior also offers a cozy atmosphere, with plenty of soft cushions and warm lighting.
Structure
There are two different seating areas:
A dinette area with a table and four chairs
A sleeping area with comfortable beds.
Additionally, the interior has ample storage space, making it easy to store items away and keep the inside of the vehicle organized. Van Steading also offers custom solutions, making it easy to tailor the interior to suit your individual needs.
7. White Camper Van Interiors – Mavis The Airstream
The next of our top picks of Volkswagen bus interiors is the Mavis the Airstream. This stylish van interior is all about white, with its walls, floors, and furnishings all in a bright white color.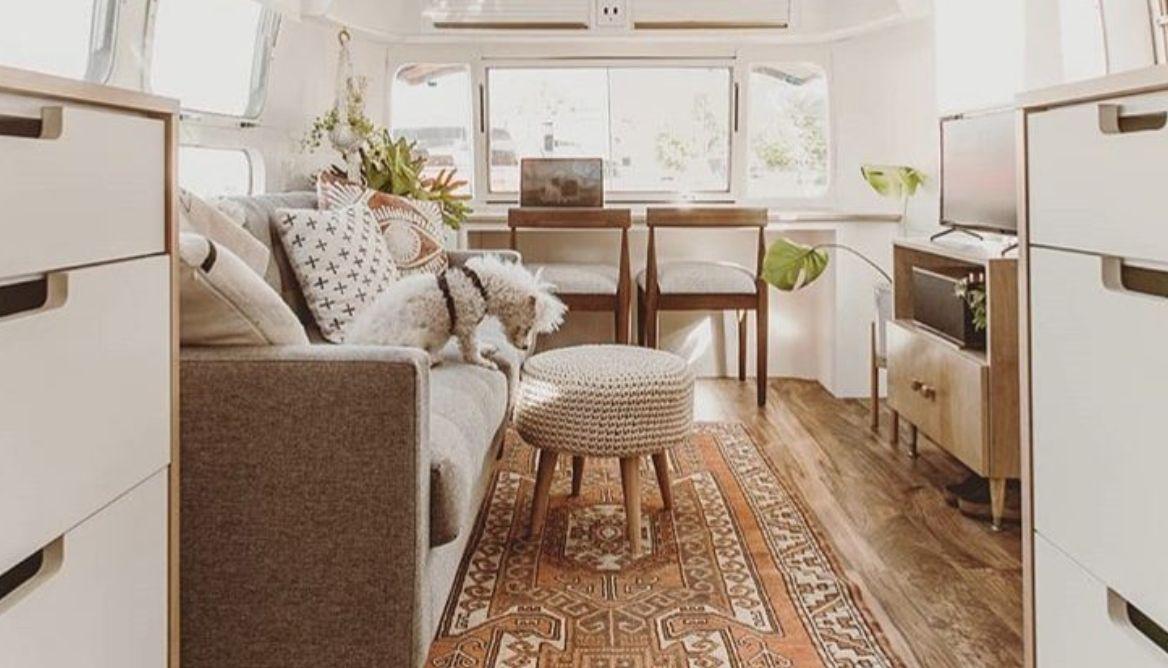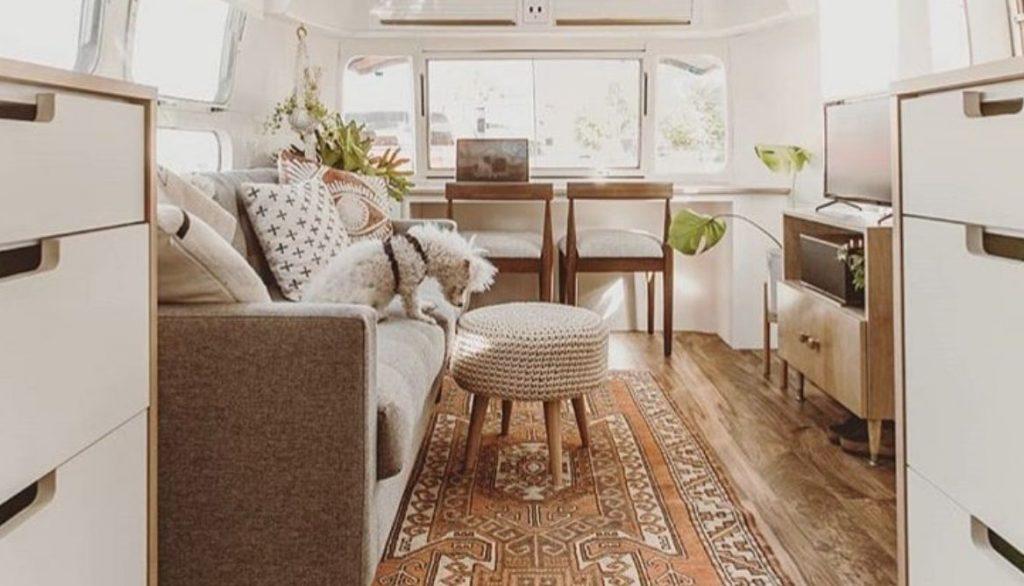 Features
The interior has a mid-century modern design, with warm wood accents for a cozy and homey feel.
It includes a fold-out double bed, counter tops, and plenty of storage space, perfect for long-term stays.
It also has an onboard toilet, as well as heating and air conditioning.
Equipment
This white camper van interior comes equipped with:
A kitchenette
Featuring a stove
Sink
Refrigerator
Dishwasher.
All in all: The Mavis The Airstream is a great option for those who want a chic and modern van interior that still has the homey feel of a classic VW bus.
8. Van Interior Design – Wanderland Vans
The Wanderland Vans team has created a stunning camper van interior, combining beautiful blues and whites with rustic touches. The walls are painted a bright white which contrasts with the blue soft furnishings and the blue-stained wooden cupboard. This mismatched use of materials gives the van a homey, rustic feel.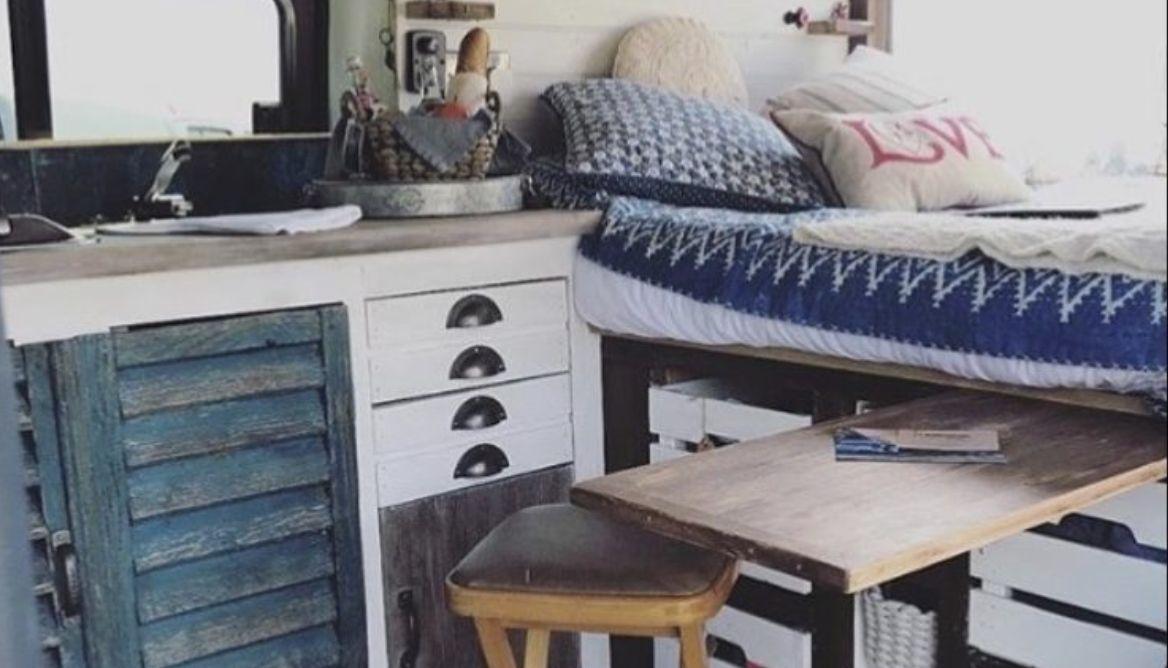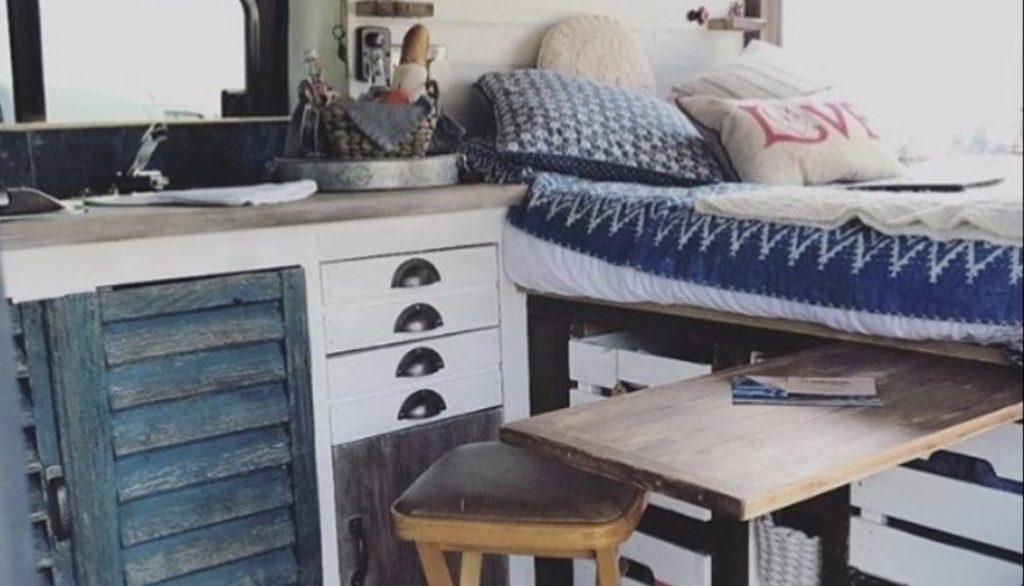 Features
The van has a double bed, kitchen, table, and storage area.
Additionally, they have chosen interesting textures such as the natural rattan chairs and the grey velvet bench seating.
These touches of texture add to the overall atmosphere of the space, making it a cozy and inviting place to relax after a long day on the road.
9. Camper Interior – Camper Van Craftsman
This camper interior provides the perfect combination of comfort, style, and practicality. With its bright and airy atmosphere, it's no surprise that this camper van interior is so popular among adventurers.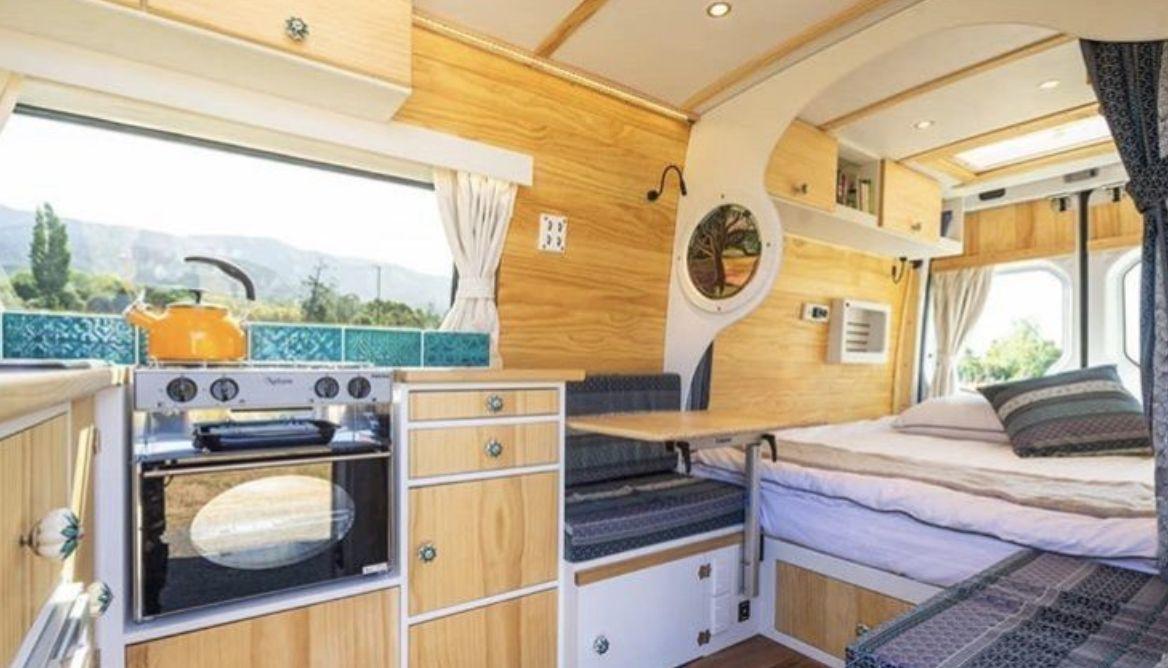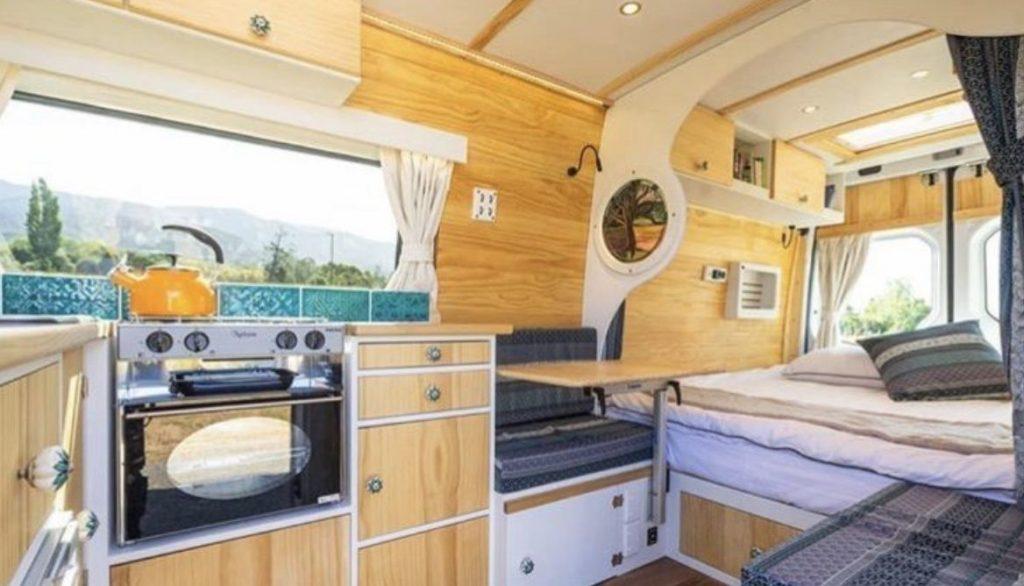 Features
The open-plan layout of this bus interior has large back doors, a skylight, and a window running the length of the kitchen, providing plenty of natural light.
There are two fixed seats and a movable table for eating and socializing, as well as a unique curved partition with a handmade stained glass window.
Equipment
For more convenience, the kitchen is fully equipped with:
What Makes a VW Campervan a Good Investment?
Search for the right camping ride with the right features makes for a lucrative asset for those looking to enjoy their purchase for years to come. Moreover, a campervan is seen as a good investment when it is:
Rare,
Restored to factory condition,
Present in a desirable color.
Some of the work may have to be done by the owner, but classic vans are still good investments, even with higher mileage.
Considerations Before Buying
Are you thinking about buying a VW bus? If so, there are a few key considerations to keep in mind before taking the plunge.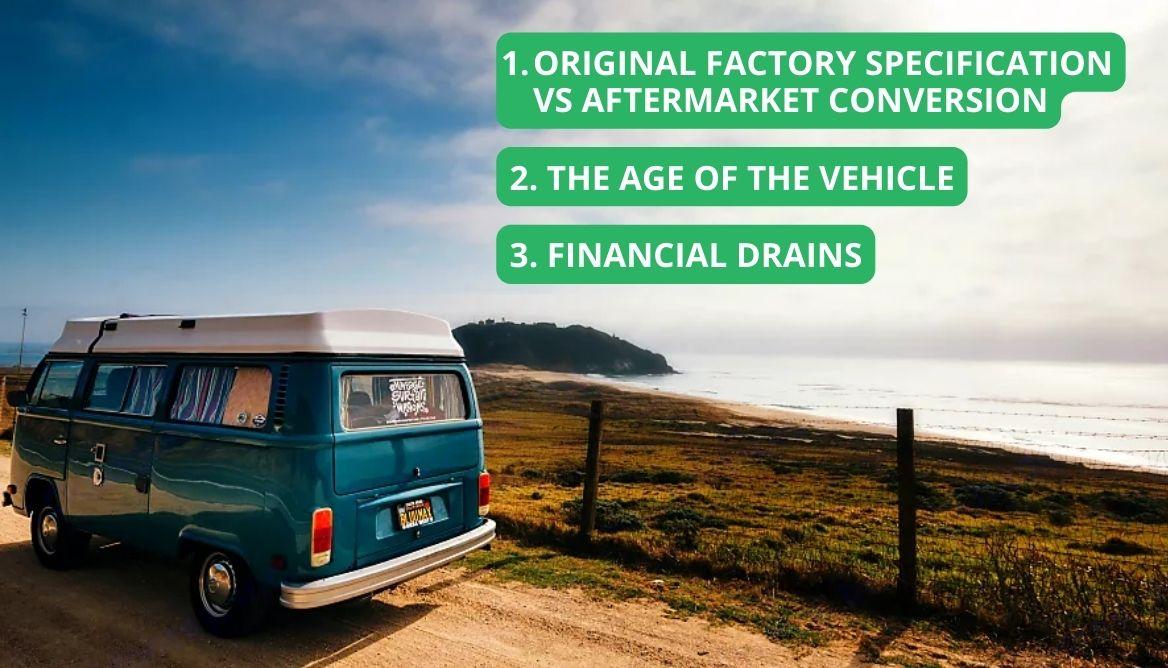 1. Original Factory Specification vs Aftermarket Conversion
When it comes to purchasing a Volkswagen bus, the two main factors that can affect the price and condition of the vehicle are whether it is an original factory specification or has been converted to aftermarket specifications. Here are some of the main differences between these two categories:
Resale Value: Original factory specifications tend to hold their value better than aftermarket conversions, as they are less likely to need repairs or replacements due to age or wear and tear.
Maintenance Cost: Because aftermarket conversions often involve adding new parts and systems, they tend to require more maintenance than factory-spec vehicles.
Warranty Coverage: Factory specifications usually come with a warranty that covers any issues that may arise during the life of the vehicle. Aftermarket conversions may not have this same level of coverage.
2. The Age of the Vehicle
When considering a VW bus, it's important to know the age of the vehicle. While older buses may be more affordable, they may require more maintenance and repairs. If you're looking for a reliable vehicle, it may be worth it to invest in a newer model with a reliable warranty.
Note: Make sure to check the vehicle's history to determine its true condition.
3. Financial Drains
Before making the purchase, be sure to consider the financial drains that come with owning a Volkswagen bus. Depending on the age and condition of the vehicle, it may require:
Frequent maintenance
Repairs
Parts replacements
Make sure you factor in these costs when budgeting for a VW bus and ensure that you are comfortable with how much money you will need to invest in the long run.
You may also want to consider any insurance costs that come with the vehicle, which can add up quickly if you have an older model.
Top Reasons to Buy a VW Campervan
Following are some main causes to purchase a VW campervan.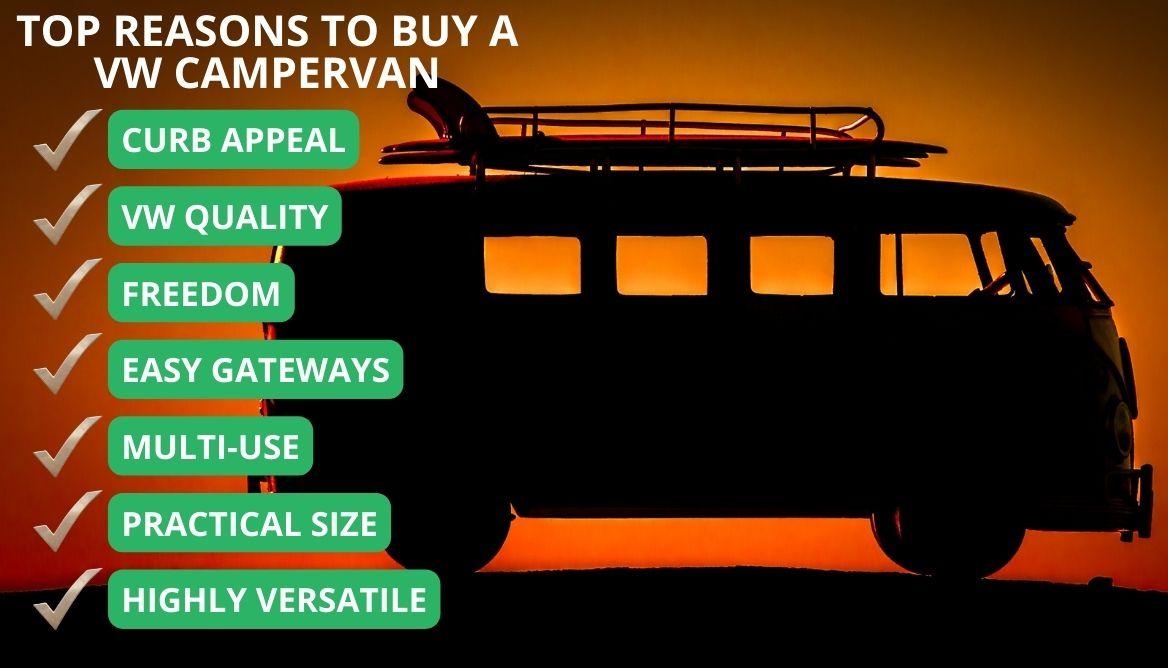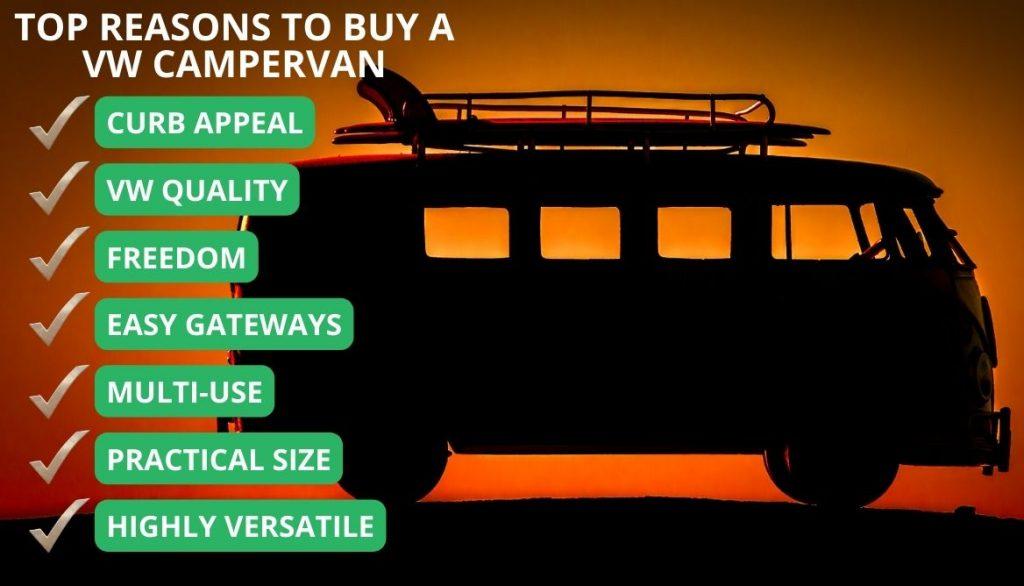 1. Curb Appeal
VW Campers promise fun and spontaneous adventures, plus the bonus of looking great while doing it. People can't resist a peek when one of these iconic campers cruises by. Their bright, cheerful designs, colors, and shapes have a timeless and classic look that will never go out of style.
2. VW Quality
VW is known for its superior quality and its transporter vans are no exception. These vans are reliable and have well-galvanized bodies that help to protect them from the elements. When considering buying a campervan, look for conversions carried out by a reputable company to maintain high quality.
3. What We Like
At VW camping ride, we love the freedom and practicality these vehicles offer. They provide easy gateways to explore new places, as well as being a great size for camping. Plus, you can choose between pre-converted vans or post-converted options, with both offering high levels of versatility.
With all these features, you can trust that a VW campervan will be a great choice for your next adventure.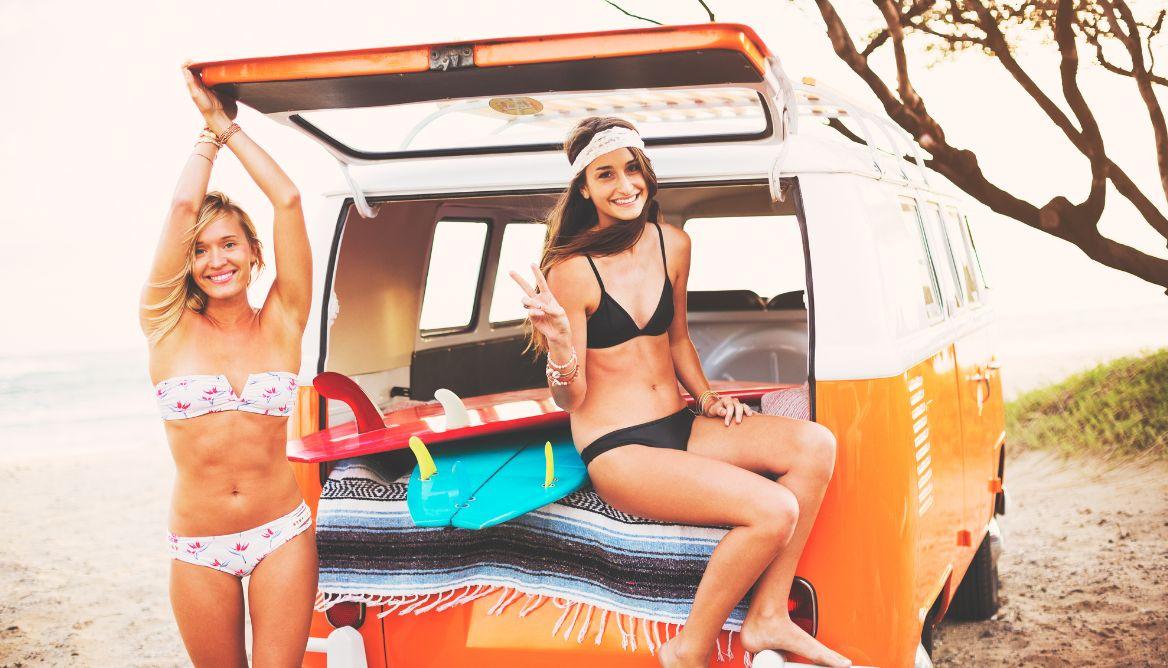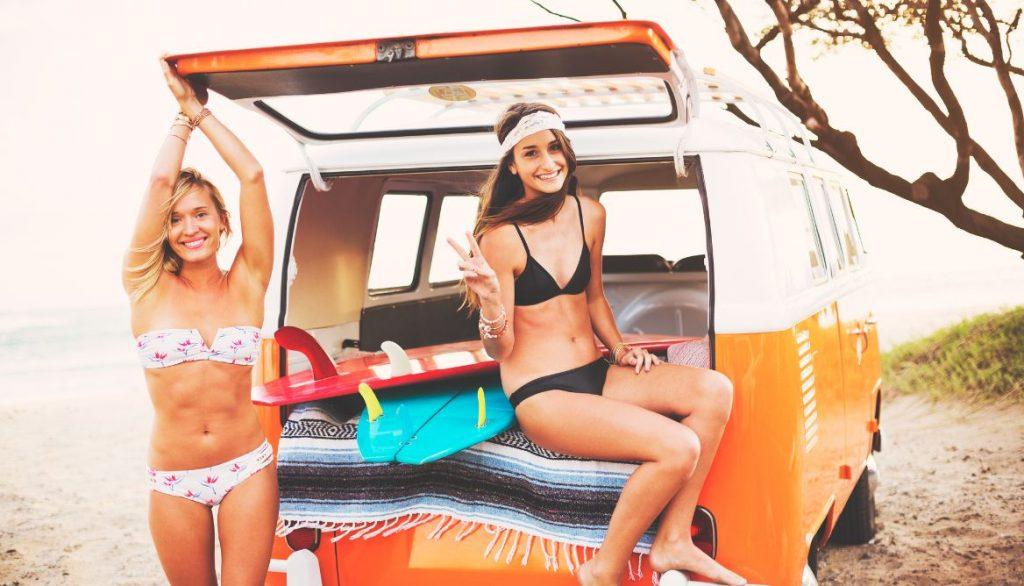 4. Freedom
A VW van is the perfect way to explore and enjoy the great outdoors. It offers you the freedom to go where you like when you like. With its compact size, it can be parked at various spots in line with parking regulations.
You may need to find access to toilet and washing facilities, but a porta potty and a 'wash tent' can be used during the summer months. Investing in a camping loo and shower for the summer months will also add to your freedom.
5. Easy Gateways
Campervans offer the perfect way to take a break with ease. Onboard facilities such as kitchenettes and storage space mean less packing and less planning. Moving around is also a breeze, with no towing or pitching required – perfect for location hopping. With campervans having the pop-up VW bus interior, you can have all the freedom of a holiday without the fuss.
6. Multi-Use
VW vans have a compact design, making them easy to use as everyday vehicles. They can be easily parked in standard parking spaces and are highly versatile, making them great for multiple purposes. You can use your VW campervan for:
Camping
Road trips
Weekend getaway vehicle
With a campervan, you can also explore nature, sleep comfortably outdoors, and have a great time with family and friends.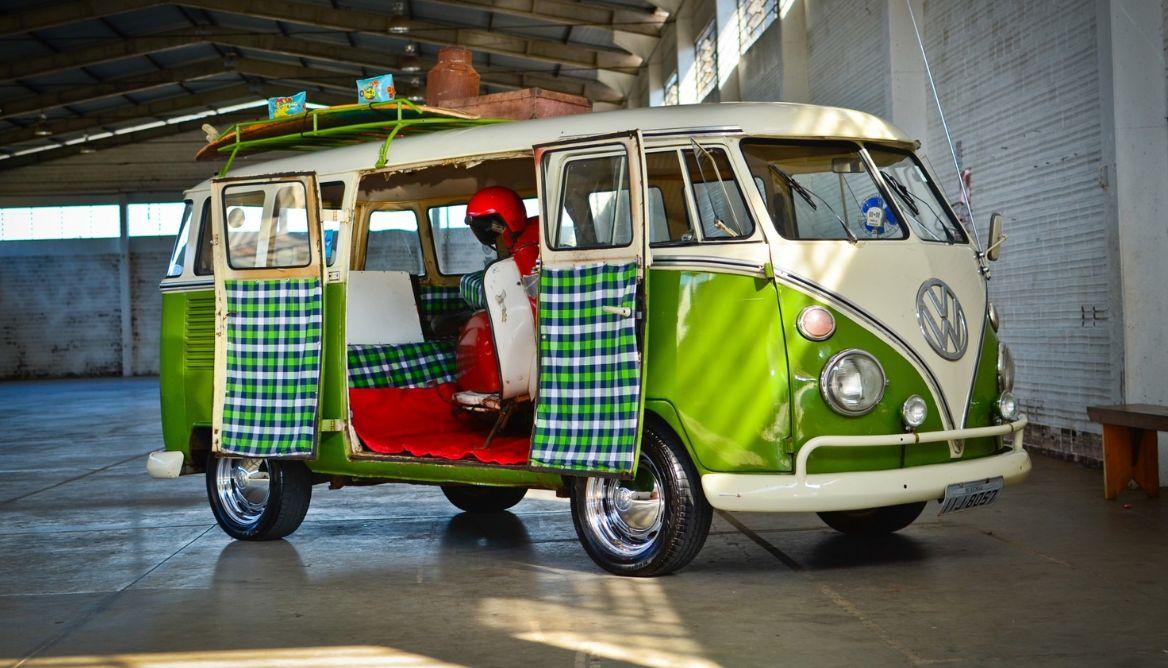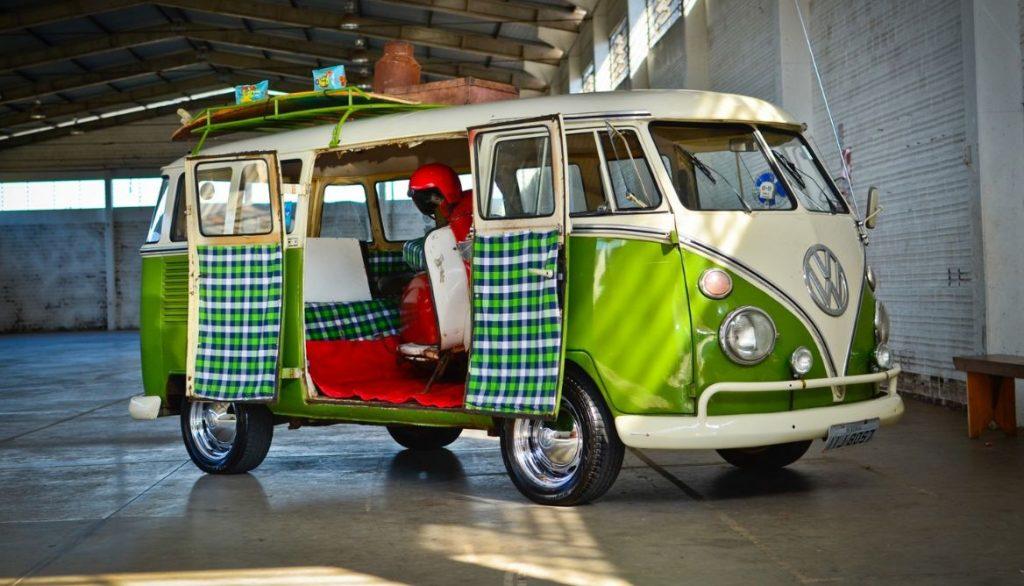 7. Practical Size
They are much smaller than motorhomes, making them easier to drive and park. Their size also makes them easy to store as they will fit in a double garage or even a small driveway. This should not be a problem for finding space for it, while still having the luxury of an adventure vehicle.
8. Highly Versatile
These vans for camping offer the perfect solution for traveling with family and friends. Some models come with five seats, enabling them to comfortably sleep a family of five or four adults. Additionally, these vehicles have a:
Fully equipped kitchenette
Fridge
It means meals can be taken on-board and cold drinks are available around the clock. Resultantly, the convenience of having all the amenities of the home makes them even more desirable, as they also can make a cuppa whenever desired.
9. Fab Post-Converted Choice
If you are looking for a more luxurious campervan experience, a post-converted VW Campervan is the way to go. Models such as Portofino, Santorini, St Tropez, Monte Carlo, and Le Mans have all been designed with extra interior features and comfort in mind.
Procedure to Choose
Do your research to find the one that best suits your needs.
Make a wishlist of features you would like included in your campervan
Then compare the different models to find the perfect fit for your next adventure.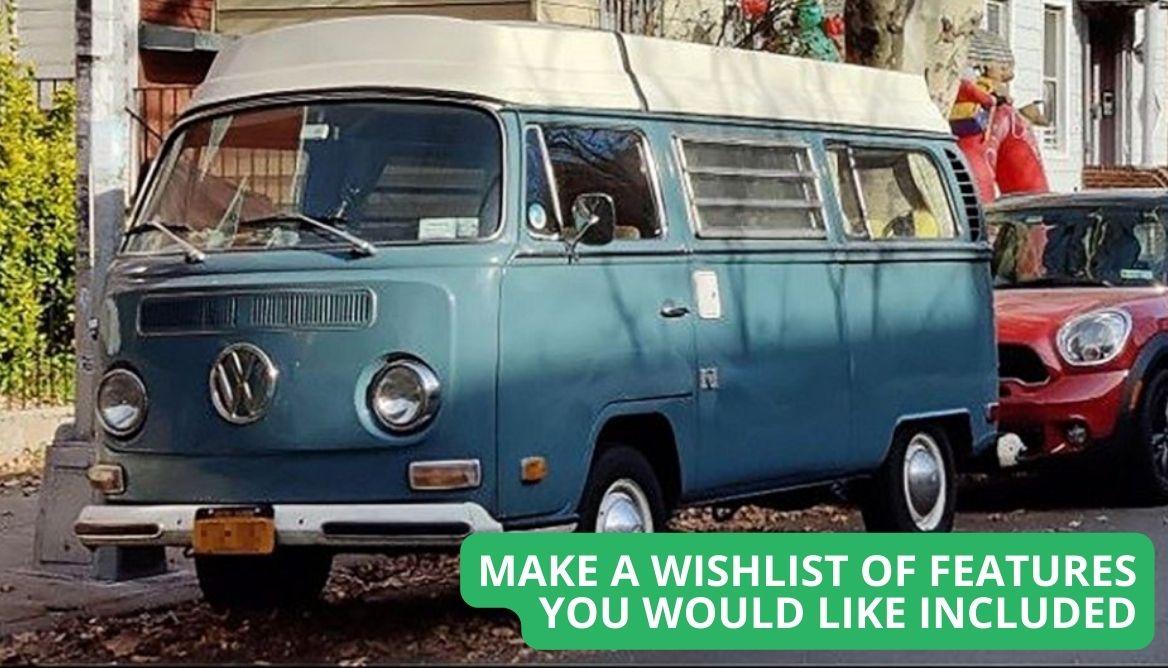 10. Great Pre-Converted Choice
VW campervan offers a wide range of models and options, such as:
Startline van: It has an in-car touchscreen system, electric windows, electric heated mirrors, and only a front passenger seat.
Trendline van: Aside from parking sensors and Bluetooth phone connectivity, this vehicle has a cruise control feature and body-colored bumpers.
Highline Transporter van: Upgraded features of this camper van include an upgraded alarm system, a leather steering wheel, a gear knob, an upgraded air-conditioning system, and fog lights
Our Verdict
After taking a deep dive into some of the best VW Bus interiors, I have concluded that both Stella camping Bus Interior and Ala Lani Volkswagen Bus are great choices for any VW Bus enthusiast. Both provide:
High-quality materials,
Modern design,
Comfort in a stylish package.
No matter which one you choose, you'll be sure to enjoy a cozy and enjoyable ride!
FAQs
Which VW van is best to convert to a camper?
The Volkswagen Transporter t6 is considered one of the best vans to convert into a camper due to its spacious interior and robust body, making it an ideal candidate for conversion.
Can you put a toilet in a VW camper?
Yes, it is possible to install a toilet in a VW camper. There are several models designed to fit the interior of the vehicle and provide the necessary plumbing connections.
Is it cheaper to buy a campervan or convert one?
It is usually cheaper to convert a van into a camper yourself, as you will save on labor costs. Self-build conversions can range from $1,000-$10,000 while buying a campervan can range from $50k-$300k.
Which VW Bus is rare?
The Deluxe Samba vans are the rarest of the VW buses, with only around 110,000 produced – still a significant number in automotive terms.
Why are VW buses so popular?
VW buses have a long-standing reputation as fun, reliable and versatile vehicles, making them the perfect choice for campers, weekend warriors, and those looking for an iconic ride.
Conclusion
When we talk about the best VW Bus interiors, the options are plentiful. From classic camper van designs to modern luxurious models, there's something for everyone when it comes to Volkswagen Bus interiors. While designing your VW Bus interior, be sure to keep practicality in mind as well as color scheme and overall feel. With some creativity and imagination, you can create an interior that is both functional and aesthetically pleasing.
What features would you like to see in the perfect interior for your bus? Share your ideas in the comments below!
Asen is the owner and main contributor of Camper Life. He is a full-time RV traveler since 2018. He loves camping in nature, fishing, and spending time with his family.
Striving to provide the most valuable information about campers and RVs, he shares everything he learned over the years.
That's why Camper Life is one of the best sources to find information about RV traveling and living.