Caravan Interiors Ideas: Look at them Right Now!
Let's spice up your preparations for the next road trip by updating your caravan through a variety of caravan interiors ideas. During your caravan renovation, the focus should always be on successfully optimizing the caravan space available.
Even if the space in your caravan is small such as that of a vintage caravan, there is no need to worry. You can still fit the best aesthetic designs into your caravans such as Scandinavian and Hampton's coastal designs.
Not familiar with these designs? Let us help you out. These designs are astonishingly best and are thoroughly discussed below along with other 23 caravan interior design ideas. Let's begin and never stay back from implementing these design ideas to enjoy a healthy caravan renovation process.
Amazing Caravan Interiors Ideas
When it comes to decorating your caravan interior, it's always a preferable choice to remodel an old vintage caravan rather than buy a new one and replace all the parts according to your desired needs.
Always be careful while designing a caravan interior to avoid entailing original fittings and accessories. If you are confused about which design ideas will best suit your needs, have a look at the best ideas we have combined for you.
Country Charm for Your Kid's Bedroom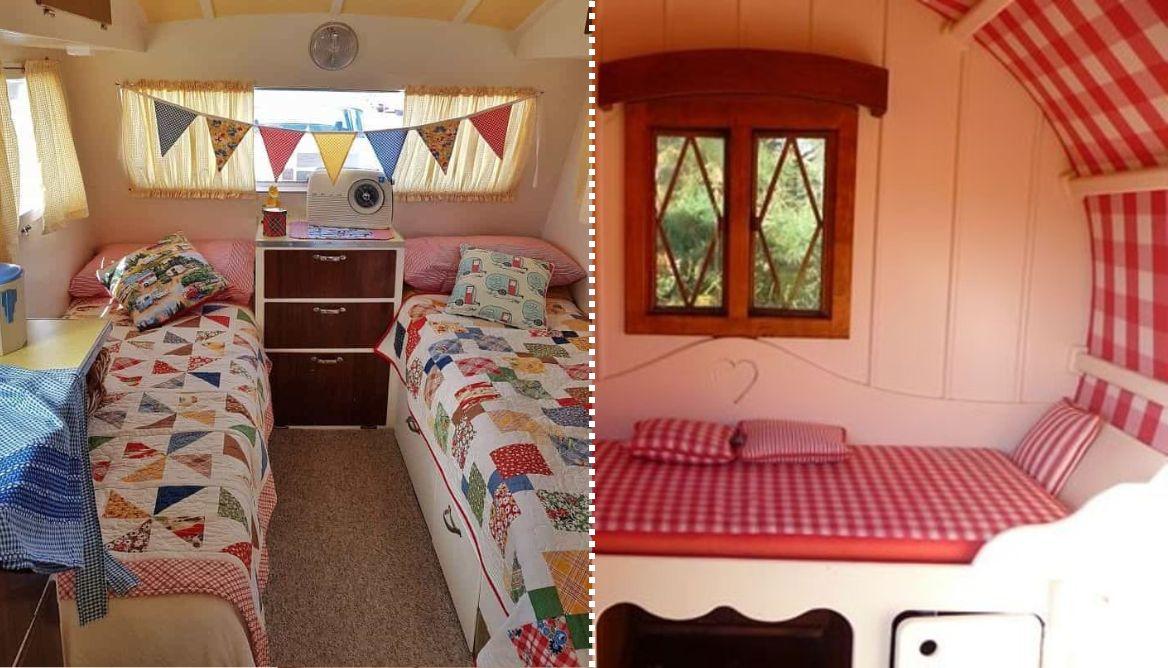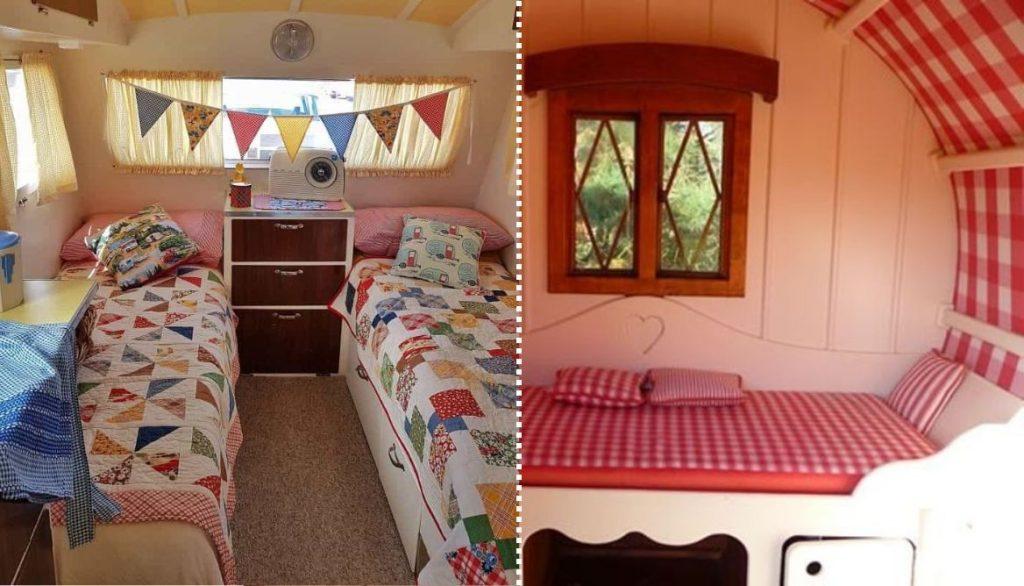 If you are traveling with your kids then you can take this design as an inspiration. With this design, the bedroom looks colorful with a country charm.
The yellow curtains and muted yellow interiors along with multicolored buntings and quilted bed covers will make the space amazing for your kids.
Tropical Interior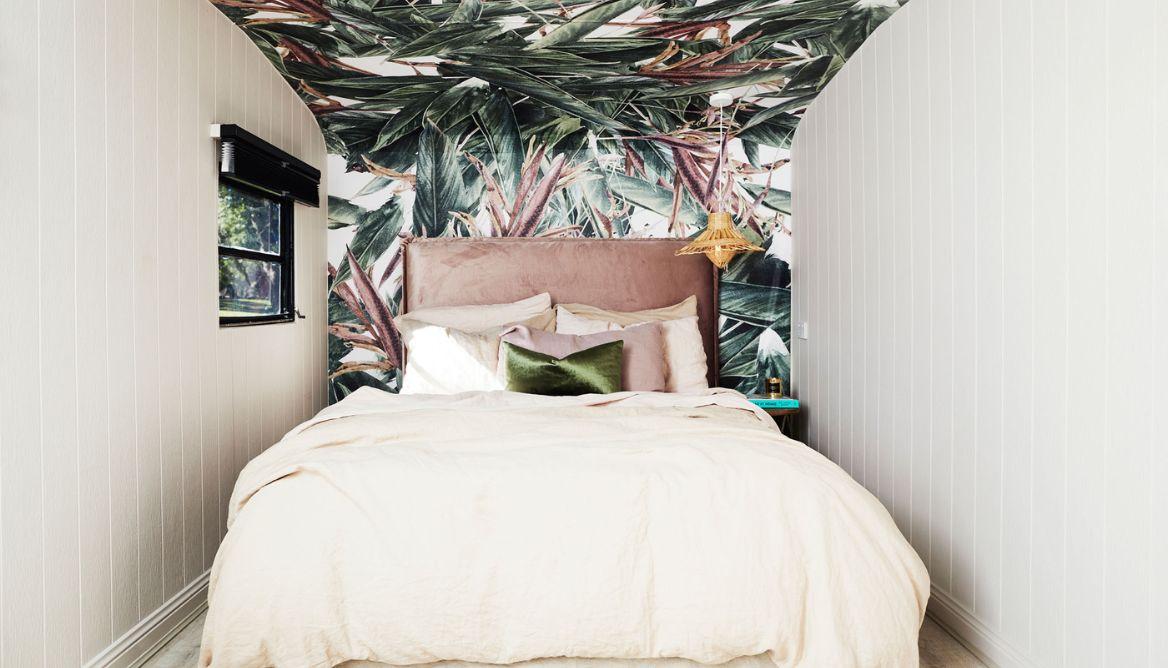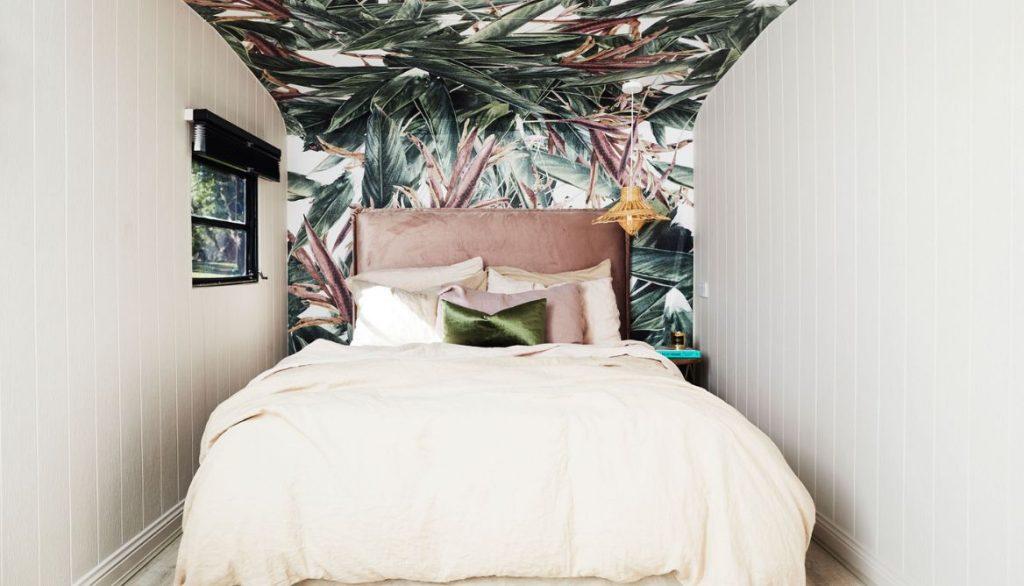 Tropical, the name itself emphasizes comfort, relaxation, and adaptability. The colours in this design are particularly drawn from nature. Such as the ocean, sky, and greenery.
This design makes you inspire the beauty of nature while travelling. Especially when you are on family holidays and spend days travelling, this design helps you enjoy the natural environment within the caravan.
The iHouse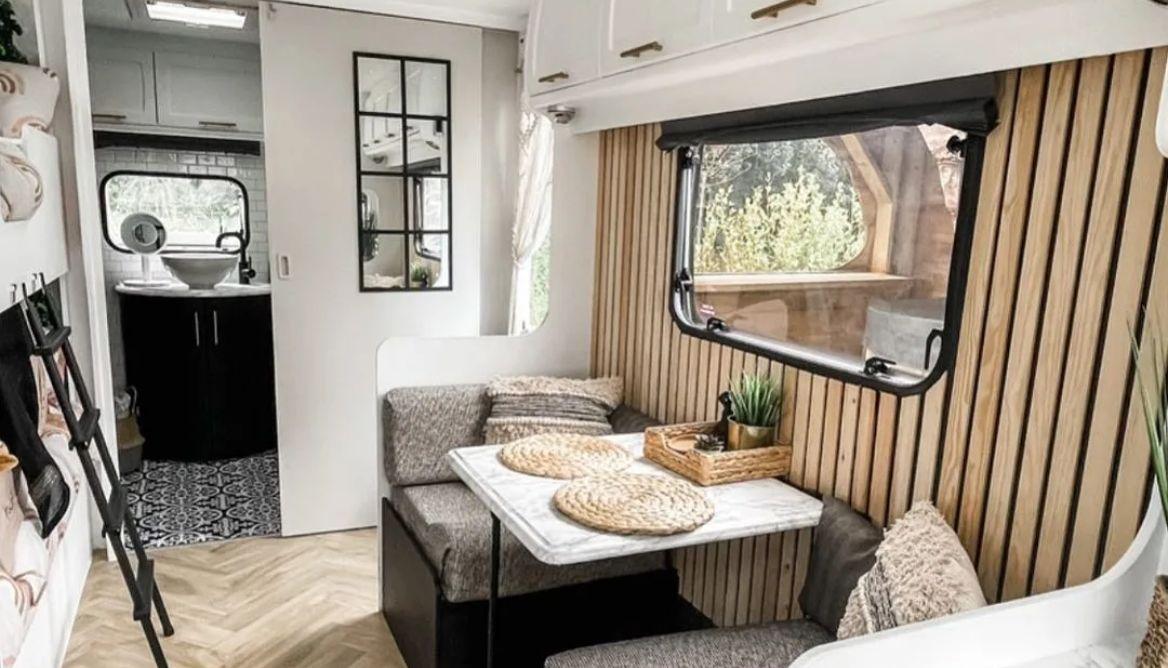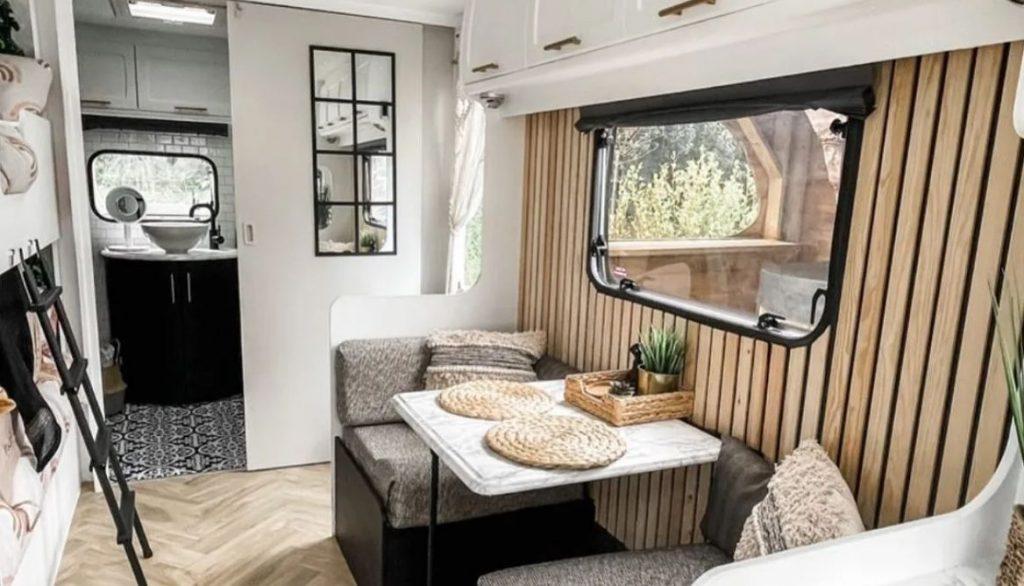 The iHouse can be best described as an integrated design giving intelligent, inspirational, and innovative vibes. The iHouse design is very eco-friendly and comforting.
While making this design, designers kept the future in mind. This design boosts the interior spaciously. Bamboo floors and high-quality luxury features are the perfect add-ons to this design.
It is believed that this design will surely be the caravan trending design in the future.
Retro Interior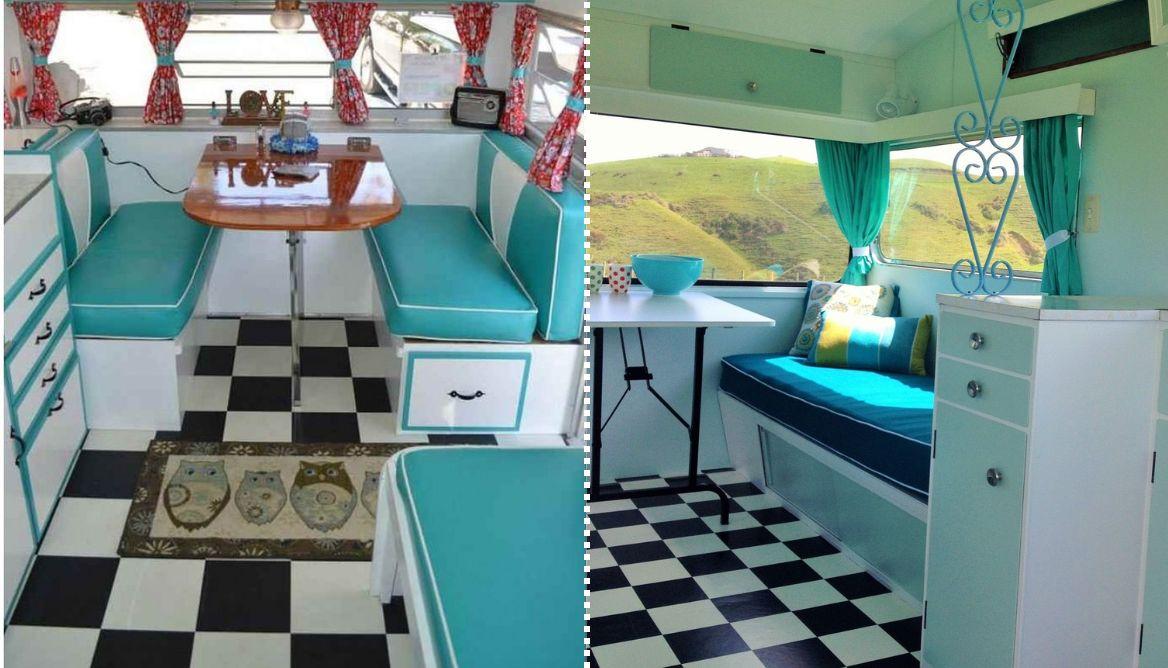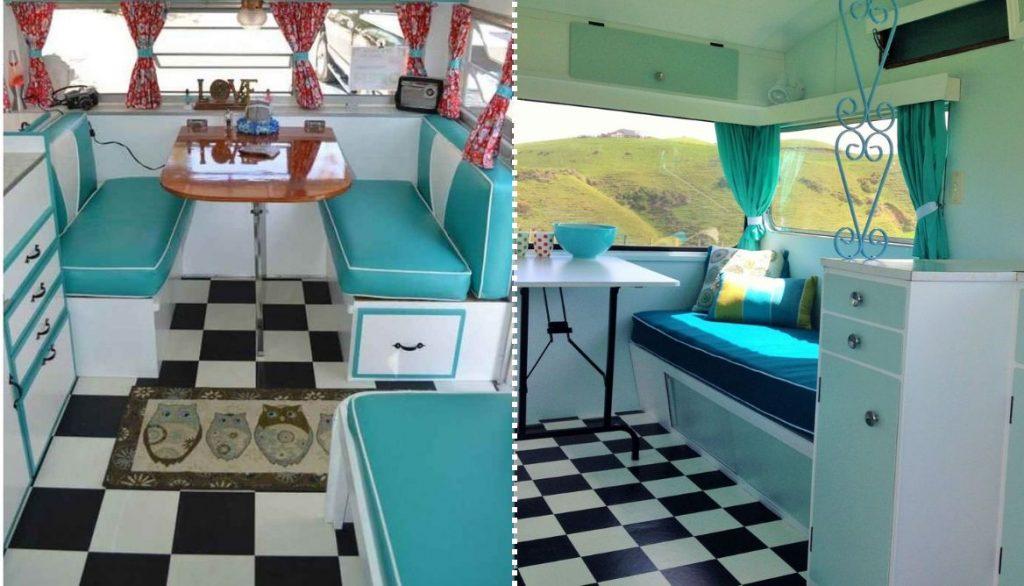 Retro is a term that is used to describe the style of decoration which includes advanced and historical features. Add a touch of retro design to the interior of your caravan as it lets you and your family remember the sweetest memories of the past.
Old features enable you to bring a more intense understanding of this design. Let the elegance and shine of this design beautify your caravan's living space.
Vintage Look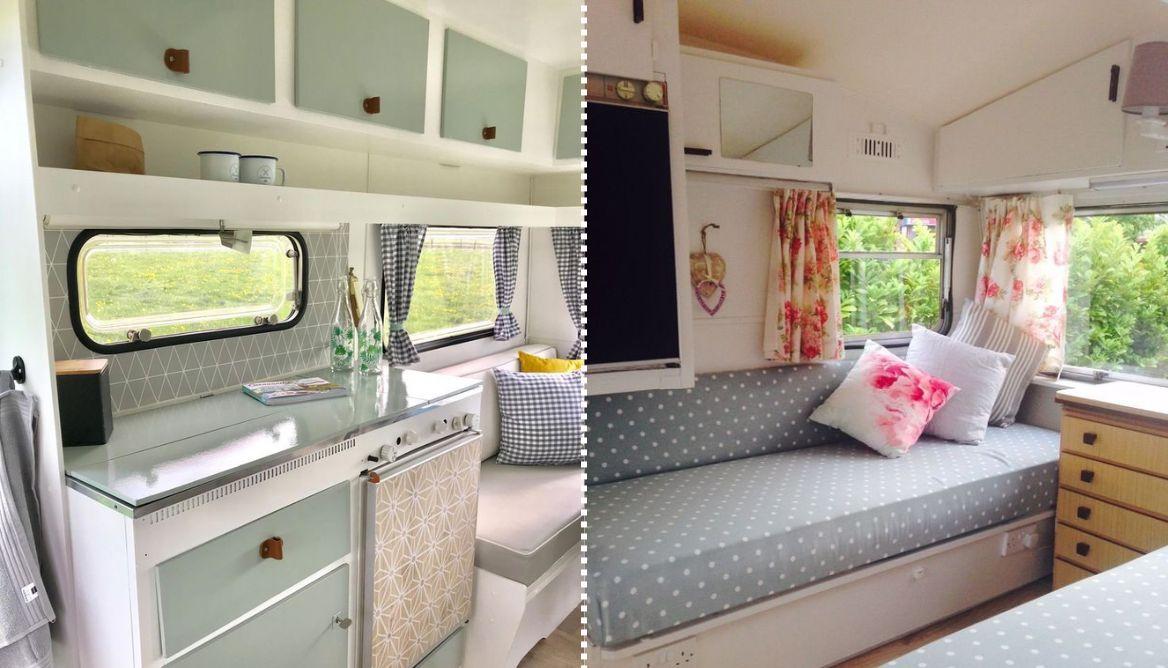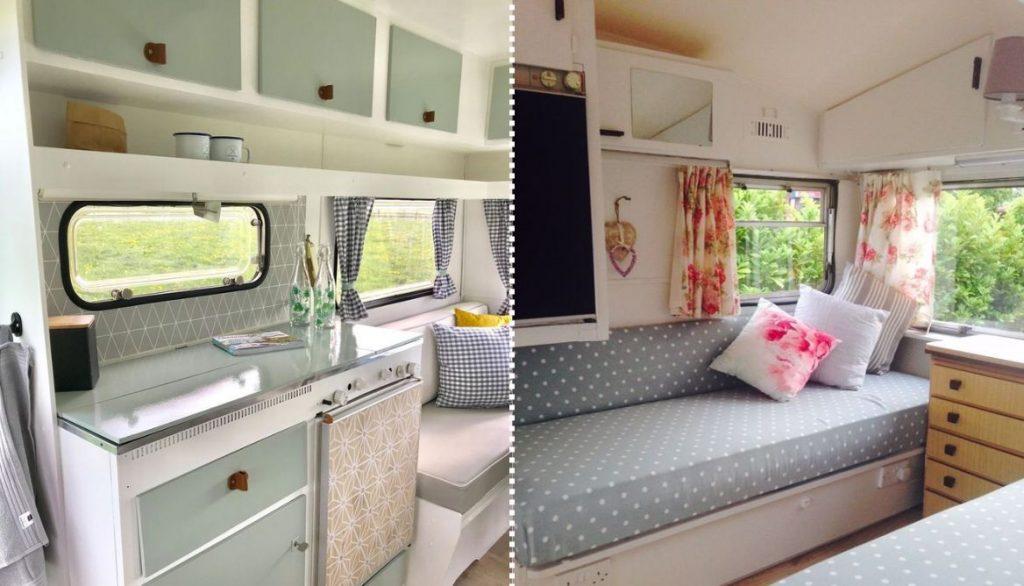 Most people strive to get a vintage look to their caravan. If you are looking for vintage inspiration then this one is perfect for you.
The pastel-colored tiles, the contrast of the wooden interiors will give you a vintage feeling.
Rustic or Country Themed Look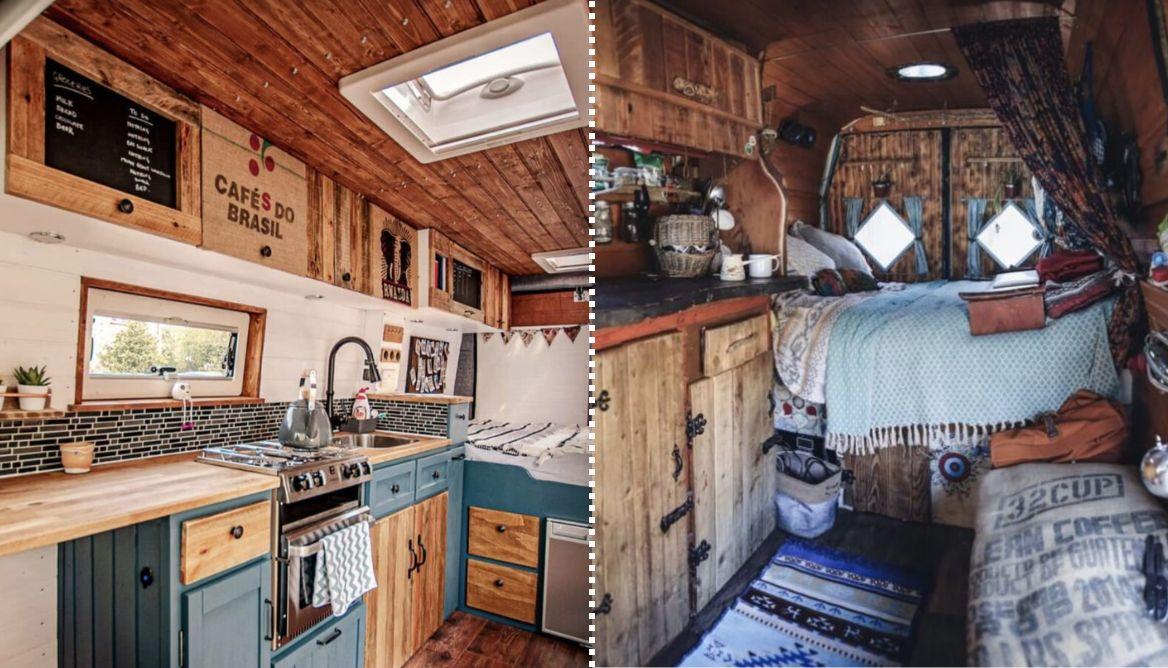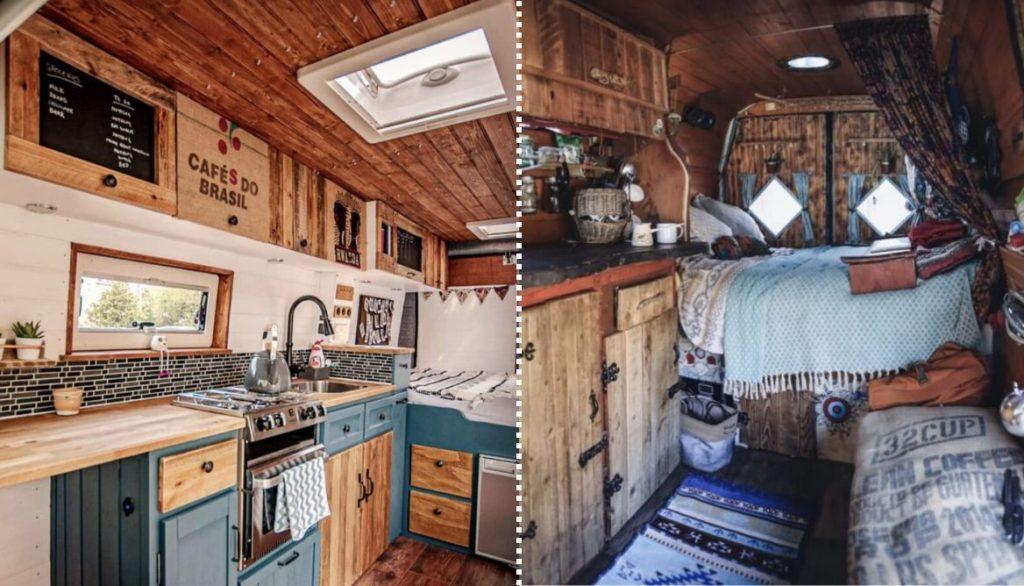 You can get a country or rustic look by using soft yellow themes all over the interior. You can use white curtains with small prints over the windows and as a tablecloth.
For flooring use white and black checkered flooring. All these will give you a retro and country look.
Beach Shack Interior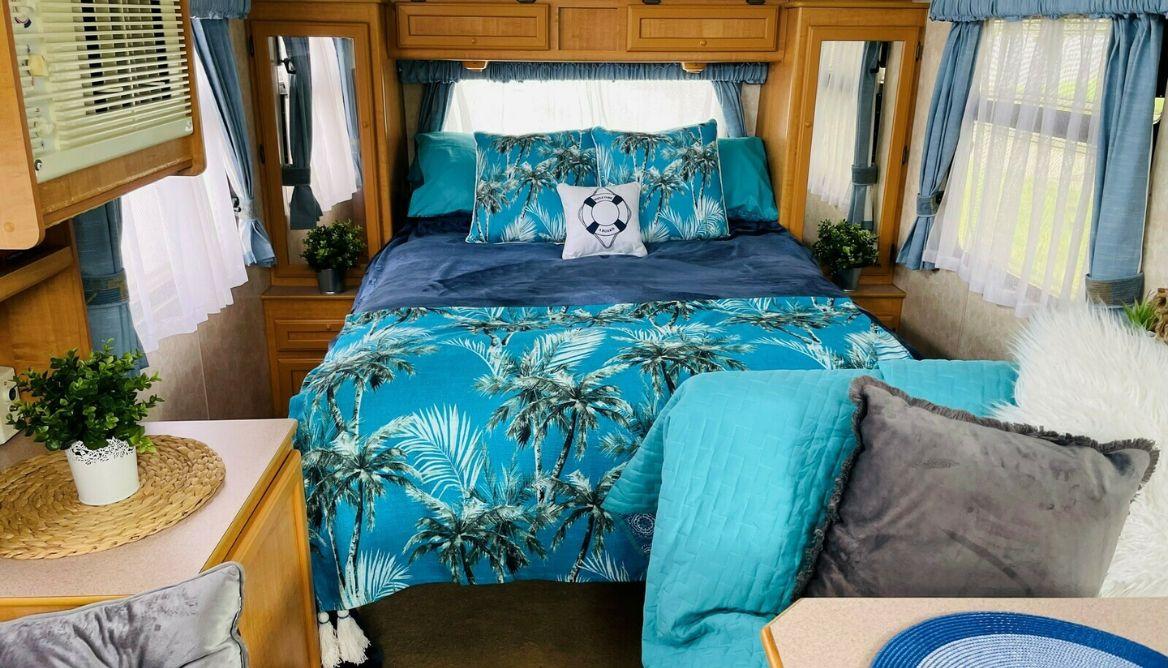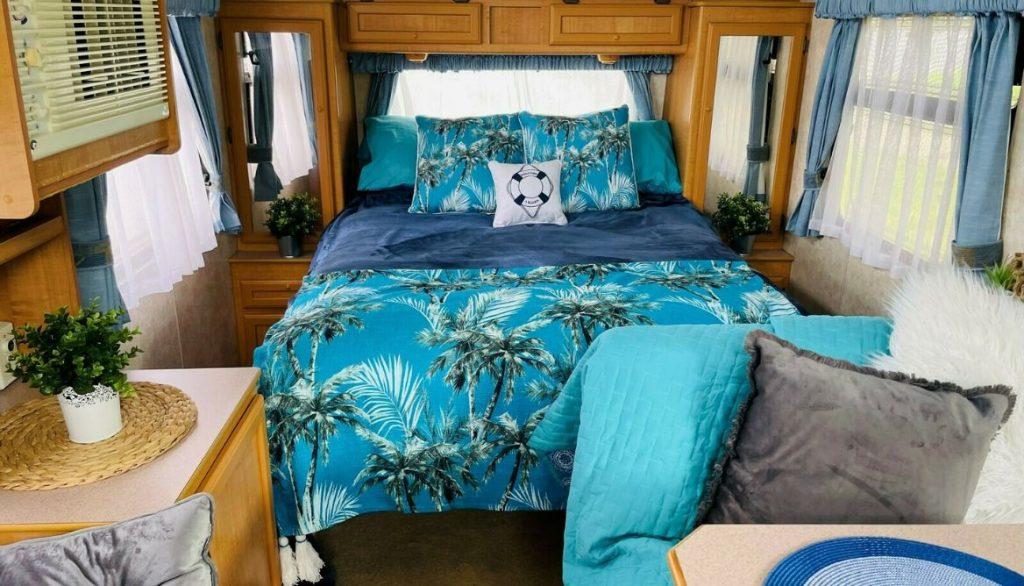 The beach shack design is famous due to its lightning, blissful, and airy elements. Even a minimal blue shack decor gives the overall cohesive look. Adding blur lines on your caravan ceiling can increase your overall serenity experience.
The other main elements of this design are the use of floral and botanicals. One can really feel rushing away to paradise. The tropical design can be used on curtains, while the botanical palm leaves can be captured on bedding and blanket.
Beach shack design is all about:
Accent Colours
Relaxing Vibes
Calm and natural feeling
Sunset Breeze House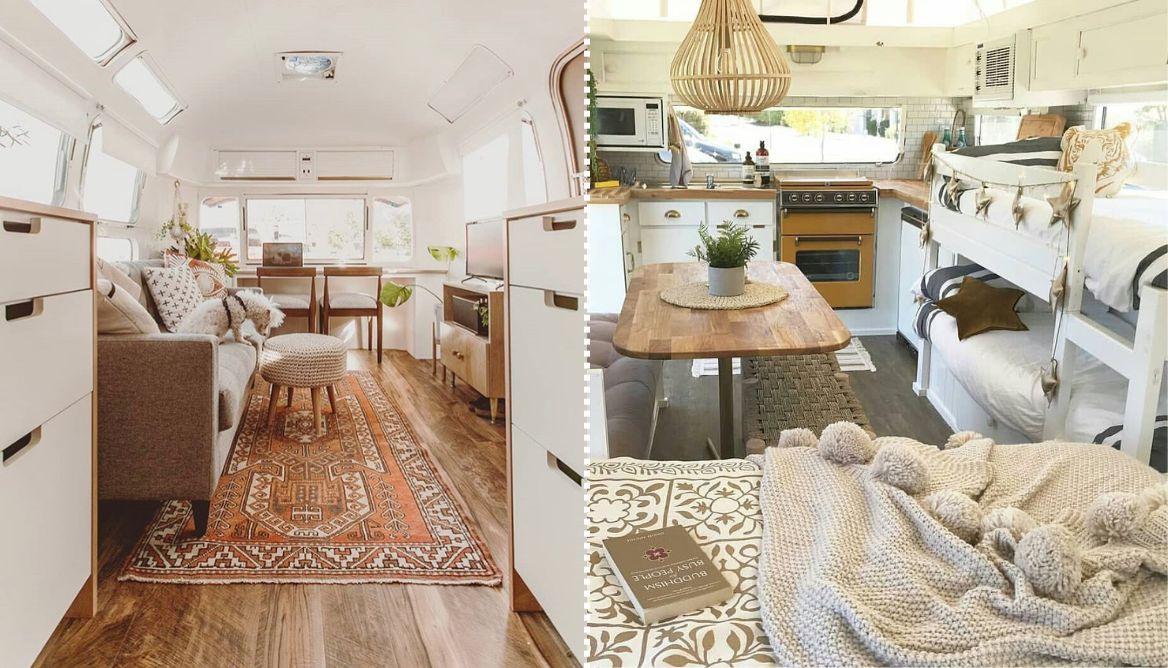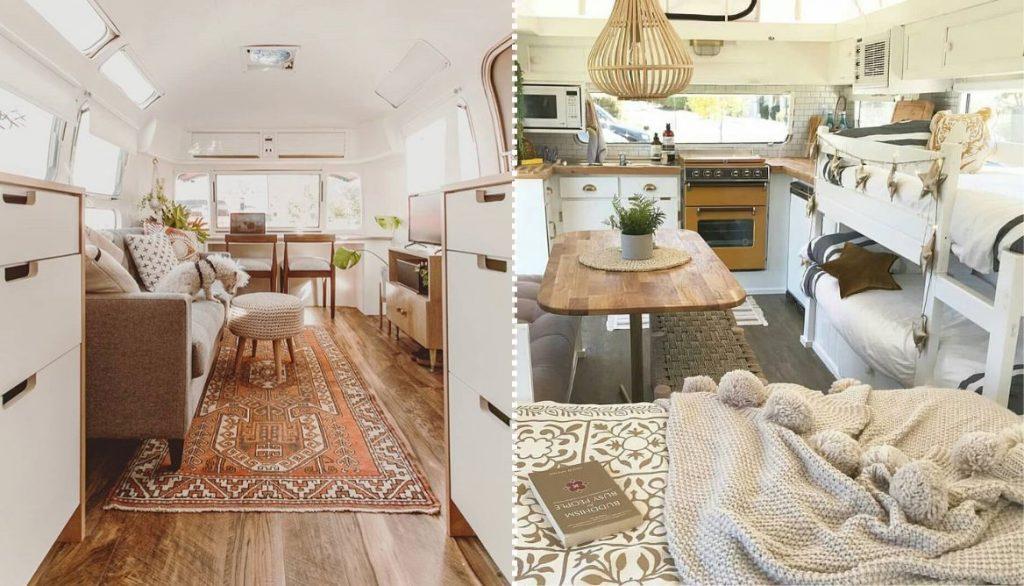 The Sunset Breeze House is a modular design that is completely environmentally conscious, beginning with its development and continuing all the way through the measures that have been made for its long-term energy.
The most distinctive features you can include is the breeze living room along with a glass-enclosed kitchen that will serve as a contemporary, impressive, and enchanting caravan look.
The van roof can be converted to butterfly-shaped along with some fairy lights that can really make your van feel alive.
Earthy color DIY Interior Idea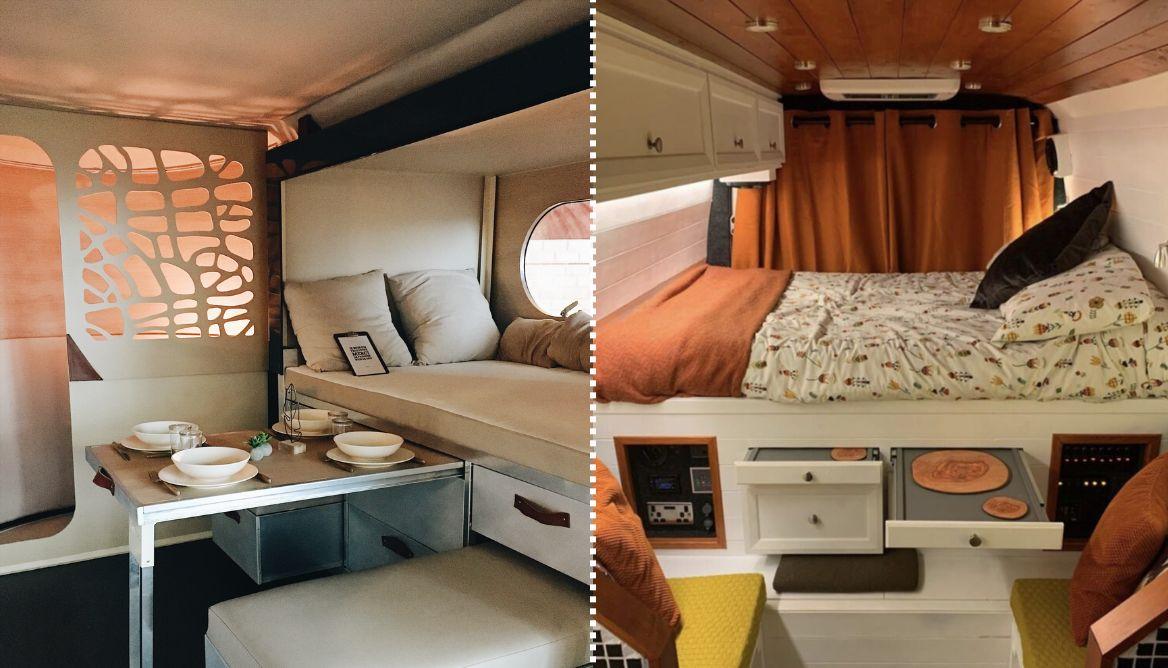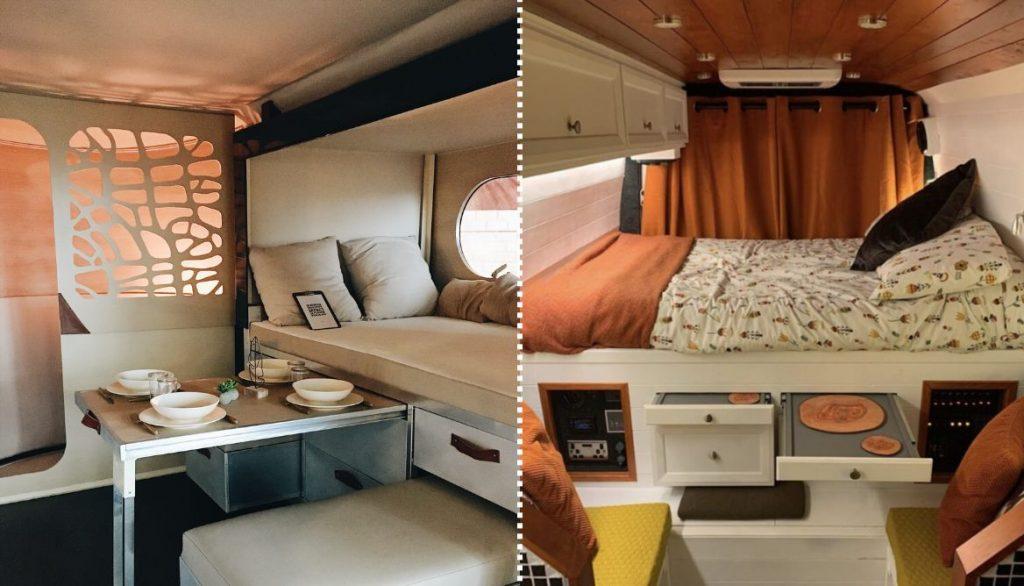 Another retro DIY caravan interior design for you. In this, the designers have gone for earthy colors that are perfectly matched with the white interiors.
This design is purely inspired by nature. Also, this retro earthy-colored theme is complimented by using natural fabrics for cushions and pillows.
Black and White Interior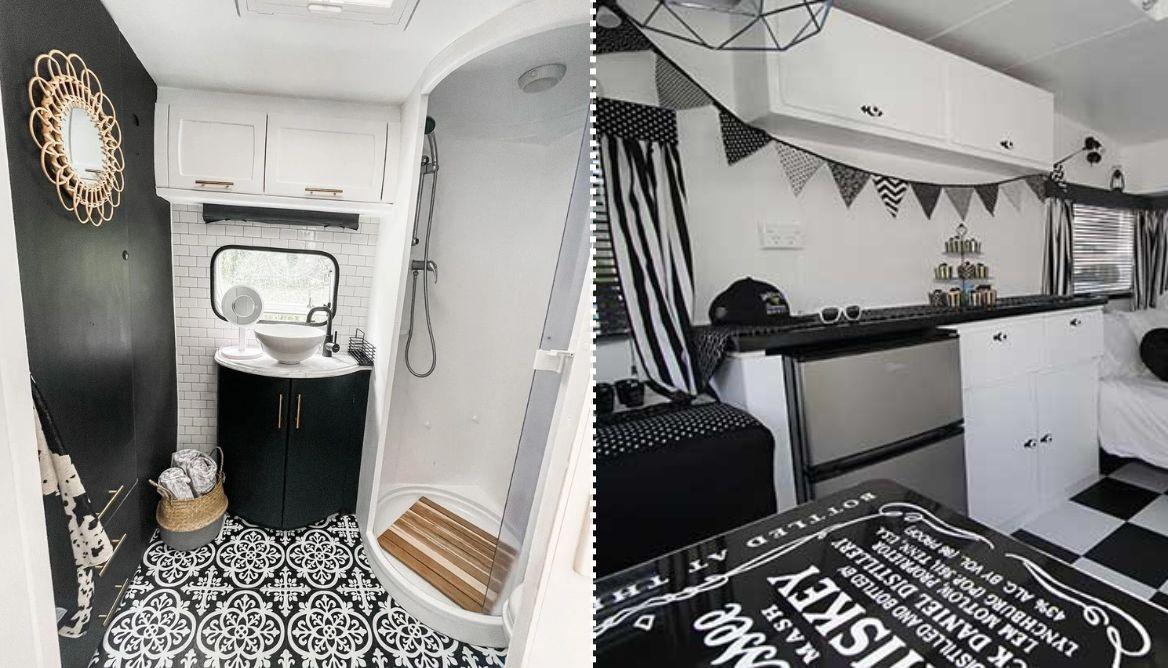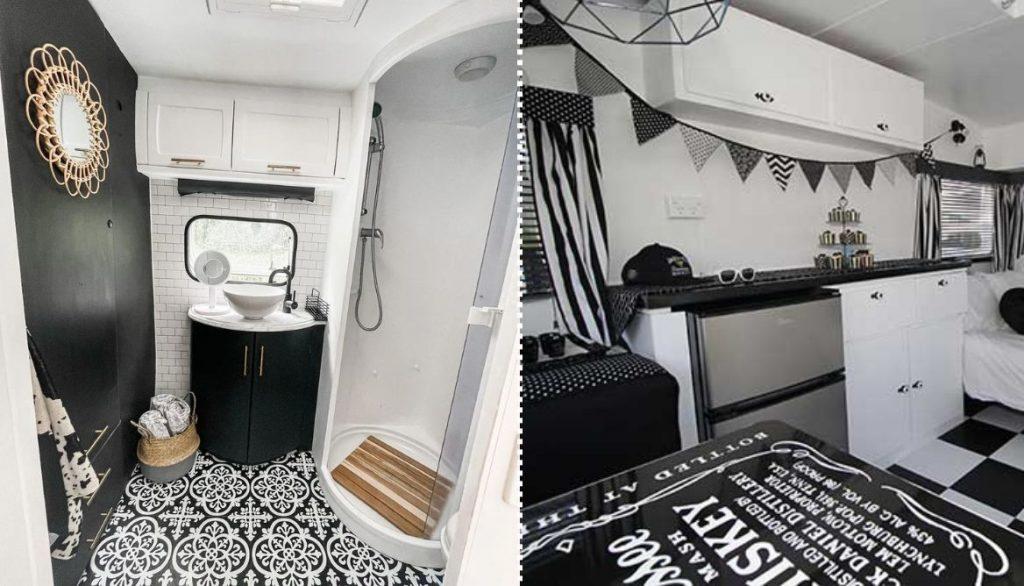 The black and white interior design idea is mostly famous due to its timeless appeal. This is the only particular colour scheme that can fit into any interior style.
If you want to embrace the black and white tone, try houndstooth upholstery on your chairs and sofa sets inside a caravan.
A checkered floor installation in your van's hall or living room will make a big statement about your caravan design. It helps in creating illusions of a bigger capacity.
The Escape Cabin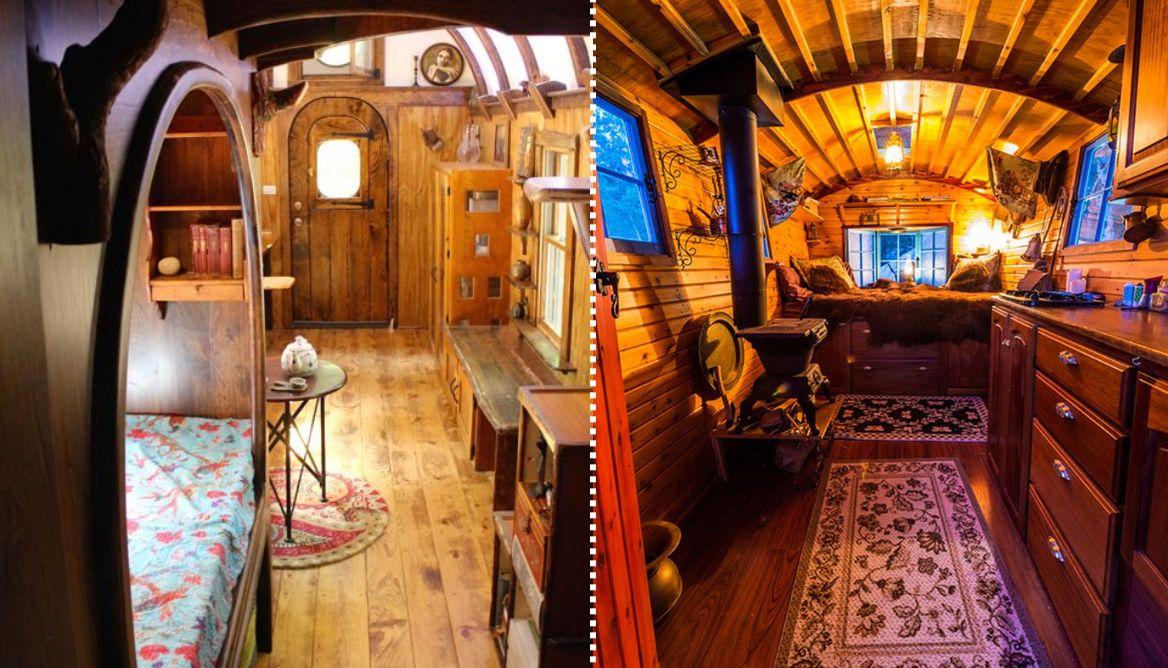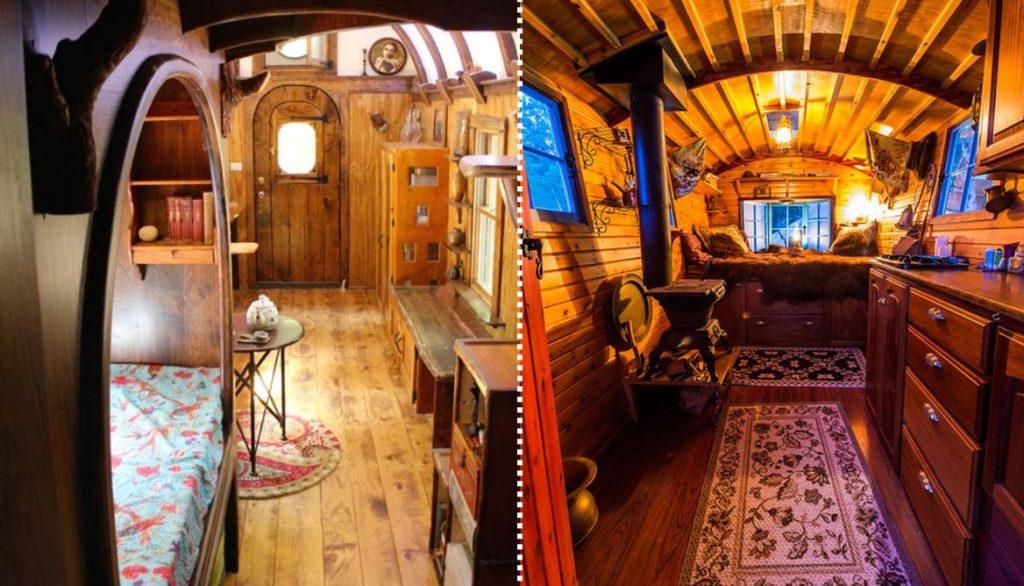 This design represents the principles of the current lifestyle, which combine environmental friendliness, a small footprint, and aesthetic delights.
Although the escape cabin is technically a mobile house-type design, the hardwood frame gives it the appearance of a cosy cabin. The premade cabin is easy to transport to a preferred destination, where it can be promptly fixed once the utilities are fixed.
Elegant Interior Look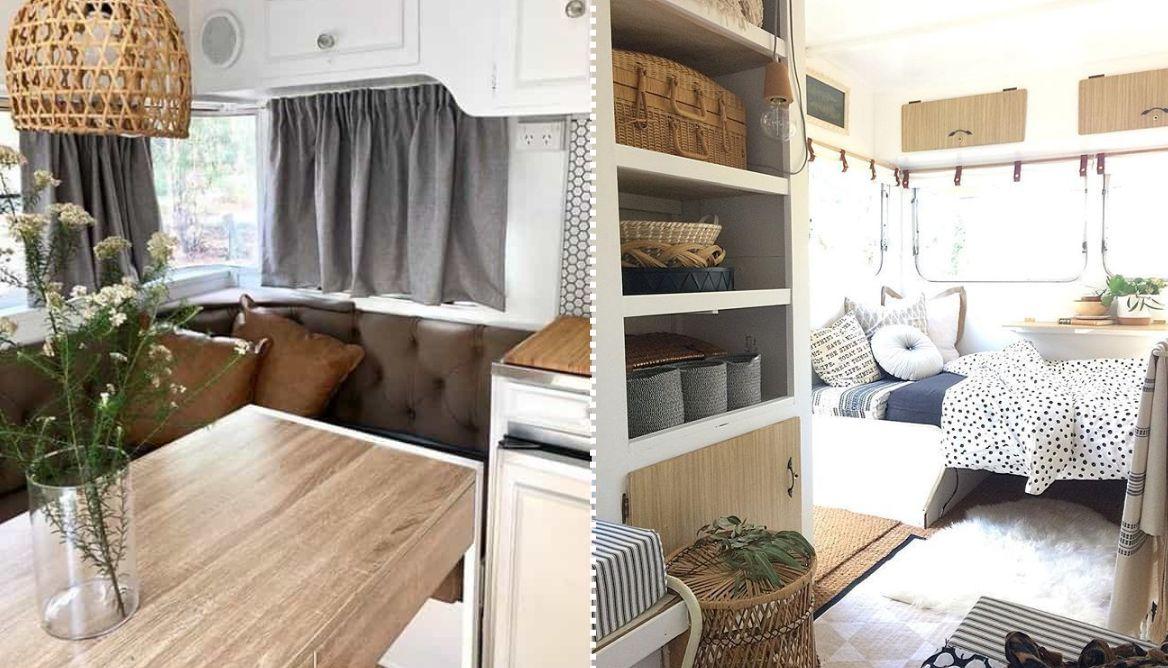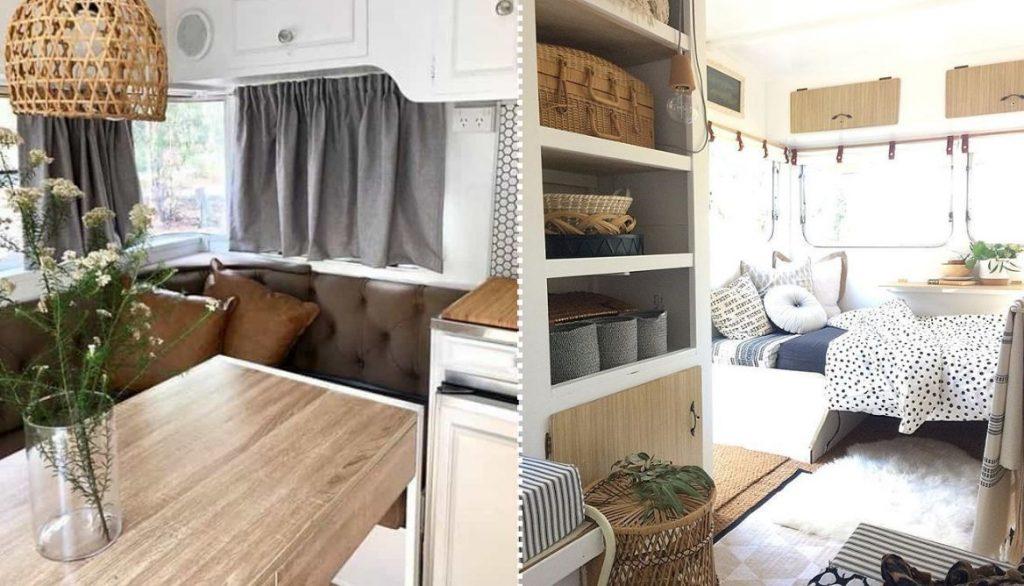 Some people want their caravan interiors to look elegant. So this is for them. To achieve this design you can use earthy colors like grey, tan and brown.
You can also use wood, cotton, and leather to achieve this look.
Bohemian Interior design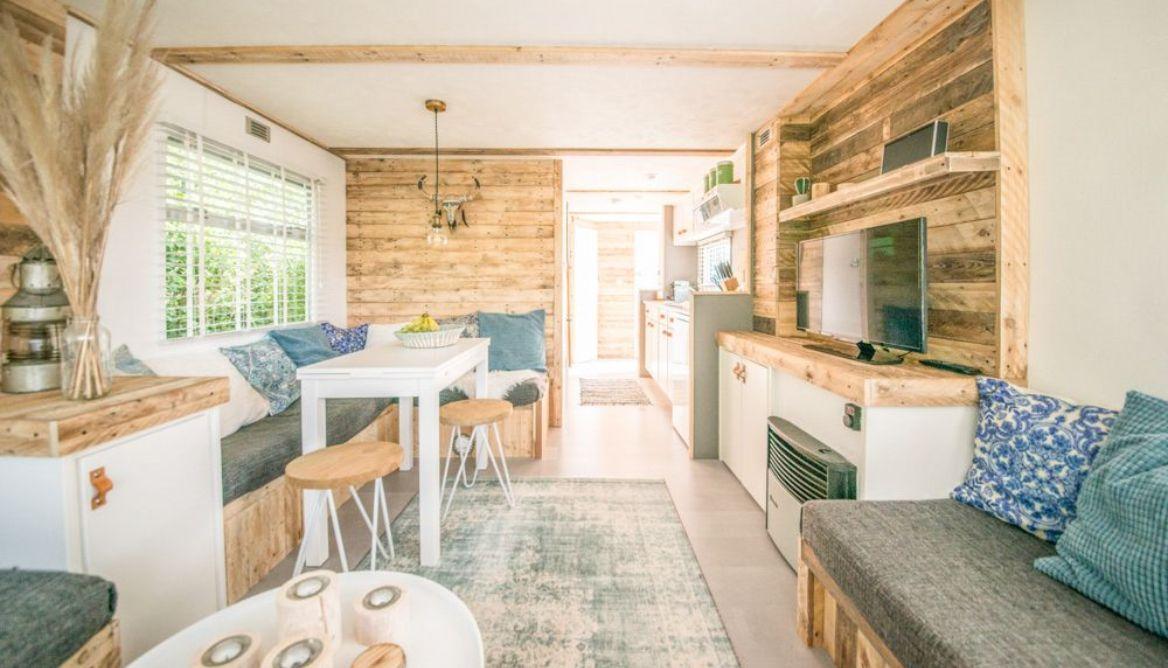 When adorning a caravan, it is a good idea to incorporate artifacts, hues, and motifs from a multitude of different countries and regions.
The term "boho" means the art that is diverse and blends temperament and heritage to generate a one-of-a-kind environment.
These elements will open road to caravans:
Aesthetic Look
Appealing Fixture Finishes
Original Style of Art
Free Choice of Choosing Shapes
Vibrant Jewel Color Tone
A Glass of Wine for the Lady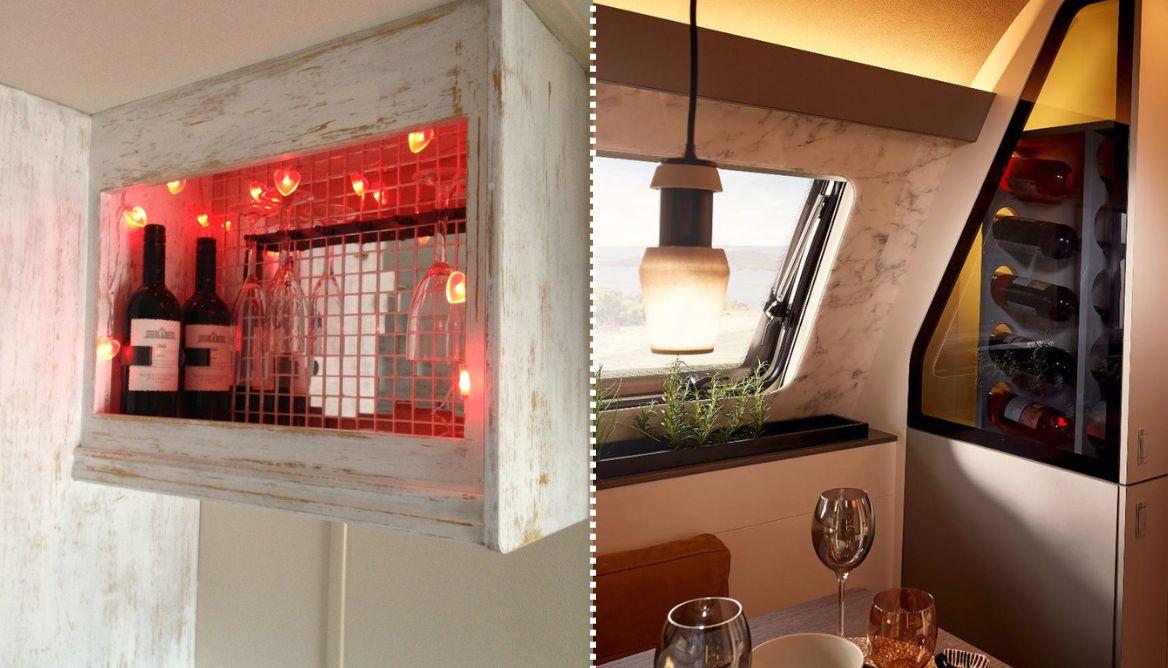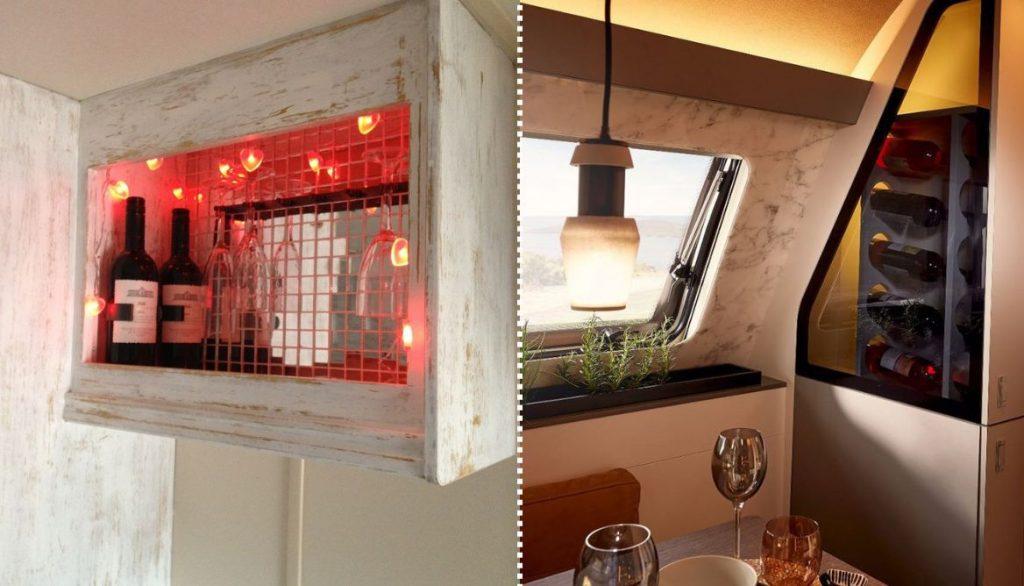 Your caravan should be a reflection of your unique character. Your aesthetic design choice can be displayed, reflected upon, and showcased right there in the van.
If have excellent taste in wine then a wine rack will truly admire your interior design. To match your passion for lavish décor, a wine rack with an equally grand scale is recommended.
Lovely and Cool Caravan Interior Design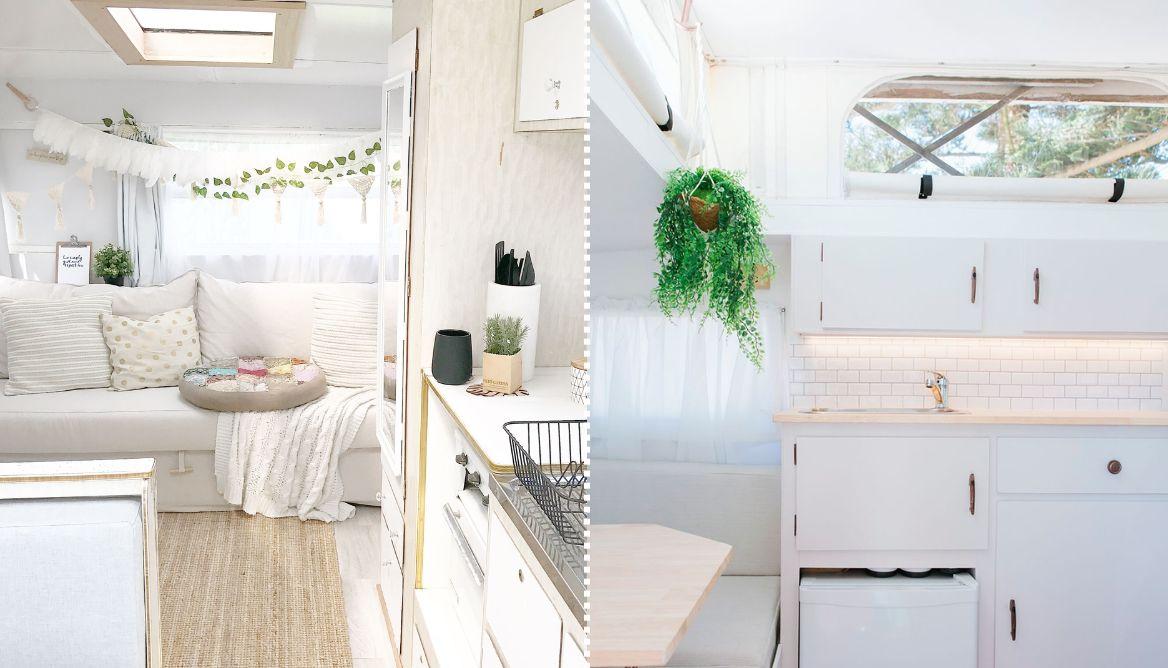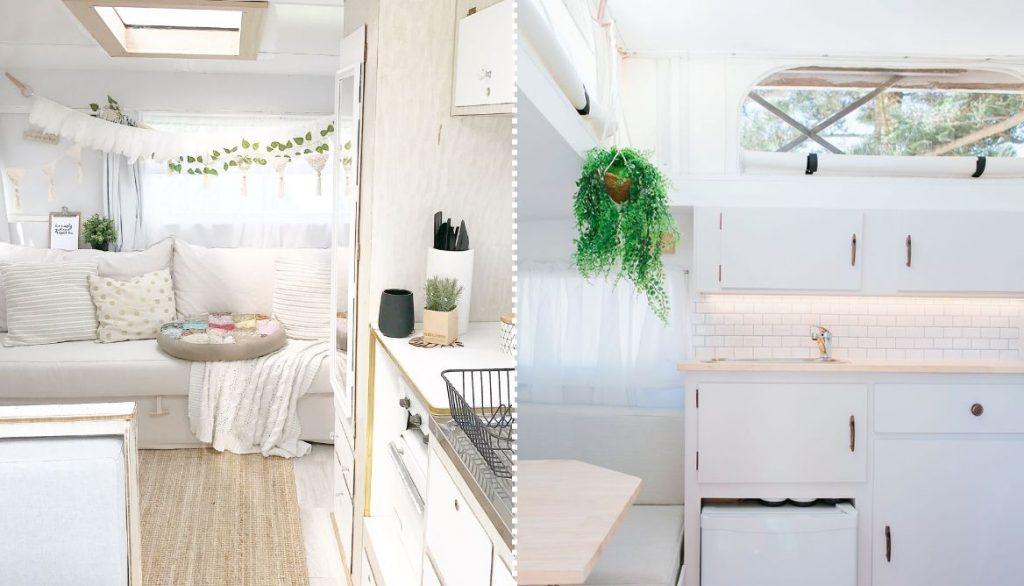 This is one of the coolest caravan interior design ideas. You can get this look by using white as a dominant color. Everything used in this interior design is white except for some color splashes over the rugs and bed covers.
If you opt for this design, you need to keep it sparkling clean as white can easily catch up with dirt or dust.
Map of the World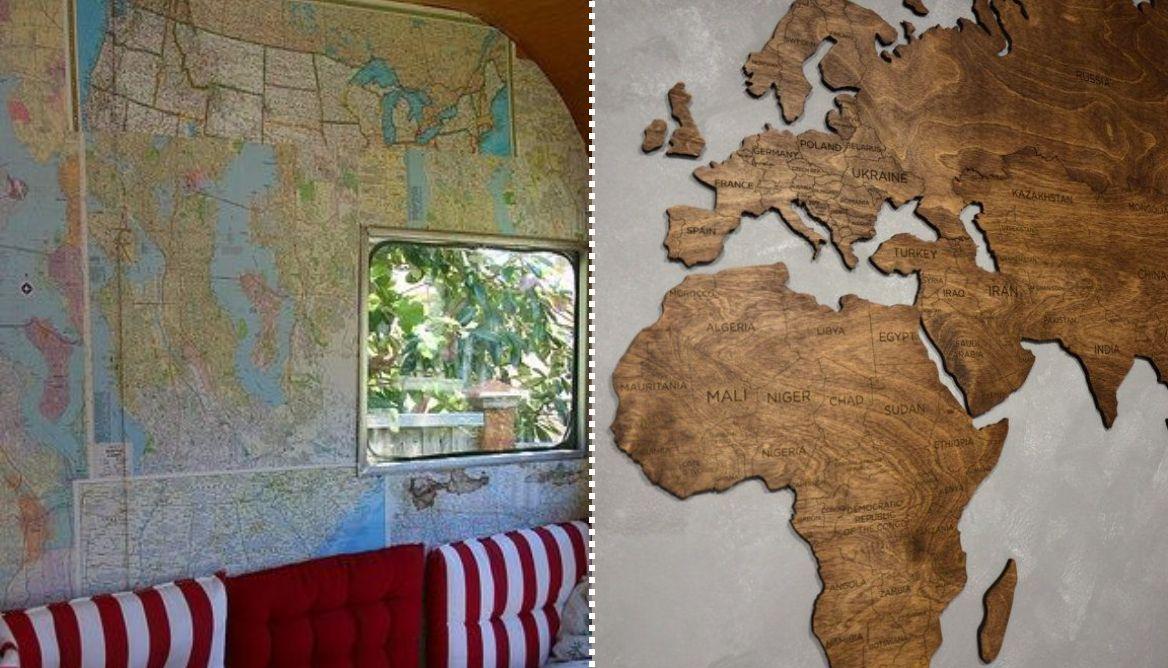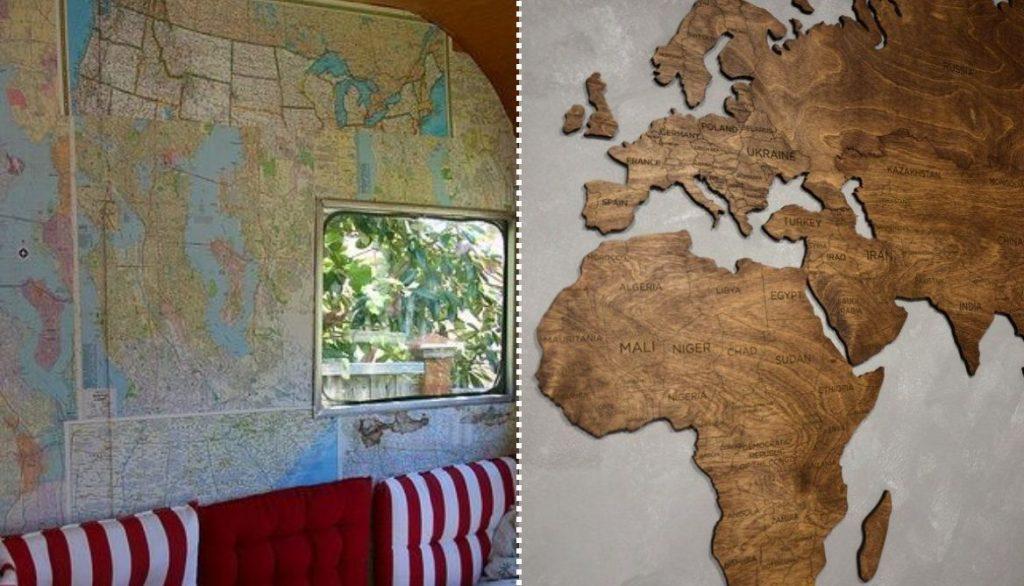 It is a worthwhile investment that exhibits the possessor of this caravan's goals and dreams to portray maps of the world on the interior lining of the caravan.
In additament, you may use the maps to summarize the locations of the places you have traveled, so assuring that the recollections of your adventures will be with you for the remainder of your life.
This notion is particularly well-suited for usage as an idea for the interior of a trekking caravan. Most of the campers around the prefer this design for keeping their memories safe.
Pure Elegance Caravan Interior Design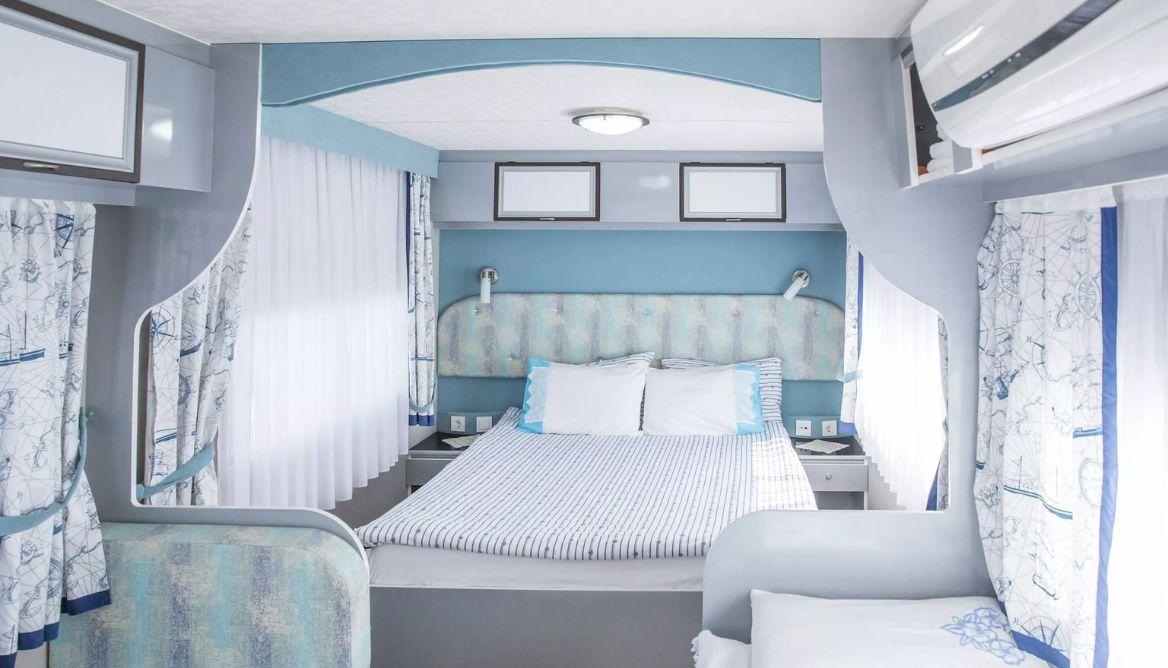 You can get this look by using white and blue as dominant colors. These colors will make the entire interior look more spacious and airy.
Scandinavian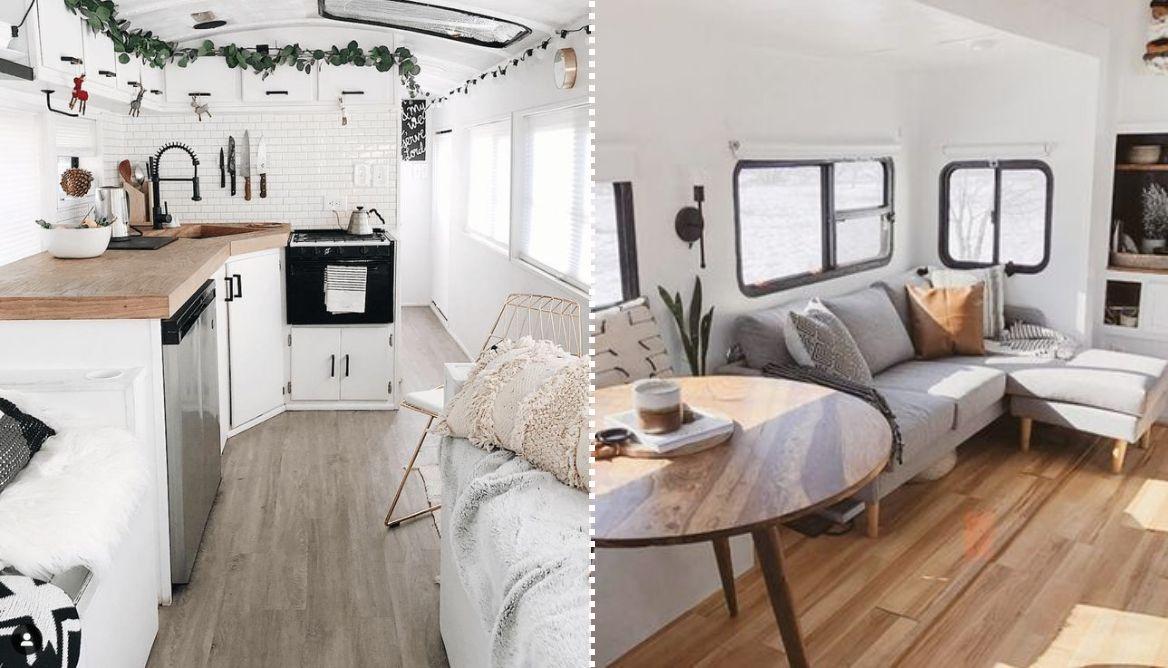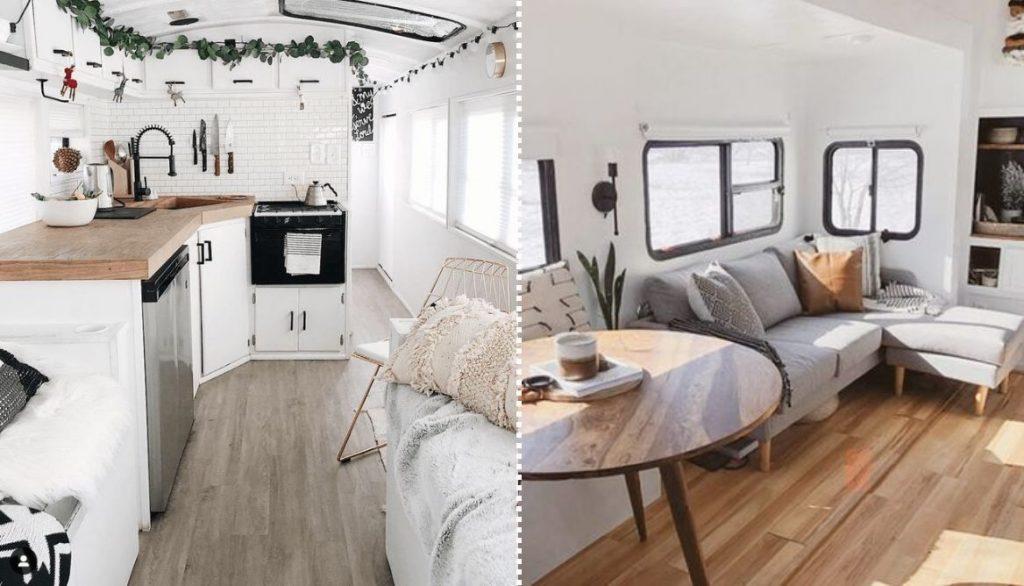 Scandinavian interior design is a simple and elegant approach that uses a combination of soft tones and textures to give the elegant, trendy design a cosy, welcoming feeling.
It places a focus on understated furnishings that are both practical and pleasing to the eye.
Add All the Little Lights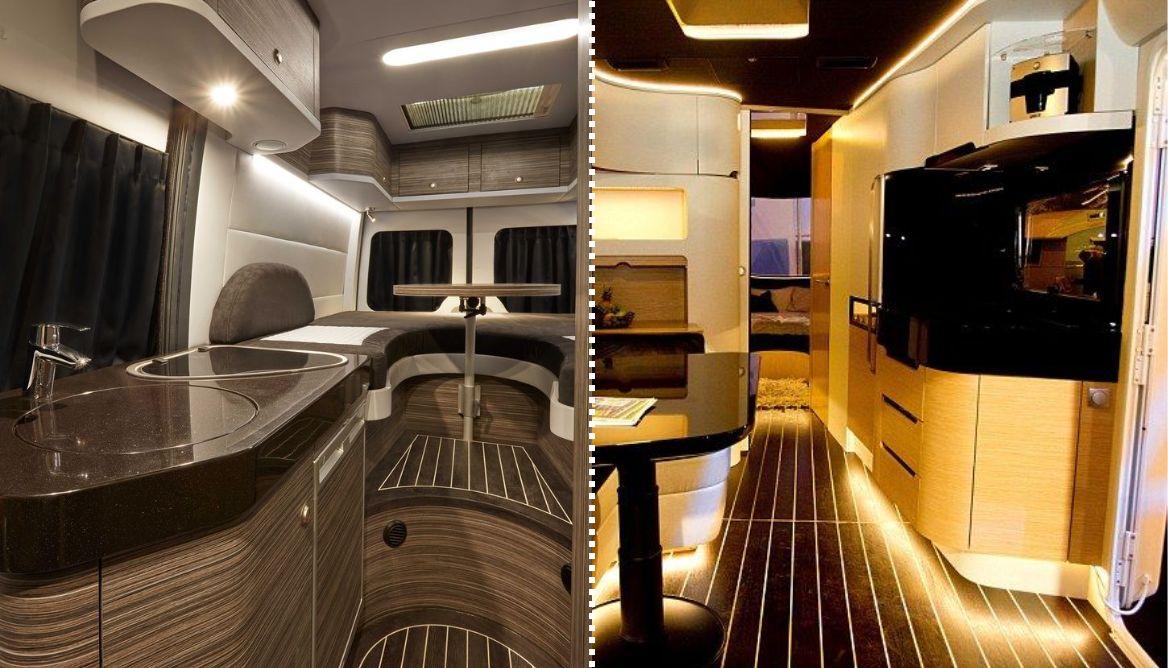 Lights bring individuality and elegance to the interior of your van. To add noticeable colour splashing around the vintage caravan furniture or art, add a few little lights.
You can also create your light by utilizing natural materials or turning scrapped parts into components to give your caravan renovation design a new level of originality.
Modern Caravan Interior Design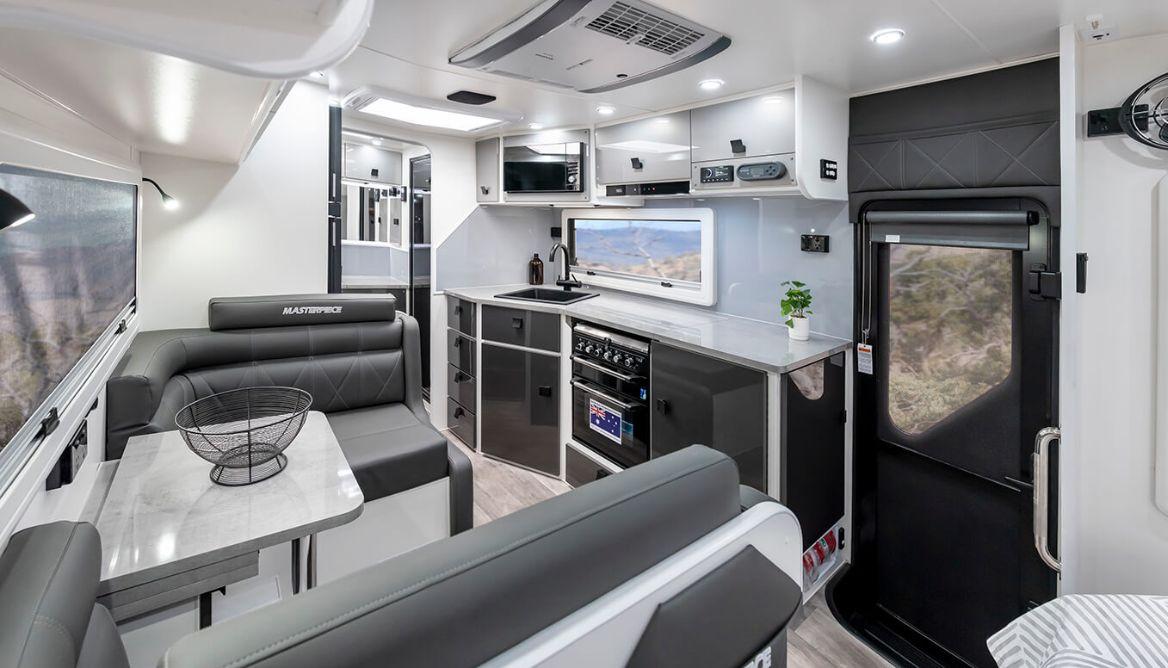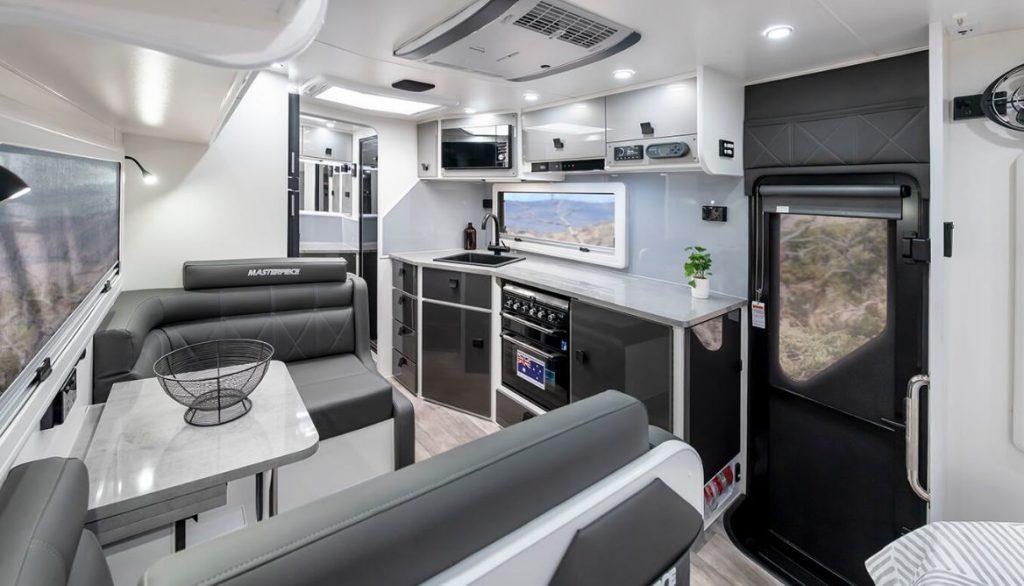 This is a perfect example of an elegant and modern interior look. Here, white and other earthy colors play a major role to give you an elegant and modern design.
Modern Design Concept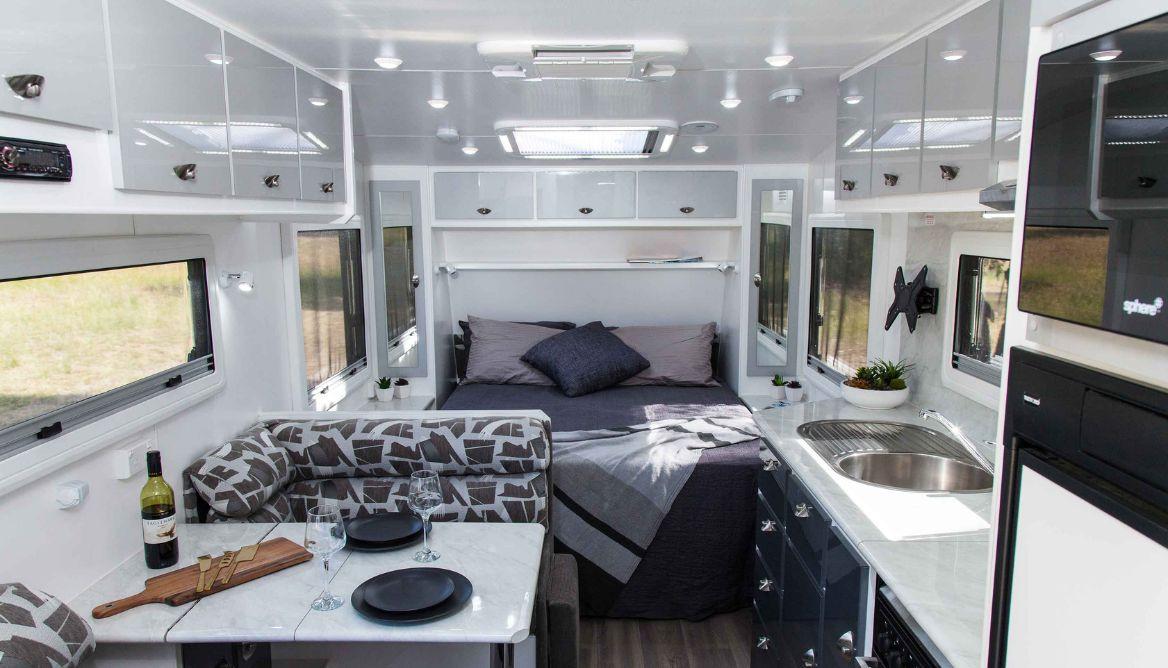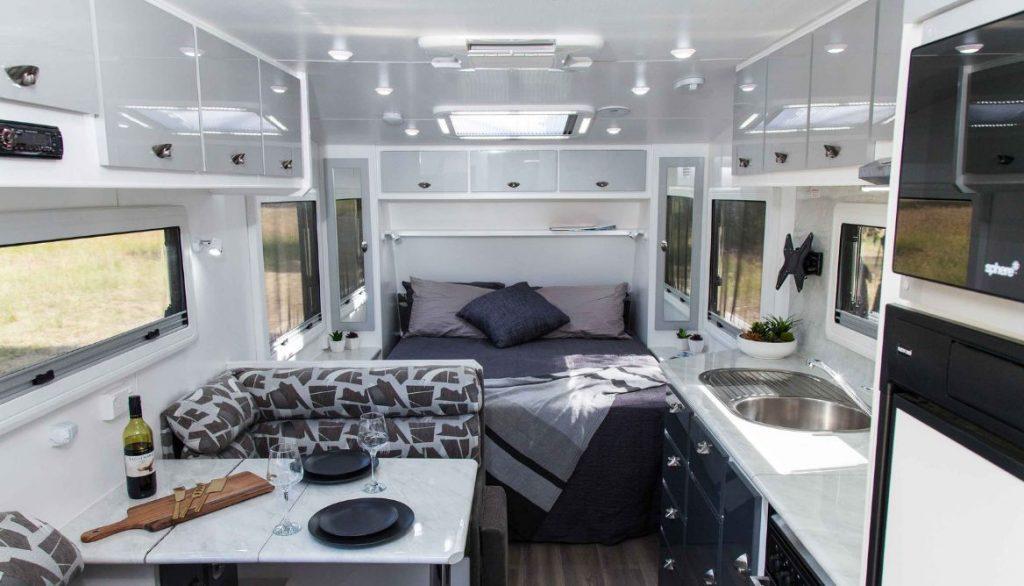 Natural materials, subtle tones, and uncomplicated design are praised in modern home design concepts.
Home Is Where the Heart Is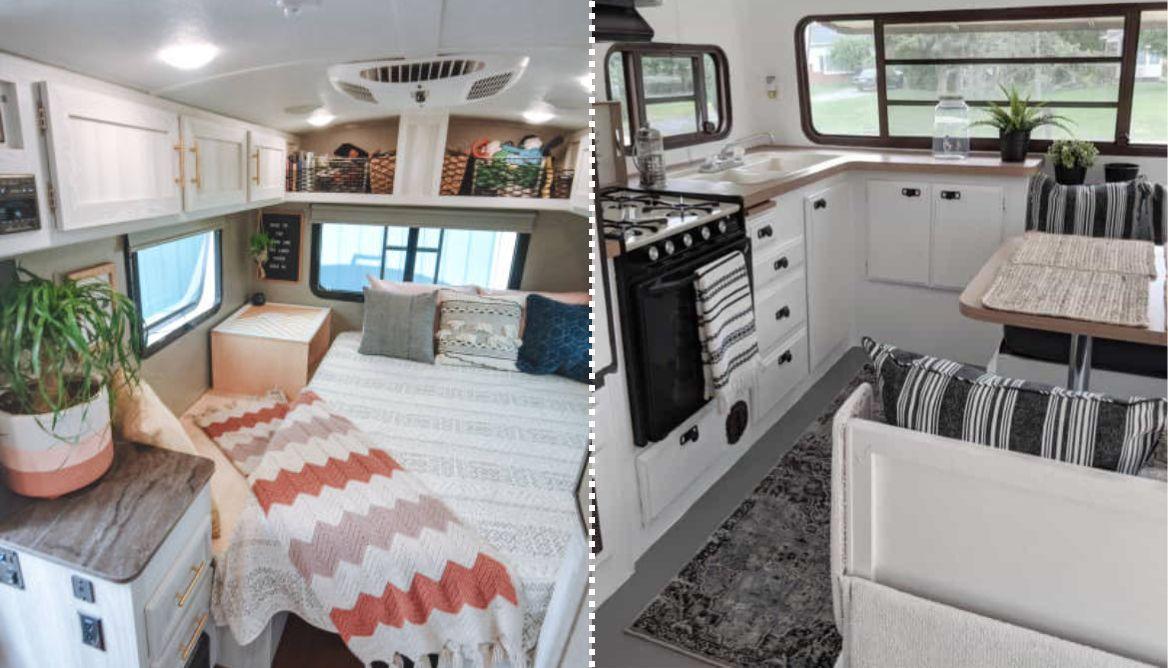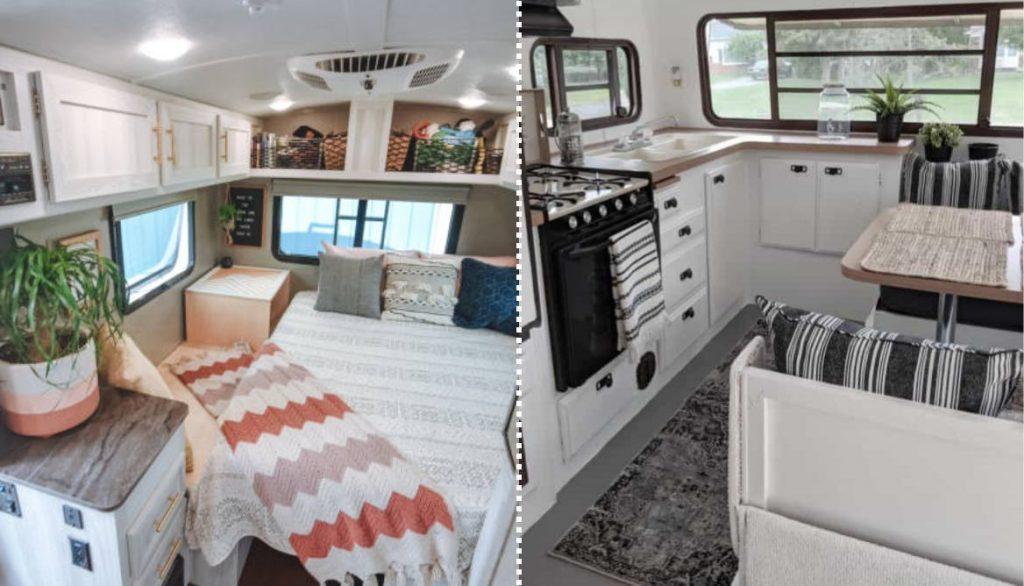 Incorporate a pitch black carpeting, antique closets, drawers, and dark yellow dividers, all of which complement to the intimate and traditional impression that the space personifies.
This genuinely reflects the essence of the great interiors! Who would not like to spend their night in this marvelously built caravan, which is not only comfy and bright but also affectionate?
Tea Spot and Reading Corner Design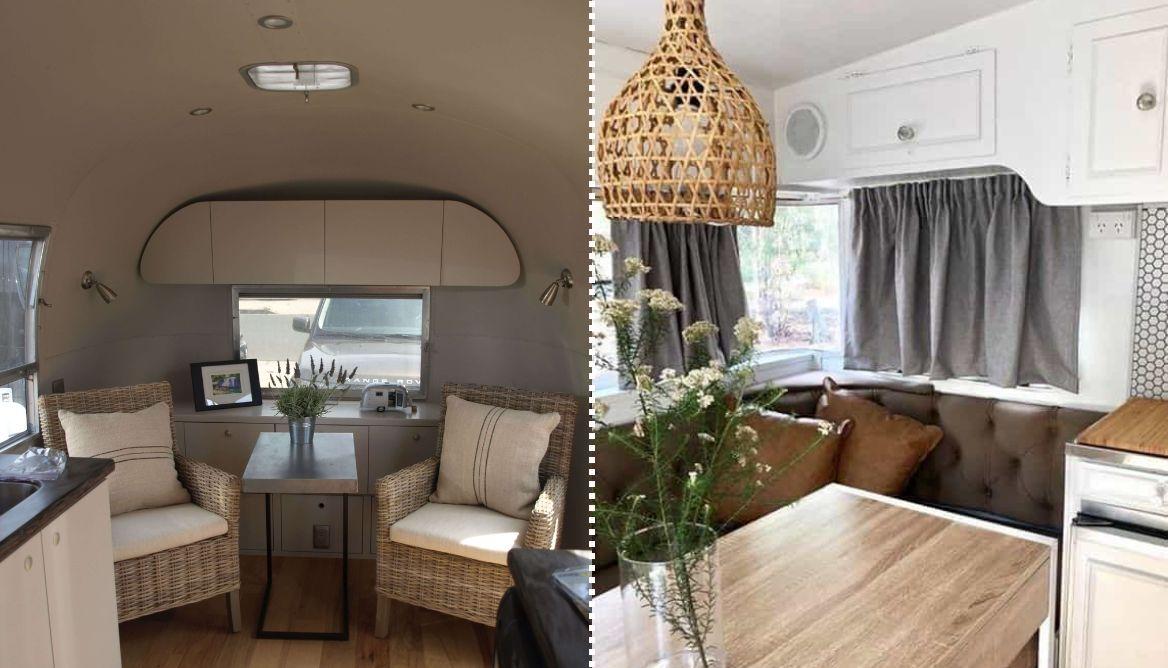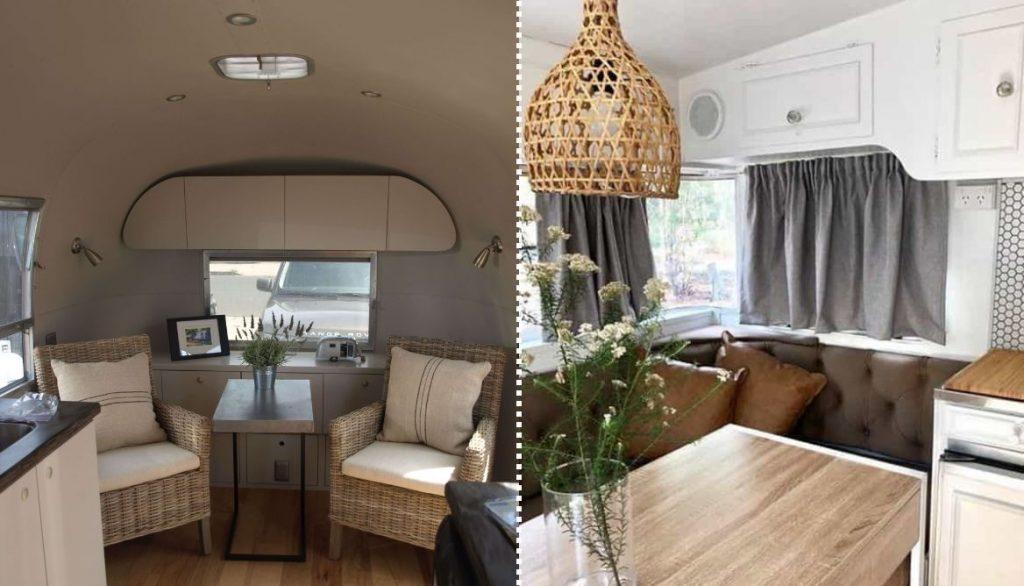 Most people's routine morning activity is to have a cup of coffee or tea and read the paper or some books. Keeping this in mind we selected the design in this article.
Here you can have a cup of coffee or tea and rest it on the metal table.
Hamptons Coastal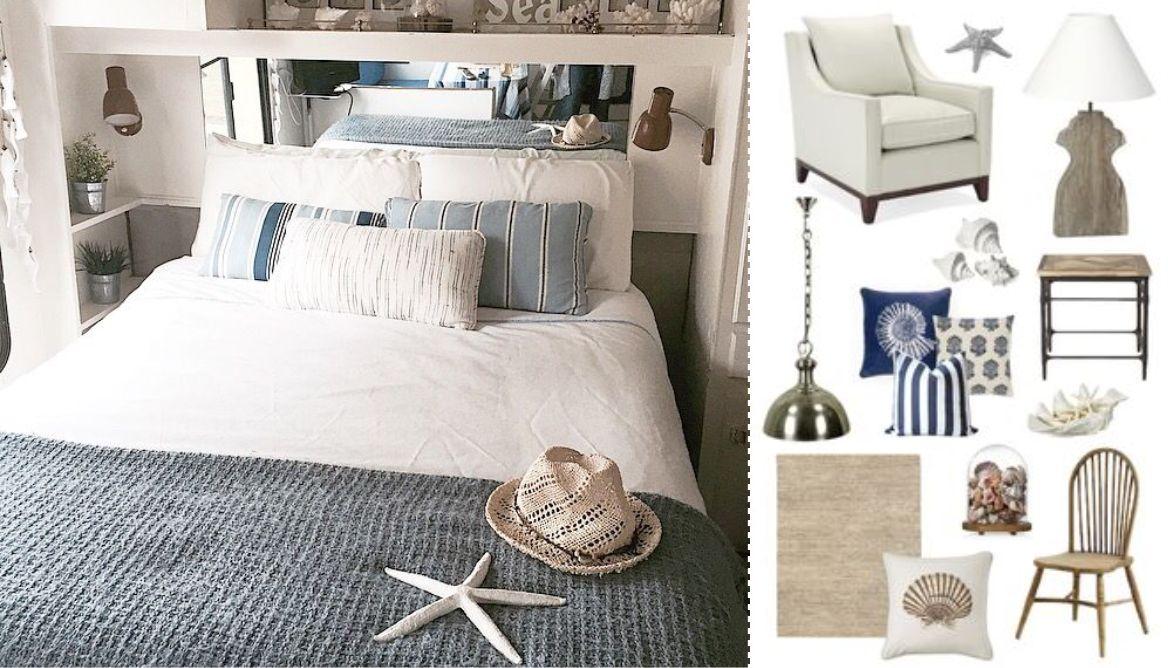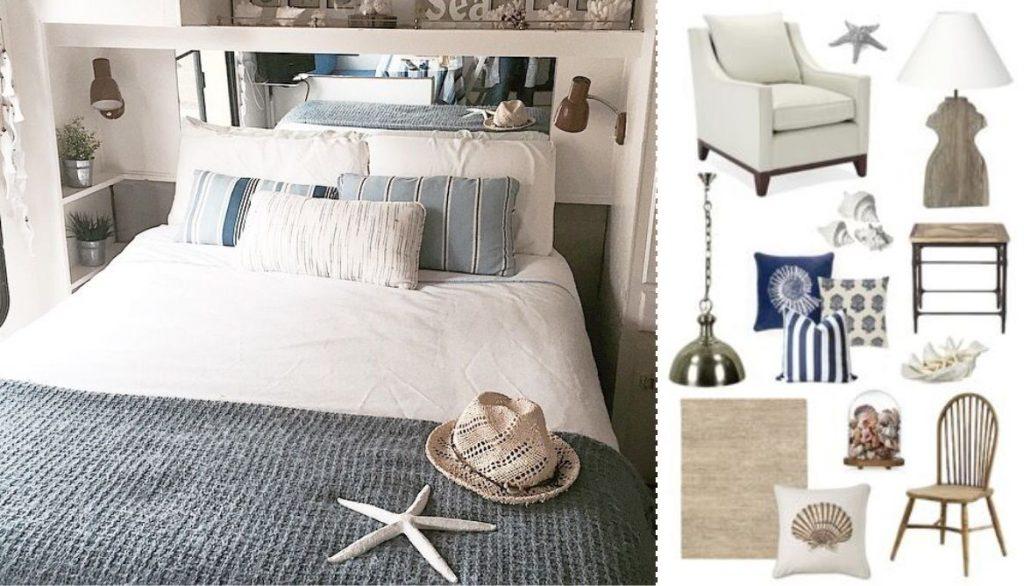 A breezy, chic, and all-white atmosphere that gives the vibes of the seaside. Tarnished wood and a coloring scheme are taken from the water.
Caravan Decor Ideas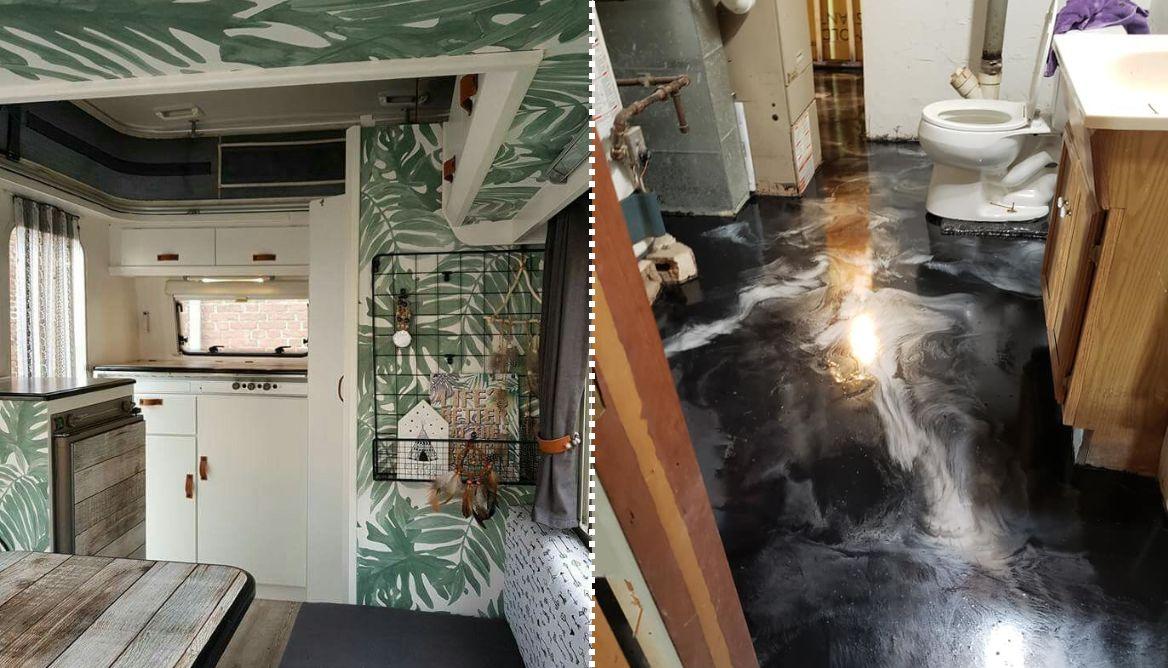 A few minor adjustments to the upholstered furniture and décor can have a big impact on how your caravan's interior space looks overall.
With just a few minor additions you can give your caravan a cool home vibe. A new caravan is a more preferable choice due to modern fittings and inexpensive changes.
Some of the best interiors ideas are:
Curtains with bright colors
Luxury appliances
Upholstery furniture
Wall prints
3D floor patterns
Dream art
Interior Colour Scheme and Ideas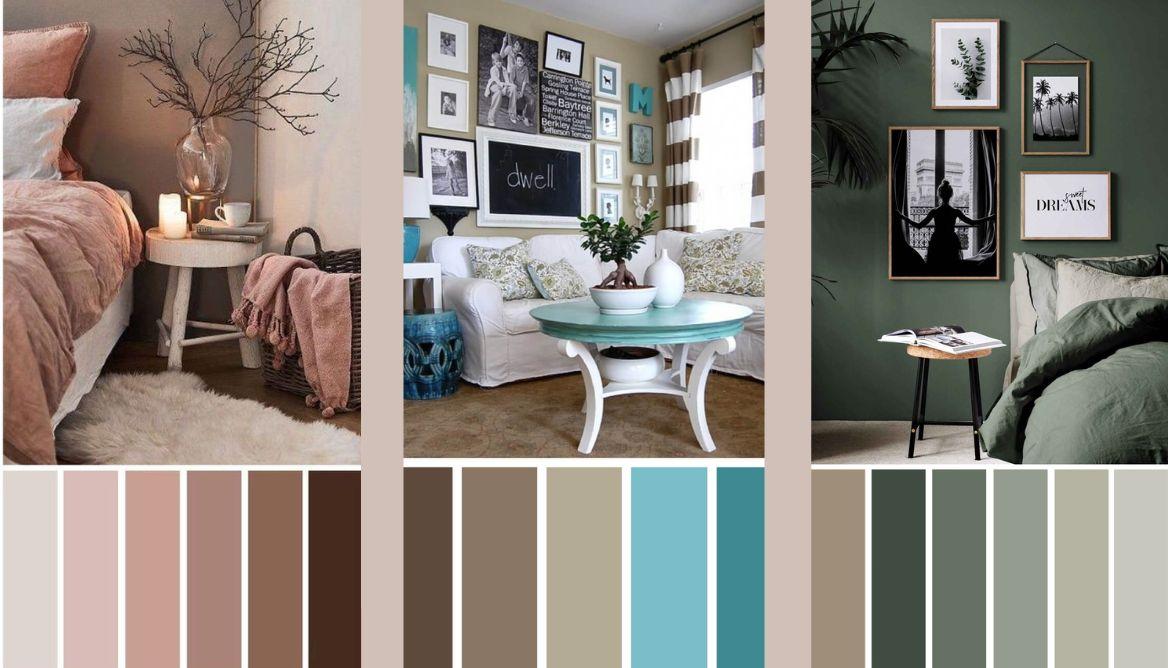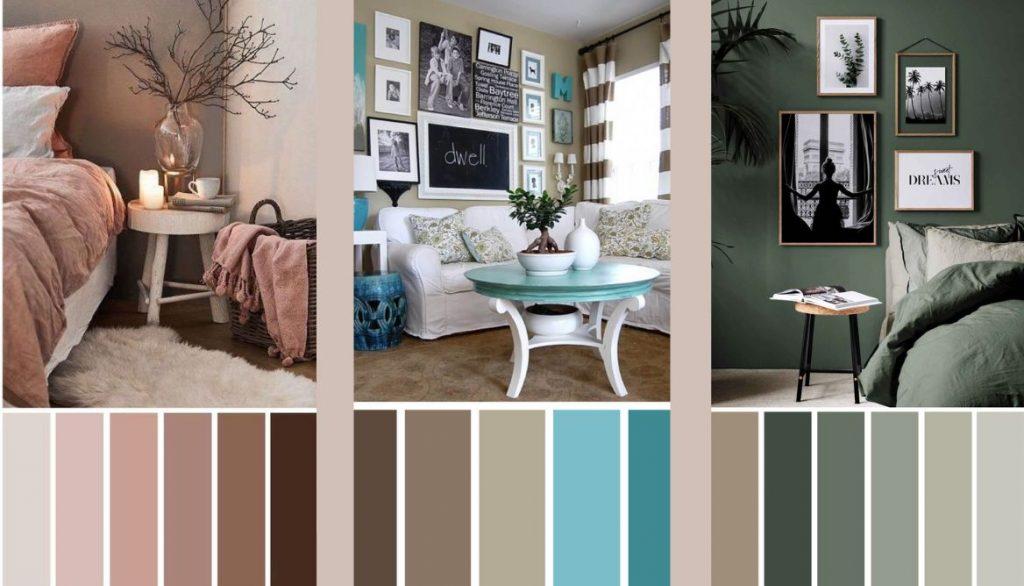 A simple space may be instantly transformed into a striking environment with colour, but choosing the proper colour scheme and style can be difficult.
Always select the life-related colour scheme for renovation purposes as it will open the road to more caravans renovation ideas.
Below are some points to narrow down your caravans colour scheme search:
Look for the inspiration behind your caravans color scheme
Consider the value of the selected color
Plan on where to apply the color scheme
Consider the effect of light on the particular color scheme
Frequently Asked Questions
How do I upgrade the interior of my caravan?
There are plenty of things you can upgrade while performing a caravan renovation. If you are using an old or vintage caravan you can change the entire look of your caravan from flooring to the walls.
If you are using a new caravan then there is no need to fully redesign.
You can just change the interior lightings, curtains to match your taste.
How do you decorate a caravan?
Here are a few ideas you can follow to decorate your caravan. You can change the wallpaper, you can apply paint, replace the furniture, etc. All these small changes will create a big impact.
How do you modernize a caravan?
You can modernize your camper by performing simple tips. You can upgrade your caravan seating, upgrade your flooring, replace your curtains, renovate your kitchen, storage shelves, cupboards, racks, sink, dining area, and bathroom.
How do you update an old caravan?
The best way to update an old caravan is by additions that add value or ease to your life. Re-upholstery, adding security, applying a new wallpaper or decal, improving the sound system, enhancing lighting, etc. are some ways to upgrade your caravan.
How can I make my caravan more homely?
If you travel a lot and want your caravan to feel like home then some finishing touches can do the magic. Adding cute curtains, your favorite plant, or add personal items such as your favorite coffee mug that make you feel at home.
What do you use for walls in a caravan?
Some of the most well-known choices for caravan walls are plywood, insulating foam, fiberglass, and aluminum sheets. But plywood takes the lead as the most suitable material in terms of cost, maintenance, and aesthetics.
How do I spruce up my caravan?
Always make sure that your living space is clean and the same goes for a caravan. Using surface cleaners, sterilizers (if needed), and the best detergents/soap liquids is the best way to maintain caravan cleanliness.
Also, make sure to sterilize the water system of the caravan for sure.
Can you wallpaper inside a caravan?
Yes! You can! If fact it is the best and easiest way to decorate the walls of the caravan. The wallpaper will stick exactly as it does on domestic walls. Choosing the right wallpaper according to the theme is the key.
Can you paint a caravan ceiling?
Yes, you can! Emulsion paint is the best choice for painting ceilings. But make sure that the flooring, walls, or any other items are well protected from paint stains. And proper painting techniques/precautions are followed.
Is it worth renovating an old caravan?
Yes, renovating an old caravan is worth the investment. If you carefully plan the renovation and get the desired result then it is a very rewarding situation.
Moreover, the money you will save from this will be pleasing and you can invest it in other ideas.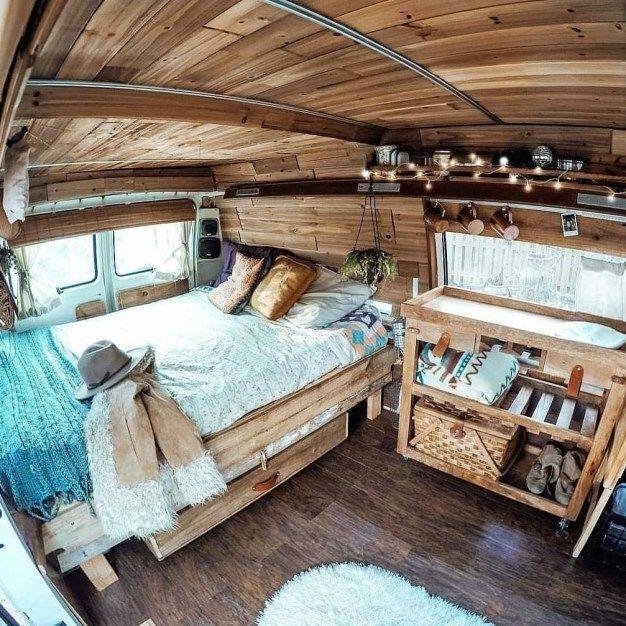 When it comes to redesigning a caravan interior it is cost-effective than buying all new things and replacing them.
Some people want a retro look while others want a classic look. Whatever the look you want, you need to consider redesigning your caravan from panels to flooring and sometimes it even requires a redesign of other accessories to give you the look and ambiance you are striving for.
Remodeling your caravan interior will make your caravan look bigger than it is. But one thing you need to keep in mind is that it all comes at some cost.
An expensive remodeling can cost you around $15000 or sometimes, even more, depending on some factors like DIY, other accessories you need for your caravan.
If you want a high-class and high-quality renovation it is better advised to hire professionals in carpentry, plumbing, electrical works depending on what and how much you are remodeling.
But making a few changes to your caravan does not require hiring professionals. You can do it yourself as a DIY project. These small changes will completely change the look and feel of your campervan. But this approach is mostly preferred for new caravans as they do not require a lot of interior design.
Conclusion
So, which of the above design idea you will try first? Let us know if we have missed any! We hope that our caravan interior design ideas have inspired you a lot and you are ready to take on your caravan renovation project.
Make use of every inch of space in your caravan and transform it the way you like. Plan your caravan transformation today and no matter the way it turns out remember to appreciate your efforts.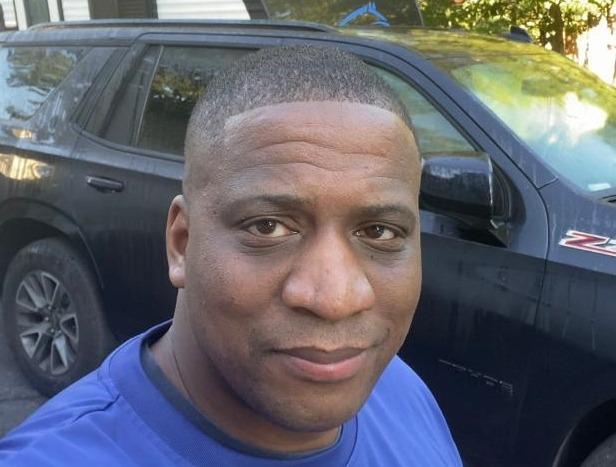 I`m a current Law Enforcement Officer working within the Counterterrorism Bureau in New York State. I have been Camping for over 20 years. My styles of camping include tent, car, truck, van, and RV travel trailer. I have a YouTube channel where I teach all types of camping with an entertaining method: https://youtube.com/@TheSmallsRVAdventures