13 Amazing Caravan Interior Design Ideas [Pictures]
Do you have a caravan and are thinking of remodeling your caravan interior?
There are a lot of interior design options you will get over the internet. But all these seem confusing and some are not even useful.
These caravan interior design ideas available online are mostly for old caravans or vintage caravans, so you can remodel your caravan interior fully. However, if you have a new caravan or a new RV then there is no need to redesign entirely.
Just you need to focus on some furnishing or decoration items that match your taste and character.
Here are some caravan interior design ideas that you can use as an inspiration to get the look you are striving for.
Amazing Caravan Interior Design Ideas
Country charm for your kid's bedroom
If you are traveling with your kids then you can take this design as an inspiration. With this design, the bedroom looks colorful with a country charm.
The yellow curtains and muted yellow interiors along with multicolored buntings and quilted bed covers will make the space amazing for your kids.
Vintage look
Most people strive to get a vintage look to their caravan. If you are looking for vintage inspiration then this one is perfect for you.
The pastel-colored tiles, the contrast of the wooden interiors will give you a vintage feeling.
Rustic or Country themed look
You can get a country or rustic look by using soft yellow themes all over the interior. You can use white curtains with small prints over the windows and as a tablecloth.
For flooring use white and black checkered flooring. All these will give you a retro and country look.
Earthy color DIY Interior Idea
Another retro DIY caravan interior design for you. In this, the designers have gone for earthy colors that are perfectly matched with the white interiors.
This design is purely inspired by nature. Also, this retro earthy-colored theme is complimented by using natural fabrics for cushions and pillows.
Elegant interior look
Some people want their caravan interiors to look elegant. So this is for them. To achieve this design you can use earthy colors like grey, tan and brown.
You can also use wood, cotton, and leather to achieve this look.
Lovely and Cool Caravan interior design
This is one of the coolest caravan interior design ideas. You can get this look by using white as a dominant color. Everything used in this interior design is white except for some color splashes over the rugs and bed covers.
If you opt for this design, you need to keep it sparkling clean as white can easily catch up with dirt or dust.
Pure elegance caravan interior design
You can get this look by using white and blue as dominant colors. These colors will make the entire interior look more spacious and airy.
Modern caravan interior design
This is a perfect example of an elegant and modern interior look. Here, white and other earthy colors play a major role to give you an elegant and modern design.
Tea spot and reading corner design
Most people's routine morning activity is to have a cup of coffee or tea and read the paper or some books. Keeping this in mind we selected the design in this article.
Here you can have a cup of coffee or tea and rest it on the metal table.
Frequently Asked Questions
How do I upgrade the interior of my caravan?
There are plenty of things you can upgrade while performing a caravan renovation. If you are using an old or vintage caravan you can change the entire look of your caravan from flooring to the walls.
If you are using a new caravan then there is no need to fully redesign.
You can just change the interior lightings, curtains to match your taste.
How do you decorate a caravan?
Here are a few ideas you can follow to decorate your caravan. You can change the wallpaper, you can apply paint, replace the furniture, etc. All these small changes will create a big impact.
How do you modernize a caravan?
You can modernize your camper by performing simple tips. You can upgrade your caravan seating, upgrade your flooring, replace your curtains, renovate your kitchen, storage shelves, cupboards, racks, sink, dining area, and bathroom.
How do you update an old caravan?
As your caravan is old, you can start with an air conditioner if you haven't replaced it yet. Look for a modern air conditioner.
You can also renovate your kitchen and bathroom to give it a completely modern look.
You can upgrade your flooring as well. You can apply paints to the interior walls and ceiling of your caravan. All these attempts will make your old caravan look new.
Small Caravan Interior Design Ideas [Pictures]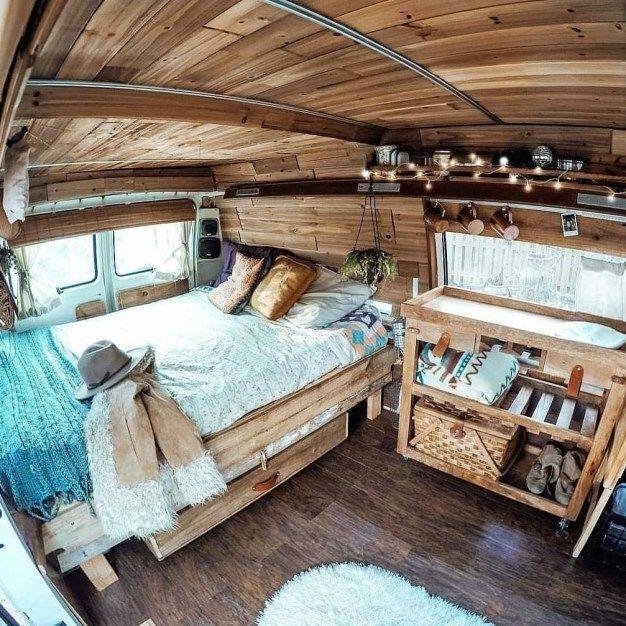 When it comes to redesigning a caravan interior it is cost-effective than buying all new things and replacing them.
Some people want a retro look while others want a classic look. Whatever the look you want, you need to consider redesigning your caravan from panels to flooring and sometimes it even requires a redesign of other accessories to give you the look and ambiance you are striving for.
Remodeling your caravan interior will make your caravan look bigger than it is. But one thing you need to keep in mind is that it all comes at some cost.
An expensive remodeling can cost you around $15000 or sometimes, even more, depending on some factors like DIY, other accessories you need for your caravan.
If you want a high-class and high-quality renovation it is better advised to hire professionals in carpentry, plumbing, electrical works depending on what and how much you are remodeling.
But making a few changes to your caravan does not require hiring professionals. You can do it yourself as a DIY project. These small changes will completely change the look and feel of your campervan. But this approach is mostly preferred for new caravans as they do not require a lot of interior design.
Asen is the owner and main contributor of Camper Life. He is a full-time RV traveler since 2018. He loves camping in nature, fishing, and spending time with his family.
Striving to provide the most valuable information about campers and RVs, he shares everything he learned over the years.
That's why Camper Life is one of the best sources to find information about RV traveling and living.